Some posts contain compensated links. Please read this disclaimer for more info.
Explore These Towns & Cities In Croatia
You have to base yourself someplace in Croatia, but where? In this guide of towns and cities in Croatia, I could write for days on all of the best Croatia travel destinations, but then this page would be a million words. Instead, I am listing below some thought-starters for you—some of my favorites, as well as the top cities, to see in Croatia.
Poreč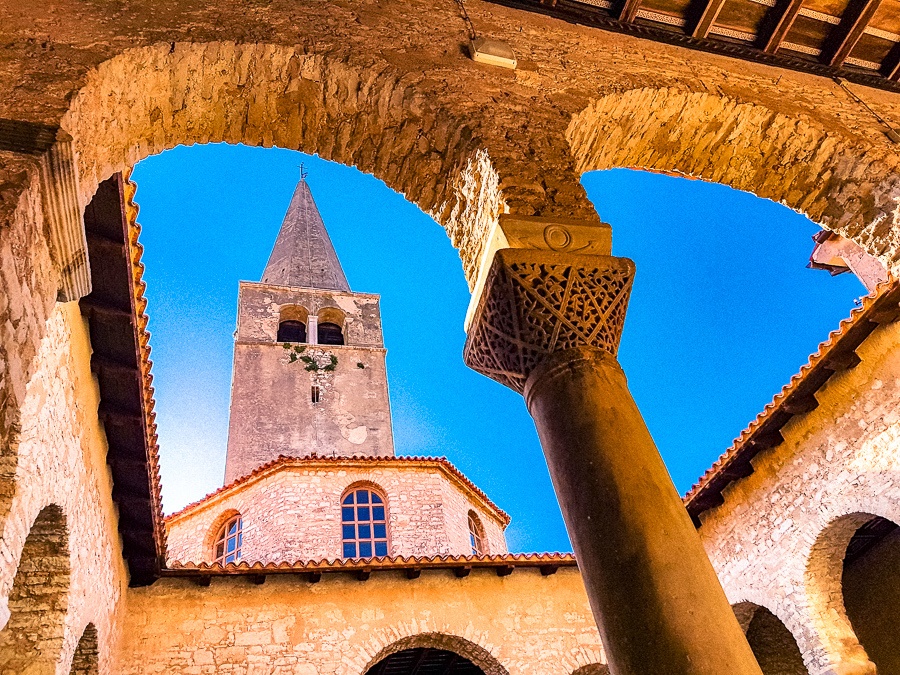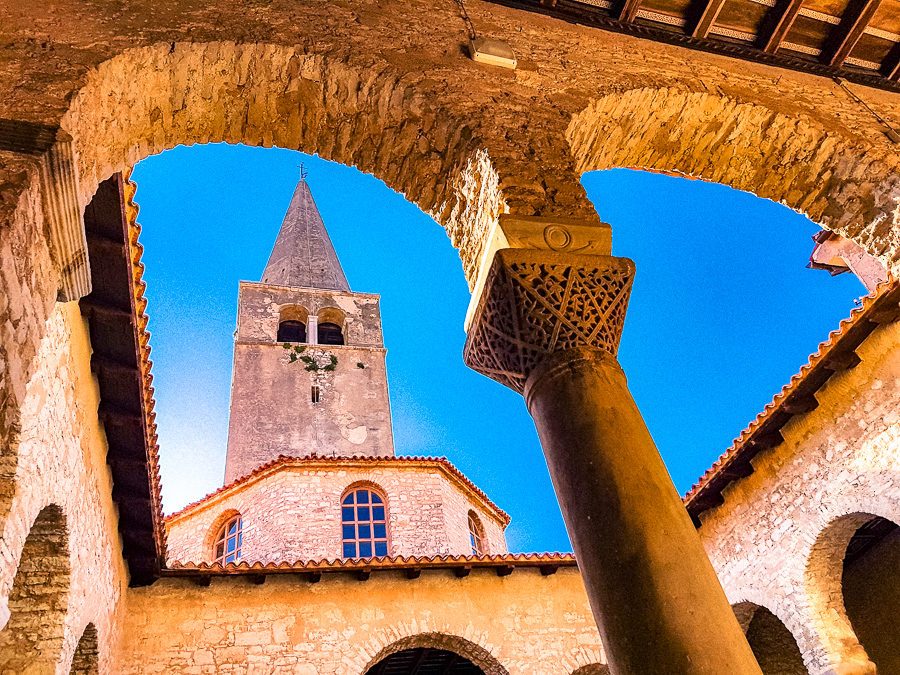 If you're looking for a small and charming coastal town, which still has plenty to see and do, while also enough to entertain you for an evening, then Poreč is the ideal choice.
Situated on the pretty Istrian coastline, ideally placed to explore further afield, too, Poreč is picturesque while also packed with sightseeing options. It's a strange combination, but it's one that works fantastically! It might have lots of modern holiday resorts, but it also has a place for culture lovers. Poreč is not short on historical attractions, and one that will amaze you is the UNESCO Listed Euphrasian Basilica, which dates back to Byzantine times.
Varaždin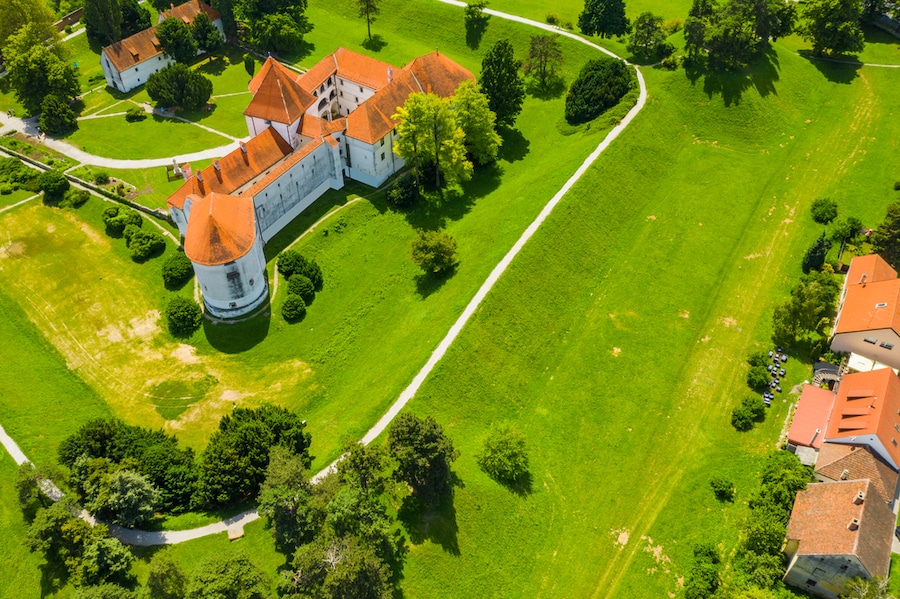 Varaždin is located on the right bank of River Drava in the northwestern part of Croatia and 79 kilometers northeast of Zagreb. This city is a significant tourist center in northern Croatia, and it attracts thousands of visitors every year. Varazdin became prominent in Croatia's history when it became Croatia's capital in 1756. It remained Croatia's capital for only 20 years until the city was destroyed. The city was rebuilt, and today that baroque architecture still stands, making it unique in Croatia.
While there, be sure to attend Spancirfest, the festival that celebrates street theater and performing arts. Of course, wander the old town and admire the historic and well-preserved public buildings and numerous palaces.
The diverse cultural and historical activities offered in the city, its surroundings, and its beautiful countryside are sure to please. Moreover, the urban heart of this great city is well preserved and is often compared to the likes of Vienna.
Zadar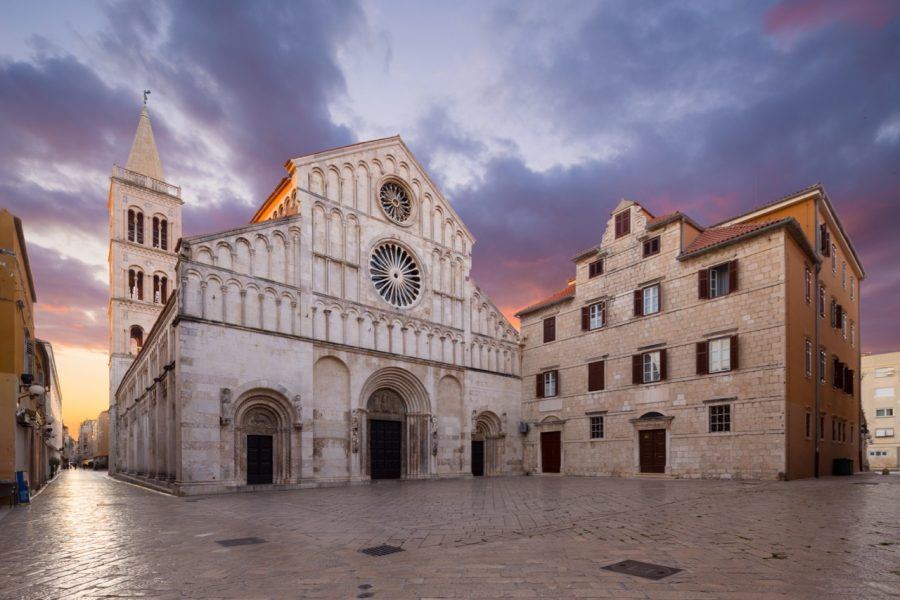 One of the best things to do in Croatia is to visit the historic old towns. One such place that I always recommend is the seaside town of Zadar.
By day, you can drink coffee in the 2,000-year-old Roman forum or wander the narrow streets enjoying locally made ice cream from the parlor Donat Sladoled. Once night falls, you can enjoy the sounds of the Musical Nights Festival, A classical music festival that runs from July to August each year, bringing the 9th-century Saint Donatus Church and Roman Forum to life.
Croatia sightseeing gets no better than the music and lights found along Zadar's fantastic waterfront promenade. This is all thanks to architect Nikola Basic, who added a fresh dimension to Zadar with his Sea Organ and Greeting to the Sun design. Relax by the Sea Organ, day or night, and enjoy the sound of the waves creating music as they push air through 35 underwater pipes.
After enjoying all that Zadar has to offer, stay a few extra nights and make use of the city's convenient location to take day trips to the national parks. Especially Krka National Park is exceptionally accessible from Zadar. Another awesome thing to do is sailing along the Adriatic Coast. One of our favorite day trips in Zadar is cruising around Kornati Island National Park. And for foodies, we love this Zadar food and wine tour + cooking class. Add it to your list.
Dugi Otok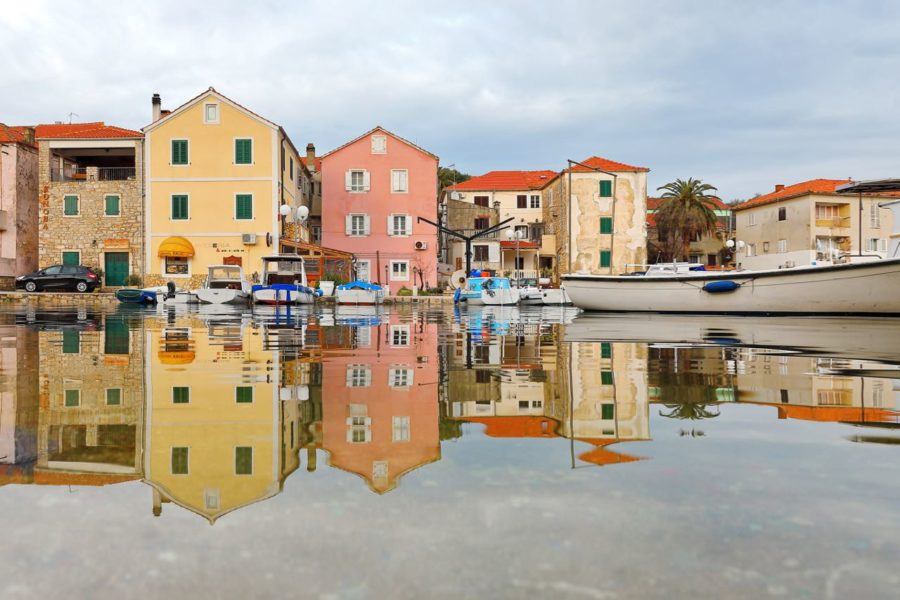 Dugi Otok (Long Island) is located west of Zadar in Northern Dalmatia. While the island is easily accessible from Zadar, it doesn't get hordes of tourists through the summer. So, if you're looking for more peaceful and quieter things to do in Croatia in August, for example, this island is worth looking into.
Dugi Otok is 45 kilometers long and around 5 kilometers wide and has many ancient sites, beautiful beaches, and bays.
What to do on Dugi Otok:
Omiš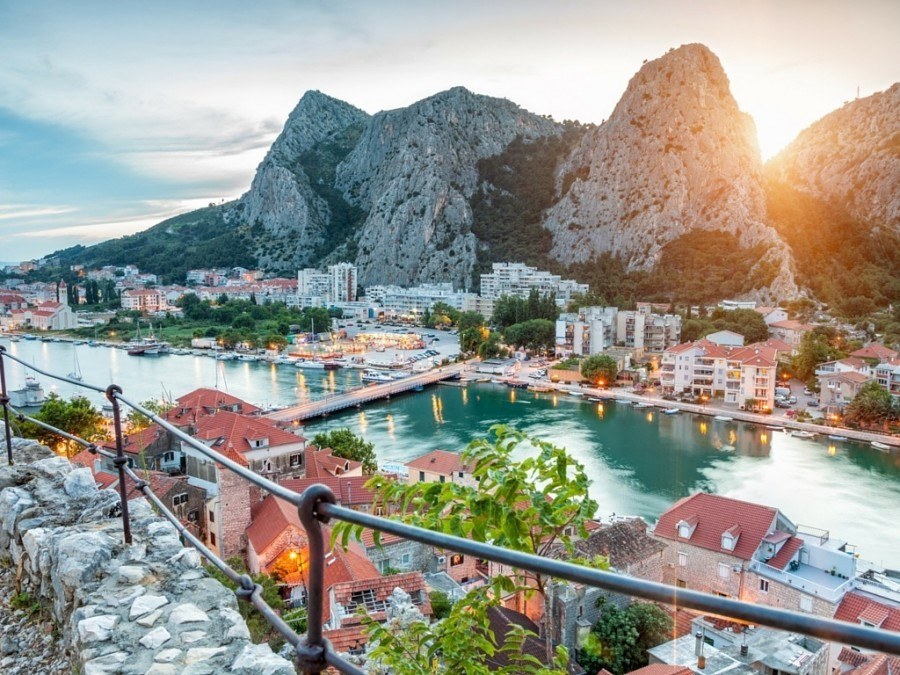 Omiš is a town located 25 kilometers south of Split on Croatia's Dalmatian Coast. Positioned at the mouth of the crystal-clear Cetina River, Omiš was once a famous pirate town. Omiš town's economic prosperity was born from piracy. Omiš had excellent seamen who navigated the Adriatic sea, keeping the city wealthy. The pirates of Omiš were fierce and were known to have fast ships, protecting the city for over 400 years. Now that the pirates are long gone, there are loads of things to do in Omiš. Here are a few:
What to do in Omiš:
Zagorje Region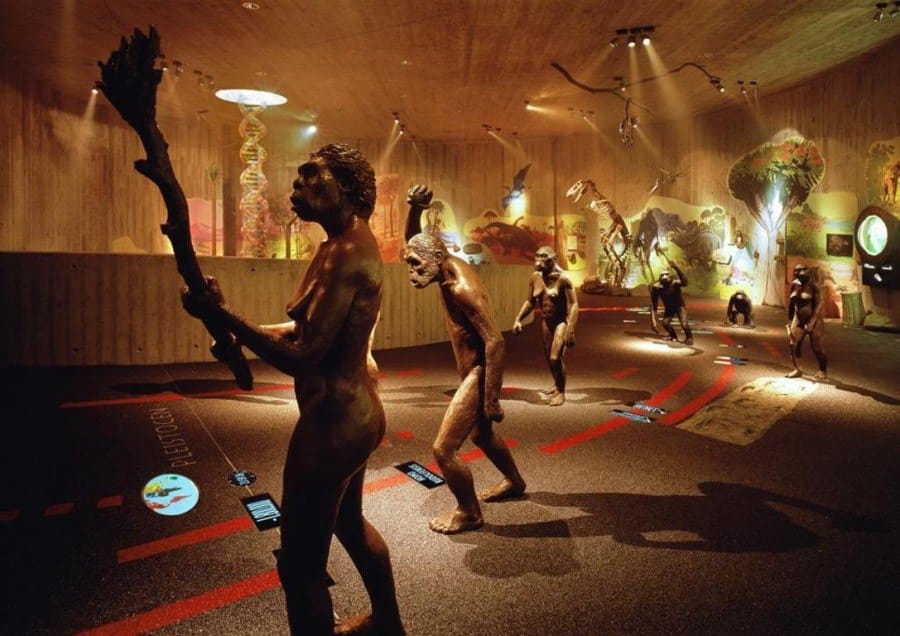 The region known as Hrvatsko Zagorje is dotted with castles, thermal springs, vineyards, and not to mention some stunning scenery. The area stretches north of Zagreb all the way to the Slovenian border. Taking a drive through the rolling green hills of Zagorje is an enjoyable experience in itself and be sure to try some traditional Zagorje cuisine.
What to do in Zagorje:
What to do in Rijeka:
Zagreb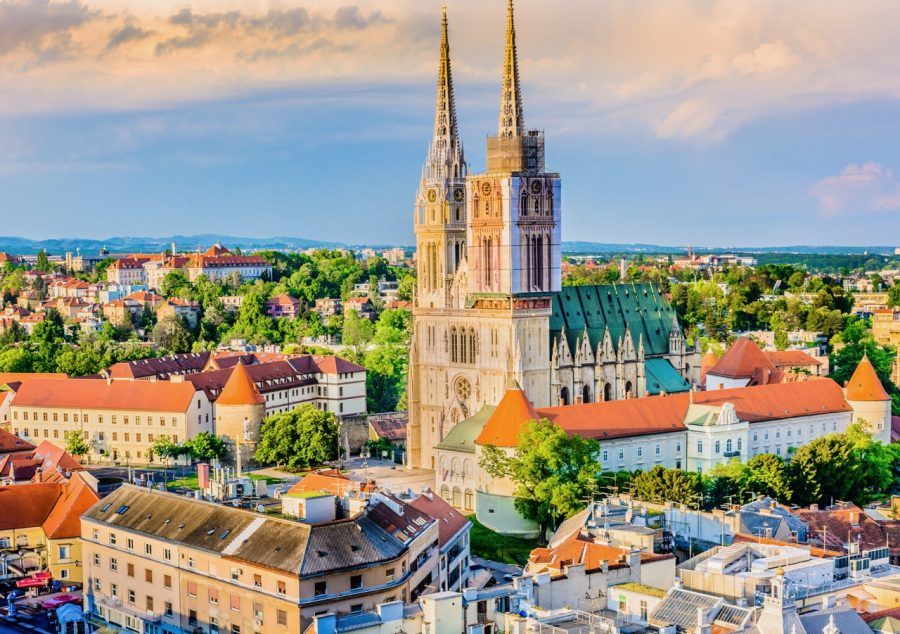 I often hear from travelers to Croatia that they land in Zagreb, collect their bags and race off to the Dalmatian Coast. They hardly give Zagreb a second thought on their Croatia itinerary. Of course, I cannot blame them for doing so, but my advice is not to rush off so quickly.
There are many things to do in Zagreb, including a unique exhibit of trinkets that people keep reminding them of failed relationships at the Museum of Broken Relationships. Along with museums and galleries, Zagreb also has a fantastic boutique fashion scene in Croatia that you won't find anywhere else. Best of all, you can zigzag across Zagreb without fuss, as the city is a walker's paradise and has a great tram network. Many of the most fantastic places of interest in Croatia are actually in Zagreb. Please don't do not skip it!
If you add Zagreb to your things to see and do in Croatia's wish list, we recommend Hotel Esplanade. It is worth every penny. If you want to take our lead and rest your head in this 5-star hotel, our tip to you is to be sure to ask for a park-facing view! Or you can also stay at the Zagreb Hilton and eat at Oxbo Bar and Grill. We rate both of those highly, too.
Zagreb has a thriving food scene, with a mix of upscale restaurants, including fusion, international fare, and those serving genuinely authentic meals. Tkalčićeva Street is the place to eat and drink. Wander up the 800-meter paved street and take your pick at where to enjoy a coffee or a cocktail. My favorite spot here is number 18 Tkalčićeva street, where you can drink with the locals and try many flavors of the Croatian liquor known as rajika.
Allow time to wander around the city, admiring the architecture, which dates back to the Austro-Hungarian Empire. Some of the buildings have a raw beauty while others are very well maintained, as in the main square of Ban Jelacic.
Zagreb is a place for all seasons, especially December. Here you can escape the crowds that flock to the bigger European Christmas Markets and plan your stay around the Advent in Zagreb festival, where you can enjoy mulled wine, eat street food and buy trinkets at the open-air markets.
Split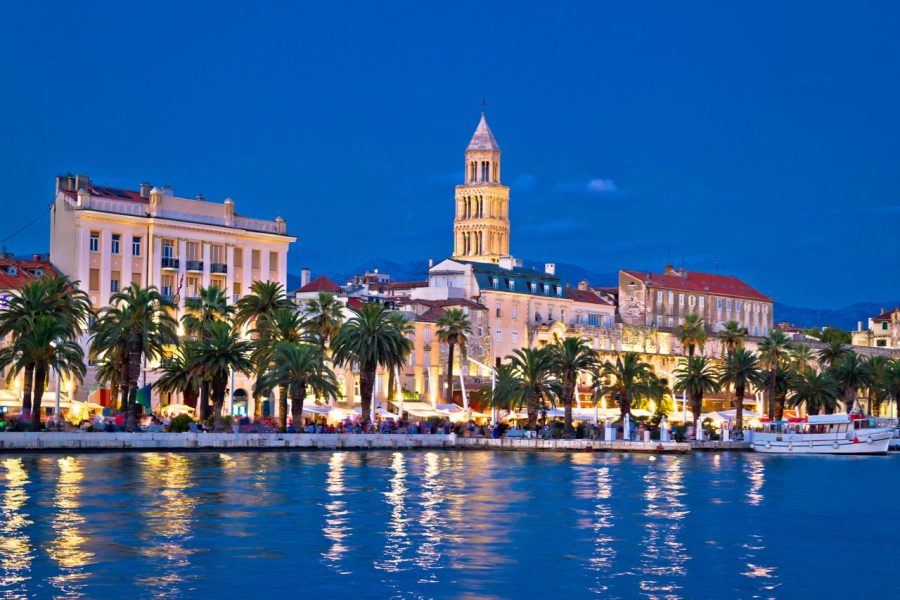 Croatia's second-largest city, Split, is arguably also the country's most historic destination. The city originated as a Greek colony in the 2nd and 3rd centuries BC. But became a major settlement when Roman Emperor Diocletian chose it as his retirement home in 305 AD. The enormous fortified Palace of Diocletian became and still is the beating heart of the city. The rest of Split, including the adjacent Roman quarter, developed outside of the palace.
What makes Split so phenomenal and one of the top Croatia tourist destinations today is that Diocletian's Palace is still there. You can wander its ancient streets, grab a bite to eat in restaurants housed in ancient Roman buildings, and see a wealth of ruins. Without question, one of the top 10 places to visit in Croatia, the palace is so well-preserved, UNESCO declared it World Heritage.
In addition to outstanding architecture, culture, and history, Split is also a very modern city. Its nightlife is legendary; its waterfront promenades the most beautiful in Croatia. The food scene in this coastal city is nothing short of sensational as well. On top of it, it makes for a great base to explore other iconic places in Dalmatia. There's certainly no lack of things to do in Split, as you now know. And things to do near Split are abundant as well, as this overview of Split day trips clearly shows.
One of Split's best day trips is Trogir, a gorgeous walled medieval town a short distance from the city. This town, too, is a UNESCO World Heritage Site and, when you're staying in Split, it is a must-visit place. You only need one day to explore and get a feel for this beauty of a town.
Another popular day trip destination is the Klis Fortress. Perched atop a cliff just north of the city, it is most famous for being the setting of Meereen in Game of Thrones. The fortress has a long history as one of the numerous strongholds that line the Dalmatian coast in Croatia.
If Split is on your itinerary and you're arriving in Zagreb, this blog post tells you how to get from Zagreb to Split — traveling from Zadar? Find out how to get from Zadar to Split here.
Dubrovnik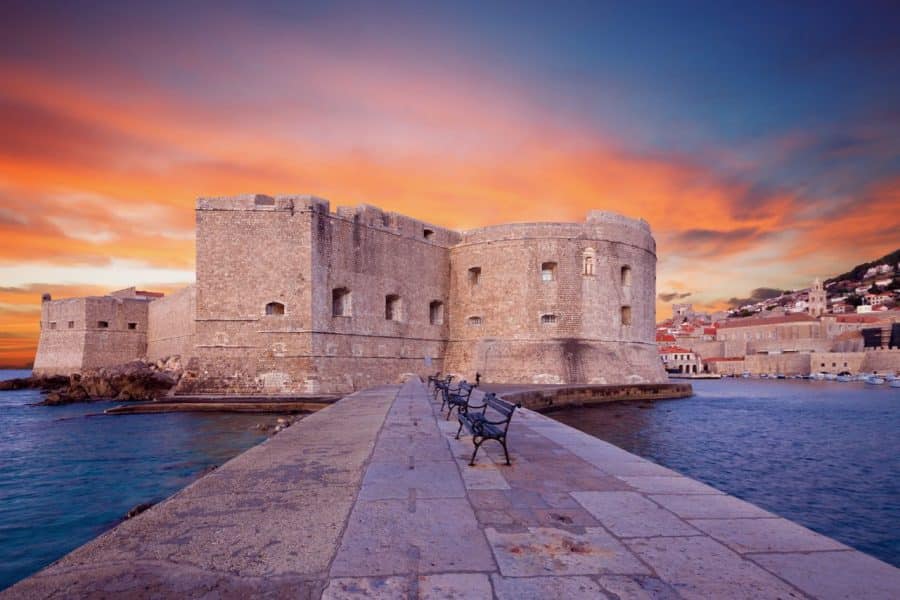 Quickly becoming one of the most popular places in Croatia and Southern Europe, Dubrovnik is the "Pearl of the Adriatic." And for a good reason, it's a gorgeous old city. Its long and rich history includes a time of independence when it was the Republic of Ragusa, a worthy rival of Venice in the 15th and 16th centuries. This period of prosperity has resulted in abundant historical attractions in Dubrovnik, from the mighty City Walls to the labyrinth of alleys in the Old Town and its iconic red-roofed houses.
Dubrovnik's Old Town is a designated UNESCO World Heritage Site, indicating its historical and cultural importance. In addition to beautiful architecture and a wealth of history, there are also excellent beaches, wonderful nature, and a fab foodie scene.
Game of Thrones fans will recognize the city like King's Landing. Game of Thrones tours is one of the most popular things to do in Dubrovnik. You're encouraged to spend at least two full days in this beautiful old city.
This all makes Dubrovnik one of the greatest and most popular cities in the Mediterranean. And it gets more famous every week. In fact, it would be no exaggeration to credit this magnificent old city for the massive boost that Croatia tourism experienced recently.
Dubrovnik is the southernmost city in Dalmatia and Croatia. It's best reached from Split. You can check how to get from Split to Dubrovnik in this blog post.
Šibenik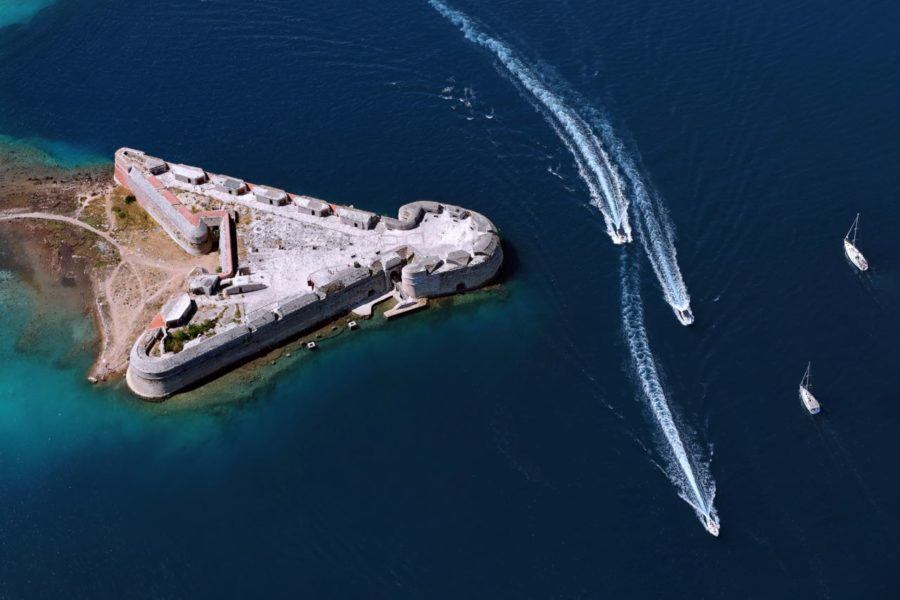 Šibenik may just be the most underrated and overlooked Dalmatian coastal city. Yet, it is home to one of the top sites in Croatia. The city lies about halfway between Zadar and Split on the central coast of Dalmatia. Almost a millennium old, Šibenik has had a somewhat turbulent past. Over many centuries, it has endured and survived a few wars, hot temperatures, wave beatings, and wind. The fact that the entire city is built with stone has added to its resilience.
There are cobbled streets, stone stairways, stone buildings, rock walls, and stone arches. Its unique combination of stone, sea, and sunsets it apart from any other city in Croatia. So, when you're road tripping along the Dalmatian coast, make sure to stop here for a night.
There are many things to do in Šibenik, from visiting its four fortresses to sipping wine on a cozy square to admiring the striking Cathedral, a UNESCO World Heritage Site.
Korcula Island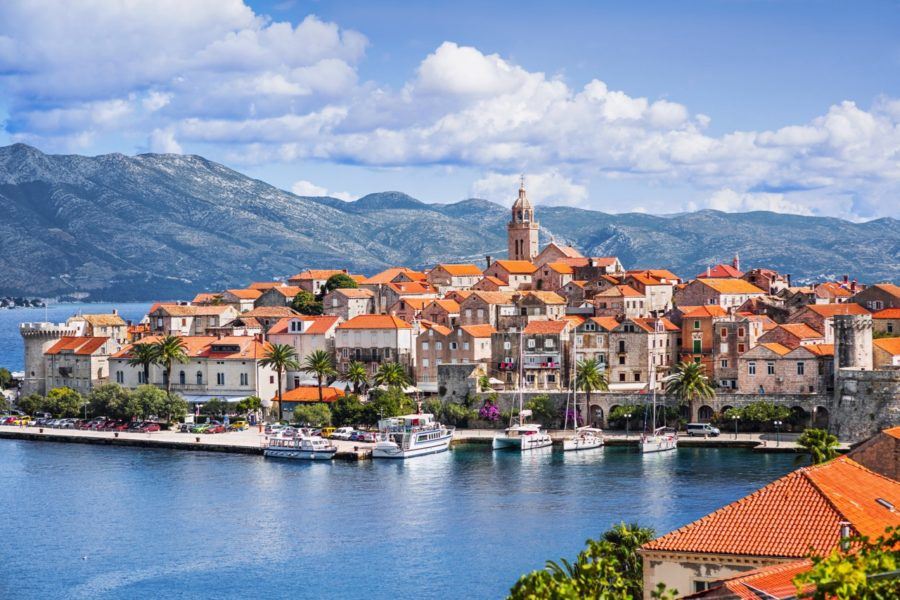 We've already said we loved Korcula Island (pronounced KOR-chu-la). It is also known as the Emerald Isle and is one of Croatia's many islands. This island is a Croatia tourism champion.
Located in Southern Dalmatia, this small, 279-square-kilometer island is a favorite among travelers. A place of culture, history, beauty, and charm, the island of Korcula offers various activities and unique traditions, all surrounded by the stunning Adriatic sea and excellent Korcula weather.
Skradin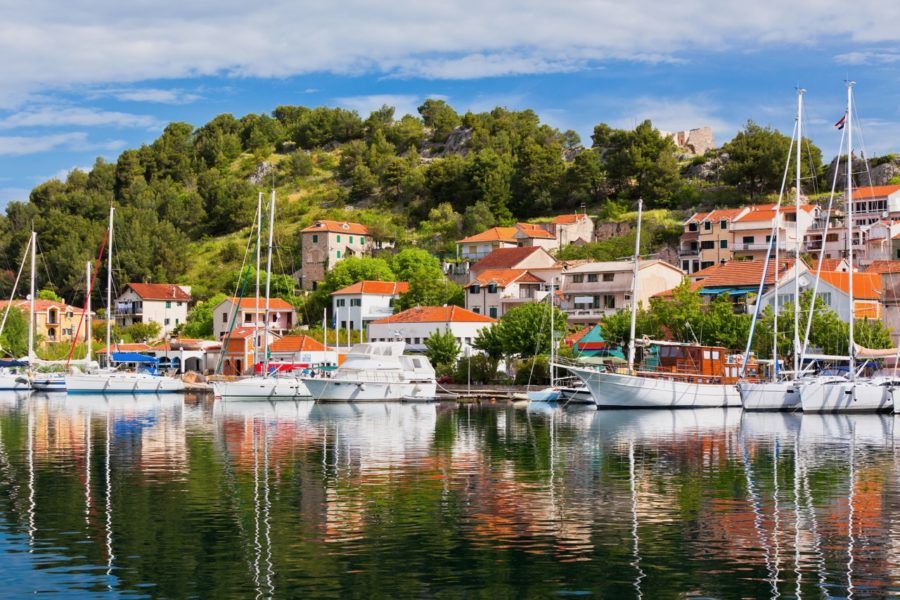 Trogir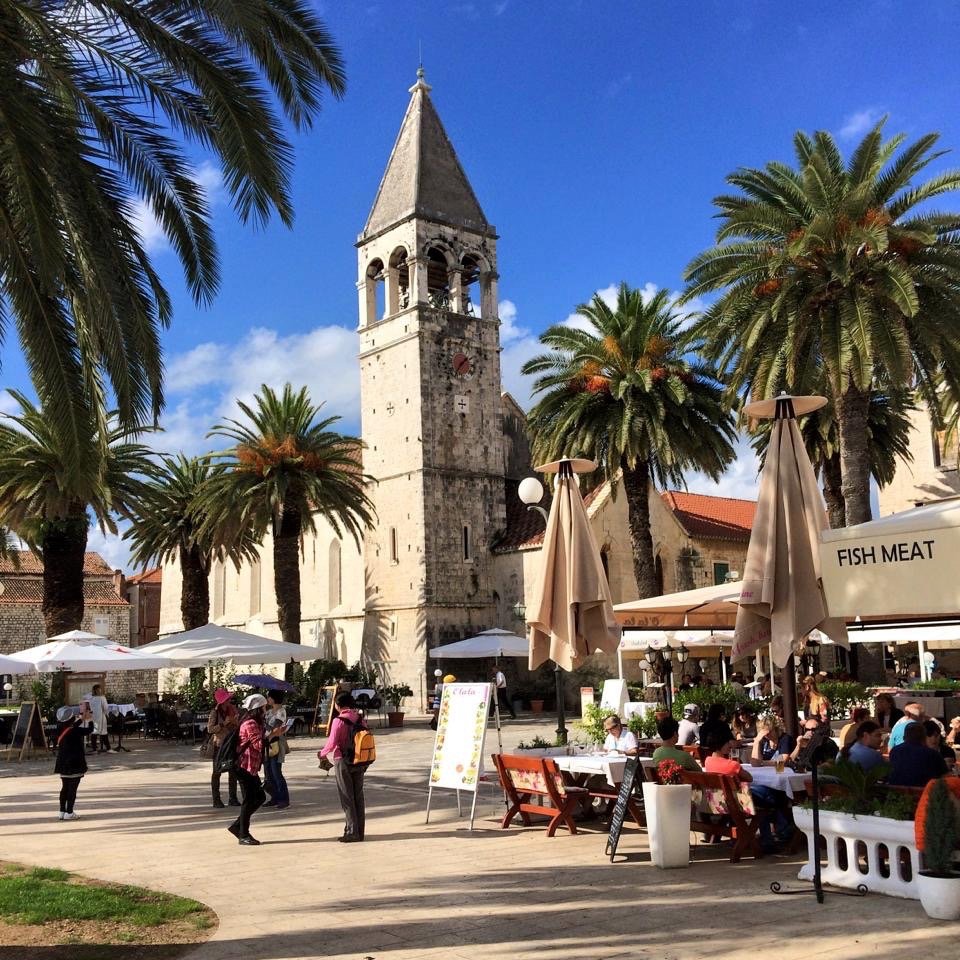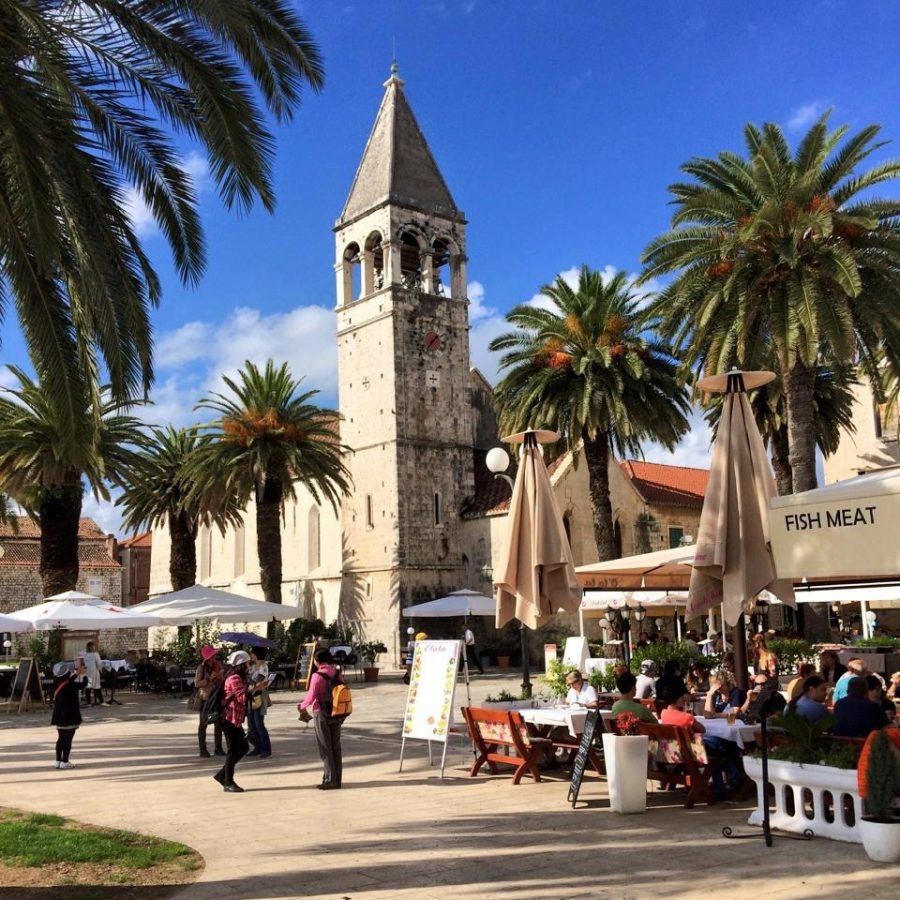 Located just 25 km from the heart of Split, it feels strange to call Trogir hidden. However, it's often the case in the offseason that you'll find only a handful of tourists in this charming 2300-year-old city.
With a fantastic boardwalk and narrow winding alleyways, Trogir is the perfect place to escape the hectic mayhem of Split. Be sure not to miss the impressive Venetian Cathedral of St. Lovro or the intricate City Hall. Trogir is one of my top 10 things to see in Croatia, so don't miss it.
Pag Island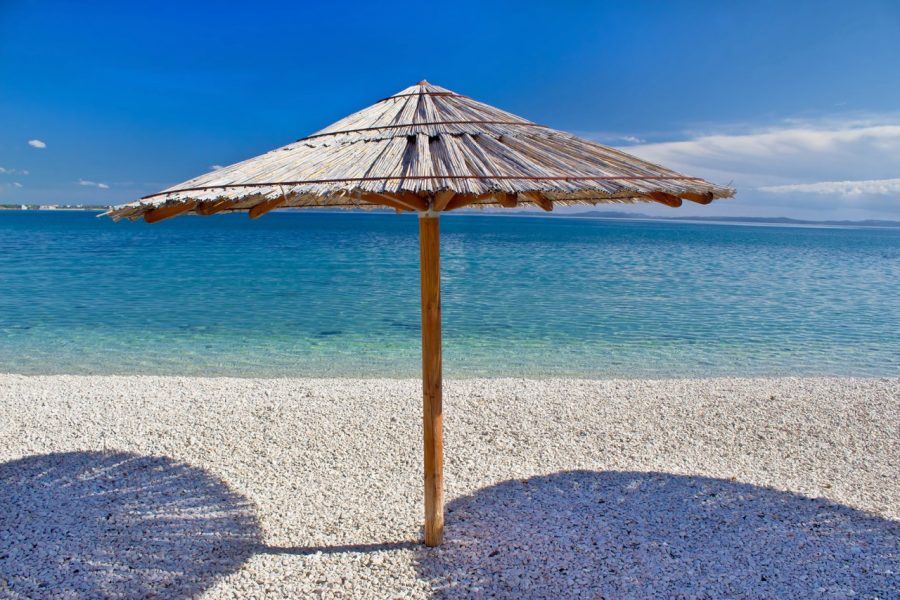 Pag Island is in the very north of Dalmatia and is connected to the mainland by a bridge. Once you cross the Pag island bridge, there is a noticeable difference in terrain. Rock and stone dominate the landscape. However, to dismiss this location based on the tree-less landscape would be a mistake. During the summer months of July and August, Novalja, one of the island's two major towns, transforms into a giant beach party. Pag town itself is quite charming, and let us not forget what Pag is most famous for, Paški sir (Pag Cheese), the production of salt and lace making.
What to do on Pag Island:
Istria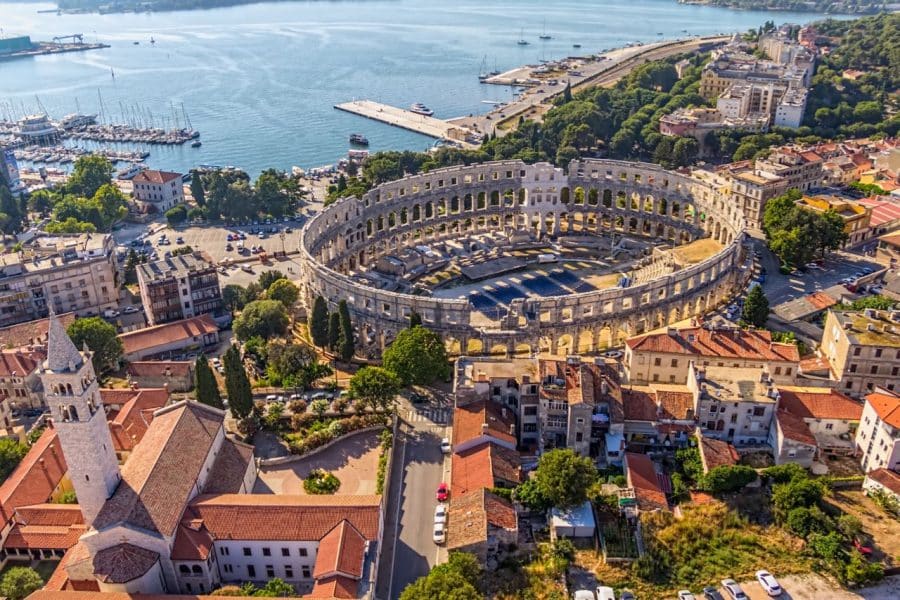 When you think of Croatia, you'll be forgiven if you only think of beaches on the 1,000 out-of-this-world islands of Croatia. There is a part of Croatia to the northwest that you should visit while you're in the land of the red and white checkers.
It's known as Istria, and it's one of the most beautiful areas on the well-filled Croatia tourist map.
In Istria, you'll find medieval hilltop towns, such as Motovun, and gems like the town of Novigrad, which some describe as being the 'new Tuscany,' an array of food festivals and some of the region's best olive oil, wine, and the famous white truffle. Other gorgeous coastal towns are Rovinj and Pula, with their huge Roman amphitheater. (Check out this blog post highlighting ten things to see in Pula.) Many visit Istria and wonder if they haven't just stumbled into small-town life in Italy. In fact, the region was once part of Italy, and you will still see a road sign in both Croatian and Italian.
Something else you might want to consider while on holiday in Croatia is cycling. Istria has some of the most scenic routes geared for cyclists. Both amateurs and professionals will find a trail lined with breathtaking views and plenty of places to stop and enjoy a coffee.
Plus, in Istria, there now is now an Aquapark, which is one of the fun things for kids to do in Croatia that we recommend. If waterparks are not your thing, what about one of these killer Istrian beaches?
Istria is well-known for Rovinj and Motovun, but we suggest you also look east and check our Labin & Rabac too! After exploring Istria, the next logical destination to go to is Zadar. In this post, find out how to get from Pula to Zadar (or the other way around).
Slavonia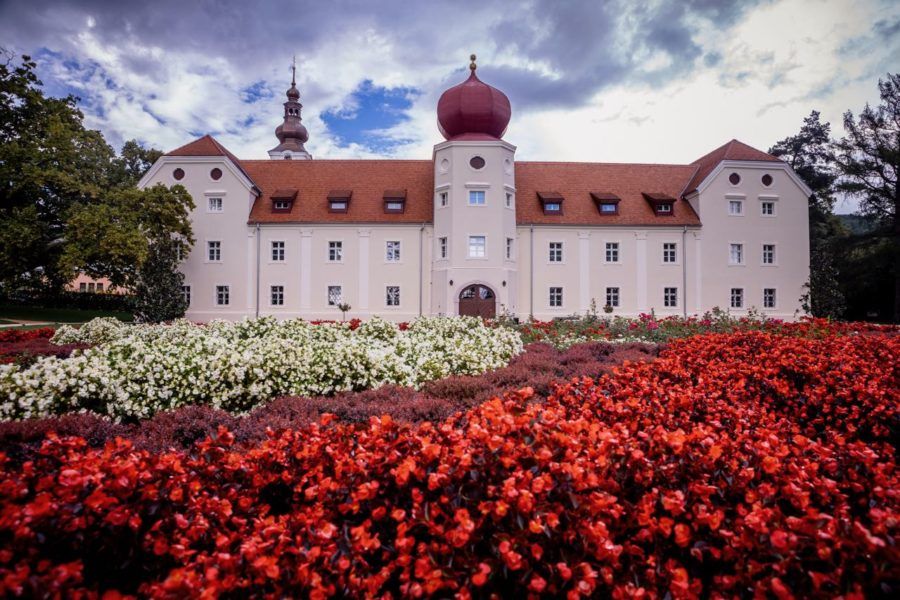 Along with Dalmatia, Istria, and Inland Croatia, Slavonia is a region in Croatia. Situated in the far northeast of the country, this is Croatia's least-visited area – and this needs to change.
While Dalmatia and Istria get flooded with (summer) tourists, Slavonia remains virtually untouched by mass tourism. Yet, Slavonia is undoubtedly a region that's very much worth visiting, especially if you like off-the-beaten-path destinations.
Slavonia is another foodie heaven waiting to be enjoyed!
So, tell us, which of these places, towns or cities in Croatia will you visit first?
Share