Privacy & disclaimers →
The Best Beaches In Turkey To Kick Back & Unwind
If you're looking for stunning, sun-drenched beaches this summer, Türkiye is undoubtedly a country you should consider.
The coast of Turkey is packed with resorts that offer plenty of fun in the sun; you might also be pleased to hear that we know some Türkiye beaches that are quieter and more secluded than some big-name beaches in Turkey.
Of course, the southern Turkish coast is blessed with an awe-inspiring coastline stretch, lapped by the Aegean and Mediterranean seas. To help you figure out the best beach in Türkiye for your holiday, let's check out some of the numerous lovely beaches in Turkey, both busy and quiet; we'll list the best beaches in Türkiye for couples, families, and more.
It all comes down to what you want from your holiday, but this list of the best beaches in Turkey will not disappoint you. Let's go;
Icmeler Beach – Marmaris Area, Dalaman Region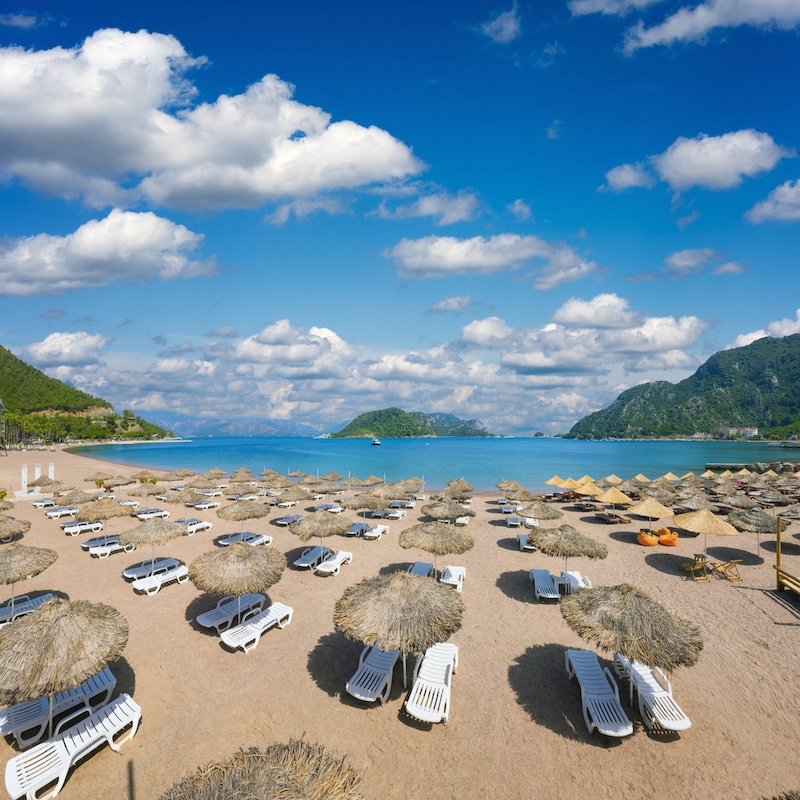 If you're looking for a quiet and extremely picturesque beach in Türkiye but don't want to forgo the tourist fun that accompanies it, Icmeler is the perfect blend – and it is one of the best beaches in Dalaman.
Wide, sandy, and backed by stunningly beautiful mountains, this beach is ideal for chilling out for the day. It's also a very family-friendly beach, and several beach cafes and restaurants run along the length.
The plus point about Icmeler Beach, especially compared to neighboring Marmaris, one of the busiest coastal cities in Turkey, is that you won't be hassled or bothered. If you want a drink or something to eat, wave and ask a server. There is minimal fuss here. There are also shows, watersports, and unlimited ice cream to be had! This is one of the best beaches in Türkiye for families.
TRAVEL COMPANIES WE USE AND TRUST
Oludeniz Beach (Blue Lagoon) – Fethiye, Dalaman Region
You will have seen the Blue Lagoon in Oludeniz on most websites and magazines, imposing from the air and the land. You can paraglide or parasail here, and it's a hotspot for sports. However, you'll find no better spot if you want to chill out on the beach.
Blinding blue sea with white sand, this Turkish beach is very calm, so it's ideal for families, and a spit of land runs out into the sea. The pine trees and the mountains back the beach, so it's totally Insta-worthy.
Once there, you'll see why this is one of the best beaches near Fethiye – and, maybe, the most beautiful beach in Turkey! On the other hand, the town is quiet, so it's more of a chilled-out vibe here than in some other resorts around the Dalaman area.
Patara Beach – Gelemi, Antalya Region
The entire Antalya area is one of Türkiye's most picturesque, home to some of the best beach towns in Turkey, and the summer here lasts a little longer compared to the neighboring Dalaman region.
Patara is a stunningly beautiful beach, easily one of the most incredible beaches in Antalya. The plus point is that it's 11 miles long, so you will not struggle to find a secluded area. The beach is also very wide and sandy, and there isn't much in the way of development around it, which gives you a chilled out day.
The area is protected because the loggerhead turtles come to lay their eggs on the beach during nesting season, and to the back of the beach, you'll find the ruins of the ancient city, which are certainly worth a wander around if you get bored of sun, sea, and sand.
The nearest town is Gelemi, which is around 10 minutes by car or bus, so you will feel like you're on a castaway beach here.
Butterfly Valley – Fethiye, Dalaman Region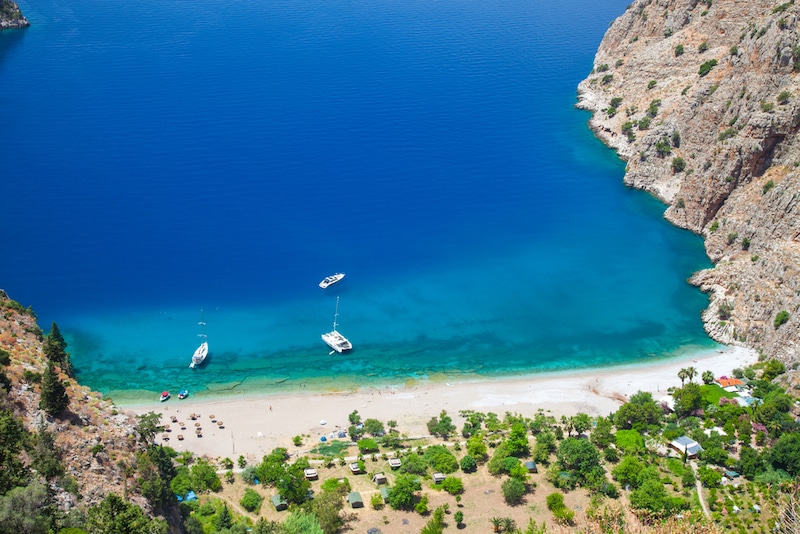 Butterfly Valley gets its name from the countless different types of butterflies which head to the area every year. This is a nature reserve and therefore protected, so you should be careful about leaving litter and how you conduct yourself within the area. However, the beach is simply beautiful, and if you love nature, then a few hours splashing around here will be just for you.
The only downside is that you have to hike or jump on a boat to get to Butterfly Valley, but its difficulty inaccessibility makes it even more special and helps you get away from the crowds. This is a very popular ecotourism area, so nature lovers will also adore it. The beach is small yet wide, sandy, and relatively quiet; however, there aren't any restaurants or bars around it, so expect just the odd cafe. Ideal for chilling out!
Cleopatra Beach – Alanya, Antalya Region
Firstly, Alanya is a resort in Antalya, so don't get the two mixed up! Blinding white sands and the famous turquoise coast of Türkiye greet you here, and while it can become quite busy during the peak season between June to August, it's well worth a visit. Here you will find the famous Cleopatra Beach, and we can't talk about the best Turkey beaches without mentioning this one!
There is history to this beach, hence the name; it is said that Cleopatra and Anthony frequented the beach and that the sand was brought over from the desert. With the huge Taurus Mountains soaring in the background, the beach is large enough for everyone, at 2.5km. These days you will also find waterspouts and parties going on around the beach, which may take some of the shine off for some, but if you want action, you'll undoubtedly find it here.
As a side note, the promenade is ideal for a romantic walk during sunset. All things considered, if you're looking for fun and vibrant beach resorts in Türkiye, this is a fantastic option.
Cirali Beach – Kemer, Antalya Area
Surrounded by the imposing Olympos Mountains, Kemer is home to Cirali Beach, a beautiful stretch of sand that sits in a blessed location. The main stretch of the beach is wide and sandy; however, there are some secluded coves you can explore too.
The area is far less tourism-driven and more laid-back, with almost a hippie-type of vibe. If you want to get away from it all, this is a great place to go, and while there are plenty of amenities within close reach, they're all far more geared toward rest and relaxation. You can even stay in a wooden treehouse!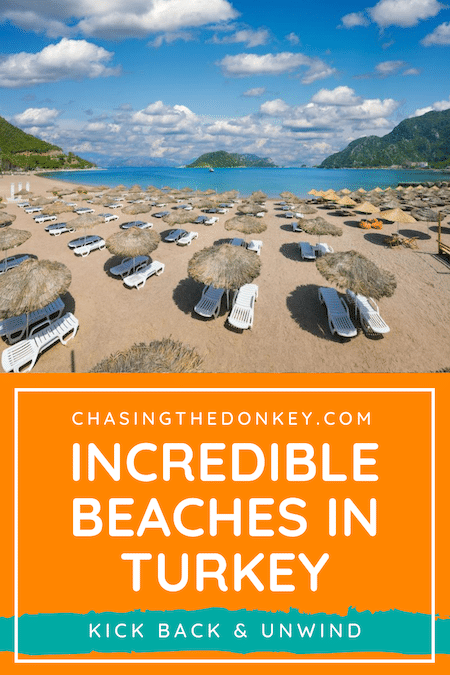 Iztuzu (Turtle Beach) – Dalyan, Dalaman Region
You will find countless day trips that head to Iztuzu, more commonly known as Turtle Beach, but it's a good idea to head there on your own steam and enjoy a few hours chilling on this wide and huge beach. The beach gets its name from the Caretta Caretta turtles, who use the beach as a nesting ground, although spotting one can be quite an elusive task!
The sea doesn't lap the beach; however, it is lapped by a freshwater stream that makes its way in via a massive spit of land, which juts out. This means the area is ideal for wildlife, so if you're a nature lover, grab your binoculars and check out the impressive birds which flock around the area.
You can't visit the beach in the evening because of the local turtles, and you're not allowed to use umbrellas either. This is a conservation zone, so be careful and pay attention to the beach signs.
Kaputas Beach – Kalkan, Antalya Region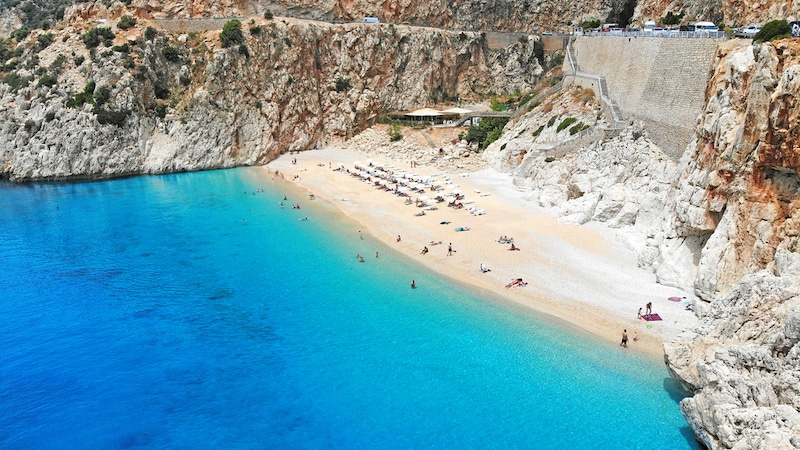 Suppose you want to see true jaw-dropping nature and landscapes, head to Kaputas Beach in Kalkan – one of the best beaches in Antalya. To get to the beach, you need to drive around the edge of a mountain, which is as nerve-wracking as it is incredible, and you'll undoubtedly grab some amazing snaps as a result. The bay sits at the bottom of a steep drop, which plunges towards the impossible blue of the sea.
Kaputas Beach is a regular stop for gulet cruise boats, but it's never really that busy, so it's an excellent place to go for a chilled-out beach day. However, you can typically find it far busier during the peak season. Remember that you need to walk down some steep steps to get to the beach itself, so not the best for children or those with walking problems.
Which beach in Turkey will you choose first?