Privacy & disclaimers →
Cyclades
Island
Hopping – Routes, Itineraries & Beaches
This is the guide you were looking for when planning your Greek Cyclades island-hopping adventure.
The guide highlights the most beautiful islands you should visit when exploring the Aegean Sea.
Before you jump on that ferry from Athens to Cyclades Islands, read ahead to discover how many islands are in the Cyclades, the best routes to take for Greek island hopping in the Cyclades, and of course, find out what the best beaches in the Cyclades are.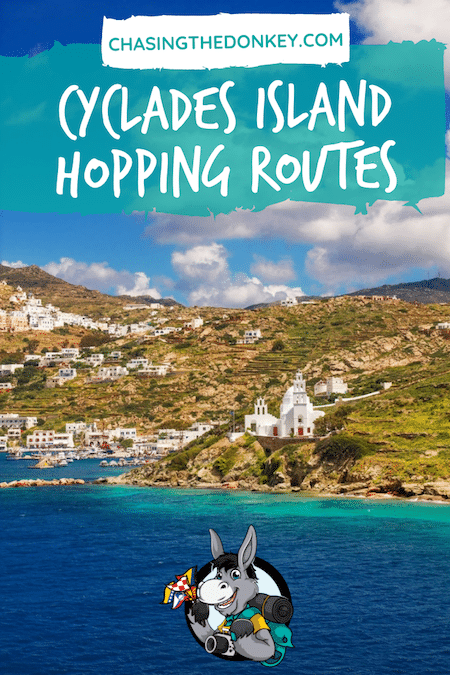 How Many Island In The Cyclades Are There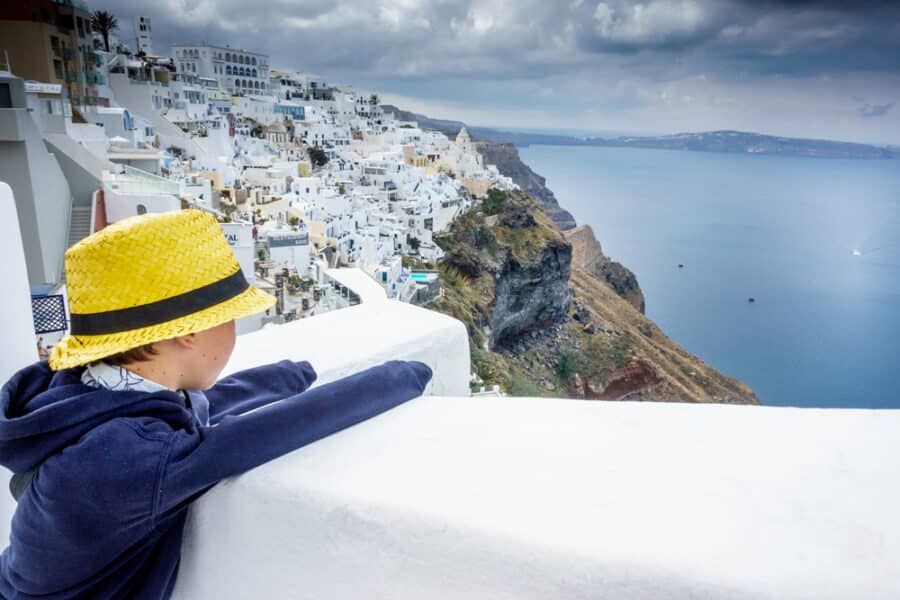 The Greek Cyclades includes approximately 220 islands. The name "Cyclades" relates to the shape of the islands – they form a circle around the sacred island of Delos. You should know that most of the smaller islands are uninhabited. The major ones are:
Amorgos
Andros
Delo
Folegandros
Ios
Milos
Paros
Santorini
Tinos
Visiting The Cyclades Islands Greece
Island hopping is the most brilliant way to spend your time visiting Greece. It's a fantastic way to understand the local lifestyle and tune in to the times and rhythms of the countries.
There are different and varied ways to go island hopping in Greece; however, the idea behind this guide is not to see the highest number of islands in a short time but to see the best of them, taking a more relaxed experience.
To put it clearly, more islands are not always better. You will certainly not optimize time and end up tired and confused, uncertain of where you've been and what you've seen.
For this reason, our one-week Cyclades itinerary includes only three islands, and our two-week itinerary just five. Remember that you should also devote at least two days to Athens since this is the port of departure, so take it easy and enjoy the best of Greece.
Best Time To Island Hop The Cyclades
August is the hottest month in Europe for travel, not just because of the high temperatures but because half of the continent has its summer holidays during that month.
If you can avoid August, you'll be able to find more convenient fees for almost everything, the weather will still be warm and pleasant, and you'll see fewer crowds everywhere.
If you insist on traveling during August or have no other chance, then the first golden rule to follow is to make sure you book early. Remember that also many Greeks have holidays in August so that ferries can get booked up.
The best months to go island hopping in Greece are May and June before the crowded months of July and August, or the end of September, when the weather is still charming, but families with kids are already back home because school is about to begin.
If you choose to travel in less popular months, such as April and October, remember that ferries don't have a high frequency, so some islands might be harder to reach.
TRAVEL COMPANIES WE USE AND TRUST
Best Islands In The Cyclades
In this section, I've included the top-visited island, the reasons to visit them, and the reasons to avoid them if your time is limited.
These tips and suggestions are here to help you decide which places to visit according to your travel style and the things you like to experience when on vacation.
Santorini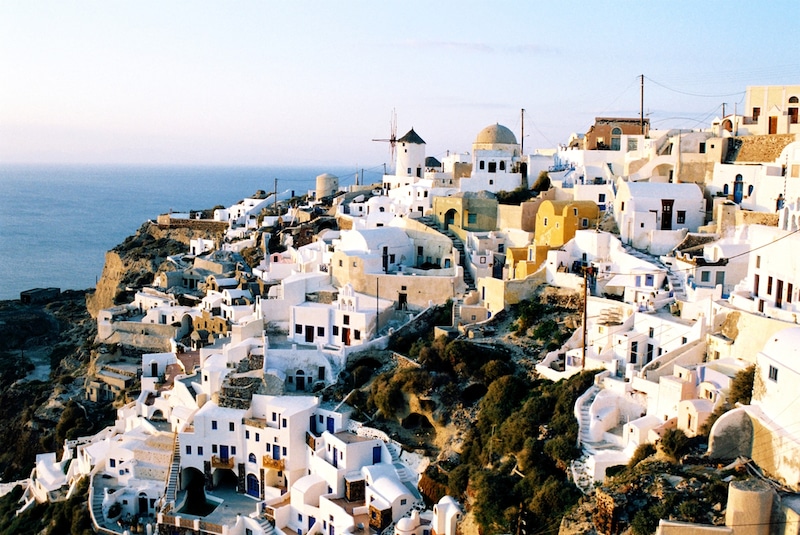 Greece's stunningly beautiful and charming Santorini star island is often included in everyone's first-time Greek Island hopping itinerary.
Romantic whitewashed villages over the edge of the Caldera and blue-domed churches are part of the traditional landscape we all expect to discover on the island.
The beaches in Santorini are certainly not the best ones in Greece. Nevertheless, this guided tour lets you explore all the popular sights in Santorini. You should visit Santorini if unique landscapes interest you and if you are not just about beach life and suntanning for hours.


Santorini is also a good option since there are direct flights from almost any European country; this makes your itinerary easier and might even help you skip a stop in Athens.
Among the reasons not to choose this island, high prices and huge crowds all year long are probably the most important ones. The island is so popular that it's challenging to find a time of the year when you'll find it quiet.
As we also said before, there are better places to go in Greece when it comes to beach life. Here most beaches are windy, or there's no golden sand anywhere to be found. The underwater panorama is rocky and can be dangerous for small children. In fact, you should remember that Santorini is, after all, an extinct volcano.
Remember, since Santorini is the island farthest from Athens, it is always better to make it the first destination if you're traveling by ferry; this way, you can cross your way up from Santorini to get back to Athens at the end of your island hopping experience.
Mykonos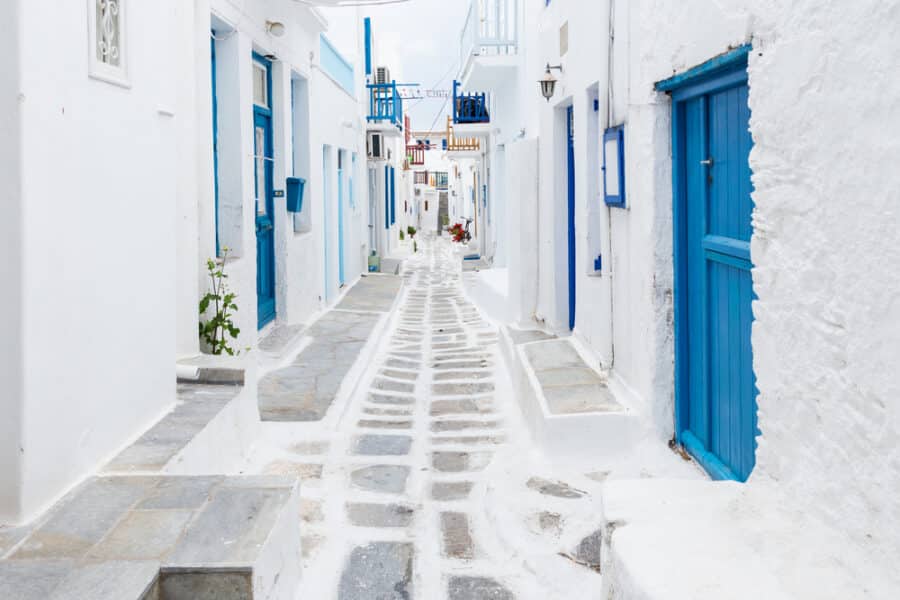 Another famous Greek Island, Mykonos, is known for its glamour and crazy nightlife, expensive boutiques, and super high prices. Whitewashed landscapes are also part of Mykonos' panorama, while the island also has something Santorini doesn't: amazing beaches.
There are direct flights from several European cities too, so Mykonos offers an excellent opportunity to travel to Greece without reaching Athens,
Mykonos is exclusive; it's a place where celebrities choose to spend their summers, so expect very high prices for anything you want to do, from riding a taxi to buying a bottle of mineral water. Everything costs more in Mykonos! Being a cruise ship destination, the island can sometimes feel overcrowded.
The island, however, has some pretty beaches, including Elia, Ornos, and Super Paradise. Other than that, if you're a fan of Greece's past, Delos's archaeological site is an incredible island that can easily be visited from Mykonos.
Naxos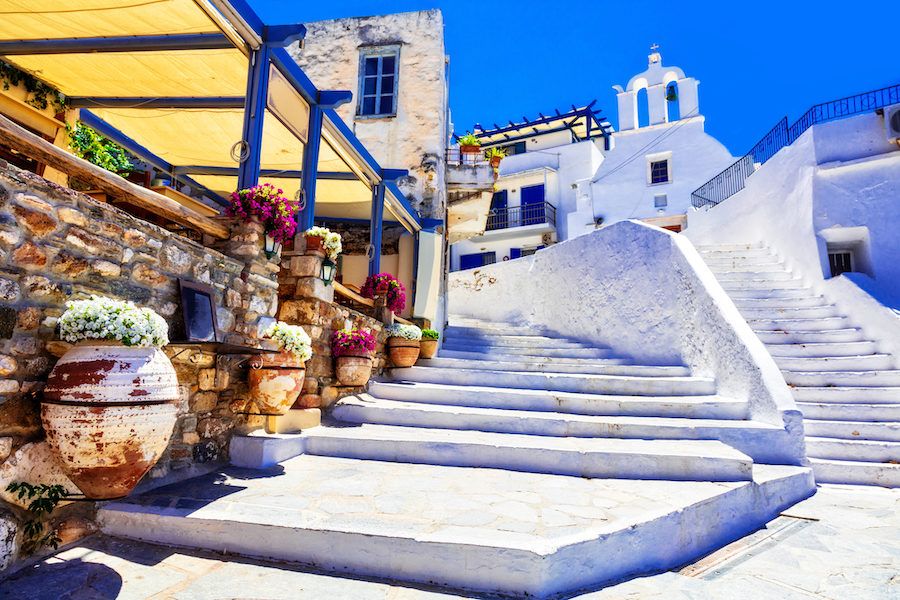 Home to some of the most beautiful beaches in the Cyclades, the island of Naxos is enormous and hard to visit in a short time. If you're happy seeing only a tiny portion of the island, then add it to your Cyclades island-hopping itinerary.
Prices are affordable compared to other Greek islands, and there are not many reasons you should exclude Naxos. Maybe it's not as cosmopolitan as Mykonos or Santorini, but for many tourists, that's the real beauty of it. The island is very green and has some enchanting mountain villages you can visit. The food is wonderful, balancing incredible landscapes, top archaeological sites, outstanding beaches, and many interesting activities with kids. In a way, it is a perfect destination that you should not miss in your itinerary.
Paros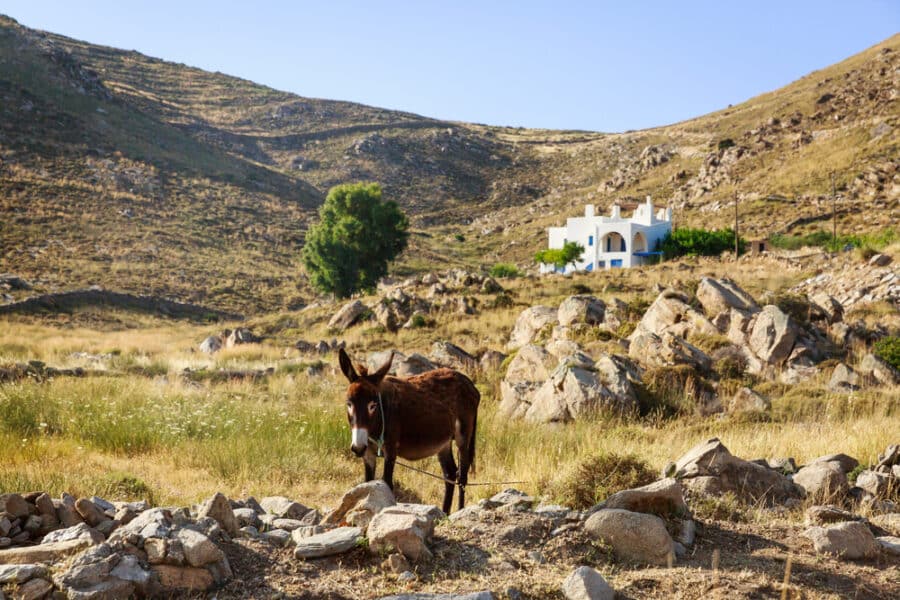 Another fantastic Greek Island is Paros, just a quick ferry ride from Naxos. It's much more popular among young Greek crowds, making it lively and crowded during summer.
Paros has gorgeous beaches and a lot of places to be discovered. On the downside, it can be considered more fit for a younger public, so if you're after a family place, relaxing and quiet, then Paros could be replaced by Naxos in your itinerary.
Having reached a favored status, chosen by young people who cannot afford a holiday in Mykonos, has had the consequence of making prices go up a little, not much but definitely noticeable by Greece's standards.
Those traveling on a budget should keep this in mind and plan well ahead to avoid unpleasant surprises.
Ios
Superb beauty, astonishing beaches, and incredible whitewashed landscapes are also part of the Ios atmosphere. Ios is one of the most beautiful Aegean islands you can visit, yet it has earned the fame of being an island for young people and party animals… Not so much so, but indeed, there's some truth beneath this common belief.
Ios can be considered the party capital of the Cyclades, there are plenty of clubs and bars, and night beach parties are part of the deal too. This makes Ios an option for teens and young adults while less loved by families.
Milos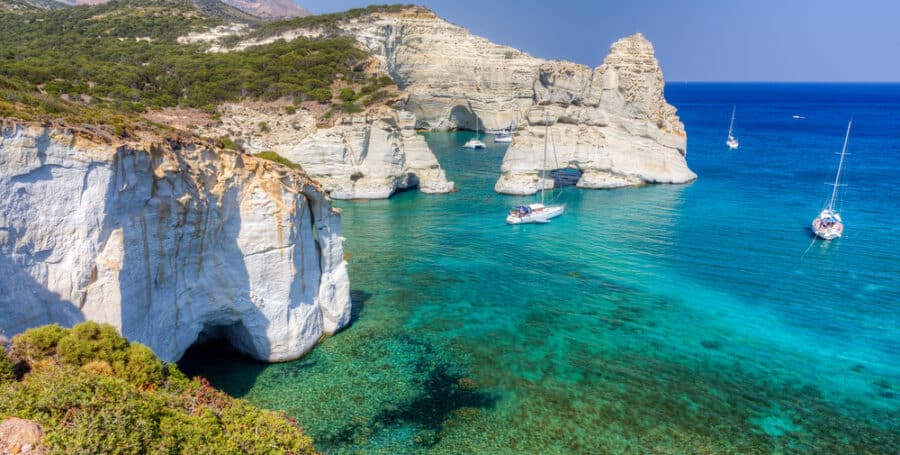 Milos is a small, pretty, and quiet Greek Island in the Cyclades, easy to visit in a short time. Although Milos has been blessed with some of the most beautiful beaches of the Aegean, some of these unique beaches are very hard to access without a boat. This means that those who are not so keen on swimming might have difficulty reaching the water by jumping from a boat.
And despite beautiful beaches being a key trademark of Milos, if you prefer traditional sandy beaches, this moon-like landscape may not be the right place for you.
QUICK GUIDE TO THE CYCLADES
For Beach Lovers
Mykonos
Andros
Koufonisia
Ios
Folegandros
Kythnos
Donoussa
Sifnos
Iraklia
Naxos
Serifos
Sikinos
Schinoussa
For Party Animals
For History Buffs
Santorini
Naxos
Paros
Tinos
Andros
Delos
Milos
Syros
Koufonissia
To Escape The Crowds
Anafi
Folegandros
Ios
Kimolos
Serifos
Sikino
Amorgos
Folegandros
Tinos
For Foodies
Sifnos
Tinos
Paros
Milos
Naxos
Best Route Options For Cyclades Travel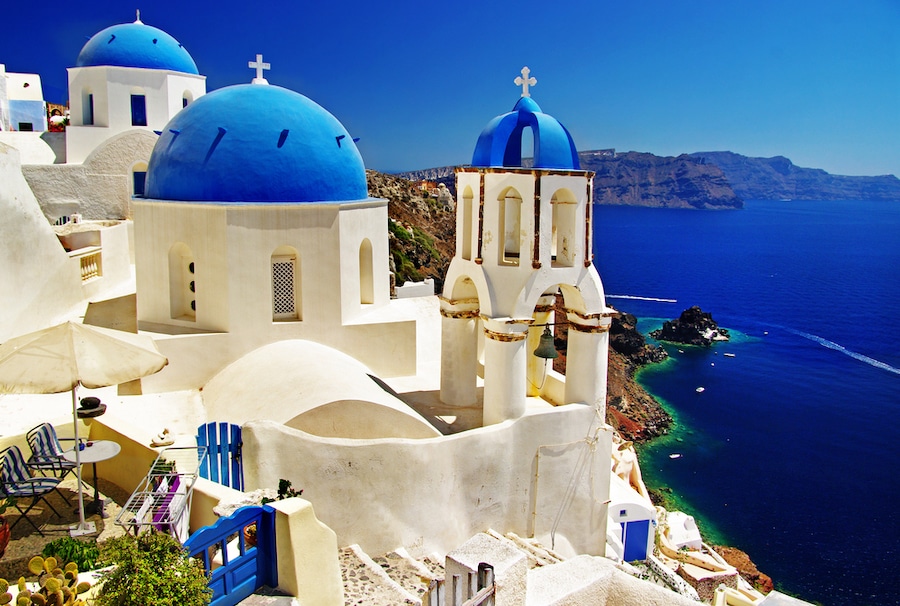 In this Cyclades island-hopping itinerary, we show you what islands you should naturally visit. We know that not all the islands included here will be part of your trip, but this allows you to better plan the trip.
As we mentioned above, the best thing you can do is to start your trip from the island further from Athens, which is Santorini. You can get there by ferry (from 6 to 10 hours ferry trip) or by plane in less than an hour.
You're not tired and full of energy at the beginning of your trip, so the long journey will not look so long. Once you have visited the whitewashed island, the famous Caldera villages, and the black beaches, you should move on to Ios if this island is also included in your itinerary.
The closest island to Santorini is Ios, which means several boats and ferries each day connect both islands.
The trip is less than an hour, so you can certainly add it to your trip if you love parties and renowned beaches too. Also, Milos has ferry connections to Santorini, so this is another option to move forward on your route if you intend to skip Ios.
Paros and Naxos are the two following islands you should visit. Both are easy to reach from Ios island, so they are the ones that should come next. Being bigger and with plenty of things to do, we suggest you start visiting Naxos, which is also very close to Santorini, something you should consider if Ios is not part of the islands you plan to visit.
If you love more traditional places, entirely off the beaten track, it's not a bad idea to drop Paros and, from Naxos, head directly to Amorgos. The island is a magnificent destination if you love to hike or are longing to spend a relaxing holiday, where a simpler lifestyle is a priority for you, instead of parties or nightclubs.
Mykonos is connected via ferry only with Naxos, Ios, and Santorini. So, remember this if you plan to include it in your Cyclades itinerary.
Which Cyclades Islands Have Airports
Although we know that the quintessential part of island hopping is ferry travel, getting to an island by plane can save a lot of time.
Islands With International Airports In The Cyclades Are:
Islands With Domestic Airports In The Cyclades Are:
Airports allow you either to begin or end your trip without even setting foot on a ferry from Piraeus.
Best Beaches In The Cyclades Greece
These are the best beaches in the Cyclades Islands mentioned in this article:
Santorini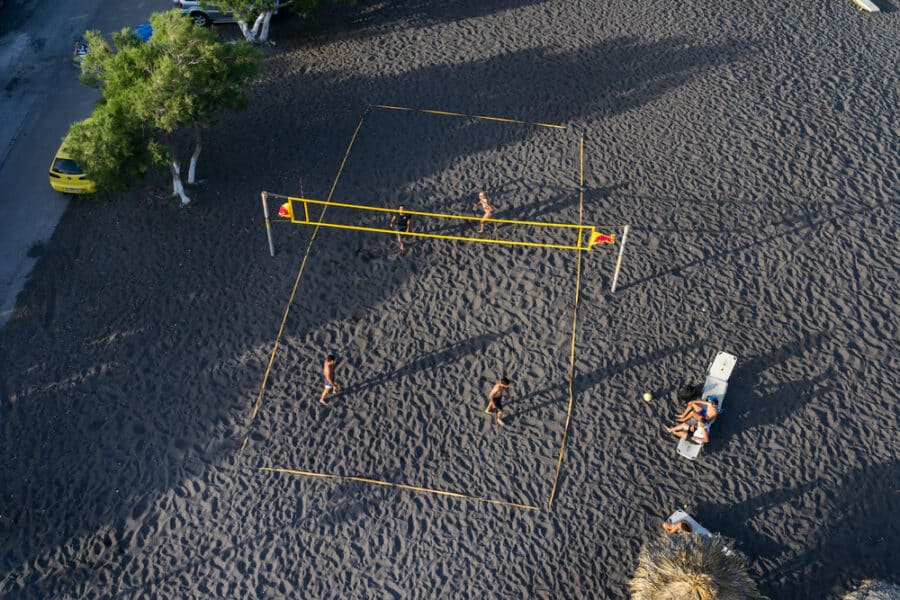 The most scenic beach on the island is the Red Beach, which is more interesting for the landscape than for the actual beach facilities. If you like weird landscapes, also visit White Beach and Perissa, the black beach.
Mykonos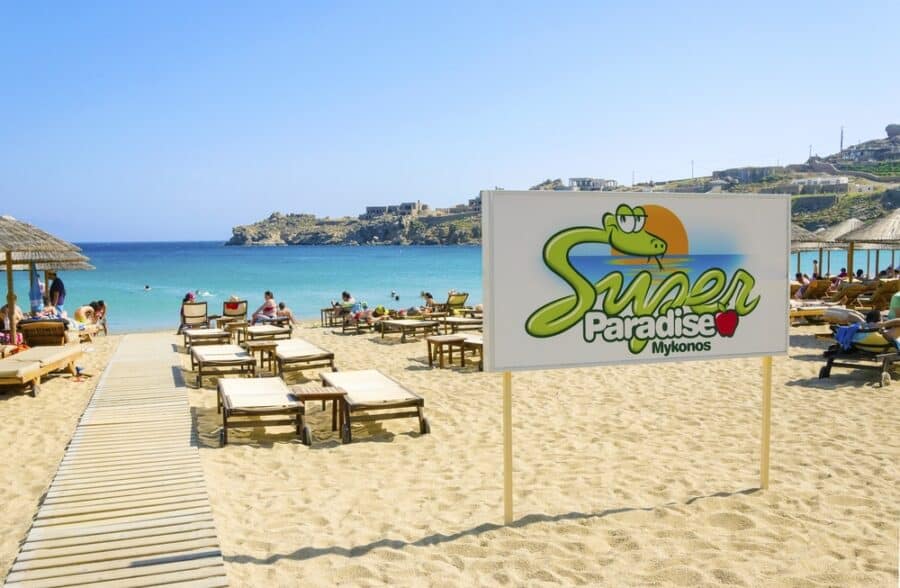 Mykonos has more beautiful beaches than Santorini; some of the favorite ones are Super Paradise, Elia, and the exclusive area of Cavo Psarou.
Naxos
According to many travelers, Plaka is the most beautiful beach in Naxos – one of the top beaches in Greece. It has fine golden sand and turquoise waters. The beach is very wide and safe for children.
Paros
Paros has gorgeous beaches; Santa Maria is a broad and sandy shore loved by families who travel to Greece. Kolymbithres is a bizarre shore with a lunar landscape and soft rocks eroded by the wind and the sea.
Ios
Mylopotas is the most famous beach on Ios Island, it has a unique azure and emerald waters, and it's a perfect place for water sports.
Milos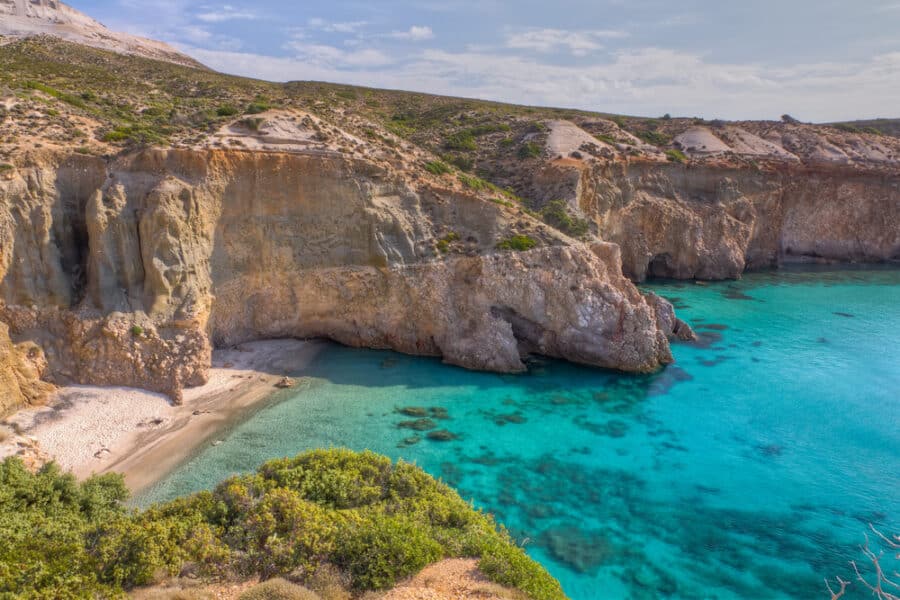 The most famous beach on the island is Tsigrado, while Sarakiniko is another favorite beach you can visit in Milos.
Amorgos
One of the most famous beaches in Amorgos and the rest of the Cyclades is known as Mouros Beach.
Cyclades Island Itinerary 1 Week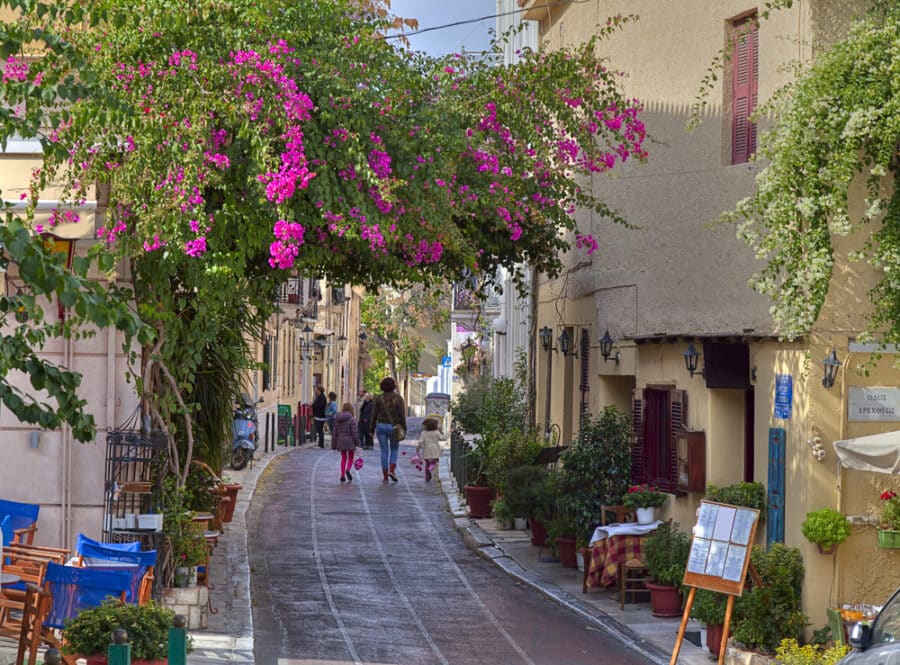 As we have mentioned, a one-week itinerary of the Cyclades can offer you the possibility to see two or three Cyclades islands without stressing and running around.
Adding more islands to a week can result in stressful experiences.
According to what we mentioned before, these are three good itinerary options:
Option 1: Santorini – Milos – Ios – Athens
Option 2: Santorini – Paros – Naxos – Athens
Option 3: Santorini – Naxos – Amorgos – Athens
Cyclades Island Hopping Itinerary 14 Days
When you have more time available, you can fit one or even two more islands into the itinerary, provided that the last two are very close to each other.
Here are 10 Cyclades island hopping route suggestions
Option 1: Santorini – Ios – Naxos – Mykonos
Option 2: Santorini – Paros – Naxos – Mykonos
Option 3: Santorini – Milos – Paros – Naxos – Mykonos
Option 4: Mykonos – Syros – Paros – Naxos – Ios – Folegandros – Milos
Option 5: Kythnos – Serifos – Sifnos – Kimolos – Milos
Option 6: Andros – Tinos – Mykonos – Naxos
Option 7: Tinos – Mykonos – Naxos – Paros – Ios – Santorini
Option 8: Syros – Mykonos – Naxos – Ios – Santorini
Option 9: Paros – Naxos – Iraklia – Schinoussa – Koufonisia – Amorgos
Option 10: Santorini – Ios – Paros – Naxos – Mykonos
All these three options can end with a flight or ferry to Athens or a direct flight within Europe.
Now you have all the information you need to island-hop the Cyclades in Greece – enjoy!