Your Guide To Santorini With Kids (Plus The Pros And Cons List)
If you are searching for the perfect Greek Island vacation, Santorini is where you want to go; in fact, Greece with kids is a great idea.
Things to do in Santorini with kids include cruising, swimming on the beaches, trying out Greek cuisine, and enjoying ancient sites and beautiful sunsets.
This small island is where one of history's largest volcanic eruptions took place during the Minoan civilization. With strikingly gorgeous cliffs, colorful villages and towns, and mind-blowing Greek cuisine, chances are, you'll never forget your time spent in Santorini.
Where Is Santorini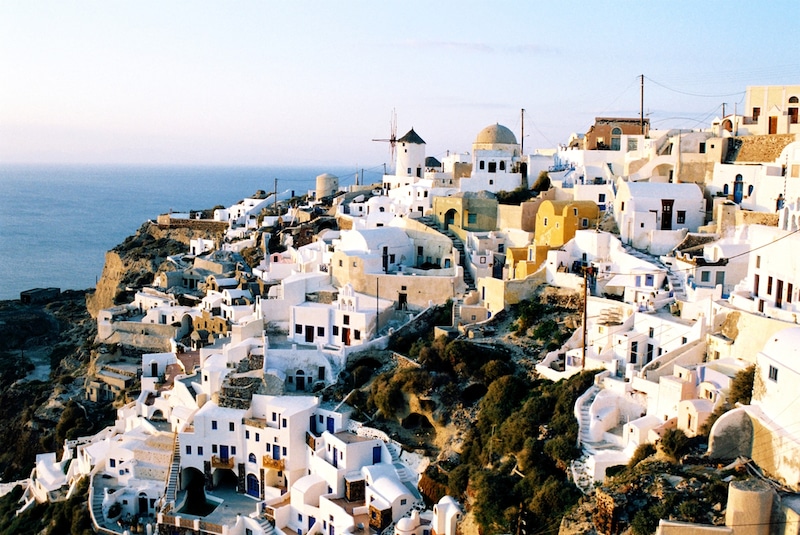 Santorini is located in the Cycladic island group in the southern Aegean Sea, which is part of the Mediterranean Sea. Officially called Thira or Thera, Santorini is one of the best destinations in Greece.
How To Get To Santorini
Getting to Santorini is easiest if you take a plane from the Athens International Airport as it lasts only about 40 minutes. After reaching the National Airport of Santorini in Kamari village, you can take a taxi or a bus to the capital Fira.
You can also take a ferry boat from the port of Piraeus in Athens to Santorini. This may take nearly 8 hours, but you'll get to enjoy the breathtaking views of the Caldera and the cliffs. Taxis and buses often run from the port to different towns.
There are no direct flights to Santorini from the USA, Canada, or Australia.
When Is The Best Time To Travel To Santorini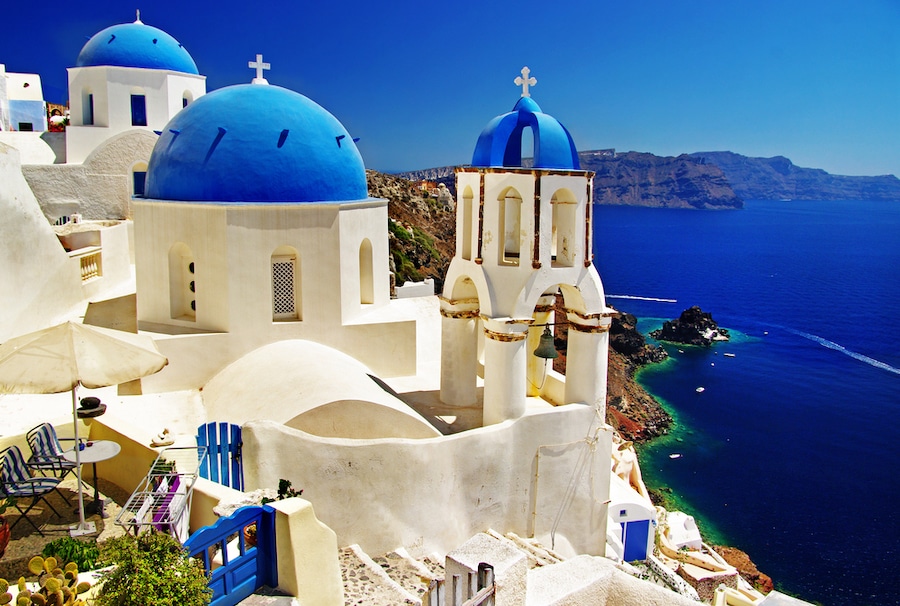 The best time to visit Santorini is from August to October as the weather during this time is pleasant, and it will not be too busy. For sightseeing, it is best to visit Santorini from April to May. For swimming and sunbathing, June to September is ideal. Remember to book your hotel in advance if you're planning to visit Santorini during the summer.
Santorini With Kids, What To Do & See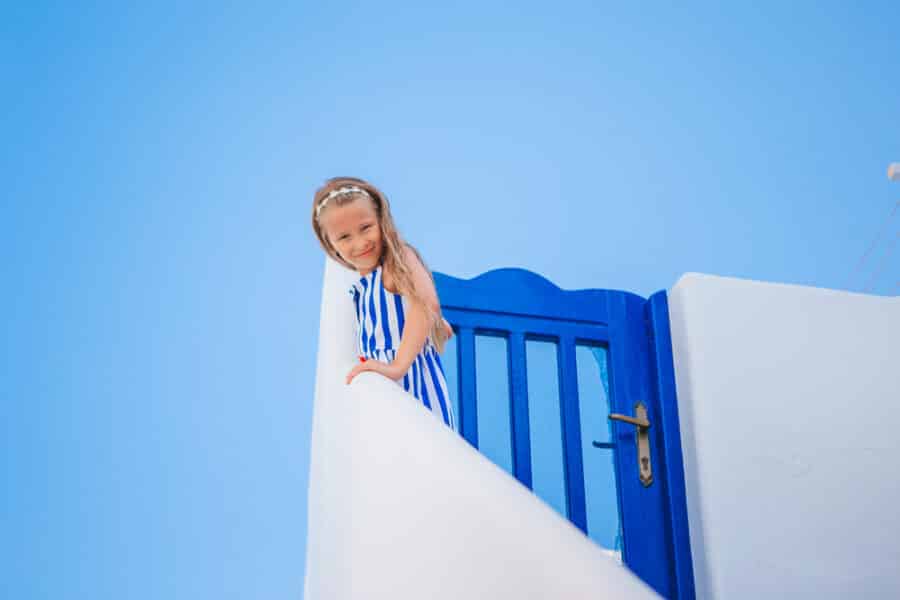 A Santorini family itinerary can vary depending on the interests of your children. It may not be the perfect travel destination for kids, but it sure holds a treat for all its visitors.
Families can rent a car and drive around the island to discover its beautiful towns, take pictures at the gorgeous beaches, and explore the history of Santorini. You can try out the local dishes like moussaka, fried calamari, and baklava.
Finally, cruising the Caldera is among the top things to do in Santorini with kids. Children will surely love the blue waters and the breathtaking views of the cliff.
Where To Stay In Santorini With Kids
There are only a few kid-friendly hotels in Santorini, so make sure you book in advance if you plan to spend Santorini holidays with kids. Although some of these hotels are pricey, they sure provide once-in-a-lifetime experiences. Read on our expert list of the best family hotels in Santorini.
Rivari Santorini Hotel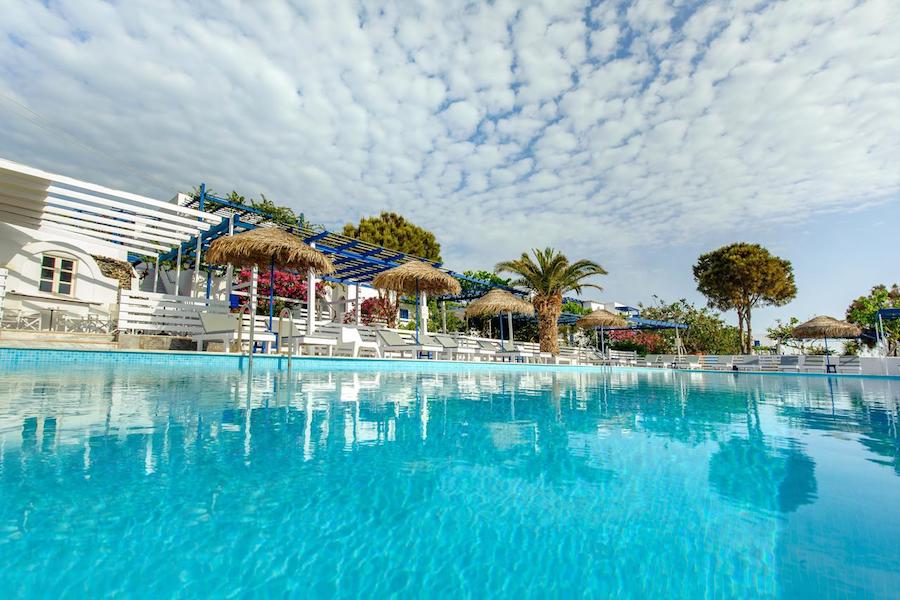 Rivari Santorini Hotel is located on the main street in Kamari village. The famous Kamari beach is just a 10-minute walk away. The hotel is built in a traditional architectural Cycladic style, with seven split-floor buildings. You can rent a car or motorcycle from the hotel to drive around the island.
Aethrio Sunset Village – Oia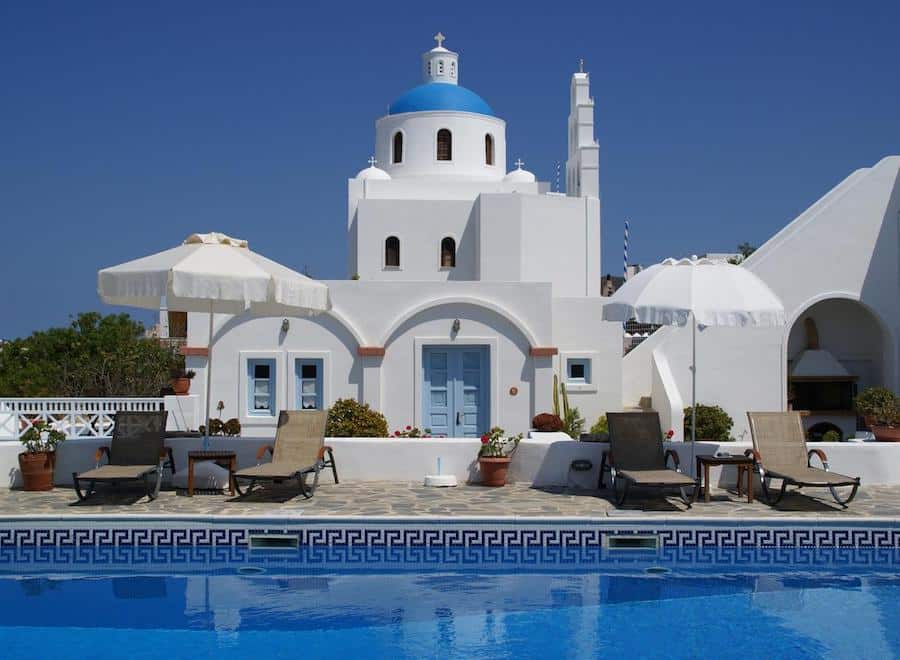 Located in the heart of Oia, the Aethrio Sunset Village features Cycladic-style studios, suites, and rooms. Visitors love the roof terrace, from where you can enjoy the breathtaking views of the sea and the sun. There are many shops, restaurants, and bars nearby the hotel.
Splendour Resort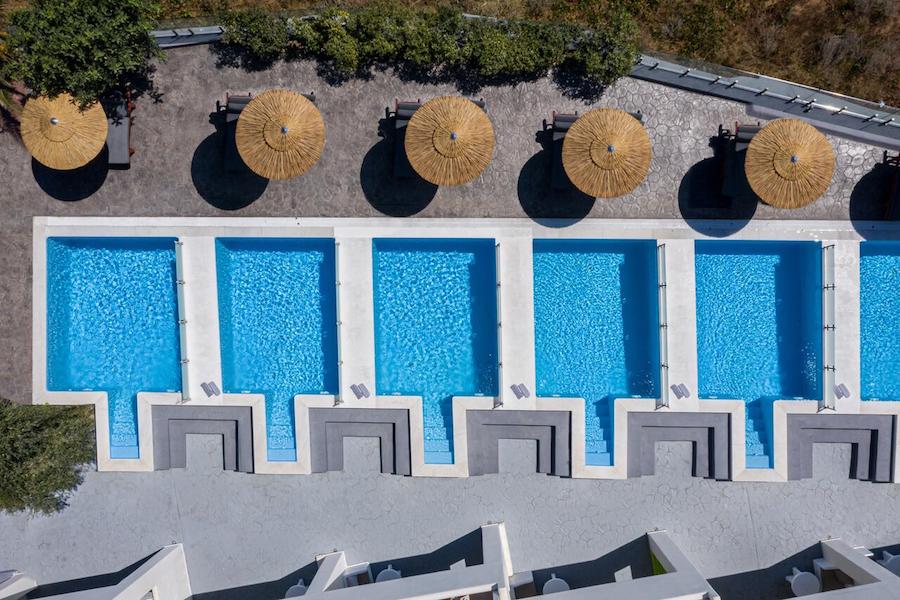 Overlooking the beautiful Aegean Sea, the Splendour Resort is a 5-star resort located in the village of Firostefani. Amenities include a swimming pool, pool bar, restaurant, and free wifi. All rooms have a private balcony, a mini-fridge, and a satellite TV. The picturesque town of Fira is just a 15-minute walk from the resort.
Kiklamino Studios & Apartments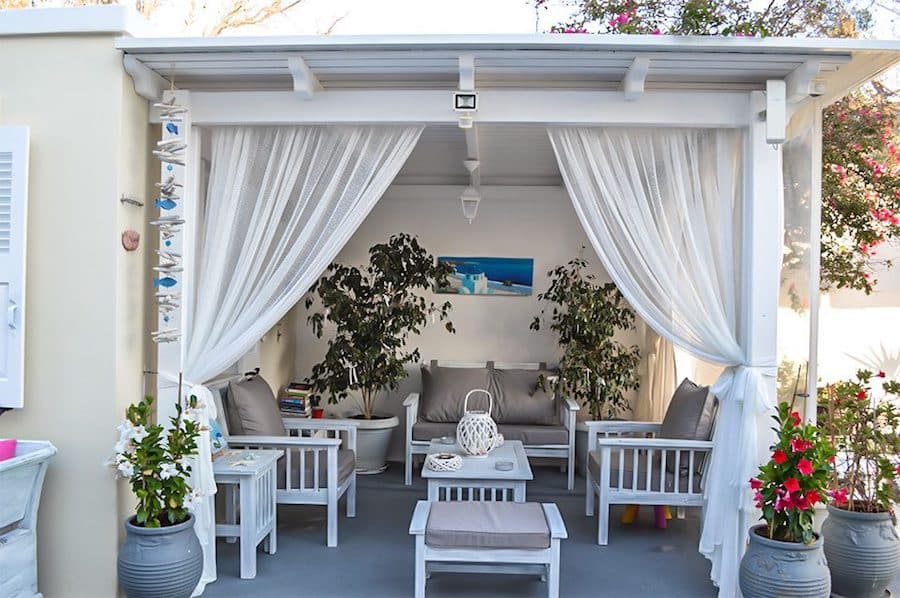 This hotel is located 800 meters from the center of Oia (a 20-minute walk from Oia). The hotel overlooks the Aegean Sea and offers beautiful views of the Santorini sunset. You can rent a bike or car from the hotel. They can also organize island tours on request.
Villa Voula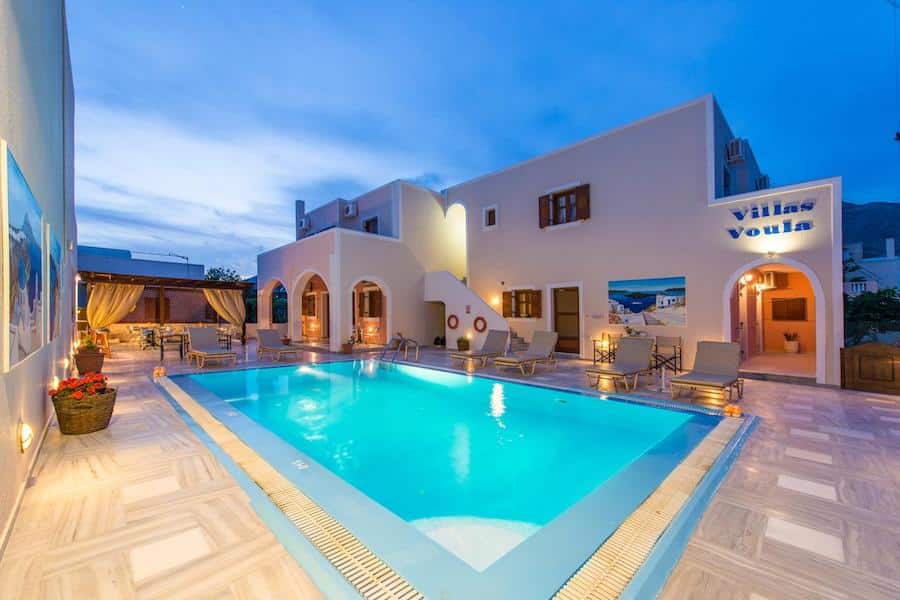 Built in traditional Cycladic architecture, Villa Voula in Perissa is yet another beautiful hotel to stay in when you're in Santorini with children. The famous black beach is just 150 meters away from the hotel. You will also have easy access to restaurants, bars, and shops.
Things To Do In Santorini With Kids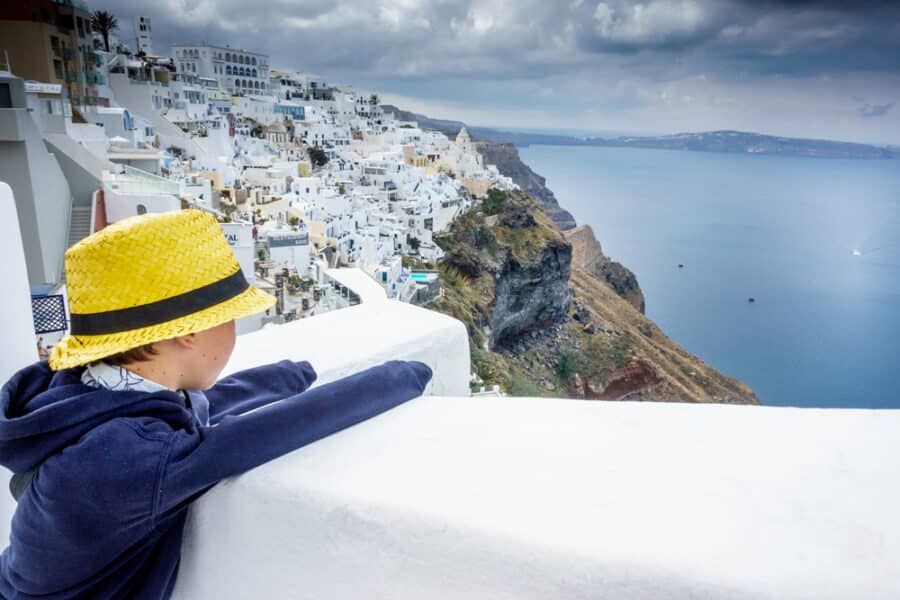 If you are clueless about what to do in Santorini with kids, don't worry. We've got you covered.
Santorini has exciting activities in store for people of all ages. With incredible beaches, breathtaking views, beautiful towns, and the best food, you are likely to have a hard time beating the end-of-summer vacation blues!
Use this list to find fun things to do in Santorini with kids and plan the most exciting vacation on this island.
Cruise The Caldera
Cruises continue to be the best way to see the craters, hot springs, and gorgeous cliffs in Santorini.
A Santorini trip is not complete without cruising the Caldera, from short sightseeing cruises to sunset dinner cruises to Greek dancing on the boat. The price will differ with the type of cruise you choose, such as a sailboat, a kayak, or a catamaran.
Look out for cruise companies that your hotel recommends. If you're visiting during the busy summer, book your cruise in advance.
Swim In Santorini's Beaches
Some of the best family-friendly beaches in Santorini include the Perissa, Monolithos, and Kamari beach. Locals also love to swim off the rocks below Oia.
Plan a fun day at the beach and grab lunch from one of the seafood restaurants at the base of cliffs.
Try Out Local Dishes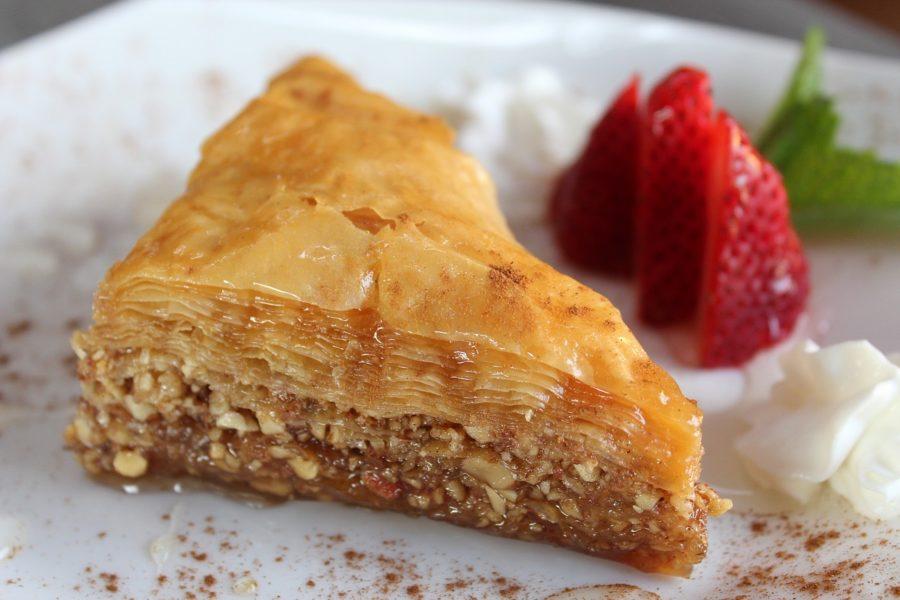 Trying out the local specialties is another exciting thing to do in Santorini. Some of the best local dishes include Fava (a kind of pea), Tomatokeftedes (fried tomato balls), and Vinsanto (an Italian dessert wine made from dried raisins).
Watch A Movie At The Open Air Cinema In Kamari
Kamari village in Santorini is known for its open-air cinema. The setting is beautiful, and the experience will be magical, especially if you or your kids haven't been to an open-air cinema before.
Walk From Fira To Oia
Fira and Oia are among the most beautiful and colorful towns in Santorini. The two towns are six miles apart, so that the trek can take at least 3 hours with kids. Go for this only if your kids are older, as it will be difficult if you're carrying babies.
It is best if you start early in the morning so that you will reach Oia by noon. Eat lunch in Oia and take a bus or a short taxi to Fira.
Fira is known for its sunset views from the short promenade near the Cathedral. You can spend the evening here in one of the cliff-clinging restaurants, but remember to book in advance.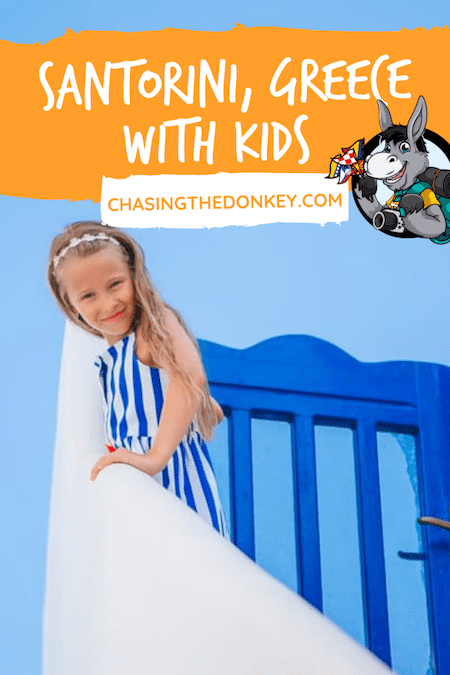 How To Travel Around Santorini Island With Kids
Getting around Santorini with kids is easiest on foot or by bus or car. You'll find many KTEL buses traveling from one town to another. If you want to take a car, remember to book in advance. If you have a baby on board, book a vehicle that has a baby car seat.
Keep in mind that taking strollers to get around Santorini can be a nightmare. This is because most of the places in Santorini are rocky and steep, except for a few spots in the towns of Fira and Oia.
Best Beaches In Santorini For Families And Kids
Picnics at the beach can make Santorini holidays with kids exciting. And the good news is, Santorini has many kid-friendly beaches. These include Monolithos beach, Perissa beach, Kamari beach, Caldera beach, Perivolos beach, etc.
Grab your sunscreen, beach towels, and beach toys for the kids and head off to any one of these fabulous beaches:
Monolithos Beach
Monolithos beach has the coolest looking sand, which is perfect for making sandcastles. The water here is comparatively shallow, making it safe and kid-friendly. There are a few hotels and a play area for the kids nearby. It is mostly quiet here, so if you want to spend some time in peace, head to Monolithos beach.
Perissa Beach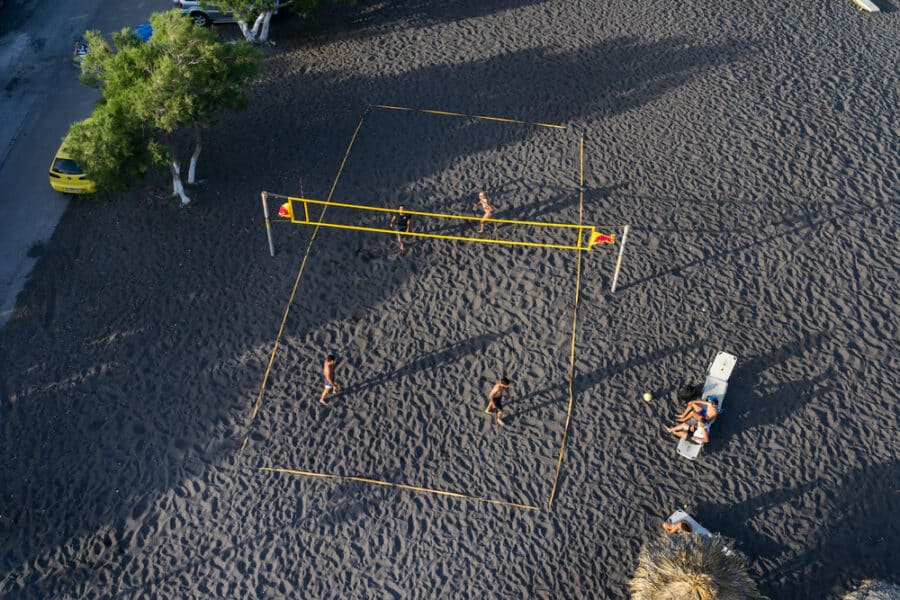 Perissa beach is yet another kid-friendly beach in Santorini. There is a bus stop and a water taxi stop towards the north end of the beach. You can take a water taxi from Perissa Beach to Kamari beach. The two beaches are separated by a hill called Mesa Vouno. You'll also find a wide range of restaurants and hotels here.
Kamari Beach
Kamara beach is the busiest beach in Santorini. You'll find a lot of excellent eateries and shops nearby. The beach is pebbly, and the water is crystal clear. In short, Kamari beach is a perfect place to stroll in the evening with your family and friends.
Red Beach
Red beach is known for its stunning views. Just like its name, the sand here is red in color, making it one of the most instagrammable places in Santorini. But keep in mind that the path down to the beach is a little steep, so it is safer to click pictures from a distance.
Best Family Restaurants In Santorini
There are a lot of restaurants that do justice to Santorini's breathtaking views. Here are some of the best family restaurants in Santorini:
Mezzo Restaurant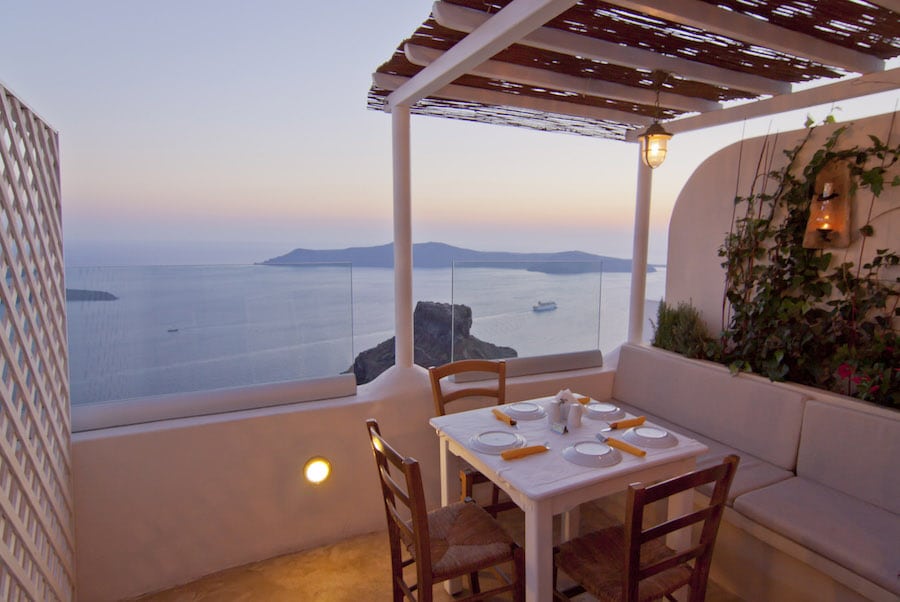 Located on the cliff-side in a village called Imerovigli, the Mezzo restaurant offers jaw-dropping views of Santorini. The restaurant is famous for its Mediterranean dishes such as grilled octopus, fisherman shrimps, and tuna tartar. The best time to dine here is either at noon for lunch or early in the evening.
Avocado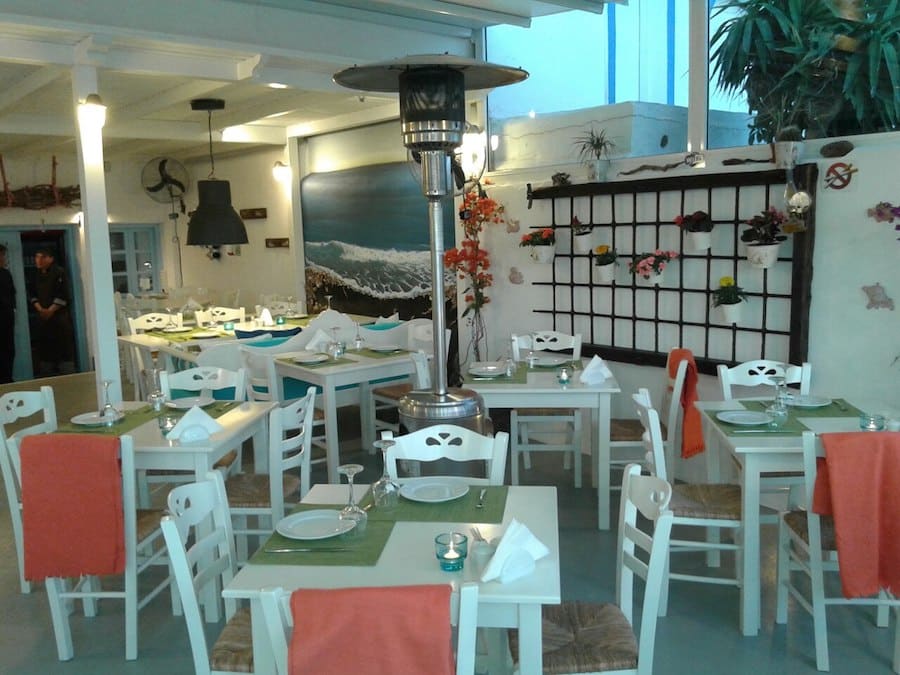 Avocado is another family-friendly restaurant in Imerovigli. They are open from 12 pm to 12 am so that you can go for lunch or dinner. There are both indoor and outdoor dining options. The menu ranges from traditional Greek dishes to various seafood, pasta, and vegetarian options. You will have to cross the street as the restaurant is located just off the Caldera to enjoy the view.
Fistikies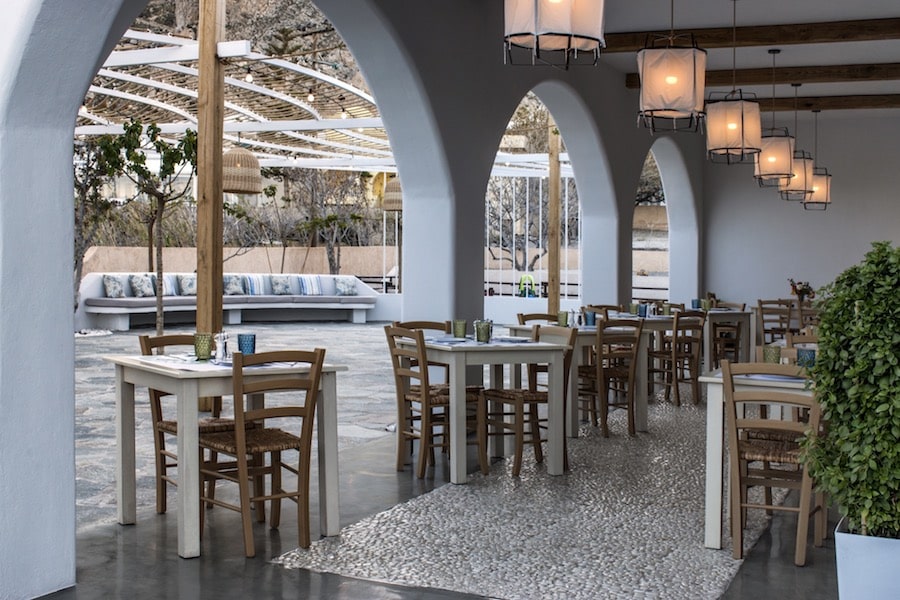 Fistikies is located near Kamari Beach. So after a fun day at the beach, you can go to Fistikies for lunch. The restaurant is popular for its traditional Mediterranean cuisine and the best quality wines and beers. They even have a kid's menu and a small playground for children.
Metaxy Mas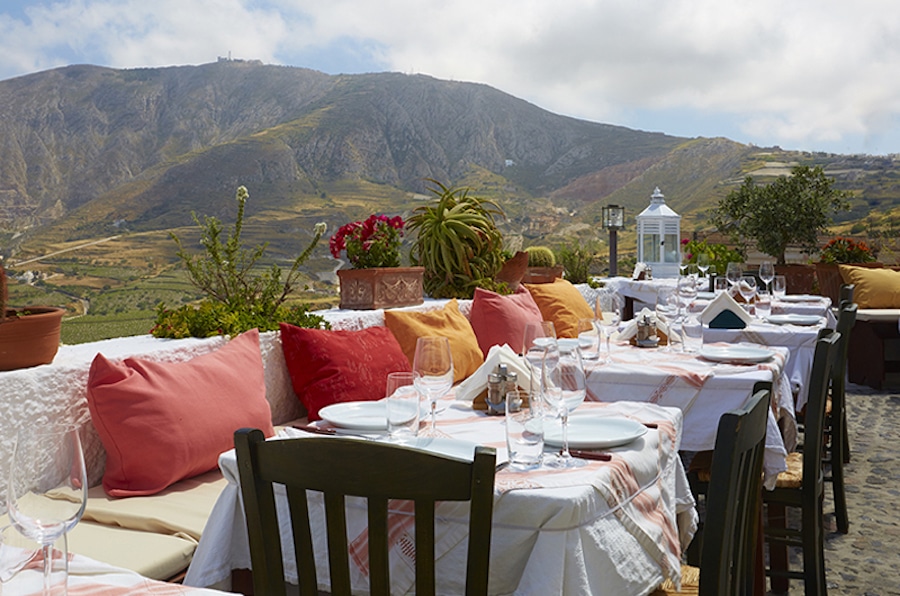 Metaxy Mas is a beautiful restaurant situated in the depth of a hill in Pyrgos, a village less than two miles from Kamari. The easiest and cheapest way to get here is by bus.
The food is delicious, and you can enjoy the breathtaking views of the beach from this restaurant. Remember to book your seats in advance as it can get pretty busy here.
PROS AND CONS OF GOING TO SANTORINI WITH KIDS
Santorini holidays with kids require a well-planned Santorini family itinerary. Here are a few pros and cons of going to Santorini with kids:
Santorini With Kids – Pros
Stunning views of the beach
No matter where you turn to, you will find breathtaking views everywhere in Santorini. The cliffs are a treat to look at, and the beach sand comes in different colors!
Picturesque villages
You can explore the towns of Fira, Oia, and other towns and villages in Santorini on foot. These are so beautiful that you can click stunning pictures every time you stop walking. Take an extra memory card in case you run out of space on your camera!
Interesting history
The history of Santorini is fascinating. You can explain to your kids about the volcanic eruptions that took place in Santorini in 1646 BC. The boat tour of the Caldera makes it even more exciting to witness the remains of the eruption even after all these years.
Santorini With Kids – Cons
Hilly Terrain and Steep Drops
Most places in Santorini are rocky and have a lot of steps, making it a dangerous place for small kids. If you have babies on board, you'll have to carry them as taking strollers to get around is not a good idea.
Limited accommodation options
The hotels in Santorini are swoon-worthy, but there are only a few of them. So you'll have to book in advance as the rooms get filled up pretty fast. Also, some of the hotels allow only adults.
Expensive hotels
Some family hotels in Santorini can get really expensive, so plan your budget in advance and choose a suitable hotel.
High temperatures at noon
It can get sweltering at noon in Santorini, so it is better to start early in the morning and relax at noon if you're planning to explore the island. It is best not to be out in the scorching sun, especially if you have kids on board.
Travel Tips For Traveling Santorini With Kids
Traveling Santorini with kids is no piece of cake, but you can make this trip fun, exciting, and memorable with proper planning. Read on for travel tips for traveling Santorini with kids:
Do not take strollers to Santorini. Most of the places are steep and rocky, so it is best to carry your baby while getting around the island
Book your hotel early, as soon as you plan the trip
Consider your baby's sleep schedule and jet lag while planning the trip
Carry baby supplies to the island, in case you don't find them here
If you're planning to explore the island by car, book a car with a baby seat in advance
It is best not to visit Santorini during summer as it can get scorching and kids may feel uncomfortable – here is our guide to Santorini in the winter
Share