Some posts contain compensated links. Please read this disclaimer for more info.
Things To Do In Corfu With Kids & Families
The Greek Island of Corfu is a popular holiday resort located on the Ionian Sea. Corfu island is pretty big and offers a wide range of places to see and has many activities on offer, providing you with an entertaining Greek family vacation.
The island hosts some of the most beautiful beaches in Greece and a long warm season. The island also has an exciting landscape with stunning cliffs and imposing green mountains.
Corfu's capital, also known as Corfu, hosts a magnificent old town with Venetian influences and a romantic atmosphere. Corfu Town is a great place to unwind at night and enjoy various tavernas, shops, and bars.
Where Is Corfu
Corfu is the second big island that sits in the Ionian Sea, off of the northwestern coast of Greece and facing the southern portion of Albania.
How To Get To Corfu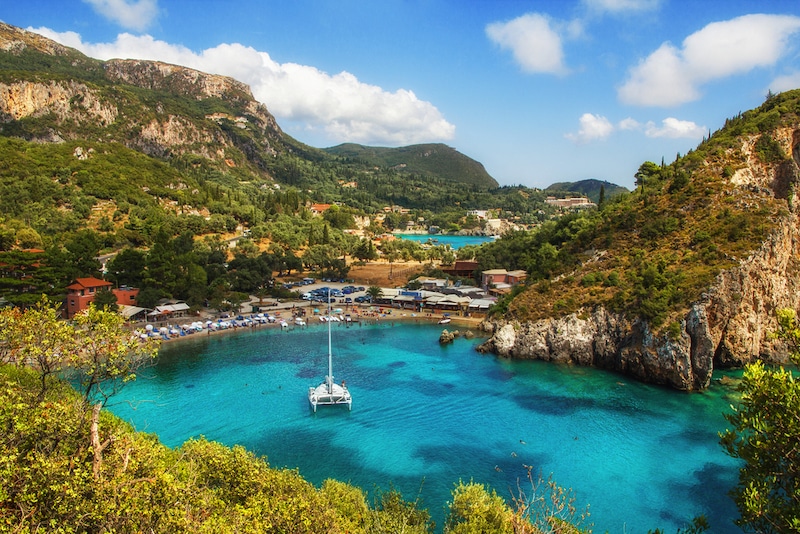 There's an international airport just minutes from the center of the capital. It receives flights from all over Europe, mainly during the high season.
Travelers coming from the rest of the world can easily reach Corfu departing from Athens International Airport, the flight is little less than an hour.
Although no ferries are connecting Athens to Corfu, it's possible to reach the island by boat from the coast of Italy.
There are also ferries from Igoumenitsa and Patra that depart daily. The ride from Igoumenitsa to Corfu is about two hours, while the trip by sea from Patra can take up to 8 hours.
Corfu With Kids, What To Do & What To Expect
Corfu, one of the most famous Greek Islands, is the perfect destination for families with children. It's home to very safe beaches and an inviting hinterland ideal for hikes and excursions in nature.
The island also hosts phenomenal museums and archaeological sites that will pique your kid's interests and attention.
Safe, green, with unique pristine coasts and white sand beaches, home to healthy and tasty gastronomy, Corfu can be an absolute heaven for families with children.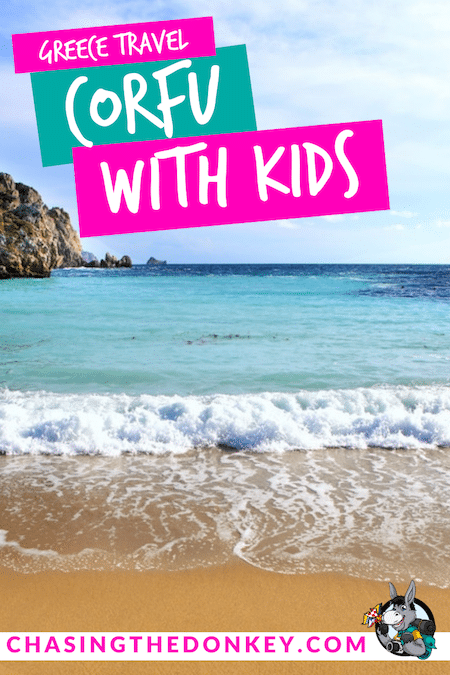 Best Place To Stay In Corfu For Families
The island features a variety of holiday resorts suitable for every kind of traveler. It can be a super romantic destination for couples and honeymooners and a perfect spot for those into adventure travel.
When it comes to families, the island looks nothing short of perfect. These are some of the best villages you can check when deciding where to stay in Corfu with kids.
Best Villages And Towns In Corfu For Families
East Coast: Benitses and Messonghi
Although this area is not known for the great beaches that the rest of Corfu offers, it still remains a fantastic seaside resort, safe and well protected from winds.
There are several restaurants, bars, and places for a fun night without reaching the capital.
And yet, Benitses is quite close to Corfu's capital, so you can easily choose to get there for dinners, walks, tours, and night entertainment for all the family.
When visiting, kids can enjoy the big playground and a fantastic museum about the wonders of the sea that kids usually adore!
And for those families who like to explore, Benitses is not far from the West coast of Corfu, where children can marvel at the most beautiful beaches on the island.
About 15 kilometers south of Benitses, the village of Messonghi is another family-friendly resort in Corfu. There is exceptional accommodation for families while the village offers plenty of restaurants and traditional tavernas.
According to the locals, Corfu's safest and shallowest beach is right in this village, so this can be easily considered the best area to stay in Corfu with children.
Northwest: Palaiokastritsa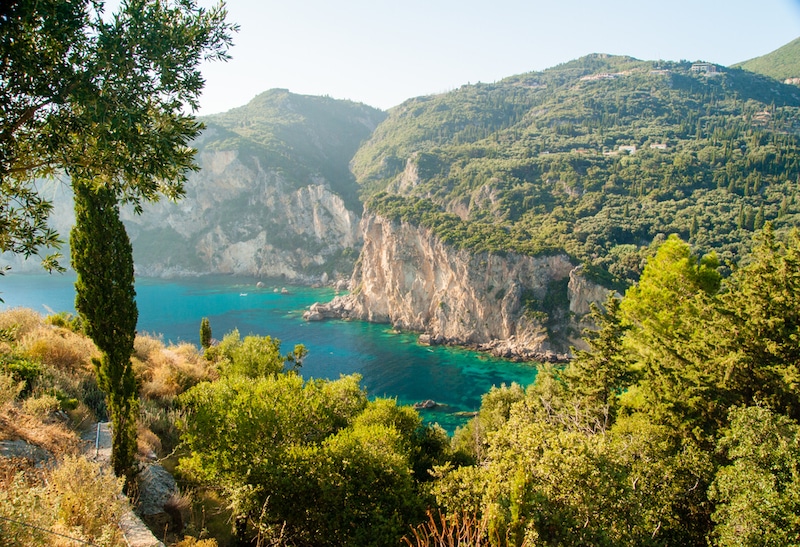 One of the most beautiful areas in Corfu is definitely Paleokastritsa. The resort boasts one of the most beautiful beaches on the island, with sea caves to explore that the most adventurous children will simply adore.
Here, it's possible to rent paddle boats and discover the mysterious caves with pristine emerald waters that dot the coast of Paleokastritsa.
There are five different beaches in the village and a few hidden shores to explore. And although the area has the fame of having the coldest waters on the island, kids simply forget about that and truly enjoy one of Corfu's most kid-friendly shores in terms of safety.
If you choose to stay in Paleokastritsa with the family, remember that there's also a fascinating aquarium for kids to enjoy. There is also a large water park that families can visit, Aqualand, not far from the coast.
The North: Kassiopi, Roda, and Acharavi
Both Acharavi and Roda lay on the northern part of the area and host long, wide sandy beaches. The villages are calm and quiet, without too many choices when it comes to nightlife. This makes them relatively peaceful settlements with perfect accommodation choices for families.
Kassiopi, closer to the East, is a bit more alive, with a beautiful picturesque port and more things to do in the evening. The village has quite a few likable resorts and a long sandy beach, calm and shallow, great for kids.
Sidari
Finally, Sidari, known as the most romantic spot in Corfu, could also be considered a good spot for a family holiday in Corfu, primarily for families with teens and older children.
Sidari has a lively nightlife and many restaurants and bars but remains far from a party resort.
The beach is ideal for families too and for kids who love swimming and practicing water sports.
Where To Stay In Corfu With Kids – Corfu Resorts For Families
There are plenty of seaside resorts that specially cater to families and kids. Many of them provide safe and calm beaches with shallow water.
Other resorts, instead, also offer a range of kid-oriented facilities and activities, including sports, kid's clubs, and children's playgrounds.
The best of them are the ones that also offer special activities for the rest of the family so that everyone can enjoy a truly relaxing vacation. These are the ones we recommend:
Budget-Friendly Family Resort In Corfu
Mediterranean Blue
Mediterranean Blue is an economical family resort in Corfu. It features a fabulous pool for parents and a pool all devoted to children that kids love. There are barbecue facilities, and it's only 45 km from the capital of the island.
Akrotiri Beach Resort Hotel
Akrotiri Beach Resort Hotel, located in Paleokastritsa, is a good option for a family stay in Corfu. The hotel features two swimming pools and once a week offers free transfer to Corfu Old Town, a UNESCO World Heritage site, 22 km away. Families particularly love the hotel.
Mid-Range Family Resort In Corfu
Sidari Waterpark
Sidari Waterpark is on Corfu's northern coast, a few minutes from Sidari Beach. Guests can enjoy free entry to the water park, which features several slides and two outdoor pools. There is a special area for games featuring pool tables, air hockey, and table football. The hotel also has an internet café, a garden, and a children's playground.
Hotel Kaiser Bridge
Hotel Kaiser Bridge in the village of Benitses and facing the sea is a great mid-range place to stay for families on the coast of Corfu. Family rooms are comfortable and offer great views of the sea.
Luxury Family Resort In Corfu
MarBella Corfu
MarBella Corfu is located in the village of Agios Ioannis, and it's a top pick for families. The hotel features three pools and a spa center that moms love! There are also beautiful gardens surrounding the property and six restaurants to choose from.
Corfu Holiday Palace
Corfu Holiday Palace in Corfu Town is another luxury resort for families in Corfu. They have beautiful family-friendly bungalows, perfect for catering to your kids' needs. The property has pretty views over the lagoon and the famous Mouse Island. Kids simply love the private access by cableway to the sandy beach. Indoor and outdoor pools are also available.
Family Attractions In Corfu: What To Do In Corfu With Children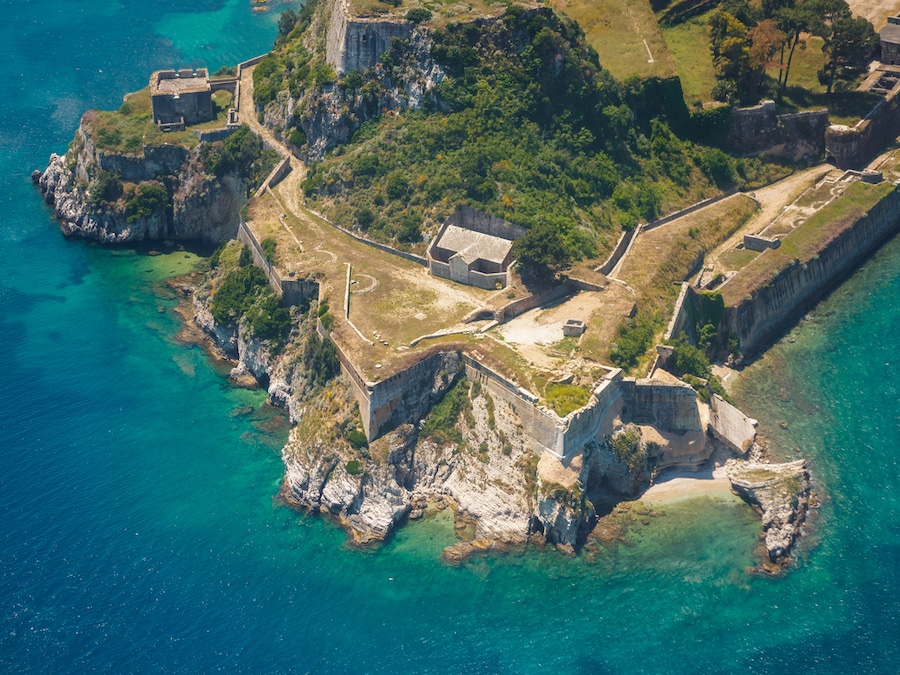 Corfu is one of the most attractive Greek Islands when it comes to family holidays. The superb landscape and the fantastic sandy beaches make it a perfect destination, while going to the beach remains one of the top things to do in Corfu with children.
Families can rent a car and drive around the island to discover the museums, the unique characteristic villages, some fantastic ruins, and forgotten castles where kids can play and explore while learning about history.
When it comes to food, the local gastronomy features healthy and tasty Mediterranean dishes, influenced both by the Italian and the Greek traditions.
Phenomenal Greek tavernas and Italian restaurants are available all over the island, making it really easy to choose from the menu even when it comes to young picky-eaters.
Finally, it's also possible for those adrenaline-driven families to visit and enjoy day trips to astounding beautiful nearby islands small islands.
If you're staying in the North, it's possible to take a day trip to explore the Diapontian Islands. Simultaneously, the magnificent Paxos and Antipaxos, on the southern sea of Corfu, are two tiny islands easy to explore and offer pristine seas for little swimmers.
Things To Do In Corfu With Kids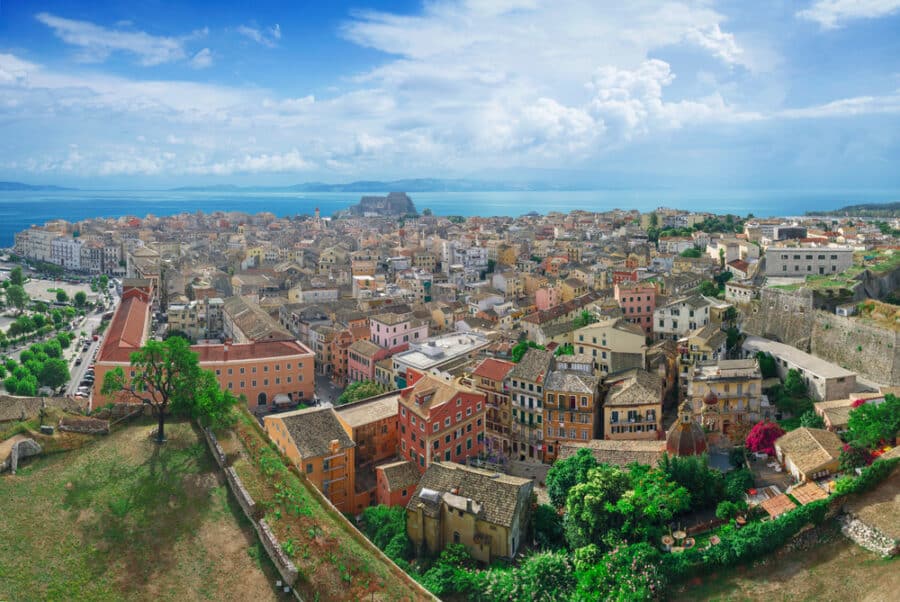 Okay, let's get to the nitty-gritty; here is what is on offer in Corfu with kids:
Check The Water Parks
Always in this part of the island, kids can enjoy Aqualand Water Park with plenty of slides, pools, and water sports for the whole family.
Ride a Glass Bottom Boat
Another activity suitable for families on vacation in Corfu is to book a tour in one of the glass-bottomed boats.
Most of them depart from the port of Corfu to discover all the magnificent submarine creatures of the Ionian.
Visit Corfu Town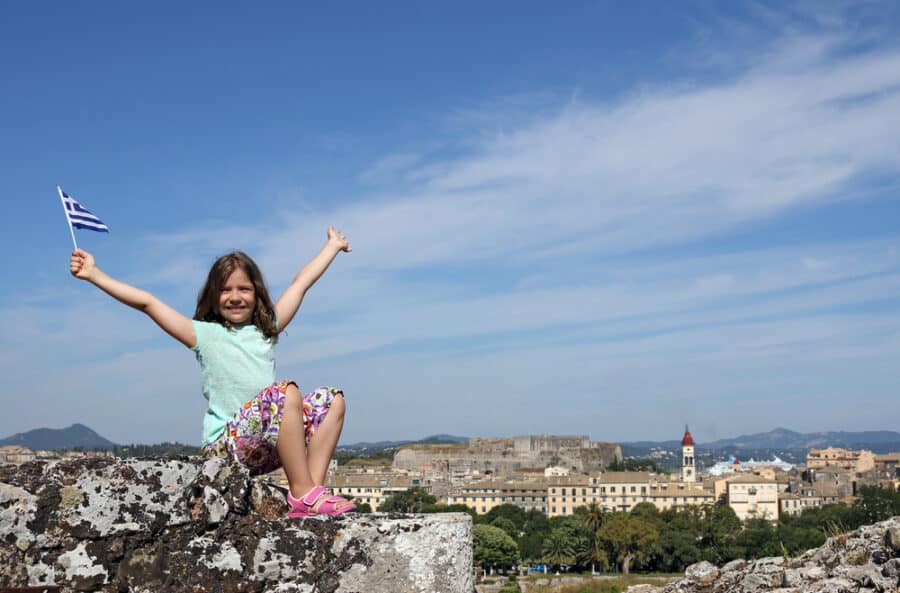 A visit to Corfu Town, the capital of the island, is a great plan to spend an afternoon with children.
Kids will undoubtedly enjoy the safety of the pedestrian roads, the old fortress by the sea, and the area's unique atmosphere.
If you prefer organized activities for the whole family, choose one of the many guided tours with a pick up from your hotel.
Discover The Achilleion Palace
Built back in 1890, the Achilleion Palace outside of Corfu Town is another place that kids love. The impressive Imperial garden and exceptional sea views is a top destination to visit with the whole family.
The Achilleion also features intriguing statues connected to Greek mythology that children will love to discover all about.
To do it better, why not book an organized tour to explore the Palace discovering all of its secrets?
Go Horse Trekking
This is another unique option that kids enjoy when visiting the island. Several horse trekking schools on Corfu are ideal to discover the beautiful villages and green areas places off the coast.
Enjoy Food that Kids Love
The island has very interesting and fid-friendly gastronomy, which several cultures have influenced.
The local cuisine has strong traits from the Italian cuisine, but also French and British influences. Ice cream and other desserts are also super delicious, and children will unquestionably indulge!
Discover An Interactive Kid-Friendly Activity
When visiting Corfu, don't miss the opportunity of visiting the History Museum known as Casa Parlante (Speaking House, in English).
The exhibition magically manages to teach children about the past by means of robotics, sounds, and scents inside an inspiring mansion from the 19th century.
If you have any other suggestions for what families can do on Corfu, please let us know in the comments below.
Share