Some posts contain compensated links. Please read this disclaimer for more info.
What You Need To Know About Visiting Zakynthos Island, Greece
Zakynthos is an exotic island that belongs to the Ionian cluster of Greek islands not far from the island of Corfu. The island, which is also known by the name of Zante, is a popular summer destination in Europe, receiving thousands of visitors from late May well into September.
The island is often counted among the most visited Greek destinations, with its unique turquoise waters and breathtaking beaches. You most certainly have seen a picture of Zakynthos best-known beach. Navagio (or Shipwreck) beach has been portrayed in endless travel books, Greek Islands guides, and travel websites which often feature it as one of the most beautiful beaches in Greece.
But Zakynthos has many other stunning beaches other than Navagio, many of them with whitish superfine sand, deep blue waters, and exotic vegetation too. The island is also known for its wild nightlife that young tourists, mainly from the UK, but not exclusively, simply love.
The island features fantastic entertainment, great hotels, tasty food, and a unique coastline, all ingredients that often place Zakynthos among the top ten Greek Islands you should definitely see at least once in your life. This travel guide to Zakynthos can be your perfect companion to plan the most unforgettable summer holiday, so get ready and read on!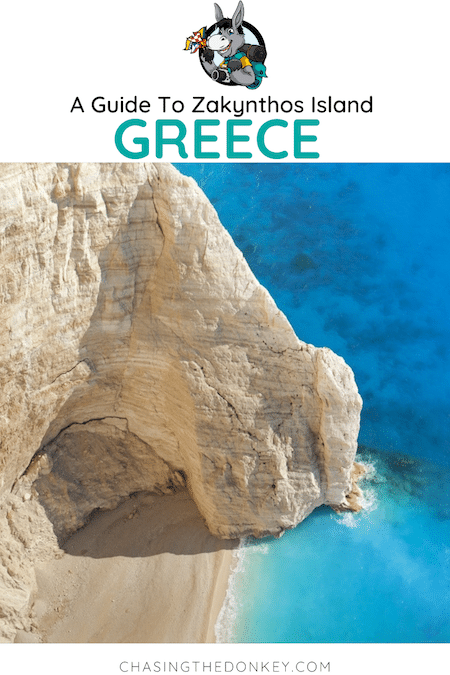 How To Get To Zakynthos
Since the island is quite popular, it's not as complex as you might think to get there.
How To Travel To Zakynthos By Plane
The island of Zakynthos has its own airport (ZTH – International Airport Dionysios Solomos), which receives domestic flights both from the capital of Greece, Athens, and from the nearby island of Kefalonia.
The airport is in an easy-to-reach location, no more than 5 km from Zakynthos Town but also quite close to other popular villages and coastal areas. Getting from and to the airport with a local taxi is both easy and quite convenient too.
Especially during summer, the airport receives numerous charter and regular flights from several European countries. If you're flying from Athens to Zakynthos, consider that your flying time will be from 35 to 45 minutes.
How To Travel To Zakynthos By Ferry
The most comfortable way to get to Zakynthos by ferry is to jump on a Greek ferry boat departing from the port of Killini, located on the western coast of the Peloponnese. The trip does not take more than an hour, and it's the easiest way to reach Zakynthos from mainland Greece.
If you're traveling from Kefalonia, another popular Greek Island in the Ionian, the trip lasts one hour and a half, with boats departing from the port of Pessada, with Schinari as your port of arrival.
Both ferry itineraries run daily, at least twice a day, from May to the beginning of October.
What To Do In Zakynthos
The landscape on the island of Zakynthos can be divided into the hilly northern and western areas that contrast with the southern and eastern coasts, flat and home to the island's best beaches.
On the north of Zakynthos, you'll find imposing limestone cliffs, such as the famous Navagio Beach, which are better reached by boat. Below, we have gathered a few of the best things you can do and see in Zakynthos.
Spend A Day At The Beautiful Navagio (Shipwreck Cove) Beach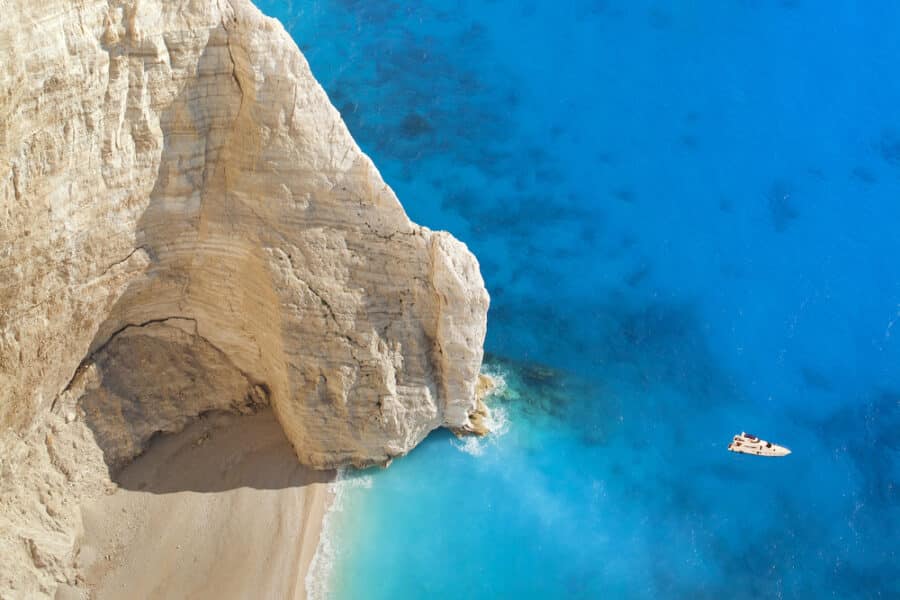 Located on the northeastern coast of Zakynthos, the Shipwreck cove features a unique backdrop of white limestone cliffs that plummet into the deep turquoise sea.
On the sand, discover the remains of the MV Panagiotis, the shipwreck of a container ship dating back to the 80s.
To visit the area, you can either drive or join a tourist bus to Navagio Beach View. Don't expect to be here alone – to access the viewpoint; you'll need to wait in line, especially during the high season.
Alternatively, board a cruise from Porto Vromi or Zakynthos Town and experience a half-day at this beach. It's a good idea to check this convenient excursion from Porto Vromi if you want to save some money.
Witness The Fabulous Undersea World Of Zakynthos
Suppose you're a fan of snorkeling, diving, and marine life in general. In that case, it's a great idea to explore the southwest, which hosts the Greek National Marine Park, one of Greece's nesting areas for the loggerhead sea turtle, commonly known as caretta caretta.
In fact, among the things you can do in the area, why not check out a turtle spotting tour? There are plenty to choose from! Among the most popular ones, go for a glass-bottom tour or check out this fishing tour of Zakynthos. With any of these tours, you'll be able to experience the incredible richness of Zakynthos' seabed.
Explore The Blue Caves Of Zakynthos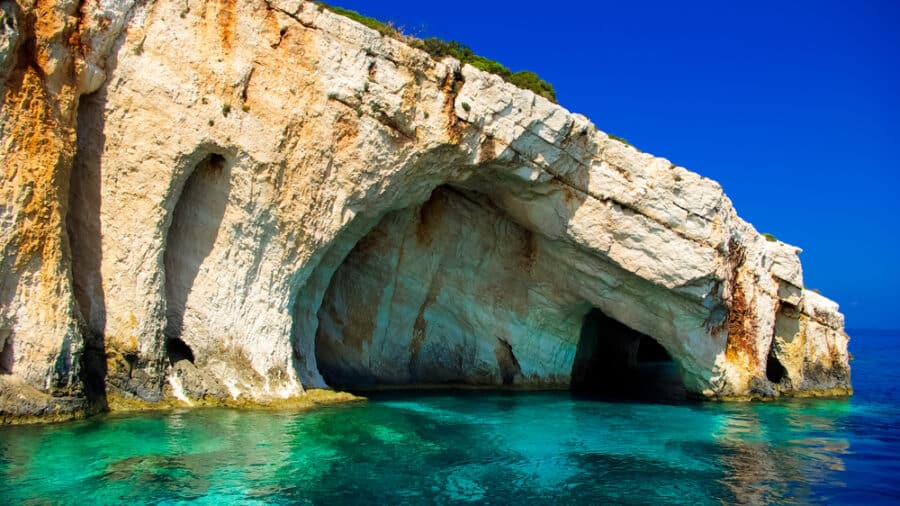 On the island's northern coast, there's a little port known as Skinari from where you can board one of the boats that take you to the Blue Caves, a magnificent landmark that can only be accessed by sea.
The Blue Caves of Zakynthos are limestone sea coves and natural arches surrounded by deep blue waters that reflect their endless shades of blue in the white walls of the caves. The best part of visiting the caves is jumping off the boats to swim in the unique waters!
This tour will take you to explore the caves and the Shipwreck beach; therefore, it's excellent value for money.
Check Some Of The Best Beaches On The Island
Discover The Beach Of Kalamaki
Located on the beautiful Laganas Bay, Kalamaki Beach is considered among the loveliest shores in Zakynthos and is also located inside the marine national park.
Since the coastline is protected and not really developed, the place is not very crowded, and it's ideal for a day of relaxation and quietness surrounded by pristine seas and golden sand. This beach is ideal for small kids learning to swim since it's quite calm and very shallow.
Visit Marathonisi Island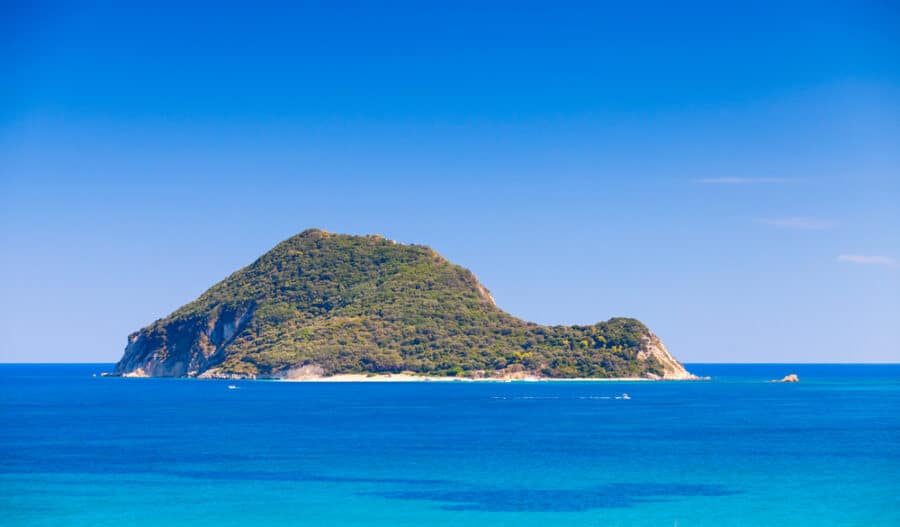 The tiny islet of Marathonisi is also in the Bay of Laganas, on the southern side of the island. Known for being a hatching ground for the loggerhead sea turtle, people often call Marathonisi Turtle Island.
Since this is a protected area, the island is uninhabited. To visit Marathonisi and board a turtle-spotting cruise, you can depart from Laganas or Limni Keriou. After some time spent sailing and spotting turtles, you will have some free time to spend on the clean beaches of Marathonisi too. It can be a fantastic day trip!
Spend Some Time In Gerakas Beach
Another great beach you can visit in Zakynthos is Gerakas, the southernmost beach on Zakynthos, with amazing golden sand and pure turquoise waters. The most impressive part of the landscape is the huge sandy dunes behind the beach.
The shore, secluded and often disregarded by mass tourism, is known for being a favorite of naturists. But also loggerhead sea turtles have a weakness for this place where they come to mate and where their eggs hatch during summer.
Check Porto Liminonas
Probably one of the lesser-known places on the island, really wild and beautiful, is the cove of Porto Limnionas, which you can reach driving through the mountain village of Agios Leon and from there, driving down to the sea.
You can park at the square and then follow the steps carved in the rock to discover the breathtaking beauty of a fiord with fantastic waters. In the area, there's also a small taverna and a small platform where you can sunbathe and spend a fantastic day admiring the stunning landscape.
Explore Keri Caves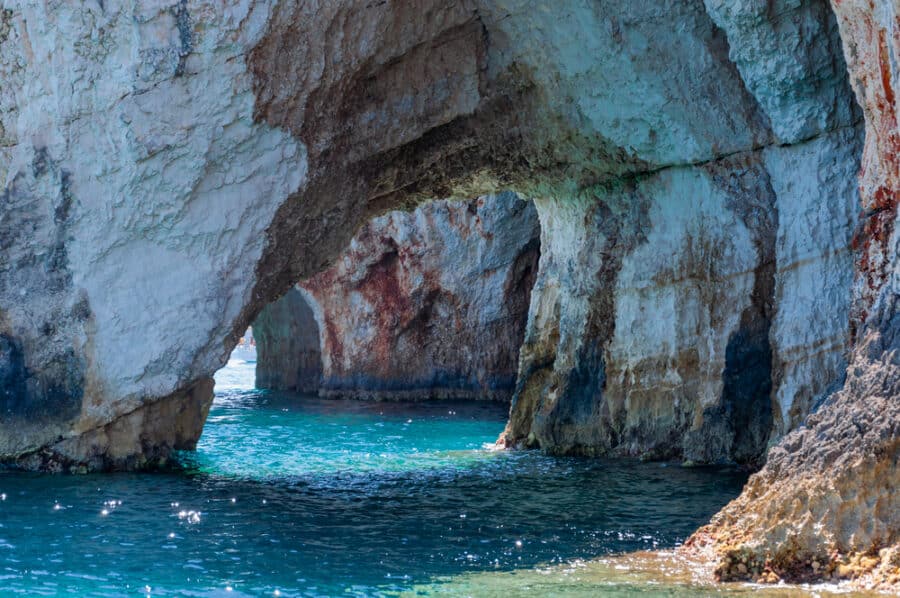 Keri Caves can be explored on the same day you visit Marathonisi since the trip often includes a visit to both spots. Most tours depart from the villages of Laganas, Limni Keriou, or Agios Sostis. In this impressive area, the white cliffs can reach up to 300 meters and at their base are small sea caves and natural arches.
Most tours allow you to swim in the crystal clear sea and explore the caves on your own. Don't forget your snorkeling equipment; the underwater views are unforgettable!
Spend A Day At Banana Beach
Banana Beach is a huge and popular beach on Zakynthos that features soft golden sand and shallow transparent waters, making it a favorite among families.
The beach is in the Greek National Marine Park, but it's still organized. Visitors can hire sun loungers or head to the water sports center to experience waterskiing or parasailing, among other sports!
Discover The History And The Culture Of Zakynthos
Visit Anafonitria Monastery
It's a good idea to visit Anafonitria on the same day you explore Navagio Beach since they're very close to each other.
This Byzantine building dates back to the 15th century, and the place is famous for being the residence of Saint Dionysios, Zakynthos' patron saint.
The building features a gorgeous and well-kept flower and fruit garden and a stone defensive tower which was turned into a bell tower in recent times.
Panagia Skopiotissa Monastery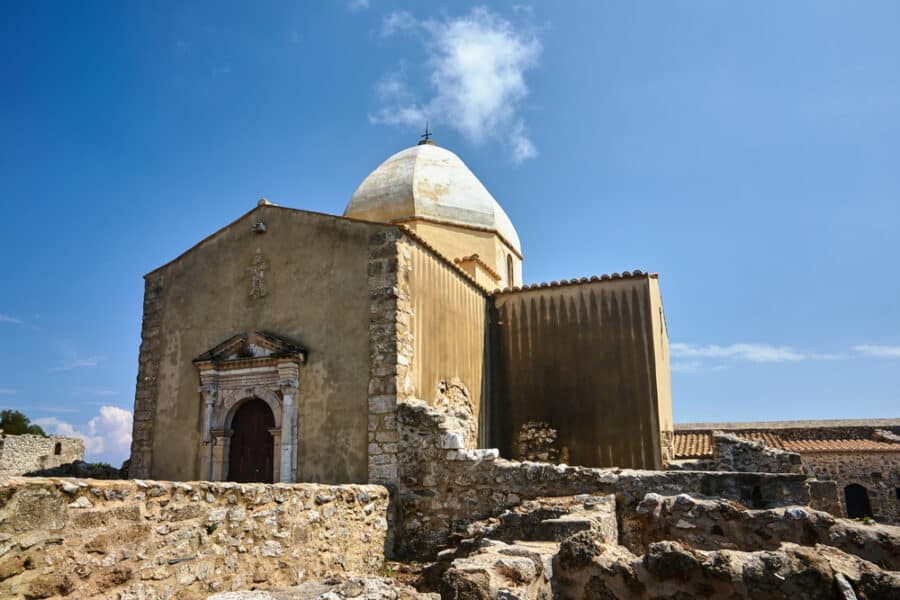 Another religious building worth the visit is Panagia Skopiotissa, a monastery located on top of Mount Skopos in the southeast of Zakynthos.
You will need to climb a somewhat tortuous path to explore the monastery, but the scenery is worth the effort.
When visiting the church, don't forget to take a look at the fantastic frescoes and the icon of the Virgin Mary that comes all the way from Constantinople.
Agios Dionysios Church
One more church you can visit is Agios Dionysios. The church houses the relics of the saint. The building, which dates back to the early 1700s, can be found at the port of Zakynthos Town. If you visit the island on August 24, the saint day, you can explore his reliquary carried around the town.
Although an earthquake completely destroyed the church in 1893, the building was reconstructed in 1948. The church hosts impressive frescoes as well.
Byzantine Museum
However, if you're into religious art, then pay a visit to our next stop… the Byzantine Museum.
Located on a beautiful mansion on Solomos Square, the Byzantine Museum exhibits Byzantine and post-Byzantine religious art from around the island. Among the things you can admire there are frescoes, icons, carvings, and paintings, vestments, crucifixes, and other liturgical objects dating from the 15th to the 17th centuries.
Zakynthos' Lighthouse
Also known as Keri Lighthouse, this unique landmark on the island is in the southern tip of Zakynthos, on top of a 300-meter cliff. When you visit, take some time to check the restaurant nearby from which you can enjoy the fantastic views of the sea. The place is a very romantic spot, perfect at sunset too.
Zakynthos With Kids
Enjoy A Visit To Askos Stone Park
Other than the spectacular visit to the marine reserve and turtle spotting, kids love to spend time at this original park. The attraction is in the northern area of the island and its offers many things for guests: a zoo, a farm, an archaeological site and a forest reserve too.
It gets its name from the stone structures that are found all over the area, including drystone walls, stone-built stables, and impressive cisterns cut from the cliffs.
Here, kids can feed deer, ponies, turtles, goats, pigs, and rabbits, while parents can chill at the orchards and olive groves.
Best Zakynthos Hotels
Downtown Zakynthos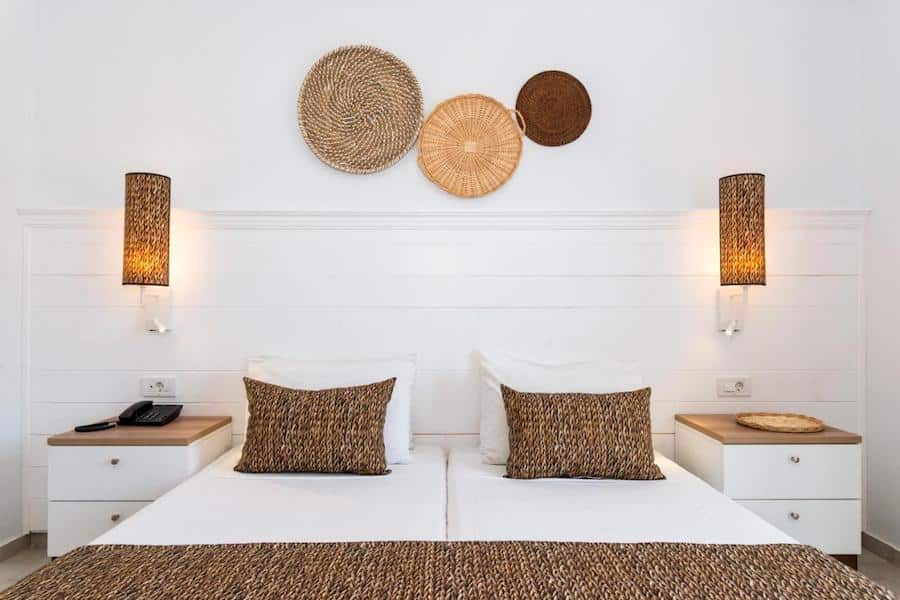 Budget
Lofos Strani is a comfortable hotel set amidst lush gardens. It's a family-run property with a swimming pool, a bar, and a sun terrace with sun loungers. Facilities also include a children's pool and a children's playground.
Mid-Range
Lodge Luxury Apartments are in Zakynthos Town near Kalamaki Beach. All units here are air-conditioned and feature a flat-screen TV, a living room with a sofa, a well-equipped kitchen, and a private bathroom.
Luxury
Sirocco Hotel is only 800 m from Kalamaki Beach. It offers accommodation with a restaurant, free private parking, a seasonal outdoor swimming pool, and a bar featuring a shared lounge.
Laganas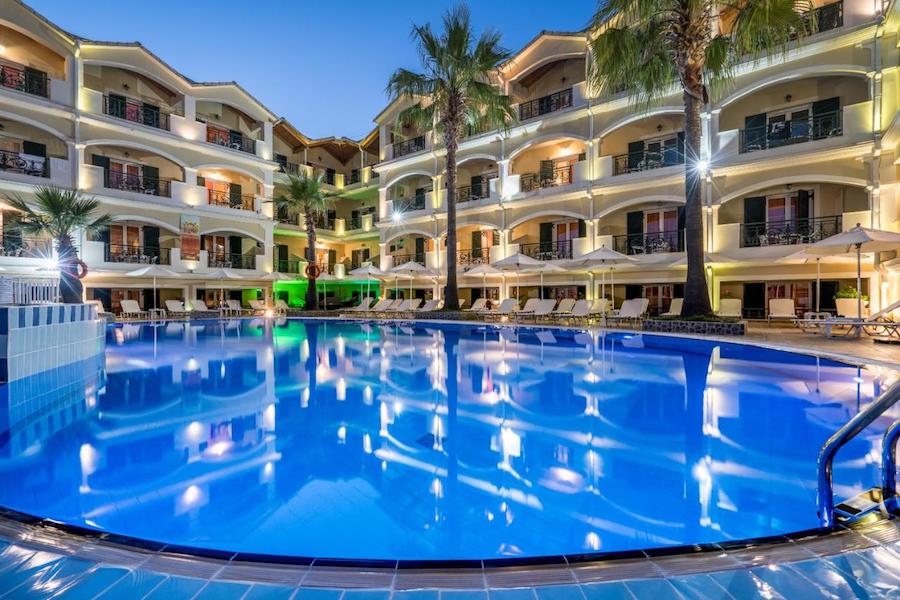 Budget
Timos Hotel is only 400 m from Pure Beach Club. The hotel provides accommodation with free WiFi, an outdoor swimming pool, and only 200 m from Laganas Beach. All rooms have a desk, a flat-screen TV and a private bathroom.
Mid-Range
Zante Atlantis Hotel offers an outdoor pool and a restaurant, free WiFi access, and a balcony.
Luxury
Mon Repo Suites is just 450 m from Laganas Beach, surrounded by lush greenery and connected by stone paths. It boasts an outdoor pool and an all-day snack bar. A Continental and English breakfast is provided each morning, while refreshments and light meals are available at the snack bar until late.
Where To Eat In Zakynthos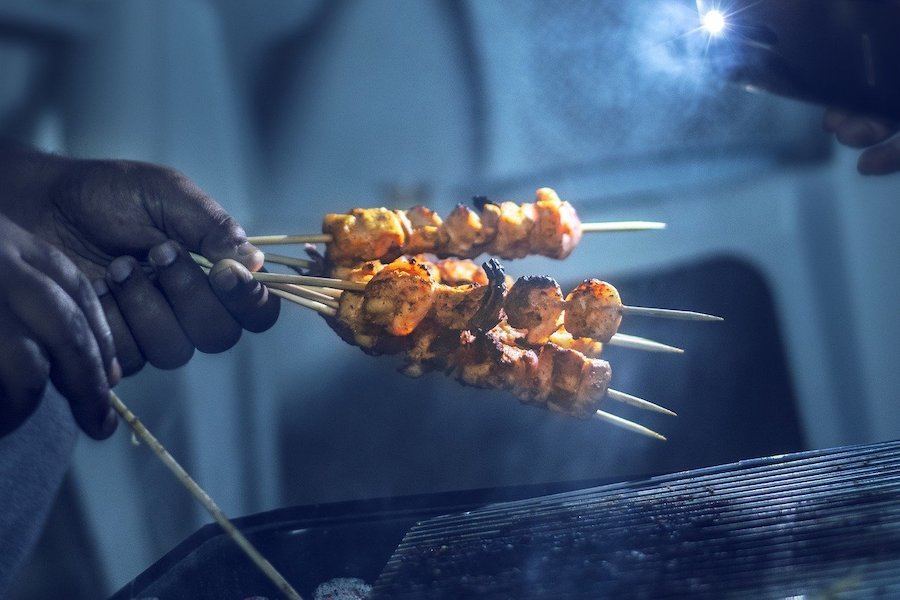 To Kantouni
This restaurant is located in Zakynthos Town, and it's one of the best-rated places to eat in the area. It features Mediterranean and Greek cuisine and vegan and gluten-free dishes prepared daily with fresh products from the island.
Eliameze
The place is located in Kalamaki Beach, and it's a fantastic place both for a light lunch or an authentic dinner. The place is run by a family, and flavors remain authentic and homemade. Prices are also really convenient.
Sizzlebang House
Head to Laganas to discover the unique dishes served in this original restaurant. They have a great variety of fresh seafood and a vegan menu with plenty of options for the whole family.
Share