Traditional Albanian Food: The Best Albanian Cuisine And Drinks To Try
If you're planning a trip to Albania, arguably one of the most "unknown" countries in Southern Europe, you might want to know what to eat in Albania.
This country is packed with incredible cities, like its bustling capital Tirana or Saranda on the sun-soaked Albanian Riviera. There are also more than a dozen national parks in Albania, gorgeous places to retreat into nature.
Located on the coasts of the Adriatic and Ionian Seas, both sub-seas of the much larger Mediterranean Sea, Albanian cooking is representative of the widely revered Mediterranean cuisine. This particular cooking style has been recognized as the healthiest diet in the world for years.
What Is Albanian Food?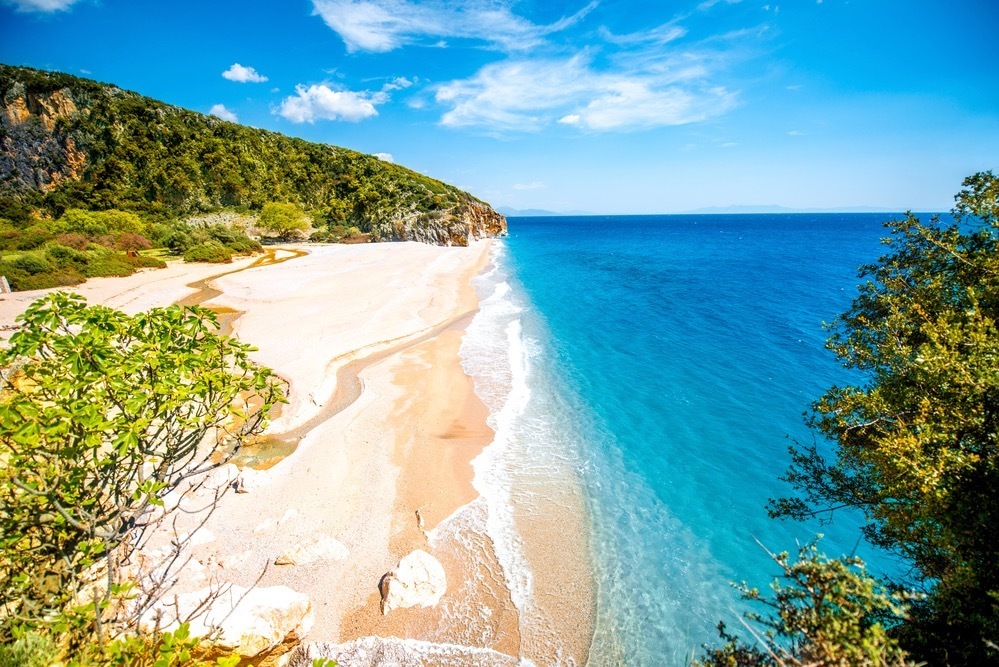 Albanian cuisine is primarily based on healthy ingredients such as vegetables, fruit, fish, and seafood like the renowned Mediterranean diet. Olive oil is the most popular—and by far the oldest, dating from Roman times—cooking fat used in traditional Albanian dishes.
Herbs are widely used as well, adding distinct and delicious flavor to food in Albania. Garlic is a staple, as are onions, which may be the most popular ingredients in the entire country.
Meats like beef, lamb, pork, and poultry are common ingredients in meals, too. They are, however, not necessarily a part of all traditional Albanian food recipes. Albanian cuisine has its fair share of vegetarian dishes.
History Of Albanian Food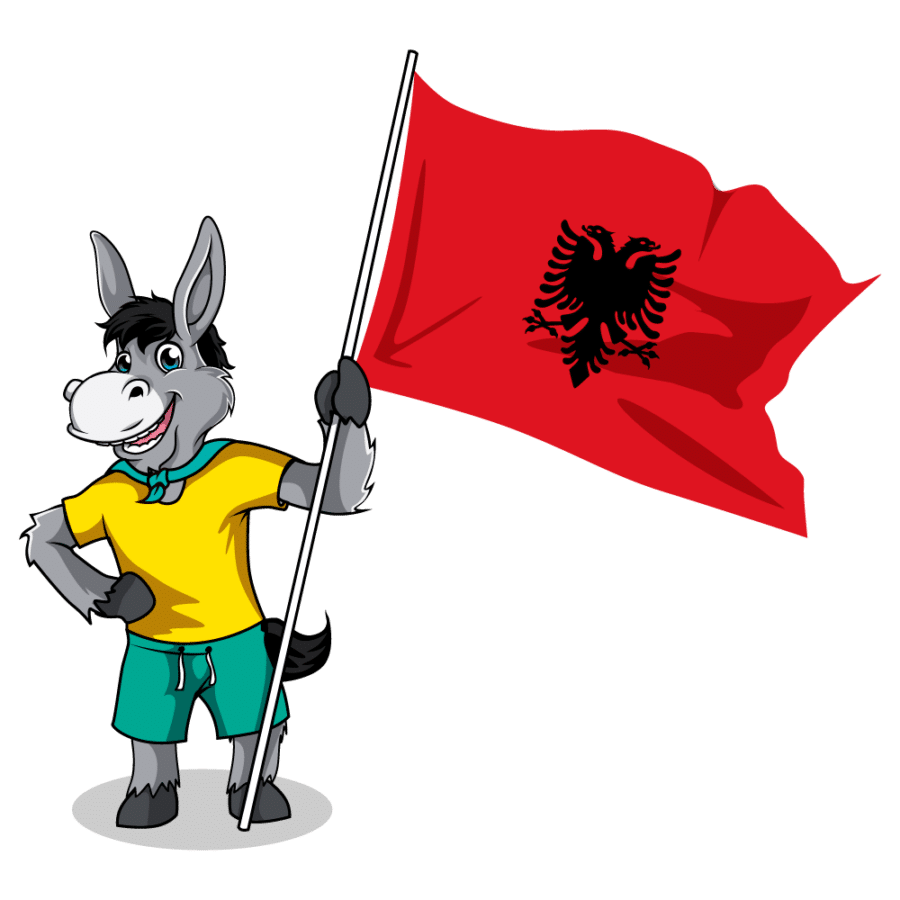 Historically, the openness of the Albanian culture has always resulted in the combination of gastronomy and hospitality. Being welcoming and friendly is a fundamental aspect of Albanian society, whether it's to friends or strangers.
It has been this case for centuries, which is shown in "besa," the typical medieval code of honor in Albania. This ancient behavioral code dictates that people should always look after guests as well as they can. Sharing food is, of course, an integral—if not the best—part of that.
Some Albanian ingredients go back thousands of years. Olive oil, as mentioned earlier, dates from Roman times and is still as popular as it ever was. Much of the present-day Albanian food culture is younger, though.
Modern dishes have their roots in the Ottoman Empire, and Turkish influences are quite noticeable. Other modern-day culinary influences include Italian and Greek.
Regional Differences In Albanian Dishes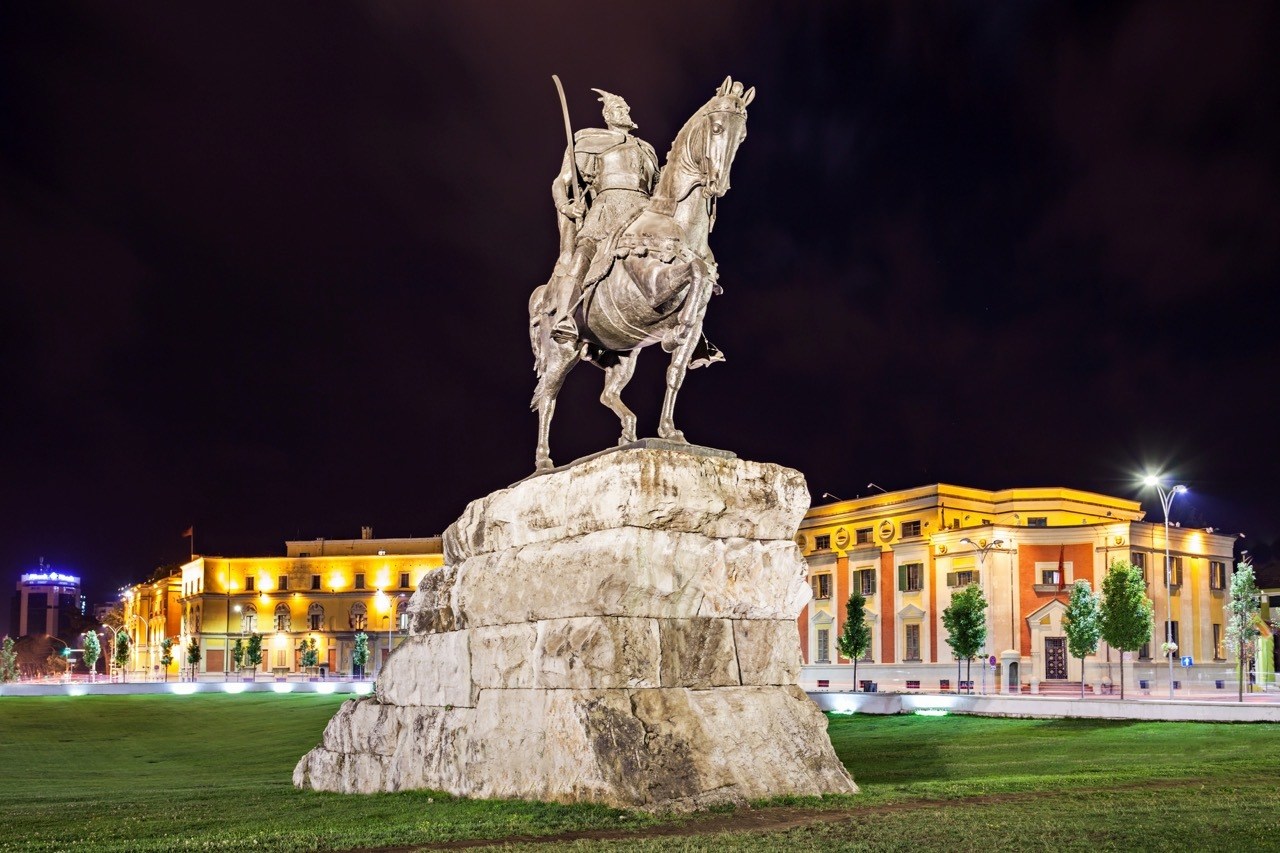 In culinary terms, there are three distinct regions in Albania: north, central, and south.
Northern Albanian Food
In northern Albania, you'll find traditional Albanian food to have its origins both in the mountains and on the coast, as well as in rural areas. This results in varied cuisine, where lots of different fruits and (root) vegetables are used.
Main staples here include potatoes, carrots, onions, cabbage, beans, garlic, and nuts. The most popular ingredient, however, is corn (maize). It is ground down and used to bake typical Albanian bread and a variety of both sweet and salty treats.
Meat and vegetable casseroles are popular in this region. On the other hand, in places like Shkoder, you'll see that fish and seafood are featured heavily on restaurant menus.
Distinctive features of northern Albanian cuisine: ground corn, root vegetables, nuts, and meat
Central Albanian Food
If you're wondering what to eat in Albania's central region, you'll probably be delighted by its immense variety. Just like the north, this region encompasses everything from mountains to farmlands and the coast. These fertile lands, which include the area around Tirana, can grow pretty much everything.
Culinary specialties in central Albania range from hearty meat dishes to plenty of different fish and all kinds of desserts. Poultry is a much-used ingredient in central Albanian dishes, including chicken, duck, and turkey.
Distinctive features of central Albanian cuisine: poultry, fish and seafood, and desserts
Southern Albanian Food
Many of Albania's cattle and stock farms are in the south. As a result, dairy products such as cheese, yogurt, milk, and butter are popular ingredients. Additionally, the warmer climate in southern Albania allows for the growth of various citrus fruits and olives. Albanian meat grown locally is, unsurprisingly, very popular here.
On the other hand, on the Albanian Riviera, you'll find a plethora of fish and seafood dishes.
Distinctive features of southern Albanian cuisine: cheese and other dairy products, citrus fruits, olive oil, and fish and seafood
Traditional Albanian Dishes
"So what do Albanians eat specifically?" you might wonder. Below, we've listed a bunch of the best Albanian food. Split up into categories like appetizers, vegetarian, meat, and desserts, you'll quickly find the best Albanian dishes for you to try during your visit.
Albanian Appetizers & Snacks
Tarator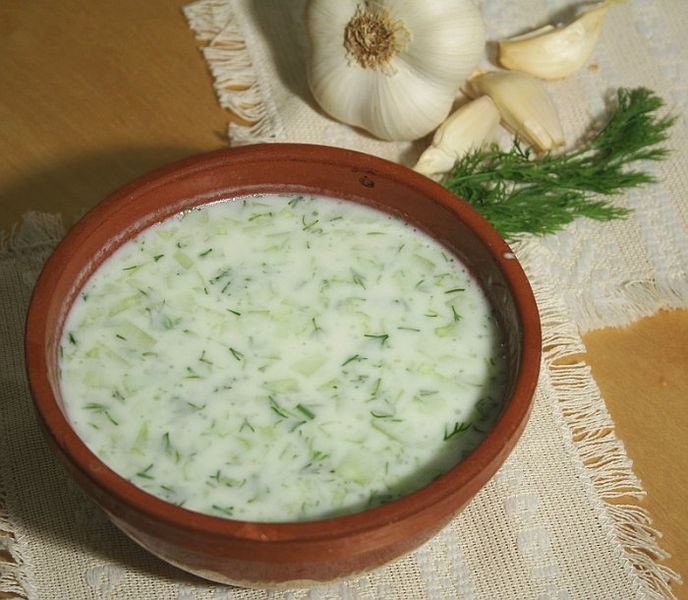 Both a dip and a cold soup, tarator is among the most well-known and popular Albanian food specialties. It's also known as tzatziki in Greece and is a common dish all across Southeastern Europe and the Middle East.
Because it's a cold dish, it's most often eaten in summer. Essentially, it's nothing more than strained yogurt mixed with cucumber, salt, olive oil, garlic, and herbs like parsley, dill, and/or mint.
Kaçkavall
One of Albania's most popular cheese types, kaçkavall is a typical Albanian cheese often served as a side dish or snack. Many an Albanian restaurant will serve this cheese, either fried or raw, as an appetizer before your main course, often free of charge. Pick the fried option if you can—it's amazing!
Albanian-Style Meze
You'll see Albanian-style meze on offer at parties and in the best restaurants in Tirana and other towns. This is nothing else than a selection of typical Albanian appetizers, which can include everything from hard-boiled eggs, cured meats, and cheeses to pickled vegetables and cooked vegetable salads.
Dolma Japrak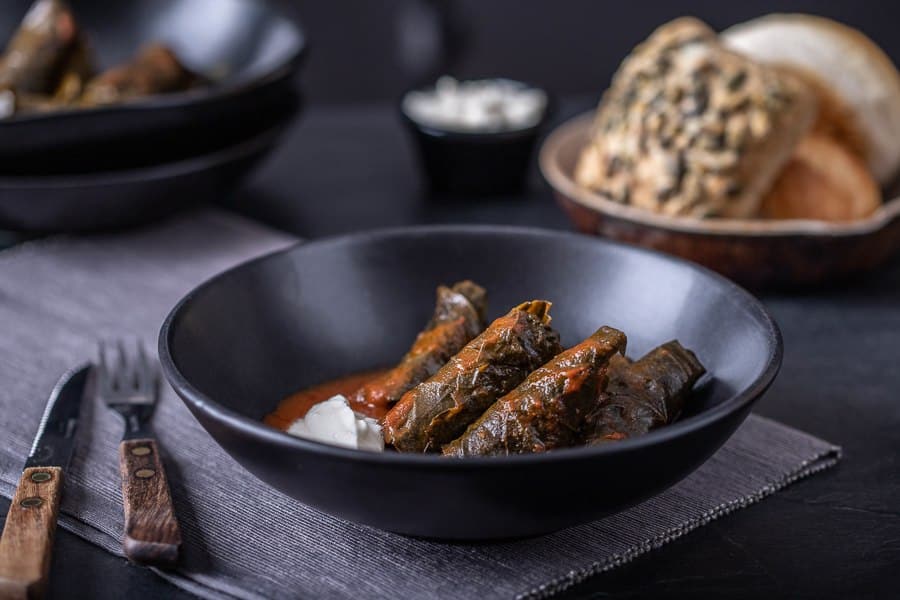 Another popular snack or appetizer in Mediterranean and Albanian cuisine, dolma japrak, is a dish consisting of stuffed vine leaves.
Stuffed with various things like onions, rice, tomatoes, cabbage, peppers, herbs and seasonings, and sometimes meat, the leaves are then rolled up to make a fun dipping snack.
Qifqi
Regarded as the one traditional dish from Gjirokaster, qifqi is difficult to find anywhere else, even in Albania. In that sense, it is one of the most authentic and typical Albanian dishes imaginable.
As a UNESCO World Heritage-listed town, Gjirokaster is visit-worthy as it is, but the presence of this delicious savory finger food makes it even more attractive. Qifqi are small balls made with boiled rice, eggs, herbs, salt and pepper, and occasionally cheese.
Albanian Meat & Fish Dishes
Tavë Kosi
If any dish can be considered as the Albanian national dish, it has to be tavë kosi. Originally from the town of Elbasan, this is one of the most beloved dishes in Albania. From tiny eateries in rural Albania to the best places to eat in Tirana, this dish is the epitome of Albanian cooking.
It is a quiche-like dish prepared in a low, round clay pan. Ingredients include eggs, rice, lamb, and yogurt. When baked in the oven, it gets a fluffy top and a soft and creamy interior. Don't leave Albania without trying this Albanian classic!
Qoftë
Similar to the Middle Eastern kofta, qoftë are grilled, baked, or fried meatballs made with minced meat—beef, chicken, lamb, and/or pork. Other ingredients may include herbs, spices, and vegetables.
Qoftë is a traditional Albanian food but is also found all across Southeastern Europe and the Middle East, as far as India. You can eat it as a snack, with a salad, dipped in yogurt, with bread, or as a side during dinner. Meat-lovers simply must give these Albanian meatballs a try when exploring Albania.
Qebapa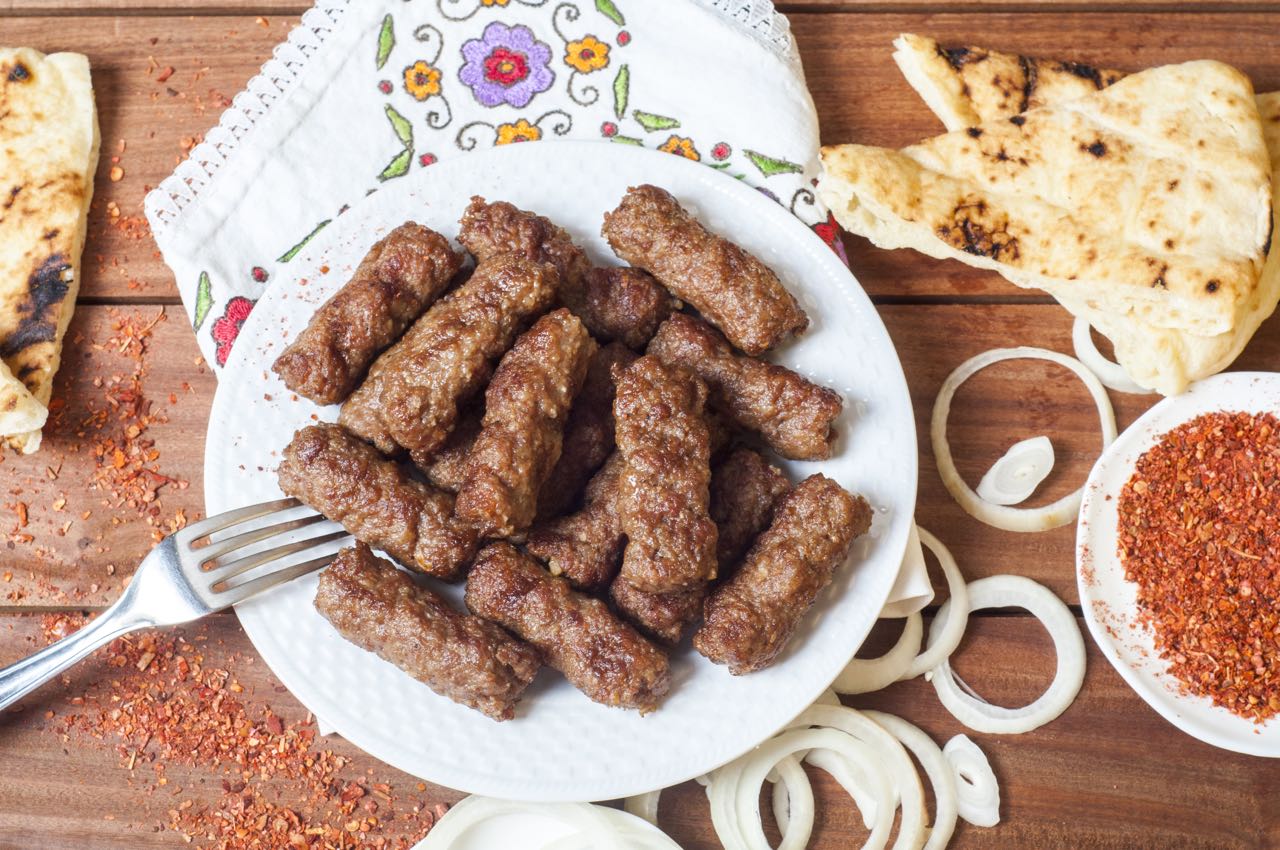 Also known as cevapcici or cevapi in nearby countries like Bosnia-Herzegovina, Croatia, and Serbia, qebapa is a dish of skinless sausages made by grilling minced meat.
This is a typical Balkan dish, often served in pieces of 5 to 10 per plate and with sour cream, onions, and cheese. Sometimes, it comes as stuffing in a flatbread for an easy on-the-go snack.
Grilled Fish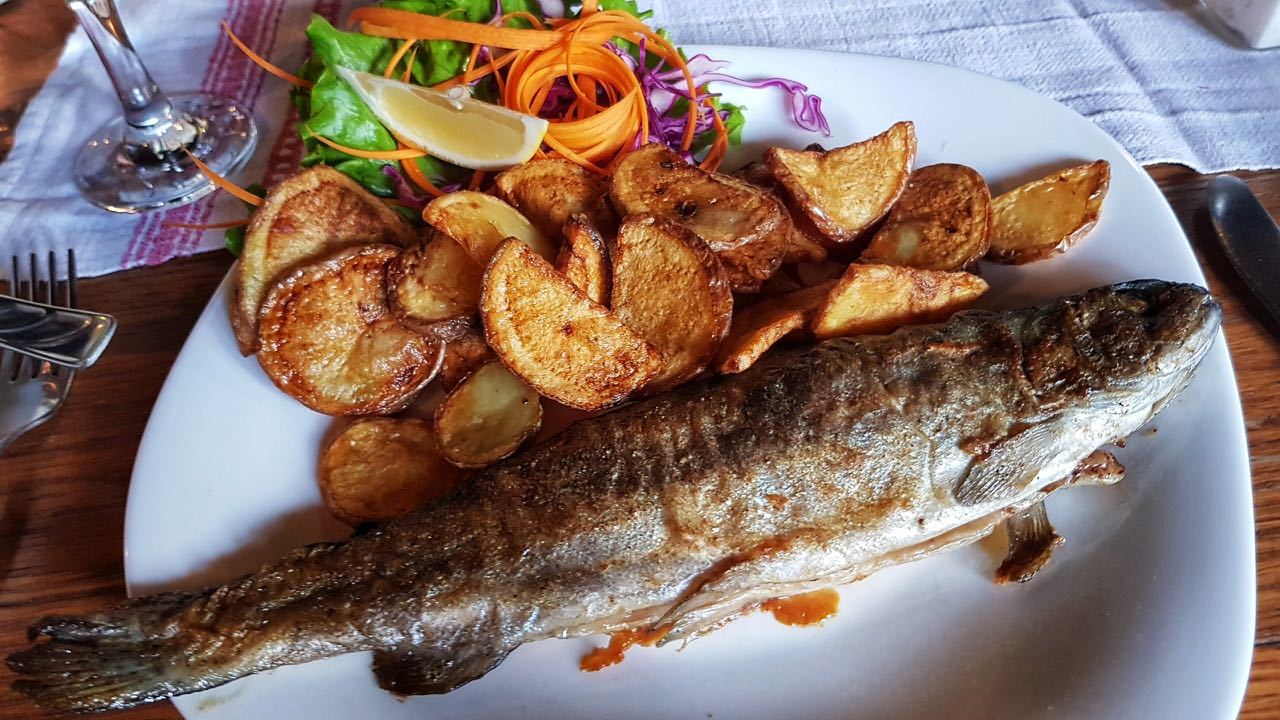 Although many Albania tourist attractions lie inland, in Tirana and the mountains, a visit to the Albanian Adriatic and Ionian coasts is essential to understand what this country is about fully. After all, Albania has a relatively long coast lined with beaches, coves, and cliffs. Additionally, there are also a few amazing rivers and lakes, most notably Lake Skadar.
All this, of course, results in an abundance of fish and seafood in Albania. You'll find some of the best places in Albania to eat and drink in cities located near water, such as Saranda and Shkoder. While you'll find fish prepared in lots of different ways, grilled fish is the most popular. Albania's common fish and seafood dishes include trout, carp, eel, sea bass, prawn, octopus, and calamari.
Vegetarian Albania Dishes
Fërgese
A super-popular Albanian national food, fërgese is made with skinned tomatoes, cottage and feta cheeses, onions, and bell peppers. After receiving a generous seasoning with lots of spices, this one-pan dish is then put in the oven and baked until it's gotten a thick texture.
This mouthwatering dish is also known as fërgese tiranë, a portion of typical slow food in Tirana. You can eat this typical Tirana food on its own or with bread.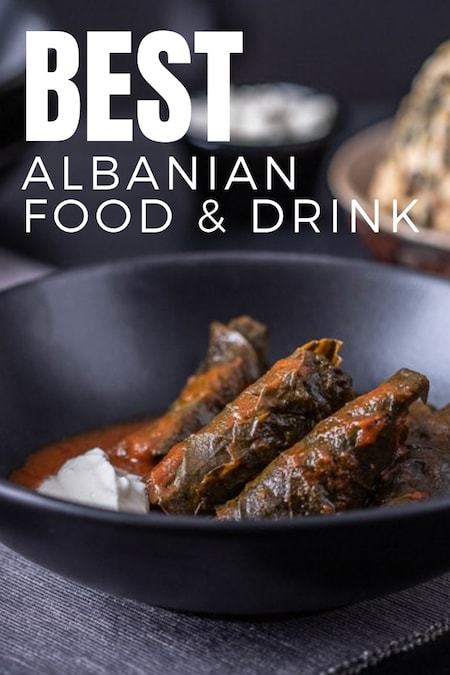 Pispili
Another typical Albanian food that doesn't call for meat is pispili. Found in all three culinary regions in Albania in different varieties, this makes for a beautiful light and healthy dinner option. The dish is made with cornbread and green leafy vegetables, typically spinach or leek or even nettles. Some people like to add mint as well for some extra flavor.
You'll find lots of varieties throughout the country, from pispili with a cornbread bottom topped with vegetables to a baked mixture of the two topped with cheese. Making a list of what to eat in Albania? This dish definitely belongs on it!
Perime Në Zgarë
Grilling things is a massive part of Albanian food culture. As popular as grilled meat and fish may be across the country, grilled vegetables are, too. And no vegetable escapes the grill in Albania!
From zucchini and eggplants to onions, tomatoes, and peppers, perime në zgarë is a fantastic option for vegetarians and vegans eating in Albania. Even most grill houses, which are meat-focused, will offer grilled vegetables on their menu.
Traditional Albanian Pies
Byrek Or Pite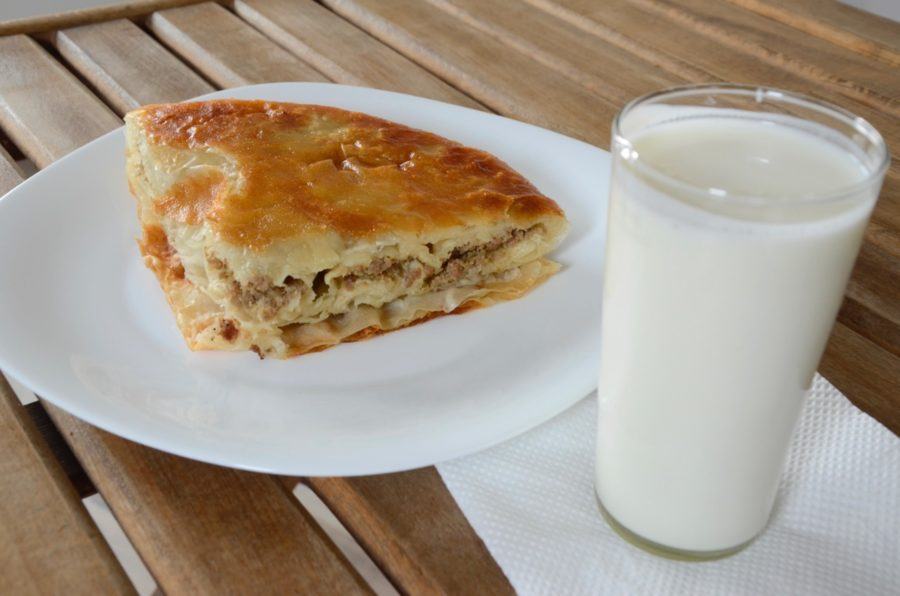 Depending on where you are in the country, this famous Albanian food is known as either byrek or pite. This is a triangular-shaped type of pie with a thin and flaky crust filled with a bunch of hearty ingredients. Fillings may vary but generally consist of cheese, onions, spinach, cabbage, tomato, and sometimes ground meat. You can eat this hot or cold, and as a snack, appetizer, for lunch or dinner, and even for breakfast.
Bakllasarëm
An empty layered pie—pretty much byrek or pite without any fillings—that is covered with garlic and yogurt before being warmed up, bakllasarëm is what to eat in Albanian and Kosovo for lunch if you're looking for authentic Albanian cuisine.
Flia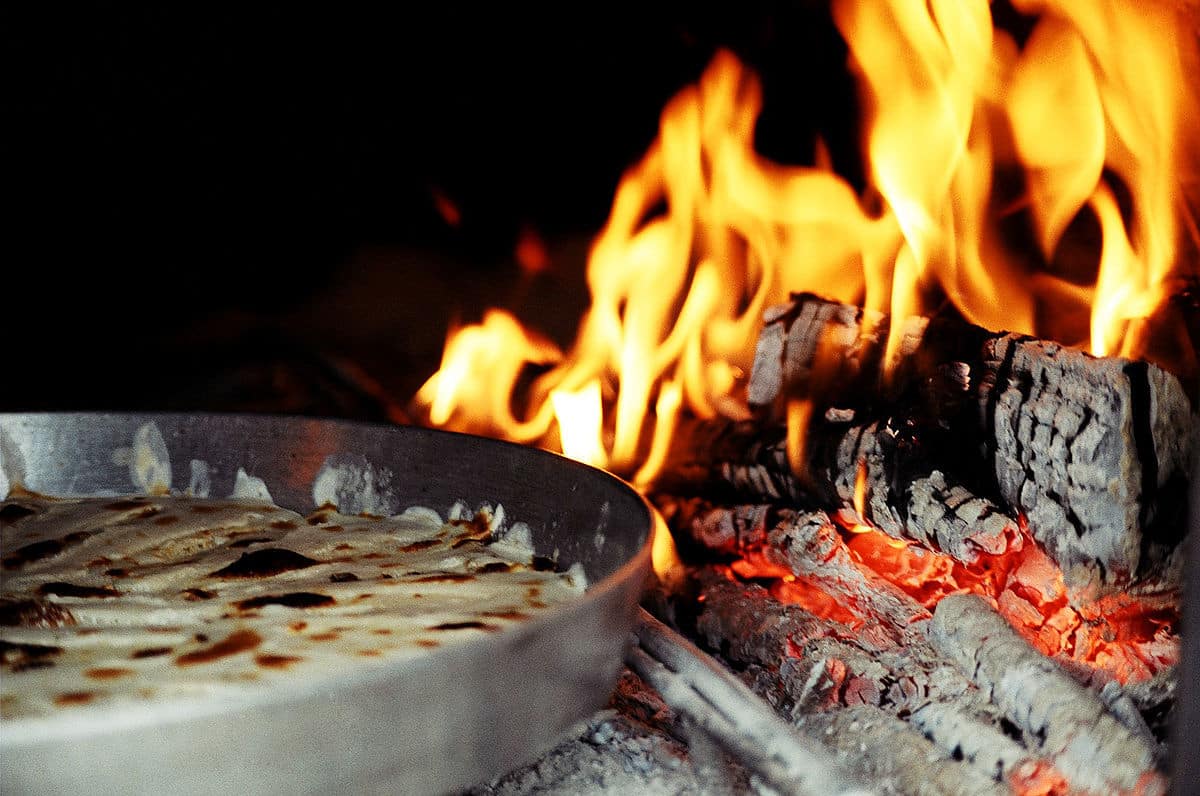 In terms of traditional Albanian food, it doesn't get more authentic than flia. A typical dish eaten at celebrations like birthdays and weddings, this is a sizeable multi-layered pancake made with butter, flour, water, salt, yogurt, and olive oil. Flia is such a unique dish due to how it's prepared. The crepe-like layers are baked in a large metal pan called a "sac" before being served with sour cream, honey, jam, and/or cheese.
Popular Albanian Desserts
Do you have a sweet tooth? Then these Albanian desserts are for you:
Baklava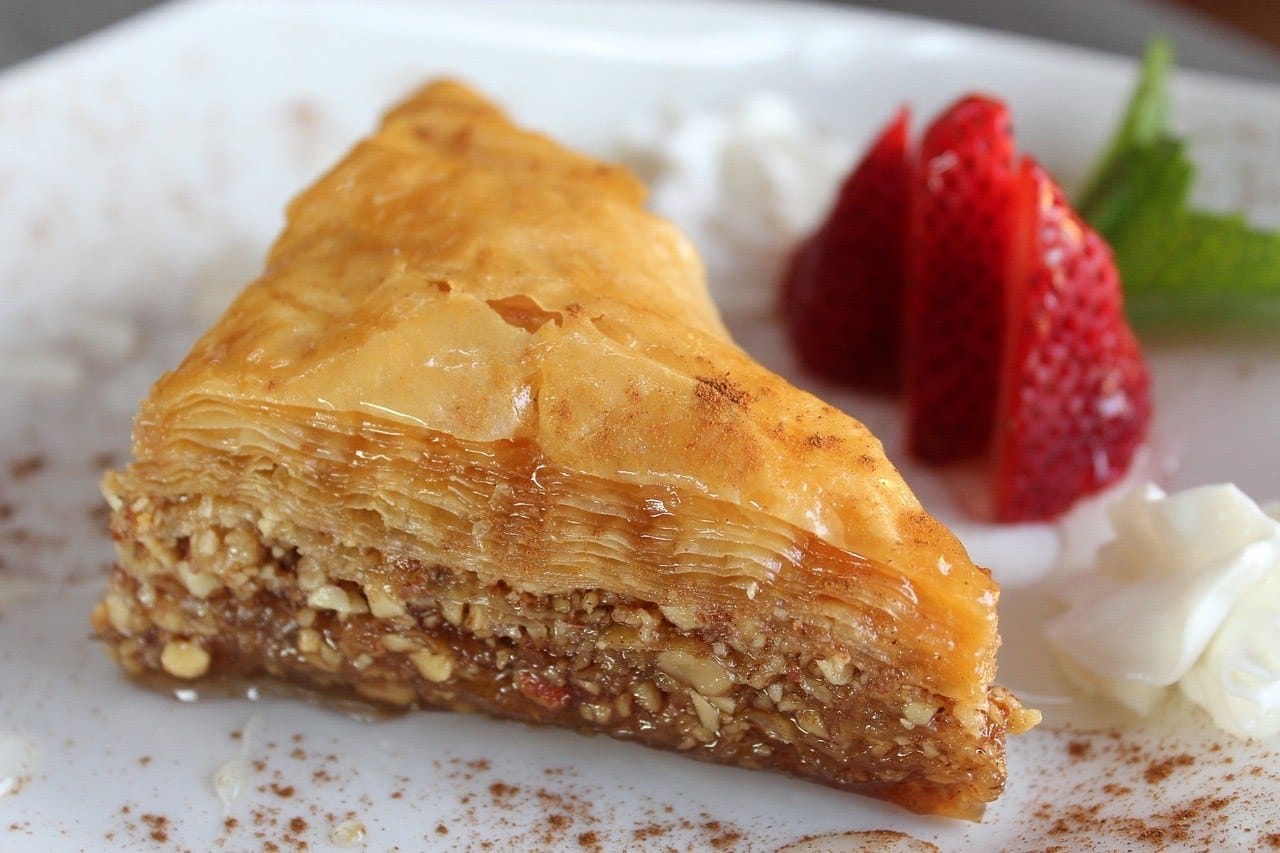 If you have a sweet tooth and are wondering what to eat in Albania, this is a dessert you cannot go wrong with. This is a popular dish all over the Balkans, Turkey, the Caucasus, and the Levant. In fact, it's a typical Albanian Christmas food.
Made with layers of phyllo dough that are separated from one another with butter, filled with chopped nuts like hazelnuts, pistachios, and walnuts, and held together by honey or syrup, this is always a crowd-pleaser.
Kabuni
As far as Albanian desserts go, kabuni is among the most popular. This sweet dish consists of butter-fried rice, raisins, salt, and mutton broth. It's topped with sugar, cinnamon, and ground cloves. Once finished, it's a delicious kind of rice pudding.
Ballokume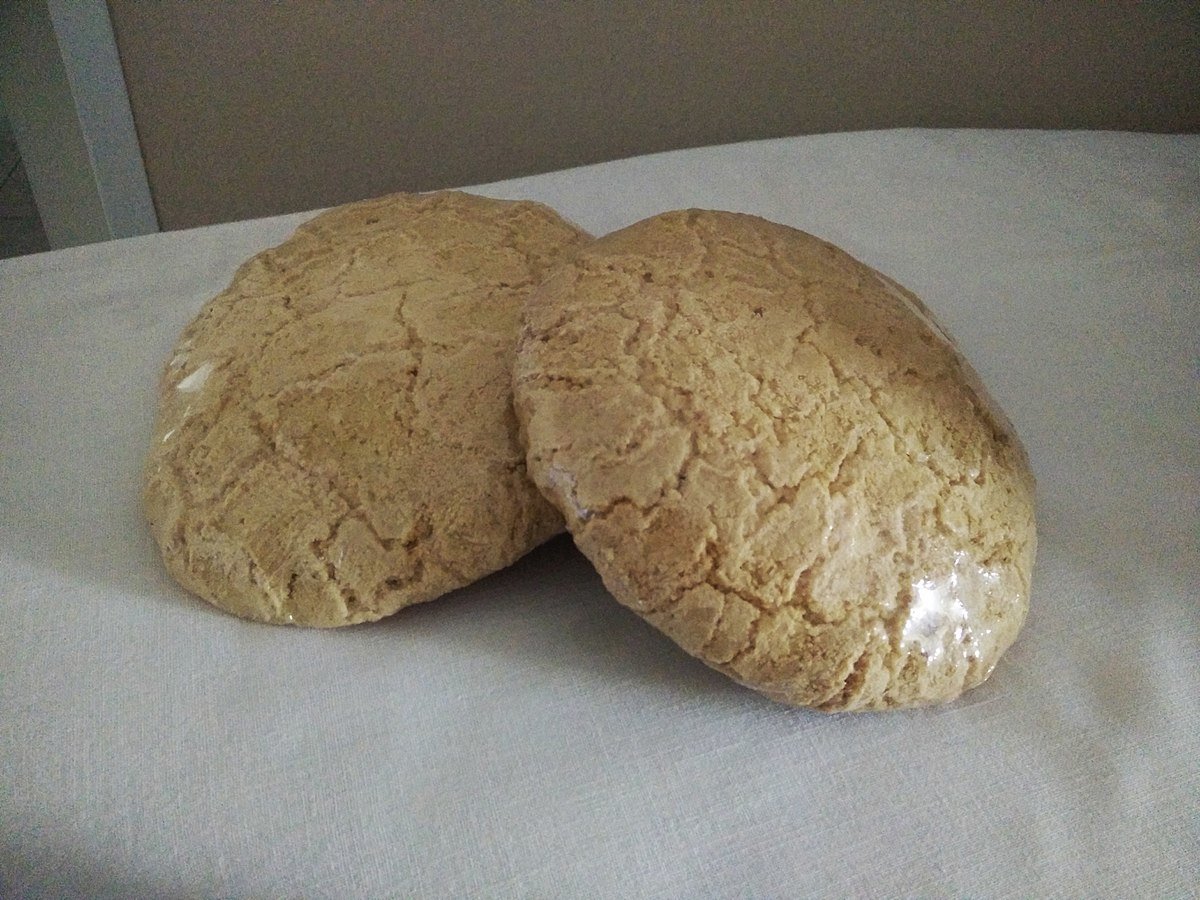 A typical Albanian cookie, ballokume has its origins in the town of Elbasan, just like tavë kosi above. It's made with eggs, cornflour, butter, and sugar.
Trileçe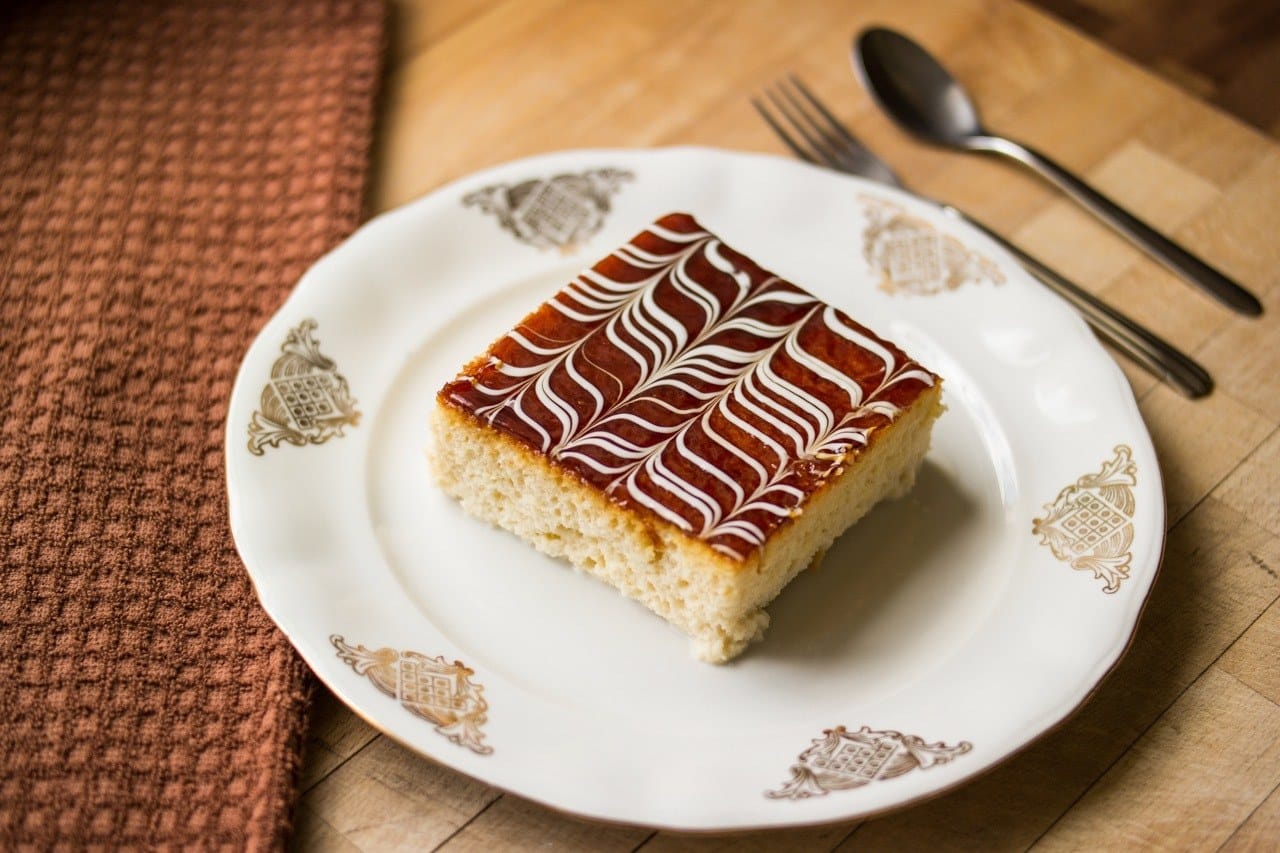 An Albanian version of the popular Spanish tres leches sponge cake dessert; traditional trileçe is literally made with three different types of milk—cow, goat, and water buffalo milk. Nowadays, a mixture of cow's milk and cream is more common, though.
Popular Drinks In Albania
Dhallë
A popular and healthy summer beverage, dhallë is a mixture of spices, yogurt, and water or milk. It's super-refreshing and pairs exceptionally well with spicy Albanian food.
Raki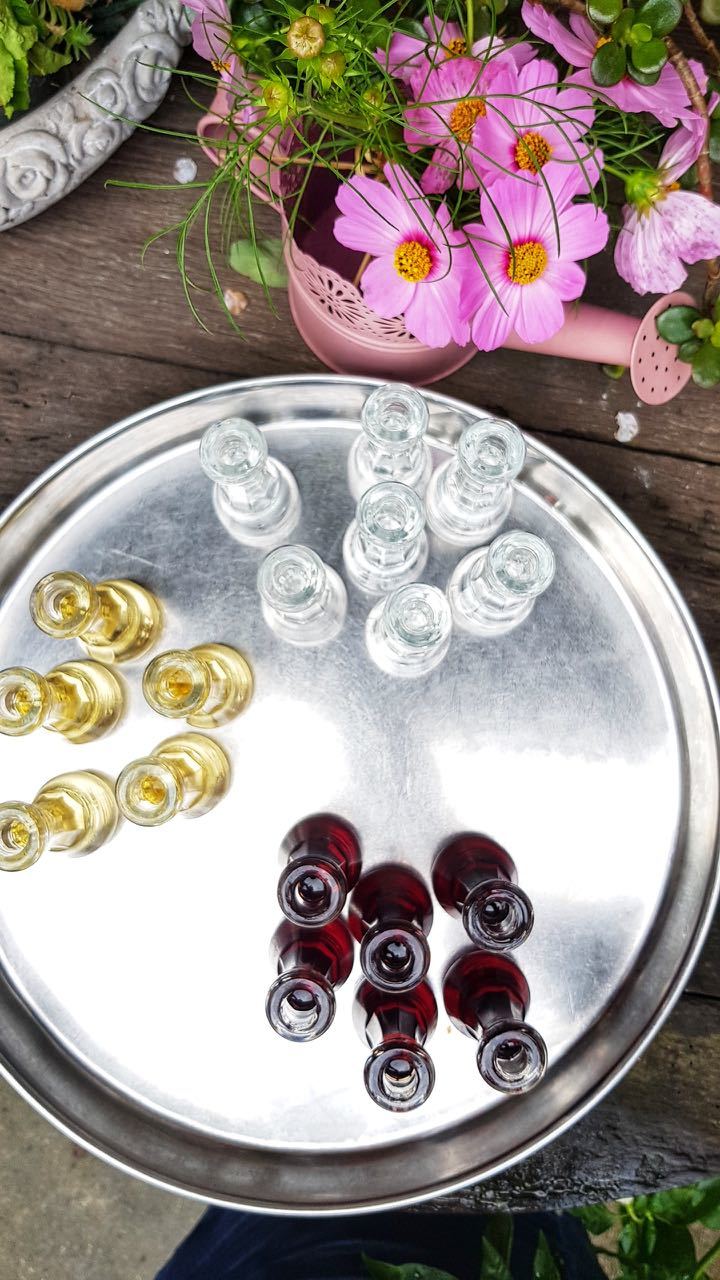 Considered by many as Albania's national beverage, raki is the country's most popular hard liquor. You'll find a wide range of different kinds of raki throughout the country. The most common types are grape, plum, white oregano, and blackberry raki.
Sometimes, it's also served heated, with spices, or sweetened with sugar or honey.
Wine
Although Albania is not the world's most renowned wine-making country, wine is a super-popular drink. And it has been for many thousands of years, the origins of wine-making traceable back to 4,000 B.C. You'll find wineries on slopes all over the country, often making for fun day trips from places like Tirana, Saranda, or Durres.
MORE ALBANIA TRAVEL BLOGS
Share