Privacy & disclaimers →
Best National Parks In Albania Guide
Besides exciting cities in Albania like Tirana, Dürres, and Saranda, there are also many natural destinations in this relatively undiscovered country in the western Balkans.
As is the case in most other countries worldwide, the national parks in Albania demand and deserve the spotlight.
Some of those Albania national parks are known well beyond the country's borders, attracting adventurers from near and far. Good examples are Llogara, Theth, and Butrint, the latter of which is also a UNESCO World Heritage Site. There are, however, a dozen more national parks to explore in Albania.
Albania is an outdoorsy destination, where hiking, cycling, wildlife watching, landscape photography, and rock climbing are extremely popular activities. Getting outdoors is one of the must-do things to do in Albania. Its sheer natural beauty—and variety—will undoubtedly surprise you and make you rave about it to your friends and family back home.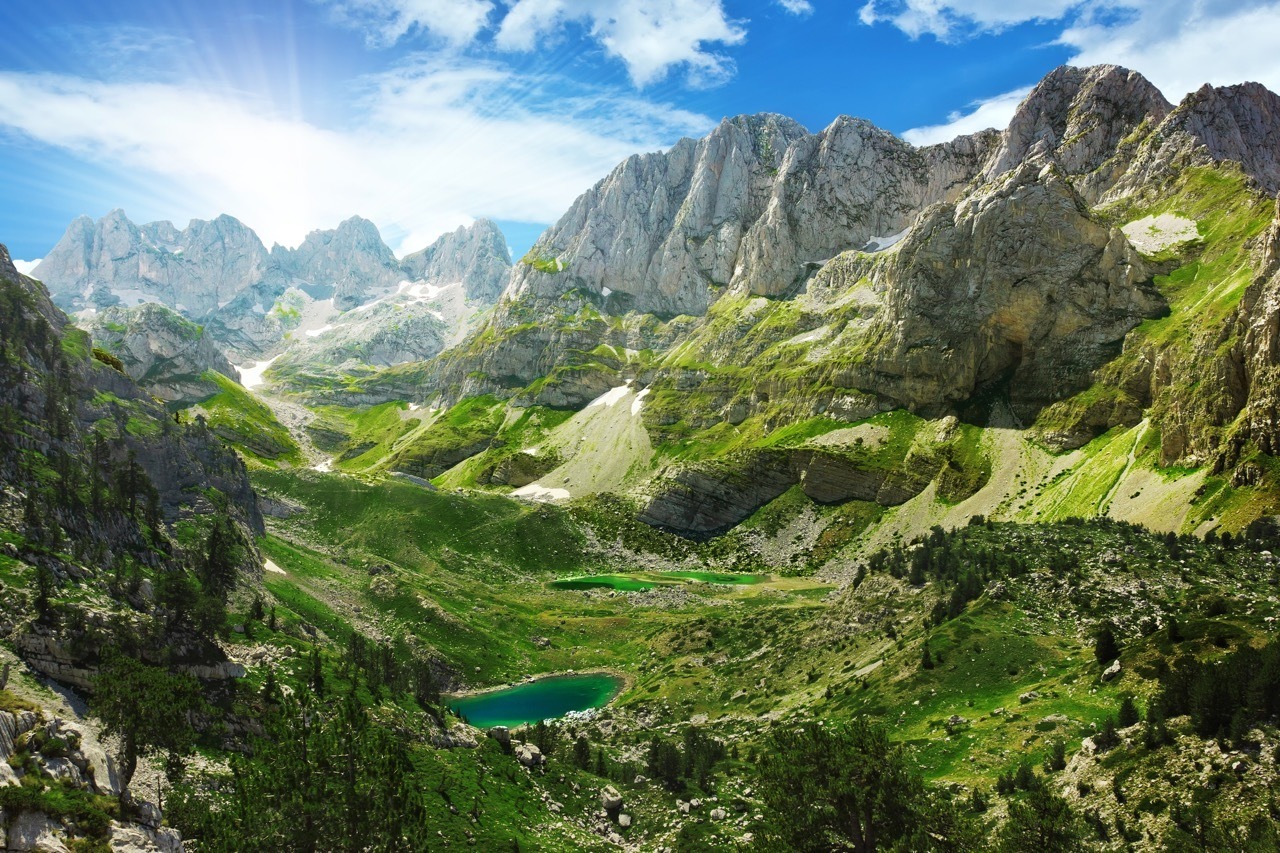 Although it's a relatively small country, Albania is nestled on the shores of the Adriatic and Ionian Seas; Albania is crossed by several different mountain ranges, such as the Albanian Alps, the Pindus Mountains, and the Skanderbeg Mountains. Additionally, you'll also find extraordinary lakes, wild rivers, expansive wetlands, and forested valleys.
If you're wondering what to do in Albania after exploring Tirana and the Albanian Riviera, a visit to one (or more) of Albania's national parks is absolutely a good idea.
Below, you'll find a comprehensive overview of all 15 Albania national parks. You'll notice that they're split up between the 10 top parks and five less-known alternatives. Read on and pick a couple to make your Albania holiday a bit more adventurous.
10 Greatest Albania National Parks: Awesome Albania Attractions For Outdoor Enthusiasts
Shebenik-Jabblanicë National Park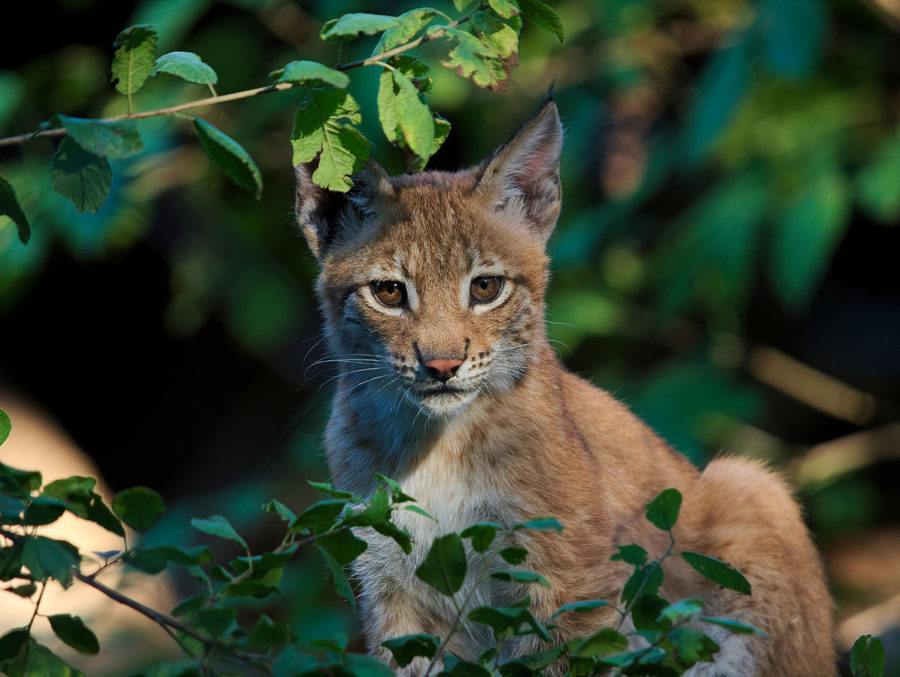 A variety in elevation—from 300 to 2,200 meters above sea level—as well as in vegetation types, paired with a very remote location, makes Shebenik-Jabblanicë National Park a superb park for wildlife watching.
In eastern Albania's remote mountains, near the border with Macedonia, you can still find many large mammals that struggle elsewhere. These include brown bears, Balkan lynx, gray wolves, and European otters. This park is a hiker's paradise, featuring numerous hiking trails of various difficulties. It's particularly scenic in the fall when colorful foliage dominates the slopes and fringes of glacial lakes.
How To Get To Shebenik-Jabblanicë National Park
Even though it's really remote and rugged, the park lies only about 90 kilometers east of Tirana. Because of slow mountain roads toward the end, the drive does take about 2.5 hours, though.
For serious exploration, better places to base yourself are the small villages that surround the park. You'll find several of them on the SH3 highway, which parallels the Shkumbin River.
Accommodation Near Shebenik-Jabblanicë National Park Albania
Hotel & Coffee Bardhoshi – this 3-star hotel offering accommodation near the park provides room service, free parking, and free WiFi.
Dajti National Park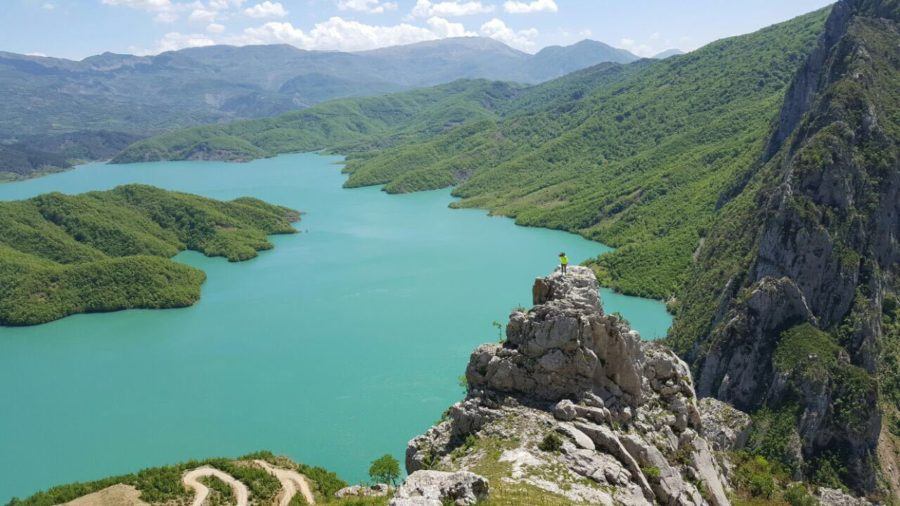 In central Albania lies one of Europe's most accessible national parks. Dajti National Park, sometimes also called Dajti Mountain National Park, lies just east of Tirana, Albania's capital. In fact, it is so close to the city that you can get there by cable car, the Dajti Ekspress. This scenic ride takes about 15 minutes and covers 1 kilometer, the longest cable car ride in the Balkans.
While the terminus of the cable car is a tourist complex filled with restaurants, some (un)interesting activities, and even a couple of hotels, the real treasure lies beyond. After enjoying the view of Tirana below, hit one of the trails that lead into the forest and hills.
How To Get To Dajti National Park
The most fun way to get to Dajti is obviously the cable car. From the famous Clock Tower at Skanderbeg Square, there's a bus to Teleferiku, and then it's another 5-minute walk uphill. You can also take a taxi to the Dajti Ekspres drop-off point.
Alternatively, if you'd rather keep your feet firmly on the ground, you can drive or cycle up Dajti Mountain, too.
Accommodation Near Dajti National Park Albania
Hotel Victoria Tirana is located on the main road between the Tirana city center and the Dajti Ekspress. This well-rated hotel has a popular restaurant and offers free WiFi, and features a 70-seat conference center.
Hotel Boutique Vila Verde – a popular hotel in the Tirana city center with views of Dajti Mountain, a bar with terrace, free WiFi and parking, and well-equipped guestrooms.
Divjakë-Karavasta National Park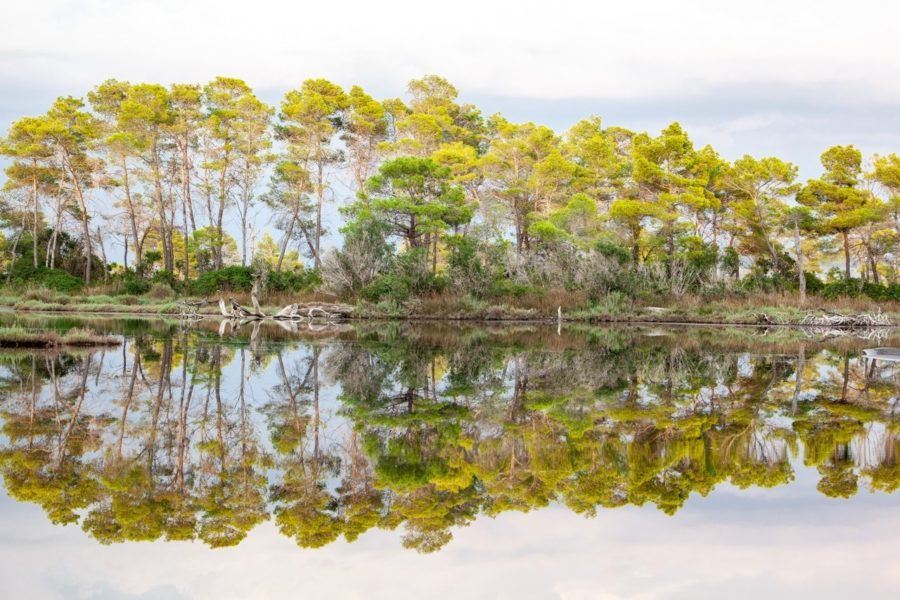 The largest lagoon in Albania and one of the largest in the Mediterranean, the Karavasta Lagoon in western Albania is an important wetland, designated under the Ramsar Convention and the main feature of Divjakë-Karavasta National Park.
Its salt marshes, floodplains, estuaries, sand dunes, and coastal meadows host many flora and fauna. It's an essential refuge for waterbirds like pelicans and egrets.
How To Get To Divjakë-Karavasta National Park
From Tirana, it's a 100-kilometer or 1.5-hour drive to Divjakë-Karavasta National Park, which lies on the Adriatic Sea coast just south of Dürres. From Dürres, it's a pretty straightforward drive on the SH85 and SH57 highways. It would be best if you got there in around an hour.
Accommodation Near Divjakë-Karavasta National Park Albania
Guesthouse Anila – a highly rated hotel in Divjakë, this guesthouse offers both free parking and WiFi and a garden with a terrace. It's a stone's throw from the national park and its hiking and kayaking opportunities.
Fir Of Hotovë-Dangelli National Park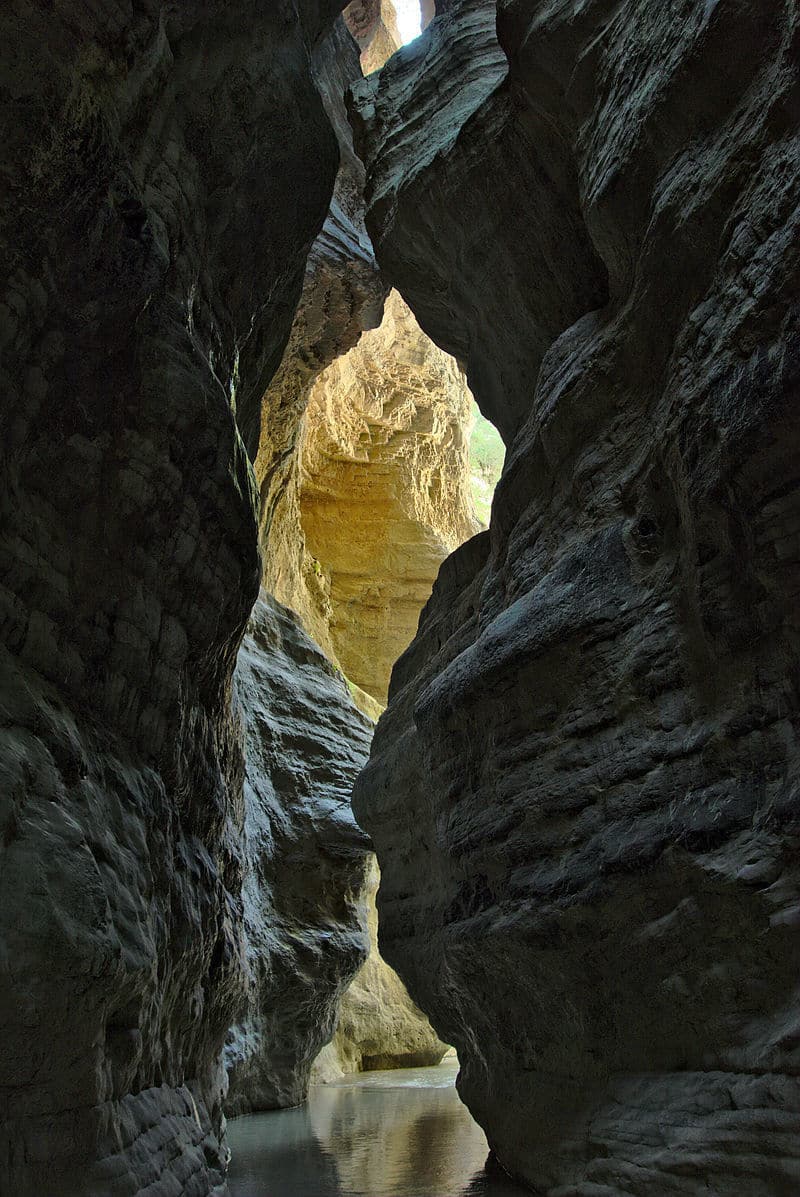 Located in Gjirokastër County in the country's southeastern corner, Fir Of Hotovë-Dangelli National Park is the largest national park in Albania. The park's name is the hotova fir, a typical tree species covering most of its surface area. It's one of the most underrated natural destinations in the country, offering something to do for everyone in every season.
Although the fir dominates these forests, you'll also find other trees like maples, oaks, and black juniper here. While relatively accessible, it still encompasses some incredibly wild landscapes inhabited by wildlife such as wild boars, badgers, red foxes, grey wolves, and even brown bears.
Popular activities include hiking and backpacking, and whitewater rafting in Langarica Canyon.
How To Get To Fir Of Hotovë-Dangelli National Park
The nearest town is Përmet, which lies along the SH75 highway, which connects to other highways. The nearest major cities are on the coast—Vlore and Saranda—both about a 2.5-hour drive away.
Accommodation Near Fir Of Hotovë-Dangelli National Park Albania
Hotel Permeti – located in the town of Përmet, this 3-star hotel features a bar, free WiFi, air-conditioned rooms with a private bathroom, and mountain views. You can start your day with a continental breakfast.
Butrint National Park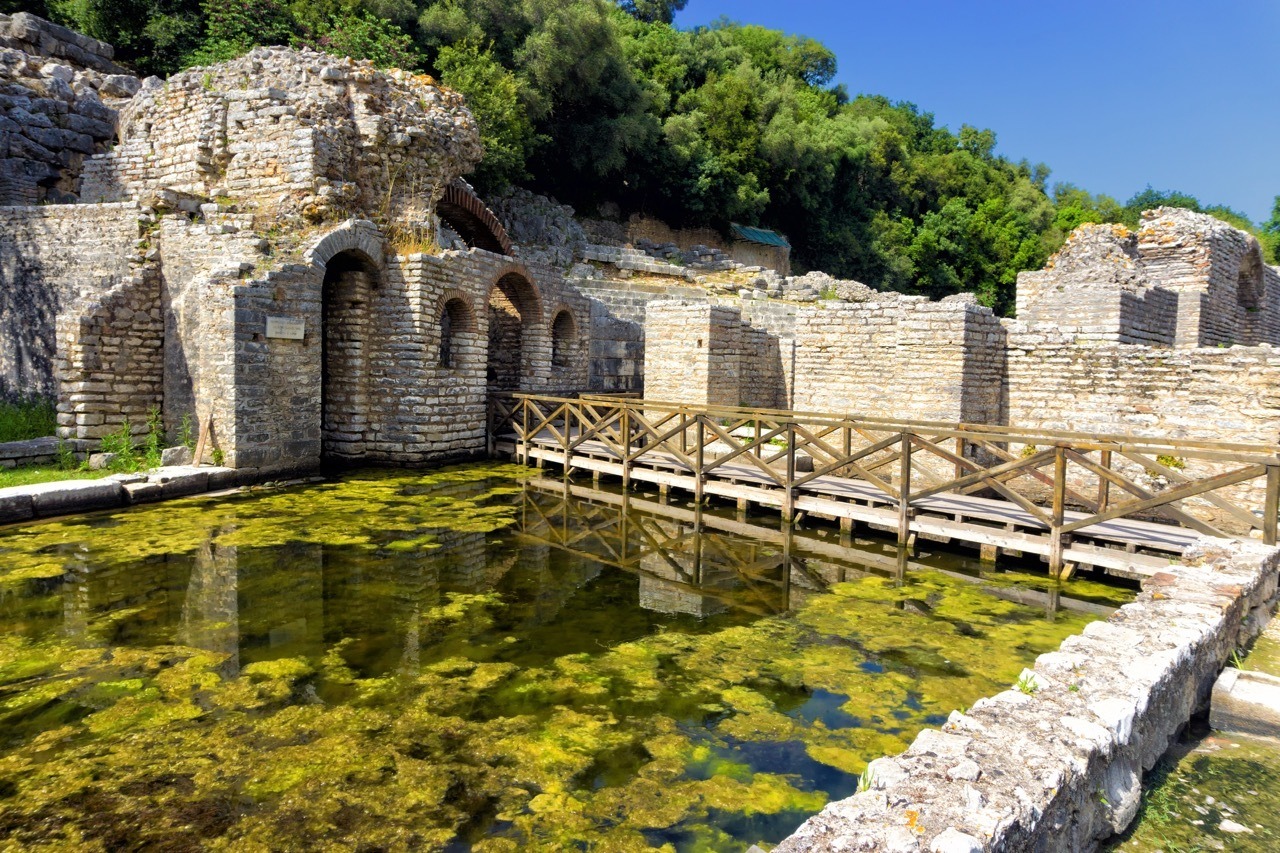 Situated less than 20 kilometers south of Saranda in southern Albania, Butrint National Park is arguably the star of the show in the Albania national parks system. A UNESCO World Heritage Site, it is home to one of the greatest archaeological sites in Albania—in the Balkans even, for that matter.
The site contains ruins, structures, and artifacts from the Iron Age to the Middle Ages. Several buildings survive here, albeit usually in ruins, including a Roman theater, an ancient baptistery, a large basilica, the city walls, and two separate castles. Additionally, the ancient city of Butrint lies in an environment of woodlands, waterways, and lakes of enormous ecological importance.
Butrint National Park encompasses Lake Butrint and the Vivari Channel that connects the lake with the Ionian Sea. This system of channels, rivers, lagoons, and lakes makes this an important area for birds. In fact, the wetland is internationally protected under the Ramsar Convection, a real paradise for birds and birders alike.
Another part of Butrint National Park is the rocky Ksamil Islands, which are only reachable by boat. If you have a boat at your disposal, a trip there is highly recommended. You might even spot dolphins!
How To Get To Butrint National Park
Butrint National Park is easily accessible from the coastal city of Saranda. It's a 30-minute drive if you have your own vehicle. Alternatively, you can also get a taxi from Saranda to Butrint. If you do that, you're advised to arrange your return trip with the same driver as finding a taxi at the park can be a challenge.
You can also hop on the bus. There is a direct bus route between the city and Butrint. A bus ride takes about 45 minutes.
If you happen to be vacationing in Corfu, Greece, you can hop on the ferry to Saranda and get a bus or taxi to Butrint National Park. When traveling between Greece and Albania, it's important to know that you'll cross into a different time zone. Albania is GMT+1, while Greece is GMT+2.
Accommodation Near Butrint National Park Albania
Hotel Livia – housed in a beautiful Albanian-style house, this is the closest hotel to the main archaeological site in Butrint. It has a restaurant and free WiFi access and air-conditioned rooms, and a lush garden with panoramic views.
Villa Ideal – located just steps from the beach in Ksamil, Villa Ideal is a great base to explore Butrint National Park and its Ksamil Islands. Taxi boats wait just down the road to take you to the islands and their seafood restaurants, while rooms come with a flat-screen TV, a fridge, air-conditioning, and complimentary WiFi.
Karaburun-Sazan Marine Park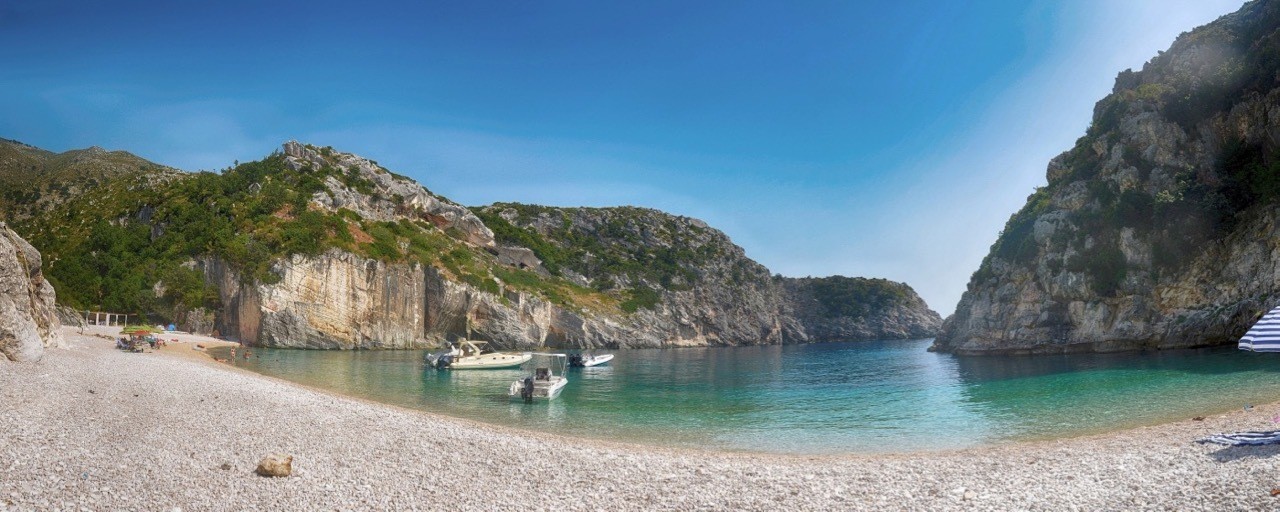 The only marine national park in Albania, Karaburun-Sazan Marine Park, protects an area of almost 2 kilometers into the sea. You'll find this beautiful coastal park near Vlore in the southwest of the country. It encompasses both the Karaburun Peninsula and Sazan Island, which is Albania's largest island.
This exceptional park's main features are underwater ruins of a variety of ships, dating from Greek and Roman times and from World War II. There's also abundant marine life here, including corrals, three sea turtle species, and dolphins. Snorkeling and scuba diving are obviously popular things to do here. On the peninsula, you may come across chamois, roe deer, otters, and wild boar.
How To Get To Karaburun-Sazan Marine Park
The heart of the Karaburun Peninsula lies only 37.5 kilometers south of the city of Vlore, easily reached by car via the SH8 and SH95 highways. The small town of Orikum lies just north of the park's border, right on the coast.
Accommodation Near Karaburun-Sazan Marine Park Albania
With its beachfront location in Orikum, Hotel Alba-Gert is an excellent base for trips into the national park. The hotel boasts a restaurant, shared lounge area, garden with terrace, and free WiFi. Private boat tours to the Karaburun Peninsula can be organized.
Llogara National Park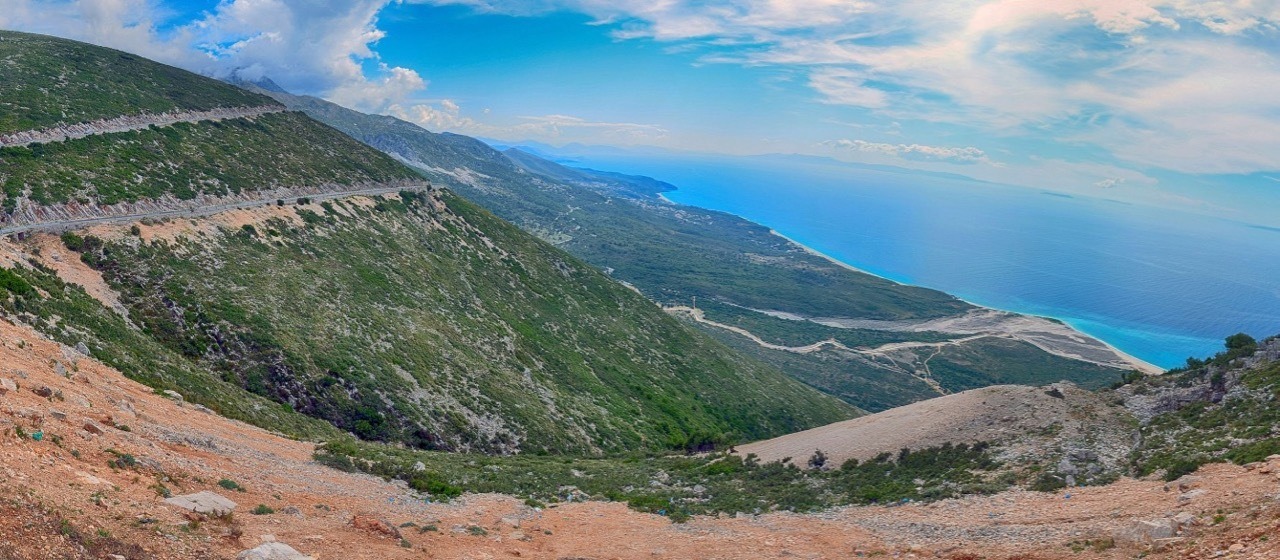 A park boasting an outstanding variety in scenery, from the sun-soaked Ionian Sea coast to the Ceraunian Mountains' peaks, Llogara National Park is a superb destination for hiking in Albania. While exploring the park's trails, you'll see vertical cliffs, pristine forests, and gorgeous alpine meadows. It's a truly sensational getaway from the busy Albanian Riviera below.
Named after the Llogara Pass, which splits the mountains into a western and eastern range, the park offers stunning coastal views. From the pass itself, you can look down onto the white beaches of the Ionian coast and the town of Dhermi. The pass has a parking lot and a few restaurants,
Another interesting feature of Llogara National Park is Caesar's Pass, a mountain pass used by Julius Caesar himself to pursue his enemy Pompeii.
How To Get To Llogara National Park
Located between the major coastal towns of Vlora and Saranda, Llogara National Park is reached via the SH8 coastal highway. Llogara Pass lies on this road, making it superbly accessible from Dhermi, a beach town just below the mountains.
The recommended way to explore this region and drive one of Albania's most scenic roads is self-drive. Rent a car in a major town and discover the park at your own pace.
Accommodation Near Llogara National Park Albania
Llogara Tourist Village – situated within Llogara National Park, is ideal for exploring this amazing natural scenery. You can use the free WiFi in the lobby, swim in the indoor pool or relax in saunas or Turkish baths, and kick back at the on-site restaurant and bar.
Hotel Hamiti Llogara – affordable Llogara hotel in the national park, with balconies and private bathrooms, a bar, and an in-house restaurant.
Lurë National Park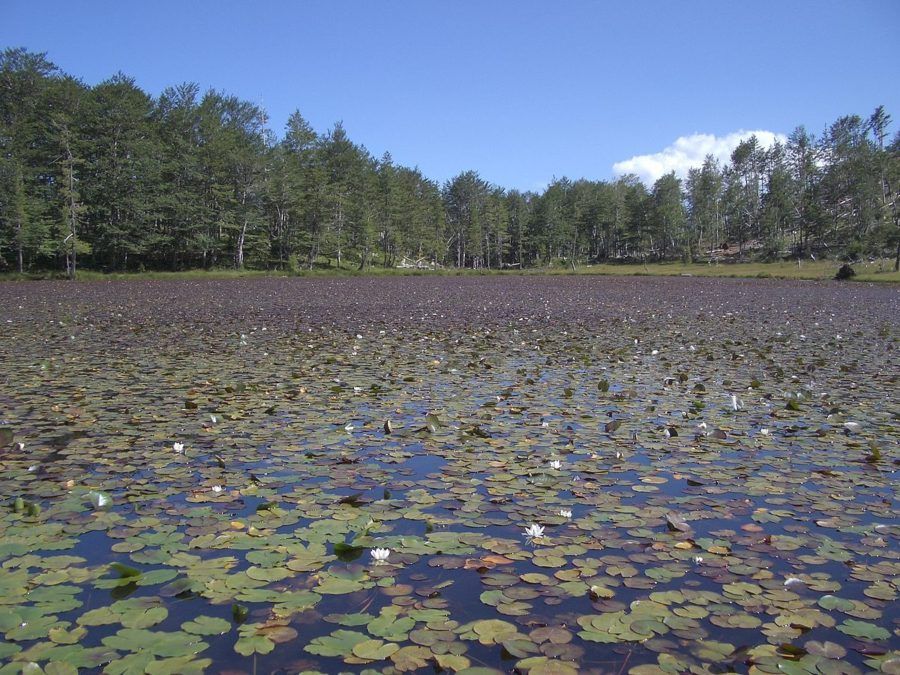 Comprising of the eastern slope of Lura Mountain in the Albanian northeast, long and narrow Lurë National Park boasts a large variety in elevation. This results in several different ecosystems and large biodiversity.
Its premier landscapes are twelve glacial lakes and dense forests, the latter consisting of European beech, silver fir, and various pines. All lakes are named after their most characteristic feature. Good examples are the Big Lake, Lake of Pines, Black Lake, and Lake of Flowers, which is covered with beautiful white water lilies in summer.
How To Get To Lurë National Park
Its location in the remote northeast of Albania makes this one of the most difficult national parks in Albania to get to. It's far from any major city, requiring several hours of driving, often on small roads.
The nearest large city is Shkoder, a 4.5-hour drive away. Getting there from Tirana city involves a similarly long drive. The closest village with hotels and other facilities is Fushë Lurë, just north of the park.
Accommodation Near Lurë National Park Albania
LURA Hotel – a good base to explore Lurë National Park, this hotel features a shared lounge, bar, and restaurant, while all rooms have a balcony, some with mountain views.
Theth National Park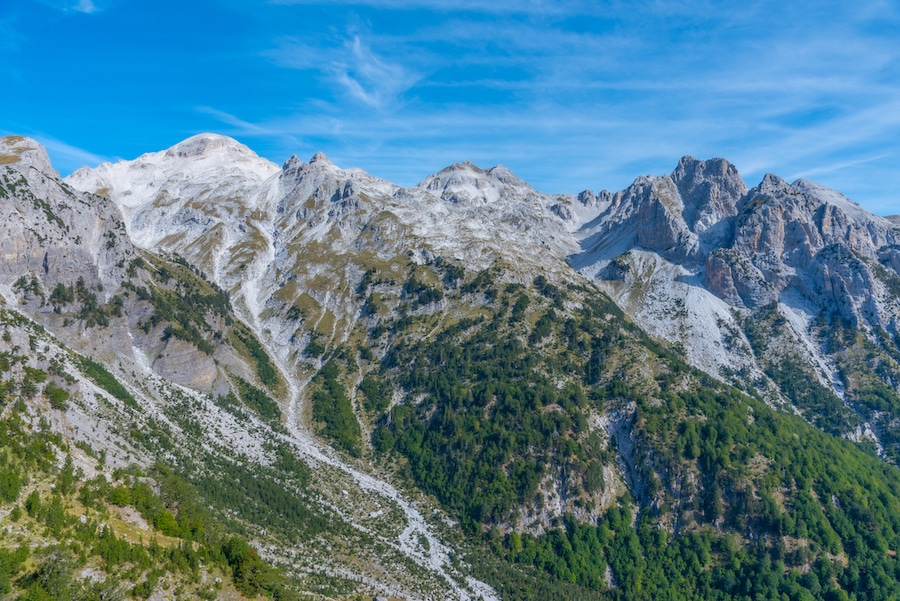 One of the most famous and beautiful national parks in Albania, Theth National Park, lies in the heart of the Albanian Alps, a veritable outdoor lover's paradise. It lies in northern Albania, encompassing much of the wonderful Shala Valley, and also features waterfalls, dense woodlands, jagged mountain peaks, rivers, and fascinating rock formations. The park borders Valbona Valley National Park (see below) to the east.
A couple of villages dot the lush Shala Valley, providing absolutely perfect bases to explore this natural wonderland. Activities are varied and exciting, ranging from mountain biking and rock climbing to mountain biking, fishing, kayaking, and wildlife watching.
Theth National Park is one of Albania's premier destinations to see iconic animals in the wild. The park is home to golden eagles, wild goats, and the largest lynx population in Albania. Additionally, large mammals like brown bears and gray wolves also inhabit these mountains and forests, although they're rarely seen.
How To Get To Theth National Park
There is only one main road into Theth National Park, the SH21, a side road of the SH1 from Shkoder. So, that basically means you'll need to get to Shkoder first. Using public transportation, you can take a bus to Shkoder from Tirana and then a mini-bus into the park from there.
It is possible to drive yourself, too, but you should know that the last section of the SH21 from Qafe e Terthores to Theth is extremely winding, bumpy, and runs along a deep ravine. Ensure you have a decent rental car for this trip, and keep your eyes on the road.
Real adventurers can also hike into Theth National Park from Valbona Valley National Park. The distance from Valbona to Theth is only 13 kilometers. The rugged terrain, however, makes it a hike of 6 to 8 hours. This hike between two national parks is one of the most epic Albania hiking trails you'll find.
Accommodation Near Theth National Park Albania
Velezrit Guri – one of the many hotels near Theth National Park, Velezrit Guri has plenty of amenities to make your visit comfortable, including a sauna, on-site American restaurant, a small bar, and even ski storage facilities.
Guesthouse Bujtina Kometa – a basic but affordable place to stay near Theth National Park, serving a continental breakfast and offering free WiFi and parking.
Valbonë Valley National Park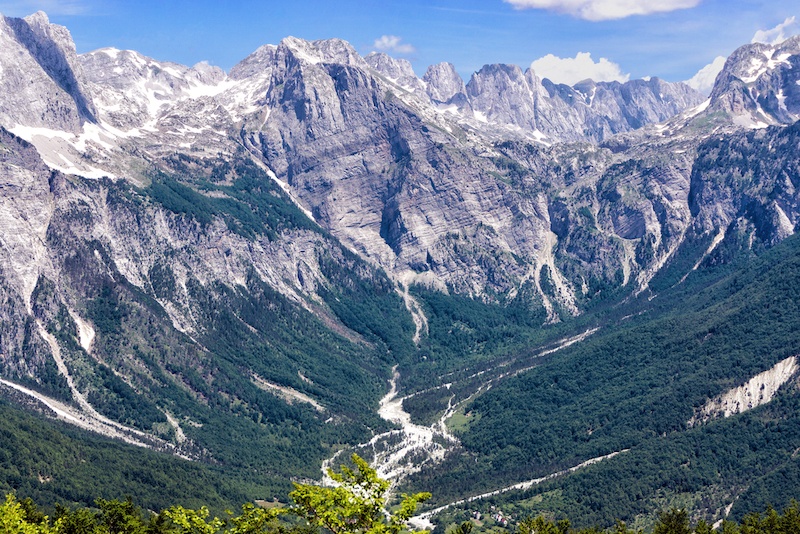 Situated in the far north of Albania, bordering Montenegro to the north and Theth National Park to the west, Valbonë (or Valbona) Valley National Park is another sensational destination for Albanian Alps hiking trips.
With its dramatic, barren summits and forested vales, glacial springs, and waterfalls, it's a heavenly place for both humans and animals. The park's Gashi River is part of the multi-unit UNESCO Primeval Beech Forests World Heritage Site, which encompasses sites all over Europe. In addition to floral diversity, Valbonë Valley is also home to lots of wildlife. This includes brown bears, lynx, chamois, grey wolves, wild goats, and countless bird species.
Hiking is the most popular thing to do here. Other activities on offer include nature photography, mountain biking, fishing, boating, and mountaineering. For families who love the outdoors, it's the perfect place to bring kids for the afternoon.
How To Get To Valbonë Valley National Park
The village of Valbonë is the touristic focal point in this stunning park. Because it lies deep in the Accursed Mountains, however, getting here takes some effort. Your first option is to drive yourself, which will be a long and winding journey on several SH roads. The key is not to rush it. Take your time and remember that getting there is half the fun, especially amid such exquisite scenery.
Option number two is traveling by mini-bus, arguably Albania's most popular means of transportation. Outlining an itinerary or schedule online is virtually impossible, though, as there is no official system to this. Your best bet is the ask-around.
Lastly, as mentioned above, you can also hike between Theth and Valbonë Valley National Parks. That extraordinary 13-kilometer mountain trek takes between 6 and 8 hours.
Accommodation Near Valbona Valley National Park Albania
Hotel Margjeka – a 3-star hotel in the heart of the national park, featuring free WiFi, a shared lounge, a garden and terrace, a private bathroom.
Guesthouse Kukaj – offering access to loads of outdoor adventures, this guesthouse is popular for its free WiFi and parking, and full English/Irish breakfast in the morning. Rooms have shared bathrooms.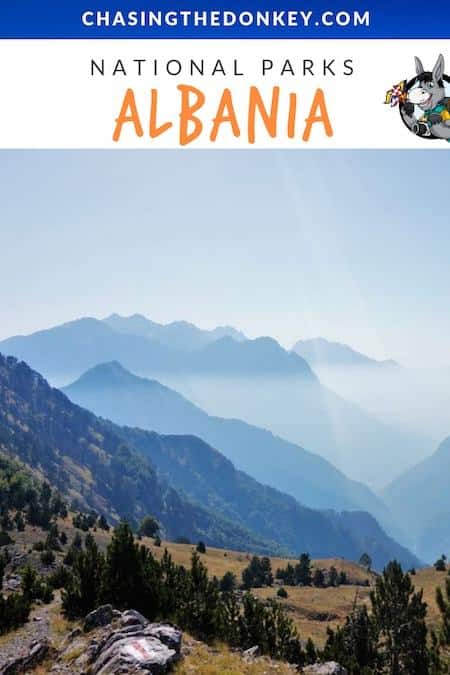 TRAVEL COMPANIES WE USE AND TRUST
5 Other National Parks In Albania: Less-Known Alternatives To Explore
Fir Of Drenovë National Park
One of the smallest national parks in Albania, Fir Of Drenovë National Park, consists of forests. Silver firs dominate these woodlands, hence the park's name. Other features include the Lenies Lakes, numerous natural springs, and rock formations, such as the Cave of Tren and the Stone of Capi.
Prespa National Park
Located at the border with Greece and Macedonia, Prespa National Park contains a huge array of water features. Its wetlands, reed beds, meadows, salt marshes, and lakes make it a significant area for birds. It's included in international preservation programs like the European Green Belt, UNESCO Biosphere Reserves, and Ramsar Convection.
Shtamë Pass National Park
Named after a gorgeous mountain pass, the road between Kruja and Burrel, Shtamë Pass National Park is mostly an undeveloped mountain landscape. Although there are some historical features, the main attraction in this park is hiking and scenic driving.
Tomorr National Park
A huge mountain in southern Albania, towering 2,416 meters above sea level, Mount Tomorr is the centerpiece and namesake of Tomorr National Park. It's home to both a local Bektashi temple and winter sports facilities. It lies only 25 kilometers east of Berat, one of the main Albania tourist attractions.
Zall-Gjoçaj National Park
Sharing a border with Lurë National Park, Zall-Gjoçaj National Park is a tiny national park of fewer than 2 km2. Yet, it still houses alpine meadows, mountains, pristine forests, ravines, and lakes. Wildlife like lynx, wild boar, and wolves abounds here.
Best Time To Visit Albania's National Parks
For national park adventures in Albania, summer is usually the best time. Although it can be quite hot during the day, this is the time of the year with the most sunshine and least precipitation. Visiting a national park in summer, especially if you'd like to hit some of the glorious Albania hiking trails or be active in another way, is best done in the morning or late afternoon for two reasons.
One, you'll beat the day-trippers that arrive toward midday, which can be a hectic time in some parks. Two; it's just a lot cooler then and much more pleasant physically (and probably mentally as well).
However, some mountain parks like Theth and Valbonë Valley are at their prime in both spring and fall. Spring comes with snowmelt and roaring waterfalls, wild rivers, and wildflowers. Fall, on the other hand, brings with it glorious foliage in the forest-covered valleys.
Phew, we did it, so many wonderful national parks in Albania – which was your favorite? Let us know in the comments below.