We may earn commission from affiliate links →
How To Choose Between Crete Or Santorini – Santorini Vs. Crete Breakdown
With more than a hundred inhabited islands and literally thousands of other islands and islets, deciding which Greek Islands to visit can be challenging. In this post, we'll help you choose between two of Greece's most popular and beautiful islands: Crete and Santorini—or Crete or Santorini.
Choosing between Santorini or Crete can feel like travel torture. "Why can't I just visit both?!" you might scream at your guidebook, favorite Greece travel blog, or flabbergasted partner. And while, yes, it is totally possible to visit both Santorini and Crete on the same trip, sometimes time constraints make it practically impossible to do so.
Don't fear or fret, though. A visit to "just" Santorini or "only" Crete is absolutely worth it, too. You don't have to visit both islands to have an unforgettable Greek island holiday. Each of these islands is stunning in its own way, whether it's thanks to beautiful Greek beaches, ancient historic sites, breathtaking cave hotels, or vibrant nightlife. There's plenty to see and do on both islands.
Let's go! We'll discuss each island destination separately to help you settle your inner doubts about the Crete versus Santorini question. Hopefully, this overview will help you how to choose between Crete or Santorini.
Why Choose Crete Vs. Santorini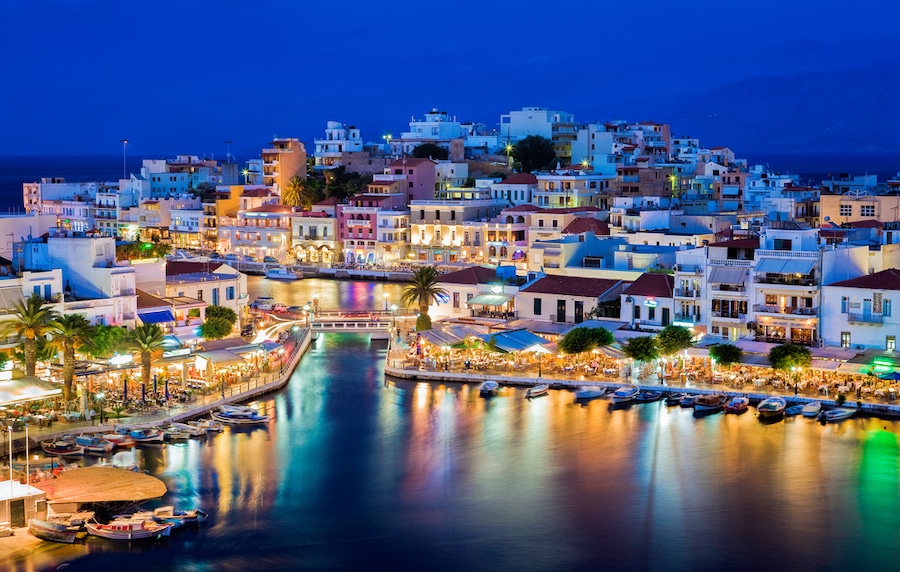 Crete is Greece's biggest island and one of the largest islands in the Mediterranean. A super-popular island destination, this is a place where you could spend a week or more exploring beaches and ancient sites.
Be aware that Crete is a pretty large island, though, and you might need a rental car or join some kind of guided tour to get around and see the top sights beyond the coastal cities.
The two main cities on Crete are Chania and Heraklion, both of which have transportation connections to Athens and other Greek Islands. Additionally, because it's so easily accessible from the Greek mainland, especially from the port of Piraeus, Crete is a popular vacation destination among local Greeks.
On Crete, you can spend your time enjoying epic beaches like Vai Beach, Preveli Beach, or Elafonisi, visiting the superb Heraklion Archaeological Museum, seeing the Monastery of Arkadi, hiking to Mount Ida, and so many other fun activities.
A mountain range crosses this mostly rocky island from east to west, offering fantastic hiking and other outdoor recreation while stunning sandy beaches line its shore. You'll find many accommodation options throughout the island, from budget hotels to luxury resorts.
Why You Should Visit Crete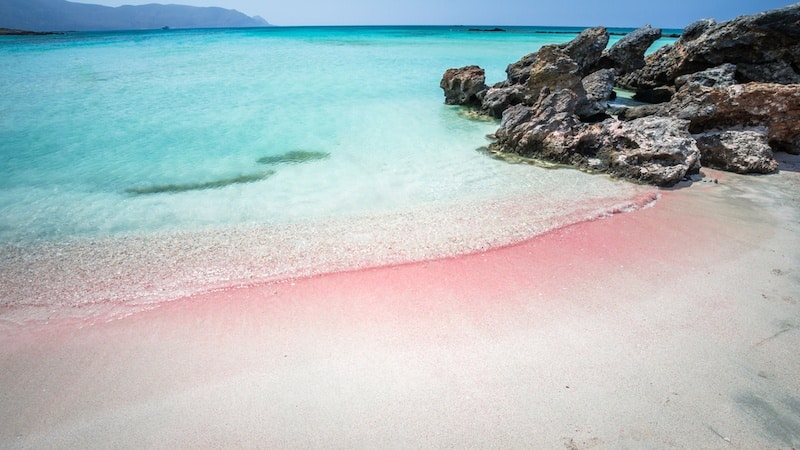 Is Crete worth visiting? Well, yes! Yes, it is. In fact, this is one of the most incredible destinations in the entire Mediterranean Sea. That's a strong statement I don't make lightly—it's true. There are many reasons why you might choose Crete over Santorini.
Reasons Not To Visit Crete
While I typically don't like focusing on the cons of things—I'm an "always look on the bright side of life" kind of person—there are a few reasons why it might be better for you to visit Santorini instead of Crete. Keep them in mind while choosing between Santorini or Crete.
How To Get To Crete
Crete is well-connected to the Greek mainland, particularly to the huge port of Piraeus, which is one of Europe's busiest passenger ports. There are also numerous ferry routes between Crete and other nearby islands. Crete is easily reached by ferry from the Cyclades island group, including Santorini but also Mykonos and Naxos.
Additionally, there are daily direct flights between Athens International Airport and airports on Crete, such as Chania and Heraklion.
Why Choose Santorini Vs. Crete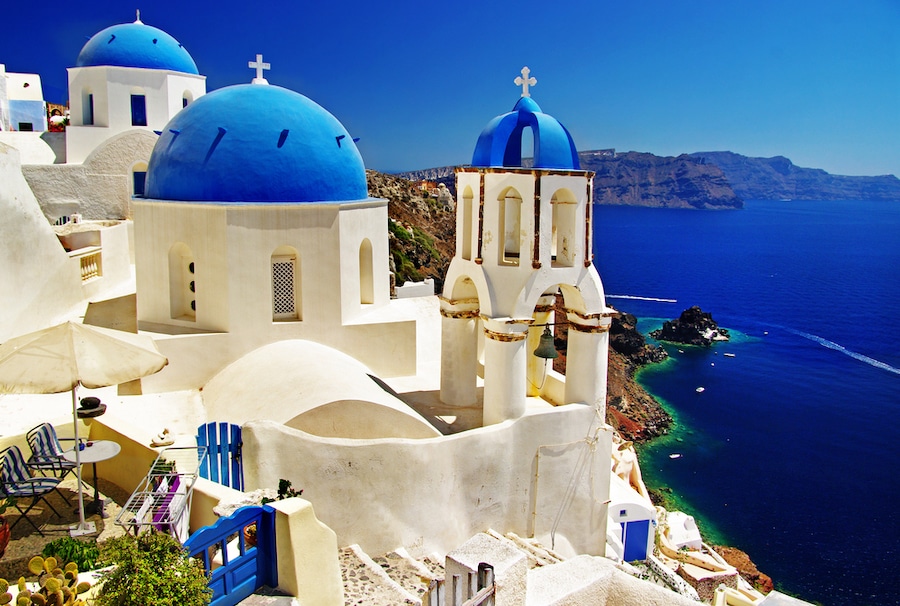 Upon arrival to Santorini, you will be mesmerized by the impressive views of the volcano, in striking contrast with the deep blue color of the sea surrounding the island. Home to the most spectacular sunsets over the Aegean Sea, Santorini is an excellent place for a couple's getaway, a romantic escape, or even a honeymoon.
Santorini is the remnant of a volcanic caldera, formed after one of the largest volcanic eruptions in recorded history—the Minoan eruption—which might have been responsible for the decline of the once-thriving Minoan civilization in nearby Crete. The Santorini volcano is still active today.
Fun fact: the Minoan eruption in what is now Santorini might have been the origin of the Atlantis legend!
That little bit of history is just to set the scene. While there are some fascinating historic sites on the island, Santorini is now most famous for its striking white houses.
Especially the cliffside town of Oia is known worldwide for its photogenic cliffside houses and spectacular sunsets. This is where you'll find many of the best Santorini cave hotels and Santorini cave villas. On the other hand, the capital of Santorini is Fira, built high atop a coastal cliff overlooking the sea and boasting beautiful white buildings.

Why You Should Visit Santorini
Just look at a picture of Santorini, and you'll know precisely why you should go and visit this breathtaking volcanic island. It's almost impossibly beautiful. Here are some other reasons why you might choose Santorini over Crete.
Reasons Not To Visit Santorini
While there are many, many, many reasons to visit Santorini, this island might not be ideal for your specific holiday under certain circumstances.
How To Get To Santorini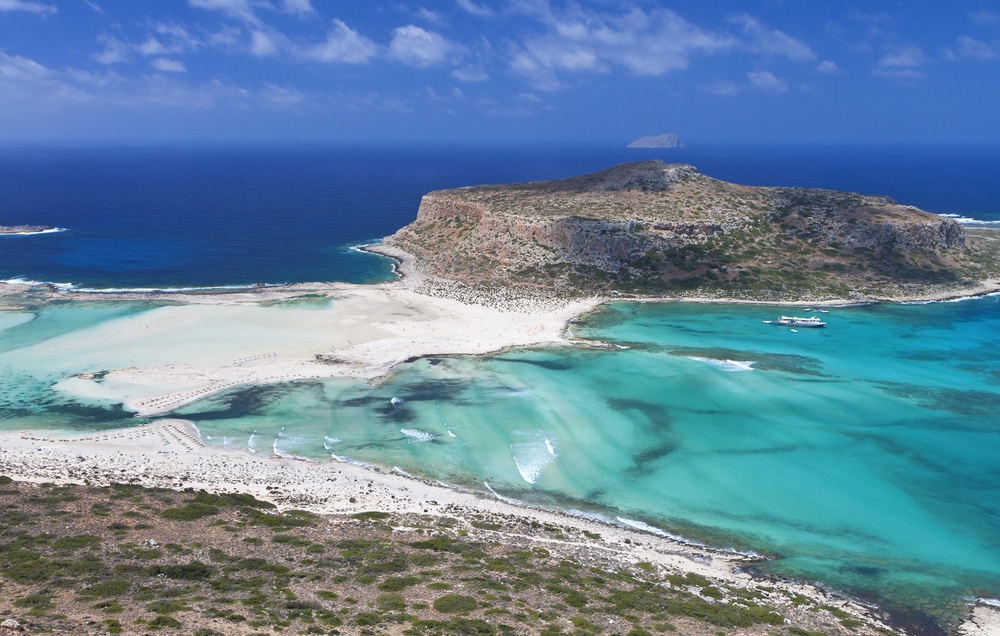 Getting to Santorini is pretty straightforward and possible in several ways. The fastest option is flying to Santorini, which you can do from Athens and cities in other countries. In addition to direct flights from Athens, there are direct flights to Santorini from, for example, Rome, Paris, and London as well.
Santorini has excellent links with other islands, including Naxos, Mykonos, Ios, Paros, and Crete, if you'd instead take the ferry. There are also regular ferries from Piraeus to Santorini.
How To Choose Santorini Or Crete: Accommodation
Generally speaking, hotels in Crete are slightly cheaper than those in Santorini because they're popular among locals, and there are simply more. Crete's high supply and high demand keep prices relatively low, while Santorini's limited supply and extremely high demand increase rates significantly.
Crete is the better choice if you're traveling as a family with small(er) kids. This large island has excellent family-friendly hotels and fun beaches. On the other hand, Santorini is popular among couples, particularly honeymooners, thanks to its breathtaking sunsets, scenic villages, and spectacular cave hotels.
Hopefully, this Crete vs. Santorini guide helped you consider Crete vs. Santorini. Whatever choice you make, each island has lots to offer and is a world-class holiday destination. Enjoy your trip!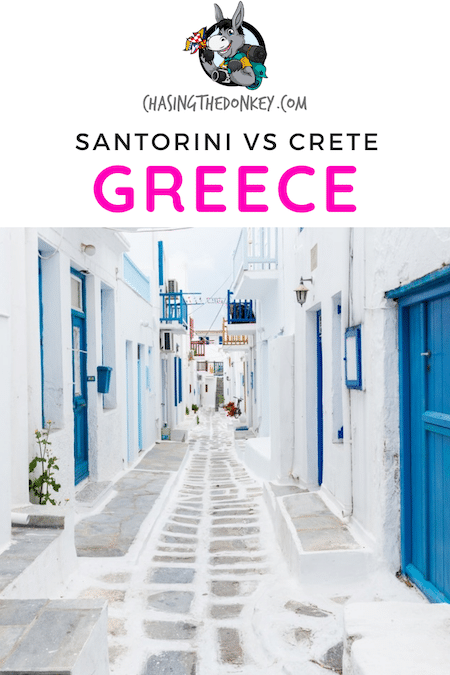 Share