Some posts contain compensated links. Please read this disclaimer for more info.
10 Mainland Greece Beaches You Cannot Miss
When we talk about Greece during the summer, we tend to think about the Greek islands first and foremost. It's not a surprise, really; the islands are truly beautiful and ideal for forgetting all your cares for some fun and relaxation in the sun. However, we shouldn't forget about the beauty of mainland Greece too. Oh, and it is not all about Athens either!
If you always think about Greece and beaches and jump to the islands, be prepared for a shock – the mainland beaches are just as perfect for summer vibes too. Here are 10 of the best mainland beaches you simply cannot ignore.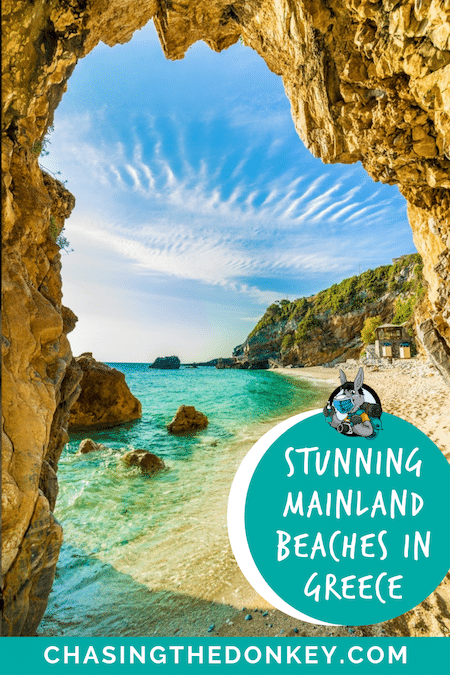 Alonaki Beach, Parga
Best for snorkeling
If you want a day away from everything, totally secluded and enjoying peace and quiet, Alonaki Beach is a great choice. Around 25km distance away from the main town of Parga, the beach sits in a cove that is protected from the sea breeze. The fragrant pine trees slope down towards the clear waters, and the sand is golden and clean.
Visiting this beach is best done by hiring a car, as you will need to drive down a dirt road to access the beach. This beach, although beautiful, is not the best for young children as the pebbles under the sea can be a little sharp; however, if you love snorkeling and checking out colorful marine life, this is a top beach choice for you.
The beach does have a bar for refreshments, and sunbeams are complimentary, along with showers. Even though the beach is a little challenging to get to, it can become quite crowded, so be sure to get there early during the peak summer months.
Ammolofoi Beach, Kavala
Best for families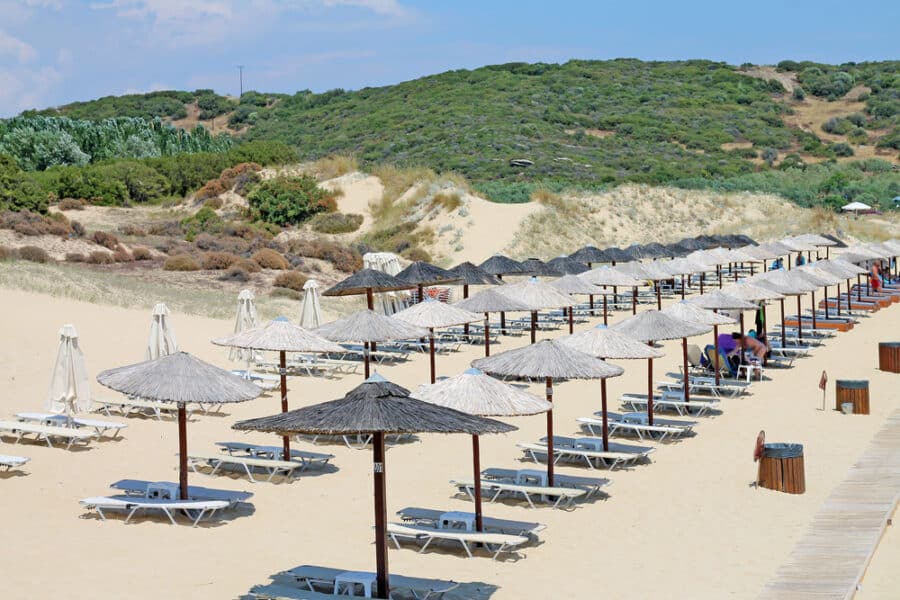 Ammolofoi Beach is an excellent choice for families who want a lazy day on the sand, building sandcastles, splashing, and enjoying the sun. Packed with massive dunes, kids will love hiding and exploring in and around them, and the green-tinged waters are clean, calm, and ideal for swimming.
This beach is relatively easy to reach as it can be accessed directly from the road. It is located just outside of Kavala, and there is plentiful parking. However, as you would expect, it can be busy during the summer months, so get there early once more.
There are many facilities on the beach, including bars and restaurants, sunbeds and umbrellas, and showers.
Armenistis Beach, Halkidiki
Best for camping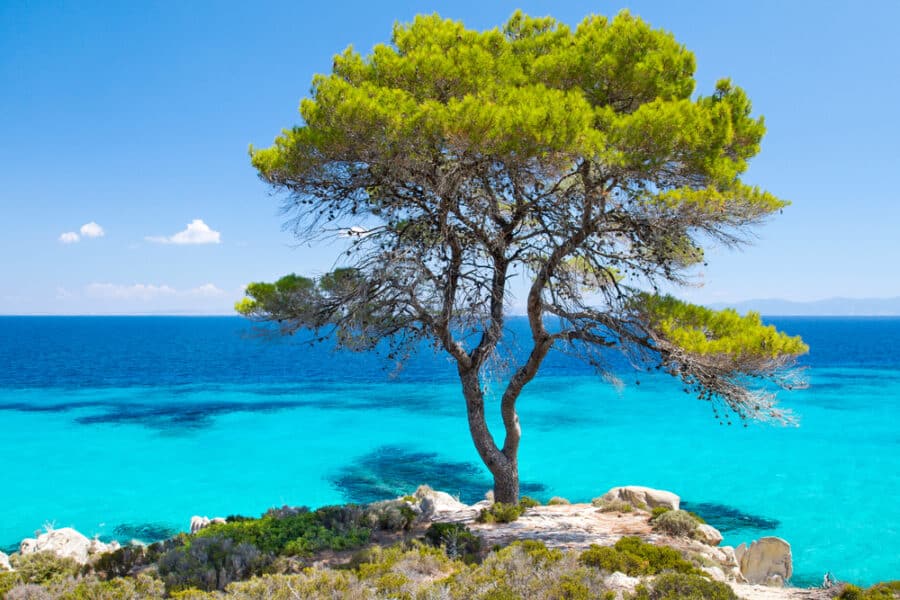 This particular beach is an excellent option for everyone, as it's large, sweeping, and rarely crowded as a result. However, thanks to the surrounding region, many nature fans flock here, and it is ideal for camping. The beach has been Blue Flag rated and
the sea is crystal clear and calm, making it a good choice for families too.
In terms of how the beach looks, it's literally stunning and a definite Insta-worthy snap to have. There are many amenities on-site, including restaurants and cafes, small markets, and toilets/shower rooms. You will find umbrellas on certain spots, and be sure to head to the far end of the beach to check out the sunset too.
You can reach Armenistis Beach easily from the main road from Halkidiki, and there is plentiful parking. You simply walk along a short track from the car park, and you're on the sand.
Bella Vraka Beach, Syvota
Best for relaxation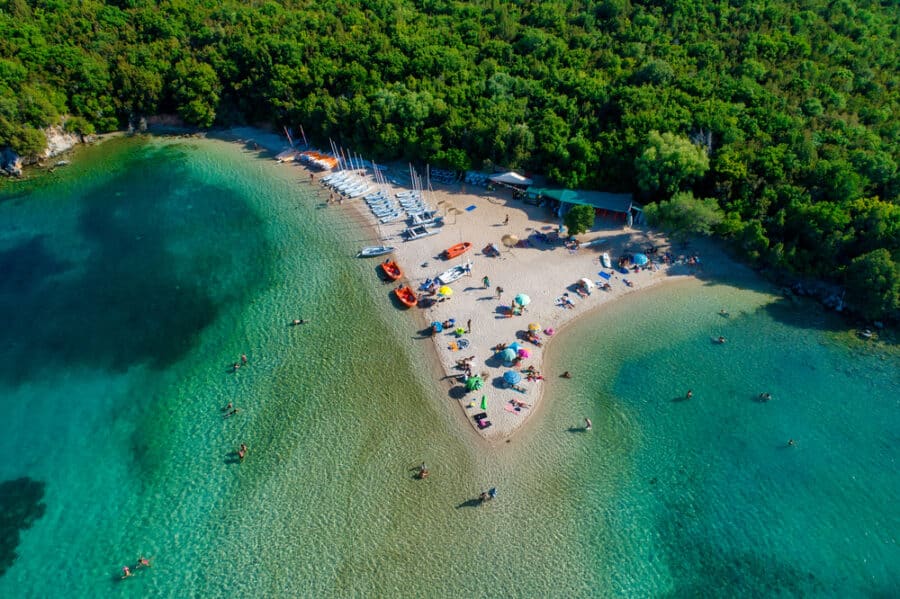 Located in Thesprotia, close to Syvota, you'll find Bella Vraka Beach. This is a beautiful spot and ideal for anyone who wants to grab a good book, a sunbed and chill the hell out for a few hours.
The main beach is separated into smaller coves by a long strip of white sand which gives you isolation if you need it, but the easy access to the main section of the beach if you want to be a bit more sociable! The water is shallow, so it's ideal for all swim levels, but it can be pebbly in places. As the beach is associated with a hotel, you will find that it's jam-packed during the primary summer season, and there are watersports available for residents of the hotel. There is also a small cafe on-site and sunbeds and umbrellas.
If you're not staying at the hotel, you can easily reach it by road, but from there, you will need to walk down a somewhat uneven path that is quite rocky.
Faksitra Beach, Pelion
Best for off the beaten track adventures
You will struggle to find one to beat Faksitra Beach in terms of beautiful beaches. Although you do need to walk down a relatively long and steep hill to get to it from the road, it's more than worth the effort for the end destination. The beach is also only 15 minutes away from Fakistra itself.
The beach is surrounded by high cliffs and trees, making it seem like you're cut off from the rest of the world, but you're pretty close in reality! The water is a green-tinge, perhaps reflected from the plentiful trees, but extremely clear and almost mirror-like.
Be sure to take your own snacks as there are no cafes or shops for refreshments. This is a wild and natural spot that doesn't have any tourism amenities – that's what makes it so beautiful in many ways.
There is a lot of shade on this beach, but you can also easily find open sun if you want to tan. There is also a mix between pebbles and sand on the shore.
Foneas Beach, Mani
Best for nature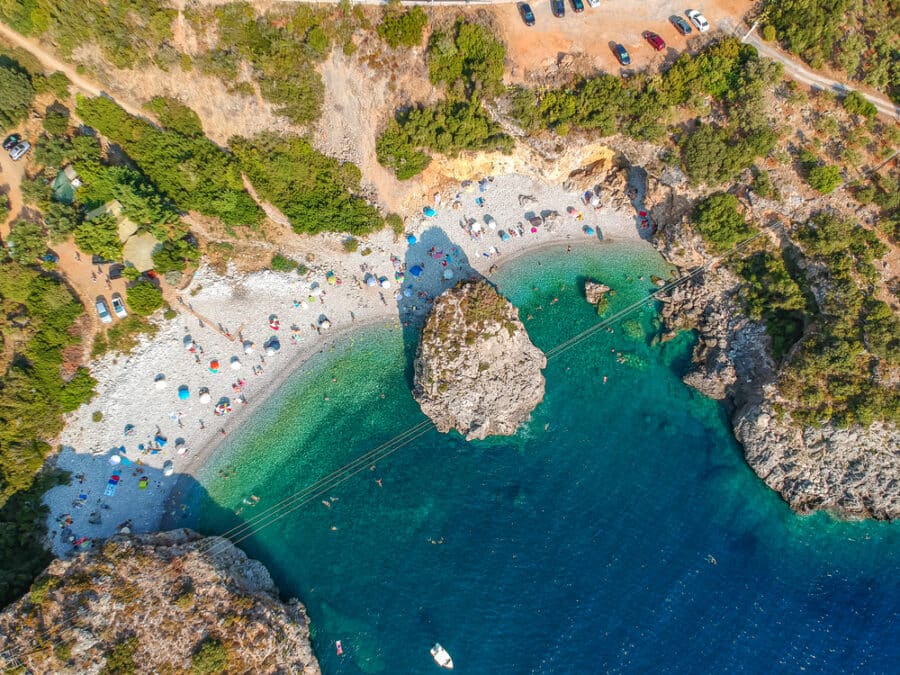 Foneas Beach is pretty secluded, but that's what gives it ultimate beauty. The cove is protected by the trees surrounding it, but it's also quite rocky, so be sure to take some beach shoes with you for extra comfort and protection. You can reach the beach by road and simply walk down a forest track to reach it.
The beach does have some families, including a cafe and shower, but it may be best to bring your own refreshments if you prefer a wide choice.
Because the beach is pretty wild, it's not the best for children as the rocks are quite large and can be slippery. However, it's a stunning beach for adults to spend the day. If you enjoy snorkeling, you'll find a great experience here too.
Kavourotrypes Beach, Halkidiki
Best for Instagram snaps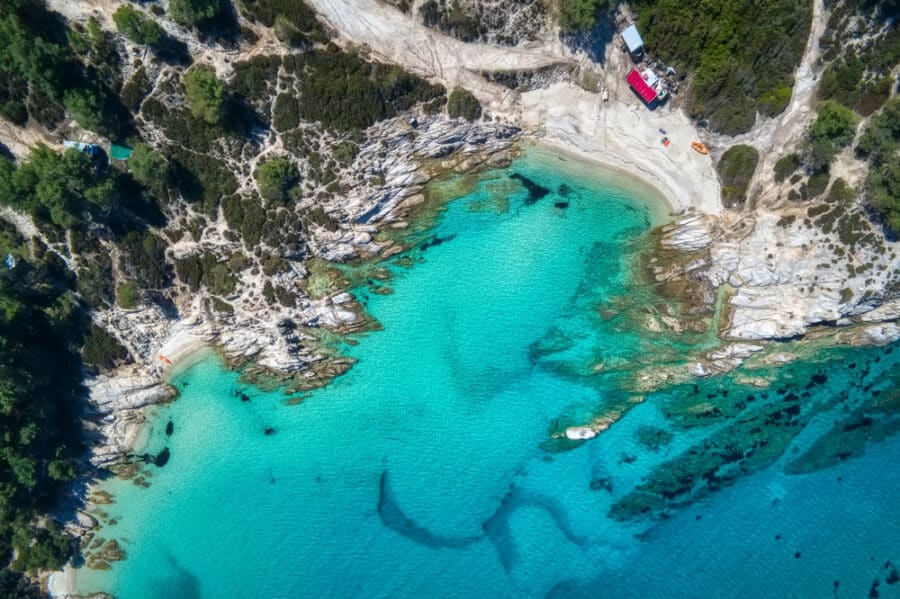 Once you set foot on Kavourotrypes Beach, you'll question where in the world you actually are. It looks like you're on another planet entirely, such is its exquisite beauty. But no, you're in Greece – Halkidiki to be precise.
The beach is surrounded by huge rocks and pine trees which slope down to the shore, and the sand is blinding white. The sea? It is idyllic, bright blue, and reflects your face when you look down into it. It's stunning and will make everyone on your newsfeed crazy with jealousy. To add more detail to the beauty, you can also check out the imposing sight of Mouth Athos in the background. There's nothing this beach doesn't have when it comes to aesthetics.
There are some facilities on the beach, including umbrellas and sunbeds, but you should bring your own refreshments. While it's not the most accessible beach to get to, you will find some parking, and you simply walk through the forest to get down to the beach itself.
Mylopotamos Beach, Pelion
Best for swimming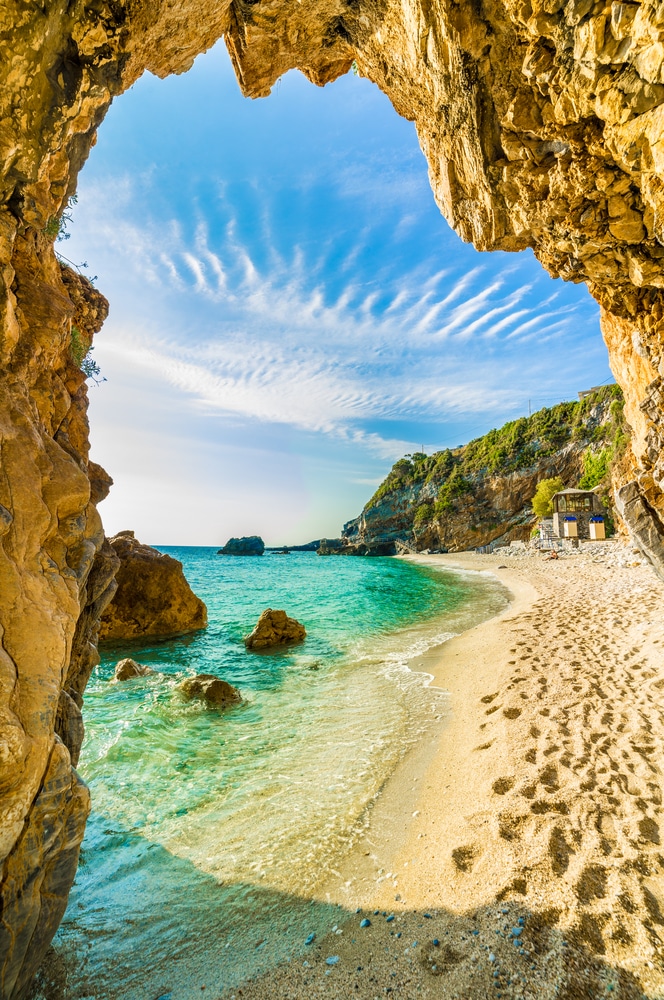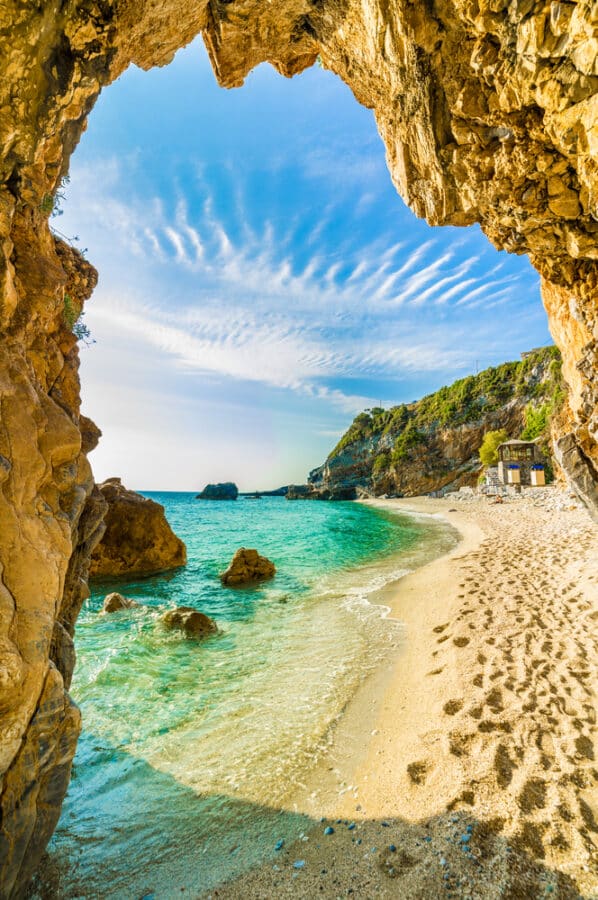 Located in Pelion, a very short distance away from Tsagkarada village, you will find Mylopotamos Beach. The beach actually separates into two, but it's one and the same – it's simply a very large rock that causes the split! This beach is ideal for those who enjoy swimming and sunbathing, although the beach is pebbly and not sandy.
It's an untamed kind of beauty here, but one which is perfect for a day of chilling out in the sea. You'll also find sunbeds and umbrellas for rent and cafes for refreshments throughout the day.
To reach the beach, you can simply drive, but you will need to walk down some steep steps to get to the shore.
Sarakiniko Beach, Parga
Best for watersports
Sarakiniko Beach in Parga is named after a group of pirates who were stuck on the sand back in the day. So, if you're into history and seafaring tales, this is a good start for you! However, if you're more about the beach itself, you won't go far wrong here. It's beautiful, has plenty of amenities on-site, and you'll have a fantastic day enjoying the natural elements. Another plus point is that there are plenty of options for watersports here and canoeing, snorkeling, sailing, and even fishing.
You can reach Sarakiniko Beach from Parga by road, and it only takes around 15 minutes to get there. There is plenty of parking, and once you're there, you'll find restaurants and cafes for refreshments. You can also rent a sunbed and umbrella. If you want to stay, you'll find accommodation too!
Voidokilia Beach, Messinia
Best for wildlife lovers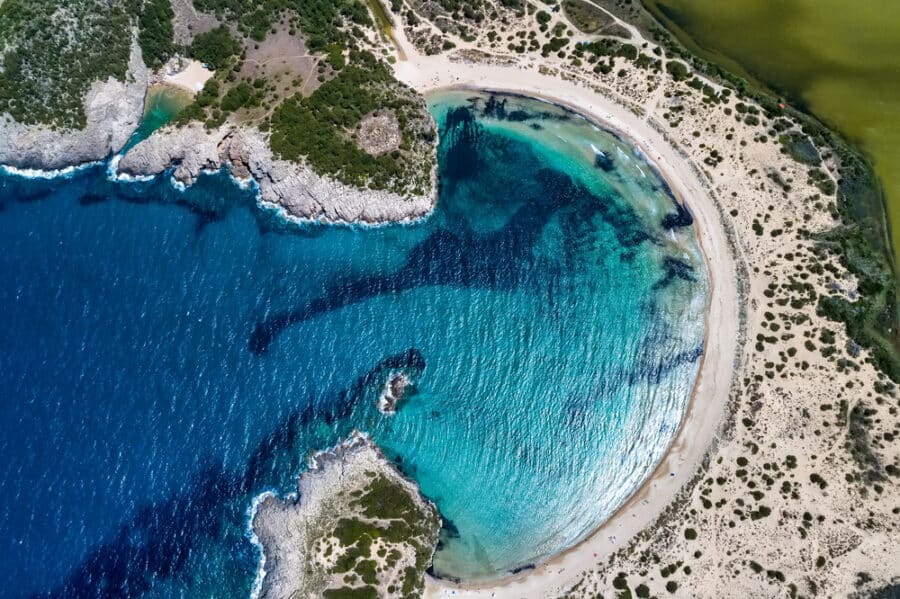 Anyone who adores wildlife, in particular birds, will love Voidokilia Beach. The beach is formed by huge sand dunes, which create a horseshoe shape. The waters are blue, calm, and shallow, making them ideal for swimming as it's never genuinely wavy, thanks to the protection around the beach from high winds. The beach is sandy and ideal for children and adults alike.
You can easily reach the beach by road and a short path, but there isn't any parking, so perhaps a taxi or excursion is the best option here. There are no cafes on the beach, so be sure to bring your own refreshments.
If you venture around the sand dunes, you'll find Gialova Lagoon, a habitat for countless species of birds.
Share