Privacy & disclaimers →
A Guide To The Best Cafes & Restaurants In Sofia
At first glance, the capital of Bulgaria, Sofia, seems like a relatively small and quiet city. With its heavy emphasis on brutalist buildings and aging streets, it feels like not much has changed since the days of Communism. But beneath all of this facade is a beating heart of Sofia that is alive and well and can be seen in the city's wealth of fantastic restaurants and cafes.
The people of Sofia are passionate about their literature and their reading spaces, so many of the cafes are literary-themed. There is also a diverse culinary landscape in Sofia that can lead you on an adventure across so many different kinds of world foods in the city's restaurant scene. Here is a complete guide to the best restaurants and cafes in Sofia, Bulgaria.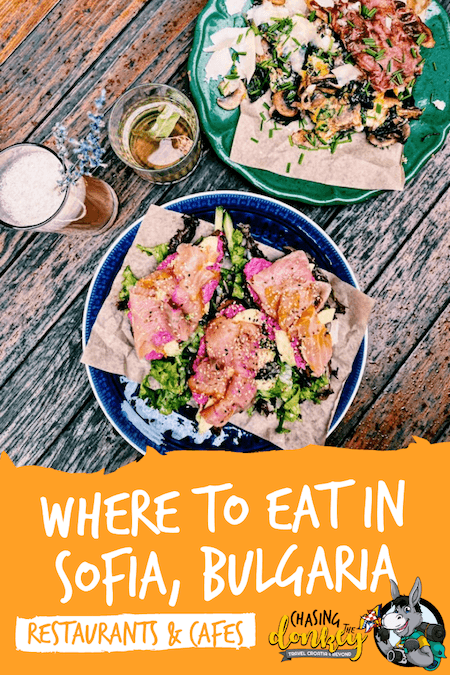 The Best Restaurants In Sofia
Pick up your fork, and let's dive into Sofia's restaurants that I loved:
Raketa Rakia Bar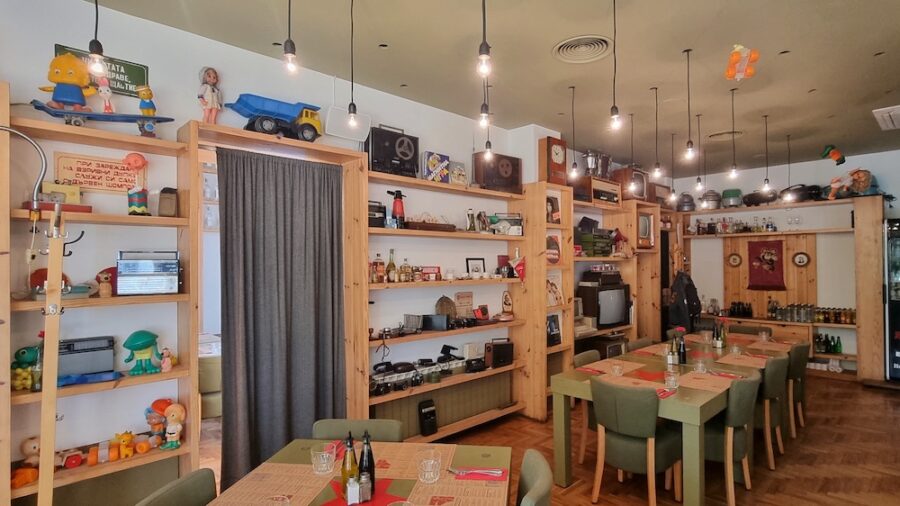 This trendy & funky bar, set in a Soviet-era building, feels like a museum and bar in one. Both pet and family-friendly, it's a welcoming spot for all. Enjoy the Soviet-style interior and memorabilia as you relax at this local establishment.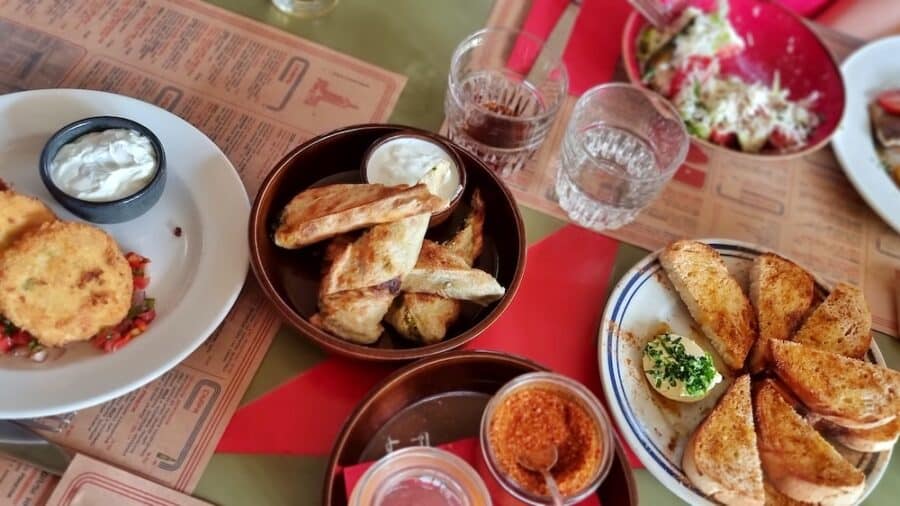 It hosts an extensive selection of Rakija, as the name suggests, and is also a great place to grab a beer and a bite to eat, with local European dishes on the menu. And, as a bonus, if you like the spirits you try, you can buy them by bottle to take home with you!
Address: 17 Yanko Sakazov Blvd Next to Sputnik Cocktail Bar, Sofia 1000
Boom! Burgers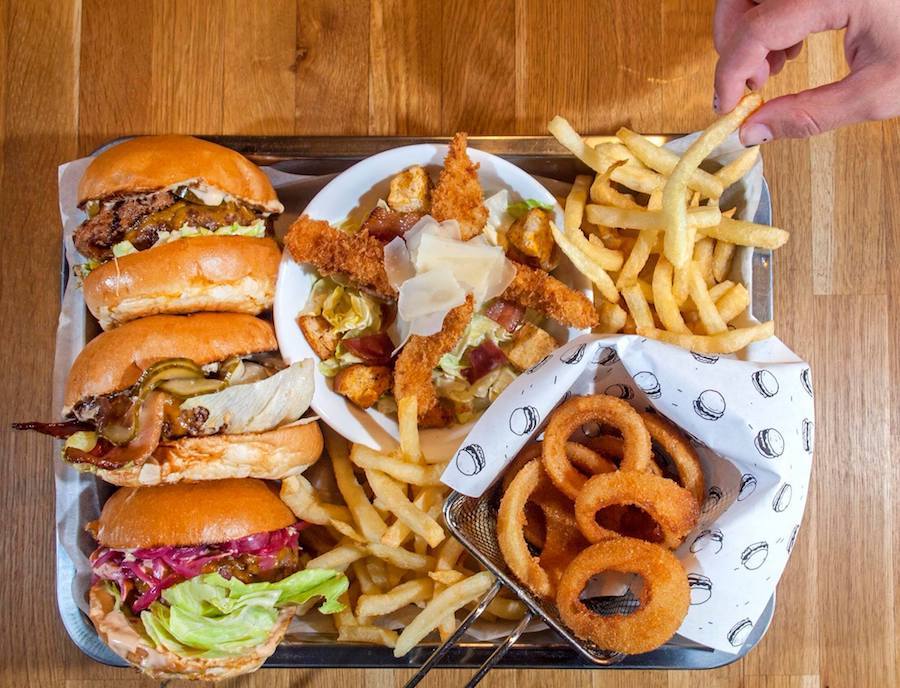 Bulgaria might have a lot of fantastic local cuisine for you to explore and experience. Still, another thing that Sofia excels at is delivering unique and creative modern twists on world foods. And the classic American burger is no different.
Boom! Burgers have taken the American classic and turned it into an art form. There's a massive menu of gourmet burgers at delightfully affordable prices at Boom! Burgers, as well as different options when it comes to fries, sides, and toppings.
This is an ideal place to come for lunch as a pit stop before heading back out to continue your sightseeing tour of Sofia. Boom! Burgers are right in the center of town and near to Sofia's best parks and buildings. An ideal lunch spot.
Shtastlivetsa
Decorated in a homely 1930s vibe, this restaurant has won many awards and is often featured at food festivals with a special mention. The menu features plentiful local dishes and has a stunning view right across the Old Town.
The menu is huge, and you can find local dishes and popular European options. This is a restaurant where nobody will find it hard to choose something to satisfy their tastebuds. The menu is also seasonal, so everything is fresh.
Sunmoon Restaurant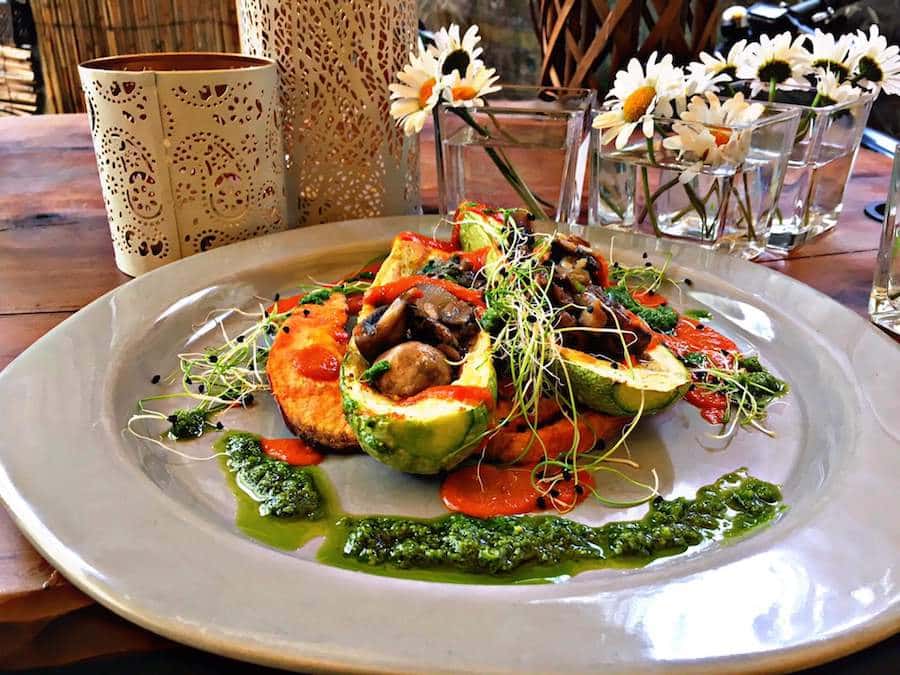 This small yet very friendly vegan restaurant is the best spot for vegetarian/vegan food in Sofia. With a large open air terrace, you can enjoy a fine day and check out the view as you eat. Be sure to head to the restaurant for breakfast and start your day in the best way possible. Many locals rate their omelettes very highly, so that's a great tip to try for yourself!
The garden area feels cut off from the rest of the city, so it's the perfect place to relax after a long day of sightseeing too.
The Apartment
The Apartment is exactly what it sounds like: a homey, welcoming, relaxing apartment where you can eat and drink with friends. It's an incredibly social space that is, quite literally, an apartment.
You eat at sofas in one of several small rooms and gather with your friends or your partner for an afternoon of chatting and enjoying homemade snacks, cakes, coffees, and juices. Everything is homemade, so the menu changes often, which just adds to the mystery and excitement of visiting The Apartment more than once.
If you're visiting Sofia with friends, The Apartment is the best place to go for a chill afternoon of catching up and relaxing with some light food and coffee.
Edgy Veggy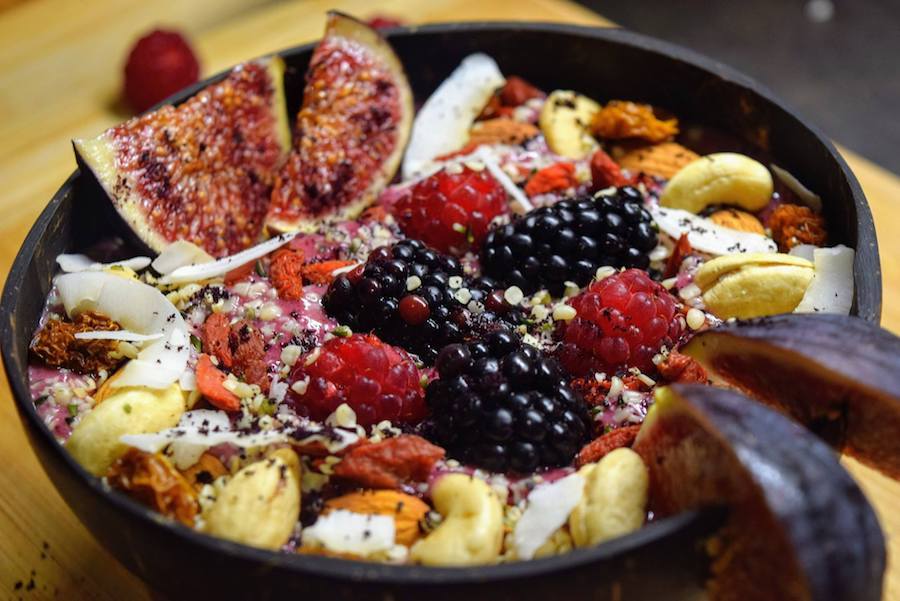 A brightly lit but softly muted restaurant in the heart of Sofia, Edgy Veggy is precisely as its name suggests: a vegan and vegetarian-friendly restaurant that caters to those who wish to avoid animal products or who just want a healthy and delicious meal.
Specializing in lunch foods like sandwiches, wraps, salads, and sweet cakes, this is a great place to go for lunch. The food at Edgy Veggy is bursting with color and vibrancy. It's all so indulgent and yet completely vegan and so healthy.
All-natural ingredients make for delicious foods that are cooked with love and care but are still filling and so very satisfying. Edgy Veggy is a warm and friendly place to eat in Sofia, with some of the best lunch options in the whole city.
Skaptoburger
If you like your burgers sky high, this is the place to go! With a huge menu of different burger choices, you can also work your way through the extensive craft beer menu, with choices from around the world.
Located in the city centre, this is a great spot to head to for lunch or at the end of a long day of sightseeing, when you want something slightly unhealthy to eat! It's a chilled-out spot and the burgers are made fresh, on the premises daily.
Made In Blue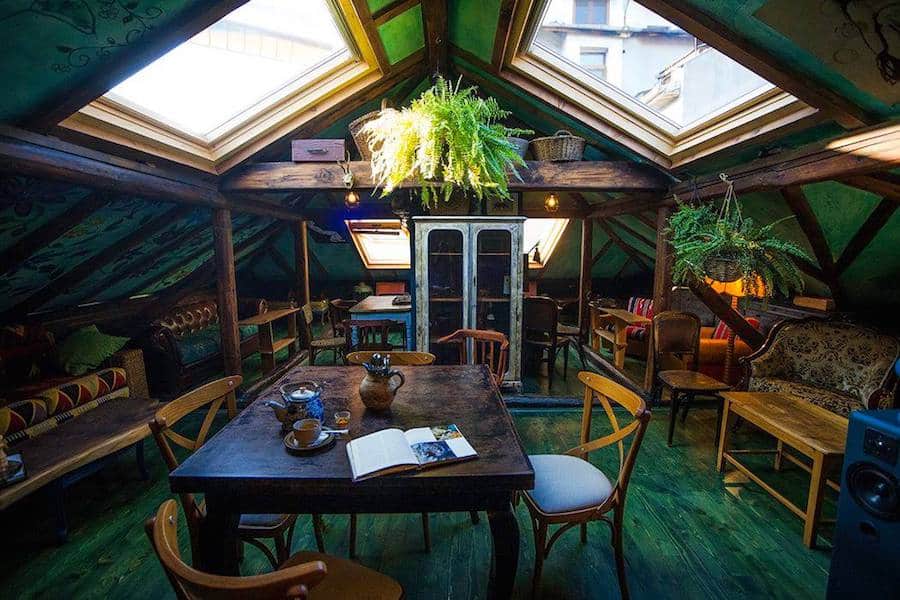 As the name suggests, the restaurant is blue on the inside and has a quirky decor that might make you remember your favorite fairytale from when you were a child. Add to that the wonderful range of dishes on offer, and you'll find yourself returning more than once.
The menu isn't the most extensive but everything on there is wonderfully easy. Everything is also seasonal, so you can be sure that its as fresh as it's possible to be. Portions are also rather large, so you won't go hungry!
Agarta
With many pork dishes, portions of pasta, loaves of bread, soups, and salads, this is a modern twist on traditional Bulgarian home cooking. Agarta has a delightfully homey and welcoming atmosphere, with a conservatory area and hand-made wood furniture.
It's a relaxing place to eat which feels very local Bulgarian, and traditional, while still appealing to younger diners with its quality fresh foods and diverse menu. There are also some excellent beer options as well. It's often a good idea to reserve a table here for evening meals, though it's a lot quieter at lunchtime and it does stay open until 11 pm, so you have plenty of time to eat late if you don't reserve yourself a table.
Mi Casa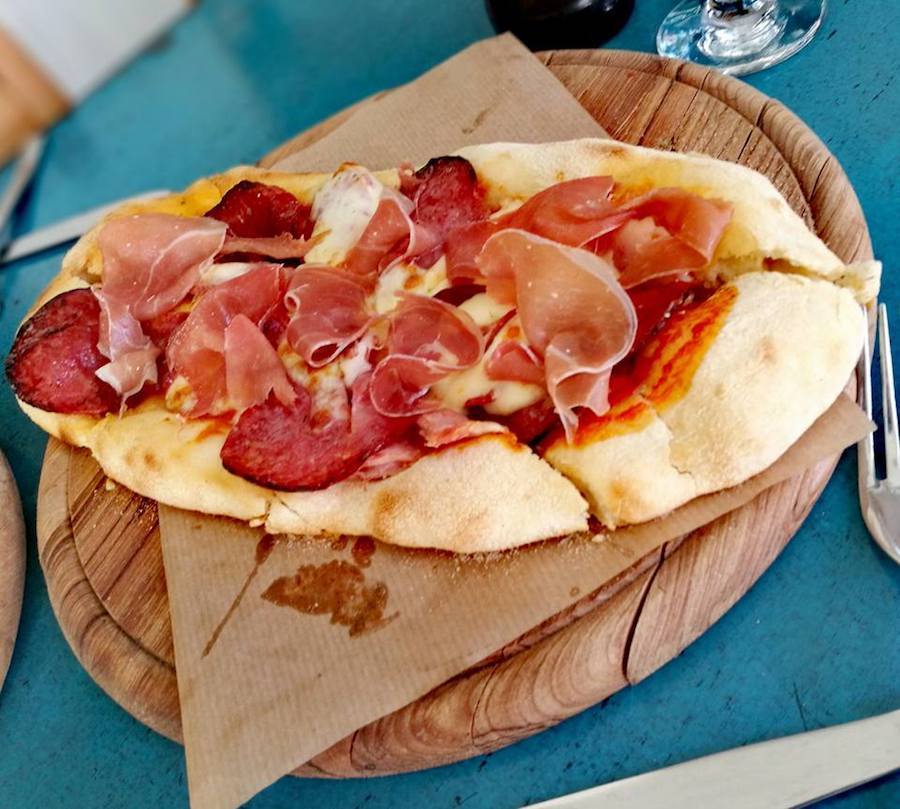 This beautiful restaurant in Sofia has an enormous range of options on its menu. Mi Casa has a brunch menu that goes on until 4 pm, and after that, the dinner menu offers a wealth of choices from pizza to burgers and wraps.
Everything here is cooked and served to perfection, with a big selection of wines and beers to complement the diverse menu of European dishes.
There's a range of choices regarding bread-based and fish heavy meals, and the restaurant's atmosphere is very charming and homely. Mismatched furniture and shelves stacked with books give the restaurant a thrown-together feel that oozes charm and makes for an enjoyable place in Sofia to enjoy a lunch or dinner.
Street Chefs
Foodtruck
Street food has never been so good! Many locals and visitors say that the burgers here are the best around and with a huge range on offer, you'll find something you like. They also do steaks to go, along with a wide range of refreshments.
If you like to grab your food and eat on the go, this is a great choice and it's not going to leave you feeling hungry later on! We're talking serious meat here.
Made In Home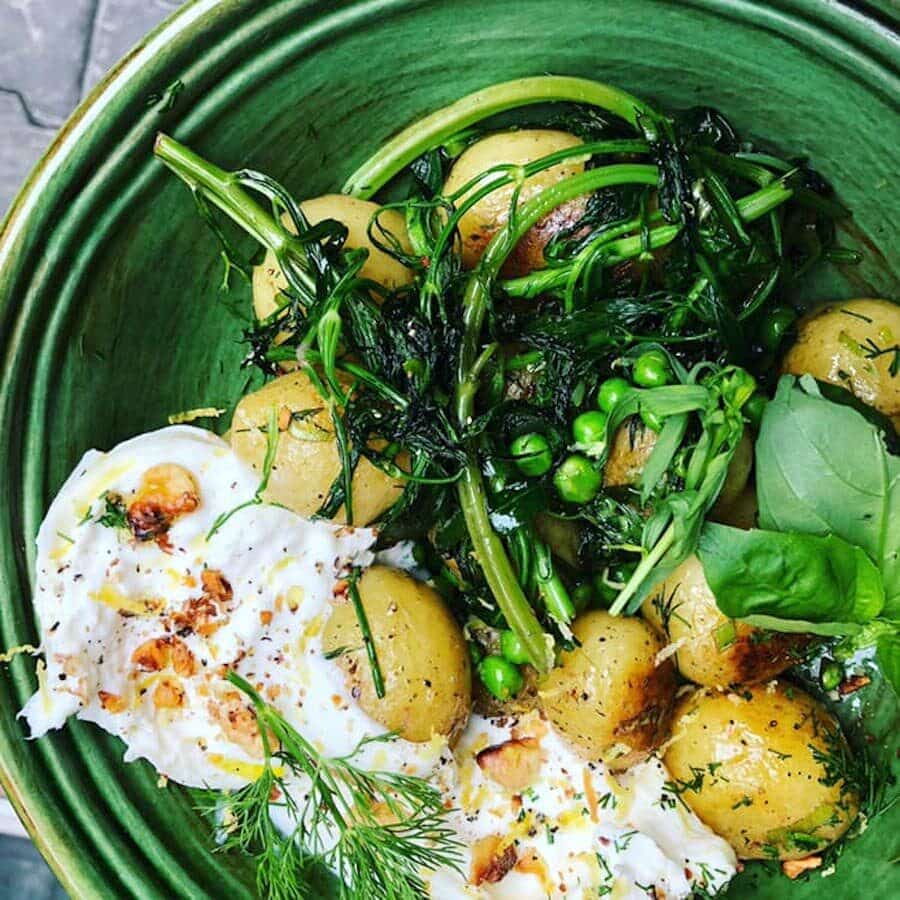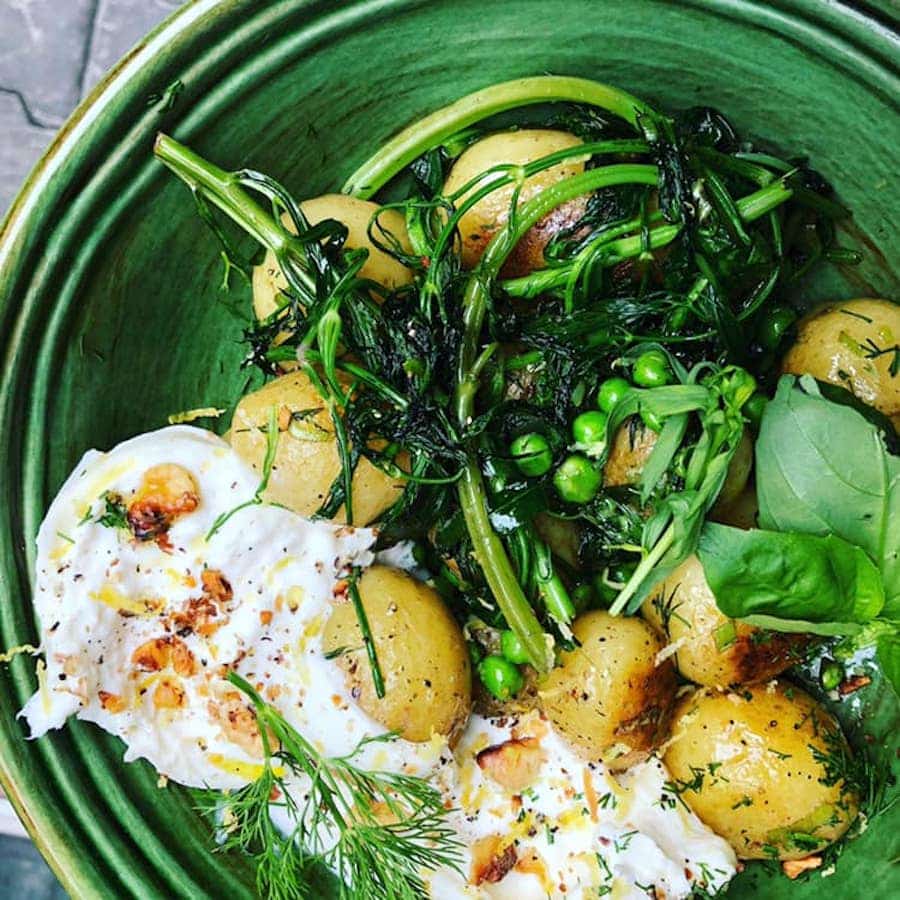 Home made food is best served in low key environment and this cosy, chilled out restaurant does exactly that. Try and get there early so you can bag a window seat and you'll be able to people watch while enjoying the delicious cuisine on offer.
All dishes are made with the freshest produce possible, with banitsa a must-try. The restaurant serves from breakfast until the late evening hours and you can also sit and have a drink after your meal, enjoying your time.
Cosmos
One thing that so many people adore about Cosmos is the care given to its customers. Diners both local and tourists praise this restaurant for its polite, friendly, and attentive staff who cater to your every whim, making this one of the sweetest and pleasant dining experiences you can have in Sofia.
In terms of its menu, Cosmos offers top-of-the-range local Bulgarian cuisine amped up to eleven in terms of its quality and attention to detail. While it is all traditional Bulgarian, every meal is twisted and altered somehow with spices or a new way of preparing it to provide diners with a unique experience.
While it is on the expensive side, the quality food and fantastic service make this a delightful dining experience in Sofia.
The Little Things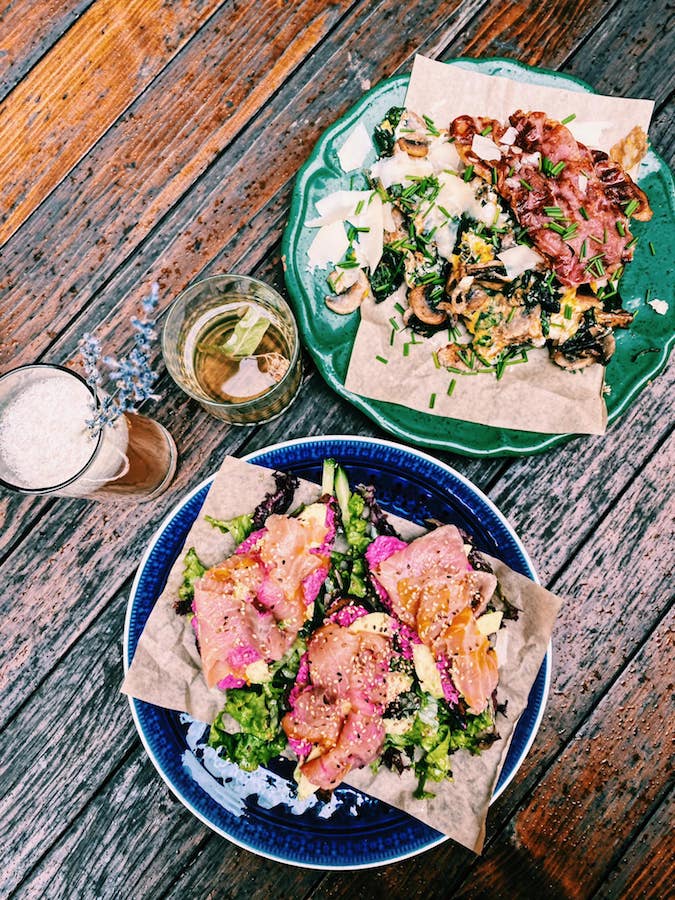 Huge portions of veggie and meat dishes made with fresh ingredients make The Little Things one of the most healthy and satisfying places to dine in all of Sofia. Bread and hummus, mouthwatering fresh salads, and chunks of chargrilled chicken wrapped in pita bread; these are just a few of the meal options served at one of Sofia's most outstanding restaurants.
Everything is fresh, green, colorful, and perfectly cooked, and served to absolutely delight every kind of diner. The vegetarian and vegan options are varied and delicious, while there's still enough variety for meat lovers to find plenty to enjoy as well.
The Little Things has it all, and this restaurant really prides itself on delivering outstanding food every single mealtime. It's a local favorite for an excellent reason.
Happy Bar & Grill
This restaurant is part of a popular chain that has been in operation for the last 25 years. The interior is funky and relaxed, and you'll find a huge menu of both local and international dishes. There is also a very large drinks menu too.
The restaurant has a modern feel and it also has sections for families, smokers, outside areas etc. The 'diner' feel belies the fact that the food is actually seriously good and even the local dishes are up there as some of the best in the city.
Moma Bulgarian Food & Wine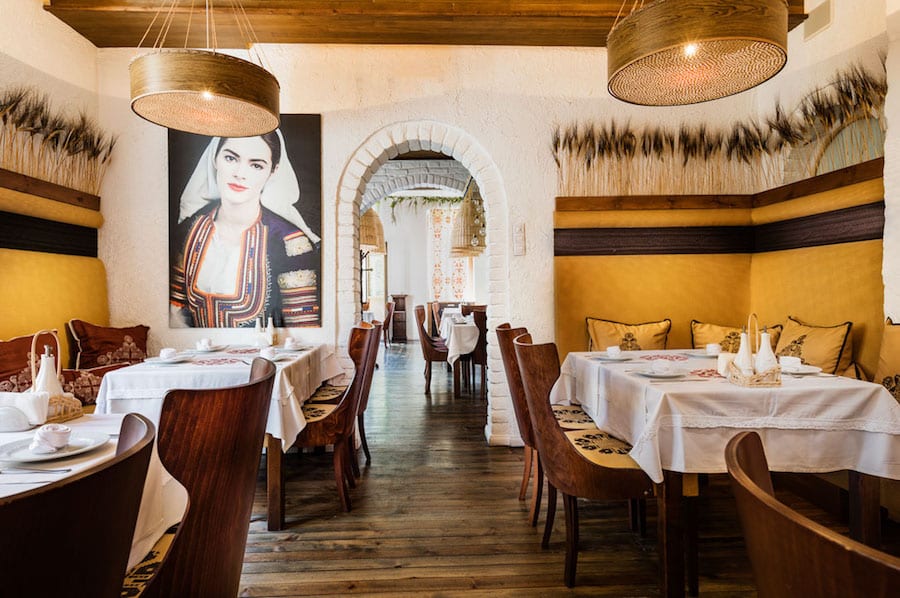 Local Bulgarian food can be found here within a chilled out atmosphere and of course, as the name suggests, plenty of wine choices. From local and international wine brands, you'll be able to try local dishes and chill out with a glass of your favourite vino. With a traditional taverna atmosphere, be sure to try any of the grilled meats on offer – you won't find them fresher anywhere else.
Mehana Mamin Kolyo
This traditional restaurant has the feel of a local tavern, with brightly coloured table cloths and a window section that allows you to check out the busy streets outside as you dine.
The restaurant create specialty dishes from the local area and there is also a huge wine list, to complement each dish you select the waiting staff are also very knowledgable and will help you choose a dish that you'll really enjoy. There is also an outdoor street dining area for use during the warmer weather, so you can watch the world go by.
Chevermeto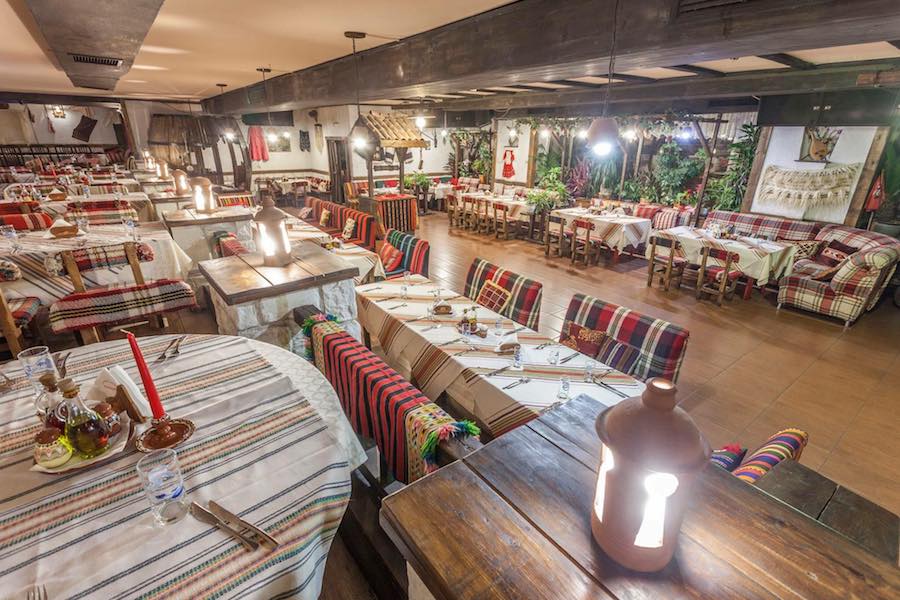 Chevermeto is a large, covered restaurant with a traditional feel, set in what feels like a garden. Be sure to check out the grilled meat dishes here as they're something extraordinary. The restaurant also do regular Bulgarian traditional dance performances, so it's the perfect place for someone who is visiting Sofia for the first time.
With traditional wooden seating, you'll feel like you're somewhere truly special, and that's because you are. This is regularly voted as one of the best traditional restaurants in the city, and it's a place that many locals dine at too – that's the real seal of approval!
Ugo
Not many restaurants can genuinely claim to be open 24 hours a day, but Ugo certainly can! If you want to eat something at 4am, you'll find the kitchen open and you can dine on a huge range of local and international choices.
The interior is a little dark for some tastes but it has an ambiance that is chilled out and calm. Perfect for late night dining. Food choices are plentiful and there is also a large drinks menu on offer too.
Crazy Diamond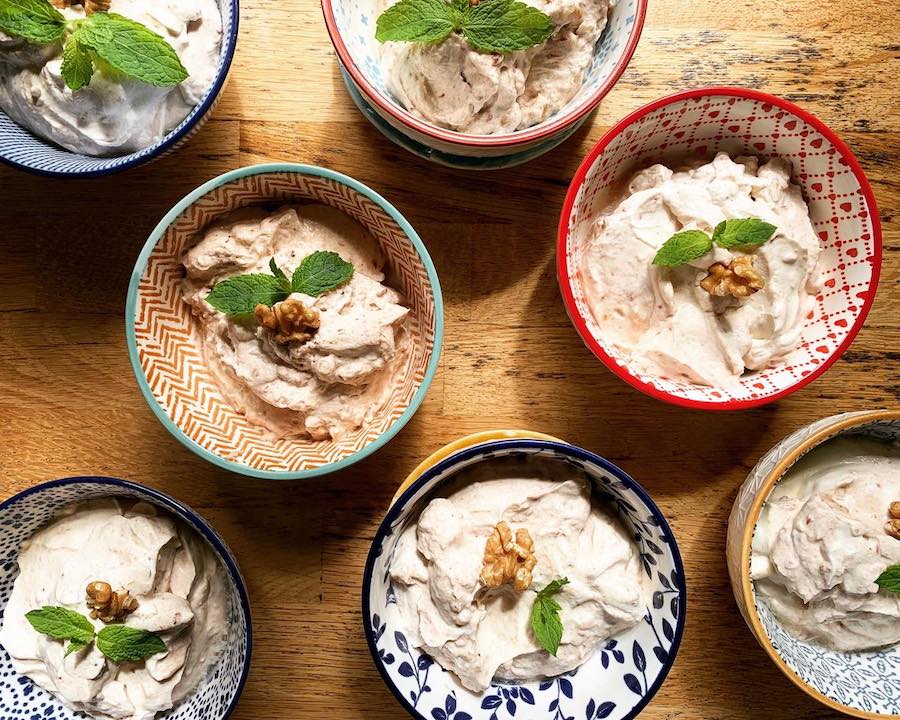 This hotel feels like it's in the middle of nowhere, perhaps in a forest, but in reality, it's in the city centre! With indoor and outdoor dining, this is the spot to try grilled meats and BBQ dishes. The restaurant feels chilled out and homely, which is ideal for those who want a low key evening with delicious food. If you choose to dine in the garden, you'll feel like you're a million miles away from the hustle and bustle.
Moderately expensive, the restaurant only use natural and locally grown products, with some of the most mouthwatering dishes possible on the menu. You could call this place a true hidden gem.
Jasmine Gastro Bar
If you want a bistro-style spot to enjoy something light and easy, Jasmine Gastro Bar is a great spot, in the heart of the city centre. With stool seating and high tables, the restaurant is a chilled out spot and has a great range of dishes to try. The restaurant also does great cocktails and you can easily sit and chat away with friends as you watch the people going about their business outside.
Be sure to try the desserts here, too, as they're often very highly rated!
PLAN AHEAD TO GET THE BEST DEALS
The Best Cafes In Sofia
Need a cup of jo or a sweet fix? We can help check out these Sofia cafes.
FOX Book Cafe

This sweet and cozy cafe in the heart of Sofia can be found on William Gladstone Street (named after Queen Victoria's prime minister). It's a delightful and peaceful little cafe with a few books to browse and purchase and a bookshop atmosphere of wood tables and quiet calm. F
OX Book Cafe is an ideal place to stop and relax after a day of exploring Sofia. One of the great things about Sofia is that almost everything stays open pretty late, including the cafes. So if it gets to nightfall and you'd instead relax in a quiet cafe and read a book, rather than head back to your hotel or find a bar to drink at, you can head to FOX Book Cafe and while away a few hours there with a coffee, a slice of cake, and a good book.
Peroto Literary Club
This is a relatively hidden spot that's popular amongst people who know where it is and how to get there. Although, it is hidden in plain sight. At the heart of Sofia is the enormous National Palace of Culture: a huge building in the center of a spacious park built during the Communist era.
On the eastern side of the building, up an outdoor flight of stairs, is a row of windows that look like all the others, but head through a nearby door, and you'll enter into a wide-open and spacious cafe lined with bookshelves and decorated with clever, bookish features.
There's a bar at one end where you can get a selection of coffees and other drinks, and the large but quiet space makes for an ideal cafe to work in if you need to get some writing or emailing done—one of the best-hidden spots in Sofia.
Artcafe Garden Bar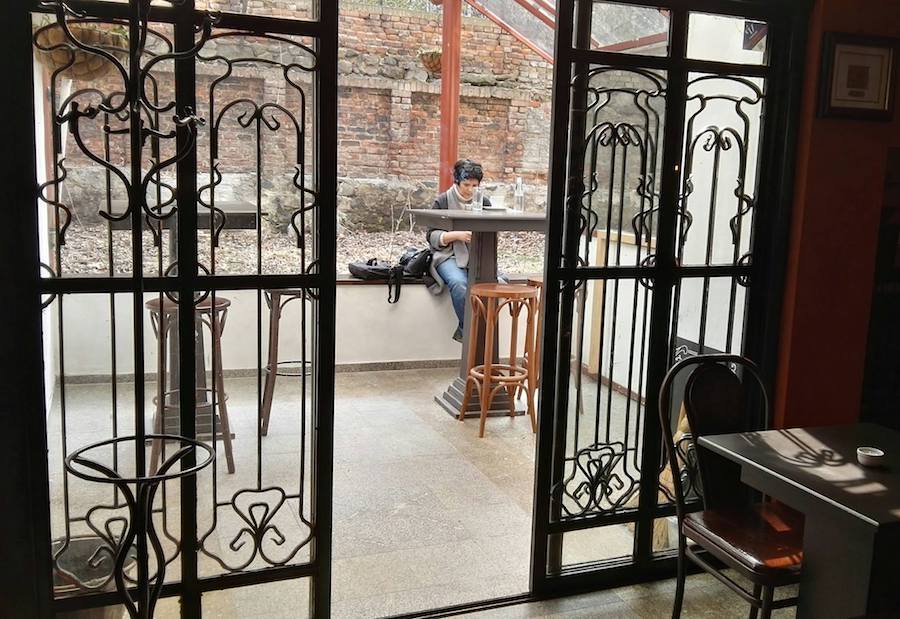 This vintage cafe is small and comfortable, the perfect place to sit and have a drink with a friend or two. It has what they call a 'winter garden,' which is a conservatory area that's great to hide in if it's raining outside. There's nothing quite like sitting under a glass roof, shielded from the rain, and enjoying a coffee or a glass of wine with a friend as you laugh and reminisce about your travels.
Veda House
What really sells Veda House as a great place to visit is its enormous tea selection. If you're a fan of teas from all around the world, this is the place in Sofia for you.
The menu is all in English, and the staff also speak it well. It's a comfy and inviting place to visit with a few food options, but the tea is absolutely Veda House's main attraction. It's affordable, and so the temptation to order and try a few different teas is almost too much to bear.
Furna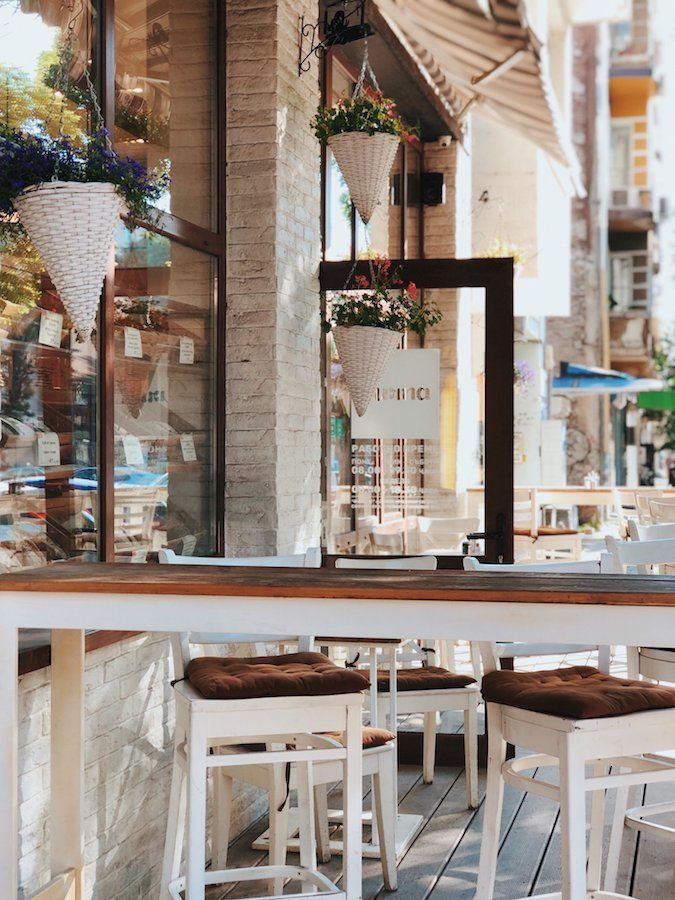 Furna is a local bakery in Sofia that serves fresh and delicious coffee. The selection of fresh pastries is simply incredible, and it spreads out across the counter every morning, spoiling every visitor for choice.
Grab a pastry, order a latte, sit outside on the benches, and watch the people walk by. On a summer's day, visiting Furna for a coffee and a fresh pastry is the best way to start your day of exploring the city and wandering its streets.
Foods Not To Miss In Sofia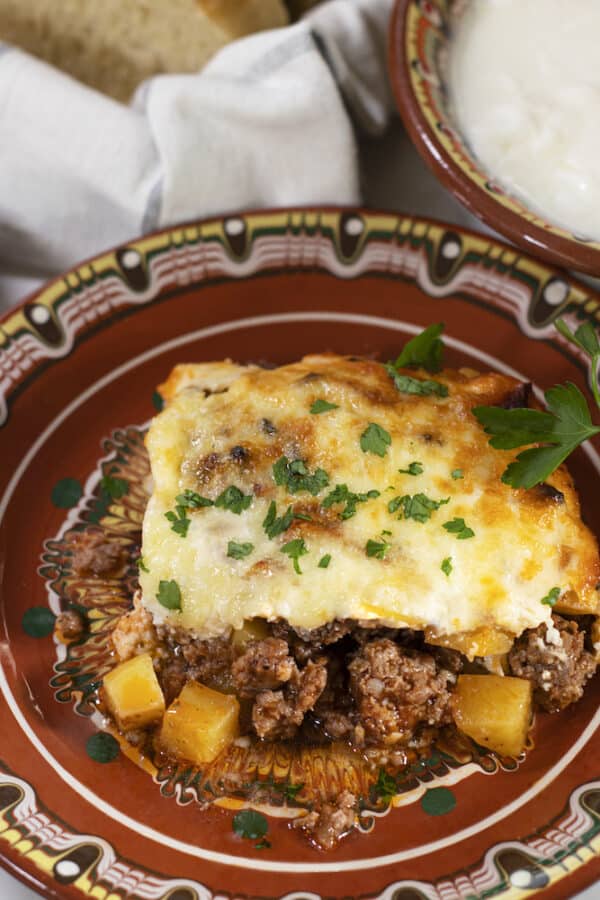 Now that you know all of the restaurants and cafes to try in Sofia, make sure to keep this list of Bulgarian food handy. These dishes are ones we highly recommend trying while staying in Sofia and in Bulgaria in general.
BULGARIAN FOOD NOT TO MISS
Appetizers

Kiselo Mlyako – Bulgarian yogurt
Lyutenitsa – vegetable chutney

Breakfast

Banitsa – layered sheets of filo pastry containing eggs and a white cheese known as sirene as a filling

Meat & Fish

Sudjuk – Bulgarian fermented sausage like salami
Kufte – flat, seasoned meatballs
Lozovi Sarmi – grape leaves stuffed with vegetarian or mincemeat fillings
Bulgarian Moussaka – minced meat, potatoes & tomatoes topped with cheese & yogurt
Supa Topcheta – soup of meatballs, carrots, onions & celery

Vegetarian

Palneni Chushki or Bulgarian Stuffed Peppers
Bulgarian Shopska Salad – mix of cucumbers, tomatoes, onions, bell peppers, olive oil, and grated white sirene cheese
Bob Chorba – white bean soup
Parsley Meatballs

Desserts

Palachinka – a crepe filled with honey and butter, rolled, and dusted with powdered sugar
Tikvenik – a pumpkin strudel topped with orange zest & powdered sugar