Privacy & disclaimers →
How To Make Bulgarian Banitsa (Kissela Banitsa)
Banitsa might be Bulgaria's most popular traditional Bulgarian food. It is a good taste for breakfast or any other time of the day. With plenty of different variations of this popular food, you would be hard-pressed not to find one which suits your liking.
Usually, banitsa is made of eggs and cheese backed into a flaky-ish pastry that practically melts in your mouth. Some other varieties include yogurt, honey, pumpkin, spinach, and much more, so as you can see, there is a taste of banitsa for every craving.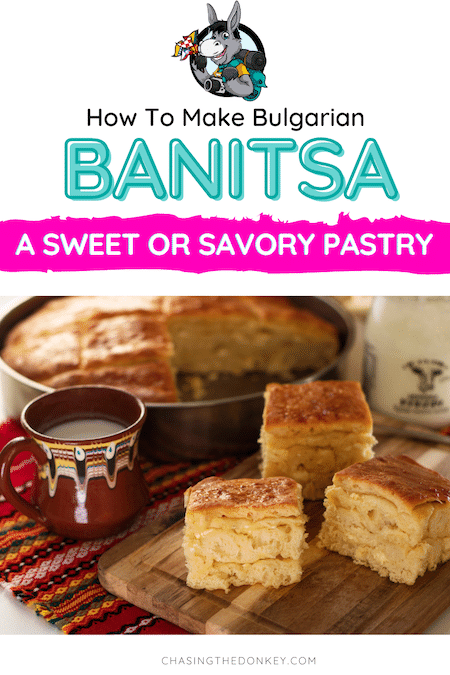 Banitsa, sometimes written as banitza, is not only one of Bulgaria's most famous foods but also one of its most versatile, as this can also be made in sweet varieties as well as savory.
You can find banitsa sold in all parts of Bulgaria, where there will usually be a local or two enjoying one when you walk in. In our banitsa recipe, we've made it the most common way, but feel free to jazz it up with ingredients of your choosing.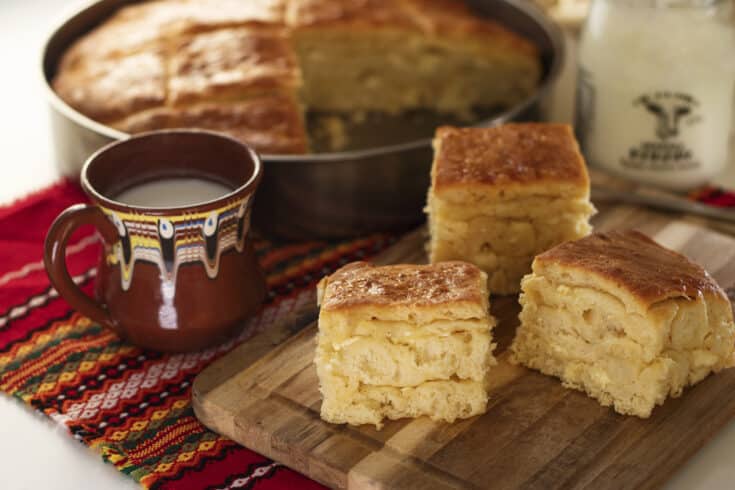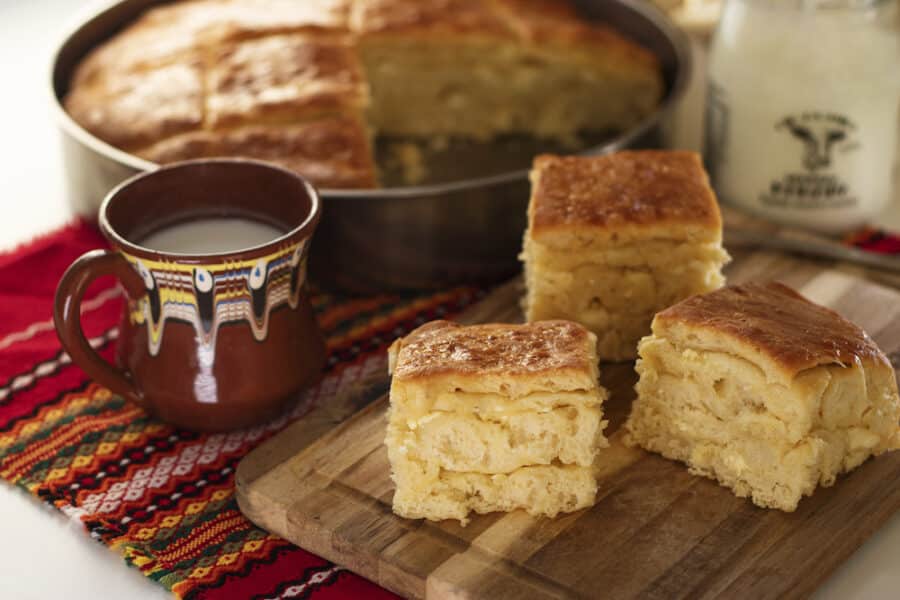 Bulgarian Banitsa - Kissela Banitsa
Here is how to make Bulgarian banitsa - the version known in Bulgaria as "kissela banitsa." Our recipe shows you how to make an easy dough and is very easy.
Ingredients
500-600 g of all-purpose flour
250 ml of milk
3 eggs (save 1 egg yolk for brushing the banitsa before baking)
200 g of white Bulgarian cheese (or feta cheese)
100 g melted butter
2 tbsp. of vegetable oil
7 g of dry yeast
1 tbsp. of sugar
1 tbsp. of salt
½ tbsp. white vinegar
Instructions
Mix the milk, yeast, and sugar in a bowl. Leave for 10 min
Sift the flour. Add the milk, the eggs, the salt, and the vinegar
Knead until the dough is soft, and add the oil. Knead and cover it with plastic wrap. Note: The quantity of the flour might vary depending on the flour and humidity. The dough should become soft and not sticky.
Leave the dough to rise for 2 hours
Divide the dough into 4 equal pieces, forming 4 balls.
Roll each dough ball into a circle with a diameter of 30 cm and a thickness of about 0.5 cm.
Put the first layer of the dough in a round baking dish approx 30 cm, and brush the dough with melted butter (you can use any shape pan if you do not have a round one)
Sprinkle crumbles of white cheese on top of the first layer of dough
Repeat with the following 2 layers
Cover with the 4th layer of dough and cut the banitsa into squares
Pour the remaining melted butter on top and in all of the spaces between each slice. Brush the top with an egg yolk
Bake at 160°C (320°F) for 40 min
Serve warm or cold with yogurt or the Bulgarian yogurt drink known as ayran