We may earn commission from affiliate links →

Tips For What To Wear On A Longhaul Flight
Long haul flights suck. No one, I repeat, no one would fly long haul unless there were some magical ending, like the delights of Croatia or the wonders of Australia (and dozens of more travel destinations) awaiting us at the other end.
Living in Australia for my whole life means that when I went to distant lands, I had to endure lengthy international overnight flights every single time.
Sydney's journey to our place in Croatia is about 35 hours door-to-door, way too long to be in a restrictive outfit. I have learned a thing (or twenty) on my long-haul travel adventures.
And now, with Coronavirus, there are even MORE things you need to know about traveling long-haul safety. Below are my tips to help you stay comfortable on those long-haul overseas flights you've got coming up, but first, let's talk hygiene and safety.
Long Haul Flight Hygiene Information
Due to coronavirus risk, long-haul flights have been made a little more troublesome (as have most things in life lately good news is that there are a few measures you can take to minimize your risk of contracting the virus on a long-haul flight while feeling fresh as a daisy at the same time!
In this section, you'll find a list of the things to take with you on a long haul flight, the best types to opt for, and why.
Antibacterial Wipes To Clean Your Seat Area
Wipes are easy to pack (still take a bottle of hand sanitizer). You can easily store a couple of packs of antibacterial wipes in your bag or backpack, which will take up next to no space.
Make sure you opt for the ones that contain antiseptic and not the beauty types, as these will give you zero protection, although they'll make your hands smell nice! You should also make sure you're purchasing wipes that are safe to use on your skin to avoid rashes.
Use the wipes to clean your seat, tray table, and belt buckle. NEVER EVER use a wipe for your hands and then use it on your tray table – rookie mistake right there! You should also avoid using the same wipe for more than one thing, as you're just transferring bacteria from one place to another.
While it might not be particularly sustainable or cost-effective, it's far better to use more rather than less in the current climate and protect yourself adequately.
So, one wipe, for one thing, discard in a plastic bag and throw in the trash bag when it's passed around.
Face Masks
Most airlines have made this mandatory. Please check directly with your airline before you leave home.
Be sure to bring several of these with you for the flight. If you've purchased a funky-looking face mask and plan to wash it, make sure you have a plastic zip-lock bag to place it to avoid contaminating your main bag.
If you're using a disposable one, check the guidance on how many hours it is safe to use – and be sure to throw your mask away the required time.
I suggest you opt for a multi-pack and keep them in your bag for your entire vacation. Most airlines say that the requirement is to wear them throughout the duration of the flight, but this may change as time goes on – keep checking with your airline.
Make sure you wear the mask over your nose and mouth and not just your mouth – many people are doing this now, and it's pointless. Yes, you can breathe better, as some masks can feel a little restrictive, but it's not protecting you or anyone else around you; it's like putting a diaper on a baby and only fastening one side – there is going to be leakage!
Protective Gloves
There is some debate over whether or not to wear protective gloves, but it really comes down to how you use them. You can buy a box of protective gloves pretty cheaply, but they'll take up quite a lot of space in your hand luggage; perhaps pack a few pairs and put them in a small purse instead.
If you choose to bring these, you should also not fall foul of the idea that you can touch your face just because you're wearing gloves – you cannot. You will be touching surfaces; if you feel your face, you're transferring germs directly to your skin. That's not what you want to do, and in that case, what was the point of wearing gloves?
Personally, I feel that it is better to train yourself not to touch your face and wash your hands regularly; using antibacterial wipes when soap and water aren't an option. You'll save space that way, and remember that the plane will be sanitized between passengers too. That said, I am no doctor or epidemiologist.
Your Own Snacks
Firstly, snacks from the cart can be expensive if you're on a flight where they cost you extra, and even if they're free (most do offer this on longer flights), you might not want to consume them because more than one person has touched them.
In that case, it's a good idea to pack your own snacks in your hand luggage and enjoy them throughout the flight. You'll also get to choose what you want, and you can go for healthier options than you'll find on a regular snack cart.
Drinks are a little harder to bring because of the no liquids rule, and they're pretty expensive at the airport. In that case, you could consider taking a collapsable water bottle (or travel cup) and filling it up inside the airport terminal if there is a clean and hygienic place to do so.
General Tips For Minimising Hand Luggage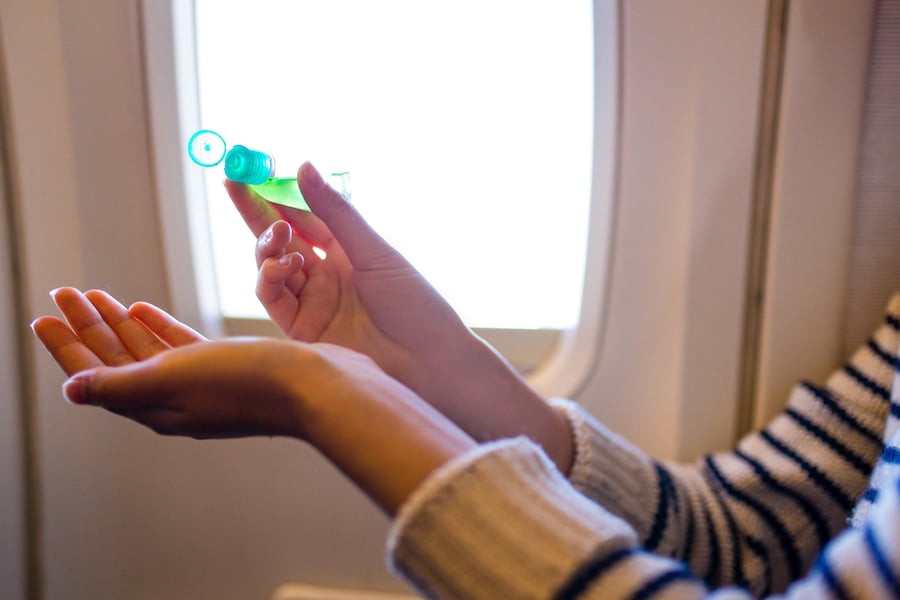 You don't want to be taking too much with you in your hand luggage, especially at the current time. Be very mindful of what you're taking and look at sizes; we mentioned the fact that antibacterial wipes are far easier to pack than a large bottle of hand sanitizer, as one example.
Have your own small travel packs inside your bag to keep things organized and flat, e.g., a small purse for your face masks, a small bag for your snacks, and then things aren't going to fall everywhere and become mixed up.
Entertainment-wise, load your tablet with games, videos, books, etc., to avoid touching and using the entertainment set in your seat. Bring a power bank with you for when the charge light starts flashing red. Add a pair of earphones, and you're good to go!
Now, what else do you need to take on these super long flights?
Now, the fun stuff, I'll teach you how to travel in style. If you're looking for the best comfortable, stylish travel clothes, this is where you'll find them. In fact, this blog post will help even on a short-haul flight.
If you are short on time and do not want to read the whole post, here is a quick long haul checklist:
anti-bac wipes
hand sanitizer
masks
a big bag or backpack
compression socks
stretchy / loose pants
cotton top
jacket or hoodie
kimono or pashmina
activewear
wear something that you can keep on for the next 24 hours
wear clothes that don't restrict you
wear natural, breathable fabrics
wear something with pockets
wear something long and big – almost like a blanket
take sunglasses
PLAN AHEAD TO GET THE BEST DEALS
A Big Bag Or Backpack
On overnight flights, I need a few things to keep me busy and safe, and I need a place to stash the snacks and my extra layer of clothing. A big bag also comes in handy to use as a pillow (okay, so not a terribly comfy one, but better than nothing).
Before long-haul travel with kids, a backpack was perfect, but now I also need a crossbody bag. I need instant access to the crisps and Hot Wheels cars to keep the Little Donkeys quiet. I own this Unisex Cross Body bag and love it! Even the hubby can carry it!
I also own a Michael Kors Brown Leather backpack. It's durable and lightweight – and looks super cute – and holds a lot. (Though not my 15-inch Macbook, sadly)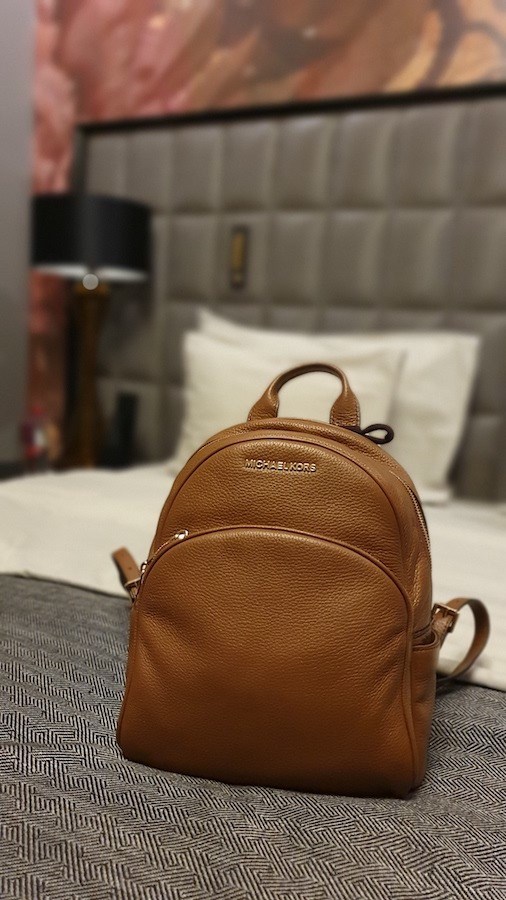 Smaller backpacks are ideal for long haul travel because you don't always want to rummage around in a larger bag to find your in-flight essentials. This Michael Kors small backpack is perfect for flights and is also super-fashionable at the same time.
The backpack has a large internal pocket and one medium-sized zipped pocket on the outside, available in five different color options. With two shoulder straps, the bag also has a grab handle on top and is made of pebbled leather for durability.
Mine easily holds my wallet, camera, passport, papers – and a few diapers and wipes for my kids!
Setout Laptop Backpack
Everyone wants to be organized while traveling, which is even more important when you have a laptop with you, as it's an important and expensive piece of kit. Hence, you need it to be protected, so I also own this backpack from Tortuga. This backpack is stylish and is VERY spacious, which is a dedicated section for your 15′ laptop to keep it safe.
Small enough to be used as a carry on, this bag is large enough for all your gadgets, in addition to your laptop, chargers, clothes, and a few other essentials for your flight. And it is designed to be slid under the seat in front of you, yet it is still 25 liters – score!
Compression Socks
Yes, even in summer, when it's hot as hell outside, I have a pair of compression socks – the kind that does not look like baggy old lady socks.
They keep me safe from DVT and protect my feet from nasty germs when I slip off my shoes and try to sleep.
Travel tip: buy a pair that are very colorful. That way, they are easy to find in your big bag.
Stretchy-Loose Pants
Please don't wear old and ugly clothes on your flight. I know this guide is supposed to be about what to wear on a flight, but that tip about what to not wear is a good one. Trust me.
What if your bags are lost, and you are stuck in those clothes for 24 hours while they find your bags? For heaven's sake, please wear something remotely good-looking.
The best options I like are:
Women's Utility Trousers By Find.
Comfort while traveling isn't hard to find with this part of fashionable utility pants, available in five different color options. Ideal for sightseeing or traveling from A to B, the pants have a lightweight fabric made of Lyocell and keep moisture away from the body as a result.
The waist is elasticated, with elasticated sections at the ankles to keep the pants from rolling up while you're moving around. There is a tie waist section, too, to ensure total fit and comfort.
Wide Leg Pants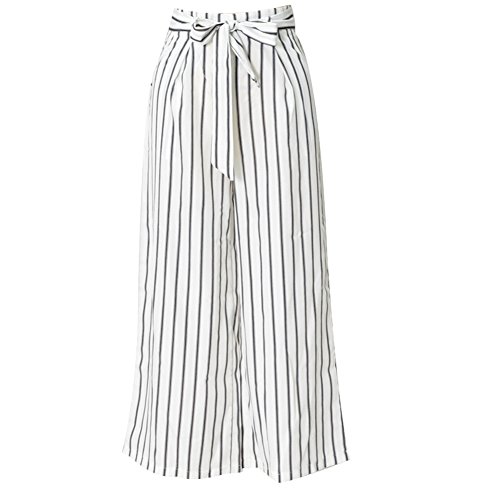 Women Wide Leg High Waist Casual Crop Pants
Loose and elastic waisted, what more could you ask for? Bonus points for finding a pair with pockets and a pattern or print.
Try these on for size. Why would you want a pattern? Ever spilled something on yourself mid-flight? Yeah, I have, and I can tell you that a pattern hides the stain for the next 33 hours much better.
There are loads of colors and styles to choose from with these Popana Damask Palazzo Pants made in the USA. They look stylish and are amazingly comfortable pants for air travel, making them among the best pants for long haul flights – and for looking stylish as you go.
Linen Pants
Linen pants crinkle from the get-go, and so they never look perfect – making them one of the best pants for long flights.
They are light and breathable, so you'll sweat less. If you're going to be on a long plane ride, don't buy white. Remember, it's a long haul trip, and god knows what you'll spill or sit on. You can now get pairs with an elastic or drawstring waist like these. Ahhh, the comfort.
Amazon Brand – Daily Ritual Women's Linen Wide-Leg Pant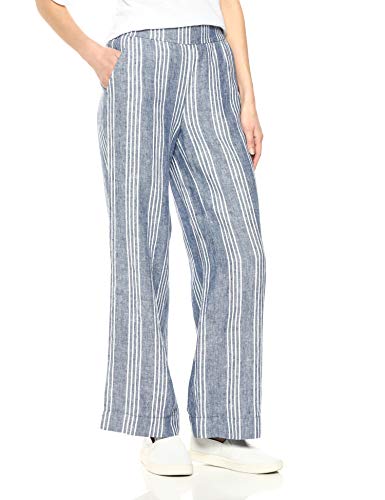 If you're looking for comfort and style, this is the ideal option and at a great price too. These pants are made of 100% linen and keep you cool in warmer weather without sticking or causing extra bulk.
In fashionable shades, including a striking olive color, the pants will go with other neutral colors, giving you a great capsule wardrobe addition.
The other plus point is how flexible these pants are, with a wide-legged design. This means they're flattering for all, but they also fit a wide range of occasions you might encounter when you're traveling. The other plus point is that they're machine washable, so there is no need for difficult cleaning!
Stretchy Skinny Jeggings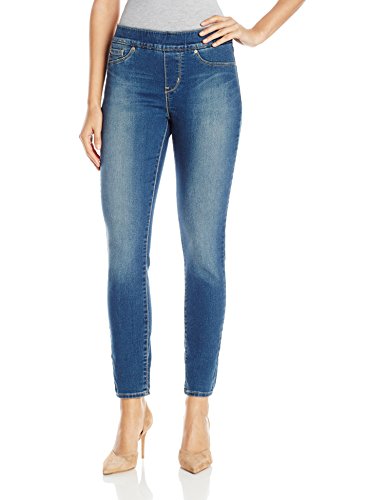 The best way to maintain a chic look and be comfortable on your long haul flight. Just be sure to find a really stretchy pair like these skinny jeggings. I have several pairs of jeggings – while technically leggings that I said never to wear – these don't look like it and are comfy for those overnight flights when you need to sleep.
Although not as comfortable as genie pants, they are still a satisfactory choice for that overnight flight where you want to look stylish.
Cotton Top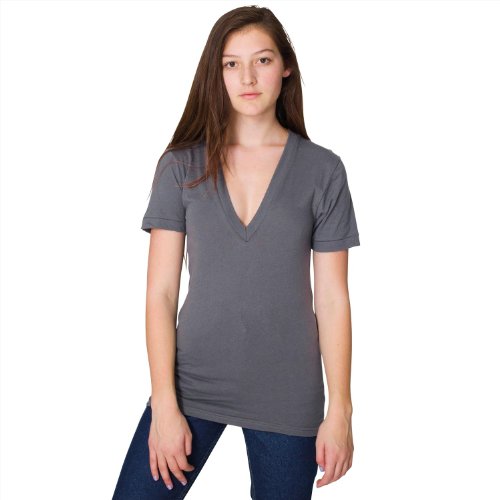 Cotton is your friend. Big, baggy T-shirts are your best friend. My go-to T-Shirt of choice is the Bonds (an Australian brand), but you also can't go wrong with an American Apparel V-neck. They are an essential part of all comfy airplane outfits. T-shirts are super cheap, comfortable, and can be dressed up with a necklace and cute bracelets if you need to land at the other end and kill a few hours before you can check in at your hotel.
I also like to wear long-sleeve ones like these. They are light enough, so you do not get too hot and warm for the air-con during those long haul flights.
Travel tip: for a comfortable outfit for a long flight, wear a tank top underneath for extra warmth, and take off the T-shirt if you're landing at a hot summer location.
Ruffles and Crinkly Material Tops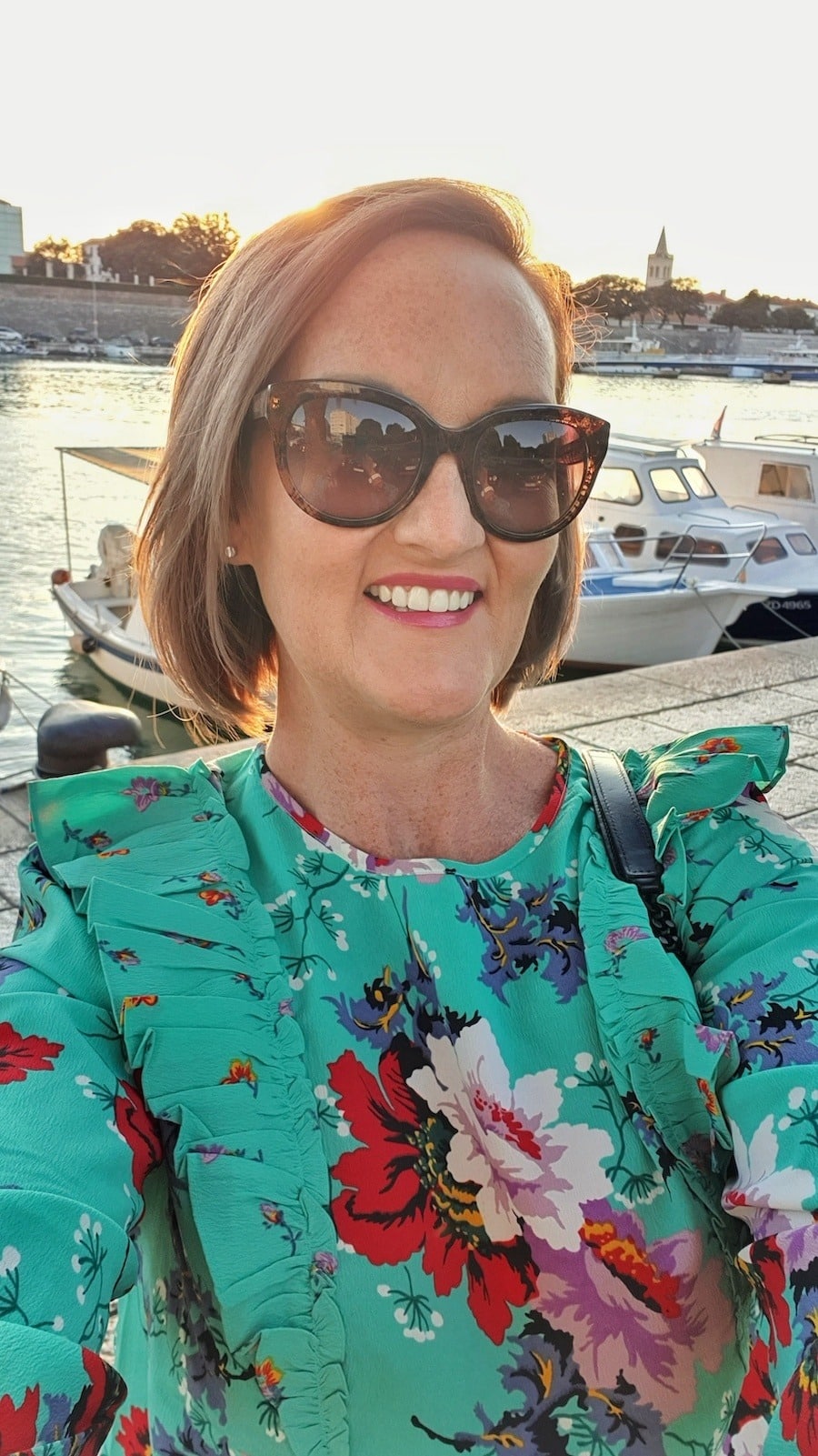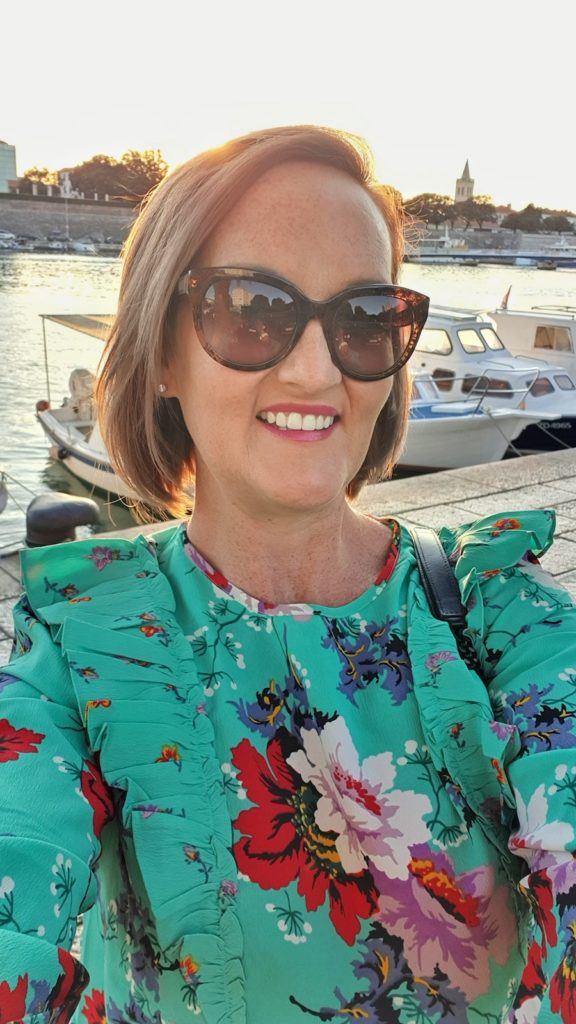 Ruffles are ideal for travel because they hide the fact that your clothes might be a little crashed from long haul flights while still looking on-trend and comfortable at the same time. This particular top I am wearing above is perfect for travel, with a loose-fitting yet stylish design, long sleeves, and a round neck. The ruffles give that extra embellishment and style, and the long, cuffed sleeves will keep you warm on cool flights.
Jacket That Also Doubles As A Blanket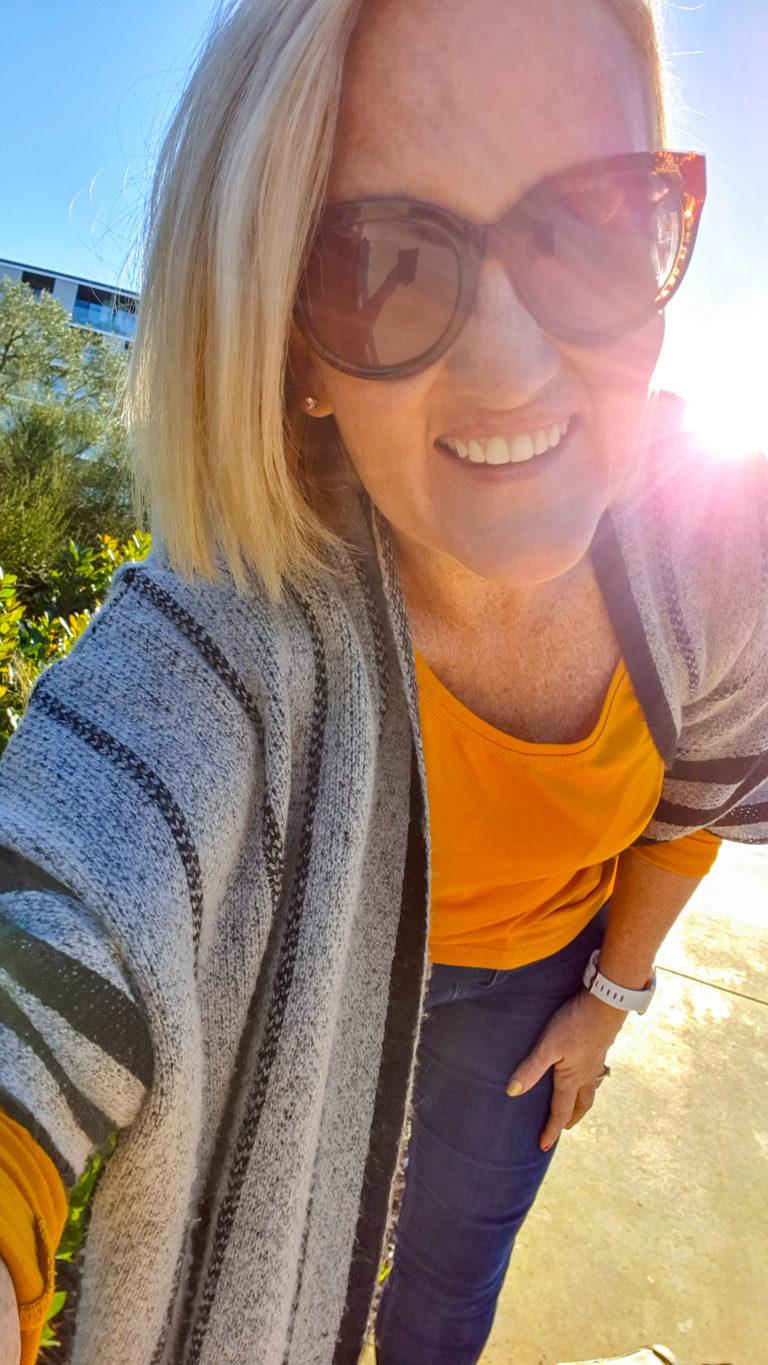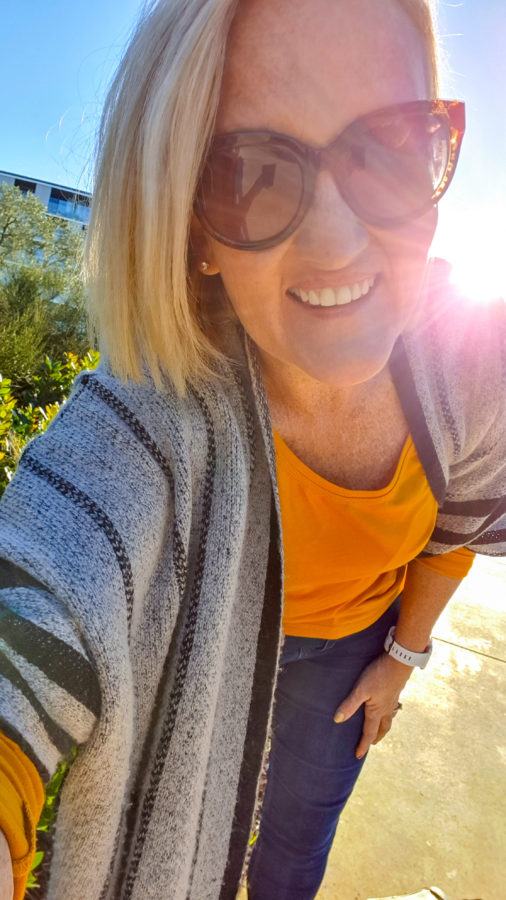 I love this Find Women's Knit Cape; it is cozy and yet extremely fashionable. I have worn mine a lot already this fall, and I have only had it five weeks!
This cape is ideal for cooler weather and looks fantastic with jeans or leggings. Perfect for dressing up during the evening, heading out for sightseeing days, or for being cozy when traveling on a plane! The cape is made of knit wool and is 100% acrylic.
The cape also can be folded into an incredible travel pillow!
You don't have to worry about keeping the cape clean as it's entirely possible to throw it in the washing machine, and with a loose-fitting design and mid-length sleeves, it's super flattering, no matter what your body type. Of course, the knitted design also means it's not going to crease, so you can wear it as often as you want!
Long Jackets
Not the office type. But long, flowy ones that are excellent looking and could just be your ticket to that elusive upgrade we all dream about. Remember that the airplane can get cold on overnight flights, so bear that in mind when choosing a jacket. They really can be a great addition to your selection of flying clothes.
Amazon Brand – Find, Women's Longline Teddy Coat With Belt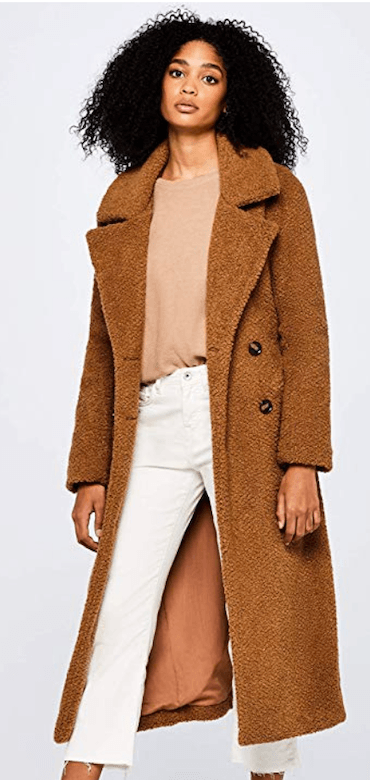 Fashion and travel work hand in hand; you simply need to find the right options, such as this beautiful longline coat with a belt. The belt pulls the jacket in to give it shape, and the longline design is ideal for all different destinations. In a brown shade that literally goes with everything, this coat is double-breasted and looks seriously stylish, no matter what the occasion. The coat is also dry clean only, which shows you how high quality it actually is.
Pair this with a simple t-shirt, and you're golden.
Find Women's Bomber Jacket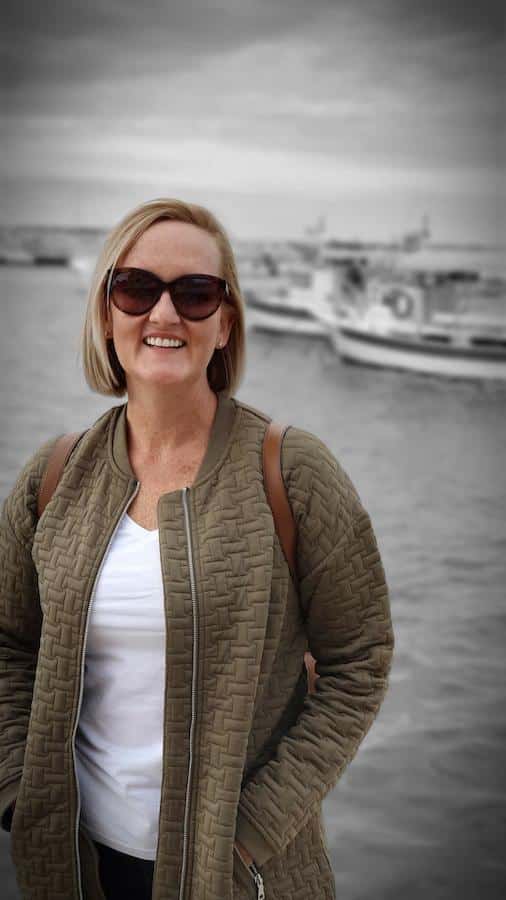 The great thing about this particular jacket is that it could easily be worn as a longline jersey top, too, you simply need to zip it up. The jacket is long sleeves and a long line, too, with a round collar and a padded jersey fabric. The weave pattern is raised and embroidered, which helps it stay crease-free in your suitcase – or on the plane.
Choose between khaki green, white or black. The jacket also has two zipped pockets, one on either side, and the zip is heavy-duty, so this jacket will keep you warm and secure during your activities out and about.
Hoodies
No self-respecting list of what to wear on long haul flights should be without this suggestion.
Okay, so it isn't really as fashionable as the jackets above, but it comes with added bonuses. When you pull the hoodie over your head, it explicitly says to the air stewardess, 'no, don't wake me for your crappy egg breakfast' and acts as a free eye mask when your seat companion has the TV on when you Just. Want. To. Sleep!
Sleep is the #1 tip I can give on how to survive a long haul flight. Take as much as you can get. This really is one of the best tips I can provide you with regards to what to the best things to wear on a long flight. Good travel outfits include a hoodie. It's as simple as that.
Hoodies I Love
We both have these matching North Face Hoodies. They are very warm and also roll up to make a good firm pillow for your window seat. Score.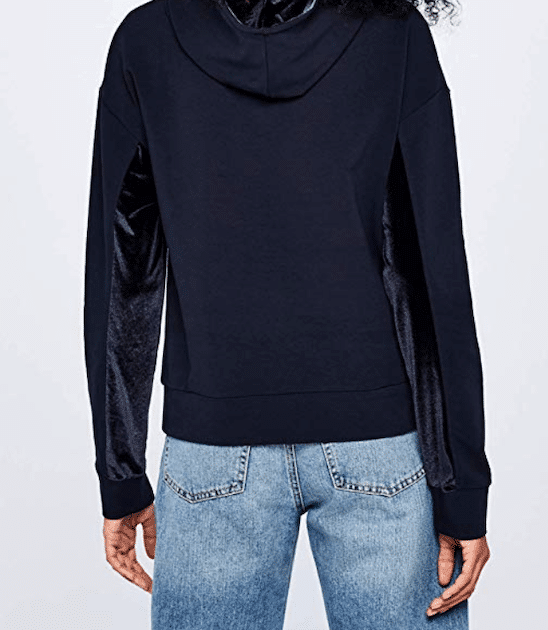 This hoodie is 70% Cotton, 24% Polyester, and 6% Elastane, making it a great combination of materials for long-haul travel. The cute arm details also mean it's not just a boring sweatshirt.
If a more oversized jacket or hoodie isn't your thing, then a kimono will be just the thing!
Everyone wants to look fashionable while traveling, even if you're half asleep from a long haul flight! In that case, this comfortable and stylish kimono is the ideal choice. This one is available in two different color combinations; the kimono is worn unfastened and has a longline design, making it suitable for comfort and warmth.
The whole look is loose-fitting and long-sleeved, made of polyester, and easy to wash. You could easily wear this out on the town as much as while moving from A to B!
Jumpers
Wearing a (good-looking) jumper can be so comfy and of course, warm. Try to find one that rolls up small, so it doesn't take up too much space when you pack. Here are some I like:
Amazon Brand – Find, Women's Tiger Jumper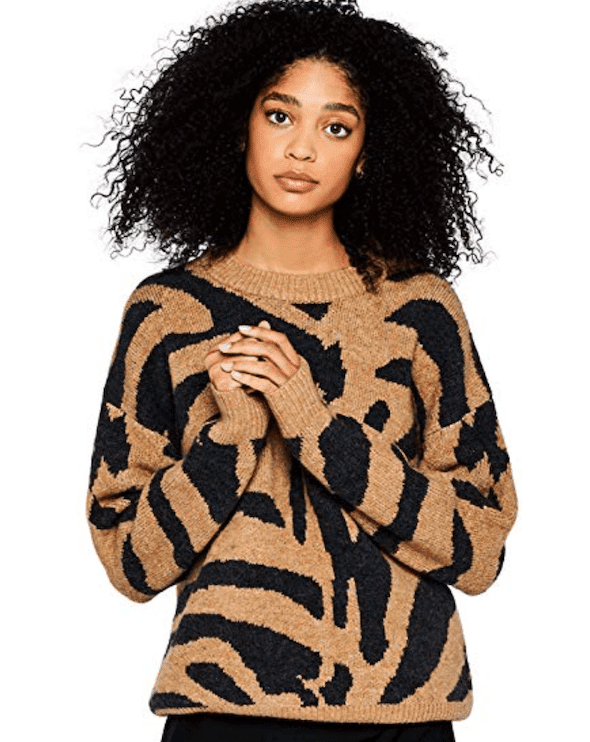 Fashionable and super comfortable for travel, this on-trend tiger-print jumper is the ideal option to keep you warm during your travels and is also completely wearable for a night out! Slightly loose-fitting, this jumper has a found neck and long sleeves and is available in two different color options. You can also throw it in the washing machine without any worries about it balling up!
Find. Women's Embroidered Sweatshirt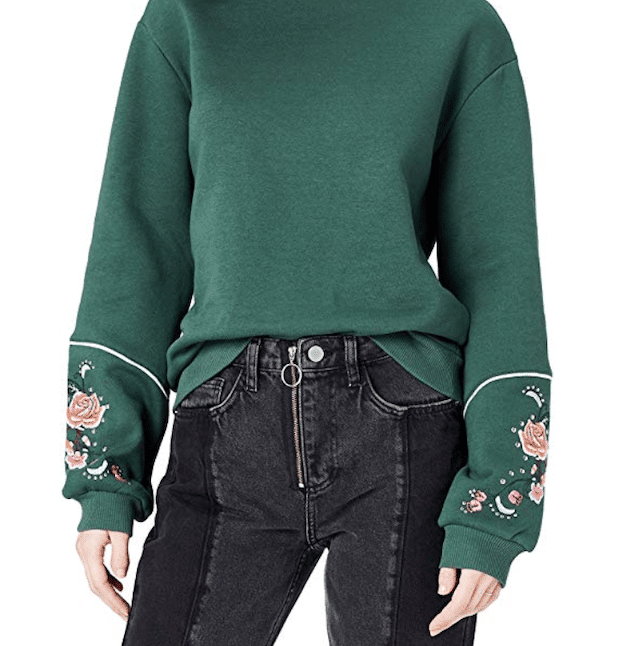 This crew neck jumper is 50% cotton and 50% polyester, rolls up nicely without taking up too much space, and is super soft for that long plane ride ahead.
Pashmina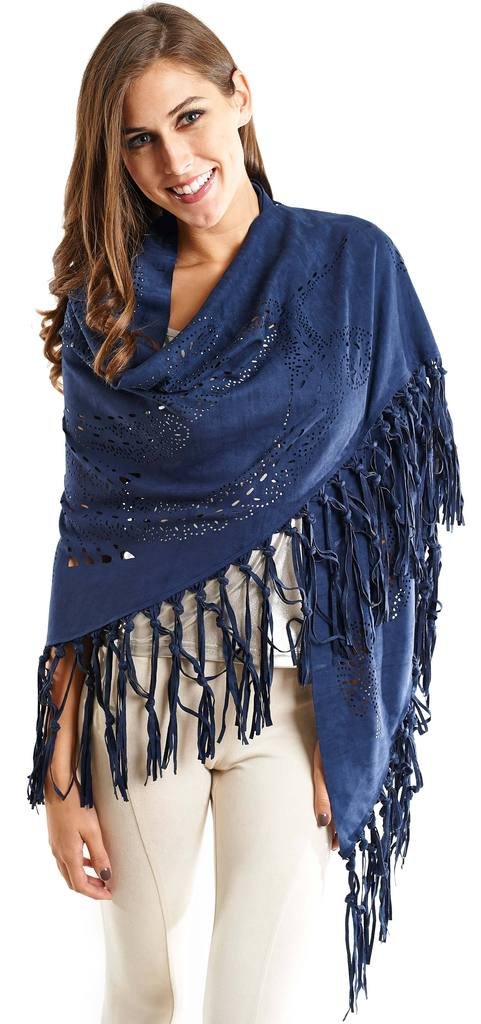 Pashmina's look good; they keep you warm and act like a blanket (get a big one). They can be rolled up into a great neck pillow, and they can jazz up your boring t-shirt. Get one. You won't regret it.
On top of that, they also look adorable, a fantastic piece to compliment your cute airplane outfit.
Activewear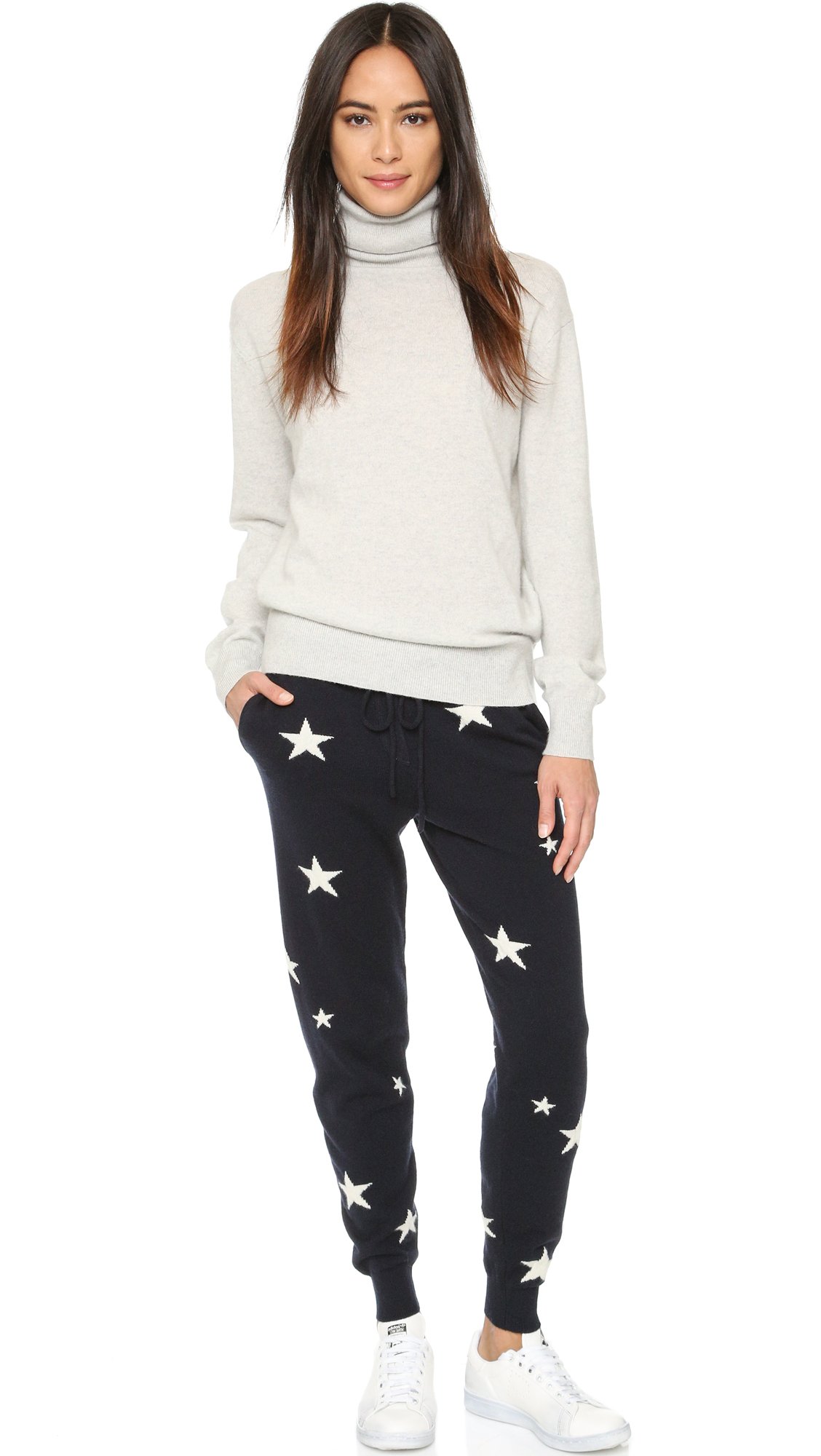 Activewear is high fashion when flying overnight, in my book. Just don't go in an all-matching head-to-toe Adidas tracksuit. There are so many beautiful pieces now, and you really can't beat that comfort.
Activewear is made to be comfortable and is, therefore, also among the comfiest plane clothes. I have never done it, but many of my traveling buddies wear stuff like a turtleneck and activewear from Chinti and Parker or just your regular black yoga pants. Yoga pants are indeed a girl's best friend. They are so damn comfortable.
Short Wrap Dress + Leggins
A short wrap dress is perfect for travel on a plane – as it is loose – yet tailored for extra comfort. Extremely in fashion at the moment, this Amazon Brand – Find. Women's Floral Wrap Mini Dress could easily be worn for nights out as much as travel days; made of polyester and features a deep V and long sleeves for comfort. The dress is also comfortable for all body types, with the wrap tie adjusting easily.
Best Shoes To Wear On A Plane
Always wear comfortable clothes for long haul flights, and this includes your travel shoes. Flip-flops don't count. Not only are they totally useless should you need to run between gates, but they could also hinder you in making a safer exit should the plane need to make an unexpected landing.
Shoes are essential to any attire for traveling, but when it comes to clothes for plane travel, a good pair is critical.
Amazon Brand – find. Women's Soft Low-Top Slipper Shoes. As the name suggests, these are just like slippers. So soft and comfy. They are leather, so they'll last the test of time, but they are also lightweight, so they are perfect for traveling.
My pair of these were soft from the get-go, but just wear them in before travel as I did get a little blister for the first two days.
Nike Women's Tanjun Running Shoes. These are high-quality running shoes that don't necessarily need to be worn when running and actually make fantastic travel shoes too! I have arthritis and use these for all my long-haul travels – well, actually, any airplane travel as they are light and comfy. You can also choose between several different colors (I have the white ones), and they're Nike, so you know you're getting high quality too.
Ked canvas sneakers go with almost any outfit and are, without a doubt, comfortable and come in a bunch of colors and styles. They will add welcome comfort on long flights.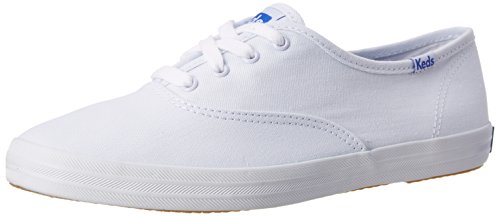 Ballet flats are a good option too, so long as you pack a pair of socks. Your tootsies will get chilly, and you don't want to be barefoot. No make that; you CAN NOT ever go barefoot on board the plane. Ever.

Superga sneakers. These shoes make almost all 'best shoes for travel' lists, and we also recommend them for Croatia and to wear when sailing. Not only are they comfortable, but they can also turn any regular plane outfit into a stylish outfit for plane travel.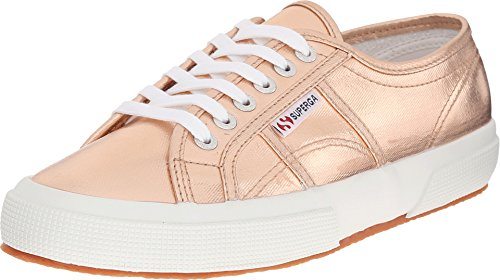 Amazon Brand – Find. Moccasins. Available in brown or yellow, these comfortable travel moccasins are perfect for travel and fashion wear. Made of high-quality leather on both the inner and outer sections, the shoes have a slip-on design and a small heel of just 1cm, giving you comfort and fashion kudos at the same time. With a normal width, these shoes are ideal for anyone who wants to stay stylish whilst on the go and are also ideal for a long day's sightseeing.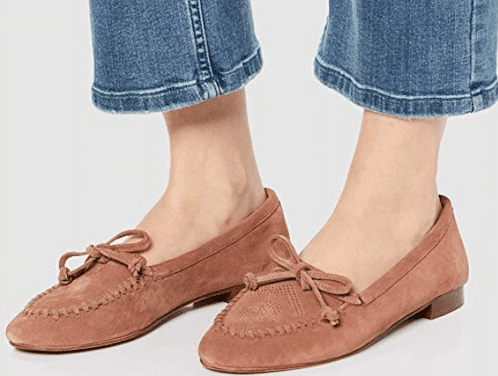 When I got mine, I had to use a band-aid for the first few days on my little toe, so I recommend breaking them in for a few days before traveling.
Toms Jutti Flats – the perforated suede upper makes them airy enough for any summer adventure.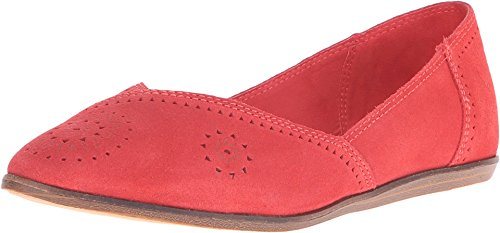 What To Wear When Flying Long Haul
Besides knowing what to wear (or leave at home), here are a few other tips about long haul travel clothes. When you're on an overnight flight, or even on any plane trip, take note to:
Avoid Long Skirts And Maxi Dresses
That is unless you like pat-downs. Airport security will pull you aside and check you over. They need to be sure you don't have anything hidden under that comfortable flowing attire. Plus, do you really want to wear a dress when you may have to sit on the ground?
Think about it. What if you should get stuck at the airport for some unexpected delay? I've been caught out in the pig pens they call holding bays when suddenly they announce that the flight has been delayed. So glad I had on my comfy pants as I sat on the floor for those few hours.
Wear Layers
On long-distance flights, the plane can get very chilly, but if for whatever reason you're late for your connecting flight or on-ground transport, you'll be forced to run. Or, at least, walk at a very brisk pace to meet your connection, making you hot and sweaty.
So having a top layer you can take off and throw over your arm is best. Bonus: the top layer then becomes a pillow should you miss your connection and are stuck in transit for many unexpected hours. A valuable tip with regards to what to wear when traveling on a plane, for sure!
Wear Things That Fold Into A Pillow
I have a North Face puffer down jacket that I take with me when I travel to colder destinations. It rolls up and makes my head happy. Hoodies also work wonders.
Wear Something That You Can Keep On For The Next 24 Hours
It's no joke that bags get lost. A few years ago in Athens, I was without my bags for 24 hours. Luckily, I had on a decent outfit and had essential make-up with me in my carry on bag. Think before you get on the plane in that tracksuit.
Wear Clothes That Don't Restrict You
DVT is a big deal. Life-threatening even.
Nothing very tight, please.
The best travel clothes for long flights are never restrictive – after all, your body swells a little as you travel long distances up in the air.
Wear Natural, Breathable Fabrics
Cotton and wool are perfect choices.
Wear Something With Pockets
Stuck in the middle seat and want something? That's easily done when you have a jacket or pants with pockets that you can keep gum, phone, and your travel documents in.
Wear Something Long And Big – Almost Like A Blanket
I traveled from Dubai to Singapore without an airline blanket once. It seems that the airline miscounted the number of them on a packed flight, or some greedy chat stole mine.
Either way, I would have been frozen without my super-long black pashmina. (Did I say how cold planes can get on overnight flights enough yet?)
Another good choice is to take a light batwing sleeve jumper. You can throw it in your bag: check out some here.
Wear Sunglasses
Yes, really, I just said sunglasses.
Two reasons.
One – have you seen how horrid you look after 12 or more hours of interrupted sleep or, worse, no sleep?
Two – there is always a time when the airline hostess forces the shades up on the approach to landing, and you may just want 30 minutes more sleep. Sunglasses do help.
Throw a pair in your bag, and you're set.
What Not to Wear Or Do On A Long Haul Flight
While we are at it, here are some tips on what not to wear on an airplane – or what not to do:
Never take off your shoes and socks. Barefoot is gross – for you and your fellow passengers.
Don't put your feet up on the seat, armrest, or window. Does that need an explanation?
Don't pack the overpowering perfumes and body sprays, but please, for the love of god, wear deodorant.
Bobby pins. Well, at least avoid too many, or you'll set off the alarms.
Large metal bracelets and necklaces. These suckers will set off the metal detector. I have heard that the Cartier Love bracelet, which needs a screwdriver to be removed, is the worst!
Don't drink too much. All that alcohol goes straight to your head and makes you loopy. Stick to one or two and keep hydrated with water instead.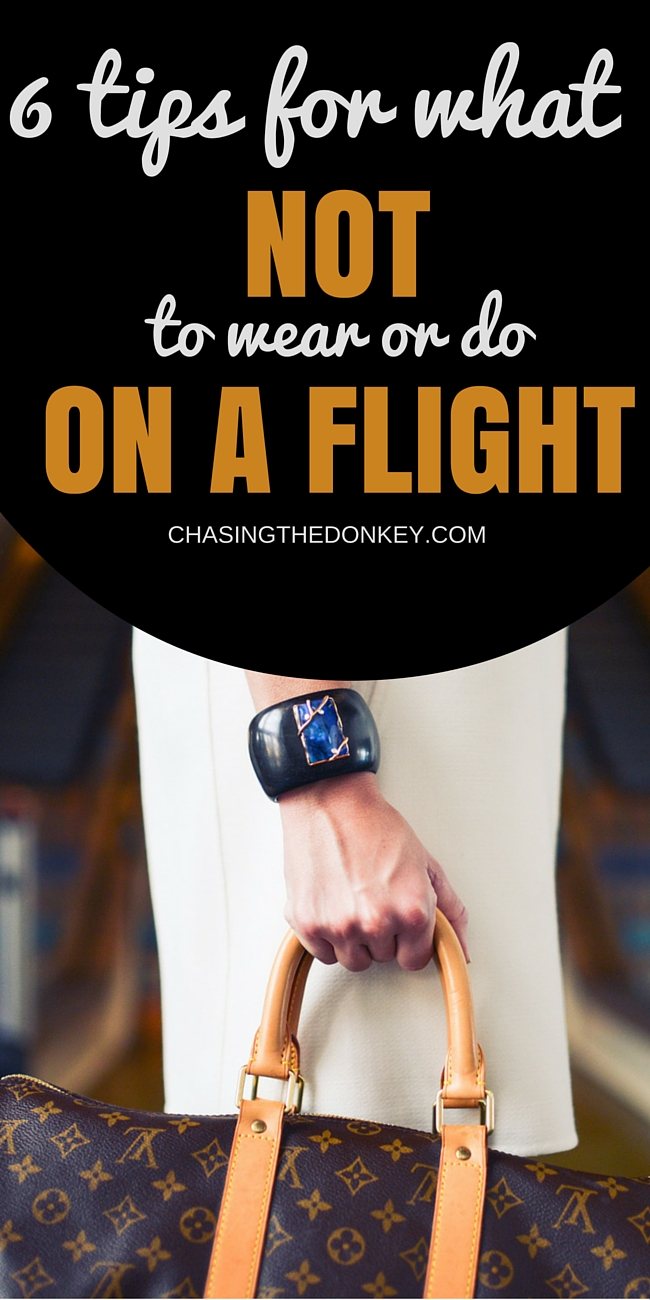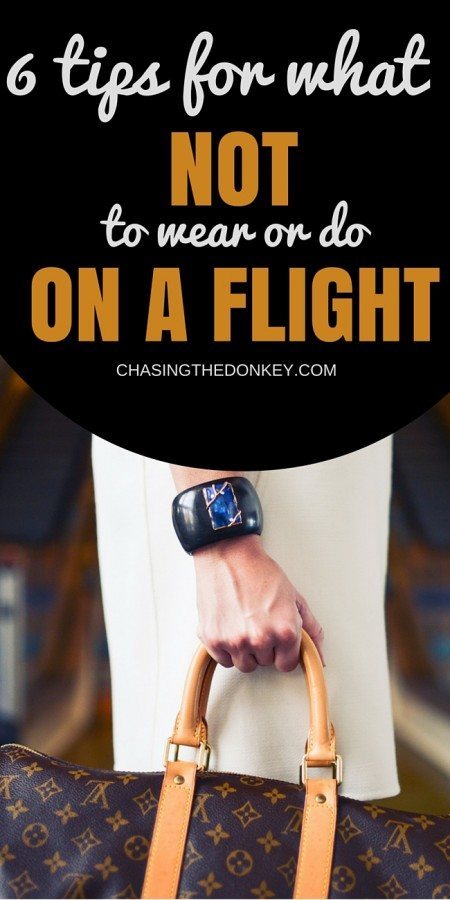 BONUS – What To Take On Long Haul Flights Packing List
Noise-canceling headphones or earplugs. People can be loud and annoying when you want to sleep. A pair of frends headphones will get you through the chatter on board.
Small make-up bag. Take off all of your jewelry and stash it here. That way, those cute bangles and that long necklace won't bother you for the next 12 (sigh) hours.
Look how cute (and cheap) this one is.
Asprin. A headache will be unbearable for 35 hours.
Travel pillow. These are not for everyone, but this one is the bomb if you want to take one.
Baby wipes. Have you seen how grotty some people are? And don't even get me started on all of that 'mess you can't see.' Small travel-size packs are best.
Lip balm. Air-conditioning on the flight really dries up those babies. I am surprised that when people give tips on long flight travel essentials, this is not mentioned more often. Mine are always so cracked. Aren't yours?
Get a cheap chapstick because let's be honest, you'll probably drop it or lose it along the journey (or is that just me?).
Entertainment. Books, magazines (you can leave them behind to lighten your load), phone, laptop, or an e-Reader are the best travel accessories for long flights.
Toiletries. Keep to the under 100ml limit in a clear TSA-approved bag. I'd suggest hand moisturizer, deodorant, BB Cream, and travel-size toothpaste. This Travelling Light Zip Top Pouch by Sea to Summit is worth the extra money if you're a regular traveler, as you'll no doubt understand the issue of toiletries, perfumes, and other liquid items and how to store them safely and effectively. Taking large bottles can be space-consuming, and that's where this particular product comes in very handy!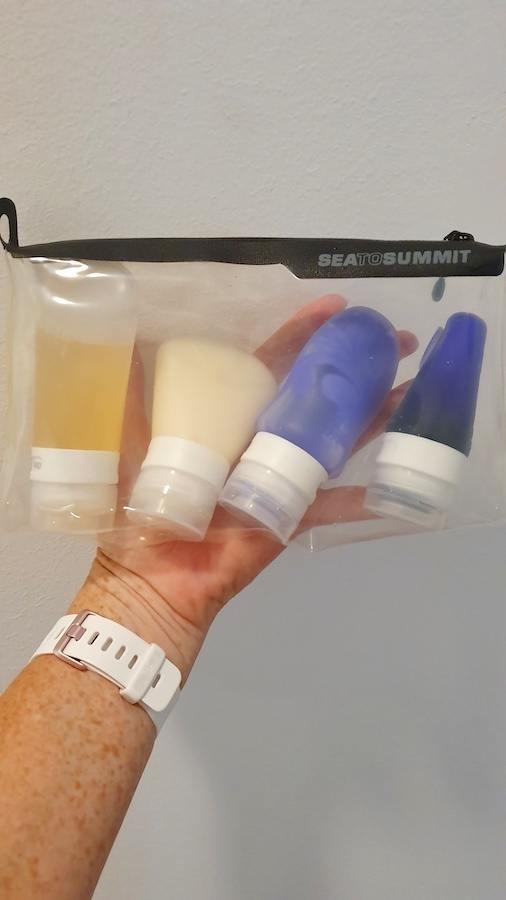 This medium-sized zip-top pouch is large enough to fit in four toiletry bottles. The pack also comes with four included silicone bottles, which can be used and refilled with whatever you need. The pouch itself can also be used for many other purposes, and it has a 1-liter space capacity, with a zipper to the top section, which is strong and secure. The pouch is also waterproof, so no worries about leakage.
Change of clothes. Of all the tips about what to wear on an overnight flight, I have not yet discussed the backup outfits to fly in. In the event of mid-flight spills, sick-ups or delays, pack a small bag with a T-shirt and yoga pants.
Pen. You always have some custom form that needs completing before exiting on overseas flights.
Snacks. Yes, most airlines give you food on overnight flights (if they don't, you can always pay for it), but I always carry a few small snacks in case of being delayed or should the airline food is unbearable. (Oh, and I get hungry when bored…). The best snacks are trail mix and nuts.
At the end of the day, wear what you like. Just keep your clothing simple, tasteful, and always non-controversial. Did you read the story about someone not allowed to fly cause of their t-shirt?
Do you travel on long-haul flights? What tips do you have for what to wear on a long-haul flight?
BONUS – Long Haul Flight Help: A Carry-On Packing List To Help You Travel Lighter
You can find more tips on how to be comfortable on a long flight or overnight flight like this here.
It never fails; as soon as you book a vacation, the dreaded packing thoughts set in. With more airlines doing away with their first-bag-flies-free policies, checking bags has become more and more expensive. Gone are the days of throwing everything and the kitchen sink into a huge suitcase very willy-nilly and only wearing a quarter of it all during your trip.
Let's get it straight. What you really need to focus on when it comes to packing good travel outfits is what you are trying to pack into the carry-on in the first place. Then you can watch the YouTube clips on how best to roll your clothes. Wink.
With a couple of these key tips, you can easily slim down your carry-on and be on your way to your vacation with less stress. This comprehensive packing list is all you need for your hand luggage. Be sure to tick it off as you go!
Start With Necessities
There are things you literally can not leave behind, like underwear. Set aside everything that is absolutely necessary, and no, that doesn't mean your seven pairs of shoes. There are only a couple of pairs that are the best shoes for long flights. Passports, money, underwear, and medication should all be packed first (remember the list above?)
Think about what to wear on your travel day. Once you have that sorted, think about what to bring with you onboard and triple-check you have those super-duper-important travel documents and cash.
Check The Weather
Save time, stress, and space by simply checking the weather where you're going. If it's freezing cold or steaming hot where you're going, leave the clothes for the opposite conditions at home. You don't need a warm jacket if you're headed to Croatia in summer. Likewise, leave the shorts behind if you're heading to the Alps. If the place you're heading is rainy this time of year, don't leave your rain jacket at home.
Ask Locals What To Pack In Your Carry-On
So what if the weather says sunny skies? Still, ask a local about what that time of year is like because perhaps it's known for afternoon showers, and you'll need to save space for a light jacket. By asking a local, they'll suggest the must-have travel items you need in your carry-on. Look for travel bloggers (like me) who've been there and done that and have tips for that country.
&
Pick Practical Pieces
It's easy to start throwing anything and everything you sometimes wear into the suitcase pile, but you should whittle that down to the practical items. The best travel outfits for long flights and European vacations are those with solid colors or simple patterns that can be mixed and matched to make multiple outfits from a few pieces – saving you room in your bag to bring back a few souvenirs.
Make sure you are comfortable in the clothes you choose. If you don't wear it at home, you're not going to wear it on vacation. Leave things at home that can only be worn for one occasion, like huge heels or big boots. The best clothing for travel is what you already wear regularly at home.
Also, pick fabrics that are easy to take care of on the road. Leave clothes that are dry clean only or that require heavy ironing. You don't want to waste precious vacation time worrying about your wardrobe.
Do pack one or two more jazzy items to help keep the personality in your outfits, make you feel beautiful, and look back at the pictures and not cringe.
Slim Down On The Toiletries
Leave your expensive shampoos and conditioners at home. Most hotels and cruise lines will have shampoo, soap, and many other necessities in your room. And if not, you can buy it locally.
By cutting down on the liquids you bring, you will save time at the security line at the airport, stress from products that leak in your suitcase, and money ultimately from not having to buy travel-size products.
For the cosmetics and toiletries, you must pack them in your carry-on; try to find concentrated or solid/powder versions of them to eliminate the leak possibility and take up less space. You could also get a toiletries pack. One like this flat design allows you to pack it right on top of your duffel bags, saving space and hassle while on the go.
Pack With Layers In Mind
For those destinations where the weather is on the edge of warm and chilly, it can be really challenging to bring the best clothes to wear. Pack layering options; you'll have to pack less and be prepared for more. Pick tank tops, shirts, cardigans, or light jackets that can be mixed and matched for a hot day to turn into a chilly evening.
Plus, I always find that the best clothes to travel long haul in are those with layers, and I get hot and then cold and back to hot again as I eat and sleep.
Use Packing Cubes
Packing cubes save you so much time and stress when it comes to keeping your things organized. Probably the best carry-on packing tip as they help you also stay organized! You can either pack things by outfit or by type of clothes to help you get to what you need quickly and efficiently without having to claw through everything in your bag to get to a sweater.
Cut Down On Shoes
You really don't need seven pairs of shoes for a weeklong trip. Keep it to 2 (max 3) pairs of shoes in your carry on. Shoes take up a lot of space and add a lot of extra weight to carry on bags, which can be costly in the long run.
A pair of sneakers or walking shoes, a pair of sandals for warm weather or small boots for cold weather, and maybe one more pair of stylish slip-on shoes or low heels for dressier occasions is really all you ever need.
BONUS TIP: Wear the heaviest pair of shoes on the plane.
Prepare To Wash
If you pack less, your carry on will be lighter, and you can stuff more souvenirs inside on the way back. One way to pack lighter is to think about what can be washed while you're on the road. Socks and underwear can be easily washed in hotel rooms, and if you pack clothes that dry fast, that'll help too!
BONUS TIP: There are two travel products you can pack to help keep clothes clean and smelling nice:
2. Scrubba Portable Laundry System Wash Bag
3. It might seem odd, but this portable, 5oz washing machine is self-proclaimed as the "modern take on the old-fashioned washboard," and we love it
Swap Your Pile Of Books For An e-Reader
This may be tough because I know I, too, love flipping through a real book. However, you'll be so glad you did.
The price of e-Readers has plummeted in the last few years, making them super-affordable.
Max Out Your 'Personal Item'
In addition to your one carry-on bag, most airlines allow you to bring a personal item such as a backpack or purse on board.
The best thing to do is take a backpack and load as much as possible inside. Just remember, only one bag can go above your head and the second under your feet. So, keep that in mind when choosing which personal item to take as a carry-on.
Bonus Packing Tips
Here are some other tips that'll help you pack your carry on like a boss
Know your airline weight limit. Essential, even 2kgs over, can cost you big!
Roll, don't fold. Rolling is far superior to folding. Rolled clothes take up much less space than folded ones.
Buy a lightweight bag carry-on bag like this one. Why waste precious kilos on the bag? Buy light!
Comfy clothes for long haul flights do not have to be expensive; buy cheap, and if you need to, leave them behind in your room for the maid if you purchase things along the way.
Plus, Here Is How You Can Beat the Jet Lag Once You Arrive
Long haul flights might be fatiguing at times, even when you did your best at dressing for long-haul flights – but jet lag will still get you no matter how well dressed you were.
So, how do you avoid it?
Well, you can't 100% because you're crossing time zones, but you can minimize it a little.
These are a few jet-lag-busting helpful hints:
Get plenty of rest before you go, including a full night's sleep
Try and arrive at your destination during the daytime
Have a break between flights. One-night stopovers are very useful for avoiding jet lag as much as possible
Don't drink!
Avoid caffeine
Avoid sleeping pills. They will only mess up your body clock
Get up and move around the cabin as much as possible
Make sure you eat three meals
Avoid looking at the in-flight map. It will only make time go much slower!
Set your watch to the time in the destination you're arriving at, as this will help you adjust much quicker
Please do not go to bed when you arrive unless it is nighttime!
All that's left to say now is to have a safe and comfortable flight – and enjoy your vacation.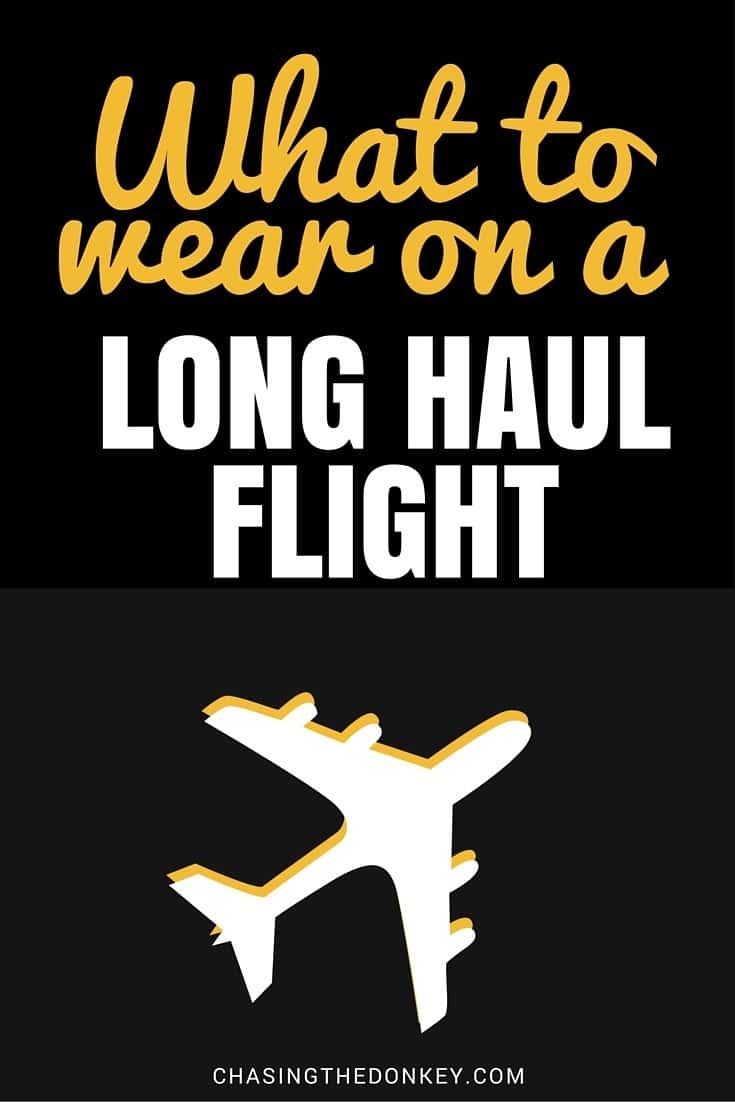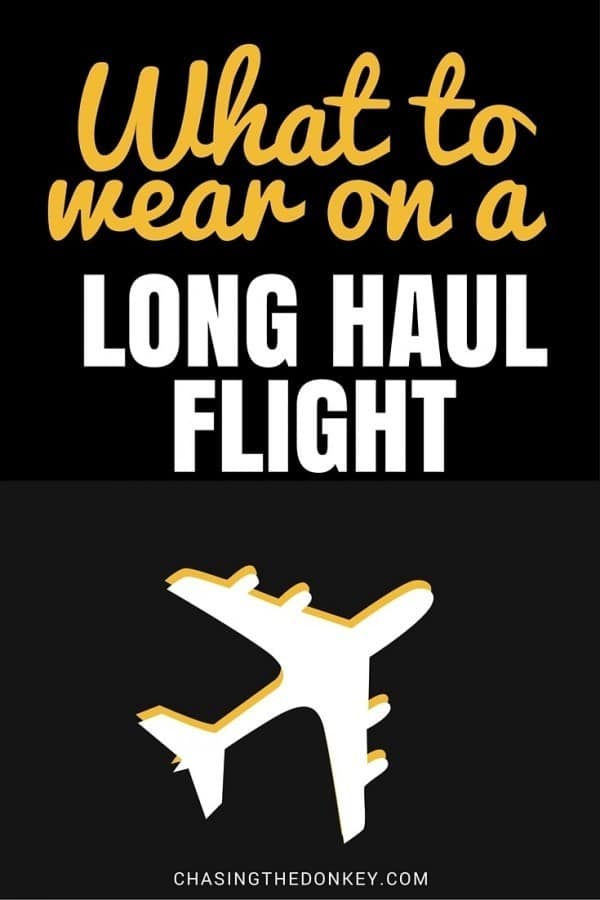 This Guide Should Have Answered The Following Questions – If Not, Let Us Know In The Comments, And We Shall Help You!
what should I wear on a long flight
what to wear on a long flight
What's the best long flight outfit
what to wear on a 10-hour flight
what to wear on a long flight
what to wear on a long flight to Europe
what to wear on a long plane flight
what to wear on a long plane ride
what to wear on an overseas flight
what to wear on an international flight
what to wear on long international flights
what to wear on long plane flights
what to wear to the airport for a long flight
what to wear when flying long distance
what to wear when flying overseas
MORE TRAVEL TIPS & PRODUCTS TRAVEL BLOGS