What to Wear on a Long Haul Flight Tips 2018
Long haul flights suck. No one, I repeat, no one would fly long haul unless there was some magical ending – like the delights of Croatia or the wonders of Australia (and dozens more travel destinations) awaiting us at the other end. Living in Australia my whole life means that when I went to distant lands, I had to endure lengthy overnight international flights every single time.
The journey from Sydney to our place in Croatia is about 35 hours door-to-door – way too long to be in a restrictive outfit. I have learned a thing (or twenty) on all of my long haul travel adventures – here are my tips that will help you stay comfortable on those long haul overseas flights you've got coming up. In fact, these tips will help even on a short haul flight.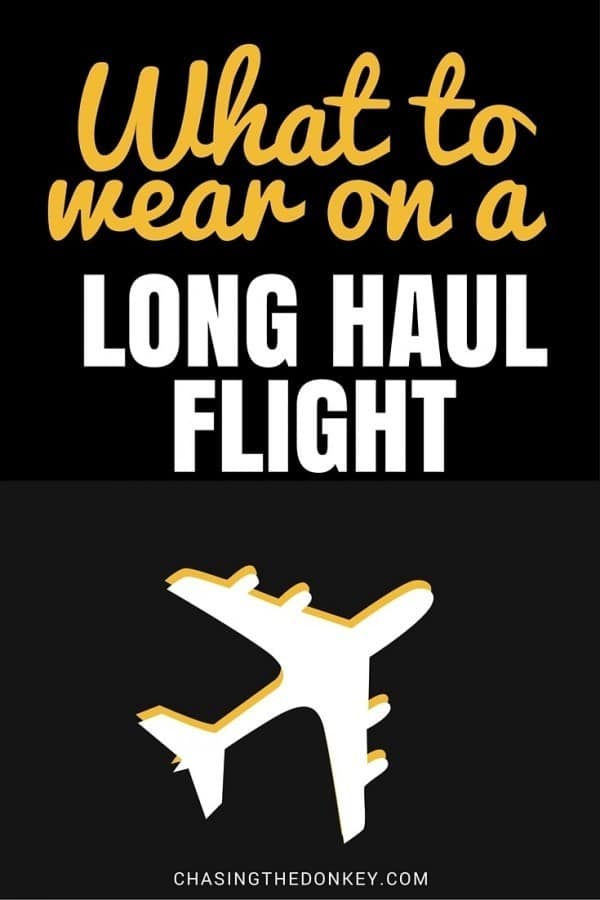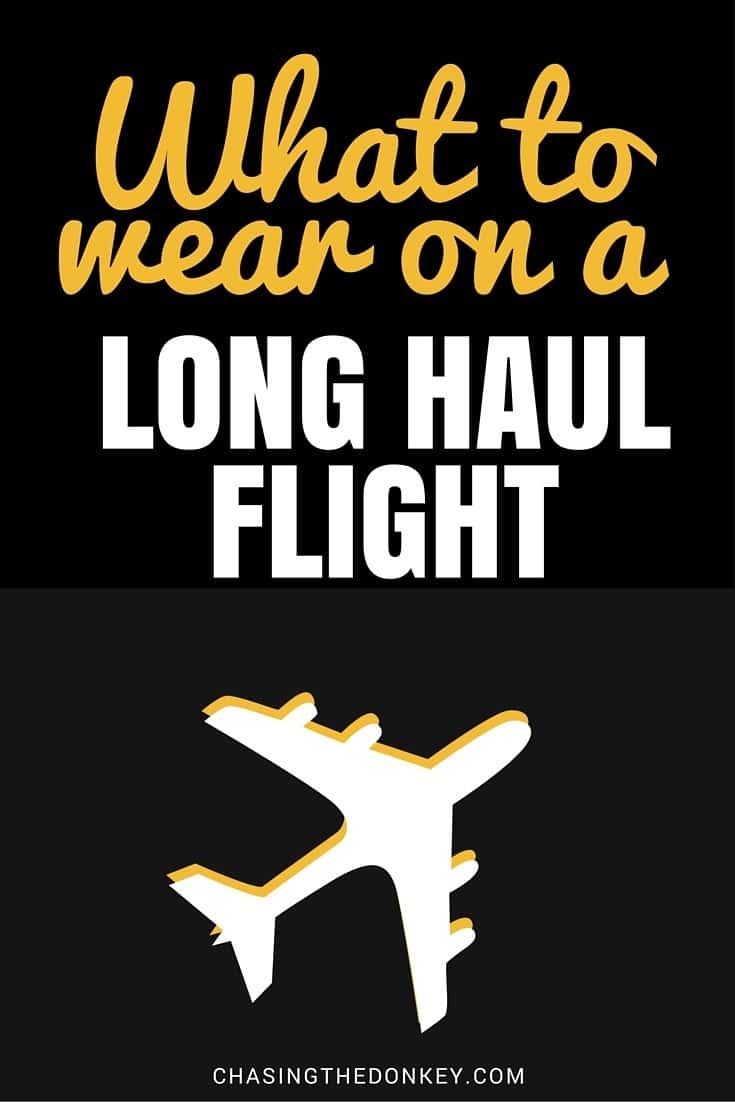 What to Wear When Flying Overnight 2018 Tips
A Big Bag or Backpack
On overnight flights, I need a few things to keep me busy, safe and I need a place to stash the snacks and my extra layer of clothing. A big bag also comes in handy to use as a pillow (okay so not a terribly comfy one – but better than nothing).
Before long haul travel with kids, a backpack was enough – but now I need a cross body bag as well. I need instant access to the crisps and Hot Wheels cars to keep the Little Donkey quiet. I own this Gucci Unisex Cross Bodybag and love it! Even the hubby can carry it!
Compression Socks
Yes, even in summer when it's hot as hell outside. I have a pair of compression socks – the kind that do not look like daggy old lady socks.
They serve to keep me safe from DVT and also protect my feet from nasty germs when I slip off my shoes and try to sleep. Travel tip: buy a pair that are very colorful, that way they are easy to find in your big bag!


Stretchy – Loose Pants
Please don't wear tights. They are so ugly – I know this guide is supposed to be about what to wear on an airplane – but that tip about what to not wear is a good one. Trust me.
What if your bags are lost and you are stuck in them for 24 hours? For heaven's sakes, please wear something remotely good looking. Best options I like are:
Wide Leg Pants
Loose & elastic waisted what more could you ask for? Bonus points for finding a pair that has pockets and has a pattern or print.Try these on for size. Why would you want a pattern? Ever spilled something on yourself mid-flight? Yeah, I have – and I can tell you that a pattern hides the stain for the next 33 hours much better. There are loads of colors and styles to choose from with these Popana Damask Palazzo Pants which are made in the USA, they look stylish and are comfy beyond words.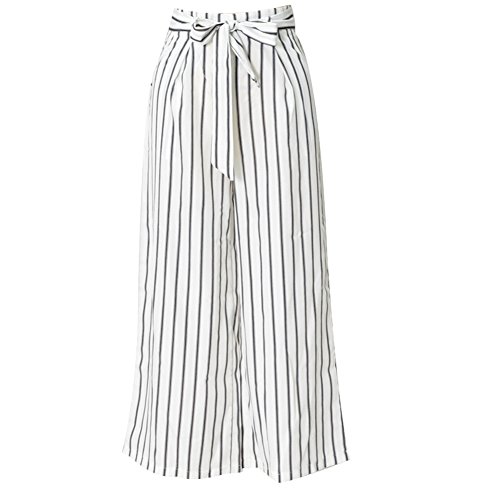 Linen Pants
Linen pants crinkle from the get go, and so they never look perfect. They are light and breathable, so you'll sweat less. When flying overnight, don't buy white – remember it's a long flight and god knows what you'll spill or sit on. You can now get pairs with an elastic or drawstring waist like these. Ahhh the comfort.
Stretchy Skinny Jeggings
The best way to maintain a chic look and be comfortable. Just be sure to find a really stretchy pair like these DL skinny jeggings. I have several pairs of jeggings – while technically leggings that I said never to wear – these don't look like it and are comfy. Although not as comfortable as genie pants they are still a comfortable choice for that overnight flight.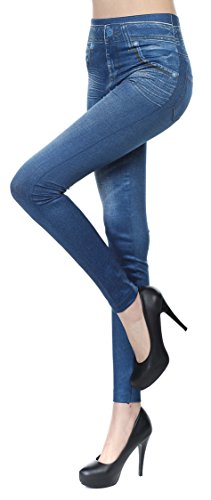 Cotton Top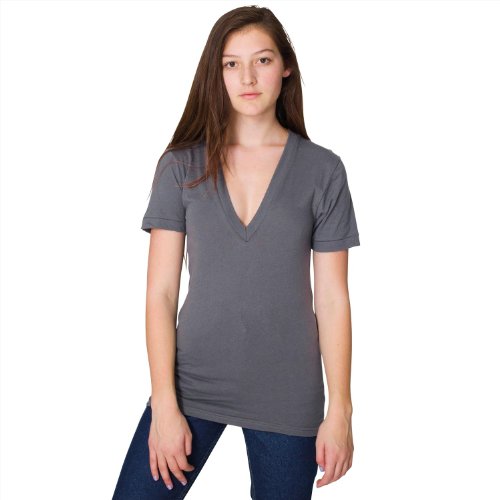 Cotton is your friend. Big baggy T-Shirts are your best friend. My go-to T-Shirt of choice is the Bonds (An Australian brand), but you also can't go wrong with an American Apparel V-neck. T-shirts are super cheap, comfortable and can be dressed up with a necklace and cute bracelets if you need to land at the other end and kill a few hours before you can check in at your hotel.
I also like to wear long sleeve ones like these– they are light enough so you do not get too hot, but warm for the air-con mid-flight.
Travel tip: wear a tank top underneath for extra warmth and to take off the t-shirt if you're landing at a hot summer location.
Long Jacket
Not the office type. But long, flowy ones that are excellent looking and could just be your ticket to that all elusive upgrade we all dream about. Just remember that the airplane can get cold on overnight flights so bear that in mind when you choose a jacket.

Hoodie
Okay so it isn't really as fashionable as the jackets above – but it comes with added bonuses. Like, when you pull the hoodie over your head – it explicitly says to the air stewardess 'no, don't wake me for your crappy egg breakfast' and also acts as a free eye mask when your seat companion has the TV on when you Just. Want. To. Sleep!
Sleep is the #1 tip I can give on how to survive a long haul flight. Take as much as you can get.
Hoodies we love:
We both have these matching North Face Hoodie's – they are very warm and also roll up to make a good firm pillow for your window seat. Score.


Pashmina
Pashmina's look good, they keep you warm, acts as a blanket (get a really big one), they can be rolled up to be a great neck pillow, and they can jazz up your boring t-shirt. Get one. You won't regret it.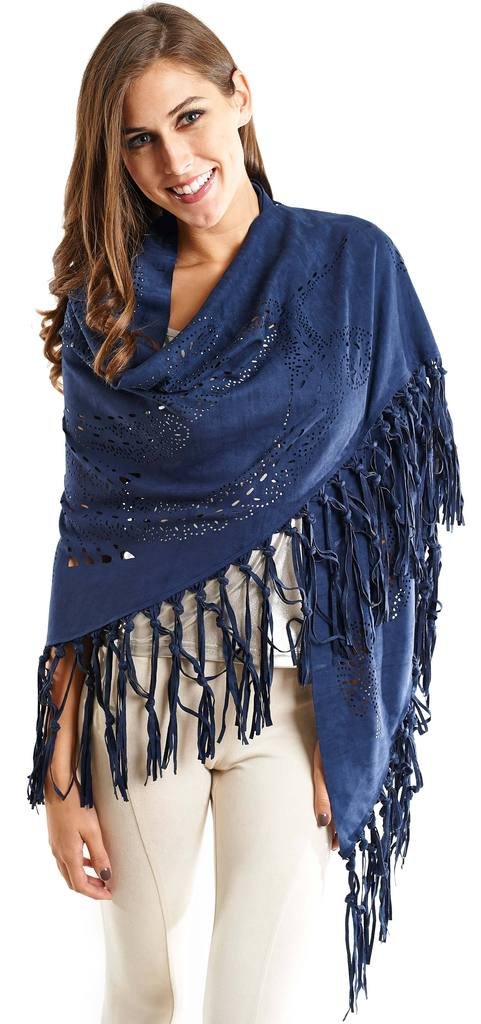 Activewear
Activewear is high fashion when flying overnight in my book. Just don't go in an all matching head-to-toe- tracksuit. There are so many beautiful pieces now, and you really can't beat that comfort. I have never yet done it, but many of my traveling buddies wear stuff like a turtle neck and active wear from Chinti and Parker or just your regular black yoga pants. It's true – yoga pants are a girl's best friend, they are so damn comfortable.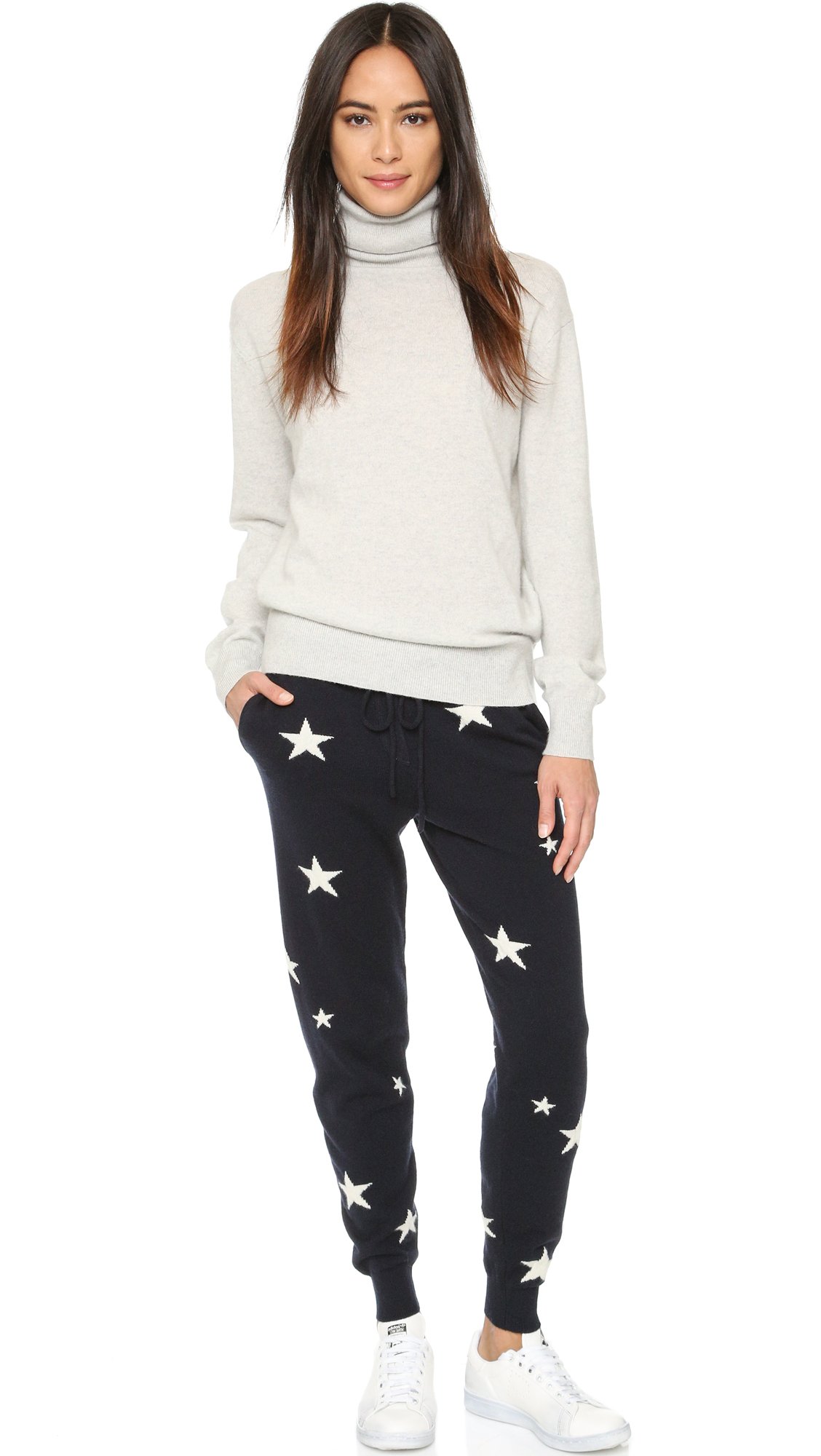 What Shoes to Wear on a Long Haul Flight 2018
Wear comfortable shoes. Flip flops don't count. Not only are they totally useless should you need to run between gates, but they could also hinder you in making a safer exit should the plane need to make an unexpected landing.
Ked canvas sneakers go with almost any outfit and are without a doubt comfortable and come in a bunch of colors and styles.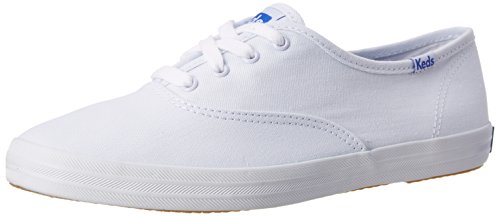 Ballet flats are a good option too – so long as you pack a pair of socks with you – your tootsies will get chilly, and you don't want to be barefoot – no make that, you CAN NOT ever go barefoot onboard the plane. Ever.

Superga – These shoes make almost all 'best shoes for travel' lists, and we also recommend them for Croatia and to wear when sailing.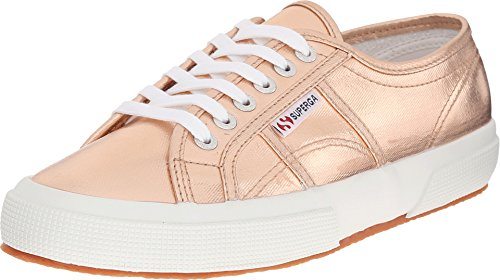 Sperry Seacoast Canvas Sneakers – With a smaller sole than the Superga, these take a less sporty look. They have a breathable nylon canvas upper and even better they have removable footbeds can be swapped out for orthotics – and have lots of color options.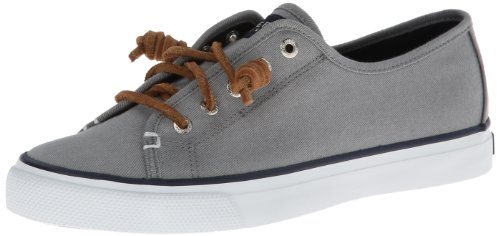 Toms Jutti Flats – the perforated suede upper makes them airy enough for any summer adventure.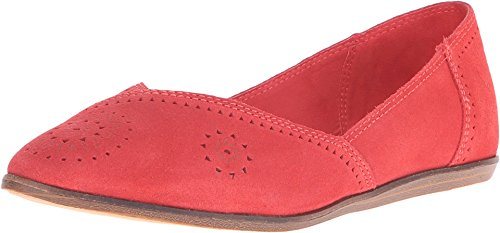 What to Wear When Flying Long Haul
Besides knowing what to wear (or leave at home) here are a few other long haul flight tips. When you're on an overnight flight – or even on any plane trip take note to:
Avoid long skirts and maxi dresses. That is unless you like pat downs. Airport security will pull you aside and check you over – they need to be sure you don't have anything hidden under that comfortable flowing attire. Plus do you really want to wear a dress when you may have to be sitting on the ground? Think about it, what if you should get stuck at the airport for some unexpected delay? I've been caught out in the pig pens they call holding bays when suddenly they make the announcement that the flight has been delayed. So glad I had on my comfy pants as I sat on the floor for two hours.
Wear layers. The plane can get very chilly, but if for whatever reason you're late for your connecting flight or on ground transport you'll be forced to run – or, at least, walk at a very brisk pace to meet your connection, making you hot and sweaty. So having a top layer you can take off, and throw over your arm, is best. Bonus – the top layer then becomes a pillow should you miss your connection and be stuck in transit for many unexpected hours.
Wear things that fold into a pillow. I have a North Face puffer down jacket that I take with me when I travel to colder destinations. It rolls up and makes my head happy. Hoodies also work wonders.
Wear something that you can keep on for the next 24 hours. It's no joke that bags get lost. Last year in Athens I was without my bags for 24 hours. Luckily, I had on a decent outfit and had essential make-up with me. Think before you get on the plane in that tracksuit.
Wear clothes that don't restrict you. DVT is a big deal. Life-threatening even. Nothing tight, please.
Wear natural, breathable fabrics. Cotton and wool are perfect choices.
Wear something with pockets. Stuck in the middle seat and want something – easy when you have a jacket or pants with pockets that you can keep gum, phone and your travel documents in.
Wear something long and big – almost like a blanket. I traveled from Dubai to Singapore without an airline blanket last year – seems that the airline miscounted the number of them on a packed flight, or some greedy chat stole mine.
Either way I would have been frozen without my super long black pashmina. (did I say how cold planes can get on overnight flights enough yet?)
Another good choice is to take a light batwing sleeve jumper – you can throw it in your bag: check out some here.
Wear sunglasses. Yes really, I just said sunglasses.
Two reasons.
One – have you seen how horrid you look after 12 or more hours of interrupted sleep – or worse no sleep?
Two – there is always a time when the airline hostess forces the shades up on approach to landing – and you may just want 30 minutes more sleep – sunglasses help.
Throw a pair in your bag and you're set.
What Not to Wear or do on a Flight
While we are at it, here are some tips on what NOT to wear or do on your long-haul flight:
Never take off your shoes and socks – barefoot is gross – for you and your fellow passengers.
Don't put your feet up on the seat, armrest or window. Does that need an explanation?
Don't pack the overpowering perfumes and body sprays – but please, for the love of god, wear deodorant.
Bobby pins. Well, at least, avoid too many, or you'll set off the alarms.
Large metal bracelets and necklaces – these suckers will set off the metal detector. I have heard that the Cartier Love bracelet which need a screwdriver to be removed is the worst!
Drink too much – all that alcohol goes straight to your head and makes you loopy. Stick to one or two and keep hydrated with water instead.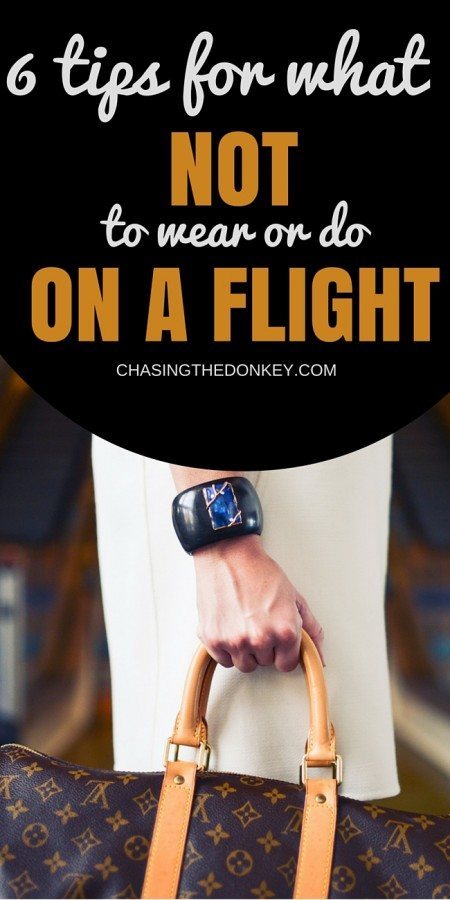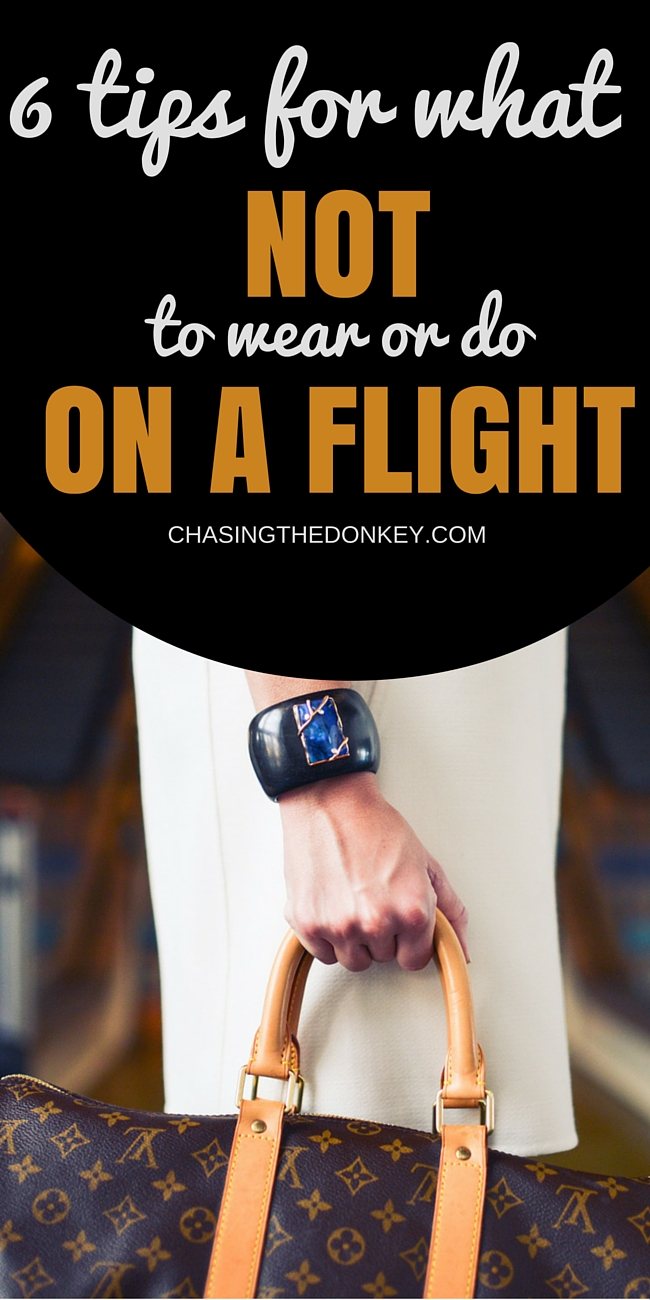 BONUS – What to Pack For a Long Haul Flight Packing List
Noise canceling headphones or earplugs. People can be loud and annoying when you want to sleep. A pair of frends headphones will get you through the chatter on board.
Small make-up bag. Take off all of your jewelry and stash it here – that way those cute bangles and long necklace won't be bothering you for the next 12 (sigh) hours.
Look how cute (and cheap) this one is.
Asprin. A headache will be unbearable for 35 hours.
Travel pillow. These are not for everyone, but if you want to take one this one is the bomb
Baby wipes. Have you seen how grotty some people are – and don't even get me started on all of that 'mess you can't see. Small travel size packs are best.
Lip balm. Air conditioning on the flight really dries up those babies. I am surprised that when people give long haul flights tips, this is not mentioned more often – mine are always so cracked. Aren't yours?
Get a cheap chap stick, as let's be honest you'll probably drop it or lose it along the journey (or is that just me too?).
Entertainment. Books, magazines (you can leave them behind to lighten your load), phone, laptop, or an e-Reader are your best options.
Toiletries. Keep to the under 100mls limit in a clear TSA approved bag. I'd suggest hand moisturizer, deodorant, BB Cream, and travel size toothpaste.
Change of clothes. Of all of the tips about what to wear on an overnight flight, I have not yet talked about the backup outfit. In the event of mid-flight spills, sick-ups or delays pack a small bag with a t-shirt and yoga pants.
Pen. You always have some custom form that needs completing before exiting on overseas flights.
Snacks. Yes, most airlines give you food on overnight flights (if they don't you can always pay for it), but I always carry a few small snacks in case of being delayed or should the airline food be unbearable. (Oh and I get hungry when bored…). Best snacks are trail mix and nuts.
At the end of the day, wear what you like – just keep your clothing simple, tasteful and always non-controversial – did you read the story about someone not allowed to fly cause of their t-shirt?
Do you travel on long-haul flights? What do suggest people wear on an overnight or a long haul flight?
We want you to know: Main photo credit: Nick Harris. This post contains affiliate links, which means, at no extra cost to you if you make a booking, I receive a commission – each one helps keep this blog free.
More Packing List Help is Here
We've also written packing lists about:
More Travel Tips Here