Privacy & disclaimers →

Best Packing Cubes For Travel
When it comes to packing, nobody particularly loves the overall process. It's time-consuming and stressful, and what do you do if you forget something important? On top of that, you have the problem of finally arriving at your destination, opening your case, only to find that your carefully packed belongings have found their way down to one end of your case in a bit of a jumbled mess.
This is where packing cubes for travel come in very handy.
Are Travel Packing Cubes Useful?
Should you use packing cubes for travel? They certainly have significant advantages, not in the least because they provide a little bit of order within the jumbled mess that can be your suitcase.
Once you invest in a set of the best travel packing cubes for backpacks, bags, or suitcases, you have a lifetime's use of luggage organizer bags at your fingertips, and they offer a compartmentalized setup for your case or backpack, allowing you to find things much easier. Indeed, you've had that issue of trying to find something when you first arrive, in a bit of a rush, and you end up unpacking to try and lay your hands on it.
So why travel cubes? Luggage that's organized means easier on-the-go accessibility of your gear and, ultimately, less stress!
How To Decide Between The Best Packing Organizers
Before you try to find the best travel cubes on the market, you should know a thing or two about deciding which travel cube sets and packing accessories for travel are best for you and your family.
We have broken the guide down into areas to consider. Then, below we give our best packing cubes for travel recommendations.
Comparison Chart Of The Best Travel Packing Cubes
We looked at the best travel packing cubes, compared their features and price, and made this easy-to-use table of packing cubes reviews to help you narrow down which set of travel packing organizers are right for you.
Best Travel Packing Organizers – Our Best Packing Cubes Reviews
Let's dig into our travel packing cube reviews. We covered what we think are the cream of the crop of travel cubes, and most come in various colors and quantities.
Amazon Basics Packing Cubes
These are the ones we own!
Everyone needs a high-quality set of packing cubes, and this particular option is of outstanding value for money. You can choose between a set of two medium and two large, small, a combination, or just medium, large or slim, available in six different color options.
The choice is yours!
We have them all! Just look!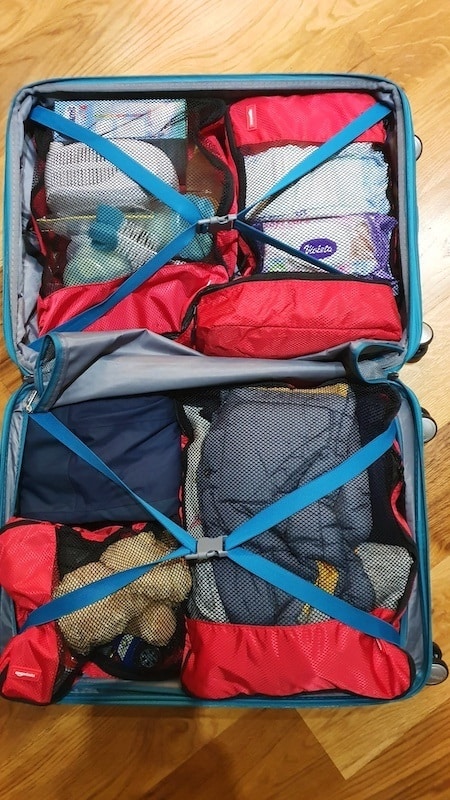 Double zippers make the closing sections solid and durable, meaning you can pack more without worrying about breakage.
The top section of the cubes are made of mesh, so you can see what is inside, and air can flow around easily. There is also a carry handle on the top of each cube, so you can carry them individually or pack them away, whatever suits you.
Peak Design Packing Cube (Small)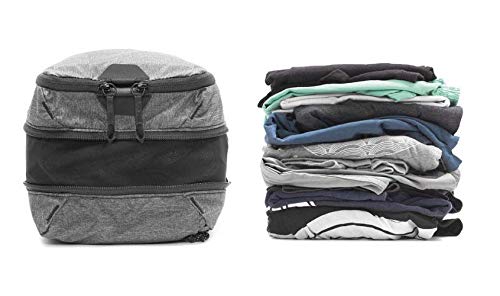 Chasing The Donkey Approved Packing Cubes – We Use This For Our Family Socks
If you're looking for an attractive packing cube that is as lightweight as it is functional, this is a great option. This option is the small version of the same range, but don't be deceived by the word 'small,' as it can still hold up to 9L. This means you can easily fit in whatever you need for at least a weekend away or even more.
The fabric is a nylon and poly melange mix, which is super-strong and designed to withstand huge pressure. Again, that means you can cram even more inside!
The opening is tear-away, so if you're in a rush, you can find what you need, and there is also a second opening that zips, giving you space to store your dirty clothes without mixing with your clean items.
This expanding packing cube is deceiving in terms of how much you can fit inside and is an excellent choice for anyone looking for lightweight and quality mixed.
Peak Design Packing Cube (Medium)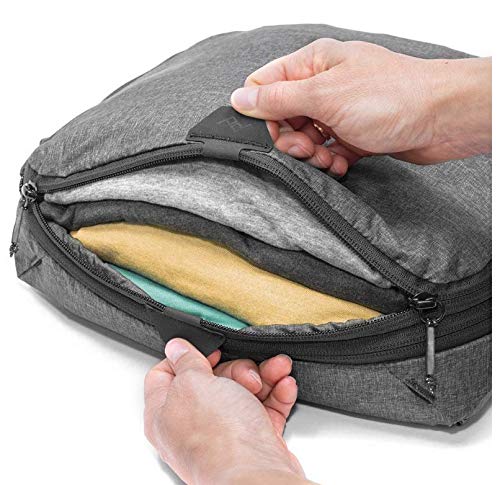 Chasing The Donkey Approved Packing Cubes – Mrs. Chasing the Donkey uses this.
You need a packing cube that holds larger items for slightly longer than a weekend. In that case, this particular option is ideal. The medium version of the smaller cube in the same range, this particular cube has high-quality fabric, with a 'self-healing' 70D nylon and poly mix. That means you don't have to worry about rips and tears, and the zips are also robust for extra durability.
This cube is medium-sized, and you can do quite a lot inside. It is also a lightweight option, which won't add much to your luggage weight, and it looks the part too, which is always a good bonus! The cube has an expansion section, and the zipper compresses everything down, so you can fit more than one cube into your suitcase if necessary.
As with the small version in the range, this medium cube has a tear-away opening, so you can find what you need quickly and easily, with a separate area for dirty laundry.
An excellent low-cost option for anyone who needs to pack quite a lot into a small space!
Paper Signal Packing Cubes
Chasing the Donkey Approved Packing Cubes – Our youngest son uses the small one, and Mr. Chasing the Donkey uses the large one.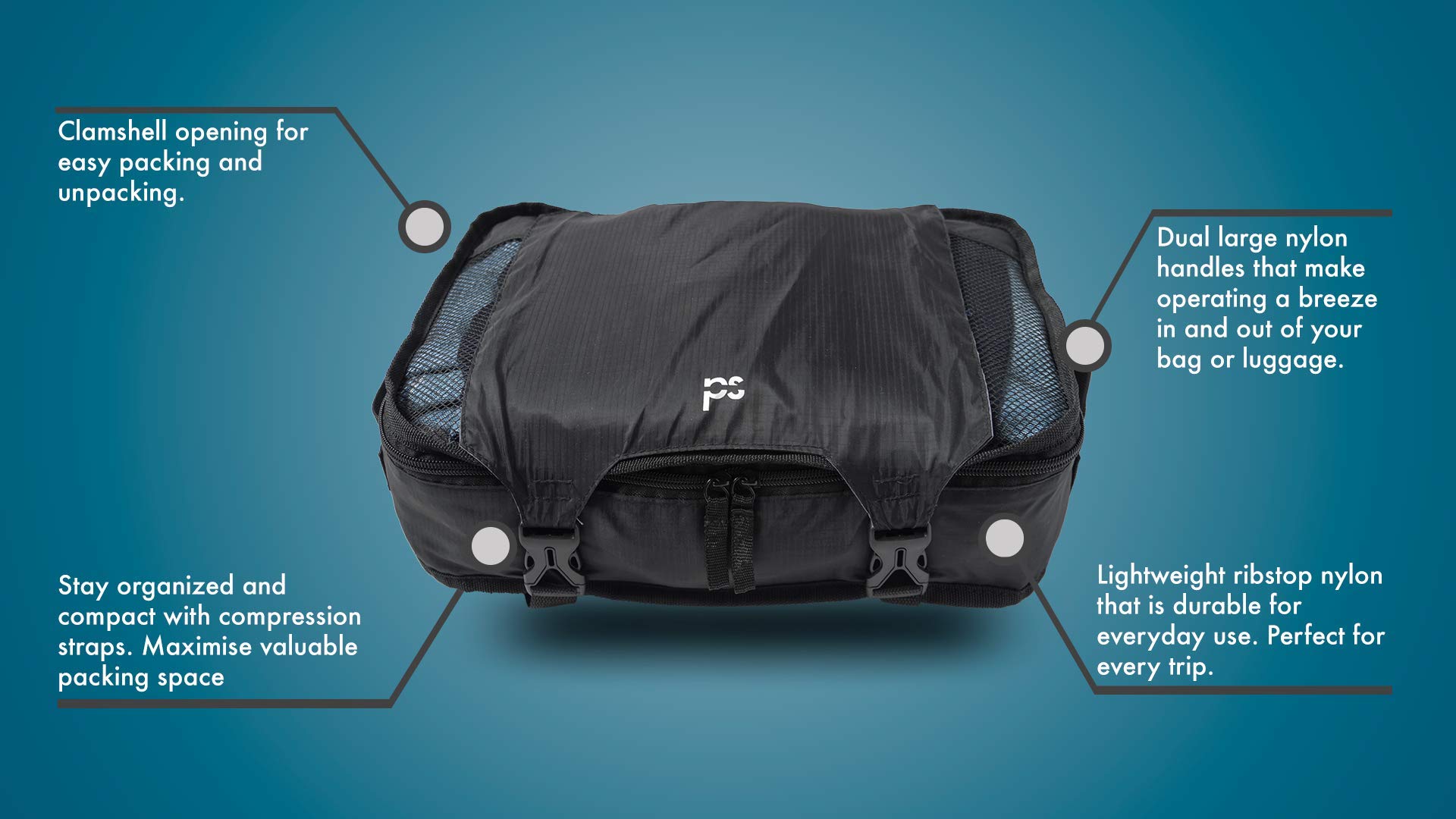 We have a set of these – and yup, they are great. Hands down, I can say that these are perfect for any type of traveler. There are two in a set, measuring 10″x15″x4″ (25cm x 38cm x10cm) and 20″x15″x4″ (50 x 38cm x10cm).
The bonus of these packing cubes from Paper Signal is that they travel cubes come with compression straps so that you can make extra room in your backpack or your luggage.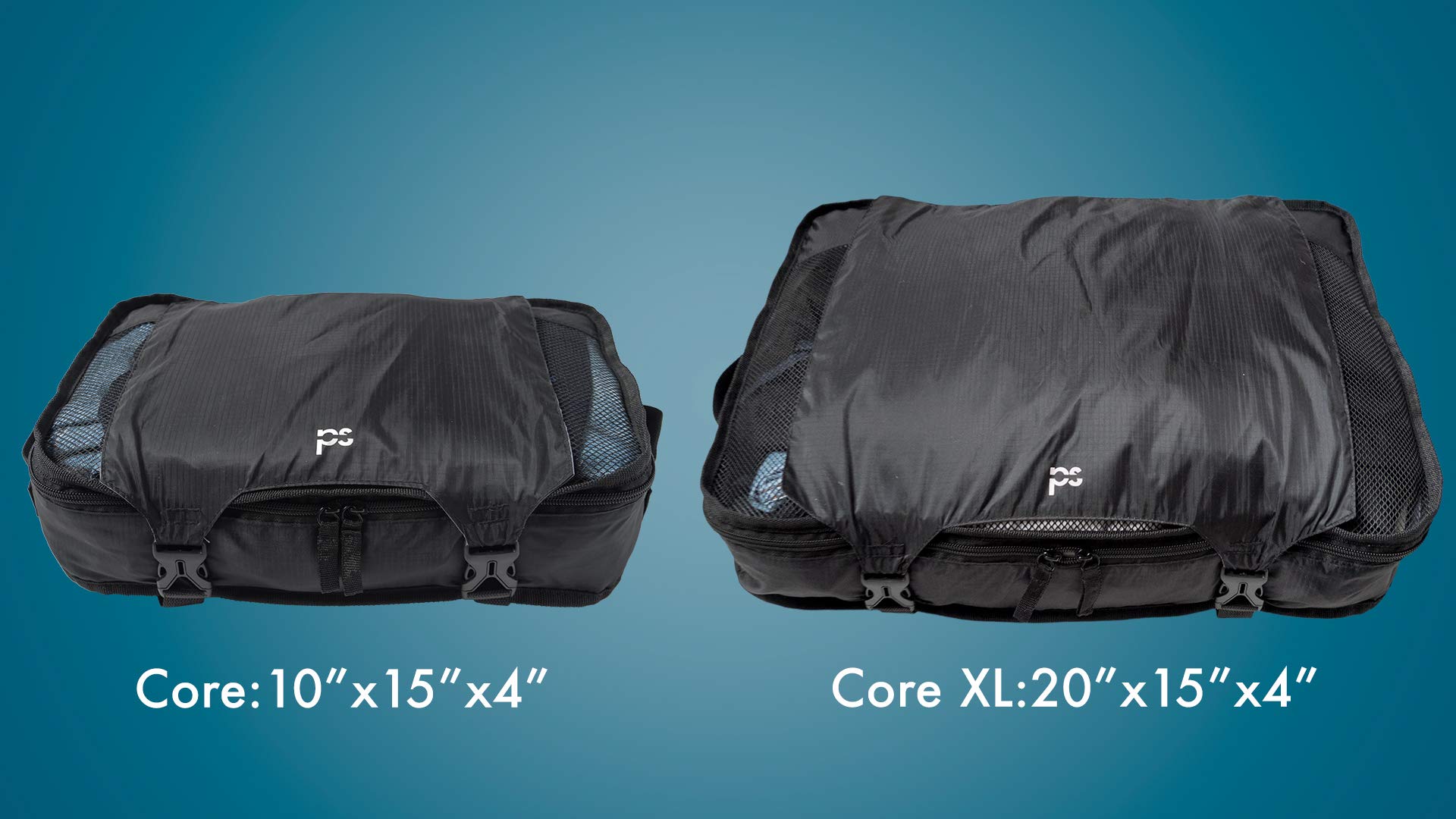 They are very lightweight and fold up for easy storage when they are not in use.
These two packing cubes will easily contain ten t-shirts, five button-up tops, three sweaters, four pairs of shorts, three pairs of pants, and a hoodie – your backpack will be the neatest and most compact packed bag on the plane!
This set of packing cubes is of the compression variety, meaning that it virtually shrinks your items into a smaller size, making them easier to fit into your suitcase. This product is a strong and durable option with double zippers for extra peace of mind. The cube is made of solid nylon, and there is a handle to help you carry and organize your cubes. It is also lightweight and water-resistant to give you even more peace of mind while on the go.
PLAN AHEAD TO GET THE BEST DEALS
Osprey UltraLight Zip Travel Luggage Organizer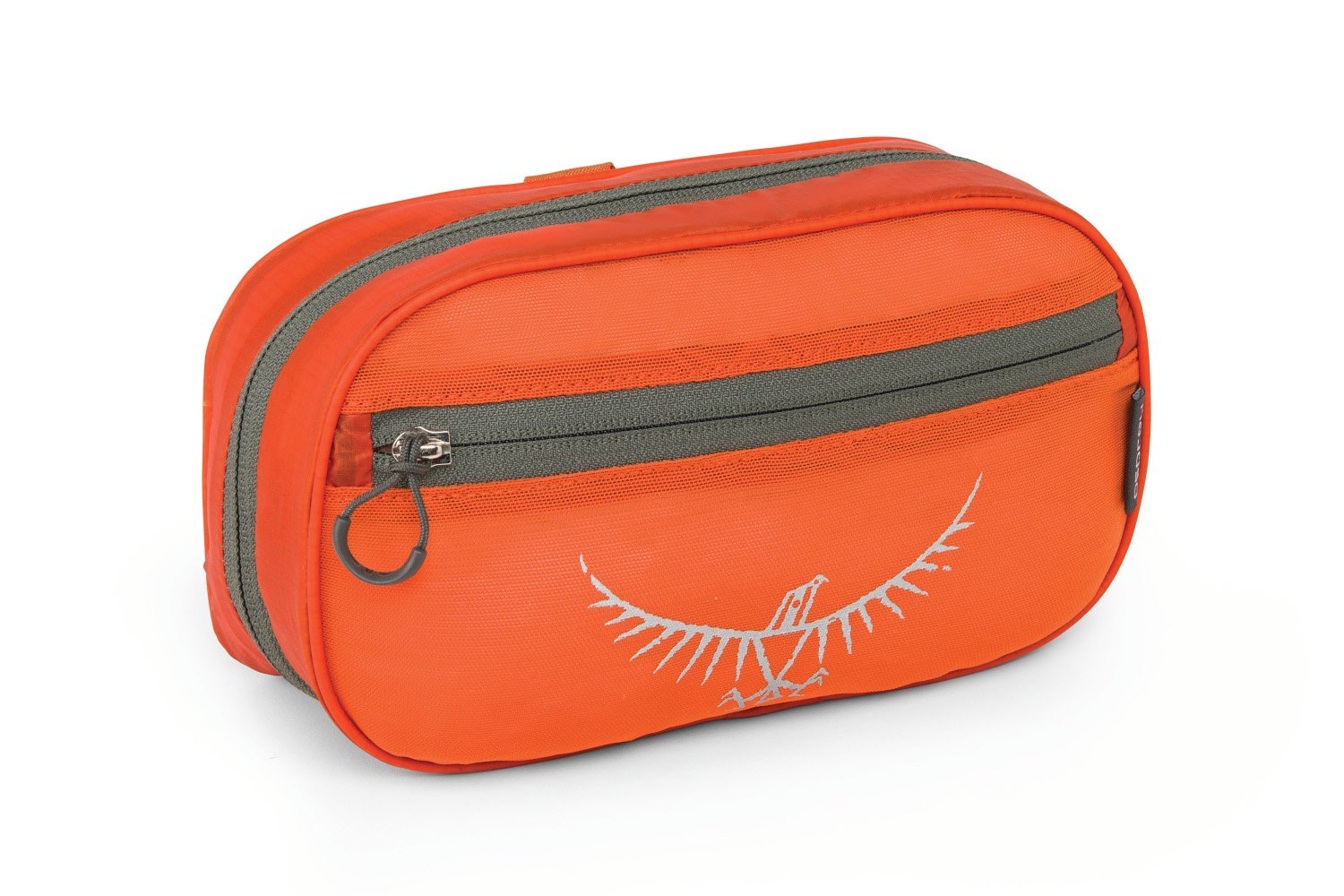 Firstly, we're talking about a big-name brand here, so you know you're getting a quality packing experience for your money. Secondly, this is a compact and useful product to own and comes in three different color options.
The cube is made of nylon and has a removable pouch that is transparent, so you can easily see what is inside and store smaller items without worrying about them getting lost. Within the cube are several other pockets to easily organize your things. This includes four zipped pockets, two slip-style pockets, and one pocket on the outside, which zips closed. There is also a loop on the back to hang it up when you arrive at your destination.
This compact and versatile packing cube can just as quickly be used at home to organize your things.
Herschel Supply Co. Standard Issue Travel Packing System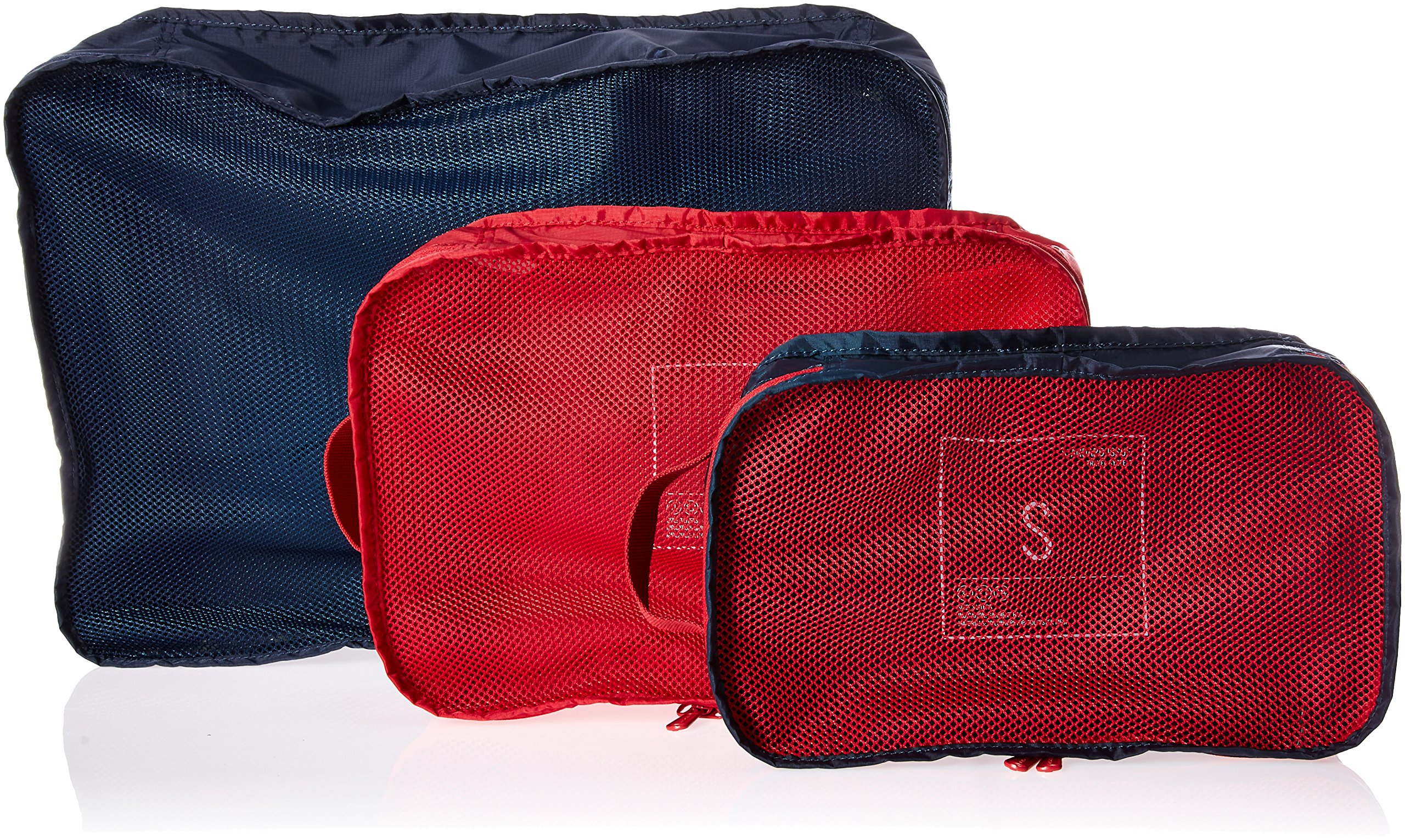 Choose between two color options in this Herschel packing system, designed to keep all your belongings organized in one place easily. The system includes three packing cubes, which are small, medium, and large, and a rolling bag made of tarpaulin so that you can store your wet or dirty items away from the rest of your clothes and belongings.
The pack has a loop on the top, so you can carry it easily, hang it up in bathrooms, etc. It is very lightweight and compact and looks professional, so it would be suitable for everyday travel and business travelers. It is a durable choice, made of nylon, and each cube closes with a durable and robust zipper for extra security. The outer of the bag is made of mesh and allows your clothes and belongings to breathe.
Arc'teryx Index 5 Travel Packing Cube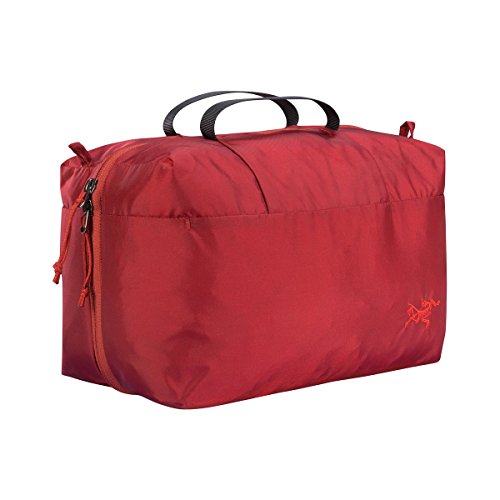 Available in grey or red, this large packing cube will keep your items organized for any type of travel. The design is simple but effective, and there are mesh panels inside, which allow you to see what you have packed in there and allow air to circulate. The top of the bag has a large and durable handle, so you carry it quickly or pull it out of a packed suitcase more quickly.
The material is sturdy nylon, and the zippers have leads so that you can pull the zipper open more easily. You would probably be surprised just how much you can fit into this packing cube, and it is an excellent option for a weekend away or a business trip when you want to keep your items separate and more organized.
La Ventus 6-Piece Packing Cube Set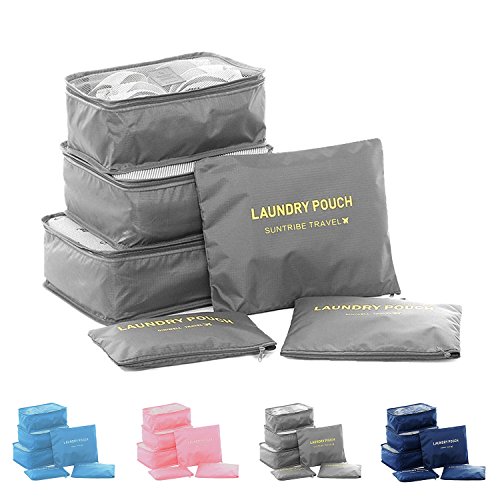 Does hauling laundry for the whole family stress you out? Organize it! Travel organizer cubes like this set are ideal for family travel. It separates into three laundry pouches and three actual packing cubes: small, medium, and large. You can easily separate underwear, outerwear, and other items, such as toiletries. Of course, this would also be a great option if you were heading off on an extended solo trip.
You can choose between three different colors, and the cubes are made from a strong and durable material, with two-way zips for extra strength and ease of use. The outer stitching is reinforced, so you can cram as much as possible inside these travel cubes, packing without worrying about the seam giving way.
This set of travel cubes claims to be 50% bigger than regular-sized cubes, so again, you can fit more in – ideal for families on the go. There is also a 90-day warranty, so you don't have to worry about wasting your cash in the unlikely event you do have a problem.
Pro Packing Cubes, 10-Piece Lightweight Travel Packing Cubes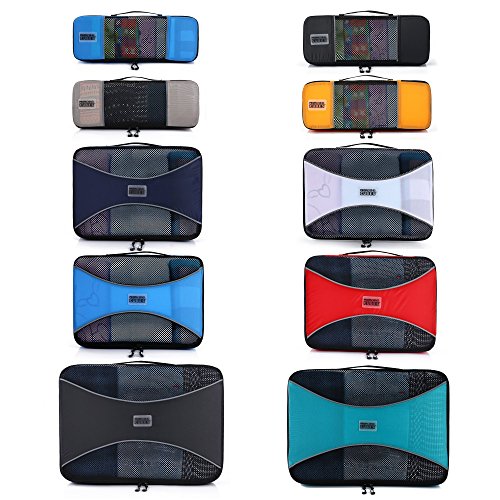 This is a real all-rounder set of travel packing organizers and can be used in various situations. This set has ten pieces with three color choices, including one with several multicolored cubes. All are made of lightweight ripstop nylon fabric. This means the cubes will last the test of time and are worth the investment.
Ideal for larger families on the go, all travel cubes have double zips and mesh tops; with mesh travel cubes, packing and unpacking is a breeze because you can easily see what is inside without having to unpack. This is also a bonus if your case is spot-checked at the airport without a messy case at the end of the check.
The set comprises a mixture of two large, four medium, and four small/slimline cubes and a laundry bag.
The slimline cubes can also easily be used as shoe bags. There is a lifetime guarantee on this product from the manufacturer for more peace of mind.
Neatpack Medium Size Hanging Nylon Toiletry Bag & Organizer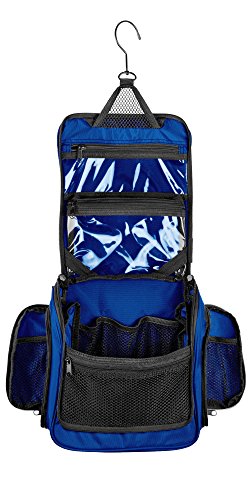 This packing bag comes in four different colors, which you can choose to match your other luggage! Low price comes with very high quality here, as it is made of durable and waterproof nylon and has a hanger on the top, which you can use to hang from the door. Inside the bag are two side pockets, one large compartment, a front mesh pocket, and plastic wallets for items that may spill.
There is enough room inside this packing bag to fit a whole family's toiletries without needing to split it between several bags or risk bottles spilling inside your case. This makes it our favorite best travel organizer for toiletries and one of the best waterproof travel packing cubes.
PRO Travel Packing Cubes – Travel Packing Organizers & Compression Pouches For Luggage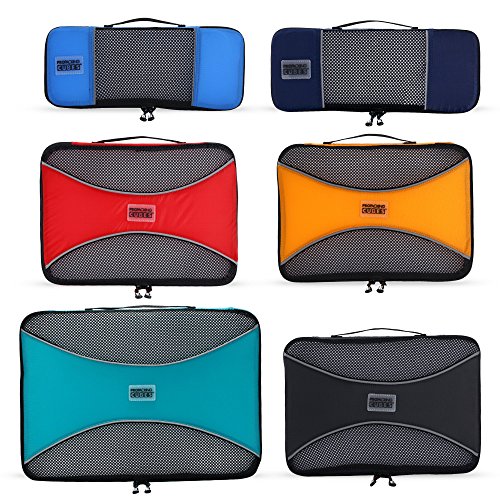 This low-priced, four-piece packing cube set comes in a huge variety of colors, and it also consistently receives high reviews for its quality. Comprising a large cube, two medium cubes (one slightly bigger than the other), and a small bag, you can easily organize your packing inside to avoid creases and save space.
These cubes claim to give you an extra 30% packing space, thanks to the compression element, and they can be used together or individually. One of the best cheap packing cubes also comes with a lifetime guarantee to give you peace of mind.
AmazonBasics 4 Piece Packing Cube Set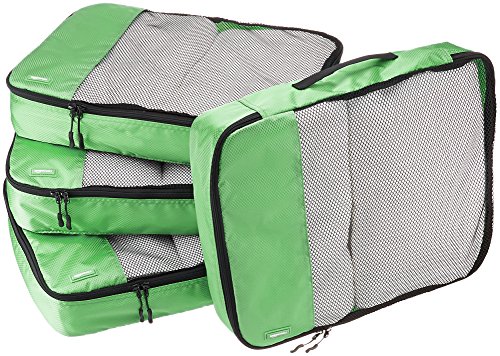 Choose between six different colors in this top-rated packing cube set, with four different sizes included in the box. Low cost and high quality, these AmazonBasics packing cubes all have a mesh top, so you can easily see what is inside. They close with sturdy zips and are made of polyester for durability.
Each cube has a handle, so you can grab them or use them individually on the go. The set sizes include a large, medium, small, and slim cube and are all ideal for saving space and keeping your belongings flat and crease-free.
Bagail 6 Set Travel Packing Cubes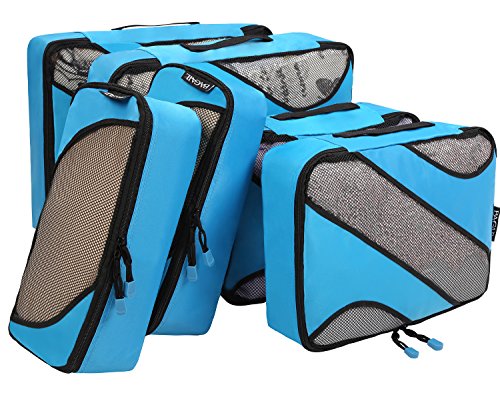 This set is a little larger than the other packing cubes for travel on our list, making it perfect for traveling families, and it consists of two large, two medium, and two small packing organizers. Choose between six different color options, each with a mesh top.
These clothing cubes are also sized to fit into carry-on baggage and hold luggage and can be split into two sets or used as a full six-piece set. This travel cube set always gets high reviews for performance and durability, with very strong zipper fastenings.
TravelWise Packing Cubes – Five Piece Weekender Set
TravelWise is a mid-price range option and comes in five different colors so that you can coordinate your luggage fashion! As the name suggests, it is a five-piece set with a deep pocket design, including one small, two medium, and two large cubes.
The cubes are made of nylon and are lightweight and durable, closing with two-way zippers. This is an excellent set of space-saving packing cubes for travel because, although it isn't the cheapest option, it is a quality one that will certainly last.
Moveto Packing Cubes – Durable 7 Set Packing Cubes Organizers With Travel Bottles Value Set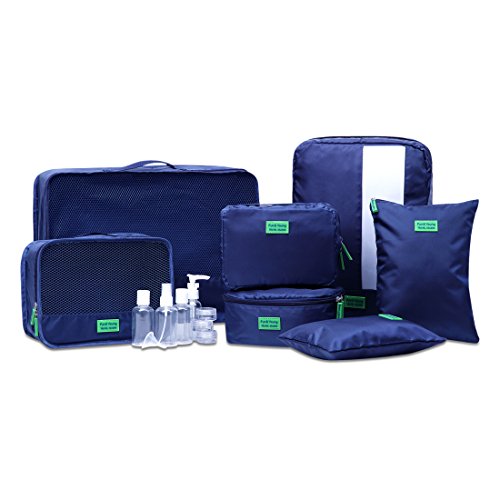 These particular packing organizer bags are ideal for large families or those who need to take many belongings with them on their travels. There are seven pieces within the set, including a toiletry bag and travel bottles, which are leak-proof. No need to worry about shampoo-coated clothing! The toiletry bottles are also carry-on sized, so you can easily take them through security without any issues.
The set contains four packing organizers, two laundry bags with zips to close, a large toiletry bag to keep all your toiletries in one place, and those bottles mentioned above. Everything will be safe and secure in these luggage packing cells, whether in your carry-on or main suitcase.
This is very high quality and durable set with an 18-month warranty. The material is strong and designed to stand up to being thrown around in transit. It also has two-way zippers and reinforced stitching on the seams and around the zips.
Evatex Travel Packing Cubes

This particular set of packing cubes will undoubtedly keep your belongings organized and in place. This four-piece set comes in five colors, including black, blue, yellow, orange, and gray, so you can easily match your travel belongings with your case!
The cubes are made of nylon and have durable zipper closures to withstand forces during your journey. There is a mesh window on each cube, so you can easily see what is inside. This is a very affordable choice, making them accessible to all, no matter your budget. The set also includes a small cosmetic bag, which is an added extra that not all sets have.
This mesh packing cube set contains the best packing cubes for backpacking or air travel, as you don't have to worry about added weight with this set, as they only weigh 1lb in total. The only concern is what you put in them regarding how much they weigh. If you're traveling with children, the four different sizes will easily allow you to streamline what you take, perhaps with the larger cube for the adults in the party and the smaller cubes for children's clothes. Keeping underwear in the smaller ones is also an excellent idea for hygiene and ease of finding!
Packing Cubes Travel Set 7 Piece, By Free Rhythm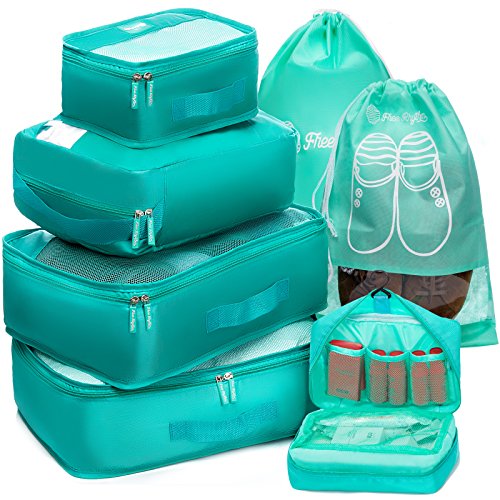 These are the ideal travel organizer cubes for families because it has room for everything! Business travelers will also find great use with this set because there is room for shoes and business attire, such as suits, etc. The fabric is high-quality nylon, with reinforced seam stitching and double zippers for extra strength. This means you can fit even more inside. There are seven pieces within the set, and you can choose between two attractive colors.
The main selling point of these suitcase-packing bags is that you don't have to agonize over what to take with you. You can take everything by organizing it carefully in these cubes. There is a small cube, a medium one, and a large one, a toiletry bag, a shoe bag, and a laundry bag included within the set. On top of this, you get a 5-year warranty in case of any issues with the set over time.
Families will enjoy the larger capacity of these travel packing cubes. Luggage for the whole crew can be organized efficiently with this set, and you can even use this as a storage mechanism at home, too.
CoZroom Lightweight Packing Cubes Set

This is a three-piece set of packing travel cubes in a dazzling blue shade with mesh tops, so you can easily see what is inside. The sturdy zips that close the cubes are not likely to break during the lifespan of your product while and the nylon fabric easily allows your clothes and belongings to breathe during your journey.
This set of mesh packing organizers consists of one extra-large cube, which will fit in the bottom of your case and fill it, one medium cube, and a small cube. There is no cosmetic bag with this particular set. The great thing here, however, is that these cubes are not only suitcase organizer bags but are also ideal for organizing your belongings at home, perhaps for packing away summer clothes during the winter months, and vice versa.
Another low price set, but not as cheap as our first option, there are six other color options available, including light blue, black, red, grey, green, and mid blue. This product is continually among the best-rated travel cubes, and with particular mention of how strong the zips are, placing them among the best packing cubes for travel on the market.
Rusoji Premium Packing Cube System

The major advantage of this particular set of packing cubes is that there are six pieces within the set, so you will find a travel cube no matter how long you're away or for any size of garment or travel item! Choose between four different colors: black, purple, gray, and blue.
This set is the most expensive of the best packing cubes on our list, but it is still very low priced for the quality you get. You receive two small cubes, two medium ones, and two large cubes, so you can easily use one for travel and one for home organization. If you're traveling with children, this is the ideal set to go for, offering flexibility in abundance.
You can quickly handwash these cubes, which makes them last longer, and they all have mesh sections on top for easy recognition of what is inside. Handles make them easy to pick up and carry around. For the price, this particular set gives extreme value for money, and the fact that there are six within the set means that you can pick and choose cubes to easily meet your needs.
eBags Packing Cubes – 3-Piece Set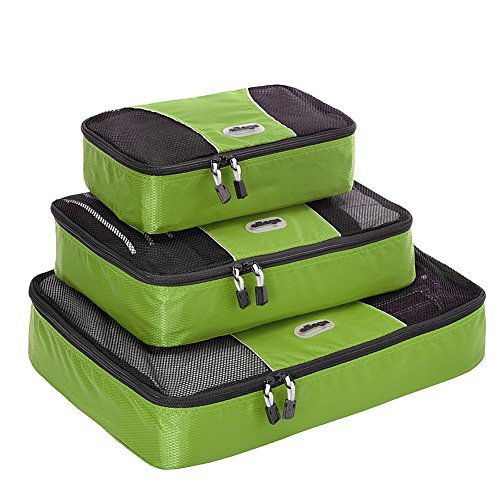 Our eBags packing cubes review? It's the perfect set to pack your carry-on luggage like never before!
This eBags brand three-piece set consists of small, medium, and large mesh travel cubes, with breathable fabric. A mesh top lets you easily see what you packed inside. It is, after all, very easy to forget where you packed everything! The cubes are quite roomy and compress quite easily when in the middle of your case. These consistently get rave reviews from other travelers, many wondering how they ever managed to pack before.
Lucky for you, we know just where to buy eBags cubes for packing – wink, wink! Canada, Mexico, Italy, Croatia, Thailand, it doesn't matter where you end up, as long as you do so in an organized fashion. So pick your destination and grab a set of eBags packing cubes.
Zero Grid Travel Space Saver Bags Compression Storage & Packing Organizers
You might not want to use a fabric cube set, so you can go for compression cubes for travel. You can decrease your packing space by around three times when using these compressible packing cubes, and you don't need a vacuum for these, as you merely hand-roll the air out. This one from Zero Grid comes in a pack of 10 or 16 and offers excellent value.
This makes it one of the best compression packing cubes. There are different sizes included in the set, and you can compress large items such as blankets, too. This is a superb idea for those who travel with children or take large amounts of luggage on their trip.
We love these compression packing cubes for travel!
6 Piece Travel Packing Organizers Set By Eterycle
These mesh packing bags for travel come in seven different colors so that you can match them to your existing luggage! There are six pieces within the set. Three are packing cubes in a small, medium, and large sizes, with mesh on top. There are also three pouches for smaller items, such as underwear, toiletries, etc.; these are small, medium, and large.
Consider a set like this, with a few garment bag sizes, if you want to quickly see what is inside your suitcase without opening each packing cell. Luggage stays conveniently organized, and belongings are easily visible.
The material is durable and strong, with quality nylon, and the zippers are two-way with reinforced seams. The mesh top makes this ideal for travel and can easily be used to pack seasonal clothes. The cubes also work well for compressing bulky clothing items, e.g., sweaters, jeans, etc., giving you more space within your case.
ShackePak – 4 Set Luggage Packing Cubes – Travel Organizers With Laundry Bag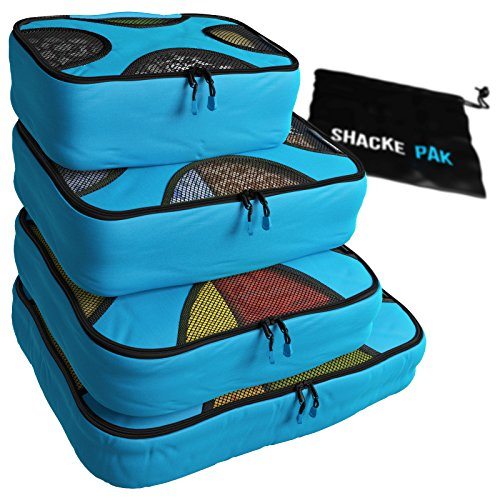 ShackePak is an excellent option for regular travelers, with high-quality goods available in different sizes. Within the set, you get extra-large, large, medium, and small packing cubes, each with double stitching to add strength to these durable travel organizers/bags. The cubes are made of water-resistant nylon and are designed to stand up to a fair amount of wear and tear. Soiled clothes get special treatment in this set, as a laundry bag is also included to keep your dirty washing separate.
Mossio 7 Piece Set Packing Cubes With Shoe Bag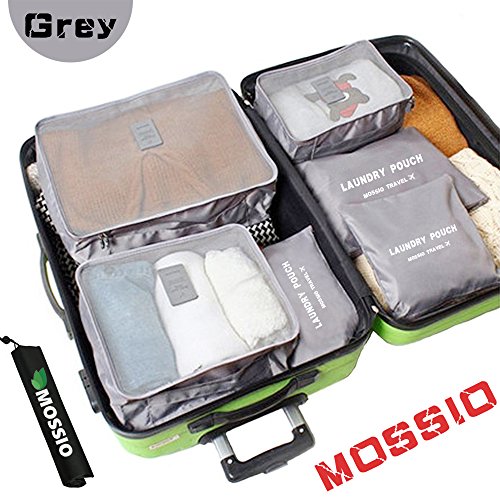 Choose between eight attractive colors when opting for this high-quality packing cube set. Ideal for family travel and for everyday travel when separated into smaller cubes. This set is also suitable for compressing down larger items or storing clothing at home when you don't need it out of season.
The set consists of three cube packing bags and three laundry pouches. The luggage cubes feature mesh packing tops, so you can easily see what is inside. There is a shoe bag included too, which will fit large-sized shoes.
These are waterproof packing cubes, so no worries about toiletry spillages. Additionally, they are easy to fold and store away when not in use. Each zip cube is made of thick nylon, so they will not rip without a fight, and two-way zippers, while reinforced stitching holds everything in place, It also does a great job compressing larger items.
Zebra 3-Piece Set Of Suitcase Packing Cube Organizers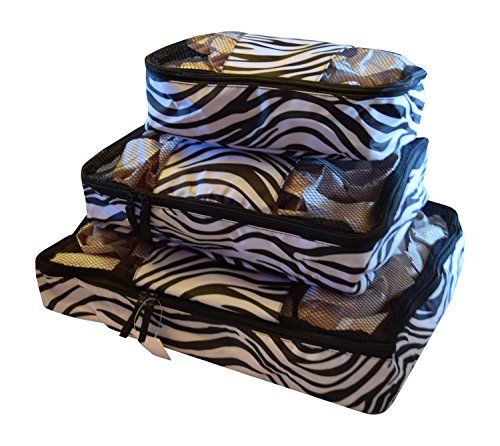 This is a funky travel packing cube option with a lovely zebra print and a quick grab handle. These mesh garment bags allow you to see what is inside, and the fabric is entirely breathable. This is a must-have for any fashion-conscious traveler who is also keen to organize their items into easy-to-find areas within their suitcase.
TripDock Packing Cubes 6 Set Lightweight Travel Luggage Organizers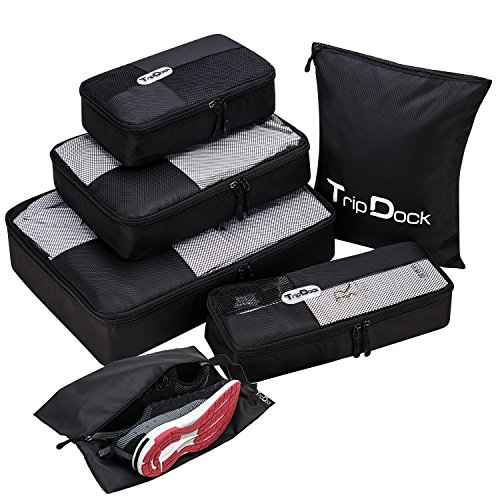 This particular set of travel cubes is an excellent choice for business travel. Not only do they organize everything as it should be, keeping your clothing crease-free, but they look the part too. Available in six different colors, this ultra-light packing cube set is made of durable polyester material with double zips and reinforced stitching. This means the cubes do a great job compressing larger clothing items.
The set consists of six cubes: a large, medium, and small-sized cube, a slimline toiletry bag, a shoe bag, and a laundry bag. The mesh cubes allow you to see what is inside without opening everything up on the go. This is ideal for busy travelers or merely storing away clothing when needed at home.
These lightweight packing organizers fold away easily when not in use while also looking stylish for business or sports.
Think Tank Photo Cable Management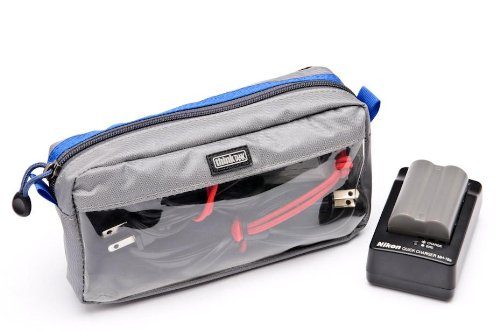 You'll love Think Tank. By far, the best travel cable organizer. How many times have you packed all your chargers and cables into your suitcase, and they've gotten tangled around a pair of shoes or something similar? Well, this particular item puts an end to that problem. This is a packing cube designed for cables, and there are clear panels so you can see what is inside and a card slot so you can list the contents. No more tangled cables!
Dot&Dot 15″ Packing Folder Mesh Garment Bag & Luggage Accessory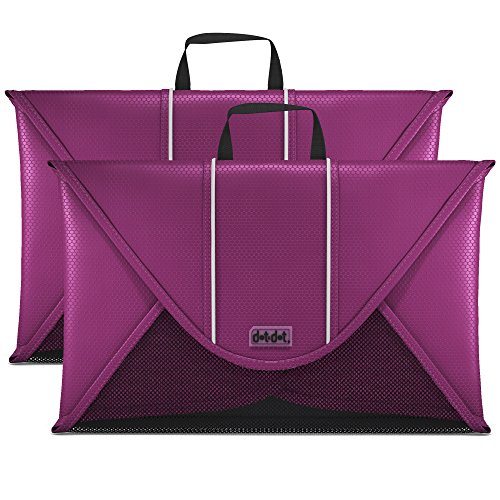 This beauty makes it easier to locate your belongings and get through airport inspections.
Designed like a folder with a mesh screen, you can easily carry this item as hand luggage through the airport, so airport staff can easily assess the contents. It comes in several different colors and is a two-piece set, being quite roomy as well. A strap is at the top, so you can grab them quickly to carry yourself or within your case for easy access.
Of our best travel organizers, this wins the "most sleek" award!
Best Packing Cubes Set By Vallilan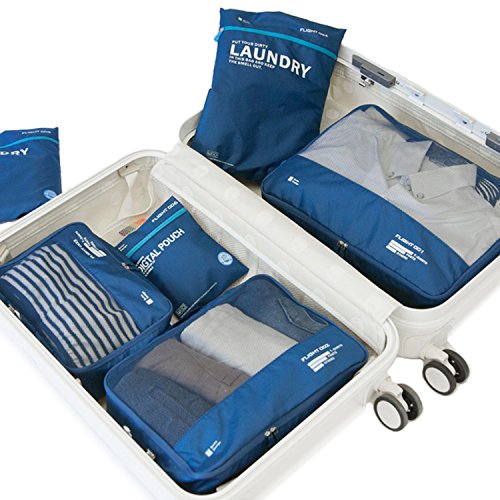 This six-piece packing cube travel set is a big-name brand, so you can be sure of quality and cost-effectiveness. The material is also super-strong and durable, with an inner edge zipper designed to hold many contents without snagging or breaking. The cubes are also lightweight and easy to fold away when not in use.
The set consists of one large cube, two medium-sized cubes, and two smaller cubes, which are ideal for underwear or toiletries. The cubes are machine washable to freshen them up, and they are treated to prevent the growth of bacteria inside over time. The material is also water-resistant, so there are no worries about toiletry spillages inside your case. The mesh top also helps you see what is inside the cubes. Each cube has a carry handle so it can be used independently as a bag.
ECOSUSI Portable Travel Case Underwear Bra Drawer Closet Storage Bag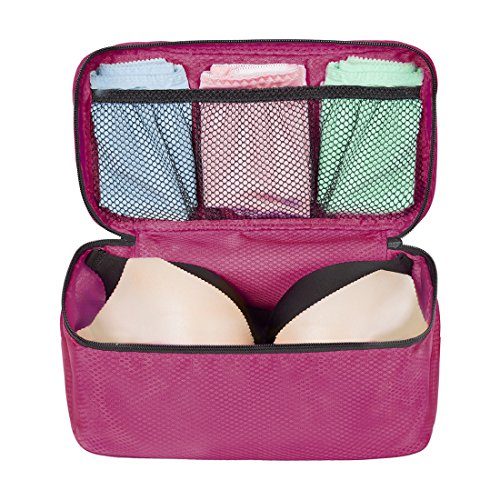 No more lost undies with EcoSusi! This is like a vanity case of old, a travel luggage organizer just for your bras and underwear! Alternatively, use it for toiletries as the bag is also waterproof. It is a lightweight option that is very easy to carry in different colors, with zipper closure.
Sea To Summit Travelling Light Packing Cell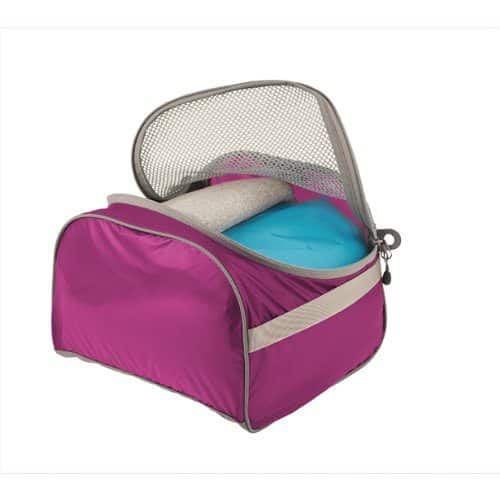 Made of nylon, this Sea to Summit mesh bag is a durable and reliable packing cube that is available in different colors. This one is pink, with a grey mesh top and side handles for easy grabbing. Lightweight and water-resistant, this is one of the smaller luggage packing cells, at 8x5x4″. However, it is deceivingly roomy, too.
eBags Pack-It-Flat Toiletry Kit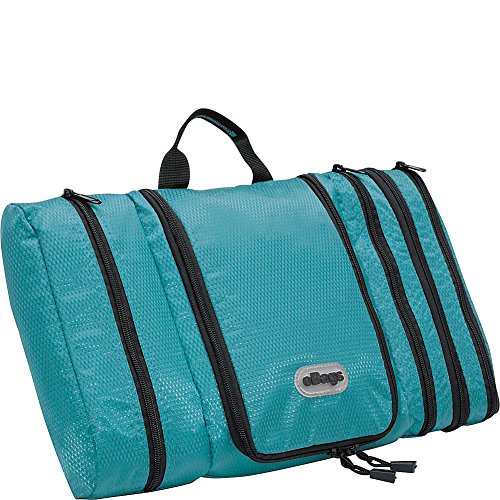 Made of innovative Techlite Diamond Nylon, this eBag cube is designed to last for a good period because the zippers are reinforced and "self-repairing." The removable hanging hook means you can have it free-standing or hanging when you arrive at your destination, while the four separate compartments are roomy, with a PVC pocket for damp garments.
Set Of 4 Hanging Packing Cube Set For Travel, By Great Useful Stuff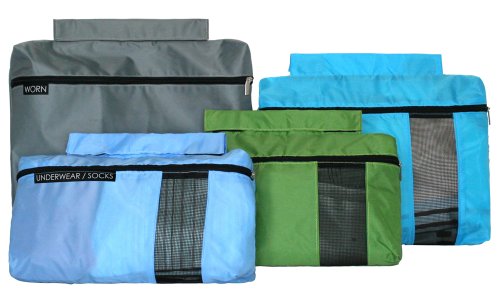 Four bags are included in this travel packing system, which can Velcro together when you arrive at your destination to give you a hanging wardrobe! It's easy to organize your things with an underwear section, a workout section, a shirt section, and a worn clothes section, although, of course, you can mix it up however you like. The front areas are made of mesh, so you can also see what you have packed.
Eagle Creek Packing Cubes
Eagle Creek Travel Gear Pack-It Starter Set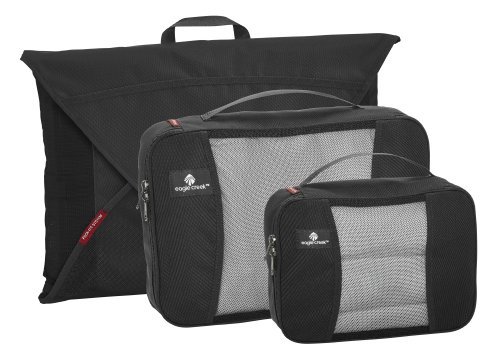 If you're new to packing cubes, we want you to know with this Eagle Creek packing cubes review that Eagle Creek is a big name in the industry that you can trust.
This is our favorite mid-priced set of travel luggage organizer bags, which can set up a regular traveler for a good period. These Eagle Creek Pack-It cubes are made of nylon with a fabric lining and zipper closure, available in blue, black, and red. Note that the design does not include a mesh or see-through fabric. Included in the set is a small and medium cube, along with a packing folder. Ne.
Nomatic Luggage Organizer Compression Vacuum Bag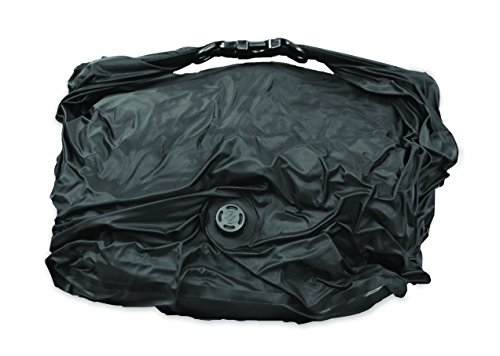 This vacuum bag is ideal for allowing you to pack more into a small space than you would otherwise be able to. The bag squeezes all excess air out of the bag, and you don't need a vacuum or a pump. There is built-in value suction technology, making the process far easier, allowing you to re-pack your items while away from home and go through the same procedure. The bag is made of strong tarpaulin material, water-resistant, and resistant to tears. By using this bag, you can easily add up to 300% storage space to your suitcase!
Eagle Creek Travel Gear Pack-It Medium/Large Compression Sac Set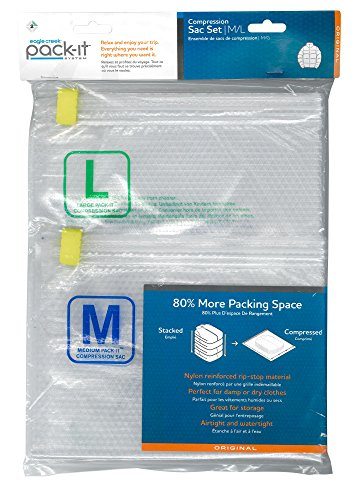 This set of Eagle Creek compression packing cubes comes in one size only and costs around $20 for the pack. This is the product for you. The bags are polyethylene and come with zipper closure, reducing your packing size by around 80%. This is the product for you if you're after cheap packing cubes.
Eagle Creek is a big-name brand, so you know you get quality with these compression packing bags. Reviews indicate, as we have also found, that this is a superb option for larger items, such as pillows or blankets, because many packing cube sets won't accommodate items of this size.
Eagle Creek Travel Luggage Pack-It Specter Quarter Packing Cube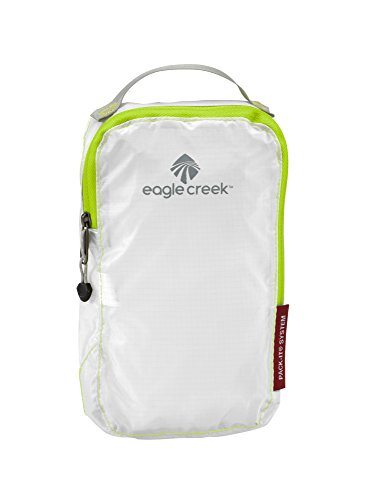 This is a cheap option for organizer cubes for the big name, at under $20. You can choose green and white, or simply green, with a translucent fabric, so you can easily see what is inside, but it's not overly apparent if you open your case within a busy place. These Eagle Creek Pack-It Specter ultralight packing cubes are an excellent option for smaller items at 7×4″.
Eagle Creek Pack-It Tube Cube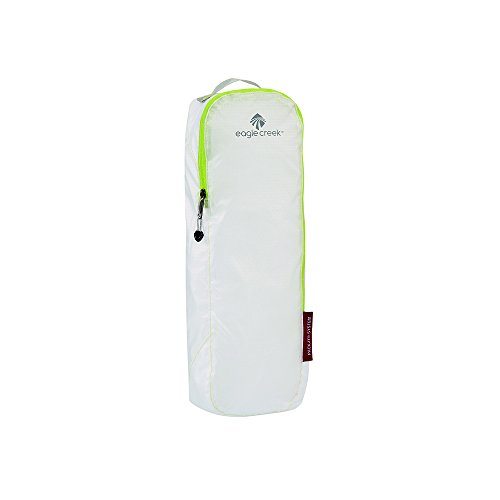 If you want to pack your underwear in one handy place without it being visible to everyone when you open your case, this is the travel cube for you. Made of Eco-Lite Weave, the travel cube is see-through on the top and only weighs a tiny 3oz, so you can pack your undies without disappearing among the rest of your clothes!
Of course, picking up a few of these Eagle Creek packing organizers means you can sort and store multiple things – swimsuits, underwear, socks – all the items that always seem to disappear at the bottom of your luggage.
Hudson & Bleecker Navigator Packing Cube Medium
This is a great all-rounder choice of packing cube and comes in two color choices, one of which is attractively patterned for ease of finding it in the rest of your luggage! The outer is made of sturdy nylon, and the inside is water-resistant, so you don't need to worry about wet clothes making the rest of your belongings equally as moist.
This is the medium packing cube, but you can also purchase the smaller and larger versions to create the set if you want to keep everything matching. The cube has one interior zipped section and one divided section, which is detachable, so you can make one larger section if you want to. The zippers are made of strong and durable metal, so you can try and cram a little more in if you like without worrying about the zip's strength!
Flight 001 Women's SpacePak Travel Bag Set
This travel bag set comprises three pieces, with a tiny, medium, and large bag included in your purchase. You can choose between two color options, e.g., the whole set in grey or the multicolored option, which gives you a bag in a different color.
Each bag is made of nylon, and the larger bags have a front and back zipped compartment designed to keep your dirty clothes away from your clean ones. The medium bag has a shoe section, and there are vents to get rid of air that isn't needed. This bag can hold up to two pairs of shoes. The smaller pack contains a toiletry bag with smaller compartments, zip closures, two mesh pockets, and a clear plastic section.
This is the ideal way to organize your items while on the go and is suitable for any type of travel, be it beach vacations or longer travel trips.
Best Packing Cubes For Travel FAQ
We know before you buy something, you have questions. You may wonder, "are packing cubes helpful?" or "do packing cubes save space?" Well, lucky for you, we have the answers. Below we talk about all things packing cubes – and if you need to know more, please ask us!
What Size Of Packing Cubes Do You Need?
This depends on your suitcase, but you can generally buy single or double luggage cubes. If you have a large bag, a double-packing cube will help you organize your belongings much easier than a single one. However, a single travel cube will do the job just fine if you are only traveling with a small case, e.g., a case big enough to fit in your flight hand luggage.
What About Travel Packing Cubes For Your Family's Needs?
If you're traveling with kids, you may be sharing cases, e.g., you might take two cases for the four of you rather than one each. In that case, a few luggage packing cubes can help you separate everyone's belongings, so you don't have one rambled mess to cope with when you arrive. You can separate cosmetics and toiletries for everyone into one travel packing cube, and so on.
What Material Are Travel
Packing Cubes Made Of?
Travel cubes for packing come in various fabrics, and it mainly depends on what you're taking and what you're using them for as to which one to go with. When using travel cubes, it's essential to understand what the travel packing cube (or packing cube sets) will be utilized for.
If you're packing toiletries, waterproof packing cubes are the way to help prevent spillages. See-through mesh packing organizers are the way forward if you want to find items quickly. If you're packing private things and sharing a case, e.g., underwear, etc., you could go for a solid material for your luggage organizer set. Generally speaking, all packing cubes are very lightweight, making them versatile for backpacking travels. You can also find travel cubes with breathable fabric or extra padded packing cubes. There are loads of varieties to choose from.
What Is The Price Of Each Packing Cube For Travel?
Are you going to use your packing cube(s) more than once? If so, it might be worthwhile investing in a quality set. If not, then you could go for a cheap cube organizer. There are many different cubes across a large price range, and you can easily find something to suit your budget.
Where Can I Buy Packing Cubes?
We love Amazon because they have the biggest range and low prices. Check the best ones here.
So, are travel packing cubes a yes or no for you?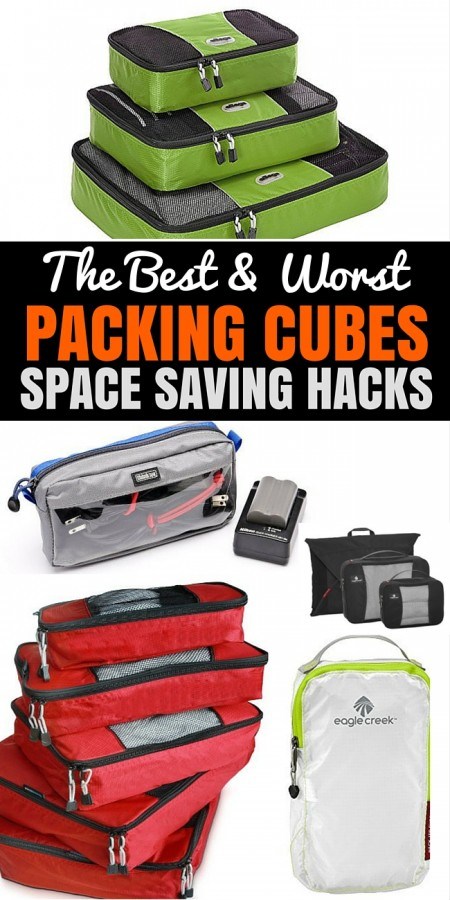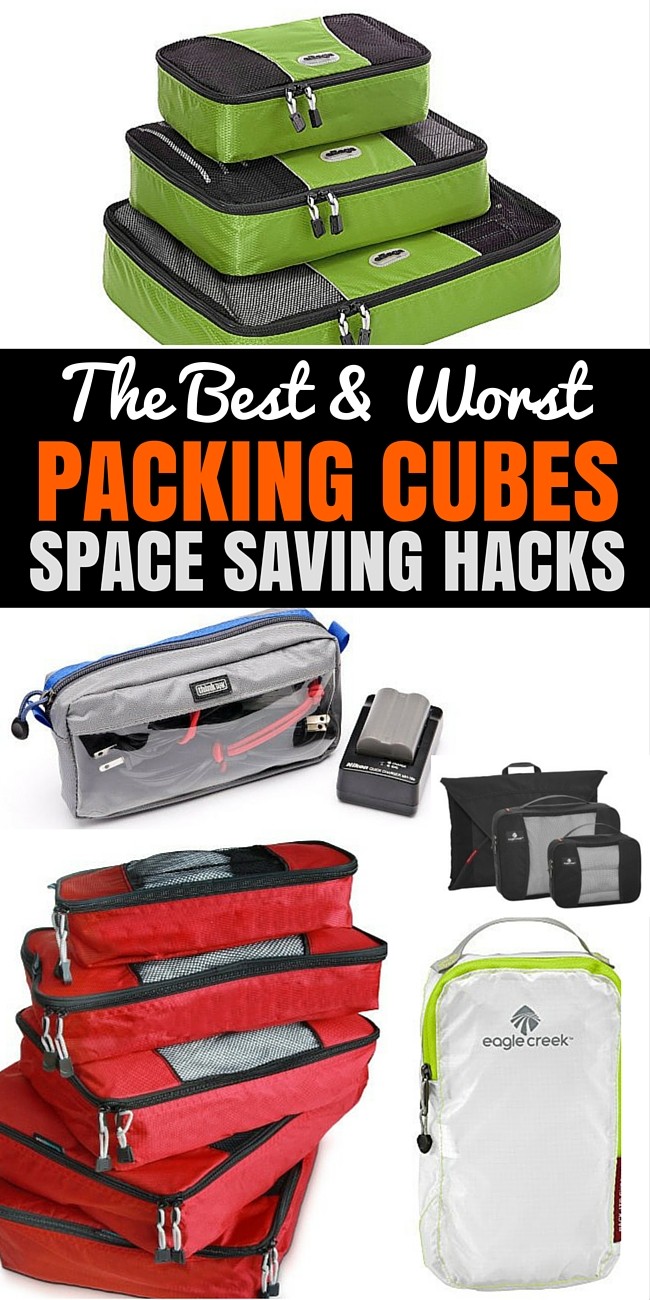 More Packing & Travel Product Tips