A country that's split down the middle by the Balkan mountain range, Bulgaria is nestled between Romania, Greece, Turkey, Macedonia, and Serbia. With a history that dates back to the 6th century when the Celts, Thracians, Macedonians, and Persians fought wars here, Bulgaria has much to offer the eager tourist.
From cave monasteries to pristine coastlines and lush nature, there is no shortage of things to do in Bulgaria and no lack of cheap hotels in Bulgaria. We've put together a list of the best all-inclusive hotels in Bulgaria.
All-Inclusive 5-Star Hotels In Bulgaria
A 5-star hotel means luxury! If that is what you are after for your Bulgaria holiday, keep on reading to find the best all-inclusive hotels in Bulgaria that boast five stars.
Royal Palace Helena Park At Sunny Beach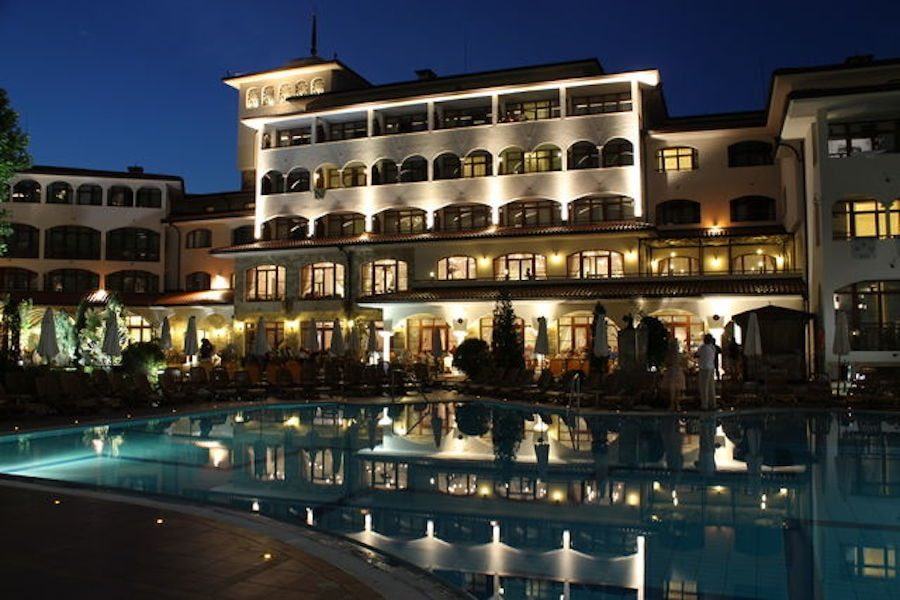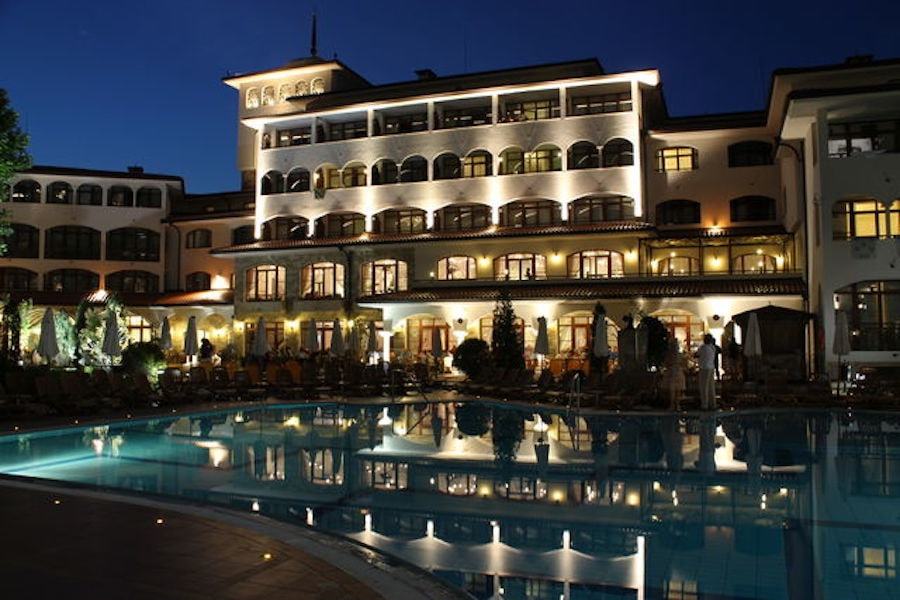 If you're looking for all-inclusive Bulgaria holidays at sun-soaked beaches and offers 5-star luxury, the Royal Palace Helena Park is the place to be. This is one of the best hotels in Bulgaria on Sunny Beach and is close to the historic town of Nessebar. The hotel is filled with paintings and sculptures by noteworthy Bulgarian artists.
The Royal Palace Helena Park is within 2 km of the Orange Disco, Chaika Beach, Dune Beach, Mall Sunny beach, Playa Beach Bar, Globus Beach, and Dance Club Mania. The airport shuttle, Turkish baths, laundry services, massages, and spas can be availed at an additional charge.
Guests at the hotel enjoy complimentary buffet meals, snacks, and free local drinks. Free WiFi is available throughout the hotel. The 33 m² or 37 m² rooms and 65 m² suites feature bathtubs with showers, balconies, hairdryers, flat-screen TVs with cable and satellite channels, air conditioning and heating, minibars, and electric kettles. The suites also include a large spacious seating area and a writing desk. The kids club provides entertainment for the kids while the adults enjoy themselves at the bar, making for the perfect Bulgaria all-inclusive family holidays.
Melia Grand Hermitage All Inclusive At Golden Sands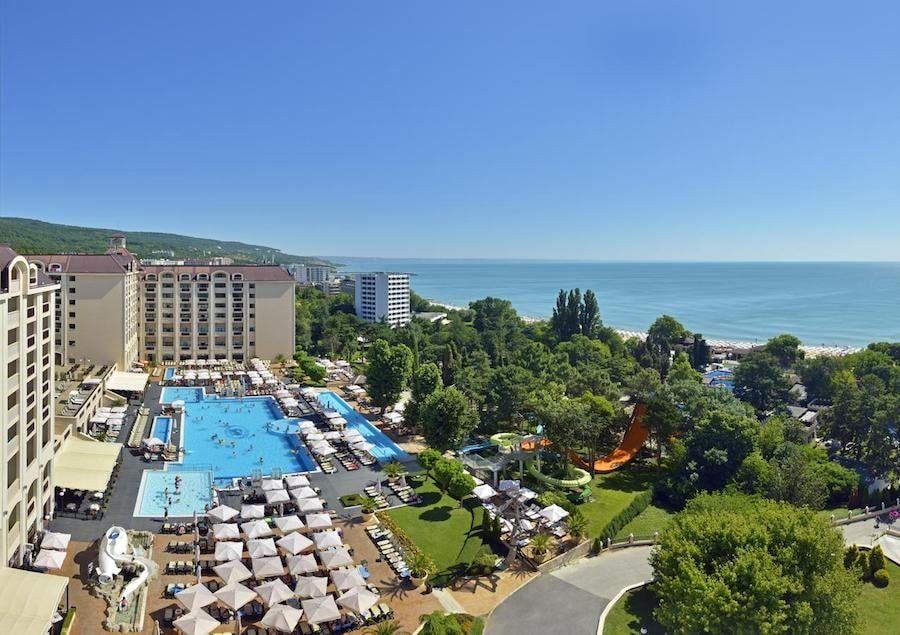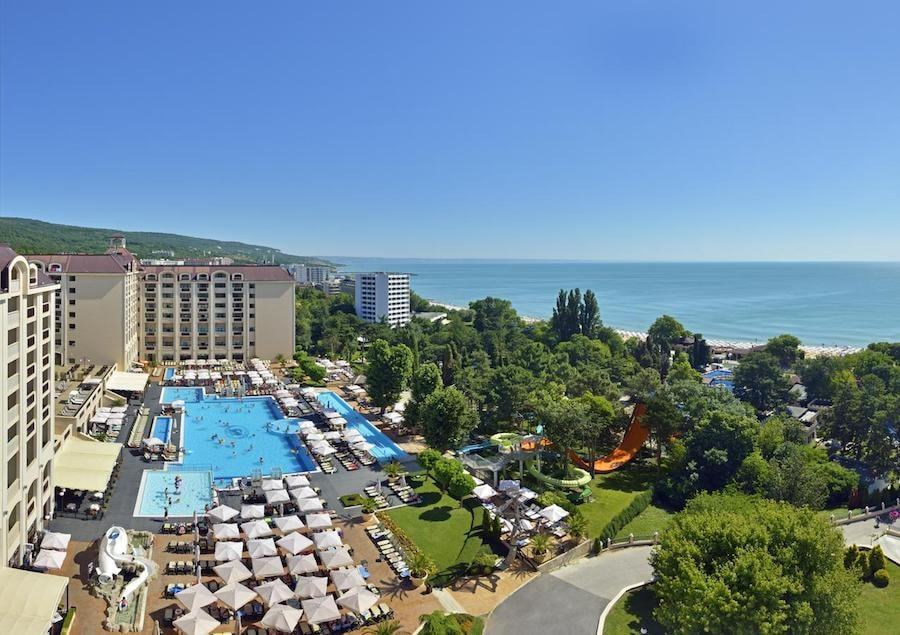 If you're looking for some Bulgaria all-inclusive hotels that still epitomize luxury, the Melia Grand Hermitage is your place. This is one of the Bulgaria Black Sea resorts located on the Golden Sands beach, surrounded by hills, forests, the Black Sea, and a lush park.
Large 43 m² rooms and 63 or 80 m² suites feature balconies, minibars, air conditioning, standard amenities, and an emergency cord in the bathroom. The suites also include access to The Level with a personalized reception, complimentary sauna and steam bath in YHI SPA Center, access to The Level restaurant with extended breakfast timings, and access to The Level Lounge and bar.
The Melia Grand Hermitage is all-inclusive and ideal for a lush and luxurious stay on a short break. Guests also have access to massage treatments, a gym, indoor and outdoor pools, a hot tub, a sauna, and a Turkish bath at the two-story spa. Golf Courses and the Thracian Cliffs are a 30-minute drive from this Bulgaria holiday resort. It's easily one of the best beach resorts in Bulgaria.
Astor Garden Hotel In St. Constantine And Helena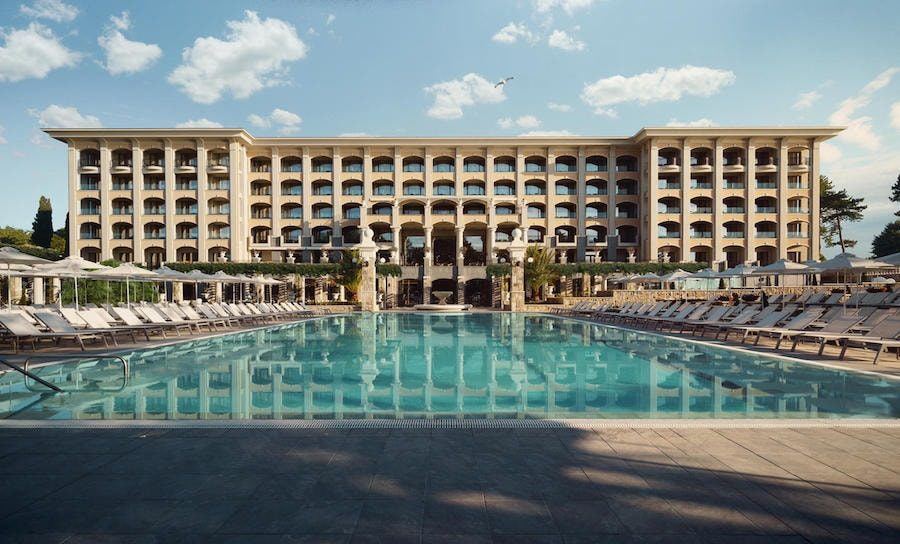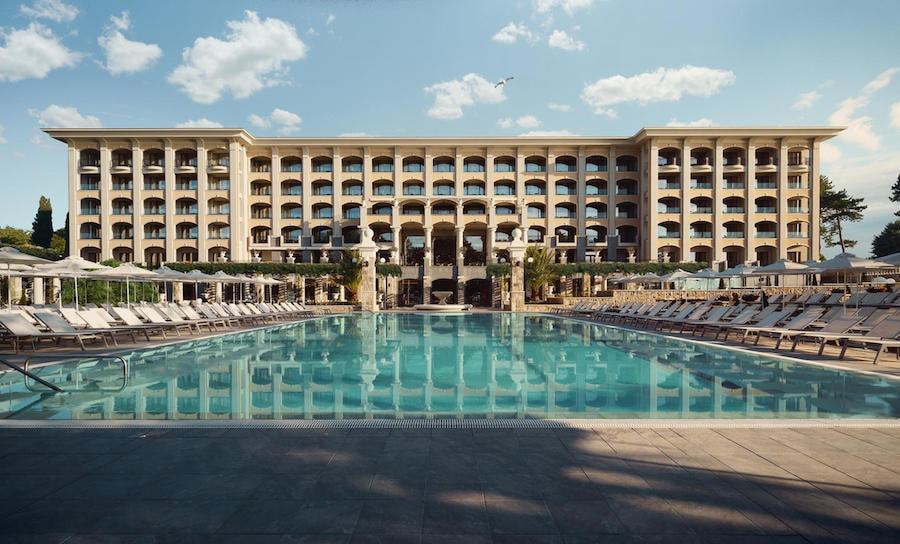 15 km from Varna Airport, the Astor Garden Hotel is situated less than 100 meters from Saint Constantine and Helena Beach and 400 meters from Sunny Beach. The University Botanical Garden is 700 meters away.
The lobby is a sight to behold. The hotel boasts four bars, including a pool bar and a beach bar, and a kids club to keep the children entertained while the parents enjoy their cocktails. Guests can enjoy local and international cuisine at the Azzaro buffet restaurant. Cozy rooms include all amenities and feature balconies with garden or ocean views. Free WiFi and free onsite parking are available. The spa and wellness features include a steam room, sauna, fitness center, and swimming pool.
The Astor Garden Hotel is one of the best holiday resorts in Bulgaria for families, catering to kids' and adults' needs.
Other All-Inclusive 5-Star Hotels In Bulgaria
These are perfect if you're looking for all-inclusive beach resorts in Bulgaria that are away from the tourists and the crowds.
Thracian Cliffs Golf & Beach Resort In Kavarna


Situated in Kavarna with access to the Black Sea, Thracian Cliffs Golf & Beach Resort is the perfect location for hiking, diving, or windsurfing. The hotel features an 18-hole golf course, sauna, hammam, steam bath, and infinity pool.
Long Beach Hotel And Spa In Shkorpilovtsi
This is one of the best beach resorts in Bulgaria on Shkorpilovci Beach. Spacious rooms and apartments range from 50 m² to 130 m². The hotel also features an aqua-tonic pool, hydro and aero massage lounges, hot tub, steam bath, Finnish sauna, Turkish hammam, a Russian bath, and a Himalayan salt room. Kamchia Nature Reserve is 6.3 km away, while Varna Airport is 32 km away.
Perla Royal Hotel In Primorsko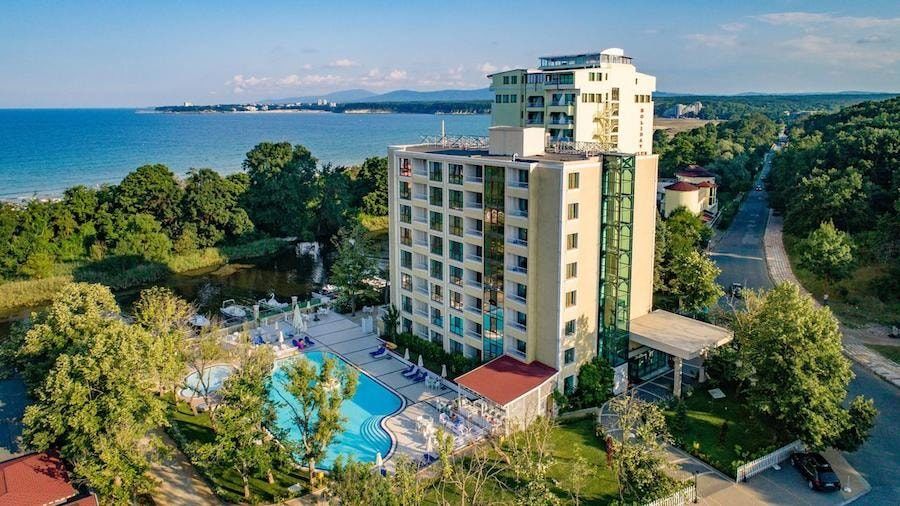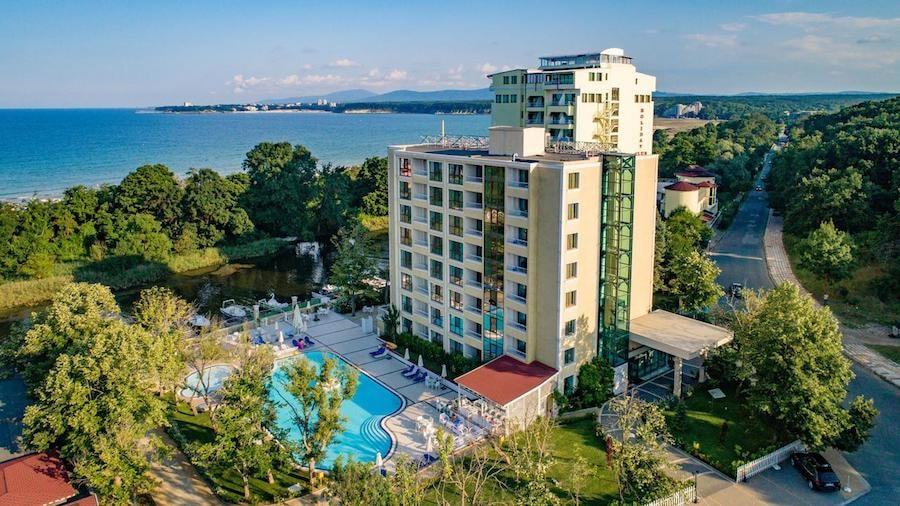 Perla Royal Hotel is one of the all-inclusive Bulgaria beach resorts located just 100 km from the golden sands of Primorsko beach. It's just 400 meters from Aquapark Primorsko, where guests get a discount and 6.5 km from Ropotamo Reserve.
TRAVEL COMPANIES WE USE AND TRUST
4 Star Bulgaria Accommodation
4-Star Bulgaria hotel options to please.
Aqua Hotel, Varna City
It's rare to find all-inclusive hotels in Varna, Bulgaria, but you will find hotels offering breakfast and dinner. One of the best hotels to stay in Bulgaria in the heart of Varna is the Aqua Hotel.
It's 900 meters from Varna beach and less than a kilometer from Tabanata, Port of Varna, Naval Station Varna, Varna Opera House, City Garden, Musala Square, Roman baths, Varna Cathedral, and Saints Cyril and Methodius Square.
Varna Airport is 7.8 km away, and a shuttle can be arranged at a cost. Underground parking is chargeable, but WiFi is free.
The spa facilities include a steam bath, hot tub, Finnish sauna, tropical rain shower, and a relaxation zone.
The chic rooms are brightly decorated and equipped with all the necessary amenities. You have the option of picking rooms with city views or balconies. You can also choose a room with only breakfast included or with dinner as well.
The easy access to Varna's attractions makes this hotel one of the top choices among the Bulgaria hotels!
HVD Club Hotel Miramar In Obzor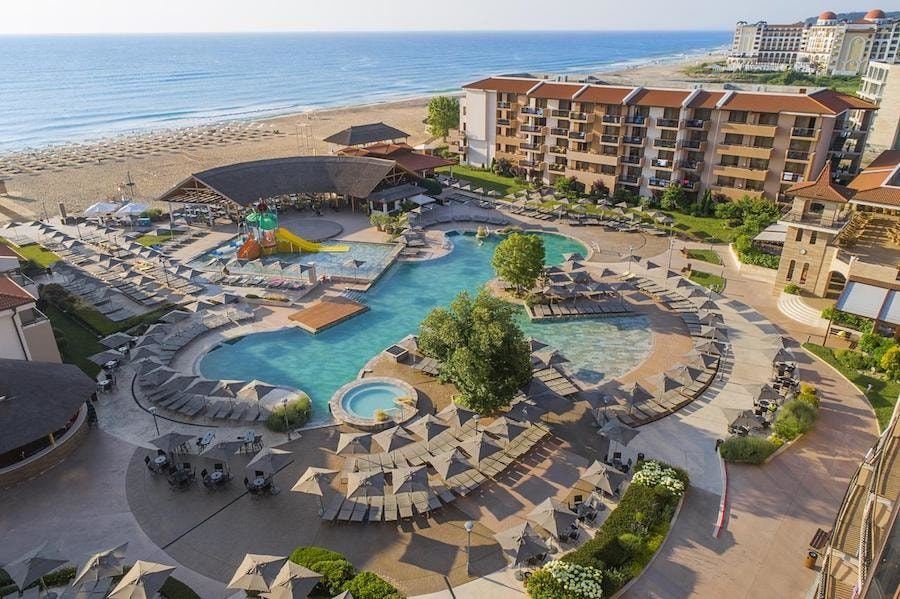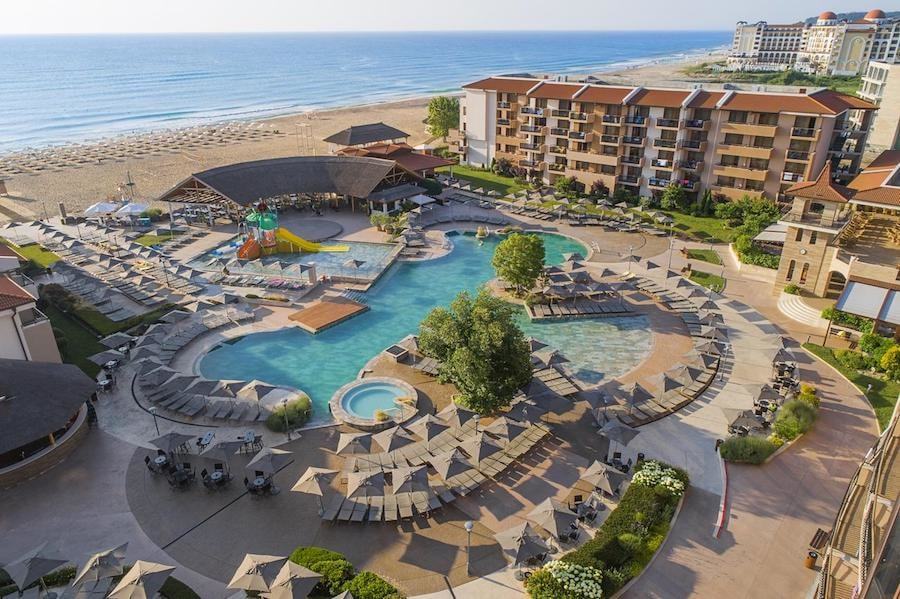 Right on the beach in Obzor, the HVD Club Hotel Miramar is the perfect place for a relaxing vacation with the family. The beach at Obzor is one of the best beaches in Bulgaria for watersport activities.
Spacious rooms include all amenities, including refrigerators, safes, and minibars. The hotel has free WiFi, and the swimming pools, volleyball courts, and spa keep the guests entertained.
While the adults enjoy themselves, the kid's club's staff keeps the children entertained with games, dancing, and fun learning. The HVD Club Hotel Miramar is suitable for almost cheap family holidays in Bulgaria.
PrimaSol Sineva Beach Hotel
Located right on Sveti Vlas Central Beach, the PrimaSol Sineva Beach Hotel is one of Bulgaria's best all-inclusive beach resorts. Guests have access to a pool, open-air theatre, fitness center, mini-golf course, and tennis courts.
Small cozy rooms at the hotel are decorated with light colors and feature balconies with ocean views, refrigerators, walk-in closets, free WiFi, and free public parking. Kids club, darts, cycling, hiking, and aerobics are also possible.
Sunny Beach is 4 km away, while the ancient Nessebar city is 9.7 km away. Venid Beach is 1.2 km away. Chaika Beach, Dune Beach, Globus Beach, and Mall Sunny Beach are less than 4 km away.
All-Inclusive Cheap Accommodation In Bulgaria
If you're on a budget, these affordable all-inclusive resorts in Bulgaria might be what you're looking for.
Hotel Golden Ina – Rumba Beach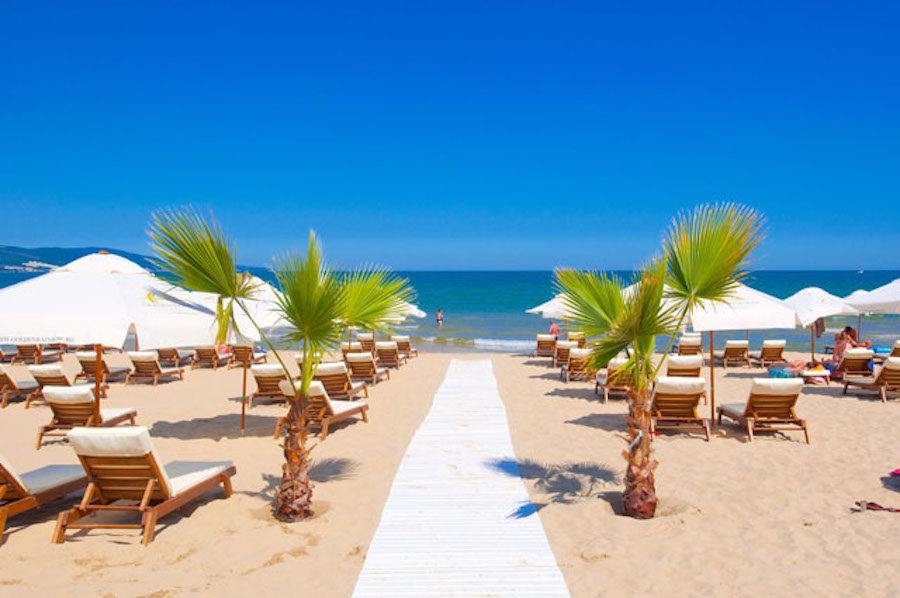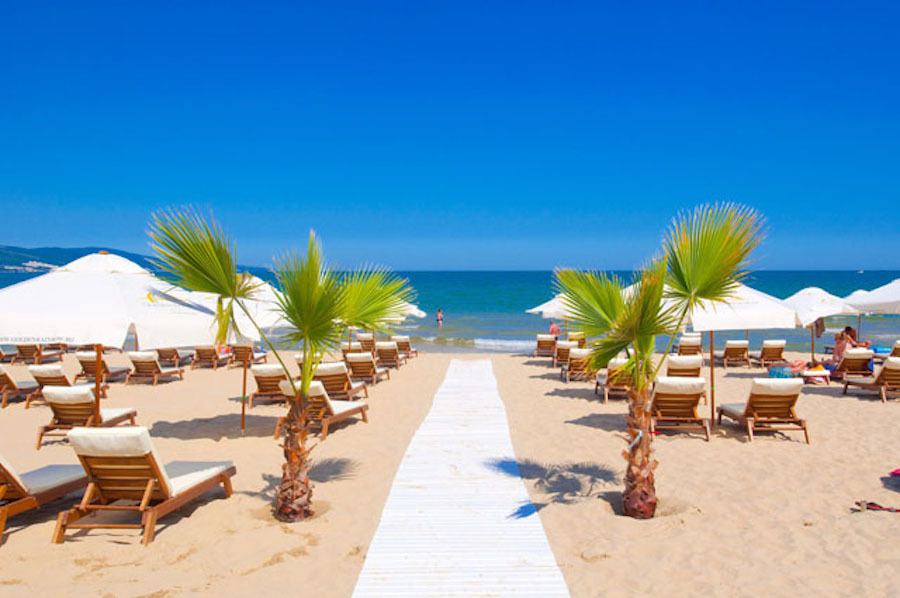 Are you looking for a cheap hotel that's all-inclusive in Bulgaria? Look no further. Hotel Golden Ina is right on Rumba Beach, 50 meters from Sunny Beach South and 750 meters from Sunny Beach Central and Cacao Beach. Amusement Park Sunny Beach Central, Den Glade Viking Dance Club, Bedroom Beach Club, and the Kuban are less than 1.4 km away.
The 70 m² luxury apartment also includes kitchenware, a dining table, and a washing machine. Compact rooms feature hairdryers, refrigerators, air conditioning, kettles, and flat-screen TVs with cable and satellite channels. Triple rooms and family rooms are also available. This hotel, close to Sunny Beach, Bulgaria, has a bar open from 9 am to 11 pm.
Located in one of the top Bulgaria beach destinations, Hotel Golden Ina is an excellent choice for cheap holidays in this affordable Balkan country.
Detelina Hotel At Golden Sands
About 300 meters walk from Chaika Beach, the Detelina Hotel is situated in a park, about 4 km from Central Golden Sands. It is less than 4 km from the Argisht Lift, Riviera Beach, Aladzha Monastery, Aquapolis Golden Sands, Party Street, Golden Sands Centre, University Botanical Garden, and Aquahouse Thermal & Beach.
The restaurant in Bulgaria's cheap accommodation serves wine with local Bulgarian dishes or international cuisine.
Rooms and apartments are well equipped and include balconies with ocean or pool views. Guests enjoy access to the swimming pool, free parking, and free WiFi. Cabacum Beach, located about 750 meters away, is perfect for watersports.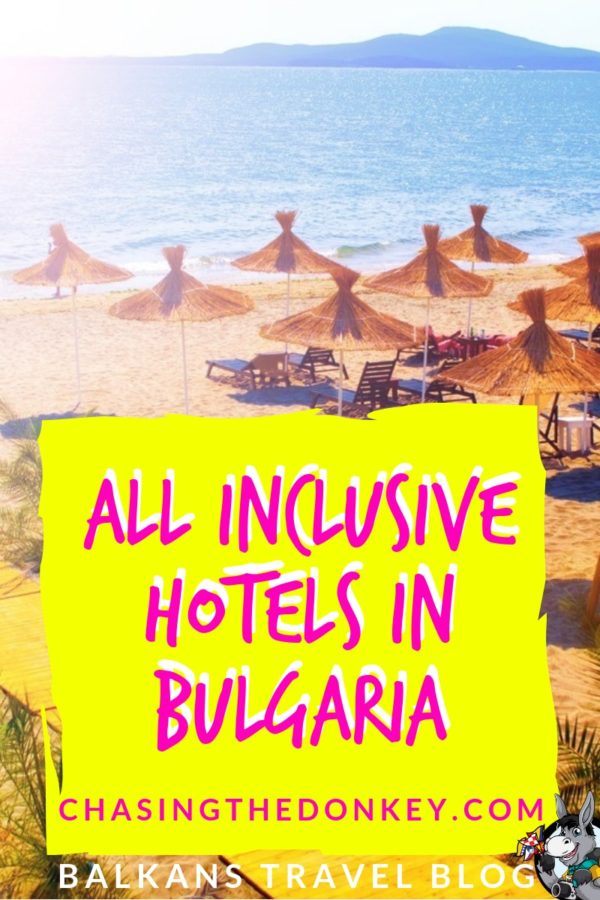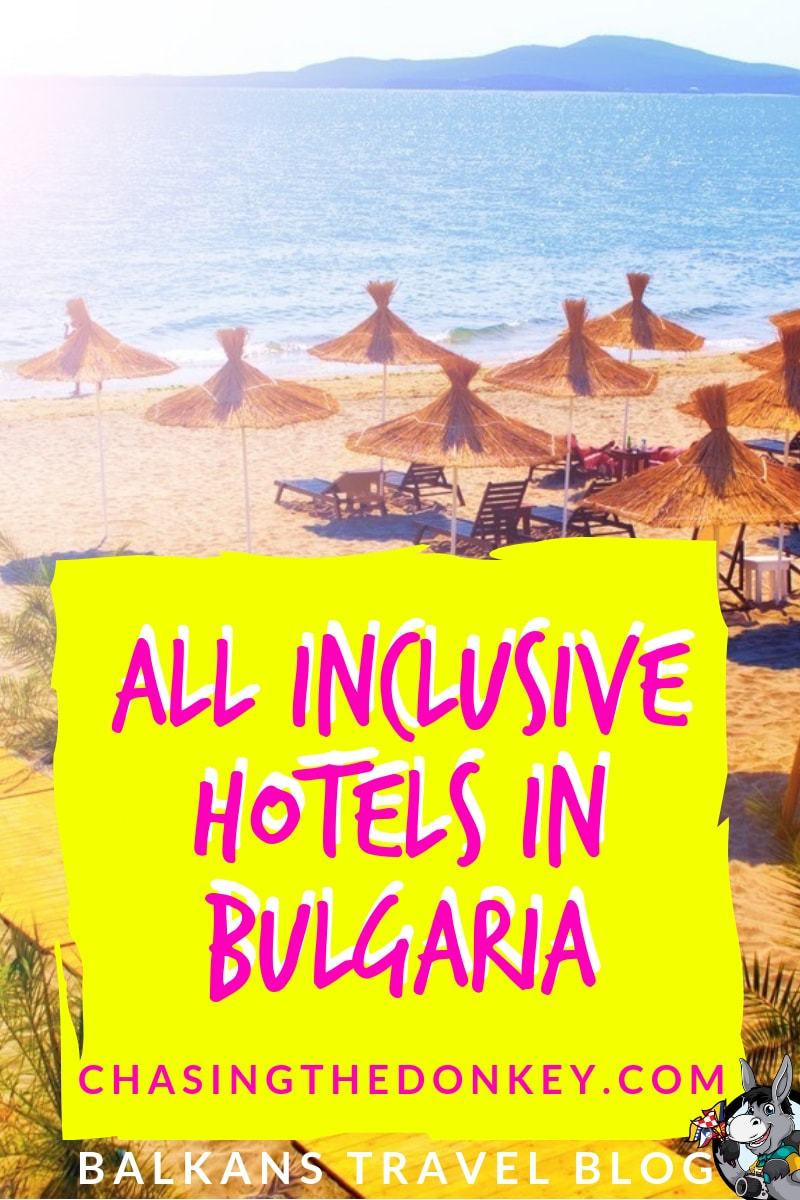 Apartments Perfect For Cheap Holidays In Bulgaria
Do you have kids? Or perhaps you want more space just to spread out; then there is something below just for you.
Apart from Hotel Golden Line In Golden Sands
18 km from Varna Airport and a stone's throw from the Black Sea, this is one of Bulgaria's best all-inclusive hotels. Luxury and elegance combine to create the perfect ambiance for guests, whether on a romantic holiday or a family vacation.
Apartments vary in size – 35 m²¸60 m² or 80 m² – to suit every need and accommodate 2 to 6 guests. Soundproofed rooms include everything you need, including kitchenware, stovetops, dining tables, seating areas, air conditioning, heating, free WiFi, and more.
The restaurants serve delicious local and international cuisine. The heated outdoor pool is complimentary, while the steam bath, sauna, and hot tub are charged extra. The upper floors are accessible by lift, and there are plenty of activities for kids. Private onsite parking costs BGN 15 per day.
If you're looking to book a holiday to Bulgaria that's like a luxurious replica of your home, with privacy and class, this is it!
Paradise Green Park At Golden Sands
Paradise Green Park is a luxurious apartment complex in the Golden Sands Resort surrounded by lush forest. Several attractions are within a 6 km drive from the apartments.
The spacious 52 or 60 m² apartments are tastefully decorated, elegant and stylish. Every apartment is well equipped and includes a balcony, kitchenette, refrigerator, TV, seating, and dining areas. The menu comprises a selection of fine wines and Bulgarian, Mediterranean, and European cuisine.
Pets are not allowed. The swimming pool and pin pong are free, but access to the pool table, sauna, and Jacuzzi are charged.
Paradise Green Park is perfect for cheap breaks to Bulgaria.
Top Things To Do In Bulgaria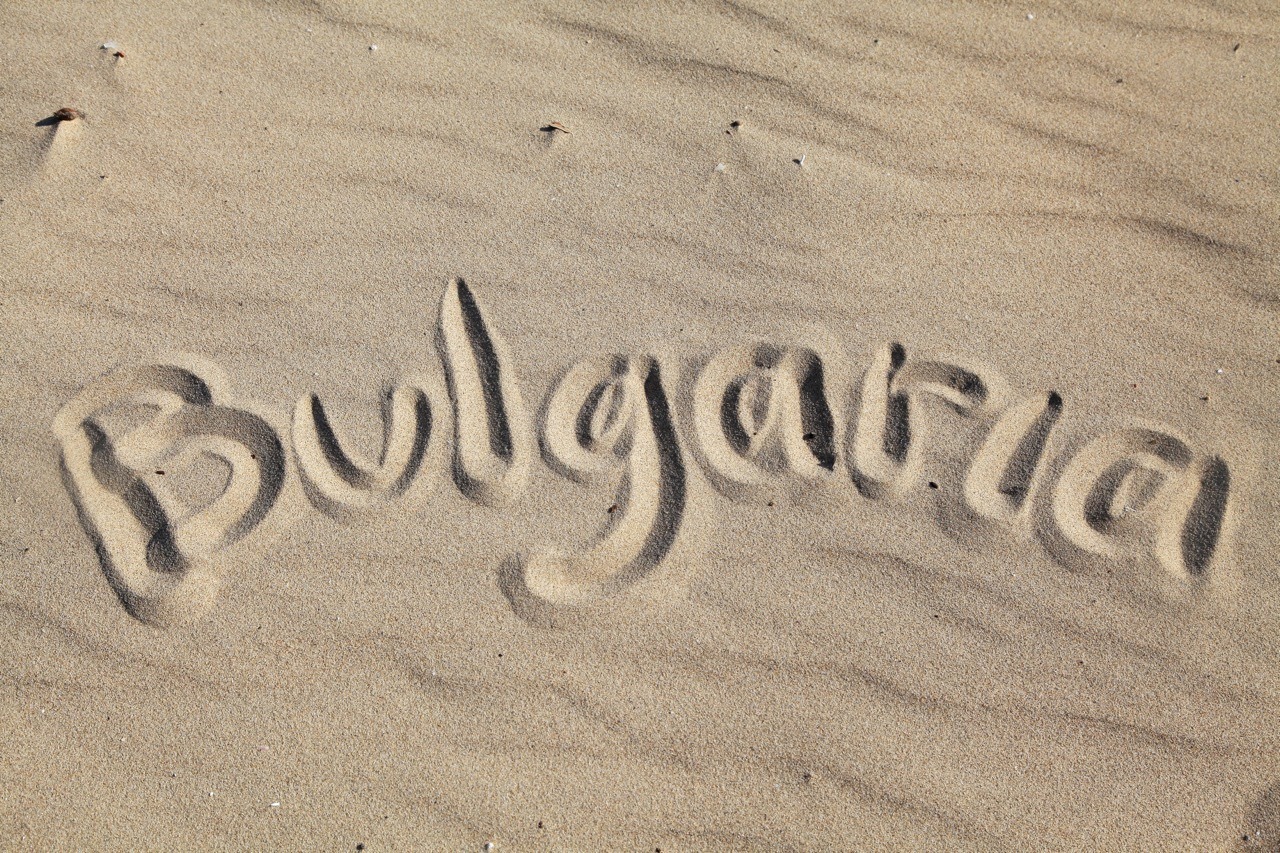 Planning your holidays in Bulgaria? Now that you know about all the best all-inclusive hotels in Bulgaria, let's check out some of the places to go in Bulgaria that you will love:
Visit the Rila Monastery, which is a World Heritage Site
Visit the ancient town of Nessebar
See the Alexander Nevsky Cathedral
Gaze at the fantastic murals at Boyana Church
Visit the coastal town of Balchik to see the botanical gardens and Palace
Visit Sofia Synagogue, the 2nd largest Sephardic synagogue in Europe
See the old Turkish baths that are now the Sofia History Museum
Visit the oldest church in Sofia, Sveta Sofia Church
Cross the Zlatnite Mostove
Visit the legendary fort of Baba Vida in Vidin
Hike or ski on the Vitosha Mountain
See the Russian Church of Sveti Nikolai
Tour Bulgaria's oldest museum, the National History Museum
See the water descend from Devil's Throat Cave to the Halls of Thunder cavern
Visit the Kaliakra Nature Reserve
There are many more things to do in Bulgaria while on vacation. To find out more, read this post.
Enjoy your all-inclusive holidays in Bulgaria, and come back to let us know how it went and what else should be on this list.
MORE BULGARIA TRAVEL BLOGS
Chasing the Donkey - Balkan travel blog includes affiliate links. If you decide to make a purchase through these links, we receive a commission without any additional cost to you. We appreciate your support helping to keep this site free. Find our disclaimer & privacy policy here.