Here is our Turkish baths for women guide. We explain what a Turkish hammam is, what ladies should wear in a Turkish bathhouse, and much more to make sure you feel right at home before even stepping foot into a hammam for the first time.
After exploring the beautiful cities in Turkey, you may wonder where you can unwind and rest. A professional massage or relaxing in bed are both excellent options, but how about continuing your cultural trip in Turkey and preferring a "Turkish" method to relax? Then, visit the closest Turkish bath, also known as a Turkish hammam.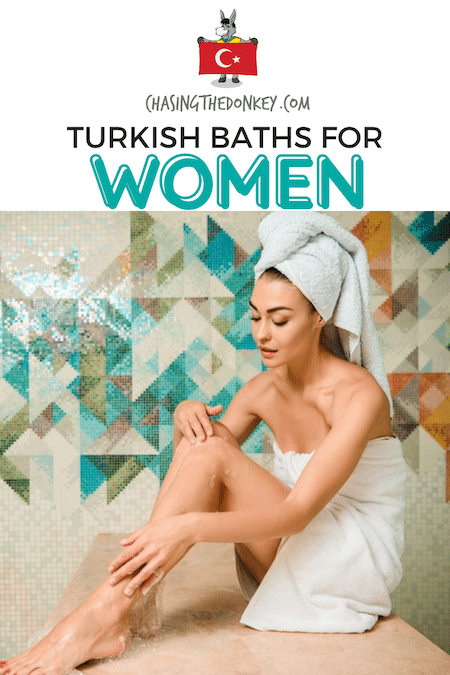 The majority of Turkish baths, though, are either exclusively for men or women, so if you're a female traveler, you'll need to find a Turkish bath for women. And don't worry if you don't know how to prepare for a Turkish hammam; we created the perfect ladies-only hammam guide for you!
What Is A Turkish Bath
Lots of people ask about how to use a Turkish bath. You can think of Turkish baths as a kind of sauna. Yet, unlike saunas, baths in Turkey generally offer higher humidity and lower temperature with some treatments. In a Turkish bath house, there are special attendants called natır, who massage and scrub you to help you relax. They use a traditional Turkish scrubbing mitt called a kese.
Turkish baths have a long history that dates to antiquity. As body and soul purification were significant concepts in ancient Roman philosophy, most ancient philosophers highlighted the significance of focusing on physical and spiritual purity. This idea led to the development of opulent hammams where individuals could bathe in hot water to cleanse themselves of impurities through a ritual. But it wasn't until the sixth century AD that hammams gained popularity.
Hammams continued to be popular during the following Byzantine and Ottoman rules, eventually leading to what is now known as a Turkish bath.
TRAVEL COMPANIES WE USE AND TRUST
Where Can I Find Good Turkish Baths For Women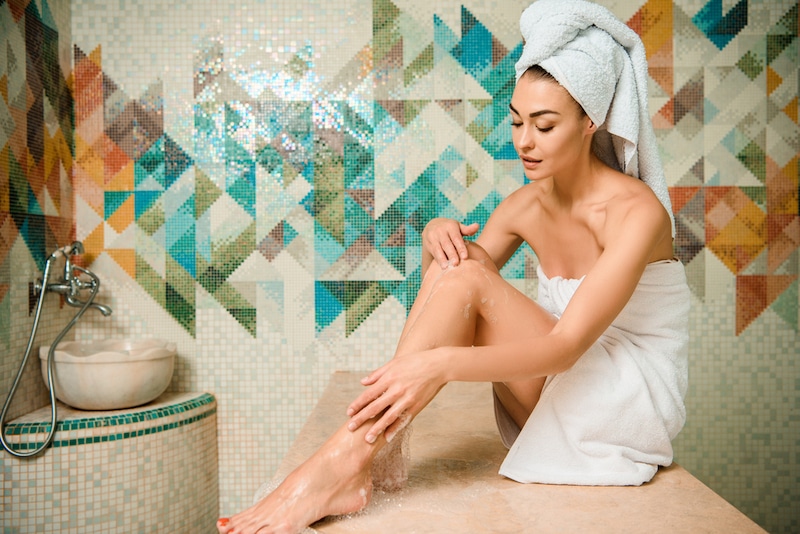 A quick search here will help you find a decent Turkish bath for women in major cities like Istanbul, İzmir, or Antalya. Don't worry if you are in a smaller city; Turkish baths are traditional in Turkey, so it's not hard to find a good one, even in the smallest cities.
When To Go To A Turkish Bath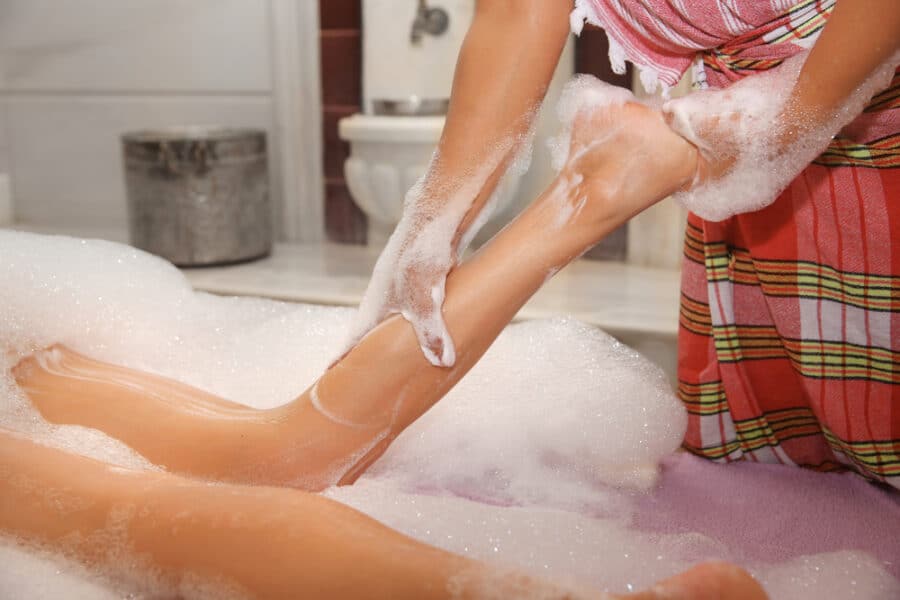 Even though you can go to a Turkish bath whenever you like, cooler months are the finest time since you need a hot freshening more than anything. Therefore, taking a Turkish hammam during winter is ideal. However, you can always visit Turkish baths since they are open year-round.
How To Prepare For A Turkish Bath
There is a certain etiquette when visiting a Turkish hammam in Turkish culture. But don't worry; there aren't any complicated instructions to follow when getting ready for your ladies only Turkish bath. Here are some of the stuff you should bear in mind when going to a Turkish hammam:
Don't go full or hungry

: Before going to a Turkish bath, you shouldn't be full, yet you shouldn't go there with an empty stomach, too. If you're hungry, eat some light snacks, not full meals, and drink plenty of water. Another recommendation is to avoid consuming alcohol for the entire day

Bring your own clothing

: Most Turkish hammams provide the necessary items, such as slippers or

peştemal

, a traditional bath towel. However, it's usually preferable to bring your own clothing for hygienic reasons. You can also buy your own soap, sponge, and scrub for the same reason

Don't go naked

: If you ask yourself: "Do I have to get naked?" the answer is definitely a no. Unlike saunas in most European countries, when in the baths in Turkey, you should wear underwear, a swimsuit, or a peştemal. Although some people might go topless, wrapping up a

peştemal

is customary, and almost everyone does it
Outside these few tips, you don't have to do any special preparations for a bath. Just go to the nearest bath and enjoy your time!
What Should I Wear To A Ladies Only Hammam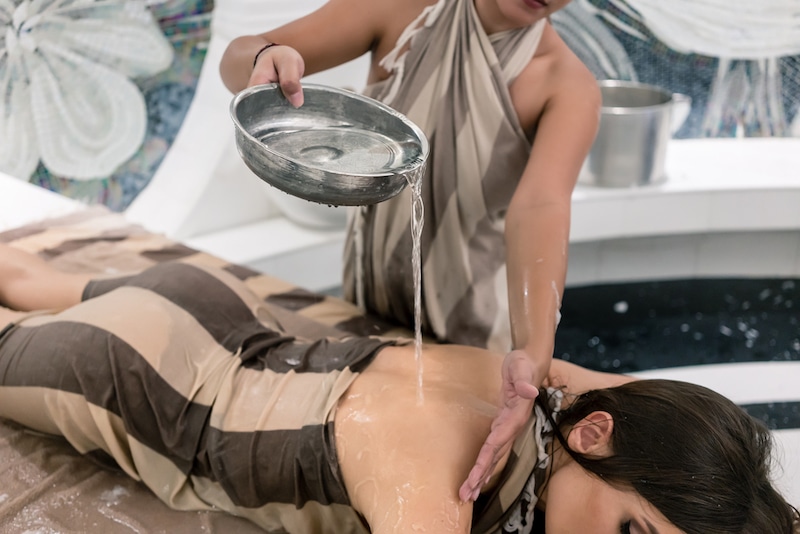 As we mentioned, you don't go naked in a Turkish bath. However, you're free to choose what to wear; you can wear a swimsuit or your regular underwear if it makes you feel more comfortable. However, we recommend you get a peştemal and wrap yourself up in it since it is far more comfortable than swimsuits and undergarments.
Can A Man Enter A Turkish Hammam With Me
No. A man cannot enter a Turkish bath for women. Venues usually accept customers from only one gender; therefore, there are separate Turkish hammams for men and women. And places that allow both sexes usually allow them at different times of the day. Although there are Turkish baths that let families bathe together in large cities, they are less common and typically smaller than single-sex baths.
What To Expect At A Ladies Only Hammam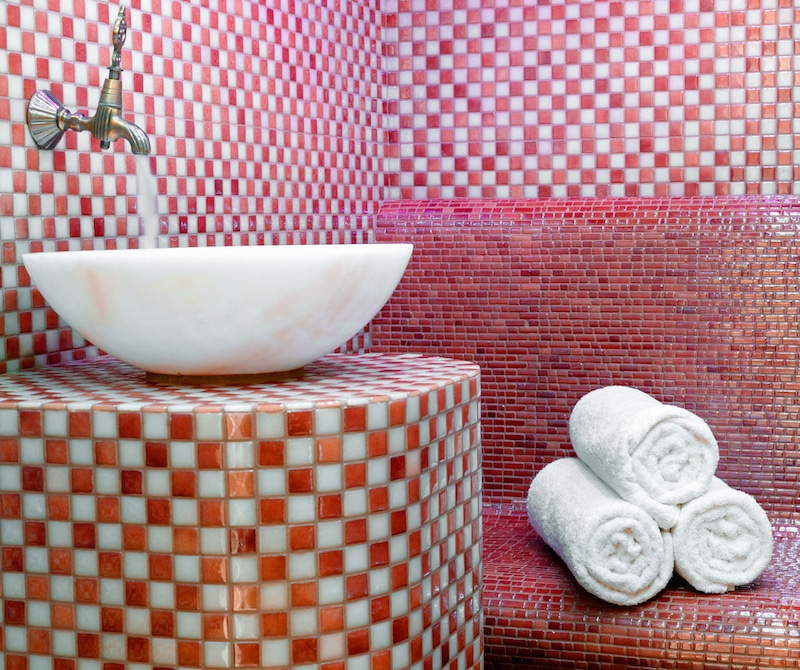 When visiting a Turkish bath, you should expect a soothing experience. Your journey to ultimate relaxation will start as you enter a large room with a high ceiling and a central marble slab called a göbek taşı. You'll receive the massage and other treatments in this room. However, before receiving the soothing massage, you should head to the hot room first.
They'll usually provide you with a robe and slippers before you enter the hot room, but you are also welcome to wear your own if you bring them. There are dressing areas where you may change.
You can unwind on a heated marble bench in the hot room or soak in a shallow pool, which will open your pores and calm your muscles. After a while, the attendant will call you for treatment.
The attendant will do a complete body massage, scrub, and foamy lather wash as part of your service. The masseuse will utilize scented oils and refreshing solutions to relax your senses. The soothing massage and humidity will relieve all of your stress.
After the treatment, you can take a cold shower, return to the hot room, rest on a bed or couch in the relaxation area, or leave the bath. After the session, you'll feel rejuvenated and as light as a feather.
How Much Does A Ladies Only Hammam Cost
The price of baths in Turkey varies due to the services they provide, which makes it hard to give a specific price. However, costs typically range from a few hundred liras to thousands of liras, and most Turkish hammams offer numerous packages with varying prices. If you have a set budget and don't want to go over it, contact different Turkish baths and learn about their pricing.
TURKISH BATH FAQs
When it comes to using the Turkish baths in Turkey, there are a few things you need to keep in mind.
When are Turkish baths open?
Turkish baths are open year round. They are particularly refreshing in the winter months.
What should I wear in a Turkish bath?
You should not plan to be naked in the Turkish bath. Plan to wear underwear, a swimsuit or wrap in a peştemal (a traditional Turkish towel which is often provided at the bathing house).
How long should I plan to be at the bath?
Typically, you should arrive 15 minutes early and plan to spend 1-1.5 hours at the bath.
Will they wash my hair in a Turkish bath?
Yes, an attendant will exfoliate your skin and wash your hair and body for about 25 minutes.
What type of soap is used in the bath?
It is most common to use 100% pure olive oil soap.
Can I use a Turkish bath while pregnant?
No – it is not recommended to use the hammam while pregnant.
Should I tip the attendants after a Turkish bath?
Yes – it is typical to divide a 15-20% tip of the total cost between the attendants who gave you service.
Can men and women bathe together?
No – the baths are separated by gender. Men will have male attendants helping them wash and women will have female attendants helping them wash. In some big cities, you may sometimes find a family hammam, but this is quite uncommon.
Should I get a Turkish bath at the beginning or the end of my trip?
Many people prefer to get the bath at the beginning of the trip in order to exfoliate skin before spending time in the sun. If you exfoliate after getting a tan, some of the tan may be lessened.