Some posts contain compensated links. Please read this disclaimer for more info.
The Do's And Don'ts Of Visiting Turkey
Turkey is one of the most visited countries in the world. It's hardly surprising when you do a little research into why.
Not only does Turkey have epic a history combined with fast-paced modern life to check out in Istanbul, but you also have the stunning beach resorts on the south coast. Throw in mountains, ski resorts, traditions, amazing food, shopping, historical ruins, and you can pretty much understand why most airlines head towards Turkey several times a day!
Of course, it doesn't hurt that the Turkish Lira is quite favorable for visitors these days, giving you more for your cash.
If you have to choose one place only to visit in Turkey, you'd be struggling. This is a huge country, in fact, it's far bigger than most people realize. Istanbul alone is home to 15 million people and that's just one city!
You can drift between old-fashioned customs and traditions and the modern way of life quite easily in this country, but that doesn't mean that there aren't quite a few do's and don'ts to bear in mind if you want your visit to be memorable for all the right reasons!
To give you the best experience possible for your first Turkish adventure, let's check out the things you should do versus the things you should be a little cautious of.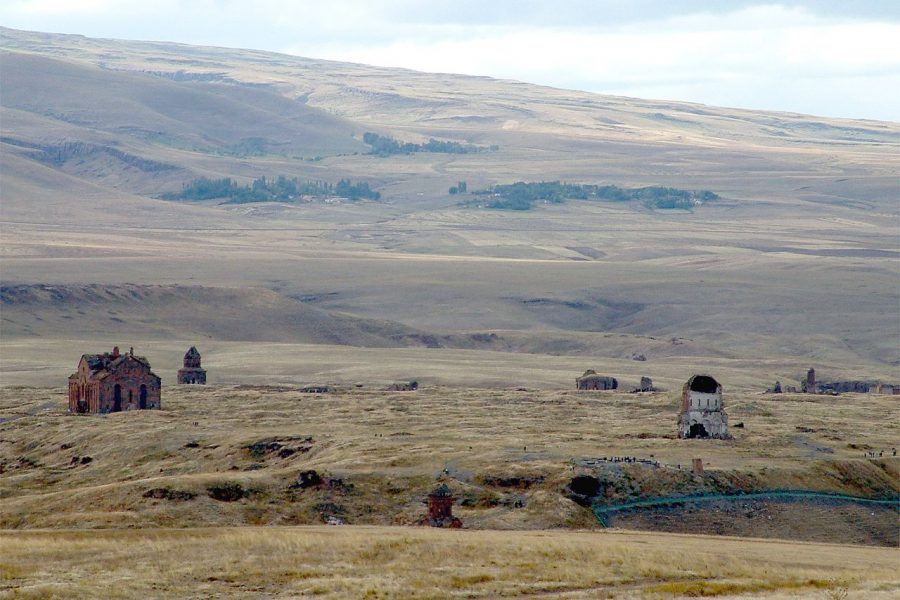 Visiting Turkey Do's
What should you definitely do when visiting Turkey, to make sure you really experience the wonder of this rather beautiful country?
Do Head Away From The Tourist Resorts
In the summer months, the south coast is packed with tourists from all over the world and many holidaying Turks too. These resorts are simply beautiful but they don't really show you the best of the country in terms of traditions. If you visit Antalya or Marmaris, Kusadasi or Bodrum for instance, sure, you'll see natural beauty and you'll hear the language, you'll taste the food and you'll hear local music, but you won't really get a truly authentic experience.
While visiting the coastal resorts, seek out something a little more traditional if possible. It's not hard to travel around the country, so look for local towns which are easy to reach via bus and head over for a day or two. You'll understand Turkish traditions far better as a result and you'll probably find yourself with a few new friends too!
Turkey is a massive country. Some of it is extremely traditional whilst other parts are very modern and westernised. Make sure you get out and view it with your own eyes and don't just lay on a sun lounger all day long.
Do Take The Time To Really Explore Istanbul And It's History
There are few cities as historical and beautiful as Istanbul. This is the only city in the world which straddles two continents; Asia and Europe are separated by the winding Bosphorus and connected via bridges, ferries, and the underwater Marmaray Metro service. Yes, you can visit two continents in one day and it's rather easy!
Istanbul is not a city you will ever totally explore in the space of one visit, so if you want to see the best of it, you need to plan ahead and make sure you have a good amount of time. It's also worth mentioning that this city is HUGE. You will hit traffic at every turn but you will also see buildings that date back to around the 1400s too. There is more history here than perhaps anywhere else in the world, and seeing it for yourself is a real must do on any visit to Turkey.
Do Try The Local Food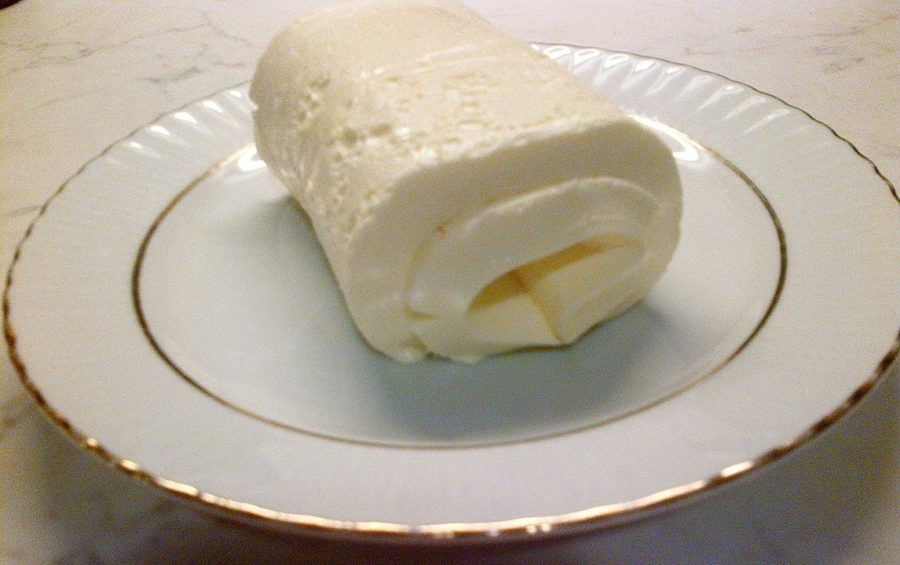 You won't struggle to find western food in Turkey; in the large towns and cities there is at least one McDonalds, Burger King, Starbucks and KFC, however if you want to really explore this country and really allow your palette to enjoy the greatest of treats, try some of the local food. The plus points is that local food is also far cheaper than western fare!
A few must tries are lahmacun (a flat bread covered in herby, ground lamb), pide (another flat bread but this time with all manner of different toppings), doner kebab, Adana kebab (a long spicy meat kebab usually serviced with rice and salad), menemen (a tomato and egg omelette-style breakfast dish) and of course the famous Turkish breakfast, also known as kahvalti. You will not be hungry after you've had this feast of a meal!
It goes without saying that a hot glass of cay (tea) goes with every meal and you should drink at least three!
Do Learn A Few Words Of The Language
Whilst most young people in Turkey speak English, you may struggle to find English speakers if you head out of the main cities, and even into the main towns. Whilst you can find yourself an app to help your way through it, and most people rely on pointing and hand signals to communicate their needs, learning a few words of the language will make your visit easier and will endear you to the locals.
To help you out with the basics:
Merhaba – Hello
Gule gule – Goodbye
Lutfen – Please
Tesekkurler– Thank you
Iyi geceler – Good night
Gunaydin – Good morning
Iyi aksamlar – Good evening
Nasilsin? – How are you?
Nerde? – Where
Iyi – Fine/good
Tamam – Okay
Do Learn How To Haggle
A visit to a colourful and rather loud bazaar/market is a must do and in order to purchase anything you need to learn how to haggle. This means being a little cheeky, but to the right point only!
Ask how much something is and then come up with a price you want to pay for it, avoiding robbing them blind. Somewhere in the middle should do it. The vendor will then wave their arms around and huff and puff a little (jokingly, of course), before you meet somewhere in the middle of the two prices. And there you have it – a bargain!
You should however only try bargaining in markets and not in stores as they're likely to tell you to leave!
Do Understand The Size Of The Country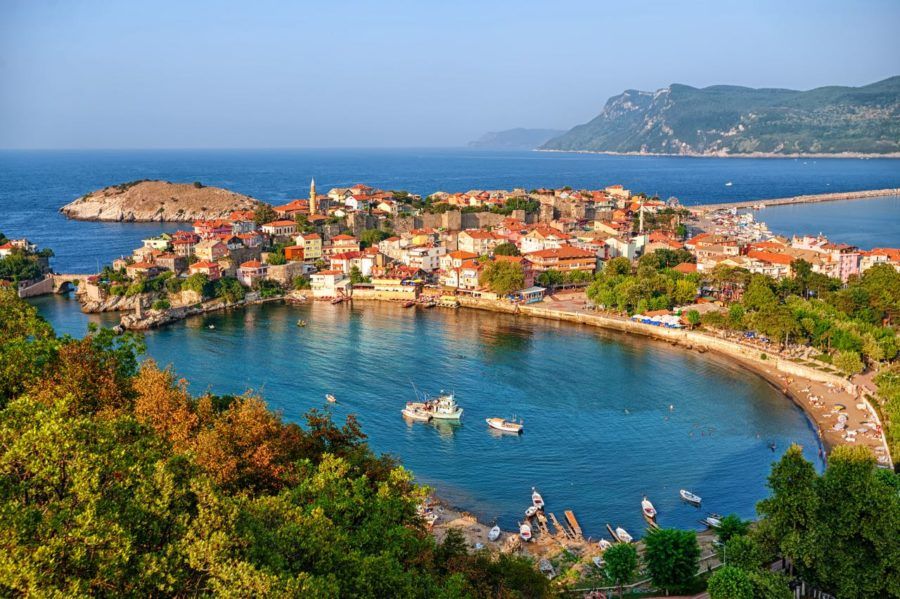 Many people assume they can easily travel around Turkey and see almost everything but that's going to take you a very long time! Turkey is 783,562 square metres and if you decide to travel by bus from one side of the country to the other, it's going to take you the same amount of time as it would to travel from the UK to Australia! For instance, a bus from Marmaris on the south coast to Diyarbakir in the south east of the country will take around 24 hours!
For that reason, don't take on more than you can chew. Look at different ways to get around but don't discount the long-distance bus service. This is a great and very comfortable way to travel, although a slow one. Pamukkale and Kamil Koc are two of the biggest long distance coach providers, however there are many regional airports so you can travel by air if you prefer. A flight from Dalaman on the south coast to Istanbul will take you around one hour.
Do Familiarize Yourself With Visa Rules
Depending upon your country of origin, you're going to need to know about visa rules. Generally speaking, most countries can purchase an online tourist visa which lasts for 90 days out of every 180 days. This needs to be arranged before travel and printed out.
If you want to stay longer than 90 days you'll need to apply for a residency permit, which you'll need to apply for online before the end of your tourist visa. Generally, you'll need to show money in the bank to tide you over (remember, you cannot work in Turkey without a work permit obtained from the Government), Turkish health insurance, and proof of where you're living.
Make sure you avoid overstaying a tourist visa as once you arrive at the airport to go home, you'll end up paying a fine and depending on how long you've overstayed, you might end up with a ban too.
Do Dress Modestly To Avoid Attention
Whilst most of Turkey is very laid back and westernised, that doesn't mean you're not going to attract unwanted attention if you dress in the wrong way. Despite being more relaxed than its Middle Eastern neighbours, Turkey is still a conservative, Muslim country, especially away from the main tourist resorts.
Whilst you can wear basically whatever you want on the south coast tourist resorts, away from that you should simply dress a little more conservatively. By doing this, you'll avoid unwanted attention and show the respect you want to give.
Do Use Public Transport, Especially In Istanbul
You'll save a huge amount of cash if you avoid taxis and other forms of arranged transport and instead opt for the public versions. Buses are very reliable and cheap and will get you around most towns and cities with ease. In Istanbul you have a huge range of different transport options to try and you simply need to purchase the Istanbul Card, which is prepaid card, to use on all forms of public transport.
By doing this, you're also getting a far more authentic experience.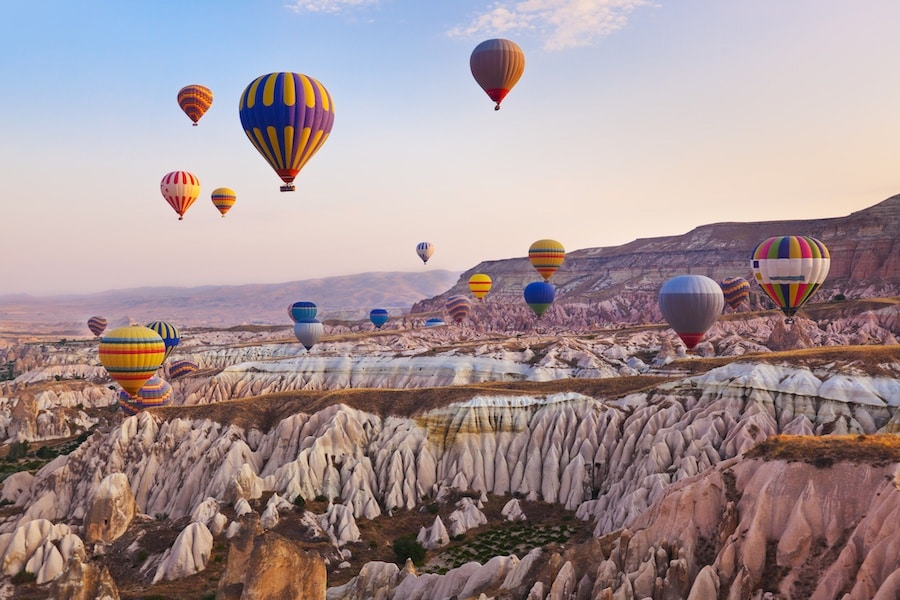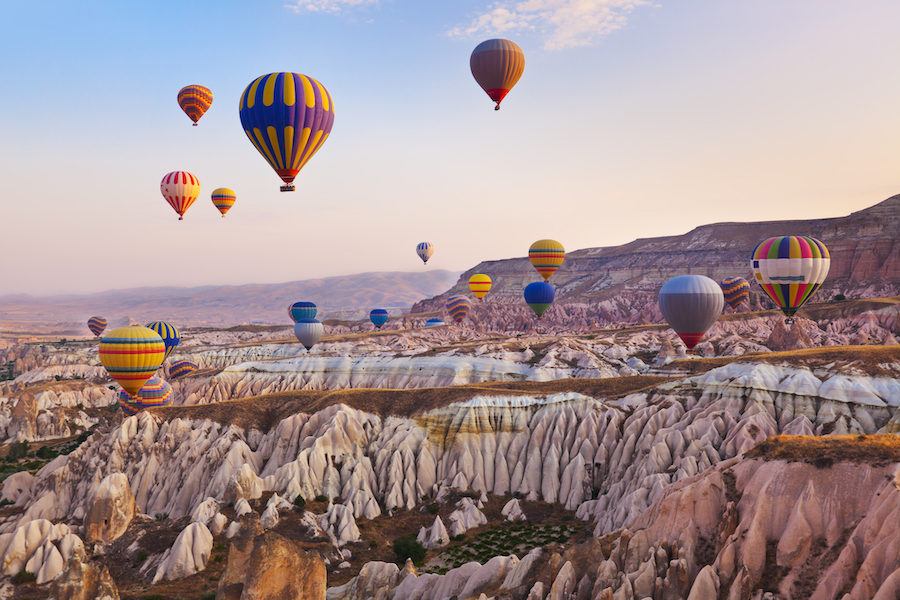 Visiting Turkey Don'ts
Just like any other country, there are a few dont's you need to bear in mind when visiting Turkey.
Don't Forget To Take Off Your Shoes At The Doorstep
If you're lucky enough to be invited to someone's home, make sure you remove your shoes at the door. This is a sign of respect and also links to the idea that you have dirt on your shoes and by walking into the home you're bringing dirt and bacteria into the home, where people sleep and eat.
Not all households will ask you to do this, but do it anyway and then you're not running the risk of upsetting anyone.
Don't Assume Someone Is Being Rude If They Tut And Nod Upwards
This is a strange one but it's certainly something you'll see if you communicate with locals. When someone makes a tutting noise and then nods their head upwards, e.g. a backwards nod, it means "no". They're not being rude or doing something strange, they're telling you that no, they don't want whatever you've asked.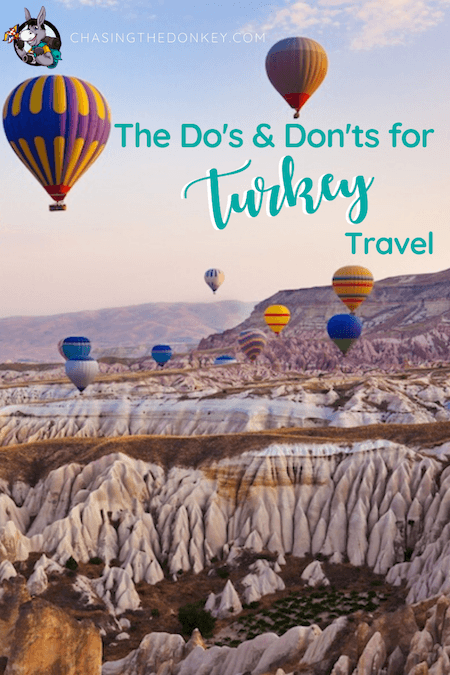 Don't Avoid The Double Cheek "Kiss"
When you meet someone for the second time, there is a high chance that they will greet you in a slightly more familiar way; they will semi-hug you and give you a "kiss" on each cheek, however it will be more of an air kiss and in some cases can simply be touching cheeks together – it really depends on the person. You'll see men doing this but instead of the kiss they nod the sides of their heads together.
If this happens it's actually a very nice thing because it means that they consider you a friend or even part of their family.
Don't Refuse Food Or Tea If Visiting Someone
If you're visiting a home, don't refuse any food given to you or tea. You might be full and not at all hungry, but at least eat some of it! If they ask you if you're hungry and you're really not, it's fine to say so, but if they give you the food without asking, it's customary to take it. Turkish hospitality is a very big thing and by refusing it, some people may find it a little insulting, even if you don't mean it to be.
Don't Forget Etiquette When Visiting Mosques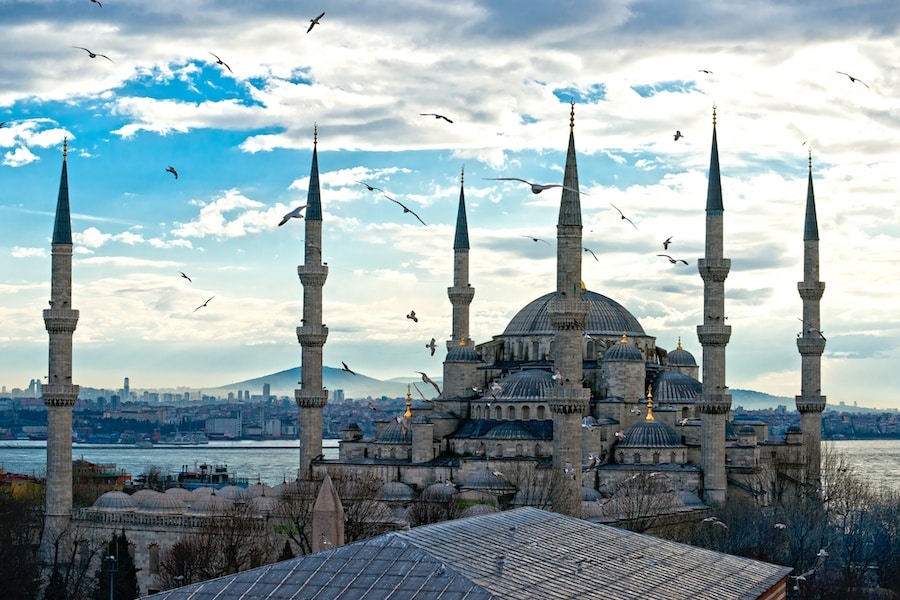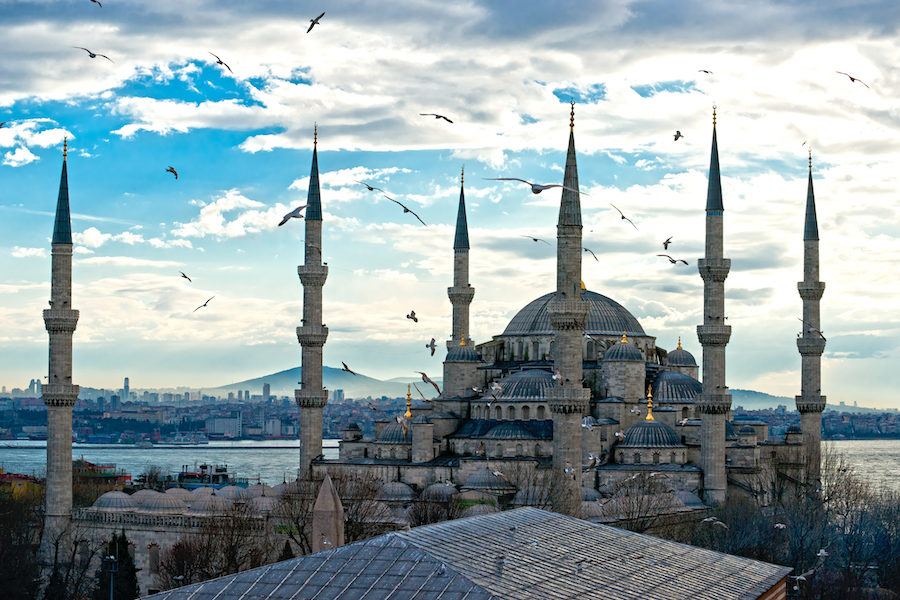 Istanbul in particular has some breathtaking mosques, especially the famous Blue Mosque in Sultanahmet. You're free to visit, however mosques will close at prayer times throughout the day, especially on Fridays. Other than that, you can go inside but remember etiquette in this case.
Women should cover their heads and ensure that their elbows downwards and their legs are covered. Mosque staff will usually give you a shawl to place around your shoulders or legs if they assume what you're wearing to be inappropriate, but it's always more respectful to dress in the appropriate way in the first place. Men should wear long pants and a shirt/t-shirt, with shoulders covered also. Everyone will need to remove their shoes at the door.
Avoid standing in front of anyone who is praying and if you want to take photographs, make sure you turn off the flash and never take a photograph of someone who is praying.
Whilst most mosques are free to enter, it's always a nice token to give a small donation, as this will go towards the upkeep of these beautiful, and in most cases, very historical buildings.
Don't Assume Anything Will Be Done On Time
It's never a good idea to assume that anything is going to be done on time in Turkey. This is known widely as "Turkey time" and it means that if someone says they'll be there in one hour, they usually mean an hour and a half at the very least! It's infuriating at first, but you'll get used to it; in the end you might find it endearing or simply find yourself turning up on Turkish time yourself!
Don't Fall For The Drinks Scam
Whilst this is not something which happens everywhere, in some tourist resorts you may find that you are given local drinks rather than international imports. In some cases this can be lower quality and in some cases, may even be fake. The best advice is to drink bottled beer or draft beer and never leave your drink unattended. This is the same advice as you'd received anywhere else in the world, of course.
If you're keen to drink spirits, such as vodka, make sure you ask if the vodka is a particular brand and if possible, ask to see the bottle. You should still heed warnings with this however, as you may find yourself with a rather dodgy stomach the next day otherwise, at the very least.
Don't Let Taxi Drivers Take You On The Scenic Route
As with any touristic country in the world, taxi drivers can sometimes take you on the scenic route and end up charging you more. This isn't all taxi drivers by any means, but some, especially in tourist resorts and even in Istanbul, will do so.
If you need to take a cab, find out from a waiter or hotel staff member beforehand how much it should cost roughly. Then, when you get into the taxi, try and set the price with the driver beforehand or let the know that you have an idea already of what it should cost. Most will go by metre, but if they know you're already clued up, they will go the direct route.
By following these do's and don'ts, you'll have the best time in Turkey and no doubt be planning your return visit!
More Turkey Travel Ideas
Share