Whether you're looking for something savory or sweet, there's some street food in Istanbul for you. Here is your guide to 17 Istanbul street food options to sink your teeth into.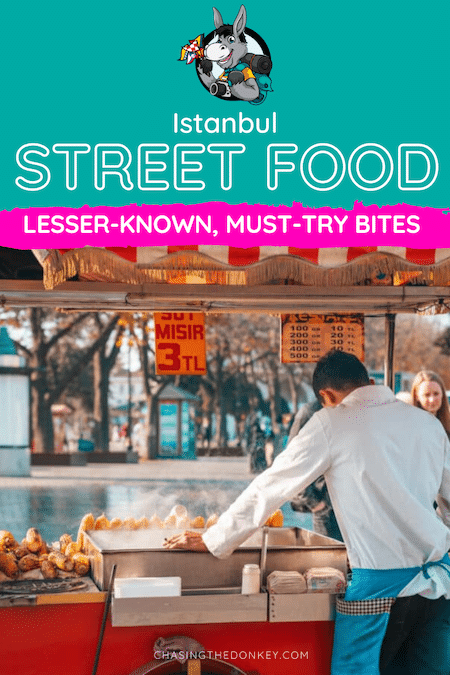 Istanbul's bustling streets are famous for their delectable doner kebabs, but there's so much more to explore when it comes to street food in this vibrant city. From savory stuffed mussels to sweet sesame-covered simit bread, Istanbul is a haven for foodies looking to discover lesser-known yet equally delicious treats.
So join us on a culinary adventure as we uncover the best-hidden gems of Istanbul's street food scene!
Introduction To Street Foods In Istanbul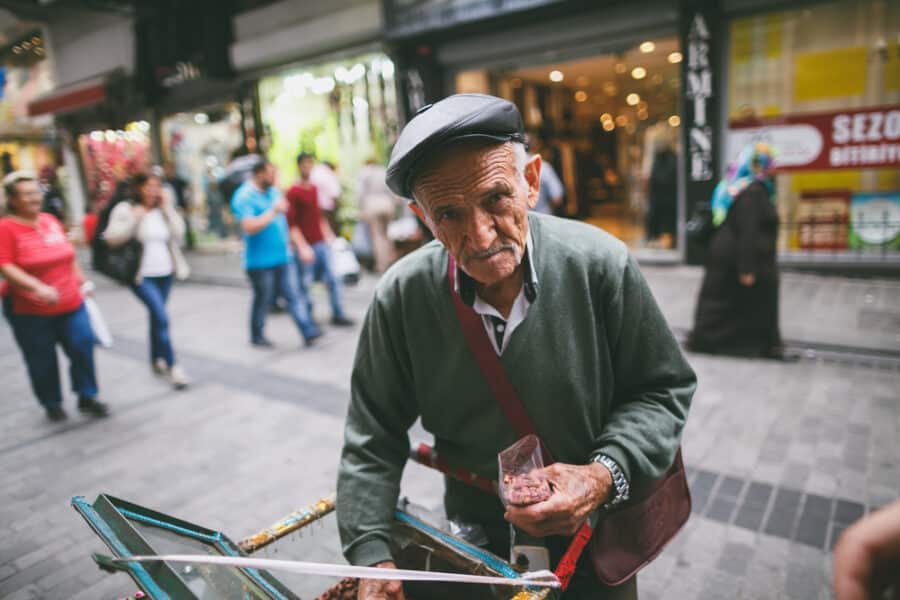 Istanbul is a city known for its street food. From doner kebabs to Turkish breakfast, there are endless options to choose from when it comes to grabbing a quick bite on the go. But what about the lesser-known street foods in Turkey? The ones that aren't as popular but are equally as delicious?
Here are some of our favorite lesser-known street foods in Istanbul:
Midye dolma
Kokoreç
Ciğ köfte
Balık ekmek
Read on to find out what each of these are. Plus, we have many more options for you to sink your teeth into.
Best Street Food In Istanbul
Istanbul is a food lover's paradise, and its street food scene is no exception. From hearty stews to fresh seafood, there's something for everyone to enjoy. And while doner kebabs are undoubtedly the most popular street food dish, there are many other delicious options to choose from.
Here are some of the most popular Istanbul street food options:
Iskender Kebab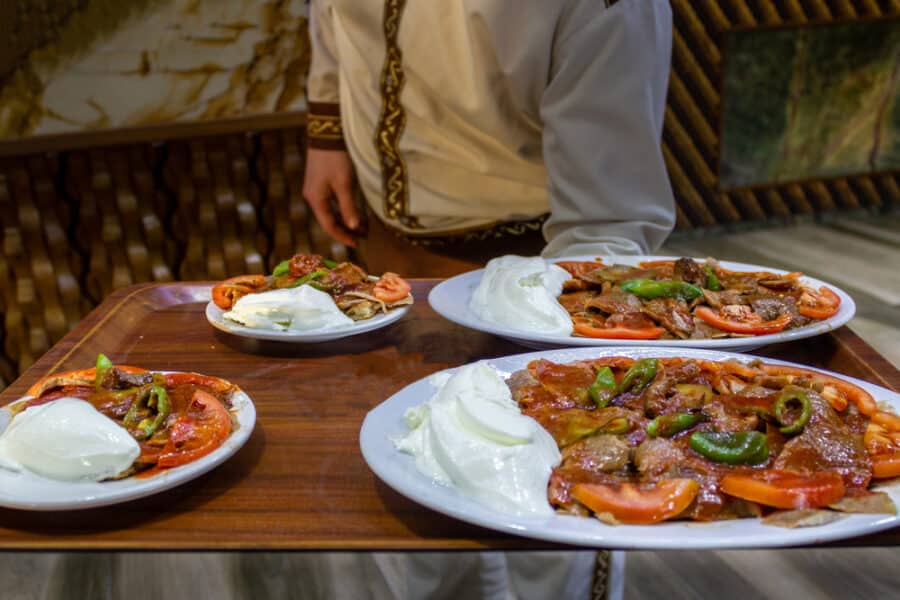 This dish is named after its inventor, Iskender Efendi, and consists of thinly sliced lamb or beef served on pita bread with yogurt and tomato sauce.
Simit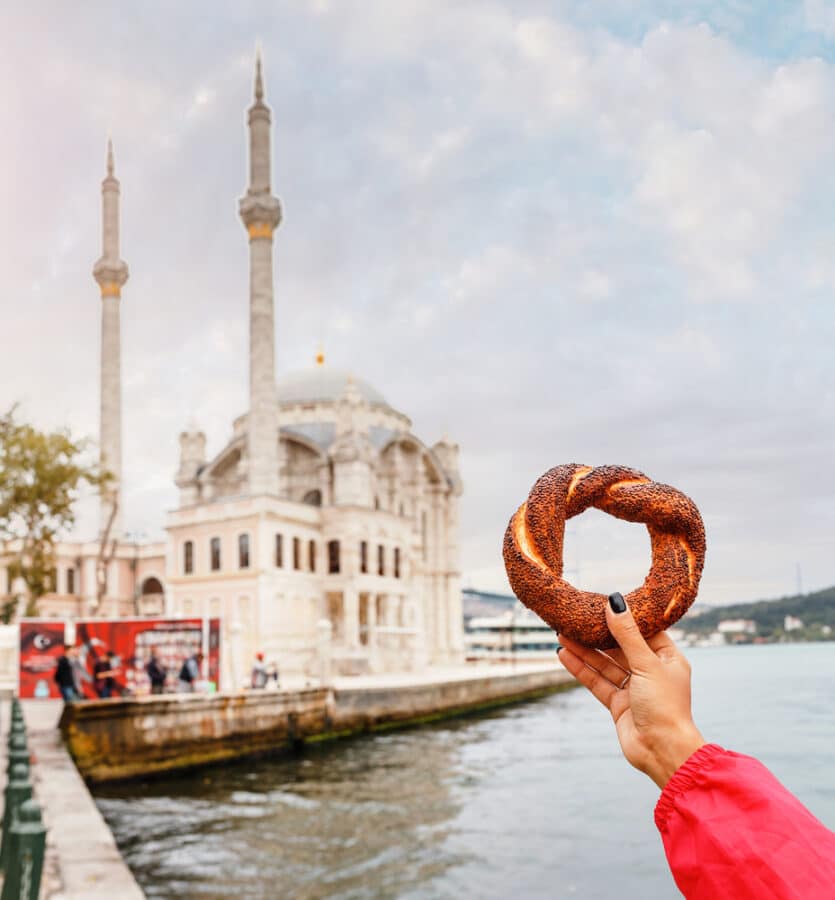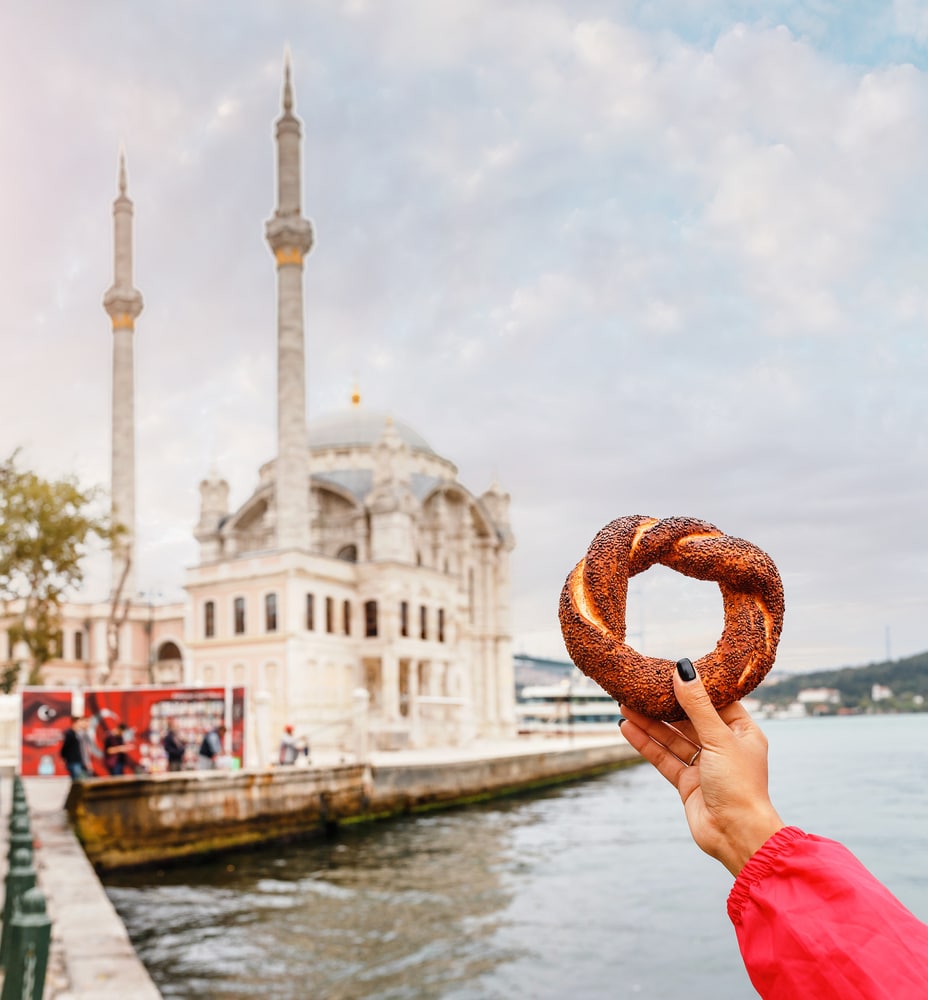 These are sesame-encrusted bread rings that are popular breakfast items. They can be eaten plain or filled with cheese, jam, or chocolate.
Gözleme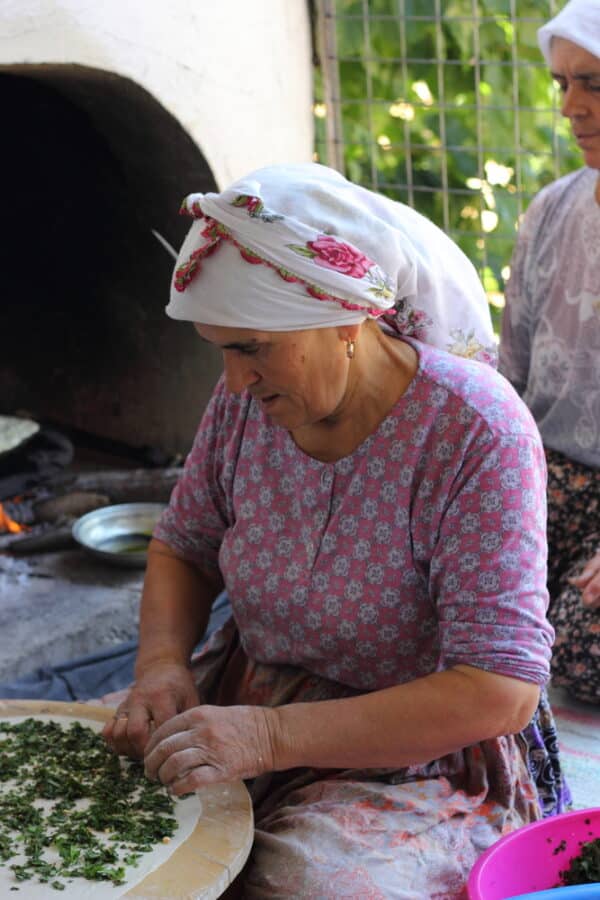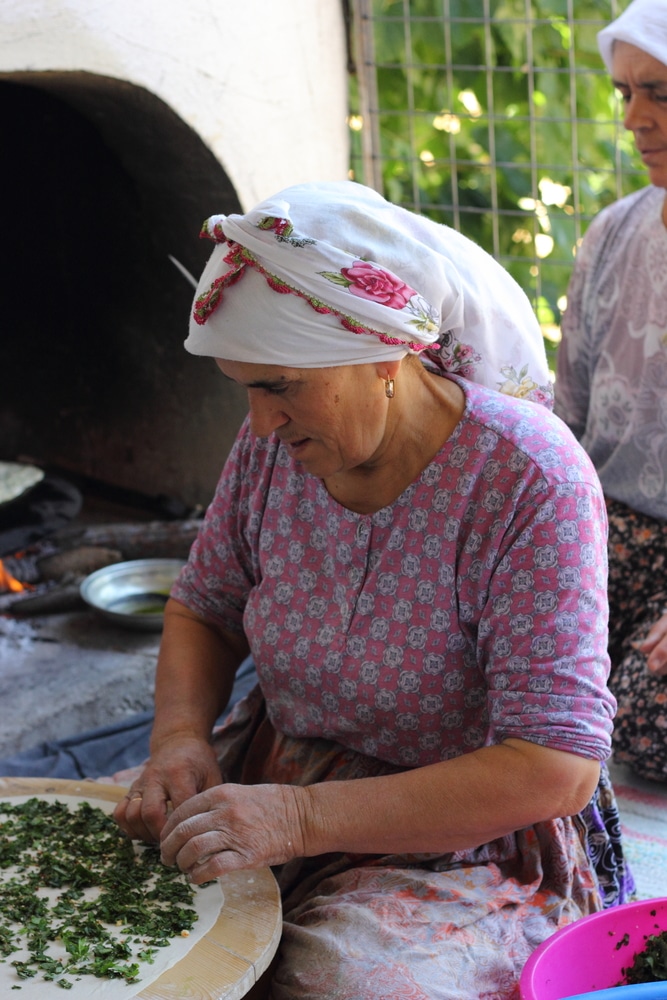 Gözleme is a type of flatbread that is traditionally filled with spinach and feta cheese but can also be made with other fillings like ground meat or potatoes. Gözleme is a type of Turkish flatbread that is filled with various toppings like cheese, spinach, potatoes, or meat (usually lamb). It's then cooked on a griddle until crispy and golden brown. You
Kumpir
Kumpir is baked potato topped with butter, cheese, mayonnaise, and a variety of other ingredients like corn, olives, pickles, sausage, and vegetables.
Kokoreç
This dish of spiced offal (usually lamb intestines) is wrapped in a thin layer of fat and grilled on a spit. This dish may not look appetizing, but trust us; it's delicious! Kokoreç is a grilled sheep intestine that is typically served wrapped in flatbread. It's a popular late-night snack amongst locals and visitors alike.
Midye Dolma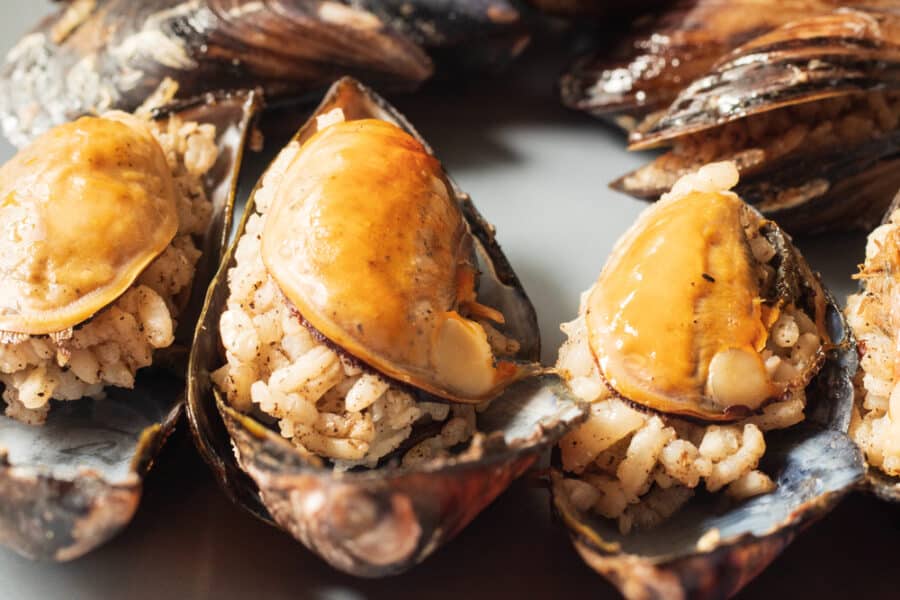 Midye dolma is mussels stuffed with rice and spices and served with lemon juice or tartar sauce. Stuffed mussels are a must-try when in Istanbul. These little bites are flavorful and can be found at most street food vendors.
Pide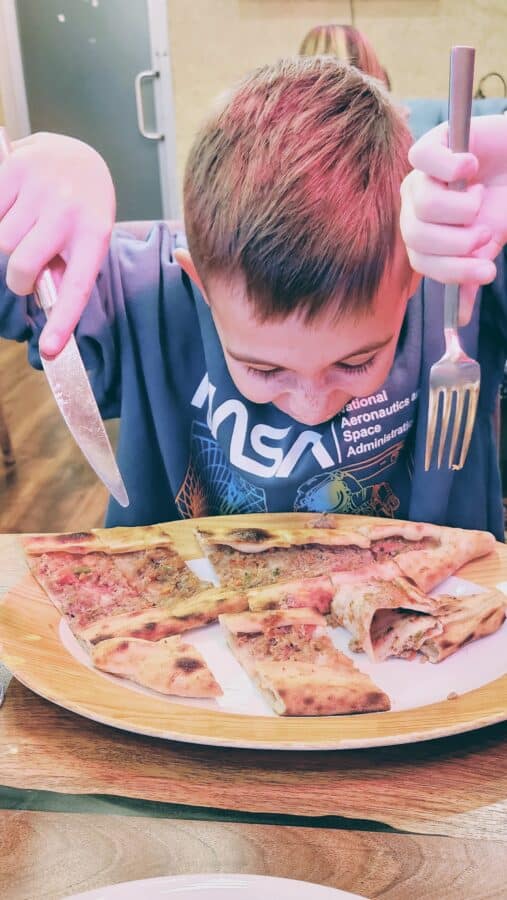 Pide is similar to pizza but usually made with ground meat, cheese, herbs, and spices as toppings.
Balık Ekme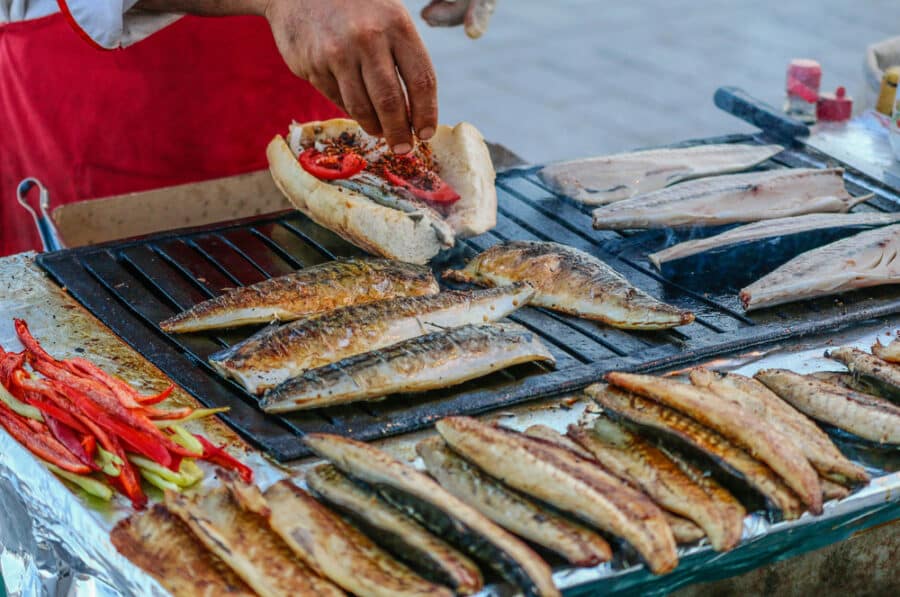 Balık ekmek is a fish sandwich served on a fresh, crusty roll. Typically, it is made with mackerel or anchovies but can also include other types of fish.
Ciğ Köfte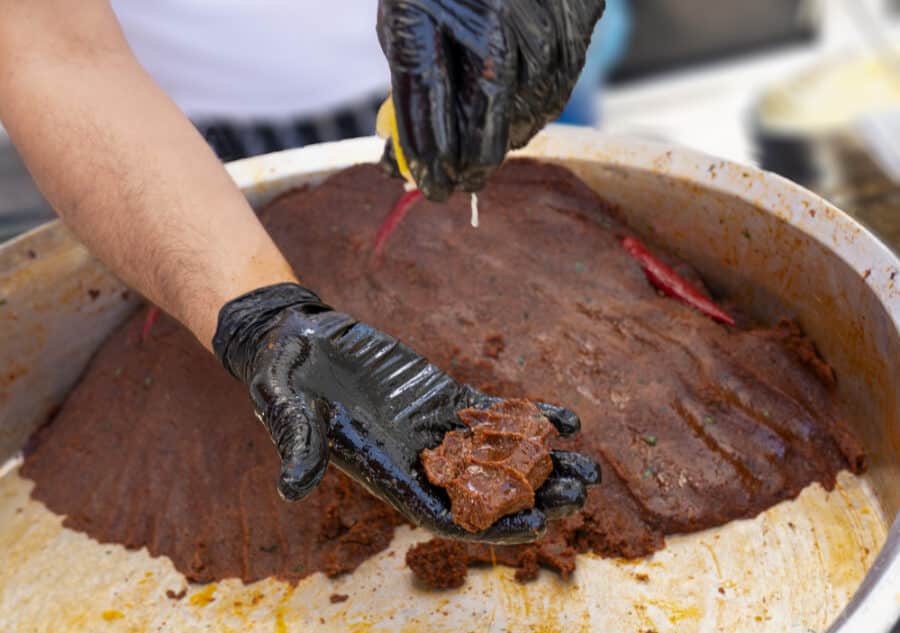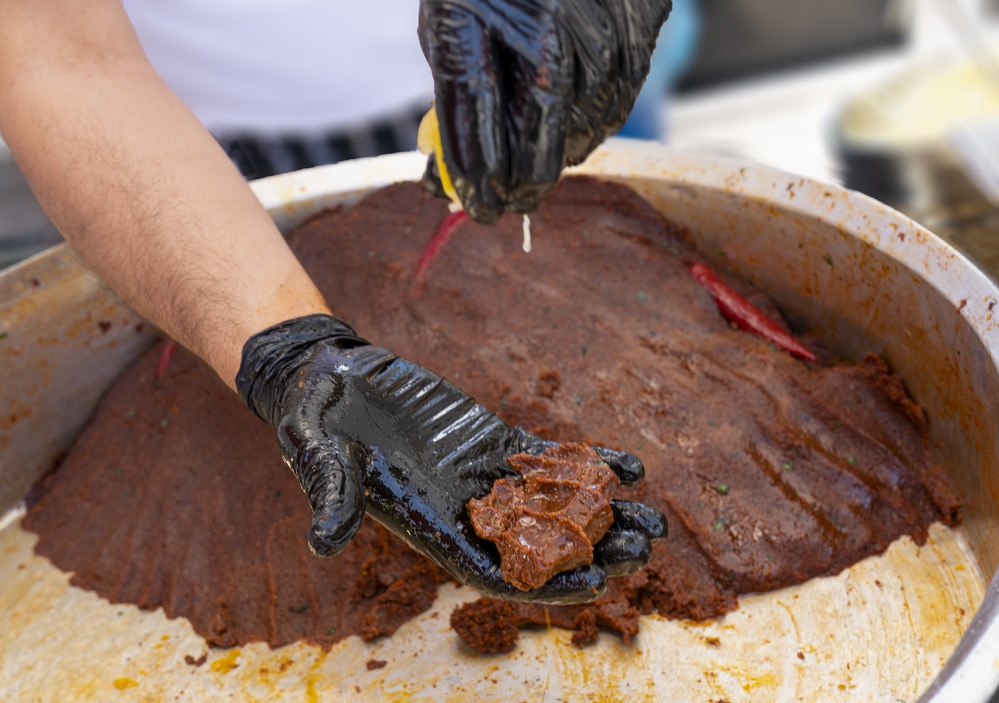 Another excellent quick and tasty snack option is ciğ köfte, which are fried balls of ground meat (usually beef or lamb) mixed with bulgur wheat, herbs, and spices. They can be found at most köfte stands throughout the city.
Turkish Delight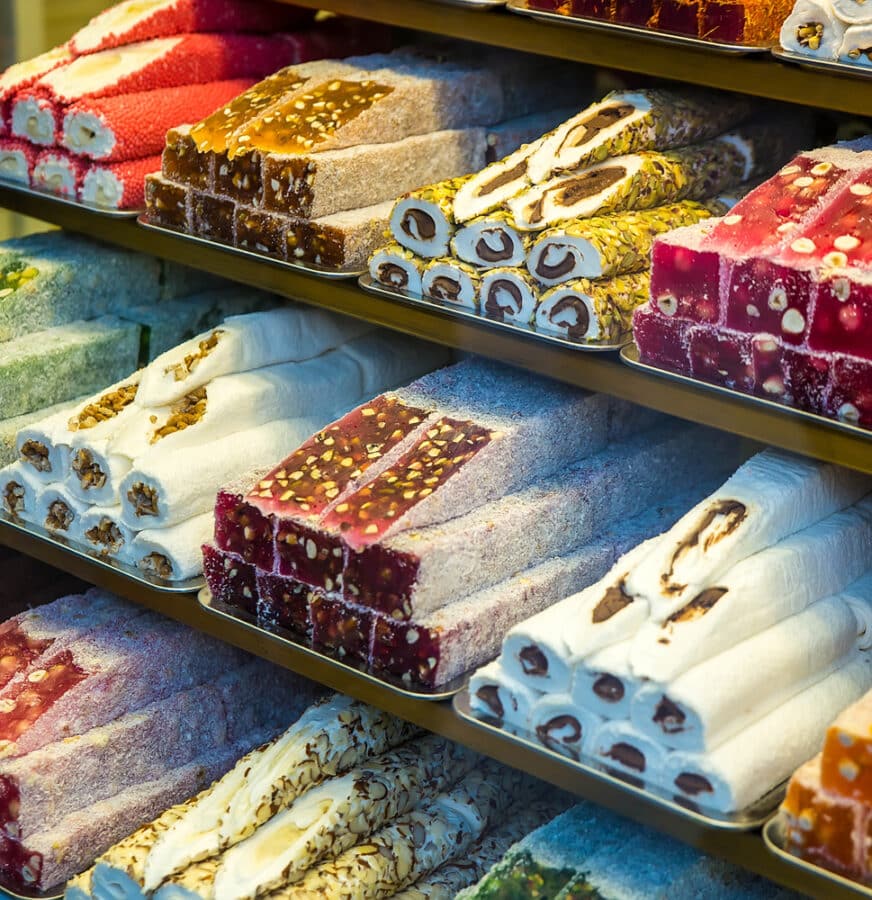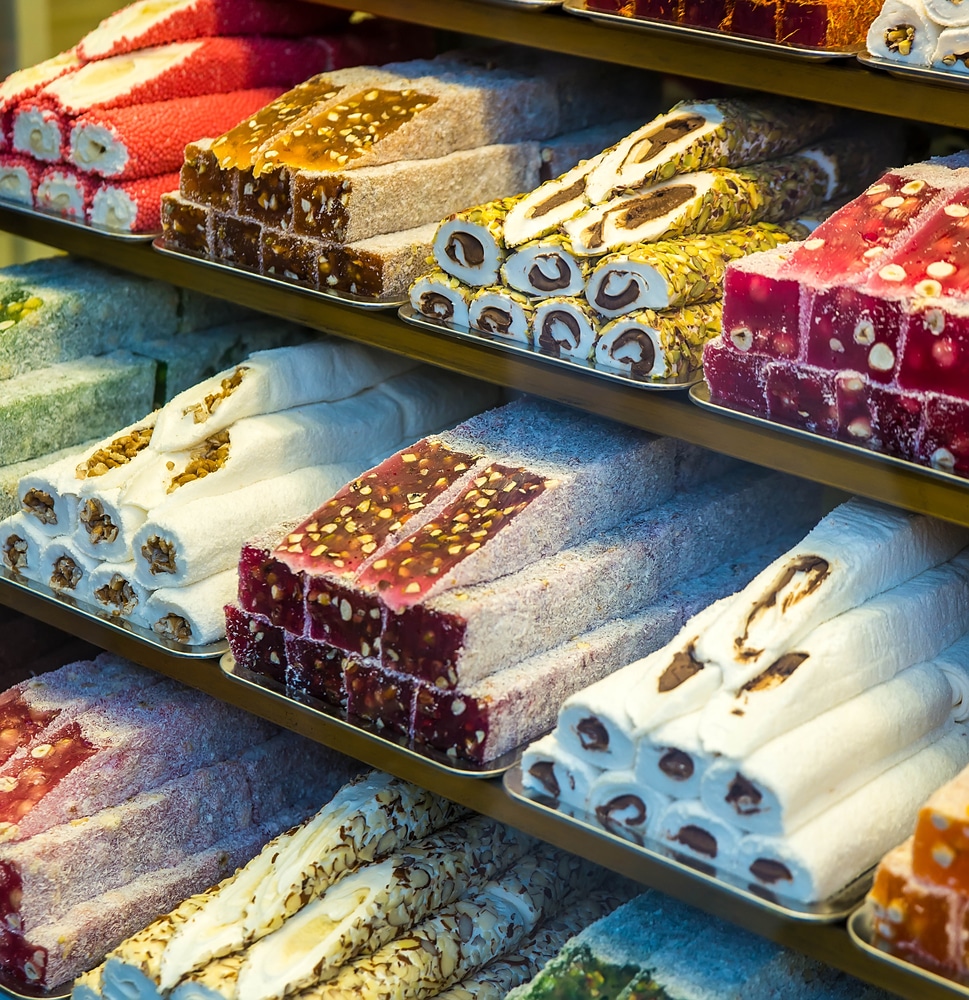 This sugary treat is so famous; we know you know about Turkish delights or lokum. Dates, pistachios, hazelnuts, or walnuts are used in premium varieties; traditional varieties are flavored with rosewater, bergamot, orange, or lemon.
Roasted Chickpeas
Roasted chickpeas are a delicious and healthy snack option. They are high in protein and fiber and low in calories. They can be enjoyed plain or flavored with your favorite spices.
Roasted Chestnuts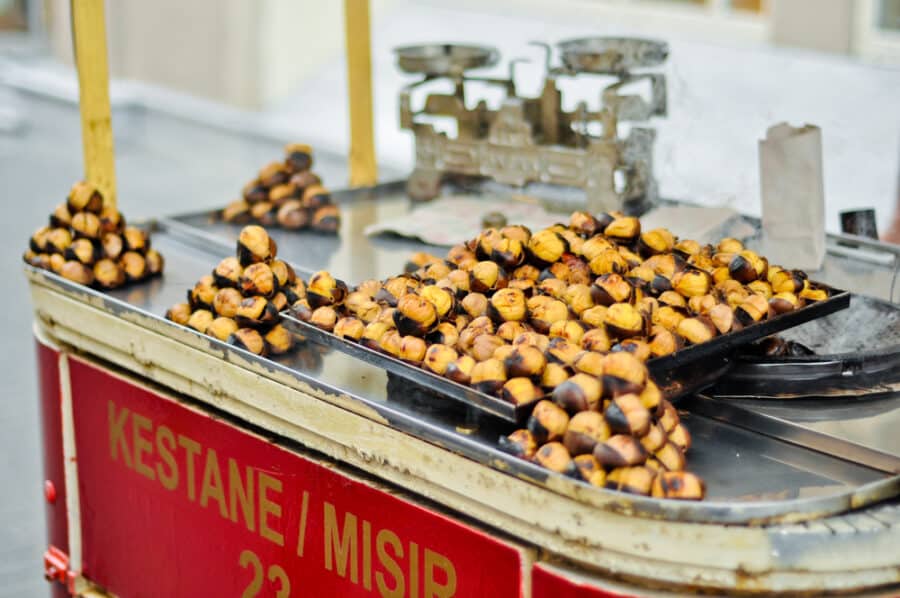 There's something about the smell of roasted chestnuts that screams wintertime. For many people, this is the time of year when they start craving comfort foods, and what could be more comforting than a warm, nutty treat?
Chestnuts have been roasted and eaten as street food for centuries, and it's easy to see why. They're relatively cheap and easy to prepare, making a great snack on a cold day. Plus, something about eating them straight from the fire feels festive.
If you've never tried roasted chestnuts before, now is the time! You can usually find them being sold by street vendors in the colder months. Just be sure to eat them while they're still hot – otherwise, they can be quite bland.
Turkish Ice Cream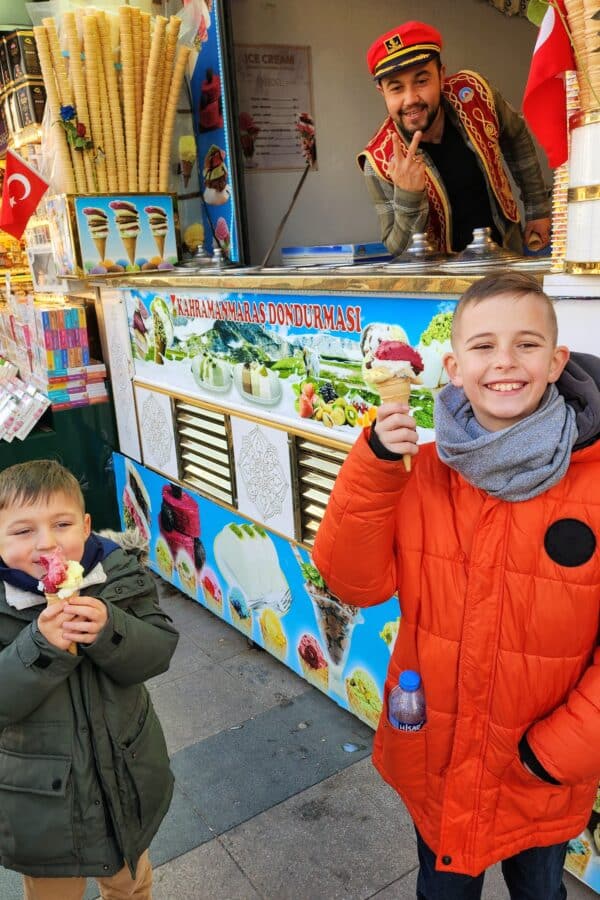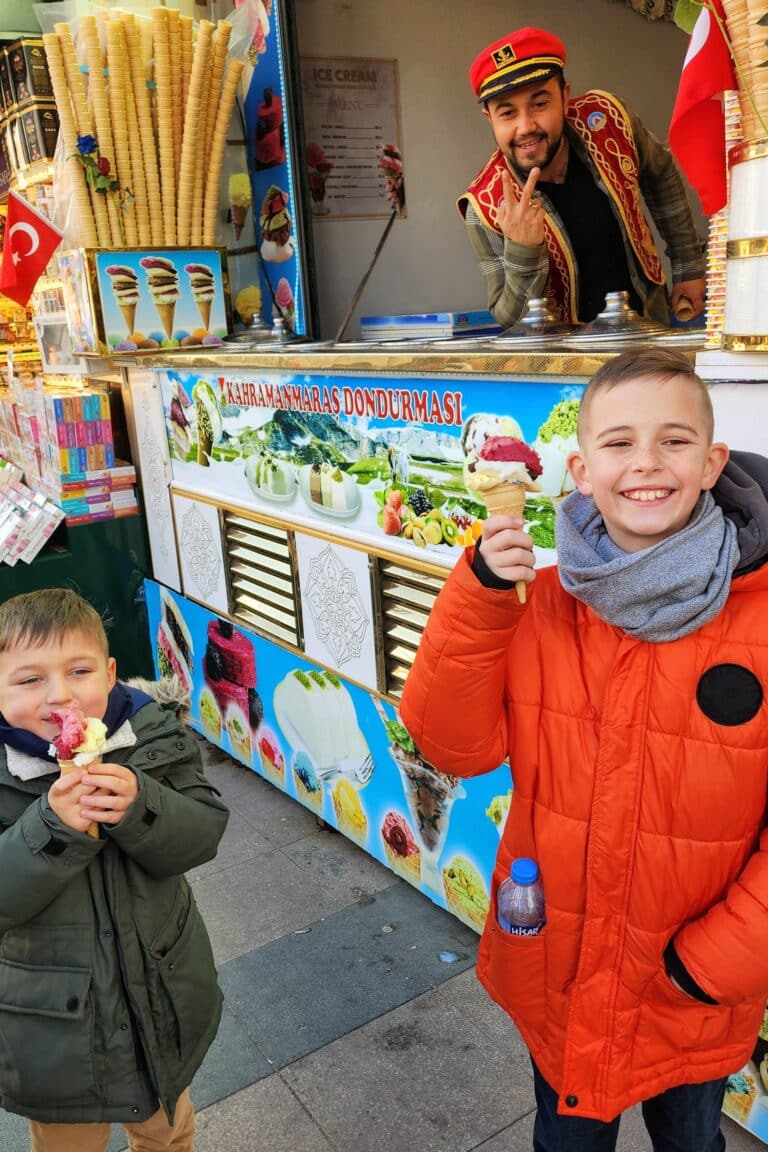 Turkish ice cream is a delicious and refreshing treat that can be enjoyed in Istanbul all year round. This type of ice cream is made with milk, sugar, and starch and often has a thick, creamy consistency.
One of the best places to enjoy Turkish ice cream in Istanbul is at one of the many street carts that can be found throughout the city. These carts generally have a wide selection of flavors to choose from, and the ice cream is usually served in a cone or cup. It is also typically flavored with vanilla, chocolate, or pistachio.
Another fantastic place to savor Turkish ice cream is at one of Istanbul's many cafes or restaurants. Many of these establishments serve traditional Turkish desserts like baklava, which can be enjoyed alongside a scoop or two of ice cream. What better way to cool down on a hot summer day than by enjoying some delicious Turkish ice cream?
Macun
Macun is a type of Turkish candy that has been around for centuries. It is made from sugar, spices, and nuts and has a very sweet and intense flavor. Macun is typically enjoyed after a meal and is said to aid in digestion. It is also said to have medicinal properties and is often used as a natural remedy for colds and coughs.
Borek
Borek is a delicious Turkish pastry that is popular in Istanbul. The dough is made from phyllo dough and is filled with meat, cheese, or vegetables. Borek is usually baked, but it can also be fried.
This delightful treat is often served with a cup of tea or coffee. Borek is a great snack or even as a main meal if you wash it down with a glass of aryan.
Whether you're looking for something savory or sweet, there's a street food dish in Istanbul for everyone to enjoy. So the next time you visit Istanbul, make sure to try some of these delicious dishes!
Corn On The Cob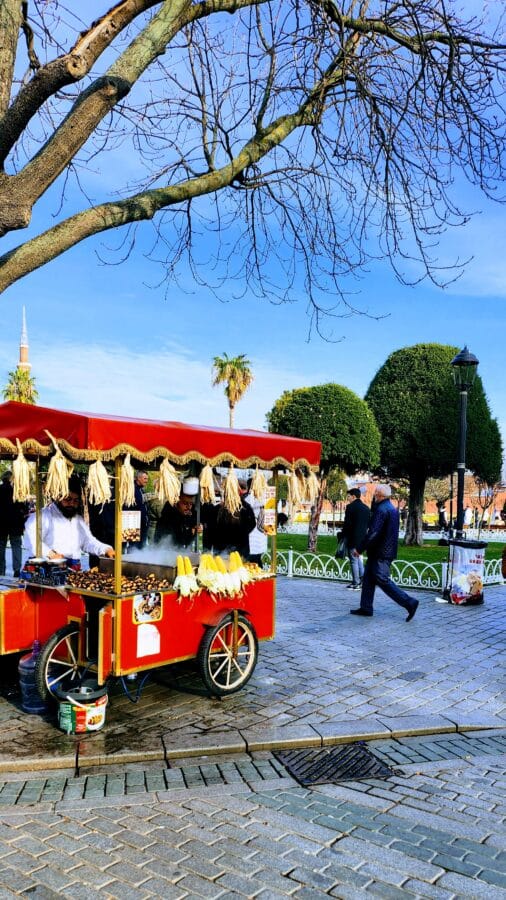 There's something about corn on the cob that just screams yummy. And what could be more fun than chowing down on some delicious corn while strolling through the streets of Istanbul? That's where the corn on the cob carts come in. These carts are a fixture in many of the city's popular tourist areas.
The corn on the cob sold from these carts is typically cooked in a large pot of boiling water right on the spot. So you can be sure that it's fresh and piping hot when you purchase it.
The ears of corn are then slathered with butter and sprinkled with salt before being wrapped up in paper or foil for easy eating on the go.
Watermelon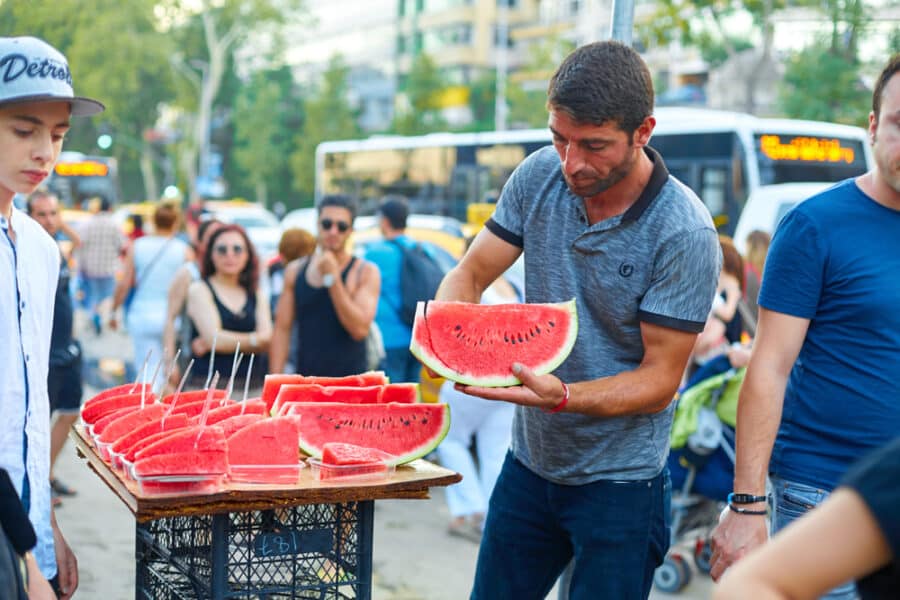 Istanbul is a city full of surprises, and one of the best surprises is finding a street vendor selling watermelon on a hot summer day. These street food vendors can be found all around the city, and they are always happy to provide refreshing slices of watermelon for a reasonable price.
If you're looking for a delicious and healthy snack while exploring Istanbul, make sure to keep an eye out for these street vendors!
TRAVEL COMPANIES WE USE AND TRUST
Street Food Tours In Istanbul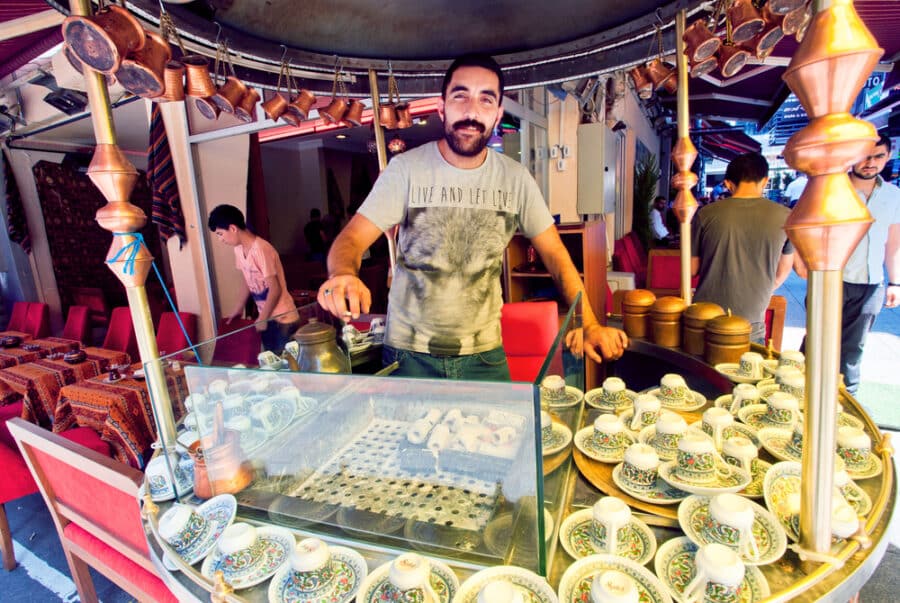 When it comes to street food, Istanbul has a lot to offer beyond doner kebabs. If you want to explore some of the city's lesser-known (but equally delicious) street foods, consider signing up for one of the many available Istanbul food tours.
On a food tour of Istanbul, you'll have the opportunity to try various Turkish dishes, all of which are typically quite affordable. You'll also get to learn about the history and culture behind some of Istanbul's most popular street foods – from both sides of the continent. Asia and Europe.
Some of the dishes you might encounter on a street food tour include kokoreç (a grilled lamb intestine sandwich), balık ekmek (fish sandwiches), gözleme (savory pancakes), and börek (flaky pastries filled with meat or cheese). Of course, no street food tour would be complete without trying at least one doner kebab!
Whether you're a local or a tourist, a street food tour is a great way to sample some of Istanbul's best-kept culinary secrets.
Tips for Eating Istanbul Street Food Safely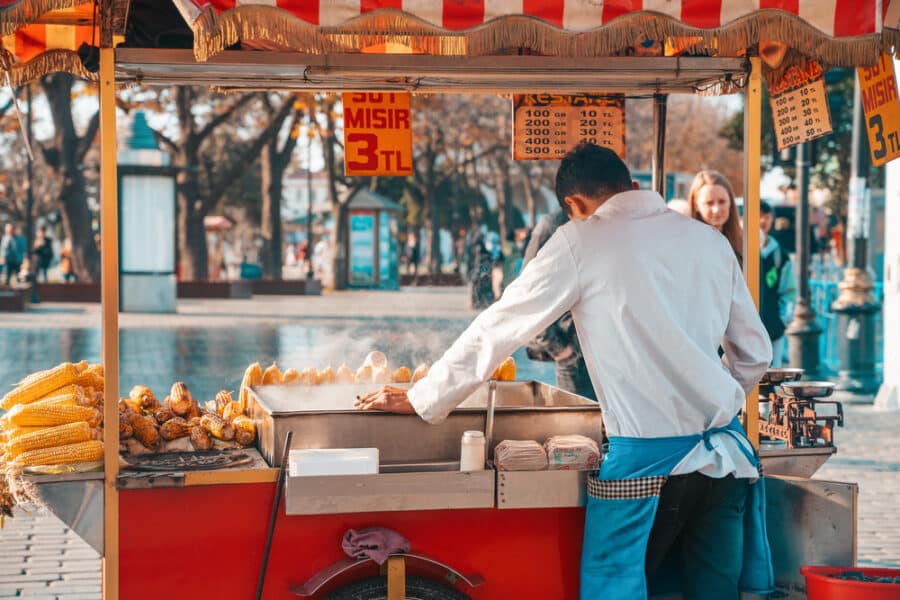 When it comes to street food, Istanbul has a lot to offer. From doner kebabs to Turkish pizzas, there are plenty of delicious options to choose from. But if you're not careful, street food can also be a source of food poisoning.
Here are some tips for eating street food safely:
Make sure the food is cooked fresh or kept cool/warm. If it's been sitting out for a while, it's best to avoid it
Check to see if the vendor uses clean utensils and cooking surfaces.
Avoid anything that looks like it might have been tampered with or is in poor condition.
Wash your hands before and after eating (or get out that hand sanitizer) to avoid any tummy troubles
ISTANBUL STREET FOOD FAQs
Is it hard to find famous street food in Istanbul?
Nope. Roasted chestnuts, ice cream, and grilled corn can be found all over and are easy to find. Kebabs, borek, simit, and fish sandwiches are dotted about the city.
Is there an Istanbul street food market?
Sadly no. But it should! But we suggest you go to Spice Market if you love food.
Are Istanbul street foods expensive?
No way! So cheap. Cheaper than a Mcdonalds' meal and way tastier.
How do I find the best street food places in Istanbul?
Ask your hotel or host for their recommendations, but honestly, as you wander the streets, you'll find so many to choose from on your own.
What are the best Istanbul street food prices?
You can get things for as low as 1 euro!
Where to eat street food in Istanbul?
All over. There are carts, shops, and stalls on every corner. Well, almost.