Privacy & disclaimers →
70+ Things To Do In Istanbul
Istanbul is a HUGE city. There is far too much to see and do here over the space of just one break, and no matter how much you think you can zip your way around and see the main sights, you'll still find yourself missing out on several things you had on your list.
This is a city that has more history than perhaps anywhere else in the world. Once part of Greece and known as Constantinople, the Ottoman Empire based itself here for centuries, fighting war after war, battle after battle.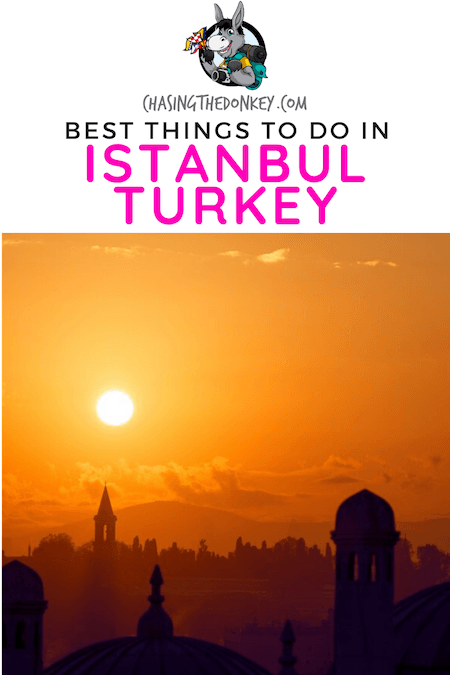 The buildings here are dripping in history, the streets have echoes of the past, and it's a beautiful blend of old and new that you'll struggle to find anywhere else on the planet. Of course, Istanbul is also the only city in the world to straddle two continents; half sits in Asia, and the other half in Europe, divided by the mighty Bosphorus Strait, considered one of the most dangerous shopping lanes in the world, thanks to its endless twists and turns.
If you want to get the most out of Istanbul, you need a plan. It would be best if you also made peace with the fact that there is no way on this Earth you're going to see everything. Some people visit Istanbul several times a year and haven't seen everything!
With that in mind, let's check out ten sights and experiences you should have on your list of must-dos. If you have extra time (unlikely), you can carry on your exploration.
THINGS TO DO IN ISTANBUL
Book yourself one of our favorite Istanbul hotels, and get started on your adventure with these Istanbul attraction ideas:
1. Catch a ferry to see the best views of the city and Bosphorus
2. Visit the Grand Bazaar to find souvenirs, authentic spices, jewelry, carpets, and more
3. Take a tour of the Hagia Sophia and Blue Mosque to appreciate their grandeur
4. Explore the Basilica Cistern for a unique underground experience
5. Visit Spice Market for amazing aromas and plenty of shopping opportunities
6. Try Turkish coffee for an unforgettable caffeine experience
7. Take in a local show at one of Istanbul's many theaters or cinemas
8. Stroll along Istiklal Avenue for shopping, eating, drinking, music, and more
9. Go to Taksim Square to connect with locals and soak up Istanbul's vibrant nightlife
10. Spend an evening dining at one of Istanbul's rooftop restaurants with incredible views
11. Have a picnic in Gülhane Park to take in some nature in the middle of this bustling city
12. Take advantage of Istanbul's public transportation system for easy access around the city
13. Get up early to watch fishermen selling their catches at Eminönü market near the Galata Bridge
14. Visit the Hippodrome for a taste of Istanbul's ancient history
15. Take a Bosphorus night boat tour to see some of the city's most iconic sights light up
16. Check out the Istanbul Modern Art Museum to admire contemporary Turkish art
17. Attend a religious ceremony at one of Istanbul's many mosques to experience local traditions and culture
18. Explore the Topkapi Palace to learn more about Ottoman rule in Turkey
19. Visit Sulaimaniye Mosque, one of Istanbul's oldest and most beautiful buildings
20. Join a guided food tour around Karaköy and Balat to sample some delicious traditional Turkish dishes
21. Hit up the Fındıklı-Karaköy pier for incredible views of both sides of the city across the Bosphorus Strait
22. Take a traditional Turkish bath at one of Istanbul's historic hamams for an unforgettable experience
23. Ride the nostalgic Funicular from Taksim to Kabataş for a unique way to get around town
24. Try the street food – kokoreç, çiğ köfte and simit are all must-tries
25. Visit one of Istanbul's many parks to escape the hustle and bustle of the city
26. Explore Istanbul's backstreets for hidden gems like vintage clothing stores and cozy cafes
27. Check out some of Istanbul's lesser-known museums such as The Rahmi M Koç Museum, Pera Museum and Sakıp Sabancı Museum
28. Watch a Galatasaray football match to soak up some local sports culture
29. Admire the Chora Church, one of Istanbul's oldest surviving Byzantine churches
30. Visit Eyüp Sultan Mosque, one of the most important Islamic religious sites in Turkey
31. Visit Yedikule fortress for amazing views of the old city walls
32. Enjoy a romantic sunset from Galata Bridge
33. Enjoy a delicious and authentic Turkish breakfast – try poğaça, gözleme, simit and more!
34. Pass by Galata Tower for some great photo opportunities
35. Eat traditional Turkish ice cream – tastier than you could ever imagine!
36. Visit Bebek district for stunning seaside views and an upscale dining experience
37. Experience an Islamic call to prayer at one of Istanbul's many mosques
38. Check out one of Istanbul's oldest synagog ues, Neve Shalom
39. Go to the Maiden's Tower for a postcard-perfect view of Istanbul
40. Enjoy a day at Ortaköy market, where you can find handmade crafts and souvenirs
41. Visit Karaköy Güllüoğlu Baklava shop for some of the best desserts in town
42. Try some delicious seafood at one of the city's many fish restaurants
43. Take a ferry from Eminönü across the Bosphorus to explore the Asian side
44. Visit Çengelköy village on the Asian side for some fantastic views of Istanbul
45. Shop for unique Turkish rug designs at Cezayir Pasajı near Taksim Square
46. Check out Balat district to experience one of Istanbul's oldest neighbourhoods
47. Explore Beyoğlu neighbourhood, home to galleries, restaurants and much more
48. Have some fun at Vialand theme park – there's something for everyone!
49. Check out the Istanbul Archaeology Museums, home to some incredible artifacts
50. Spend an afternoon at Dolmabahçe Palace, one of Istanbul's grandest places
51. Explore the Bosphorus and Golden Horn for fantastic views of the city
52. Visit the Süleymaniye Library for a peek into Istanbul's rich literary culture
53. Try fresh fish sandwiches from the street stalls in Eminönü
54. Eat lahmacun (Turkish pizza) at one of the local restaurants in Galata district
55. Browse through the old bookstores at Beyazıt Square for hidden gems and rare finds
56. Browse through Ağa Mosque, one of Istanbul's most impressive Ottoman mosques
57. Walk along Galata Bridge for some fantastic views of both sides of the city
58. Pick up some authentic spices from one of Istanbul's spice shops
59. Enjoy a cup of Turkish coffee with friends or family
60. Visit Çamlıca Hill for some great views over the city skyline
61. Visit Rumel ihisarı fortress to learn more about Istanbul's history
62. Enjoy some live music at one of Istanbul's many jazz clubs
63. Explore the city on foot – you never know what hidden gems you might find!
64. Go to Princes' Islands (Adalar) for some picturesque views and great seafood restaurants
65. Take part in an old Ottoman tradition – smoking hookah in one
PLAN AHEAD TO GET THE BEST DEALS
Blue Mosque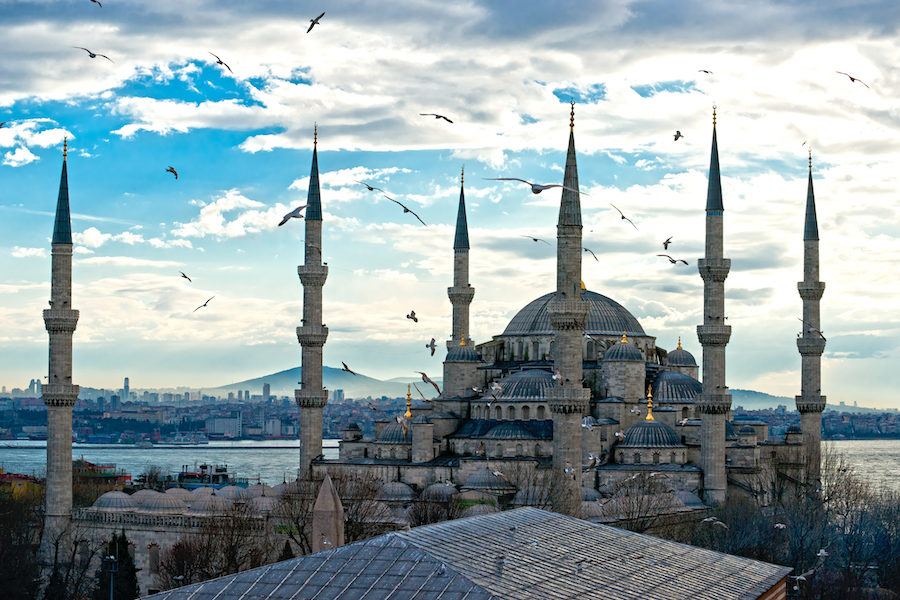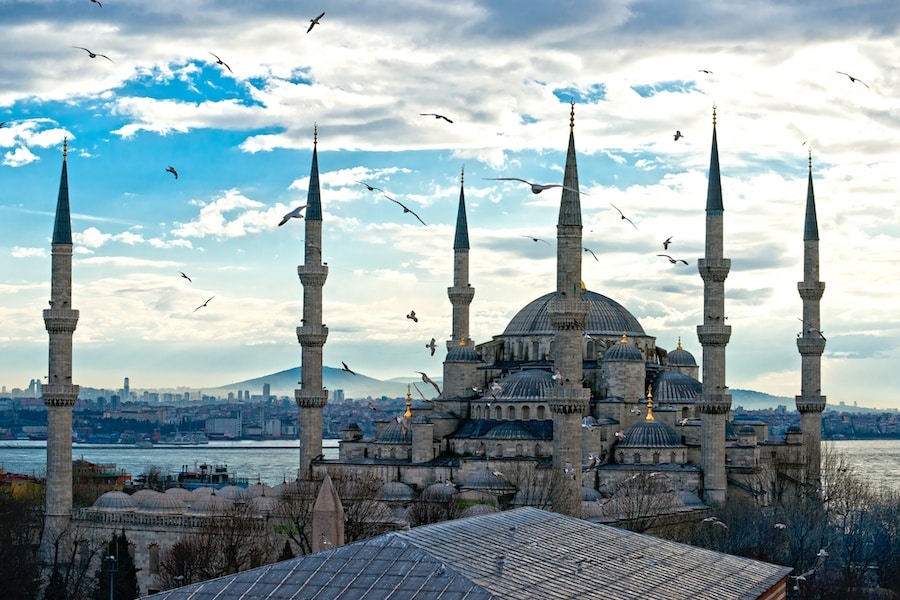 Sultanahmet is considered the ancient part of Istanbul; you'll find many of the significant historical sights here.
The Blue Mosque is iconic and one of the most beautiful buildings you'll ever set your eyes on. Built in 1609, the mosque has six minarets, while most mosques have 2 or 4. The design inside will take your breath away, for sure.
However, the Blue Mosque is a working mosque and, therefore, a place of worship. This means you need to adhere to mosque etiquette and be respectful of anyone praying inside. Never stand in front of, or walk in across anyone praying. Always cover your shoulders and legs, and wear respectful clothes. When going inside, everyone will need to remove their shoes, and women will need to cover their heads.
The mosque is closed during prayer times, and on Fridays, you'll find this happens more frequently, as this is the Muslim holy day. It's free to go inside, but donations are always welcome and will go towards the upkeep of this beautiful and incredibly historic building.
Hagia Sofia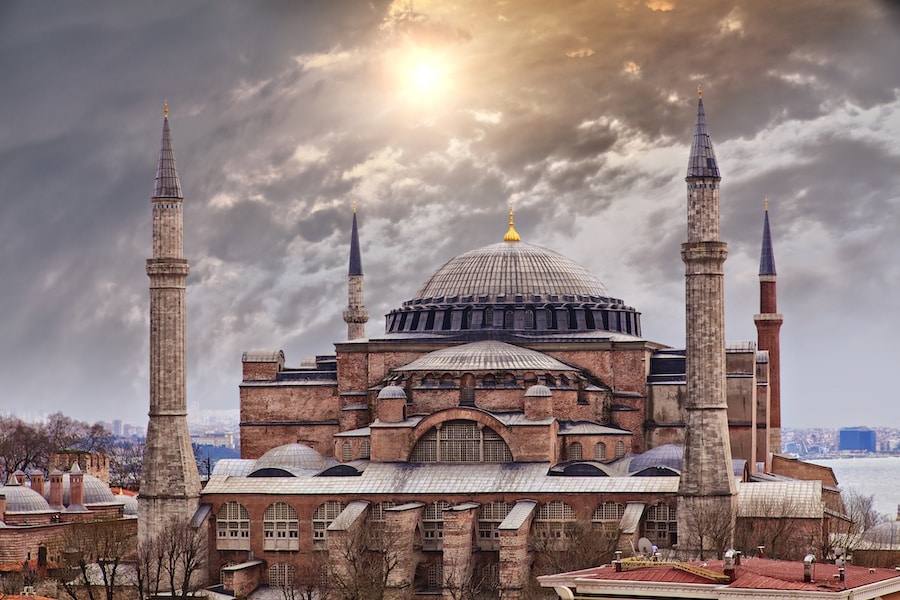 If you're visiting Blue Mosque, you should head to Hagia Sofia next. Another Istanbul, must-see landmark in Sultanahmet, is directly opposite and dates back to 537 AD when it was first built as a church. When the Ottomans took over, they changed Hagia Sofia into a mosque, and nowadays, it stands as a place where both religions sit side by side, with relics and monuments of both shown. The museum is simply stunning and a truly beautiful place to visit.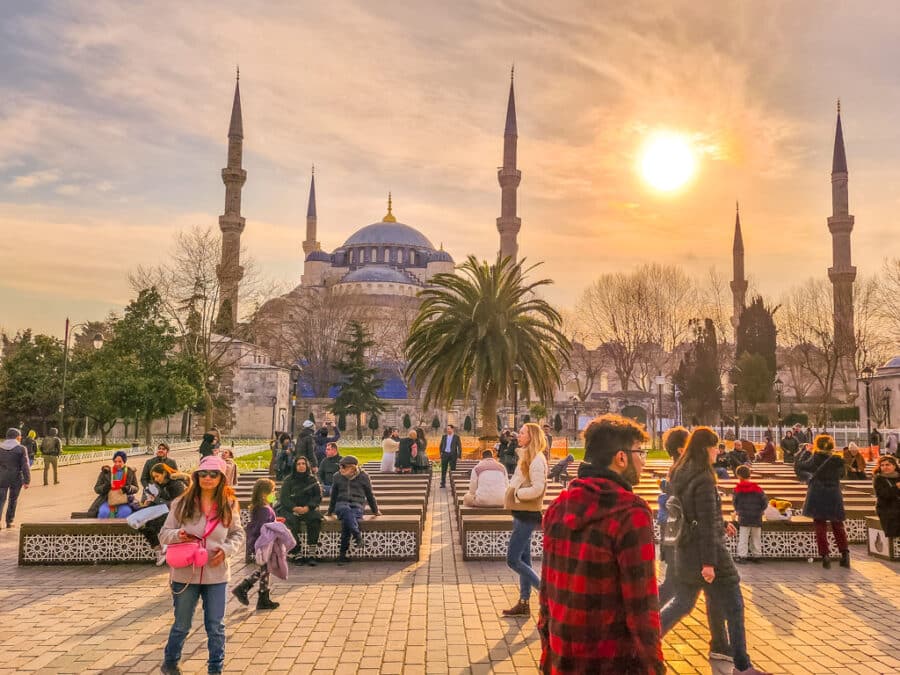 The only downside is that it can become quite busy, and the queue to get inside can be very long. It's around 70TL to enter, and that gives you access to the whole building. There are parts where you can't use your camera flash, so adhere to signs shown in both English and Turkish.
Basilica Cistern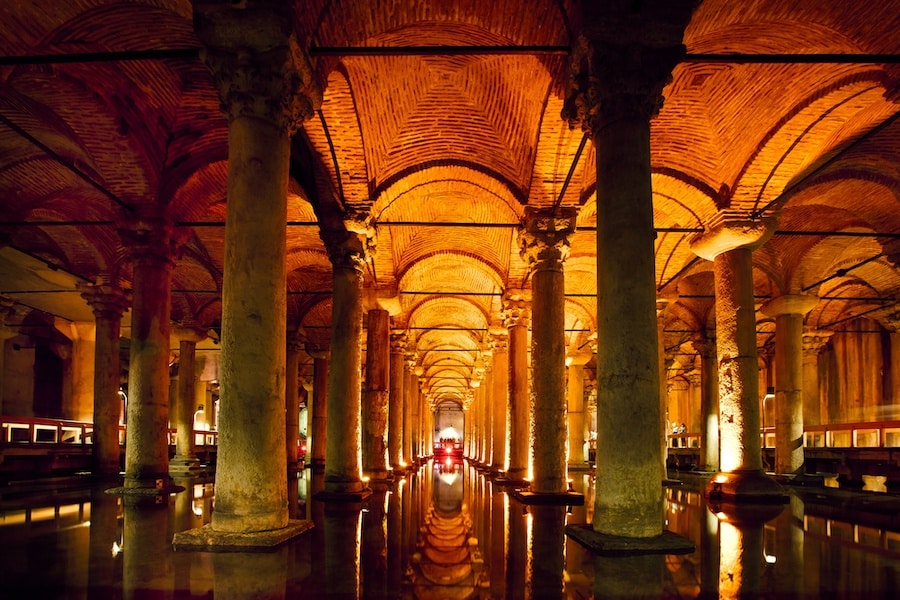 If you're someone who likes weird and wonderful experiences, Basilica Cistern is the one for you! Just 20TL to go inside; you're actually going under Istanbul's streets, down into where the main water supply for the royal palace was held. This is one of the oldest sites in Istanbul and dates back to Emperor Justinian's times during the 6th-century Byzantine era.
You'll see many columns in carefully arranged lines, stones carved in the face of Medusa, and a strange atmosphere that you really won't be able to get enough of.
Galataport, Karakoy
Galataport has, in recent years, opened its doors, and it's a top place to visit. In fact, you should definitely plan to spend at least half a day here, a full day, if you want to enjoy dinner in the evening.
Galataport is a waterside entertainment center that's expanding by the day. With incredible views over the Bosphorus, thanks to the fact that it's literally lapping at the center's shores, you can check out the sunset from here and get some fantastic photographs. Aside from that, there are countless stores, cafes, bars, and restaurants, including a new Salt Bae restaurant from the owner of Nus'ret.
Dolmabahce Palace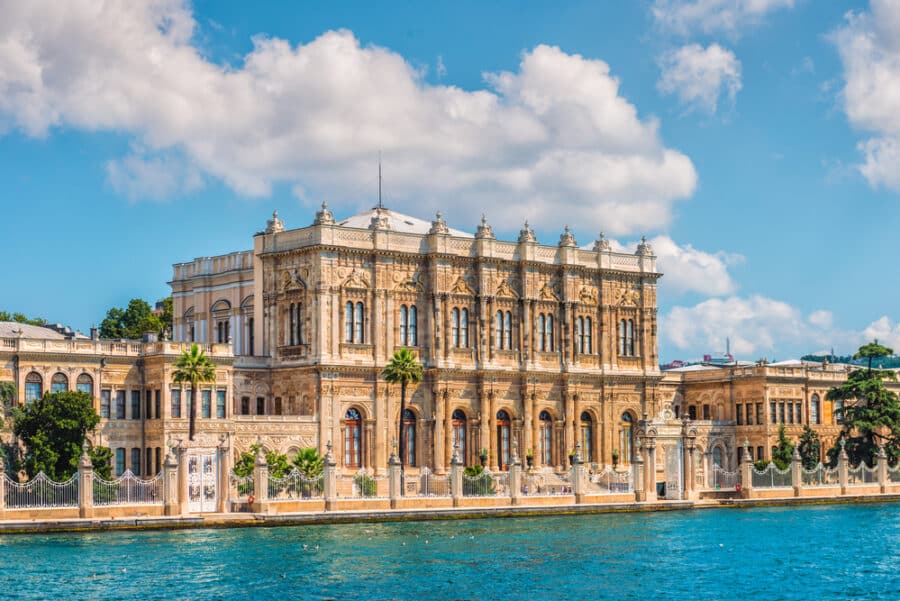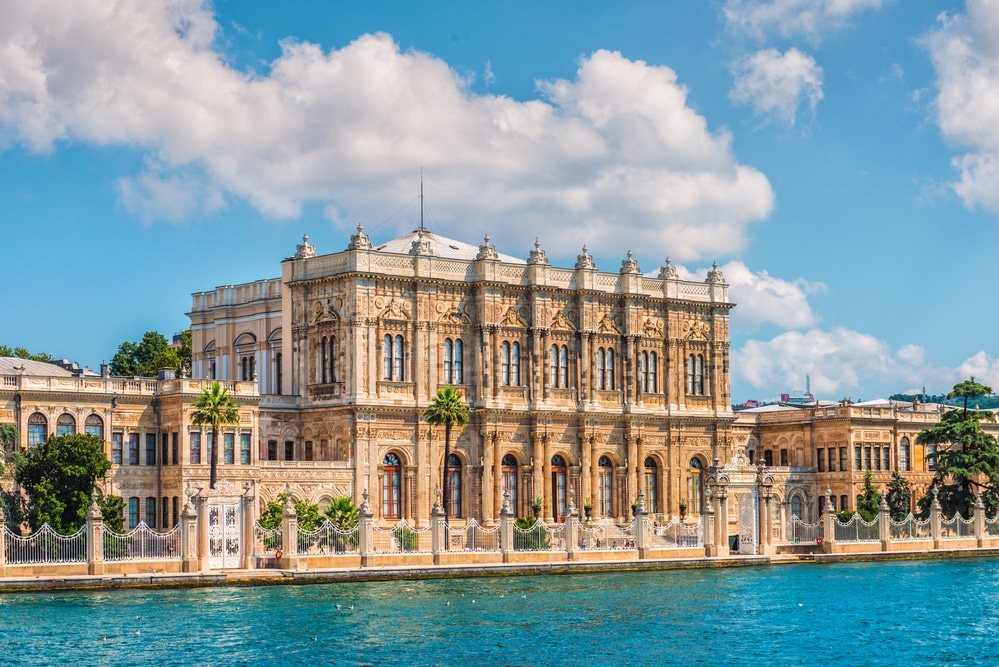 If you love opulence, prepare to have your mind blown! Sitting on the banks of the Bosphorus in Dolmabahce/Besiktas, this is the palace that almost bankrupted the Ottoman Empire, thanks to its sheer beauty and intricate design!
To go inside, you'll need to pay around 70TL, but you are given a guided tour. You'll learn about the history of the palace, which was the Ottoman Empire's living quarters towards the end of their rule, the summer holiday spot for many European rulers, and the spot where Mustafa Kemal Ataturk died.
You can't take your camera inside with you, but you can take photos of the outside and the palace grounds.
Whirling Dervish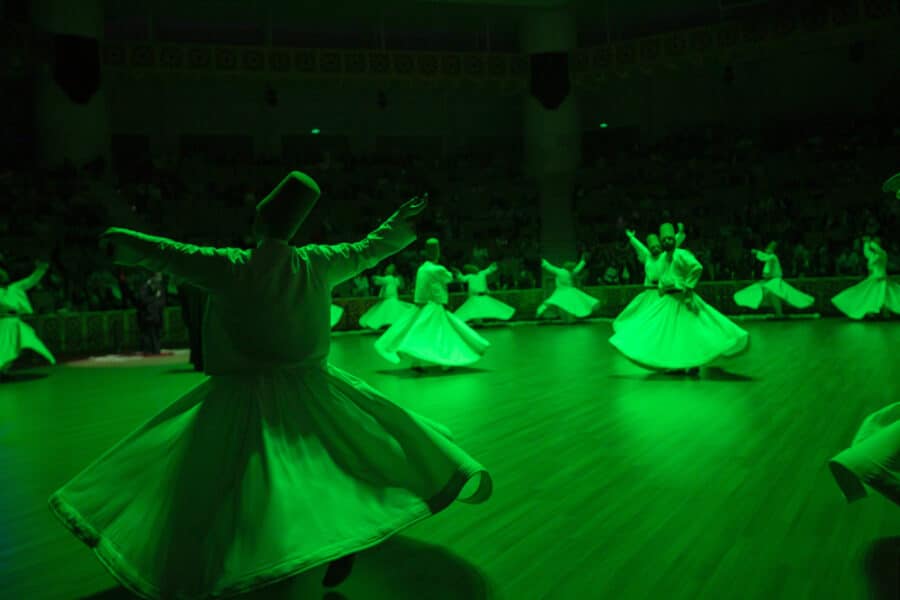 You can watch these captivating ceremonies at many locations throughout Istanbul. This iconic ceremony is a spiritual, meditative dance that has been declared a UNESCO Heritage of Humanity and is one of the best things to do in Istanbul at night, even with kids (over 6-7 years). My two boys, aged five and ten, sat quietly and enjoyed it.
We saw the Whirling Dervish at the Hodjapasha Dance Theater, which is located in a converted 15th-century Turkish bath within walking distance of Sirkeci train station.
During winter, while we visited, performances were held every Tuesday, Thursday, and Saturday (at 7 pm). Then beginning in March, daily ceremonies were scheduled.
Though it may look like an art performance of sorts, it is still actually a religious ceremony. I was disappointed they asked us not to take any photos (even without a flash), but I understood why. You also can not talk or leave your seat at all while the Dervishes spin – so make sure the kids go to the restroom (on the lower floor) before the starting time.
Topkapi Palace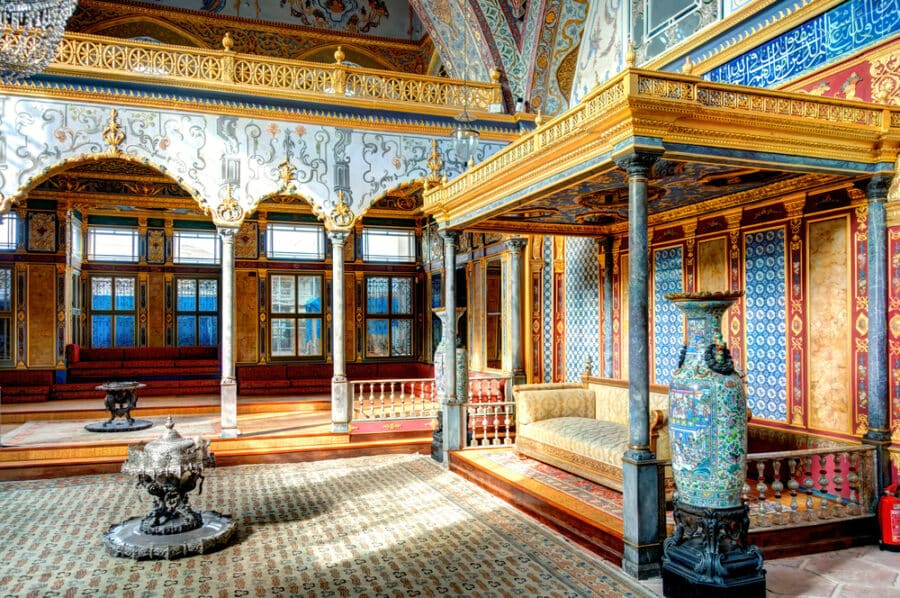 If you want to see how the other half lived, Topkapi Palace in Sultanahmet will make your jaw drop! This was the royal residence of the Ottoman sultans from 1465 and is still in superb condition.
The gardens are simply beautiful, and they are free to go inside, named Gulhane Park. However, the palace itself will cost you to go inside, with the harem costing extra. However, it's worth it for what you will see, and there are some of the oldest relics in the whole of the Middle East on display here, including shields and armor worn by Ottoman sultans, weapons, and old cooking equipment used by the staff within the palace.
During our visit in the winter of 2023, we found the palace was so huge that we needed a pit stop. So, we stopped at the on-site Topkapi Palace cafe. It was an outstanding place to enjoy a cup of tea or coffee while looking out at the beautiful gardens. The cafe has a wide selection of coffees and teas, as well as pastries and snacks. The staff are friendly and helpful, and the atmosphere is relaxed and comfortable.
Dripping in gold and offering some stunning views over the Bosphorus, enjoying the Topkapi Palace is an Istanbul must-do!
Grand Bazaar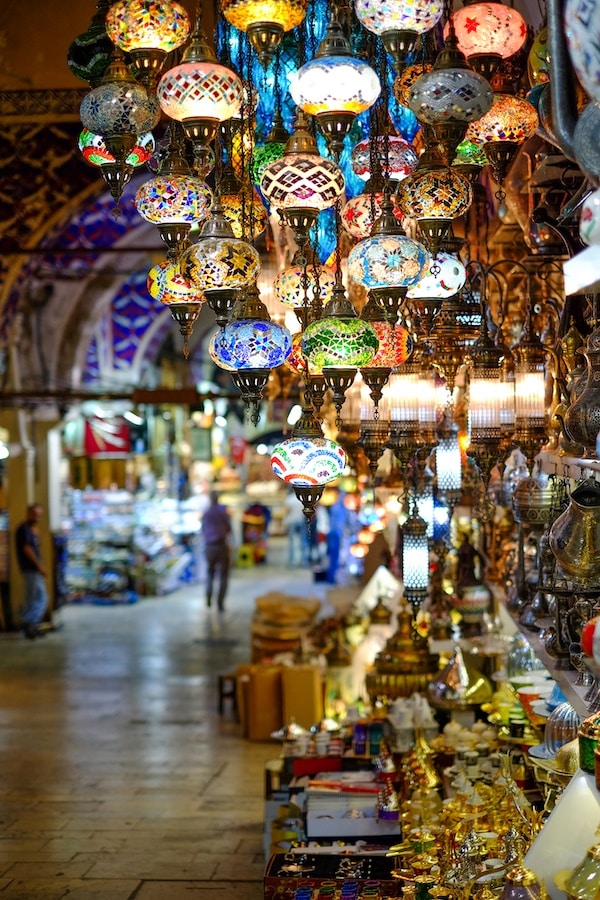 It's impossible to visit the Grand Bazaar and not get lost, but that's half the fun! Dating back to 1461, this is the oldest covered bazaar globally, and it's an authentic experience and an assault on the senses!
You'll find hundreds of small stores selling everything you could think of. It's loud, it's bright, it's quite hilarious at times, and it's a little confusing, but it's something you have to do to get a real feel of the "old" Istanbul in Sultanahmet/Fetih.
Spice Bazaar
The bustling Spice Bazaar of Istanbul is one of the largest and best-known bazaars in the city, second only after the world-famous Grand Bazaar. This sprawling covered market is in the Eminönü quarter of the Fetih district and dates from 1660, with revenue coming from Egypt.
This is why it is/was also known as the "New Bazaar" or "Egyptian Bazaar." Since its founding, the Spice Bazaar has been the focal point of Istanbul's lucrative spice trade. Nowadays, there are still dozens and dozens of shops selling all kinds of spices and herbs, but you can also find things like coffee, sweets, dried fruit and nuts, jewelry, and Turkish souvenirs here.
Spending an afternoon browsing the Istanbul Spice Bazaar is one of the must do things in Istanbul, particularly if you like cooking and, well, shopping.
Ortakoy Mosque And Bosphorus Bridge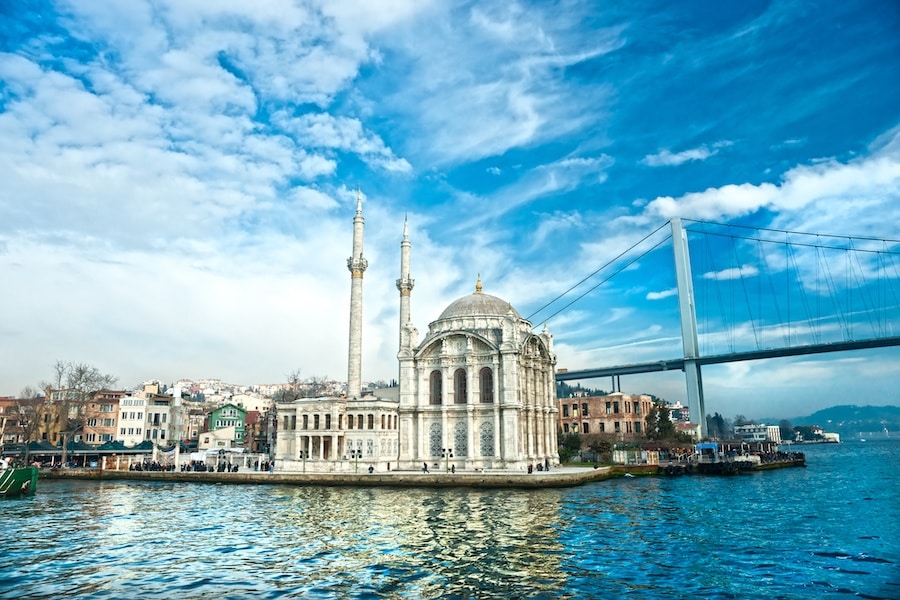 The massive Bosphorus Bridge is quite an impressive and imposing sight on its own, but sitting right next to it is one of the most stunningly beautiful mosques you'll ever set eyes on. Situated in Ortakoy/Besiktas, it's a literal old versus new picture, and it's one that you will no doubt have seen on websites and photos across the world. See if you can snap the famous sight for your own collection.
Down by the waterside at this iconic place in Istanbul to visit, there are countless cafes and restaurants and even a Starbucks. You can grab a coffee and sit outside, watching the seagulls circling and the huge ships passing by.
If you want to go inside the mosque built in 1856, remember that it is a working mosque, so you need to follow mosque etiquette, as we discussed when we mentioned the Blue Mosque earlier.
Bebek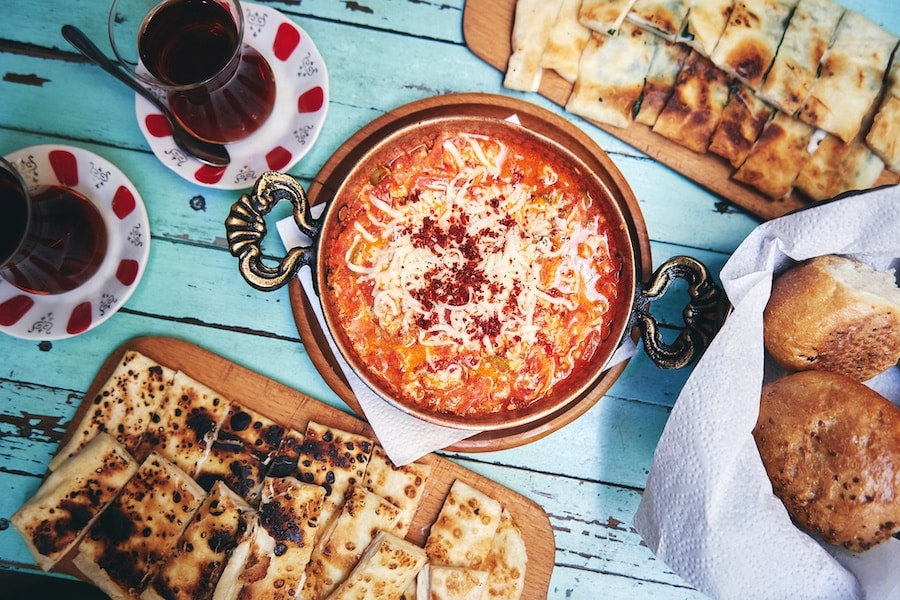 If you head into Besiktas and then follow the main road straight, you'll come to a pretty seaside area called Bebek. This is a very affluent area, so you're likely to see a Turkish celebrity or two with huge houses decorating the hillside. It's calm and pretty feel around here, a far cry from the center of Taksim or Besiktas on a regular day.
Grab a coffee and walk along the waterside, watching the huge ships pass by almost silently, or sit and enjoy a traditional Turkish cay or even breakfast at one of the many restaurants. This area also has some very high-quality steakhouses and seafood restaurants, but it is certainly not the cheapest area!
You can get the bus down to Bebek from Besiktas or Ortakoy, and it runs quite frequently, although you are likely to get stuck in the famous Istanbul traffic at some point!
Mosque Of Suleyman The Magnificent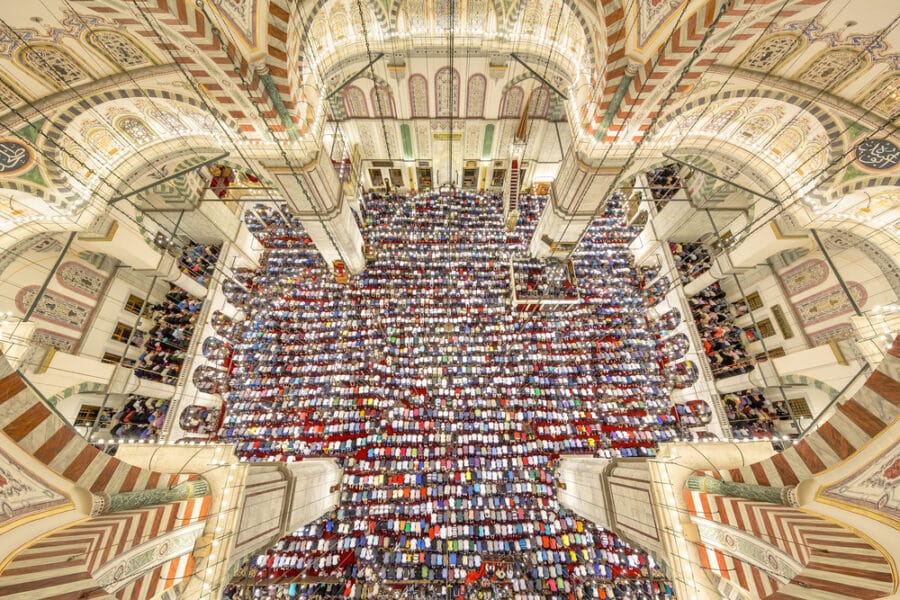 While the Hagia Sophia and Blue Mosque are more famous, the Mosque of Suleyman the Magnificent may just be the most beautiful of all mosques in Istanbul. Founded in 1550, this enormous mosque was the largest in Istanbul until 2019, when the Çamlica Mosque surpassed it.
Its bright and shiny interior is absolutely gorgeous, while the exterior boasts the classic dome and four tall minarets at each corner. You can admire this monumental religious building from the outside, but entering is also possible. This majestic mosque is genuinely one of the landmarks you must see in Istanbul, especially if it's your first visit.
Additionally, don't miss the Mausoleums of Sultan Suleyman I and his wife, Hurrem Sultan.
Tea Overlooking Europe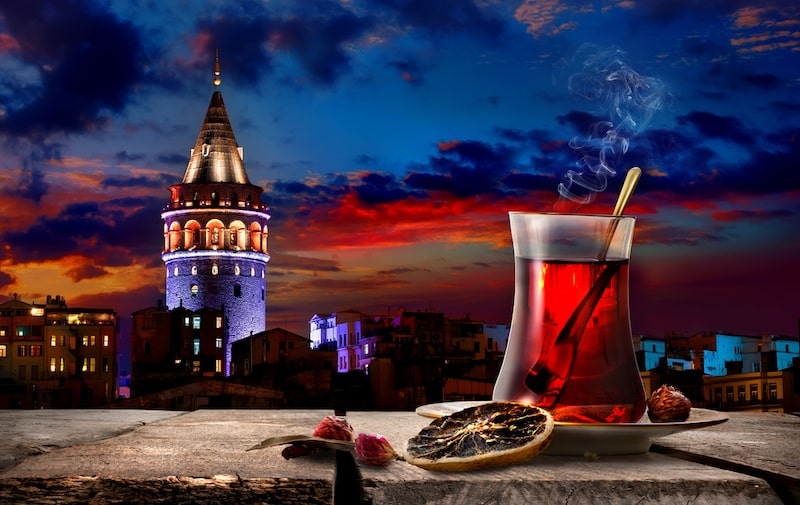 One of the most popular low-cost activities in Istanbul is to head over to the Asian side and sit on the waterside in Uskudar.
Here you can buy a glass of Turkish tea (cay) and sit on the cushions, watching the famous sunset over the Golden Horn of Europe. It's a very calming experience and one which will show you the true beauty of this city.
This area is also home to a chill nightlife scene if that's more your style.
Taksim Square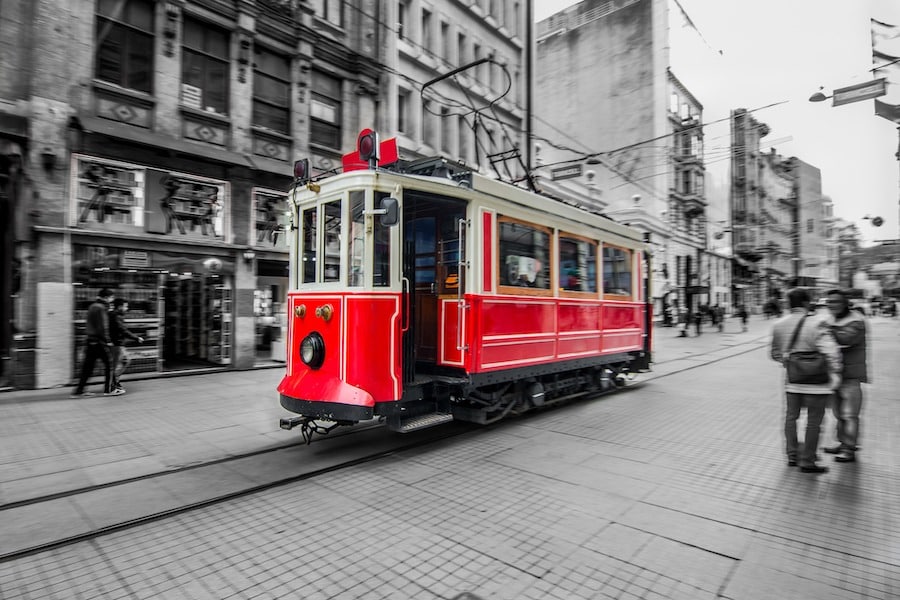 You can't visit Istanbul and not go to Taksim Square. This is the busiest part of Istanbul, day and night. It's not unusual to see traffic and crowds on the famous Istiklal Street at 3 am!
Jump on the famous red tourist tram and make your way down Istiklal without having to weave your way through the crowds, do some shopping, grab a coffee, eat a delicious meal, go to the cinema, go to a nightclub – the list goes on!
Taksim is a very international part of Istanbul, and you'll see people here from all over the world. It's a friendly vibe, for sure, but it's also a very busy one, so follow your common sense and remember to keep your bag close to you and not flash your valuables. The same goes for any busy city in the world, of course. For more tips, check out our post on scams you may encounter in Istanbul.
Galata Tower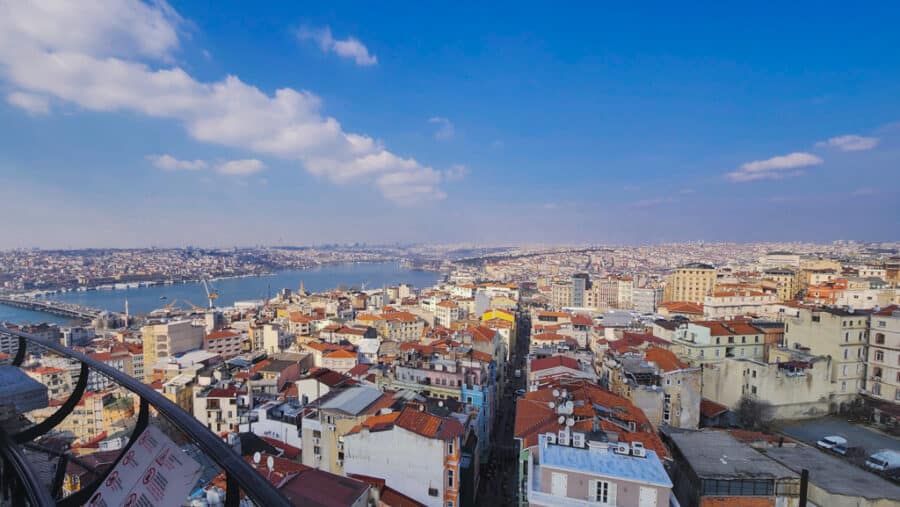 The Galata Tower is one of the most iconic landmarks in Istanbul, Turkey. Standing at a whopping 984 feet (300 meters) tall, it offers breathtaking views of the cityscape below. Visitors can take an elevator to the top of the tower and take in the stunning panoramic views. On a clear day, you can even see all the way across the Bosphorus Strait to Asia!
Also known as the Tower of Christ, the Galata Tower is a striking medieval tower in Istanbul's Karakoy district. It stands just to the north of where the Golden Horn meets the Bosphorus. Built by the Genoese, this magnificent tower once was the highest point in the city walls of Galata, a former Genoese colony in what is now Turkey.
While most of the walls are gone nowadays, the Galata Tower survives. And it is open to the public every day of the year, too. A visit to this fantastic view is one of the best things to see and do in Istanbul, Turkey.
Note: Many sites say that there is a cafe/restaurant on the top floor. During my visit in February 2023, there was no such option.
Walls Of Constantinople
Another ancient fortification and fascinating place in Istanbul to see are the Walls of Constantinople. These mighty defensive walls were built after Constantine the Great made Constantinople the Roman Empire's new capital in the 4th century AD.
The Walls of Constantinople were the last great fortification system constructed during Antiquity. There are still among the grandest and most expansive systems of fortified walls and towers ever built. Once surrounding the city on all sides, both on land and on the shore, the most significant part of the system was the Theodosian Walls, a famous double defensive line.
Although most of this once-imposing system is now gone, sections of it still stand to this day. In fact, you can even walk on top of parts of the Istanbul City Walls! This is possible on your own self-guided visit or on guided tours. If you'd like to learn more about the city's rich and long history, this is one of the best things to do in Istanbul, Turkey for you.
Sea Taxis
One of the most recent additions to Istanbul's transportation options are sea taxis. Out of commission for almost a decade, they're now back in business. You can hire these sea taxis and go anywhere that has a shore.
They can anchor almost everywhere, which eliminates the need for more port space and, in return, provides virtually endless routes. This is a fantastic way to explore the Bosphorus Strait, Marmara Sea, Black Sea, and Golden Horn on your own schedule.
These are more than a dozen of the best experiences and attractions in Istanbul that you have to tick off your list, but the story isn't finished as Istanbul still has far more on offer!