Privacy & disclaimers →
Turkey Bus Travel – What You Need To Know About Buses In Turkey
If you're trying to get around Turkey and see as much as possible, you might be deciding whether or not you're brave enough to hire a car and drive in a foreign country.
Well, it's doable if you want to drive, but what if you're not confident enough on the road or feel like putting your feet up en route to wherever you plan on going?
The good news is that getting around this huge expanse of land that is Turkey is relatively easy. You can take domestic flights between major cities, you can take the train in some areas (although it's a pretty limited service), or you can do what most locals do and take the bus.
The thing to know about buses in Türkiye is that they go everywhere. Literally, you'll find a bus going in the direction you want to go no matter what. Sure, you might need to stop somewhere and change, but there will be a bus.
The plus point in all of this is that you get to see a lot while you're traveling, as most buses stop several times on their journey in other cities along the way.
So, what is it like traveling by bus in Turkey, and what else do you need to know?
Buses In Turkey – The Truth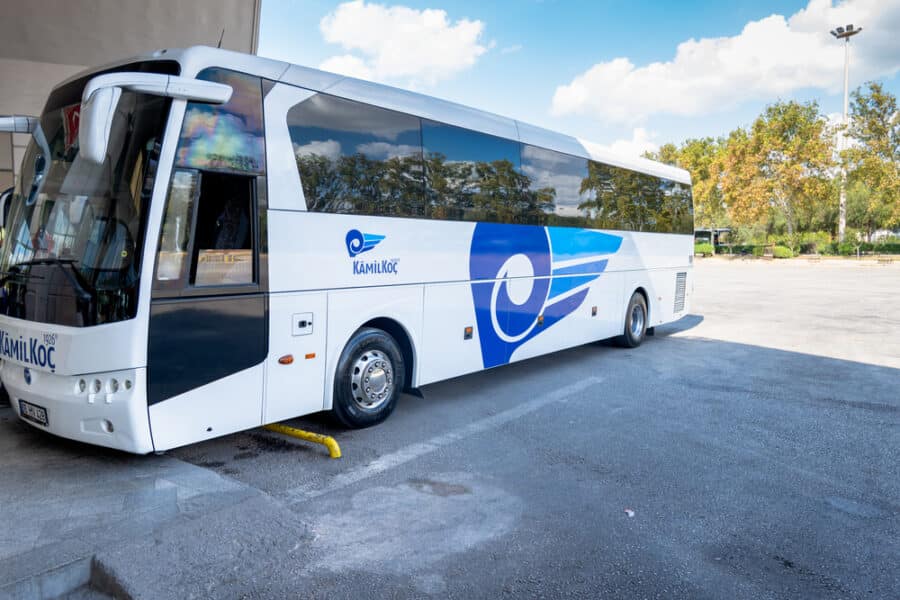 I know you're looking for some drama here, but in all honesty, there is none. Traveling in Turkey by bus is probably the easiest and most comfortable way to get from A to B. You can take several options, and your journey will undoubtedly be smooth.
This is all down to the fact that long-distance bus companies run a pretty tight ship. During your journey, you'll stop for bathroom breaks, be served tea, coffee, cola, and water several times, and get a sandwich and biscuits too. In addition, there is WiFi on board (but whether it works or not is questionable), air-conditioning, and you'll get a small TV to watch that even has games loaded with movies and Turkish TV series to keep you occupied.
I mean, that's better than traveling in many countries, right?
Some bus companies even have services with extra legroom, such as the 'Jumbo' service run by Pamukkale (but more on that shortly).
Even if you're traveling a short distance and you use the dolmus (again, more shortly), you'll find it a quick and easy process. You might not have the most legroom in the world in this case, but it's cheap, you'll get where you want to go, and there's air-conditioning, which is always a blessing.
TRAVEL COMPANIES WE USE AND TRUST
What Are Dolmus Buses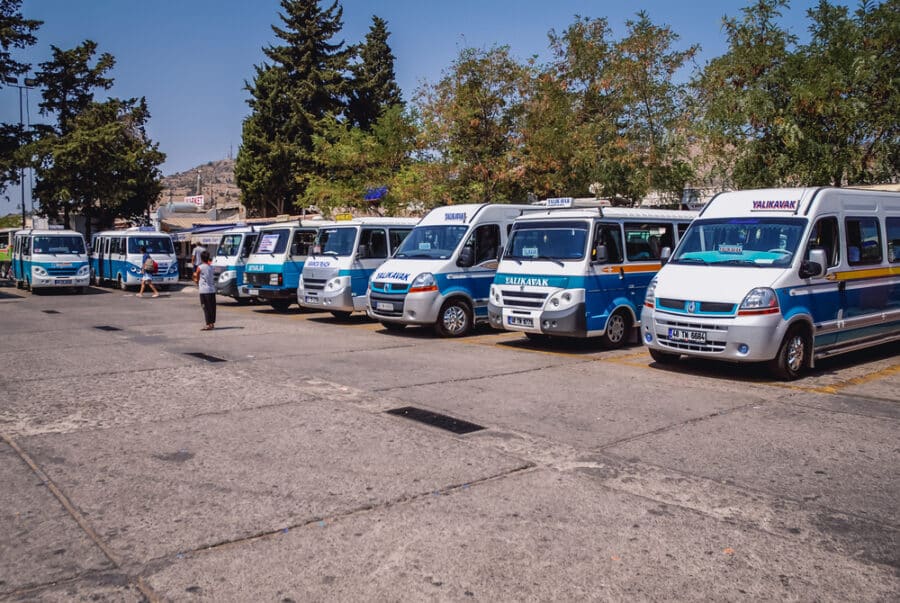 Okay, let's start with the most basic bus services in local areas.
Every village, town, city, whatever, will have a dolmus service. This small minibus runs several times throughout the day and follows a set route. You wait at a designated stop and hold out your hand when the bus approaches. Then, you pay the driver, sit down, and get off when you're where you want to go.
Simple, right?
Dolmus services are usually relatively cheap. For instance, between Marmaris and Icmeler in the Mugla area, you pay only 10 lira one way.
However, you'll also see public buses which are bigger than a dolmus but run on the same service. You can use these, but you usually need a pre-paid travel card. However, if you ask the driver nicely, they may also allow you to pay cash.
Dolmus are small and can often get busy during the summer months, which means a pretty hot and smelly experience if the people around you have forgotten their deodorant. However, for the sake of getting around cheaply and easily, they're a great option. And most people do wear deodorant these days.
The only downside is that if the dolmus is too full, the driver will tell you to wait for the next one. In most cases, that will only be a few extra minutes of waiting.
However, it's not the best option if you have luggage; there will be little space and no luggage storage, so it will have to be with you at all times. In that case, if it's only a short distance, you may be better off getting a taxi.
Long Distance Bus Travel In Turkey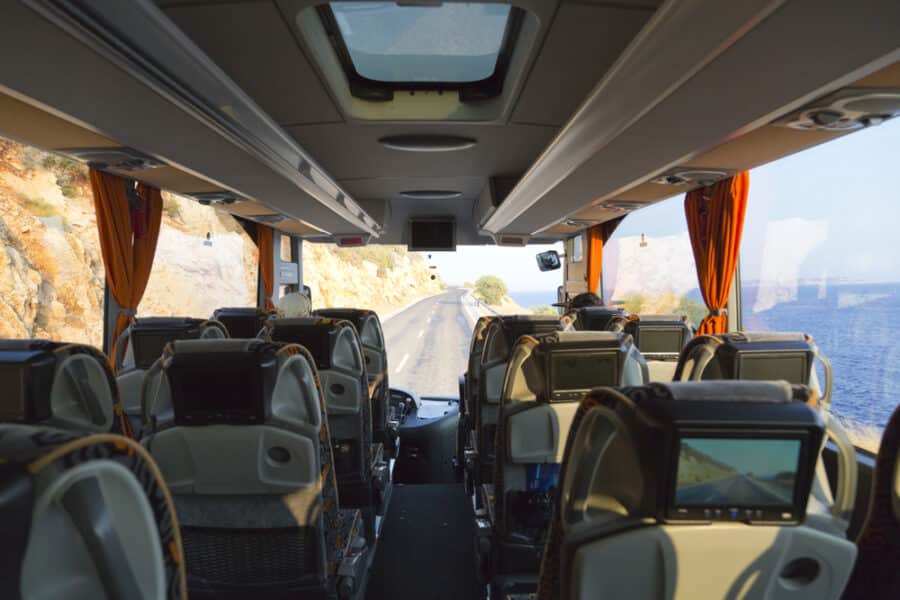 And that brings us to the long-distance bus options we talked about earlier. These are very high quality, comfortable, and fitted with seatbelts that everyone must wear, so don't hesitate to use them if you want to get around. There is also space underneath the bus for plentiful luggage; usually, at least one suitcase per person on the bus.
The only downside is that many people don't understand the distances between towns and cities in Turkey. Sometimes they can be huge! For instance, you're looking at about 7-8 hours from Istanbul to Izmir. From Izmir to Diyarbakir, it's somewhere between 22-24 hours!
The most famous long-distance bus companies in Türkiye are:
Pamukkale
Metro
Kamil Koc
All three have websites you can use to check journey times and availability. You can book your ticket online or visit any bus station, find the relevant bus company stand, and book that way. It's best to book beforehand, if possible, as seats do book up pretty quickly, especially on weekends. You can often find on-the-day tickets but don't rely on them.
Prices vary according to the journey you're taking. For instance, if you want to travel between Aydin and Istanbul and use the Jumbo Pamukkale service, which gives you a little extra legroom, you will pay around 500 lira one way.
Most companies are pretty competitive price-wise and usually come out the same; however, it always pays to shop around and see if you can save a little here and there.
Should You Travel By Bus In Turkey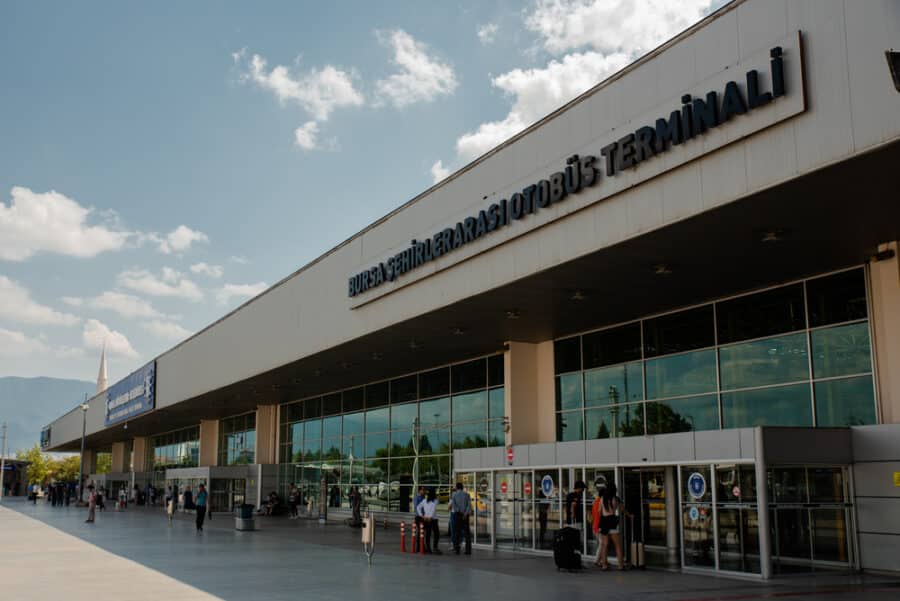 Definitely!
While domestic flights do save time, there is a lot of messing around in getting to airports, checking in, going through security, finding your luggage at the other end, etc. Simply getting on the bus in Turkey is the answer to your problem!