You're wrong if you think that Turkey is all beaches and Istanbul! Turkey is a vast country, packed with cities, towns, villages, beach resorts,… the list goes on. That means there is something for everyone. This blog post tells you about the best places in Turkey to visit for history, food, nature, partying, and more.
Sure, not every destination will suit every person, but provided you know what you want to do and what you want to experience, you can find a place that fits the bill.
For instance, if you want to enjoy the nightlife, it's not a good idea to head somewhere like Adana, Aydin, Trabzon, or Rize. However, you will find fantastic opportunities to party the night away in Istanbul, Izmir, Antalya, and any beach resort along the south coast.
If you want to enjoy history, you're probably not going to find what you're looking for that much in Marmaris, but in Istanbul, you'll have more history than you can possibly absorb into your brain!
It really comes down to what you want and then figuring out where you want to go.
Let's give you some ideas on where to go in Turkey…
Top Places To Visit In Turkey If You Want To Shop
We've got the low down on the best places to visit in Turkey to shop!
Istanbul/Izmir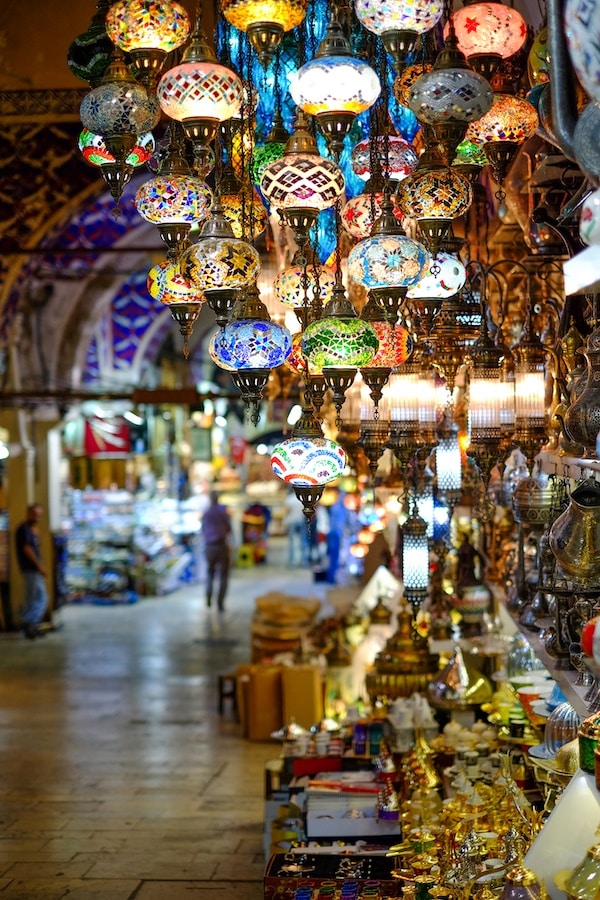 There is nothing you cannot find in Istanbul – in fact. Taksim is the ideal spot for High Street stores, but there are also huge malls across the city, such as Cevahir, Mall of Istanbul, etc. Izmir is also a great shopping spot, with several other malls and plenty of your international names. If you want traditional souvenirs, you'll find these in most places, but you can't beat Istanbul's Grand Bazaar for choice and experience!
Places To Visit In Turkey If You Want To Party
We've compiled a list of the best places in Turkey to party.
Istanbul/Izmir/Antalya/Beach Resorts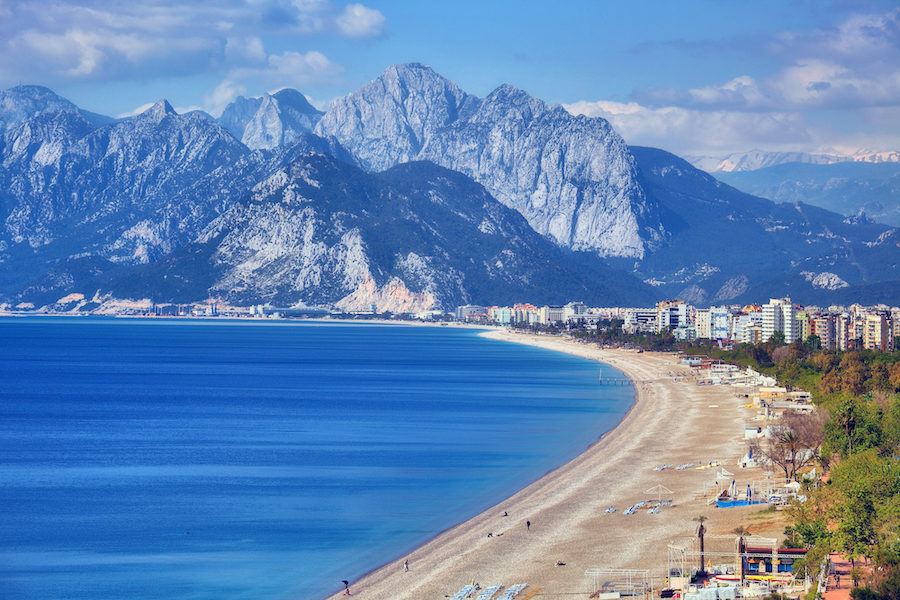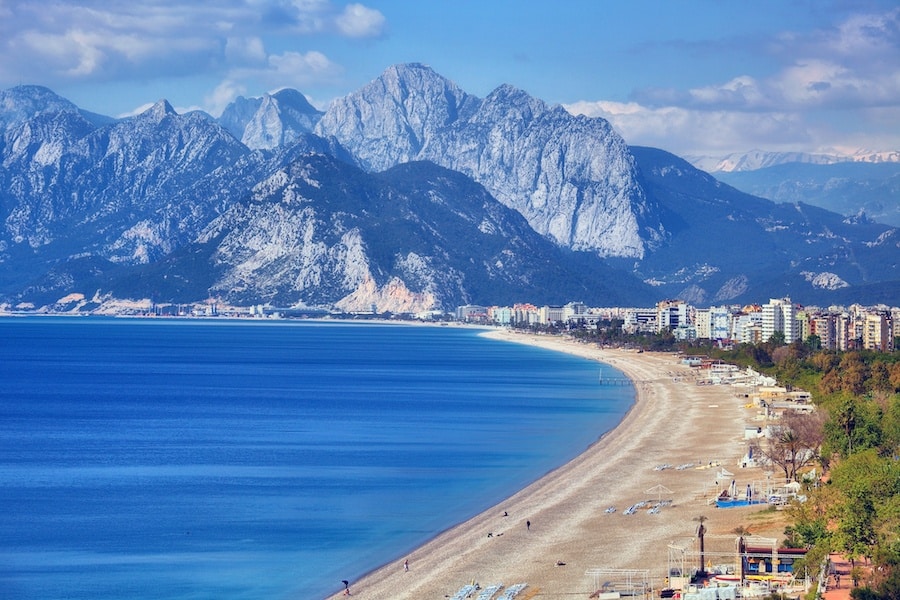 Most people are surprised when they see the amount of nightlife in Turkey. Sure, it's not everywhere you look, and some of the smaller cities and towns still tend to be more traditional in terms of beer houses, mainly for men, etc., but you'll find many International and modern bars too.
Taksim and Besiktas in Istanbul are ideal for party fans, but Izmir and Antalya will tick your boxes too. Taksim is home to some seriously loud nightclubs if that's what you're after!
Alternatively, the beach resorts on the south coast, such as Marmaris, Gumbet, Bodrum, and Alanya, also have plenty of bars and nightclubs to enjoy.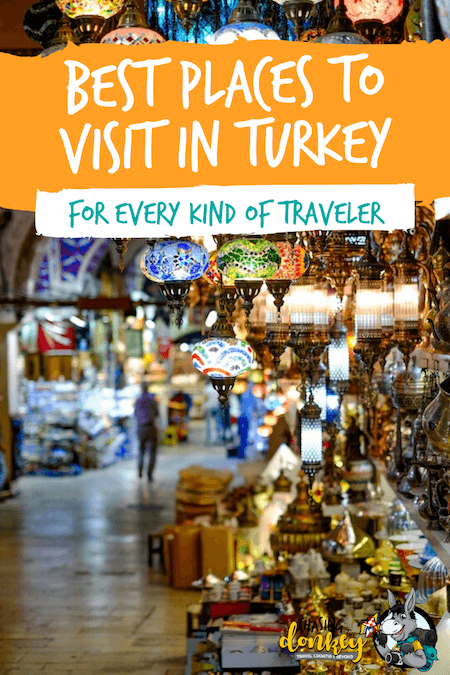 TRAVEL COMPANIES WE USE AND TRUST
Places To Visit In Turkey If You Want To Eat
If you like to eat, here are the best places to visit in Turkey.
Istanbul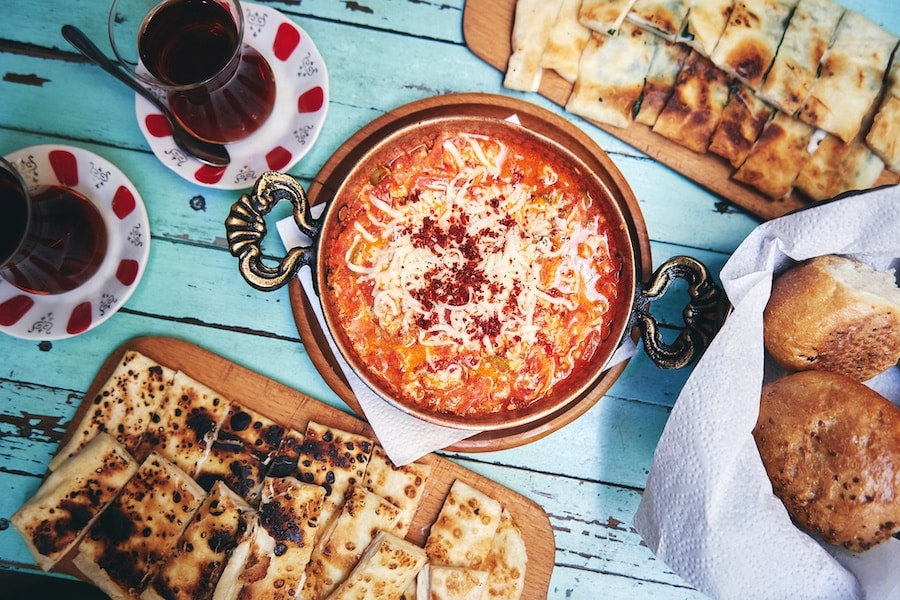 There is nothing you won't find here, including traditional Turkish food. Turkish food all over the country is delightful, and if you can head to a small village, be sure to try the homemade fare there, but if you're visiting a general place, you need to chow down in Istanbul. Be sure to try the street food also, as it's not only cheap, but it's super filling at the same time.
Places To Visit In Turkey You Want Nature
Nature lovers, take note; here are the places in Turkey to head to.
Saklikent National Park Antalya/Cappadocia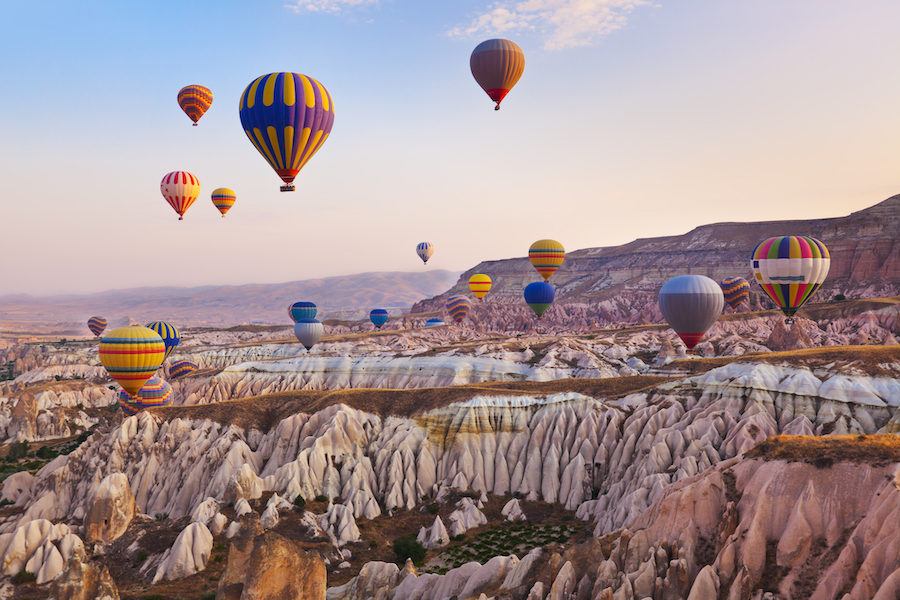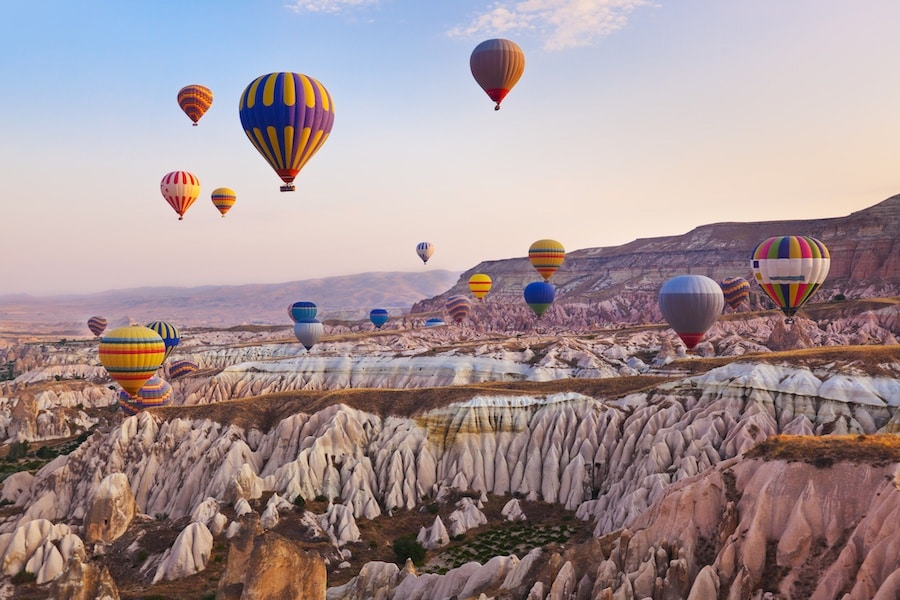 One of the most iconic travel photos worldwide is the hot air balloons over Cappadocia, which is a true must-visit. The strange landscape around here is something to behold, and the so-called 'fairy chimneys' formed by years of rock erosion are genuinely magnificent. You can even stay in a traditional cave hotel!
Alternatively, or possibly also, head to Antalya's Saklikent National Park. You can go canyoning, rock climbing, or sailing down the river, but it's genuinely breathtaking whatever you choose to do.
Pamukkale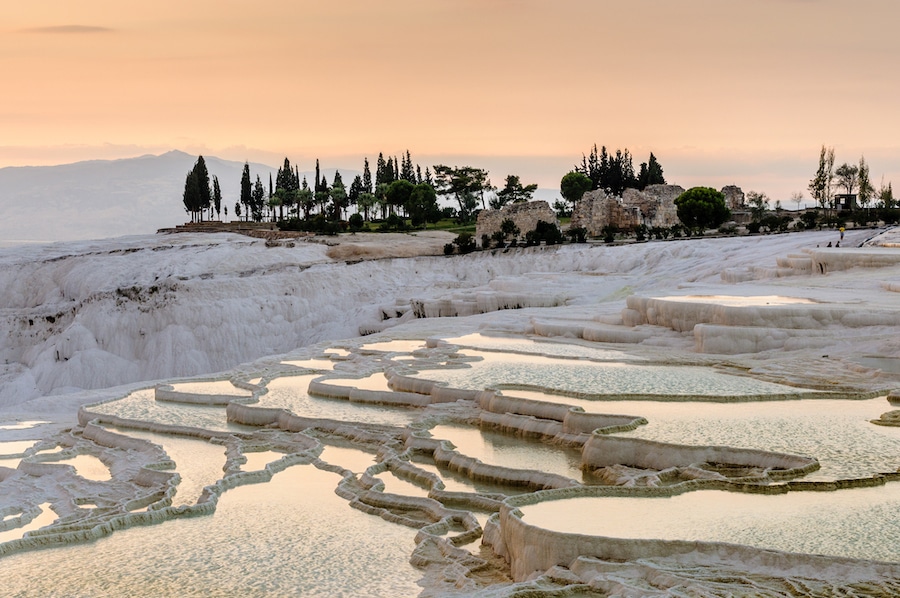 Its name means "cotton castle" in Turkish; Pamukkale is one of Turkey's best attractions for anyone. Whether you're into nature or not, you'll undoubtedly be impressed by the extraordinary features of this vast thermal spring. This natural UNESCO World Heritage Site is in inland southeastern Turkey but makes a great day trip for the major coastal cities.
Millennia of endless water flow and mineral deposits have created a stunning collection of travertine terraces, pure water, and snow-white limestone shimmering in the Turkish sun. Since antiquity, people have visited these hot springs and pools when it was the location of the Roman city of Hierapolis (Holy City).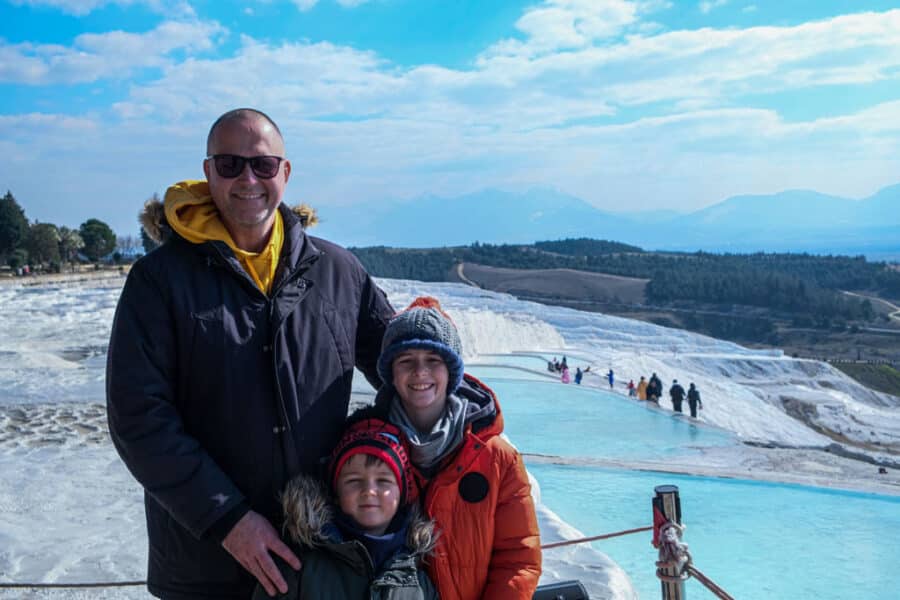 Pamukkale is easily one of the best places to go in Turkey for a day trip from the coastal resorts. Although the terraces and pools are off-limits to visitors nowadays, you can still see them up close on footpaths. The on-site Roman ruins and museums are worth visiting, too.
Places To Visit In Turkey If You Want History
So, where are the best places to visit in Turkey to learn about history?
Istanbul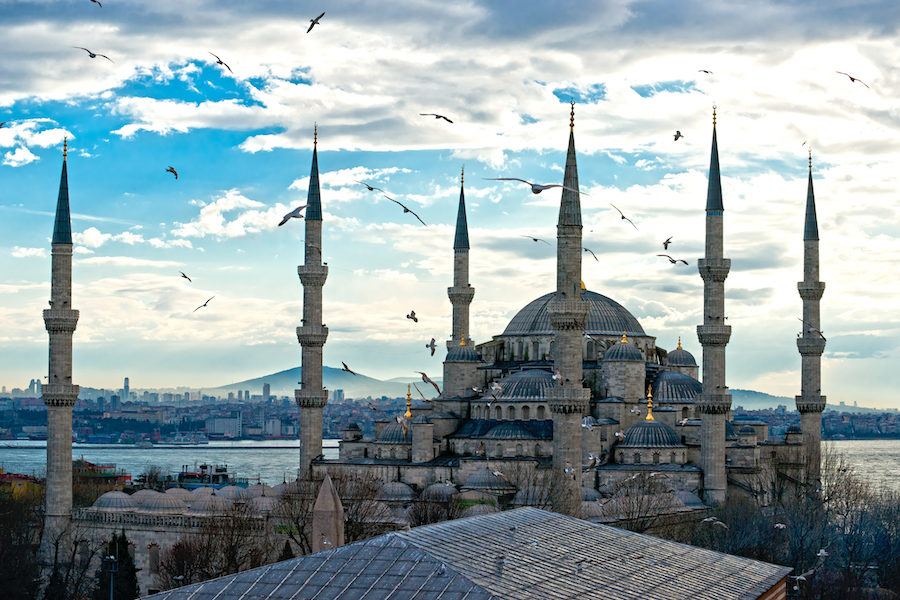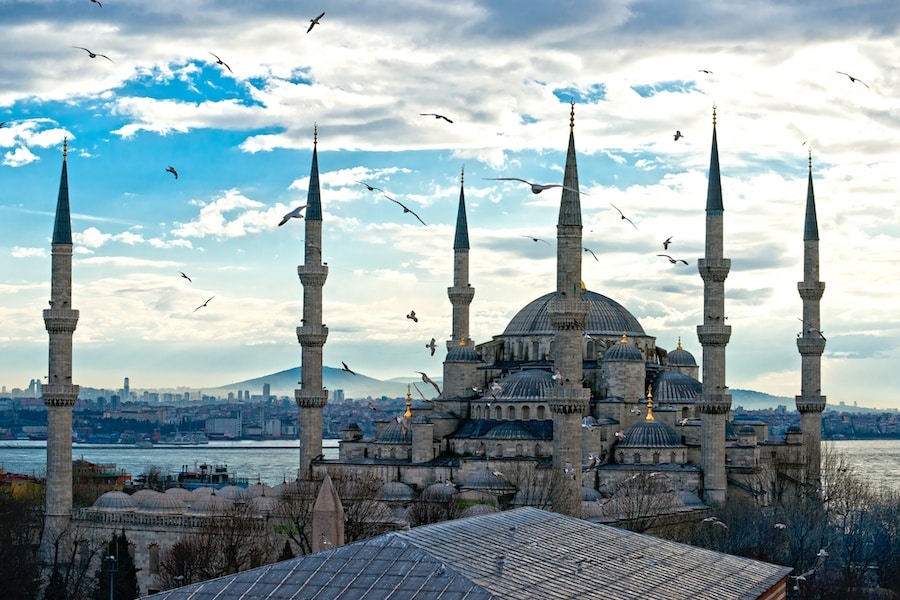 Turkey is packed with history; if you want to look at natural history, you should head to the southeastern region. While traveling there isn't forbidden by any means and is relatively safe provided you're careful, certain restrictions and places are not ideal to go to. Many governments warn their citizens not to go to the border area with Syria, for example. This is quite a shame because Mardin, which isn't too far from the Syrian border, is one of Turkey's oldest and most historical parts.
Despite that, Istanbul is the best place to go in Turkey for history, hands down, if not the entire world. There are more historical sights to see in Turkey than you will ever have time to visit on one vacation!
Ephesus
Located near the present-day town of Selçuk on Turkey's southeast coast, Ephesus is one of the world's most magnificent ancient ruins and is one of the top places to go in turkey for ruins.
This ancient Greek city dates from as far back as the 10th century BC, after which it grew to become of the twelve cities of the Ionian League in Classical Greece. The Romans conquered this stunning city in the 2nd century BC.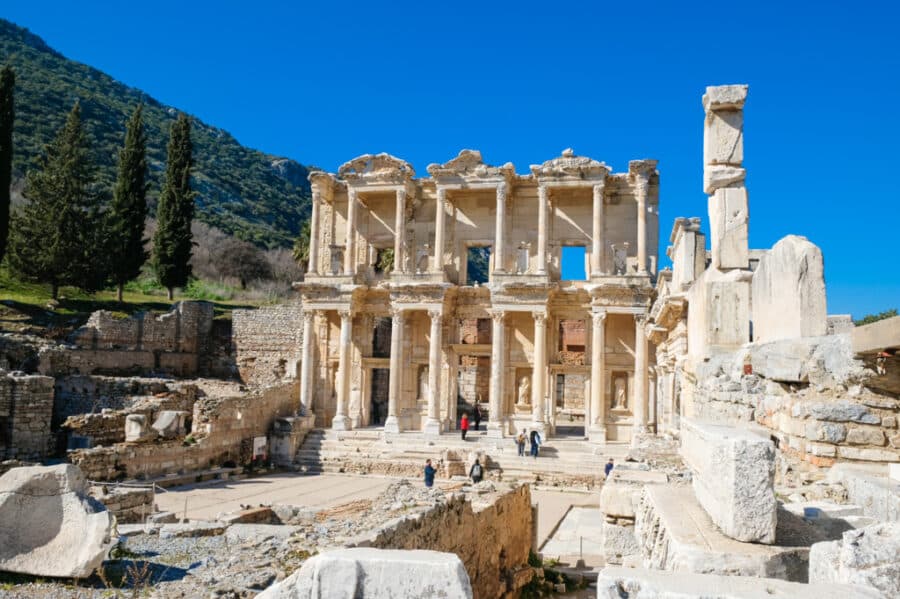 Now a UNESCO World Heritage Site, Ephesus is easily one of the best sites in Turkey to visit ancient architecture and history. It was home to the fabled Temple of Artemis, one of the Seven Wonders of the Ancient World. Simultaneously, other iconic buildings include the imposing Library of Celsus, the Gate of Augustus, and the Tomb of John of the Apostle. If you only have time to visit one historic site in Turkey, this should be it.
Aspendos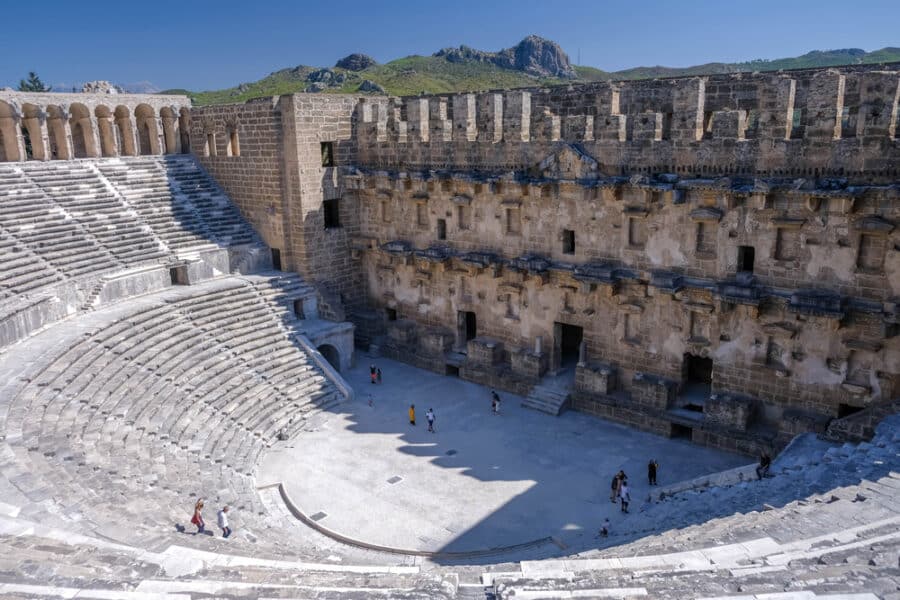 Another spectacular Turkish site dating from antiquity is Aspendos. This ancient Greco-Roman city is near Antalya on the southern coast of Turkey. There's plenty of history to discover and learn about here, making it one of the best places in Turkey to visit for history buffs. The absolute star attraction, however, is the massive Aspendos Theater.
One of the best-preserved theaters from antiquity, the Aspendos Theater, dated from the 2nd century AD, was once able to seat no fewer than 12,000 spectators. It is exceptional for its superb acoustics and impressive architectural design. What makes the Theater of Aspendos even more amazing is that it's still in use today—it hosts the annual Aspendos International Opera and Ballet Festival.
City Of Safranbolu
Another one of the many beautiful places in Turkey, the old City of Safranbolu, used to be an essential stop on the main east-west trade route between Europe and Asia in the 13th century. UNESCO designated it World Heritage for its significance to historic trade and its well-preserved buildings.
The Çarşı District is home to beautiful Ottoman architecture, including hundreds of red-roofed houses that line cobblestone streets. Other top attractions in Safranbolu include the 17th-century caravansary of Cinci Han and the restored Tarihi Cinci Hamam bathhouse.
Mount Nemrut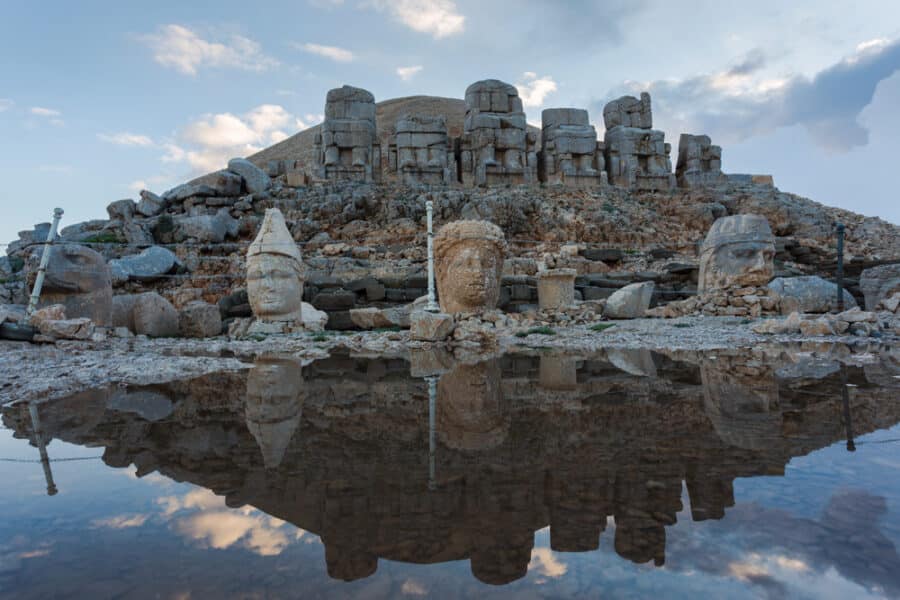 By now, you've probably noticed that several of the best places to visit in Turkey are historical or cultural sites. And here we have yet another historic UNESCO World Heritage Site in Turkey. Mount Nemrut is no different. Also known as Nemrut Dağ, Mount Nemrut sits is situated in southeastern Turkey and is one of the tallest mountains east of the Taurus mountain range.
This striking mountain is topped with several ruins and buildings, along with several famous statues. It is assumed to be the mausoleum of Antiochus, the former late-Hellenistic king of Commagene, which originated after Alexander's empire fell. Seeing the temple tomb's colossal statues and sculpted slabs is an experience that makes the trip out there more than worth it.
Places To Visit In Turkey If You Want Authentic Culture
So, where are the best places to visit in Turkey to experience culture?
Trabzon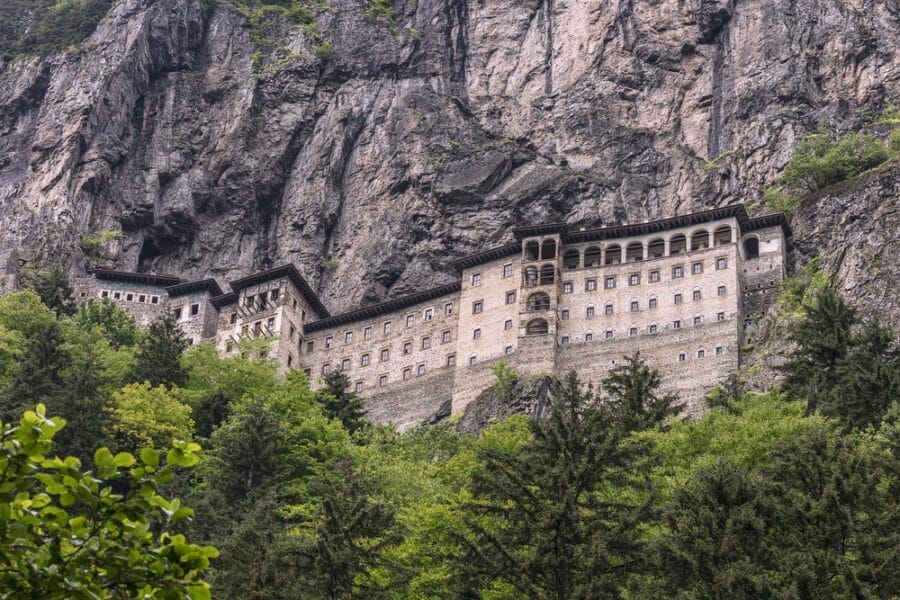 If you're looking for a breathtaking Turkish city to add to your travel list, look no further than Trabzon. This Black Sea gem is located in the northeast of Turkey and is known for its stunning natural scenery, rich history, and delicious cuisine.
One of the must-see sights in Trabzon is the Sumela Monastery. Nature lovers will also enjoy exploring the Uzungol Plateau, hiking through the Altindere Valley National Park, and relaxing at one of the many scenic beaches. And, of course, no visit to Trabzon would be complete without sampling some of the local dishes like hamsi (anchovies), karadeniz pidesi (black sea bread), and kuyu kebabi (lamb cooked underground).
So if you're looking for a city that has it all – from beautiful landscapes to tasty food – make sure to put Trabzon, Turkey, on your radar!
Konya
Konya is a city in Turkey that is full of history and culture. There are many things to see and do in Konya, making it a great place to visit. Some of the top sights include the Mevlana Museum, the Alaeddin Mosque, and the Selimiye Mosque. There are also plenty of great restaurants and shops to explore. If you're looking for a city full of character and culture, Konya is definitely worth a visit.
Any village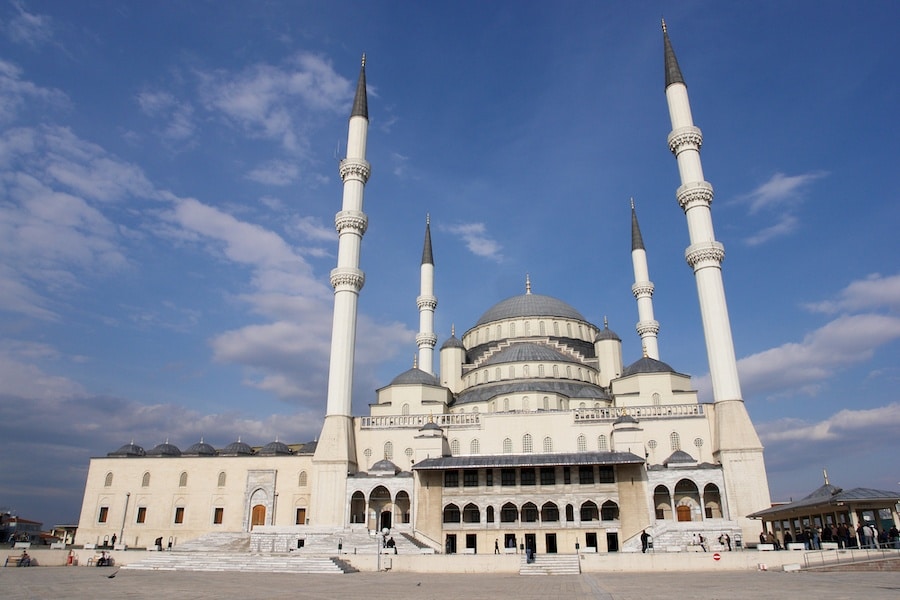 Many tour operators will take you into local villages and let you see the local way of life. If you visit cities and towns, sure you'll see some of it, but it's usually touched by modern life and changed a little. You must visit a local village to see how people live off the land, focus all their time and energy on family, and value communities. The food is also excellent!
Turkish people, by nature, are very welcoming, and hospitality is high on their list. If you meet a local family and they invite you to their home, you're more than blessed in terms of the culinary delights that will come your way too! The good news is that there are many villages close to the main tourist resorts on the south coast, so this is something you can do if you hire a car too.
Places To Visit In Turkey If You Want To Go Off The Beaten Track
Get off the beaten track and head to one of these options of the best places to visit in Turkey.
Northern And Central Turkey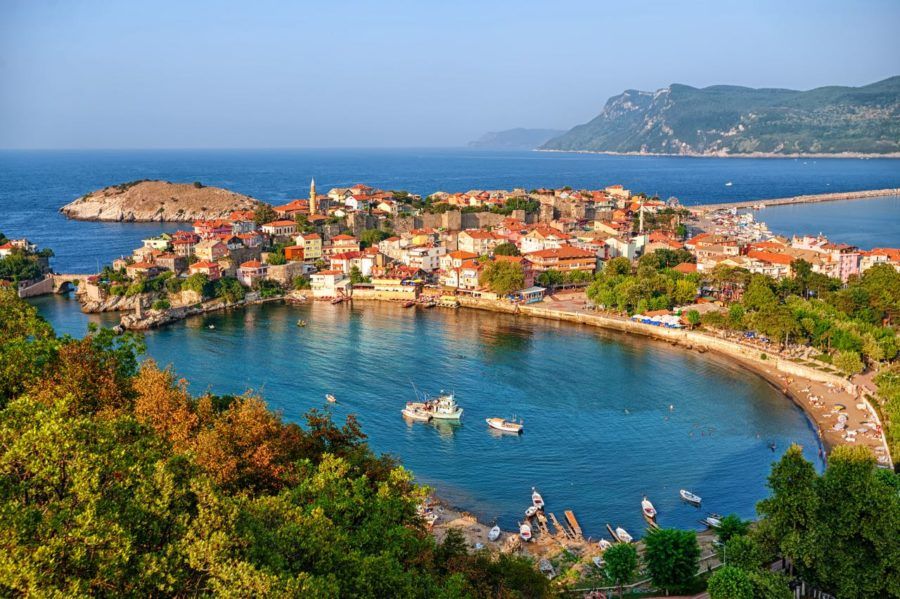 Turkey is a safe country, and provided you listen to advice, e.g., the advice we gave before about not going close to the Syrian border; you're more than fine. This is a huge country, and it's exceptionally welcoming. Thanks to a very high-quality long-distance bus network, it's straightforward to travel around Turkey, meaning you can go from place to place relatively cheaply.
If you want to go away from the main tourist resorts and cities, head to the Black Sea Coast, with destinations in Turkey such as Rize and Trabzon. Do be aware that during the winter, however, this part of Turkey sees heavy snowfall, but it's a beautiful thing to see! Central Turkey is also a delight, and this is where the capital city of Ankara is situated.
Places To Visit In Turkey If You Like The Cold
We've got the tourist spots in Turkey that are still fun while cold.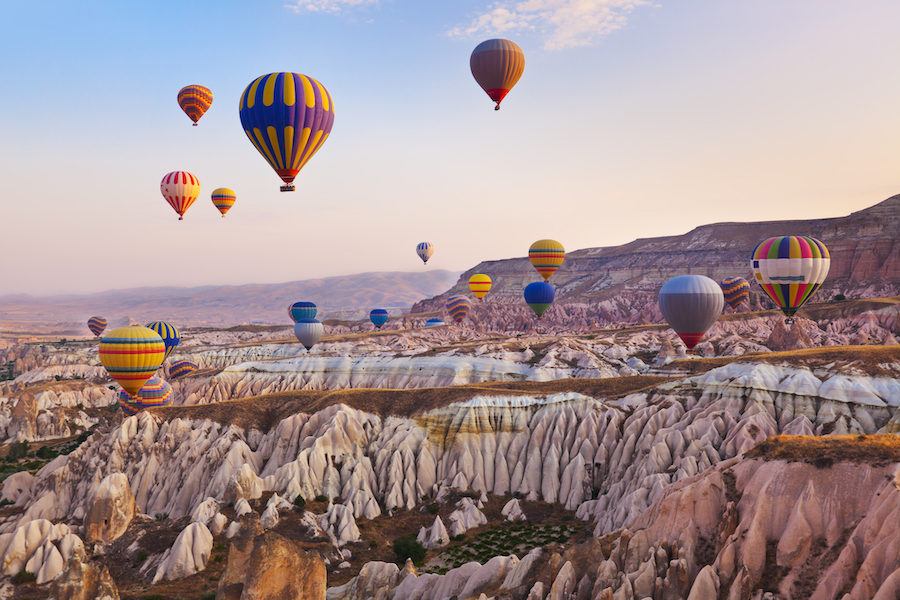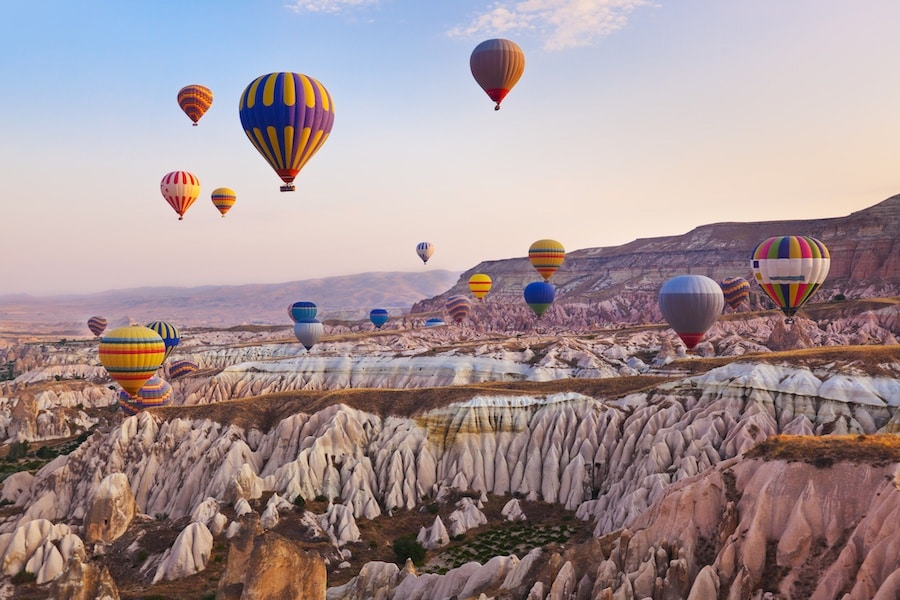 Do you think that the best places to visit in Turkey are reserved for the summer only?
Wrong!
Wintertime in Turkey can be magical, a great opportunity to relax, recharge your batteries, and see the traditional way of life; and of course, you can still embrace plenty of hectic action in the large cities, especially Istanbul.
Cappadocia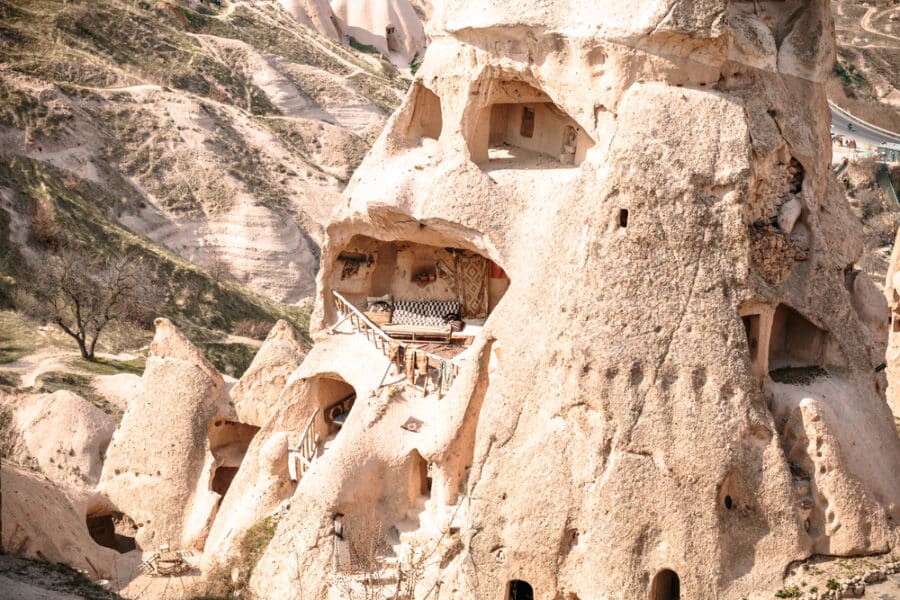 Did you know that Cappadocia Is open all year round?
This beautiful fairy chimney landscape in Central Turkey is iconic for the hot air balloons flying high at sunrise every day. You might not know that Cappadocia doesn't close, so you can still head there and enjoy the scenery even when the weather is freezing,g and the snow is falling.
While hot air balloons are subject to cancellation at any time of year, depending upon weather conditions, it's more likely to be the case during the winter months – don't let that stop you, however, as there are many days when flights take off exactly as scheduled! Even if you can't get on the balloon, there are many things you can do around Cappadocia, with walking trails, cuisine, museums, archaeological sites, and of course, the chance to stay in a cave museum!
Winter in Turkey is undoubtedly something you should do. While you might not be able to jump into the sea and get a suntan, you'll experience something far more valuable – authenticity!
Places To Visit In Turkey If You Want To Sunbathe
If you want to know where to go in Turkey for the sun, we've got you covered (in 50+).
South Coast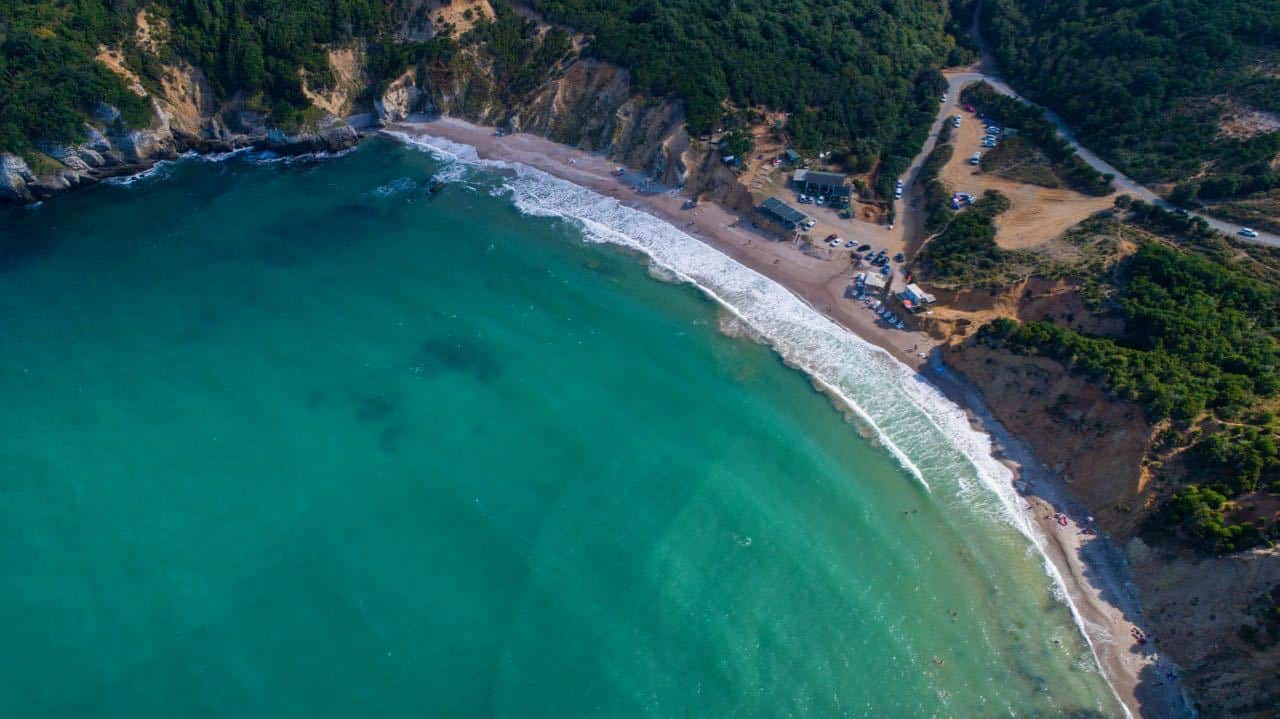 Finally, if you want to kick back and relax, get a tan, and enjoy the summer temperatures (although, be warned, they're hot), you should definitely head south and visit one of the many tourist resorts on the south coast. Lapped by the Aegean and Mediterranean, you can choose between
As you can see, there really is somewhere to go in Turkey for everyone.