Some posts contain compensated links. Please read this disclaimer for more info.
Top Things To Do In Izmir, Turkey
When you think about big cities in Turkey, you probably automatically think of Istanbul first and then the capital, Ankara. Of course, those are two fantastic cities to add to your destination list, but you're missing out on something special by simply assuming those are the only options. Another amazing place to visit in Turkey is Izmir.
Izmir is a fantastic, young, vibrant, and hip city with history lurking behind every corner. Located on the Aegean coastline, Izmir is also super-pretty and very Instagrammable. How about a snap of you enjoying a horse-drawn carriage ride along the waterfront? It's possible in Izmir!
Back in the days of antiquity, Izmir was known as Smyrna. Like most of Turkey, it has passed hands between various empires over the years, including the Greeks, the Romans, and the Ottomans.
You'll notice a wonderful blend of old and new here. Izmir is a huge university city while also offering fantastic shopping opportunities. The nightlife is vibrant and varied, the gastronomy is seriously on point, and there is plenty of history to explore at the same time.
To narrow things down for you, let's check out a few things to do in Izmir during your visit to this cosmopolitan and downright beautiful city.
Izmir Archaeological Museum
If you've fallen in love with the various archaeology examples you see around the city, you should definitely spend a few hours in the Izmir Archaeological Museum.
You'll find countless interesting artifacts within the museum, many of which date back to the Greek and Roman eras, as well as the Bronze Age. This is one of the top things to do in Izmir for lovers of history and culture.
Izmir Clock Tower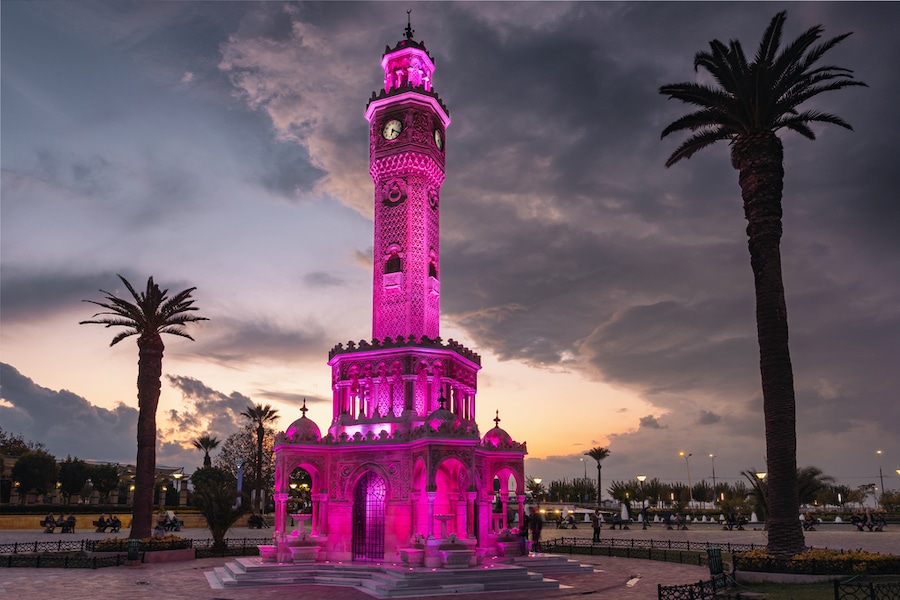 You can't visit Izmir and not have a photo taken with this iconic monument. Dating back to 1901, this clock tower was built to highlight the 25th anniversary of Abdulhamid II's reign and is located in the Konak area of the city. Its typical Ottoman style basically means it's super-elaborate and impressive to look at!
There are four fountains around the clock tower, which is so iconic it was printed on the old 500 Lira banknote (that is now no longer in circulation).
Asansor
Another highlight of the Konak area of Izmir, Asansor, was built in 1907 and is a historic form of transport. The building itself is pretty unique, but the elevator within it is where the history is at.
The elevator was built to transport goods and people up the steep hill beside it, but you can also see a fantastic panoramic view from the top these days. There's also a seriously impressive restaurant, which is so popular you'll have to book ahead of time if you want to get a table.
Kemeralti Carsisi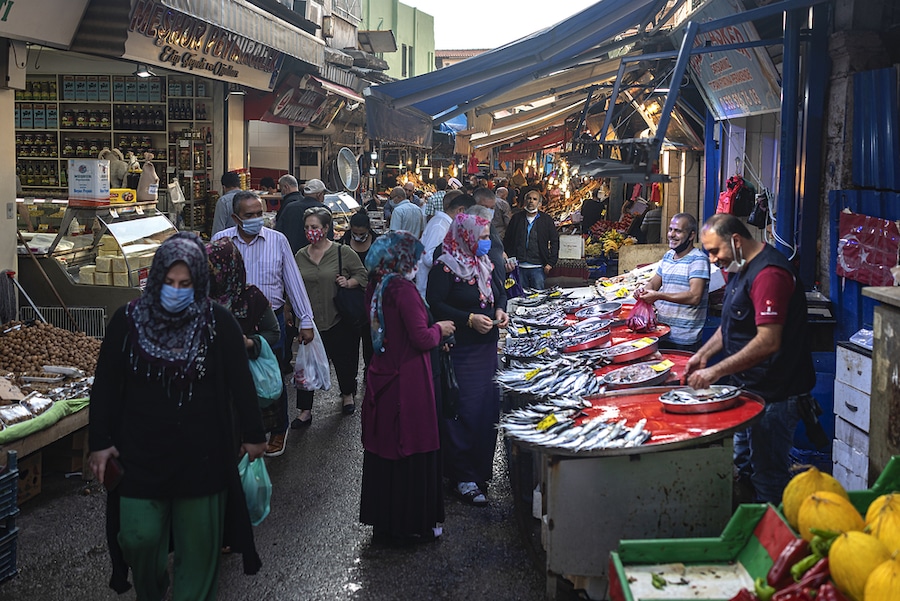 If you like your shopping for traditional and authentic souvenirs, you need to head to Kemeralti Carsisi. One of the top attractions in Izmir this a fantastic shopping street with market stalls and a covered bazaar.
It's also a busy spot and is often quite loud and vibrant. You can grab some fantastic souvenirs here to take home to your loved ones. Just wandering around the area in itself is quite the experience, too!
Mount Kadifekale Fortress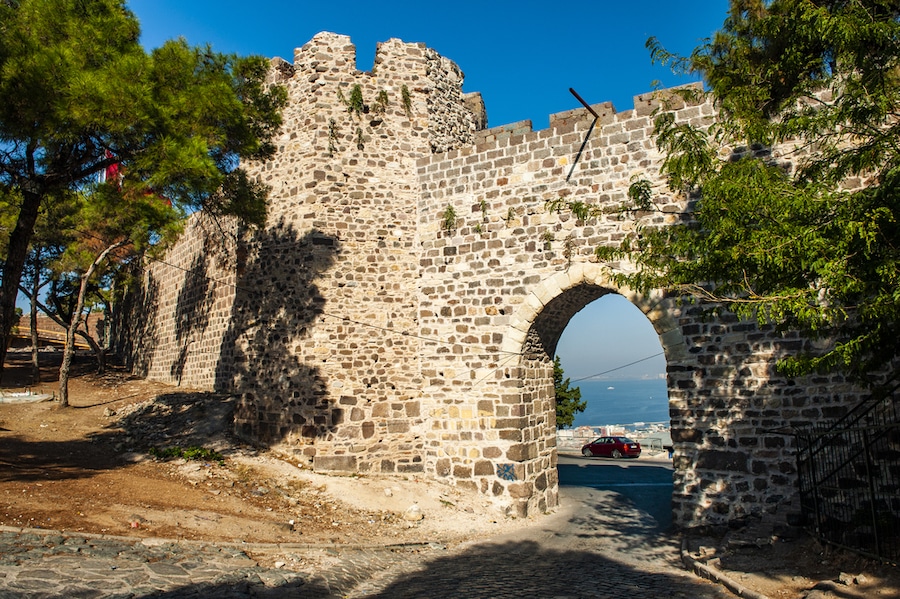 In the center of Izmir, if you look up, you'll see a large mountain named Mount Pagos. A trip to the top is one of the best things to do in Izmir. You'll get to see a fantastic view, and it's a great way to escape the noise of the city center.
There is a fortress at the top of the hill, which dates back to when the Greeks laid claim to the entire area. On a clear day, you can see across the shimmering Aegean Sea.
Agora Open Air Museum
Not too far away from Izmir, you'll find Ephesus, located in Selcuk. While this is one of the day trips from Izmir, you don't necessarily have to travel too far to visit ancient ruins.
The Agora Open Air Museum near Izmir is a fantastic and conveniently located choice. This site encompasses the ruins of a marketplace that was first home to the Greeks and then the Romans.
You can walk freely amongst the ruins, allowing you to soak up the history of this wonderful place at your own pace. On a bright summer's day, the white ruins and the blue sky contrast makes for a fantastic Instagram shot for your feed.
Hisar Mosque
If you think that Istanbul has a monopoly on stunning mosques, you're wrong! Izmir is home to the beautiful Hisar Mosque, which was built between 1592 and 1598. You can't miss this mosque as it is right in the city center and it's literally huge. Inside you'll find some stunning Islamic artwork, some of the best in the entire region.
Obviously, when visiting a mosque, remember to adhere to etiquette at all times. This means removing your shoes, being quiet and respectful, women need to cover their heads, and everyone needs to wear appropriate clothing.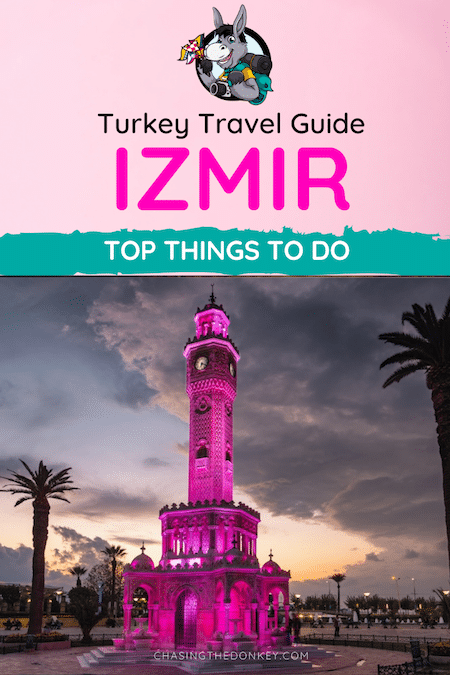 Yassica Ada Island
If you're visiting Izmir for a few days and want to see some of the local area, jump on the ferry over to Yassica Island. The journey will take you around an hour and a half, and you'll feel like you're a million miles away from the busy city center.
Located 4 kilometers from the mainland, the island is uninhabited, which gives it a totally chilled-out vibe. The beach is stunning, albeit small, and there is a quaint restaurant during the summer months.
Forum Bornova
If you want to enjoy a spot of modern-day shopping and entertainment, the best place to go to is the huge Forum Bornova mall. You'll find a cinema, Turkish food court, numerous coffee shops, and countless national and international stores to spend your Lira in.
Has Izmir tempted you? What will you be adding to your Izmir must-see list first?
Share