We may earn commission from affiliate links →
Things To Do In Izmir Turkey, For Every Kind Of Traveler
When you think about big cities in Turkey, you probably automatically think of Istanbul first and then the capital, Ankara. Of course, those are two fantastic cities to add to your destination list, but you're missing out on something special by simply assuming those are the only options—another wonderful place to visit in Turkey in Izmir.
Izmir is a fantastic, young, vibrant, and hip city with history lurking behind every corner. Located on the Aegean coastline, Izmir is also super-pretty and very Instagrammable. How about a snap of you enjoying a horse-drawn carriage ride along the waterfront? It's possible in Izmir!
Back in the days of antiquity, Izmir was known as Smyrna. Like most of Turkey, it has passed hands between various empires over the years, including the Greeks, the Romans, and the Ottomans.
In Izmir, you'll find a vast university city with fantastic shopping opportunities. You'll notice a wonderful blend of old and new here. The nightlife is vibrant and varied, the gastronomy is seriously on point, and there is plenty of history to explore simultaneously.
To narrow things down for you, let's check out a few things to do in Izmir during your visit to this cosmopolitan and downright beautiful city.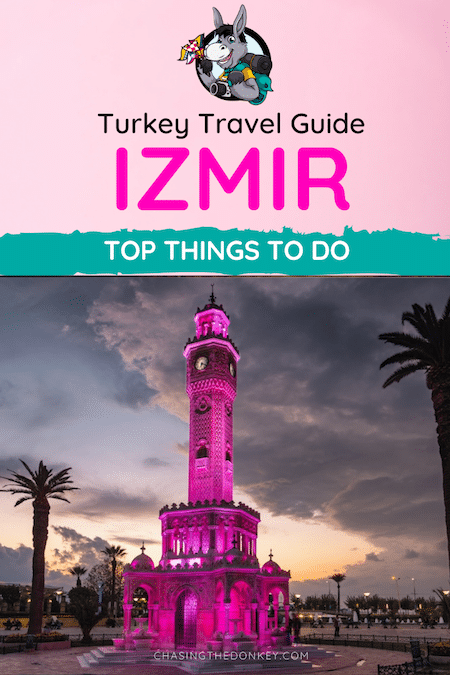 Top Things To Do In Izmir
Here are some of the top Izmir attractions we know you'll all love.
Izmir Clock Tower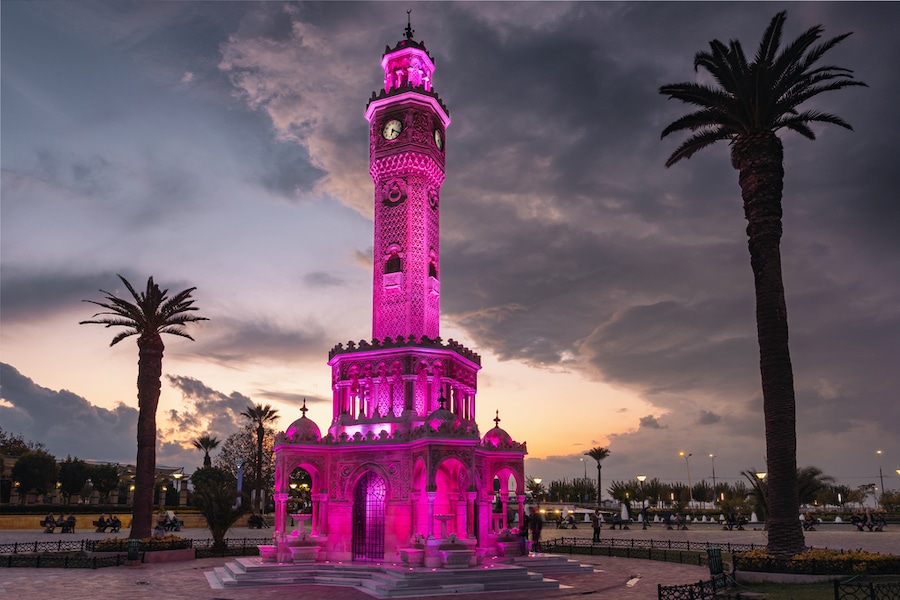 When looking at what to do in Izmir, you can not go past the clock tower. Dating back to 1901, this clock tower was built to highlight the 25th anniversary of Abdulhamid II's reign and is located in the Konak area of the city. Its typical Ottoman style means it's super-elaborate and impressive to look at! You can't visit Izmir and not have a photo taken with this iconic monument.
There are four fountains around the clock tower, which is so iconic it was printed on the old 500 Lira banknote (that is now no longer in circulation).
Asansor – İzmir Historical Elevator Building (İzmir Tarihi Asansör Binası)
Another highlight of the Konak area of Izmir, Asansor, was built in 1907 and is a historic form of transport. The building itself is pretty unique, but the elevator within it is where the history is at.
The elevator was built to transport goods and people up the steep hill beside it, but you can also see a fantastic panoramic view from the top these days. There's also an imposing restaurant, which is so popular you'll have to book ahead of time if you want to get a table.
Izmir Culture Park – Kültürpark
The Izmir Book Fair takes place every spring and covers ten whole days, so if you're a book lover, this one is for you! Check online before you go to see if there are any events taking place at Culture Park. There are regular concerts and festivals here, and it's a great spot to enjoy the local area and soak up the green spaces.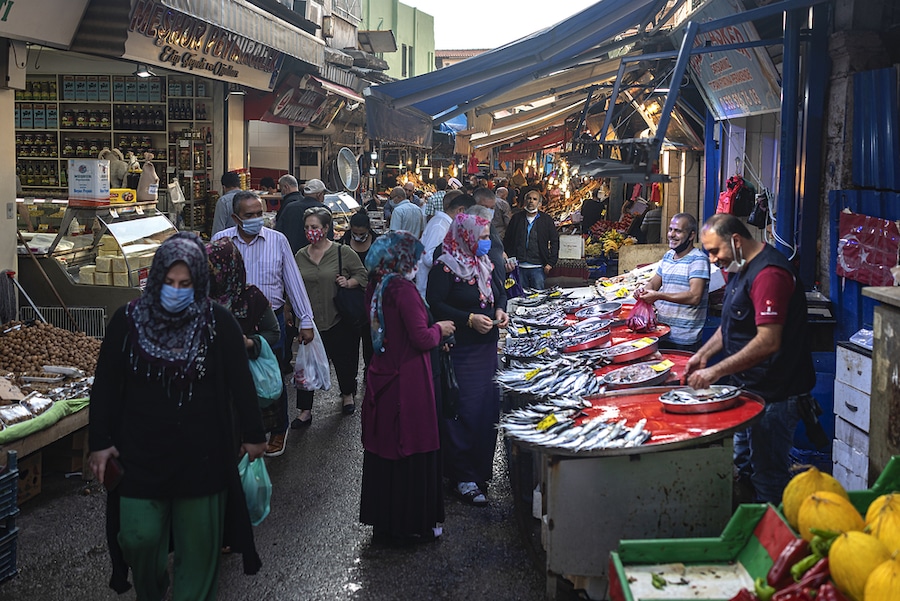 If you like shopping for traditional and authentic souvenirs, you must ass Kemeralti Carsisi to your list of what to do in Izmir. One of the top attractions in Izmir, this a fantastic shopping street with market stalls and a covered bazaar.
It's also a busy spot and is often quite loud and vibrant. You can grab some fantastic souvenirs to take home to your loved ones. Just wandering around the area in itself is quite the experience, too!
Museums Everywhere!
Izmir is definitely a city of culture, meaning countless museums to check out. Many are open-air and low in cost to enter. A few notable ones include:
FANTASTIC IZMIR MUSEUMS
Izmir Archaeological and Ethnography Museum
If you've fallen in love with the various archaeology examples you see around the city, you should spend a few hours at the Izmir Archaeological Museum.
You'll find countless exciting artifacts within the museum, many of which date back to the Greek and Roman eras and the Bronze Age. This is one of the top things to do in Izmir for lovers of history and culture.
Art & Sculpture Museum

Archaeological & Ethnography Museum (more on this one below)

Museum of History & Art

Izmir Women's Museum

Ataturk Museum

Steam Locomotive Museum

Bostanli Archaeological Museum

Agora Museum (more of this one below)

Universal Children's Museum
Agora Open Air Museum – Museo all'aperto dell'Agorà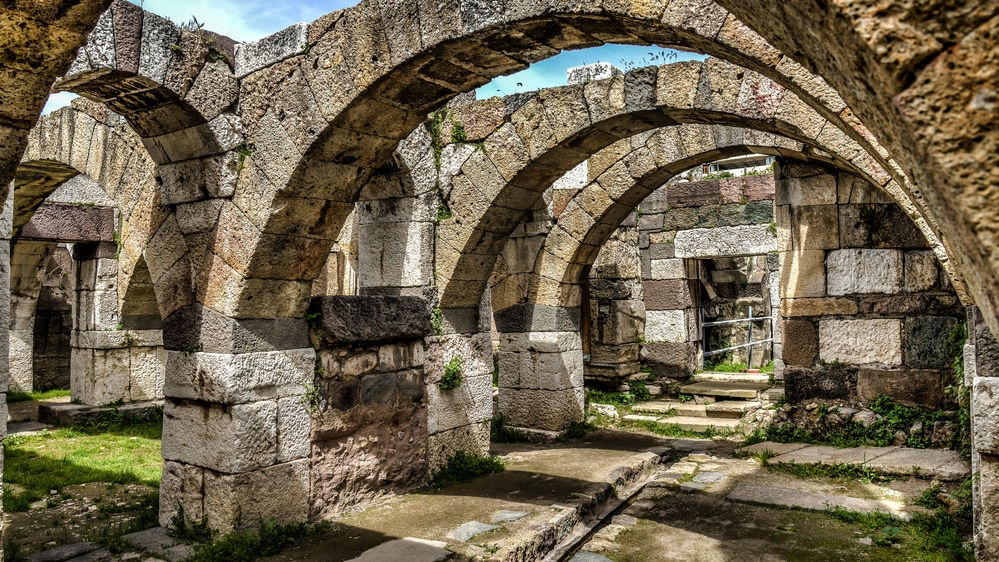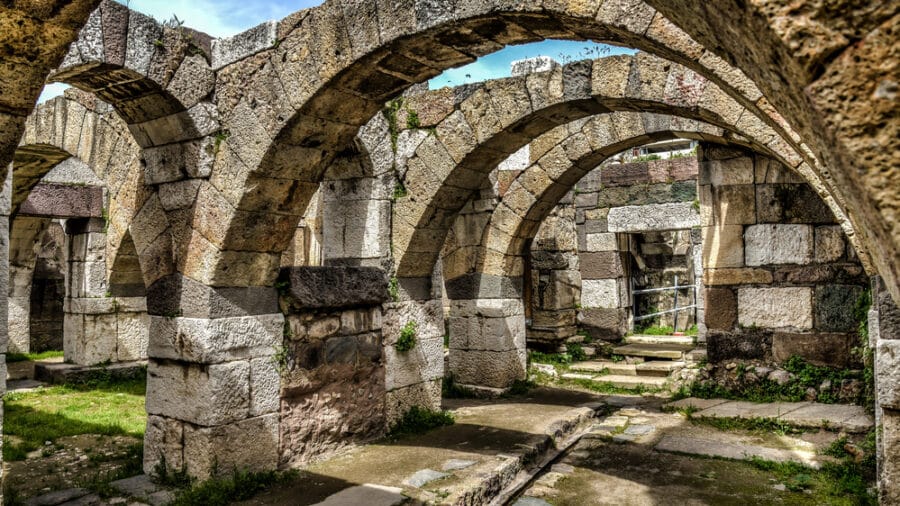 Not too far away from Izmir, you'll find Ephesus, located in Selcuk. This site encompasses the ruins of a marketplace home to the Greeks and the Romans. While this is one of the day trips from Izmir, you don't necessarily have to travel too far to visit ancient ruins. The Agora Open Air Museum near Izmir is a fantastic and conveniently located choice.
You can walk freely amongst the ruins, allowing you to soak up the history of this beautiful place at your own pace. On a bright summer's day, the white ruins and the blue sky contrast makes for a fantastic Instagram shot for your feed.
Konak Pier –
Konak Pier –
Konak Pier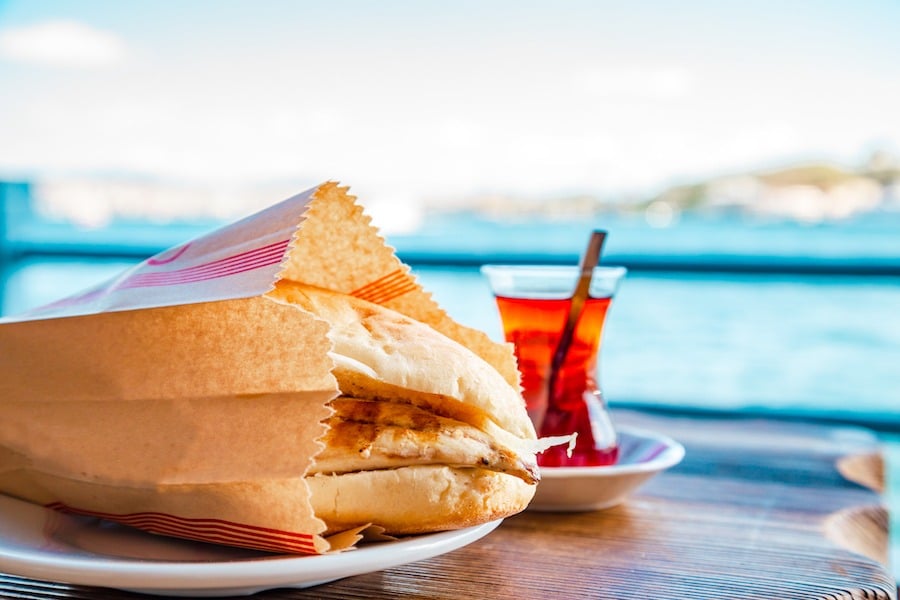 Konak is the seaside district of Izmir, and the pier is a beautiful spot to walk and grab an ice cream. The views out over the sea are stunning, and there are many local restaurants here where you can try some authentic cuisine, including seafood.
Alsancak
This is another district of the city, and it's a busy spot that will definitely fill your senses. The port is bustling and leads down to plenty of bars and restaurants. The shopping in this area is also excellent if you prefer to avoid large malls.
If you can, spend the evening in this area and enjoy the vibrant nightlife and live music.
Balcova Cable Car – İzulaş A.ş. İzmi̇r Balçova Teleferi̇k
Balcova itself is a residential area that is bustling with everyday life. However, it is also home to the famous cable car which takes people up to Dede Mountain. You can certainly count on a stunning view, that's for sure.
Once you arrive at the top, you'll be able to enjoy refreshments, or you can take a picnic up there and sit at one of the picnic tables to enjoy your food – remember to take all your litter with you.
Mount Kadifekale Fortress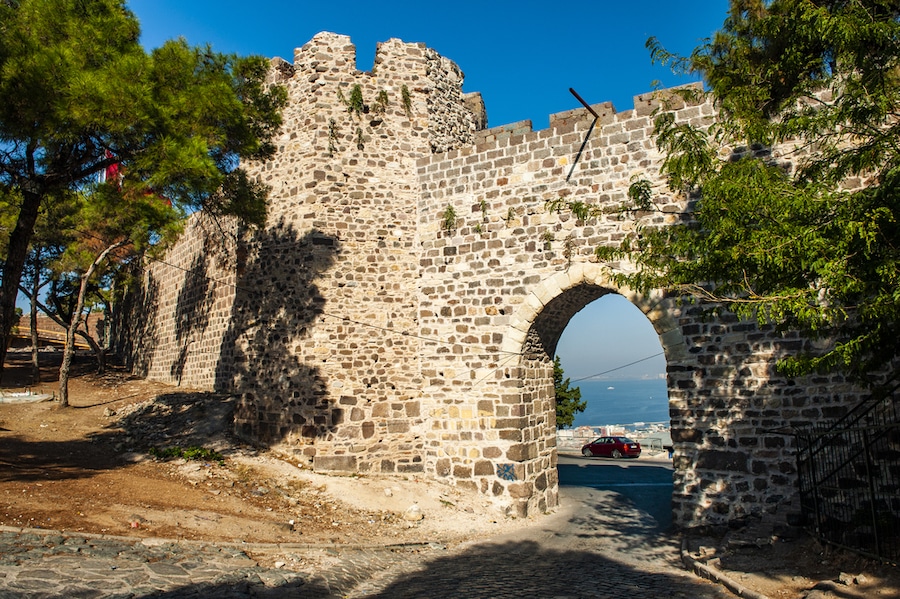 A trip to the top is one of the best things to do in Izmir. In the center of Izmir, if you look up, you'll see a large mountain named Mount Pagos. You'll get to see a fantastic view, and it's a great way to escape the noise of the city center.
A fortress at the top of the hill dates back to when the Greeks claimed the entire area. This spot is drenched in history and is where Alexander the Great discovered Izmir. The castle's ruins are still in pretty good condition, considering their age, and you can also check out the underground cisterns from Byzantine times.
The views are jaw-dropping, and you can see across the shimmering Aegean Se on a clear day.
Hisar Mosque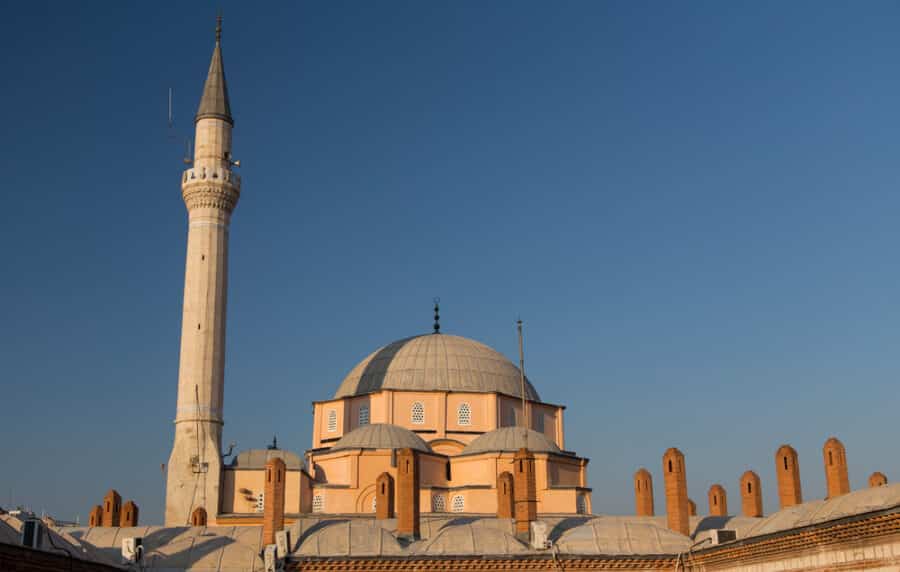 You're wrong if you think Istanbul has a monopoly on stunning mosques! Izmir is home to the beautiful Hisar Mosque, one of the must-see places to visit in Izmir. The mosque was built between 1592 and 1598. You can't miss this mosque as it is right in the city center, and it's literally huge. Inside you'll find some stunning Islamic artwork, some of the best in the entire region.
When visiting a mosque, remember to adhere to etiquette at all times. This means removing your shoes and being quiet and respectful, women need to cover their heads, and everyone needs to wear appropriate clothing.
Yassica Ada Island
If you're visiting Izmir for a few days and want to see some of the local Izmir attractions beyond the usual, jump on the ferry over to Yassica Island. The journey will take you around an hour and a half, and you'll feel like you're a million miles away from the busy city center.
Located 4 kilometers from the mainland, the island is uninhabited, giving it a chilled-out vibe. The beach is stunning, albeit small, and there is a quaint restaurant during the summer months.
Forum Bornova
If you want to enjoy a spot of modern-day shopping and entertainment, the best place to go to is the huge Forum Bornova mall. You'll find a cinema, a Turkish food court, numerous coffee shops, and countless national and international stores to spend your Lira in.
Top Day Trips From Izmir
Urla
If city life is getting too much for you, take a day trip out to the countryside and visit Urla. Here you'll find small cafes and restaurants, a much slower pace of life, wineries, and local food, such as cheese and olives grown on site.
Ephesus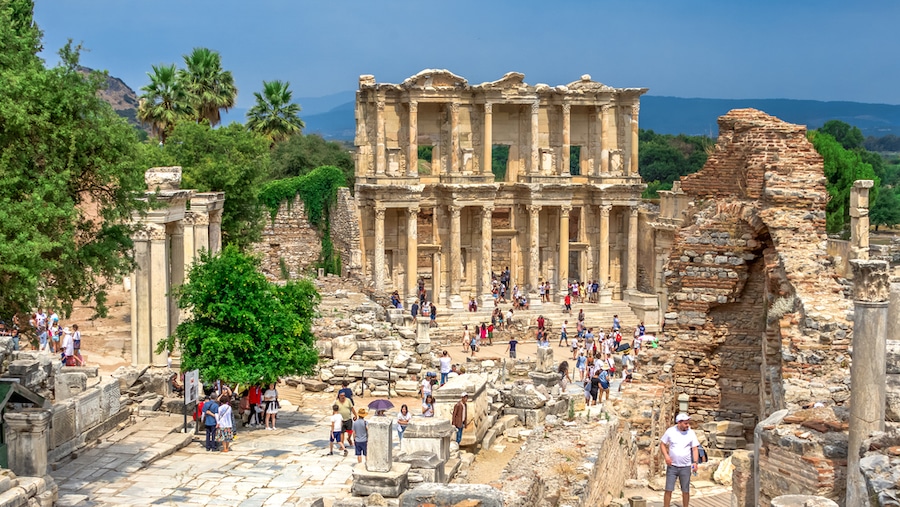 Around one hour away from Izmir, you will find a breathtaking Ephesus. Many ancient city complexes claim to be excellent, and many are, yet Ephesus is something else entirely. It will feel like you are being transported back in time, with whispers of the past in the wind.
Once an important city, Ephesus is famous for the amphitheater, Temple of Artemis, Temple of Hadrian, and much more. Outside the main complex, you can also pay a little extra to see the House of the Virgin Mary, where the Virgin Mary is said to have spent the last days of her life.
Pamukkale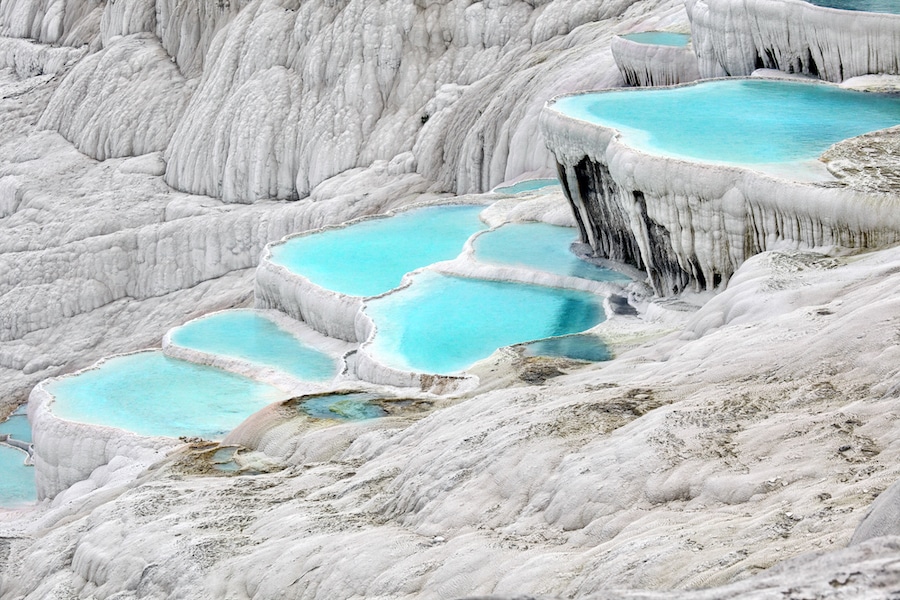 This trip will take a full day, but it's more than worth the effort. You can drive yourself, (it takes about 2.5 hours) or take a guided tour. Either way, you'll get to enjoy the ancient hot springs and tour around Hierapolis and the ruins of the old theatre.
Pamukkale's rock pools are blinding white which is a wonderful contrast with the blue of the water. There are 17 hot springs and some of them are very warm indeed!
If possible, avoid going during the peak summer months, as you'll have very little space to explore. However, during the spring or autumn, you'll have plenty of time to wander and explore easily.
Cesme & Alacati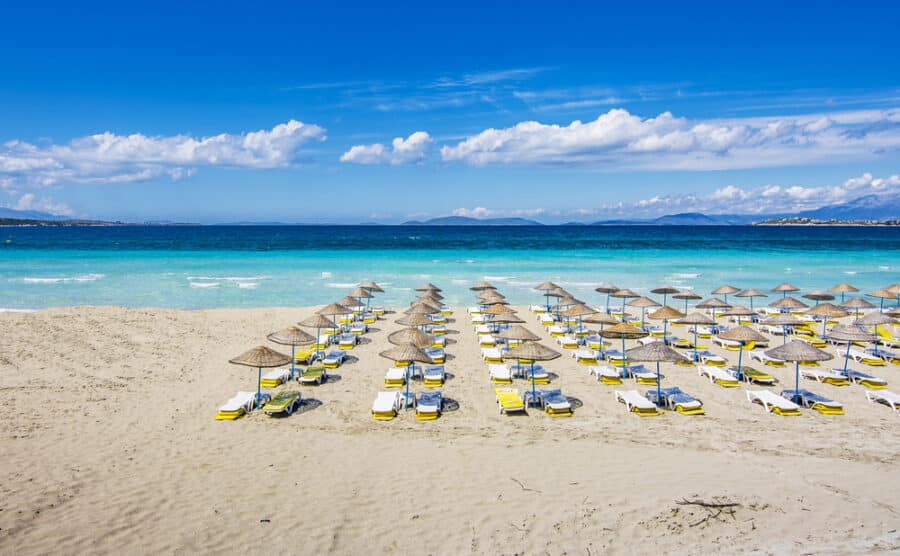 This is another full day that will take you to two of the nearby beach resorts. The beaches in the Izmir area of Turkey are nothing short of amazing, with clear blue sea and white sand.
You'll find vibrant nightlife in both locations if you can stay for the evening. Both sites have winding, cobbled streets, and authentic ways of life. Be sure to sample some local cuisine, especially freshly caught fish.
Has Izmir tempted you? What will you be adding to your Izmir must-see list first?
Share