We may earn commission from affiliate links →
Turkish Souvenirs: What To Buy In Turkey
Few European countries, maybe even the world, can match Turkey when it comes to shopping, bargaining, haggling, eating, and indulging in the finer things in life. Shopping in Turkey is not something you do to get things—it's an experience on its own, it's an activity.
Visitors can find a wealth of typical Turkish souvenirs all around the country, in every popular tourist destination in the country, and especially in the bustling markets of Istanbul.
When looking for the best souvenirs in Turkey, you must buy them from local shops. Buying from locals is a good idea for two reasons. It supports local businesses, craftspeople, and artists, while you get genuine and authentic Turkish products, which are often handmade.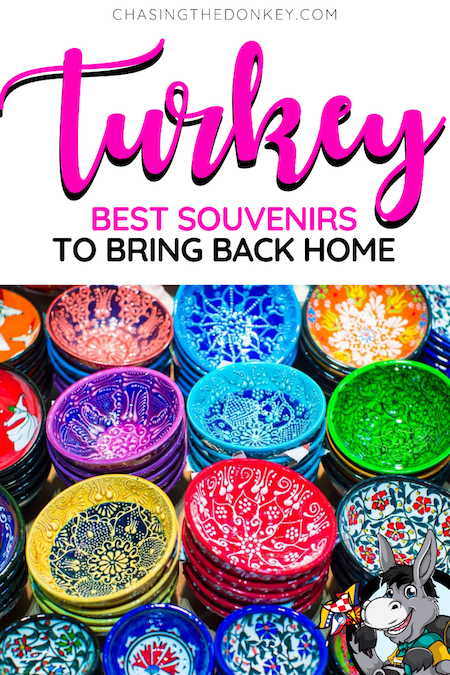 Best Souvenirs From Turkey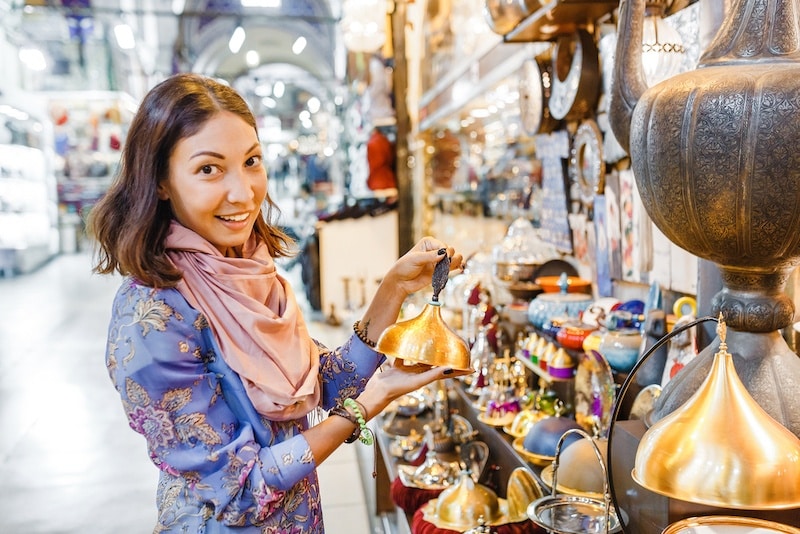 Having traditional souvenirs from Turkey adorning your living room as part of your kitchenware, or showcased on your souvenir shelf, is much more meaningful than collecting kitschy, mass-produced products.
Whenever you look at, use, or even consume—if you buy tea or coffee, these Turkey souvenirs, they'll be able to take you back to your wonderful time in Turkey immediately. The word "souvenir" is, after all, French for "memory."
If you're wondering what to buy in Turkey, continue reading to see the best gifts from Turkey you can get, from carpets and pashminas to spices, soap, and ceramics.
Turkish Carpets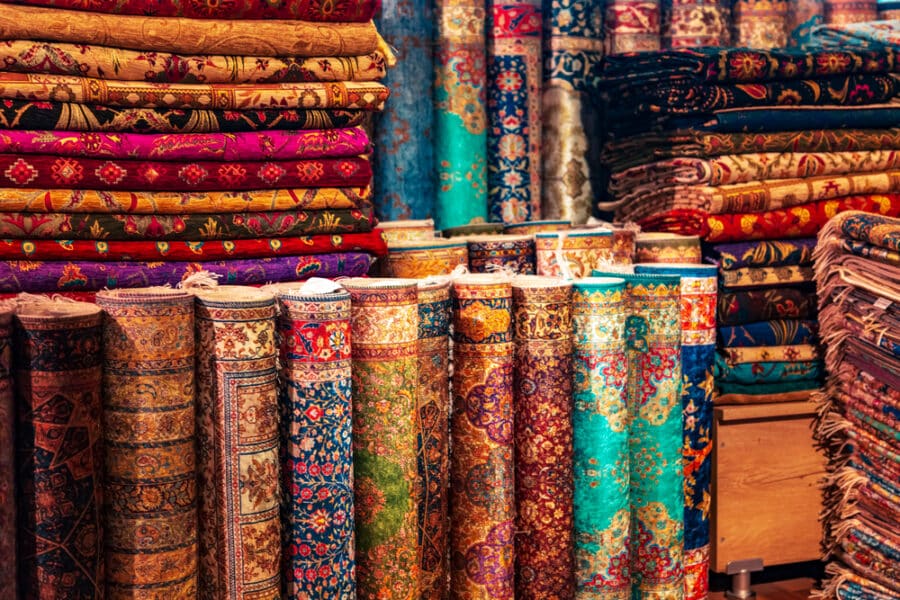 Easily one of the most popular products made in Turkey is carpets. You can find these quintessentially Turkish crafts throughout the country. During your vacation in Turkey, you'll probably meet a carpet salesperson, but remember to make sure you're buying authentic products. (They are plenty of knock-offs that go around on the busy markets.)
Also known as Anatolian rugs, Turkish carpets make for a fantastic souvenir. Although they are by no means cheap things to buy in Turkey, they're high quality and will last decades. And, of course, they'll look amazing on your living room floor—or even as a unique wall cover.
Since full-size Turkish carpets are too big to carry in your suitcase, many carpet businesses in Turkey will ship your carpet to your home.
Pottery From Cappadocia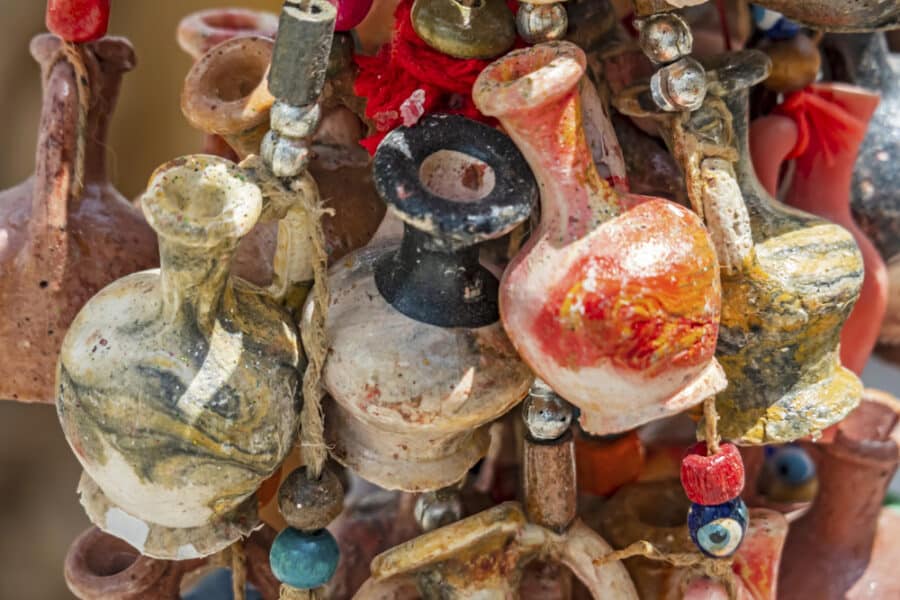 If you're looking for unique regional Turkish gifts, consider buying a clay pottery product in Cappadocia. This is one of Turkey's most famous and spectacular places to visit, so why not commemorate your time there with a traditional homemade pottery item?
You can find locally made pottery in Cappadocia in many shops in the area, while you might even have the opportunity to try making your own pottery!
Turkish Tea Set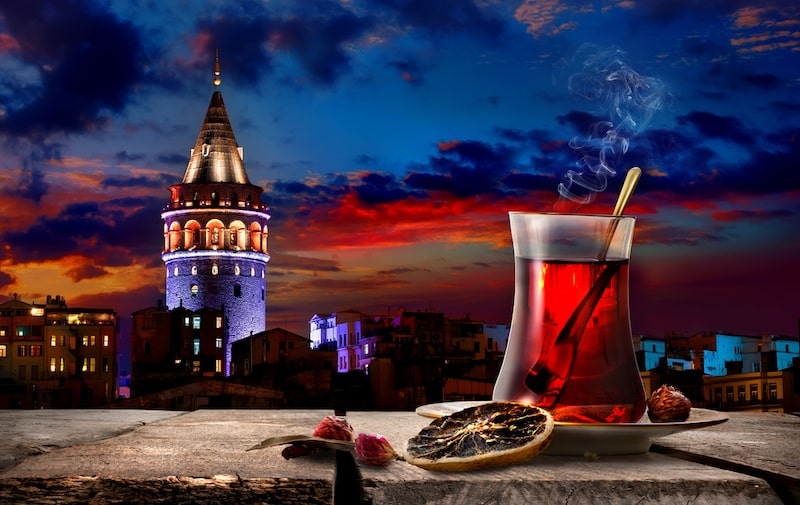 While coffee is Turkey's more traditional hot beverage (see below), tea has become increasingly popular since World War II. You can find all kinds of tea in many shops, markets, and bazaars, from regular black and green teas to herbal teas. Apple tea is a favorite.
Because tea is, of course, a consumer product, you'll eventually run out of it. For a longer-lasting souvenir from Turkey, it's a good idea also to buy a tea-making set, which includes the typical tulip-shaped Turkish tea glasses and a teapot.
Turkish Coffee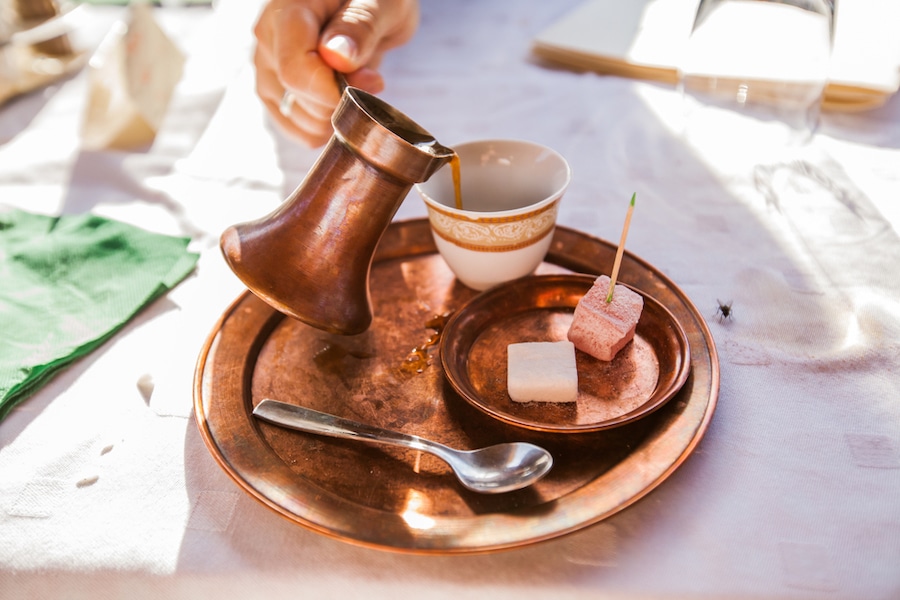 Few things are so ingrained into Turkish culture as coffee. Drinking coffee is nothing less than a ritual in this country, and lovers of the black beverage will find themselves in absolute coffee heaven here.
If you relish your regular cup of coffee, don't leave Turkey without a bag of Turkish coffee. This is easily one of the best things to buy in Turkey, whether for yourself or those coffee enthusiasts in your life. Additionally, a real cup of Turkish coffee is made in a traditional Turkish coffee pot, so get one of those, too.
Turkish Ceramics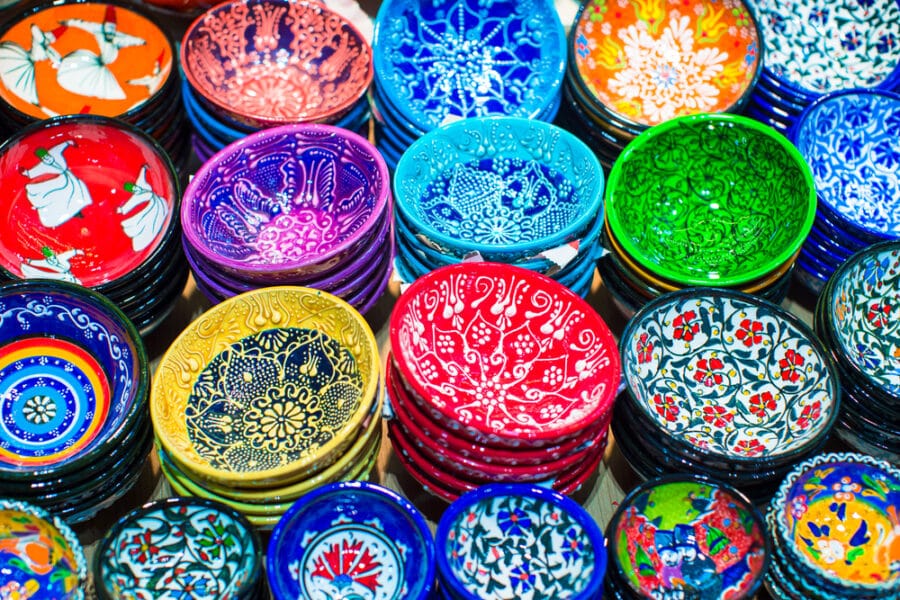 The crafting of stunning ceramics in Turkey dated as far back as the 8th century and grew into a huge industry during the heydays of the Silk Road. Needless to say, they're one of the most traditional Turkish handicrafts you'll find in the country.
In fact, mosaic and painted ceramics became such a characteristic part of Turkey culture many mosques were decorated with them. You'll see them, for example, at the spectacular Blue Mosque in Istanbul. The Grand Bazaar in Istanbul is a great place to shop for Turkish ceramics, but you'll also find these beautiful products in many souvenir shops across Turkey.
If you're looking for Turkish household items that double as a souvenir, traditional ceramic plates, bowls, or mugs are wonderful things to buy in Turkey.
The Evil Eye/Turkish Eye – Nazar Boncugu
Everywhere you go in Turkey, you'll see the Evil Eye. It is easily one of the most widespread Turkish items you can find. With its dark blue background and teardrop-shaped white, light blue, and black eye, this ancient glass talisman was used in Turkish culture to ward off bad luck and evil spirits.
So technically, contrary to what the name might imply, the Evil Eye is not evil at all, but it's instead a very good thing. While this has become one of the most ubiquitous and popular Turkish souvenirs, it's also still used by many people in Turkey, who keep it in their cars, offices, and homes for good luck.
You can buy the Evil Eye in many forms, from keyrings to badges and bracelets. They are super cheap and also make for great good-luck gifts from Turkey, especially as a Christmas stocking stuffer.
Water Pipes
Whether you smoke them or not, water pipes are one of the most incredible Turkish items to buy as a souvenir. Known as "nargile" in Turkish, water pipes or hookah pipes are as big a part of Turkish culture as coffee, spices, and grilled food.
And you really don't need to be a smoker to appreciate the craftsmanship that goes into making a traditional Turkish water pipe. Many of them are absolutely beautiful and make for an amazing decorative piece in your home.
Every time you'll look at your decorative "nargile," you'll remember where you bought it and maybe even how proud you were to have successfully negotiated the price down.
Raki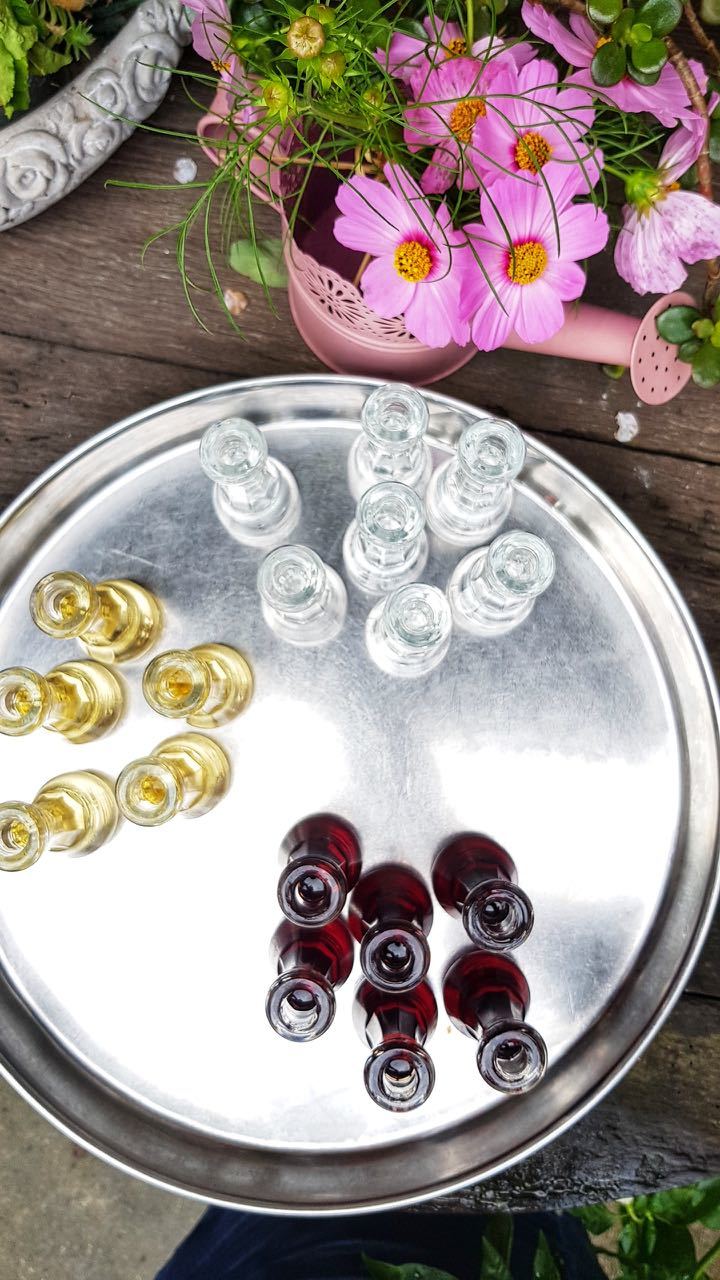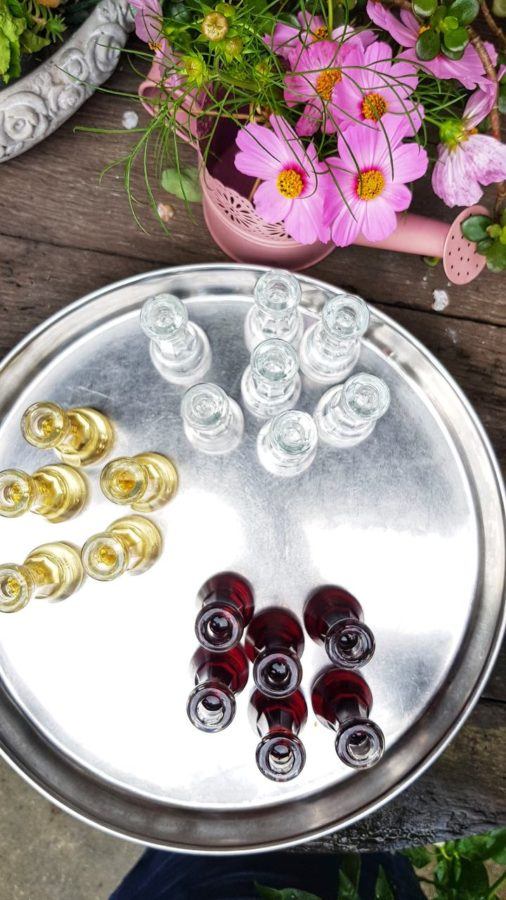 Many countries worldwide have their own national alcoholic drink, and in Turkey, that's raki. This anise-flavored liquor is available in nearly all liquor stores and most grocery stores, but you may save some money by picking up a bottle at the duty-free area at the airport.
This is a great Turkish gift idea for people back home, especially since this typical Turkish liquor might not be easy to find in other countries. Don't forget to get a bottle for yourself, too, though!
Turkish Bath Towels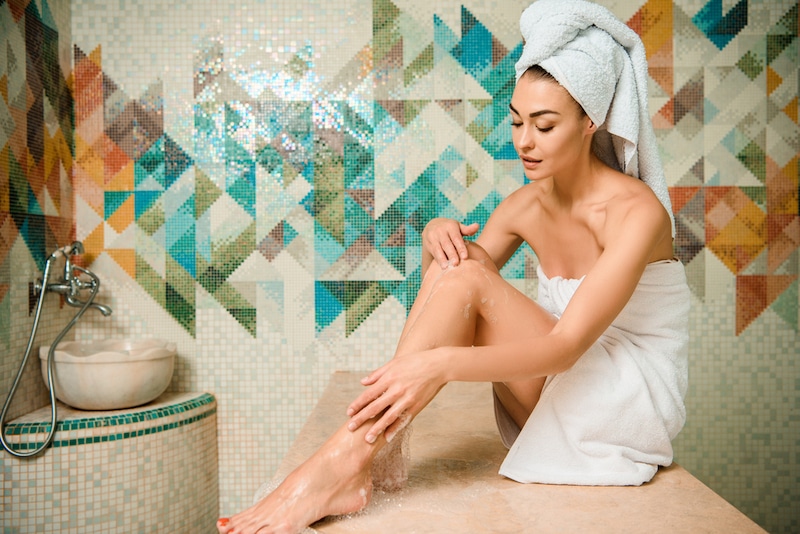 If you find yourself needing an extra towel for the beach or shower, you can easily pick up a Turkish bath towel in many shops. While highly practical and superior in quality, these bath towels from Turkey are also a fantastic souvenir. You can continue to use it at home after your trip!
Authentic Turkish bath towels are 100% cotton, dry quickly, and are lightweight and compact. Locals have used these towels at hammams, and traditional Turkish steam baths, for more than 500 years. So yeah, they are pretty great.
Authentic Gold Jewellery
The price of gold in Turkey, compared to many other countries, is low, and the quality is extremely high, with higher carats on offer. You'll find countless jewelers no matter where you and they will spend time talking to you about what you want and showing you options. You may also be able to have your own piece designed.
If you're looking for a piece of jewelry and you're heading to Turkey soon, certainly wait until you've been and look if you can find a higher quality piece at a lower price on your travels. You can also try bargaining for a lower price.
Best Gifts From Istanbul
You can find numerous typical Turkish souvenirs throughout the country, but the best shopping in Turkey is in Istanbul. This sprawling city, spread across Europe and Asia, is home to several huge markets.
If you're wondering where to buy souvenirs in Istanbul, places like the Grand Bazaar and Spice Market are chock-full of shops and stands selling everything from spices and soaps to clothing and candy. Below, you'll find the best souvenirs to buy in Istanbul.
Turkish Delights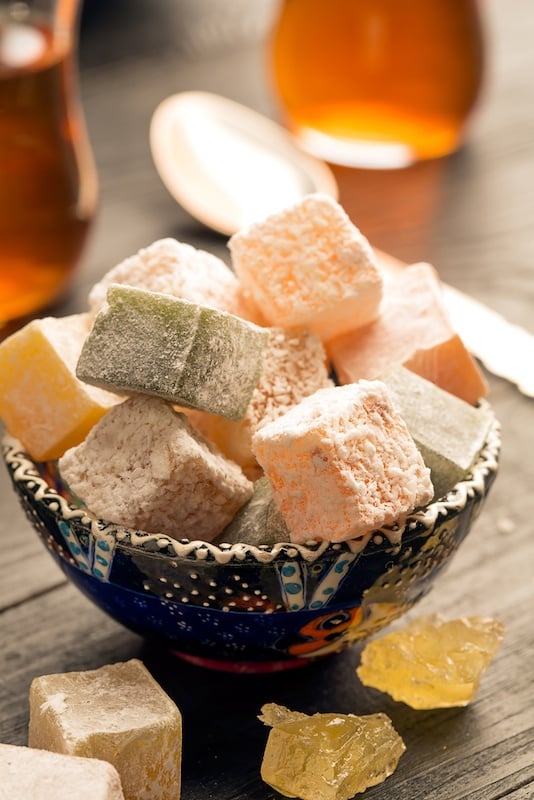 Arguably one of the most famous things to buy in Turkey, Turkish delights are fantastic to bring home from your trip and share with your friends, family, and colleagues. This traditional Turkish candy is a cubed and colored jelly, making for a fantastic dessert or treat. They come in a variety of tastes, from gummies to filled with nuts or fruit.
You can find many Turkish delight vendors at the Grand Bazaar in Istanbul. Often, you can sample them before you buy. Buy a box or two filled with Turkish delights for the people back home. You might even be able to negotiate a lower price if you buy in bulk.
Turkish Spices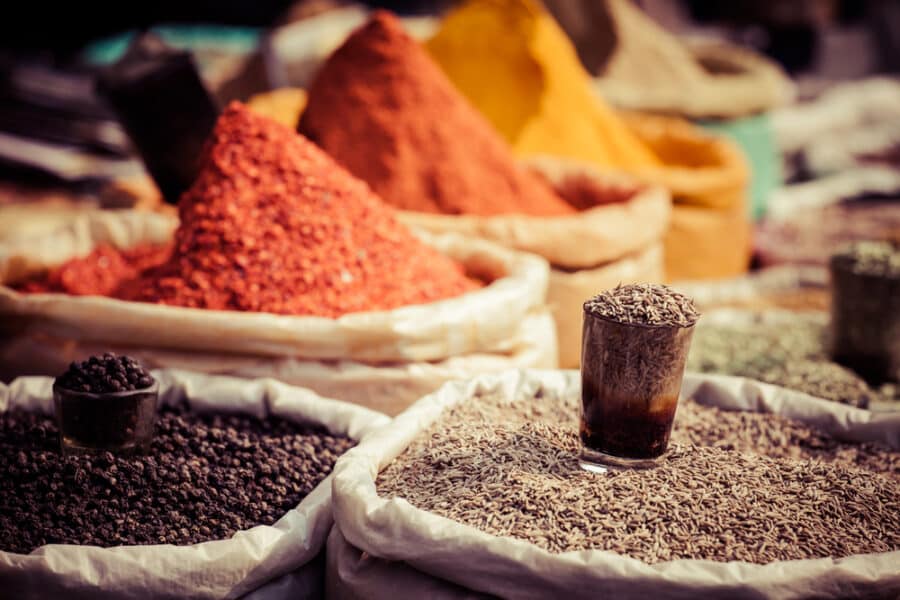 Although you can buy spices in numerous places in Turkey, nothing compares to Istanbul's Grand Bazaar and Spice Market. When wandering around these sprawling indoor marketplaces, you'll immediately notice the scent of spices and herbs floating through the air.
Spices are essential to Turkish cuisine, as they are to cooking worldwide. Good seasoning is paramount whether you cook meat, chicken, lamb, fish, seafood, or even when grilling vegetables. You'll find every spice under the sun at Istanbul's Spice Market and Grand Bazaar. There might not even be a better place on the planet to buy fresh spices than here.
So yes, as far as famous things to buy in Istanbul go, spices are absolutely on the list. Also, consider purchasing a nice copper spice set to store your spices in.
Backgammon Set
One of the most played games in Turkey, backgammon, originated in the Middle East almost 5,000 years ago. It remains extremely popular to this day. During your time in Istanbul, you'll almost certainly see locals playing backgammon in cafés.
You can buy your own backgammon set in souvenir stores, and you might be surprised by how delicately and intricately the boards are designed and crafted. Some of them are real masterpieces of craftsmanship, making them one of the best traditional Turkish gifts and souvenirs to buy.
Olive Oil Soap
In addition to Istanbul's numerous food products, there are also various beauty and health items that are excellent Turkish souvenirs. One such item is handmade olive oil soap. These locally made soaps represent the centuries-old wellness tradition of Turkey's hammams.
Olive oil soaps are made with premium-quality olive oil along with other extracts. You can find these soaps and lots of different beauty products at Istanbul's Spice Market.
Turkish Lanterns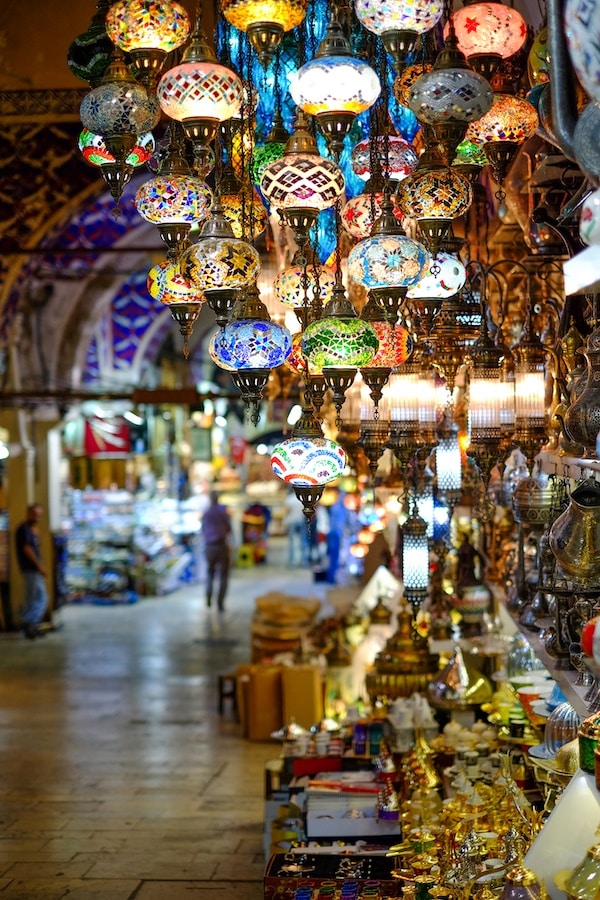 While strolling through the bustling Grand Bazaar, easily one of the best places to shop in Istanbul, you'll see typical Turkish lanterns dangling from the ceilings of many shops.
These mosaic glass lamps are one of the classic Turkish souvenirs to buy. They come in countless varieties, colors, and designs; your biggest challenge will be picking the one you like most. (You can always buy more than one to decorate your house, of course.)
You can find these lanterns and lamps in many Turkish souvenir shops, but one of Istanbul's covered markets is the most convenient place to buy one. Remember to ask the vendor to wrap it up properly to prevent it from breaking during transport.
PLAN AHEAD TO GET THE BEST DEALS
Pashminas
If you're looking for wearable souvenirs from Turkey, it doesn't get much better than a pashmina. These authentic Turkish scarves are made with a combination of silk and cashmere, making them incredibly soft and durable.
Make sure to visit several places while shopping in Istanbul for pashminas. They come in many colors, price points, and/or fabric combinations. You'll find pashmina vendors at the Grand Bazaar and on the streets of Sultanahmet. Additionally, you can buy a pashmina in other destinations in Turkey, too.
Leather Products
Are you still wondering what to buy in Istanbul? The last item on our list, although certainly not the least, is Turkish leather. Leather is significantly cheaper in Turkey than in much of the Western world, so relatively speaking, it may be one of the most inexpensive things you can buy in Turkey.
Most leather items in Turkey are handmade, meaning nothing is the same. You'll get your unique piece of leatherware, whether it's a jacket, wallet, belt, bracelet, or purse. This is undoubtedly a fantastic Turkish souvenir idea.
Hopefully, this long list of Turkish souvenirs has helped you decide which gifts from Turkey you'd like to bring back from your trip. Again, the Turkey shopping experience is a highlight of any visit to the country, so take your time, browse and bargain, indulge, and enjoy!
Share