Some posts contain compensated links. Please read this disclaimer for more info.
Turkish Hammam & Everything You Need To Know Before You Try One
Without a doubt, one of the quintessential Turkish experiences is visiting a traditional hammam.
Not only will you leave feeling cleaner than you've felt probably since the day you were born, but it's also a very relaxing experience. Of course, you're also experiencing Turkish culture and traditions that date back centuries.
Before you have your first Turkish bath experience, there are a few things you'll want to know. Not only to avoid embarrassing yourself but also to prevent upsetting anyone!
Different Types Of Hammam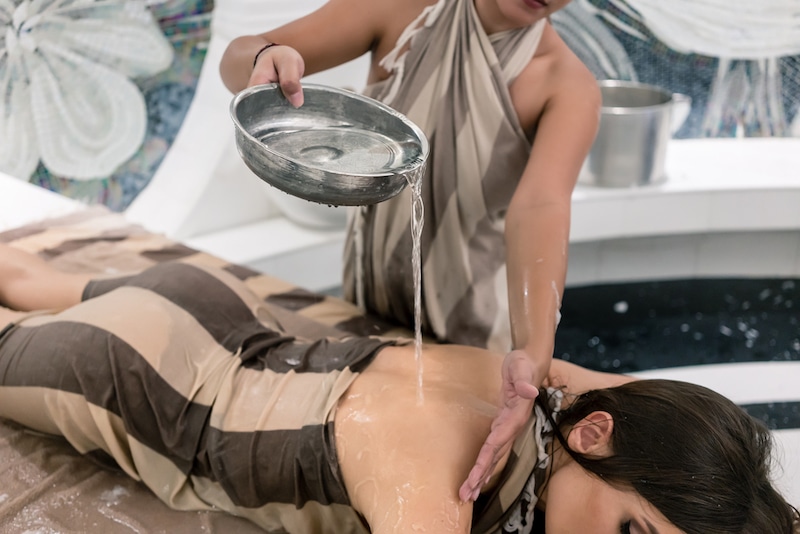 The first thing that you need to know is that there are different types of hammam.
The hammam you'll experience in the Turkish hotels is different from the traditional Turkish baths you'll find in cities, especially those in Istanbul.
If you're new to the hammam experience and you're feeling a little nervous, perhaps try a hammam spa in a hotel first though you should know that these Turkish spa experiences are not the same as you'll find in the traditional hammam!
Each hammam service varies slightly. For first-time visitors to a Turkish hammam, be sure to select a service that includes a scrubbing and bubble wash. You can also opt for an additional oil massage.
What Do You Wear In A Hammam?
You will be given a wrap to wear; this is known as a peştemal. It is up to you what you wear underneath the wrap. Most tourists keep their bikini or swim shorts on.
What Do Men Wear To Hamman
The traditional way is for men to wear the wrap around their waist and remove their underwear.
What Do Women Wear To Hamman
However, women should keep their underwear on, although it is acceptable to remove your bra, as the wrap covers you at all times.
For either sex, be sure that you do not accidentally flash! This is not a good thing to do in a traditional Turkish hammam and will be extremely frowned upon!
What Shoes To Wear To Hamman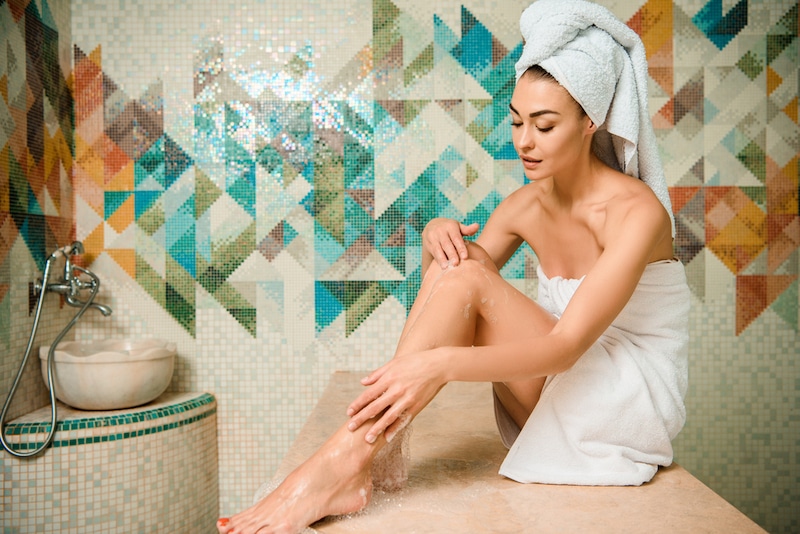 You'll be given your own slippers to wear, so there is no need to bring your own shoes to wear inside.
Booking A Hammam
You should book in advance. To be sure not to miss out, some places offer separate times for men and women to come.
What Happens In A Turkish Hammam
Let's concentrate on the traditional experience here, as most hotel versions follow the same pattern, although they are a little more laid back.
No Mixed-Sex Coupling
If you're a mixed-sex couple, you will be separated; no mixing of sexes is allowed in a traditional Turkish hammam.
The person performing your hammam will also be of the same sex as you.
Lockers
When you arrive, you'll be given your wrap and slippers and shown where you can change. You leave your clothes in a locker, and you keep the key around your wrist on an elasticated bracelet or pinned to your wrap.
Sauna
From there, you'll be taken to the sauna area, which is sometimes on the same floor as the hammam itself and sometimes downstairs.
This is the hard part for many – you have to sit and literally sweat all the impurities and toxins out of your body for around 15 minutes.
It's hot, hot, hot!
This is referred to as the 'hararet,' and this part of the hammam is iconic. It is what you would have seen in many magazines and websites promoting hammams.
Some hammams allow sexes to mix in the sauna area and some don't; this will again depend on where you go. Once you've sweated all those impurities out, you'll be taken into the hammam itself.
Marble Slab
Next, you'll be asked to lay on a marble slab on your back. This is called the gobektasi. You'll be left there for a few minutes, and then your attendant will come into the room.
You're first soaked with warm water, and a lot of soap suds come your way. While these suds are coming at you left, right, and center, you're massaged with what can only be described as a huge loofah known as a – kese – this mitten with scrub off the dead cells of your skin (though it may feel like a layer of skin comes off too!).
Time To Get Clean
This loofah will get rid of all the dead skin cells and impurities that the sauna released, and you'll be asked to move around the slab as it's happening, from your back, onto your stomach.
Does A Turkish Hamman Hurt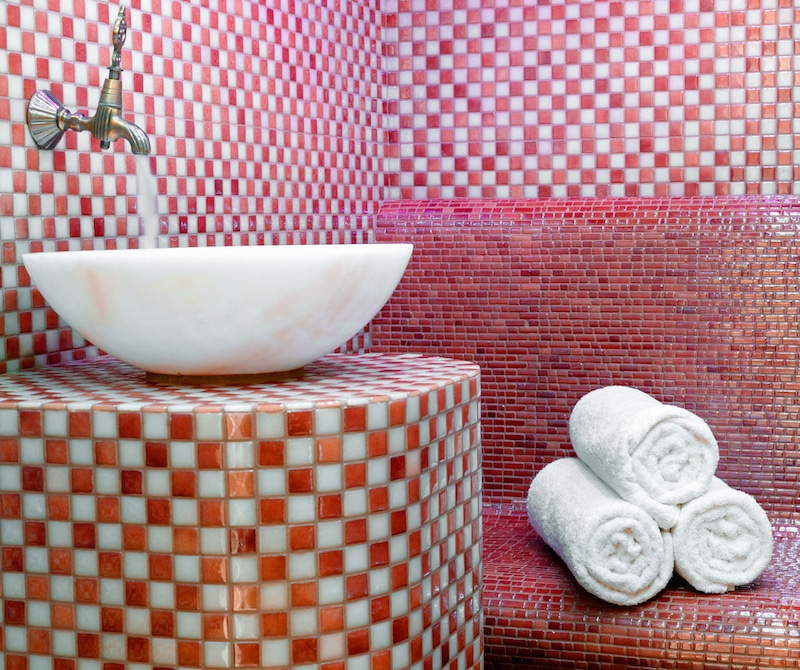 It's not pain, but it's sometimes a little uncomfortable. It's meant to be that way because you can't become as clean as you're supposed to without a bit of scrubbing! Once the cleansing is over, you'll be rinsed with cold water, and yes, it is cold!
This is part of the process and not torture they're inflicting on you; it's designed to eliminate all the cells that have been scrubbed away and improve circulation.
You'll feel as smooth and fresh as a daisy afterward, so remind yourself of that when the cold drench comes your way!
Time To Relax
Once the rinse is over, you'll be taken to a cooldown area where you sit and relax. This is the best part, and you really will feel like you're floating on air. There are usually toilets and showers here, too, so you can have your own rinse off if you please.
If you choose to go down the route of a hotel hammam, it's at this point you'll typically receive an oil massage and be offered many other services (pedicures, fish spa, etc.). Be warned, they will try and give you the hard sell, so if you really don't want them, be firm and say "no thank you."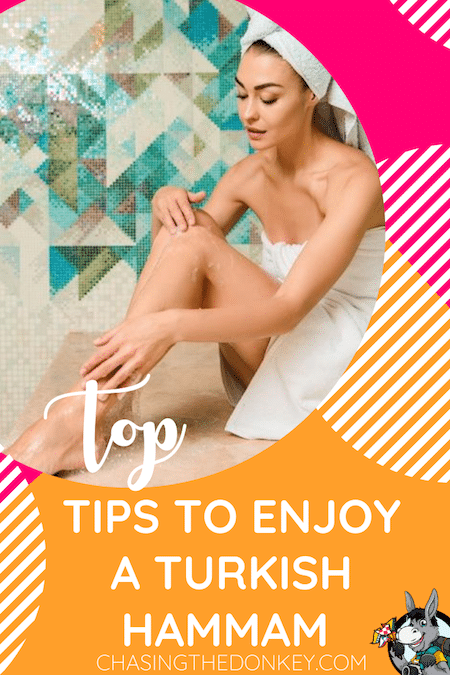 Hammam Tips To Remember
Traditional hammams in cities and towns are open very early and don't close until late, usually around the midnight mark. It's not the best idea to go late at night if you're a lone female traveler
The attendant will not touch any part of you that is considered private, so no worries!
Take off any makeup you're wearing before you go inside; this is the deepest clean you will ever have in your life, so if you're wearing even the slightest remnants of mascara from the night before, expect it to be halfway down your face within minutes!
It's a good idea to go for a hammam at the start of your holiday, as this is reputed to give you a great foundation on which to build a lasting suntan
Take a set of dry clothes and underwear with you to get changed into afterward
You might want to wash your hair afterward, especially if you do opt for the oil massage
It's customary to tip the attendant after the service, with 20% of the price of the hammam being a good amount
More Turkey Travel Blogs
Share