The most important thing you want to know is if Greece is a safe destination for solo travelers, especially for female travelers. It is! The country is very safe for those traveling solo. As with any other destination, traveling solo means keeping both eyes open, especially at night, as there won't be anyone else looking out for you; however, you can relax, especially on the islands. Paying proper attention will be enough.
When it comes to more important and overpopulated cities, such as Athens or Thessaloniki, things can get a bit more complex, especially at night or in very crowded touristic sites (for instance, the Acropolis).
Keep a close eye on your belongings, and everything will be fine. At night, and especially for solo female travelers, it would be better to avoid station areas or neighborhoods such as Omonia, Psyrri, and Mextaxourghio. However, it is also fair to say that I've wondered about these three neighborhoods on my own at night, and I never, ever had a bad experience.
What To See In Greece When Traveling Solo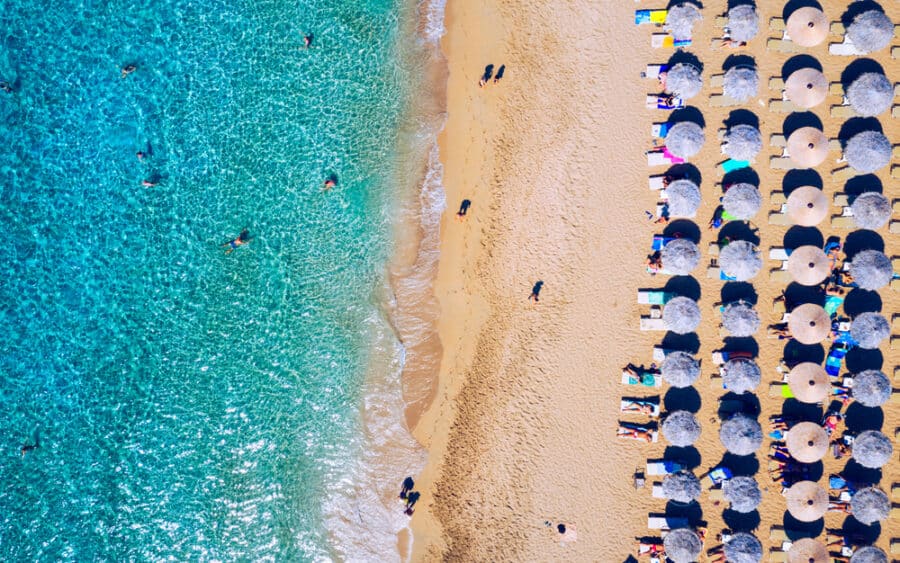 The country allows you to see so many things that you will be overwhelmed when choosing where to go and what to do. It all depends on your likes and dislikes. Whether you like to explore archaeological sites and museums or are a party animal, Greece has you covered.
The same goes for beach days, water sports, quiet island life, sailing, and eating delicious Mediterranean food. Whether you want to remain the whole time on your own or meet new people, Greece will make it easy.
Best Time To Visit Greece Traveling Solo
Greece is a beautiful summer destination, gathering some of the best beaches in Europe, so the period between June and August offers the best opportunity for beach time and a bit of sun tanning.
When visiting the cities, any time of the year will do, so it is possible to check Athens in April or October, and even at Christmas, prices won't be very different as during the rest of the year, but attractions will be emptier. However, summertime is also the time when everybody visits! That means only two things: higher prices and overcrowded places.
Visiting the Greek islands during May and September right before and after the summer offers better fees, fewer crowds, and still excellent weather — so really a win-win situation.
Bigger islands can be a good destination all year round, but the smaller islands tend to be hard to reach as many ferry services are suspended.
If you are interested in activities other than swimming and sunbathing, you can head north and discover the mountains and ski resorts. Greece is a mountainous country with stunning forests, rivers, and tons of winter sports to enjoy, so not just a summer destination!
TRAVEL COMPANIES WE USE AND TRUST
Moving Around Solo In Greece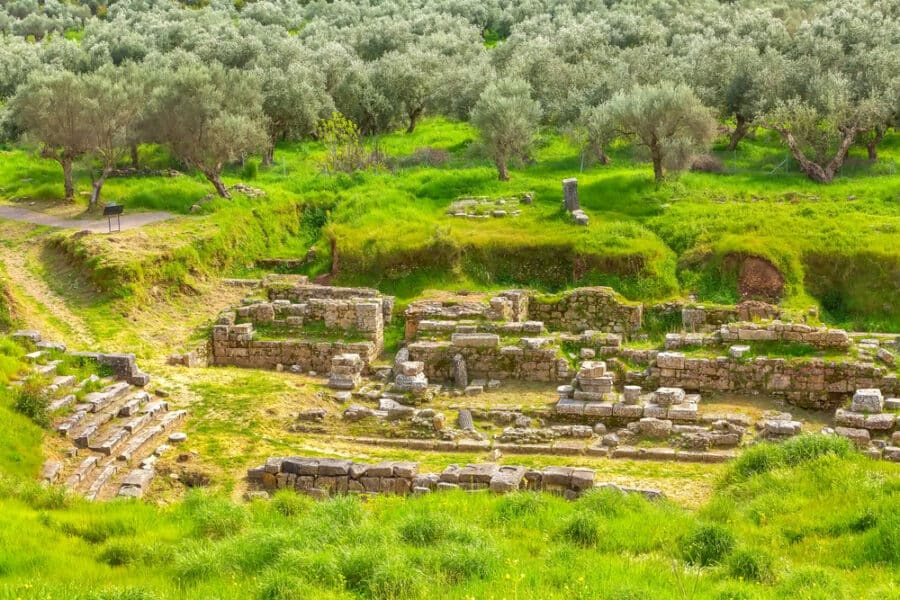 Solo travel in Greece is easy with public transport, both for the mainland and the islands.
Bus Travel In Greece
The general transportation network (Ktel) is the best way to move around. There are no trains on the islands, so this is the only means of public transport you will use on the Greek Islands, but the service is also convenient, cheap, and reliable for getting around the mainland without needing to hire a car. The service is safe and comfortable, and buses will take you to many places.
Taxi
Taxis are not as expensive as in other European destinations, but they have extra fees for lugging bags or night travel. Always discuss the use of the taximeter in advance, and for additional safety, use the radio taxi services.
Car Rental
There is nothing like touring Greece on your own with a car. This applies to the islands where life is more relaxed. However, I would never suggest travelers drive in cities such as Athens or Thessaloniki – traffic is chaotic, and Greeks are not keen on respecting traffic rules. Car is the perfect means of transport for bigger islands such as Corfu, Crete or Rhodes where there are many off-the-beaten-track destinations that you cannot reach by bus. In these cases, a car is the best solution to discover unexplored places in Greece.
Ferry Travel
This is the chosen means of transportation in a country with many islands that live off tourism, many of which do not even have an airport. Some islands are close, so a ferry ride makes seeing multiple islands easy and affordable. If island-hopping is in the plans, check and book tickets in advance, especially if traveling in August. Also, be sure to check in advance that ferry routes travel between all your intended destinations; sometimes, combining two different island groups is impossible because there are no ferries connecting them, or at least not enough.
Flights
Local companies, including Aegean Airlines, Olympic Air, and the Cretan Sky Express, offer domestic flights to destinations, including Athens, Thessaloniki, Corfu, Crete, Kos, Mykonos, Paros, Rhodes, Zakynthos, and many more. Always check in advance for better fees and seasonal offers.
Solo Travel In Athens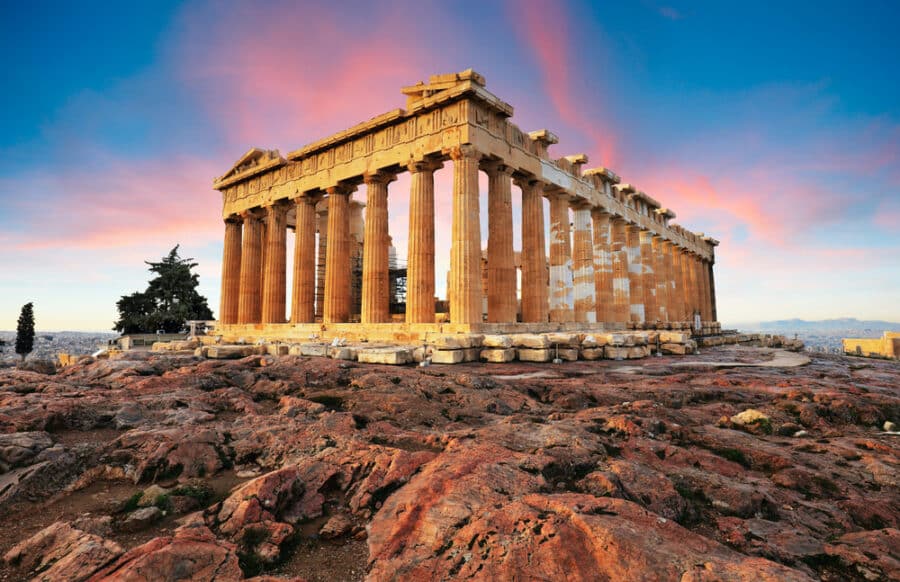 It is fair to say that most Greek trips start (and often end) in Athens, the capital of Greece. The city is an exciting place where traveling solo is more than possible and which allows for tons of fun and (if you want) plenty of opportunities to mix and mingle with the locals.
When in Athens, check the important landmarks, including the Acropolis and the Acropolis Museums, and the different central neighborhoods, including Plaka, Anafiotika, and the central Monastiraki Square, and check the change of the guard in Syntagma.
Moreover, Athens has fantastic nightlife, excellent hotels, exciting restaurants, open-air movie theaters (in summertime), and pubs to enjoy too.
Solo Travel On The Greek Islands
When visiting in the peak of the summer season, all islands are excellent solo travel destinations, honestly all of them. You will not have problems finding entertainment, eating out, or choosing affordable accommodation (provided you book in advance). The typical kind of accommodation in Greece that's more suitable for solo travel has always been the studio, a one-room apartment with a small kitchenette and a bathroom.
However, during the last years, Greece has seen a massive number of solo travelers; therefore, hostels and shared accommodations have become increasingly popular on the islands. This will make things easier if you are backpacking Greece on your own.
If you're visiting off-season, the bigger islands are more tourist-friendly because they have more to offer since many locals also live there all year round. You will find places to stay, eat, and entertainment more easily all year round. This is the case with islands such as Crete, Rhodes, Kos, Zakynthos, and Corfu; they have so much to offer that they are good to visit any time of the year.
However, if you prefer popular islands such as Mykonos, Paros, or Santorini, or lesser-known and smaller islands, such as Sifnos, Serifos, or tranquil Patmos, then the time to visit is in summer. Except for Santorini, which is crowded all year round!
Solo Travel In Crete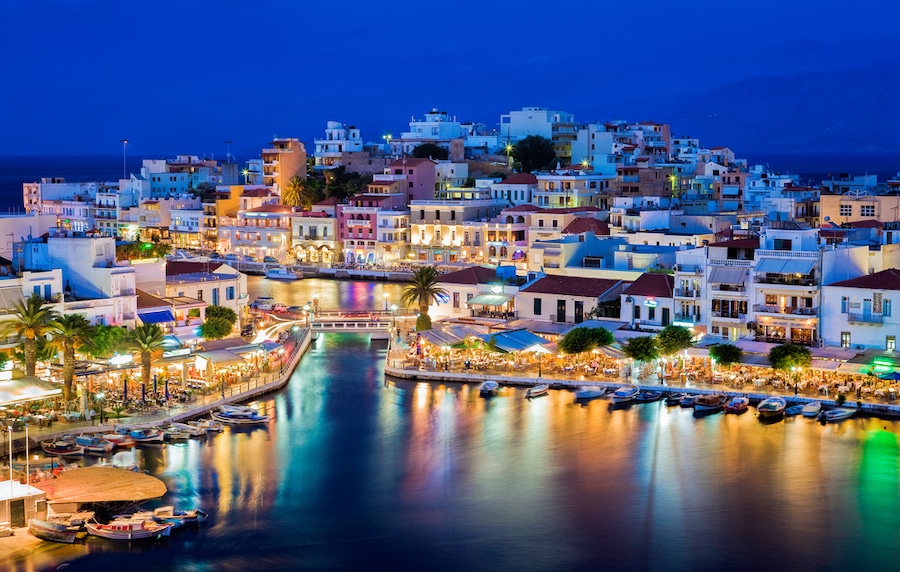 The biggest Greek island is a fantastic destination for solo travel. The local population is known all over Greece for being exceptionally hospitable, offering a warm welcome to visitors. It is safe for female travelers, and its principal towns are open and alive all year round.
Depending on the kind of traveler you are, visiting different points of the island can be done either on your own, renting a car, or trusting the extensive bus network. The island is relatively big, and visiting both the eastern and western coasts can take plenty of time.
Crete is also located relatively south of the Aegean, so the summers tend to be longer, allowing pleasant swimming sessions also in off-season months such as May and October. Prices are pretty affordable when compared to Santorini or Mykonos, so there is no better destination when it comes to budget travel either.
Crete offers plenty of things to do for every kind of traveler, from interesting archaeological sites to stunning beaches and gorgeous old towns to discover. It is home to fantastic mountain ranges, perfect for outdoor exploration and winter sports.
Traveling solo to Crete is simple. There is plenty of accommodation, including hostels in the most important towns, but also guesthouses traditionally run by families… trust me, they will go out of their way to help and make you feel welcome, especially when they know you're traveling solo. If you prefer old-time hospitality, I'd like those more than any hostel in the world. And if you want to indulge, there are also plenty of all-inclusive resorts.
When it's time to decide where to stay in Crete as a solo traveler, I prefer the cities of Chania and Rethymnon, with their unique and charming old towns, traditional harbors, tavernas, and stunning (and very safe) nightlife too. Beaches are excellent in both areas, and there are plenty of day trips available (even to the capital Heraklion) to explore even more.
Solo Travel In Corfu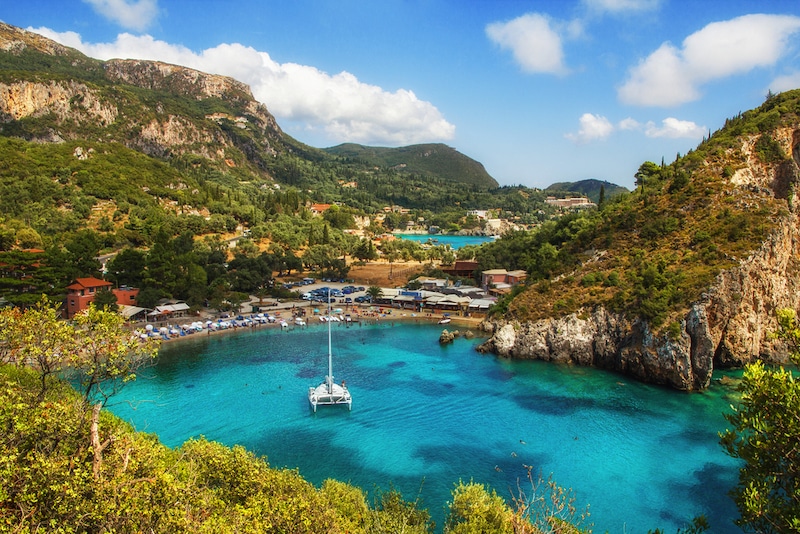 The most important island in the Ionian Sea is Corfu, and it is a big place to explore and a great solo travel destination in Greece. Corfu is a green island with a landscape that is entirely different from what you'll find in Crete or even the Cyclades.
Besides, it boasts some of the most beautiful beaches in the Mediterranean spread along its coastline and is home to dozens of resorts and pristine beaches. However, exploration is also a thing to do, and the green mountainous villages of the inland villages are a perfect place to discover, with their stunning fortresses, tons of monasteries, and small chapels.
Like Crete, Corfu has a wide variety of hotels, studios, and all-inclusive resorts too in every town. Suppose you're wondering which are the most solo traveler-friendly areas to stay in. In that case, I'd recommend the Old Town of Corfu because it has an important nightlife and offers easy access to any resort or coastal town you want to visit, most excursions depart from here. The airport is just a stone thrown away.
Another chosen destination on the island is the beautiful Paleokastritsa, which comprises a series of sea coves with pristine green waters, clear sand, and striking green scenes all over the area.
When it comes to local hospitality, Corfiots are helpful and very welcoming, doing everything they can to give a hand to help with questions or if you get lost.
Note: Lefkada and Zakynthos are better options for solo travelers in the Ionian Sea if you want nightlife and partying. Check our guide to the Ionian for more things to do and general information about the islands in the region.
Solo Travel In The Cyclades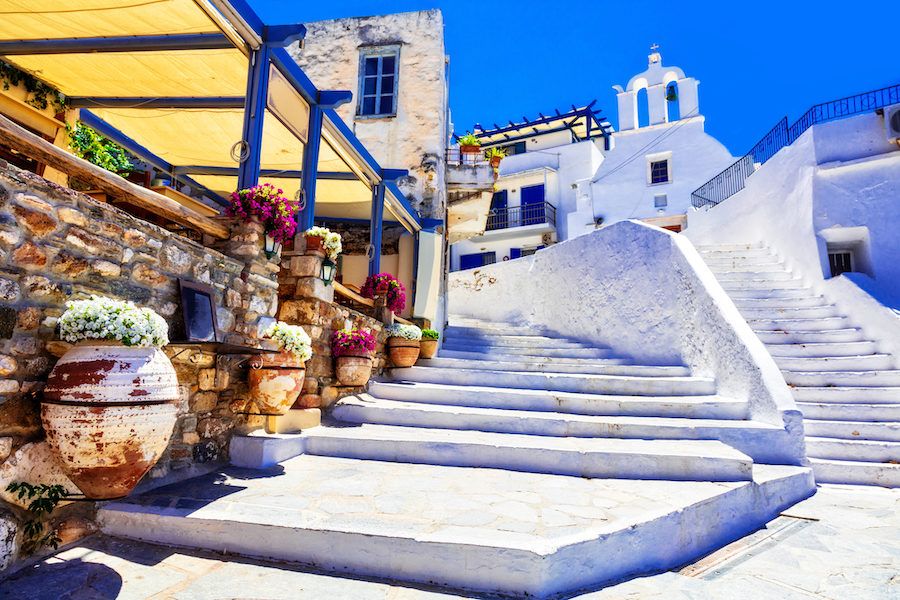 The most famous Greek Islands are definitely the Cyclades, a group located in the southeast of mainland Greece. The Cyclades are home to the quintessential whitewashed landscapes of tiny squared houses, blue-domed chapels by the sea, and tons of blossomed bougainvillea flowers – your typical Greek postcard probably already seen a million times. And yes, they are certainly a great place to visit.
The best idea when traveling solo is to do some island hopping. It is easy and affordable to go from one island to the other by ferry, and it lets you discover more than one destination during the trip.
A place that you don't want to miss is Santorini. Despite being crowded, it is really a unique Greek destination, solo traveler-friendly, especially for women, with dozens of affordable hotels on the south coast guesthouses and hostels.
However, suppose you prefer a more off-the-track vibe. In that case, you will get that and more in Naxos, a pretty familiar island, reasonably big, and plenty of opportunities to explore: mountains, beaches, incredible gastronomy, and tons of archaeological sites and cultural activities.
Paros is a great Cycladic Island, full of the fun nightlife and typical landscapes, but at a quarter of the price you'd pay in Mykonos or Santorini, so it is a great solo travel destination if you're on a budget.
Hardcore party lovers will find that Ios and Mykonos have all they are looking for, including tons of discos and beach bars to party at.
Solo Travel In The Dodecanese Islands
The several islands in the Dodecanese are excellent destinations for solo travelers. There are several big islands to explore and a few small islands that are safe and perfect if you need a relaxing solo vacation.
Most of these islands have intriguing and exciting historical sites to visit, Venetian chapels, Medieval castles, Byzantine churches, and dozens of archaeological ruins. And then, of course, the beaches, among the warmest and sunniest in all of Greece with more sunny days than anywhere else in the country.
The largest island in the Dodecanese is Rhodes, with incredible opportunities for historical and cultural visits, impressive old towns, medieval castles, and stunning bays, some of them famous for water sports.
Not far from Rhodes, the popular island of Kos is another destination for those into cultural activities, archaeological sites, superb museums, and discovery of the country's ancient history. Besides, Kos is such a popular destination that you could think of many accommodation opportunities, from refined luxury resorts to boutique hotels and more simple deals, including studios and small family-run hotels.
Why choose this island cluster? These islands are popular, so they offer a well-established and safe variety of routes to explore different points on the island. Several daily ferry connections allow visitors to island-hop easily – getting around as a solo traveler is very simple.
General Tips For Solo Travel In Greece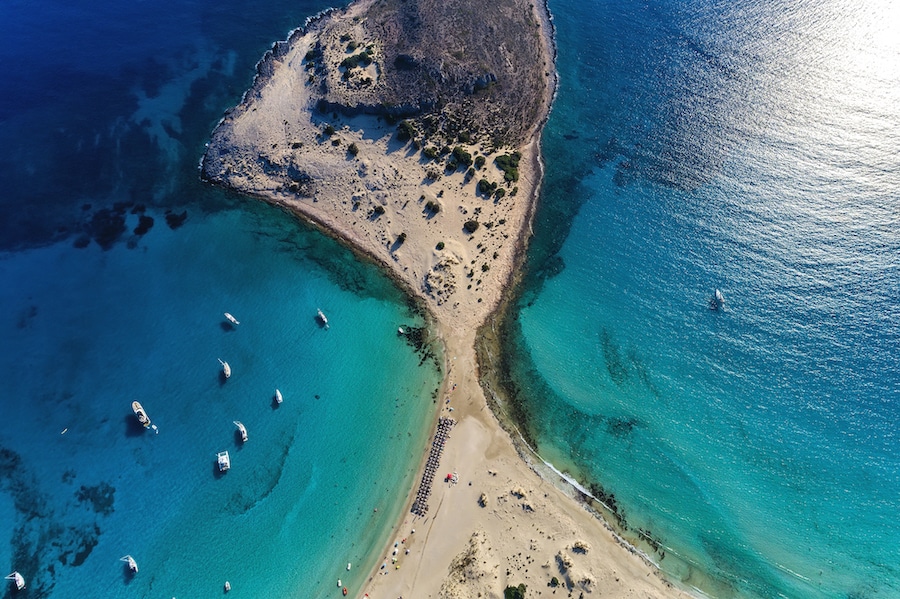 Locals are hospitable and reliable, do not hesitate to ask for help, even in your language when in need.
Join organized tours for excursions and cultural visits, it will allow you to make new friends, and you will also end up cutting costs.
More and more expats live in Greece than you imagine, especially on the bigger islands, so you won't need to feel alone if you want to connect with people speaking your language. However, English is spoken and understood almost everywhere; language won't be a communication barrier.
Credit cards are accepted all over the country, but as we say in Greece, cash is king. Paying cash for tours and souvenirs can even earn you a good discount.
For women: men will look, and sometimes be too polite and attentive to your taste; however, they won't go further than a look, maybe a smile, and say hello; they won't chase you.
Language Tips
If you're still worried about the language (Greek is a very different and challenging language to speak and understand), you can learn some useful words and phrases to make your life much easier. Although almost everyone speaks English in most parts of Greece, it is a nice touch to learn a few words, and locals appreciate it. So, here are some basic, practical, and straightforward words to know before your solo trip to Greece:
Geia/Geia sas: Hello
Kalimera: Good morning
Kalispera: Good evening
Kalinixta: Good night
Ti kaneis?: How are you? To which you reply, "kala, esi?" (I am good, and you?)
Efharisto!: Thank you!
Parakalo: You're welcome, and also, please
Signomi: I'm sorry/Excuse me
Den katalaveno: I don't understand
Pou ine to…?: Where is the…?
Pou pao sto…?: How can I get to…?
Pou mporo na vgalo xrimata?: Where can I withdraw money?
Pou einai to ATM?: Where is the ATM?
Mboro na parageilo parakalo? Can I order, please?
Poso kani?: How much does it cost?
Yia mas!: Cheers!
To logariasmo parakalo: Can I have the check, please
…and in case of an emergency… Voithia!: Help!