Some posts contain compensated links. Please read this disclaimer for more info.

2021 Guide To Where To Stay In Crete, Greece: A Detailed Guide To The Island's Top Places To Stay Region By Region
Written by Gabi Ancarola from the Crete travel blog The Tiny Book. Every summer, she hosts gastronomic tours in Chania, and she has recently published her second travel guide to the island.
If you're planning a holiday in Greece, and the island of Crete is part of your itinerary, then you must be wondering not only about the things you can do there, but probably your first question is where to stay in Crete.
The island is, huge, and there are so many things to see that choosing the perfect place to stay can turn into an overwhelming task, especially if it's your first trip to the island.
This guide comes to the rescue! Here, we will discover what is there to do in each of Crete's four regions so that deciding where to stay is not as hard as it might seem.
It doesn't matter if you are traveling to Crete for its beaches or to discover the fantastic mountain landscape. Or if you want to visit Crete in order to explore the hidden south or to practice extreme sports. This guide will help you understand the geography of the island and decide where to book your stay on Crete. Let's begin!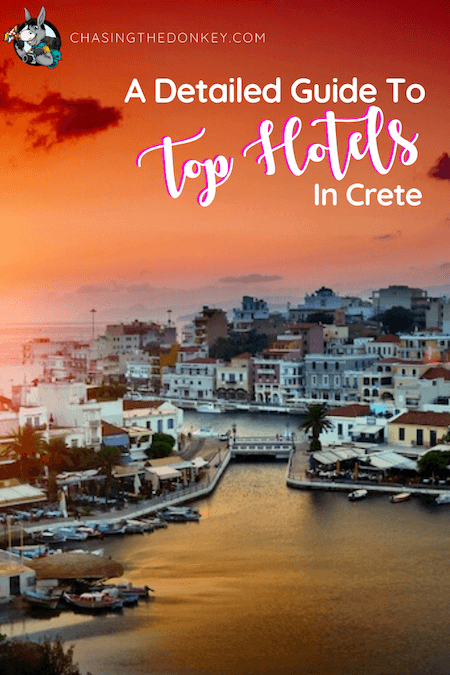 Regions On Crete
Crete is Greece's biggest island and the land is divided into four distinctive regions, each of them with important highlights and landmarks you don't want to miss.
If you're heading to Crete for a short vacation (from four days to a week), it will be much better to focus on just one (or maximum two) of the regions in order to have enough time to explore and discover.
If you have more time available (anywhere from ten days to two weeks), you can attempt to see three regions or even all of them.
If that's your case, you will just need a bit more organization and it will definitely help a lot to rent a car and avoid depending on public transport and schedules.
As a matter of fact, there's no better way to see Crete than driving as many of the inner villages and southern beaches have more difficult access and the public bus service does not reach all of them.
It's also a great idea to change accommodation as you go, so put into account staying in at least two different hotels during your stay. If you plan carefully, you certainly won't need to change hotels every two days.
You can book a stay in Chania or in Rethymnon to visit these two regions, and then move to a hotel or rental home in the regions of Heraklion or Lasithi to explore these last two areas.
It's also important for you to know that the four areas of Crete have access to wonderful beaches, but also that all of them have impressive mountain ranges that you'll need to cross to move from the more developed northern coast to the lonely but heavenly south.
Therefore, this guide is divided not only by regions but also between northern and southern coasts, that way you'll be able to know where you're going and what you can do in the area.
Region Of Heraklion: The Capital And The Major Archaeological Sites
Crete's most important airport is in the capital city of Crete, Heraklion, so chances are that your itinerary on Crete starts here (if your flight lands in Chania, instead, check down below in the post. It's very simple to invert your itinerary).
The North Coast Of Heraklion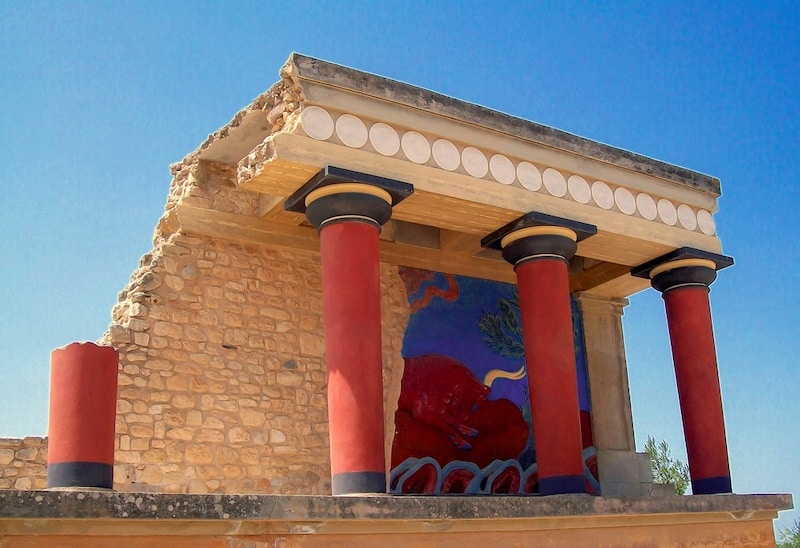 Heraklion receives thousands of visitors all year round, and several thousand more every summer. The main reason for that is the magnificent Archaeological Site of Knossos, the cradle of western civilization which is located about 11 km from the center of Heraklion.
This makes the capital one of the best places to stay in Crete since you'll be able to easily reach and explore the famous archaeological site.
In the northern region of Heraklion, it's also possible to visit several water parks, an aquarium, and different theme parks which children love, such as Dinosauria Park and the Labyrinth Park, all of them just minutes from the city center.
Always in the region of Heraklion, it's also possible to explore the Archaeological Museum of Heraklion and the Minoan Palace of Malia, another wonderful archaeological site that both young kids and adults enjoy exploring.
Where To Stay In Heraklion (North Coast)
Best Family-Friendly Hotels In Heraklion
Hotel Ibis Style Heraklion Central is perfect for a family stay as it is close to all major attractions in town, it's also close to the city's best restaurants. Ibis Hotel is conveniently close to Heraklion's station from where you can board a bus to Knossos.
Best Budget-Friendly Hotels In Heraklion
Those traveling on a budget can find great accommodation deals in Metropole Urban Hotel, also very central and catering to every need with affordable prices.
Best Luxury Stays In Heraklion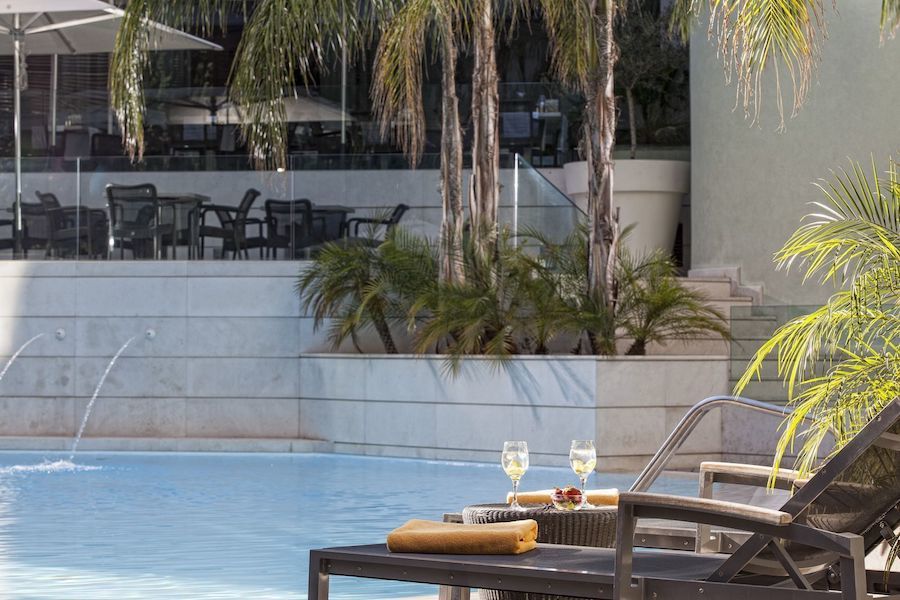 Galaxy Hotel Iraklio is one of the fewest hotels in town with a pool, and a such a wonderful pool it is! They also offer allergy-free rooms, a gym, a sauna, and probably the best breakfast service in town.
Best All-Inclusive Resorts Near Heraklion
If you're in Heraklion for more than archaeological sites and are interested in some unique relax, book a stay in the seaside town of Hersonissos, where you can also enjoy some lively nightlife. The village is known as the mecca of all-inclusive holidays on Crete.
Cretan Malia Park Resort offers excellent service and accommodation, a private beach, and a fantastic pool for its guests.
The South Coast Of Heraklion
If you prefer a more relaxing holiday, with less crowded beaches, and a completely different atmosphere, then you should forget about the capital and head straight to the southern coast of Heraklion.
Over there, you can discover the caves of Matala Beach and swim in the pristine waters of the Libyan sea. If you're in the mood for more history, the Archaeological Site of Faistos is another place you can visit, just 15 minutes away from the beach.
Those keen on hiking will be able to reach the spectacular Red Beach, located just 20 minutes east of Matala Beach, walking along a fairly easy path with spectacular views of the sea.
Where To Stay In Matala (South Coast)
There's very limited accommodation in Matala as it's a fairly small village, therefore we suggest you to book once you have decided that Matala is another place you want to visit in Crete. As soon as you find availability, don't let it escape!
Best Family-Friendly Hotels In Matala
Matala Luxury Apartments is in the center of the village and just a few steps away from the seaside. It's a great option for families with kids since you get the flexibility of a home and the comforts of a hotel all in one.
Best Budget Stay In Matala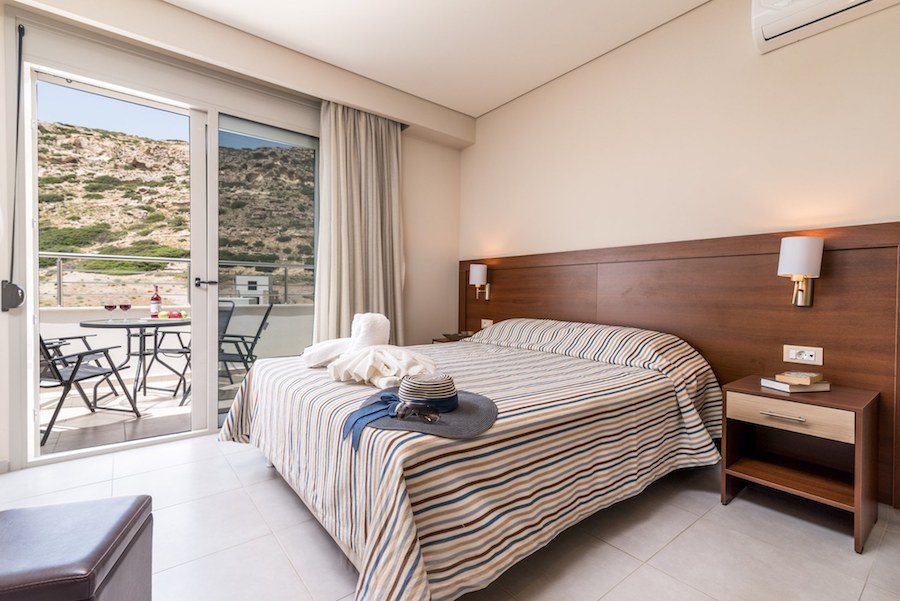 Matala Bay Hotels & Apartments is an excellent budget-friendly place to stay. There's a pool to enjoy, they serve a very rich breakfast, and offer basic but pretty rooms at fair prices.
Region Of Lasithi: The Easternmost Region Of Crete
Once you leave Heraklion, it's a good idea to head towards the East to explore the region of Lasithi.
While the northern area of Lasithi is home to two different cities that offer all kinds of entertainment, the southern coast is Crete's most remote region, and so it's ideal to completely isolate and disconnect from the rest of the world.
For more exciting experiences, rent a car and explore the mountain villages of Lasithi, especially the ones scattered along the Lasithi Plateau.
A day trip to the area will take you to discover special places such as the Cave of Zeus, one of Crete's most interesting geological formations with mysterious links to Greek mythology. In fact, according to the legend, it's here where the Greek god Zeus was raised by a goat.
The North Coast Of Lasithi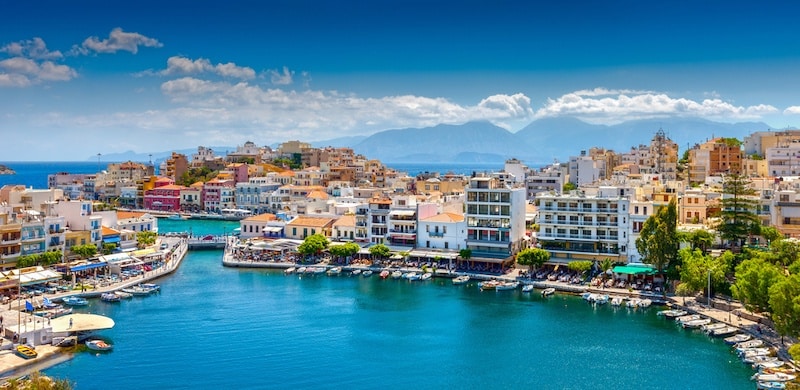 The main city to stay in the northern coast of Lasithi is Agios Nikolaos. This small but vibrant town is home to the beautiful Lake Voulismeni that connects to the sea creating a unique and interesting landscape.
Booking a stay with a view of the lake is not as expensive as it might sound and it will guarantee that you're just a stone's throw away from most attractions in town, including the Folklore Museum and the beautiful city beaches of Agios Nikolaos.
For those with a higher budget, Elounda is one of the most exclusive seaside resorts on Crete, and it's just a few minutes away from Agios Nikolaos.
Elounda is right in front of Spinalonga Island, Crete's former leper colony and now an archaeological site really worth a visit either on your own or with an organized tour
Those wanting to explore the extreme northeastern coast should book a stay in the coastal town of Sitia instead.
This will allow to easily go on day trips to the fantastic Monastery of Toplou and to taste the delicious wines produced by the monks. In the region, it's also a good idea to visit the Palm Grove Beach of Vai, Europe's largest natural palm tree forest.
Where To Stay In Agios Nikolaos (North Coast)
Best Boutique Hotel In Agios Nikolaos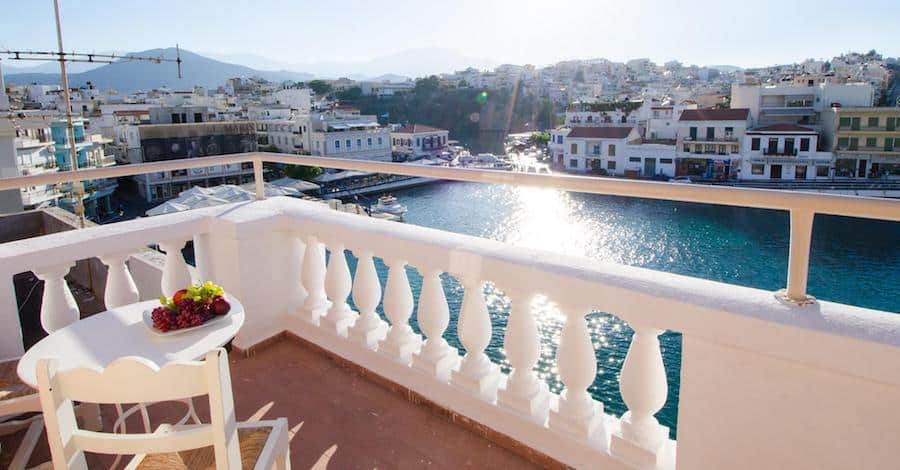 Porto Maltese Boutique Estate this the best place to stay in Agios Nikolaos to get the best views of the lake and the sea. It has fantastic family-friendly rooms with private patios and beautiful sitting areas too.
Best Luxury Resort In Elounda
Domes of Elounda Autograph Collection is one of Crete's most exclusive hotels. A stay in this resort is perfect for a romantic escape without kids or for a second honeymoon! Each suite has a private access to the shore and fantastic views of Spinalonga Island.
Where To Stay In Sitia (North Coast)
Best Budget-Friendly Accommodation In Sitia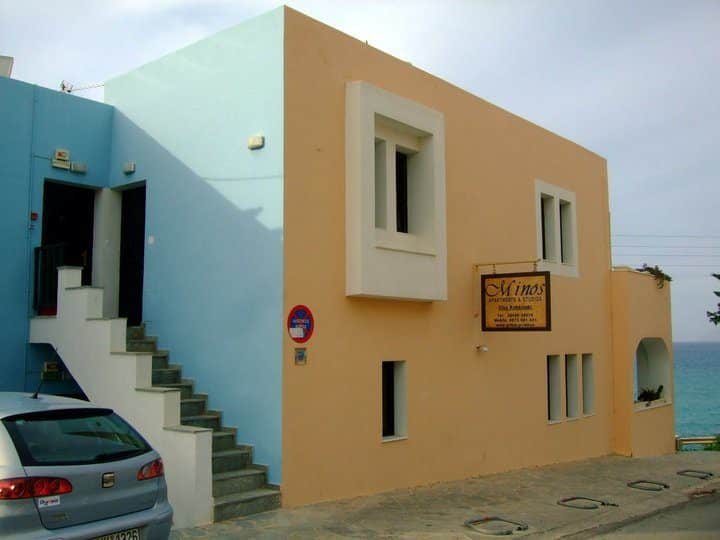 If, instead, you can't resist the idea of combining Toplou's wines and the palm trees of Vai Beach, book a stay in Sitia. Don't worry if you're on a budget, though. Minos Apartments and Studios II offers great views of the sea and convenient accommodation in town for very affordable prices.
The South Coast Of Lasithi
The remote southeastern tip of Crete is a magnetic place made of pristine beaches and isolated roads, ideal for complete rest, relax, and peaceful holidays.
In the area, don't miss the Archaeological Site of Zakros and the heavenly beaches of Xerokampos.
If you're traveling with kids in the mood for adventure, a trip to the uninhabited island of Chrissi will ignite their imagination!
The island is so small that it can be explored in a short period of time and it has some of the cleanest waters of Crete.
Kids can pretend to be pirates while mom sunbathes and dad enjoys a drink at the beach bar.
It's not possible to spend the night on Chrissi, but the best coastal town to stay so as to visit the little island is Ierapetra.
Where To Stay In Ierapetra (South Coast)
Best Budget-Friendly Hotel In Ierapetra
Villa Erato in Kalliope Estate is a perfect place to stay close to Ierapetra if you're on a budget, It has a pretty garden and all your Wi-Fi needs will be definitely covered.
Best Mid-Range Property In Ierapetra
El Greco Hotel is a family-friendly place to stay in Ierapetra, their basic fee includes breakfast as well.
Best Luxury Stay In Ierapetra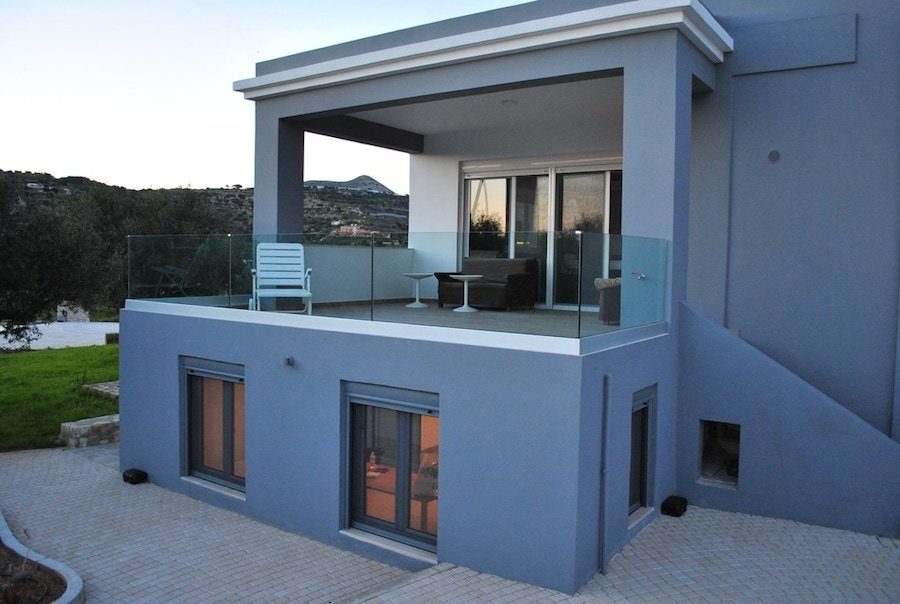 Villa Marmelada is a whole house all to you and your family. It has beautiful mountain views, a great garden and a pool to enjoy when it gets too hot to go to the beach.
Region Of Rethymnon: Moving Towards West Crete
If, instead of going east, form the capital of Crete you travel to the West, the next important region you'll find is Rethymnon.
While the northern coast of Rethymnon is a great place to choose if you want to visit the beautiful old town, the southern area of the region has some superb beaches to explore, beautiful monasteries, and Mount Psiloritis, Crete's highest mountain peak, with a height of 2456 meters above the sea level.
The North Coast Of Rethymnon
Rethymnon is a well-developed coastal city as well as one of Crete's four geographic regions. It's home to a pretty old town with a distinctive Venetian character and some Turkish reminiscences from the period of Ottoman domination on the island.
When visiting the old town of Rethymnon, don't miss the impressive Venetian Fortezza, a massive defensive castle facing the cost that, despite all the impressive security features, it was never strong enough to deter the several pirate incursions on the island.
A stroll along the old port is another thing to do in town. You'll be able to admire the small but picturesque lighthouse as well as sit to enjoy a brunch by the sea.
About 25 minutes from the center, driving south towards the mountains stands one of Crete's more important religious centers, the Monastery of Arkadi, with a beautifully baroque church and peaceful gardens.
The beauty of the place is in direct contrast with its terrible past, theatre of the Holocaust of Arkadi, an episode that saw the death of hundred of local women and kid who preferred to sacrifice their own lives rather than surrendering to the Ottoman rulers.
Where To Stay In Rethymnon City (North Coast)
Best Boutique Hotels In The Old Town Of Rethymnon
Avli is one of the most exclusive boutique hotels in Rethymnon, it's located in the heart of the old town, and it also features one of the best restaurants in town.
Best Adult-Only Boutique Hotel In The Old Town Of Rethymnon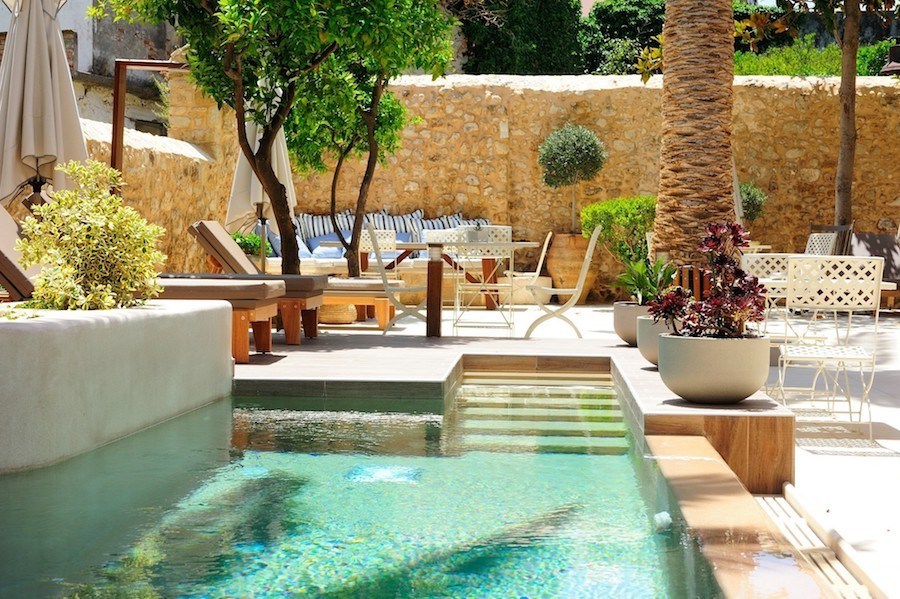 Another fantastic boutique hotel in Rethymnon is Pepi's Boutique Hotel, with a refreshing garden and elegant suites. This is an adult-only hotel, perfect for a romantic escape in town.
Best Budget Hotels In The Modern City
There are many affordable hotels in the modern city, Olympic Palladium is one of the most comfortable ones since it's conveniently located a few steps away from the old Venetian town of Rethymnon.
Best Family Hotels In Rethymnon
If you're traveling with the whole family, choose Archipelagos Hotel for a truly kid-friendly experience, a fantastic pool, and great views of the Fortress of Rethymnon and the sea.
The South Coast Of Rethymnon
A trip to the southern coast of Rethymnon can be truly rewarding for those searching off-the-beaten-track beaches and pretty landscapes.
Among the best beaches to enjoy in the area, check out Plakias, Ligres, and Triopetra, with its unique, bizarre rock formations and wide shore.
Also, in the south of Rethymnon, you can discover the magnificent beach of Preveli, with a wide river ending right into the sea and fantastic palm trees on both sides of the river.
The best area to stay in south Rethymnon in the small village of Plakias, where you can enjoy the beach and all the immersion activities on the coast. In Plakias, you can also discover the most authentic flavors of the Cretan cuisine in one of the many tavernas of the village.
Where To Stay In Plakias (South Coast)
Best Budget Hotels In Plakias
Corali Studios is a great place to stay in Plakias. The hotel has a fantastic fish tavern, and all units are self-catered too.
Best Family Resorts In Plakias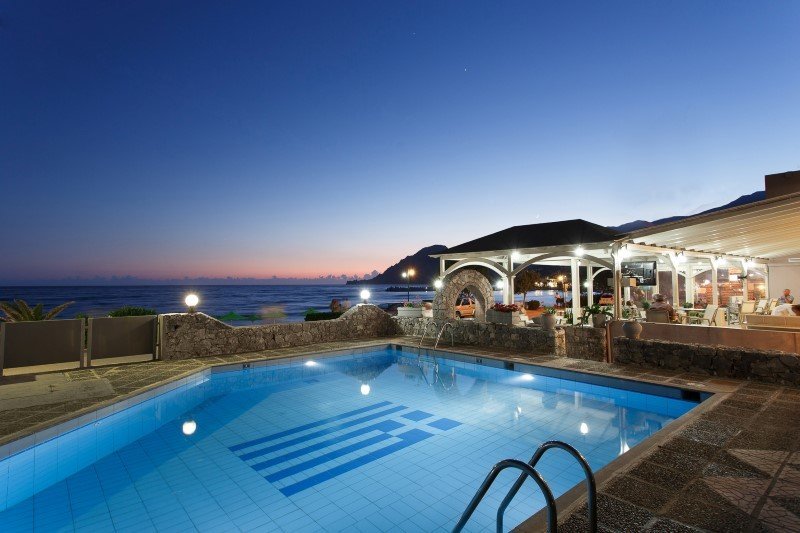 Lamon Hotel is a unique accommodation option for those traveling with the whole family. The property is clean and comfortable and offers a fantastic swimming pool and exceptional views of Plakias.
Region Of Chania: The Extreme West And Crete's Best Beaches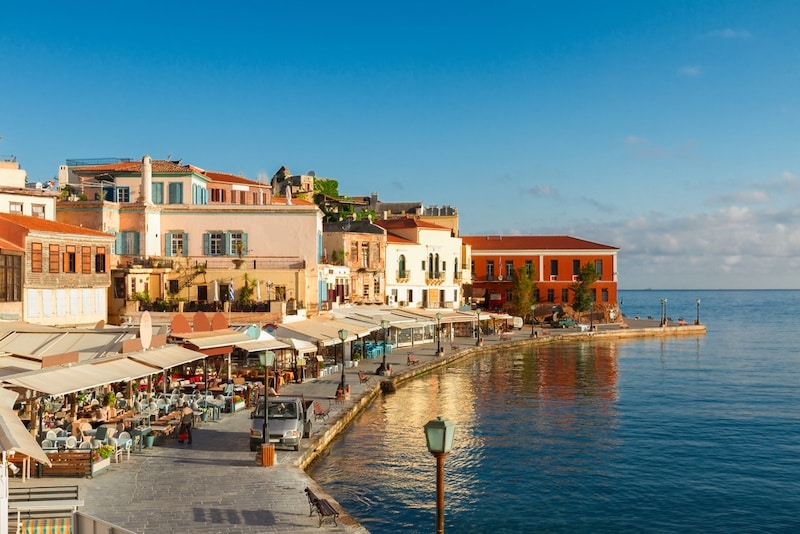 The final region we are still missing to explore is Chania, on the extreme western portion of the island of Crete.
Chania is a fantastic area for any kind of holiday. In the region, you can venture in the breathtaking gorges of the White Mountains if you're fond of trekking, or you can simply spend the day on a beach lounge in one of the over 30 fantastic beaches of Chania.
The North Coast Of Chania
Known as the prettiest town of the island, Chania is a fantastic coastal town facing the Sea of Crete.
Chania is home to an old Venetian town with elegant Venetian buildings, unique Turkish minarets, and some great boutique hotels once home to aristocratic mansions and Venetian palazzi.
Not far from town, you can reach the Omalos Plateau and embark on an outdoor adventure, hiking the spectacular gorge of Samaria, which extends for over 13 kilometers, connecting the North and the south of Crete.
If you plan to take up this adventure, it's a good idea to spend the night in the coastal town of Agia Roumeli to have a good night's rest. On the next morning, take a ferry to Chora Sfakion, and then a bus back to Chania
Where To Stay In Chania Old Town (North Coast)
Best Boutique Hotels In The Old Town Of Chania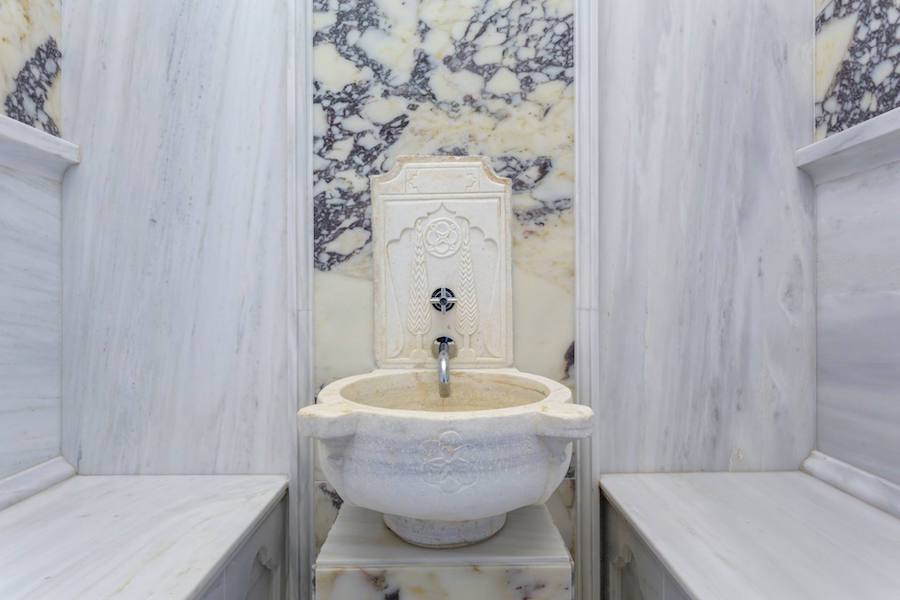 Casa Delfino is undoubtedly the best boutique hotel in Chania's old town. It features an elegant Italian patio, a magnificent terrace with views of the harbor, and one of the most renowned spas in town.
Best Budget-Friendly Hotels In The Old Town
Artemis Rooms is one of the best budget accommodations in the old town; the rooms have been completely renovated and offer great views of the Jewish quarters. This hotel has a very central position, and it's perfect for a short stay in Chania.
Best Place To Spend The Night In Agia Roumeli
If you want to spend the night in Agia Roumeli after your Samaria adventure, check Agia Roumeli Hotel for mid-range accommodation right in front of the beach and comfortable beds after the tiring trekking experience.
The South Coast Of Chania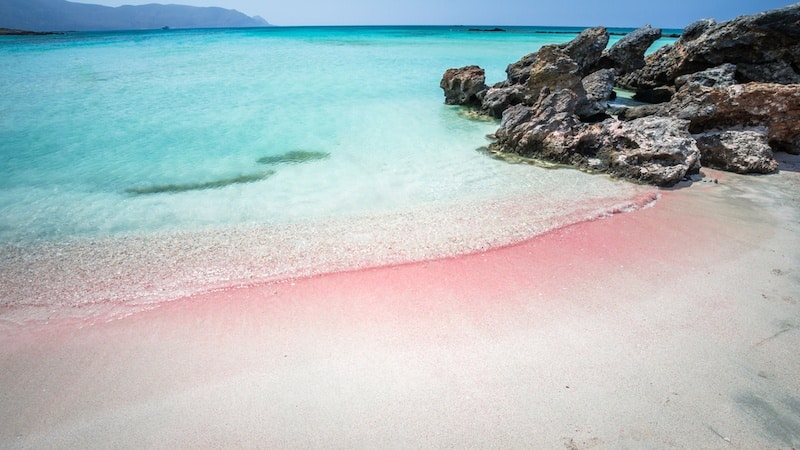 There is a collection of heavenly beaches all over the region. Arguably the most beautiful and popular one is Elafonisi, on the extreme western tip of south Crete. You can reach Elafonisi driving through the imposing gorge of Topolia and spend a fantastic day swimming in the emerald waters or sunbathing on the unique pink sand beach.
You can also choose to visit the somewhat bigger village of Palaiochora, not far from Elafonisi and with a wider accommodation offer. In fact, it's common for tourists to choose Palaiochora as their place to stay when planning to visit the beaches of Elafonisi, Kedrodasos, and Aspri Limni, all of them just a few kilometers away.
In any case, if you rather stay in Palaiochora, the village is home to some unique beaches too, such as Gialiskari, Krios, and Karavopretra
Where To Stay In Elafonisi (South Coast)
Best Family Resorts In Elafonisi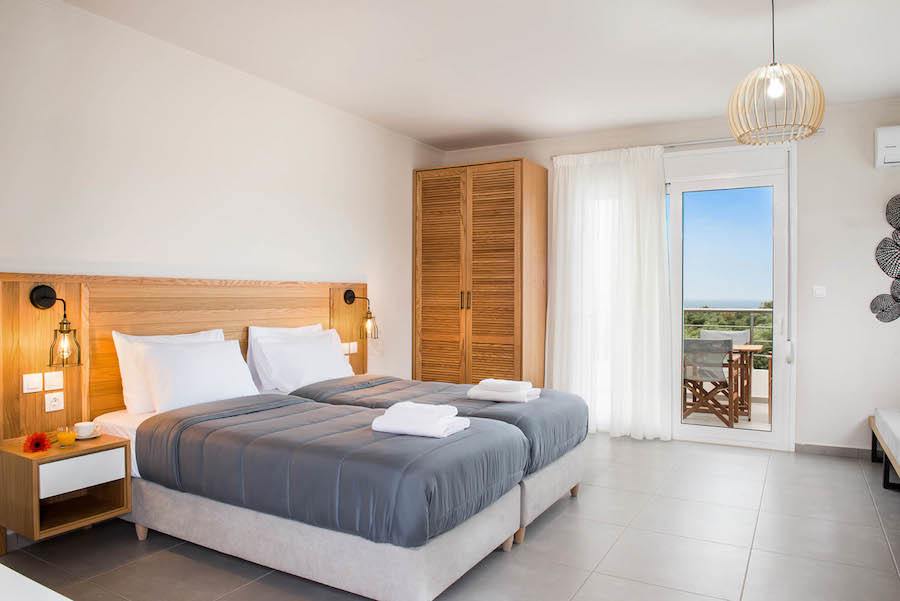 Kalomirakis Family Resort is Elafonisi's place of choice for families with children. The comfortable bungalows are located among a peaceful olive grove with spectacular views of the beach.
Best Mid-Range Hotel In Elafonisi
Glykeria is another place to stay in Elafonisi, it's also quite close to the beach, and it has a wonderful restaurant run by the same family.
Where To Stay In Palaiochora (South Coast)
Best Budget Hotels In Palaiochora
Filoxenia Studios is a place of choice for those traveling on a budget. Besides, it's not only close to the city center, but not far from the main Palaiochora beach as well.
Best Family Resorts In Palaiochora
Glaros Hotel is quite close to the city center, which allows for pleasant walks at night to reach your favorite bar or restaurant. Kids love the local hospitality, and parents enjoy the relaxing atmosphere of this simple but welcoming hotel.
So, now all you have to decide is where in Crete do you wanna stay?
More Greece Travel Ideas