Here is your guide on planning your family holidays in Crete. I have lived on the island of Crete long enough to know every spot your family will enjoy.
Crete, the largest island in Greece, stands as a paradise packed with family-friendly activities. Crete is easily accessible from Athens with its two major airports, Chania (CHQ) and Heraklion (HER).
This southernmost island ensures a delightful year-round destination and is perfect for families seeking adventure and relaxation. Crete offers an extensive selection of family-friendly accommodations and attractions that are sure to keep the kids and parents happy.
Whether your family is fascinated by the alluring coastline, curious about Greek mythology, or eager for evening entertainment at the island's amusement parks, there's something for everyone. Plus, with its reputation as one of the safest places in Europe, parents can feel at ease letting their kids explore and embrace the wonders of Crete.
Best Time To Visit Crete With Kids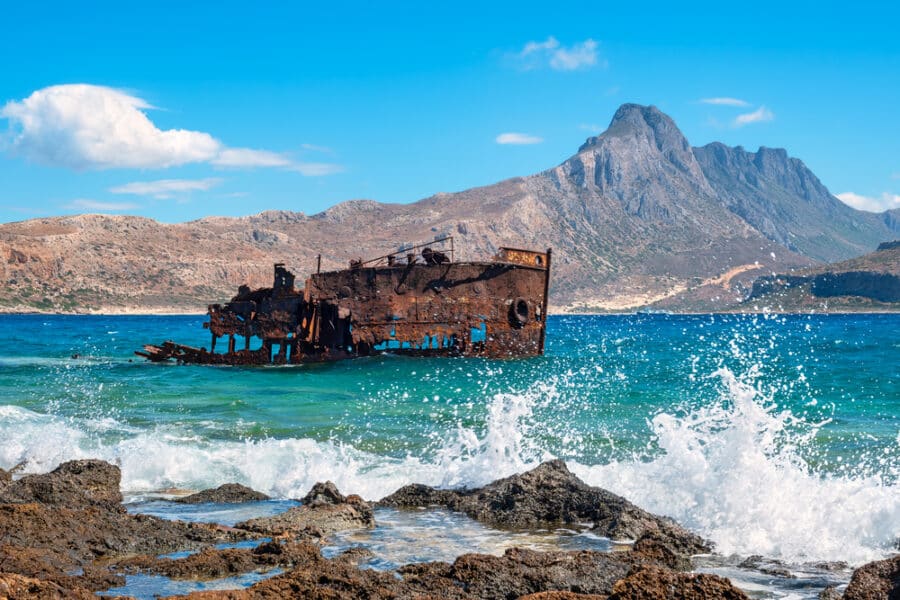 May and June offer a milder climate than the peak season, making them ideal months to explore Crete with little ones. The weather is pleasantly warm for beach activities, yet not excessively hot. Additionally, you can skip long queues and crowded spots with fewer tourists around.
September is another favorable time to visit Crete. By then, children in Greece and much of Europe have returned to school, leading to a decline in holiday-goers. The temperatures are comfortable, and while there might be sporadic rain, it isn't enough to kill your enthusiasm for the island's top sites.
Best Things To Do In Crete With Kids
Visit Family-Friendly Beaches In Crete
No matter which part of Crete you choose to explore, you'll always be surrounded by gorgeous beaches. The island is blessed with sandy beaches and turquoise waters that captivate kids for hours on end.
Make certain to include these beaches on your list:
Falassarna Beach (Chania)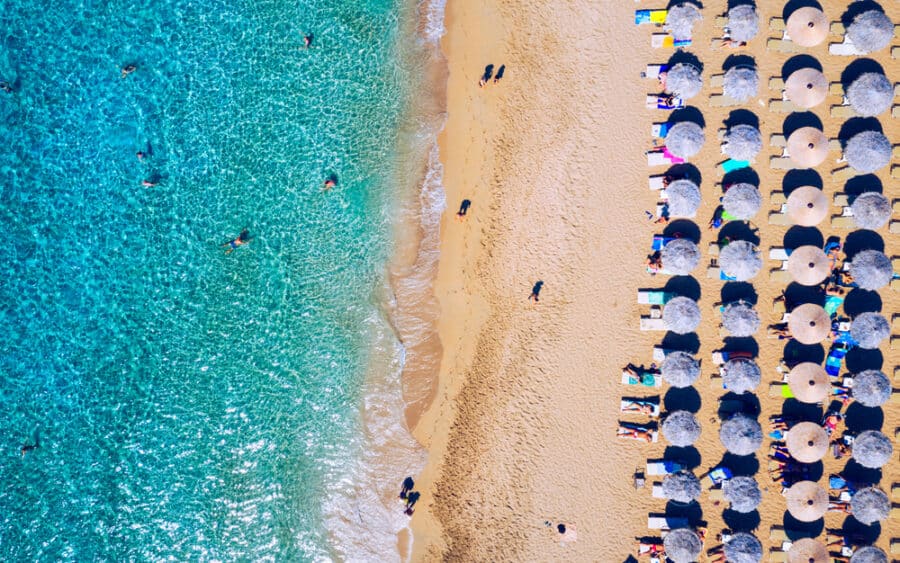 Recognized as one of Crete's most splendid natural beaches, its golden and pink-hued sands and crystal-clear waters make it a family-friendly paradise.
Frangokastello Beach (Chania)
This sandy haven lies beneath a historic 14th-century castle on Crete's southern coast, adding a touch of history to your family beach day.
Balos Beach & Lagoon (Chania)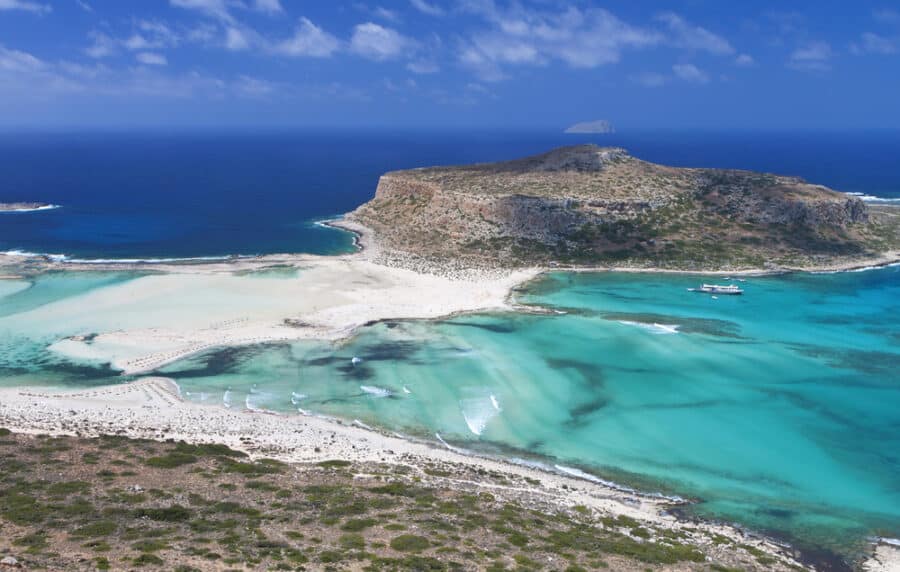 Balos Beach is a secluded haven with pristine white and pink-hued sands and shallow turquoise waters. Its shallow waters are ideal for toddlers, allowing them to play securely.
Chrissi Akti Beach (Chania)
Located just 2.5km west of Chania, the 'Golden Beach' comprises two beaches divided by rock formations. Chrissi Akti is a favorite beach among families due to its shallow waters, sun umbrellas, lifeguards, cafes, and playgrounds.
Elafonisi Beach (Chania)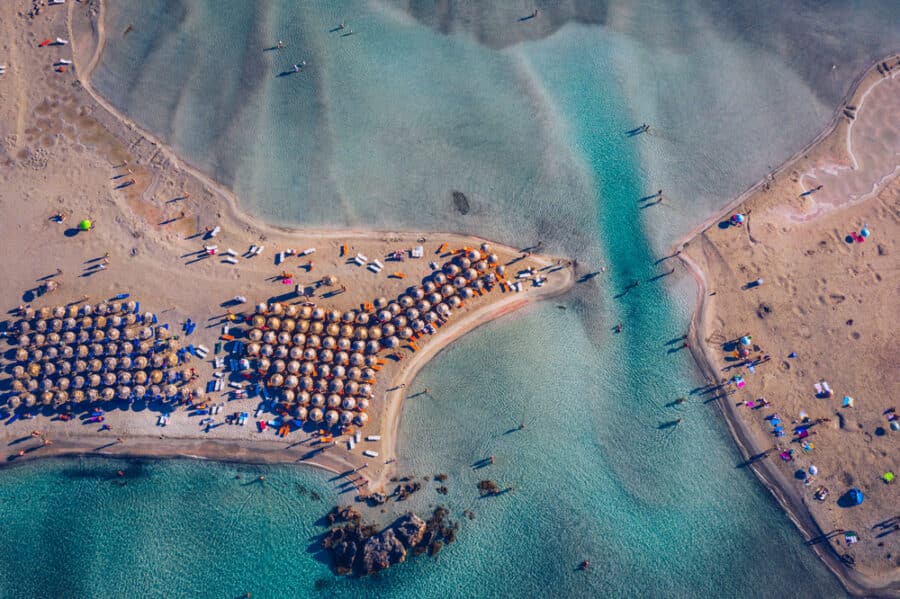 Distinctive for its pink sands from crushed seashells, this unique beach is a treat for families looking for something extraordinary. Its shallow water is ideal for families with small kids.
Damnoni Beach (Rethymno)
This is a haven for young adventurers. Its expansive stretches of white sand dunes and crystal-clear shallow waters make it a natural playground for kids. Little ones can delight in snorkeling adventures and exploring marine life up close. No doubt, Damnoni stands out as one of Crete's top beaches, especially for toddlers and young children.
Bali Beaches (Rethymno)
The tranquil beach resort of Bali boasts five sheltered beaches that promise a peaceful retreat away from bustling tourist spots.
Matala Beach (Heraklion)
Surrounded by towering cliffs dotted with ancient Roman cave tombs, this beach offers a mix of history and a laid-back vibe.
Hersonissos Beaches (Heraklion)
Situated east of Heraklion, these compact local beaches feature calm, transparent waters and an array of family-friendly amenities.
Almyros Beach (Lassithi)
Almyros Beach is a delightful family destination. Its wide stretch of golden sand and calm, shallow waters make it a top pick for families with young children. The picturesque river that meanders into the sea adds an extra touch of charm, captivating the little ones. Undoubtedly, it ranks among the must-visit beaches in the area.
Voulisma Beach (Lassithi)
A breathtaking stretch of white sand in Mirabello Bay, its crystalline turquoise waters make it a favorite among families.
Find a family-friendly beach near you on Crete.
Learn About Greek Mythology In An Engaging Way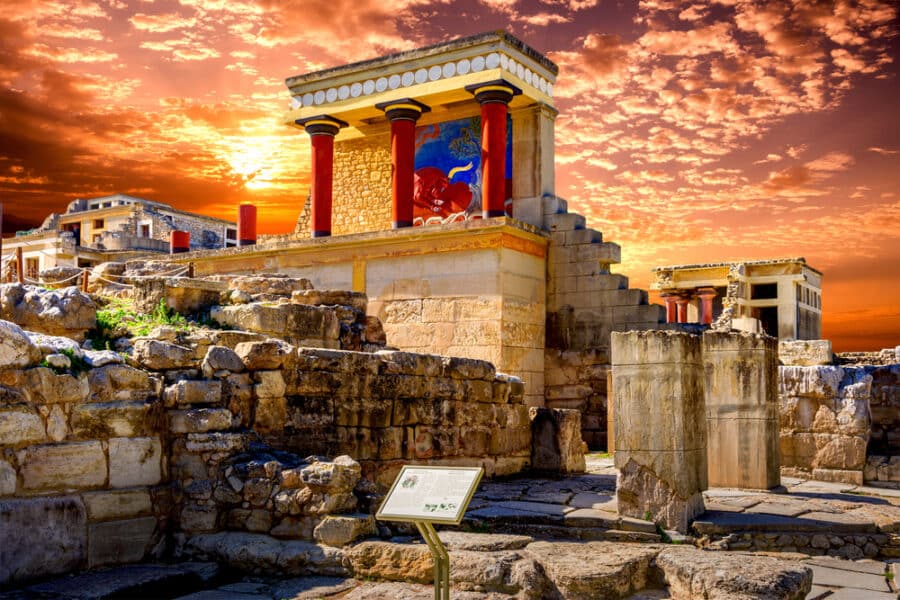 While adults may find the allure in archeological museums and the Knossos palace, it might not captivate the younger audience. To blend education with entertainment for kids, consider a trip to the Greek Mythology Thematic Park, Labyrinth Park, or Minoan's World. Here, they can delve into Greek mythology engagingly geared towards kids.
Greek Mythology Thematic Park
The Greek Mythology Thematic Park in Psychro offers families a journey through Greek myths with captivating audio and visual effects. Located near Zeus's legendary birthplace, it covers eras from Minoans to 1960s Lassithi folklore.
Labyrinth Theme Park
The Labyrinth Theme Park is a family destination theme park with numerous interactive activities and attractions.
Minoan's World
Minoan's World in Chania gives kids a vivid 3D glimpse into ancient Crete, allowing them to walk among Minoan legends and art.
Explore The Wildlife Of Crete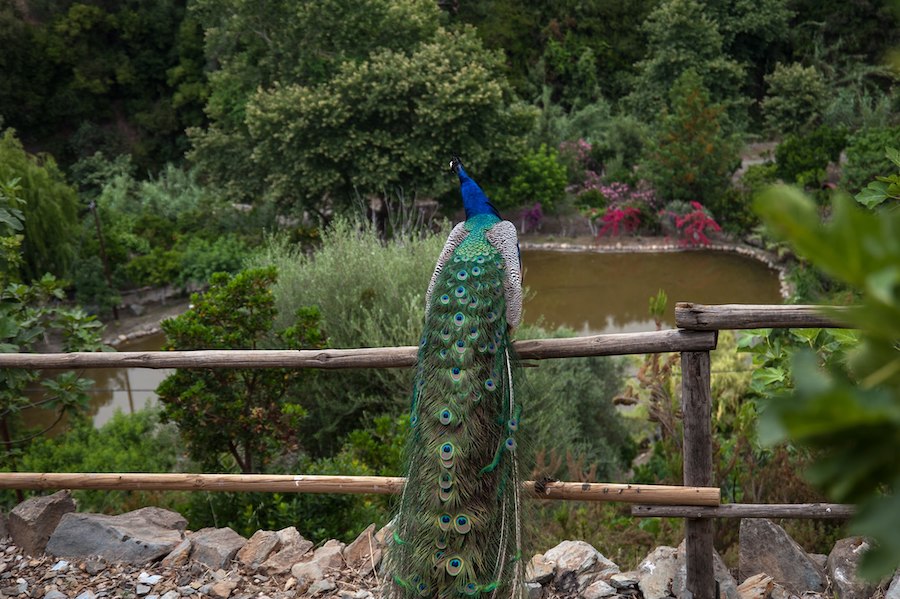 Botanical Park & Gardens
The Botanical Park & Gardens of Chania immerses families in Crete's diverse flora and fauna. Children love spotting animals like peacocks, geese, and the native Kri-Kri goat.
Amazonas Animal Park
Amazonas Animal Park, located between Malia and Agios Nikolaos, combines an animal showcase with a rescue center featuring local and South American species.
Lasinthos Eco Park
For a cultural twist, Lasinthos Eco Park not only hosts native animals and plants but also revives Cretan traditional art with hands-on artisan demonstrations.
Cool Off At The Best Waterparks In Crete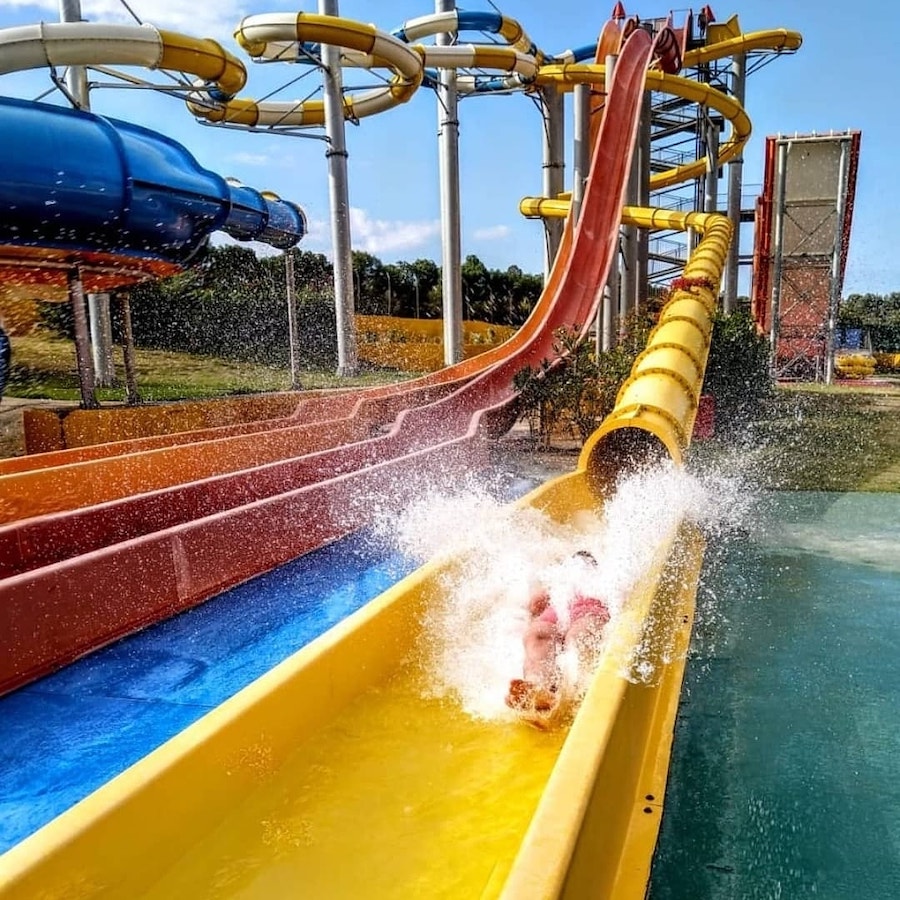 Water parks on the island offer a delightful way to soak up the Cretan sun while cooling off and bonding with loved ones.
My top recommendations include:
Acqua Plus in Hersonissos
Watercity in Anopolis
Limnoupolis Water Park and the water parks at
Splashworld Atlantica Akti Zeus in Amoudara and Stella Aqua Park.
All are perfect for family and friends!
Discover Crete's Natural Wonders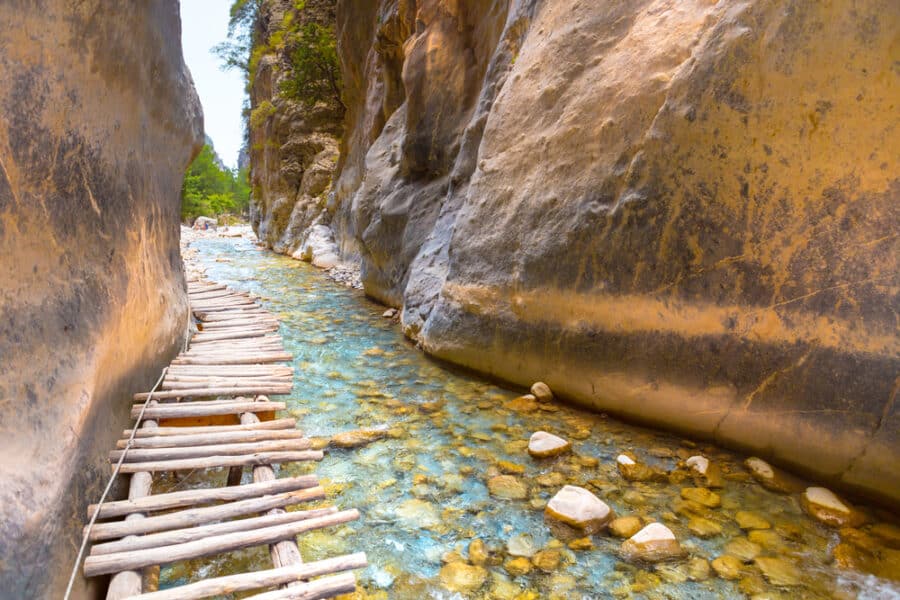 Did you know Crete boasts over 400 gorges and more than 30 peaks soaring beyond 2,000 meters? While the renowned Samaria Gorge might be challenging for families, many others are perfect for adventures with the little ones.
Top family-friendly treks include the Imbros Gorge and both Sarakina Gorges, located in the Chania and Lassithi regions.
For those who prefer a scenic drive, the Theriso Gorge offers breathtaking views right from the comfort of your vehicle.
Discover The Secrets Of The Sea Life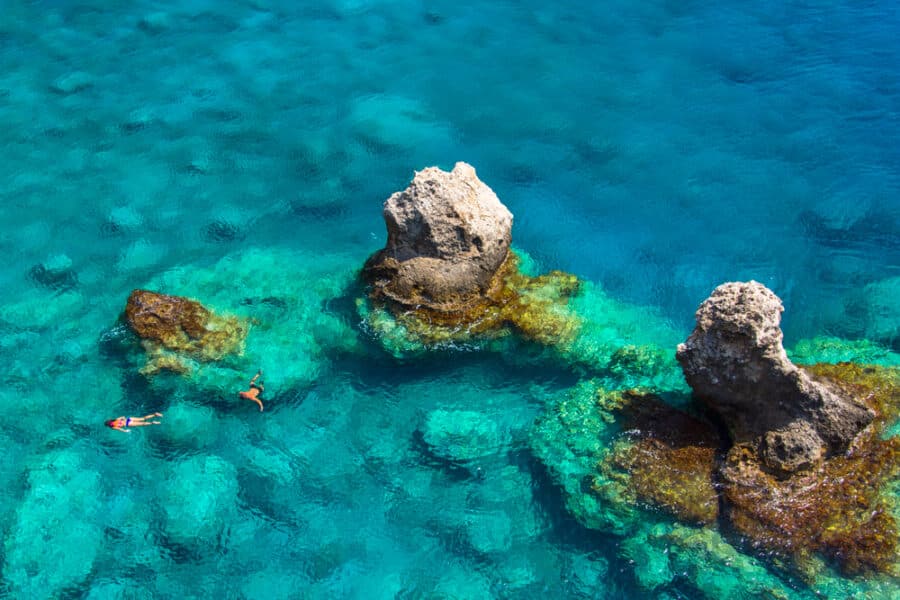 Explore over 2,000 marine species at Crete's premier aquarium, a top indoor activity for kids.
Cretaquarium combines entertainment with education, featuring advanced displays and state-of-the-art facilities for events and presentations. Highlights include vibrant jellyfish, sand tiger sharks, and unique sea creatures from the Mediterranean and tropics.
Gallop Through Crete's Scenic Beauty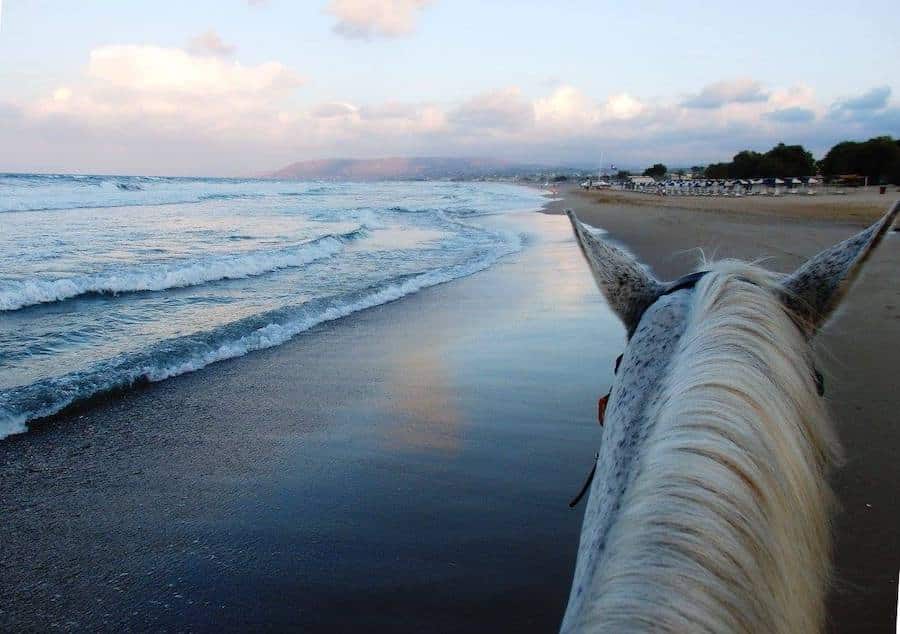 Experience the beauty of Crete's landscapes from a unique perspective, with numerous riding schools offering lessons for all skill levels. It's a delightful activity for the family, ensuring memorable moments.
Zoraida's Horse Riding, situated between Chania and Rethymno, provides guided pony treks for kids and excursions to scenic Kournas Lake. Adventure seekers can even enjoy riding horses into the sea!
Don't miss out on Horse Park Rethymno too.
Best Area To Stay In Crete For Families
Crete, in line with the rest of Greece, is incredibly welcoming to families. Therefore, selecting a family-friendly spot to stay in Crete is almost effortless.
Crete is segmented into four distinctive prefectures, each showcasing its unique charm and scenery. Moving from West to East, they are Chania, Rethymnon, Heraklion, and Lassithi.
Below are our recommendations emphasizing regions that are full of activities suitable for the whole family.
Rethymno Region – A Top Pick For Families Travelling To Crete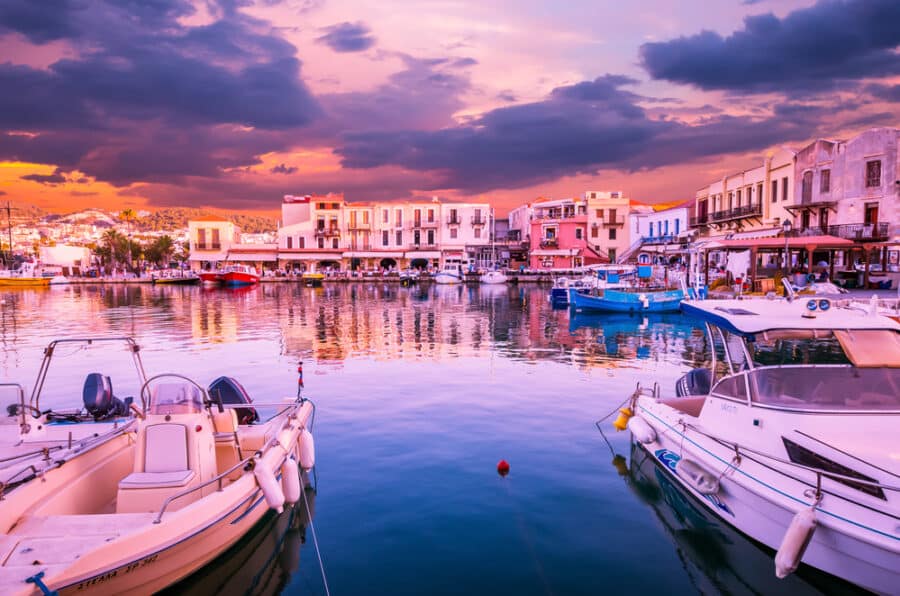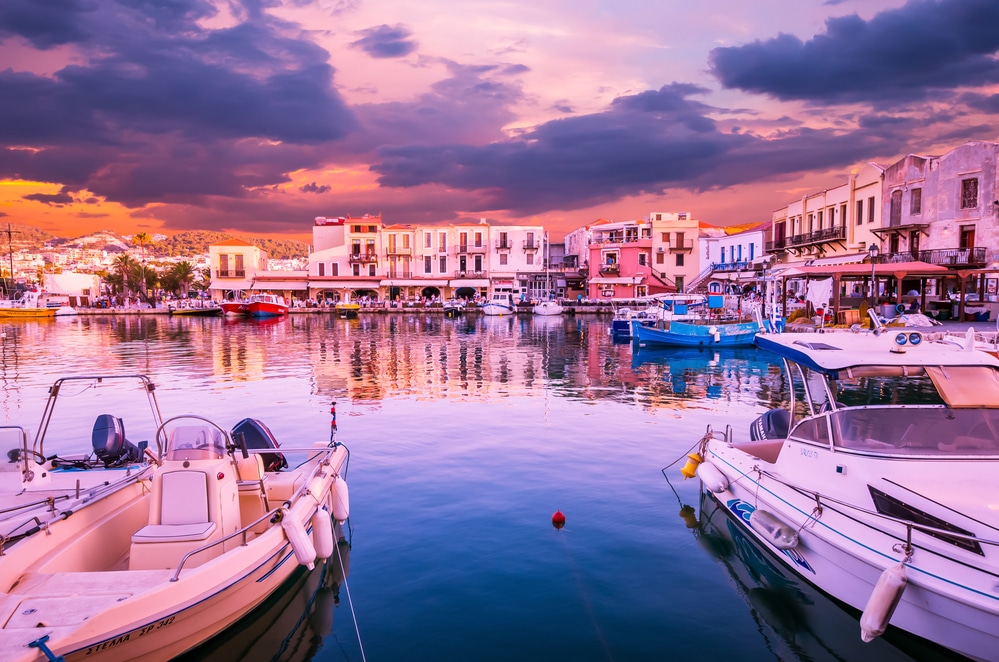 This charming region provides a genuine Cretan experience, combining medieval villages and rich history, making it a wonderland for exploration.
Families will adore the city of Rethymno with its charming cobbled streets decorated with vines and flowers. Whether you're keen on diving into history at the Archaeological Museum of Rethymno or seeking an adventure by taking a bike ride or e-scooter along the extensive 12 km long beach, there's something for every family member. Plus, there is a good selection of family-friendly accommodations to choose from.
Here are some family-friendly accommodations in the Rethymno region we love:
Atlantis Beach Hotel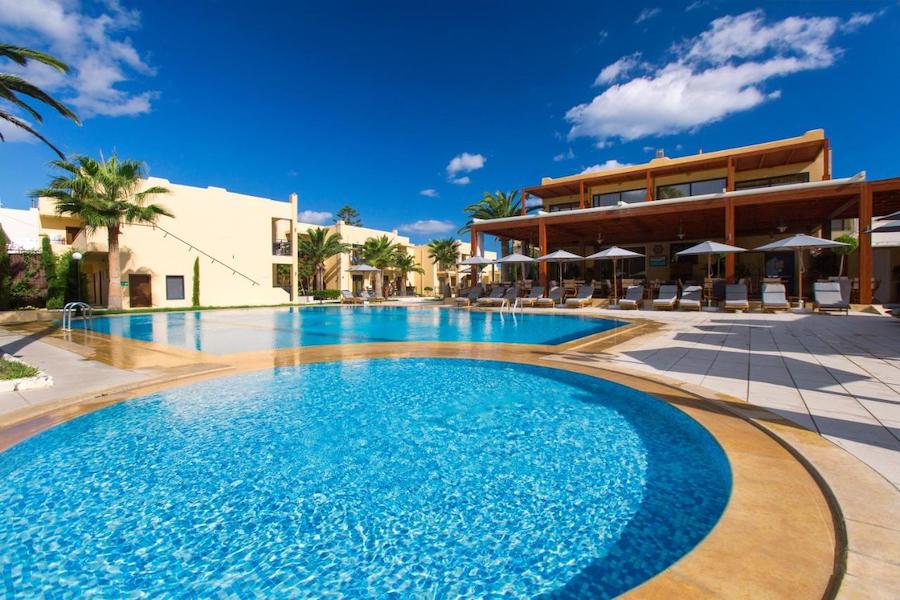 Atlantis Beach Hotel offers perfect family accommodation near Rethymno's sandy shores. Guests enjoy complimentary beach chairs and umbrellas, spacious family rooms, and a diverse range of tasty breakfast and dinner options.
Bonuses include a swimming pool and a children's playground.
Click here for more information and the latest prices.
.
Creta Palace Grecotel Luxury Resort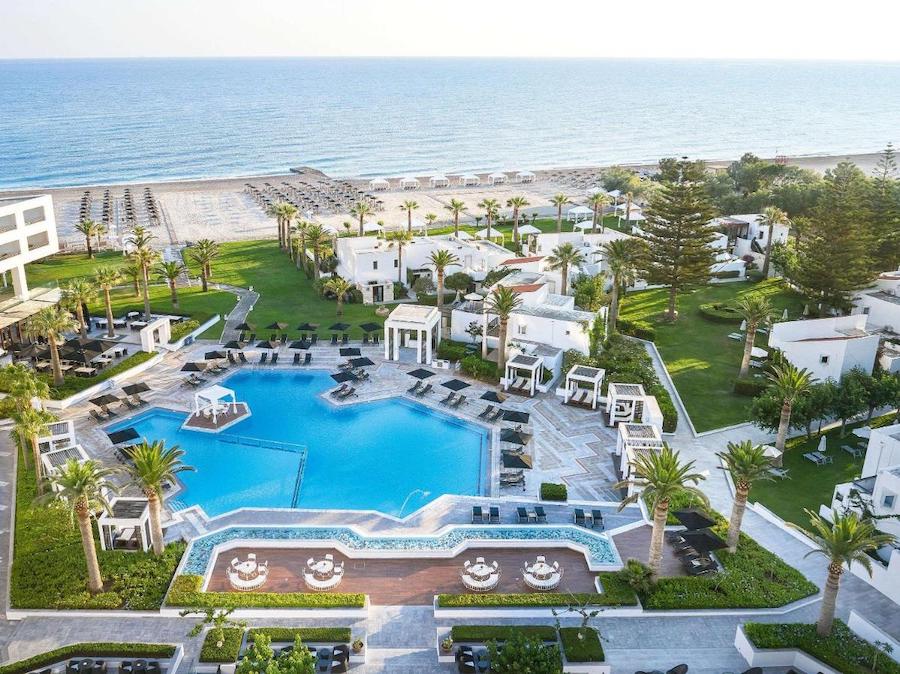 Creta Palace Grecotel Luxury Resort is the pinnacle of family holidays. Immerse in authentic Cretan warmth from your first step in the lobby. Nestled on a pristine sandy beach with azure waters, the resort epitomizes luxury with impeccable service down to every detail.
Click here for more information and the latest prices.
.
Dimitrios Village Beach Resort & Spa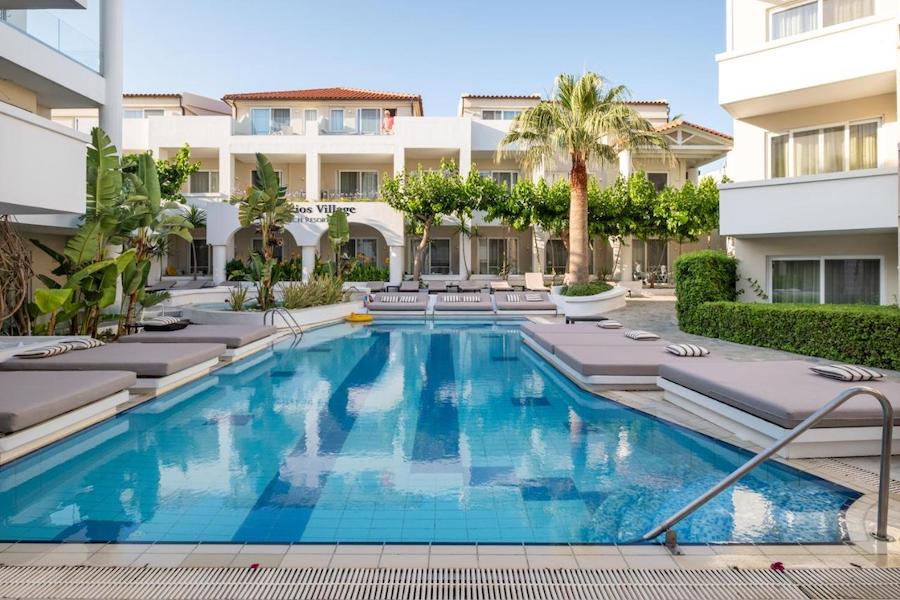 Dimitrios Village Beach Resort & Spa is exceptionally suitable for families with children. With safe, instant access to the beach and plenty of facilities for the kids.
The inclusive package combined with outstanding staff will make your family holiday a memorable experience.
Click here for more information and the latest prices.
.
Chania Region – The Best Area For An Authentic Cretan Experience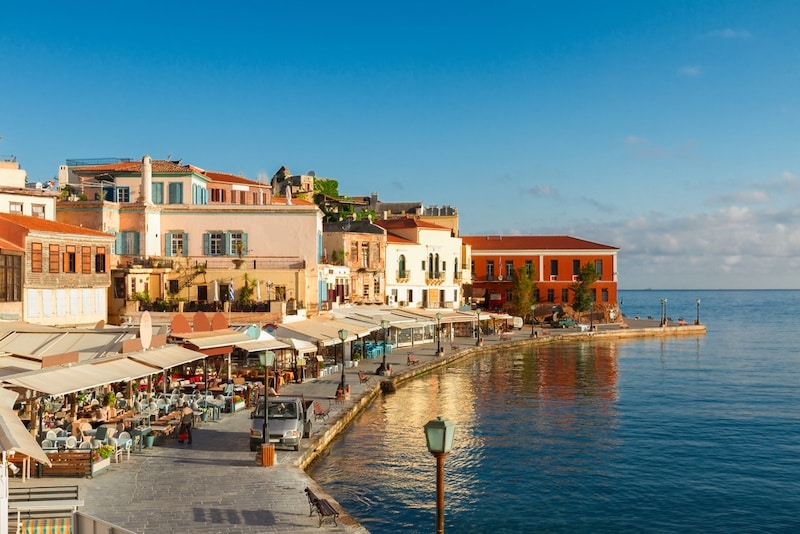 Chania, nestled in western Crete, is an ideal family-friendly destination with its authentic and inviting atmosphere. The heart of the city centers around the scenic 14th-century Venetian harbor, perfect for family walks and exploring a variety of eateries that offer a taste of Crete's unique flavors.
Chania is an ideal base for your stay, boasting an international airport and a ferry port. Its prime location offers easy access to Crete's top attractions, whether you're traveling by car, joining organized tours, or using public buses.
Nearby, seaside villages like Agia Marina, Platanias, and Akrotiri peninsula are tailored for family fun, boasting vast sandy beaches with shallow waters safe for kids. The proximity of these beaches to Chania's vibrant city ensures families can easily switch between relaxing beach days and captivating evening city strolls.
Here are some family-friendly accommodations in the Chania region we love:
Paradisio Baby & Kinder Hotel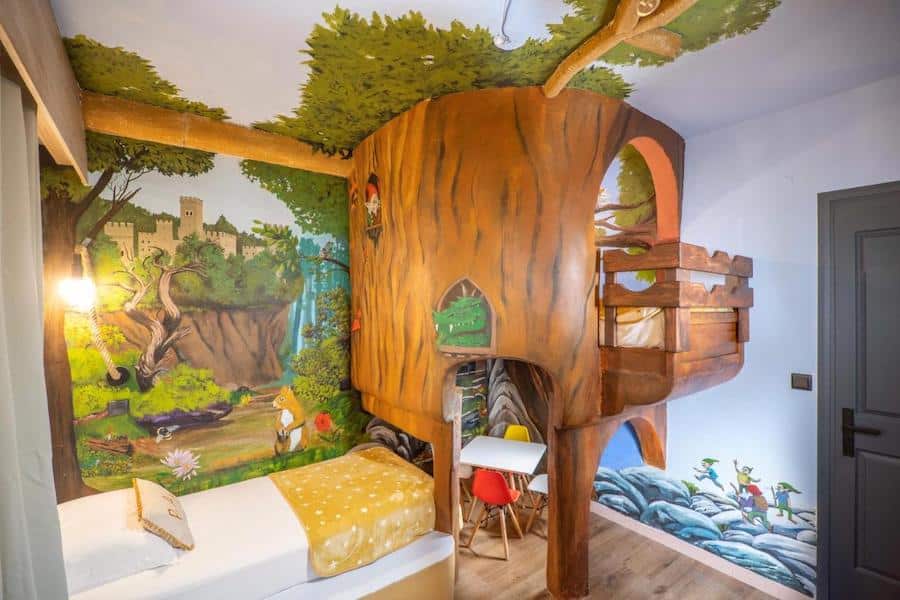 Paradisio Baby & Kinder Hotel is truly a haven for families with kids.
Nestled in the Stavros village, it boasts an array of kid-friendly amenities, including a vast 400-m² play zone, a go-kart track, a tree-house, and a ping-pong table. An animal farm is on-site, and the beach is just a 15-minute stroll away.
Click here for more information and the latest prices.
.
Euphoria Resort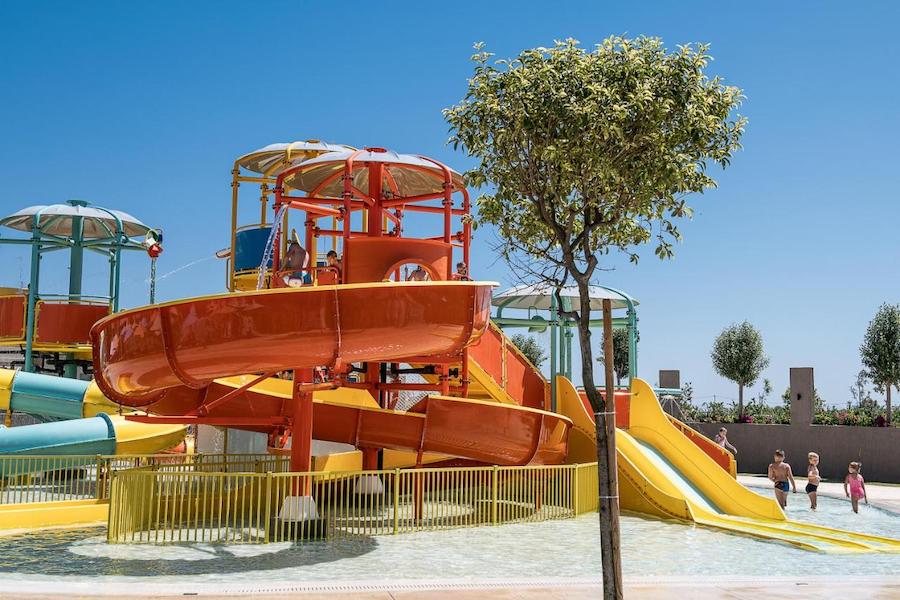 Euphoria Resort is the perfect family getaway spot. It's an all-rounder with attentive staff, top-notch rooms, delectable cuisine, and captivating sea views.
The crystal-clear pools and secure kids' area ensure safety and fun for the young ones. The resort also offers engaging daytime activities for children and enjoyable evening events for adults.
Click here for more information and the latest prices.
.
Kiani Beach Resort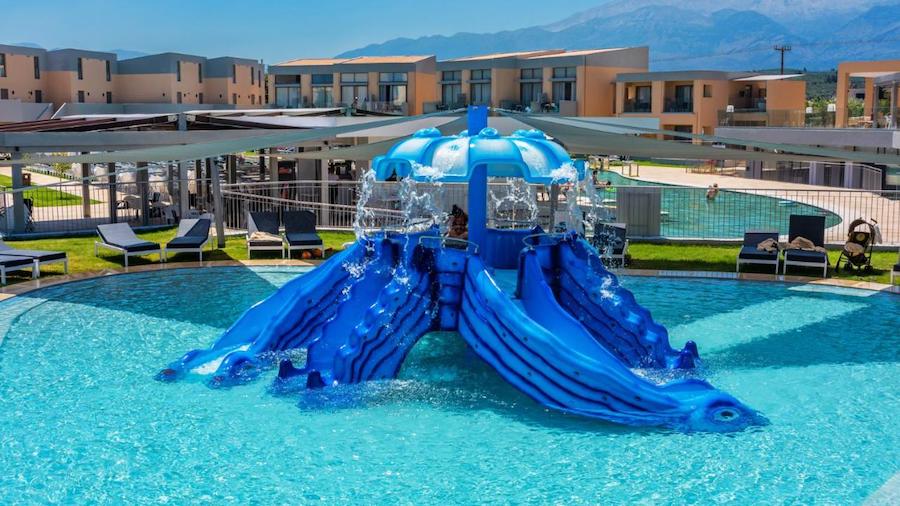 Kiani Beach Resort, located just outside the Kalyves village in Crete, is an all-inclusive family haven by the blue flag awarded beach of Kiani Akti. Nestled in Chania, this standout resort is tailored for families, ensuring both adults and young guests enjoy a memorable seaside retreat.
Click here for more information and the latest prices.
.
Heraklion Region – The Historic Heartbeat Of Crete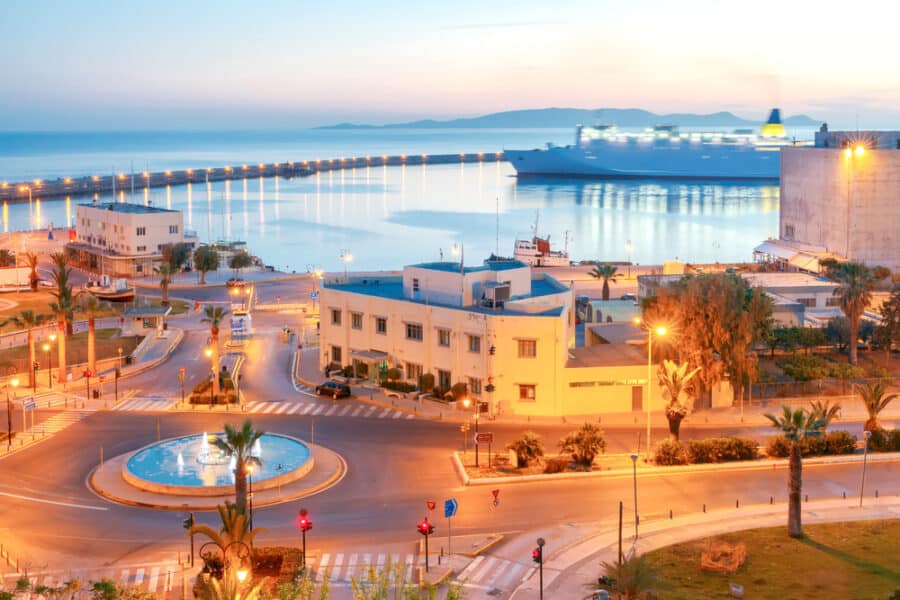 The Heraklion region in Crete is filled with family-friendly towns and villages that cater to the needs of families and offer a mix of theme parks, water parks, beaches, and archaeological sites.
Here are some family-friendly accommodations in the Heraklion region we love:
Cretan Malia Park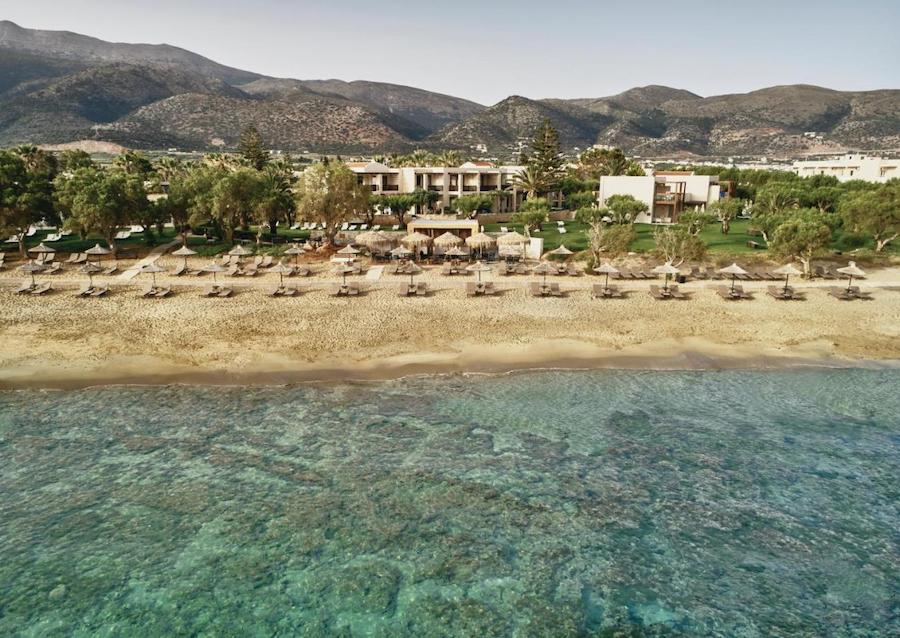 Cretan Malia Park is a family-friendly resort that prioritizes sustainability.
Boasting three kid-approved restaurants, poolside cocktail bars, and an engaging children's club, families have direct access to a certified Blue Flag private beach.
Click here for more information and the latest prices.
.
Creta Maris Resort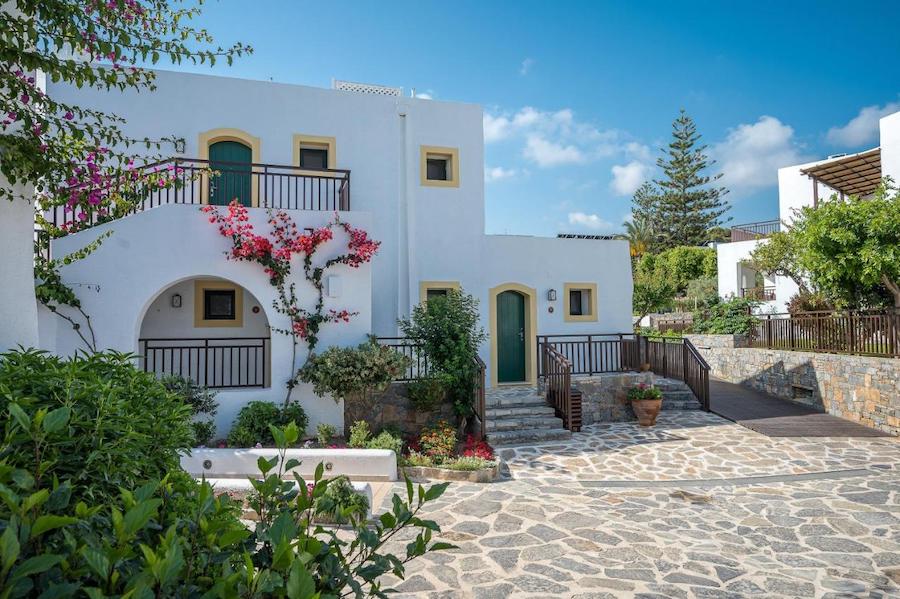 Creta Maris Resort is the ideal destination for family holidays! With a wide range of facilities, including a waterpark, a baby room, a kids club, and a teenager's club to an extended animation program, wellness & recreation services, and experiential activities to act like a local, there's something for everyone in the family to enjoy!
Click here for more information and the latest prices.
.
Alexander Beach Hotel & Village Resort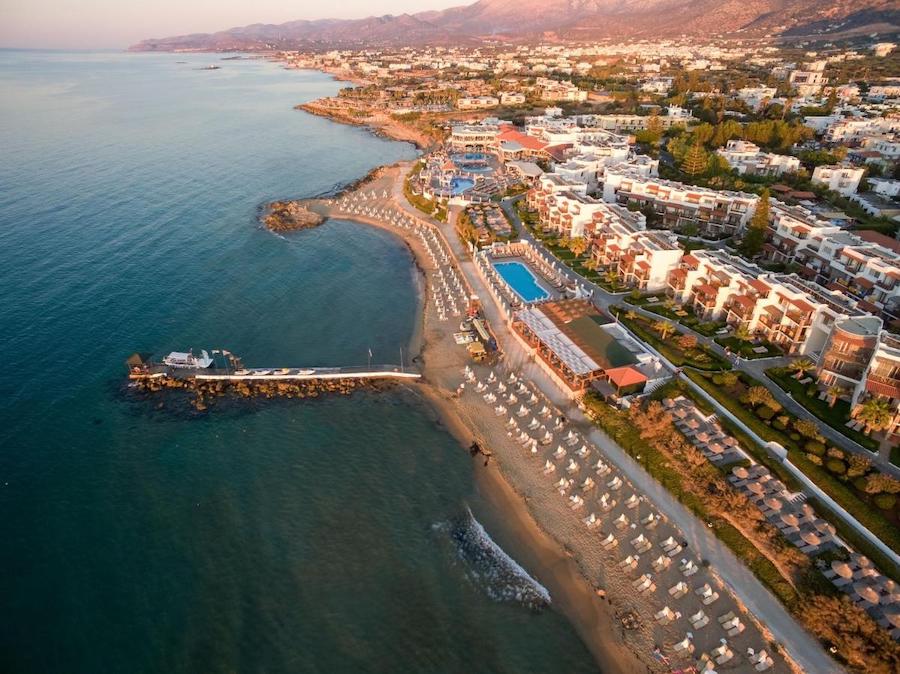 Alexander Beach Hotel & Village Resort is a paradise for little guests, making it the ultimate choice for a family holiday. Lots of great entertainment for kids and a kids' pool.
Click here for more information and the latest prices.
.
Lassithi Region – The Ideal Spot For Relaxed Family Getaways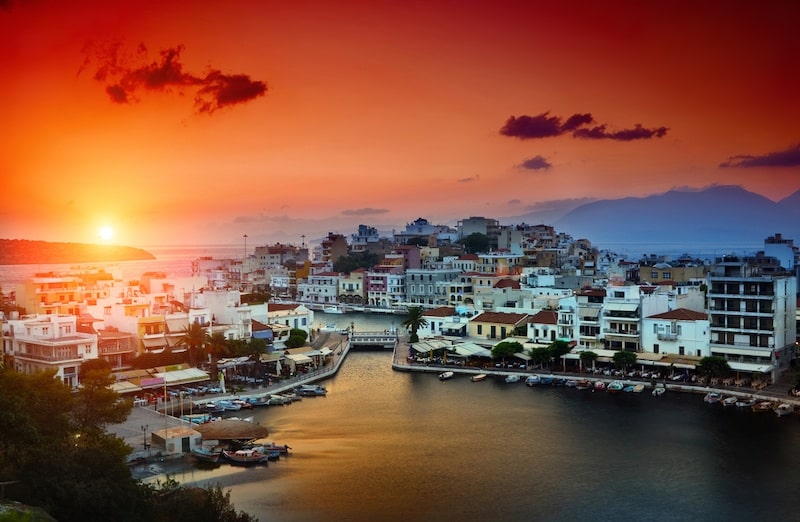 The Lassithi Region offers a serene contrast to the bustling vibes of western and central Crete. As one of the island's more untouched areas, Lassithi presents a genuine Greek experience, often overlooked by many tourists. You'll encounter charming small towns and authentic villages with fewer crowds here. Plaka, in particular, captivates families with its enriching landmarks. A quick, scenic boat ride from this quaint village takes you to the Island of Spinalonga. Nearby, Agios Nikolaos provides a mix of leisure and entertainment.
Additionally, the neighboring village of Elounda boasts an ancient sunken town, perfect for snorkelers and those who prefer to marvel from above.
Here are some family-friendly accommodations in the Lassithi region we love:
Candia Park Village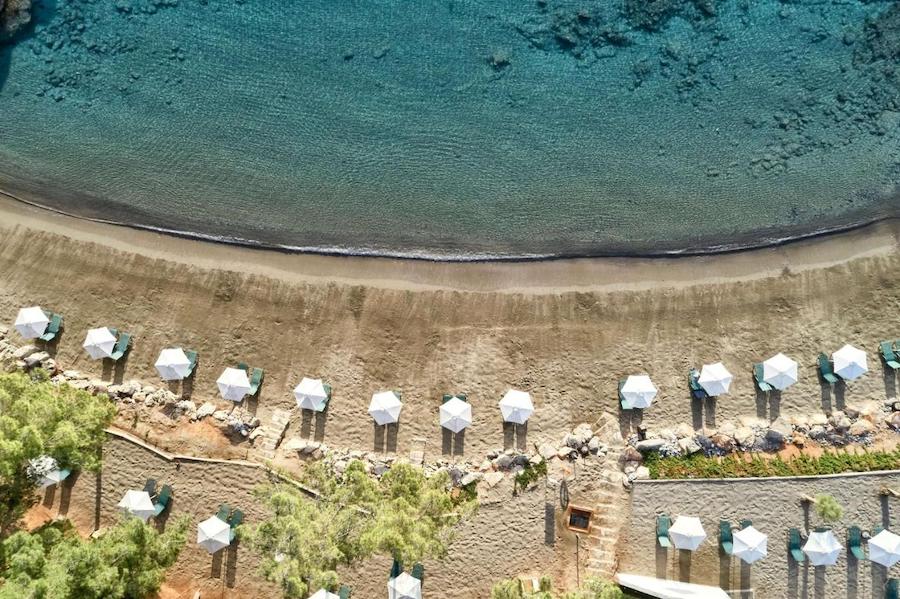 Candia Park Village was designed in a traditional Cretan style. This family-friendly hotel is a thoughtful blend of comfort and authenticity. With three pools, including a dedicated children's area and a hot tub, relaxation is at your fingertips. For those seeking more active pursuits, options abound, from tennis and basketball to diving and windsurfing.
Click here for more information and the latest prices.
.
Daios Cove Luxury Resort & Villas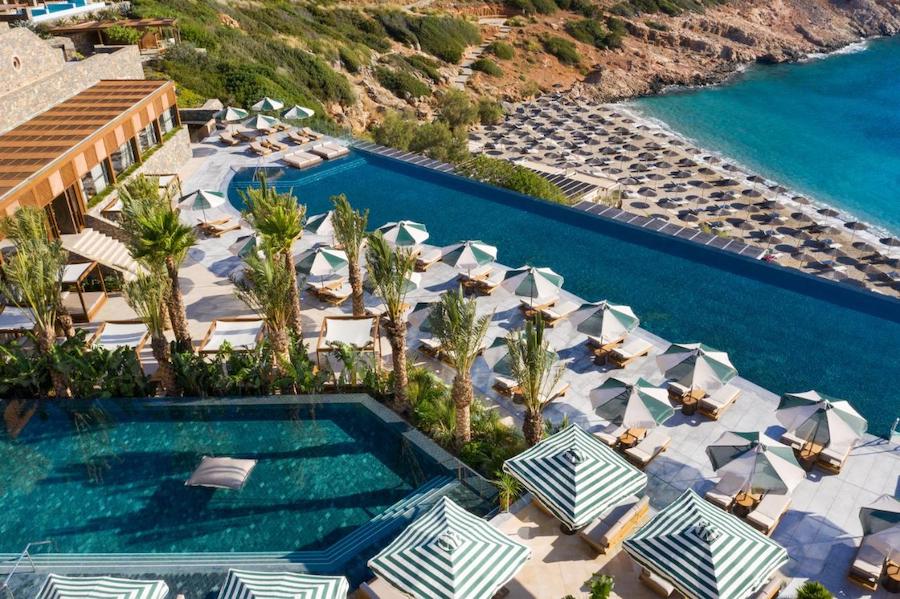 Daios Cove Luxury Resort & Villas is nestled in a stunning bay with excellent sea views. This resort is a top choice for both adults and kids.
The watersports team is always on hand and eager to assist. Indulge in delectable dining at the Greek Taverna and Beach Club, all accompanied by well-curated music. A true taste of luxury for the whole family!
Click here for more information and the latest prices.
.
Porto Elounda Golf & Spa Resort, Six Senses Spa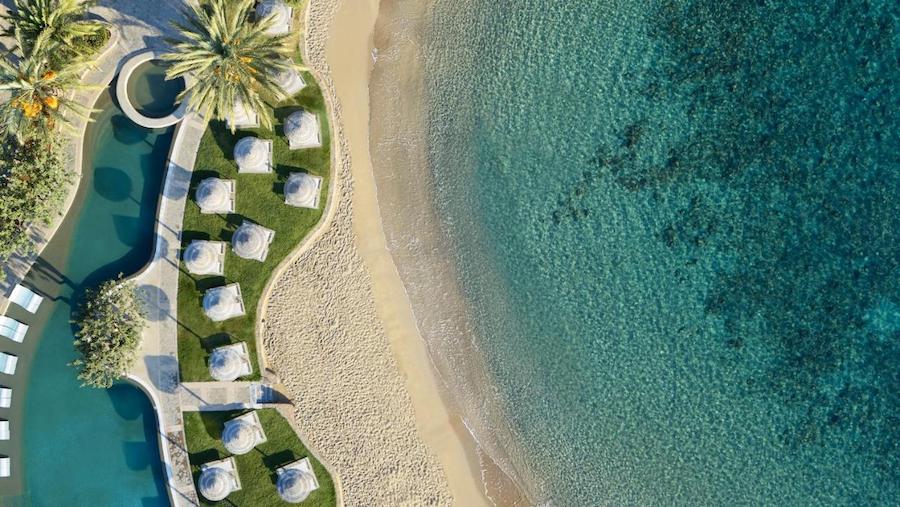 Porto Elounda Golf & Spa Resort, Six Senses Spa, is a premier family destination. This resort boasts an exclusive 9-hole golf course for guests.
Dive into a range of watersports, from jet-skiing to sailing. For marine enthusiasts, there's a PADI-certified scuba diving center and luxury yachts for cruising. Younger guests aren't left out with a dedicated playground and engaging learning activities.
Indeed, an all-encompassing family retreat!
Click here for more information and the latest prices.
.
Crete stands out as a family vacation haven, blending the magic of its rich history with the allure of its pristine landscapes. Every corner of this island invites families to create cherished memories together, diving deep into its myths or simply enjoying the sun-kissed shores.
As you plan your next family getaway, let Crete's unique blend of adventure and tranquillity promises an enriching and unforgettable experience for all.
Safe travels, and enjoy every moment in this Mediterranean gem!