When you hear the word autumn or fall (depending on where in the world you live!), you probably think of crisp, cold mornings, orange leaves, and plenty of incoming rain. Right?
Well, that's the truth in some places, but in Greece, you'll find a very different picture in most parts of the country.
Prices are lower in autumn once the peak summer months have passed, and most children across Europe have returned to school after the summer holidays. That means you can find lower prices for whatever you want to do and a greater selection of hotels to choose from.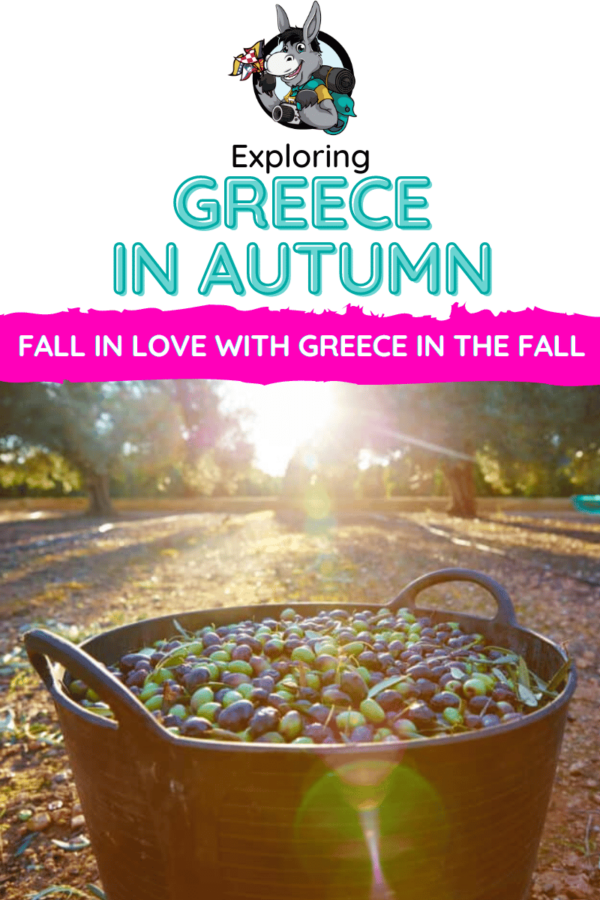 Autumn Weather In Greece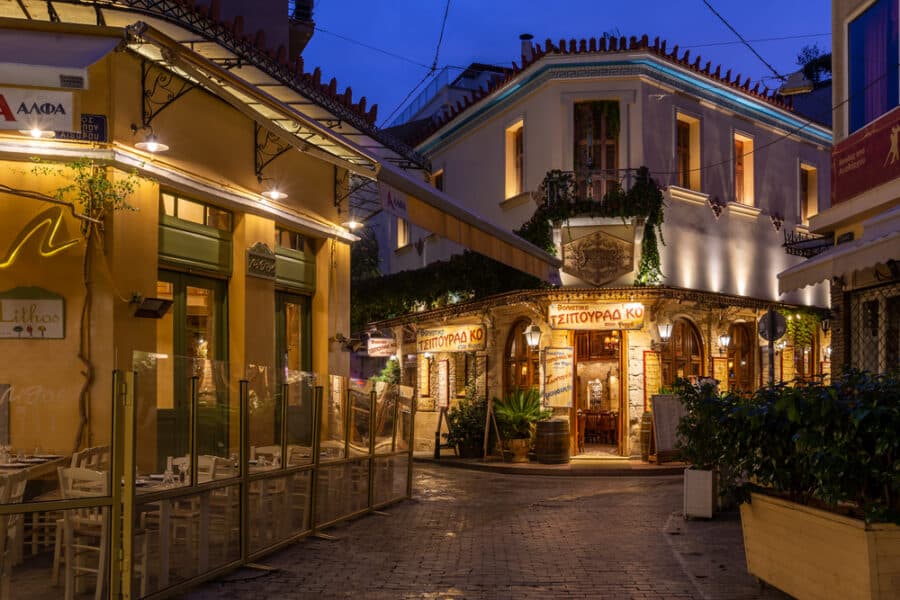 If you're not a fan of extreme summer temperatures, the autumn months could be a fantastic time to visit Greece and enjoy all the impressive sights. Not only are the temperatures lower, but fewer people are milling around, meaning you can enjoy everything without crowds.
Of course, you might think that beach time is over, but that's not the case in the Greek islands, especially if you visit during the early part of autumn. During this time, temperatures are still in the high 20s (7o's for you Americans) and sometimes in the low 30s (90 degrees Fahrenheit). Just note that the sea temperature will be much cooler.
If you head to the north of Greece, you'll experience lower temperatures but, on the whole, you'll see a lot of sunny days with a bit of rain as the autumn months progress, so pack your travel brolly.
Also, I'd suggest you pack with layers in mind and take a light jacket or cardigan for the cooler evenings and breezy days.
Things To Do In Greece During Autumn
There are no sights off limits during the autumn in Greece, but some of the most popular spots are ideal for visiting at this time because the major crowds have been and gone. Here are a few suggestions of where you might like to go visit during autumn in Greece.
Athens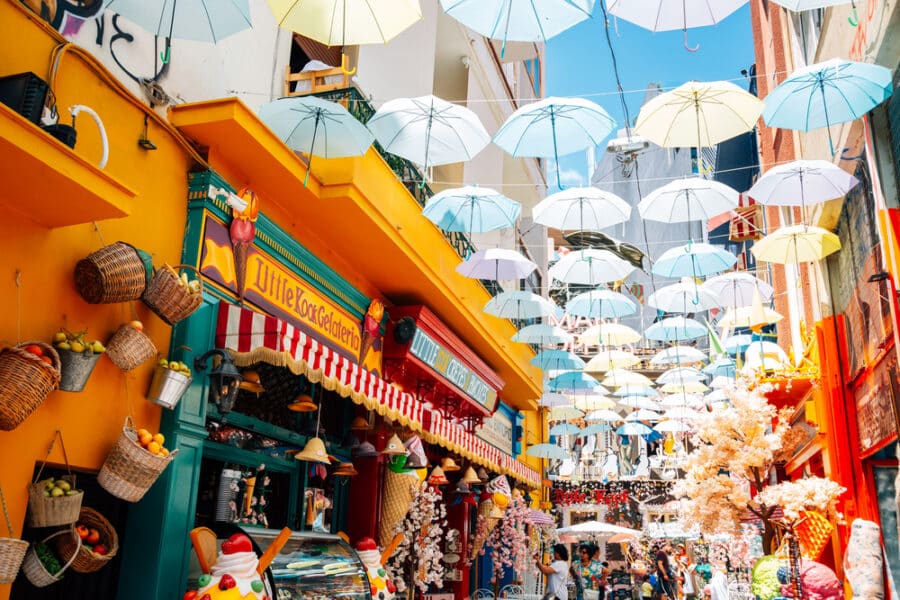 Fall is the perfect time to visit Athens! The weather is mild, the crowds are gone, and the city comes alive with color. Autumn is also a great time to enjoy all the city has to offer, from its many museums and historic sites to its delicious food and wine. Plus, plenty of fun events occur in Athens during this time of year. Here are just a few reasons why you should plan a trip to Athens, Greece in the fall:
The Weather: Fall is the ideal time to visit Athens as the temperatures are much more relaxed than in summer. You can enjoy all the city has to offer without having to deal with the heat or humidity.
The Crowds: Since most tourists visit Athens during summer, autumn is a great time to explore the city without all the crowds. This means you can enjoy all the sights at your own pace and avoid lines at popular attractions.
The Colors: As the autumn months set in, Athens comes alive with new foliage. From the leaves turning on trees to fall flowers blooming, there's something beautiful to see around every corner.
The Food and Wine: Autumn is also harvest season in Greece, so you'll be able to enjoy fresh produce and delicious wine while you're visiting
Make sure to try some traditional Greek dishes like dolmades (stuffed grape leaves) or kota stifado (rabbit stew).
Thessaloniki
Thessaloniki in autumn is a lovely time to visit. Here are a few things you can do to make the most of your trip.
First, take a walk through the old town. This is where you'll find some of Thessaloniki's most iconic architecture, including the White Tower and the Rotunda.
Stop by the Aristotle University of Thessaloniki – one of Greece's oldest and most prestigious universities.
Of course, no visit to Thessaloniki would be complete without sampling some of the local food. There are plenty of great restaurants to choose from, but make sure to try some traditional Greek dishes
Meteora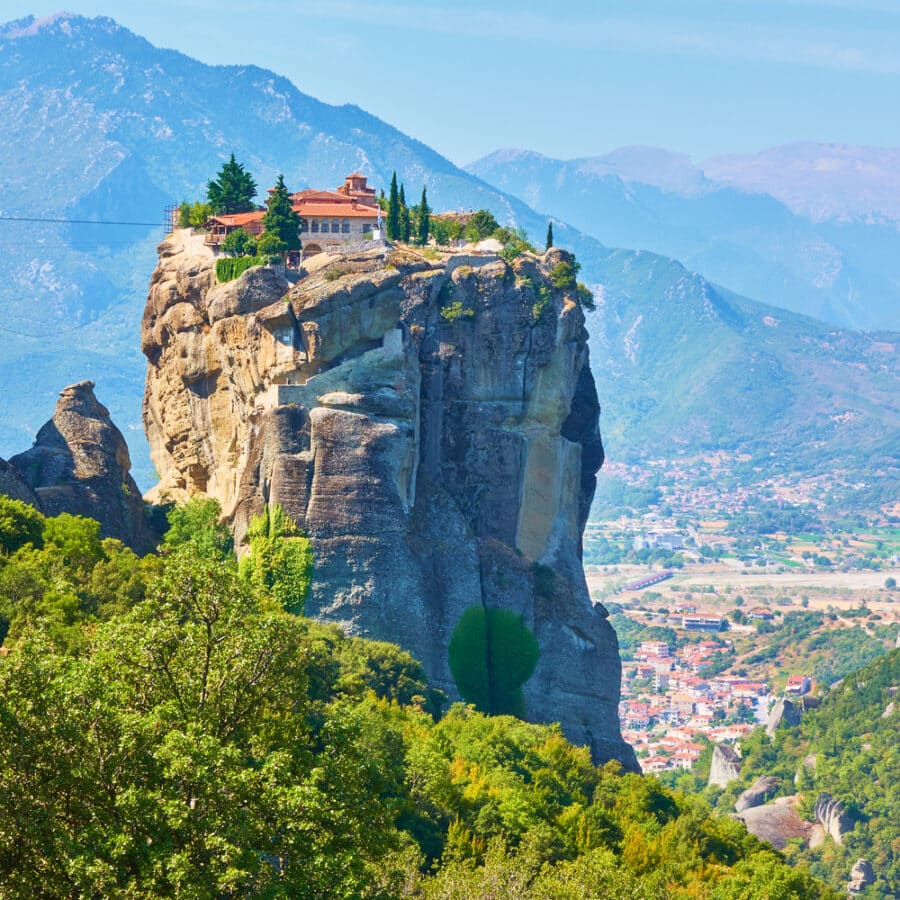 Meteora is one of Greece's most famous spots, but it's also one of the busiest and not so easy to get to when the summer temperatures are soaring. The massive rock formations are mysterious and beautiful inland, near the Pindos Mountains.
This is where monks from medieval times decided to stay, and you'll find 30 monasteries perched almost precariously on the rocks, giving exceptional views over the local area.
Meteora is fantastic for exploring, walking, hiking, and of course, enjoying all that delicious local food. You can also head off for adventure sports, such as kayaking, rock climbing, or mountain biking.
Autumn is the ideal time for all of this, thanks to lower temperatures and fewer people.
Zagorochoria
During fall in Greece, all of the small towns and villages feel more authentic than they do during the busy summer season. So we suggest you get off the beaten track.
Located in Epirus, you'll find Zagorochoria, which is also a series of villages to explore. You can easily walk between them, through forests and well-marked paths. Of course, it's far easier to do this when the weather is a little cooler and there aren't so many other people trying to do the same thing.
If you love adventure sports, Zagorochoria is a good spot, with horseriding, hiking, trekking, rafting, and rock climbing on offer. You can also check out the 2nd deepest gorge in the world, called Vikos Gorge, and enjoy the natural springs. On top of that, the local area is famous for its superb wineries, with plenty of tours on offer.
Nafplio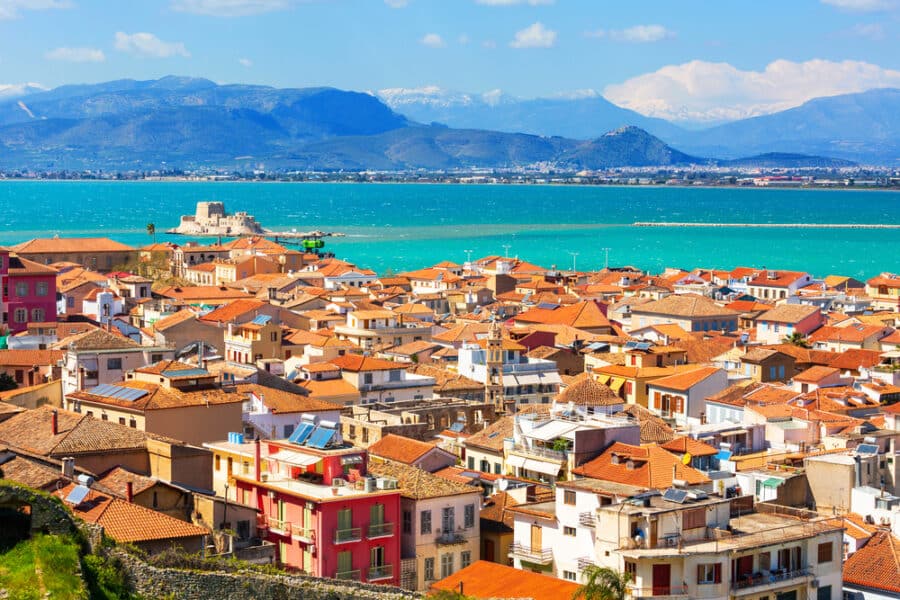 Nafplio was the first Greek Capital before the War of Independence in 1821, when the honors when to Athens. Nowadays, Nafplio is one of Greece's most popular cities, packed with history and beauty. The seaside promenade is a great spot for walking and grabbing an ice cream, while the Old Town is a myriad of winding cobbled streets to explore.
Autumn is a great time to visit for the lack of crowds, but also because exploring Nafplio is much easier when the temperatures are lower. The staircase up to Palamidi Castle consists of 999 steps, and that's not easy to do when temperatures are almost hitting 40!
Monemvasia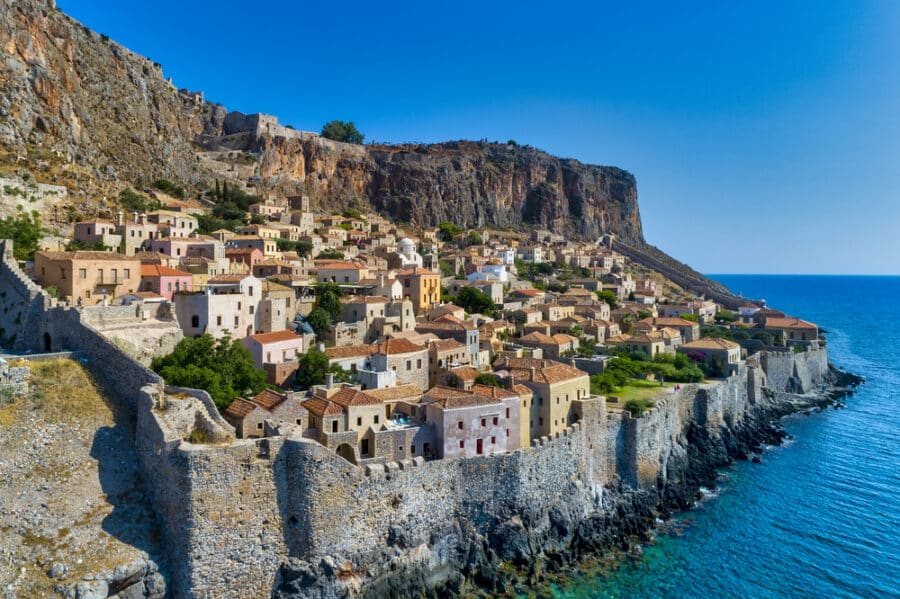 The medieval town of Monemvasia is located in the southeast Peloponnese, and it's a beautiful spot to visit. Autumn in Greece is the ideal time as you can explore to your heart's content and get there a lot easier.
Be sure to check out the amazing castle with stunning views, the rock carvings, and the jaw-dropping views over the sea. You can take boat trips, enjoy hiking into the local countryside, head to the beach, and do everything comfortably and in style without being sunburned and jostled by crowds!
The Greek Islands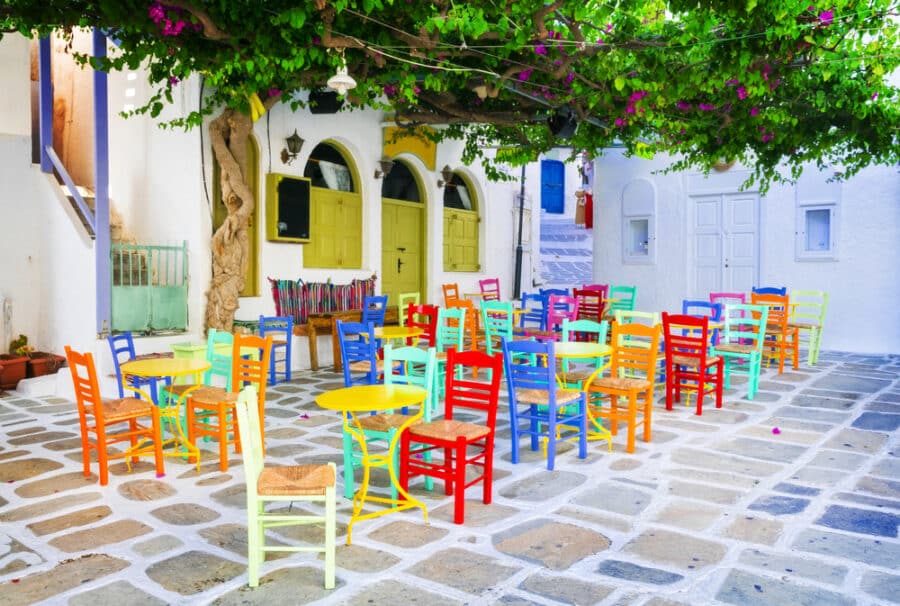 Of course, Greece is about more than the mainland, and most people know the country for its beautiful islands, packed during the summer months. The weather at this time of year is still perfect for pools and beaches, and you can explore the historical ruins around each of the islands a lot easier when the weather has cooled just a little. You'll also find most of the bars and restaurants are open during this time, up until the end of October at the very least, and a more chilled-out, local vibe.
Why not take the opportunity to do a spot of Greek island hopping? There are many ferries connecting most Greek islands, and with the cooler weather and fewer crowds, you can do that much easier. In most cases, the summer ferry schedule is still in place until the end of October, so you won't have any problems getting around.
Islands such as Santorini are very difficult during the summer months; you'll struggle to get around with what feels like a million other people trying to do the same thing. So, while it's autumn in Greece, you'll experience so much more. Places like Mykonos and Zakynthos are also a little quieter at this time, giving you a much better experience during your break.
The further south you go, the warmer the weather will be as the fall season progresses. Think about the Cycladic islands; we love those islands in the fall.
TRAVEL COMPANIES WE USE AND TRUST
Festivals In Greece At Autumn Time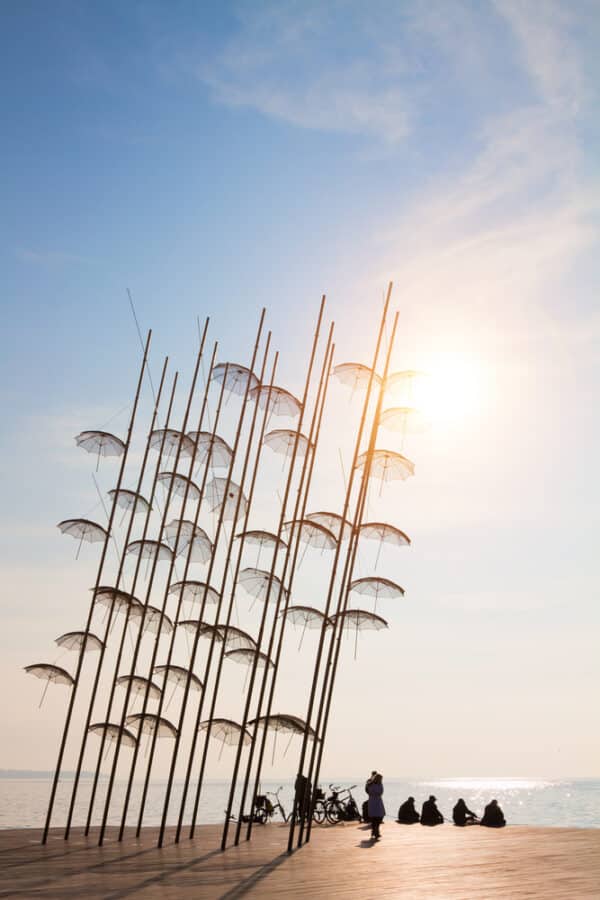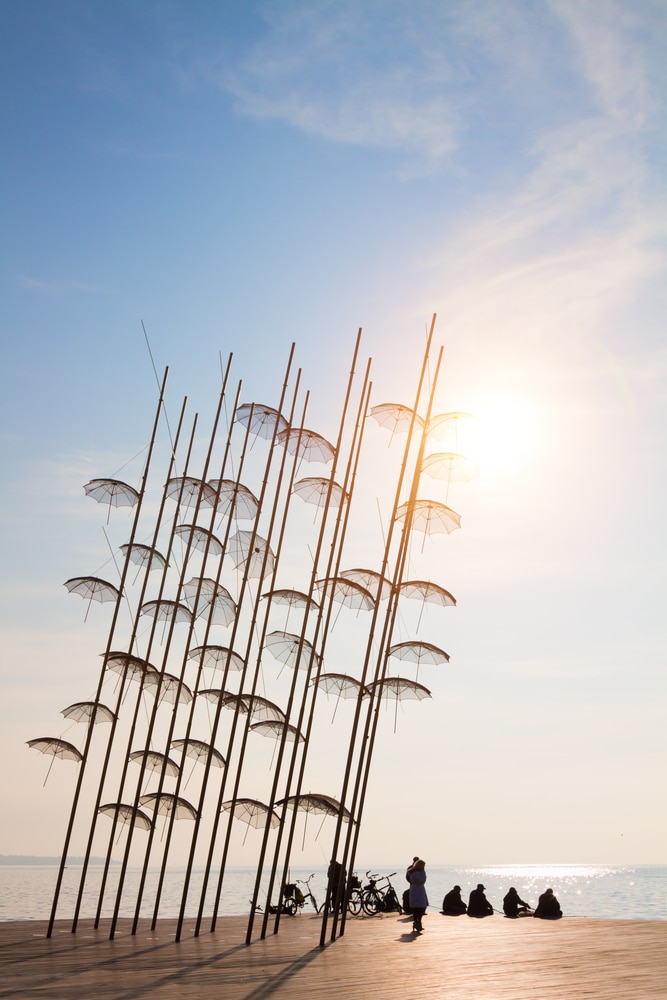 As the summer heat begins to retreat, Greece's autumn season brings with it an array of colorful festivals that celebrate everything from ancient traditions to modern culture. These events offer a glimpse into Greece's rich history and diverse heritage, from lively street parties to solemn religious observances.
Greece is a country with a rich culture and history, and its festivals reflect that. From traditional celebrations of religious holidays to more modern events honoring the country's art, music, and cuisine, there's something for everyone in Greece during autumn.
Here are some of the most captivating festivities in Greece this autumn:
Athens International Film Festival
One of the most popular festivals in Greece is the Athens International Film Festival, which takes place every October. The festival showcases the best of Greek and international cinema, with special screenings and Q&As with filmmakers. The festival usually lasts about a week and attracts many film enthusiasts from all over Greece.
Thessaloniki International Film Festival
Thessaloniki International Film Festival (November). The Thessaloniki International Film Festival is another major event on the Greek film calendar. This festival focuses on promoting emerging talents in filmmaking and offers an opportunity for audiences to discover new voices in cinema. As well as screening new films, the festival hosts workshops, masterclasses, and other industry events.
Mykonos Biennale
(September-October)
Dionysia Festival
Greece is a country with a rich culture and history, and its festivals reflect that. One of the most popular festivals in Greece is the Dionysia Festival. The festival is held in honor of the god Dionysus and celebrates his role in Greek mythology. The festival is held over two days and features various activities, including music, dance, and theatre. It is a time for Greeks to come together and celebrate their culture.
Monodendri Music Festival
Monodendri Music Festival is one of the most popular music festivals in Greece. It is held every year in October and attracts thousands of music lovers from all over the world. The festival features a wide range of music genres, from classical to contemporary, and takes place in the beautiful village of Monodendri. If you're looking for a unique and unforgettable experience, be sure to check out Monodendri Music Festival!
Greek Dance Festivals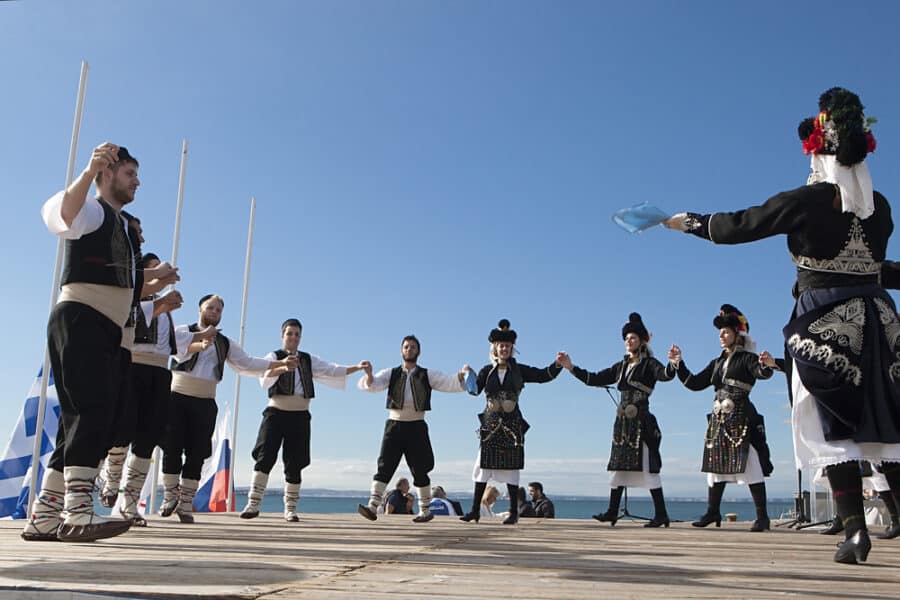 Greece is well-known for its lively and vibrant culture, which is reflected in its many festivals throughout the year. Autumn is no exception, with a number of festivals taking place across the country.
One of the most popular festivals is the Greek Dance Festival, which occurs in Athens annually. The festival celebrates Greek dance and culture and features a number of traditional dances from across the country. Visitors to the festival can expect to see a range of different dances, including the famous Zorba dance, as well as live music and traditional food.
Corfu Autumn Festival
A celebration of music, dance, and culture, this festival takes place on the island of Corfu in September and October.
Greek Food Festival
This delicious event takes place in Athens in November and features some of the best food from all over Greece.
You're sure to find something to enjoy in autumn in Greece!
How To Participate In The Festivals
If you want to join in the fun at one of Greece's autumn festivals, you should know a few things. First, many of the festivals take place in small villages, so be sure to check the festival schedule in advance and plan your trip accordingly. Second, while most festivals are free, some require a ticketed entrance fee. Third, Greeks love to party, so be prepared for late nights and loud music! Finally, don't forget to bring your dancing shoes – many festivals feature traditional Greek dancing. With these tips in mind, you'll have a blast at any of Greece's autumn festivals!
Hiking In Greece In Autumn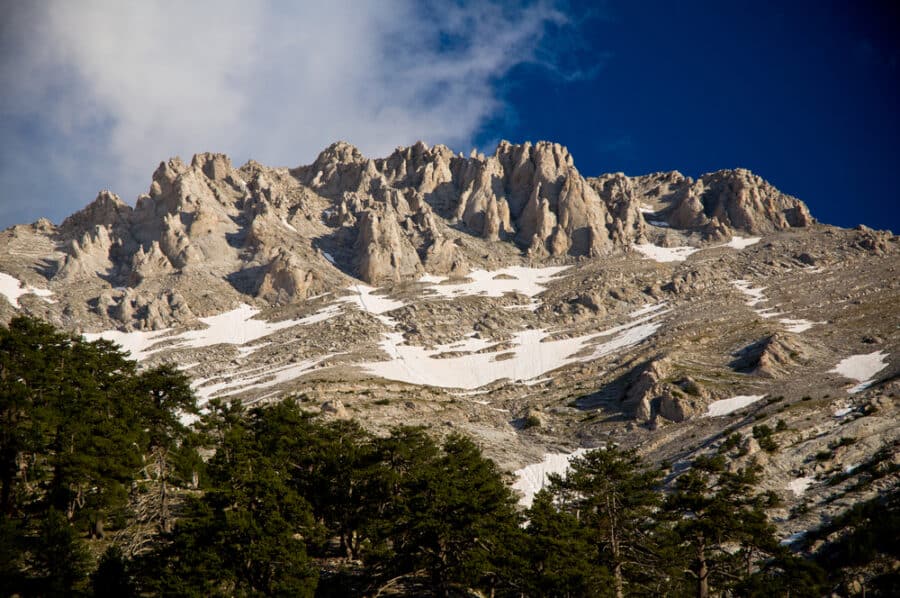 Are you looking for an adventurous way to explore Greece in autumn? From stunning mountain ranges to coastal trails, Greece has plenty of hiking options that will leave you breathless! Hiking is the perfect activity to get up close and personal with nature's beauty.
But before you embark on your journey, it's essential to know where to go and what to wear and know how to dress appropriately for the season. So grab your backpacks, lace up those hiking boots, and hit the trail!
Greece is an increasingly popular destination for hikers from all over the world. The country has a wide variety of landscapes and terrain, making it a perfect place to explore on foot. Autumn is an excellent time of year to hike in Greece as the weather is cooler and the crowds have thinned out after the summer tourist season.
There are many different trails to choose from depending on your fitness level and hiking experience. For those just starting out, shorter trails with gentle inclines offer stunning views of the Mediterranean Sea and Greek islands. If you're looking for a more challenging hike, longer routes take you to the mountains, where you can see traditional villages and experience Greek culture first-hand.
No matter what route you choose, be sure to wear comfortable shoes and bring plenty of water, as Greece can be pretty hot, even in autumn. A hat and sunscreen are also recommended – even during fall in Greece, as there is little shade on most trails.
Top 5 Places To Go Hiking In Greece In Autumn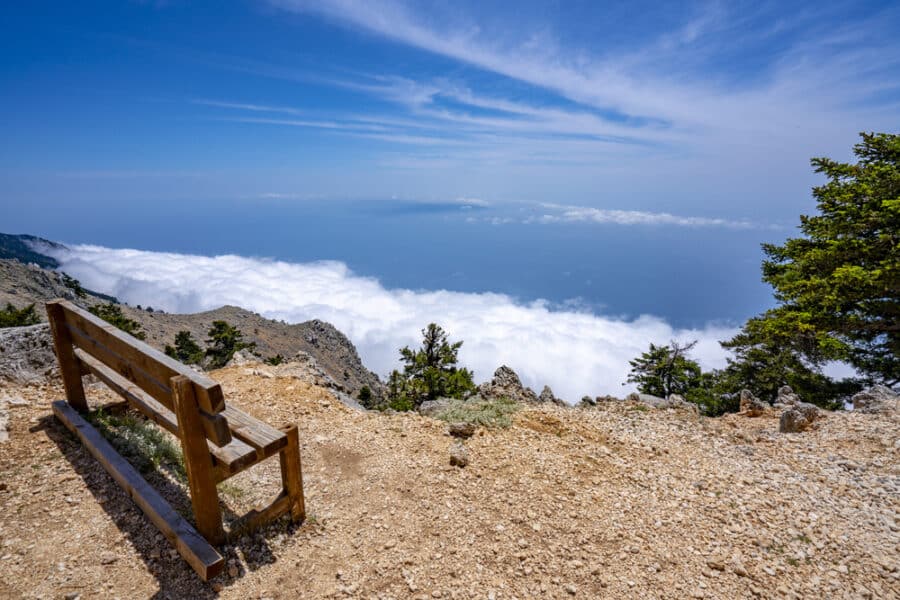 The best time to go hiking in Greece is in the autumn. The weather is incredible, and the leaves are changing color. There are many different trails to choose from, so it's essential to research before you go. Here are the top five places to go hiking in Greece in autumn:
Mount Olympus: This is the highest mountain in Greece, offering stunning views of the surrounding countryside. The trail is well-marked, and there are plenty of places to rest along the way.
Samaria Gorge: This is one of the most popular hikes in Greece. It's a long hike, but it's worth it for the views of the gorge and the Mediterranean Sea
Vikos-Aoos National Park: This park is home to some of the most beautiful scenery in Greece. There are several different trails to choose from, so you can find one that's right for your fitness level.
Parnitha National Park: This park is perfect for those who want to get away from the city and enjoy nature. There are several different trails, ranging from easy to difficult, so you can find one that's right for you.
Meteora: This area is home to a unique landscape of rock formations and monasteries. The hike up to the monasteries is challenging, but it's worth it for the incredible views
What To Wear For Hiking In Greece In Autumn
Greece is a country with varied terrain, so the type of clothing you wear while hiking will depend on where you go. In general, however, you'll want to dress in layers that can be easily removed or added as the temperature changes. A good base layer is a must, as is a waterproof and windproof outer layer. Hiking boots are also necessary, as they protect your feet from rocks and other debris.
If you're hiking in the mountains, it's essential to be prepared for cold weather. Pack a warm jacket, hat, and gloves, and make sure your boots are insulated. You won't need to pack quite as much if you're hiking near the coast or in other areas with milder temperatures. A light jacket or sweater and your usual hiking gear should suffice in the fall.
Harvesting Olives In Autumn In Greece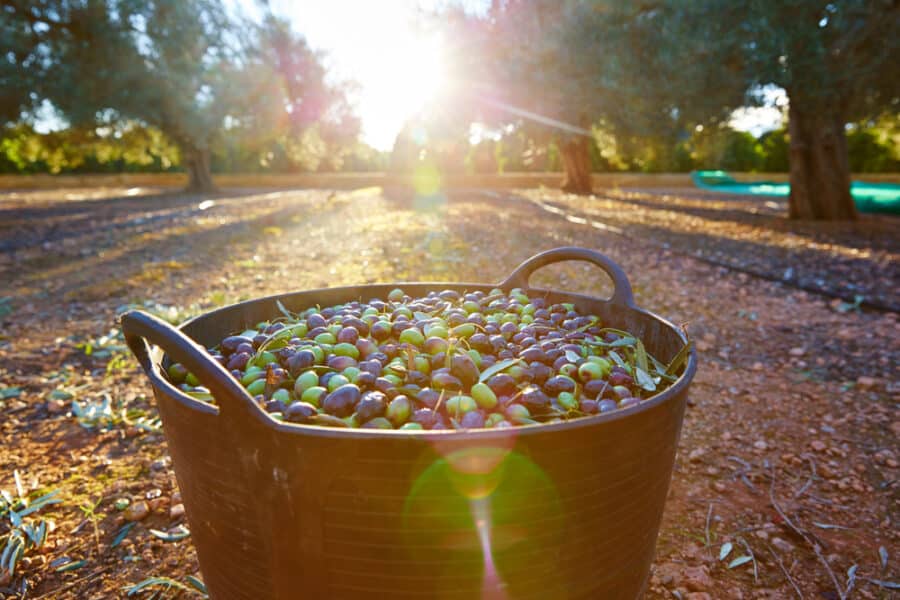 Olives are an important part of the Greek diet, and a harvest is a major event in the country. The Olive harvest is a time-honored tradition in Greece, taking place in October and November. During this time, Greeks celebrate with feasts and parties, and the atmosphere is exciting and joyful. The Olive harvest is also a time for hard work, as Greeks work tirelessly to collect the fruit from the trees. But at the end of the day, everyone comes together to enjoy the fruits of their labor.
If you're looking for a truly unique and memorable experience, look no further than participating in an Olive harvest in Greece! This is a centuries-old tradition that is still going strong today, and it's something that you'll never forget.
You'll get to experience the beauty of the Greek countryside while working alongside locals to harvest olives. It's hard work, but it's also a lot of fun. And at the end of the day, you'll be rewarded with some of the most delicious olive oil you've ever tasted.
Swimming In Autumn In Greece – Yay Or Nay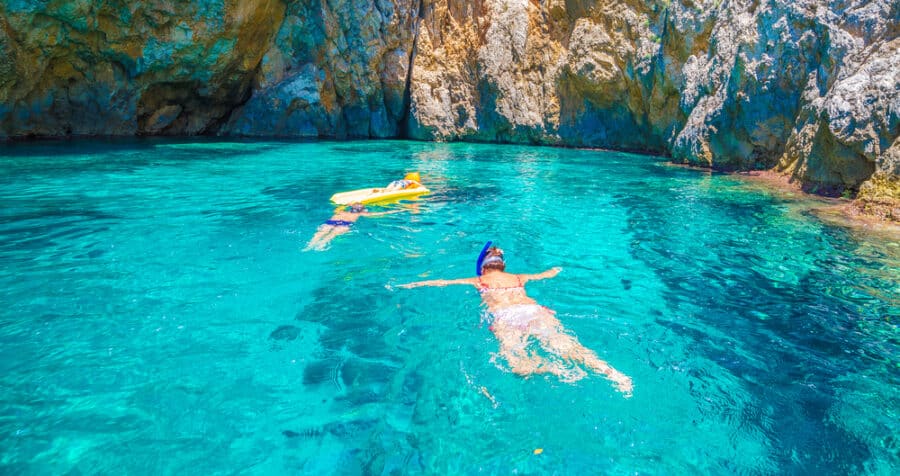 During fall in Greece, you'll see people swimming for sure! Swimming in Greece during autumn is definitely possible on those warm sunnier days earlier in the season! The water temperature in September and October averages around 24 degrees Celsius but gets much colder from late October to November. So while it's not exactly beach weather, it's still warm enough to enjoy a refreshing dip.
AUTUMN IN GREECE FAQS
What is autumn like in Greece?