Thessaloniki is a top spot to visit in Greece, and during the summer months, there is likely to be one thing you want to do above everything else – hit the beach!
We can't blame you; Thessaloniki has some beautiful beaches, and they're all pretty easy to get to from the center of town.
Lapped by the glittering waters of the Aegean Sea, most of the beaches around this area have golden sands and clear waters, making them an excellent idea for a summer's day. However, do remember that temperatures during the summer months can be super-high! Therefore, a hat, sun lotion, and plenty of water are all needed.
To help you plan your Thessaloniki beach days, let's check out some of the best in the region.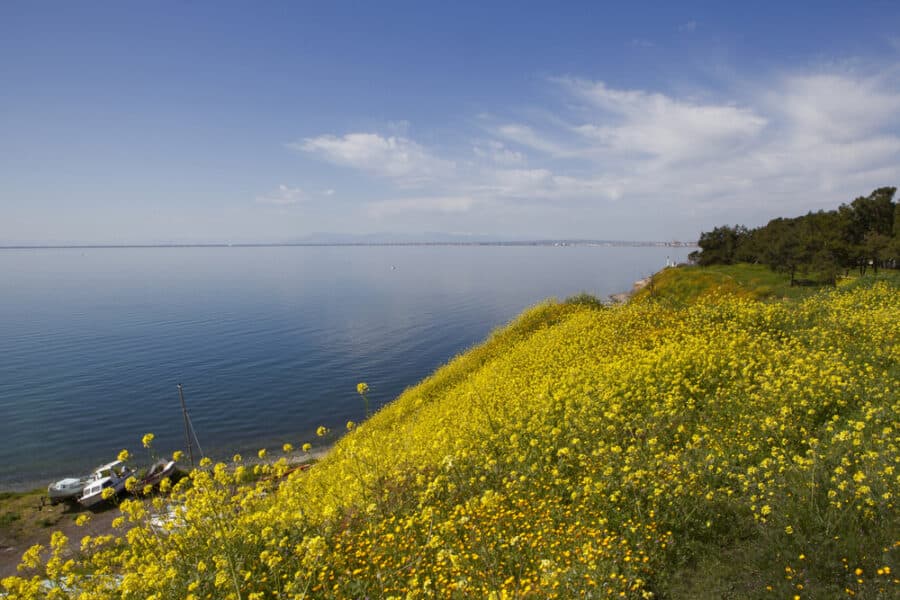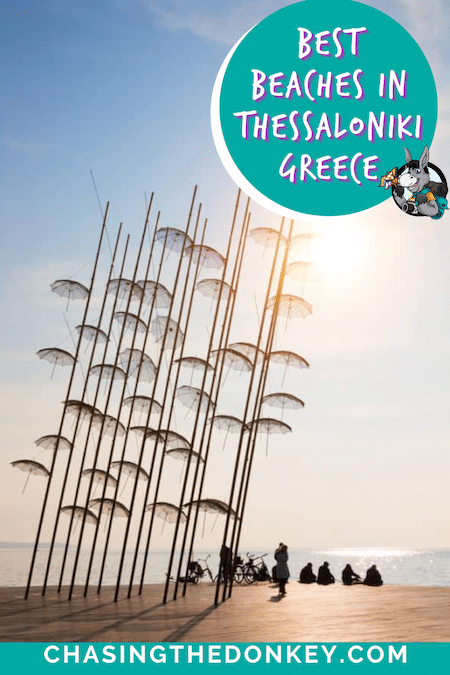 TRAVEL COMPANIES WE USE AND TRUST
Agia Triada Beach
Just a 30-minute drive away from the center of the city, you'll find the beautiful Agia Triada. This beach is one of the lesser-known choices amongst tourists, so it is less crowded and much more chilled out. If you're a fan of sunsets (who isn't), then this beach will give you a backdrop to be in awe of.
The beach has amenities and is Blue Flag, so it's ideal for families. You can enjoy around 1km of soft, golden sand, and scuba diving and snorkeling facilities are available.
Asprovalta – Regel Beach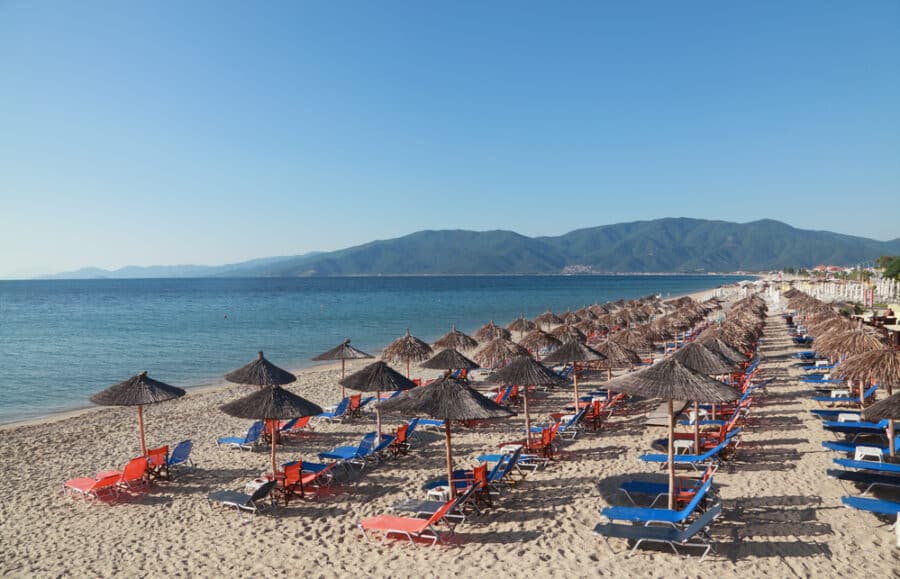 Aprovalta is just outside of Thessaloniki city and is a popular spot for tourists, although a lot more laid-back than some of the other resorts closer to the city itself. If you're traveling with children, this is a great place to head.
The beach is a mixture of pebbles and fine sand, and the promenade is an excellent spot for a walk and a coffee. There are many cafes and restaurants around here too. The beach has facilities to make your day more comfortable, and the waters are safe for children.
Potamos Beach
Potamos Beach is one of the most beautiful beaches in the area, and it's just outside of the city, near Epanomi. The beach has extremely clear waters, and the sand is golden and soft. You can easily sit on your sun lounger and check out the majestic Mount Olympus, along with an amazing sunset.
There are facilities on this beach, too, and it is another Blue Flag beach, so it's ideal for families who want to spend the day splashing in the sea with their children.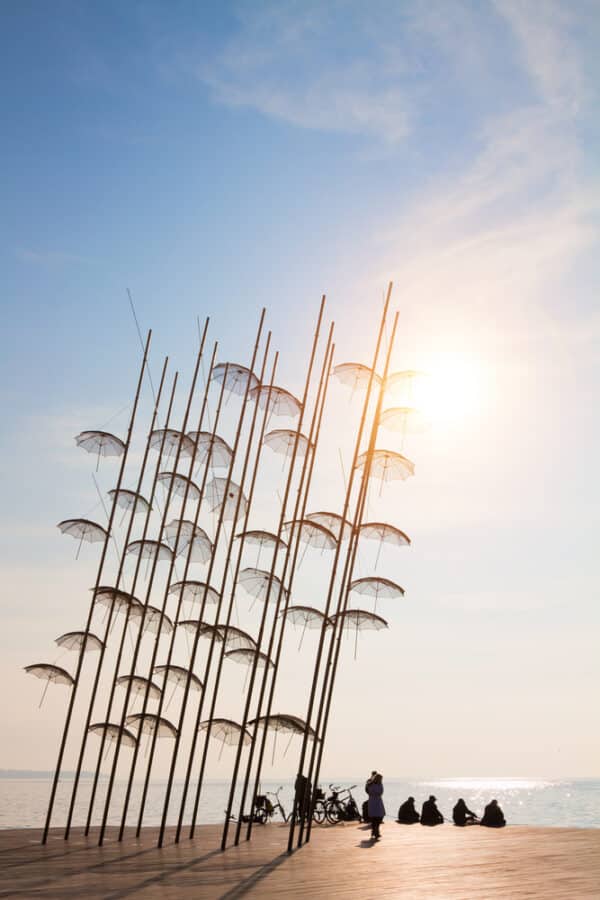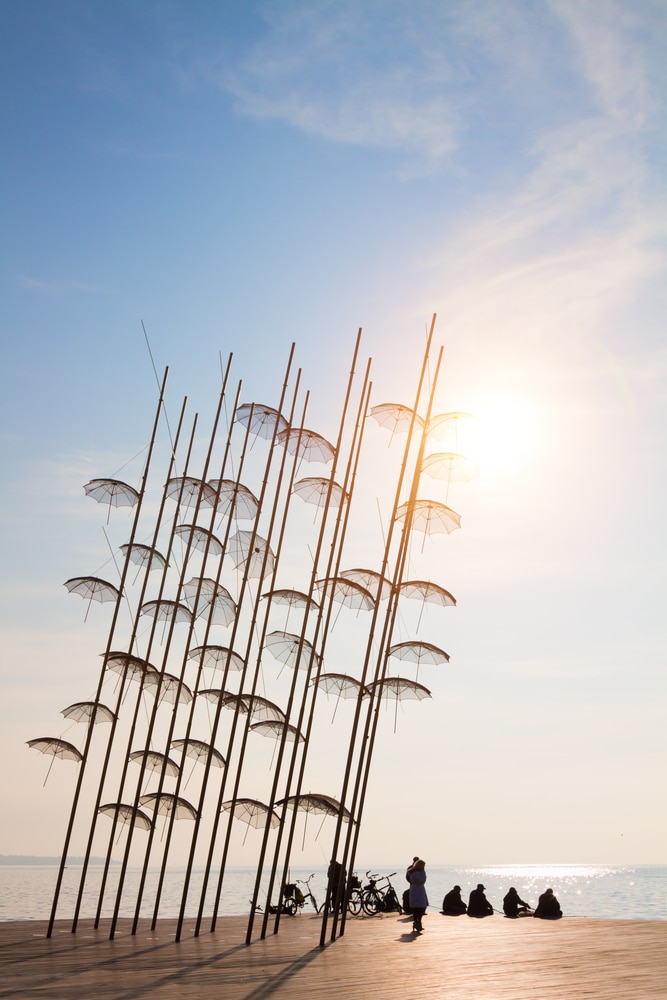 Angelochori Beach
If you're looking for a hidden beach where you can relax without crowds, this is the one for you. Located in Angelochori, the beach is shaped like a triangle and is one of the most beautiful you'll ever see.
There are a few restaurants and bars on the beach, so you can enjoy facilities and refreshments to beat the harshness of the summer sun.
Epanomi Beach
Just south of the city, you'll find one of the most popular beaches in the area – Epanomi Beach. This is a large beach, so while it's popular, you'll always have space to roam; it is 40km long! The sand is fine-grained, and the waters are super-clear.
Again, this is a Blue Flag beach, and there are facilities to make your day easier and more comfortable. There are also several restaurants and cafes on the beach, so you can choose whatever you want to eat during the day.
Nea Kallikratia Beach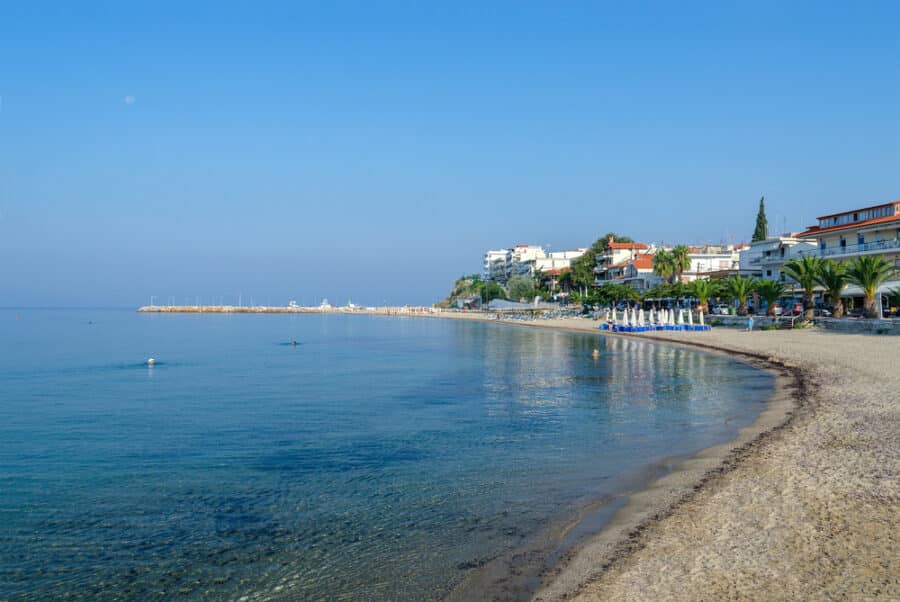 The most romantic beach in Thessaloniki is, without a doubt, Nea Kallikratia Beach. Backed by huge cliffs and trees, this is a beautiful spot for enjoying time with a special someone.
The bar has some restaurants nearby, and you'll find lots of nightlife not too far away, so it's ideal for spending a few nights here. The beach is very large, and while it can get crowded in summer, you'll never feel too 'crammed in.'
Neoi Epivates Beach
Neoi Epivates is a beach for families with shallow and calm water, ideal for little swimmers. The sand is soft, and there is everything you need close by, with facilities and restaurants on hand.
This beach is effortless to get to from the center of Thessaloniki, but if you want to venture to another beach on the same day, you can head to Perea Beach too, which is only a stone's throw away.
Kalamaria Beach
Our final choice is a fun-filled beach with plenty to do. If you want to try surfing for the first time, you can do that here, or even paragliding if you feel brave! The beach has all the facilities you will need, as well as marvelous views and a fantastic sunset to check out.
The beach is another spot that can become crowded during the summer months, so be sure to head there early to avoid disappointment.
These are just a few of the beaches of Thessaloniki; there are, of course, many more waiting to be explored. All you have to do is decide which of these Thessaloniki beaches you'll swim at first.