We may earn commission from affiliate links →
Cappadocia Hot Air Balloon Costs & Info You Need To Know
Türkiye is packed with must-do experiences, but without a doubt, one that features on many Turkey bucket lists is to go on a Cappadocia hot air balloon ride and enjoy the fantastic, fairytale-like landscape from the sky.
It's a sight featured in many travel magazines and websites, and as a result, millions of people head to this central Turkish area every year. The Goreme National Park is packed with colossal rock formations that look like fairy chimneys, and gazing over the park is not only Insta-worthy but a once-in-a-lifetime experience!
Now, of course, you don't have to go in a hot air balloon when you visit Cappadocia. There are many other things to keep you occupied if you would rather keep your feet on the ground. For instance, there are many walking trails and museums, and of course, staying in a cave hotel is pretty iconic on its own! However, a hot air balloon flight is the main reason people flock to Cappadocia.
If you want to explore the area, it's good to purchase the Museum Pass Cappadocia. This lets you into most of the tourist hotspots around the area, including the Goreme Open Air Museum and the Derinkuyu Underground City, the Dark Church, and the Zelve Archeological Site, to name a few.
That being said, let's get back to the subject of this post – hot air balloons!
We've got tips for riding a hot air balloon in Cappadocia, including the best time to visit Turkey for hot air balloon flights, the hot balloon price, how to book your tickets, and more!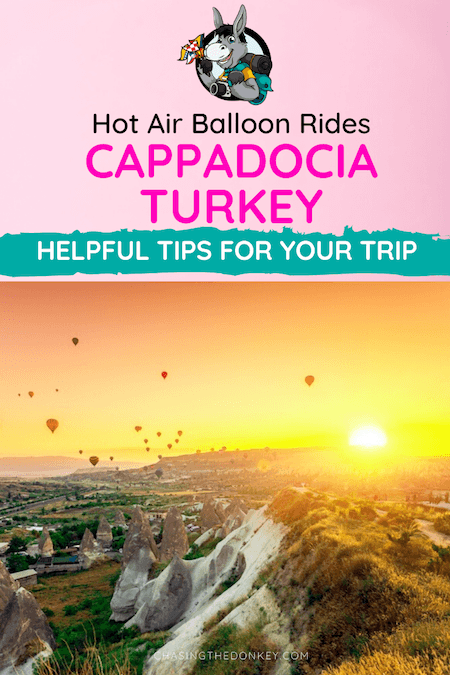 How Do You Get To Cappadocia
Cappadocia, Türkiye, is located in the central part of the country. Many visitors hope to visit Istanbul, Cappadocia, Pamukkale, and Cappadocia on their Turkey adventures. Fortunately, there are multiple ways to travel between the cities, from flying to bus rides and even by train.
Keep in mind that there is a decent amount of distance to cover, so flying is generally preferred if you're pressed for time.
COMPLETE ROUTE GUIDES TO CAPPADOCIA
When Is The Best Time To Visit Cappadocia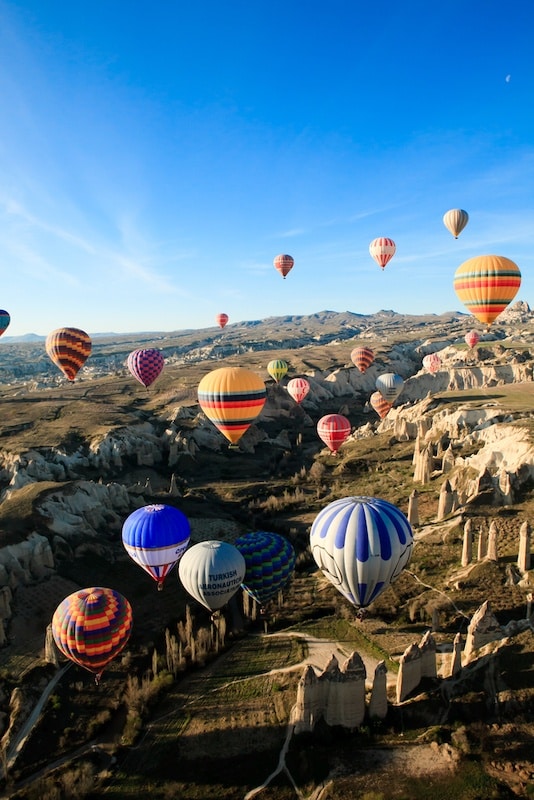 Cappadocia is an all-year-round kind of deal. Unlike the tourist resorts on the south coast, Cappadocia is open 12 months a year, and even when it's snowing, the site is stunningly beautiful between November to February.
When Is The Cappadocia Hot Air Balloon Season
Cappadocia's hot air balloons fly all year round, but planning your ride from April to October is advised for first-time visitors. Crowds are much larger during these times, so definitely book tickets early, but the moderate weather means more balloon ride availability.
The shoulder seasons between March and June and from September to November give you plenty of dry and warm weather without the high temperatures. However, if you like it hot, June to August is the perfect time to go ballooning in Turkey's stunning Cappadocia region.
November to the end of February signals winter when snow is very likely. That doesn't mean you shouldn't visit during this time, as it can be a great way to see a different side of the country, and taking a hot air balloon in Cappadocia in December is entirely feasible! However, due to the weather, flights only occur once or twice a week in the winter.
Apart from the high summer season, the mornings can be pretty chilly, so a light jacket or cardigan is advisable if you're visiting during the shoulder season. If you're visiting during winter, you'll need a thick coat, hat, and gloves.
How Many Days Should You Stay In Cappadocia For A Balloon Ride
If you have the flexibility, Cappadocia is a beautiful area to explore over the course of 4-5 days.
For a whirlwind hot air balloon ride visit, however, it is recommended to stay at least 2-3 days in Cappadocia on the chance that your original balloon flight is canceled. That way, you can catch another flight later on during your time in the area.
A whirlwind visit in the winter is not advisable with the lower frequency of flights, so plan for five days at least during this time of year.
Are Cappadocia Hot Air Balloons Safe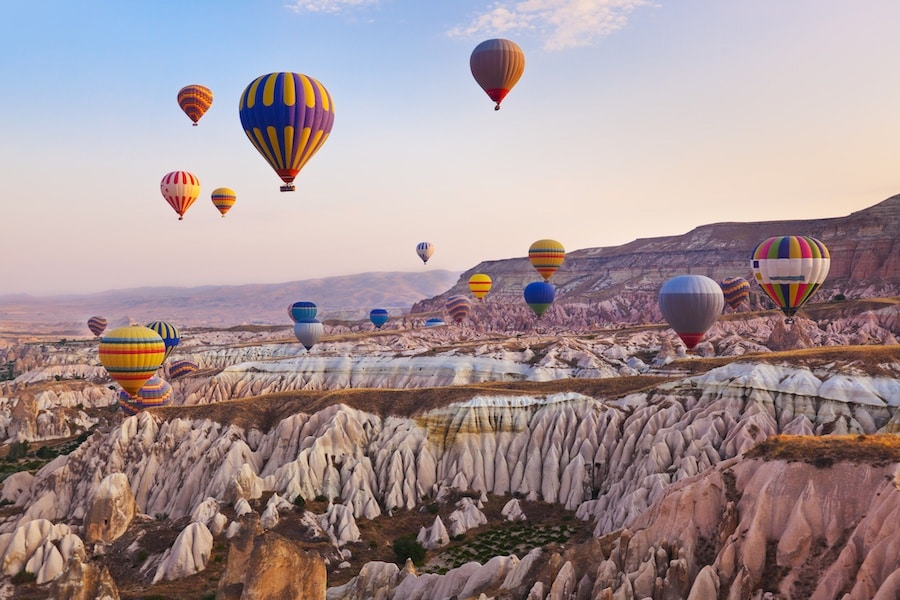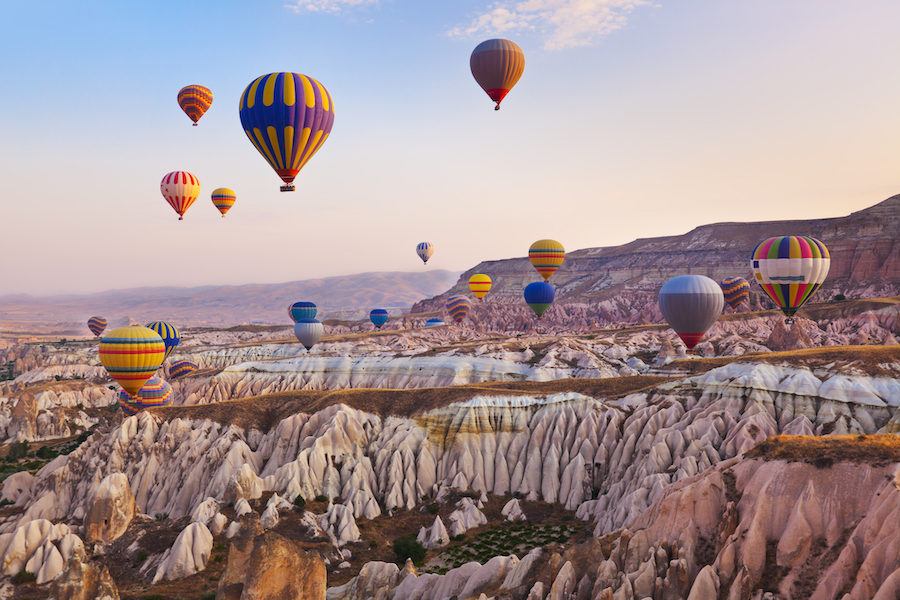 Hot air balloon flights are very safe. Accidents rarely occur, and the pilots are licensed, trained professionals with plenty of experience and hours flying hot air balloons.
As safety is paramount, there will be times when Cappadocia hot air balloons cannot fly. The balloons don't have brakes, so optimal weather conditions are required for a safe flight. Balloon flight cancellations can be extremely short notice due to weather. If this happens to you, as disappointing as it may be, you need to remember how seriously the safety of guests is prioritized.
The most reliable time to book a balloon and get onto the flight is between April and October when winds are less, and the weather is much more favorable for ballooning.
That doesn't mean that a Cappadocia winter hot air balloon flight should be avoided altogether- there's a risk of cancellation at any time, but during the winter months, because of the risk of high winds or low visibility, your chances of cancellation are a little higher.
What Should You Do If Your Balloon Ride Is Cancelled
Suppose your Türkiye hot air balloon ride is canceled due to the weather. In that case, you can typically opt to re-book for another day, provided availability, or you can receive a full refund.
The operator must cancel the flight due to the weather for these rules to apply.
And remember, there are plenty of other things to do around Cappadocia while you wait to re-book!
Should You Book Your Hot Air Balloon Ride In Advance
Taking a Cappadocia hot air balloon over the park is the most popular thing to do in the area, if not the entire country. Few people would disagree when we say this is the absolute best place for a ride in a hot air balloon in Turkey. With that in mind, you need to book well in advance to ensure your spot. You'll also find the best prices by doing this too.
Around 100 hot air balloons fly over Cappadocia daily, with about 140 flying during peak season. When you think about the sheer number of people who want to get on one of those flights, there is always the risk of disappointment if you wait until the last minute to look for a ticket.
How Do You Book A Hot Air Balloon In Cappadocia
You'll also find that flights fill up months beforehand in some cases. You can easily book online. Thoroughly check that you're choosing a reputable website because, as with most high-profile tourist spots the world over, there is always the risk of a dodgy site taking your cash. We've got some good tour options highlighted below.
Booking Tip: Look for flights that offer free cancellation 24 hours before the tour. That way, you can book two flights – one for your first day in Cappadocia and one for your third day in Cappadocia on the chance that your first flight gets canceled due to poor weather conditions. This ensures you still have a spot on a flight later during your stay. Don't forget to cancel the second flight if you can take your first flight!
HERE ARE SOME SUGGESTED WAYS TO BOOK
What Time Do The Hot Air Balloons Take Off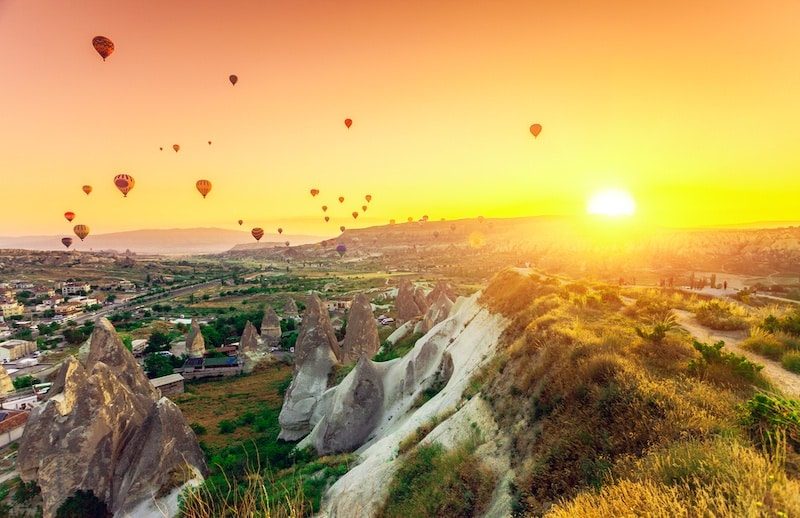 There are no late-in-the-day flights with a hot air balloon in Cappadocia, so if you want to enjoy this magical experience, you have to get up early!
Most balloons take off just before the sun rises at 5 am, so you're in the air when the sun comes up. However, there are a small number of flights that take off just after sunrise. Please don't get too excited about having an extra few hours of sleep, as they take off only one hour after the sun has risen, close to 7 am!
These Cappadocia balloon ride timings give you the best chance to see the golden light filter across the magical landscape, and it's truly a sight you'll never forget.
Can You Take A Hot Air Balloon Flight At Night
For as lovely as taking a balloon at sunset in Cappadocia sounds, balloons can only take off during VFR conditions. This means pilots need to see as far as 3 miles, which is something they can't do when the sun goes down.
Is A Cappadocia Hot Air Balloon Ride Worth It
Seeing this UNESCO World Heritage Site from above, with all of the fairy chimneys and epic rock formations, is a perspective you don't get every day! Because riding a hot air balloon in Turkey's Cappadocia region is a hugely popular experience, prices aren't low. However, travelers say the experience is one of a kind and worth the cost.
There are so many balloon rides a day here that, essentially, every day is a new Cappadocia hot air balloon festival!
What Does A Cappadocia Hot Air Balloon Ride Cost
The average Cappadocia balloon ride cost is around 160 – 300 USD per person depending on who you book with and the basket's capacity. Baskets are typically pretty full, with up to 16 people inside.
If you want more space and privacy, you can upgrade to a deluxe flight that carries six guests. This will cost you more, but you won't be quite so cramped.
For those who are looking for even more privacy, you also have the option to rent out the entire hot air balloon. The cost for this is approximately 4500 USD. If you've always dreamed of doing this, perhaps it's worth the splurge!
TIPS TO SAVE MONEY ON CAPPADOCIA BALLOON TICKETS
Book Far In Advance – As mentioned before, booking in advance is always a wise choice and can save you money. If many spots are already filled on a flight, the remaining few spots are sold at a premium, so book early!
Prices Rise The Next Day If Flights Were Canceled – If hot air balloon tours are canceled, expect the costs for the next day to be much more expensive, as tour operators try to fit two days' worth of guests into one day.
Don't Book Through Your Accommodation – They take a cut when you book through your accommodation, so you'll often spend 25% more than someone who has booked the same tour online.
What Is The Typical Hot Air Balloon Flight Itinerary
Most operators provide a similar itinerary to what's listed below, with some offering better transport to the takeoff site, a better breakfast, and better post-flight champagne and snacks. Just compare tours to see what works for you and your budget.
CAPPADOCIA HOT AIR BALLOON ITINERARY
Pick-Up From Accommodation (between 4:30-6:30 am)
Transport To Takeoff Location (this location changes depending on the direction of the wind)
Watch Balloon Inflation (15-30 minutes)
Balloon Ride & Sunrise (45-90 minutes, depending on the tour you select)
Balloon Landing
Champagne & Snacks
Transport Back To Accommodation (between 7-9 am, depending on the start time of your tour)
How High Do Hot Air Balloons Fly In Cappadocia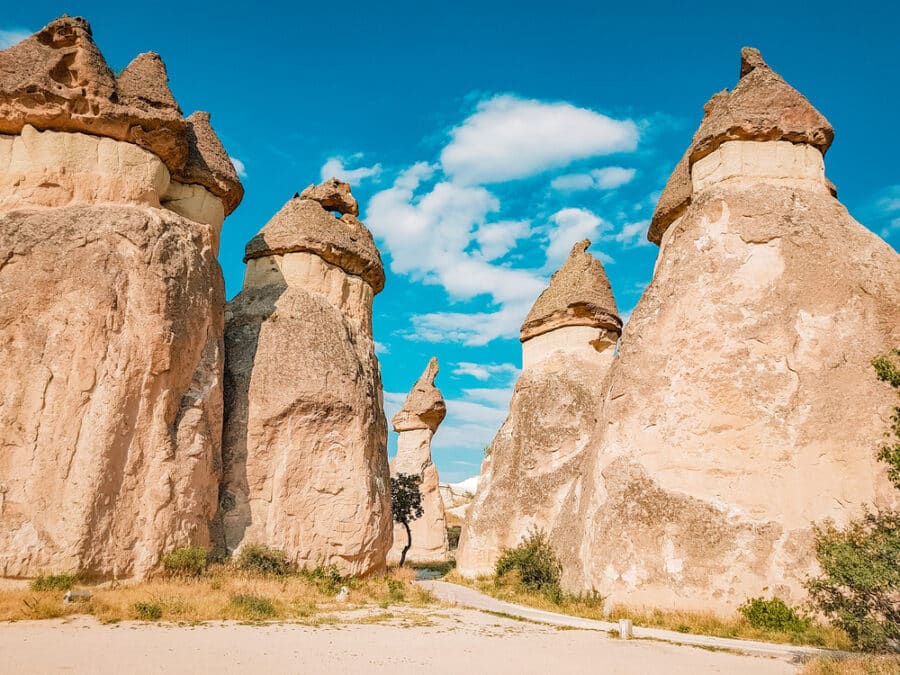 A typical balloon flight in Cappadocia reaches heights that range between tree-level and 900 meters (3,000 feet).
While balloons can go thousands of feet up in the air, that's not necessarily the best way to see the sites of Cappadocia. It may provide expansive panoramic views, but the beauty of the Cappadocian landscape is best observed up close.
Therefore, many balloonists prefer to stay closer to the ground, allowing passengers to see more details while having a somewhat panoramic view. Lower altitudes often also allow for slower flights. Pilots will determine the height based on weather conditions, though.
How Long Is The Hot Air Balloon Ride In Cappadocia
Hot air balloon rides in Cappadocia last anywhere from 45 minutes to 90 minutes, depending on the specific tour you opt for. If you want to spend more time in the air, a handful of operators offer 2-hour flights, but you will spend more money per ticket.
Can Kids Take A Hot Air Balloon Flight In Cappadocia
Depending on the ages of your kids, hot air ballooning in Cappadocia as a family is doable. For safety reasons, typically, it is discouraged to take kids under seven on a hot air balloon tour, and many operators require a minimum age of 6 or 7 for guests.
Besides safety risks, kids under seven typically aren't tall enough to see over the basket to fully appreciate the scenery.
Should You Tip After Your Balloon Ride
While not required, a tip is always appreciated. Typically, guests leave a tip of 10-15% in a small jar that will be placed out, along with the champagne and snacks following your ride.
Overall, hot air ballooning in Cappadocia is a pure bucket list experience that we hope you enjoy.
MORE TÜRKIYE TRAVEL BLOGS
Share