Cappadocia Hot Air Balloon Costs & Info You Need To Know
Turkey is packed with must-do experiences, but without a doubt, one that features on many a Turkey bucket list is to head to go on a Cappadocia hot air balloon ride and enjoy this fantastic, fairytale-like landscape from the sky.
It's a sight featured in many travel magazines and websites, and as a result, millions of people head to this central Turkish area every year. The Goreme National Park is packed with beautiful rock formations that look like fairy chimneys, and even gazing over the park is enough to get your Insta-worthy pics flowing.
Just imagine what an unforgettable experience ballooning in Cappadocia is! In this post, we talk more about this fantastic activity, tell you when to go, and discuss the Cappadocia hot air balloon ride cost.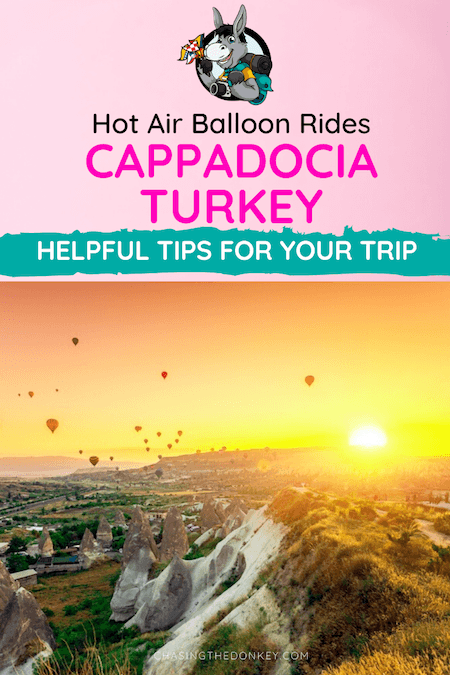 Now, of course, you don't have to go in a hot air balloon when you visit Cappadocia. There are many other things to keep you occupied if you would rather keep your feet on the ground. For instance, there are many walking trails, museums, and of course, staying in a cave hotel is pretty iconic on its own! Though it's the main reason, people flock to Cappadocia.
If you want to explore the area, it's good to purchase the Museum Pass Cappadocia. This lets you into most of the tourist hotspots around the area, including the Goreme Open Air Museum and the Derinkuyu Underground City, the Dark Church, and the Zelve Archeological Site, to name a few.
There are a few things you need to know about a Turkey hot air balloon ride beforehand.
The Best Time To Visit Cappadocia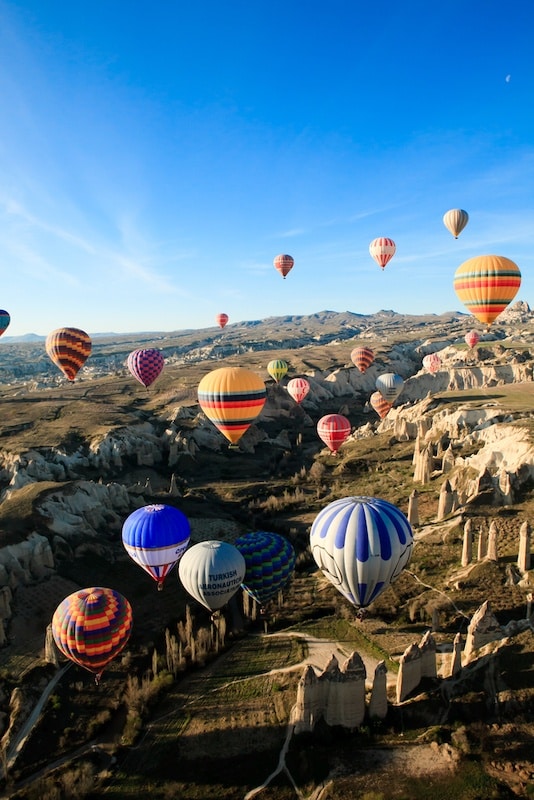 Cappadocia is an all-year-round kind of deal. Unlike the tourist resorts on the south coast, Cappadocia is open 12 months a year, and even when it's snowing, the site is stunningly beautiful between November to February.
Best Month For Hot Air Balloon Cappadocia – Turkey Hot Air Balloon Season
There is no single best time to visit; it merely depends on what you want. The shoulder seasons between March and June and from September to November give you plenty of dry and warm weather without the high temperatures. However, if you like it hot, June to August is the perfect time to go ballooning in Turkey's stunning Cappadocia region for you.
Be warned, though, the crowds are much larger during these times too, which could hinder your chances of a spot on one of those coveted hot air balloons in Turkey. November to the end of February signals the winter months when snow is very likely. That doesn't mean you shouldn't visit during this time, as it can be a great way to see a different side of the country.
Do be aware that apart from the high season of summer, the mornings can be quite chilly, so a light jacket or cardigan is advisable if you're visiting during the shoulder seasons. If you're visiting during winter, you'll need a thick coat, hat, and gloves.
Cappadocia Ballooning Can Occasionally Be Cancelled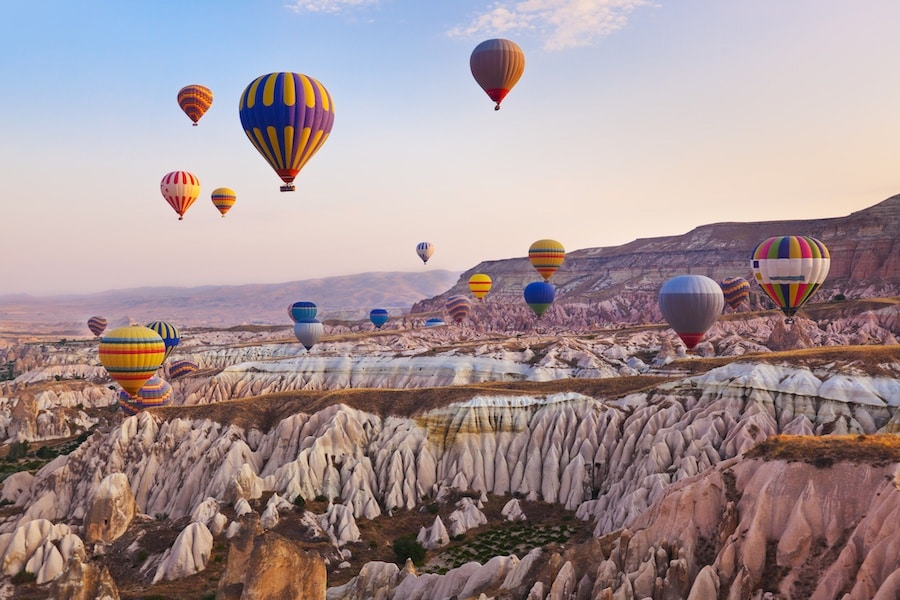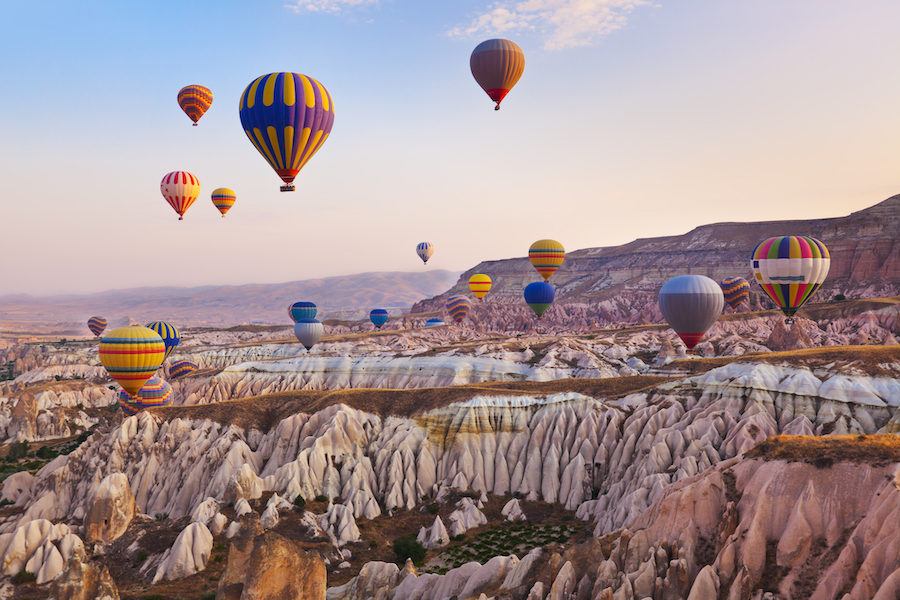 Safety is paramount, so there will always be times when Cappadocia hot air balloons cannot fly. Sometimes this can be extremely short notice, but if this happens to you, as disappointing as it may be, you need to see it from the safety side of things.
The most reliable time to book a balloon and actually get onto the flight is between April and November, as this is when winds are less, and the weather is much more favorable for ballooning.
Nonetheless, that doesn't mean that during the other times of the year, you're certainly going to be canceled; there's a risk of cancellation at any time, but during the winter months, because of the risk of high winds or low visibility, your chances of cancellation are a little higher. Remember, there are plenty of other things to do around Cappadocia!
Suppose your Turkey hot air balloon ride is canceled due to the weather. In that case, you can typically opt to rebook for another day, provided there is availability, and you're still in the area at the next available time, or you can receive a full refund.
This depends on who you book it with, and the flight has to be canceled by the operator due to the weather for these rules to apply.
Always Book Your Cappadocia Balloon Ride As Far In Advance As Possible
Cappadocia is hugely popular, and taking a hot air balloon over the park is the most popular thing to do in the area, if not the entire country. If any, few people would disagree when we think this is the absolute best place for a ride with a hot air balloon in Turkey. With that in mind, you need to book well in advance to avoid disappointment. You'll also find the best prices by doing this too.
Around 100 hot air balloons fly over Cappadocia every single day, but when you think about the sheer number of people who want to get on one of those flights, there is always the risk of disappointment.
How To Book Hot Air Balloon In Cappadocia
You'll also find that flights fill up months beforehand in some cases. You can book online, though do thoroughly check that you're choosing a reputable website, because as with most high profile tourist spots the world over, there is always the risk of a dodgy site taking your cash.
HERE ARE SOME SUGGESTED WAYS TO BOOK
You, Will, Have To Get Up Early To Take Flight In Cappadocia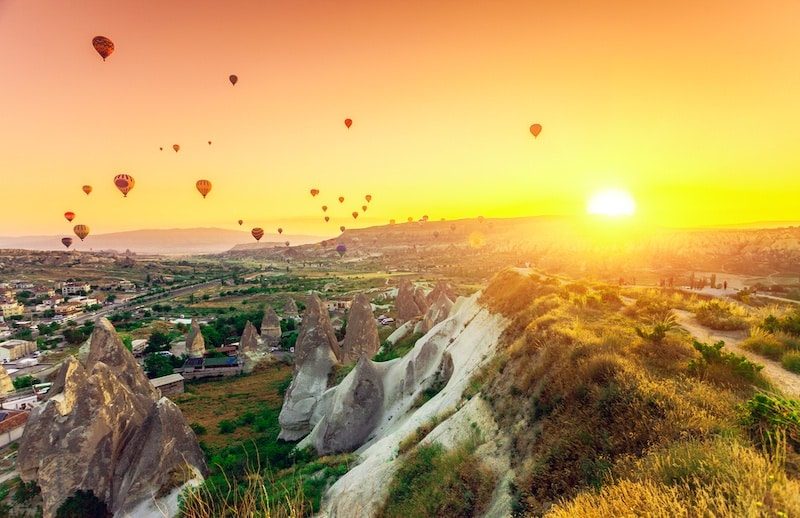 There are no late-in-the-day flights with a hot air balloon at Cappadocia, so if you want to enjoy this magical experience, you have to get up early!
Most balloons take off just before the sunrises, so you're in the air when the sun comes up. However, there is a small number that is able to take off just after sunrise. Please don't get excited about having an extra few hours of sleep, as they take off only one hour after the sun has risen!
This gives you the best chance to see the golden light filter across the magical landscape, and it's truly a sight you'll never forget.
What Does A Cappadocia Hot Air Balloon Ride Cost?
Because riding a hot air balloon in Turkey's Cappadocia region is a hugely popular experience, you're going to have to pay for it. There are so many balloon rides a day here that, essentially, every day is a new Cappadocia hot air balloon festival! Therefore, prices aren't that low, and it depends who you book with as to whether you can find a bargain.
How Much Is The Hot Air Balloon Ride In Cappadocia
The average Cappadocia balloon ride cost is around 140 – 200 Euros per person. Baskets are pretty cramped, with up to 16 people inside. If you want more space and privacy, you can upgrade to a deluxe flight. This will cost you more, but you won't be quite so cramped.
If this is something you've always dreamed of doing, perhaps it's worth paying that little bit extra to enjoy the experience?
How High Do Hot Air Balloons Fly In Cappadocia?
A typical balloon flight in Cappadocia reaches heights that range between tree-level and 900 meters (3,000 feet).
While balloons can go thousands of feet up in the air, that's not necessarily the best thing to do while ballooning in Cappadocia. It provides expansive panoramic views, but the beauty of the Cappadocian landscape is best observed from up-close.
Therefore, many balloonists prefer to stay closer to the ground, allowing passengers to see more details while also having somewhat of a panoramic view. Lower altitudes often also allow for slower flights. Pilots will determine the height based on weather conditions, though.
Overall, hot air ballooning in Cappadocia is a pure bucket list experience that we hope you enjoy.
More Turkey Travel Ideas
Share