Privacy & disclaimers →
A Guide To Package Tours From Istanbul To Cappadocia
Many people dream of visiting Cappadocia. It's not surprising, the place is like a walking fairy-tale, and it's the single best place to try hot air ballooning for the first time or devour an amazing Turkish breakfast with a view that will take your breath away.
But the problem is that Cappadocia is far away from the main places people tend to fly to in Turkey. For example, Istanbul, Antalya, Dalaman, Izmir, and Ankara are all pretty far away, with Ankara being the nearest out of the lot, and even that is almost 300km away.
So, it's no surprise that people tend to look towards guided tours to Cappadocia from Istanbul when they decide they want to visit Cappadocia.
If that is you – the easiest place to do this from is Istanbul, mainly because that's where most people fly into Turkey, and you can combine time in this amazing city with a visit to the natural wonders of Cappadocia.
But is it worthwhile? And should you just do it yourself instead?
Let's explore what you need to know about tours from Istanbul to Cappadocia this year.
TRAVEL COMPANIES WE USE AND TRUST
The Pros And Cons Of Package Tours From Istanbul To Cappadocia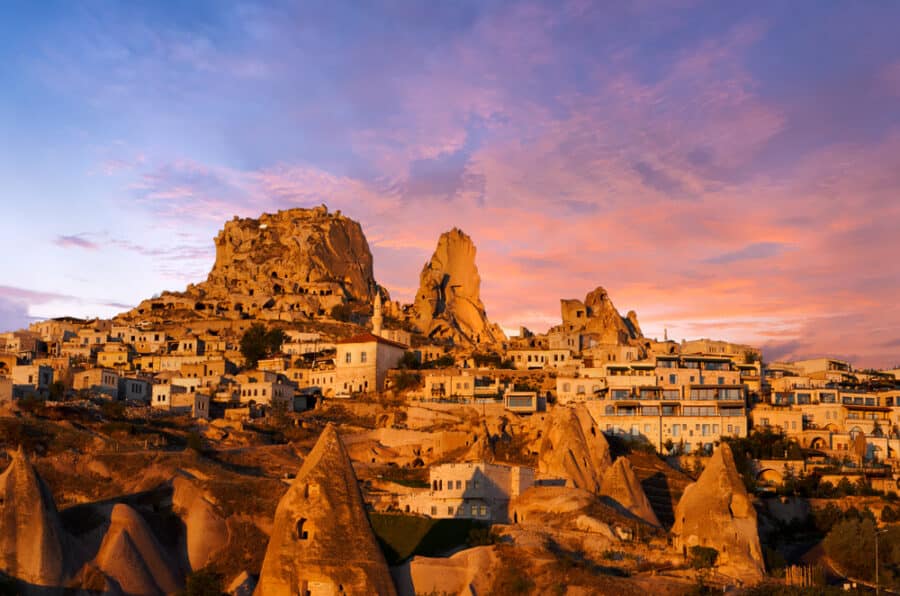 You might lean towards a package tour to Cappadocia from Istanbul because everything is sorted out for you, and without a doubt, that's the biggest pro. But it would be best to weigh everything before you splash the cash.
ISTANBUL TO CAPPADOCIA PACKAGE TOUR PROS
You don't have to travel on your own steam or arrange anything; it's all done for you
You know how much everything is going to cost as it's in with the package price
You will have a tour guide who can tell you the details about what you're seeing
You will meet other likeminded people
A tour such as this allows you to see two unique places in the space of one trip
A package tour is a good option for people not experienced in traveling independently.
ISTANBUL TO CAPPADOCIA PACKAGE TOUR CONS
Most packages don't include everything; unless stated otherwise, you'll have to pay extra for a hot air balloon ride, drinks, snacks, etc.
Tours like this tend to be pricier than just doing it all yourself
The distance and the things you want to see mean that the trip may be rushed, and it will be very tiring
Hotel choice is very limited
There isn't a lot of spare time, if any
As you can see, package tours are neither good nor bad; it just depends on your preference. But if you're still on the fence, let's delve a little further.
What To Look For In A Package Deal To Cappadocia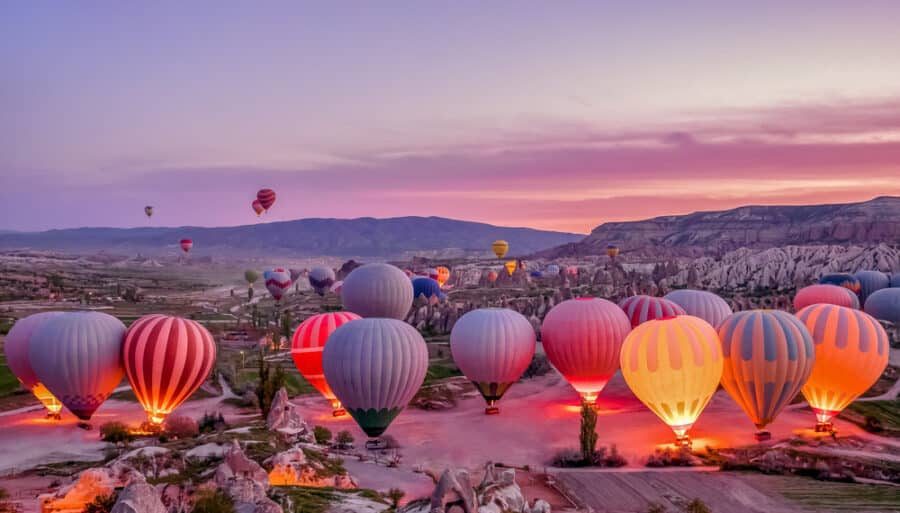 Package tours from Istanbul to Cappadocia are usually 2-day affairs, with one night in a boutique hotel. However, you can find longer tours, but you'll obviously pay more for these. Overall, the general length is an overnight stay.
You will be doing a lot of traveling in a very short amount of time. The good thing is that the flight between Istanbul and Cappadocia is only 1 hour, with a bit of travel time from the airport to the site. Overall, it shouldn't take you more than 1.5-2 hours to get there and then the same to get back.
What's Included In Tours To Cappadocia From Istanbul
WHAT A PACKAGE TOUR USUALLY INCLUDES
Return flights
Airport transfers on both sides
Accommodation for one night in a boutique hotel – this may or may not be a cave hotel; you'll need to check that when you're selecting your tour
Breakfast and two lunches (if it's a 2-day tour). Dinner may or may not be included depending upon the tour; again, something to check
Tour guide and entrance fees are covered for both north and south Cappadocia
You'll see all the main sites in Cappadocia; however, it will not cover the cost of a hot air balloon ride unless plainly stated
Expected TOUR Costs
Costs vary depending on the company you choose, but there are some averages we can look at. However, do remember that prices fluctuate these days with the Turkish Lira in a downfall, so these shouldn't be relied upon to the actual digit.
For a 2-day tour with an overnight stay, you're looking at somewhere between 450-500 euros for a person in a single room. If two people are in the room, the total price will be around 700-750 euros.
Some trips include the hot air balloon ride, which tends to be around the 1000-1500 euro mark. However, if the tour doesn't include this and you really want to do it, you can pay extra, which is between 140-230 euros depending on the time of year.
Of course, if your tour doesn't include dinners, you must also pay for that.
You can see that a package tour is quite pricey, and in all honesty, it is cheaper to do it yourself, but you're paying for the convenience and the tour guide in many ways, so you may decide that it's worth the cost.
Is A Cappadocia Package Trip Worth It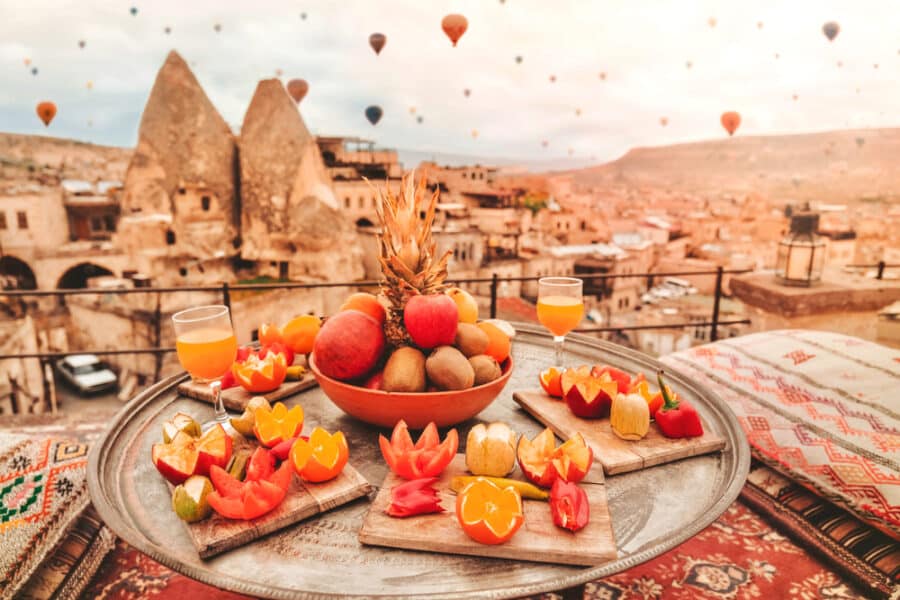 It's a totally personal choice. Some people like to go on package tours because it's just easier to have everything already taken care of. If you're not the most confident traveler, then, for sure, a package trip is the best option for you.
However, if you're confident to arrange your trip yourself, you will be able to mix and match deals and find it a little cheaper. You may also be able to add on an extra night for not much more. That's a plus point because Cappadocia is a lot bigger than people think, and you'll miss out on so much if you're rushing. The beauty of arranging your own trip is that you can go at your own pace.
Ultimately, you need to decide based on your preferences, but if you choose a package tour, be sure to shop around for the best deals.