Settled in the heart of the world, Istanbul is one of Europe's biggest provincial cities. Istanbul also happens to be the most visited city in all of Türkiye. Cities such as Istanbul are supposed to have better transportation systems, especially airways.
With air travel comes airports. Like many other metropolitan cities, Istanbul has two international airports catering to domestic and international flights. Therefore, this guide will cover Istanbul airports, their amenities, and the airlines operating in each.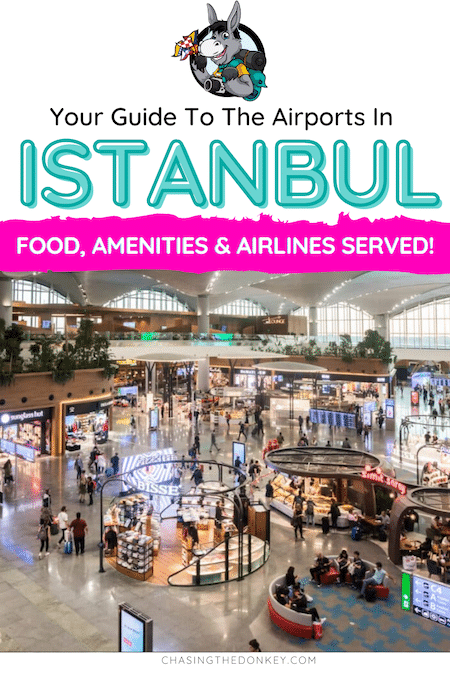 How Many Airports Are In Istanbul, Turkey
So, how many airports are there in Istanbul, Turkiye? Istanbul has become a growing hub for travelers and international airlines. The two international airports in total are present to handle the pressure, namely:
Sabiha Gokcen Airport (IATA code SAW)
New Istanbul Airport (IATA code IST)
Ataturk Airport (permanently closed)
As far as the Ataturk airport is concerned, it was closed in 2019 because it could not handle the growing pressure of flights and passengers. Therefore, the two operating airports for passenger flights in Istanbul are Sabiha Gokecen and New Istanbul. While New Istanbul Airport has been working as the primary airport for Istanbul and Turkiye, Sabiha Gokcen Airport is mainly dedicated to cheaper airlines and domestic flights.
New Istanbul Airport
Istanbul airport code – IST
With the implementation of many modern aviation technologies in the world, New Istanbul Airport is one of the largest airports worldwide. Located near the northwest in the district of Arnavutkoy, the airport can be reached by car, taxi, and any other public transportation. Rated as the 14th busiest airport of 2021, the new Istanbul airport can accommodate 50 million passengers. The airport seeks to become the biggest airport in the world by 2025, with the capacity to take in 200 million passengers each year. The New Istanbul Airport is known locally as Istanbul Havalimani.
After a soft launch in October 2018, the new Istanbul airport grows daily. With six runways and increasing capacity to accommodate many passengers, the airport is on its way to becoming the best in the world, currently ranked #8. The airport project is currently run and managed by an IGA consortium which will hand it over to the Turkish state after 25 years.
Amenities At New Istanbul Airport
Thirty-five kilometers north of Taksim square along the shore of the Black Sea, the New Istanbul airport is known for its world-class amenities. Local and international restaurants, bars and cafeterias, several CIP & VIP lounges, a huge duty-free area, a parking lot, conference halls, hairdresser, newsstands, photography services, a grocery area, florist shops, medical services, rent-a-cars, pharmacy, travel agents, banking offices, airline ticket offices, ATMs and much more.
The shuttle bus and taxi services to Taksim square make the commute from the airport quite simple. Walking through the airport's high ceilings and modern amenities will make you feel like you're walking through a 5-star hotel.
However, given the magnitude of the Istanbul Airport, we must delve deeply into the shopping and restaurants here!
IST Istanbul Airport Hotels
Inside the New Istanbul Airport is a hotel with 451 rooms for hourly or overnight bookings.
Shopping At New Istanbul Airport
The IST is infamous among flyers for its excellent shopping opportunities. It provides a modern, unique, and comfortable retail shopping experience that is a class on its own.
Spread over an area of 55,000 meters, Unifree is a Duty-Free shopping center that features 34,000 square meters of duty-free stores and 18,000 square meters of luxury boutique shops. If you're more interested in local products, head to the Bazaar area spanning over 3,000 square meters.
The different "concept" sections that cater to passengers with varying tastes of shopping, needs, and preferences make the duty-free shopping area at IST even more interesting. These sections include Fashion Garden Style Beach, Icon Gulf, Family Palace, and more.
The products are extensive, and you'll find a range of things, including:
Jewelry
Watches
Kids wear
Electronics
Luxury and premium products
Accessories
Toys
Home textile
And more
Restaurants At New Istanbul Airport
A remarkable aspect of the Istanbul Airport that should not be ignored is its culinary experience. If you're traveling through Turkish Airlines with a connecting flight, you can go on the "Touristanbul" and explore Istanbul during your layover.
However, there's a better option you might not have considered. Travelers with business and Star Alliance gold status can experience a variety of flavors right at the IST. At the Turkish Airlines Miles & Smiles lounge, you can access almost 1700 square meters of Istanbul's culinary expertise.
The first thing you'll be welcomed with upon entering the lounge is the smell of the famous Turkish coffee, which is enough to soothe you and melt your airplane stress. The place is alive with an Ottoman backdrop, and you get to experience a variety of dishes at the live cooking stations and multiple buffets spread around the lounge.
The cherry on the cake is the tea room, where you lose yourself in the plush chairs as you enjoy classic Turkish tea. Even more interesting is the fact that on each table, you'll find loose tea leaves from around Turkiye and golden urns filled with steaming water. Pour a soothing cup of Turkish tea into glass teacups and spend your layover in ultimate sophistication.
Airlines Connected To The New Istanbul Airport
Connected to the world for its reasonably-priced flights, the New Istanbul airport is linked to several different airlines. These include (but are not limited to):
Aegean airlines,
Turkish Airways
Afriqiyah
Aeroflot
Air Albania
British Airways
Emirates
Etihad Airways
Gulf Air
Kuwait Airways
Qatar Airways
And more
The airport welcomes domestic and international flights from all over the world.
TRAVEL COMPANIES WE USE AND TRUST
Sabiha Gokcen Airport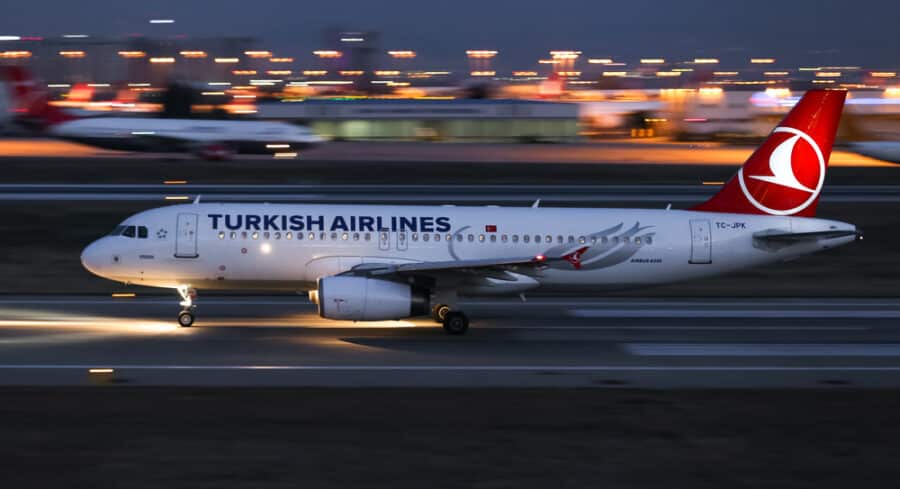 Istanbul airport code – SAW
Located on the Asian side of Istanbul, 50 km from the east river, Sabiha Gokcen is the second largest airport in Istanbul. The airport is named after the first female fighter pilot in Turkey, who was also the adopted daughter of Mustafa Kemal Ataturk. The airport provides some of the cheapest tickets from Europe, Africa, the Middle East, South America, North America, Russia, London, and many other parts of the world. The airport is a popular choice amongst Istanbul-bound travelers because of the economical ticket rates.
However, cheap things come at a price. In this case, it's inconvenient to get around downtown via public transportation. If you're planning to fly via Sabiha Gokcen Airport, it's best to add up the costs and time of commuting to and from the airport.
In regular traffic, 1 hour is enough to reach the airport, but crossing the Asia-Europe bridge is challenging. Depending on your flight arrival and departure times, you can quickly get stuck in a traffic jam. Though, if you use the shuttle service available around the airport, or a rent-a-car service, you can reach on time. However, it can get pricey as the costs add up.
Amenities At Sabiha Gokcen Airport
After constructing a new terminal in October 2009, Sabiha Gokcen can now cater to a total of 35 million passengers each year. With the modern single-terminal facility, the airport has a decent selection of landside and airside shops, along with 24-hour servicing eateries. The hotels inside and around the airport are ideal for an overnight stay. Departure areas and gates are perfect for uninterrupted sleep.
Lounge areas are available for all despite whatever class of flight ticket you've paid for. You'll have to pay a fee at the door to buy a lounge pass. International and VIP terminal lounges are only available for first-class and business-class passengers.
Some other amenities include praying rooms, banking services, ATM, currency exchange, medical services & pharmacy, luggage storage and porters, duty-free stores and spas, etc. Along with all these facilities, Sabiha Gokcen airport caters to disabled people's needs by offering wheelchair-friendly toilet seats. The detailed-driver construction makes the airport one-of-a-kind.
SAW Istanbul Airport Hotels
There are also some hotels around the airport that you can check out, such as ISG Airport Hotel, Airport Residence Kurtkoy, Miracle Istanbul Asia Hotel and Spa, Crowne Plaza Istanbul Asia, etc.
Airlines Connected To The Sabiha Gokcen Airport
The airlines serving the Sabiha Gokcen include (but are not limited to):
Air Arabia
Anadolu Jet
Air Manas
Azerbaijan Airlines
Buta Airways
Atlasglobal
Corendon Airlines
Fly Baghdad
Emirates
FlyDubai
Iraqi Airways
Fly Nas
Nile Air
Jordan Aviation
Royal Wings
Qatar Airways
Sunexpress
Turkish Airlines
Istanbul Airport Transfers
Once you have landed at the airport, what's next? Let us help you by answering these questions and more.
Are taxis available at Istanbul airports
Yes, there is always a steady stream of taxis available. We suggest you have your hotel name & address written on a piece of paper in case your driver does not speak English.
Things you should know about taking a taxi, and taxi drivers in Istanbul include
You must have Turkish Lira (TL) in hand
Be sure that the driver turns on the meter
Driver's speed and often take backstreets
Due to the distance, a taxi is usually the same price as a private transfer
Is the Metro operating from Istanbul airport to the city center
From January 22, 2023, a new line opened up. The Metro line from Istanbul Airport to the city center is now Turkey's fastest Metro – operating at a whopping 120 kilometers (75 miles) per hour.
It is now possible to reach Istanbul Airport from:
Kağıthane in 24 minutes
Levent in 35 minutes
Taksim in 41 minutes
Tekstilkent in 45 minutes
Istanbul Airport Metro Stations
The Istanbul Airport metro line has eight stations; Kağıthane, Hasdal, Kemerburgaz, Göktürk, İhsaniye, Satellite Terminal, Istanbul Airport, and Cargo Terminal.
After arriving at Istanbul airport, how do you get to your hotel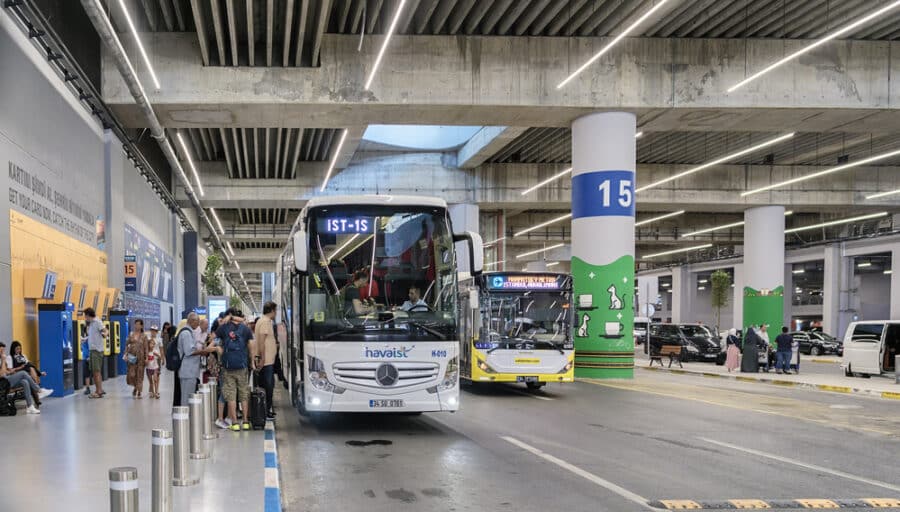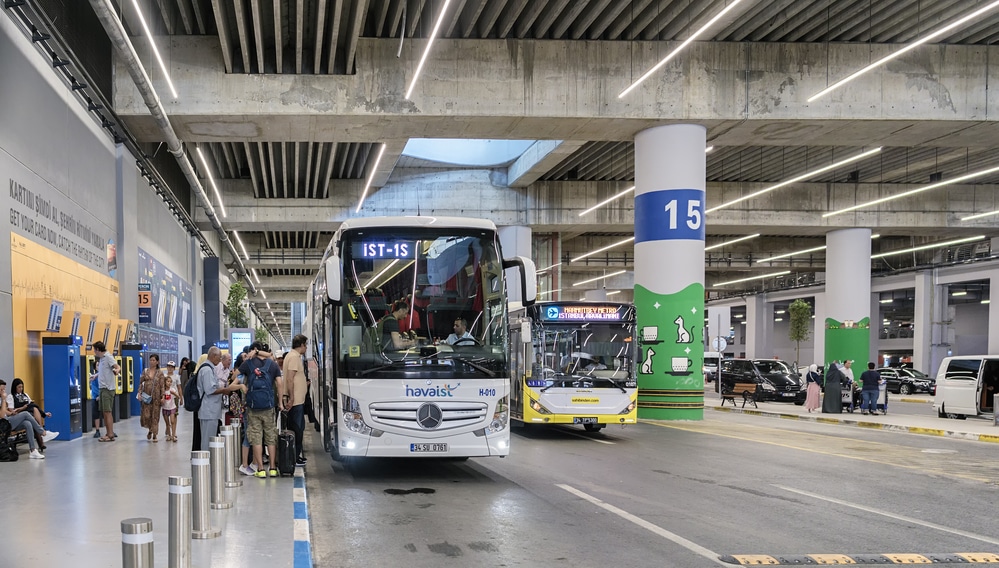 There are several options on how to get to your hotel from the airport
Taxi
Bus
Private transfer
How easy is it to arrange airport transfers in Istanbul
Very easy; simply book online using the button below. Private transfers are better than taxis because you've booked ahead and a driver is waiting for you at the airport terminal and will carry your bags. The other main benefit is that the price is fixed, so no matter how bad the Istanbul traffic is on the day you arrive, you won't pay any more.
Private Transfers
Much like a taxi, except you can book ahead and have a driver waiting for you at the airport terminal. Someone to carry your bags, lead the way, and, best of all, you'll know the fixed cost ahead of time, no matter the crazy traffic.
Wrap Up On The Airports In Istanbul
Apart from the two airports we detailed, you may have remembered that Istanbul used to have Ataturk Airport, which had served as the primary airport for Istanbul for a long time. Today, however, the Ataturk airport is out of operation and will be turned into a green space.