News flash – Istanbul is huge.
Literally massive.
You can't comprehend how big Istanbul is.
But, the good news is that it's a pretty easy city to get around, thanks to an excellent network of public transport methods. The only major issue is traffic.
You've never seen traffic until you've seen Istanbul traffic, and it's only getting worse.
Thankfully, there are a few ways to get around that, too – this city thinks of everything!
So, to help you navigate Türkiye's biggest city, let's check out how to get around.
First Things First – The Istanbul Card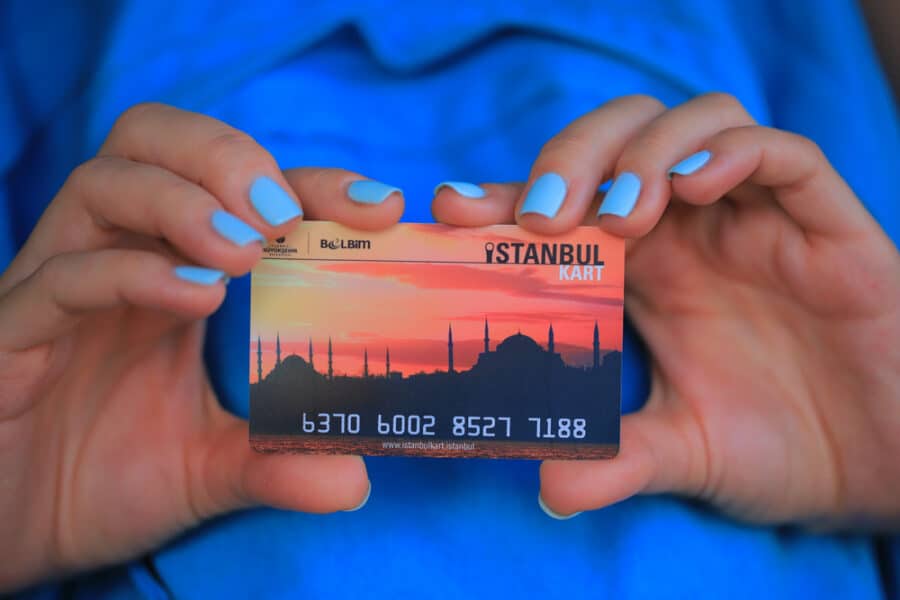 The Istanbul Card, or IstanbulKart as you'll see it named, is how you pay for public transport in the city.
It's worth buying this at the airport as you'll need it to get to where you're staying. You can buy a new card at any of the yellow or blue machines in the airport and purchase them from kiosks in the city where you see the IstanbulKart sign.
You will pay just 13 Lira for a card, which will come with no credit. Due to COVID-19 rules, you'll first need to obtain a HES code (if you haven't already), and you'll match it to your IstanbulKart. Your card won't work unless you do this before loading any credit onto it.
Adding a HES Code to Your IstanbulKart:
Send a text to 2023 with:
Type 'HES,' space, your nationality (in a format such as GER (Germany), ARG (Argentina), etc.), space, your passport serial number, space, year of birth, space, and your surname
For example – HES GER 123456789 1990 SMITH
You'll receive a text back in a few minutes with your HES code.
Once you have that code, head to https://kisisellestirme.istanbulkart.istanbul, and you can select the English version before following the instructions to add your HES code to your Istanbulkart.
Tick the box that says, "I am a foreigner; I want to continue by my passport number."
Your card number is the serial number on your IstanbulKart.
Once you've completed that step, you can load credit onto your card and use it. This can be done at any machines you'll see in public transport stations or at kiosks where you see the IstanbulKart sign. It doesn't sound straightforward, but it's far more accessible than it looks.
To use the card, scan it at the entrance to bus/Metro/ferry, etc., and you'll be charged a flat rate of 4.03 lira for every journey.
TRAVEL COMPANIES WE USE AND TRUST
Istanbul Public Transport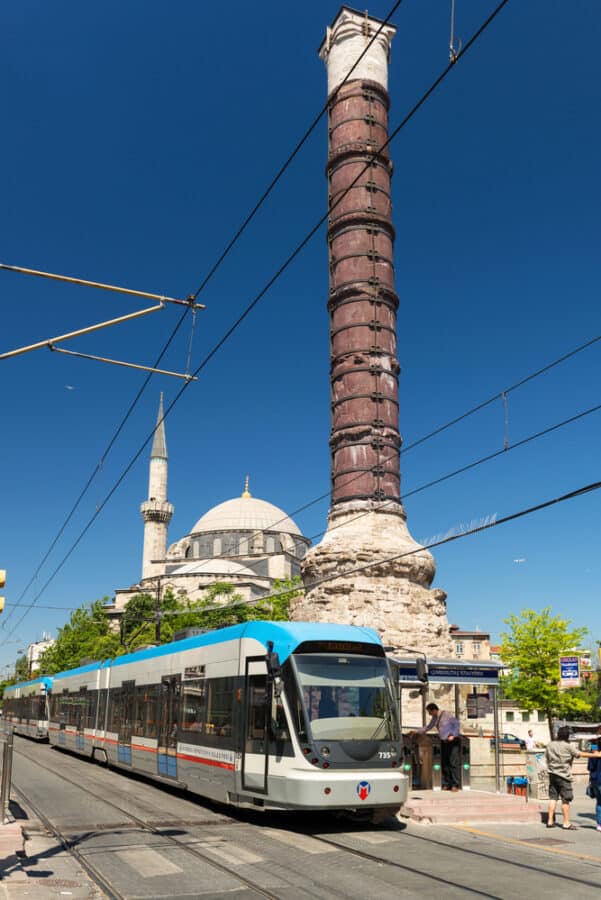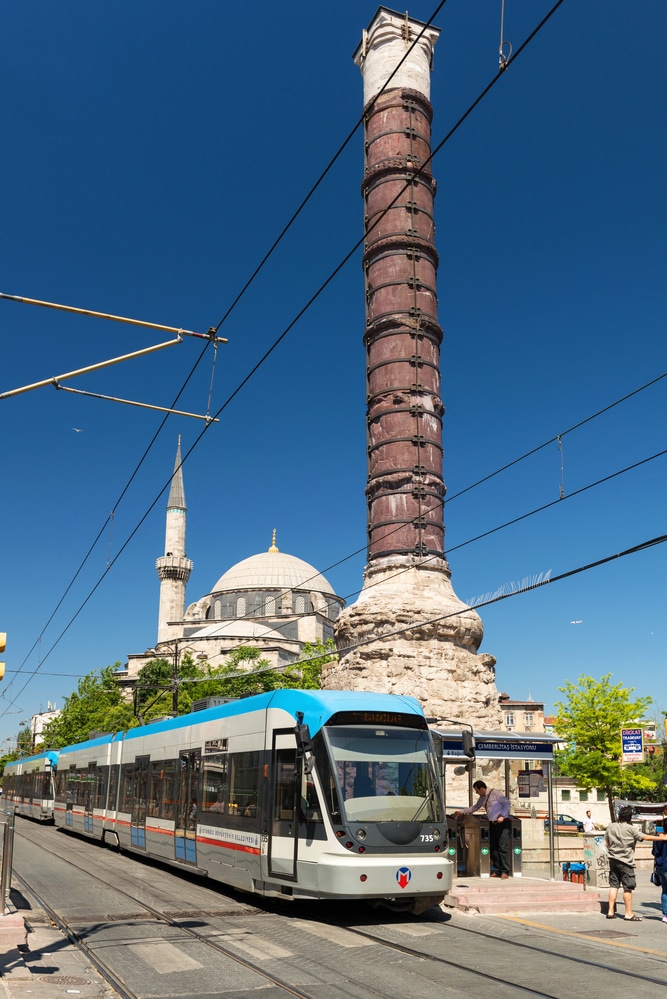 You can use several different public transport types to get around Istanbul. You might think somewhere looks walkable, but once you set off, you'll think otherwise! While walking between certain places, remember that distances are pretty large.
It's also not the best idea to hire a car and try and drive in Istanbul. The traffic, the roads, the beeping, oh, it's enough to drive you crazy! Seriously, save yourself the stress and use public transport instead.
You'll find hand sanitizer stations around, but it's best to carry a small bottle in your bag or pocket and spray your hands once you get off the bus/Metro. Also, remember not to touch your face while on public transport. Of course, with COVID-19 restrictions, that means wearing a mask on all public transport and stations – masks are currently mandatory in Türkiye anyway, so this shouldn't come as a surprise.
| Want to use public transport in Istanbul?
🇹🇷 Istanbul is a city split across two continents, and each side heaves with history and culture. Ride around the city with ease using an
Istanbul Public Transportation Card, which come pre-loaded with 5, 10, or 20 rides valid on metros, buses, metro buses, funiculars, trams, ships or ferries in Istanbul.
Taxis In Istanbul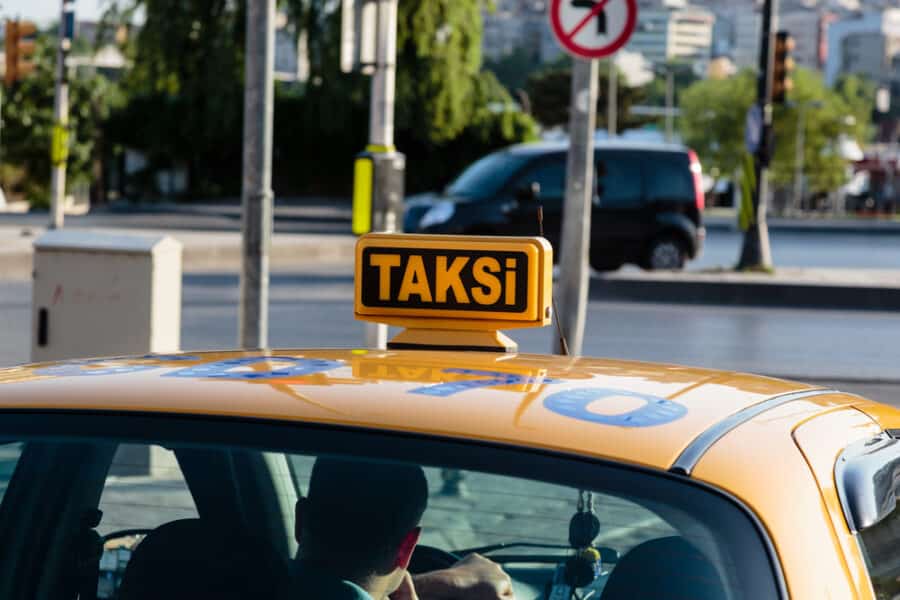 First, let's talk about the most difficult-to-use type of transport, and one you would think would be the easiest – taxis.
Now, you're golden if you can get a taxi to stop and take you to where you want to go. But, over the last few months, this has become much harder. Taxis will not always stop on the street, so you're best heading to a taxi rank. However, you then have to tell the driver where you want to go, and they will tell you if they wish to take you or not.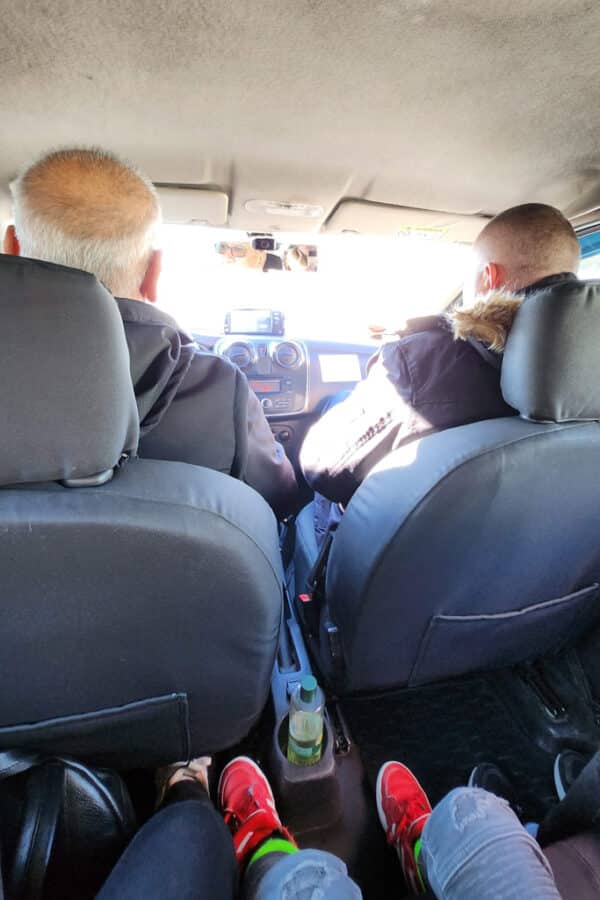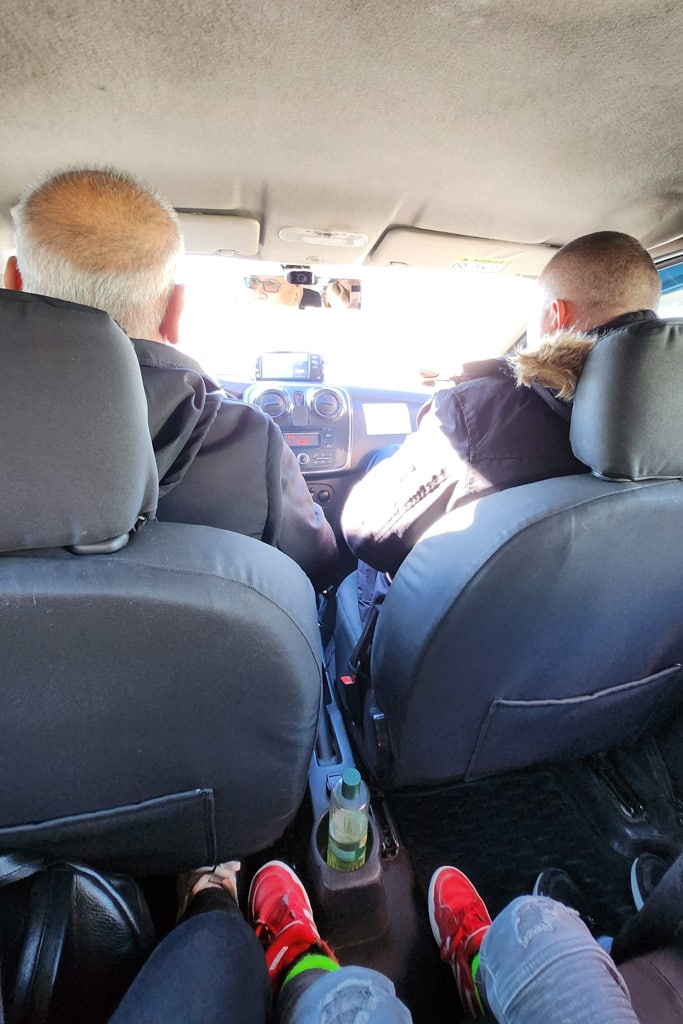 Strictly speaking, they should take anyone anywhere, but the truth is that drivers will wait for tourists who want to go further because they earn more money. Otherwise, they're stuck in traffic for short journeys, earning less cash. You can understand it, but that doesn't mean it's any less annoying.
However, let's assume you find a taxi that will take you where you want to go.
Only ever get into yellow, marked taxis.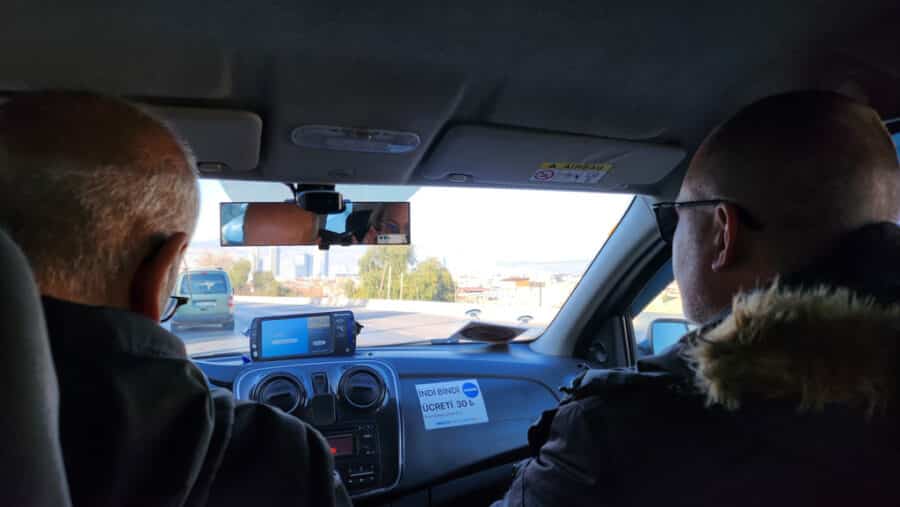 Ask the driver how much you can expect to pay and set your price before you get in – most will go by the meter, but you should know the cost beforehand. It's a good idea to know beforehand which way the taxi should take you. While it shouldn't happen, it has long been a common scam for drivers to take the scenic route to earn more money. You can ask someone at your hotel for advice on this, and they'll be glad to help.
Istanbul Buses
There are two types of buses in Istanbul: regular and fast metro buses. You can also use this bus to get you from the European side to the Asian side. However, you won't find the metro buses in the middle of the city, i.e., Besiktas, Taksim, etc., and they're more in the suburbs or outskirts, in places such as Yenibosna, Zeytinburnu, etc.
But, because regular buses are much easier to use and much easier to find, let's focus on those. Buses are very easy to use in Istanbul. They say where they're going on the front and have a list of the main stops too. Then, when you get on and beep your IstanbulKart, you'll see a screen telling you where it's going and the list of stops underneath in the direct order the bus will stop in. A voice also tells you the name of the stop.
The only issue is that buses get stuck in traffic and can be VERY busy at certain times, especially during weekends and from around 6 pm during the week. Despite that, they're the cheapest and most accessible way to get around. Buses also run until the early hours, although check particular service times or ask the driver if you're unsure.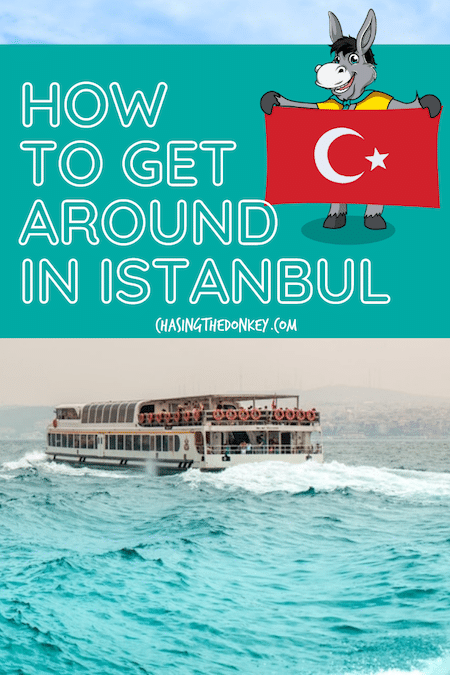 Using The Metro In Istanbul
Metro is, without a doubt, the fastest way to get around Istanbul, and although many people are worried about how to use it, it's so easy. Once you've used it, you'll probably wonder why you were concerned about it!
There are several lines, but the main two will take you where you want to go. The Metro doesn't cover the whole city, but it does cover a huge chunk of it, including Fatih, Taksim, Etiler, and Levent, and it also connects to the outer reaches of the city, including the central long-distance bus station, Esenler, and some of the big shopping malls, such as Cevahir.
Look for the red, blue, and white M signs, and that's a Metro station. Head down the steps and scan your IstanbulKart to get through the gates. Then follow the arrows to the particular Metro you need; you'll see a massive map on the wall, and if you do get stuck, ask one of the security staff who will point you in the right direction.
Again, the Metro can get VERY busy during weekends and from around 5-6 pm, and you should expect to stand rather than sit – finding a set on the Metro is akin to gold dust.
The Metro runs from 6.15 am until midnight.
Marmaray – Europe To Asia
The Marmaray is a Metro service that takes you from the European to the Asian side. In this case, you'll head to Sirkeci, close to Sultanahmet, and use the service exactly the same way as the regular Metro. However, you'll head under the Bosphorus this time and come out to the other side in Kadikoy. Just reverse the advice to head back in the opposite direction.
The last service leaves at midnight.
Ferries In Istanbul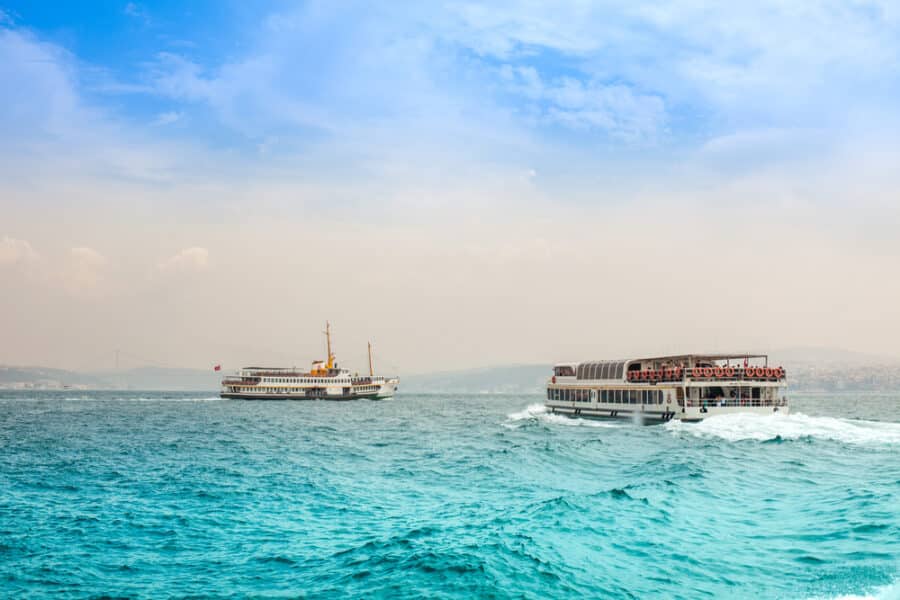 Another way to get back from Europe to Asia is to use a ferry. It's a fun way to cross the water, and be sure to buy a simit to feed the seagulls from the top deck!
Ferries run from Besiktas, Karakoy, Eminonu, Uskudar, and Kadikoy and leave every 15-20 minutes. The last service is at 11 pm.
You use the ferry service in the same way as any other type of public transport, by using your IstanbulKart at the gate. While ferries can get quite busy, they're rarely super-packed, so they're a more relaxing way to cross the water, and it's also something you should add to your experience list in Istanbul.
Istanbul Trams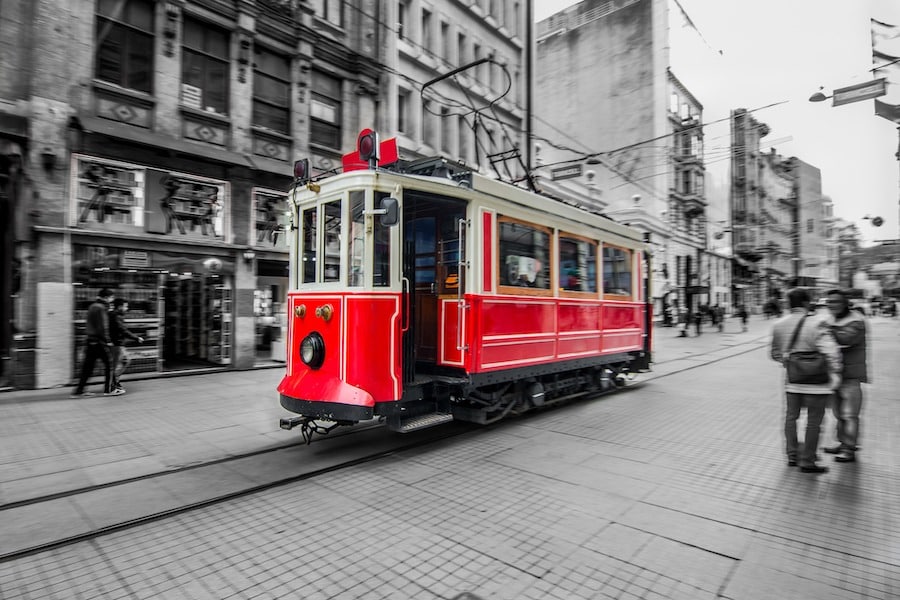 The final option is to take the tram. Trams don't cover the whole of the city, but if you're looking to get from near to Besiktas and over to Sultanahmet and beyond, it's a great way to save your feet.
The tram runs from 6 am until 11 pm and is known as 'tramvay.' the line starts at Kabatas, down the hill (a very steep one) from Taksim and close to Besiktas and goes as far as Bagcilar. There are 31 stops along the way, and you use the service exactly the same way as the Metro. Again, trams can become quite busy during rush hour, although they're never all that quiet.