We may earn commission from affiliate links →

Best Travel Wallet To Protect Your Cash
I was wondering how to look after your money while on the move.
You must know that your belongings are safe when heading off on any trip. Think about it rationally. You are carrying the things that are important to you, actually on your person, which means that unless you bring a safe with you, you will have to figure out a way to keep your essential documents safe and secure.
Thankfully, there are ways you can do that.
Why You Should Use A Travel Wallet Or Passport Holder
Of course, aside from your passport, one of the most important things you will carry is your cash. How can you keep it safe?
Common sense. Don't flash the money; divide it and hold it separately. Think about using a money belt, having an extra pocket sewn into your clothing, or using a dummy wallet to reduce pick-pocketing risk. Keeping small change handy is always the best way forward, too.
Of course, being organized in the first place will minimize the risk of you losing something or pulling out one document and the others ending up lost on the floor somewhere. An excellent way to secure your important documents is by using passport travel wallets or passport holders.
Best Travel Wallet Comparison Chart
We looked at the best travel wallet organizers, compared their features and price, and made this easy-to-use table to help you review and decide which wallet would suit you best.
Click on any heading to sort the table accordingly.
Best Travel Wallets Comparison Chart
Travel Wallet
Read Reviews
Size
Best For
Price
Harber Travel Wallet
Medium
Men
TUMI Alpha Zip-Around Travel Wallet
Medium
Men
Venture 4th Travel Neck Pouch/Neck Wallet
Large
Everyone
Venture 4th Slim Minimalist Design Travel Neck Wallet
Large
Everyone
Lewis N. Clark RFID Blocking Stash Neck Wallet
Large
Everyone
Ted Baker Travel Document
Medium
Women
Pacsafe RFID Waist Wallet
Large
Everyone
Michael Kors Jet Set Wallet
Medium
Women
Kate Spade Travel Wallet
Medium
Women

KOV Ocean Life Travel Wallets
Small
Men

NeatPack RFID Travel Wallet
Large
Families & Couples

Travelambo Minimalist Travel Wallet
Small
Men

Zero Grid Neck Wallet w/RFID Blocking
Small
Everyone

All in One Travel Wallet
Medium
Everyone

Zoppen Rfid Blocking Travel
Medium
Women

Bellroy Leather Travel Wallet
Small
Everyone

Busyb Family Travel Wallet
Large
Families

Pacsafe RFID-tec Travel Wallet
Medium
Women

Herschel Supply Co Passport Holder
Medium
Men

Kipling Travel Document Holder
Medium
Women

Knomad Leather Portable Organiser
Medium
Everyone

SanHoo Blocking Organiser
Large
Women & Families

Serman Brand RFID Blocking
Small
Men

JAVOedge Carry All Passport Document Travel Wallet
L
Everyone

M Square Travel Passport Wallet Holder
L
Women

Travel Document Holder Family Organizer Passport Wallet
L
Everyone
Best Travel Wallet Reviews
We've reviewed the best to help you find the perfect travel wallet.
PLAN AHEAD TO GET THE BEST DEALS
Ted Baker Travel Wallet Women's Passport Holder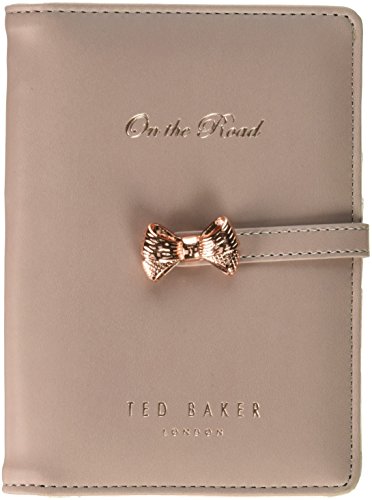 This Ted Baker travel document holder is ideal for fans of the designer brand and women who want to be stylish while they travel. There is undoubtedly room inside for everything you need, including a sleeve for a passport, a pen holder, a small pocket for loose change, a window section for ID, and five sleeves for credit cards and other card-related items. There is an interior sleeve for money notes as well.
This women's passport wallet is 15 cm long, so it is a compact travel wallet and comfortable enough to fit inside a bag noticeably without taking up too much room. The outside is peach with a gold Ted Baker logo and the words 'on the go' in gold embossed lettering. The holder closes by a press stud with a gold bow. Overall, this is a handy and cute travel wallet to invest in.
This slimline wallet is available in four attractive colors and is ideal for keeping all your everyday items safe. The wallet holds up to 15 different cards and cash (notes and coins), and keys simultaneously. This leather wallet for travel is elastic and a durable option that is sure to last the test of time. The wallet is lightweight and can easily fit into your pocket without anything inside.
Pacsafe RFID Safe 100 Anti-Theft RFID Blocking Travel Waist Wallet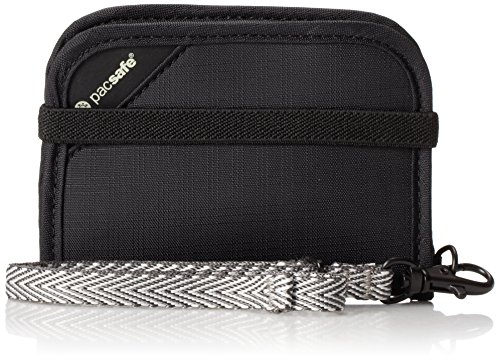 The newest type of travel document is a type that is worn around the waist. This Pacsafe version features RFID technology to keep information on credit cards and passports safe. The holder contains two compartments that fasten by zipping and are large enough for a passport, cash, or credit card, and the main compartment is also large enough for other IDs and cards. Both pockets have RFID-blocking technology within them.
The holder can easily be worn under clothes, which adds to the security while also being made of breathable nylon fabric with anti-odor features and a liner that prevents moisture from getting inside. This lightweight option, at just 3.4oz, has an elasticated, adjustable waist strap.
Leather Passport Holder For Women & Men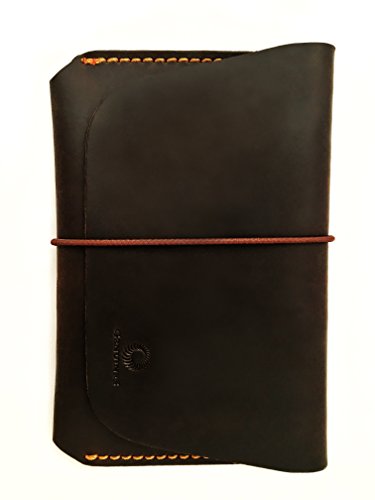 This holder opens like a book and fastens with an elasticated strap, giving it a stylish appearance. The holder is made of premium leather and has enough space inside to fit two passports and various other documents available in four different colors. There is space for the passports mentioned above, an ID card, several other credit/debit cards, and a driving license without appearing too bulky.
Compared to many other holders, this leather travel wallet is described as small. Still, it is large enough for everything you need and will fit easily into your back pocket or bag without too much space. There is no RFID security, but it offers a fashionable option for those who want to match their document holder with the rest of their luggage.
Michael Kors Women's Jet Set Travel ZA Continental Wallet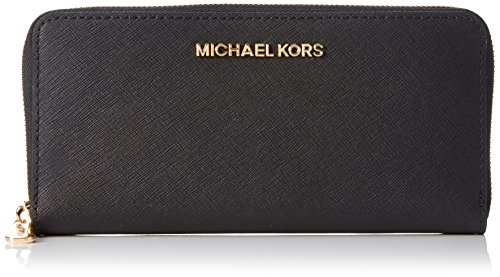 This particular designer travel wallet is shaped like a purse/wallet and is available in two different color options: black or tan. The wallet has a gold zip that goes around the top and sizes and is medium in size. There are several slots inside the designer passport travel wallet for cards, e.g., credit cards or ID/driving license cards, and room for two passports on either side of a middle zip compartment. Coins can easily be kept inside the zipped compartment or other essential items you need while traveling, such as itinerary printouts.
The zip is strong and rigid, so not much else would fit inside without causing difficulty with fastening. Overall, this is a fashionable and functional travel wallet, arguably the best continental wallet on the market, and one of the most stylish travel wallets for ladies.
Kate Spade New York Grand Street Zip Travel Wallet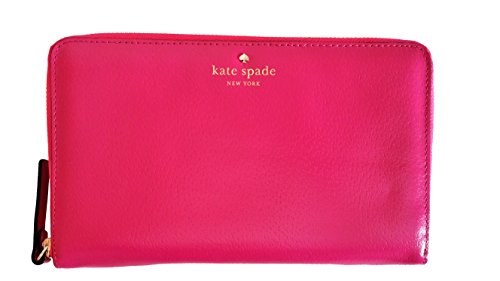 This stylish travel wallet is perfect for women who want to see it easily in their bags! Made of premium leather with 14-karat gold lettering, this large Kate Spade travel wallet has a strong zip all the way around and opens like a flat wallet. There is room for 17 cards, e.g., credit cards/ID cards, and two compartments fasten by individual compartments. There are a pen slot and a slide pocket on the outside, too.
The inside of this luxury Kate Spade organizer wallet for women is tan in color. There is certainly enough room inside for everything you could need when traveling, including money, ID, passports, itinerary printouts, and tickets.
JAVOedge Carry-All Passport Document Travel Wallet With Zipper Closure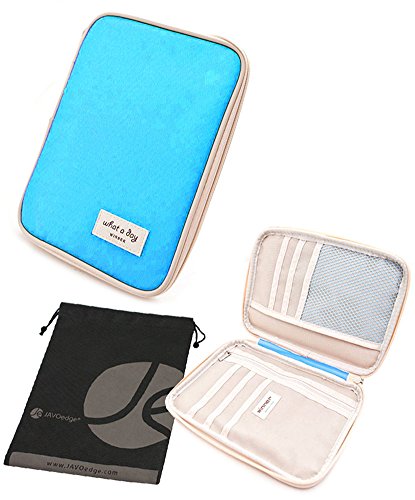 If you struggle to keep everything organized and in one place while traveling around, perhaps as a family, then this travel wallet is a great budget choice. Available in seven different color choices, the wallet is large, measuring 7.5 x 8 x 9″, and is made of polyester for durability. You can easily fit passports, tickets, ID, money, permits, and travel documents inside. This passport travel organizer also zips up all the way around to keep everything safe in one place.
The wallet comprises one zip pocket on the outside, four smaller pockets on the inside, a mesh pocket for ID, a large side pocket on the inside, and an exterior zip pocket. This is a fantastic family travel organizer wallet for families on the go, with plenty of functions and room.
M Square Passport Travel Document Holder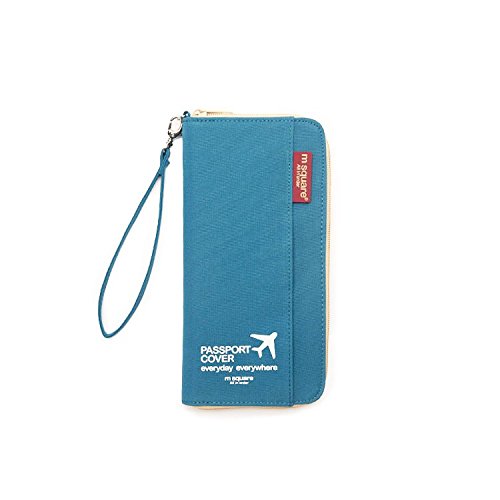 Available in four bright and attractive colors, this zipper passport holder is large enough to fit everything inside that you need as part of your essential travel documents, such as passports, boarding passes, etc. The wallet zip closes all the way around, so you can be sure that everything is safe and won't fall out. You can even use it as a passport cover.
There is a zip pocket inside for coins, multiple pockets for documents, and card slots. You can easily fit several passports inside, and there is room for your keys! This is a superb multi-functional fashion choice.
Travel Document Holder Family Travel Wallet
Thanks to its patterned and colorful design, this brightly colored travel document and passport holder wallet won't be easily lost! There are eight RFID-blocking sleeves inside the wallet, which are ideal for passports and bank cards, and the zip fastening goes all the way around so that you can be sure of security on the go.
This particular family travel document holder is ideal for families because you can easily fit everyone's passport inside, ticket, and bank cards. The material is also water-resistant, which gives you even more peace of mind. There is a detachable wrist strap for extra durability and ease of use.
Inside, you will find eight credit card slots, four slots for passports, two large zipper pockets that are ideal for money, a large mesh pocket, and a big compartment. There is another large compartment that could fit a notebook or tablet inside.
Travelambo RFID Front Pocket Men's Travel Wallet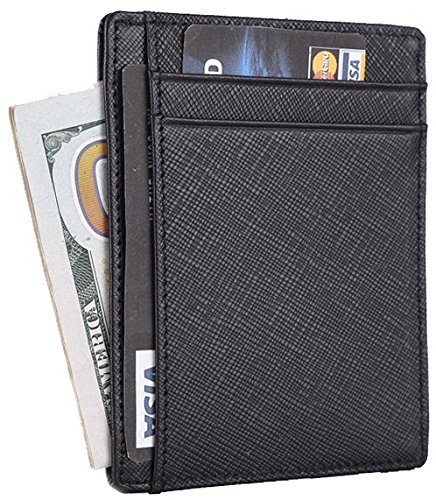 For a budget option that certainly looks the part, this Travelambo wallet is a good choice. This leather travel organizer wallet comes with RFID-blocking technology, so you can rest easy that your cards will not be cloned or affected as you move around. Incidentally, this technology only covers the new contactless types of cards and HID I Class cards.
With six card slots, this small travel wallet measures 4 x 3 ¼ x 1/8″ and has a larger money slot with easy access from the top. This looks very business-like and, for that reason, would be ideal for men on the go while also giving peace of mind that your cards are safe from cloning.
TUMI Alpha Zip-Around Travel Wallet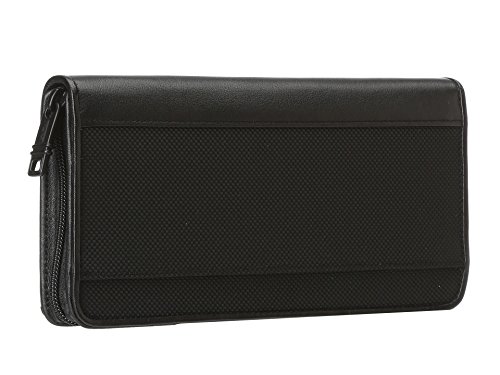 This zip-around travel wallet is ideal for those who want to keep everything in one place and those who also want to rely on high faulty security. Choose between two different colors, RFID security built-in. The wallet zips all the way around and is made of high-quality nylon to ensure that your belongings are safe and away from other potential damage. You're also not adding extra bulk to your hand luggage, as this wallet weighs half a pound only!
Venture 4th Travel Neck Pouch/Neck Wallet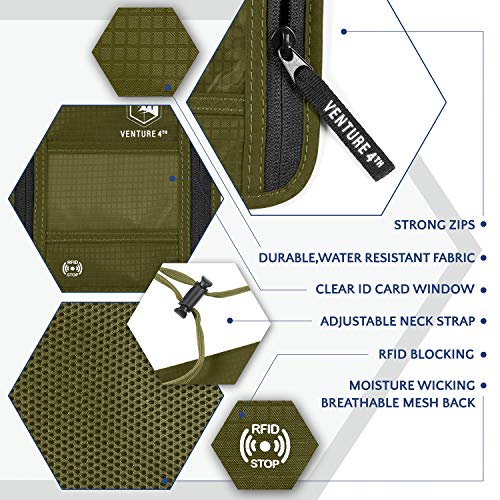 If you're serious about keeping all your travel documents and other items safe and in one place, this neck wallet/neck pouch is the ideal choice for you. The wallet is made of breathable fabric and is also waterproof and lightweight. You can choose between six different color options suitable for men and women.
The pouch contains RFID-blocking technology, so your passport and cards are safe, and there are several compartments to keep all your items organized so that you can find them quickly while checking in and moving around.
Venture 4th Slim Minimalist Design Travel Neck Wallet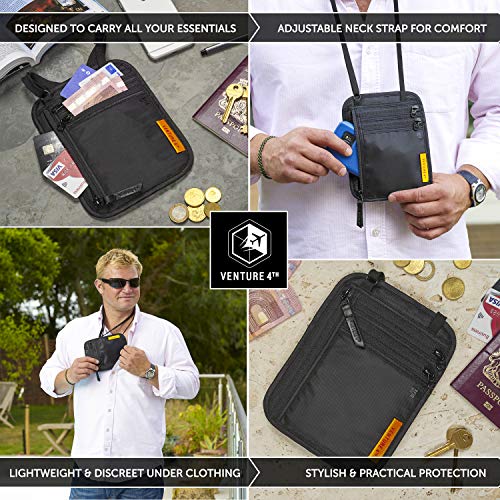 This slimline neck wallet is ideal for both men and women and is the perfect choice for fashion and safety while traveling. You can choose between five different color options, and the pouch is very lightweight, so it's not going to tug on your neck while wearing it. There are built-in RFID technology and two main compartments to organize your things. You can either wear this pouch around your neck or add it to your belt, as there are two loops.
Lewis N. Clark RFID Blocking Stash Neck Wallet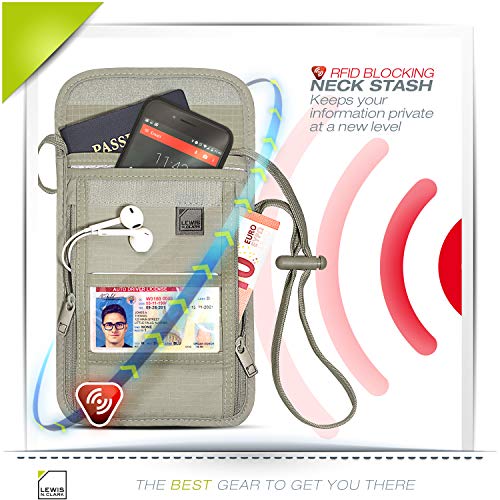 You can choose between three neutral colors in this particular travel wallet, which is ideal for fitting all your items in a while on the go. The wallet has RFID-blocking technology, so your card and your passport are safe from prying eyes, and the pouch has a slimline design, so it's not going to add bulk or be uncomfortable while wearing it.
The punch is made of ripstop nylon, which is strong and very durable, and the material is also designed to keep moisture away from your items. The pouch has several compartments, so you can easily organize your belongings.
NeatPack RFID Travel Passport Wallet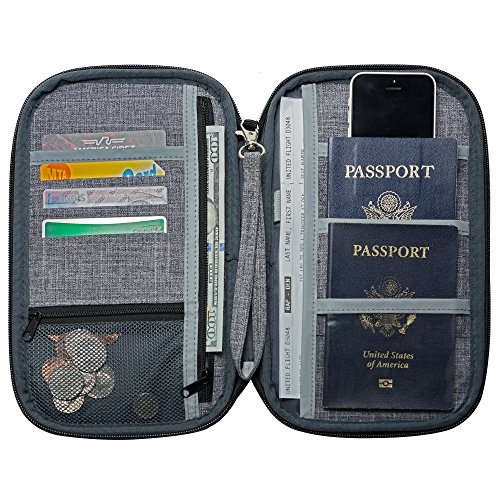 This extra-large travel wallet has everything you need to organize your travel documents and essential items. One of the best wallets for travel is durable nylon and has storage for more than one passport, credit card, paperwork, and itinerary, and you can even fit your phone inside.
There is RFID blocking technology to look after your cards and passport, prevent identity theft, and even a coin pocket for your loose change. The wallet also has strong zippers to help it last much longer, and it is made of a water-resistant material, so you don't have to worry about damaging anything inside.
Travelambo Minimalist Travel Wallet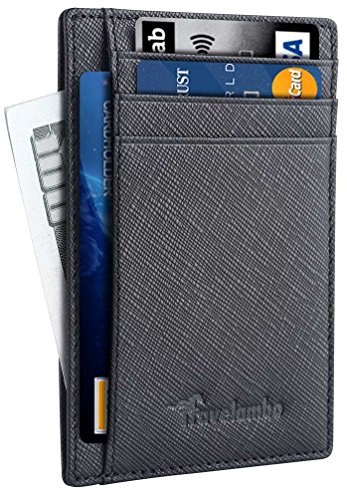 This is a low-budget but high-quality product that is sleek and professional-looking. This is a very slim and minimalist travel organizer wallet, so you can only fit the essentials inside. Made of genuine leather, RFID blocking technology is incorporated to keep your identity safe, and seven card slots to keep your credit card and debit cards safe.
One of the best small security travel wallets for men, this is a lightweight choice, which will easily fit into your pocket, and has the appearance of a traditional men's wallet. Therefore, this men's travel wallet organizer is ideal for business travel.
Zero Grid Neck Wallet w/RFID Blocking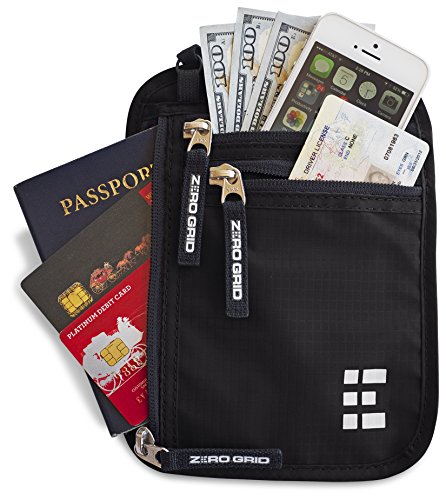 The best neck wallet on the market right now is compact and lightweight. This spacious and handy travel paper organizer comes with RFID technology to help keep your identity a secret and keep your passport, cards, and driving license safe from such risks. There are two outside zipper pockets and one larger internal zipped pocket for your more oversized items, such as your passport and travel itinerary. The wallet is made of waterproof nylon and has a fastener to help it clip to your belt or jacket to keep it completely safe while traveling or simply on the go.
All-In-One Travel Wallet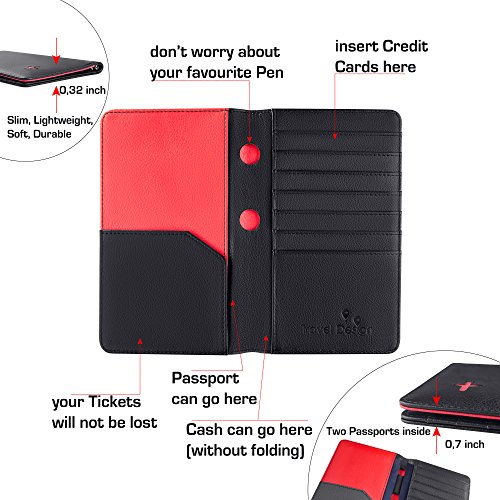 As the name suggests, this wallet helps you keep everything safe in one place when traveling. This pretty travel wallet can easily hold cash, several credit or debit cards, two passports, your boarding passes, and a pen. It also comes in two different color options, including black and red or flamingo pink, so you can simultaneously be stylish and safe!
Made of PU leather, the wallet is waterproof, durable, and compact enough to slip into your cabin bag without taking up too much room or weight allowance.
Zoppen Multi-Purpose RFID Blocking Travel Passport Wallet Organizer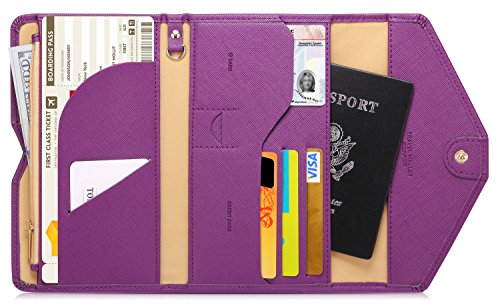 You might like this one if you're searching for a good travel wallet! This particular large travel wallet is a tri-fold design so that you can keep more important documents inside. Available in a wide range of different colors, you can easily match your purse to your luggage, and it will also be easily visible inside your bag. The wallet is made of eco-friendly PU leather and is waterproof.
Moreover, it is equipped with RFID technology to keep everything safe, including your identity. This women's travel wallet organizer has room for one passport, a boarding pass, three card slots, a sim card slot, a cell phone pouch, a zippered money pocket, a key holder, and a pen holder. This passport phone wallet may look small, but it certainly fits in more than you realize!
Bellroy Leather Elements Travel Wallet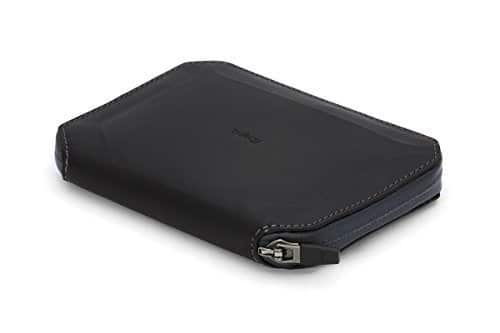 This choice is stylish, black, and looks high-end. It is made of a water-resistant material, with a zip closure consisting of heavy-duty leather. This is probably why it is one of the most expensive choices we will discuss. Is it worth it? If you like something stylish and sophisticated, then yes.
Inside this luxury leather travel document wallet, you will find a slot for your passport, multiple card slots, a pen holder, and space for your phone. While this is a very nice-looking travel wallet, quite sophisticated generally speaking, its features don't stand out above any other, cheaper options.
Pacsafe Luggage RFID-tec Women's Travel Wallet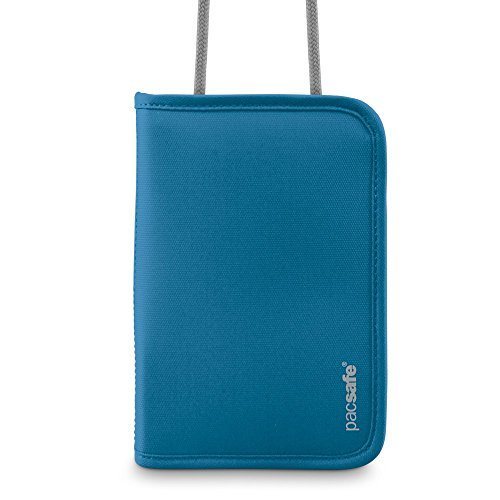 This women's passport holder comes in several colors and is a stylish option for traveling women on the go. This is an excellent value-for-money choice and offers a good level of security! The elastic closure means your documents are safe, and the RFID protection ensures your credit cards and passport are safe from those unscrupulous types who want to steal identities.
This casual wallet is undoubtedly one of the best travel wallets for women. This is more of a compact travel organizer than an actual wallet, so you can keep all valuable documentation in one place without worrying about pieces of paper randomly thrown in your hand luggage bag. This is a fantastic option if you're looking for the best travel wallet for women.
Herschel Supply Co Raynor Passport Holder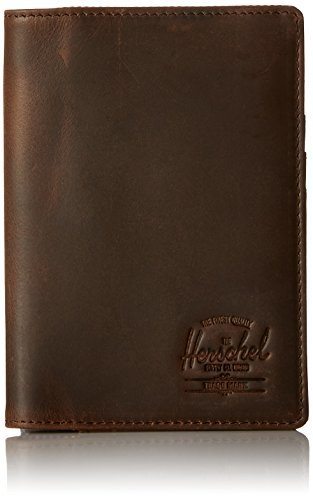 This is an excellent choice for fashion-conscious travelers, as it comes in different colors and designs. If you want a product that goes with your luggage, browse the available designs! I might be the best travel wallet for men who care about style and presentation.
The holder is made of polyester and is lined for extra safety to keep your documents away from water or other damaging substances. The downside is that this brown leather travel wallet doesn't have a closing mechanism and closes as a travel folder. You can store your passport and three credit/debit cards inside.
Kipling Travel Document Organiser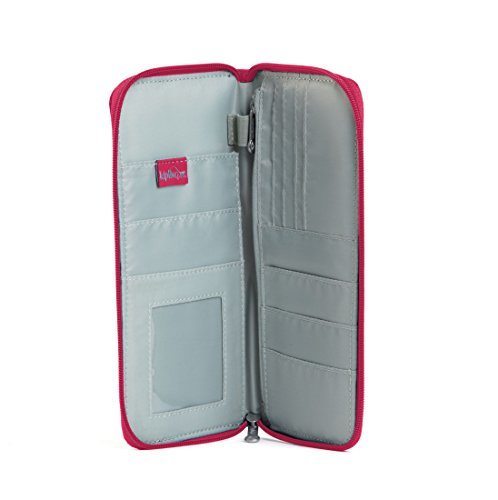 Kipling is a big name in the travel world, so this is a product you know you can trust. Because of the name isn't the cheapest, but it certainly isn't the most expensive either. Depending on your preference, you can choose from black or red, and the holder is made of nylon material with a zip closure mechanism. Store your passport in the large sleeve and your bank cards, credit cards, and ID in the multiple card pockets.
Knomad Leather Travel Organiser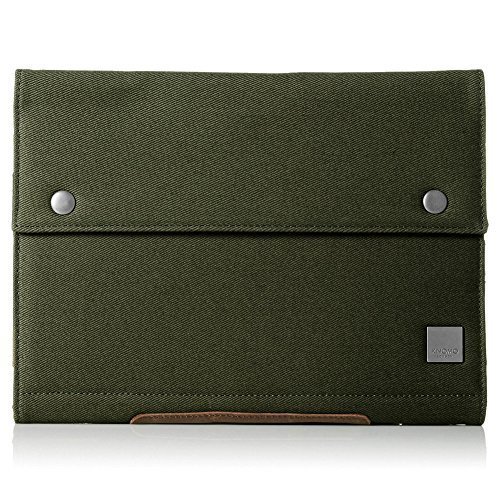 This is an excellent trip wallet choice for those who want to keep many different documents in one place, and again you can choose your color, from red or black. The product is made of 50% leather and 50% soft canvas, making it durable and easy to use. The snap closure makes it easy to use, and there is room for an 8″ tablet or smartphone on top of your passport and cards. Price-wise, this one is mid-range, making it ideal for busy travelers.
This is an excellent choice for keeping everything in one place, including your technological gadgets.
Shacke Hidden Travel Wallet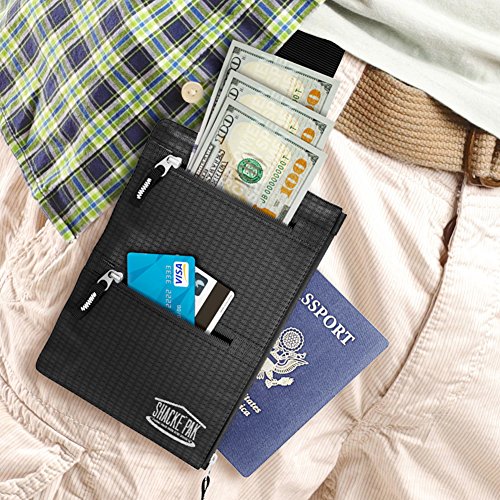 This is a hidden travel wallet, which means you strap it to your trousers' belt loop and tuck it between your clothing and underwear. The light and durable material make it comfortable to wear. There are three different pouches with zip closures to give you extra protection for your documents, cards, and cash. There is also built-in RFID anti-theft material to keep your data safe. Definitely a great option to have when looking for clip-on wallets for travelers!
RFID Blocking Leather Passport Travel Wallet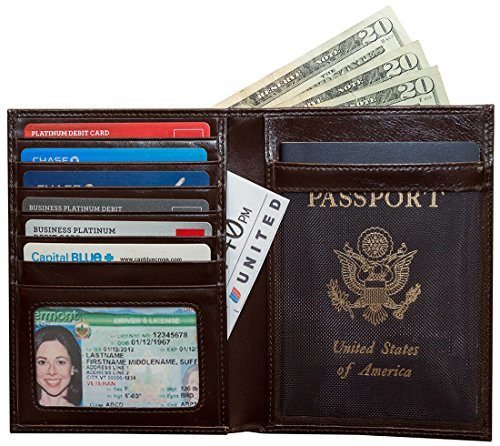 Made of leather, this product is stylish and looks great when navigating the airport. Firmly in the mid-price range, it is versatile, as it holds all different documents, from your passport, cards, and ID to tickets and cash.
There are six card slots, which is indeed plentiful, and a large slip pocket for boarding passes. On top of this is a mesh pocket for your passport and a large back pocket. The RFID-blocking material also does its job, making this one of the best leather travel wallets. We think this may be the best travel wallet for men who want a compact yet stylish wallet.
Leather Travel Wallet With Zipper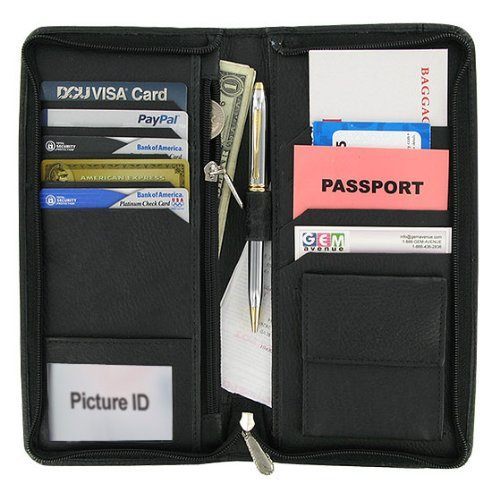 As the name suggests, this product is made of leather and has a zip-closing facility. Sitting in the mid-price range, there is one long pocket on the outside, which is ideal for your boarding pass, with easy reach when you're asked quickly in an airport shop or at the boarding gate.
There are also five credit card slots in this large travel wallet with a zipper, a snap-closing pocket for smaller items you may need to keep handy, and a pocket for your passport. You could argue that this is one of the best passport wallets, as it ticks all the boxes and is a quality product.
Samsonite Luggage Travel Wallet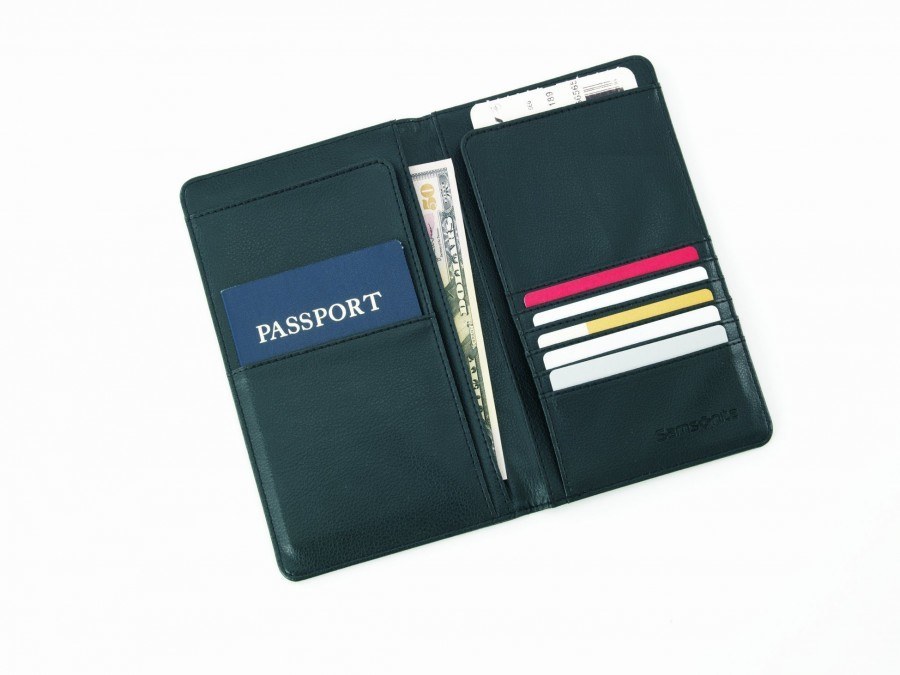 Again, a big name you know well, but this product is relatively cheap, considering a big-name brand makes it. Made of polyurethane, the wallet is large enough for a boarding pass and contains room for your passport, cards, and money. This passport and card wallet's textured material gives the impression of expense when it's relatively cheap, with a sophisticated black outer. Basic, but again, quality too.
Zero Grid Money Belt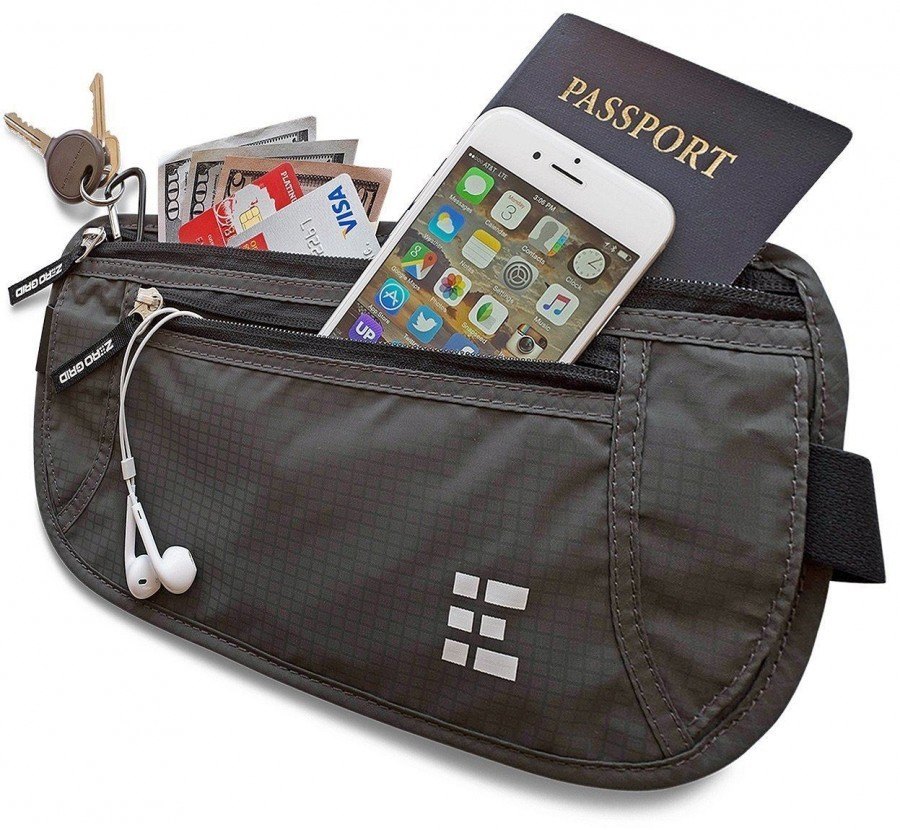 Our final choice is a money belt in different colors for style. Sitting in the mid-price range, this travel passport bag has built-in RFID technology, protecting your information. It is also an excellent choice for those wandering around crowded places. It's also a great choice as an adventure travel wallet.
You will find two zip compartments, with plenty of room for everything you need, with an adjustable strap for comfort. The breathable fabric of this pouch for travel documents also means you won't suffer from discomfort because of the proximity to your skin.
How To Decide Which Travel Wallet Or Passport Holder To Buy
You wouldn't simply buy any old product to suit your needs, so the same reasoning needs to be applied to purchasing a travel wallet or passport holder. Of course, you want something jazzy, something you like, but aside from this, you need to identify specific factors:
Size
You need a big enough product to hold everything, but not so big that it is evident what it is. This is a personal decision, but the A5 size would be sufficient for my needs, particularly for me.
Security Features
If someone wants to steal your belongings, then, believe me, they will know precisely what they are doing. For this reason, you need a product with intelligent thinking behind it, equally as brilliant as these thieves think! Anti-slash fabric will protect against anyone trying to rip into your wallet or holder's material to steal the contents.
Budget
There is a range of products on the market for different budgets, so you don't need to splash the cash too much to find the ultimate travel wallet or passport holder to suit your needs. If you want a brand name with extra pizazz, you will pay for it. Generally speaking, you can find high-value products in the mid-budget range.
Durability
In most circumstances, you get what you pay for. If you purchase a flimsy product, you'll find that it doesn't do the job simply because it costs less. In turn, you end up losing more than you bargained for. Buying online is a good idea, but look into the reviews (we have the best ones below) before you go for it to check durability.
Family Needs
Do you need a passport holder or travel wallet for multiple passports or more than one set of documents? If so, i.e., in the case of a family of four, perhaps, you need a product with extra room for this.
Material
I would go for leather simply because it is a little more luxurious, lasts, and is durable. Of course, there are other material products on the market, and it's a personal decision for you, such as plastic, for one example. If you want anti-slash material, as we mentioned above, you need to pay probably slightly more, but it is also worth it.
Alternatives To A Travel Wallet Or Passport Holder
Not everyone likes to have a specific travel wallet or make the passport holder's extra purchase, but almost every guy I know wears a belt! So, why not combine your travel safety and everyday routine into one with an Active Roots Security Belt?
This belt contains a hidden zippered security pocket to hold your valuables while you're on the road—a great hiding spot for cash, a paper passport copy, cards, or other travel documents.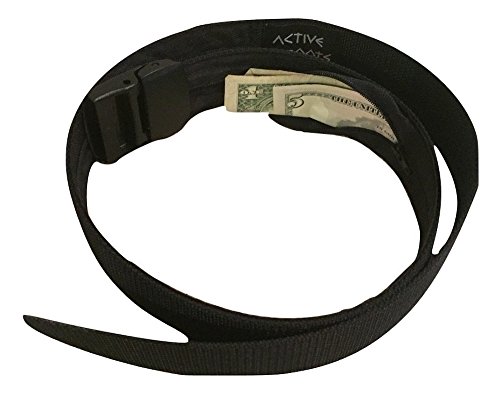 We hope you liked these travel wallet reviews. If so, which travel wallet or passport holder will you choose?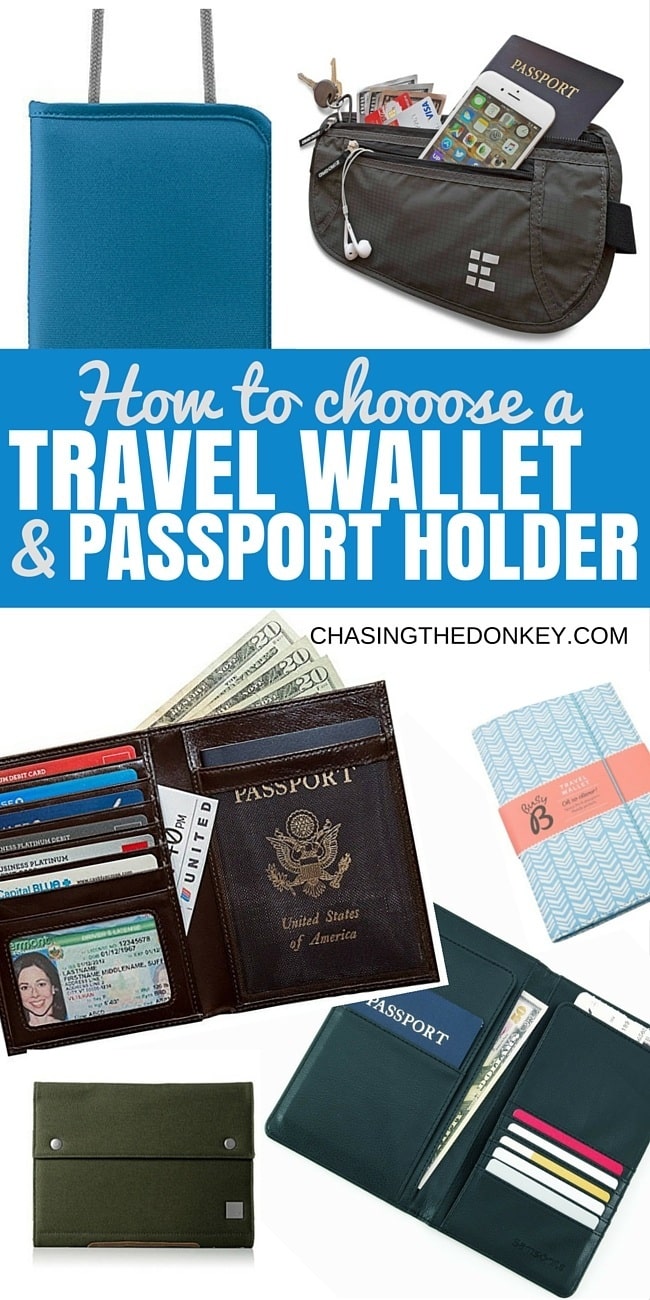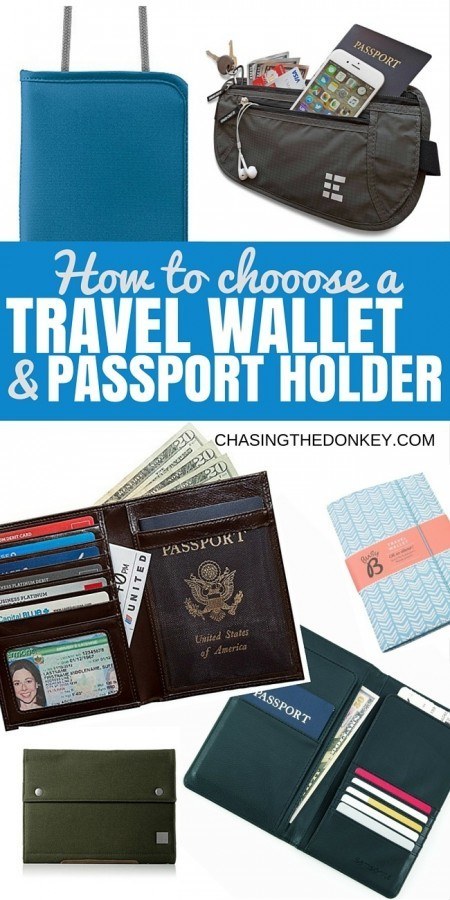 More Packing & Travel Products Tips