Turkey Solo Travel Guide For Women
More and more people are flocking to Turkey's beautiful beaches and historic cities. It's no wonder, really – just Google them, and you'll see how fantastic they look.
But is Turkey a safe spot for female travelers? And, if so, where should you go when traveling in Turkey solo?
Let's explore this subject and answer common questions like 'is Turkey safe for solo female travelers?' or 'how to travel around Turkey alone?'
Should You Go On A Solo Trip To Turkey As A Female Traveler?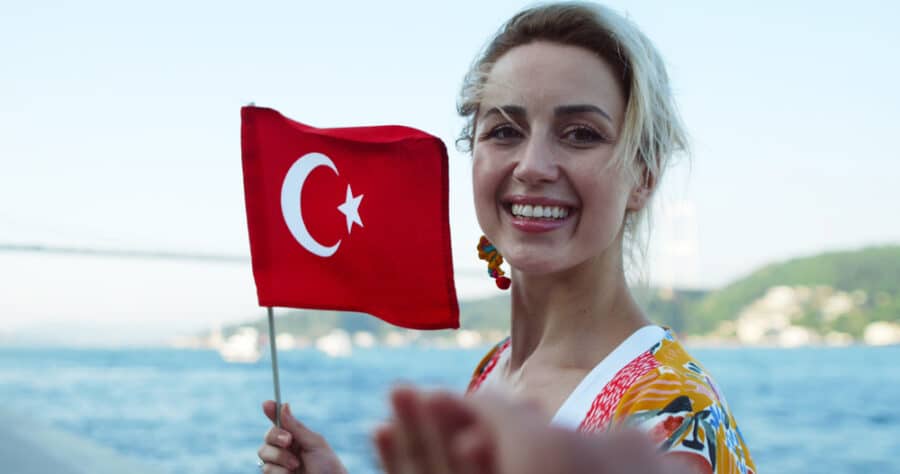 Yes, yes, and yes again.
Turkey is safe for female solo travelers. A solo trip to Turkey is no more dangerous than visiting any other country by yourself. You simply need to use your common sense as you would anywhere else in the world. For sure, there are some spots where you may prefer to cover up a little more if you don't want to attract unwanted attention, but that's the extent of it.
If you're keen to explore Turkey on your own or go backpacking through Turkey alone, you'll find the locals very friendly and eager to help. However, it does depend on where you go to a degree.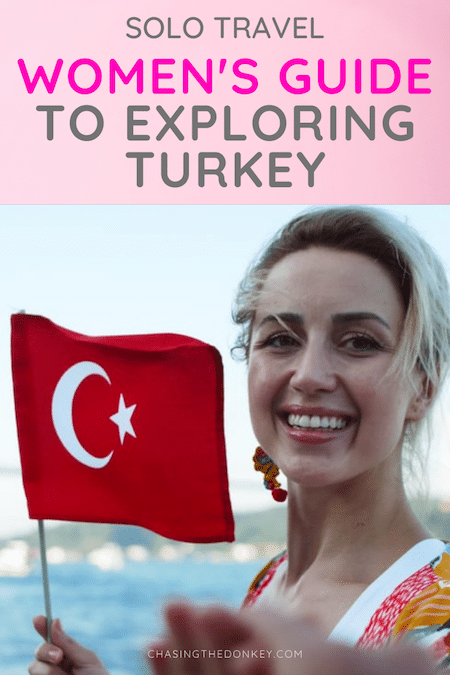 Tips For Traveling To Turkey Solo As A Female
There are parts of Turkey that are more westernized than others. For instance, Istanbul, Ankara, Izmir, and the southern tourist resorts are all very westernized, and you'll feel literally at home in those places. Yet, even if you head to a tourist resort, you'll find small villages just a stone's throw away.
These are the ideal spots to explore if you want to see a taste of the 'real' Turkey, with a safety net of being close to tourism. For instance, very close to Marmaris you'll find small villages on the way to the airport.
As you head away from these more westernized areas, you'll find a more authentic way of life. For instance, if you head to the southeast of Turkey, you'll find that life is vastly different from how you experience life in Istanbul and towards the west.
These are the places you need to be a little more careful. Not because there is no inherent danger, but because you will stand out like a sore thumb in these parts of Turkey. That means you need to dress in a particular way and be more on your guard. That's all.
Let's check out some tips for traveling in Turkey as a solo female traveler. These are the main things to know before traveling to Turkey alone as a woman.
Keep A Scarf In Your Bag
If you head to a mosque, you'll need to dress modestly, and you'll need to cover your head. You never know if you'll spot a beautiful mosque that you want to explore, so keep a scarf in your bag just in case.
This also helps if you're out and you feel a little awkward or want to blend in a little more. In that case, simply cover your head. However, it's worth mentioning that many women in Turkey don't do this anyway.
Dress Modestly In General
Unless you're in a beach resort, it's worth dressing modestly. The same advice goes for any country because if you dress provocatively, you're going to attract unwanted attention when you're on your own.
If you're in Istanbul, this isn't so much of a problem, but if you're in the central parts of Turkey, the Black Sea coast or you're anywhere towards the east and southeast, you'll want to cover up a lot more. That means covering your arms to your elbows, your legs and avoiding tight clothing.
Don't Accept Hospitality Too Easily
You'll find that Turks are very welcoming in general, and they love to be hospitable to their guests. As a female solo traveler in Turkey, you'll probably grab the attention a little more, and while people in villages and towards the east are just curious and want to know more about you, you should never accept too much hospitality.
Don't go into someone's house you don't know. Don't accept a lift from a stranger. These are all common sense things with regards to solo female travel in Turkey, but when you're carried away with the novelty of a situation, it's easy to forget them.
Stay Away From Any Protests/Large Gatherings
Sometimes you'll notice protests or large gatherings for a cause. It's best to stay away and go elsewhere. You might want to find out what the protest is about, but it's not a safe situation.
This is likely to be the case in Taksim Square, Istanbul, which is a very popular area for protests. Remember, you're seeing the country and enjoying it, so simply stay out of anything that could cause you a problem.
It's Best To Avoid The Syrian Border
There are some beautiful places along the border between Turkey and Syria, but due to conflict in the area that's been going on for years, it's probably better to avoid there for the time being. Places like Gaziantep, Mardin, and Hatay are really beautiful and definitely places you'll want to go, but if you do choose to go there, be more cautious and keep your eye on the news – just in case.
Use Guided Tours For Areas You're Not Sure About
If you're keen to go to off-the-beaten-track destinations, but you're not too sure about going alone, you'll find countless guided tours that will show you the best sights in a more reassuring way. It's not that it's unsafe to go alone; it's simply that you'll probably feel more comfortable with other people.
Keep An Eye On The News
As with any destination, it's a good idea as a female solo traveler to check the news for any updates that you need to know about. Also, check-in with friends and family back home and let them know where you're going. You'll find Internet access excellent throughout the country, so you'll have no issues on that front.
Overall, Turkey is very welcoming to female solo travelers. You just need to use your common sense and listen to your gut if you feel uncomfortable or unsure about anything. If you're prepared and aware of local customs, traveling solo in Turkey is a piece of cake and as safe as anywhere else.
Best Places In Turkey For Female Solo Travelers
Now you know that you can definitely head to Turkey as a female solo traveler, let's check out some suggestions of where you can go and have a great time.
Istanbul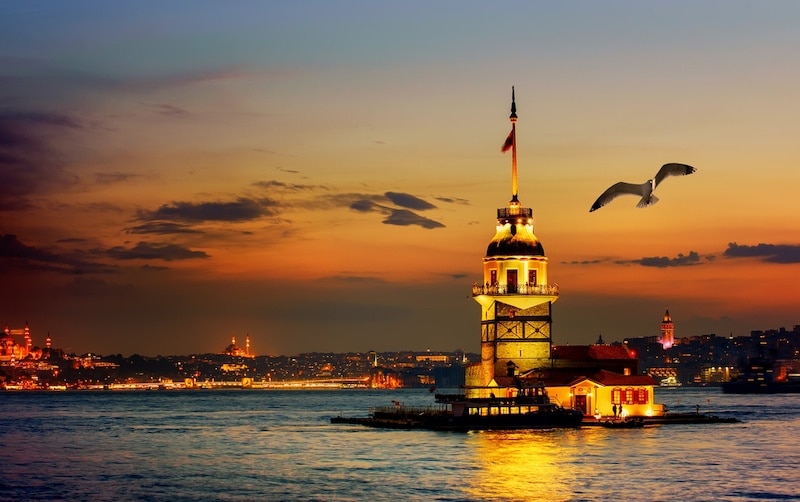 Without a doubt, Istanbul is one of the must-visit spots in the country, if not the world! You'll find more history here than many other countries alone and so much to see and do.
Fethiye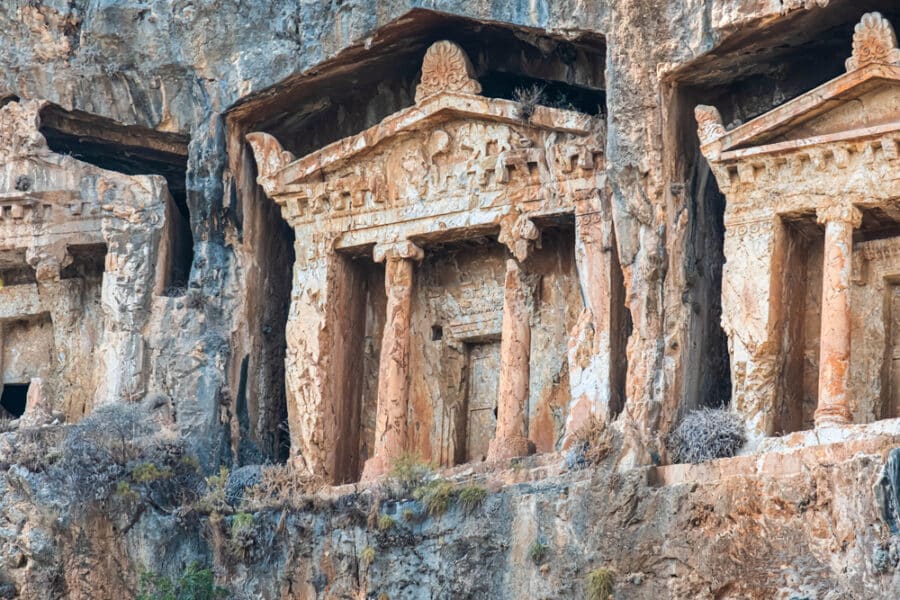 If you want to check out the Mediterranean coastline but you're not too keen on party resorts, Fethiye is a good option. This has a slower pace of life, and many expats live there. You're also within easy reach of Dalaman Airport, as well as spots such as Olu Deniz and Marmaris if you choose to travel further.
Izmir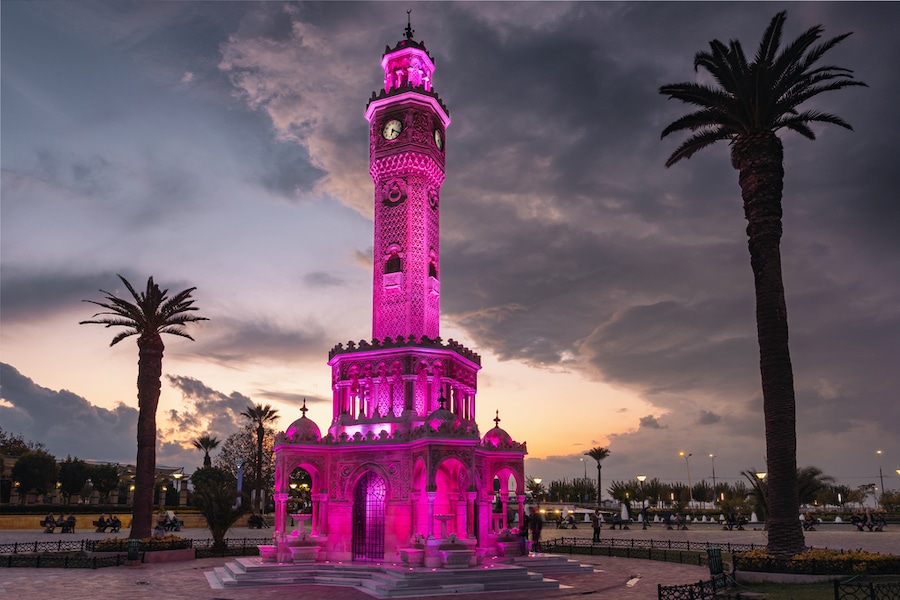 One of the most cosmopolitan cities in Europe and a must-do when you're in Turkey. Izmir has a really young vibe, but it's packed with history, shopping, culture, and outstanding nightlife too. Izmir is also really close to Ephesus, an ancient city that is a living, breathing museum.
Cappadocia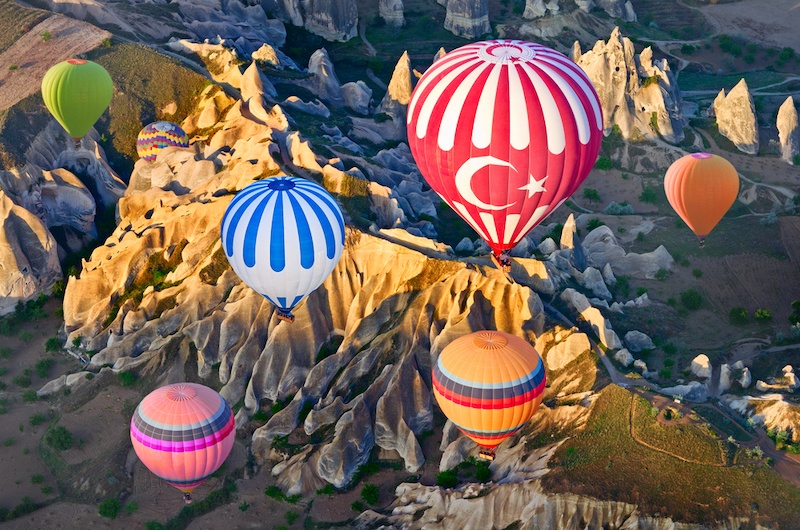 If you've always fancied a hot air balloon ride, there's nowhere better than Cappadocia. Here you'll soar over the stunning landscape, and you'll also have the chance to stay in a cave hotel. The Goreme Valley is full of rock formations that look like fairy chimneys, and if you head there in the winter, it's a stunning sight to see the area blanketed with snow.
Bursa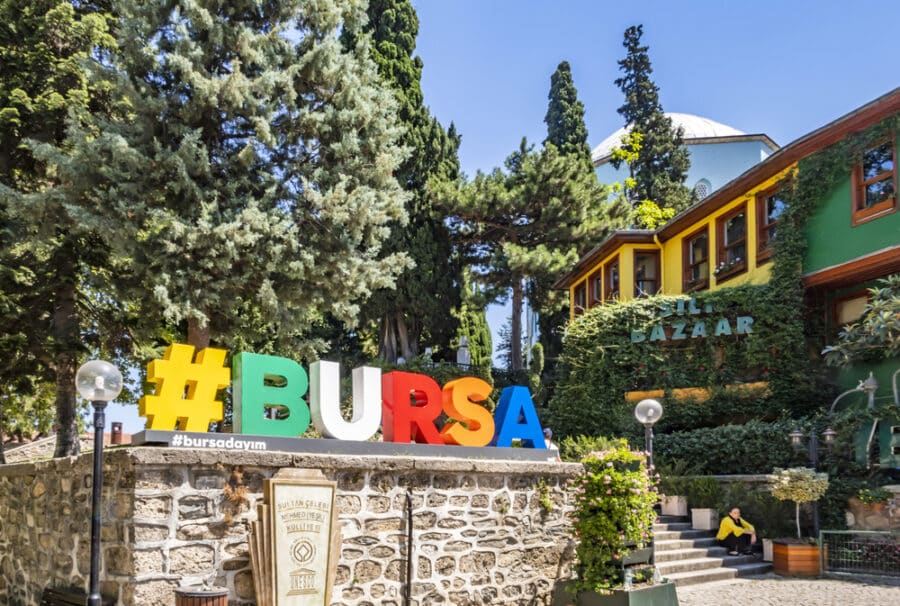 Around an hour away from Istanbul, you'll find the fascinating city of Bursa. Packed with things to see and do, it's also very close to the biggest ski resort in Turkey – Uludag. Whether it's winter or not, the mountainous region is something you have to see for yourself, and you can also stay in some stunning hotels.
Antalya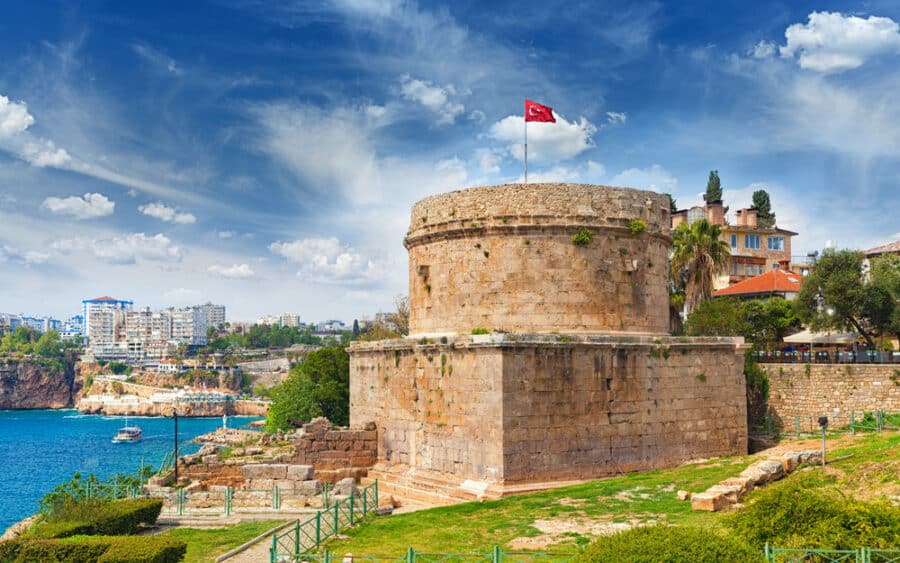 Along the southern coast, you'll find the city of Antalya. The plus point of staying here is that it's packed with things to do, but it's also got that laid-back feel, perfect for female solo travels. You're within close reach of several beach sorts, but the city itself has a huge, sweeping beach to chill out on. Be sure to check out the local waterfalls while you're there.
Bodrum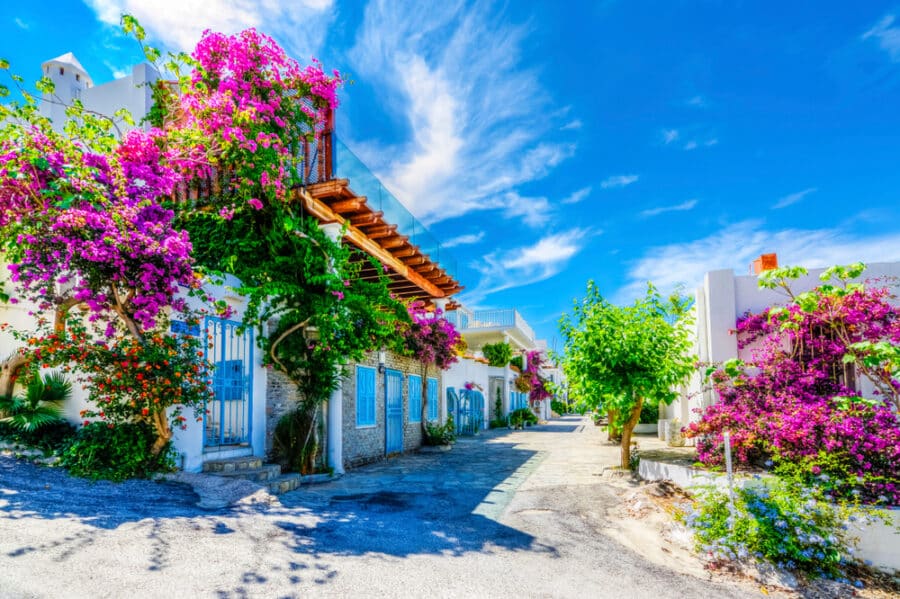 Along the south-western coast, you'll find the town of Bodrum. This is a pretty cosmopolitan and upmarket spot, and it's where the millionaires head with their huge yachts! The castle is a must-visit, as well as the waterfront seafood restaurants. For designer shopping, this is a great spot too.
These are just a handful of spots you must visit when heading to Turkey solo. Which one will you choose first?
Share