We may earn commission from affiliate links →
Best Day Trips From Antalya, Turkey
If you are looking for a central place to stay in Turkey from where you can explore the country's notable landmarks and history, the city of Antalya might be the answer! In this blog post, we share the best day trips from Antalya!
Antalya has it all! From ancient Roman ruins to beachside retreats on the Mediterranean Sea. If you are staying here for more than two days, we highly recommend you visit some incredible places in the vicinity of Antalya.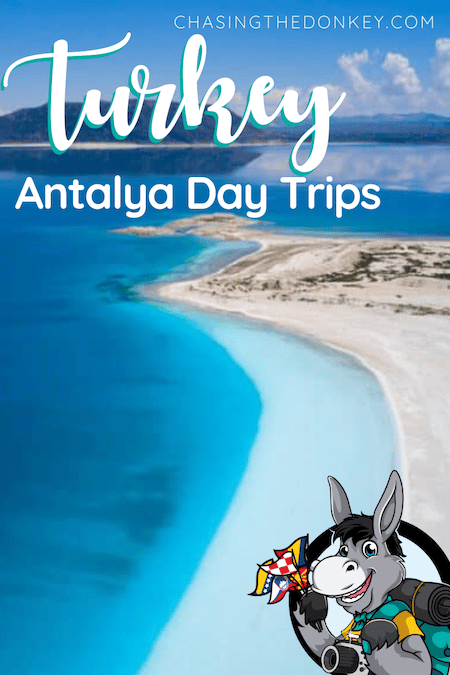 Day Trip From Antalya To Pamukkale
Pamukkale is not a "real" village; it is more like a base for visiting the site with many hotels, restaurants, and small shops. The drive from Antalya to Pamukkale takes around 3 hours. You can go there by car, public bus (a one-way ticket is usually around 20 euro) or with travel agencies which will organize a private minibus or luxury van. Here are our suggestions for what to see and do in the Pamukkale region:
How Air Balloon Tour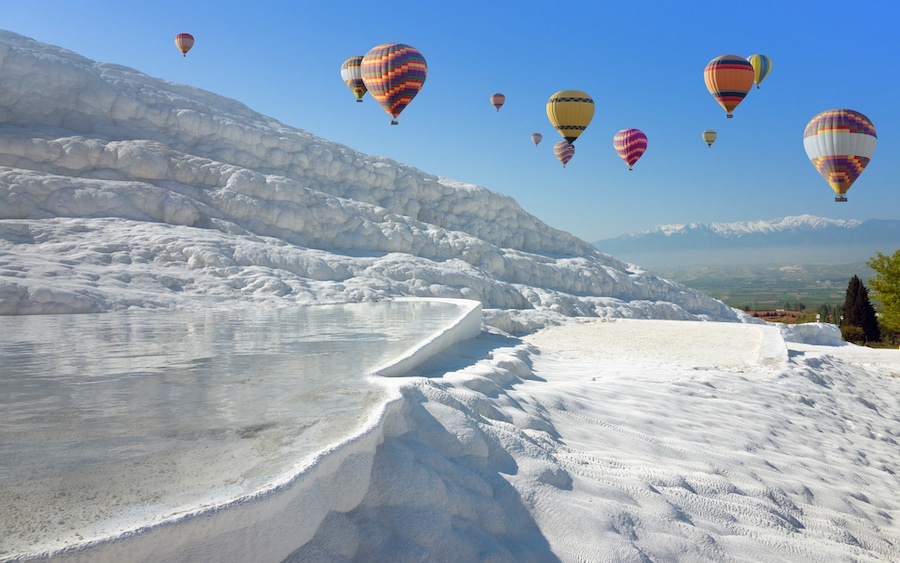 These hot air balloon tours are organized regularly all year long, but only in good weather conditions. You will watch how the crew prepares the balloons and may take as many pictures as you like. Locals will suggest you start the balloon ride early in the morning, as the most beautiful views will be at sunrise. The Hot Air Balloon flight will take around 1 hour, and you will witness the beautiful sceneries of Pamukkale and the remains of the ancient city of Hierapolis. Prices for the ride start from 99 euro.
The Ancient City Of Hierapolis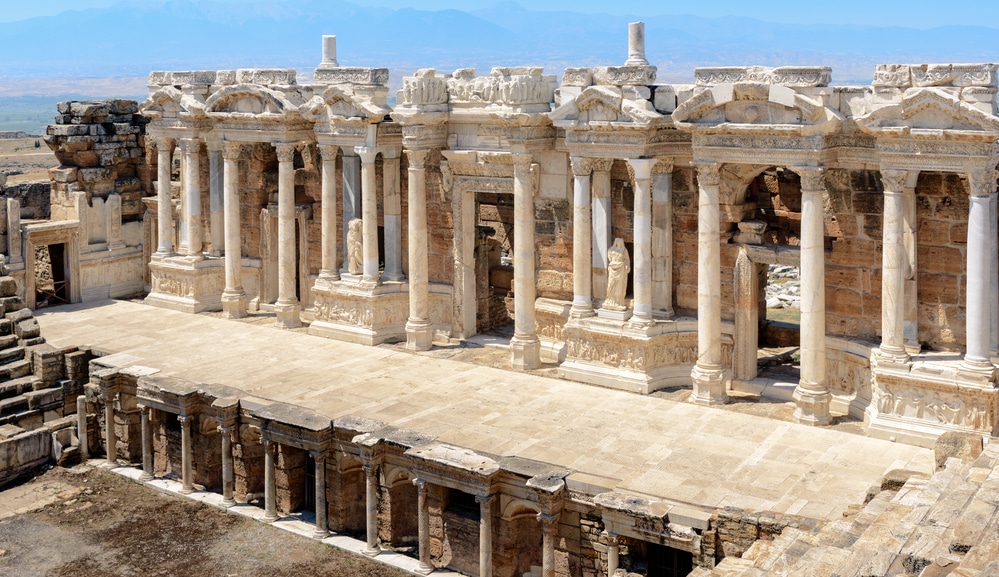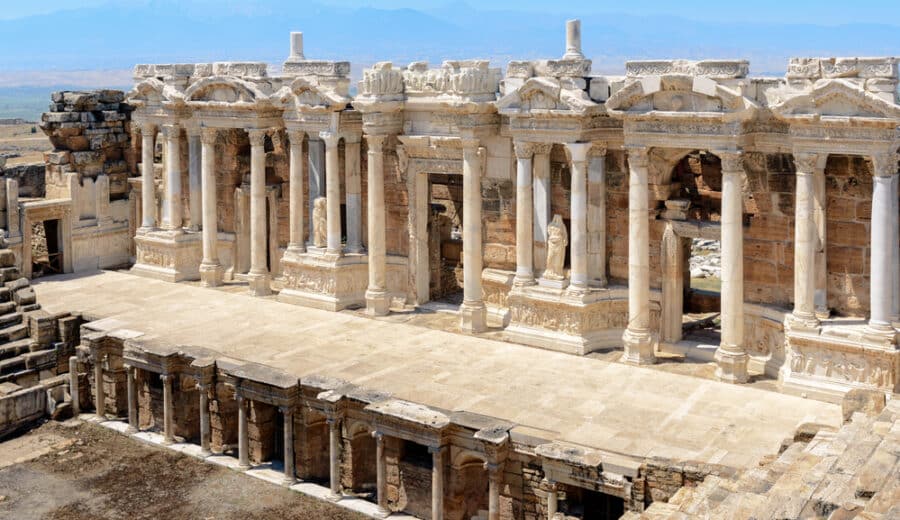 This impressive site is among the UNESCO sites of cultural heritage. This is because, during antiquity, the city used to be a spiritual and healing center because of the nearby hot springs (the area is famous for a carbonate mineral left by the flowing of thermal spring water. You can observe the Roman baths, the ancient theatre, and the necropolis during your time there.
Cotton Castle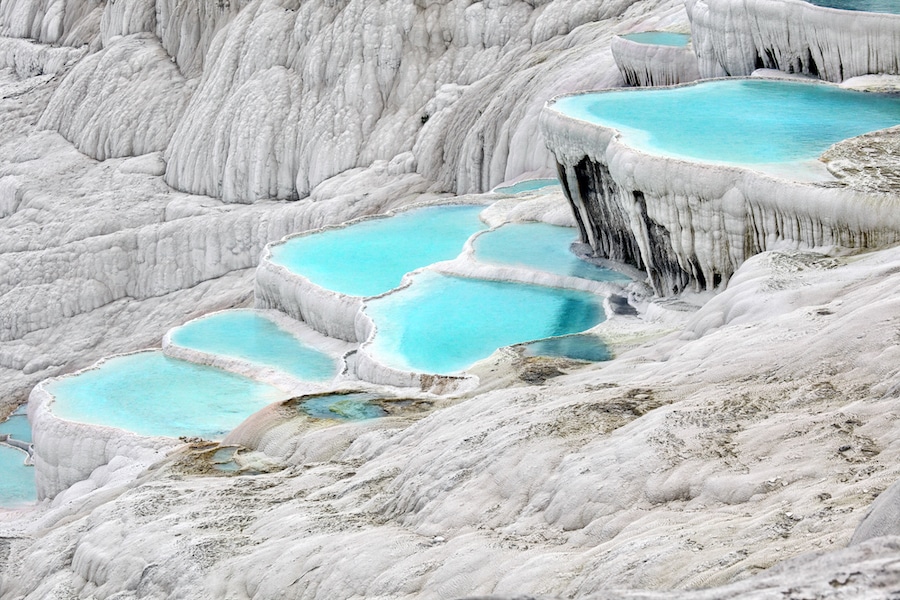 This impressive natural wonder will take your breath away with its extreme natural beauty. The white color mountain is full of natural pools filled with fantastic water from the hot springs. While there, You can walk around to admire this natural beauty or swim in the hot. The infamous Cleopatra's Pool is located a short distance for those interested in experiencing more therapeutic benefits of the hot springs. Entrance there is at an extra cost (around 10 euro).
Salda Lake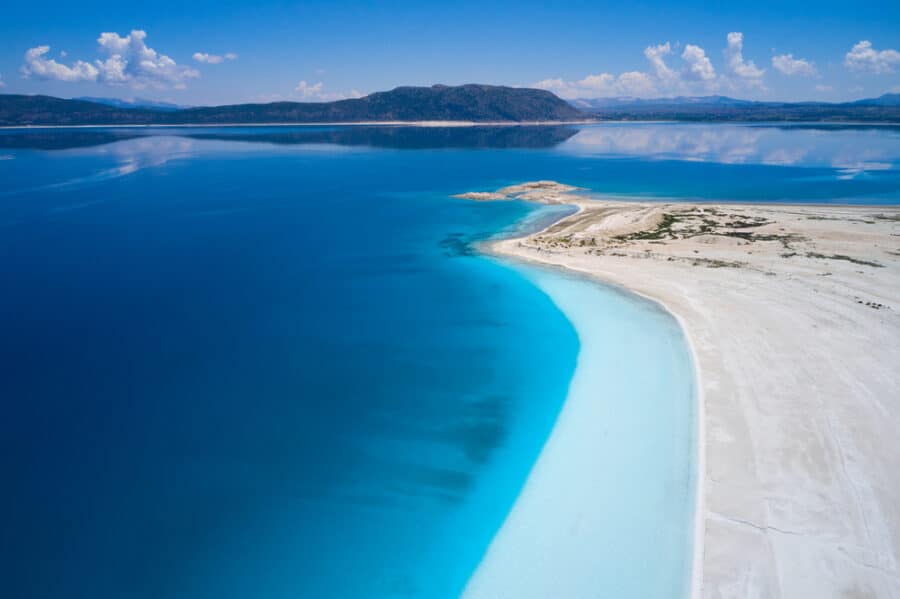 Salda is listed among the cleanest lakes in Turkey and is composed of a limestone-like structure. You can take some spectacular photos, admire the views, or enjoy a romantic walk during your time there.
Day Trip From Antalya To Korkuteli And Denizli City
On your way to Pamukkale, you can choose these cities as your pit stop. Both of them are great for experiencing local cuisine and culture. At Denizli, you can visit the handcrafted carpet center and wine production center and buy great authentic souvenirs.
Antalya Paragliding Experience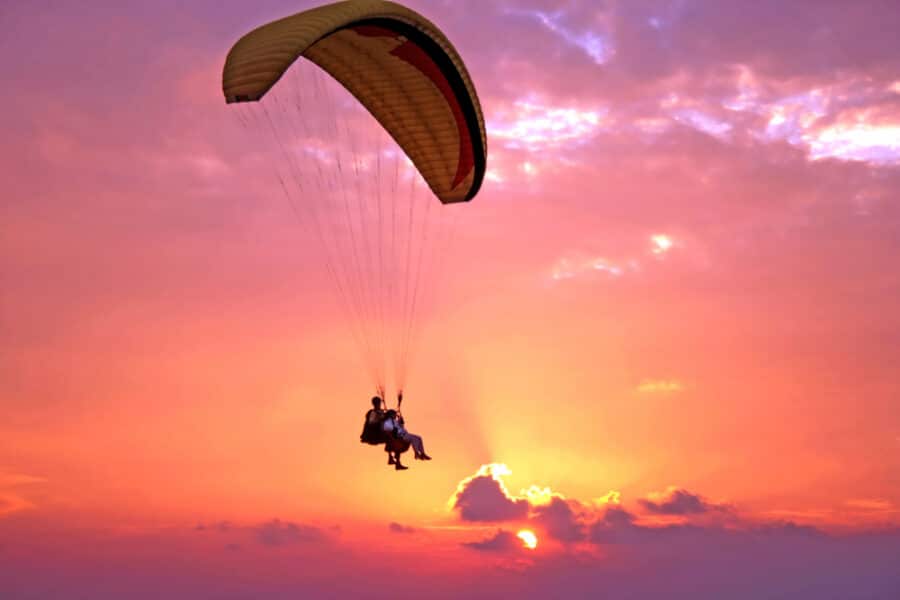 Have you always wanted to know how to feels to be flying? Cleopatra Beach is one of the most beautiful beaches in Antalya, and what better way to see it than from the air? Add some extra excitement to your vacations and create memories that will last forever by joining this thrilling activity.
Flights are offered every day, but only in the morning. Local agencies are offering paragliding experiences starting from 60 euro. Agency will transfer you towards Alanya, at the paragliding flight station on Cleopatra's Hill. The road trip takes approximately 2 hours. When you arrive at the station, at an altitude of 700 meters, you will meet a team of professional instructors. Once ready, the instructor will attach you to his body, and you will take off from the edge of a cliff. From there, you will experience a fantastic sense of freedom.
The paragliding flight is approximately 20 – 30 minutes long and ends at the beautiful Cleopatra beach.
Day Trip From Antalya To The Taurus Mountains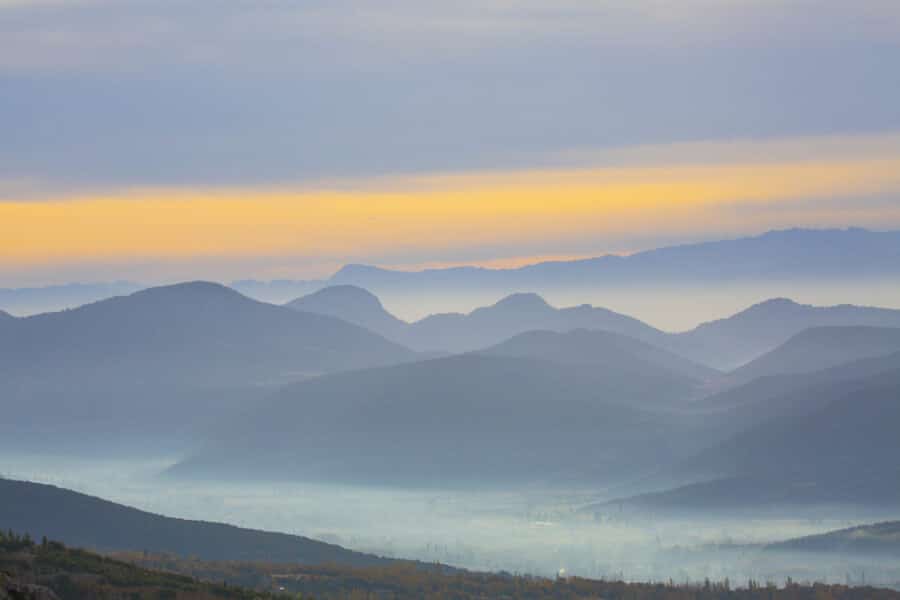 Eagle Canyon Tour
If you want to fill your vacation with excitement, we recommend booking a tour of the Taurus Mountains. Tours are available on a year-round basis and combine exploration with sightseeing. The tour takes you to discover the impressive beauty of the Taurus Mountains. Are you ready? Nature is waiting for you.
The road trip from Antalya toward the Canyon takes approximately 2 hours. During the road trip, you will visit a 2000-year-old Roman bridge and Saint Paul's Road, which is of high importance to the Christian population. Your visit to the infamous Eagle Canyon is what truly sets this tour apart. Once you arrive, you will have 45 minutes to explore the area's majestic and wild beauty. Eagle Canyon has massive cliffs, some of which are over 400 meters high. Every visitor is enticed and impressed by the tranquil setting and lush vegetation.
Canyon Rafting Tour
Take the opportunity to participate in an extreme rafting experience. You will be given the necessary equipment, and a professional instructor will walk you through the process of rafting. Your adrenaline levels will undoubtedly rise due to the river's wild, foamy, and splashing waters. Rafting tours are around 50 euro per person.
Selge Ancient City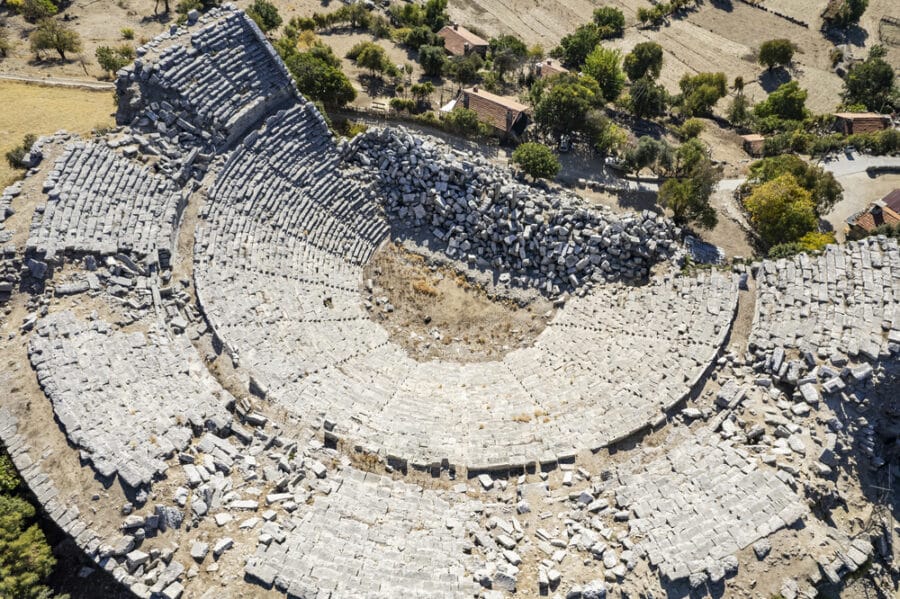 Just 2 hours from Antalya, this ancient settlement has a fascinating history and multiple ruins. Among the main highlights is a 2200-years old Roman theatre.
Antalya Buggy Safari
An adventure that reminds you how young you still are! This is for you if you love having a steering wheel between your hands. Let's take you on a buggy adventure through the Taurus Mountains. Prepare to be awestruck by breathtaking wilderness and landscapes just one hour from Antalya's Old Town.
You can reconnect with nature and unwind by driving through rivers and mountains. The Taurus Mountains' roads will take you through wooded areas, quiet valleys, lakes, and forests n. You'll be able to smell the forest's freshness and hear the birds.
You don't need any experience or a driving license to drive a buggy, but the driver has to be 16 years or older. Although the buggies are light, they are relatively fast. They are automatic and easy to drive. You can rent one for around 40 euro.
The Land Of Legends Theme Park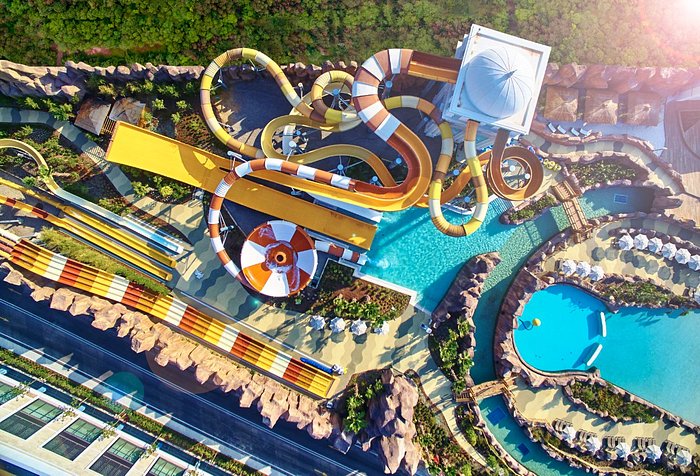 Enjoy a day of family-friendly fun by exploring the excitement of the Land of Aqua and Waterfront Kingdom, two distinct zones. This is our recommendation for the kids, but adults can enjoy it too. No judgment.
You can have all-day access to high-speed rides, four roller coasters, water slides, animal shows, and a 5-dimension cinema. Try the Hyper Coaster, which takes you from 200 feet (61 meters) to a 142 feet (43,5 meters) diameter loop at speeds of 72 miles per hour (115 kilometers per hour), or the Deep Dive slide, which sends you almost vertically down. Later, unwind by gliding down the Lazy Floats River's gentle currents or having a blast with the family at the Secret Lagoon's Spray Action multi-level playground.
Those are our top picks for the best day trips from Antalya. We are sure that everyone can find something for themselves on the list above. Enjoy Antalya, and come back again soon!
MORE INFO ABOUT VISITING ANTALYA
We have written a couple of other articles about Antalya
And no stay in Antalya would be complete without tasting some of the best food Antalya has to offer. Here is our post on the best restaurants in Antalya.
Share