If you are looking for a central place to stay in Türkiye from where you can explore the country's notable landmarks and history, the city of Antalya might be the answer! In this blog post, we share the best day trips from Antalya!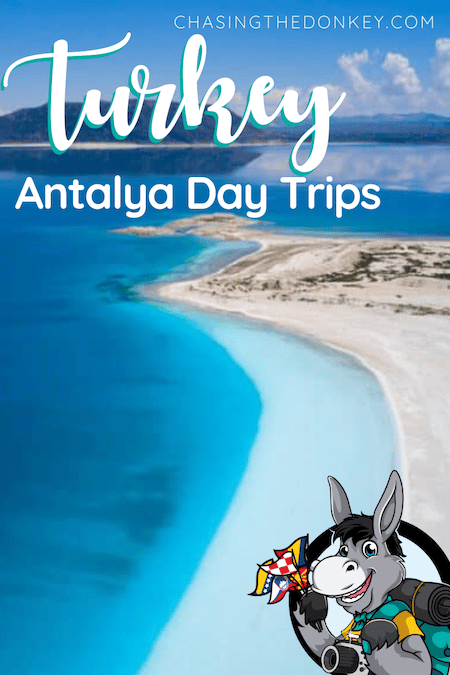 Antalya has it all! From ancient Roman ruins to beachside retreats on the Mediterranean Sea. If you are staying here for more than two days, we highly recommend you visit some incredible places in the vicinity of Antalya.
Day Trip From Antalya To Kekova Island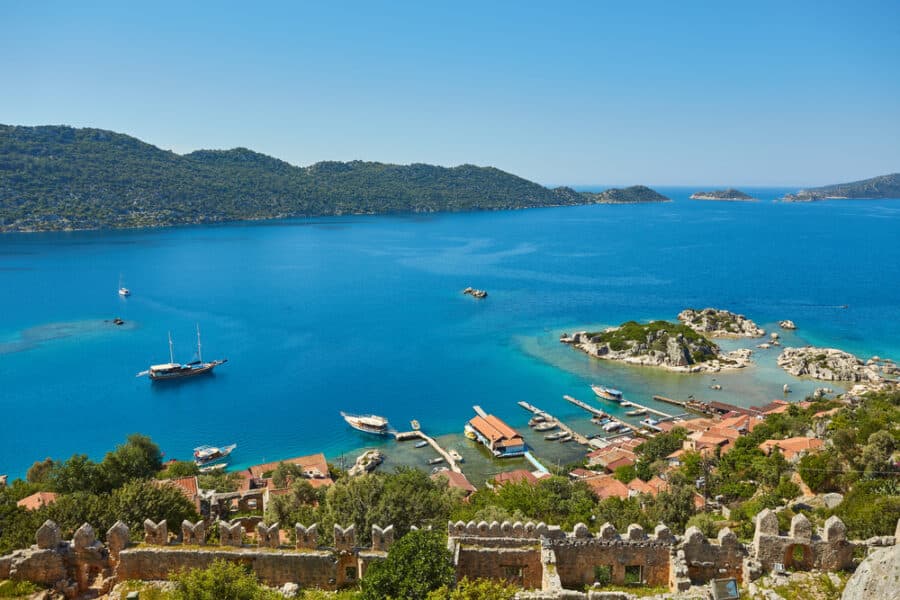 When staying in Antalya, make sure you find the time to head to Kekova Island, one of the best Turkish islands near Kalekoy village. Here you'll find underwater ruins which date back to Lycian times, and you can visit them directly by boat or kayak. The ruins were thrown into the sea by a massive earthquake believed to have occurred during the 2nd century. The ruins are now known as the "Sunken City."
It's impressive to see first-hand, but the whole island is nothing short of beautiful in its own right. This part of Turkey is packed with ancient ruins, and even a quick visit to Kalekoy will allow you to see the ancient ruins of Simena and a massive fortress on the hilltop.
You can find day trips that head to Kekova easily from most beach resorts in the Antalya region, with Kas being the closest.
Day Trip From Antalya To Duden Waterfalls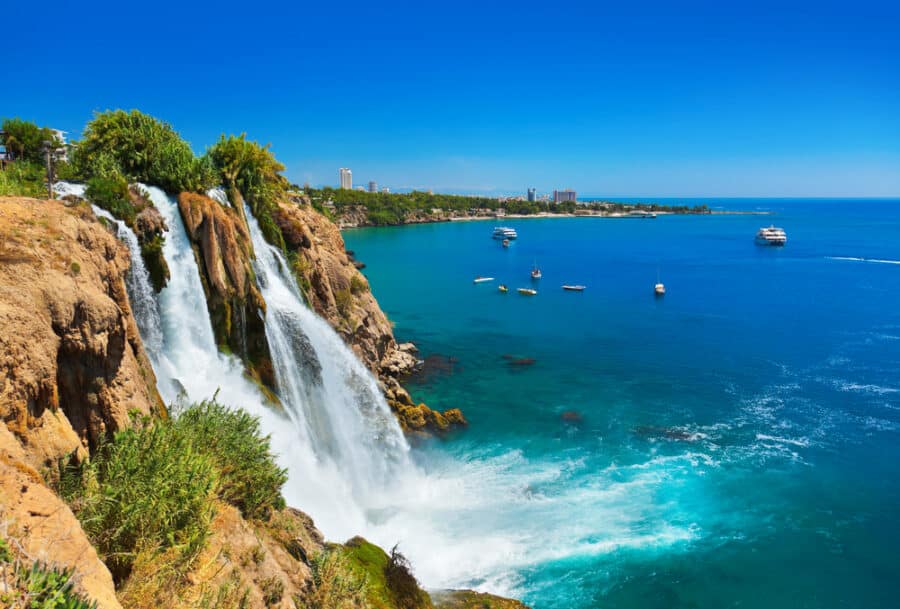 Every year, millions of visitors head to the Antalya region, but few know about the beauty of the waterfalls that are just a stone's throw from Antalya International Airport! These coastal waterfalls are arguably among the most beautiful places in Turkey to visit.
The waterfalls are formed from the cascades of water spilling down Mount Taurus before heading to the sea. As the light fades and the sun sets, the water begins to glisten and forms beautiful waterfalls that you must catch on film.
Duden Waterfalls are situated in a protected park, so there's plenty of greenery to chill out in, and it's never too crowded, apart from during important national days in Türkiye when locals head out with their family members to spend some time together in the sun.
You can reach the waterfalls on your own steam by hiring a car; they're only around 15 minutes from the airport, or you can book a tour which is probably the easiest way. Tours take you to the foot of the waterfalls, or you can go on a boat trip and see them cascading into the sea for yourself.
Day Trip From Antalya To The Land Of Legends Theme Park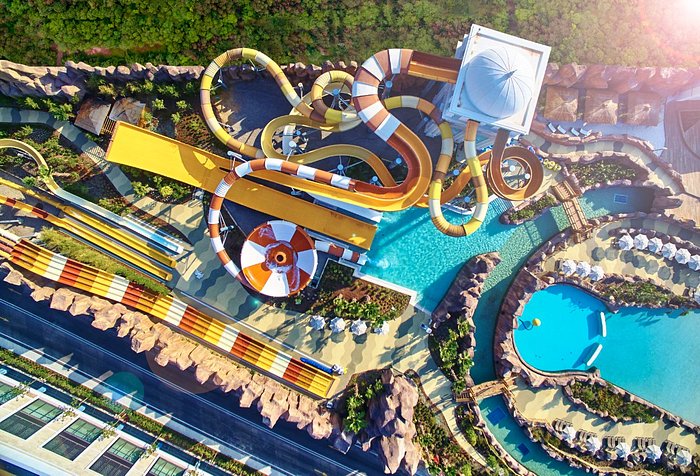 Enjoy a day of family-friendly fun by exploring the excitement of the Land of Aqua and Waterfront Kingdom, two distinct zones. This is our recommendation for the kids, but adults can enjoy it too. No judgment.
You can have all-day access to high-speed rides, four roller coasters, water slides, animal shows, and a 5-dimension cinema. Try the Hyper Coaster, which takes you from 200 feet (61 meters) to a 142 feet (43,5 meters) diameter loop at speeds of 72 miles per hour (115 kilometers per hour), or the Deep Dive slide, which sends you almost vertically down. Later, unwind by gliding down the Lazy Floats River's gentle currents or having a blast with the family at the Secret Lagoon's Spray Action multi-level playground.
Day Trip From Antalya To Alanya
The popular seaside resort, Alanya, is nestled in front of the Taurus mountains. With beautiful beaches, vibrant nightlife, and rich culture, there is so much to see and do in this beautiful destination. Here are some ideas of what to do in Alanya and on the way there:
Antalya Paragliding Experience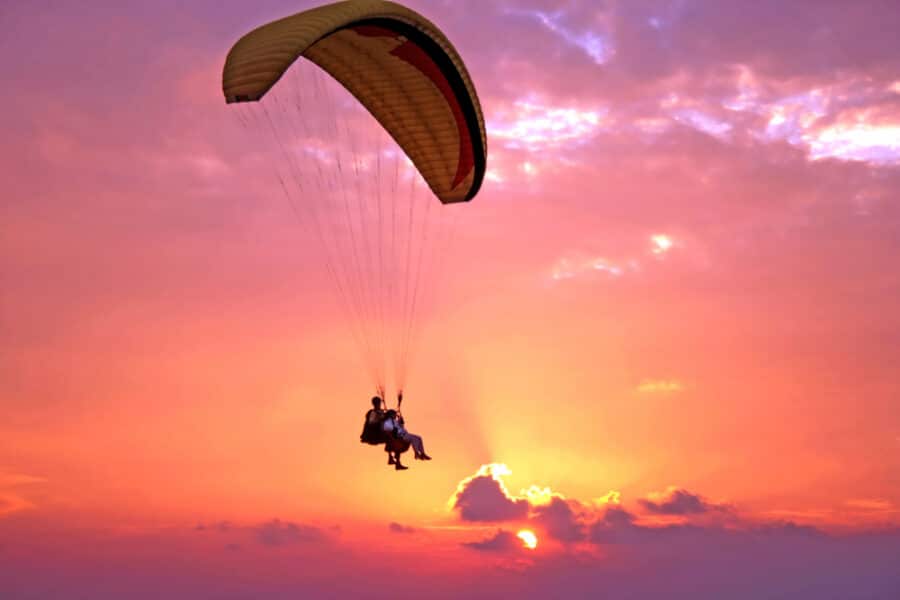 Have you always wanted to know how it feels to be flying? Cleopatra Beach is one of the most beautiful beaches in Antalya, and what better way to see it than from the air? Add some extra excitement to your vacations and create memories that will last forever by joining this thrilling activity.
Flights are offered every day, but only in the morning. Local agencies are offering paragliding experiences starting from 60 euro. The agency will transfer you towards Alanya, at the paragliding flight station on Cleopatra's Hill.
The road trip takes approximately 2 hours. When you arrive at the station, at an altitude of 700 meters, you will meet a team of professional instructors. Once ready, the instructor will attach you to his body, and you will take off from the edge of a cliff. From there, you will experience a fantastic sense of freedom.
The paragliding flight is approximately 20 – 30 minutes long and ends at the beautiful Cleopatra Beach.
Cleopatra Beach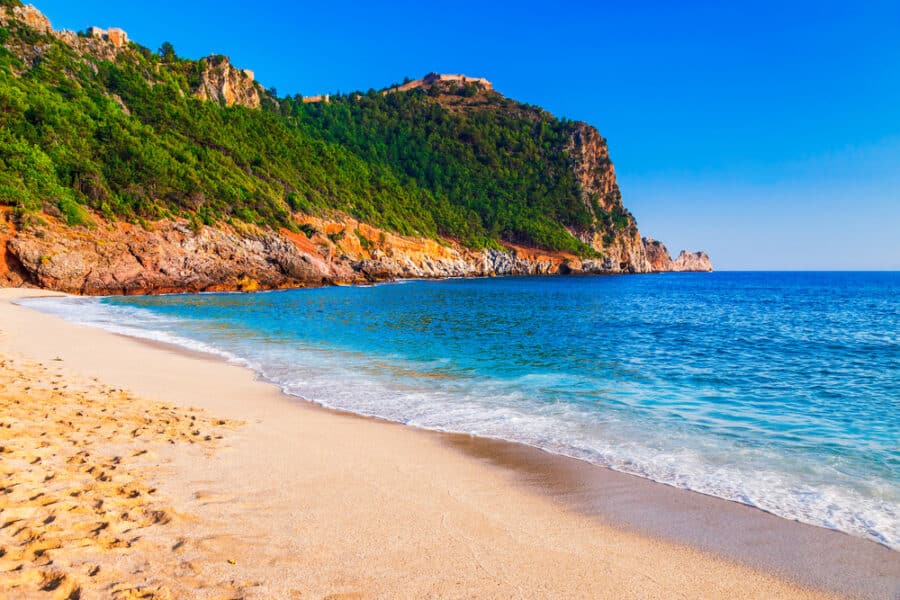 Cleopatra Beach, a long beach named after the Queen of the Nile, boasts golden sand and an incredible ocean. Often crowded, due to its popularity, you can pay to rent sun loungers and enjoy food from one of the many restaurants and cafes lining the beach.
Ancient City Of Perge
Just outside Antalya, you will find the spectacular ruins of Perge and the amazingly well-preserved Aspendos Amphitheater.
Alanya was once home to many Lycian settlements. This ancient civilization left its marks on every corner of the area through the ruins of ancient cities, such as Perge. Founded in the 13th century BCE, the settlement kept evolving and prospering until the 11th century CE. Around the time Seljuk Turks invaded the area, the city became abandoned. Today, it offers an insightful glimpse into the lives of early Anatolians.
Ancient Damlatas Cave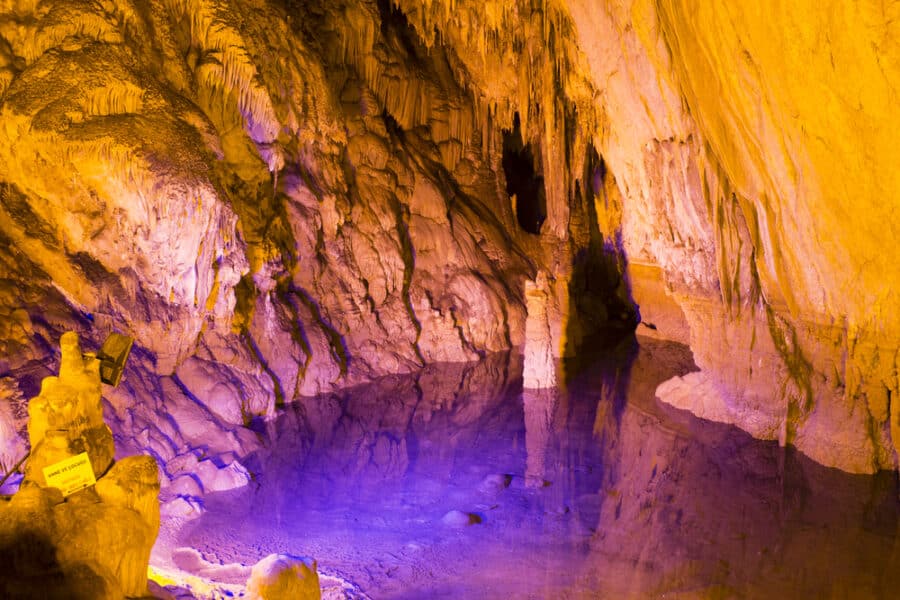 Close to the beautiful beaches of Cleopatra and Damlatas is the marvelous Dalamatas Cave. With incredible stalactites and interesting geology, this is a great place to explore.
Shop At The City's Atmospheric Bazaars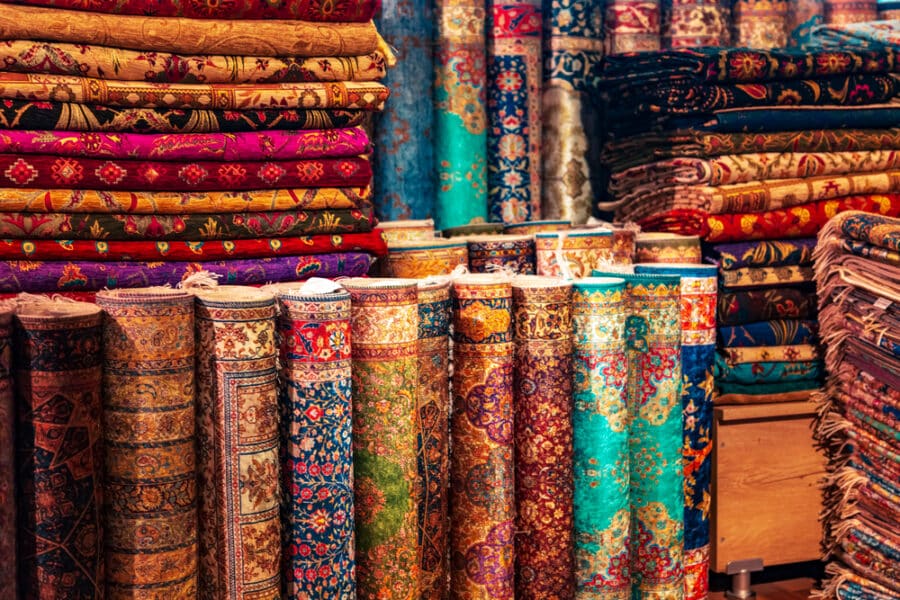 Each district in the city has its own bazaar, full of vendors selling fresh local delicacies, sweets, clothes, and souvenirs. The most famous market in Alanya is the Cuma Pazari, which takes place each Friday from early morning to 7 pm.
TRAVEL COMPANIES WE USE AND TRUST
Day Trip From Antalya To The Taurus Mountains
The Taurus Mountains, which run along the coastline, are a popular destination for hiking and mountain biking. These are some of the best ways to explore this area of the country:
Eagle Canyon Tour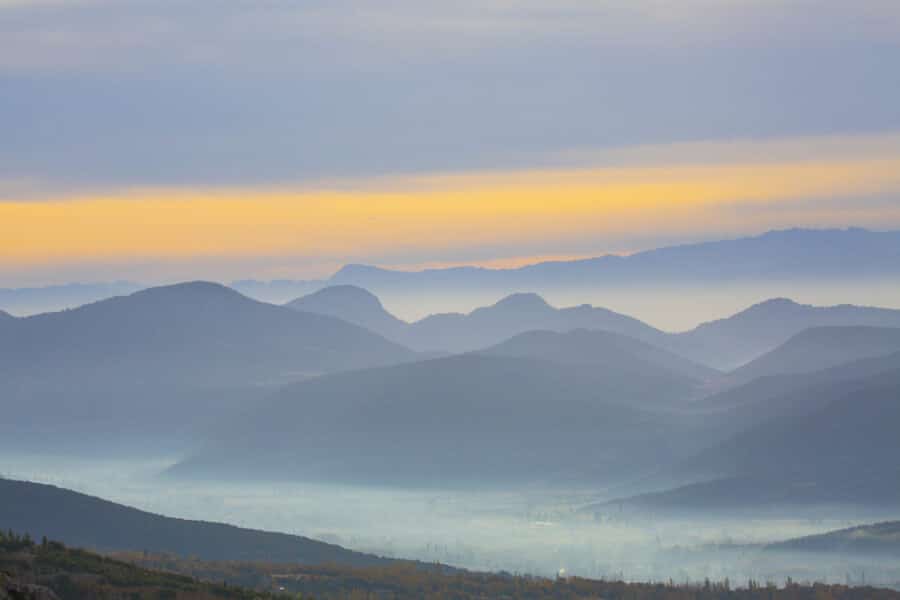 If you want to fill your vacation with excitement, we recommend booking a tour of the Taurus Mountains. Tours are available on a year-round basis and combine exploration with sightseeing. The tour takes you to discover the impressive beauty of the Taurus Mountains. Are you ready? Nature is waiting for you.
The road trip from Antalya toward the Canyon takes approximately 2 hours. During the road trip, you will visit a 2000-year-old Roman bridge and Saint Paul's Road, which is highly important to the Christian population. Your visit to the infamous Eagle Canyon is what truly sets this tour apart. Once you arrive, you will have 45 minutes to explore the area's majestic and wild beauty. Eagle Canyon has massive cliffs, some of which are over 400 meters high. Every visitor is enticed and impressed by the tranquil setting and lush vegetation.
Canyon Rafting Tour
Take the opportunity to participate in an extreme rafting experience. You will be given the necessary equipment, and a professional instructor will walk you through the rafting process. The river's wild, foamy, and splashing waters will undoubtedly raise your adrenaline levels. Rafting tours are around 50 euro per person.
Selge Ancient City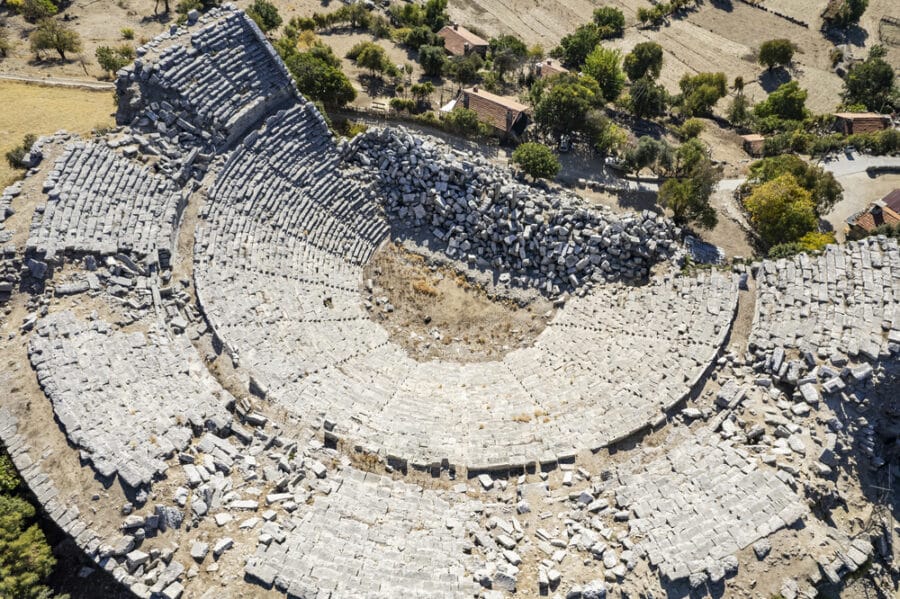 Just 2 hours from Antalya, on the southern slope of Mount Taurus, this ancient settlement has a fascinating history and multiple ruins. Among the main highlights is a 2200-years old Roman theatre.
Antalya Buggy Safari
An adventure that reminds you how young you still are! This is for you if you love having a steering wheel between your hands. Let's take you on a buggy adventure through the Taurus Mountains. Prepare to be awestruck by breathtaking wilderness and landscapes just one hour from Antalya's Old Town.
You can reconnect with nature and unwind by driving through rivers and mountains. The Taurus Mountains' roads will take you through wooded areas, quiet valleys, lakes, and forests n. You'll be able to smell the forest's freshness and hear the birds.
You don't need experience or a driving license to drive a buggy, but the driver must be 16 years or older. Although the buggies are light, they are relatively fast. They are automatic and easy to drive. You can rent one for around 40 euro.
Day Trip From Antalya To Fethiye
About 2 hours from Antalya is the stunning city of Fethiye. Buses run several times per day between the cities.
With ancient landmarks, stunning nature reserves, golden beaches, and a turquoise sea, this picturesque Mediterranean town in Turkey's southwest offers a superb holiday experience. Fethiye provides a fantastic Mediterranean adventure with its secluded coves and scenic nature.
Here are our favorite ways to explore Fethiye:
Ölüdeniz Beach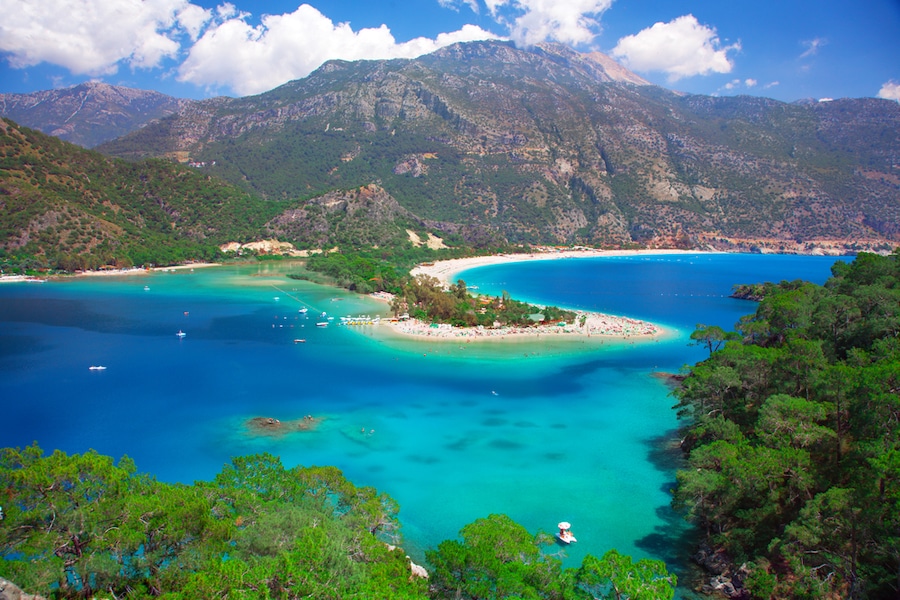 Ölüdeniz is one of the most famous beaches of Fethiye. The extraordinary landscape of the beach combines green hills covered in forests, golden sands, and turquoise waters. If you follow the Lycian path that starts from Ölüdeniz, you might end up getting to some peaceful coves and beaches where you can spend your time without interruptions.
Butterfly Valley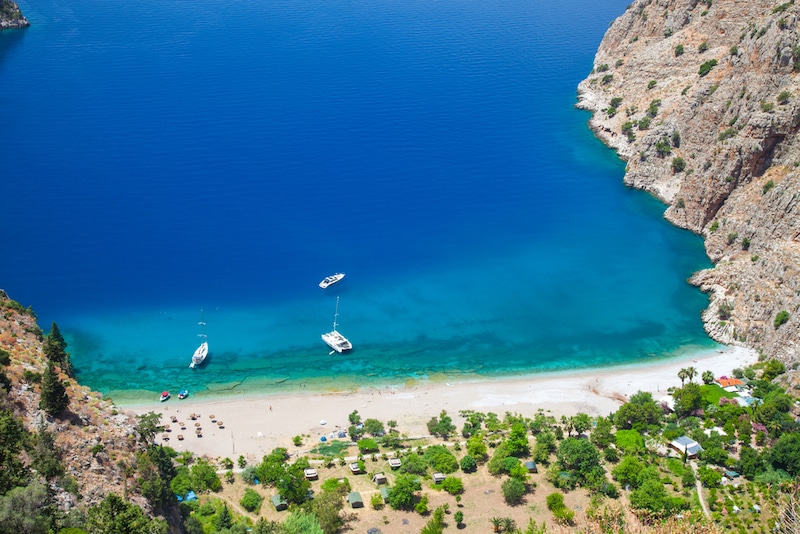 Only accessible by water, Butterfly Valley hosts over a hundred species of butterflies. Although it is challenging to spot butterflies in the summer since they aren't often around, Butterfly Valley still promises a memorable experience with its serenity and peacefulness.
Visit Kayaköy Ruins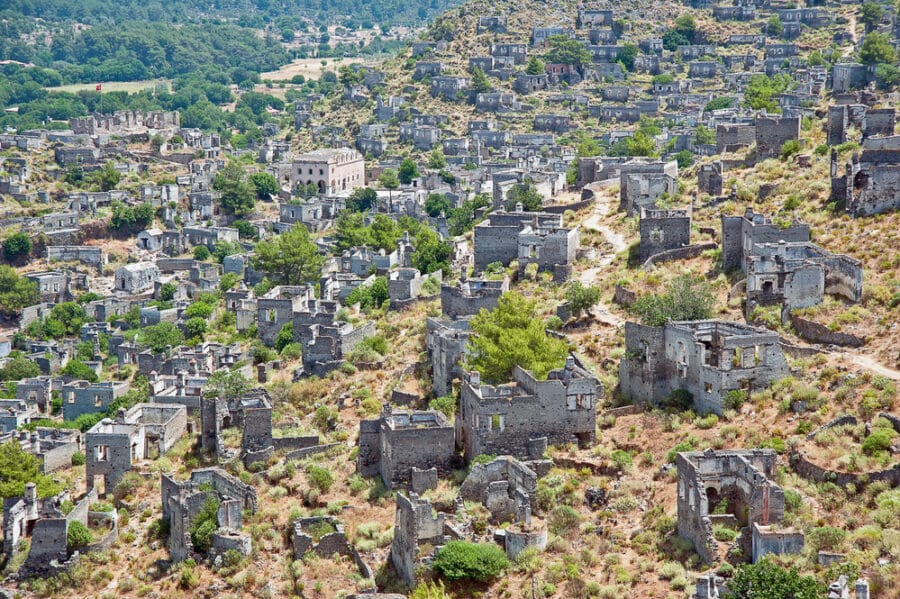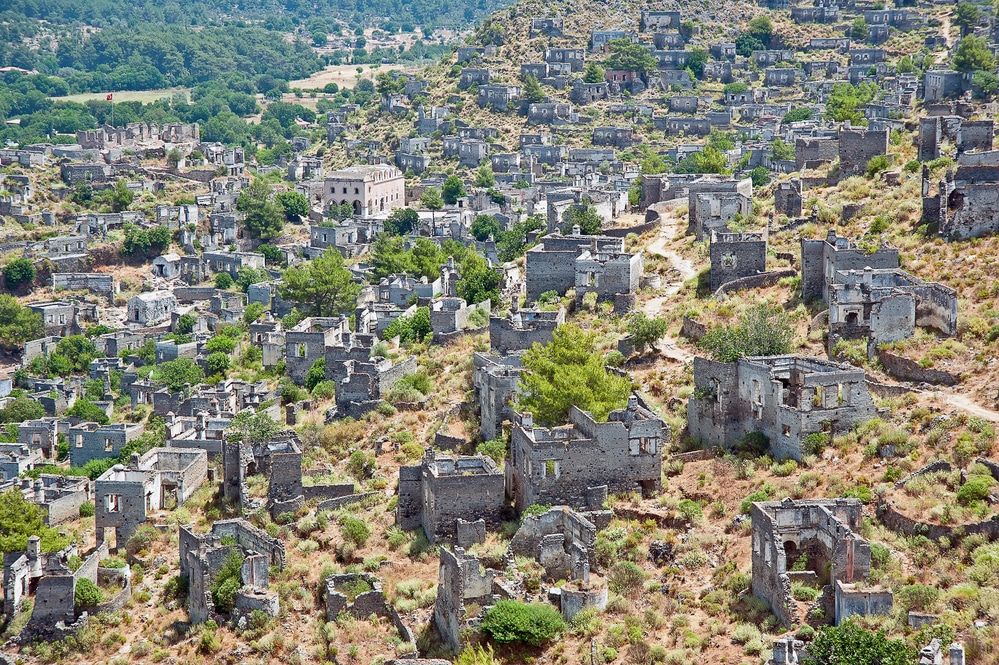 Fethiye has a long and rich history; thus, ancient ruins, monuments, and historic structures are in every corner of this historic territory. Few, however, are as intriguing as Kayaköy Ruins. An abandoned church and old houses once belonged to local Greeks contribute to the mysterious ambiance. Visiting this ancient settlement may help you better understand the local history.
Explore The Rock Tombs Of Tlos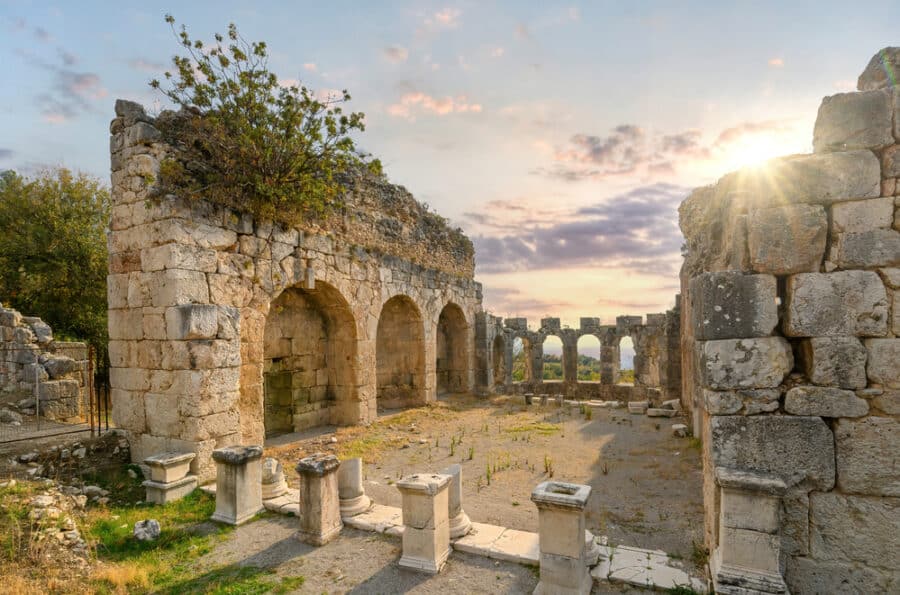 The Rock Tombs of Tlos are an extraordinary complex of ancient ruins that include an acropolis, an Ottoman fortress and stable, a necropolis, a stadium, a massive theatre, a Christian-era Basilica and a temple, many school complexes, and an agora. The ruins are 30 kilometers from the ruins of Xanthos. So, take a day to visit these ancient cities and immerse yourself in Fethiye's archaic environment.
Day Trip From Antalya To Pamukkale
Pamukkale is not a "real" village; it is more like a base for visiting the site with many hotels, restaurants, and small shops. The drive from Antalya to Pamukkale takes around 3 hours. You can go there by car, public bus (a one-way ticket is usually about 20 euro) or with travel agencies which will organize a private minibus or luxury van. Here are our suggestions for what to see and do in the Pamukkale region:
Hot Air Balloon Tour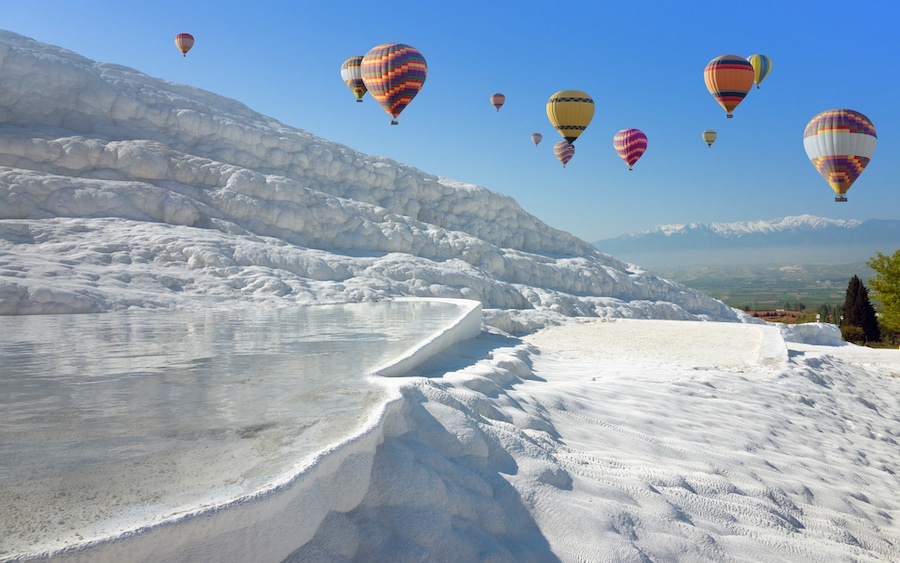 These hot air balloon tours are organized regularly all year long, but only in good weather conditions. You will watch how the crew prepares the balloons and may take as many pictures as you like. Locals will suggest you start the balloon ride early in the morning, as the most beautiful views will be at sunrise. The Hot Air Balloon flight will take around 1 hour, and you will witness the beautiful sceneries of Pamukkale and the remains of the ancient city of Hierapolis. Prices for the ride start from 99 euro.
The Ancient City Of Hierapolis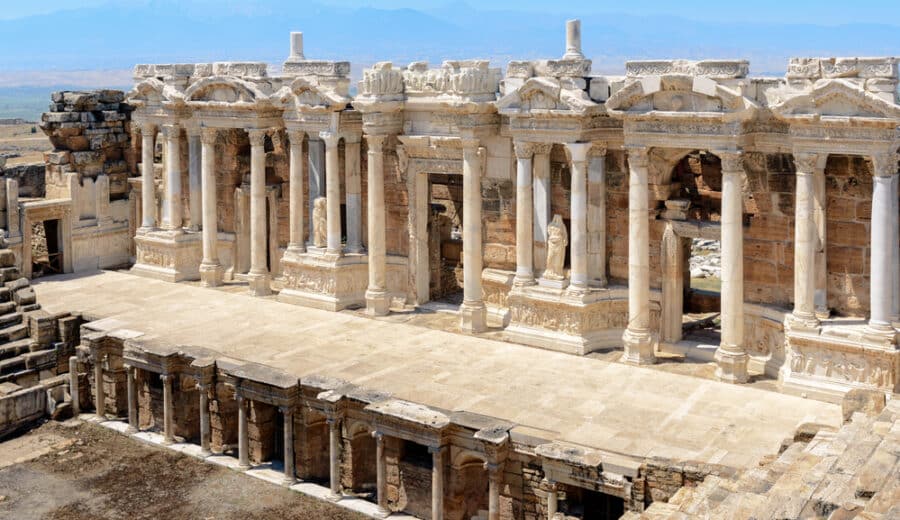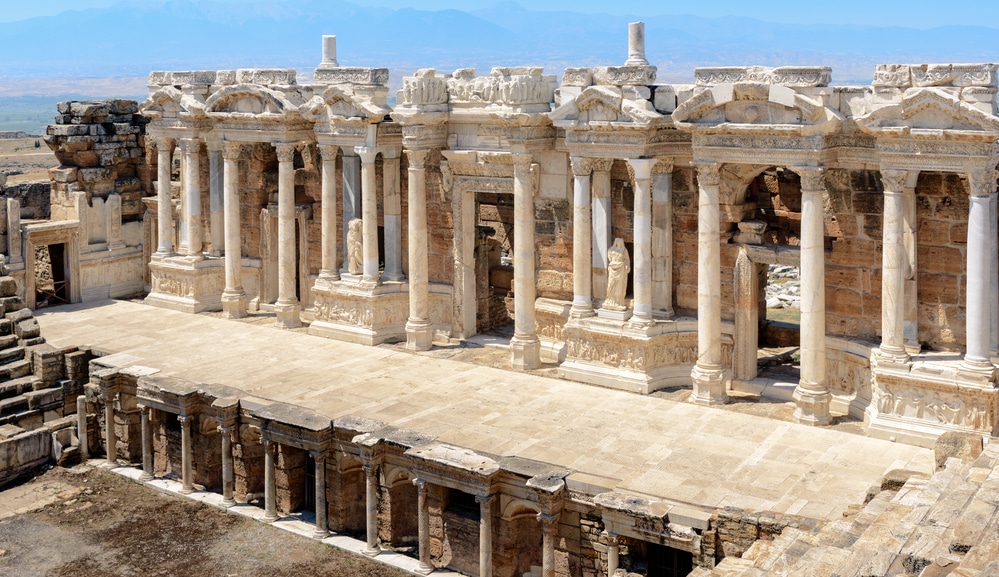 This impressive site is among the UNESCO sites of cultural heritage. This is because, during antiquity, the city used to be a spiritual and healing center because of the nearby hot springs (the area is famous for a carbonate mineral left by the flowing of thermal spring water. You can observe the Roman baths, the ancient theatre, and the necropolis during your time there.
Cotton Castle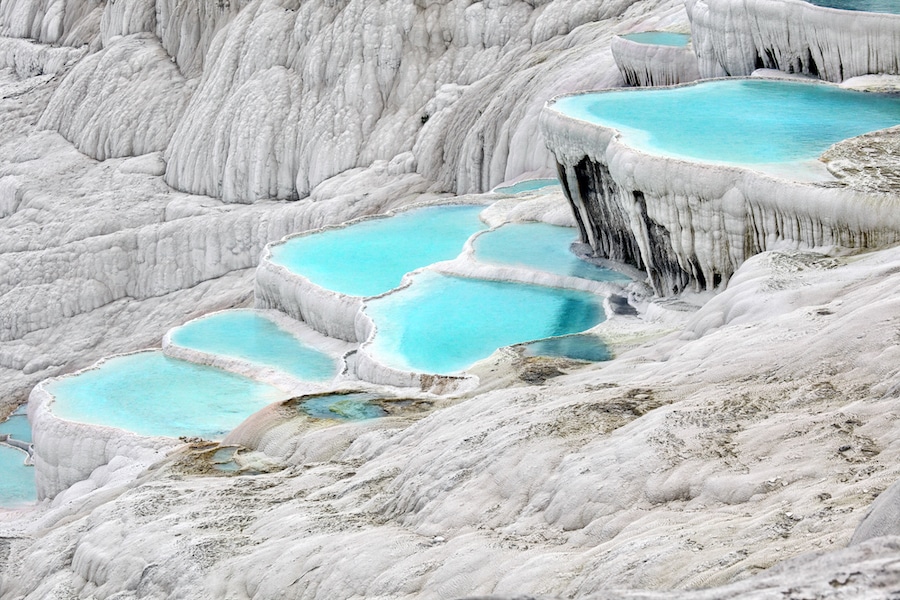 This impressive natural wonder will take your breath away with its extreme natural beauty. The white color mountain is full of natural pools filled with fantastic water from the hot springs. While there, You can walk around to admire this natural beauty or swim in the hot. The infamous Cleopatra's Pool is located a short distance for those interested in experiencing more therapeutic benefits of the hot springs. Entrance there is at an extra cost (around 10 euro).
Salda Lake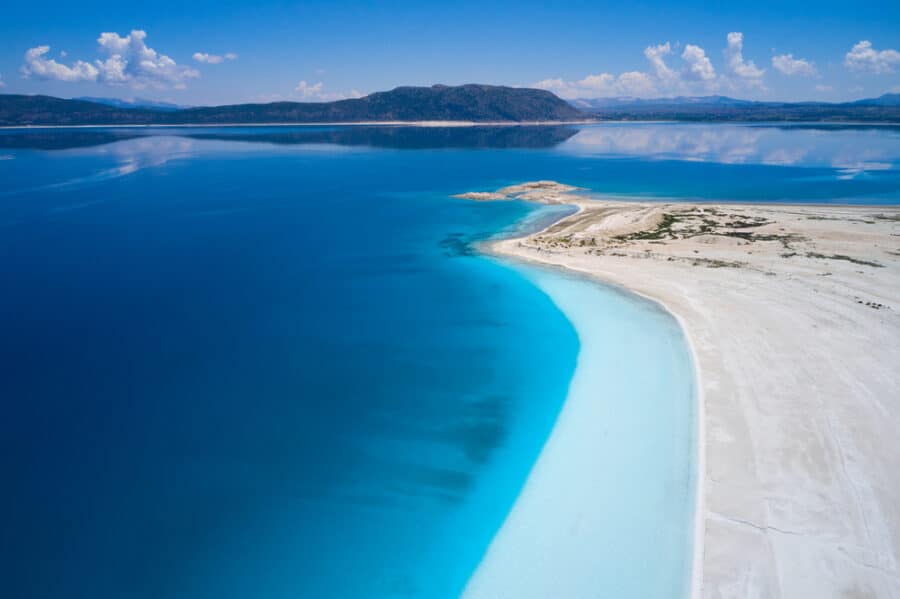 Salda is listed among the cleanest lakes in Türkiye and is composed of a limestone-like structure. You can take some spectacular photos, admire the views, or enjoy a romantic walk during your time there.
Day Trip From Antalya To Korkuteli And Denizli City
On your way to Pamukkale, you can choose these cities as your pit stop. Both of them are great for experiencing local cuisine and culture. At Denizli, you can visit the handcrafted carpet center and wine production center and buy great authentic souvenirs.
Day Trip From Antalya To Cappadocia
If you are willing to take the overnight bus or jump on an hour-long domestic flight (about USD 40 each way), you can easily travel to Cappadocia from Antalya.
Cappadocia is on many bucket lists, and it's not hard to see why. Here's what we recommend:
Hot Air Balloon Ride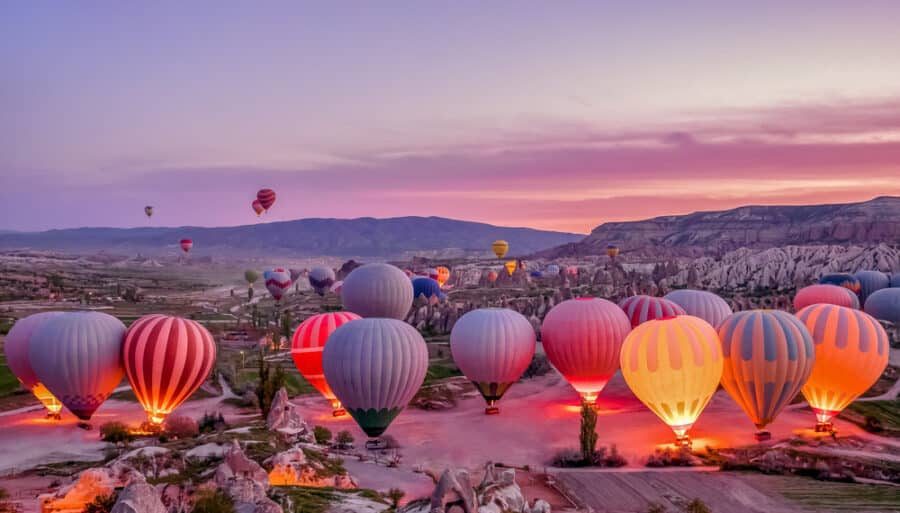 Türkiye is packed with must-do experiences, but without a doubt, one that features on many Turkey bucket lists is to go on a Cappadocia hot air balloon ride and enjoy the fantastic, fairytale-like landscape from the sky.
It's a sight featured in many travel magazines and websites, so millions of people head to this central Turkish area every year. The Goreme National Park is packed with colossal rock formations that look like fairy chimneys, and gazing over the park is not only Insta-worthy but a once-in-a-lifetime experience!
Rose Valley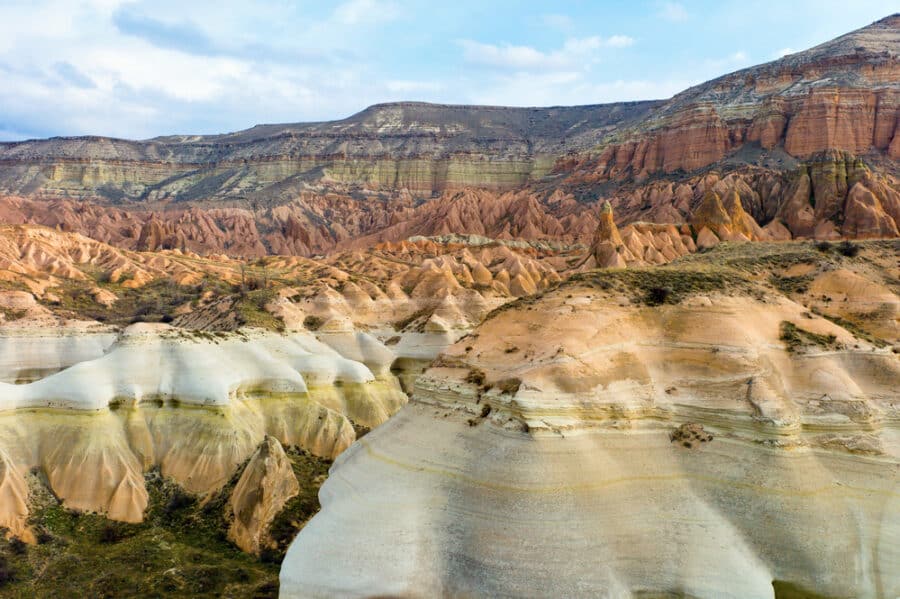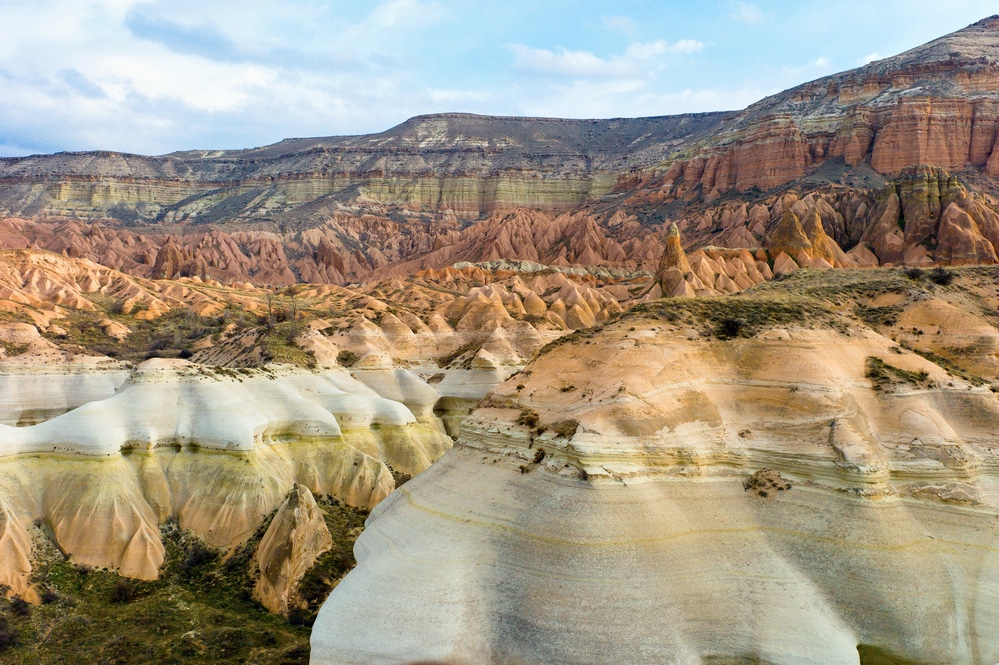 One of the most iconic destinations in Turkey, the Rose Valley in the Cappadocia region is a beautiful place.
The ancient Valley takes its name from the pink rocks which make up this incredible landscape. With fascinating rock formations, hot air balloon rides, and incredible hiking opportunities, the Rose Valley is an essential stop in any trip to Cappadocia.
Red Valley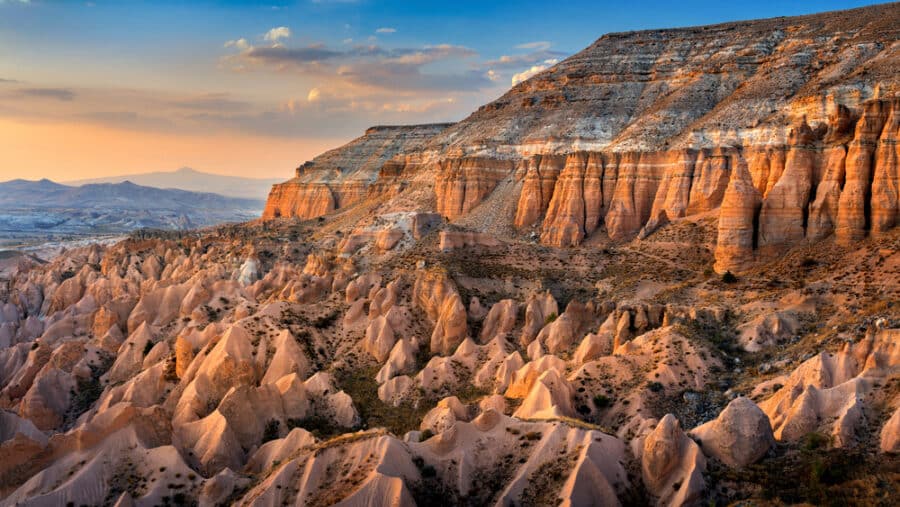 Red Valley (Kizil Vadasi) is one of the most stunning, rewarding, and remarkable places to visit in Cappadocia, Turkey. It gets its name from the vivid red rock that covers the valley's landscape. This site is a part of the UNESCO World Heritage Site of Goreme National Park and is also one of the most accessible ones.
Tourists love visiting here because of its fantastic yet easy hikes, beautiful sunset spots, historic cave dwellings, ancient churches, and splendid nature surrounding the landscape.
What makes this site so accessible is that it is only a 30-minute walk from Goreme, which also happens to be the center of amazing restaurants, excellent hotels, and shopping.
Explore Derinkuyu Underground City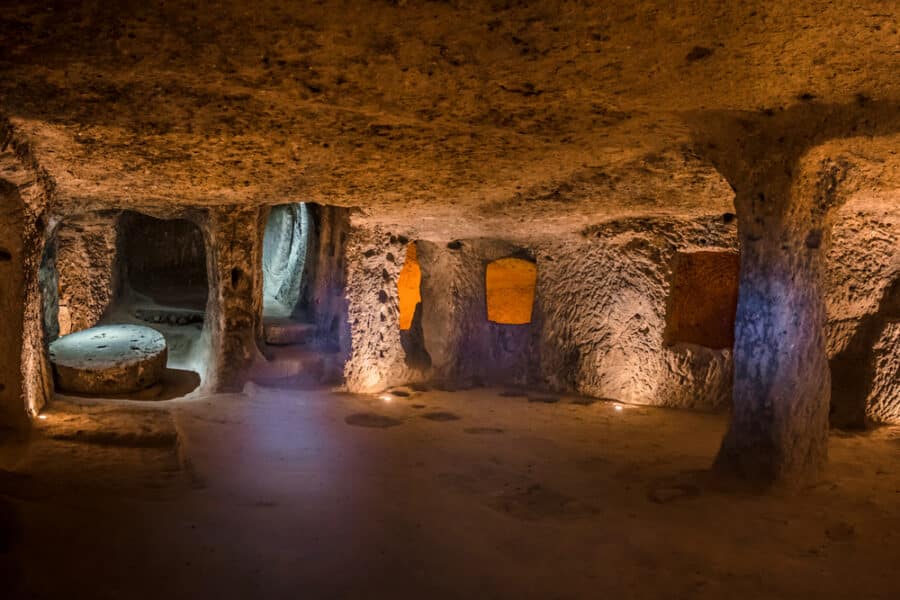 You'll find tunnels and entire cities that exist underground throughout the area. The reason is that this particular part of the country was subject to invasion after invasion throughout history, so these cities were built underground to keep everyone safe. You'll find churches and schools, even cellars and kitchens too.
While there are many of these underground spaces, Derinkuyu is the best preserved and, therefore, the best if you want to get a realistic view of what life was like back in the day. You'll head around 85 meters underground, and you'll be able to get a sense of the scale of the place, even though only 10% of it is actually visible.
Day Trip From Antalya To Marmaris & Icmeler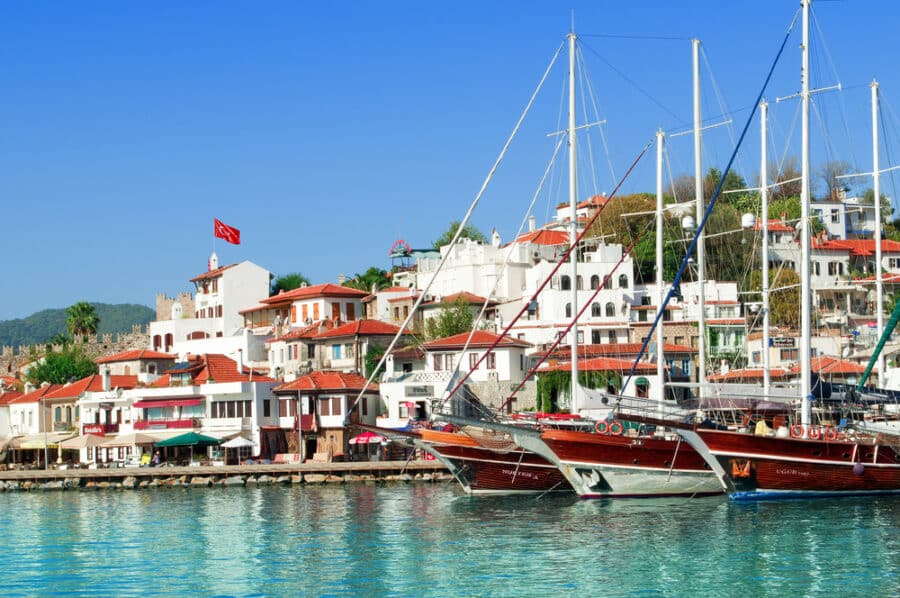 Located on what is known as the Turquoise Coast, Marmaris is lapped by the beautiful blue waters of the Aegean. There is a lot to see and do around this part of the country, although when the heat is on (and trust me, it's hot during the summer), you'll probably want to chill out around the pool or lay on the beach!
Marmaris and Icmeler run into one another and are less than 10 minutes apart. For that reason, Icmeler is often called Marmaris because it's much smaller. However, it's worth pointing out that they are two different resorts if we are being technical! During your stay, zig-zag between the two because Icmeler is so beautiful and worth more than one visit.
Marmaris is home to myriads of picturesque beaches, crystal-clear waters, and spectacular sunsets. The long stretch of sandy beach runs along the town's promenade and is perfect for sunbathing and swimming.
Another popular feature of Marmaris is its active nightlife, with a range of pubs, nightclubs, and restaurants offering something for everyone. You can enjoy traditional Turkish music at one of the town's many taverns or sample local dishes at a seafood restaurant.
Marmaris is located 4 hours from Antalya, and a bus departs several times daily from Antalya to Marmaris.
Day Trip From Antalya To Konya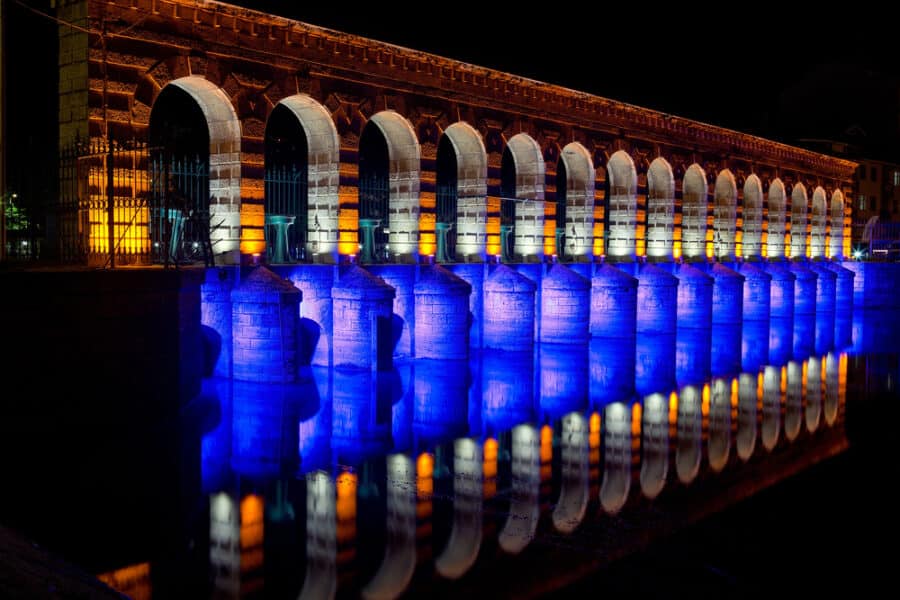 More off the beaten path, Konya is about 4 hours from Antalya.
Konya is a romantic place, the kind that would entice poets and dreamers alike. It's no surprise that Mevlana Rumi, the famous Sufi poet and whirling dervish, wrote his famous, heartfelt verses here in the 13th century. The Mevlana Museum, which is decorated with beautiful roses and houses the tomb of the renowned poet, should undoubtedly be your first stop.
Its Semahane houses a museum of religious artifacts from the time period. For an evening walk and a cup of Turkish tea, visit the Alaeddin Tepe Park.
The Tile Museum and the Museum of Wooden and Stone Carving represent the other fine arts in Konya, ensuring that all art lovers have a great time!
This is also a great place to watch a whirling dervish performance, which takes place weekly in the main square each Saturday.
ANTALYA DAY TRIP FAQS
Where is Antalya?
Antalya is on Turkey's southwest Mediterranean coast.
How many days in Antalya is enough?
If you are hoping to truly see all the sights in Antalya, four days is a reasonable amount of time. However, if you want to use the city as a base to explore other regions of Turkey, plan to stay longer and add on day trips.
How far is it from Antalya to Pamukkale?
Approximately 3 hours
Can you make a day trip from Antalya to Istanbul?
If you choose to fly, you could do it. The flight is a little over 1 hour. However, there is so much to see in Istanbul that you will want to spend more time than just one day in the city.
Can you make a day trip from Antalya to Cappadocia?
Yes, you can take an overnight bus or a flight that's just over an hour. If you are only spending one day in Cappadocia, it is best to take a guided tour once there, as it will allow you to see the main sights quickly.
Those are our top picks for the best day trips from Antalya. We are sure that everyone can find something for themselves on the list above. Enjoy Antalya, and come back again soon!
MORE ANTALYA TURKEY TRAVEL BLOGS