Privacy & disclaimers →
Alanya Vs. Antalya – How To Choose Alanya Or Antalya, Türkiye
If you research summer destinations in Turkey, you'll see a long list of places to visit. But two that are highly recommended are both Alanya and Antalya.
Now to confuse matters a little, while both are separate destinations, Alanya is actually in Antalya. The province that is. Antalya Province is huge and covers Antalya city, the resort town of Alanya, Lara, Side, Kas, Manavgat, Kemer, Demre, Belek, and Kalkan, to name a few. You will probably recognize many of those names, as they're popular summer spots to soak up the sun.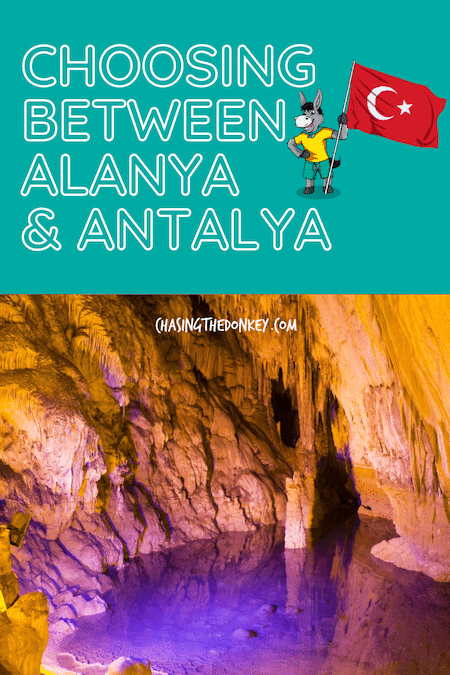 But many people struggle to decide between staying in Antalya city, thanks to its proximity to the airport, or whether to venture to a more holiday vibe spot, such as Alanya.
If you have the same struggle ahead of this summer's holiday, let's compare Alanya and Antalya and help you decide which is best for you.
Keep reading below for our in-depth analysis on weighing up Antalya vs. Alanya.
TRAVEL COMPANIES WE USE AND TRUST
Antalya, Türkiye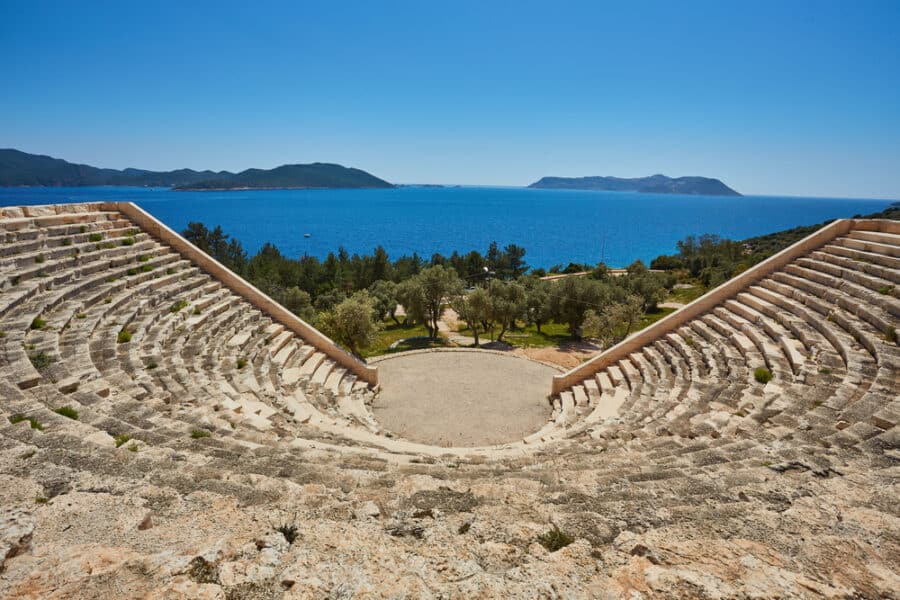 The city of Antalya is the capital city of Antalya province and is also home to many famous attractions. The plus point of visiting the city is that you're only around 20-30 minutes away from the airport, which is ideal if you want to cut down on transfer time after a long journey.
Antalya is a historical city with an ancient castle and ruins from when it used to be a Roman port. You can check out Hadrian's Gate, dating back to 130Ad, and Hidirlik Tower, from the 2nd century.
The city is also packed with nightlife, shopping opportunities, and beaches too.
Things To Do In Antalya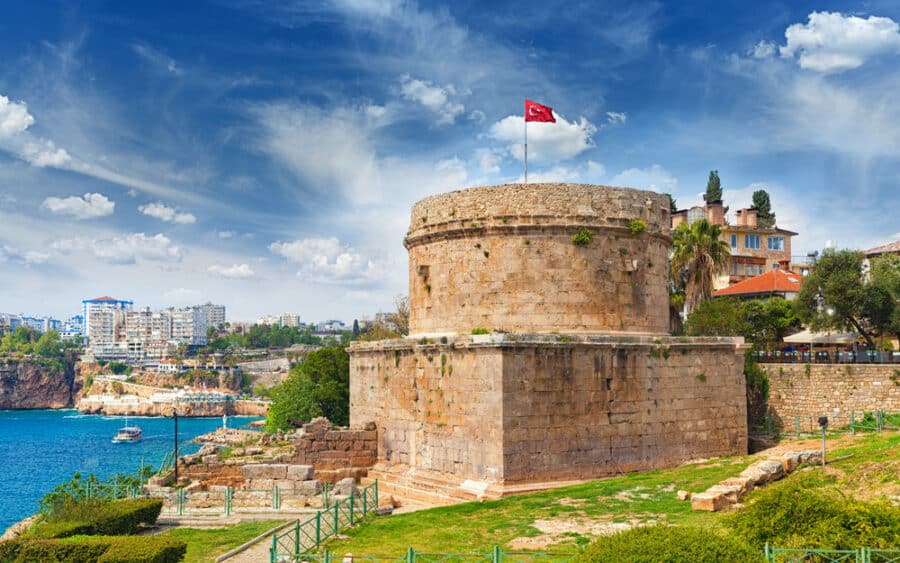 When choosing between Antalya or Alanya, the main thing to look at is, what there is to do in each location.
Duden Waterfalls: These rather stunning waterfalls are probably the easiest you'll ever visit. On the road between Antalya and Lara Beach, you park up, walk to the cliff edge, and look down. There you will see a huge, thunderous waterfall with rainbows hitting the water. It's pretty spectacular, and it's free!
Konyaalti Plaj: This is a famous beach that goes on for miles! It's also backed by huge mountains and an impossibly blue sea, which gives it a seriously tropical vibe. The size of the beach means you never feel too crowded in, and there are plenty of cafes and restaurants for refreshments
Antalya Aquarium: Whether it's a rainy day or you want to hide from the sun, this is a great place to head with the family and check out the countless species of marine life
Karaalioglu Park: For a calm few hours and amazing views, this beautiful park is the ideal spot
Hadrian's Gate: A monument to Julius Caesar's visit, this beautiful "gate" is located on the main road in the city center, and it's super easy to visit
Antalya Kaleici: Antalya castle is located in the Old Town, full of winding paths and cute cafes. The castle itself is slightly in ruin, but the views from the top are stunning, and there is a park you can walk through, which gives you coastal photo opportunities across the whole of Konyaalti Beach and beyond
Antalya Migros Shopping Centre & Mall of Antalya: Just outside of the city center, you'll find two HUGE shopping centers where you can pick up some big brand-named items. There are also cinemas inside, bars, cafes, and restaurants
Antalya Zoo: If the kids love to check out different species of animals, this is a great day out during your holiday. It's also set in some pretty gardens, which are great for photos
Hidirlik Towe: Located in the Old Town, you'll find this huge tower that was built in the 2nd century. There are also fantastic views to be seen
The Land of Legends Kingdom: If you or your kids love theme parks, this is the place to go. Packed with rides, entertainment, and water-based fun, it's a fantastic day or two during your holiday. There are also huge hotels in and around the park, so you can stay over if you choose
Reasons Not To Visit Antalya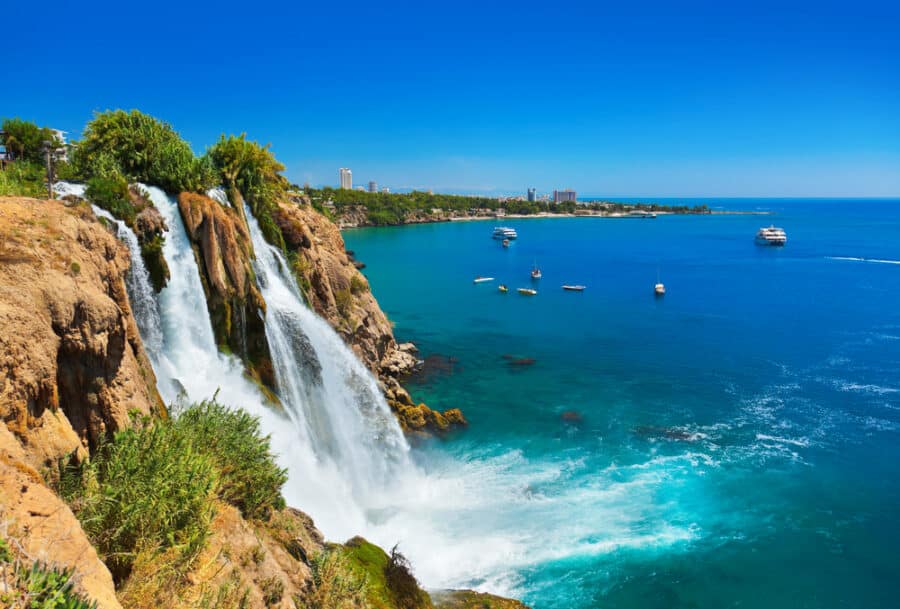 Antalya is pretty great, and there's not a lot you can't find there. However, it is a city at the same time as a beach spot, and if you prefer somewhere a little less frantic, perhaps Antalya isn't the place for you.
Getting to and from places in the city requires a car or a taxi. You can use buses and tram service, but they're not easy to navigate if you don't speak the language or are unsure where you're going. The city is also circled by HUGE motorways, which can be noisy or just something you don't want to deal with on your holiday.
If you want to hire a car and venture out to other destinations around Antalya, you'll find that the journey is a little boring. Each destination is fantastic, especially the waterfalls at Manavgat or the old city of Side, but there isn't a lot to look at between them – it's just fields and roads.
So, while Antalya is excellent for many reasons, it doesn't give you those chilled-out beach vibes you might be looking for.
Where Is Antalya
There are direct flights to Antalya from most European cities throughout the year, with more frequent flights during the summer months. The airport is between 20-30 minutes' drive away from the city center, depending on traffic. You can quickly get to the city center by taxi, private transfer, or public bus.
How Far Is Antalya From Alanya – How Far Is Alanya To Antalya
The distance between Antalya and Alanya is 123 km (76 miles). The bus from Antalya to Alanya takes two hours and departs every 30 minutes. If you drive, the driving distance between Antalya to Alanya takes around 1 hour and 30 minutes.
Alanya Türkiye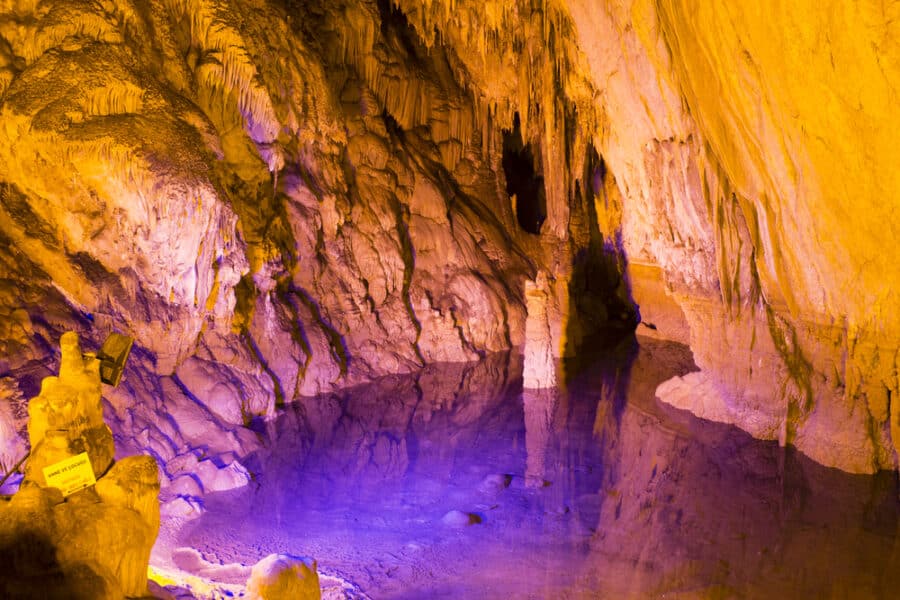 Alanya is the quintessential choice of beach holiday destination. It's got everything you could possibly need for a chilled-out time by the sea, including stunning sunset views, an amazingly clear sea, soft golden sand, and great restaurants thrown in for good measure.
Alanya is located on the Mediterranean coast and has wide beaches that are ideal for families, and is also home to Cleopatra Beach, where Cleopatra herself visited and enjoyed swimming. But it's not all beach time, as Alanya is also home to a huge castle on a rocky cliff edge, with the Red Tower dating back to 1226. This is you'll catch the best of the sunsets.
Compared to Antalya, Alanya is a lot more laid-back; it's more of a beach resort than a city.
Things To Do in Alanya, Türkiye
To keep weighing up Alanya over Antalya, let's see what Alanya has to offer;
Alanya Castle & The Red Tower: Dating back to the Seljuk period, this castle overlooks the sea and the whole of the town. The views are simply jaw-dropping, and the Red Tower is located here. Insiyou'llu'll find a museum
Kleopatra Beach: This is the main beach in Alanya. It's long, has golden sand, and extremely clear water. This is where the Egyptian Queen is said to have visited and loved
Alanya Teleferik: This is a cable car that runs from the beach up to the castle, with the opportunity to take some stunning photographs as you go
Damlatas Cave: Located just outside of Alanyou'llu'll find these caves, which are said to have therapeutic effects for people with asthma. The cave has around 8-10 times more CO2 than other caves, and the humidity inside is high, which helps those with the condition
Alanya Archaeological Museum: – A great spot to escape from the heat and learn about the history of the local area
Boat Trips: Head down to the harbor and enjoy a lazy day trip. If you go for an all-inclusive trip, lunch and some drinks are included as you sail around the beautiful coastline.
Reasons Not To Visit Alanya, Türkiye
Compared to Antalya, Alanya has less to see and do, that'sat's because its main feature is the beach. This is more of a beach resort than a large town or city, and if you're someone who likes a lot of different activities don'ton't like sitting on the beach, then you may find Alanya a little slow-paced.
Alanya is also entirely geared towards tourism and doesn't have much authentic local life to it, unlike Antalya city. However, if you're looking for a beach resort with some fantastic hotels, that might not matter to you.
Alanya is mainly closed during the winter, between the end of November to April, whereas Antalya is open all year around.
The other downside is that Alanya is just 2 hours away from Antalya Airport. If you have already had a long day of travel, another 2 hours by bus may be a deal breaker for you.
How To Get To Alanya, Türkiye
Flights are plentiful throughout the summer months from many European destinations and beyond. However, they are a little less plentiful during the winter months. To visit Alanya, you will fly into Antalya Airport, take a shuttle or private transfer, hire a car, and drive to the resort.
So, which is better, Alanya or Antalya? Now you know the low-down, which one will you choose Alanya versus Antalya?