We may earn commission from affiliate links →
Why Turkey In Winter Is A Good Idea
Many people assume that Turkey is only a summer destination. It's true that during the summer months, the sun shines endlessly, the rain stays away (mostly), and temperatures soar, making the beaches and the islands incredible destinations. There is more than enough to do during the summer, but have you ever considered visiting Turkey in the winter?
Yes, Turkey is a winter destination too!
During the winter months, Turkey's airports are still busy, the cities are buzzing, and there is plenty to see and do. If you're unsure if winter in Turkey is for you, maybe this little chat will change your mind!
Reasons Why Winter In Turkey Is A Good Idea
I could give you endless reasons, but let's keep it brief.
Fewer Crowds
Istanbul is busy no matter the month, but the country's rest tends to be quieter during the winter months. That means you can explore without feeling hot and sticky and picking your way through the crowds. There is a vast amount of history to appreciate in Turkey, and fewer crowds give you a better chance of enjoying it. Of course, it also makes traveling from A to B much more effortless.
Lower Prices
Outside of the summer months, you'll find that prices in most of Turkey are far lower, including airfares and hotels. This means you can see plenty, have a great time, and save cash simultaneously.
A Different Experience
You'll get a more traditional feel to your stay during the winter months. During the summer, Turkey is a very international place and the holiday resorts on the south coast feel barely Turkish sometimes. However, no matter where you go during the winter, you'll be able to have an authentic experience.
Great Weather (Mostly)
I'm not going to lie and say that Turkey doesn't get cold because, in some places, it really does; however, for the most part, it's far milder and drier than much of Europe. I'll get onto the weather shortly because the sheer size of Turkey means that you can't lump the entire country into one weather zone.
Amazing Views
Fewer crowds, great weather, and plenty to see and do means you can certainly fill up your phone with some Insta-worthy snaps. When it snows (occasionally it does), those photos will go from wow to winter wonderland wow in seconds.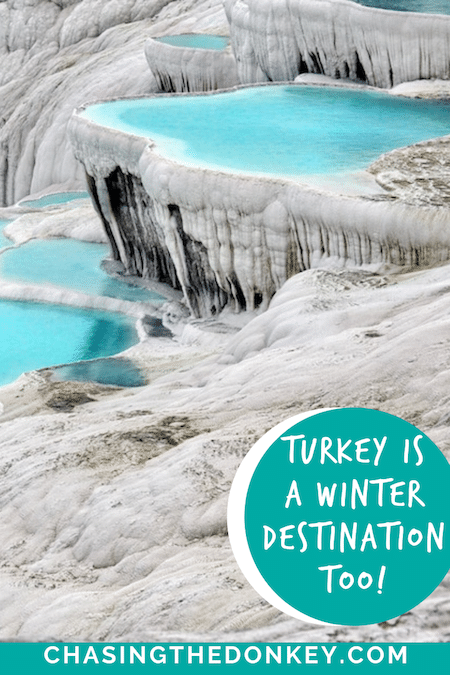 Weather In Turkey During Winter
The weather varies wildly according to where you go and when you go. Winter officially starts in the middle of December, although you might get the odd chilly day towards the end of November. The winter lasts until the middle of March, but February days can be enjoyable in some places, particularly on the south coast.
The coldest place in Turkey is Erzurum during winter, located in the east of the country; however, Ankara is also an icy spot, sometimes heading into minus numbers. Snow here is possible much of the time. If you're visiting
Istanbul (highly recommended), be ready for a mixed bag of weather. It can be warm and sunny one day, cold and rainy another, and then it randomly snows. However, during March, you'll start to see the start of spring appearing.
If you're heading to the south coast, perhaps to Bodrum, Izmir, Marmaris, or Antalya, you can expect the temperature in the mid-20s through February and March with very little rain. However, December and January will require an umbrella on hand for winter storms.
Visiting Turkey during the winter months means packing for every eventuality and knowing that you probably won't have a total washout, no matter when you visit.
Things To See/Do In Turkey During The Winter Months
Let's get down to the good stuff now. What can you see and do during the winter in Turkey? It's impossible to give you an exhaustive list, so let's pick out some definite highlights.
Istanbul And Its Endless History (And Shopping)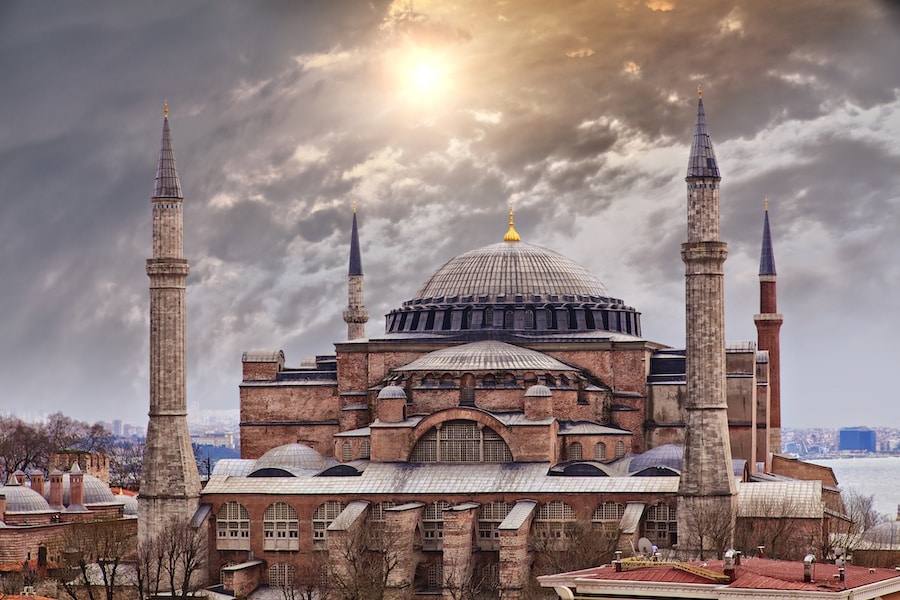 There is more history in Istanbul than most entire countries can boast. Formerly known as Constantinople, Istanbul has fantastically preserved mosques, churches, palaces, and stately buildings that will take your breath away.
Dolmabahce Palace is a must-do, along with Blue Mosque, Hagia Sophia, and Topkapi Palace.
If you want to do a spot of Christmas or souvenir shopping while you're away, you won't struggle to spend your cash in Istanbul! If you wish to haggle in the Grand Bazaar, buy from one of the street markets, or head to one of the many huge shopping malls, such as the Mall of Istanbul or Cevihir, you'll be spoilt for choice.
Oh, and did I mention the food!?
Cappadocia And Its Stunning Views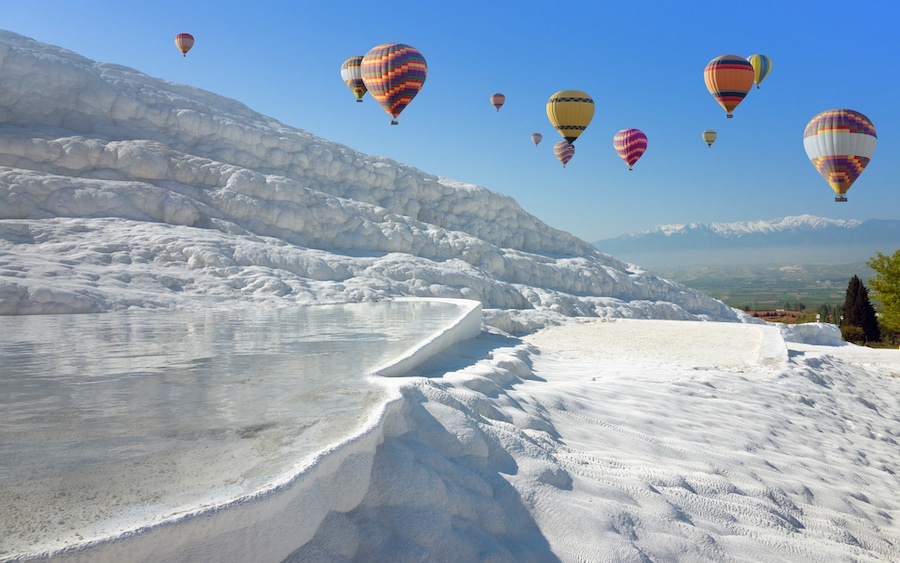 Cappadocia is a year-round deal, but the landscapes take on a fairy-tale feel you must see to believe during the winter months. A hot air balloon over the Goreme National Park is a must-do, along with a stay in a cave hotel and a traditional Turkish breakfast with a potentially snowy backdrop.
A Chilled Out Vibe In Fethiye
During the summer months, the south coast of Turkey is nightlife and sunshine central. Fethiye is a town on the south coast, around two hours from another popular spot – Marmaris. Fethiye has a laidback feel most of the time, but you get an authentic sense of Mediterranean life in Turkey during winter.
If you want to, you can go parasailing in nearby Olu Deniz, a famed spot for the sport.
Skiing In Uludag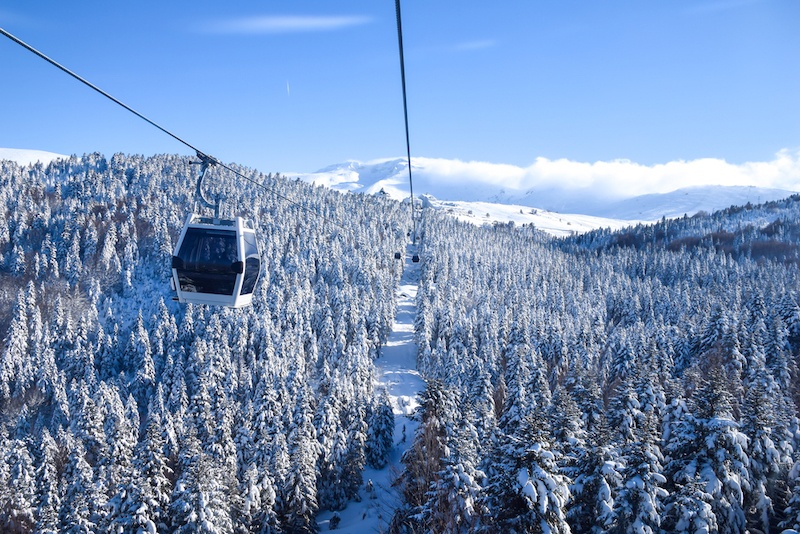 Located a very short distance from vibrant Bursa, you'll find a snowy wonderland with scenery to make your jaw drop. The ski season starts in mid-December and runs until the middle of March. You can expect a busy experience here, but there is more than enough space for everyone.
Accommodation is also fantastic; you can choose to stay in Uludag itself or stay in Bursa and use the regular transportation that heads to and from the mountains daily.
History In Canakkale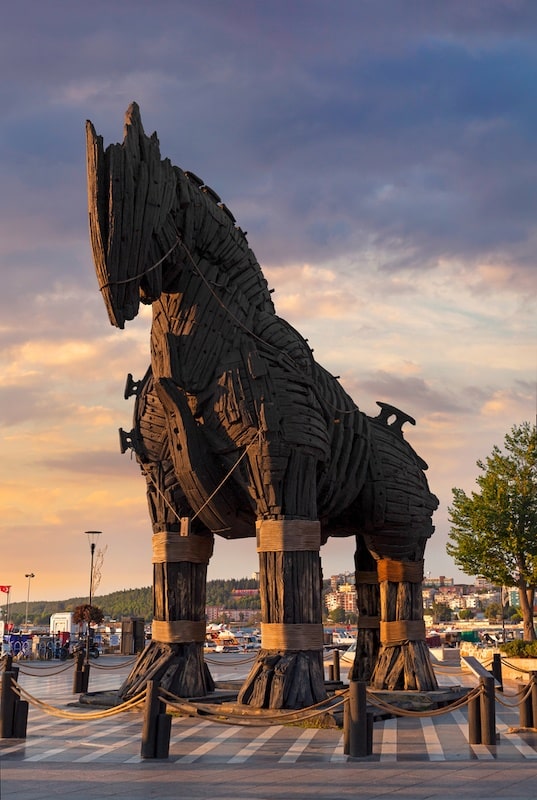 Everyone knows the story of Troy, but did you know that it's located in modern-day Turkey and not Greece? Of course, the area belonged to Greece at the time, but everything changed not long afterward.
Canakkale is a charming seaside town with plenty to see and do, but it's also a very short distance away from the site of Troy and a must-visit for history buffs. You can also see the Trojan horse used in the 2004 film located in Canakkale
itself.
Amazing Sunsets In Pamukkale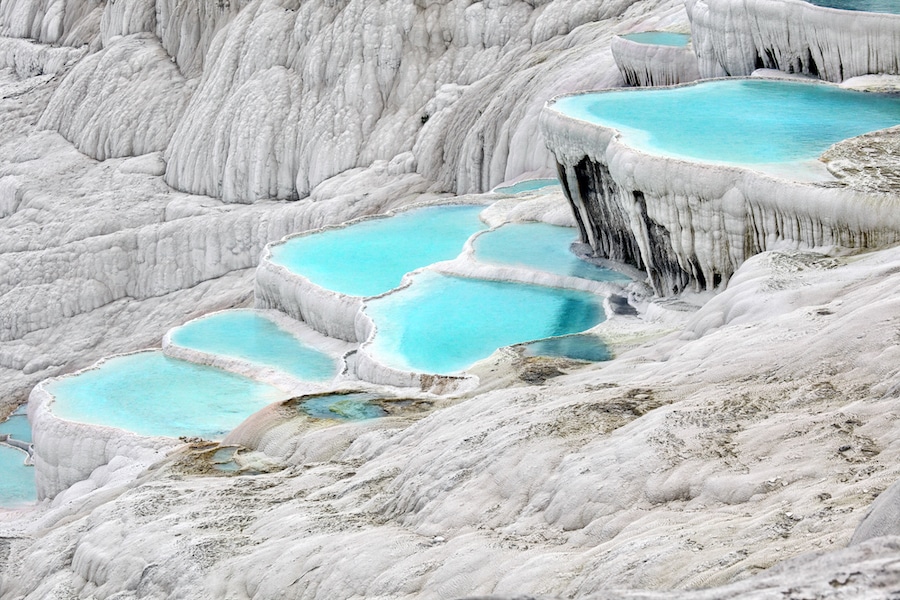 During the summer, it's not particularly easy to visit Pamukkale without feeling stressed. Sure, it's a must-visit, but it's bustling. Divine! You'll have a far calmer and more enjoyable experience if you visit during the winter and the sunsets.
If you pick a warm and pleasant day, you'll be able to soak your aching limbs in the hot springs and then go for a walk around the fantastic ruins of the former Greek city of Hierapolis.
A Step Back In Time At Ephesus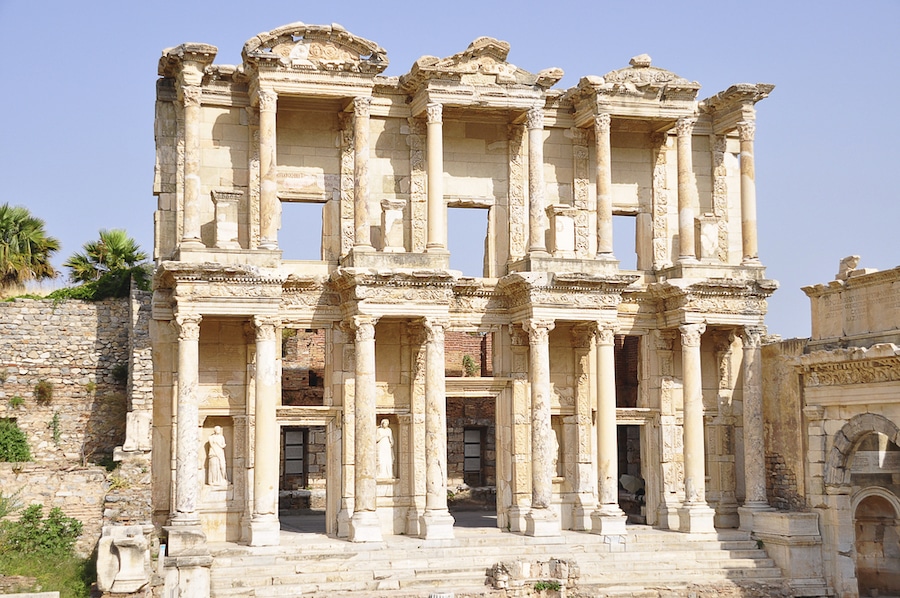 Without a doubt, visiting Ephesus is far better and far easier than during the summer. Not only is there zero shade as you walk around the massive site of Ephesus (a former Greek city back in the day), but it's also jam-packed from June to September. When you visit out of season, you'll have the place almost to yourself, and you'll be able to take photos without everyone photobombing them accidentally.
Snowy Architecture In Ankara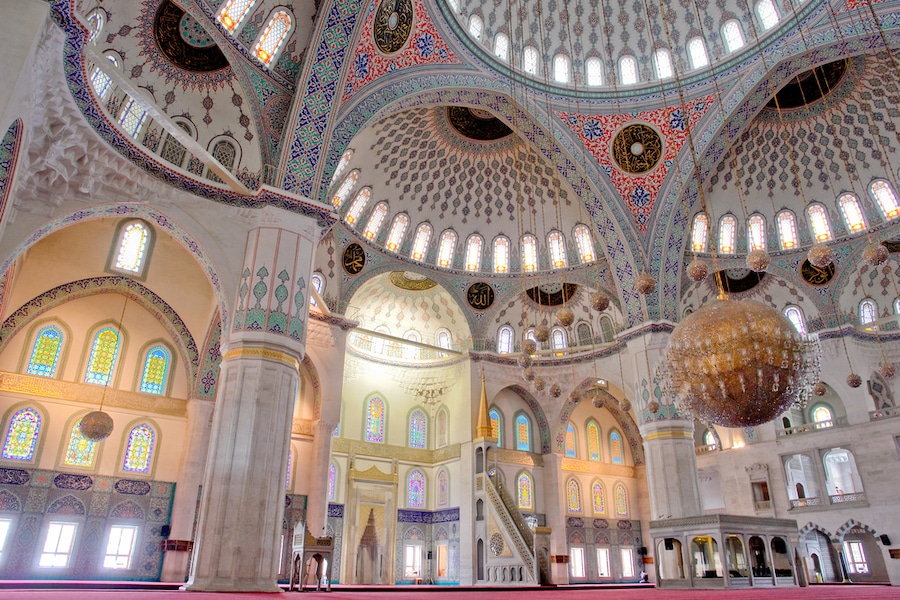 Ankara experiences a fair amount of snowfall during the winter months, and if you're looking for reliable snowfall during a city break, this is the spot for you. It's also an excellent place for history and architecture lovers, with examples of Ottoman buildings everywhere. Ankara Castle is also a top place to visit.
Of course, Ankara is Turkey's capital city and not Istanbul!
Winter Beaches In Antalya
Antalya is a city in itself but has several beach resorts not far away. Some awe-inspiring five-star hotels stay open all year round and have all-inclusive packages to enjoy. If you like spas, Antalya is also the place for you.
However, if you want to sit and sip a glass of Turkey tea (cay) with a beachfront view, Antalya is the best spot to do it, with fantastic weather for most of the year. This is the sunniest place in Turkey.
The Best Of Nature In Yedigoller National Park
Halfway between Ankara and Istanbul, you'll find a natural wonder ideal for winter chills. Yedigoller National Park is named after the seven lakes in the park created by a colossal landslide many years ago. The park is in fragrant woodland, with waterfalls, hiking trails, and plentiful wildlife.
If you adore the Great Outdoors and enjoy camping, a winter visit to Yedigoller National Park will be a scenic, albeit chilly, spot.
New Year's Eve In Izmir
Many people like to visit Istanbul for New Year's Eve, but it's so unbelievably busy that you probably won't be able to move. In my opinion, a better spot is Izmir. This is a modern and historic city with a stylish flair. There is shopping on par with Istanbul, and if you want, you can travel less than one hour to Kusadasi, a beautiful and vibrant beach town with a historic castle.
And you thought Turkey was just for the summer!
Share