We may earn commission from affiliate links →

Where To Stay In Istanbul (Best Hotels In Istanbul Included!)
If you're planning a trip to Turkey, you may ponder where to stay in Istanbul. This city of over 15 million inhabitants has a range of neighborhoods, and it's worth spending a little time choosing the ideal area to suit your plans.
Often seen as the gateway to the East, Istanbul is Turkey's most populous city. Although it isn't the capital – that honor belongs to Ankara. Located by the Bosphorus Strait, the city is commonly referred to as the place where Europe and Asia meet – both geographically and culturally.
The Old City is home to various historical monuments that reflect the empires formerly ruling this part of Turkey. This cultural diversity makes the city rich in its architecture, cuisine, and culture. In the past, wealthy civilizations, including the Romans, ancient Greeks, Ottomans, and Byzantines, had a hand in shaping this vital city.
Due to this rich and complex history, Istanbul is packed with intriguing architecture. The city is a cultural melting pot and, as such, features ancient Greek and Roman structures, Ottoman mosques, Turkish baths, and Italianate and Byzantine churches.
This guide will take you through various central areas so you can decide the best place to stay in Istanbul for you. We describe the key Istanbul districts – so whether you're looking for 4-star hotels in Istanbul or wondering where to stay in Istanbul for one night, we have you covered. We also list all the best hotels in Istanbul city center – in all price brackets. Read on for a brief Istanbul area guide, followed by a list of 12 incredible places to stay in Istanbul.
A Brief Area By Area Introduction To Istanbul
DISTRICTS IN ISTANBUL - AREAS OF ISTANBUL
Choosing the best area in Istanbul to stay in is made easier with this info; read on:
Sultanahmet – Best Place To Stay In Istanbul For Tourists
The Sultanahmet district is a top pick among anyone seeking the best area to stay in Istanbul for sightseeing. This important and historic area is often viewed as the cultural heart of Istanbul. Occupying a position on the city's southern peninsula, Sultanahmet is where you'll find some of Istanbul's key attractions, including the Blue Mosque, Grand Bazaar, Hagia Sophia, and the Topkapi Palace and gardens. Most accommodation in Sultanahmet is within walking distance of these. If you wonder where to stay in Istanbul for the first time, Sultanahmet is a good option.
Sultanahmet is, without doubt, the most historical part of Istanbul and to stay here is to feel at the center of this fascinating city. The neighborhood's narrow streets are lined with plenty of shops, cafes, bars, and restaurants, as well as many museums, bazaars, mosques, and traditional Turkish baths.
This area of Istanbul connects the historic district of Sultanahmet with the famous neighborhood district of Taksim. Along with the more modern area of Sirkeci, Sultanahmet forms part of Fatih, Constantinople's original site. Fatih is conveniently located on a central metro line, making an excellent base for exploring the city. Gülhane Park is also near this area, and this expansive, historical urban park is close to Topkapı Palace.
Taksim – Best Area To Stay In Istanbul For Nightlife
Taksim is another hugely popular area; many visitors wonder whether to stay in Sultanahmet or Taksim. Arguably the best place for nightlife in Istanbul, Taksim is undoubtedly a popular choice for those seeking vibrant bars and clubs. The mile-long road offers all sorts of shopping, dining, and drinking venues for all budgets. Many travelers like to take a funicular ride up to Taksim before strolling down the main street – day or night.
There are some top Istanbul hotels around this area of Istanbul too, and some of these are contenders as the best areas to stay in Istanbul with a family. Taksim is a favorite among anyone wondering where to stay in Istanbul, as it is simply so central to everything. Yet the area has more space than Sultanahmet and is close to the funicular, cable car, and metro. It is also an excellent choice for those who like to explore on foot and anyone who loves to shop. A large traffic-free plaza dominates the district.
Beyoglu – One Of The Best Neighborhoods In Istanbul
The nearby Beyoglu neighborhood is also a favorite among visitors to Istanbul. With a wide range of accommodations in all price brackets, this district bordering Karaköy and Galata has some of the city's top nightlife venues. What is the best place to stay in Istanbul? Whether you want to find a party hostel in Istanbul or are looking for 3-star hotels in Istanbul, Beyoglu has options for everyone. The area's key attributes include the red trams, the museum of modern art, antique shops, and the museum of painting and sculpture.
A point to note – Istanbul area names can be a little confusing, as the districts tend to blend. If unsure, click on the link for each listing to see a map of each property's precise location. We have also mentioned nearby attractions for each hotel or hostel to help you get your bearings.
We have also written a separate article on hotels by the Bosphorus Strait, so if this waterside area appeals, be sure to check that one out too.
PLAN AHEAD TO GET THE BEST DEALS
Istanbul Hotels Map
The Best Places To Stay In Istanbul – Here Are The Best Parts Of Istanbul To Stay In
Sultanahmet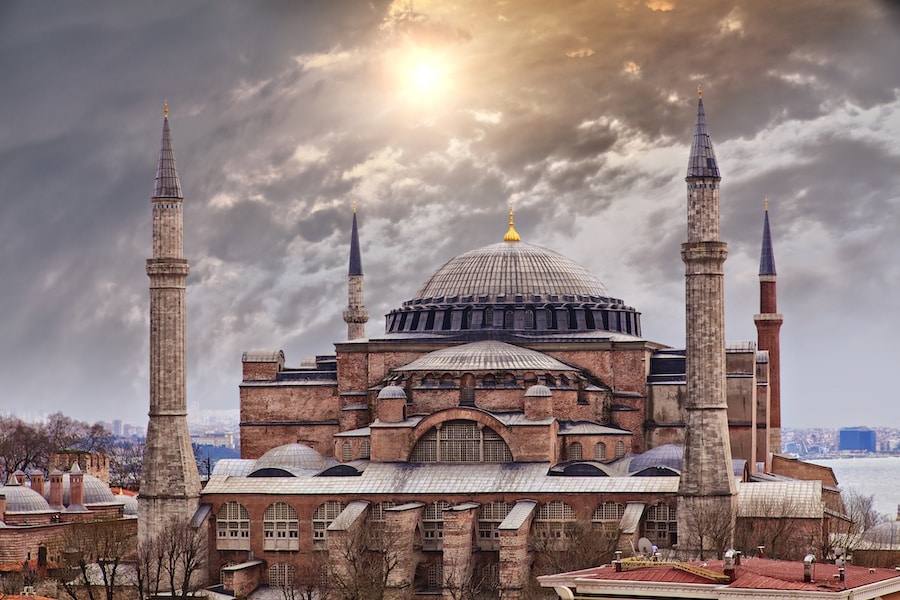 Sultanahmet is probably the first place that comes to mind when considering what area to stay in, Istanbul. It's where the city's world-famous sights are located, including the mind-boggling Grand Bazaar with over 4,000 stalls. The photogenic Hagia Sophia and Blue Mosque are also here. The district also offers plenty of shops, bars, and dining options and a range of accommodations.
The White House Hotel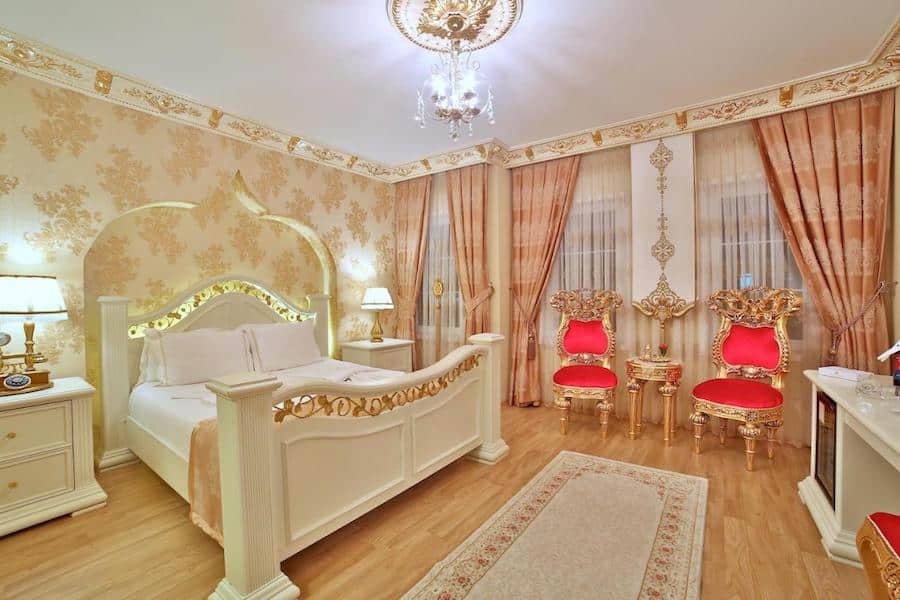 The White House Hotel is undoubtedly one of the leading contenders as the best place to stay in Sultanahmet. It is located at the heart of the historic peninsula, within walking distance of the Blue Mosque, Hagia Sophia, and the Grand Bazaar. Perhaps surprisingly, not all of the luxury hotels in Istanbul are in Sultanahmet, but this one certainly fits the criteria. This deluxe four-star plus property has many well-appointed, elegant rooms, some with balconies. All have cable flatscreen TVs, and the hotel has a bar, lounge, and restaurant.
Cronton Design Hotel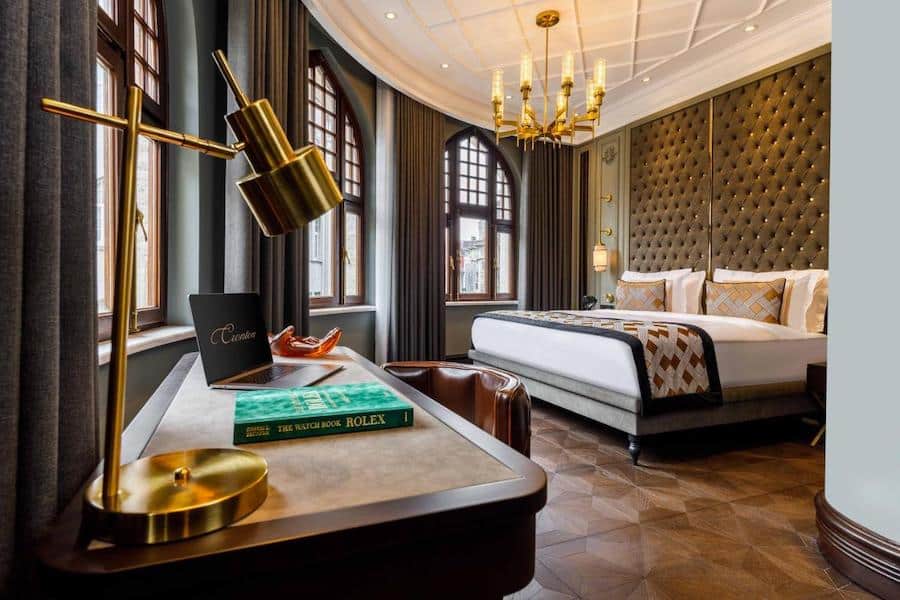 Oozing with luxury and elegance, the Cronton Design Hotel is a 5-star delight in Sultanahmet, just a short distance from attractions such as the Blue Mosque, Suleymaniye Mosque, and Hagia Sophia.
Rooms are richly furnished in moody tones, with plush furniture and gorgeous linens. The photos speak for themselves!
The hotel features an onsite restaurant, bar and continental breakfast along with a rooftop terrace and a spa for extra pampering during your stay.
Fer Hotel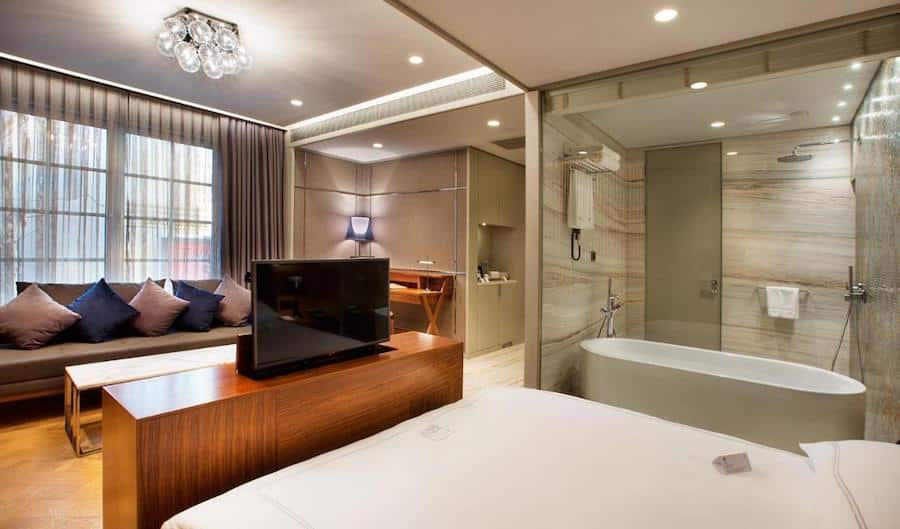 Another luxurious option within walking distance of the Blue Mosque, Hagia Sophia and Topkapi Palace is the 4-star Fer Hotel. This hotel received the award for Asia's Best City Boutique Hotel for its unique excellence.
With a contemporary and modern design, you will feel completely spoiled in the large hotel rooms and will understand why the hotel has received so much praise.
A full breakfast buffet is available to guests all day long, as well as a restaurant serving up amazing Turkish cuisine. Other extras include valet parking, 24 hour service desk, luggage storage and onsite electric car charging stations.
Celine Hotel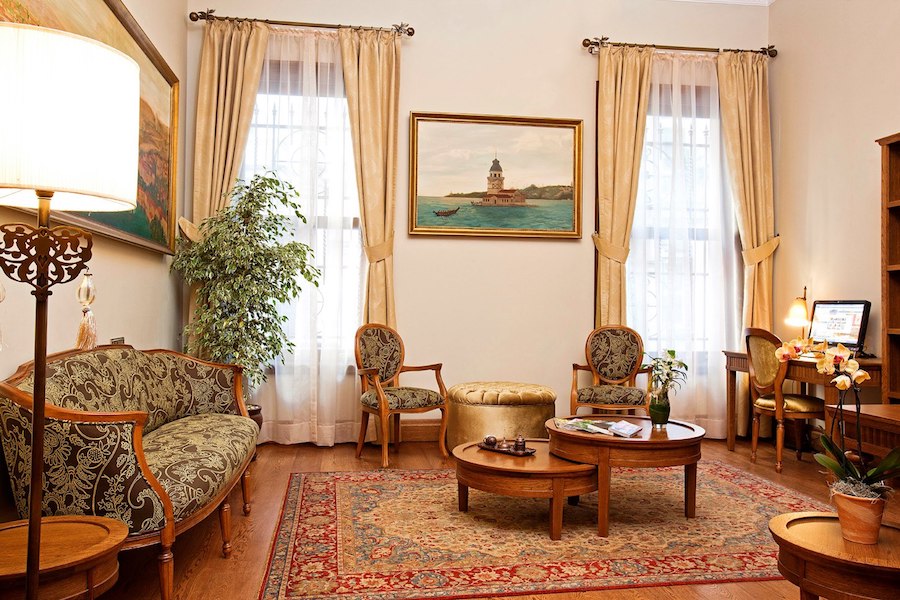 With its Ottoman mansion location, the Celine hotel could well be the best place to stay in Istanbul for couples. Its decor gives it an unashamedly romantic vibe, and this stunning property has a quintessentially Turkish interior. Public areas have stone walls and floors featuring exotic patterned tiling, while rooms feature carved wooden furniture and rich, luxurious fabrics. Celine hotel has an indoor garden with a fireplace, lounge, and bar, plus flatscreen cable TVs in all rooms. The Grand Bazaar is just over 500 meters away.
Romance Istanbul Hotel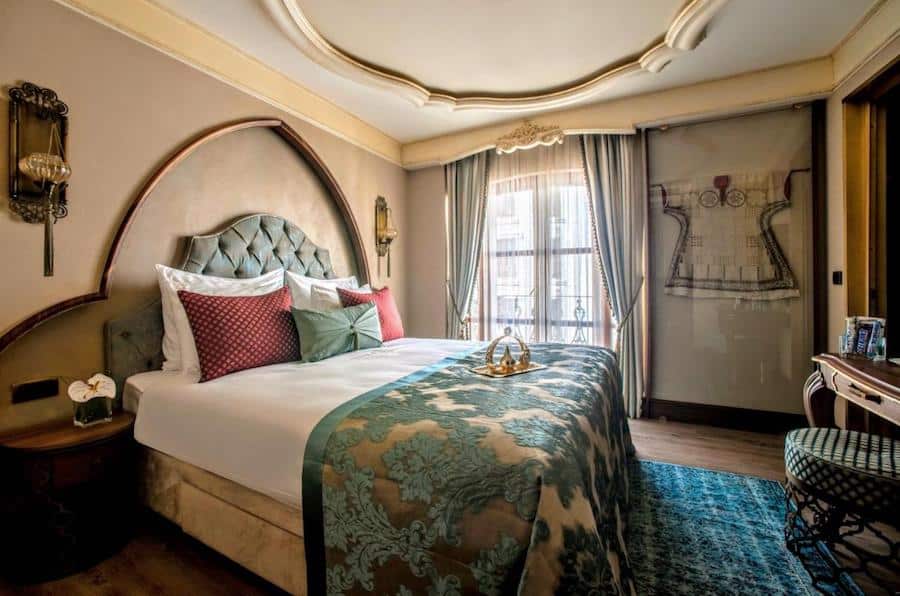 Even those looking for 5-star hotels in Istanbul would not be disappointed with the boutique-style Romance Istanbul hotel. It offers a range of accommodations in a pleasant, green part of the southern peninsula, from city doubles to deluxe triples and luxurious suites with hot tubs. The hotel has a cafe, bar, restaurant, and sauna, and the rooms are classically elegant with an eastern twist. Guests rave about the property's beauty, great breakfast, helpful staff, and location.
Rast Hotel Sultanahmet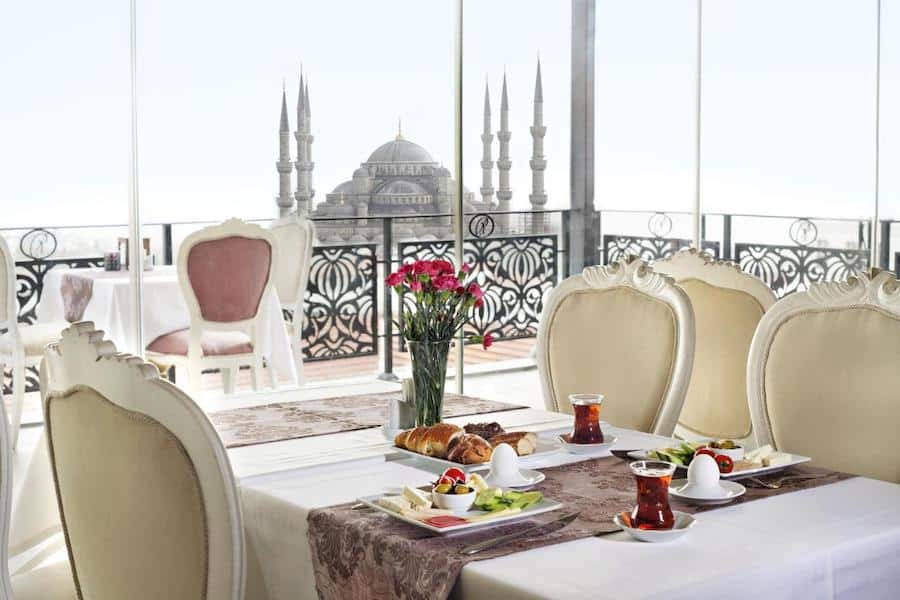 If you're looking for a room with a view, it doesn't get much better than the Rast Hotel Sultanahmet. Featuring both a rooftop terrace restaurant and rooms with balconies overlooking the Bosphorus, you are sure to soak in the highlights of the Istanbul skyline.
Elegant rooms hold an old world charm and many feature beautiful French doors that open to balcony views of the Blue Mosque and Hagia Sophia.
Enjoy a buffet style breakfast each morning while overlooking the city, then head out to tour the delights of Istanbul yourself. The hotel is just a quick walk from the Grand Bazaar.
Magnaura Palace Hotel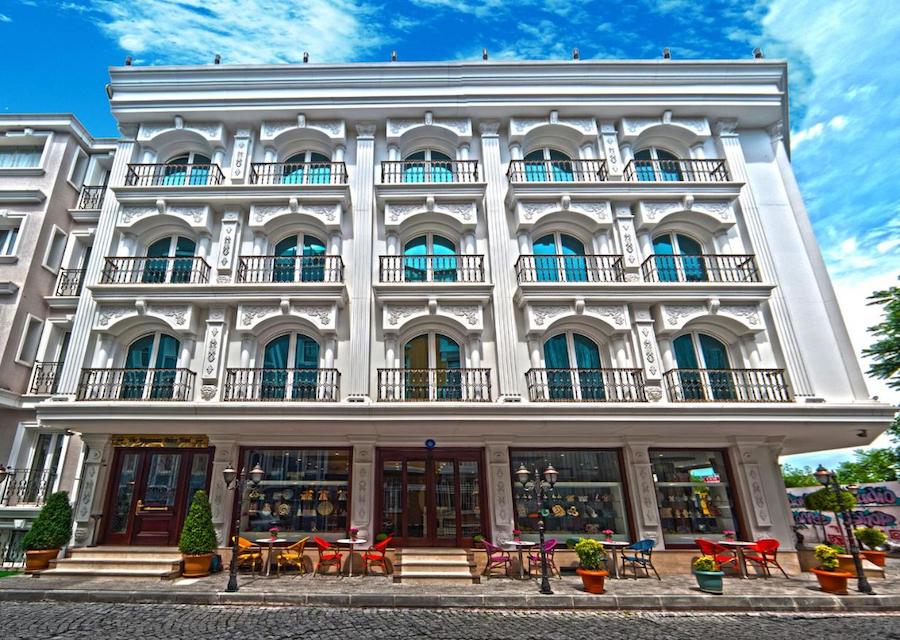 The Magnaura Palace Hotel is elegant inside and out and is located less than 250 meters from Hagia Sophia. An outdoor terrace is a particular highlight, as it offers guests views over the historic Sultanahmet district. The Marmara Sea can even be seen from some rooms. Accommodation is decorated with Turkish textiles, air conditioning, LCD TV, and a seating area. Food, cleanliness, and comfortable beds are among the features most loved by previous guests.
Mest Hotel Istanbul Sirkeci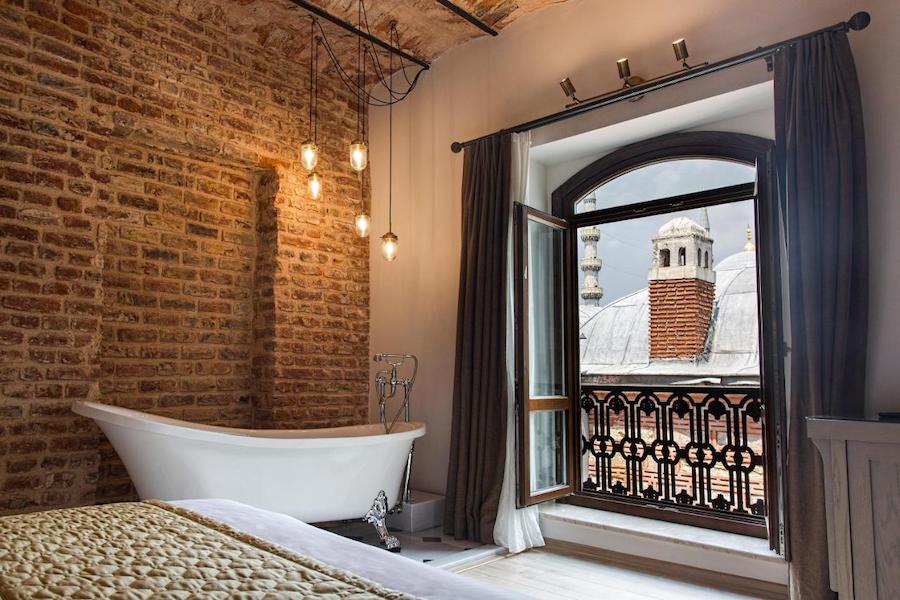 This Sultanahmet hotel is located near popular attractions such as the Basilica Cistern, Column of Constantine and Topkapi Palace.
There is a rustic and historic charm in the decor of the rooms, with a fusion of old and new design concepts. Many rooms feature walk out balconies with lovely views of the Istanbul city skyline. Groups of varying sizes will find comfort here, as the hotel offers economy rooms all the way up to lofted family suites.
On site, there is a restaurant with a view and a continental breakfast served daily.
Taksim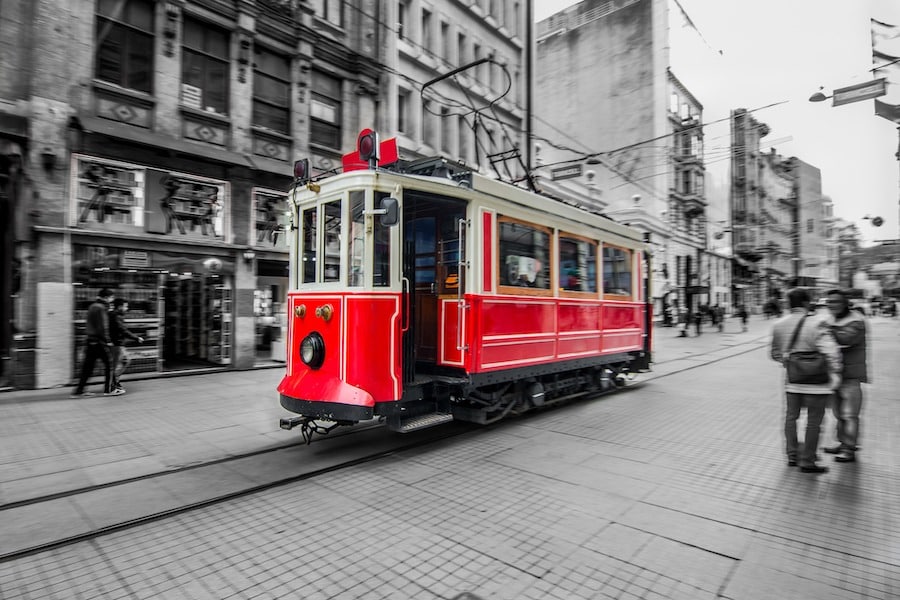 Taksim is popular with all kinds of travelers. It is home to one of the best streets in Istanbul for its range of cafes, restaurants, and shopping. This area is very central yet less crowded than Sultanahmet. Staying close to pedestrianized Taksim Square is an excellent option for couples and families.
Mukarnas Taksim Hotel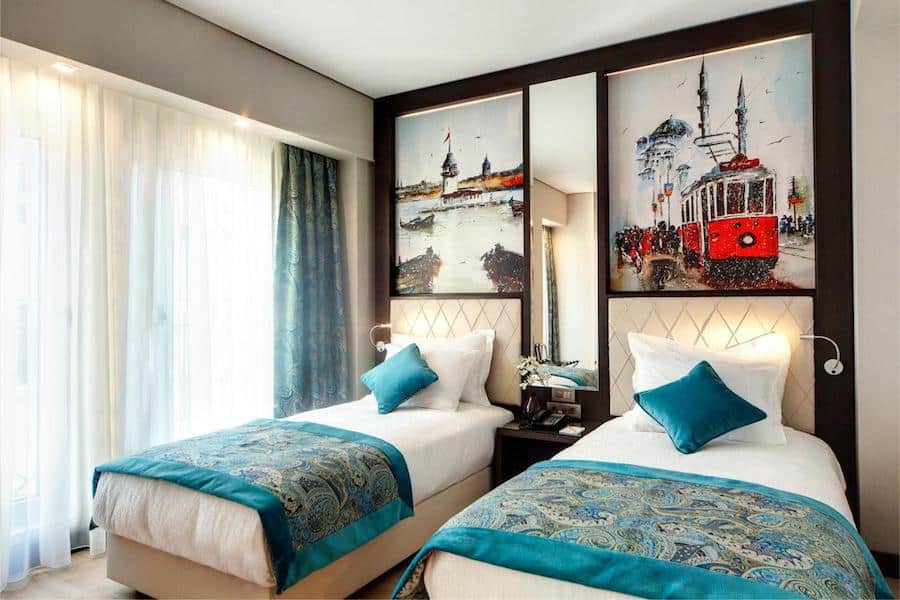 I was wondering where to stay in Taksim. The Mukarnas Taksim Hotel is a favorite with visitors to this central area. With a range of rooms sleeping between two and six guests, this property is prized for its location, friendly staff, fabulous breakfast, and clean, modern rooms. The hotel has an outdoor terrace, fitness room, free WiFi, 24-hour reception, and air-conditioned rooms with flatscreen TVs. This hotel, just 400 meters from Taksim Square, is ideal for those wondering where to stay in Istanbul with a family.
Pera Luna Residence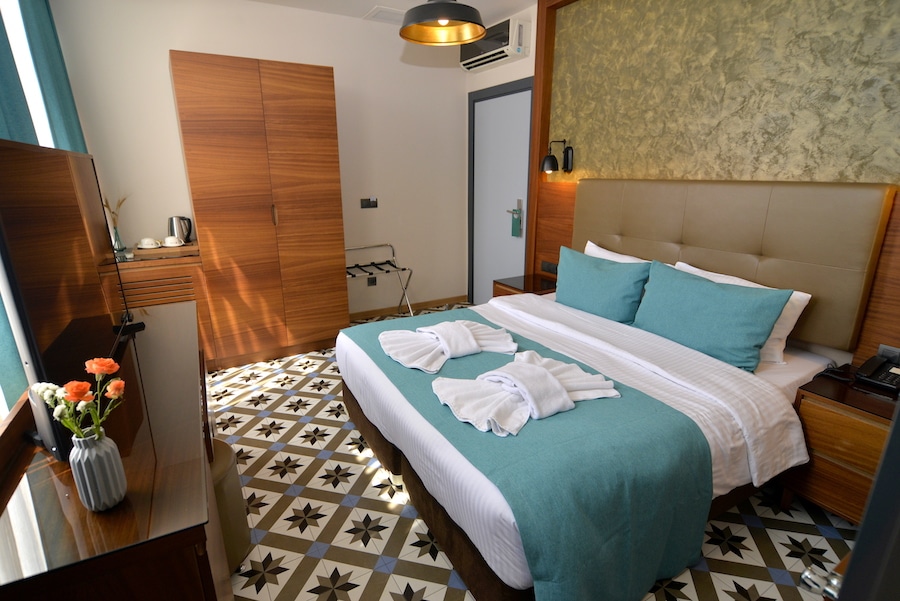 If you want proximity to the metro line and Taksim Square, you've got it at Pera Luna. This highly recommended property offers rooms that combine classic and modern decor to a pleasing effect, and guests staying here can walk pretty much everywhere. Guests who've stayed here particularly love the comfortable beds, cleanliness, and convenient location. The hotel offers air conditioning, free WiFi, flatscreen TVs, and a 24-hour front desk.
CVK Taksim Hotel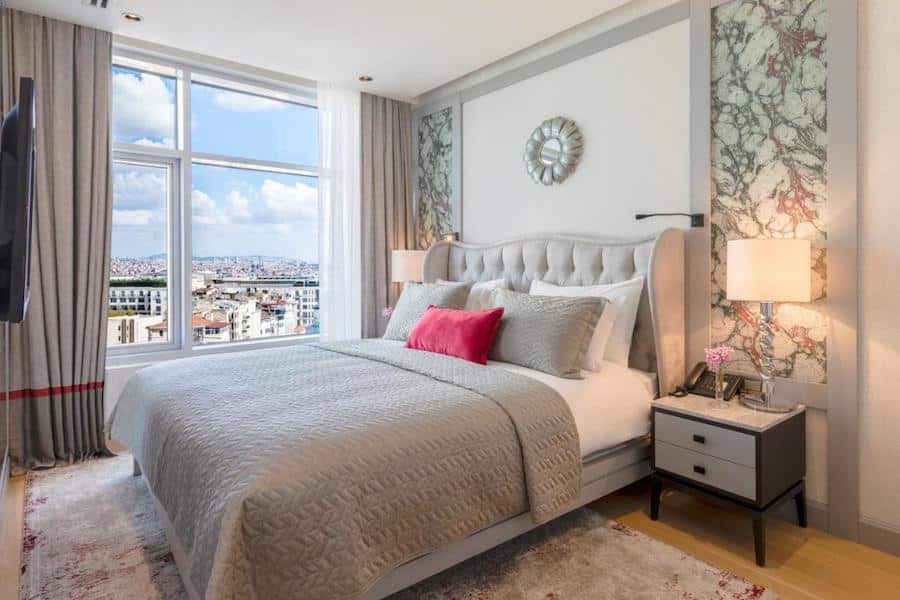 Overlooking Taksim Square, this four-star hotel is undoubtedly one of the suitable areas to stay in Istanbul. Each clean, modern room is elegantly decorated in its unique style, with views over the Bosporus from the restaurant. Some rooms have private balconies. The property has a spa, a marble hammam, and a Scandinavian sauna. There are 3 bars, and the hotel serves a buffet breakfast daily.
Ayramin Hotel Taksim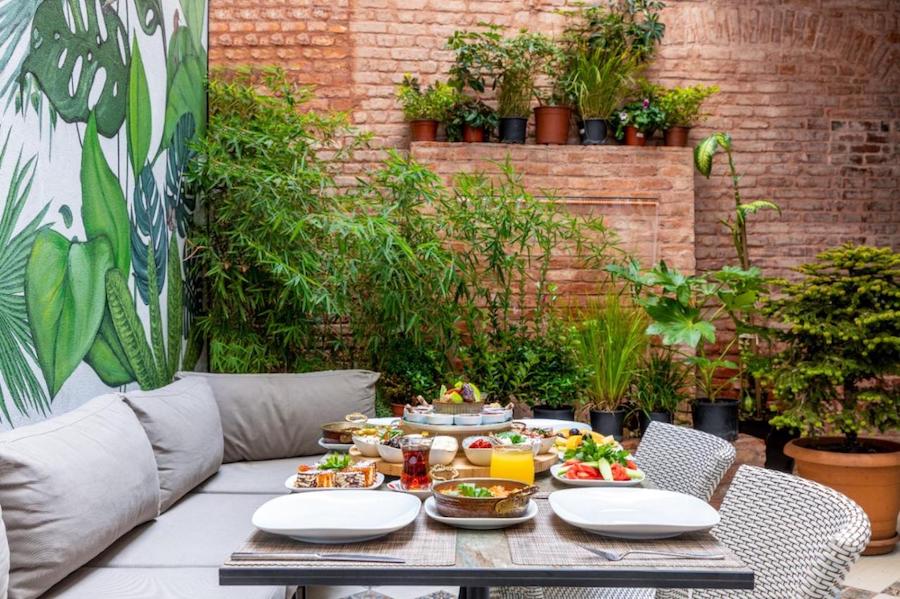 Just five minutes walk from Taksim metro station and under 200 meters from Istiklal Street is the Ayramin Hotel. There is a huge range of rooms and suites available at this property – sleeping up to eight – meaning it suits all kinds of guests. All air-conditioned accommodation has flatscreen TVs, and some have a hot tub or a seating area. Attentive staff, comfortable rooms, and a great location make this an Istanbul favorite.
Beyoglu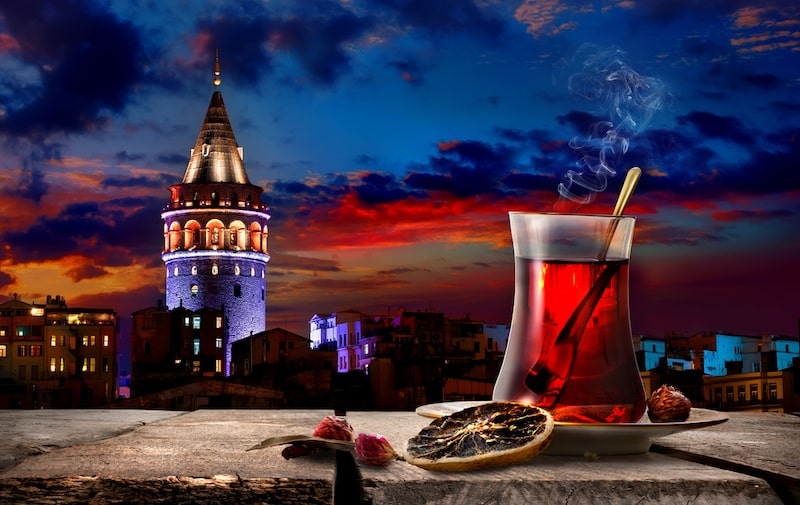 Beyoglu is a vibrant part of Istanbul and probably home to the Turkish city's broadest range of accommodation choices. With its red trams, museums, antique shops, eateries, and bars, this lively and interesting area close to the Galata Tower is one of the best Istanbul neighborhoods to stay in. Cukurcuma also forms part of this area and is home to a property with a traditional Turkish bath on site.
Hotel DeCamondo Galata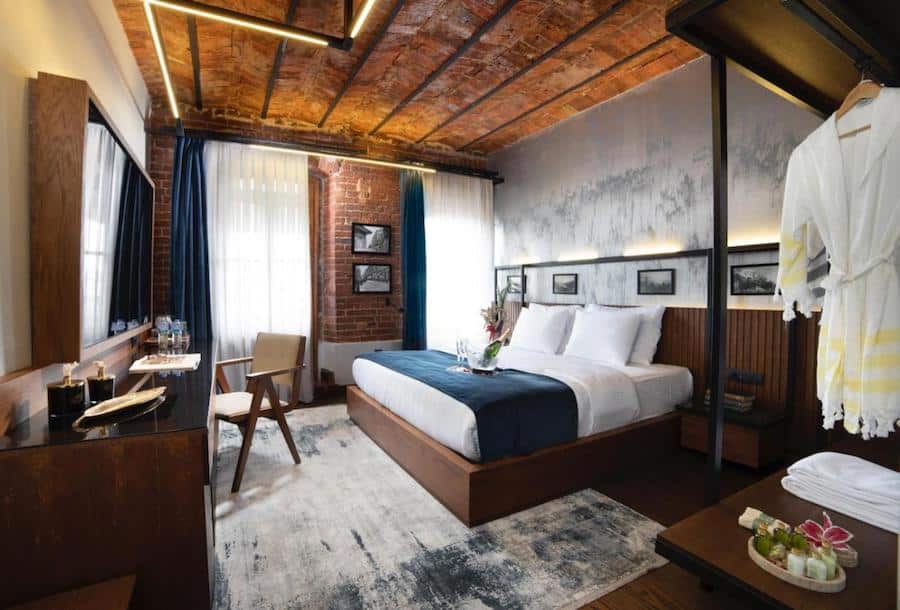 Past guests highly rate the location and facilities of this super clean hotel. Rooms have character features like exposed brickwork, wooden beams, and flooring and typically have white walls and indigo accents. This contemporary hotel has a restaurant, bar, and terrace and offers a 24-hour front desk, concierge, and currency exchange. A la carte or continental breakfast options are offered daily.
Hammamhane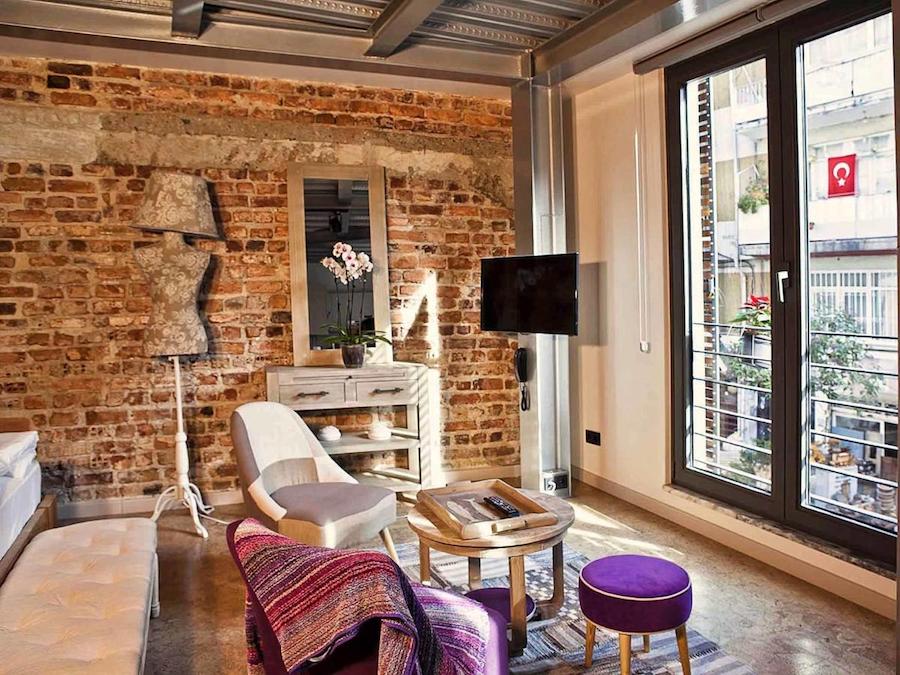 Located in a restored building close to Istiklal Avenue, Hammamhane offers a range of suites. The main highlight is the Turkish bath – Cukurcuma Hammam – on site, from which the property takes its name. Hammamhane is within walking distance of the shops, galleries, restaurants, and cafés of Cukurcuma. The air-conditioned suites have high ceilings, cork flooring, flatscreen TVs, and fully equipped kitchens. Some also feature their terrace.
Istanbul Hostels
Archeo Hostel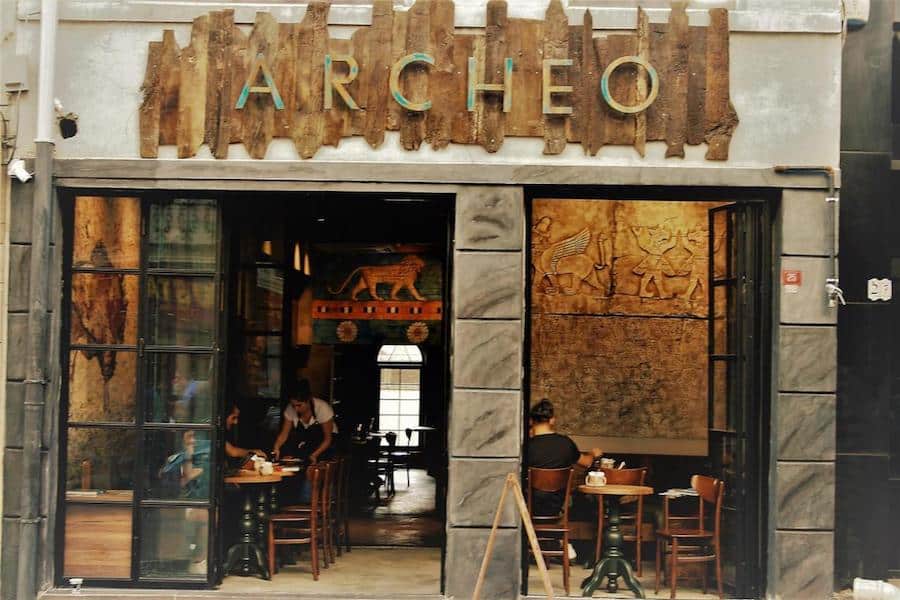 Hostels make unique places to stay in Istanbul. Suitable for solo travelers, they are a great way to meet like-minded people. Istanbul hostels don't come much more memorable – or highly rated – than Archeo. Archeo Istanbul is super clean, laid-back, and decorated in an appealing, quirky style. Beyoglu is under a mile from Taksim Square and just over a mile from the Spice Bazaar. Accommodation options include male and female dorms, double rooms, and on-site cafe.
Taksim Wooden House Hostel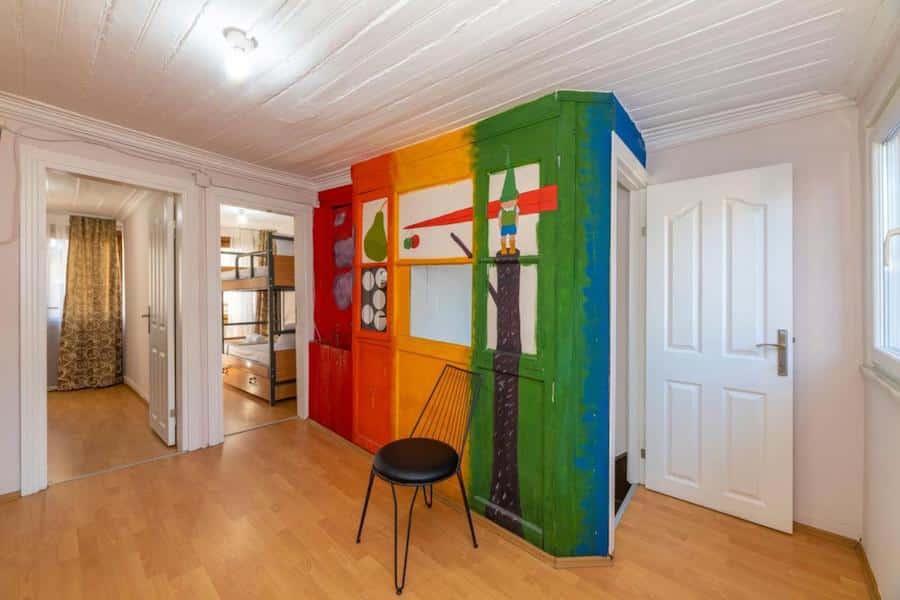 This spotless and well-run hostel is in an area straddling Beyoglu and Taksim. The property is around 500 meters from Taksim Square, on the inland side. Rooms have city views, and the hostel has its own garden for guests' use. There are double and bunk rooms and the property, and travelers can pick a four or eight-bed dorm. Some have garden views or a balcony. The excellent location and modern facilities like free WiFi, 24-hour desk with currency exchange, and shared kitchen make this a perfect option for those on a budget.
We hope this guide has helped you find an excellent base for your stay in the beguiling city of Istanbul. Whether you choose a sumptuous property in Sultanahmet, an affordable family hotel in Taksim, or a friendly hostel in Beyoglu, you're sure to enjoy your time in this exciting East meets West destination.
Where will you stay in Istanbul?