Here are your Turkey tourist SIM card options while you're on vacation in Türkiye. I have covered telecomms providers and an eSIM option to help you save time and money in Turkey.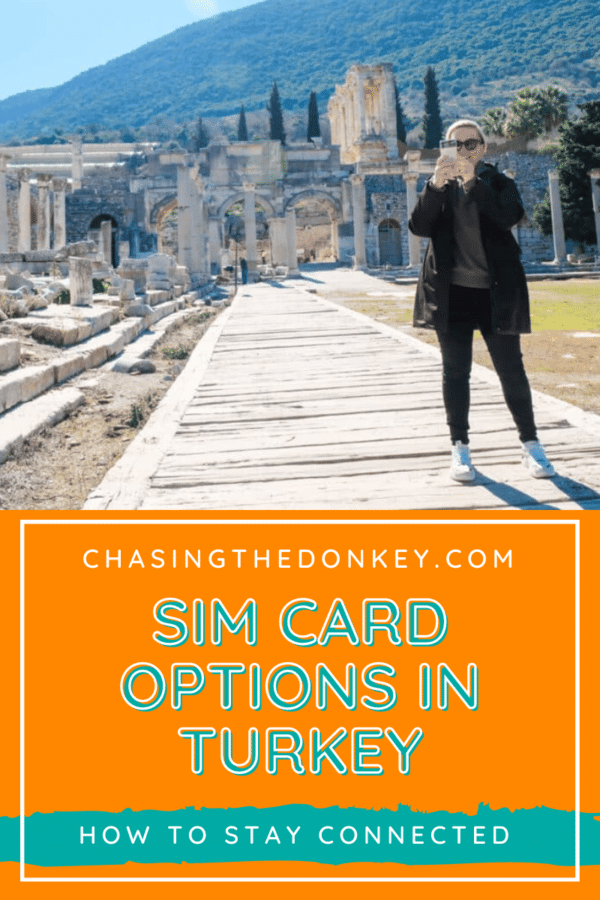 Regarding finding places while you are on vacation in Türkiye, Google Maps, taxi apps, and other apps are invaluable, and you need the Internet to access them! Before traveling to any country, you must figure out your SIM card options, and in Türkiye, a plan must be made before you arrive.
If you're heading there soon, there are several options for tourism SIM cards in Turkey (we love these eSIMs the best); some come at a great price, too. The other good news is that excellent internet coverage is widespread in Turkey, so you'll have no issues connecting no matter where you are.
Let's take a look at the major companies offering tourist SIM cards and eSIM cards in Turkey and what I recommend you take.
Vodafone Turkey Tourist SIM Card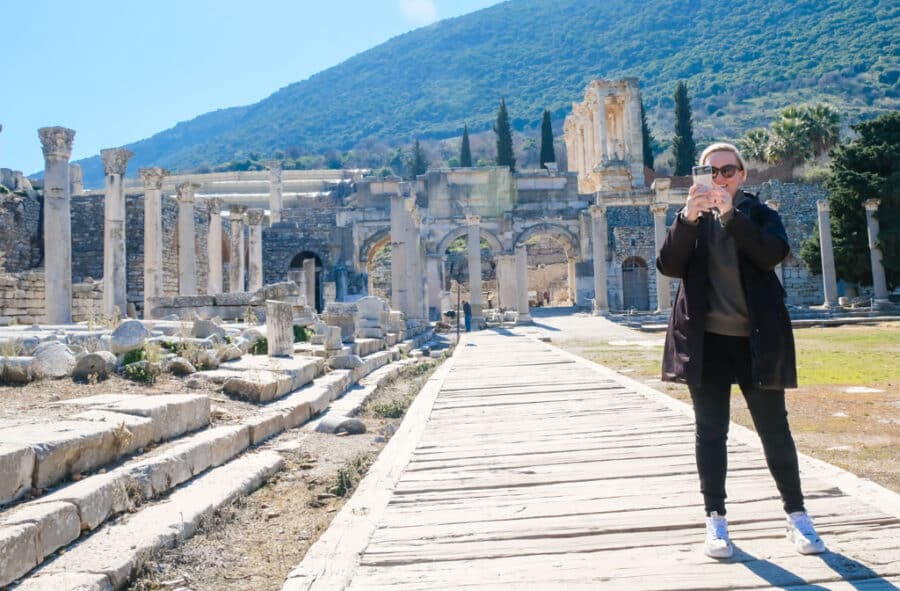 If you're already a Vodafone customer at home, you might feel more secure opting for the same company overseas. In that case, check if they do any packages for existing customers. If not, or if you're not a customer in the first place, Vodafone offers several packages for tourists visiting Turkey.
You'll find Vodafone shops in all big towns and cities and also in the major airports.
To register, you head online and register for your SIM or eSIM. When you arrive, head to the nearest Vodafone store (often found in the airport) and pick up your SIM – you can activate it immediately. You'll also be given a tourist pack with free data.
The SIM is prepaid, so you don't have to worry about running up a bill. Different packages range from 20GB to 70GB, including 250 SMS, 750 minutes, and free WhatsApp. Some packages offer free access to popular social media sites like Facebook, Twitter, and Instagram.
Your SIM will remain active for up to 90 days as long as credit is on it. Prices depend upon the package you choose, but expect to pay no more than around 35 Euros at the most.
TRAVEL COMPANIES WE USE AND TRUST
Turkcell Turkey Tourist SIM Card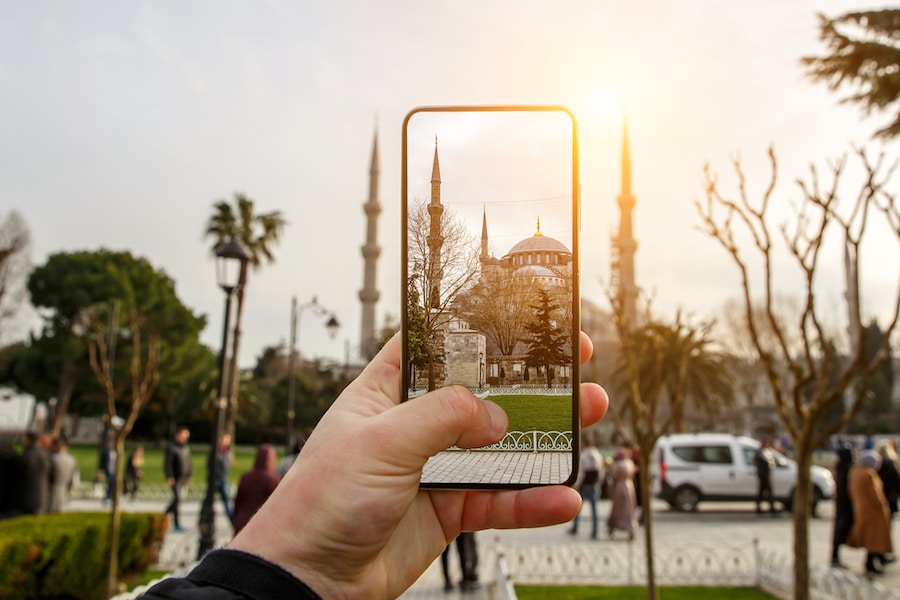 Turkcell is one of Turkey's biggest phone providers, and you'll find stores literally everywhere, including at the airport. The company offers several SIM card options for tourists; however, the most popular package offers 20GB of data and is valid for 30 days. You will also receive 200 minutes of talk time and free WhatsApp access.
Expect to pay around 12 Euros for a package, but there are different options, so if you ask for more data, you will expect to pay a little more.
To purchase your SIM, head to the nearest Turkcell store.
Turk Telekom Tourist SIM Card
Another popular option is Turk Telekom, which offers SIM cards for tourists to use during their stay. Packages vary between 25-75GB, depending upon what you need, and last for 15-28 days, depending on which package you choose.
You will also receive between 750-1500 minutes and free, unlimited WhatsApp access.
Prices range between 5-10 Euros, and you can purchase your SIM at your nearest TurkTelekom store. As with Turkcell, you will find these shops everywhere, including at the airport.
eSIM With Airalo
I recommend this quick and easy solution. Use an e-SIM in Turkey, which you can have downloaded and all ready to use when you arrive in Türkiye. This is ideal if you have little time and you don't want to mess around trying to find a store to purchase a SIM.
Head to this website and choose the country you're heading to. Obviously, you'll select Turkey in this case, but you can also get a global SIM card if you plan to travel to other places. You can opt for packages between 1GB and 20GB; validity varies between 7 to 30 days, depending on your desired package. The only issue here is that you don't get calling credit, but that may not be an issue if you use messaging apps like WhatsApp, Messenger, and Telegram.
Once you've chosen your package, you install and activate your app, and you're good to go.
What Is An eSIM
An eSIM, or embedded SIM, is a small chip that is built into electronic devices such as smartphones and smartwatches. The eSIM functions similarly to a traditional SIM card, but it is already integrated into the device's hardware instead of being removable. Essentially, an eSIM allows you to connect to cellular networks without physically inserting a SIM card into your device. It can store multiple carrier profiles simultaneously, and switching between carriers can be done with just a few taps on your device screen.
Why You Should Use An eSIM
The use of eSIMs has several benefits that make them an attractive option for travel. One key advantage is their convenience – since the eSIM is built into your device rather than being a physical card that needs to be inserted and removed, it's much easier to switch between different carriers without having to fiddle around with tiny pieces of plastic. This can be especially useful if you travel internationally and want to switch to a local carrier for better coverage or lower rates. Another benefit is increased security – because the eSIM is essentially just software running on your device, it's much harder for someone else to clone or steal your SIM card information. Finally, using an eSIM can sometimes save you money in the long run by allowing you to take advantage of special deals and discounts from carriers that are only available through digital channels like apps or websites.
In addition, there are a few other eSIMs you can choose, which are slightly lesser known yet still very useful when you're traveling.
OneSimCard: also known as eSIM World – Charges $0.25 per MB of data, $0.45 per minute worldwide, and free to receive calls and texts. WhatsApp can be used for free
Holafly: this service doesn't allow calls or SMS, but you can use data. Charges are $19 for unlimited use for 5 days, $27 for unlimited use for 7 days, $34 for 10 days, and $47 for 15 days
MOGO eSim: this is another data-only SIM. Charges are $2.50 for 300MB over 3 days, $6 for 1GB over 15 days, $11 for 2GB over 10 days, $30 for 5GB over 30 days, and $55 for 10GB over 30 days
Flexiroam: another data-only card with various options. You can use 1GB over 3 days for $4.50 or over 8 days for $5. Opt for 3GB over eight days for $12.50, 7GB over 15 days for $24.50, or a huge 50GB over 90 days for $100
Is It A Good Idea to Get a Prepaid SIM Card or eSIM In Turkey?
Yes! Turkey is huge, meaning there are countless things to see and do. You might find yourself in a city and then decide that you want to eat a specific type of food; you'll automatically reach for Google, right? That's all fine and dandy if you have an Internet connection, but if not? Well, you're stuck.
Having access to your phone during your travels is useful on many levels, not least from a safety point of view. You'll be able to get to different places with much more ease, thanks to Google Maps; check the weather and avoid a downpour while also being able to update your friends and family with your travels. If you book private tours or a driver, you can also call them and avoid any mishaps or confusion.
It makes life so much easier.
Of course, you might have a contract back home with your phone provider, and they say that you can use your phone overseas. If that's what they say, you can, but check the small print. You might have a data limit when traveling, which is super-easy to use up quickly, and there may be extra charges you're unaware of.
But most importantly, having a tourist sim card in Turkey means additional safety. Not only so you can call emergency services, but so you can look up directions when you're getting lost, you can download maps and GPS tools.
What About Pocket WiFi In Turkey
As you can see, some eSIMs don't allow for calls or texts, so you might find that pocket WiFi offers better value for money or better convenience at least. This device acts as a mobile hotspot, and you connect your phone to it to access data.
This is especially useful if you're traveling in a group or as a family, as you can connect multiple devices to the same hotspot.
The only downside of this is that pocket WiFi is that it's not available to rent or buy everywhere, and you might find it more expensive, depending on what you're looking for.
You can usually rent these devices from most major airports, and you'll pay a flat fee, depending on how long you'll use it, before dropping it back at the airport when you depart.
Some touristic resorts also offer pocket WiFi devices, so it's simply a case of researching before you visit your specific location.
Extra Tips To Bear In Mind
There's no doubt that a SIM is a great option when visiting Turkey, but there are a few extra tips to add to our chat. That way, you'll get the best value for money and always be connected.
Avoid Buying Sims At The Airport
If you have no option, go for it, but you will find you end up paying a lot more than if you bought your SIM from a store or online.
Check Prices Before You Visit
The prices mentioned in this guide are approximate; remember that prices often fluctuate, so double-check before you visit to ensure you have the most up-to-date prices to hand.
Ask The Store To Fix Everything For You
If you're going to get your SIM from a store, make sure everything is working before you leave. The assistant can quickly fix it all for you, and you won't end up having to go back the next day, wasting precious time during your visit.
Know How To Top Up
Your SIM will come with a small card that will have a few emergency numbers on, and it will also tell you how to top up if you need to – keep this handy!
Don't Take The Sim Out Until You're Done
Don't be tempted to put your home SIM in your phone to check messages etc. If you do this, you might find that your Turkish SIM is locked. The SIM card will come with a PIN, so make sure you know this if you do need to remove it.
Make Use Of WhatsApp
If your SIM doesn't allow SMS, or you opt for an eSIM that only offers data, WhatsApp is your friend. Many SIMS enable free use of WhatsApp, too, so that's something to look out for.
FAQs ABOUT A
Questions To Ask Before Choosing a SIM Card Provider
You do have a few options regarding SIM card providers, so it's useful to know their unique selling points and how easy they are to use.
Ask yourself these questions before making a choice:
How do you register the SIM?
For most large companies, this isn't a difficult process. You'll have to show your passport; the setup should be quick.
How is the SIM activated?
If you head into a Vodafone, Turkcell, or Turk Telekom store, the shop assistant will do all this for you, so you won't have to worry. However, if you buy a SIM card over the Internet or choose an e-SIM, ensure you know the activation process in advance.
How do you top up your data?
While most plans offer more than enough data, you might find that you use it all (YouTube, we're looking at you), and you need to top up. So, how do you do that? Most large SIM providers in Turkey will allow you to top up in store (they're found in all large towns and cities) or from a convenience store for a small extra charge.
Where can you get a SIM card in Turkey?
For the easiest process, it's best to head to a Turkcell, Turk Telekom, or Vodafone store and ask the assistant to set it up for you. However, you can also buy them online before you arrive and pick them up in store, or you can purchase them from the airport. If you choose this option, know that it will cost more.