Privacy & disclaimers →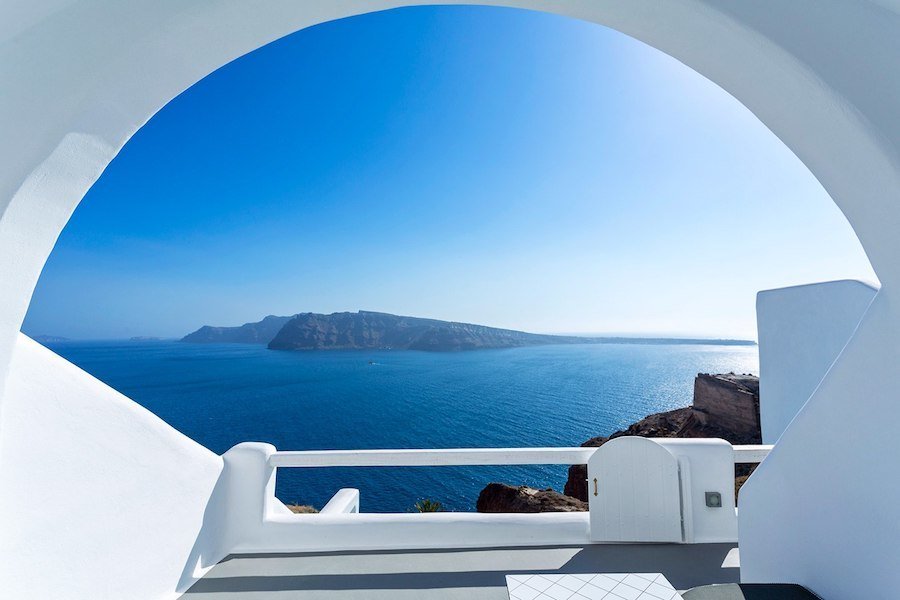 Best Places To Stay In Santorini – Santorini Accommodation Guide
Here is a detailed guide to the best places to stay in Santorini. We'll start with an overview of the best villages in Santorini, followed by a list of our recommended accommodations on Santorini.
Santorini is a magical destination in the middle of the Aegean Sea. It's a romantic island with world-famous whitewashed beautiful landscapes and postcard-perfect views. Santorini is one of those places that everyone wants to visit at least once in their lifetime.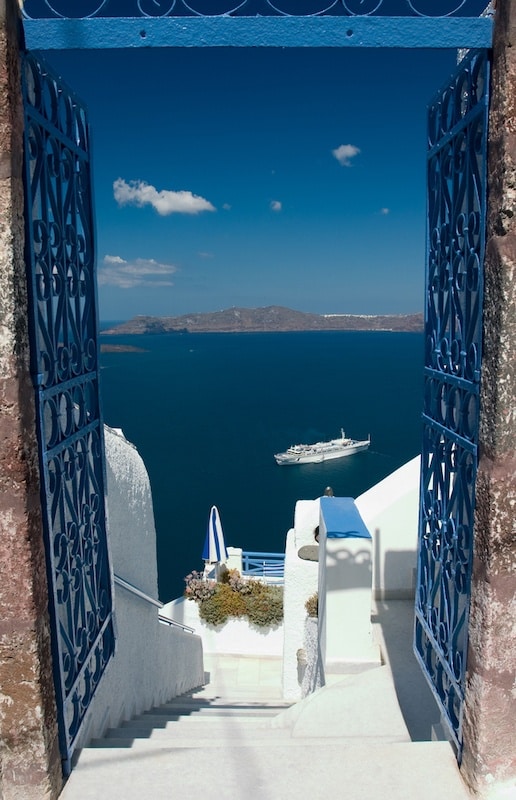 If you're planning a trip to Santorini, you will definitely want to know not only what you can do there, but first and foremost, you will be eager to find out about the best area to stay in Santorini.
Being such a popular island, Santorini receives thousands of tourists each year. Therefore, to find the right accommodation in Santorini, it's paramount that you book in advance.
Booking in advance will secure a more affordable rate and allow you to find the accommodations in Santorini, Greece that are right for you (and your budget) when considering what things you plan to do while on the island.
Are you on a romantic getaway in Santorini? Are you traveling with friends? Are you a solo traveler? Or are you in Santorini to spend a wonderful holiday with the whole family?
The good news is that there are Santorini island hotels and villas for every kind of traveler and for every budget. Even though Santorini is known for being a romantic destination for honeymooners, the island receives every traveler type and has things to offer to all who visit – we even recommend Santorini with kids!
Now, let's see which Santorini accommodations and the things to do on the island suit you best.
Villages In Santorini – Accommodation Santorini Village-By-Village
The crescent-shaped island of Santorini is not that big if compared with other Greek islands such as Crete. That means you will have a smaller choice of villages and areas to stay in Santorini, but also that you can rely on public transport to move around.
Although car rental is always comfortable in Greece, this is one of those islands where renting a car is not really essential, since most villages are well connected by the local transport network – and it's busy!
These are some of the best villages where you can choose to stay in Santorini.
BEST VILLAGES IN SANTORINI
Accommodation On Santorini – Oia, Santorini
Those traveling to Santorini for a romantic holiday, a couples getaway, or the most idyllic honeymoon usually prefer to stay in the gorgeous village of Oia, on the northern tip of the island.
Oia is a fantastic whitewashed village perched on the border of Santorini's Caldera, with traditional Cycladic blue-domed churches, a few windmills, and an old castle where people gather every day to witness one of the most romantic sunsets in Greece.
Oia can be a bit overpriced if you book at the last minute, but this is also because hotels in the area tend to have spectacular views that you can't easily get anywhere else. This is arguably the best town in Santorini to stay in if you want to enjoy and experience that classic Santorini image that we all know.
Most hotels in Oia are luxurious. Many feature indoor pools, in-room jacuzzis, and private terraces where to enjoy a rich international breakfast in total privacy, while still enjoying the unique panorama of Santorini.
There are several places to see in Oia, all of them full of charm and elegance. A popular thing to do is to take an afternoon to walk along the beautiful cobblestone alleys. You can also shop in the magnificent souvenir boutiques that sell exclusive art from Santorini, jewelry, and local cosmetics.
Oia is also a wonderful place for photographers. The village is so pretty that it's easy to capture one-of-a-kind pictures of every step you take.
Suppose you have more of an explorer spirit. In that case, instead, it's a good idea to rent a car and drive along the opposite coast of Oia, to discover the lonely villages and the forgotten beaches of Baxedes and Koloumbos.
Although Santorini is usually not the place you would choose for a beach holiday, these northern shores have lunar white landscapes and a good swim option when it's not very windy.
Accommodation On Santorini – Fira, Santorini
The capital of the island is Fira, and it's the liveliest and best part of Santorini to stay for bustling island town life. The landscape remains as traditional as it is in Oia, but price tags tend to be lower, while there's definitely more to do in Fira.
Fira has a great choice of places to stay and shops, boutiques, restaurants, bars, and traditional tavernas, some of them enjoying a privileged view of the most famous Caldera in the world.
In Fira, it's also possible to discover a part of Santorini's past, visiting some of the island's museums, such as the Archaeological Museum of Fira and the Museum of Prehistoric Thira. Additionally, the village is also known for the beautiful churches, some of them with colorful domes and several interesting art galleries.
The port of Thira receives many cruise ships every day, so if you're reaching Santorini with a cruise ship instead of by plane, you will enter the island through this gate.
For the best shopping and any basic need, you will need to reach Fira's central square or Plateia Theotokopoulou. Here's also the public bus station, a taxi rank, banks, drugstores, and a hospital. Again, this is probably the best side of Santorini to base yourself on for convenience combined with a plethora of attractions and amenities.
Accommodation On Santorini – Firostefani And Imerovigli – Two Quiet Villages With A View
Far enough from Santorini's most touristic villages' crowds and bustling lifestyle, these two small towns are located halfway from Fira and Oia but still remain an oasis of tranquility.
Although there's not much going on in either of the villages, you can still find things to do, such as hiking to Skaro Rock, an old Medieval castle in Santorini, or hiking the coastal path that connects Fira and Oia.
Both Firostefani and Imerovigli are, more than anything else, the hotel havens. Some of the most exclusive hotels in Santorini are located in the area, but it's also possible to find good bargains if you're willing to trade sacrifice the view.
Accommodation On Santorini – Kamari And Perissa – The Black Beaches Of Santorini
Although beaches are not usually the main reason to travel to Santorini, there are two wonderful beaches you need to see on the island. Their main characteristic is their volcanic soil made of black rocks and pebbles in striking contrast with the deep blue of the sea.
Accommodation On Santorini – Kamari
Kamari is one of Santorini's black beaches. The village is quite alive and can be a great place for friends traveling to the island to have some fun.
Other than a wide black beach, there are several seafront hotels where you can stay in Kamari. And since there are no caldera views in the area, prices will definitely be more affordable in this village.
Accommodation On Santorini – Perissa
Located in the southern area of the island, the place is quite relaxing and isolated; Perissa is the other famous black beach in Santorini.
There is not much nightlife, and activities are reduced, but there's a fantastic set of restaurants by the sea, and the beach is one of the best to practice waters sports on the island.
The best-priced hotels in Santorini are probably located in Perissa, a village that has become a top-pick among families staying in Santorini. This is arguably the best part of Santorini for a peaceful family vacation, as well as water fun.
Always remember that these black beaches have pebbles of volcanic origin, so they tend to be scorching hot when the sun heats them.
Those traveling with kids might want to consider protective beach shoes for the smaller family members. For adults, flip-flops will be enough.
Accommodation On Santorini – Akrotiri
The remote area of Akrotiri has turned into a trendy place to stay on the island during the last years. It's a quiet area of the island, very close to the magnificent Red Beach of Santorini.
Red Beach is another excellent spot to enjoy Santorini's magnificent sunsets. Other attractions in the area include the romantic Lighthouse of Akrotiri and the unique Archaeological Site of Akrotiri.
The archaeological settlement treasures the mysteries of the island before the catastrophic volcanic eruption that put an end to the ancient civilization of Santorini in 1500 BC.
TRAVEL COMPANIES WE USE AND TRUST
Accommodation In Santorini Map
Where To Stay In Oia, Santorini – Best Luxury Hotels In Oia
When choosing accommodation on Santorini, most of us would know to look at Oia first as it is the most well know. Here are our top picks for places to stay in Oia.
Filotera Suites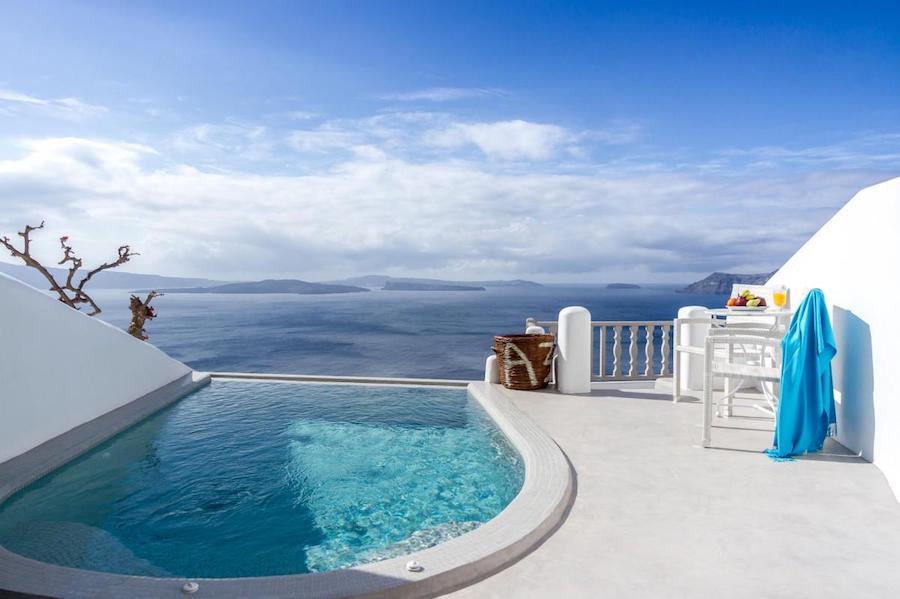 The Filotera Suites is an excellent place for couples, with unique views of the Caldera, a magnificent infinity pool, and every comfort you need.
As a plus, each of the suites has its private seating area with a coffee machine, a comfortable sofa, and flat-screen TV. Most of the rooms also host an outdoor hot tub or a private pool. Set in the island's most iconic town, this is hands down one of the best places to stay in Santorini if your budget allows it.
Charisma Suites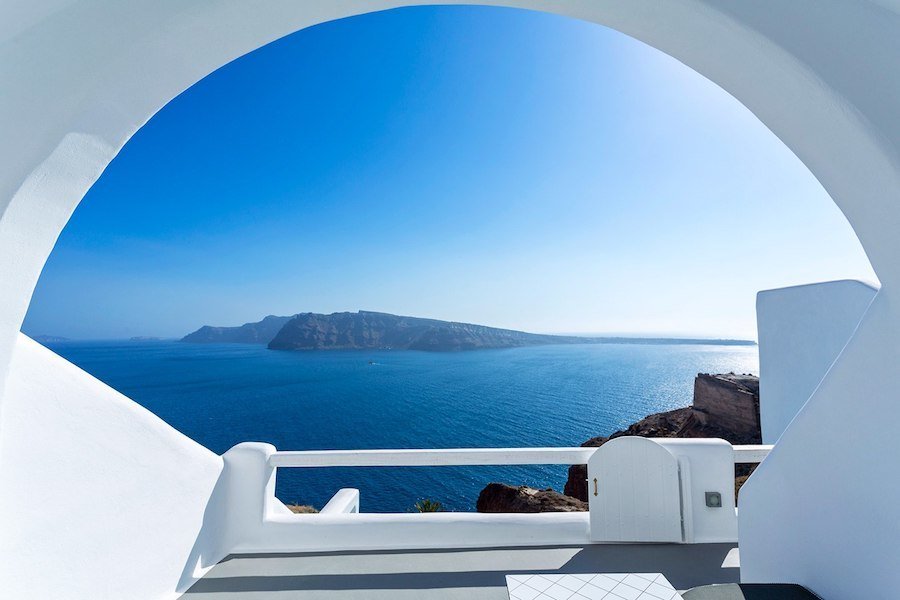 The all-white architecture of Charisma Suites will definitely enchant you and put the perfect frame to your romantic holiday.
The pool overlooking the Aegean Sea features a fantastic Greek-style snack bar. Every suite also comes with a modern iPod dock station, satellite TV, and a comfortable sitting area.
Best Budget-Friendly Hotel In Oia, Santorini – En Plo Boutique Suites
To save a few bucks and enjoy the area, it's a great idea to stay close to the area of Baxedes, still close to the Caldera, but without the stunning views. This way, your expense will be lower, and you can even stay more days in Santorini!
En Plo Boutique Suites is a fantastic hotel with a huge sun terrace, a garden, and a swimming pool. The suites are very comfortable, and the beach is just a few minutes away.
Best Family Hotel In Oia – Thetis Cave Houses
Being perched on top of a mountain hill, most hotels in the Caldera don't accept children. However, there are a few exceptions worth checking if you're traveling to Santorini with the family and decide that Oia is the place where you want to stay.
Thetis Cave Houses are one of the places in Oia happy to receive children in their facilities. The family-friendly accommodation in Santorini's Oia town also offers a comfortable shuttle to reach the airport.
The suites have great Caldera views, and breakfast is delicious. This is a top-rated place to stay in Santorini.
Where To Stay In Fira
Beautiful accommodation in Fira is not hard to find, but since the village is bigger than Oia, the choice is wider too. Let's see some of the hotels in Fira you can book today.
Best Family-Friendly Hotel In Fira – Sienna Eco Resort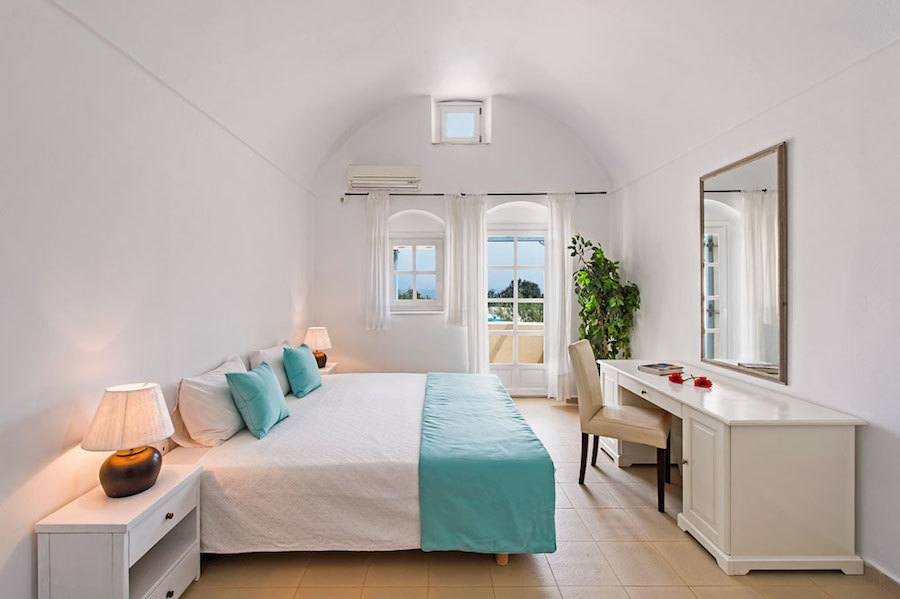 Sienna Eco Resort is a gorgeous villa located in the village of Fira, and it's an exceptional place for a family holiday.
These traditional villas enjoy stunning views over the Aegean as well as the garden. If you're renting a car to see the rest of the island, you'll be happy to know that there's a free parking spot on the property as well.
If you want an extra dose of family, book one of the villas with a private pool.
Best Budget Stay In Fira – Lignos
Lignos is an excellent two-star hotel, ideal to still enjoy the best of Santorini without breaking your budget. It might lack the spectacular caldera views, but there's an incredible pool, and it's also open to families with small kids.
Best Luxury Hotel In Fira – Athina Luxury Suites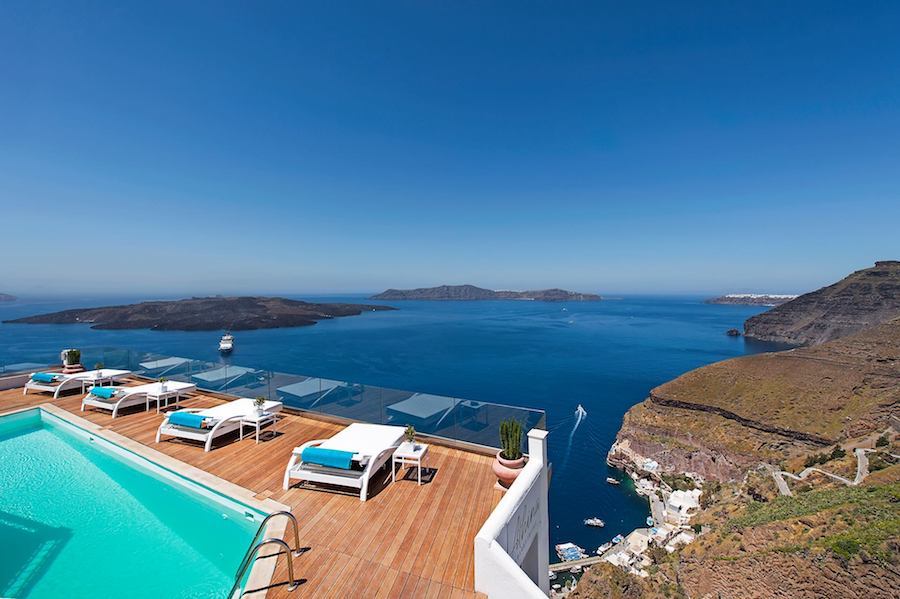 Fira can also be a very romantic place and a luxurious one. Several boutique hotels are overlooking the sea – so you have several to choose from.
The one we like is Athina Luxury Suites – it is in a great location overlooking the center of Santorini's volcano.
The hotel is nestled upon a rock, and every suite features the magic architectural style of the Cycladic Islands.
There's also a majestic swimming pool and a sun terrace as well. This property is also happy to welcome small children in the facilities.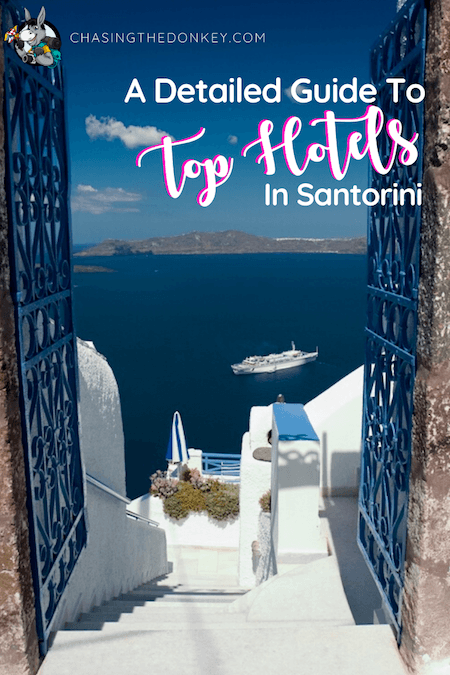 These are some of the best places to stay in the area.
Where To Stay In Firostefani
When selecting accommodation in Santorini, Firostefani probably is not the first place you'd consider. That said, it has some top-class places to stay in Santorini; here is what we suggest:
Best Family-Friendly Hotel In Firostefani – Splendour Resort
Splendour Resort is a top-choice hotel in Firostefani for families. It featured a beautiful swimming pool, and breakfast is usually included in the room's price.
The hotel has excellent reviews praising the staff and the superb service they provide to customers.
Best Luxury Hotels In Firostefani – You & Me Suites
You & Me Suites is one of the top-rated places to stay in Firostefani, providing every luxury and comfort you could ever ask for. Their infinity pool has stunning views at sunset, and it's a key feature of this hotel.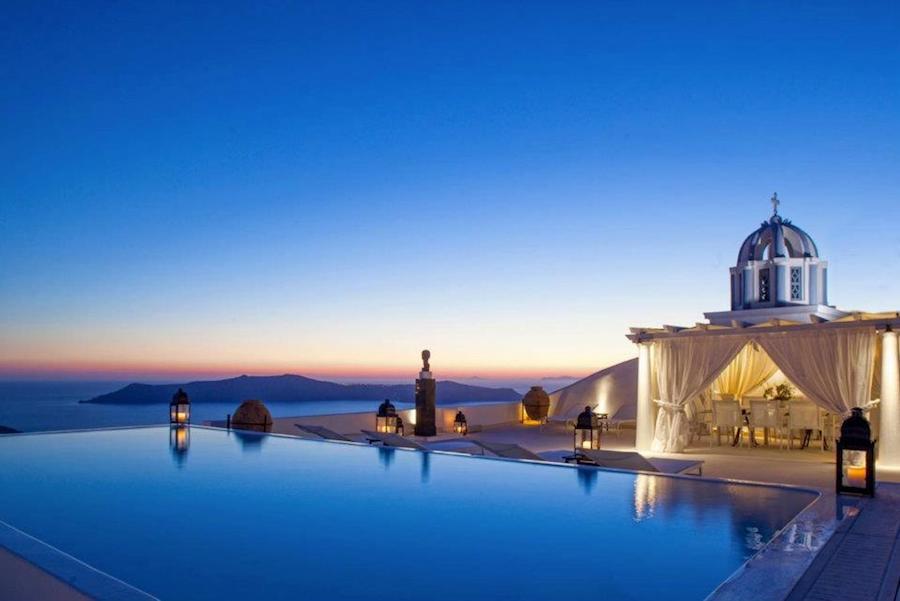 The Tsitouras Collection is another luxury hotel in the area. Among the main features, the stay of this 18th-century mansion includes spectacular sunset views and antique decor, with romantic domes and vaults.
Every morning it's possible to enjoy a free a la carte breakfast, which is served at any time. Instead, every evening, a complimentary cocktail is served by the pool to enjoy during sunset.
Most Convenient Place To Stay In Firostefani – Alonia Studios
Alonia Studios can be placed on the cheaper price range in the area and yet, is a great location to stay (also with the family). The traditional complex in Cycladic style is conveniently close to Fira and has pretty panoramic views of the sea. The studios feature a well-equipped kitchenette with every facility.
Where To Stay In Imerovigli
Best Luxury Stays In Imerovigli – Aqua Luxury Suites
Aqua Luxury Suites Santorini is a condo resort with exclusive characteristics facing the spectacular Skaro Rock and the Aegean.
Some of the suites feature an outdoor hot tub or plunge pool. Another characteristic is that breakfast is served in-room.
Andronis Concept Wellness Resort is a pleasant place to stay, offering every imaginable comfort and overlooking the beautiful landscape of Santorini.
Among the key features, suites have a minimal interior, a private swimming pool, a living room with a flat-screen, and a satellite TV.
The hotel offers spa treatments, personal training services, and yoga classes as well. There's an incredible on-site restaurant too.
Best Family Accommodation In Imerovigli – Vista Mare Studios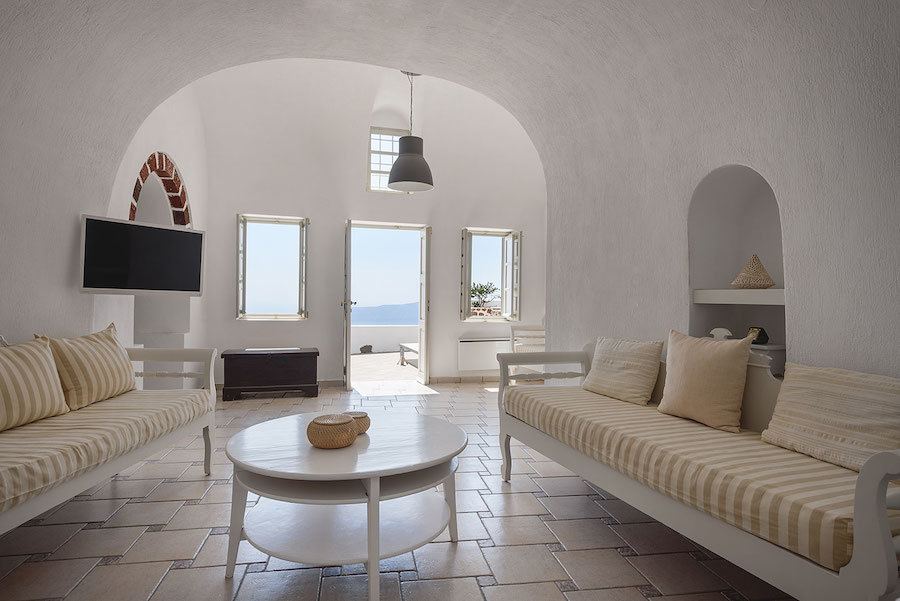 If you want to stay in Imerovigli with the whole family, choose the comfort and convenience of Vista Mare Studios right on the cliff's edge.
The property features studios and suites and a few cave suites with a typical Cycladic style that have been carved into the rock.
Budget-Friendly Stay In Imerovigli – Rhapsody Apartments
Rhapsody Apartments are the perfect answer for a convenient stay in Imerovigli. The beautiful and traditional apartments are surrounded by vineyards and olive trees, giving a complete sense of quietness to your stay.
Where To Stay In Kamari
Best Seafront Hotel In Kamari – Makris Beach Hotel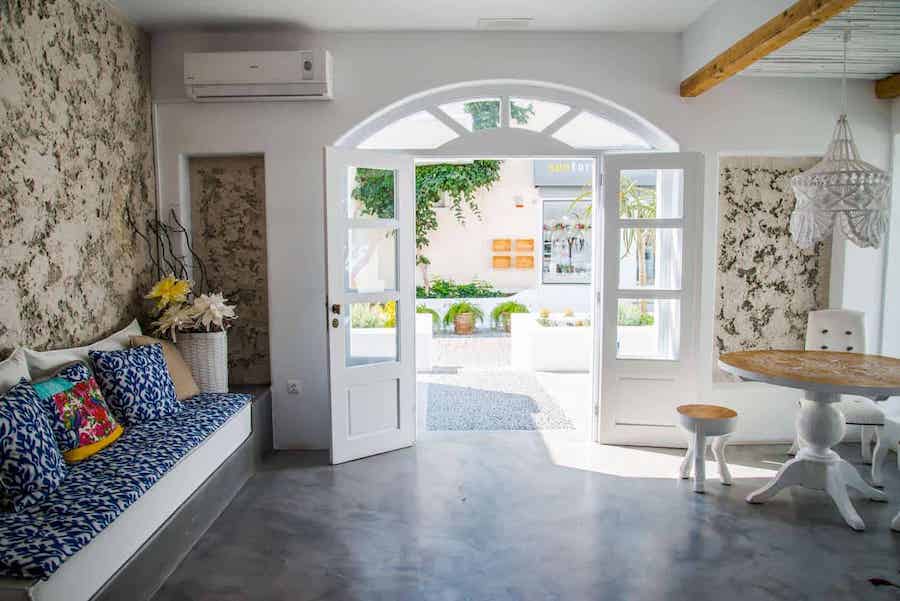 Makris Beach Hotel is located right opposite the beach of Kamari, and it's a great place to stay whether you're traveling alone, with your partner, or with the whole family. It has a modern decoration, and a fantastic pool too.
Best Family Friendly Hotels In Kamari – Aegean View Resort
Aegean View Resort is another hotel ideal for families with kids since it features both a sweet water pool and a swimming pool specially designed for children.
Villa Ostia is a perfect place for families in Kamari. Every apartment is surrounded by stone-paved pathways, and there's also a pool available for guests.
Where To Stay In Perissa
Best Budget-Friendly Accommodation In Perissa – Irigeneia Hotel
Irigeneia Hotel is located on the main road of Perissa, right in front of the black beach. It's a great and convenient accommodation, with a rich breakfast included in the price.
Best Accommodation In Perissa For Families – Drossos Hotel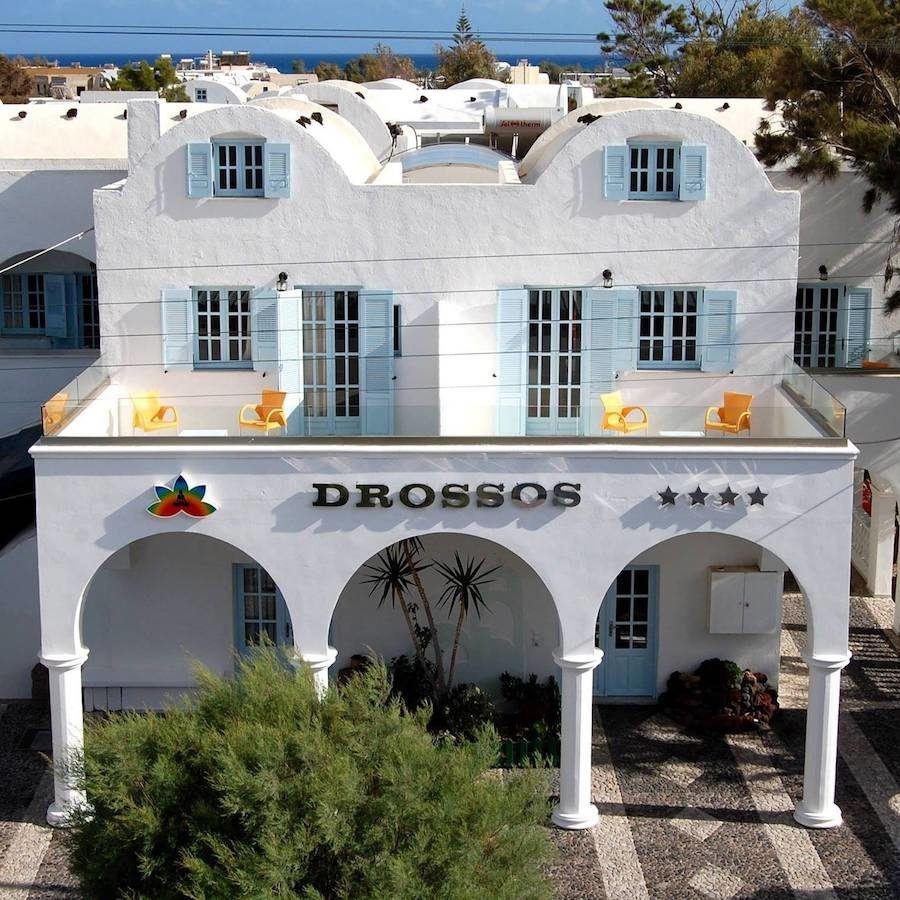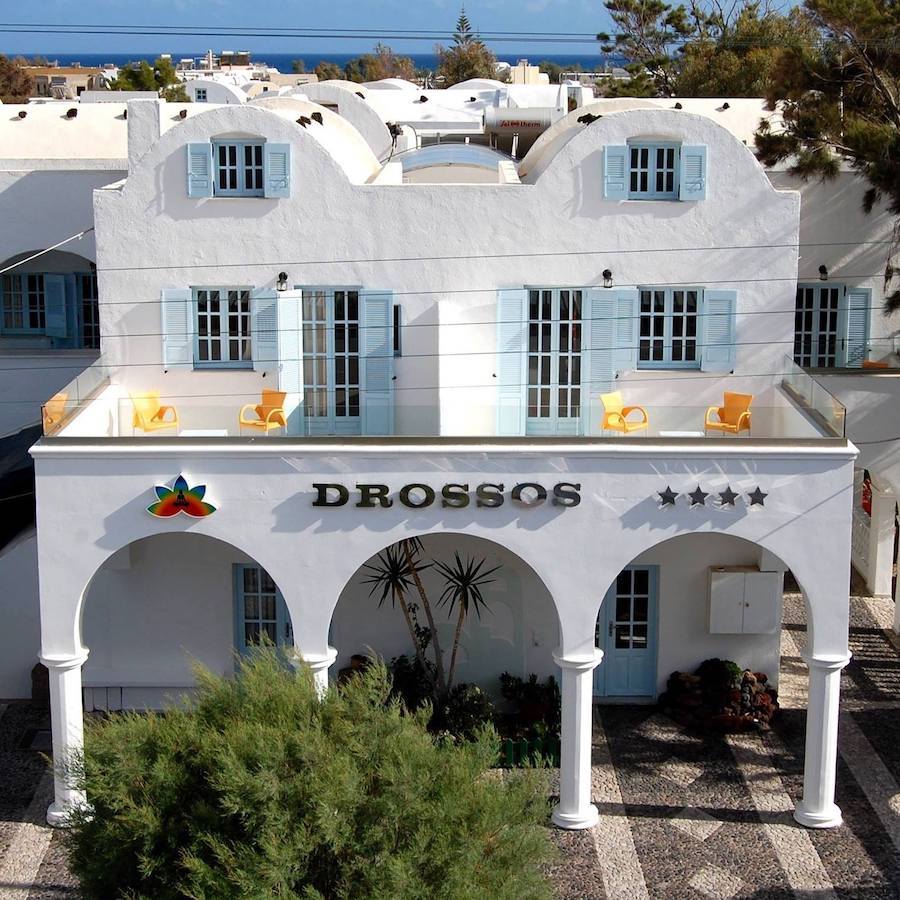 Drossos Hotel is a gorgeous property with a magnificent pool and modern decor where to spend your holidays in Santorini.
There's a sun terrace that features sun loungers and umbrellas ideal for relaxing in a quiet environment. This is a top-rated hotel for families in the area.
Where To Stay In Akrotiri
Best Budget-Friendly Hotel In Akrotiri – Caldera Romantica
One of Akrotiri's top places to stay without excessive prices is Caldera Romantica, with beautiful traditional Cycladic rooms and verandas with views of the Caldera, the pool, or the garden.
The friendly owners serve each day a traditional homemade breakfast. Kids are also welcome.
Best Mid-Range Property In Akrotiri – Kokkinos Villas
Kokkinos Villas is another family-friendly place to stay in Akrotiri with enchanting volcano views and mid-range fees. Every place of interest in Akrotiri can be easily reached from the villas.
Best Luxury Stay In Akrotiri – Ambassador Aegean Luxury Hotel & Suites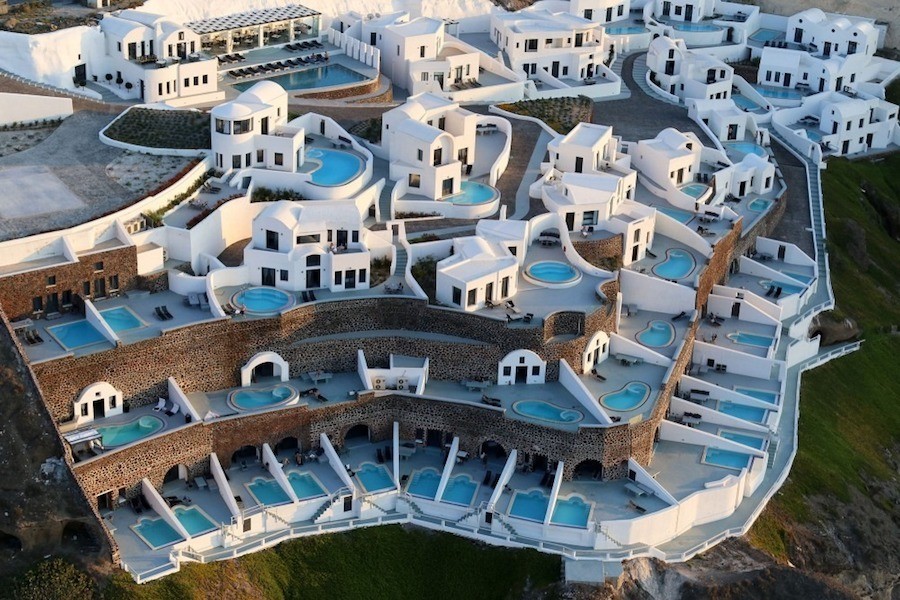 Ambassador Aegean Luxury Hotel & Suites is a five-star luxury accommodation with panoramic views of the Santorini volcano.
There are suites with a private pool in the traditional architecture of Santorini, such as vaulted ceilings and arches, which magically blend with modern touches of style.
Private pools with hydro-massage as well as a stylish Greek restaurant are also part of the services offered on the property.
More Greece Travel Ideas