Privacy & disclaimers →
Romantic Getaways: 24 Best Places To Visit In Croatia For Couples
Ah, Croatia! The land of stunning natural beauty, fascinating history, and rich culture. But is Croatia romantic? YES! Croatia is the perfect destination for you if you are planning a romantic getaway with your significant other.
With its picturesque beaches, charming old towns, and breathtaking landscapes, it's no surprise that this country has been named one of the most romantic places in Europe. In this blog post, we'll take you through our top picks for the best places to visit in Croatia if you want to ignite or rekindle that spark between yourselves.
So pack your bags, and let's explore what Croatia has to offer for couples!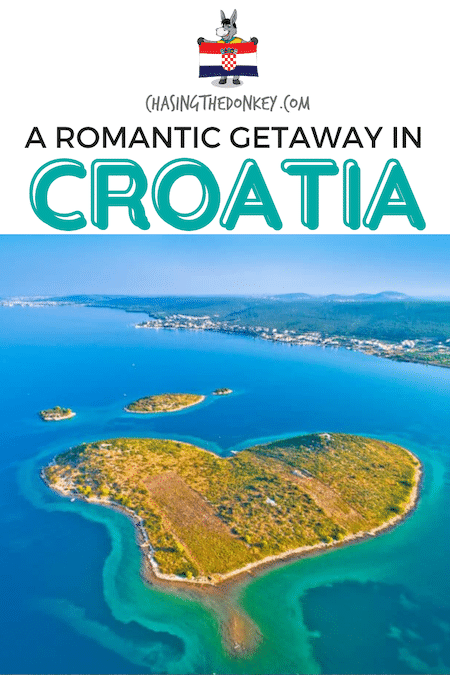 Croatia Is The Ideal Getaway For Couples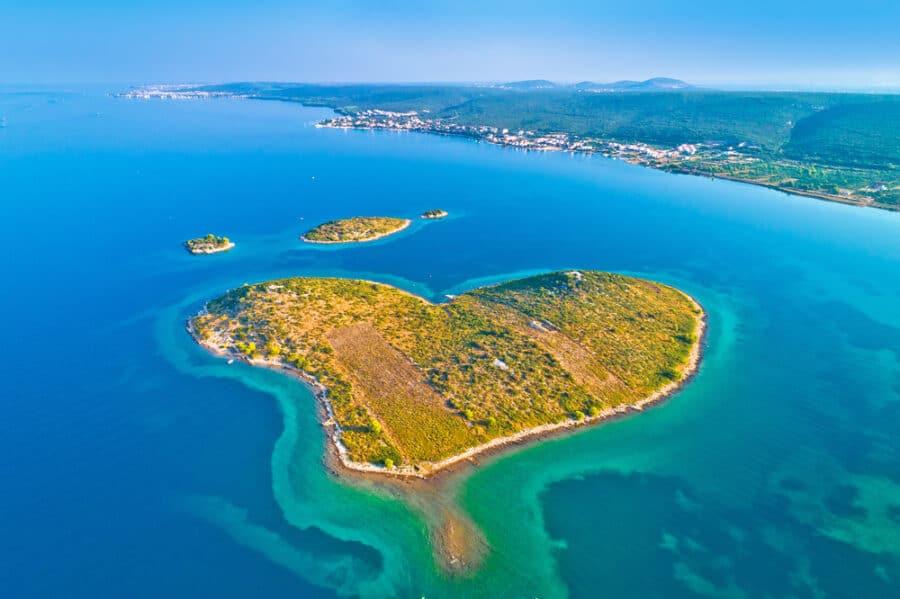 There are few places in the world as romantic as Croatia. Whether you're looking for a place to relax and unwind or want to explore some of Croatia's most beautiful scenery, there's something for everyone. With its idyllic islands, stunning coastal towns, and picturesque villages, it's no wonder that this country is a popular destination for couples.
When you're planning a honeymoon, don't just think that Croatia is a summer-only destination, it is one of the best honeymoon destinations in November.
If you're looking for an even more romantic getaway, here are some of the top places to visit in Croatia:
Dubrovnik: A City Of Romance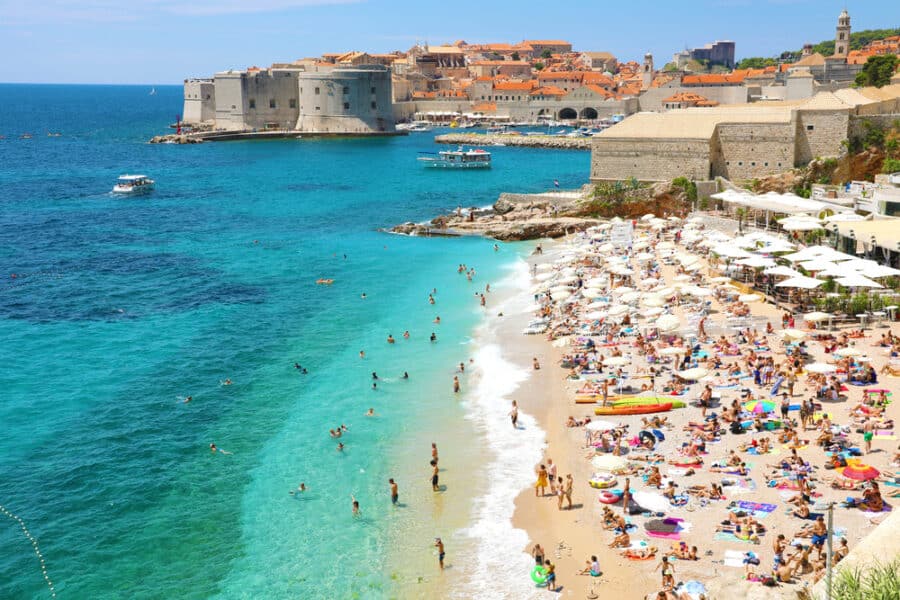 Whether planning a honeymoon, an anniversary trip, or a romantic getaway, Dubrovnik should be on your list. The city has it all – breathtaking scenery, historical landmarks, world-class restaurants, and plenty of activities to keep you busy. Plus, its convenient location makes it easy to add on a beach vacation before or after your time in the city.
Dubrovnik's old town is a UNESCO World Heritage Site and one of the most beautiful places in Croatia. The well-preserved buildings and architecture are a feast for the eyes, and there's plenty to explore; top romantic ideas are:
Walk the city walls
For stunning views of Dubrovnik, take a cable car ride up Mount Srđ
Take the boat over to Lokrum Island and find the peacocks, go swimming, and sunbathe
And, no trip to Dubrovnik is complete without experiencing its food and wine scene. Dubrovnik is home to numerous Michelin-starred restaurants serving up Croatian specialties like fresh seafood and truffles. Enjoy some of Croatia's finest wines in between meals at one of Dubrovnik's many wine bars.
Plitvice Lakes National Park: Nature's Beauty & Romance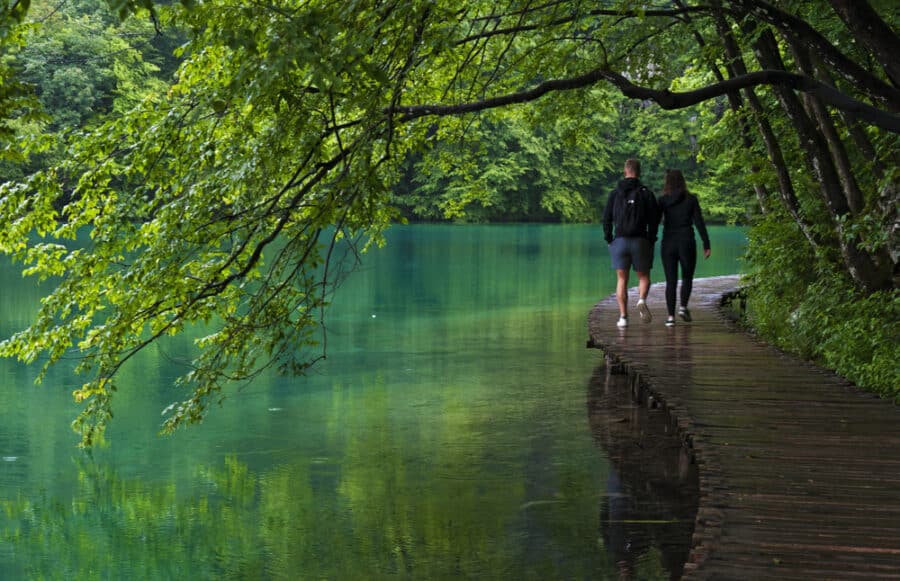 Plitvice Lakes National Park is one of Croatia's most popular tourist destinations, and it's easy to see why. The park is home to a series of beautiful waterfalls and lakes, making it the perfect place to enjoy nature's beauty with your significant other. Romantic things to do at Plitvice Lakes National Park include:
There are plenty of great spots to take romantic photos in the park
Take a boat ride on one of the lakes
Enjoy a picnic
Vis Island: History & Romance In One Place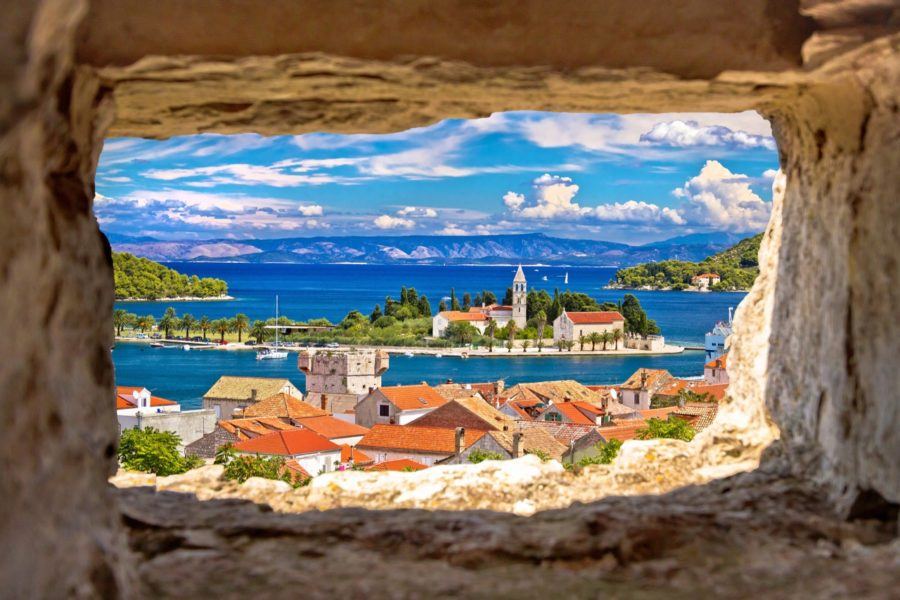 Vis Island is one of the most romantic places in Croatia. This small island off the coast of Dalmatia has a long history and a lot of character. The island was once home to a Roman settlement and later an important naval base for the Venetian Republic, and it's the farthest inhabited island in Croatia.
Today, it is a popular tourist destination known for its beautiful beaches, clear waters, and relaxed atmosphere. There are several small villages on Vis Island, each with its own unique charm. The island is also home to some of Croatia's best seafood restaurants. If you're looking for a romantic getaway where you can relax and enjoy some good food and wine far away from the hustle and bustle of the city, board the ferry and escape to the Island of Vis.
Pula: Roman History & Beachside Bliss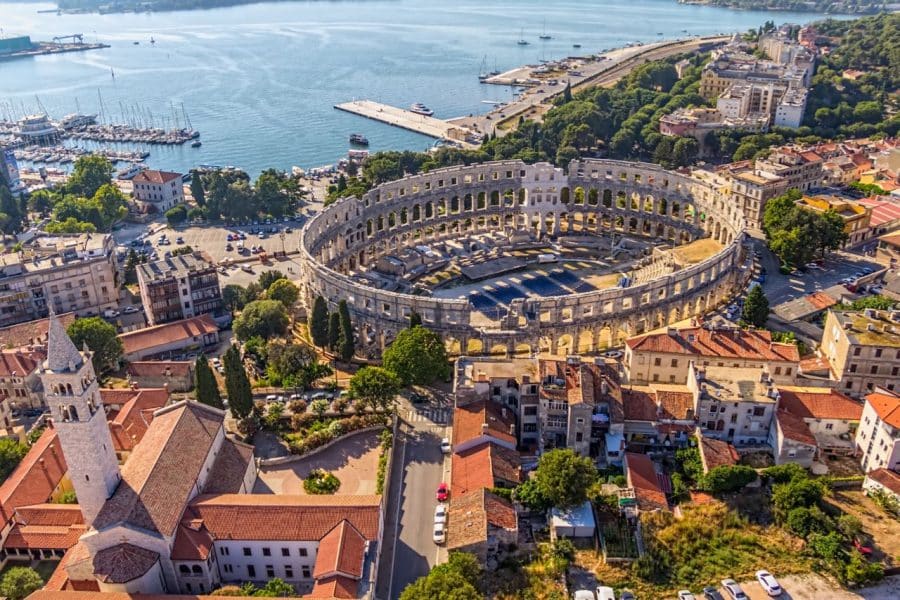 If you and your partner are looking for a romantic beachside getaway with ancient ruins, pack your bags for Pula, Croatia!
This picturesque city offers stunning views of the Adriatic Sea and the option to explore ancient Roman ruins. The Roman amphitheater is one of Pula's most popular tourist destinations. This 2,000-year-old structure is incredibly well-preserved and offers stunning views of the city.
Nature lovers will also enjoy exploring the nearby Brijuni National Park, an archipelago with 14 islands just off the coast of Pula.
Zagreb: A Blend Of Culture & Love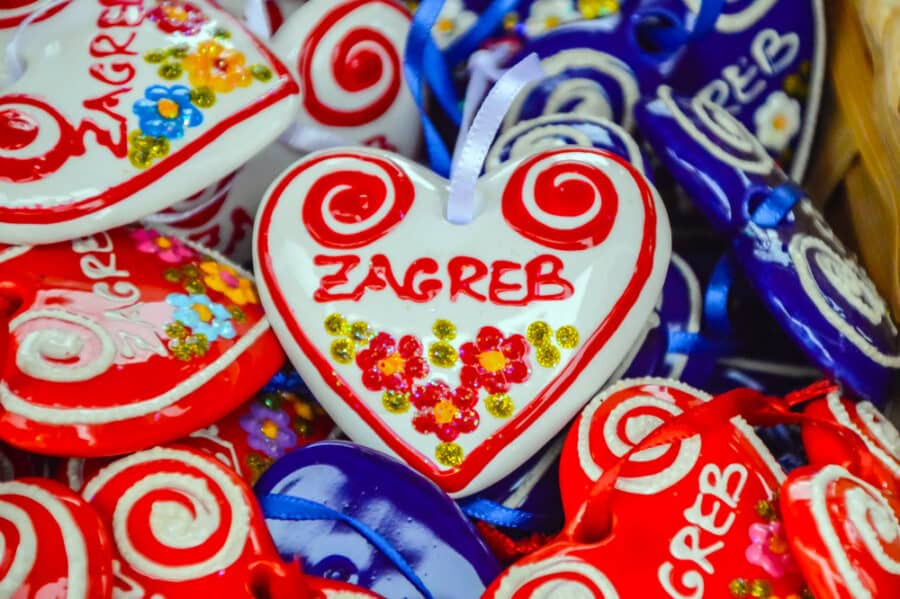 If you and your partner are looking for a romantic getaway that blends culture and natural beauty, then Zagreb is the perfect destination for you. Croatia's capital city is home to several historical landmarks, as well as plenty of parks and open spaces where you can enjoy quality time together, and it's fate as the symbol of the city is the "Licitar Heart."
Some of the top sights to see in Zagreb include:
The Cathedral of the Assumption of Mary, which dates back to the 11th century
St. Mark's Church, a beautiful Gothic building with stunning views over the city
Stroll Mirogoj Cemetery, one of Europe's most impressive burial grounds
For something a little different, take a cable car ride up to Mount Sljeme for panoramic views over Zagreb and its surroundings
And what could be more romantic than strolling hand-in-hand through Zagreb's picturesque medieval Old Town?
In addition to its wealth of cultural attractions, Zagreb is also renowned for its food and drink scene. Be sure to sample some traditional Croatian dishes like ćevapčići (minced meat patties) or strukli (baked dough filled with cottage cheese), washed down with a glass or two of locally produced red wine.
Krka National Park: Natural Wonders Meant To Be Discovered Together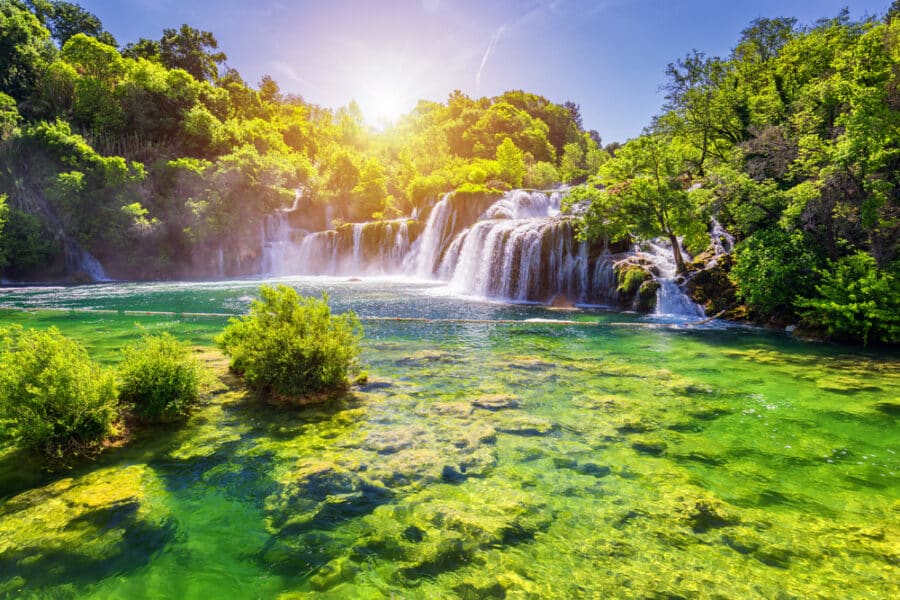 Krka National Park is one of Croatia's most popular tourist destinations. The park has many waterfalls and is one of Croatia's most visited natural attractions. It is much smaller than Plitvice Lakes, making it perfect for older couples.
Couples can also enjoy several activities in Krka National Park, such as hiking, picnicking, swimming, and even cave exploration.
Romantic Rovinj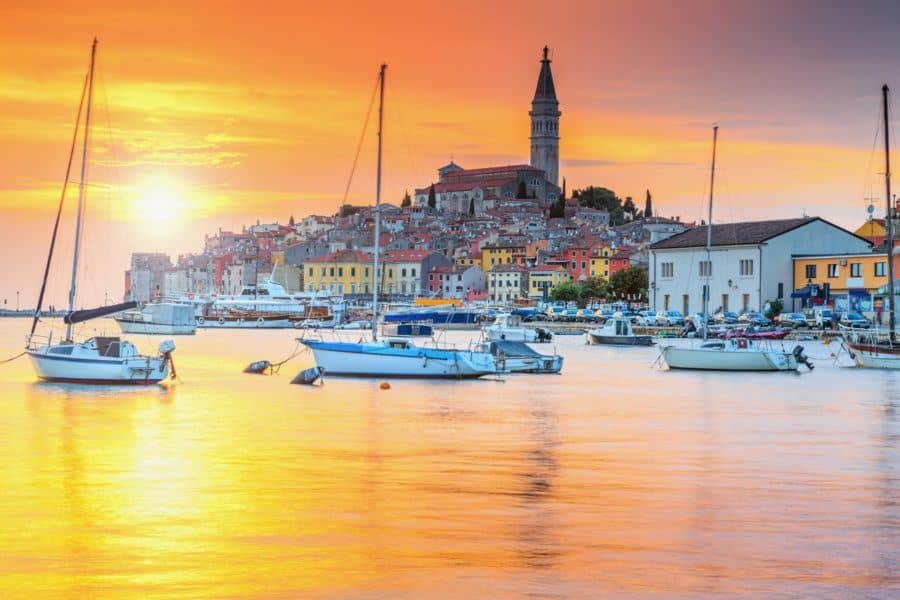 There are few places more romantic than Rovinj, Croatia. This little town is located on the Istrian peninsula and is known for its Venetian-style architecture and stunning Adriatic Sea views. Couples can stroll hand-in-hand through the winding streets, enjoy a leisurely lunch with a view, or relax on the beach.
For those looking for a bit of adventure, there are plenty of activities to choose from in Rovinj as well. From kayaking and stand-up paddleboarding to hiking and biking, there's something for all types of couples. And no matter what you do, you're sure to end each day with a beautiful sunset over the sea.
Split – An Urban Jewel On The Dalmatian Coast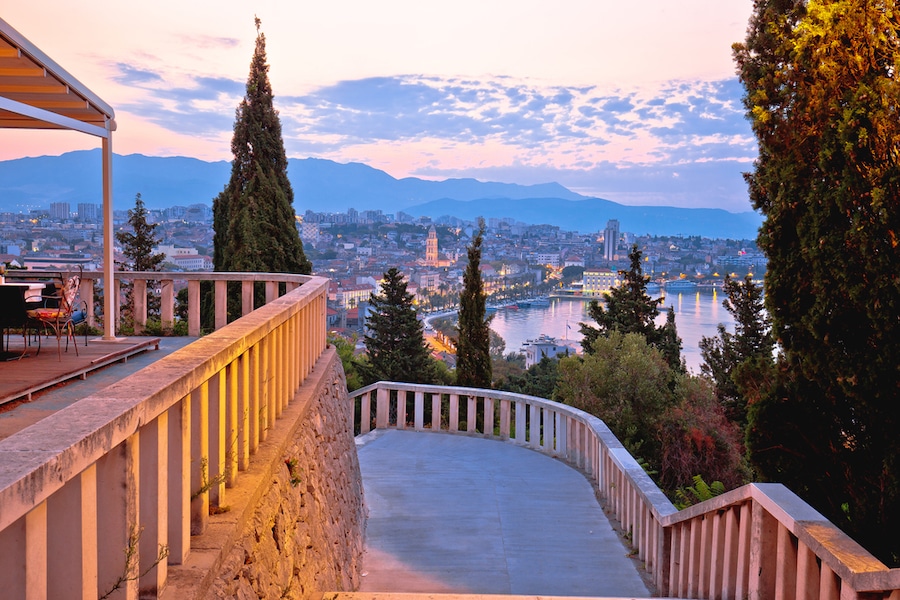 If you're looking for an urban getaway with your significant other, look no further than Split – a city on Croatia's Dalmatian Coast that is teeming with romance. From its charming Old Town to its stunning beaches, there's plenty to love about this Croatian jewel.
Old Town: Start your exploration of Split in the Old Town, a UNESCO World Heritage Site that is home to Roman ruins, medieval architecture, and cobblestone streets lined with cafes and shops. Be sure to visit the Diocletian's Palace, an ancient palace that was once home to a Roman emperor and is now one of the city's most popular attractions
Beaches: No trip to Split would be complete without spending some time at one of its many beaches. Take a swim in the crystal-clear water or relax on the beach with a good book – either way, you're sure to enjoy your time here. For something extraordinary, take a sunset walk along Bačvice Beach – it's an experience you won't soon forget!
Dining: When it comes to dining, Split has something for everyone, from traditional Croatian cuisine as well as international choices and everything in between
Hvar Island – A Lavish Getaway In Croatia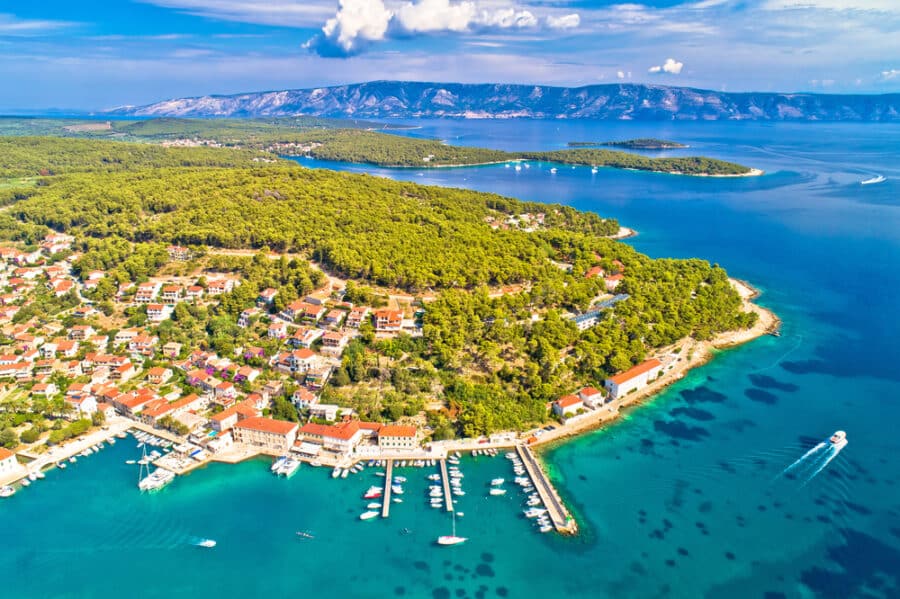 Few places are better than Hvar Island if you're looking for a ridiculously lux romantic getaway.
Hvar Island is located off the coast of Croatia in the Adriatic Sea. It is one of Croatia's most popular tourist destinations and is known for its beautiful beaches, clear water, and lush vegetation. The island is also home to several luxurious resorts, making it the perfect place to relax and rejuvenate with your significant other.
There are plenty of options if you're looking for things to do on Hvar Island. You can spend your days lounging on the beach, exploring the island's many hiking trails, or visiting some of the island's historical landmarks. In the evening, you can enjoy a delicious meal at one of Hvar Island's many restaurants or take a stroll along the waterfront.
Hvar Island will surely please you no matter what you want in a romantic getaway.
Romantic Hilltop Towns In Istria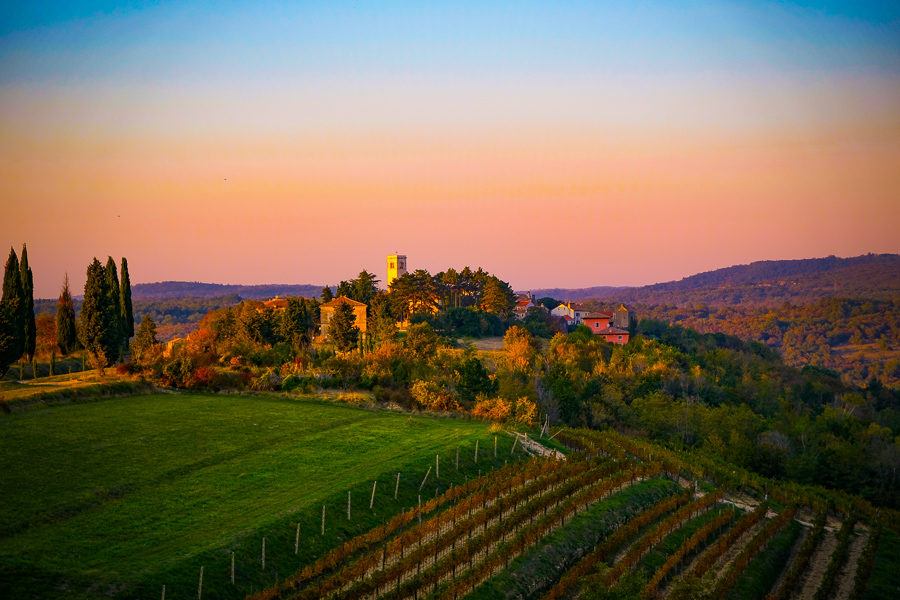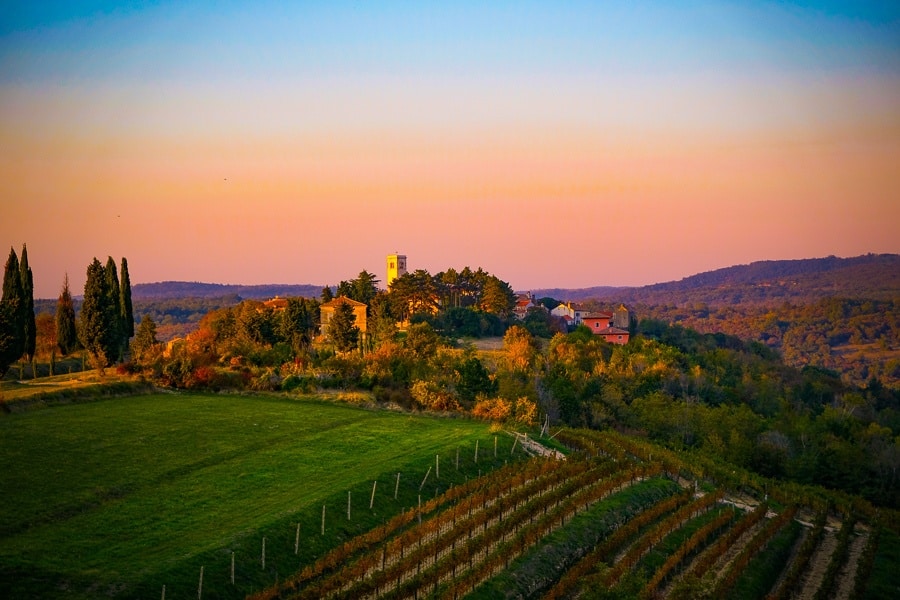 Istria, in Croatia, has some of Europe's most beautiful hilltop towns. There's something truly romantic about hilltop towns. They offer stunning views, quiet streets to wander hand-in-hand, and a feeling of being away from it all. Here are our top picks for the most romantic hilltop towns and villas in Istria for couples:
Grožnjan: This medieval town is built on a hilltop overlooking vineyards and the Mirna River valley. It's known for its art galleries and artists' studios, making it the perfect place to stroll hand-in-hand and explore the local art scene. There are also plenty of cozy cafes and restaurants where you can enjoy a romantic meal or glass of wine with your loved one
Motovun: Another medieval hilltown, Motovun is situated atop a hill in central Istria and offers spectacular views over the surrounding countryside. The cobbled streets and historic buildings create a charming atmosphere, perfect for a romantic stroll or picnic lunch. Be sure to try the local truffles while you're in town – they're some of the best in Croatia!
Oprtalj: This smaller town is often overshadowed by its more famous neighbors, which means you'll have more peace and quiet to enjoy with your partner. Oprtalj is also home to several churches and other historical monuments, making it a great place to explore together
Hum: While most hilltop towns in Istria are medieval, Hum is an exception. This tiny village is believed to be the smallest in the world – there are only 27 inhabitants! Its secluded location and lack of tourists make it the perfect spot for a romantic getaway. Be sure to take some time to explore the ruins of the old castle and enjoy lunch & locally produced wine at the onsite restaurant
Other Romantic Things To Do In Croatia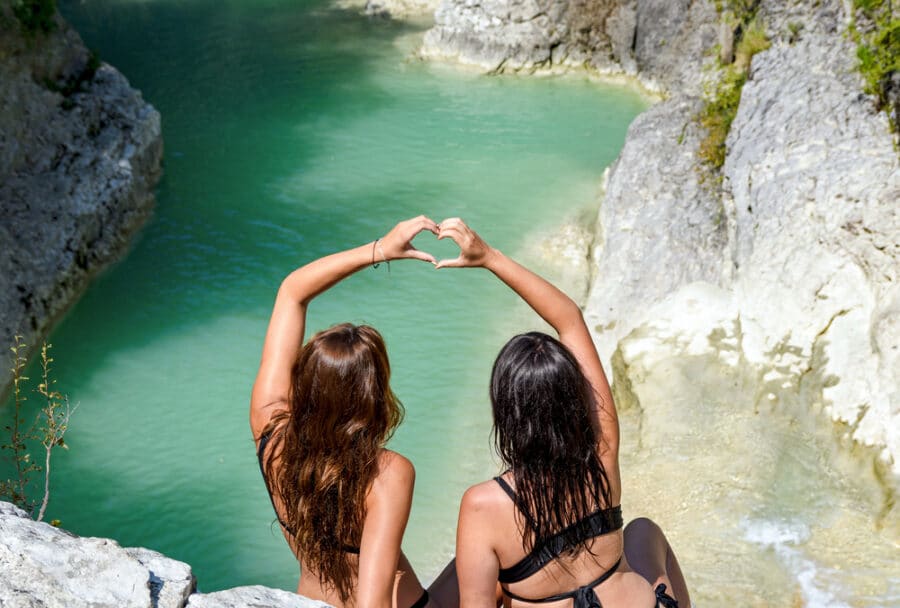 As you can already see, a couple's getaway to Croatia is the perfect opportunity to reconnect with your partner and rediscover romance. Here are some more ideas to get loved up in Croatia.
Nature & National Parks- Going on a Scenic Hike
There are plenty of beautiful hiking trails all over the country, so you should have no problem finding one near you. Once you're on the trail, take your time and enjoy the scenery. Make sure to snap some pictures along the way!
If you're feeling adventurous, try packing a picnic lunch to enjoy at the top of the trail. This will give you even more time to relax and enjoy each other's company. After a day exploring nature, you're sure to feel closer to your partner than ever.
Exploring A Local Market Together
When it comes to exploring a local market together, there are a few things you can do to make the experience even more enjoyable.
First, ask the locals to show you the markets specializing in local produce and goods. This way, you'll be able to find the freshest and tastiest items available
Next, take some time to wander around the market and explore all of the different stalls. This is a great opportunity to chat with the vendors and learn more about the products they're selling
Third, don't forget to sample some of the delicious food available at the market. This is a great way to get a feel for the local cuisine and what dishes are popular in the area
And lastly, buy enough to be able to enjoy a picnic together (see below)
Have A Picnic In The Park
There's something about a romantic picnic in the park that just can't be beaten. Whether you're enjoying a sunny day in the spring or a crisp autumn afternoon, spending time outdoors with your partner is the perfect way to relax and reconnect. And, of course, no picnic is complete without the delicious food and drinks you purchased at the local market (above)!
Croatia is very green, and every town and village has parks and open spaces to enjoy a picnic. To make sure your picnic is extra special, we've put together a few tips:
Choose a scenic spot: Find a spot in the park with beautiful views – this will help set the mood for romance!
Bring along some comfy blankets or pillows: You'll want to be comfortable as you lounge on the blanket and enjoy each other's company.
Pack a tasty picnic lunch: Include all your favorite foods, snacks, and drinks to keep you fueled for fun.
Don't forget the sunscreen: If it's a sunny day, make sure to pack sunscreen so you can enjoy your time outdoors without getting too much sun.
Taking A Cooking Class Together
One of the best things you can do on a couples getaway is to take a cooking class together. This is a great way to spend some quality time together and learn something new. It can be a lot of fun to cook together and then enjoy your meal afterward. You can take many different cooking classes in Croatia, so find one that interests you both.
Visiting An Art Gallery Or Museum
If you and your partner are the artsy types, then spending a day visiting an art gallery or museum is the perfect way to rediscover romance. There's something about being surrounded by beautiful works of art that can make you feel more connected to your partner. Plus, it's a great way to learn more about each other's interests.
If you're unsure where to start, we recommend checking out some of these museums in Croatia.
Now that you have this list of the best places to visit in Croatia for couples, we hope you "love" your romantic getaway to Croatia.