Privacy & disclaimers →
Zagreb Christmas Markets – Advent In Zagreb Guide
The Christmas holidays are fast approaching. I, for one, love this time of year. Everyone is happy, joyful, and spreading good vibes and a lot of love, especially those with children. Christmas is a time to spend time with family, a time to be thankful for all our blessings, and a time to take some well-deserved time off from work and school.
If you plan to jump on a plane and travel during Advent this year, Christmas in Zagreb should be at the top of your list. This is because Zagreb has won the Best Christmas Market Destination award in Europe three times now! So, you better believe that Zagreb has spared no effort to make the Zagreb Christmas Market even better this year – let's get to know all about Advent u Zagrebu.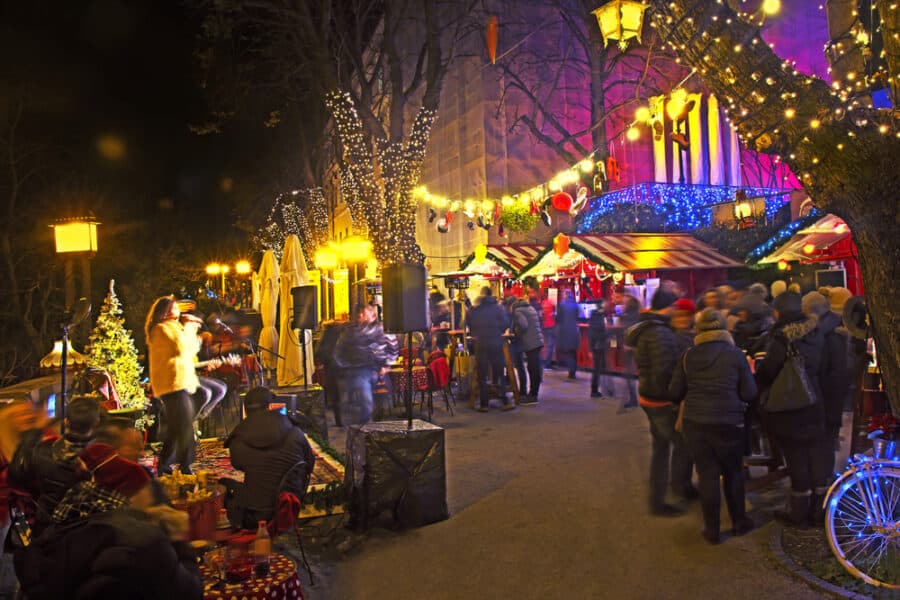 Zagreb is a magical place during the Christmas Advent. The city comes to life with the lovely sounds of jingle bells and Christmas classics played all over the city. It indeed turns into a winter wonderland.
Additionally, the organizers of the Zagreb Advent celebrations also emphasize the importance of environmental protection; they've made the respectable decision to reduce the use of plastic throughout the entire event. There will also be improved accessibility for disabled people at several locations.
Christmas in Zagreb will take place this year from November 26 to January 7. There are various concerts and musicals, performances, workshops, and exhibitions for kids and people of all ages. Not to mention the abundance of food offered on every street corner. Roasted chestnuts, mulled wine, fresh fritters, and homemade sausages are just a few that come to mind.
There is an exhibition for literally everyone, and all of it is super-affordable, if not completely free.
ZAGREB ADVENT AND CHRISTMAS MARKETS DATES
This year, the Christmas markets in Zagreb and Advent events occur from November 26, 2022, until January 7, 2023.
Zagreb Advent Locations & Highlights
If you've decided to spend Christmas in Croatia, and are in Zagreb, here are a few places to enjoy the advent festivities.
Ice Park At King Tomislav Square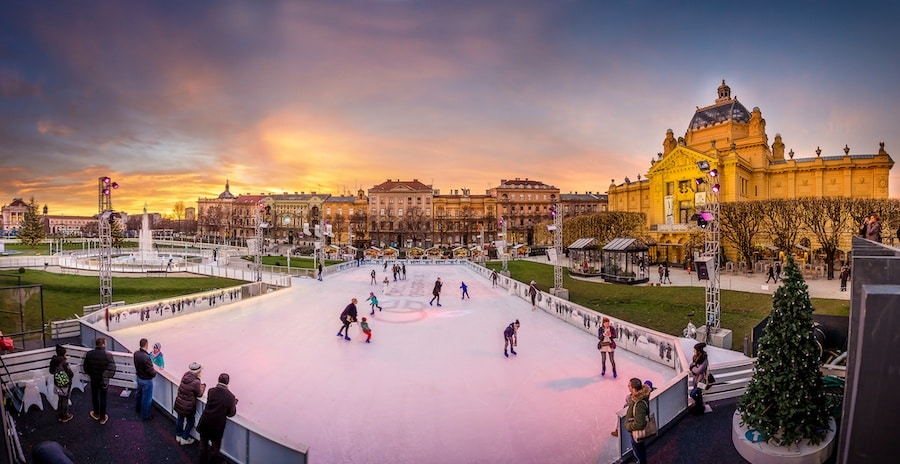 Adults and kids of all ages go crazy over the ice park set up at King Tomislav Square. Although there is a plethora of stuff to do during Zagreb this Christmas, this might be the absolute star attraction.
An otherwise-quiet park, Tomislav Square gets transformed into one giant ice skating arena for the winter holidays. A dazzling show of twinkling lights surrounds you as you slide your way across and around the ice rink.
Christmas music floats through the air while mulled wine and freshly prepared food scents tingle your nostrils. On the sidelines, you will find many cute wooden houses that offer warm drinks, local foods, and traditional Croatian sweets.
Winter Park
Head to Tuđmanac Park to treat your whole family to a city view on the Ferris wheel, a brand new feature to this year's Advent program. Besides an unforgettable ride, hop on the merry-go-rounds, go down the ice slide, enjoy an incredible selection of gastronomic treats, and watch various theatrical, musical, and entertainment performances.
It's the perfect place to meet up with friends for merriment and casual time together!
Advent In Zrinjevac Park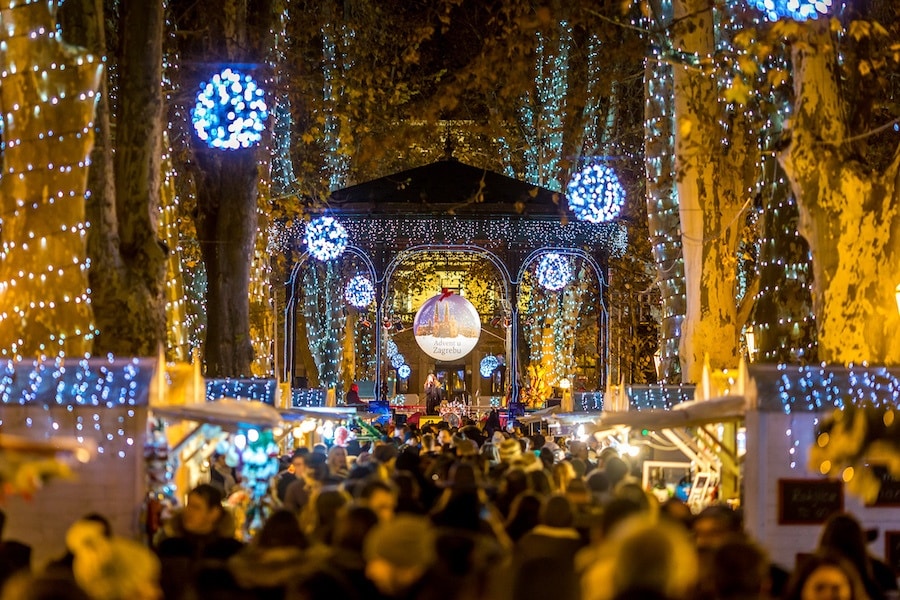 Zrinjevac is, by far, one of my favorite parks in Zagreb. A lovely little park right in the middle of the city, minutes away from the central Ban Jelačić Square, surrounded by lots of timeworn, towering pine trees. Benches offer a very cozy and romantic feel. It is a perfect place to sit, relax, and watch the world go by.
This park transforms into something extraordinary and even more beautiful during the celebrations of Christmas in Zagreb. Bright lights decorate all 220 plane trees, while many cozy wooden houses line the walking areas of the park. Each one offers its own traditional Croatian specialty, from handmade souvenirs and unique Christmas ornaments to local arts, specialty foods, wines, and sweet delicacies.
There is an old musical pavilion in the middle of the park, where some cultural event takes place every night. This includes musicals, traditional dances, children's performances, choirs singing classic Christmas songs, and much more.
If anything, Advent in Zrinjevac is the coziest and most homey-feeling place to sip on mulled wine and sample traditional Croatian Christmas snacks. It's like enjoying Christmas with hundreds of strangers around dozens of Christmas trees, one big, happy family spending time together.
Hilton Winter Garden
The Hilton Garden Inn will once again host its Advent party. Gather in a winter garden, where sweet & savory appetizers and hot drinks will be on hand, alongside a massive ice rink and beautiful Christmas trees.
Enjoy performances by DJs, bands, and singers, take ice skating lessons and discover a fairytale on the ice with your family.
Christmas Tale On Ban Jelačić Square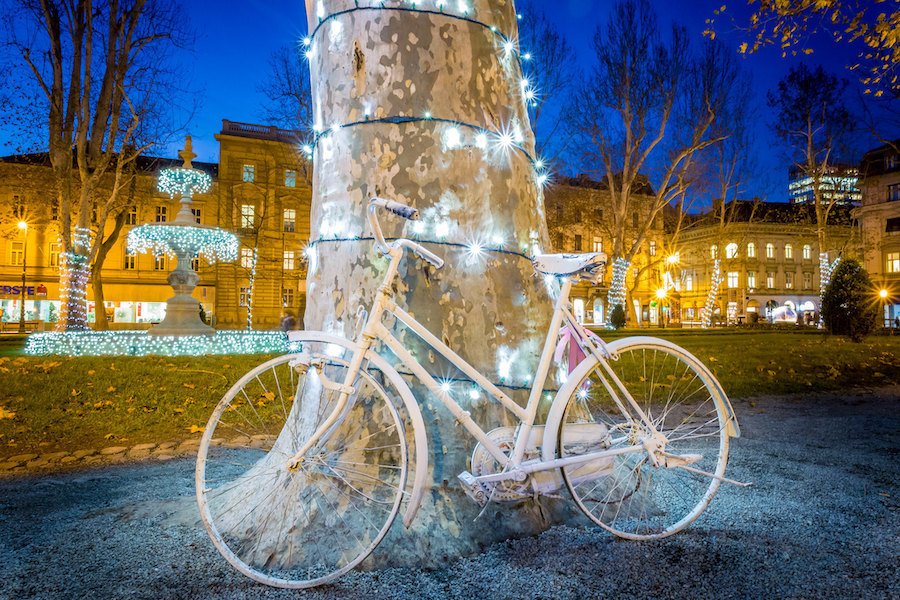 Regardless of the time of year, something is always happening in Ban Jelačić Square, Zagreb's main square. But it becomes even more special during the Christmas Advent season. For one, on the first day of December every year, a large Advent wreath is put up around the Manduševac Fountain. This happening attracts thousands of people who take pictures or sit and soak up the Christmas atmosphere.
This central square is one of the focal points of Advent in Zagreb, characterized by imaginative scenes, decorations, and ornaments. You'll find that here if you're looking for a fairy tale feel!
A giant Christmas tree is placed near the "clock" with traditional Zagreb heart decorations. In the middle of the square, you will find a large stage where many concerts and dance performances occur each night. Visitors will also enjoy the treats offered at one of many wooden houses. Such as traditional delicatessens, mulled wine, sausages, treats, and souvenirs.
If you're sticking around until New Year's Eve in Zagreb, this is also the largest space in the city to celebrate kicking off 2023.
Zagreb Artisan Advent
There's plenty going on at Ban Jelačić Square during Christmas in Zagreb, but this particular part of it is worth highlighting. The Zagreb Artisan Advent features a collection of pop-up craft shops.
Housed in small huts that seem to come straight from a fairytale land, you can find all kinds of authentic products, from handmade woodwork and cloths to ceramics and glass to old maps, honey cookies, and gingerbread.
Advent On European Square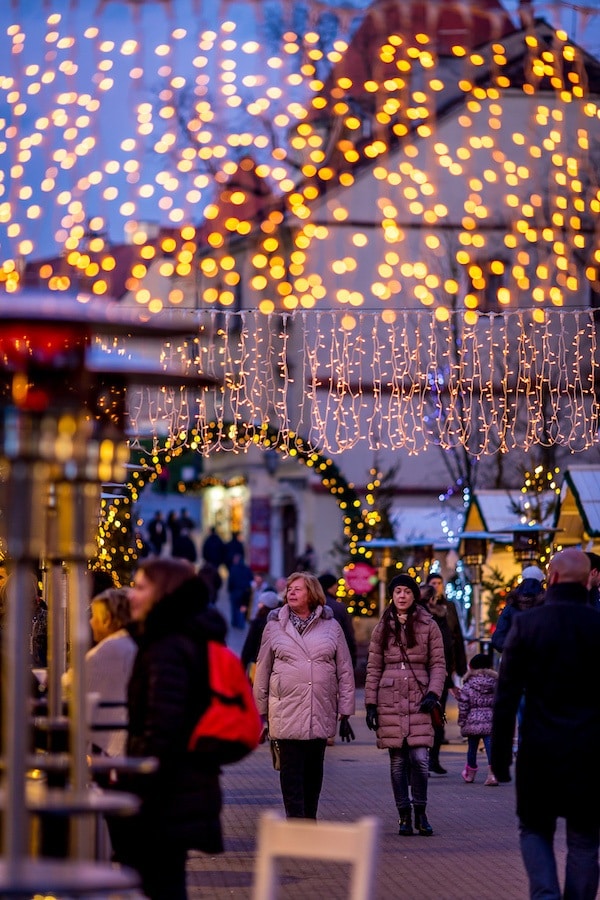 Situated mere steps from Ban Jelačić Square, pedestrian European Square is somewhat less traditional and more "urban." Some would say it's a bit more formal, although that statement must be taken with a huge grain of salt. Advent on European Square involves various concerts, film screenings, and art exhibits spread out throughout December.
Of course, plenty of delicious mulled wine and food keeps you fueled all evening. Not surprisingly, this is a much-favored meeting point for young creative people this time of year.
Strossmayer Promenade (West)
Charming wooden huts, the warming scents of traditional dishes, favorite Christmas music tunes, and sparkly Christmas trees bring the spirit of Advent to life along Strossmayer Promenade. Eat, slow dance, and fill your heart with the Christmas spirit, then head to the square or wander to the street's eastern side for more fun (see below)!
Advent Caffe De Matos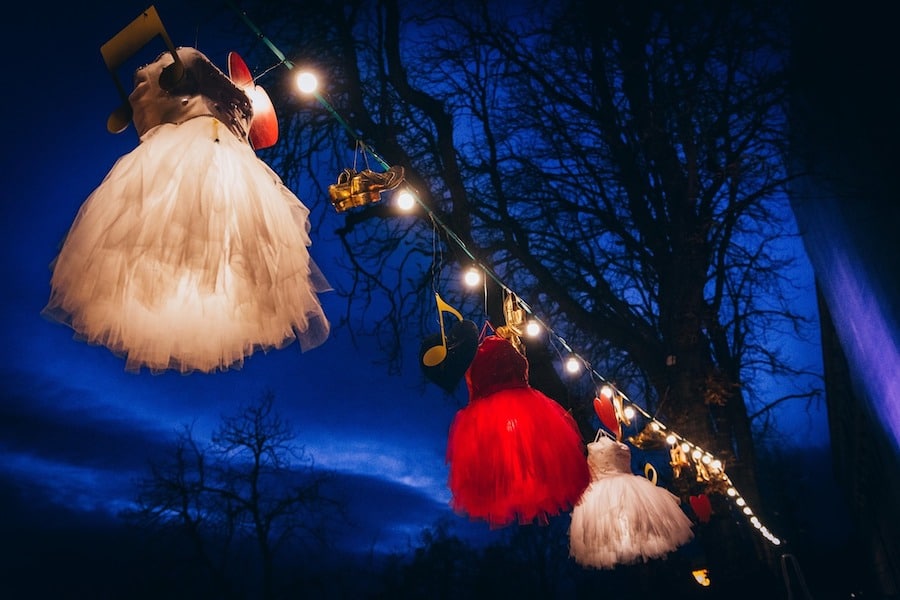 On the eastern side of the popular Strossmayer Promenade, a playful street scene reminiscent of the 1950s will bring romance and nostalgia to the forefront. Old dancing shoes, skis, skates, and other items will bring this street to life alongside red huts, tantalizing treats, and stunning city views. Don't forget your camera, as there will be loads of photo stops along the way!
Fuliranje – Fooling Around At Strossmayer Square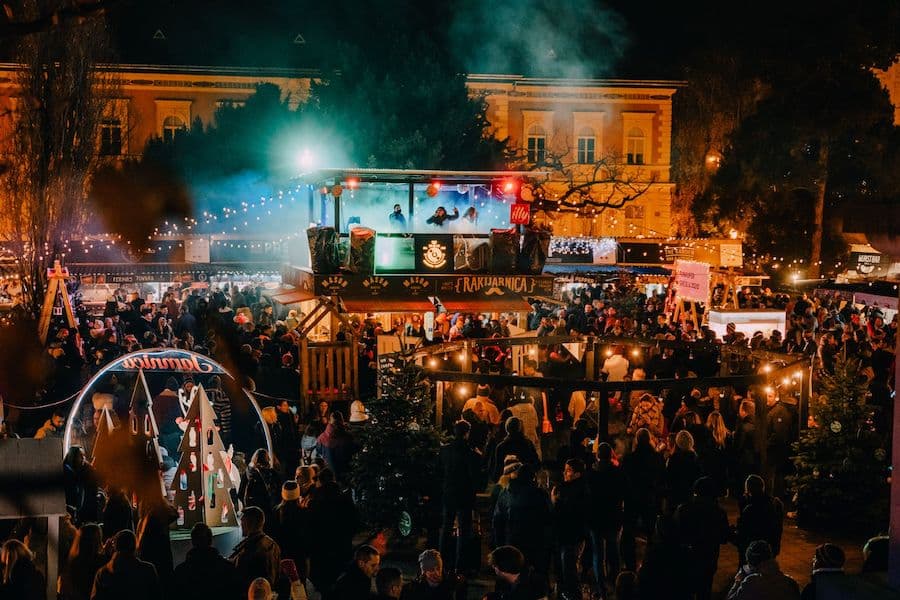 "Fuliranje," or just simply "Fooling Around" is one of the first and best Advent events in Zagreb. It is simply walking around the city, singing, dancing, talking to, and getting to know strangers while having a great time. You will enjoy lots of great food, treats, drinks, shops, fun photo booths, concerts, and much more.
The Fooling Around event takes place at Strossmayer Square, in the very heart of the city, between Tomislav Square and Zrinjevac. During the Zagreb Advent festivities, this particular area becomes "Strossmartre" after the charming Montmartre neighborhood in Paris. From the Strossmayer Promenade, you can enjoy amazing views over the city, which is especially magical when all lit up in December.
This particular part of Advent in Zagreb involves some of the best Croatian chefs who present their culinary art on the street and share their life and food philosophy with you.
There's also a distinct musical aspect to this. At a sizeable open-air disco, music will be dedicated to the disco culture and big music influencers of the second half of the 20th century. Over the past half-decade or so, over 500 concerts, music performances, and DJ gigs have taken place.
When spending the Christmas holidays in Zagreb, please go and check it out. It's arguably the most "Zagreb" of all Advent events in the city. My advice is simple: Be Fun. Have Fun. Goof Around. Fool Around. Be Jolly.
This even extends throughout Advent, from November 26 – January 7.
Fooling Around At Oleander Terrace, Esplanade Zagreb Hotel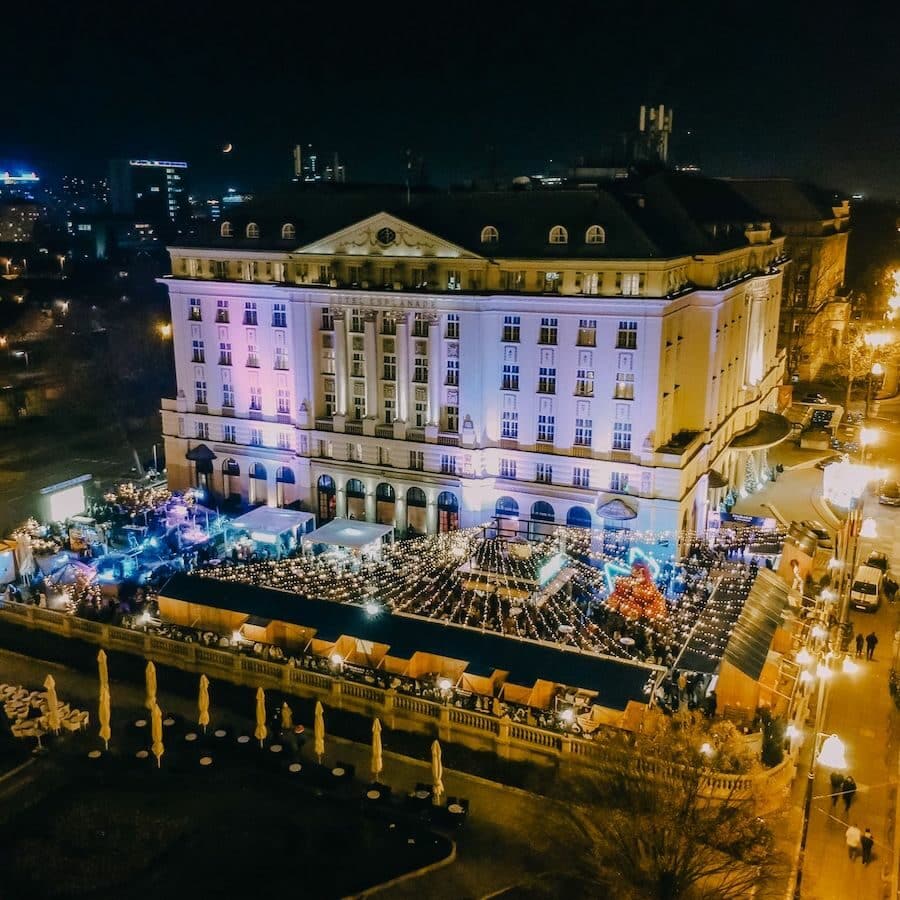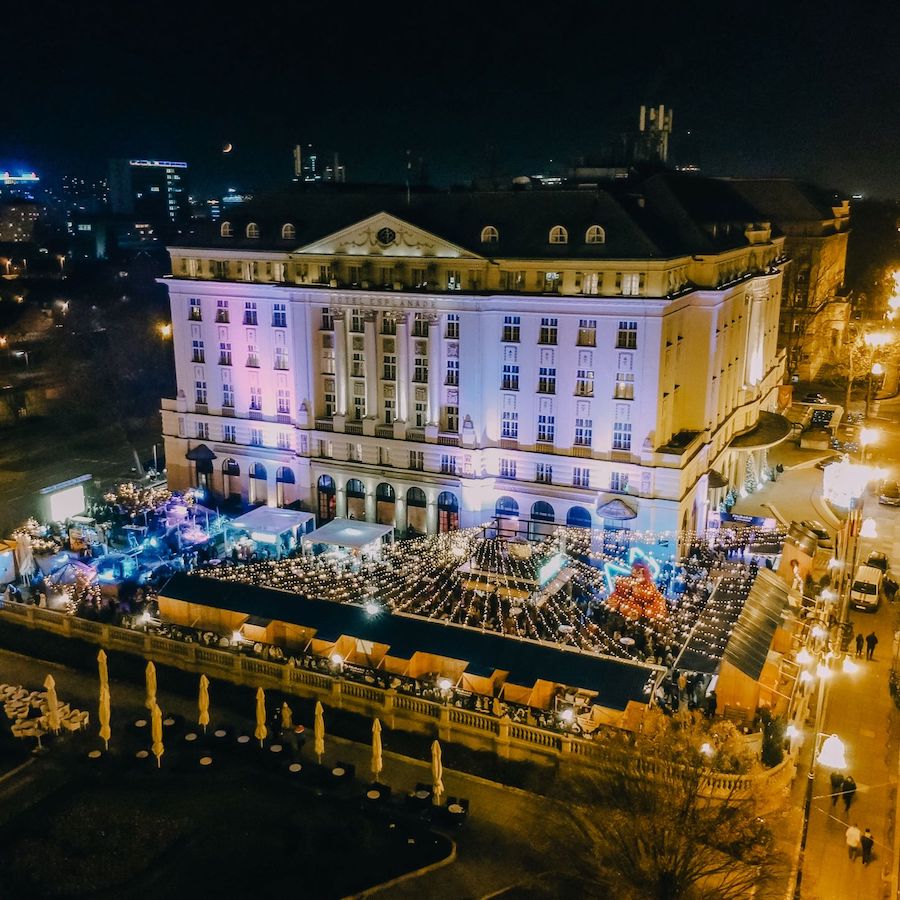 Another excellent location for a fooling around the event has been set, where Michelin-star street food will be available.
Led by award-winning chefs, this exceptional gastro experience will be brought to the terrace of the prestigious Esplanade Zagreb Hotel by local restaurants: Esplanade Zagreb, Nebo by Deni Srdoč StreetStyle, The Meat by Nenad Komes, Institut za kobasice by Mate Janković, Balon, Taika, Restač, Beg's Plant-Based Street Food, Gingle Bells, and Rakijarnica.
Accompanied by live music, DJ beats, children's programs, artistic programs, concerts, and more, it's the perfect location to dance, drink, eat and be merry!
This even extends throughout Advent, from November 26 – January 1.
Stara Vlaška
Stara Vlaška is a new Advent location this year, bringing festive decor wrapped up in red, green, and gold! This famous old Zagreb street will be decorated based on inspiration from August Senoa, a renowned Croatian author whose many novels were set in the streets of Upper and Lower Town. It's the perfect place to stroll and immerse yourself in an authentic Christmas atmosphere.
Advent In The Tunnel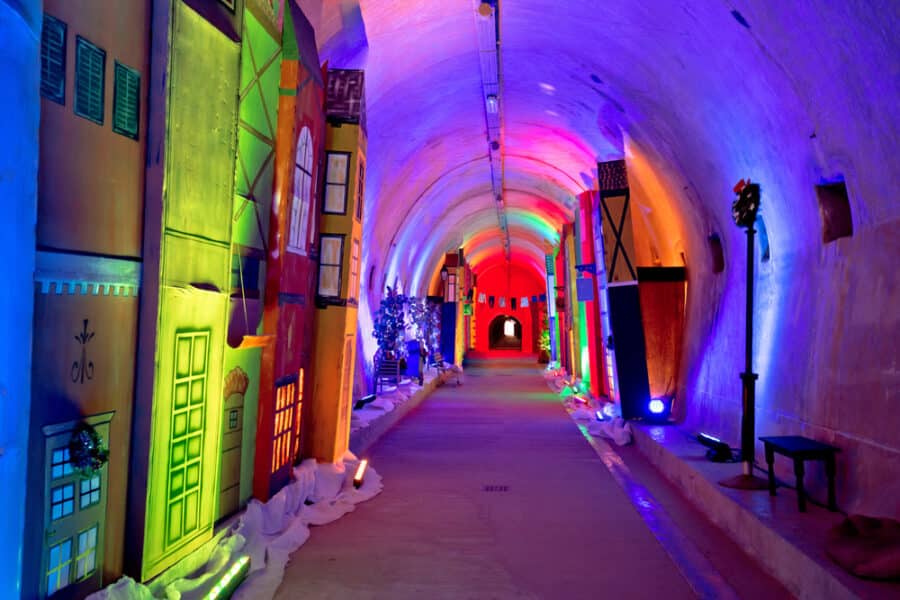 This is one of the most interesting and exciting features of the Zagreb Christmas markets. A former World War II tunnel, the Grič Tunnel transforms into a winter wonderland for the holiday season. While it's still a relatively discrete and less-known attraction, it's totally amazing.
This year, the theme of the Tunnel is The Nutcracker. A walk through this historic tunnel in December is an audiovisual experience unlike anything else. There are 3D installations, Christmas music, and video projections, acoustic installations. A truly extraordinary experience not to be missed.
Grič Park
Grič Park will be transformed into a nocturnal dreamland during Advent, with enchanting nighttime sounds, meditative musical compositions, and tranquil light displays. The peace and quiet of the season is celebrated in this natural space, so let the beauty sweep you up as you take a nighttime stroll here.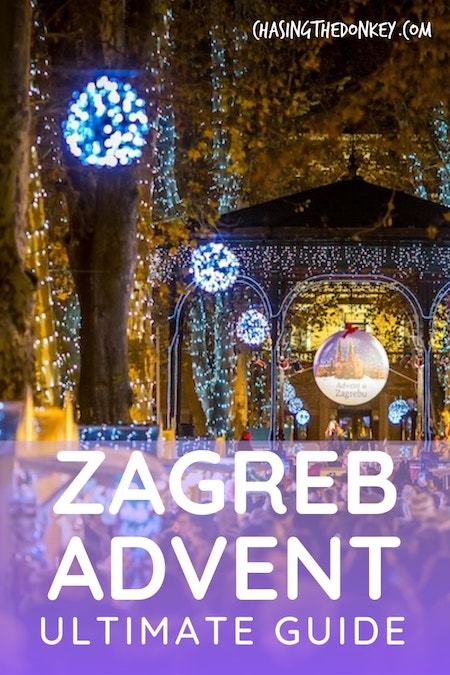 Marić Passage Advent
Although relatively small, the Marić Passage is a neat little attraction during Christmas in Zagreb. Running between Gajeva Street and Praška Street in the heart of the city, this tunnel is created by intertwined tree branches lit up by thousands of LED lights. It's a wonderful way to walk to and from other Christmas highlights in the city.
Advent In The Sisters Baković Passage
Here, you can walk into an old film studio and feel like you were a Christmas movie star. Additionally, this is a fantastic place to watch Christmas films for all ages, played by the Europa Cinema.
Live Nativity Scene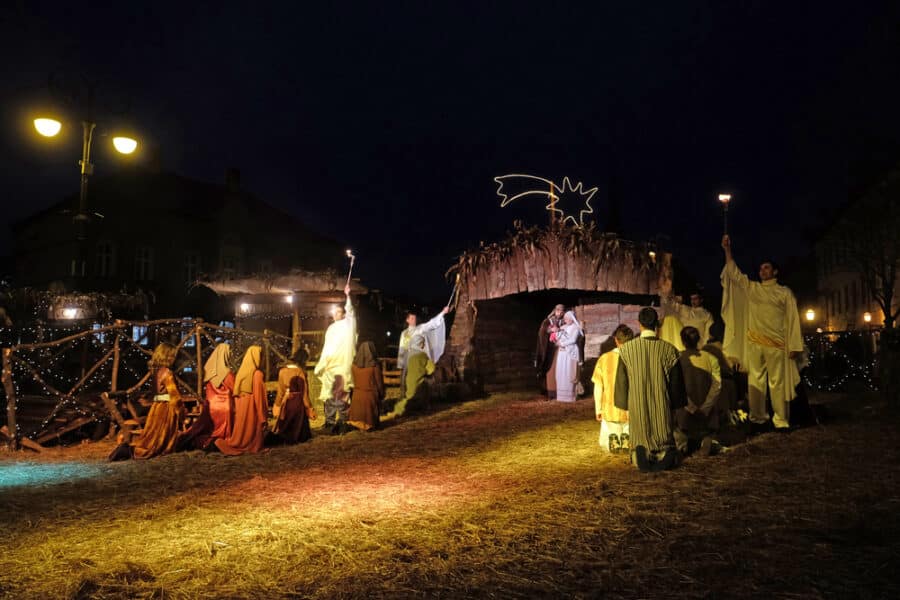 The Live Nativity Scene at the Zagreb Cathedral is another Advent in Zagreb highlight to look for. A real-life display of baby Jesus in his crib, the manger, people of Bethlehem, farm animals, shepherds, and three wise men. This is a special kind of experience that will take you back to the time of Jesus' birth and make you remember what Christmas is all about.
Moon Garden In Bele IV Park
For a romantic stroll, Bele IV Park is the place to go!
This hidden park will be transformed into a magical, shimmering work of art with the help of thousands of warm lights. Feel inspired by the magic of stars falling from the birch tree, moon flowers to grant your wishes, and incredible light installations that will captivate and wrap you up in their own Christmas fairytale.
Baš Naš Advent At Gradec Plateau
For all things Christmas, from traditional food to music, the Gradec Plateau in the Upper Town will once again be a popular destination this year. It's one of the best places in Zagreb for holiday Instagram photos! The special Baš naš Advent is a fun party filled with lights, colors, decorated pines & cozy nooks.
Advent In The Oktogon
Returning to this year's Advent in Zagreb is the Advent in the Oktogon. This urban passageway runs through the historic former First Croatian Savings Bank building and connects Ilica Street and Petar Preradović Square. During the Christmas markets in Zagreb festivities, this will be yet another location sparkling with Christmas lights, featuring amazing decorations and music.
Enjoy the artistic Christmas tree – an art installation in the shape of a tree, made using traditional ornaments like moss wreaths, branches, and berries; inflated glass balloons and cute candy cane decorations.
Advent In Lantern Light
This event involves lighting gas lanterns in the historic Upper Town of Zagreb. You can join the lamplighters, take part in this tradition and sing along to Christmas carols in this typical Zagreb custom.
The lighting of the lamps happens at 4.30 pm on November 30, December 1, 2, 7, 8, 9, 14, 15, 16, 21, 22, and 23.
PLAN AHEAD TO GET THE BEST DEALS
Zagreb Advent Cultural & Musical Events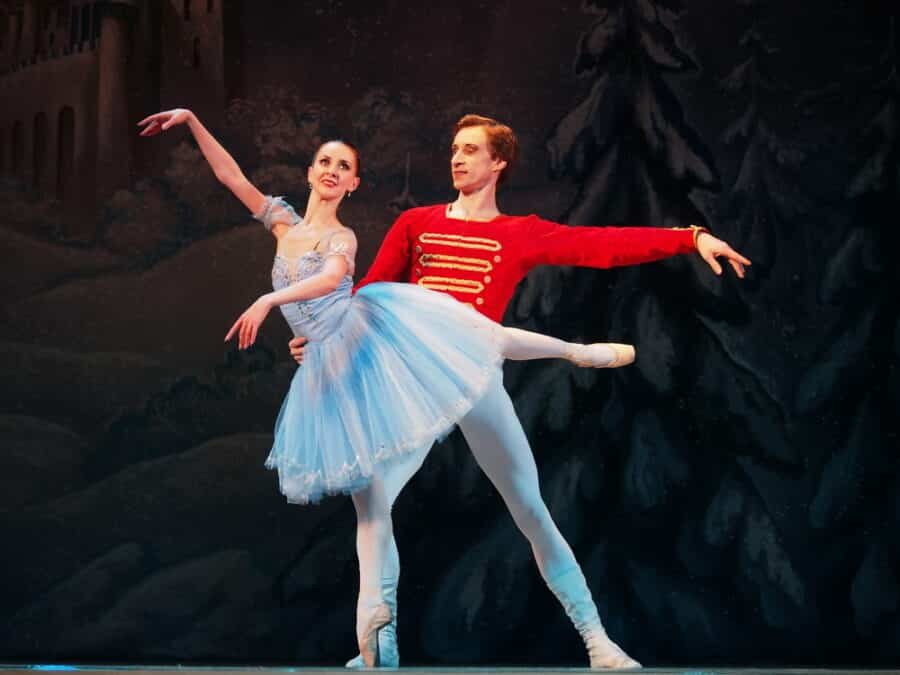 Croatian National Theatre
Zagreb's most beautiful theatre is the setting for many classic plays and operas, including La Boheme, The Magic Flute, and The Nutcracker, which is this year's theme. This a fantastic place to be for a memorable Christmas concert.
This majestic building will be decorated this year with various light displays, bringing the wonder and joy of the season both inside and outside the building.
Advent In Lisinski
This concert hall is known for famous international performers playing on its stage. This year's Advent season, visitors can pick from a varied series of performing arts. Whether you prefer to see the theatrical rendition of "Beauty And The Beast," the classic Nutcracker Ballet, or participate in an interactive dance as the Zagreb Philharmonic Orchestra plays traditional Christmas concert music, there's something for everyone! For tickets, visit the Lisinski website.
LIPINSKI DATES, TIMES & SHOWS
Beauty and the Beast

2, 5, 6, 17, 18, 19, and 20 December at 7:30 pm.

P. I. Tchaikovsky: The Nutcracker
Lisinski Hall Day: Invitation to Dance
Advent In Vidra
Celebrate inclusion at the Theatrical Company of Blind and Visually Impaired as, through plays in the dark titled "New Life," they share illusions and imagination that ultimately defeat the darkness. A wonderful artistic experience that shouldn't be missed!
NEW LIFE PERFORMANCE DATES, TIMES & LOCATIONS
1 December at 8:00 pm (Theatrical – Vidra Theater)
5 December at 7:00 pm (Pub Quiz) – Caffe Bar Vidra
8 December at 8:00 pm (Theatrical – Vidra Theater)
9 December at 10:00 am. (Theatrical – Vidra Theater)
13 December at 8:00 pm (Theatrical – Vidra Theater)
Concert Of The "Ivan Filipović" Chamber Choir
One of the most successful Croatian cappella ensembles will delight guests with popular Croatian and international Christmas carols and pieces by contemporary composers at two gala concerts for this year's Advent.
CHAMBER CHOIR CONCERT DATES, TIMES & LOCATIONS
9 December at 8:00 pm, Revival Hall of the National Home, Opatička ul. 18
17 December at 7:30 p.m., Church of St. Vincent de Paul, Frankopanska ul. 17
Advent Concerts Of The Zagreb Chamber Orchestra
Enjoy melodies of wind and string instruments featuring music by Brahms, Vivaldi, Bach, Beethoven, and more! It's a wonderful musical celebration for all ages, especially those who love classical music.
CHAMBER ORCHESTRA CONCERT DATES, TIMES & LOCATIONS
2 December at 8:00 p.m., Journalist Home, Perkovčeva 2
12 December at 8:00 p.m., Journalist Home, Perkovčeva 2
18 December at 8:00 p.m., Journalist Home, Perkovčeva 2
22 December at 8:00 pm, Writers' Club, Ban Jelačić Square 7
Christmas Markets In Zagreb Balconies
During the Advent Season in Zagreb, the six-piece Ad Gloriam brass ensemble will hold various concerts on the balconies of some of the most beautiful buildings in Zagreb – a music lover's delight.
BALCONY PERFORMANCE DATES, TIMES & LOCATIONS
26 November at 4:00 pm Balcony of Lav Gallery – Stone Gate
27 November at 7:00 pm Balcony Tkalčićeva 33
9 December at 4:00 pm Balcony of Lav Gallery – Stone Gate
10 December at 4:00 pm Balcony of Lav Gallery – Stone Gate
11 December at 7:00 pm Balcony Tkalčićeva 33
14 December from 6:30 pm – 7:25 pm. National Theatre Balcony
16 December at 4:00 pm Balcony of Lav Gallery – Stone Gate
17 December at 4:00 pm Balcony of Lav Gallery – Stone Gate
18 December at 7:00 pm Balcony Tkalčićeva 33
23 December at 4:00 pm Balcony of Lav Gallery – Stone Gate
Advent Classic Fest
Three times during Advent in Zagreb, you can enjoy the most ear-pleasing classical music performed by musicians from Croatia. Entry is free of charge, and the concerts take place in various locations throughout the city.
ADVENT CLASSIC FEST DATES, TIMES & LOCATIONS
December 4 at 8 pm: Vatroslav Lisinski Concert Hall, Small Hall
December 11 at 8 pm: Basilica of St. Anthony of Padua
December 18 at 7.30 pm: Foyer of the Croatian National Theater
Music In The Cathedrals
Throughout the city, various cathedrals will host Christmas concerts open to the public. Enjoy everything from klapas to traditional Christmas carols. This 7th FESTIVAL OF ADVENT AND CHRISTMAS SONGS IN ZAGREB will take place from 3 to 22 December 2022. For concert songs and performance info, click here.
FESTIVAL OF ADVENT & CHRISTMAS SONGS DATES, TIMES & LOCATIONS
3 December at 7:00 pm – Greek Catholic Co-Cathedral Of St. Cyril And Methodius
9 December at 8:00 pm – Basilica Of St. Anthony Of Padua At Sveti Duh
10 December at 8:00 pm – Greek Catholic Co-Cathedral Of St. Cyril And Methodius
15 December at 7:00 pm – Greek Catholic Co-Cathedral Of St. Cyril And Methodius
16 December at 6:00 pm – Stone Gate, Terrace Of The Lav Café
17 December at 7:00 pm – Greek Catholic Co-Cathedral Of St. Cyril And Methodius
18 December at 5:00 pm – Church Of St. Benedict In Stupnik
22 December at 6:00 pm – Stone Gate, Terrace Of The Lav Café
Zagreb Advent Postcards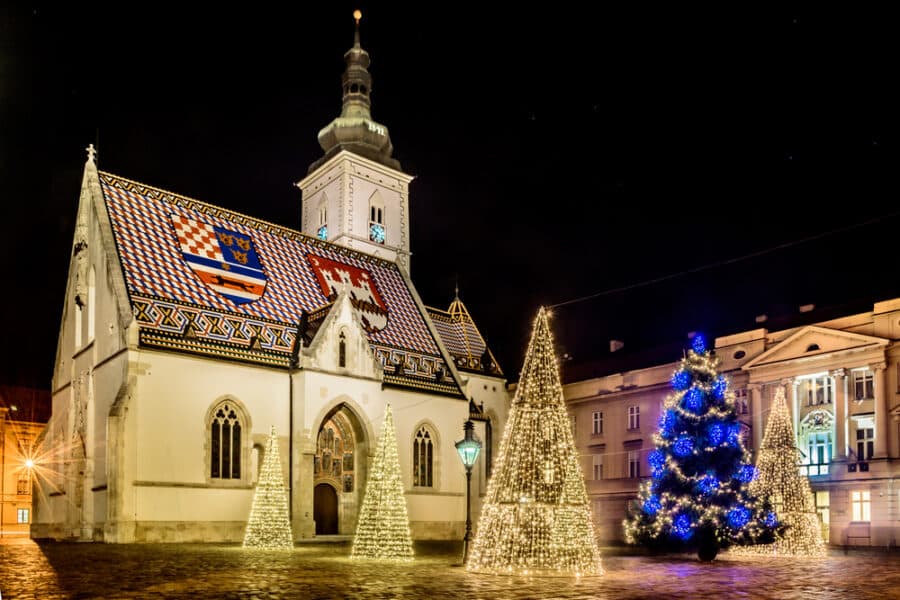 This fun initiative involves professional musicians and singers who perform at popular street corners throughout central Zagreb. During Advent in Zagreb, you can find them on these days, times, and locations:
ZAGREB ADVENT POSTCARDS DATES, TIMES & LOCATIONS
26 November at 4:00 p.m. Oktogon Passage & 4:45 p.m. Neboder Passage
30 November at 4:00 p.m. Oktogon Passage & 4:45 p.m. Neboder Passage
2 December at 4:00 p.m. Neboder Passage & 4:45 Sisters Baković Passage
3 December at 4:00 p.m. Oktogon Passage & 4:45 p.m. Neboder Passage
7 December at 4:00 p.m. Oktogon Passage & 4:45 p.m. Sisters Baković Passage
9 December at 4:00 p.m. Oktogon Passage & 4:45 p.m. Oktogon Passage
10 December at 4:00 p.m. Neboder Passage & 4:45 p.m. Sisters Baković Passage
14 December at 5:00 p.m. Oktogon Passage & 5:45 p.m. Neboder Passage
16 December at 5:00 p.m. Oktogon Passage & 5:45 p.m. Sisters Baković Passage
17 December at 4:00 p.m. Neboder Passage & 4:45 p.m. Sisters Baković Passage
21 December at 4:00 p.m. Neboder Passage & 4:45 p.m. Oktogon Passage
23 December at 4:00 p.m. Sisters Baković Passage & 4:45 p.m. Neboder Passage
Evenings With Brahms
At the Liszt Institute in European Square, master pianists accompanied by a soprano will perform pieces by Brahms. This live musical performance will take place over three days – 1, 9, and 10 December 2022 – and is free to all.
Advent At Katarinac Square
The Museum of Broken Relationships, Brokenships Cafe, and Katarinac Square will be the site of a retro-style Christmas. Cozy in blankets, near radiators, or with hot beverages, and enjoy music from the vinyl era.
A time machine with music from a retro jukebox will play every day from 26 November until 24 December 2022 from 9:00 am to 6:00 pm.
Advent In Museums And Galleries
Various museums and art galleries all across the city also partake in this year's Christmas celebrations in Zagreb. You can see a variety of shows, exhibits, and performances at the following institutions:
PARTICIPATING MUSEUMS AND GALLERIES
Ethnographic Museum – attend a workshop to learn how to make the traditional Croatian "Kinč

10 December, 3:00 pm–5:00 pm.
17 December, 11:00 am–1:00 pm and 3:00 pm–5:00 pm.
22 December, 4:30 pm–6:00 pm.

Dagmar Meneghello at Krležin Gvozd – Dagmar's private art collection & world will be unveiled to visitors

2 December 2022 thru 7 January 2023 – Fridays and Saturdays from 4 pm to 7 pm.

Croatian School Museum – kids 7-14 years of age can attend workshops to create Advent crafts

Magic Of Quilling – Saturday, 10 December, from 11 am to 1 pm.
Hlapić's Boot – Saturday, 17 December from noon to 2 p.m.

Zagreb City Museum – the Zagreb Soloists, a precious cultural piece of Croatia, will perform Croatian and International carols in the atrium.

Sundays 11 and 18 December at noon.

Museum Of Chocolate – re-live or experience, for the first time, the joy of a favorite childhood hobby – collecting album stickers.

1 December– 8 January as part of a visit to the Zagreb Chocolate Museum
Zagreb Advent For Young Crowds
I would recommend visiting the European Square during the Advent Season (see above) for all the young and single people. Located in the heart of the city, it has an excellent offering during Advent, including lots of concerts, exhibitions, and attractions to enjoy. So, grab a warm mulled wine and hit the pedestrian zone for some great fun.
Zagreb Advent For Kids & Families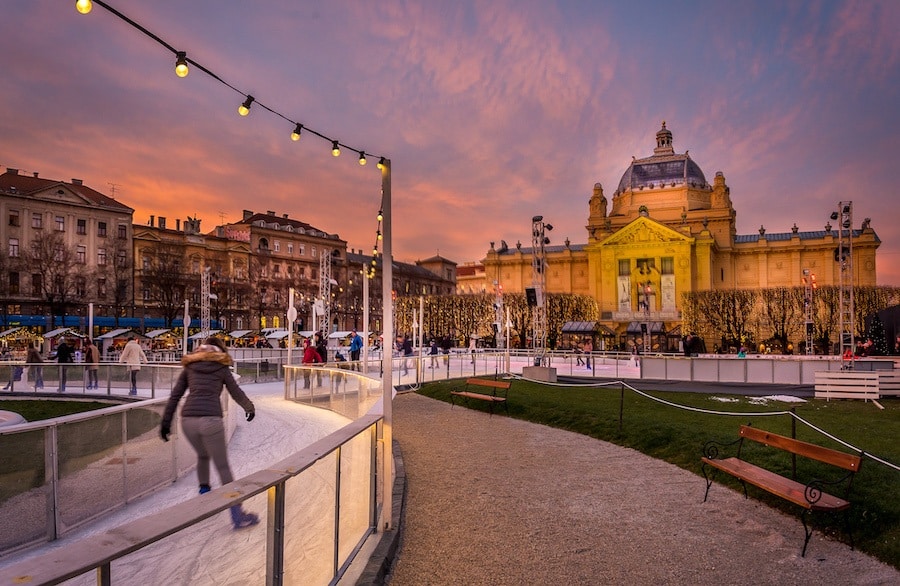 Advent In Mala Scena Theater
Take your children to see "A Snow Fairy Tale," which explores the story of Christmas and traditions around the globe. It's a wonderful venue for children, with the show starting in the atrium before you are even seated, with festive games, a chocolate-making workshop, and a station where kids can write letters to Santa.
It's an extraordinary chance to explore Christmas values with children, highlighting how to take care of the elderly, how to do good, and spread kindness everywhere.
Various showtimes throughout December – check for tickets here.
Christmas Story In Čazma
For all you parents out there, this is a must-see for you and your children! This Christmas fairy tale is about an hour's drive from Zagreb, but it is definitely worth the drive. The Salaj family has been creating a fairytale Christmas tradition for the last 15 years by decorating their garden and performing various fairy tales for families and children.
Imagine an atmosphere with millions of stars scattered everywhere, Christmas lights, decorated trees, sounds of mill wind, a waterfall from the River Grabovnica, fireworks, and so much more! Children will feel like they are a part of a real fairy tale, surrounded by lots of love, laughter, and good cheer.
The family offers various events and programs to please every visitor. To keep you warm, you can sip on a cup of tea, hot chocolate, or mulled wine. Delicious desserts accompany these beverages to perfection.
Craft Advent
This event will be a hit for kids and families with a giant Christmas tree, children's shows, choir performances, decor workshops, festive lights, snacks, and drinks. Look for it at the Croatian Chamber of Trade from 26 December 2022 – 1 January 2023.
Advent In Zagreb Zoo: Croatian Tales Of Long Ago
This Advent celebration is based on a fairy tale collection by Ivana Bilic-Mazuranic – stories filled with Croatian flora & fauna, stunning landscapes, and unforgettable characters. Educators will dress up as characters from the stories and will escort children through the zoo. On the way, kids can pick up materials that they will use to create their own special ornaments at a workshop later on. It's sure to spark the joy of the holiday in kids, young to old!
ZAGREB ZOO PROGRAM DATES
27 November 2022
2–4 December 2022
9–11 December 2022
16–18 December 2022
23 December 2022
26–30 December 2022
2–8 January 2023
Advent In Lisinski For The Youngest
Concert halls aren't just for grown-ups! This Advent season, the Vatroslav Lisinski Concert Hall will open its doors for special kid-friendly concerts. It's a beautiful opportunity to expose your children to the beauty of music during the holiday season.
LIPINSKI CHILDREN'S CONCERT DATES, TIMES & THEMES
Jacques Houdek: "If You're Happy" – The Most Beautiful Children's Songs

4 December at 10 am and noon

Minimini Series: Christmas With The Winter-Haters

10 December at 10 am and noon
13 December at 10 p.m. and noon
14 December at 10 a.m., noon and 8 p.m.
Other Great Zagreb Advent Events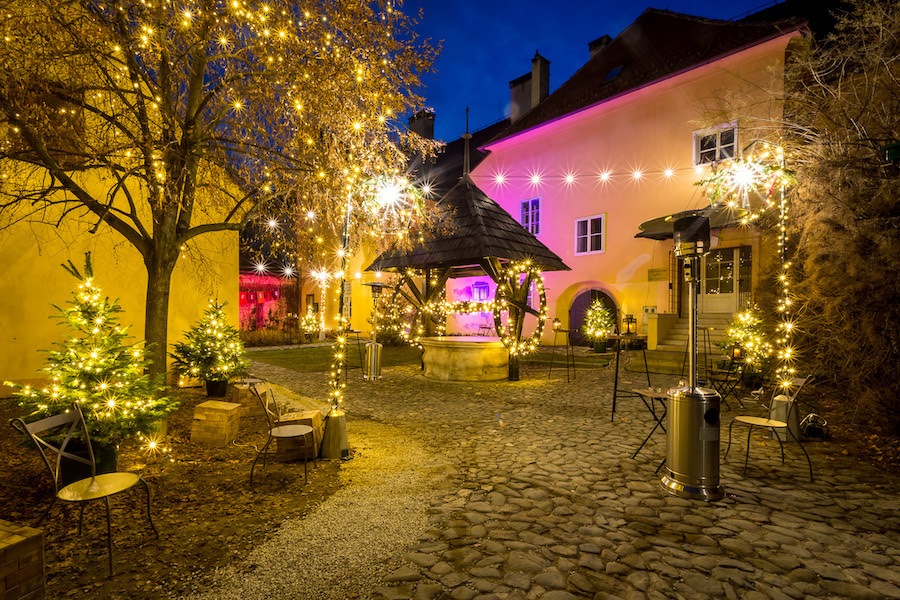 If you plan on visiting Zagreb during Advent, look out for these great events and exhibitions as well:
MORE GREAT ZAGREB ADVENT EVENTS
Backo Mini Express: a massive set-up of hundreds of model trains traveling throughout a magical miniature winter landscape
Advent Run 2022: participate or cheer on runners in this festive and colorful race
Advent Digital Nomad Very Merry: a program where digital nomads can connect and mingle
Projekt Ilica:'QART: on December 18, the longest city street, Dar Mar, will be filled with art, thrift clothes, Jazz & Latin music.
Advent Of The University Of Zagreb: a humanitarian effort to raise funds for foster children
Advent in Marija Bistrica: take a day trip to experience Advent concert performances here
New Year's Concert
New Year's Changing Of The Guard: with horses, performed by the company of the Kravat regiment
With all of these exciting Advent exhibitions, it is no surprise why Zagreb is the new Advent superstar in Europe. The city offers a unique, must-experience atmosphere for all ages. More and more tourists worldwide are making Zagreb their top destination to spend the winter holidays, especially during the Christmas season.
Having experienced this incredible event myself, I must tell you it is one of a kind! It is fun, safe, vibrant, enchanting, and a life of joy. Every corner you walk makes you feel hot and cozy inside. It's simply an incredible experience that you must have yourself.
Zagreb Winter Festival & What To Wear To Zagreb Christmas Markets
A Zagreb winter is cold. There can be many snowy days and slippery streets. So warm coats and good walking shoes are a must.
You'll need your best clothes in Zagreb; the ladies (and men!) dress up. Take your basic European Christmas market clothing and jazz it up some. You'll need to pack the following:
A waterproof warm coat – remember it maybe snowing
Waterproof & comfortable shoes or boots
Dress in layers so you can peel off your coat in warm cafes and restaurants. I put my kids in a thermal base layer and wear stockings under my jeans for extra warmth
Hat, scarf, and gloves
A bag to collect your purchases – lots of stalls are set up to pick up those last-minute Christmas gifts
How To Get To The Christmas Markets In Zagreb
If traveling internationally, the best way to get to Zagreb is to fly into Zagreb International Airport. Be sure to organize your private transfer from Zagreb Airport to Zagreb in advance to avoid those pesky taxi cues in the middle of winter. The bonus is you will have a professional driver greet you at the airport arrivals and help you with your luggage. This way, you'll be on your way to your accommodation in no time.
Suppose you're planning to spend more time in Europe. In that case, this list of European Christmas markets is just what you need – although if you do not have the time to cross borders, then these other great Christmas Markets in Croatia, including those in Zadar, Split, Dubrovnik, and Rijeka, will suit you just fantastic.
So, now that you know all about the Christmas markets in Zagreb, will we see you there?