Some posts contain compensated links. Please read this disclaimer for more info.
Super Fun Ideas For Day Trips From Zagreb
If you fly to Croatia, the chances are that you'll either leave the plane in Zagreb or have a layover in the city.
Zagreb is a super-convenient city from which to start an Adriatic or Balkan road trip, located centrally and near a number of region's greatest attractions. While some people do get off in Zagreb and spend some time exploring the city – it seems that they run off before exploring places to visit near Zagreb.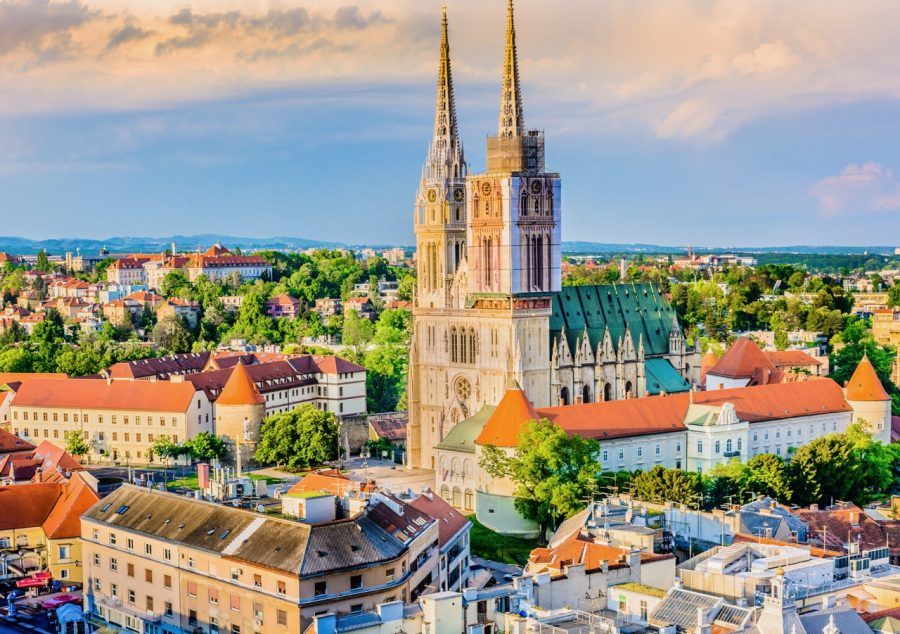 After sightseeing and before heading out to a new destination, consider going on one of the following recommended day trips from Zagreb. You can rent a car, hire a driver, take public transportation or join an organized tour to one of the destinations below.
Don't miss our favorite, secure, cross-body bags for day tripping.
Zagreb To Plitvice Lakes National Park Day Trip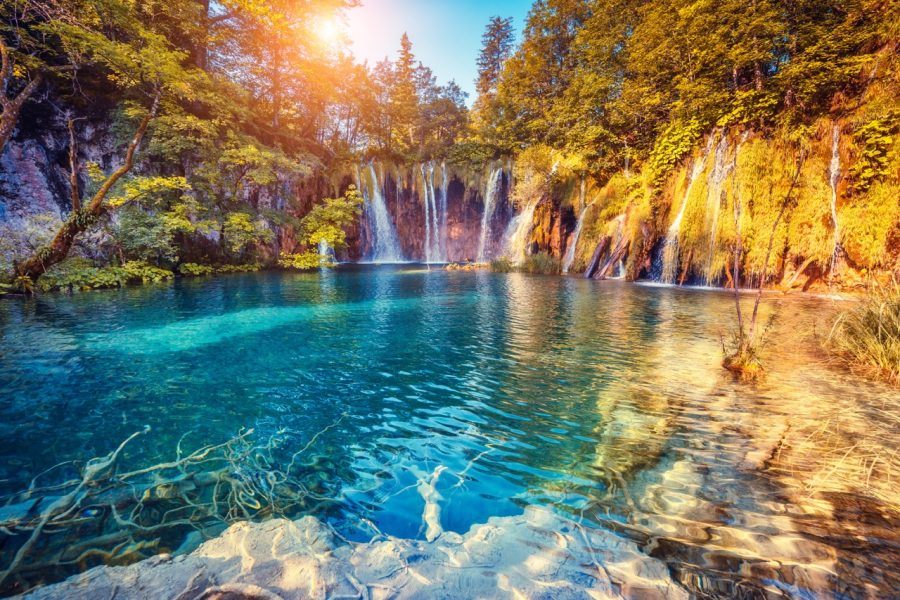 If you only have time for one day trip from Zagreb, let it be to Plitvice Lakes National Park. Although this is a rather large park, its main attractions can be explored conveniently in one afternoon.
In a beautifully wooded gorge, several terraced lakes flow into one another in a series of waterfalls and cascades. This landscape, unique in Europe, also has a notable human history.
It's this combination that's the main reason why Plitvice Lakes National Park is a UNESCO World Heritage Site nowadays. Boardwalks wind their way over and around the lakes and waterfalls, allowing you to see everything from up close.
The park lies an easy drive from Zagreb, just under two hours, so it's suggested that you set aside a full day to explore the lakes and drive back from Plitvice to Zagreb before it gets too dark.
You'll want to take your time to enjoy the sheer natural beauty of this area – so you could also consider a tour so you can maximize your time and not stress about the return drive.
Don't miss our guide on how to get from Zagreb to Plitvice Lakes.
Zagreb To Rastoke Day Trip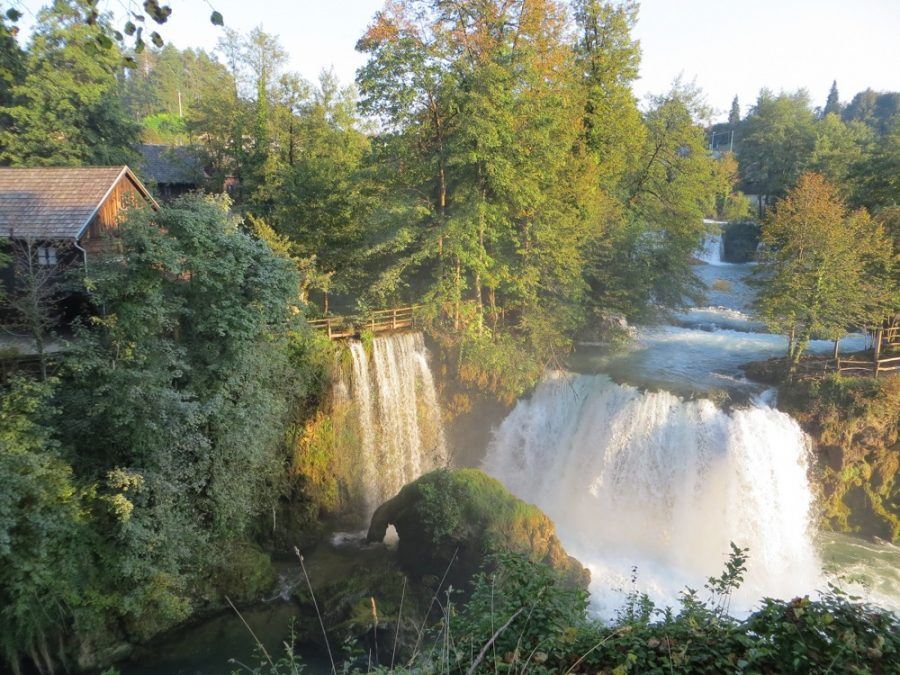 Rastoke is conveniently on the way between Zagreb, and Plitvice Lakes National Park, the small town of Rastoke is a popular place to stop. Rastoke is the old town center of Slunj, filled with historic buildings and boasting surprisingly beautiful nature – the most perfect of perfect Zagreb day trips for nature lovers.
Situated at the confluence of the Slunjcica and Korana Rivers, the town's star attraction is its combination of waterfalls and watermills. It's sometimes called "the small lakes of Plitvice" for a reason. Much less crowded than the nearby national park, Rastoke features similar landscapes of cascading waterfalls.
Its watermills are incredibly picturesque, and because it's small enough to be explored in less than two hours, you're encouraged to include Rastoke in your Zagreb to Plitvice Lakes National Park itinerary or even as a pit stop on your road trip from Zagreb to Split.
Zagreb To Varazdin Day Trip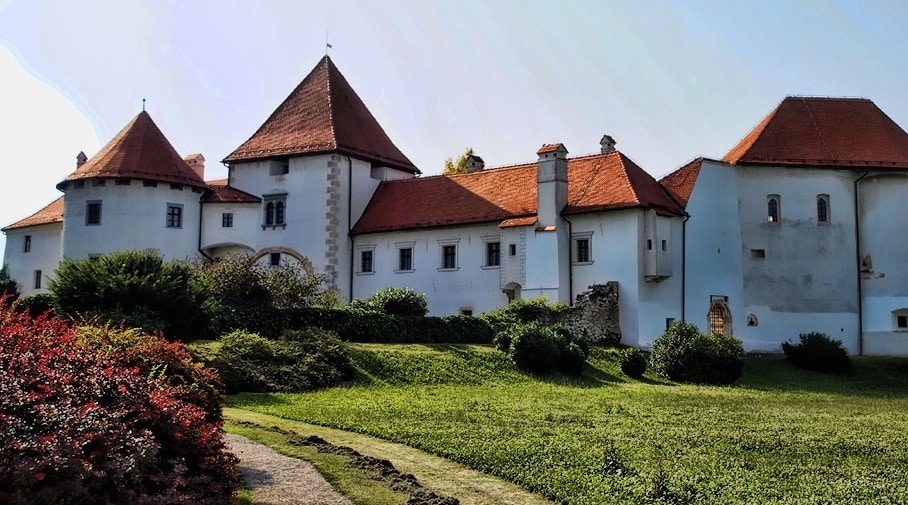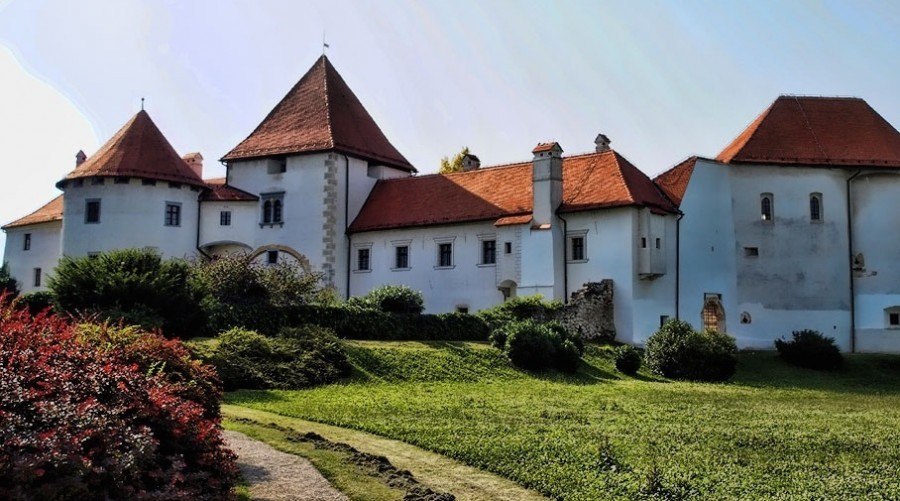 One of the northernmost towns in Croatia, Zagreb to Varazdin is less than one-and-a-half-hours drive each way. Its location in the far north of the country keeps it off many visitors' radar, which only adds to its appealing quietude.
The town, once the capital of Croatia, is now a stunningly well-preserved Baroque town. For such a small town, Varazdin has many highlights. Make sure not to miss Trg Kralja Tomislava, home to the Draskovic Palace and the Town Hall.
Nearby, the Cathedral is a sight worth seeing as well. Additionally, definitely also visit the Stari Grad Fortress, which houses the City Museum.
From Zagreb, you can get to Varazdin by car, but also by bus. The latter is a convenient option if you don't want to rent a car. If you do rent a car, you're strongly encouraged to make a detour to Trakoscan Castle, one of Croatia's most beautiful and most visited castles.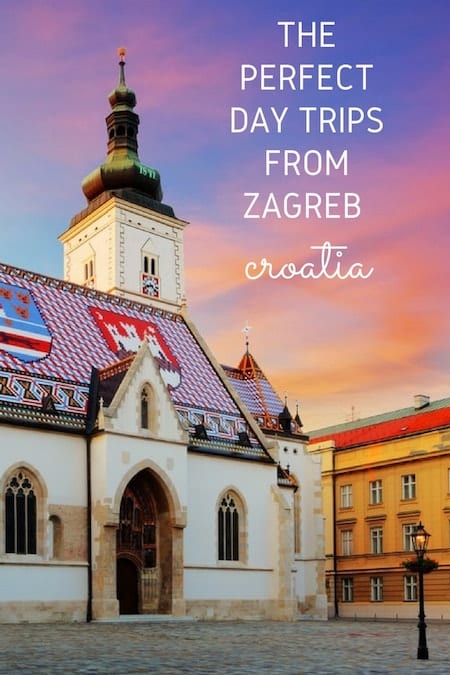 Zagreb to Samobor In Less Than A Day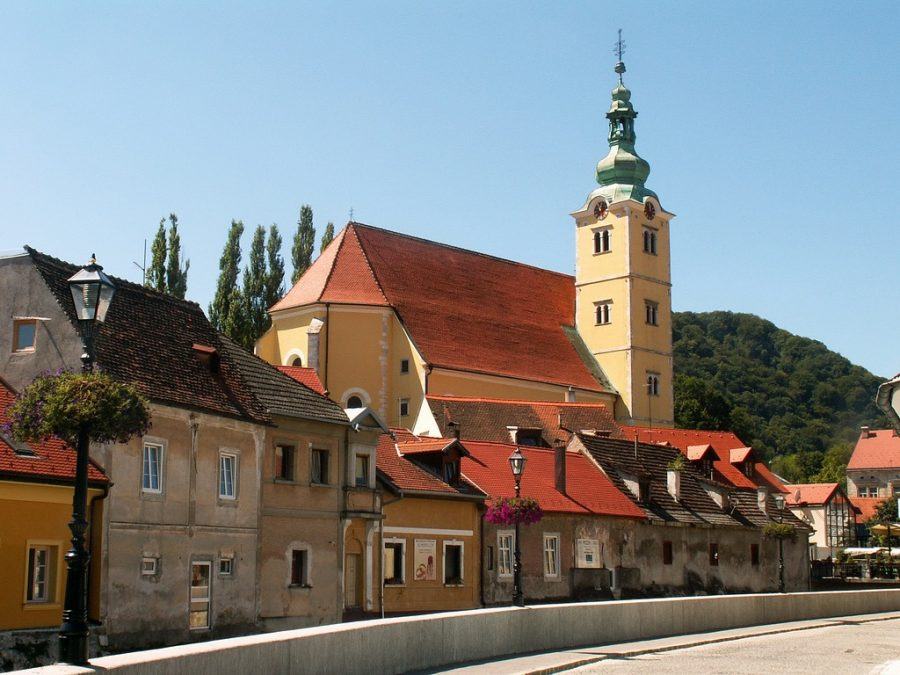 The nearest and most accessible day trip from Zagreb is probably Samobor. Situated only twenty kilometers to the west of the city, it's easily reached by both car and bus. So, if you are time poor – this is the choice for you.
Samobor is worth visiting for two main reasons—its architecture and its famous custard cake. The latter is known as Samoborska Kremsita and is said to be the best in all of Croatia. Make sure to try a slice.
Besides that, Samobor boasts lovely historic highlights, including the Stari Grad Castle, the City Museum, and the St. Anastasia and St. Anne Churches.
Zagreb to Ljubljana, Slovenia (Take Your Passport)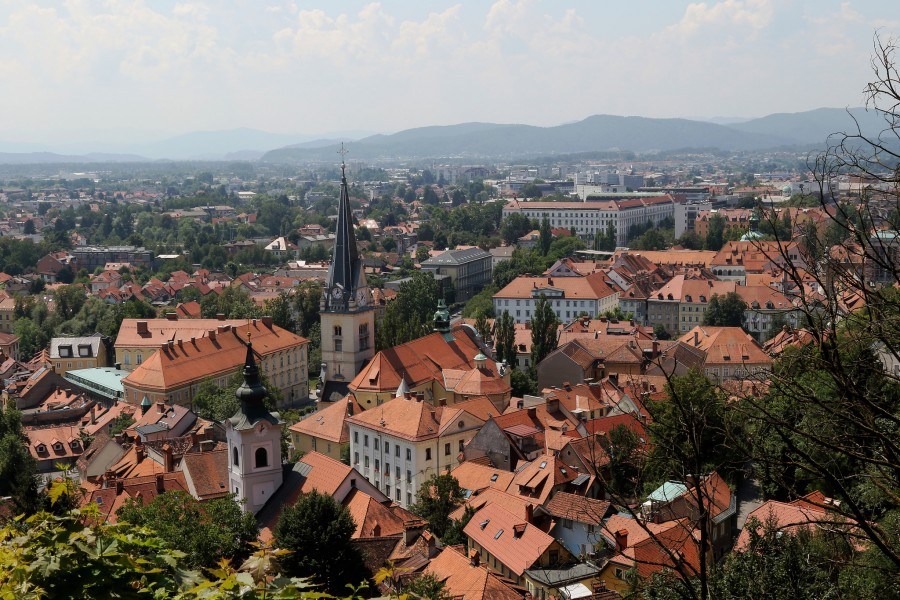 The capital of Slovenia, Ljubljana is one of Europe's greenest and most livable capital cities. You'll unquestionably see why during your visit.
The beauty of the Balkan region is that it's home to a wealth of historic cities, all located within an easy driving distance from each other. In fact, Zagreb lies only about 35 minutes from the Slovenian border, making a visit to Ljubljana a breeze.
The drive from Zagreb to Ljubljana doesn't take longer than two hours (but in peak times of the year that border patrol can make that twice as long)
In Ljubljana, indeed one of Europe's best-kept urban secrets, you can stroll the entirely pedestrianized historic city center, visit Ljubljana Castle and admire the gorgeous pastel-coloured architecture.
An evening walk along the tree-lined Ljubljanica River is highly recommended as well. The city is small enough to be explored in just one day, the ideal city trip from Zagreb—if you can, though, you should try to spend at least a night there.
Zagreb to Lake Bled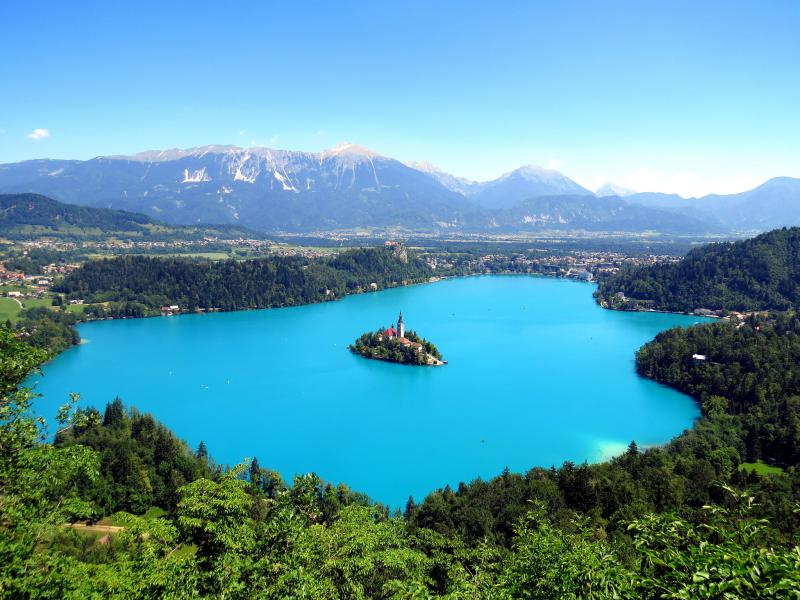 Just past Ljubljana lies Lake Bled. This iconic and extremely popular tourist destination is often included in group tours to Ljubljana from Zagreb. This lake, surrounded by tall mountains and Bled Castle and with its small picturesque island, is truly mesmerizing.
Bled is another place in the balkans that's exceptionally beautiful, but of which you can quickly get a feel in just a few hours.
If you want a change from the hustle of city life in Zagreb, consider going to Lake Bled where you will find beautiful hiking trails around the lake and into the mountains, fascinating historic attractions, and a charming small-town atmosphere.
There are even more options for day trips from Zagreb, great overnight getaways and Croatia road trip ideas, but we'll save those for another day.
When you're ready to truly leave the city, consider Dubrovnik next, and this guide will get you there.
More Croatia Travel Blogs You Might Like
Share