Dragon Bridge Ljubljana, Plus Other Fascinating Ljubljana Bridges
If Tivoli Park is considered to be the city's lungs, then the Ljubljanica River is our main blood vessel, bringing life straight to the heart of the picturesque old city center.
Ljubljana and its many bridges may not be as grand as those on the river Seine in Paris or Danube in Vienna or Budapest. Still, it boasts an impressive collection of unique and charming bridges, each with a different story to tell.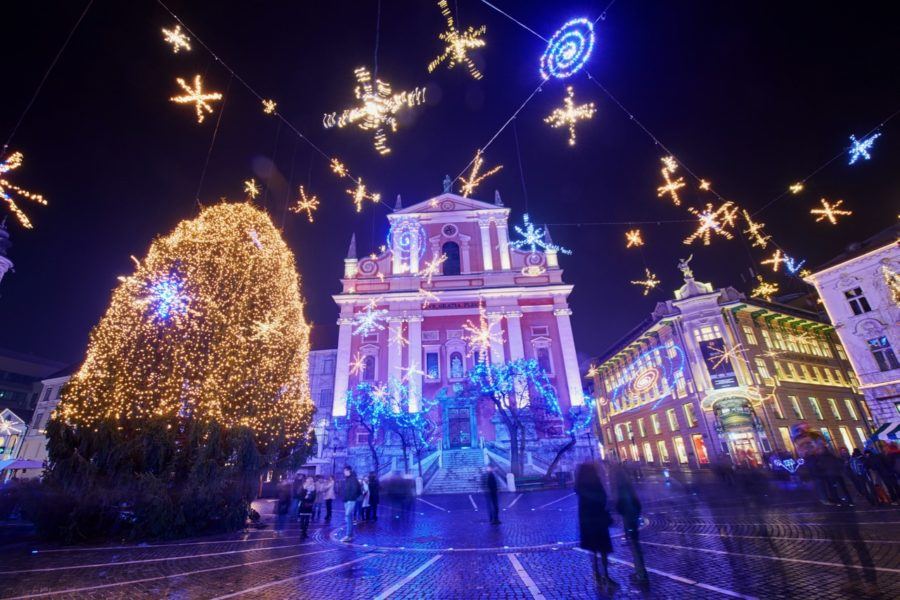 Many foreign visitors say that Ljubljana's vibe is surprisingly Mediterranean when roaming through the city enjoying the sounds of street musicians and observing the local custom of 'coffee' drinking, especially in the summertime when the bars and restaurants on the river banks are jam-packed.
Ljubljanica River, with its bridges, is one of Slovenia's well-known and recognizable postcard features but is also where all cultural and social aspects of life transpire.
There are more than 20 bridges crossing the river Ljubljanica. Many serve mainly pedestrians and cyclists, while others are used for motorized traffic. A whole day can be spent exploring just some of Ljubljana's enchanting bridges, and there are many ways to take an up-close look.
You can enjoy a pleasant romantic stroll along the riverside while deciding between plenty of dining and drinking choices. And it is very romantic even if you're single.
If walking is not your cup of tea, then why not cycle? You can hire your own bicycle through this bicycle-sharing system.
The most pleasant and relaxing way to see the bridges and feel the river from another perspective is by meandering down the river by boat. For the more adventurous, you can even paddleboard down the river!
Of course, we start with the most famous bridge in Ljubljana, Dragon Bridge.
TRAVEL COMPANIES WE USE AND TRUST
Zmajski Most – Dragon Bridge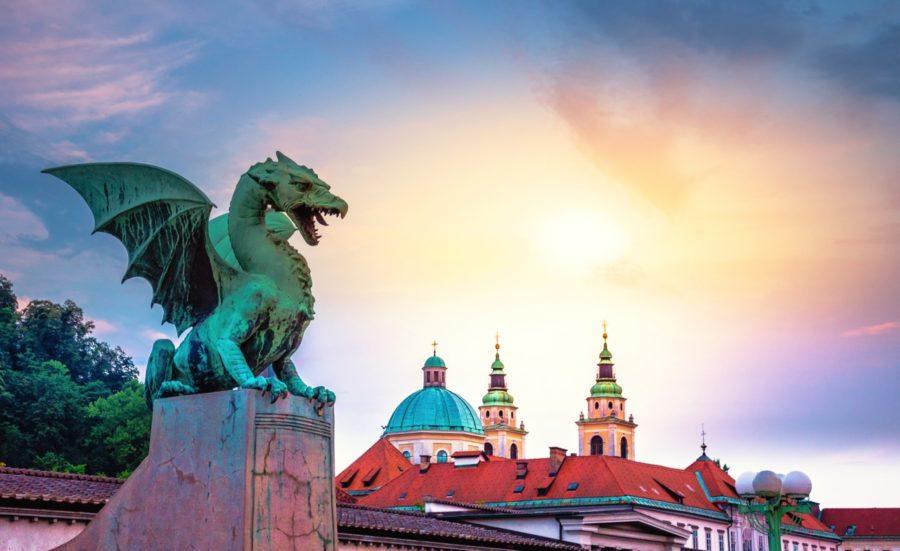 Our favorite, the most attractive, and symbol of Ljubljana city is the Dragon Bridge.
Four, almost real-looking dragons sit at each corner of the bridge, protecting the town entrance. Built in 1901, Dragon Bridge is considered one of the finest examples of Art Nouveau architecture in the world.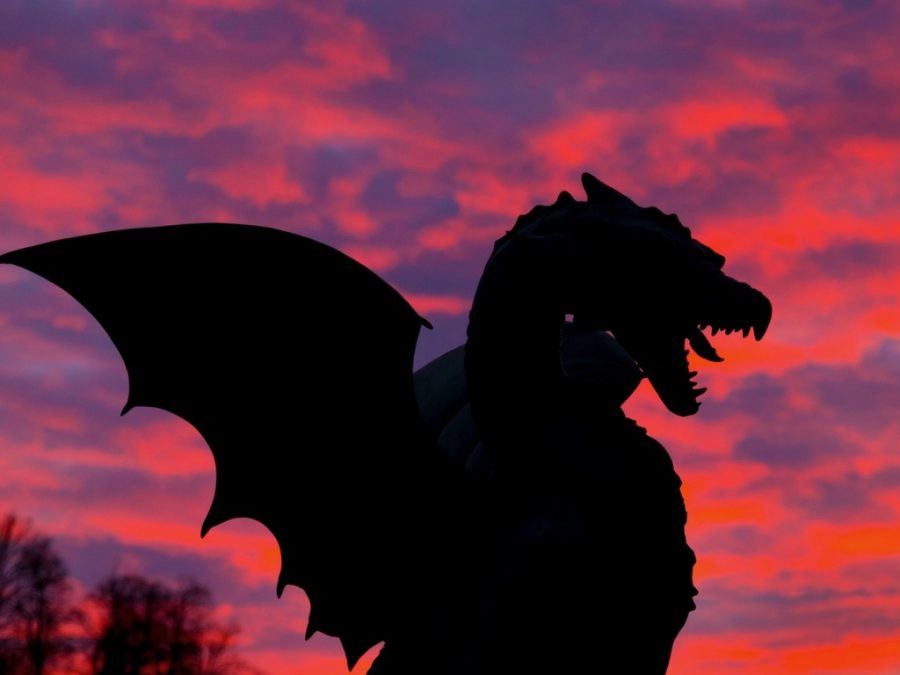 Designed by the Dalmatian architect Jurij Zaninović, Ljubljana's first reinforced concrete structure and one of the largest bridges of its kind in Europe at that time. Dragon Bridge was dedicated as a tribute to 40 years of the reign of the Viennese emperor Franz Josef (1848 – 1888)
Tromostovje – Triple Bridge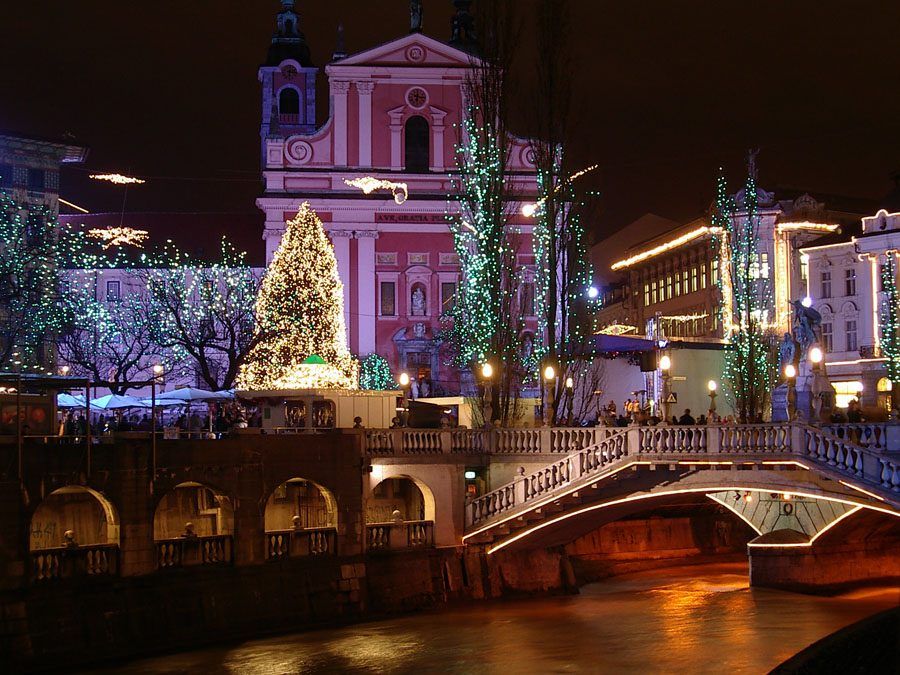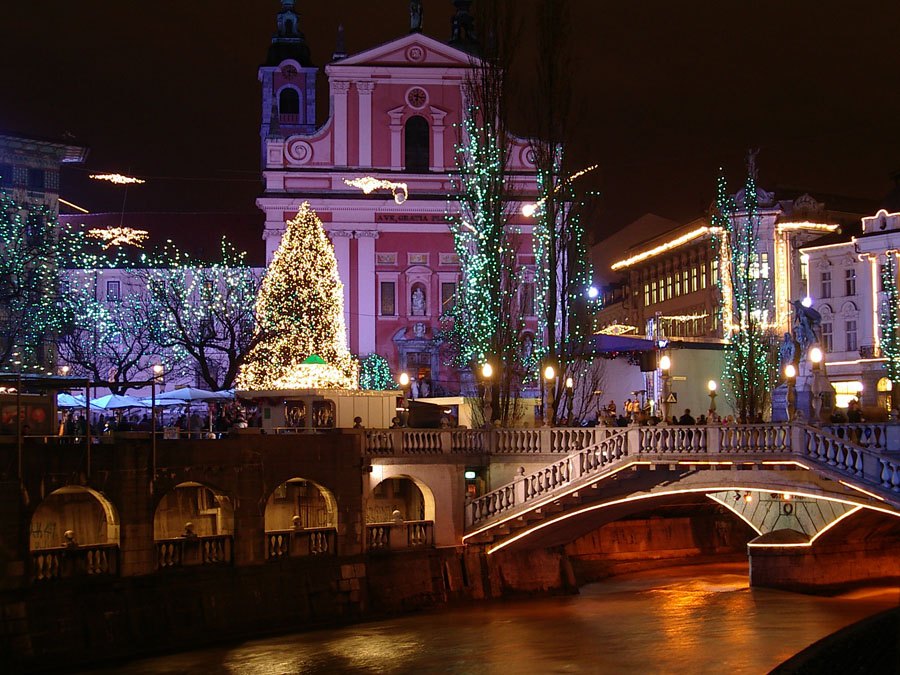 We will begin the tour from Ljubljana's central gathering place – Prešern Square, with the most beautiful and most Instagrammed of them all – Tromostovje or Triple Bridge.
This architectural gem and rarity got its name in 1932 when our world-renowned architect Jože Plečnik added two side bridges intended for pedestrians. Here stood an old medieval wooden bridge until 1842 (which makes it the oldest one in Ljubljana), when it was replaced by a single stone one, with a dedication to Archduke Franz Karl.
Ribja Brv – Fishmarket Footbridge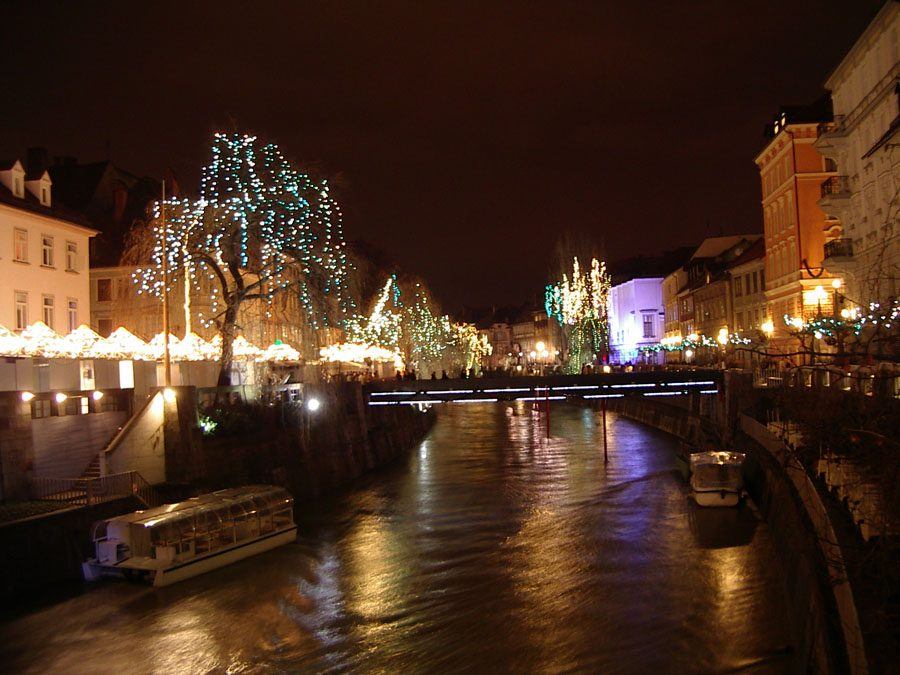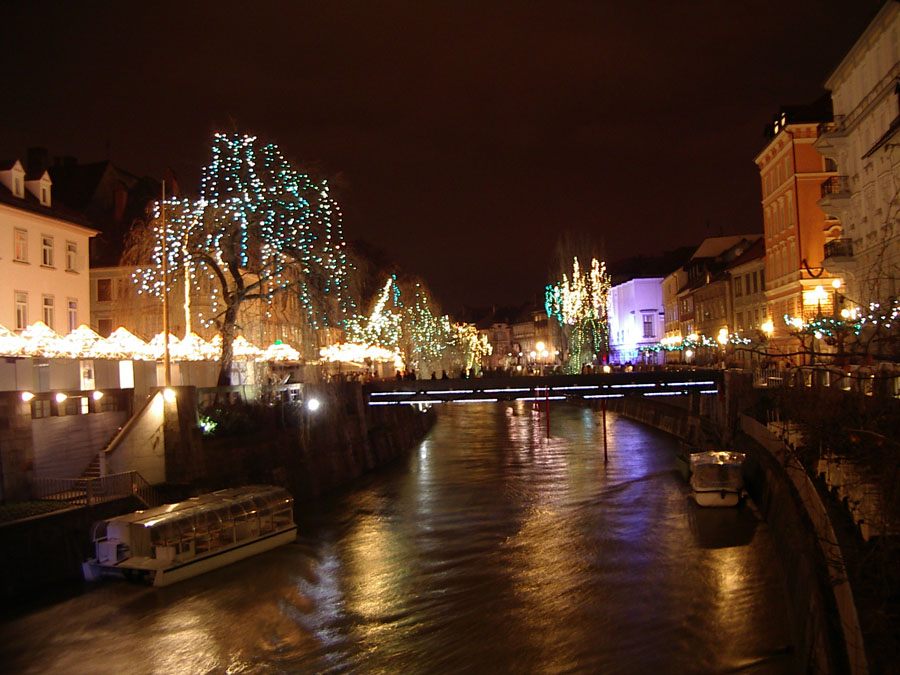 Upstream from Tromostovje sits the renovated, modern, see-through footbridge with underfloor heating.
This bridge connects Ribji Trg/ Fishmarket square under the Ljubljana Castle to the Gerber stairway on the left river bank, right above Makalonca harbor.
Čevljarski Most – Cobblers' or Shoemakers Bridge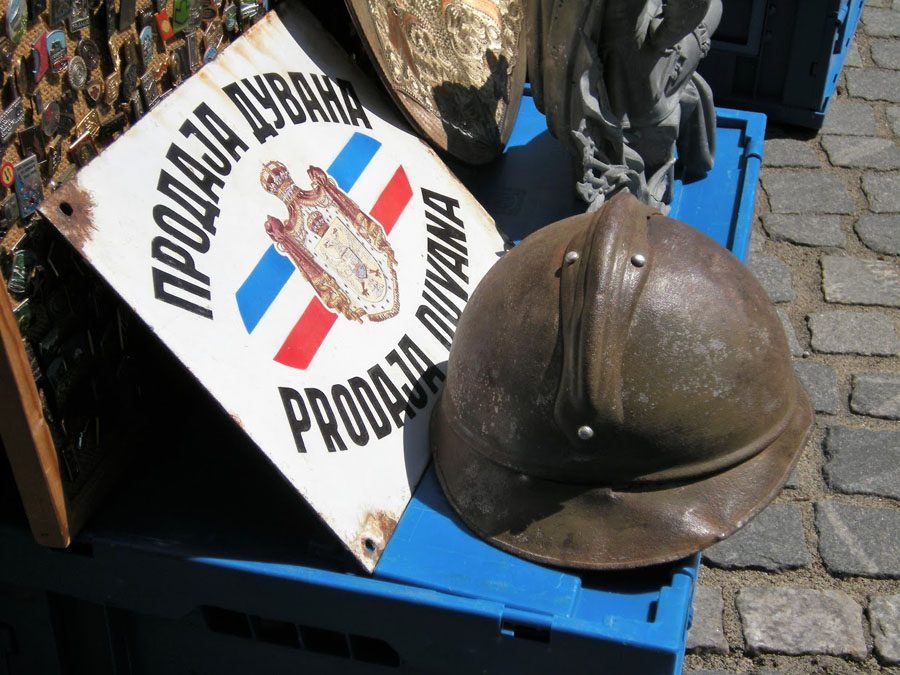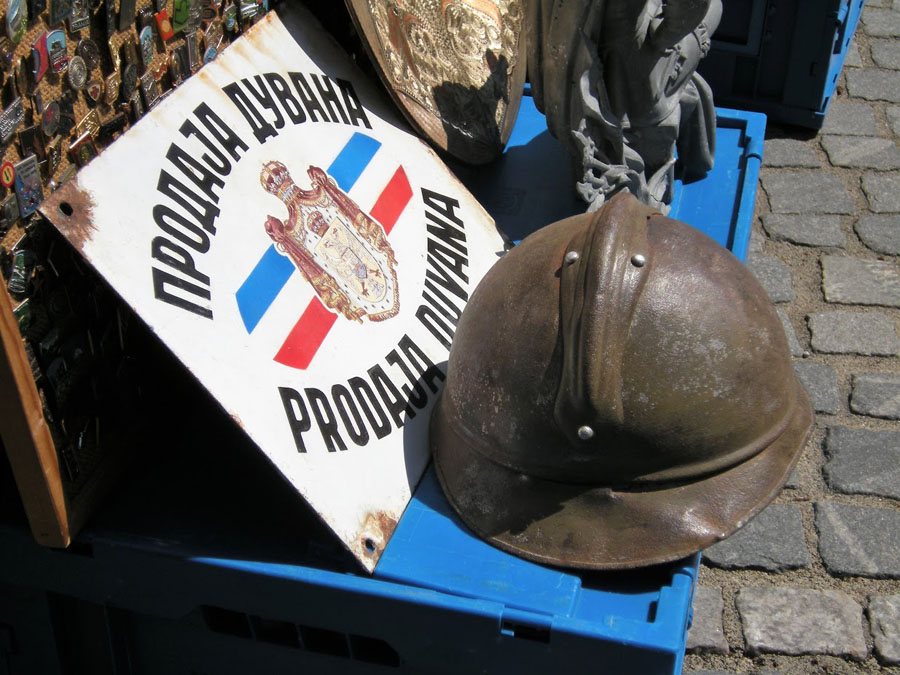 This next Plečnik masterpiece (like Triple Bridge), designed in Neo-Renaissance style, got its name by the many shoemakers, who, in the 19th century, made their living by selling and repairing handmade shoes and whose booths once occupied the bridge.
Different-sized pillars topped with stone balls or lamps give the bridge a uniquely dynamic appearance. On Sundays, the riverbank starting at the Cobbler's Bridge turns into a flea market, where you might find a piece of history.
Šentjakobski Most – Saint Jacob's Bridge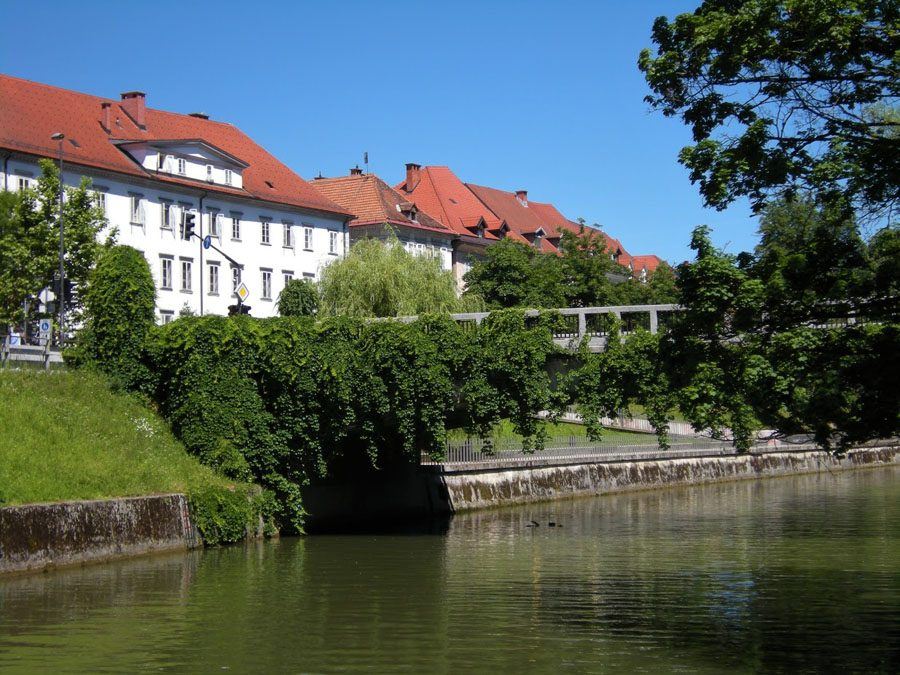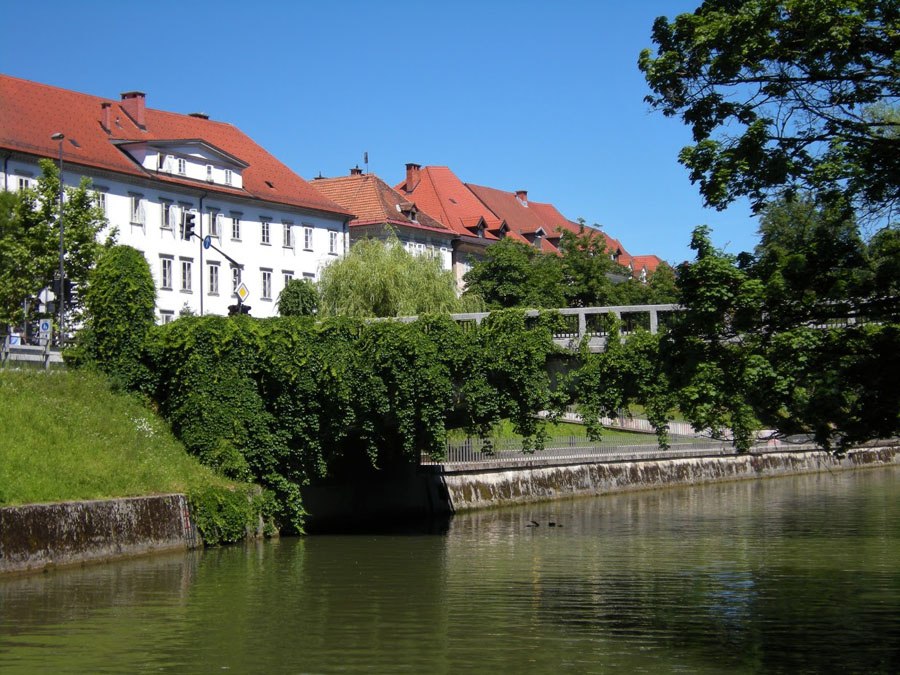 Named by the church of St. Jacob nearby, this bridge is the first which was upgraded with reinforced concrete for military purposes back in 1915. Nowadays, it is used for motorized traffic. Continuing upstream by the riverside takes you to the Hradecky Bridge.
Hradeckega Most – Hradecky Bridge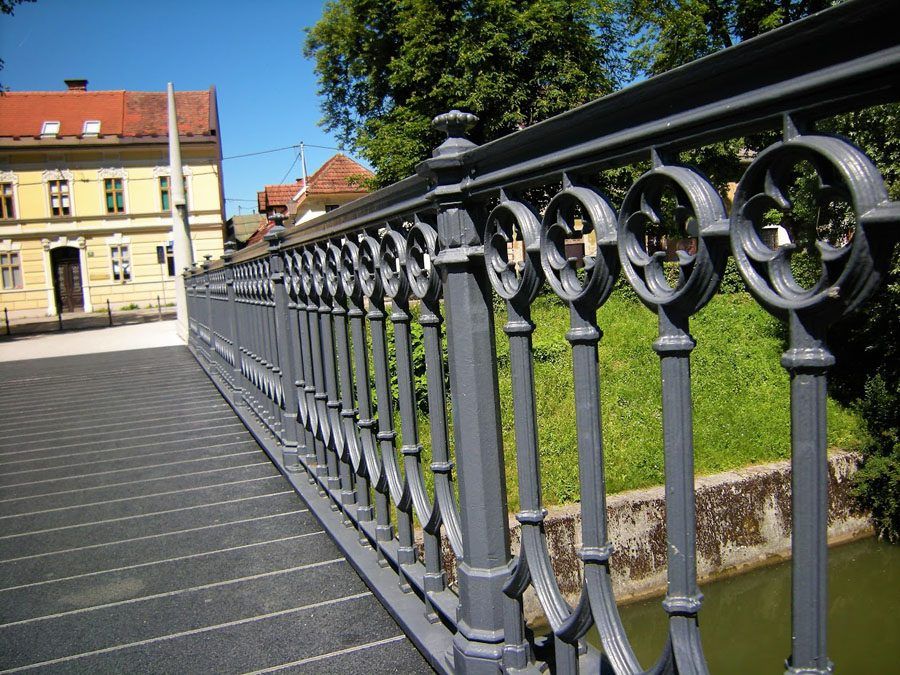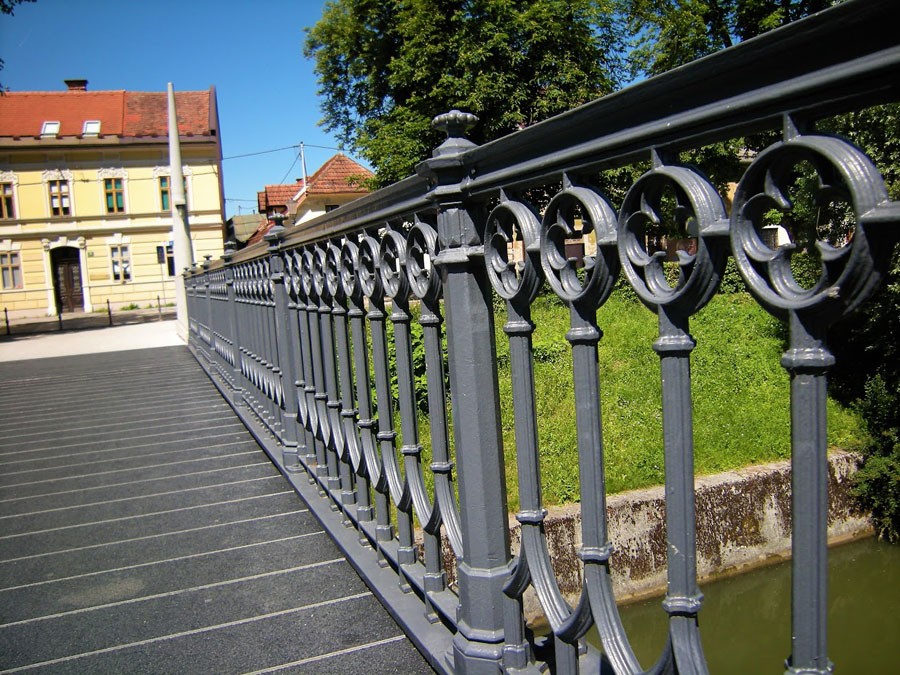 This cast-iron bridge from the 19th century (made in Dvor Ironworks near Žužemberk) is the second oldest surviving bridge in Ljubljana and named after Ljubljana's Mayor Johann Nepomuk Hradecky.
Another interesting fact – the bridge was moved twice and renamed once. If you want to find out why make sure to learn more about its colorful history next time you're in town.
Trnovo Bridge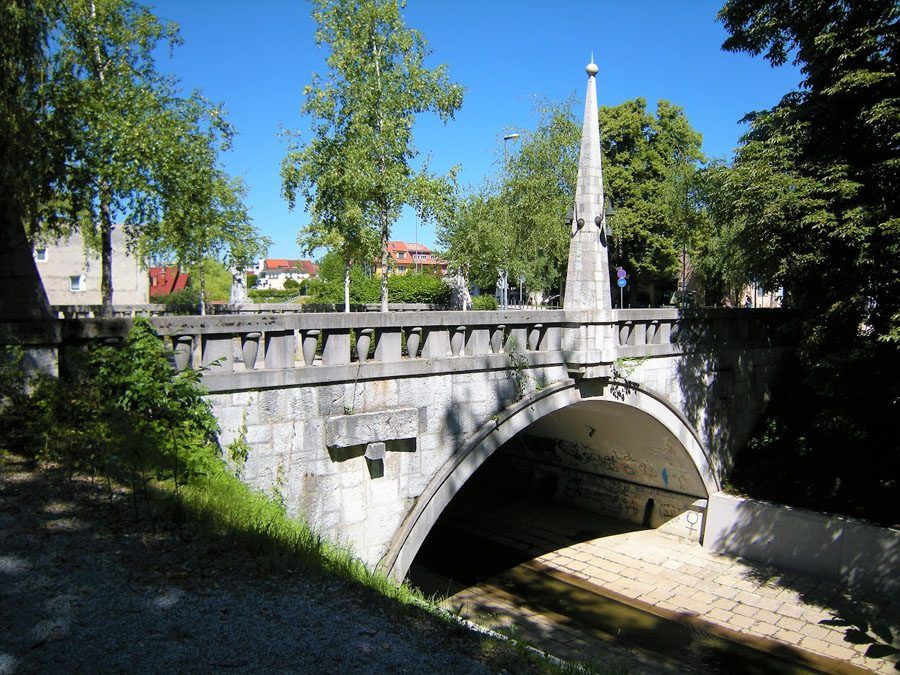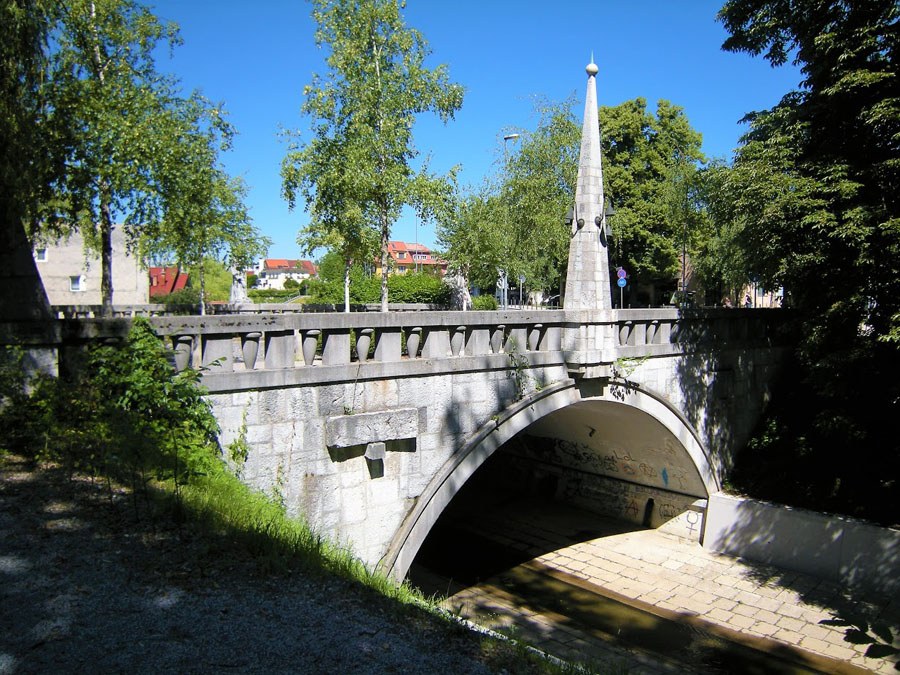 Not far from here, continuing upstream from the Gradaščica river (the Hradecky bridge sits near the confluence of Ljubljanica with Gradaščica), you will find two more of Plečnik's bridges.
First a little Rooster footbridge (Petelinja Brv) and right across Trnovo Church, the Trnovo Bridge (Trnovski most), one of the few with growing trees.
Prulski Most – Prule Bridge
The peculiarity of this bridge is the red brick pavement with a semicircular viewpoint, paved in memory of the time when bricks were made at this spot. The bridge has a public toilet with all the standard equipment and a baby changing table and is adapted for people with physical impairments.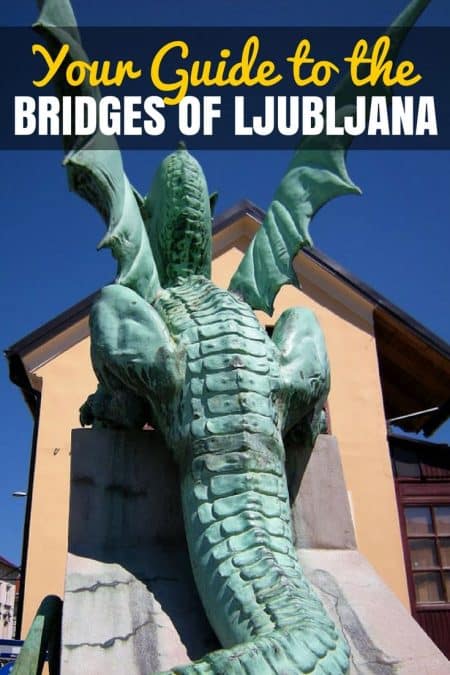 Hladnikova Brv na Špici – Hladnik Footbridge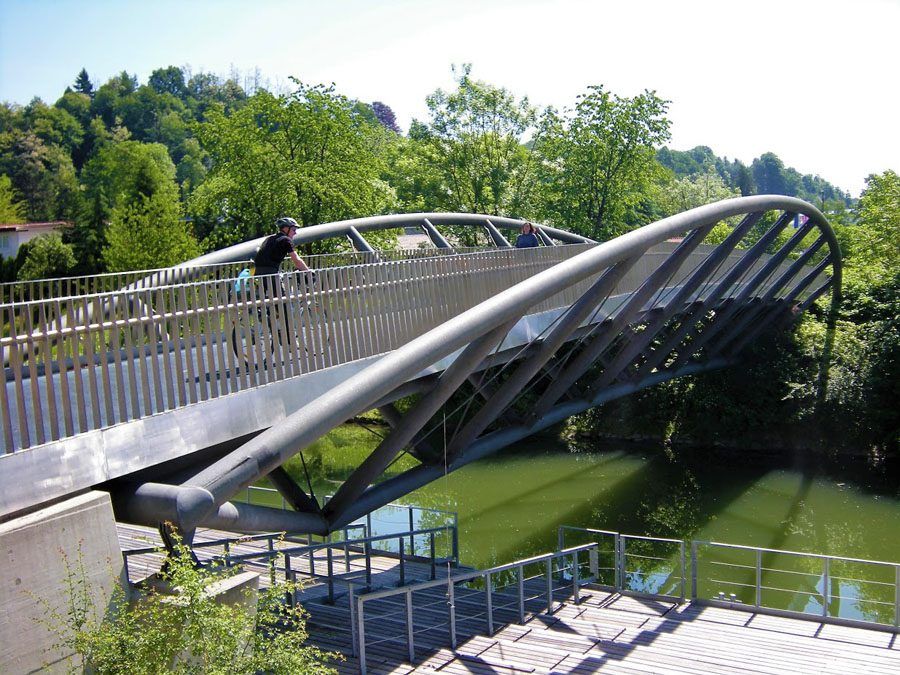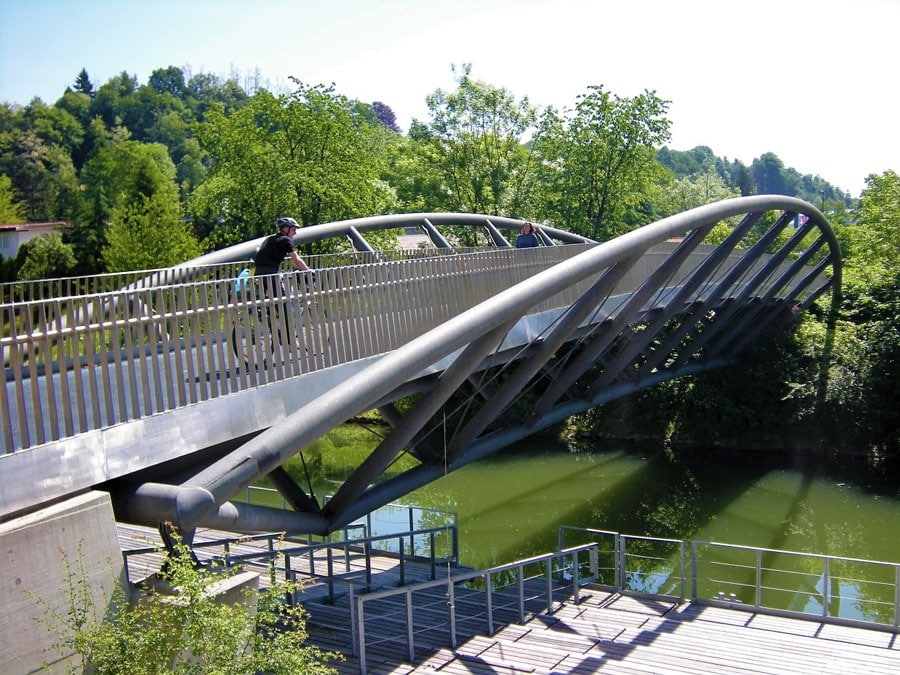 Crossing the Gruber canal is Hladnik footbridge, named after Franc Hladnik – botanist, priest, and founder of the nearby Botanical Garden. Intended for pedestrians and cyclists, this bridge is located at the popular recreational city beach, Špica. It also serves as a starting and ending point for boat trips.
Mesarski Most – Butchers' Bridge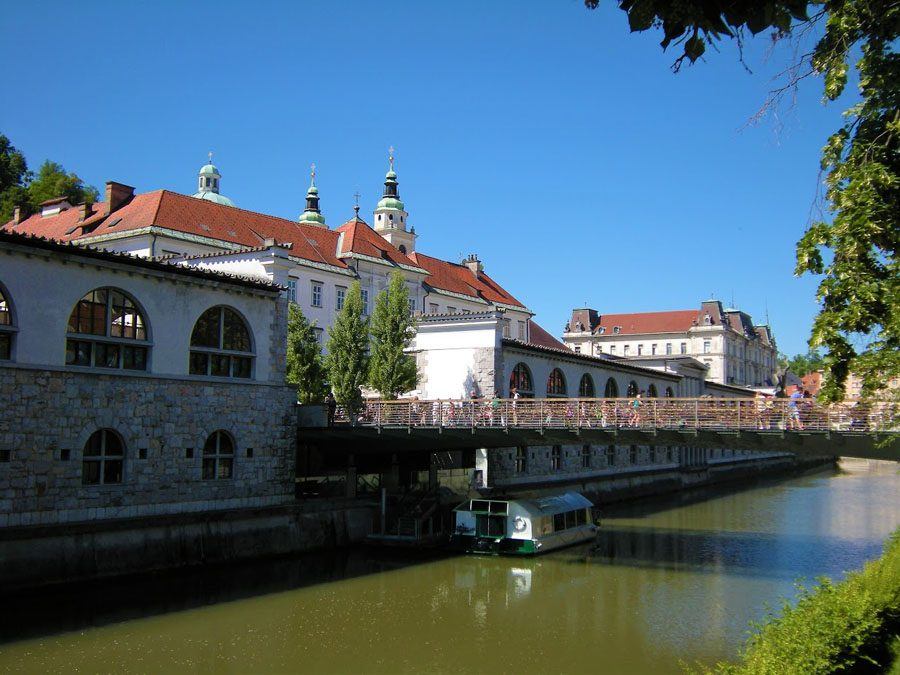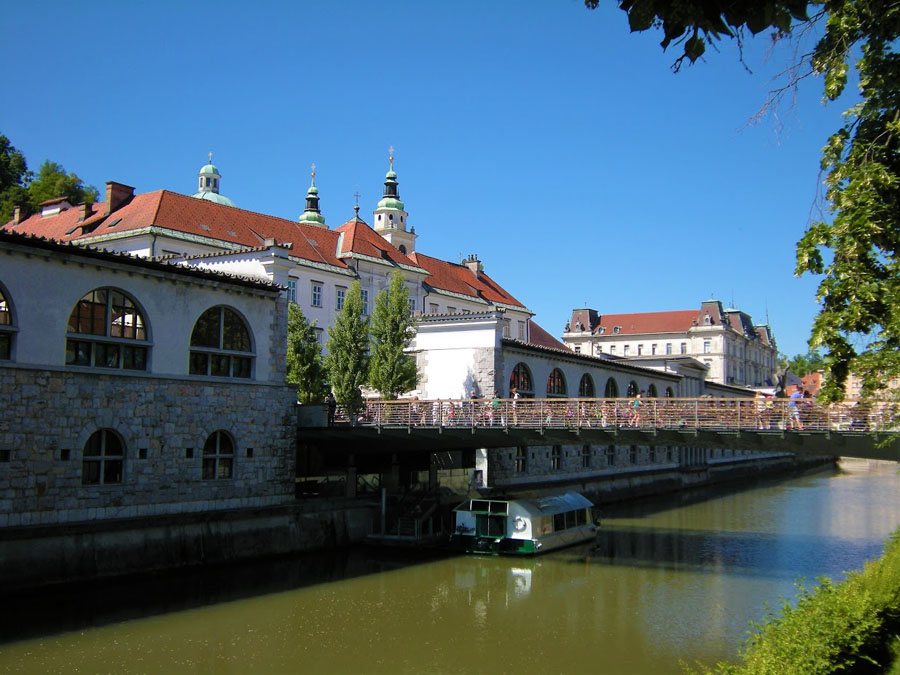 The first bridge downstream from Tromostovje/ Triple Bridge is Mesarski most/ Butchers' Bridge, named after former butchers' booths on the Central Market close by. But really, it could be called Lovers' Bridge as it became a place where countless lovers symbolically lock their love for eternity with padlocks and then throw the keys into the river. It is also adorned with see-through floor panels and with statues by Slovenian sculptor Jakov Brdar.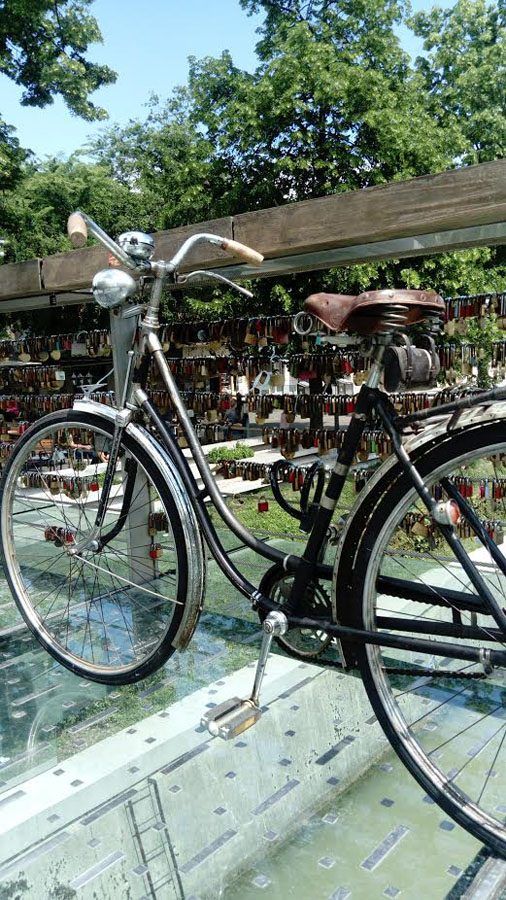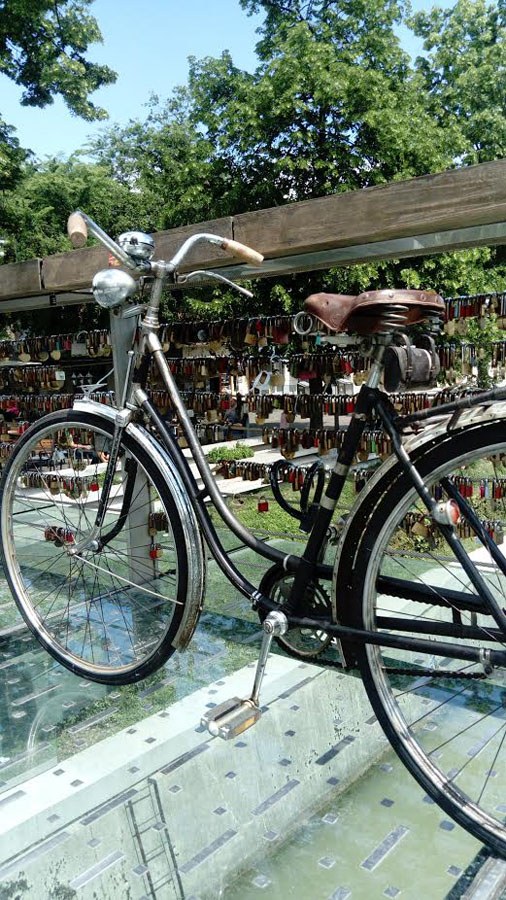 Žitna Brv – Wheat Footbridge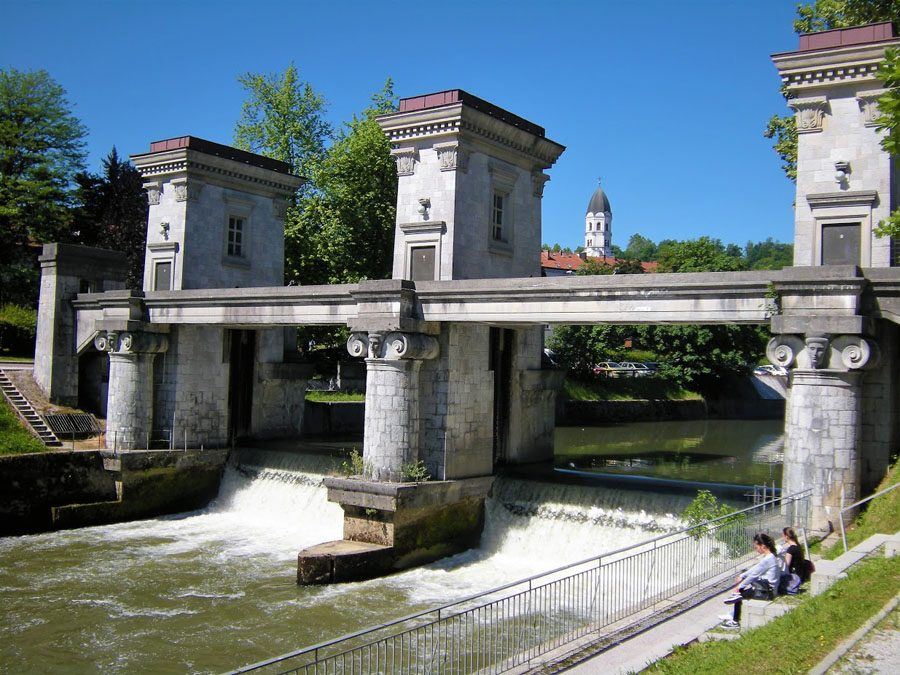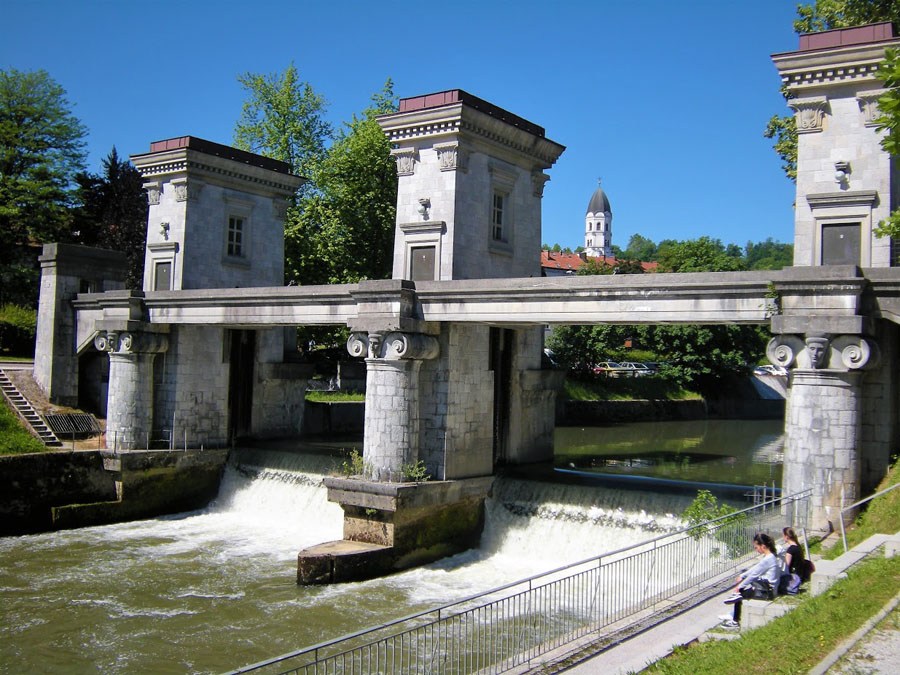 This pedestrian bridge was named after wheat trading fairs that took place in the vicinity in the 19th century. It is designed as a viewing platform with a bench on both sides of the bridge, offering a little escape from the hustle and bustle of the inner city.
Continuing downstream and crossing the St. Peter's Bridge (Šempetrski most), you will be rewarded with another monumental architecture product of Jože Plečnik – River Gates, a technological element for water regulation. It's a point where Ljubljanica slowly glides away from the city center, saying its last farewell.
Most of the photos in this post are thanks to Renata, the author. We thank her for taking the time to photograph them all.
More Slovenia Travel Blog Posts