How To Get From Zagreb To Ljubljana (& Ljubljana To Zagreb)
Croatian and Slovenian capitals are mandatory destinations while visiting each respective country. This is where you'll find most museums, cultural institutions, and some of the grandest architecture. We've got you covered in this comprehensive article if you're wondering how to get from Zagreb to Ljubljana or from Ljubljana to Zagreb.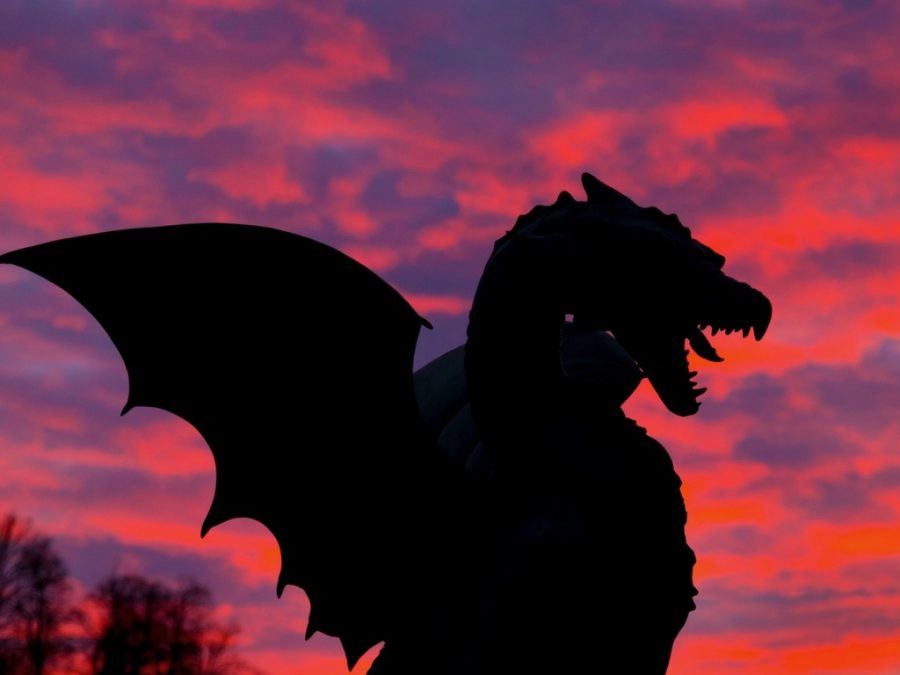 Croatia and Slovenia are both European Union members, making them arguably the most convenient pair of Balkan countries to visit. The two capitals boast an impressive number of quirky attractions, from the renowned Museum of Broken Relationships in Zagreb to the graffiti art covering many old Ljubljana buildings. You can expect historic alleyways, tree-lined riverbanks, fun restaurants, and beautiful architecture.
Travel from Zagreb to Ljubljana (or vice versa, depending on where you start your trip) is effortless. You have five transportation options, from self-drives to buses and trains to Zagreb private transfers. We'll talk about all of them below.
However, first let's stress that all schedules, whether it's buses, trains, or planes, are subject to change. You should, therefore, always check the website of the company you're using for your Zagreb to Ljubljana transfer. That's where the most up-to-date information will be.
TRAVEL COMPANIES WE USE AND TRUST
Ljubljana To Zagreb Map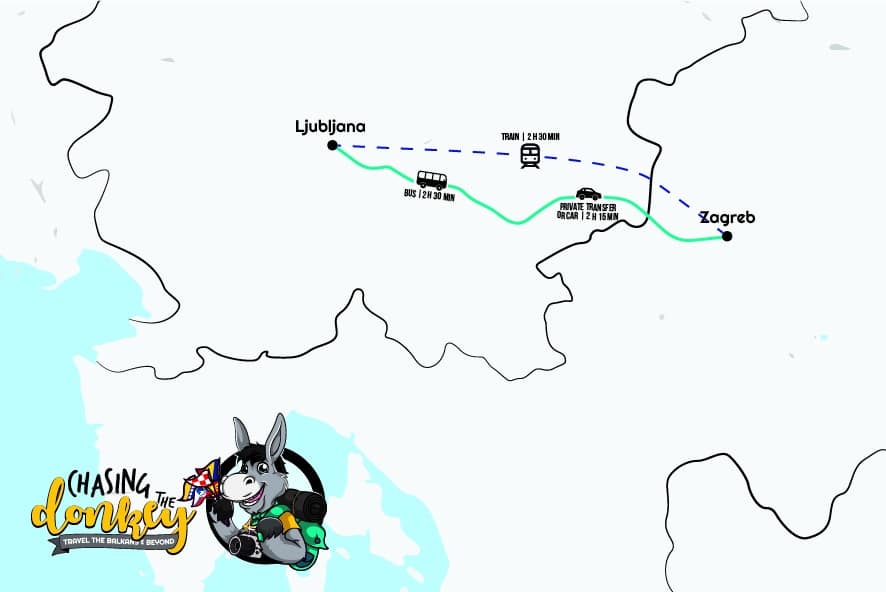 Zagreb To Ljubljana Drive
By driving from Zagreb to Ljubljana, you'll give yourself the most freedom on the way. A self-drive allows you to take as much time as you want to reach your destination. You can stop if you wish to stretch your legs and visit potential places of interest.
Major European highways connect the two cities. You'll take the E70 west of Zagreb for about 30 kilometers to the Slovenian border near Bregana. The highway changes names and becomes the A2, which leads straight to Ljubljana. The total distance from Zagreb to Ljubljana is about 140 kilometers. The waiting time at the Bregana border crossing, arguably the busiest, makes it impossible to estimate the total travel time. However, it would be a fair guess to say that you should count on at least 2.5 hours in total.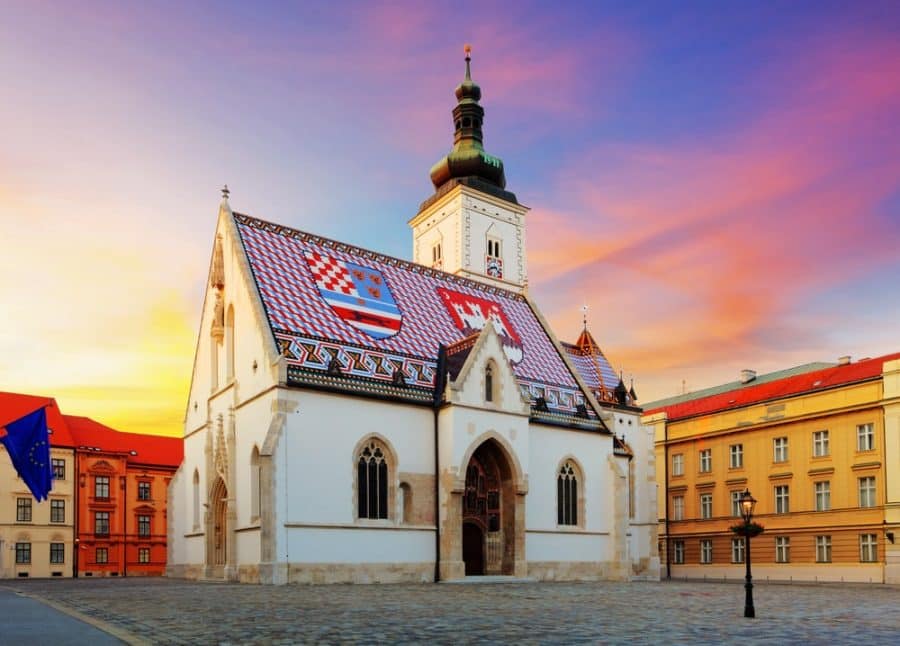 Croatia and Ljubljana are European Union members, which means you can take rental cars across the border. It's still a good idea to double-check with your Croatia car rental company if there is anything you should know about. For example, Slovenia has a national highway toll system, so it might be wise to inform whether those fees (and the related window sticker) are included in the rental price. If not, make sure to take care of this at the border to avoid fines.
Additionally, from 1 January 2023, Croatia is a part of the Schengen Zone, as Slovenia is. In practical terms, this means that the Croatia-Slovenia border is effectively the entry point into the open-border Schengen Zone and that there may be passport checks.
People from the EU, Switzerland, Norway, North America, New Zealand, and Australia can enter without a visa. Other nationalities should inquire about visa regulations at their embassies.
Zagreb To Ljubljana Private Transfer
For those who like to travel in style, don't want the stress of driving in a foreign country, and like to have someone knowledgeable taking care of the journey, a private transfer from Zagreb to Ljubljana is a fantastic option.
A Zagreb to Ljubljana transfer is a superb way to travel, and best of all; it takes away the stress of worrying about border crossings, insurance, and navigating foreign roads. Although not as cheap as public transportation, private transfers from Zagreb to Ljubljana are the most convenient and comfortable option.

A Ljubljana to Zagreb transfer will pick you up from your accommodation; no need to hunt down taxis or make your way to the bus station. Then, you sit back and relax while your driver takes care of the Zagreb to Ljubljana drive. You also have the freedom to make any stops you'd like along the way, and the best part is the door-to-door service.
Zagreb to Ljubljana day trips have also become increasingly popular by private transfer. This is due to the time efficiency you get by controlling when you depart, arrive, and how long you spend at your destination. It's a great option when you are short on time and want to maximize your experience.

Zagreb Ljubljana Bus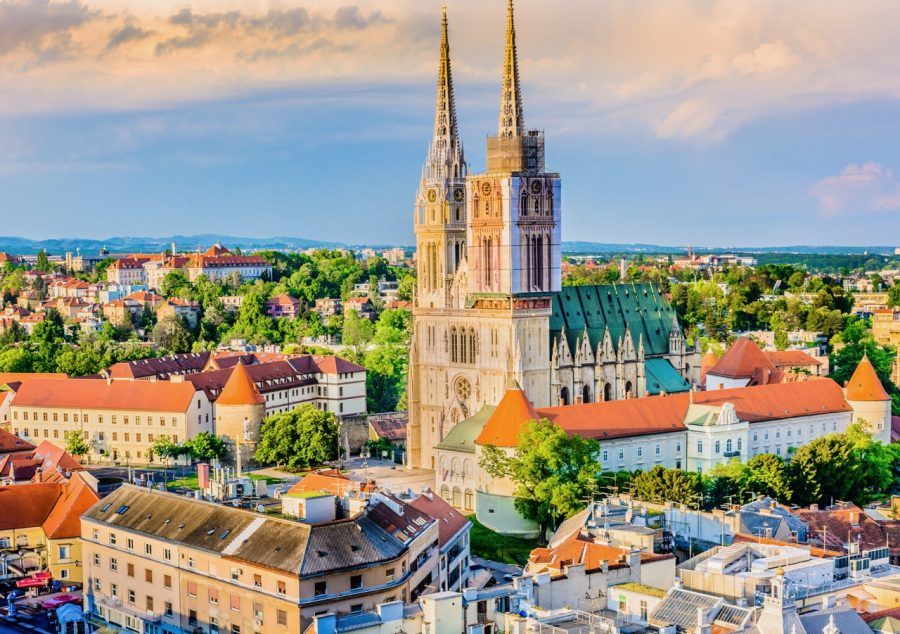 If you want to save money on transportation, your cheapest option is the bus service from Zagreb to Ljubljana. There are up to a dozen departures per day—this is subject to change—and all routes are direct. Currently, the first bus leaves at 7.30 am, while the last bus of the day departs from Zagreb at 11.20 pm.
Travel time is about 2 hours and 30 minutes on average. The Ljubljana to Zagreb bus price starts as low as 9 euro for a one-way ticket, which is the cheapest way to travel from Ljubljana – Zagreb.

Zagreb To Ljubljana Train
Another fast, reliable and comfortable way to travel from Zagreb to Ljubljana and from Ljubljana to Zagreb is the train. There are direct Ljubljana to Zagreb train connections between the cities. On average, there are four trains between Zagreb and Ljubljana per day. The first one leaves at 6.50 am and the last at 9.20 pm. Check out the Zagreb to Ljubljana train schedule to confirm departure times.
According to Rail Europe, the journey from the city center to the city center takes no longer than 2 hours and 30 minutes. You can find one-way tickets for 35 euro, but regular deals result in prices that are often much lower.
Zagreb To Ljubljana Flights
In this modern world, flying is always an option as well. However, there are no direct flights between Zagreb and Ljubljana. You'll always have a stop-over at another major European airport, be it Istanbul, Munich, or Paris. All in honesty, flying from Zagreb to Ljubljana is pricey, even with the many low-cost airlines in Europe. Additionally, it is not at all time-saving. The four options above are all better alternatives—cheaper, faster, and/or more convenient.
Getting from Zagreb to Ljubljana has never been any more straightforward, and there are transport options to cater to all budgets. So next time you are in either of these cities, consider jumping on a bus or train or even taking a private transfer and paying a visit.