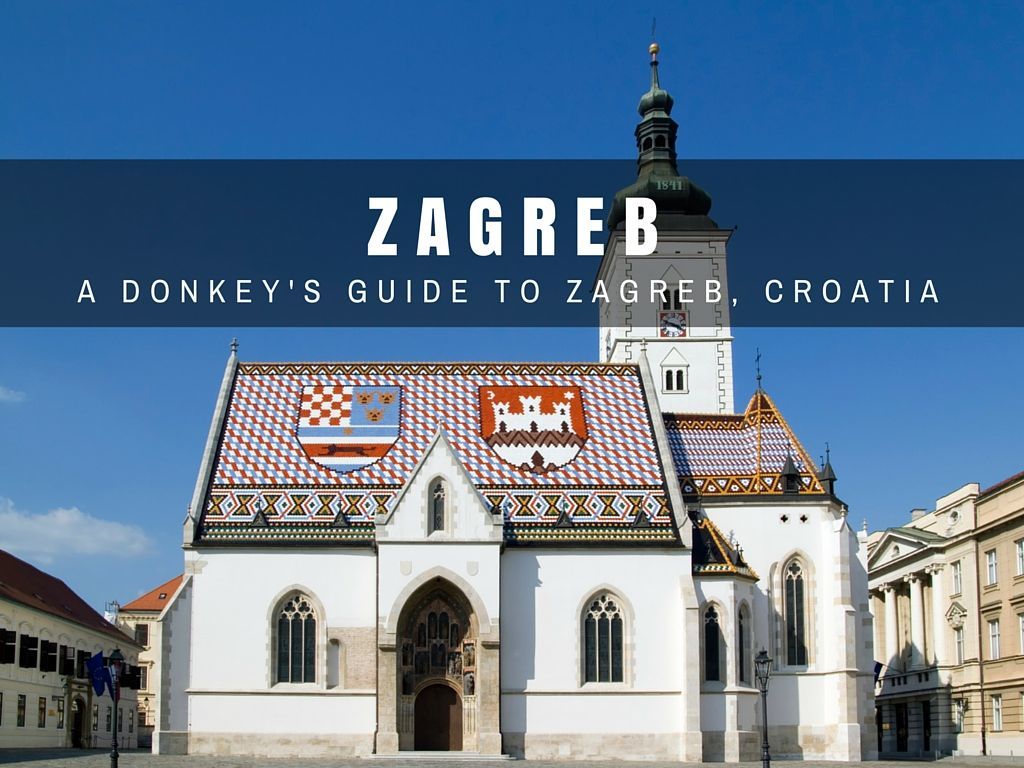 Zagreb Travel Blog: Things To Do In Zagreb
Despite being the Capital city of the country, Zagreb in Croatia, is often overlooked as a destination in its own right. Yet this city has remained at the forefront of history and culture of Croatia since Medieval times. There is always something happening in Zagreb. Visitors to the city should certainly find enough to keep them busy, ranging from elegant restaurants to fascinating museums.
We've been to Zagreb several times, including for the Advent in Zagreb festivities last Christmas. We agreed on this list of things to do in Zagreb, but it is by no means the only things you can do. Zagreb is the buzzing capital city of Croatia, yet unlike other capital cities it's not over crowded or polluted.
In Zagreb, you just can't get lost. There are signs on every corner, leading the way to all of the biggest Zagreb attractions. Zagreb is like all great European cities, in that is has museums, galleries, and churches to visit. Before making the trip make sure have all the essential travel necessities to make your trip that much more comfortable.the essential travel necessities to make your trip that much more comfortable.
You'll be sure to find something to do in Zagreb. Croatia's Capital is flat and compact which makes walking about (especially with a pram) super easy. We're still adjusting to traveling with a toddler, with our baby donkey we were not game enough to head into any of the fancy museums or galleries as he likes to run left when we are walking right. So instead we took on a few different sites.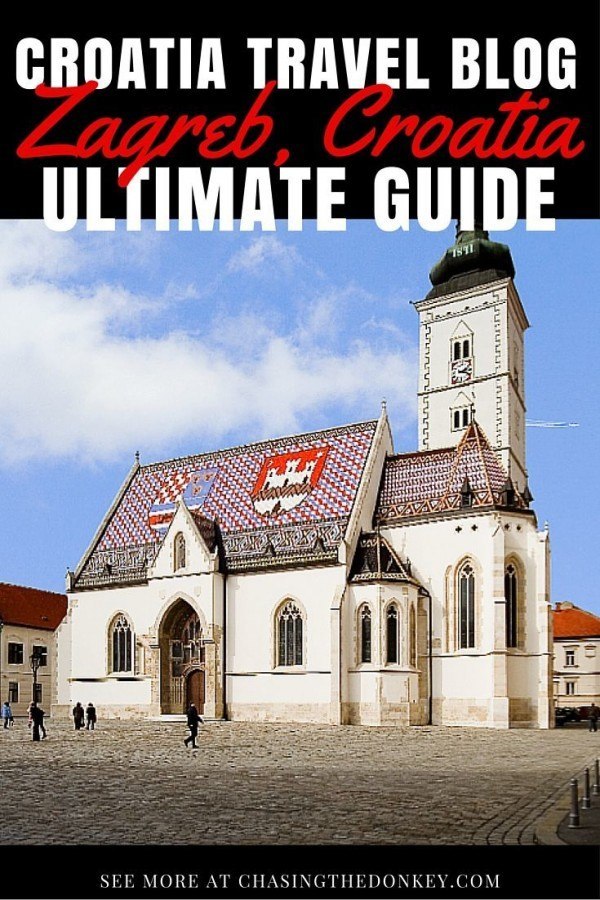 Our Suggestions For Things to do in Zagreb
What to see in Zagreb, depends on your taste – that said, we have complied a list that has something for everyone.
Zagreb Funicular
Start here, it's within an easy walk of all the tram and bus stops. As with most funiculars, it's nothing special to look at, having been in operation since 1893, it makes for a quick and easy trip to the top. It costs just 4 Kuna (approx 0.80 cents) and takes you to the Upper Town, where lies the historic district.
Even if you skip the funicular ride and walk up, which will take you past some shops and coffee bars where if you decide to stop in you're in for a treat, with a top-notch view overlooking the lower city. This vantage point is one of the best views of Zagreb. Once there you can see many museums, galleries and the like, but we suggest whatever you do, do not miss out on two of the best highlights of Zagreb. 1. the Museum of Broken Relationships and 2. Saint Marks Church.
Tkalčićeva Street
Don't ask me to pronounce it. Out of all of the things to do in Zagreb, this one I just can't wrap my tongue around. Just head there and enjoy a meal or coffee from the MANY places to eat and drink. Be sure to wander along Tkalčićeva street after dark. All of the shops are lit up, and the street has a very romantic feel about it.
Museum of Broken Relationships
Yes, a Museum that is dedicated to those trinkets people keep that remind them of broken relationships. Allow about an hour to see this award winning, small yet fascinating museum.
The contents of the museum are just intriguing as the name suggests. Set in the historic district of Zagreb's Upper Town, the Museum of Broken Relationships is a place you must stop when in Zagreb. Rather than being some bitter and twisted take on relationships, each piece has a little story of a real person who donated the item and what it meant to them. As you walk from item to item, you feel connected to the person, and their feelings of loss and loneliness or relief as the descriptions have been written by the person of whom the item belonged and not a museum curator.
The baby donkey insisted on being out of the pram, and because it was not some thousand-year-old vase or painting, I was comfortable with him wandering about the museum. Once you have seen the exhibition, you can enjoy a coffee in the cafe and wander about the gift shop. Overall a great place to see, and one of the many things to do in Zagreb that's family-friendly.
Memorial Museums
This is probably not something that you notice at first glance, but when you find out that there are several statues dedicated to characters from local books, it suddenly hits you –  Zagreb loves its writers. Not only is Zagreb a creative city, but they also tend to honor that fact.
Unfortunately, you can't really find a lot of translated works of Croatian writers so you will just have to trust us: they're amazing and we adore them. We even use nicknames for some of the writers, like Fritz for famous Miroslav Krleza or Gustl for poet Antun Gustav Matos.
There are memorial museums dedicated to some of the writers, bars that have kept memories of the other ones, and statues of authors and their fictional characters all over the city. Hey, there's even a football team that we call Pjesnici – The Poets. Zagrebians just love their authors.
Medvednica
If you want to enjoy the beautiful sites, of nature, then take a day trip – and spend the day hiking up a mountain. Head up trail #12 for the best views. Or, you have 69 other trails to choose from, as well as eight cycling routes.
Head to Sljeme, at the peak of Medvednica Mountain it is great for an active vacation in Zagreb which is just 30kms away.
Pimp My Pump
Zagreb is becoming the hotspot of incredible street art. There are in fact several street art museums in different neighborhoods. The most famous street art initiative around is Pimp My Pump. Old water pumps can be found throughout the city, but they used to be invisible. However, they can't go unnoticed once they get their makeover done by the Pimp My Pump crew. Read more thanks to local Iva here.
Active Life and Nature of Zagreb
If you like hiking Zagreb is perfect. Zagreb was built on the slope of a mountain, so you can start walking straight from the city. Swimming? There are two lakes. Skiing? Water or alpine? Zagreb has it all. If you're an outdoor activities type, you've come to the right place. Parks, lakes, forests and even a mountain, they're all just around the corner. Read more thanks to local Iva here.
St. Mark's Church
We've had the pleasure of visiting countless churches across Europe, so I'll be honest and say that this church lacks the big WOW factors on the inside that more famous churches do. However, it does have one distinguishing feature; what a roof!
Croatians are known to be patriotic, and the roof of St. Mark's is a testament to that fact. With the White Castle (Zagreb's Coat of Arms) and the National Red, White and Blue tiles emblazoned on the roof for all to see, it's the reason I've included this as one of the must-see things to do in Zagreb.
The 'Nin Salt' Museum Store
Opened within the last year in the centre of Zagreb, this is one of the yummiest Croatia tourist attractions – this museum shows an interesting story of how salt is made today and how it used to be done in the past. The salt factory in Nin is said to date back to Roman times, yet here in Zagreb you can check out the how too's of years gone by with photos and displays. Don't leave without buying a gift, we suggest the bath salts, but you could opt for the table salt.
Zagreb Museums
Did you say you like museums? Good, Zagreb has plenty of them. I won't list them all as there are just so many, but here are a few recommendations to get you started:
Walk
To fall in love with Zagreb, you should walk through Zagreb. Aimless walking will take you off the beaten path. You'll end up in local cafes and eateries; you'll uncover non-obvious sites and go beyond Zagreb's tourist highlights. In a short while, Zagreb will become much more than what is usually staged for a passing visitor. 
Dolac Markets is Full of Fruit, Vegetables, and Other Tasty Treats
I wanted to make this the number one item, but that would have just been so predictable of me. Right? Never the less, Zagreb has a fabulous Market called the 'Dolac Markets,' which is over 80 years old. You'll find the markets located beside Trg Bana Jelačić Square.
The markets are easy to spot, just keep your eyes peeled for 'Kumica' at the top of the stairs at the entrance into Dolac. Once you see this peasant lady with her basket on her head, the open space will be filled with rows and rows of red umbrellas. Then you'll know you've arrived.
The Dolac Market consists of an enormous traditional style outdoor area of fruit, vegetables, beans and some cheeses & then underneath you'll be amazed at the covered space where you can buy meat, bread, cheeses and so much more. A big highlight for us in Zagreb was the rows and rows of little piggy's hanging up in the butchers windows.
Almost every town in Croatia has their form of outdoor farmers-style market, we visit our own in Zadar often. Ohh how I wish we had one like this, it's spectacular. Had we not been staying at the swanky Hotel Esplanade Zagreb Hotel, and instead rented an apartment where we could cook, we would have gone "bananas" and purchased so much great produce and cooked some great meals. My advice is if you love food, book accommodation where you can prepare meals.
The market scene in Zagreb is terrific, so much variety and if you are traveling on a dollar or euro,  things are very affordable (sorry to all of those with the Kuna, things are not as cheap). Markets are a great way to eat like a local!
Mirogoj Cemetery
Don't be alarmed it is nowhere near as creepy as it sounds – it is a really very relaxing and sacred place. It's more like a park, and on a nice day you'll find students sitting about studying.
Shopping in Zagreb
Zagreb Shopping is not what you would expect for a capital city of Europe. Although the shopping options get better and better each year I visit Zagreb, Zagreb does have some excellent stores – be sure to head into the tie shop Croata –  Croatia's tie-selling leader with shops all over the country.
Cover Your Ears
If your dream job is to fire a cannon every day at noon? Then Zagreb it is… The only problem is, that job is already taken. And the person who does it seems to really enjoy it. There is a cannon explosion every day precisely at noon.
Movies
When I say movies, I'm not speaking about that occasion when Jackie Chan destroyed the entire Dolac market in his famous Armour of God car chase scene. I'm not even speaking of all those awarded movies that have been filmed in Zagreb, including Sophie's Choice, Fiddler on the Roof and Orson Welles's The Trial.
I'm actually suggesting you should just go to the movies when in Zagreb. Allow yourself a little break during your travels, and visit an old-school cinema, like Europa or Tuskanac, because they don't make them like this anymore. These cinemas often screen festival programmes, and there are indeed a lot of film festivals here in Zagreb.
If you're really lucky, there'll be a film screening in the summer cinema Tuskanac during your stay in Zagreb. That is a really unique experience, a cinema well hidden in the very city center. And best of all, in Croatia, we still use subtitles, no dubbing.
Zagreb Tours
There are dozens of options to take a tour of this city – or in the surround areas. Here are just a few ideas with Viator – if you book in advance you can lock in a great rate. 
Go on a Spooky Adventure
Go and meet Iva, who is a Zagreb local and the host of Secret Zagreb Walks. By far the best storytelling (scary) walking tours in Zagreb, which are inspired by the mysterious side of Zagreb. Find out more about her tours on her website 
Cathedral of Zagreb
This Roman Catholic Cathedral is the tallest building in Croatia, and you can see the Cathedral spires from many locations in the city. The Zagreb Cathedral has a sculpture inside, created by Croatia's famous Ivan Meštrović. I spotted it straight away, his style is so unique and is not like any other thing I have ever seen in a Catholic church. When we visited, there was a large-scale restoration project underway. To the left of the building, there are examples of the pre and post restoration works, and the difference is beyond amazing.
Unique Bars in Zagreb
In recent years Zagreb has changed. From an array of organic, gourmet burger bars, to a graffiti covered 'art park,' to swanky and posh cafes, the city that was once voted Europe's most boring capital has become a destination of its own.
Yet, sometimes the new scene's hipness can feel a bit put on and inauthentic. It might not be truly cool, but merely the artifice of cool. As a counter measure, for those of us that long for something that's not cool, but real, I present two of Zagreb's uniquest bars. Places that feel lost in time, have their own authentic flavor, and are far beyond cool and hip because, well, they just don't give a shit.
Sunshine Inn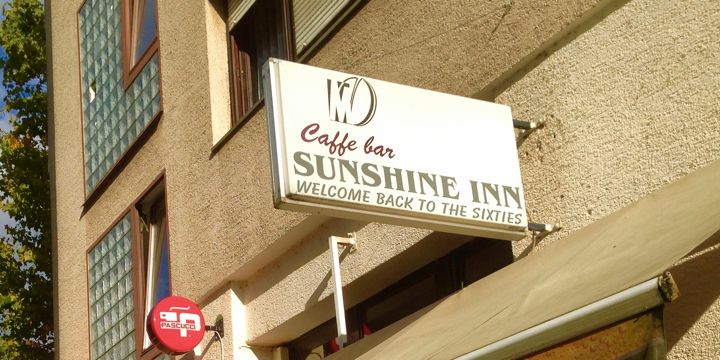 Though the Sunshine Inn's sign says 'Welcome back to the Sixties' the interior feels more like it's straddling the threshold of the 1970s and 1980s. Graced with a wall of small booths and an ever present cloud of cigarette smoke, stepping into Sunshine Inn always reminds me of the kind of bar that'd been in a Springsteen song: Booze, billiards, regular Joes and Janes, and rock n'roll!
And while the aesthetic is more retro rock than classic rock the sounds are just what the sign promises, the best hits of the 1960s (and the early 1970s). And since nearly every other cafe in Croatia seems to be inundated by the soulless, electronic beats and beeps of EDM, Sunshine Inn's infinite playlist of Pink Floyd, Them, The Animals and the Rolling Stones acts like an oasis to one's soul and ears in a desert of groove. Seriously, having had a weekly drink here for five years, I've never heard a bad tune.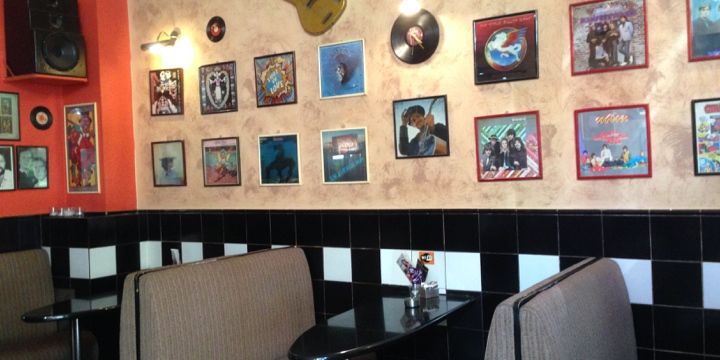 But you'd know that just from looking up at the wall. There, hanging in the dim light, masked by the cigarette smoke is an array of authentic LP's, framed and perched above the crowd like a glimpse of heaven through the parted clouds. Bob Dylan, Steve Miller, Boney M, Arlo Guthrie looking down at us mortals from on high.
The prices are reasonable, less than what you would pay in the city center, and the selection is quite varied. From Croatia's standard beer Ožujsko to the newer regional brews that have sprouted up across the country, Velebitsko, Osječko, and the latest Zagreb local Zmajsko.
You can find Sunshine Inn in Zagreb's neighborhood Vrbik at Poljička ul. 4. It's a short walk from the Teachers' Faculty tram stop, up the foot path barring Yuri Gagarin's name. It's hours are 8AM to 11.00PM on weekdays and 8AM -Midnight on weekends.
Route 66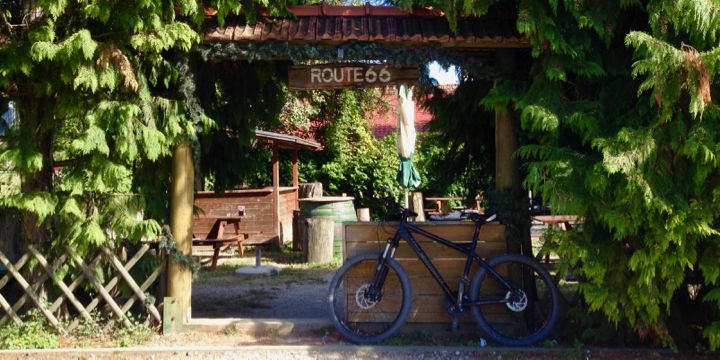 Route 66 feels as if it could be on Route 66, and having grown up on America's infamous 'Mother Road,' I speak with some authority. Housed in a squat building that looks more like it fell to earth than someone built it, Route 66 is the kind of place you might find on the edge of town in Eastern Oklahoma, Southern Arkansas, or better yet, a Louisiana bayou. There is nothing 'cafe' about this place, it's all bar.
Outside is a courtyard ringed by a wooden fence, filled with wooden picnic tables, and large sawed off logs that you can sit on. And even though you're near the heart of Zagreb, a stone's throw from the National University Library, and a quick walk to the main train station, it feels more as if you are in the countryside. The bar has an aura that draws to mind the phrase juke joint, an off-beat, local place where you might hear the likes of an undiscovered B.B. King or Chuck Berry.
Inside, beneath the exposed crossbeams of the slouching roof, you have a bar, a few stools, and some tables that look as if they can easily be cleared away in the event of a concert. Route 66 frequently hosts live music, enough that there is a permanent drum kit setup on stage. The music tends to be just like you would expect, blues, rockabilly, and rock n' roll. A hodgepodge display of photos taken during these concerts serve as a testament that everyone seems to have a good time.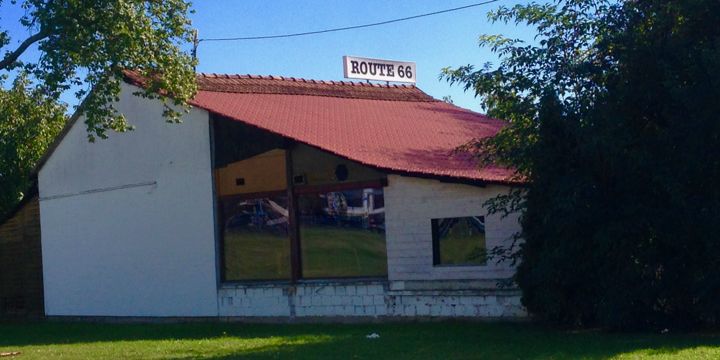 The selection is pretty standard, Karlovačko, Ožujsko, Pan, and the Czech Staropramen, along with various rakijas and harder drinks. It's definitely not the kind of place I would recommend ordering wine, but while I was there, the table next to me ordered a bambus, which is red wine mixed with Coca-Cola. So if beer or rakija isn't your thing, there's always that.
Route 66, at Paromlinska cesta 47, can be found on the edge a large park near the intersection of Vukovarska and Hrvatske Bratske Zajednice (the street with the fountains on it). It's open on weekdays from 10AM to 1AM and on the weekend from 4PM to 1AM.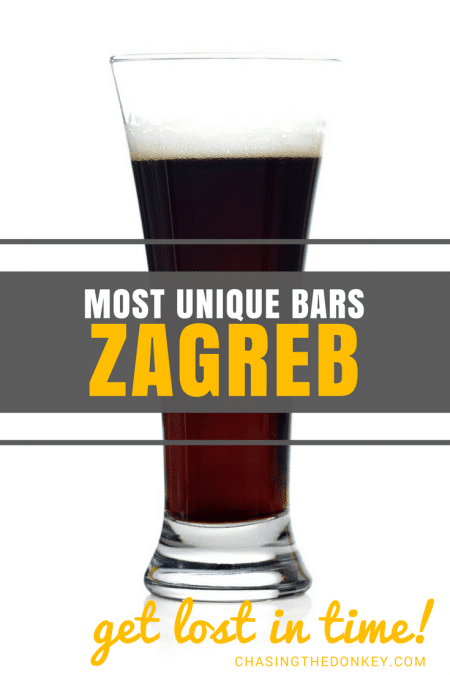 If the bout of Zagreb's burger bars, new swanky clubs and cafes are able to endure the entropic nature of people's tastes and the changing times, then I'm sure they too will become considered unique and authentic.
At one point in the past, Sunshine Inn and Route 66, might've been on the cusp of Zagreb's cutting edge: two places that were different from the old Kavanas and their newspapers. But today, they feel like they belong to an age that has long since faded, not just from Zagreb, but from much of the Western world. And it's both places' decision to remain unchanged that gives them an air of authenticity, a feeling that you are actually someplace that has a true sense of self and permanence. A place that has kept, and you know will continue to, keep it real.
Best Restaurants in Zagreb
Oxbo Bar & Grill
At OXBO bar and grill, you can enjoy a vast selection of wines, both domestic and international. Enjoy food or drinks here all day, as it's both a bar and a restaurant. You are guaranteed the best steak in Zagreb at OXBO, plus you'll get to try traditional Croatian dishes with a twist. We've raved on about how wonderful this restaurant is many times.
You won't find anything like OXBO in Zagreb; it's the first restaurant of its type, and although there are many great places to eat in Zagreb, you simply have to give the best steak place in town a try. Even if you don't like steak – their menu has something for everyone.
I was surprised to learn that OXBO bar and grill import the beef from a producer in the USA, who allow the cows to graze in huge pastures and are fed organic yellow corn. Which makes for real quality beef, which in turn becomes great steak. OXBO is on the list of Zagreb restaurants to return to.  Read our full review here.
Zinfandels
Located in the Esplanade Hotel, this is unquestionably Zagreb's finest and most expensive place to eat.  Dishes have a modern twist on traditional dishes. Check the website
La Štruk
This small restaurant on Skalinska street specializes in one thing, and one thing only – Štrukli. This traditional Croatian dish is one you have to try while in the city, and this spot serves up a hot plate of it for an inexpensive price. Check the website
Rubelj Grill
Rubelj Grill is the place locals go for a quick, inexpensive bite. Many branches are located around town and grilled meats are the house specialty. Local dish to try here? The ćevapi. These grilled meat and onion sausages are quite good!
Stari Fijaker
Stari Fijaker offers high-quality local cuisine. Their claim to fame is serving up authentic traditional culinary delicacies from the Zagreb-Zagorje region. One such local dish we suggest you try is štrukli. The Very thin pastry is covered with a mixture of tangy cottage cheese, eggs & sour cream and is tantalising for your taste buds. Plus if that is not enough you can choose from a selection of bread at Stari Fijaker, all of which are home-made. Check the website
Restaurant Cuvee
Restaurant Cuvee is a small restaurant just ten mins from the town centre, with modern decor. Positioned in one of Zagreb's most good-looking streets, it's one of Zagreb attractions all on its own – Tkalčičeva Street. This pedestrian zone has many great bars and restaurants like Cuvee. For us the key to Restaurant Cuvee's success are their staff, the waiters are extremely friendly and attentive. Their speciality is a beef tartare – made in front of your eyes! Check the website
Konoba Didov San
The Gornji Grad location of this restaurant is an excellent place to enjoy a mixture of Bosnian-Herzegovinian and Mediterranean cuisine at prices that aren't too expensive. Some traditional dishes offered include uštipak (fried dough), house-made prosciutto, and brudet stew (this one has frog in it!). Check the website
Pod Gričkim Topom
With a rustic charm, this restaurant located in Gronji grad gives guests great views of the city rooftops. Described as "unpretentious cusine" enjoy some delicious, Dalmatian home-cooking. A healthy dose of seafood, a great selection of wine and prices that won't break the bank draw locals and visitors alike to this restaurant. Check the website
La Bodega Cheese and Wine Bar
The tapas, wine and service, is amazing as well as the decor and atmosphere. They even have chargers for all types of mobiles if, you're low on battery. Check the website
The Bulldog Pub
Super yummy cocktails. Enough said. Check the website
Pekara Dinara
This bakery and cafe is highly recommended for a quick, affordable bite. With twelve locations around the city, seek out one of these establishments to enjoy fresh bread, pastries, cakes and more. Check the website 
Amelie
If delicious cakes and sweets are what you're after, you absolutely must make a stop at Amelie. This 2015 Certificate of Excellence TripAdvisor winner is loved by locals and will have your sweet tooth dancing in no time with the delectable desserts served! Check the website
See more of the best restaurants in Zagreb here,
Events in Zagreb
Zagreb Festivals
Fantastic Zagreb Film Festival. This is a fiction, science-fiction, horror, thriller, suspense, fantasy, animation festival and was the first open-air film festival in Zagreb. More details.
Špancirfest Festival. One of the best annual street festivals to check out on your Croatia holidays is Spancirfest festival. It is organized every year in the region of Varaždin (okay, so it's just outside of Zagreb) less than an hour from Zagreb. There are concerts, entertainment zones, shopping kiosks and eateries. It also showcases street performers, musicians, and all kinds of artists that line the streets to perform. More details.
Zagreb Film Festival. The latest and most exciting debutant films of more than one hundred films from all over the world. The festival takes place in several locations, including Europa, Tuškanac and MSU Cinemas. For a week, Croatia's central puppet theater turns into an attractive movie theater, offering the best documentary films from all around the world. The main program offers feature-length and short fiction films and documentaries. More details.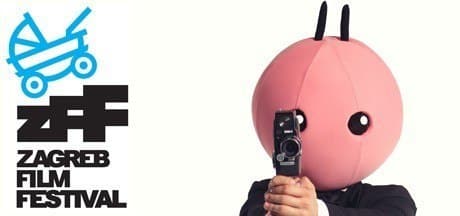 Accommodation in Zagreb
Travelers making their way to Zagreb will need a place to rest, so here is a list of some of the best places in to stay while in Zagreb. There are lots of Zagreb hotels for all budget, including many last minute accommodation choices – just don't leave it too late if you want the best rates. The hotels in Zagreb are not in the main square, but are an easy walk to it.
The Best Hotels in Zagreb
We like to stay in hotels while, in big cities on short breaks, our two top picks are the DoubleTree Hilton or the Hotel Esplanade. Both are 5-star and are within walking, or short tram rides from all of these things to do in Zagreb. No matter what you plan to do in Zagreb these choices will all be a good location.
Esplanade Hotel
As you arrive at the Esplanade Zagreb Hotel, you'll be greeted by a wonderfully cheerful doorman, who will swing open the metal-studded door and lead you to your seat in the full open reception area. With the check-in formalities over you can then take in all that the Esplanade Zagreb has to offer, like a very elegant marble staircase up to the hotel rooms. This pure luxury accommodation. No two ways about it, save your pennies and stay at the Esplanade if you're planning a trip to the Capital City of Croatia. Even if you are traveling with kids, like us.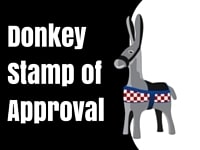 Hotel Esplanade Zagreb
5-Star Luxury Accommodation in Zagreb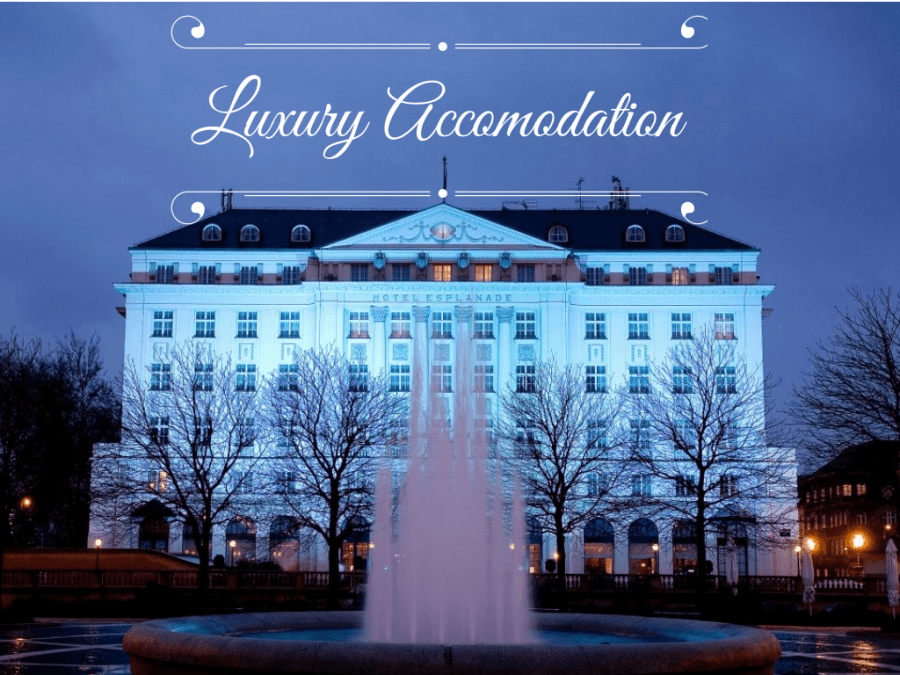 Hilton Doubletree
These hotel luxury rooms are impressive – and brand spanking shiny and new. The hotel opened its doors in 2012, and so the Hilton DoubleTree Zagreb is very modern and stylish. There is something about a newer hotel that is just so appealing. This 5-star hotel has a HUGE bathroom, with a separate bathtub & giant walk-in rain shower. Hello, long hot showers, with a fluffy white robe to wear afterwards. Head to floors number nine and ten. It's there you'll find a 12-metre swimming pool, steam room, sauna and a place to work out, all while looking out over the city landscape, and all complimentary.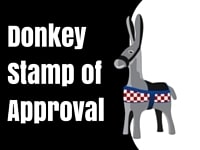 DoubleTree Hilton Hotel
5-Star Accommodation in Zagreb
Hotel 9
This particular establishment is located directly across from the bus station, and it is also a short train ride from the city center, making it a convenient place for travelers to stay. The comfortable suites found here have both air conditioning and complimentary Wi-Fi. Amenities that are provided for guests include bathrobes, slippers, and various toiletry supplies. There is also a car park for guests to use free of charge. The staff members at this hotel are friendly, and the breakfasts that are provided daily are said to be incredibly delicious. Allergy sufferers will also be happy to learn that hypoallergenic suites can be arranged upon request.
Best Western Premier Hotel Astoria
The professional and friendly service found here helps keep visitors coming back to this posh four-star hotel. A wide variety of modern amenities is provided for guests such as French toiletries, heated flooring, and cable television. The suites are kept spotlessly clean as well. Complimentary private parking and Wi-Fi are available for those staying here. The onsite bar and a restaurant will keep travelers from going hungry. The breakfast buffet is considered quite tasty and has a massive selection of comestibles, but guests should come early because the offerings tend to get eaten rather quickly.  The Best Western is close to the bus and train stations as well as the city center.
Hotel Jagerhorn
Built in 1827, this centrally located boutique hotel was refurbished in 2013. It is situated on a quiet street so that guests can get plenty of sleep. Lovely town views can be glimpsed from the cozy, comfortable suites and also from the rooftop terrace. Free Wi-Fi and on-site parking are available as well. An exceptionally tasty breakfast is included in the hotel room charges. The repast is served in the picturesque garden when the weather is nice outside. There are both hot and cold foods available at this meal, as well as a variety of individually prepared coffee drinks. Meanwhile, the hotel's staff members are quite well informed about local points of interest. These helpful employees go out of their way to assist travelers and often commemorate guests' special occasions with additional touches.
Hotel Vila Tina
Found in the Maksimir Park area of Zagreb, this 3-star hotel is but a short distance from the local zoo. The center of town is about 20 minutes by bus. As with most other hotels in the city, free parking and Wi-Fi are provided for guests. The incredibly clean suites all have air-conditioning units as well as in-room safes. This hotel booking offers room service, a 24-hour reception desk, and packed lunches in order to meet the needs of their patrons. Those who arrive hungry will be happy to learn that the onsite eatery serves up delicious, high-quality food that caters to both local and international tastes. Shuttles to the airport are also available for travelers that need them.
Hotel AS
This four-star establishment is somewhat out of the main city center but getting into town requires only a quick taxi or bus ride. Though this hotel has antique furnishings in the rooms, the modern comforts have not been overlooked. Televisions, air conditioning, in room safes, and spacious bathrooms can be found in all of the suites. There is also free Wi-Fi and desks in every room, which makes the hotel ideal for business travelers. Mediterranean cuisine is served up in the onsite restaurant and guests often choose to have breakfast on the terrace, which overlooks the nearby park areas. There are free parking and laundry facilities available for guests to use as well.
Apartments in Zagreb
If you are traveling to Zagreb with kids in tow – or you just like more space, how about renting an apartment? Find vacation rentals through places like Booking.com or you can take a more personal route and use an Airbnb host. Hosts are helpful and will give you local info, like – where to eat. Use this link to get a €18 credit when you join Airbnb. Other cheap Zadar apartments for rent can also be found when you arrive – there are just that many!
Apartment Roza Zagreb. 

Owned by my friend, I can tell you this place is spotlessly clean and well located to the city center which is just an easy walk of 2kms away. Check availability here.
ZigZag Apartments. Many of our friends have stayed here; they are modern, fresh and spacious. These apartments are just 100 metres from the main square and have a very reasonable price tag. Check rates for your dates.
Hostels in Zagreb
Do you need cheap accommodation in Zagreb? Then you are in luck, there are several budget accommodations on offer, including:
If you looking for something a little quirky, you could try the Train hostel located at the central railway station.
Map of What to do in Zagreb

View Things to do in Zagreb Map in a larger map
Zagreb to Dubrovnik
After you have explored Zagreb, we guess you'll be heading to the Dalmatian Coast – are we right? Most people ask about getting from Zagreb to Dubrovnik.
Fly. During peak season there are several Croatian Airlines flights from Zagreb to Dubrovnik, the flight it just 45 mins. Straight up and back down in no time!. You can make your way to the Zagreb Central Bus Station where there are frequent airport transfers.
Car. Driving from Zagreb to Dubrovnik takes around 6 hours without traffic or pit stops – so we suggest that you make a midway stop. Perhaps Plitvice Lakes or a stop in another Dalmatian city like Zadar?
Private Transfer. Many holidaymakers are choosing to use the services of Private Transfer companies to transport them around Croatia because they are really affordable and take all the stress and hassle away from driving in a foreign country. Whether it be airport, festival or national park transfers, the use of transfer services has never been easier and cheaper than it is now. Contact our Croatia transfer partners Octopus Transfers for more information.
Bus. From Zagreb to Dubrovnik there are daily buses all throughout the year. Sometimes the bus schedule will mean travelling at inconvenient times. If that is the case, take a bus to Split, and then a second bus to Dubrovnik.
Train. Trains to the Adriatic Coast are virtually non-existent so I would not suggest this as a mode of transport.
Rent a Car Zagreb Search
Hint, Tips & Tricks
Taxi. Phone +385 11777
Help. 112
Street Performers. You'll see these all over – throw in a 5 kuna coin (just 60 euro cents) and enjoy the show. 
Guide. Pick up the Zagreb for you Guide  – it has all of the latest info on what's new and hip that week you're in Zagreb.
Wifi: Find out here
You can also check out the Zagreb Tourist Board website or Twitter pages. Plus take a peek at what Landlopers had to say on Zagreb for more inspiration.
Have you been to Zagreb? What were your top things to do in Zagreb?