Some posts contain compensated links. Please read this disclaimer for more info.
Hidden Gem & Places To See In Bosnia And Herzegovina
Bosnia and Herzegovina, one of the least visited countries in Europe (777,000 international tourist arrivals), is often forgotten while planning a backpacking trip through Europe. Like many Balkans countries, it is stuck in the shadows of more popular tourist destinations in Western Europe. However, this is not for lack of natural beauty, culture, history, affordability, or any quality that makes a travel destination great.
Scarred from the horrific civil war that tore the country apart in the 1990s, Bosnia-Herzegovina has slowly built its reputation anew, and whispers are starting to circle around travel circles once more. Though the writing is on the walls — its dark history can be seen clear as day all around the country — with its craggily, heartbreaking remnants of a war that devastated the country. What is left is a touching story of character and a united nation — one which speaks volumes of the human warmth and hospitality you will encounter.
Between its beautiful mountains, its gushing white water rivers, its crumbling medieval castles left in ruins, enormous and plentiful waterfalls, and affordable yet surprising ski slopes, there is a little something for everyone in this country, and what meets the eye is only half of what there is to see and do in Bosnia and Herzegovina.
We fell in love with Bosnia Herzegovina on our first visit, and we can't get our minds off of it. Although the country doesn't see hordes of tourists like other places in Europe, there is still a warm and friendly tourist trail leading to some amazing secrets in Bosnia and Herzegovina.
This list is a compilation of some of our favorite places to see in Bosnia and Herzegovina, so you don't have to worry about missing out on the adventure.
Where Is Bosnia And Herzegovina?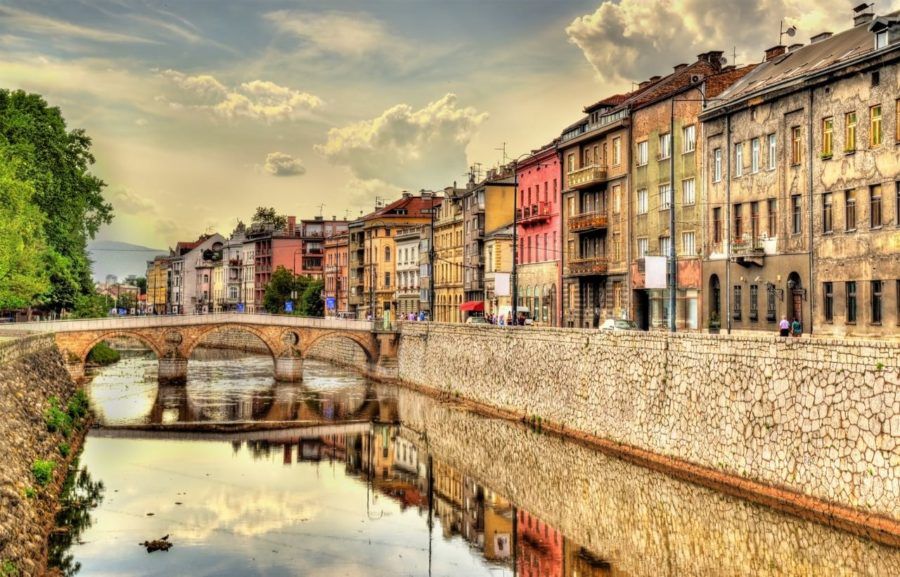 With just over 3.5 million people living in the entire country, Bosnia and Herzegovina certainly isn't as busy as other Balkans countries. There is plenty of space to explore, too. It is one of the larger countries, landlocked between three other Balkans countries in the center of the region: Croatia, Serbia, and Montenegro.
People who visit Bosnia and Herzegovina often include surrounding countries in their itinerary. The entire region around the country is absolutely gorgeous and offers a multitude of nature scenes and things to do.
When To Visit Bosnia And Herzegovina?
Bosnia and Herzegovina is a great anytime spot. It sees visitors in the dead of winter and during the hottest of summer days the country gets. As mentioned, Bosnia and Herzegovina is a prime skiing destination and has many well-maintained hiking trails for the warmer months. The medieval castles are wonderful to tour in the warm sun but take on new life with snow covering them. Though, unless you are a ski-junkie, we would recommend visiting while it is warm so you can take advantage of the country's great rivers and lakes.
Top Places In Bosnia And Herzegovina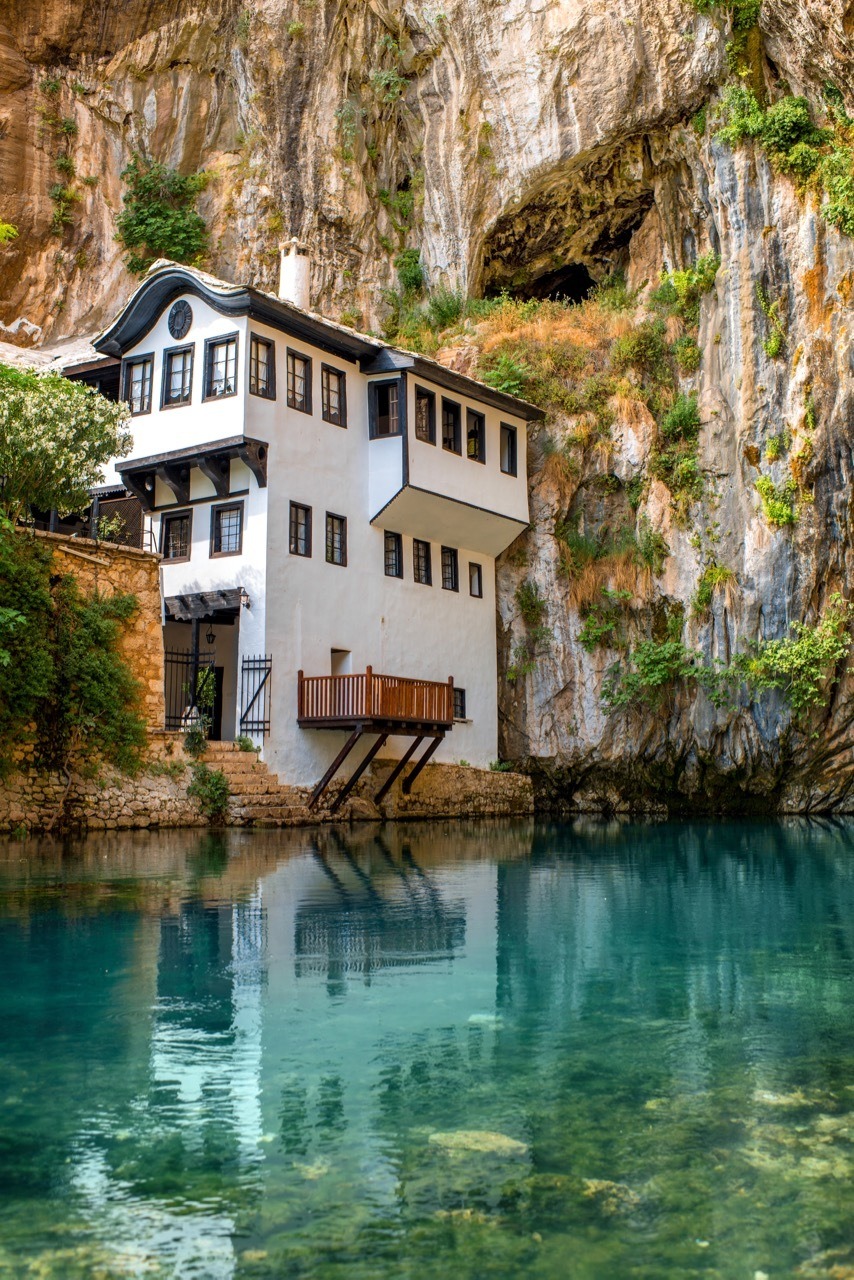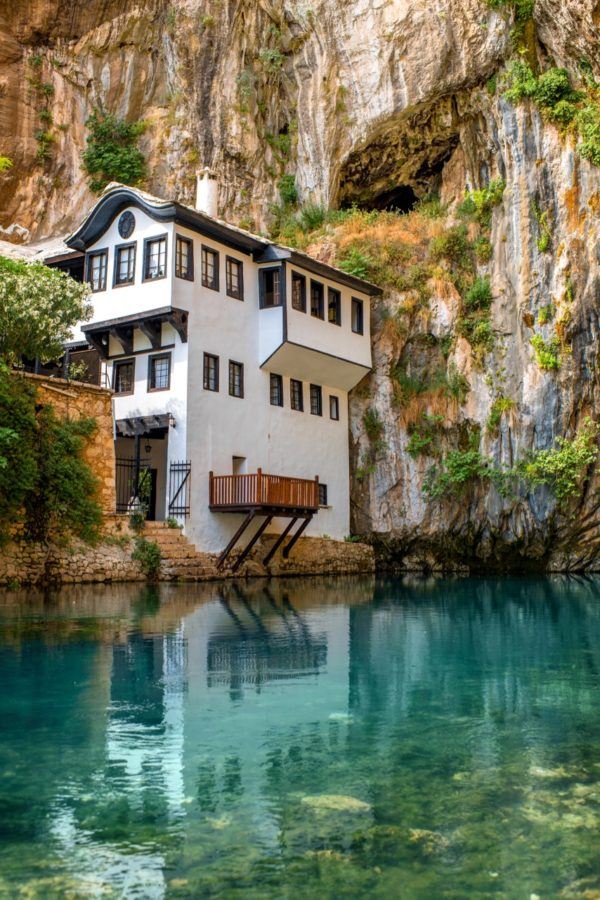 As promised, we have put together a list of top places to see in Bosnia and Herzegovina to make planning for your vacation this year a breeze. This list by no means encompasses all the things to do in Bosnia and Herzegovina, though we tried to cover a large range of activities and places all over the country. Without further ado, here they are:
Sarajevo Bobsleigh Track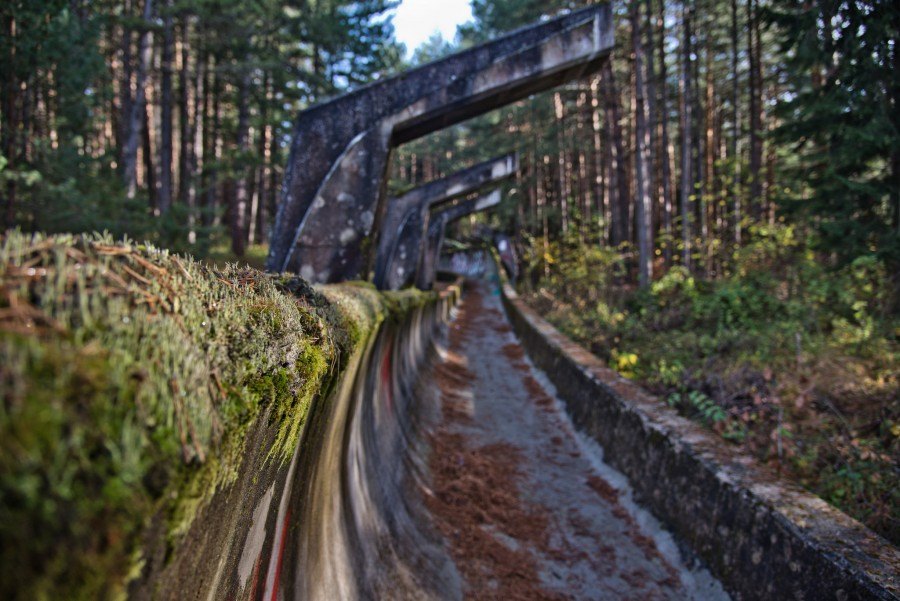 Finished in 1982 in preparation for the winter Olympic games, which Sarajevo had the honor of hosting in 1984, this 4,000-foot bobsleigh and luge track became a sort of symbol of national pride in Bosnia and Herzegovina.
It garnered a lot of attention due to the nature and scenery, and multitude of events held around the track's vicinity during the world games. Then, several years later, the track was able to be used for various things involving the World Cup competitions, and it seemed as if the investment in the track would pay long-lasting dividends.
However, then, the Yugoslav Wars began in 1991, and, like a majority of the country, the track turned into a battlefield. The nature of the track being curved and inclined made it a prime vantage point in the battle, and it was destroyed over the course of several years. The entire course became blanketed in bullet holes.
It was left in ruins but not forgotten. It has become a favorite spot for locals as a reminder of the times. Graffiti artists have taken a liking to it, too, covering the entire concrete course in wonderful, colorful street art.
It is being re-constructed in hopes of salvaging it in some way; however, tours can still be taken, and history can still be seen. Careful, though, many unexploded landmines still lay around the area — so, don't venture too far from the well-beaten path. It is best to take a local or someone who knows the area with you so you can be safe. You can negotiate a fair price with a taxi as it is a fairly common destination. It is one of the most popular tourist attractions in the entire city.
Watermills Of Jajce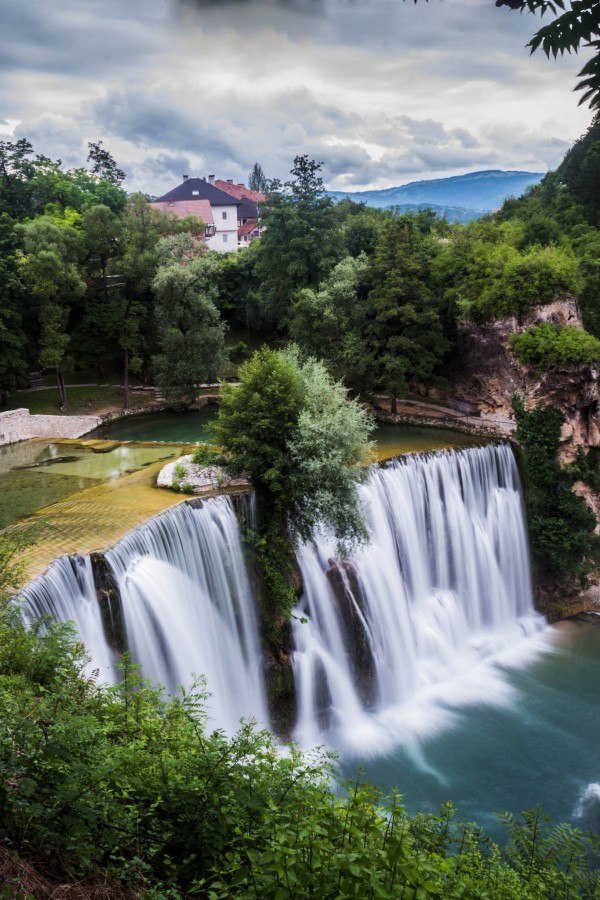 These little wooden huts had important use years ago. Now, they are a reminder of how life used to be. The small town of Jajce in central Bosnia has always been a center of action. At the conflux of the Kravice and Vrbas rivers, the town has gained international fame for its breath-taking waterfall in the middle of town. It was once the capital of the (former) Kingdom of Bosnia.
It is a hotspot for tourism nowadays, given the serene nature, waterfalls, mountains, deep valleys, and the fortified city walls and castle. Many people flock to this city on their Bosnian adventure.
And if you go further downriver, near the Pliva Lakes, you will find these huts which sit above rapidly flowing water — a symbol of ingenious engineering of simpler times. Instead of using one large waterwheel, these small water mills used the power of many smaller mechanisms in order to ground local farmers' wheat into flour. An impressive idea of the Austro-Hungarian empire.
Kravice Waterfalls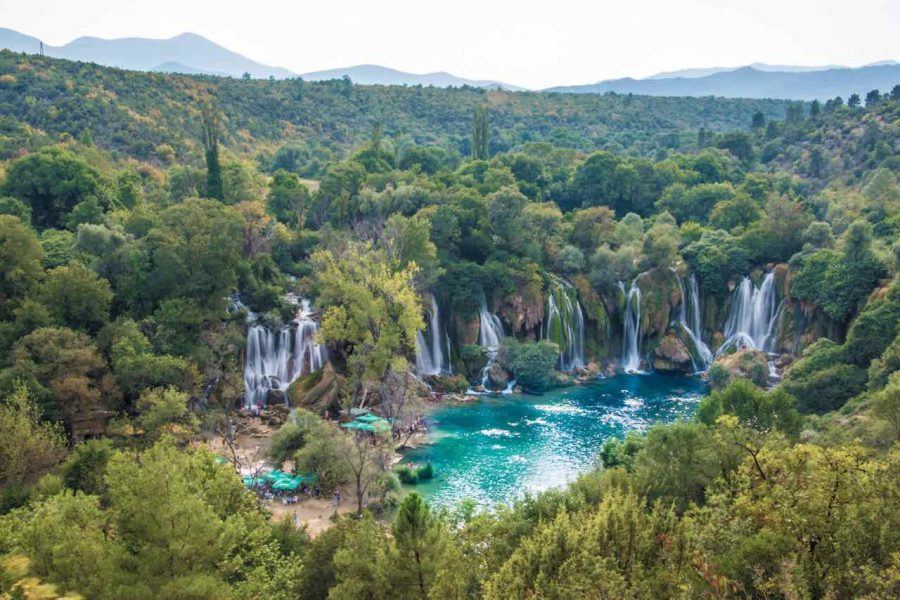 Creating a scene you might expect to find in South America or Africa, Kravice Waterfall sits deep in the thick of Europe's last remaining jungle. Who knew there was a sister falls of the famed Iguazu Falls, and it is hiding in the Balkans of all places!
This impressive feat of Mother Nature drops as far as 85 feet and expands nearly 500-feet across several falls along a cliff's edge. There's even a rope swing!
The Kravice Waterfalls are most easily visited on a day trip from the popular tourist town of Mostar in Southwest Bosnia and Herzegovina. It is like a miniature replica of the Iguazu Falls but without the hordes of people, which the South American falls now gets.
You can join a tour to visit this amazing area, but most people would recommend renting a car or even bargaining for a fair taxi ride to the falls rather than being stuck with a group in this magical place. Make sure you bring your camera, this is a photog's dream!
Stari Most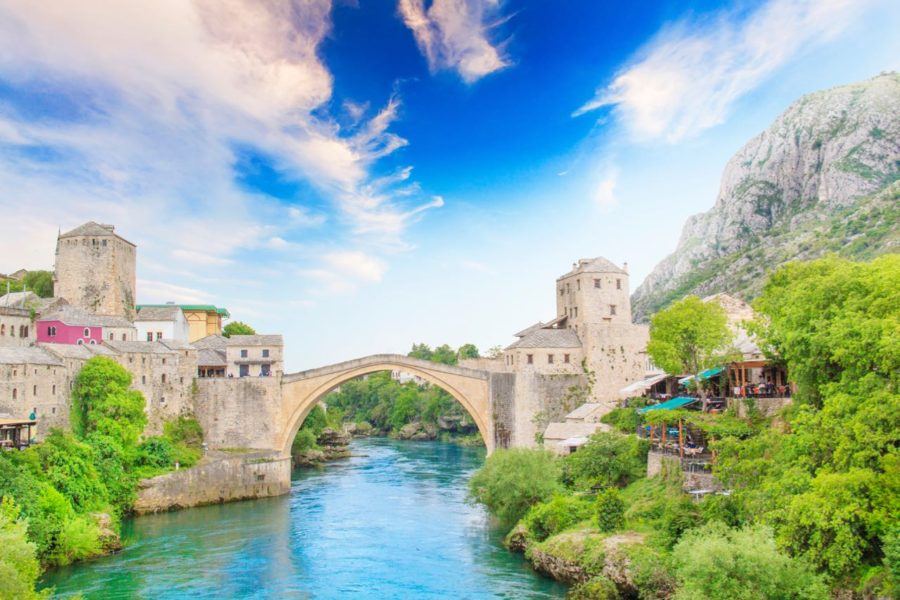 Speaking of Mostar, a visit to Bosnia and Herzegovina wouldn't be complete without a stop in this tiny fairy tale town. And the prized attraction? The Old Bridge connects the two sides of the town across the Neretva River.
The Old Bridge of Mostar (Stari Most) was destroyed in a matter of seconds during the Yugoslav Wars by Croatia in November of 1993 — though its construction (starting in 1557) took nine years to complete during the Turkish Ottoman rule.
Magnificent because of its simplicity — only a single 100-foot long, 75-foot high bridge arching over the river — Stari Most was symbolic of the city of Mostar. When the bridge went down, sadness befell the people of the city.
That's why construction began at the beginning of the new millennium to rebuild the once great structure to its former glory. In 2004, the bridge was completed again.
Today, it remains a symbol of Mostar, and many tourists and locals alike love to spend time around the bridge, taking in its beauty and symbolism.
If you are lucky, you may even visit while locals are doing their famed free fall leaps to the river below. If you are brave enough, you can join them. However, they will generally jump for any crowd who is willing to tip their performance at the right price.
Zeljava Airbase
Objekat 505, as it is officially known, in the west of Bosnia and Herzegovina, sharing a border with Croatia, is the largest underground airport base in the country.
Similar to something you might expect to see at Area 51 or in the Star Wars, Zeljava Airbase served as a strategic command center for Bosnian and Herzegovinian defense during the Yugoslav War.
Secretly constructed in the middle of the 20th Century, for a whopping six billion dollars (three times the annual budget of the Balkans' two largest military forces in Serbia and Croatia), the airbase became a military astonishment — even built to withstand a blast from a nuclear warhead.
However, several years later, the Yugoslav National Army decided to destroy its functionality using built-in explosives to prevent it from being used by anyone else.
Unfortunately, because of the European refugee crisis, this site has become quite hard to reach. Because of its location near the border, many police patrol the area, and if caught, you will have to pay a fine. Though, we still think it is worth seeing even if you have to risk it!
Sarajevo War Tunnel Museum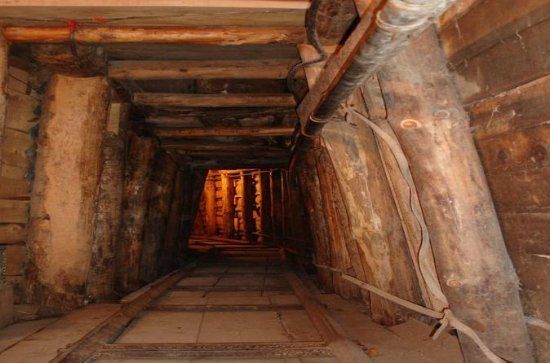 As is with most attractions around Bosnia and Herzegovina, there is a heavy war influence with much real history surrounding the site. As you can tell, this country was deeply impacted by violence and a dark past, and, as we said, the history is written on the walls.
The Sarajevo War Tunnel Museum is just another instance of history becoming a part of the country's present. Construction of the tunnel, which was codenamed "Objekt BD," began in 1993 to protect a large part of the city from the Serbian siege.
The tunnel was amazingly dug by hand and shovel, as you will be able to see upon visiting. After tireless work and days and days of occupation by laborers who were paid in cigarettes, the two sides of the tunnel finally met in the dog days of July to create a 2,500-foot shelter, which was strengthened by steel and concrete.
To finish, a small railway was built to shuttle in food and other supplies to those seeking refuge. Now, it remains an ode to the heart of the Sarajevo people.
Museum Of The Assassination Of Franz Ferdinand
To stay with the war-theme we have encountered across much of Bosnia and Herzegovina, you must visit the Museum of the Assassination of Franz Ferdinand.
Many people don't know that on the 28th of June, 1914, World War I was actually started in the heart of Sarajevo when the world was flipped upside down. Archduke Franz Ferdinand was shot and killed, which set off a hurricane of events leading to the first world war.
Now, a museum has been set up in the building across the street from the historical scene where you will learn that the young schoolboy who shot the archduke that fateful day was not acting alone.
Several assassination attempts failed that day, and the boy was supposed to only play a minor role in the plot to kill Franz Ferdinand.
With years and years of clashing empires of Europe, a situation such as this was all that was needed to set off a conflict to the magnitude of an eventual world war. And it all started in modern-day Bosnia and Herzegovina.
Old Jewish Cemetery Of Sarajevo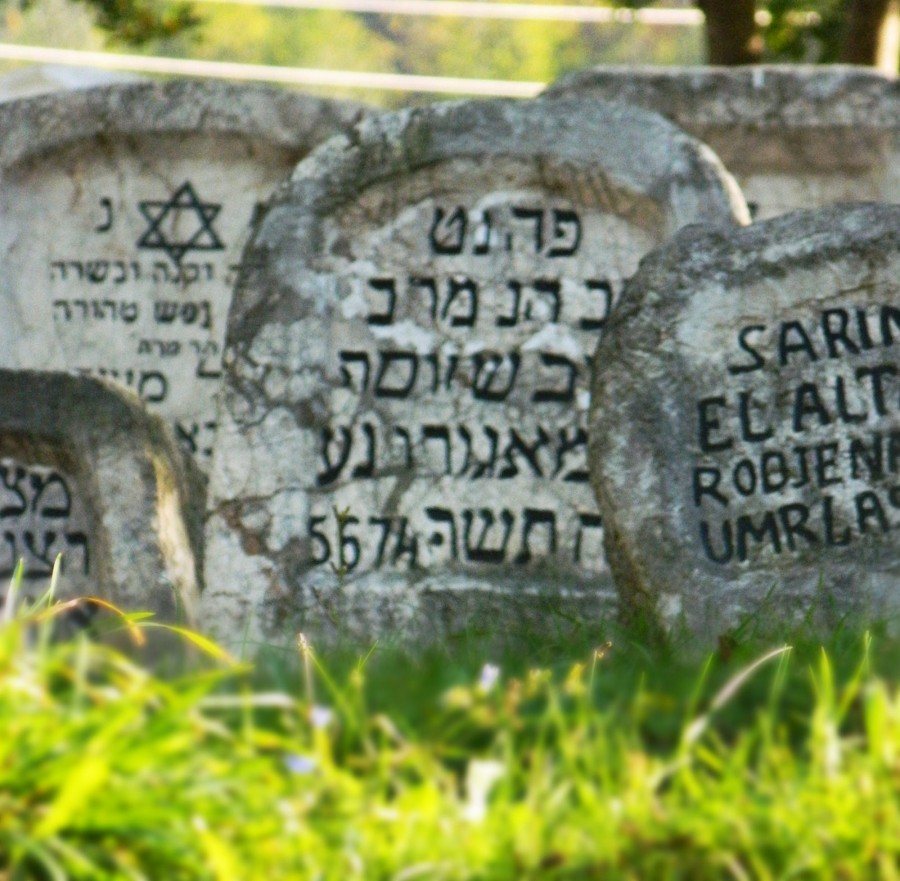 With nearly 4,000 centuries-old tombstones, weathered and in ruins, this cemetery was the site of an exceptional military position for battle during the Yugoslav War of the Nineties. Situated on the mountainside, the cemetery was sought after for its excellent vantage point. Because of that, the site was heavily defended, including landmines, among other tactics.
Because of the mines left over from the war, the cemetery became inaccessible for several years after the war had ended. It was estimated that the cemetery grounds still had over 70 undetonated landmines sitting in its thick grasses.
Today, the landmines are said to be cleaned up, and it has returned to a site where you can witness the history and acceptance of Sarajevo — which served as a refuge to Jews of the late 15th Century from hostile Spanish rule.
In town, you will find a Jewish quarter with a large synagogue and many other cultural sites tailored to the religion.
Bascarsija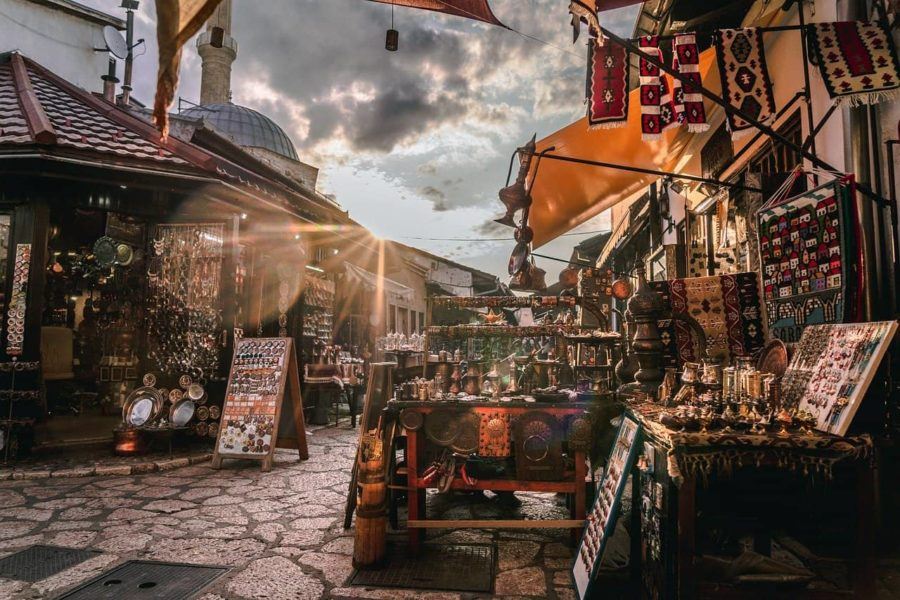 Situated along the banks of the Miljacka River, you can see one of the few remaining examples of oriental architecture in the Balkans at Sarajevo's main attraction — the old bazaar, Bascarsija.
The name is derived from two words, translated to "Main Street." Here, you can find all kinds of crafts and artisan work, ranging from pottery to jewelry and metalwork. However, many of the old artisan shops have now been converted to tourist souvenir shops and cafes to suit their visitors better.
Navigate your way through this network of narrow streets and try your hand at bargaining with the locals.
Although the area has been heavily influenced and affected by war-torn history, after the Second World War, the bazaar of Bascarsija eventually became a symbol of the city once more.
Bullfights Of Grmec
Bullfighting in Bosnia is a long-standing and ancient part of its culture. It has always stood as a symbol of power in the Mediterranean tradition.
However, unlike in Spanish tradition, humans don't intervene in the fight, and the fights never result in death. The fight follows the bulls' natural instinct. Therefore, if a bull knows it is losing, he will back down from the other bull.
Bullfights like this take place all over western Bosnia, and they are still, to this day, revered as a showing of ancient origin. The fights are usually organized every first Sunday in August, so if you are traveling at this time, and can stomach the thought of fighting, find yourself a ticket to the event and check out a past-time of Bosnian heritage.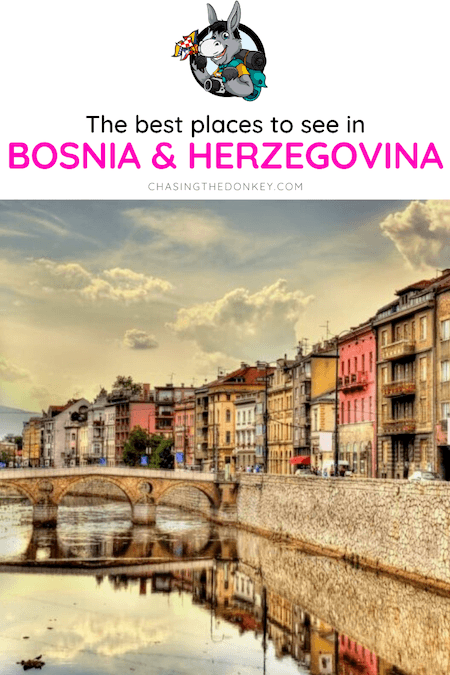 Visit These Top Places In Bosnia And Herzegovina!
Though Bosnia and Herzegovina isn't the first country on your list of places to see in Europe doesn't mean it is missing the pizazz, which makes it special. We love this country, and part of the reason why is because we feel we have really beat the crowds to this beautiful country. It still feels like an unfound gem within a region that is growing in popularity every day.
If you have any questions about places to see in Bosnia and Herzegovina or your itinerary to the Balkans, please do not hesitate to reach us. We will do our best to assist you.
MORE BOSNIA-HERZEGOVINA TRAVEL BLOGS
Share