SJ Begonja and Adam Cheshier have co-written this post.
If you're reading this guide, you probably have an interest in visiting Sarajevo – an excellent idea! This is an incredible city to check out, and it is, in case you did not already know, the capital of Bosnia & Herzegovina. For that reason, you'll find plenty of city life experiences to enjoy, things to do, places to stay in the city on any budget, and of course, you'll also get a taste of the history and culture that Bosnia & Herzegovina is known for.
About Sarajevo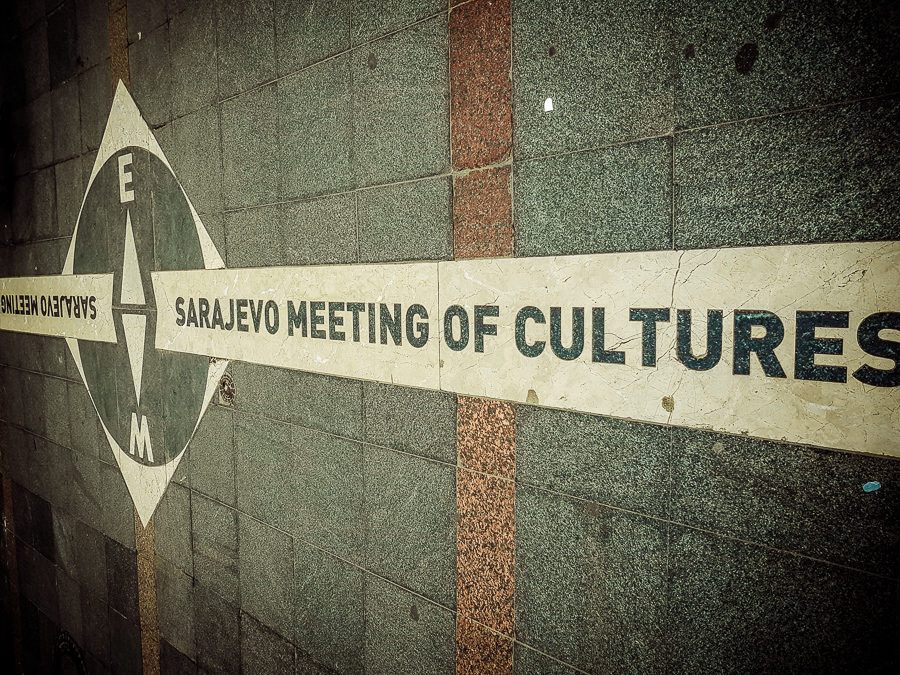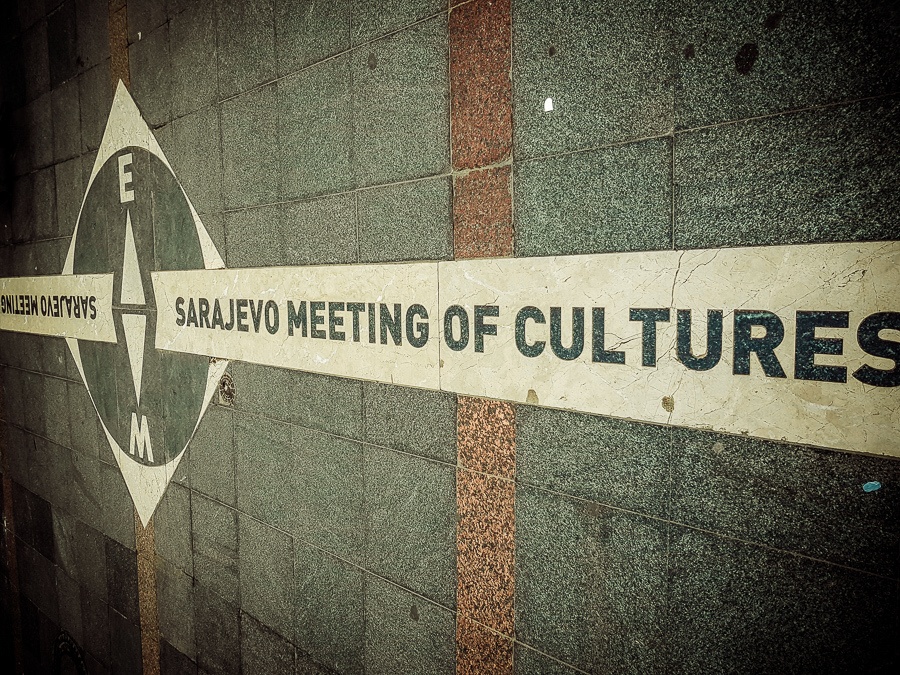 I know, sometimes the thought of going somewhere unknown can be daunting. But don't panic! We've got all the 411 on what you need to know about Sarajevo, a vibrant and historical city. We've covered all of the details below to help you plan your visit.
Sarajevo is the cultural and ethnically diverse capital city of Bosnia & Herzegovina. The name might bring up historical memories, especially surrounding wars in the area, and you can certainly see evidence of that former conflict wherever you go. We're going to talk about history in a second, but for now, let's cover a few essential facts.
This is the largest city in the country, and it has a current population of more than 275,000 people. The city sits in a valley in the south of the country, surrounded by the Dinaric Alps. The mountain backdrop is pretty impressive, and to the other side, you have green hills gently sloping away from you. It's all super-photogenic! The sparkling turquoise Miljacka River runs through the city, a colorful and relaxing ribbon of nature in an urban environment.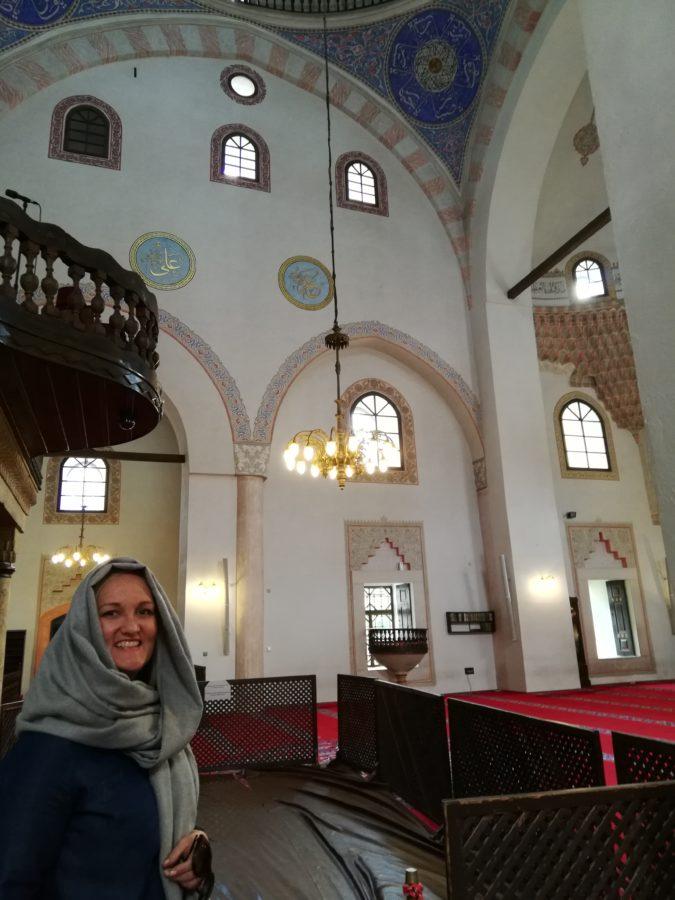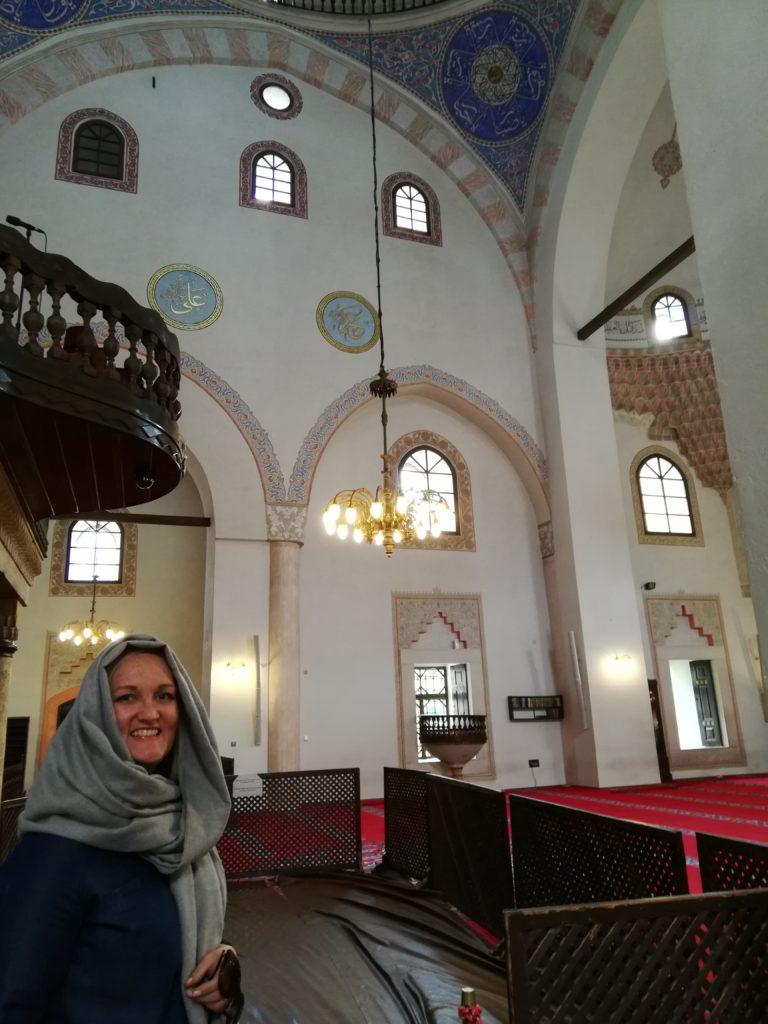 The official currency is the Bosnian Convertible Marka or BAM for short. You can use the Euro in many large restaurants and stores, but for smaller stores, you're going to need some of the local currency. It can be hard to order BAM in other countries before you visit, but you can easily use a local ATM to withdraw local currency. You'll find that most large restaurants and big stores also accept Visa and MasterCard credit cards.
Sarajevo, and indeed Bosnia & Herzegovina overall, doesn't have an official religion per se. History has made this city super-diverse. However, it is thought that 50% of the population is Muslim. You'll see mosques all around the city, and you'll hear the beautiful call to prayer several times per day. Sitting peacefully alongside a Muslim building, you'll also see Christian churches, as well as a synagogue.
There is a real feel of old and new coming together in an incredible blend in Sarajevo, and perhaps that is what makes it such a fantastic place to visit!
A Brief History Lesson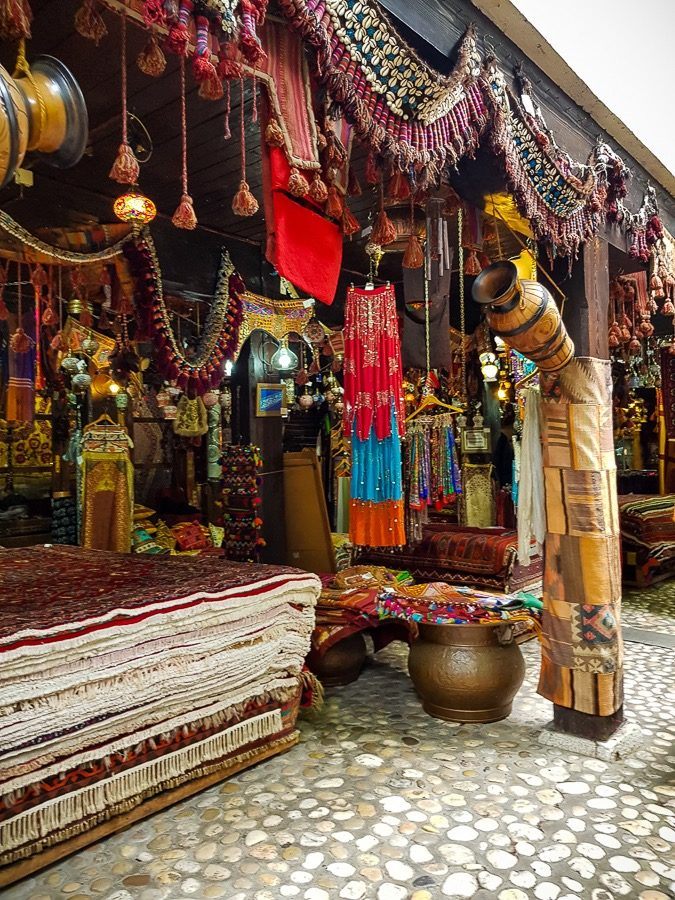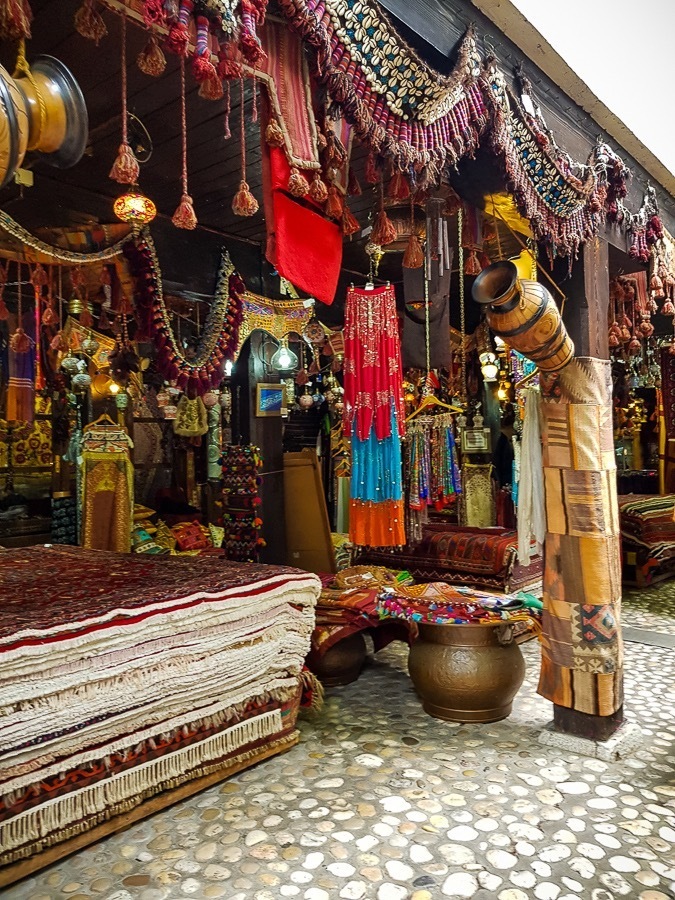 We have to touch upon the history of Sarajevo because it is such an instantly recognizable name related to past conflicts. But never fear, the city is totally safe(as is the whole country).
There are, however, some war-related things you'll notice in parts of the city. You may still see the odd bullet hole in a wall or a building that hasn't been renovated, and you'll definitely notice red-stained moldings across the city. When you see these, you should know that is where someone lost their life.
These red pieces look peculiar in their (mostly) gray surroundings. Actually, those are craters filled with red resin.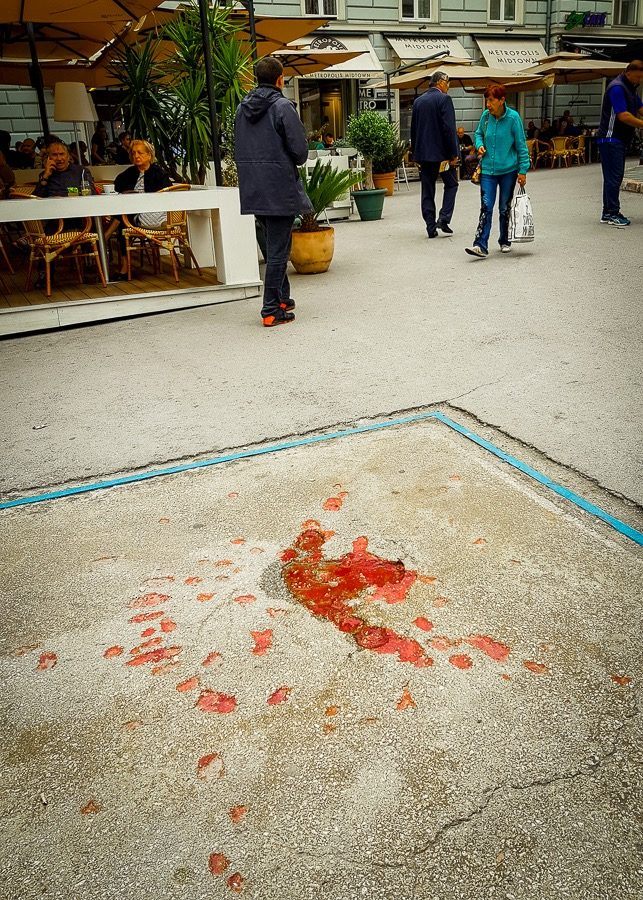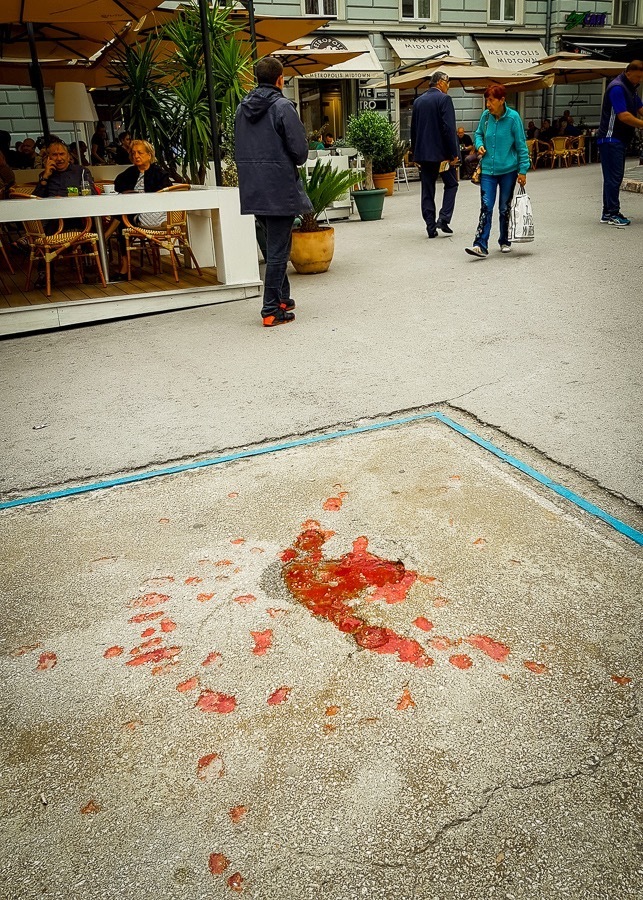 The red resin is put there to symbolize the bloodshed which ensued during the Bosnian War of the Nineties. Some say the way the shells exploded left a pattern that resembles flowers. Though the impact it had on the city was anything but happy flowers, it is a nice remedy that these craters are now filled to resemble the Sarajevo Roses.
By the time it ended, the War had done damage to virtually every building in Sarajevo and many other cities around the country. It is a dark spot in Bosnian and Herzegovinan history, but the people have done a great job at moving forward. Slowly, the roses have started to disappear as buildings and roads get a makeover, and the dark spot on their history is slowly overcome.
Overall, however, the city has done a fantastic job of building itself back up again, and a lot of it is super-modern yet still maintaining that old-world twist. It's tough to explain the combination of the two. It's something you need to see for yourself!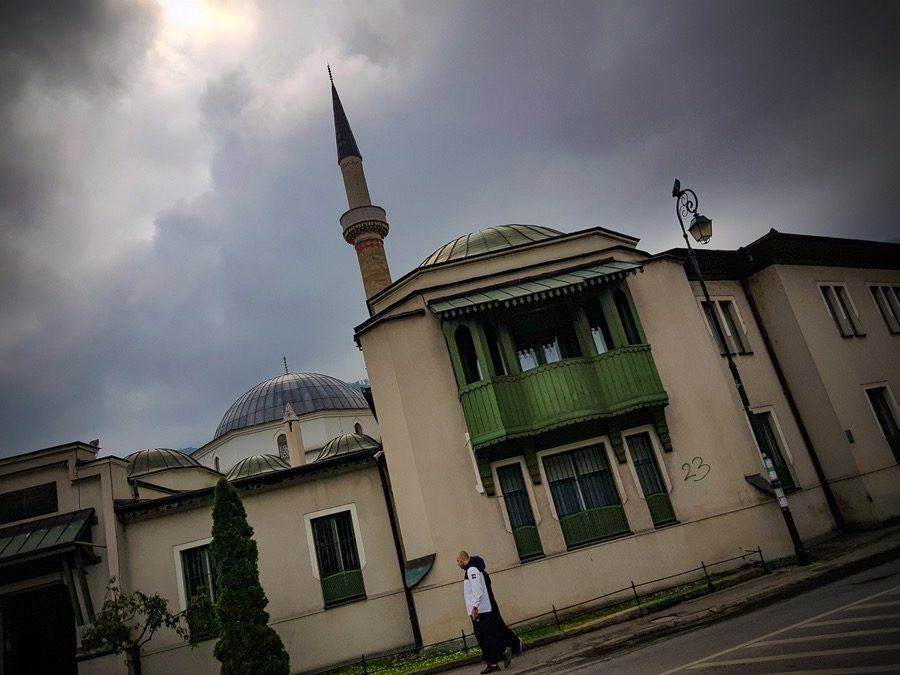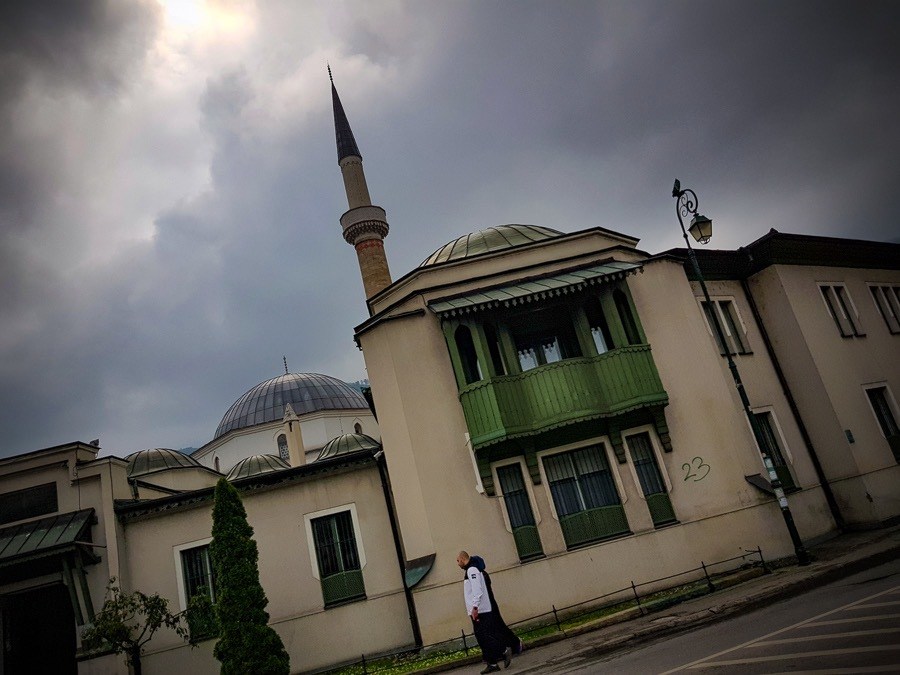 So why the bloodstains? Well, it's complicated, far more so than I can explain. But quickly, I can say that in April 1992, large sections of the city were destroyed over many years, with the conflict ending in October 1995. During this time, the city was badly hit by gunfire, bombs, and warfare. During the siege, food was tough to come by, thousands of people died.
Of course, the War and the reasons behind it are complicated, so I would suggest you get a local guide who can explain the complicated history.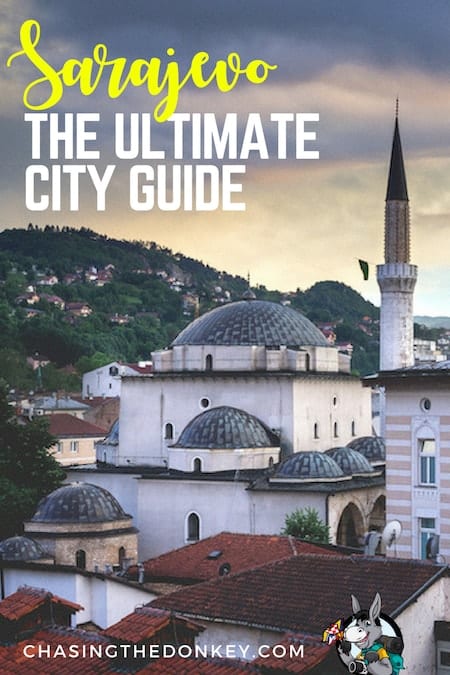 Must-See Sights & Things To Do In Sarajevo
Now that you know a little about the city and a tiny part of the history (please really do explore that in detail once you're there), it's now time to get into the good stuff – what there is to see and do in Sarajevo? Let me show you.
To avoid information overload, we'll give you the top spots in list form. These aren't in any order of preference or quality; this list simply contains the key sights of Sarajevo. I know that you'll enjoy these sights – and the many more that I myself need to go back and discover!
Sarajevo City Hall – Vijećnica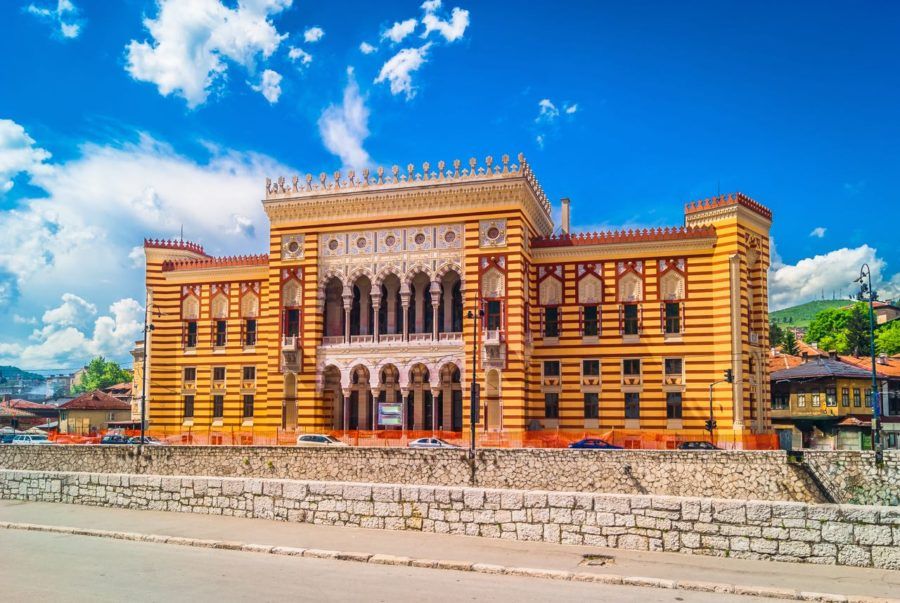 Known as Vijećnica, the Sarajevo City Hall is one of the famous examples of Bosnian multiculturalism. The building stands at the intersection of three main streets, a monument constructed from 1892 to 1894 in a pseudo-Moorish style.
Even though it was built during the Austro-Hungarian rule, its design sources of the City Hall came from Spanish and Northern African Islamic art, honoring the Muslim history of Sarajevo.
Having undergone a major renovation recently, the building reopened in 2014. That was just in time for the centenary of World War I, the start of which was triggered by the assassination of Austrian Archduke Franz Ferdinand in Sarajevo.
Latin Bridge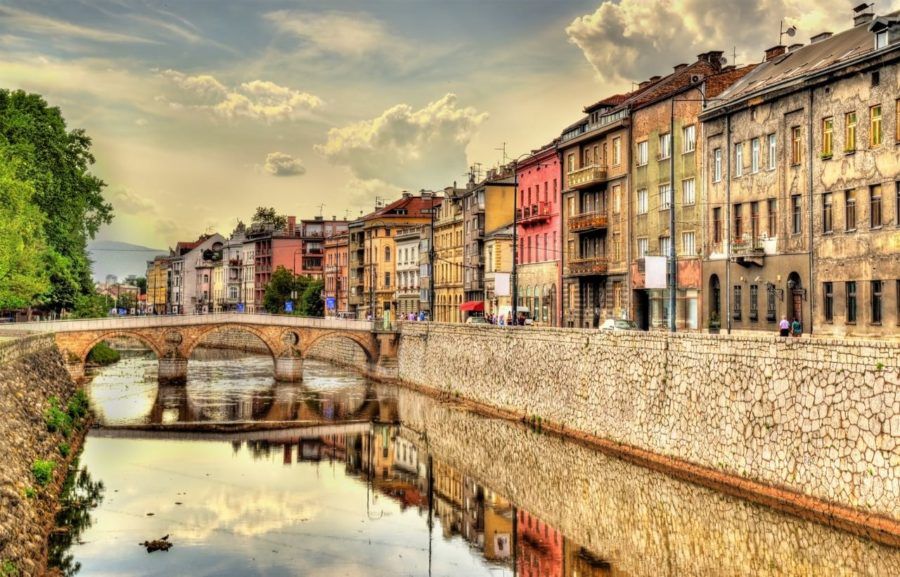 An Ottoman bridge across the Miljacka River in the heart of the city, the Latin Bridge is the spot where World War I actually began. Archduke Franz Ferdinand of Austria was gunned down on June 28, 1914, at the northern end of the bridge. This event was the premier cause of the First World War, still one of the bloodiest human conflicts in history.
On this street, you can find "Sarajevo Insider," a local guide agency that we used (big shout out to Samra!). I highly recommend them, or if you want to book online, you can do that here.
TRAVEL COMPANIES WE USE AND TRUST
Baščaršija
Sarajevo's oldest bazaar and historically important cultural spot, Baščaršija, is also known as the Old Town of Sarajevo. It is an old bazaar, a bustling marketplace featuring shops, boutiques, restaurants, and numerous other kinds of vendors, and is a must-visit in Bosnia and Herzegovina.
This has to be the number one tourist attraction in Sarajevo, and I think you'll also agree. This is also where you'll find many important historic buildings, such as the Gazi Husrev Bey's Mosque, Morića Han, the Sarajevo City Hall, Sebilj Fountain, and The Old Synagogue (Stari Hram), all of which are highlighted individually below in this overview of things to do in Sarajevo.
It is a well-known legend in Bosnia which is passed down from generation to generation that says anyone who drinks from the Baščaršija fountain located near the center of the city is bound to return to Sarajevo again.
It certainly isn't the most beautiful fountain in this city with dozens around town, but it seems to have a certain psychic about it.
Quick Tip: Feel free to drink from any of the fountains around the city center of Sarajevo. It is like drinking from a refreshing cold spring – the water is clean and drinkable. Save that plastic!
Whether or not the myth is true, who wouldn't want to take a chance at sealing their fate to return to this beautiful, soulful city?
Have a Coffee Break While Checking Out Local Art
If you are looking for local art and a good place to chill out for a few hours, look no further than the cozy Gallery Boris Smoje. This tiny joint within the city serves everything local from juices to microbrews to a menu that features many of the best Bosnian traditional foods.
Also, the walls of this humble building are decorated with local artist's work. It is known as the hipster hangout, usually filled with young people, and therefore you will learn a little bit about cafe life in Bosnia. Many people bring laptops and stay for hours while they catch up on work, so, digital nomads, this place is calling you!
I never feel out of place in this inviting cafe. Plus, the coffee is some of the best in town.
Gazi Husrev Bey's Mosque
The 16th-century Gazi Husrev Bey's Mosque is the biggest historical mosque in Bosnia & Herzegovina and one of the Balkans' most renowned Ottoman buildings. Ever since it was constructed from 1530 to 1531, it has served as the principal congregational mosque in the country.
As such, the mosque is one of the star attractions in Sarajevo, a popular tourist destination among visitors wanting to immerse themselves in the city's Muslim history and culture.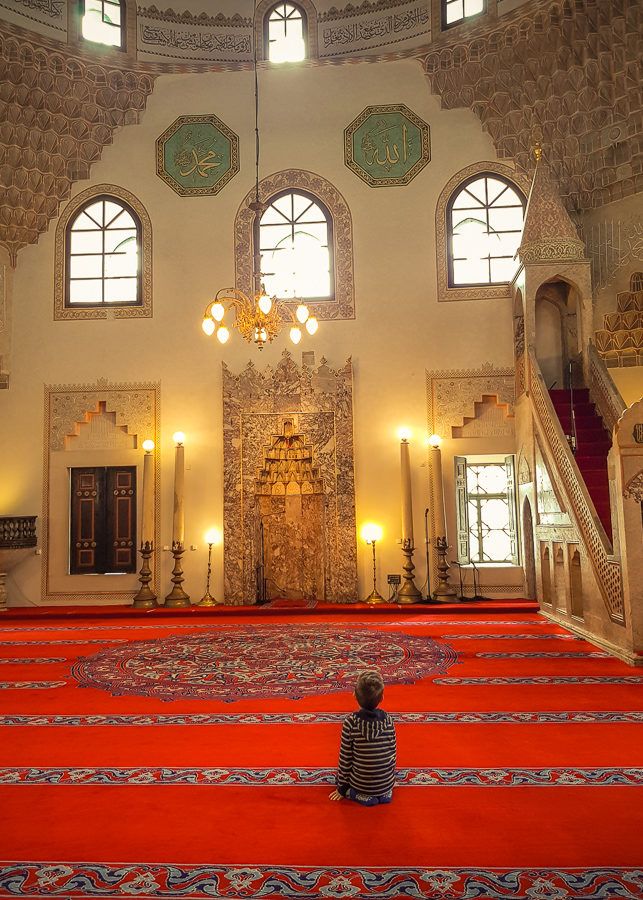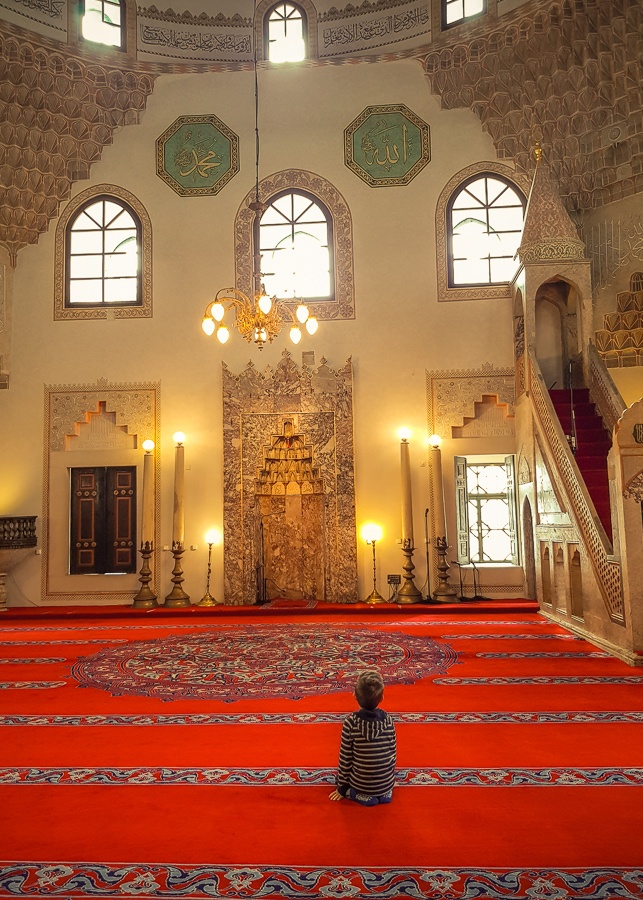 My little then 5-year-old loved this experience, it was the first time he had ever been in a mosque, and our Muslim guide explained Islam to him in a very age-appropriate way – travel, as I always say, is one of the best ways to teach our children about the world around us.
Emperor's Mosque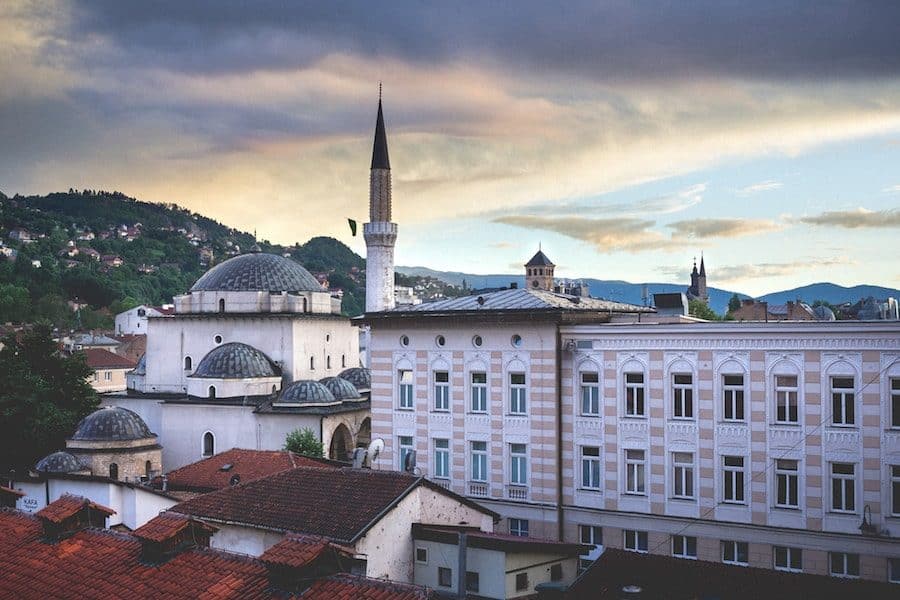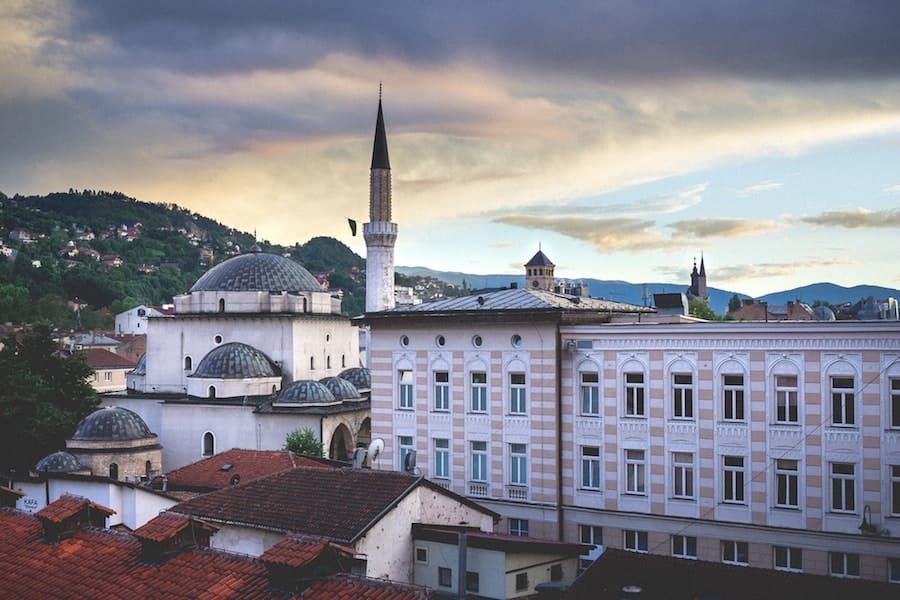 Built in 1457, this was the first mosque to be built after the Ottomans took ownership of Bosnia. The building is dedicated to Sultan Mehmed, the Conqueror who conquered Constantinople.
As the largest single-sub dome mosque in the country, it classifies as one of the Balkans' most significant and beautiful Muslim buildings. The building is open to the public and highly recommended to anyone visiting Sarajevo.
Morića Han
Built way back in 1551, Morića Han used to be a popular roadside inn and is now a spot of true history in Sarajevo. Financed and owned by the endowment established by Gazi Husrev Bey, a Bosniak Ottoman governor of the Sanjak of Bosnia in the 16th century, this is the only surviving han (roadside inn) in the city.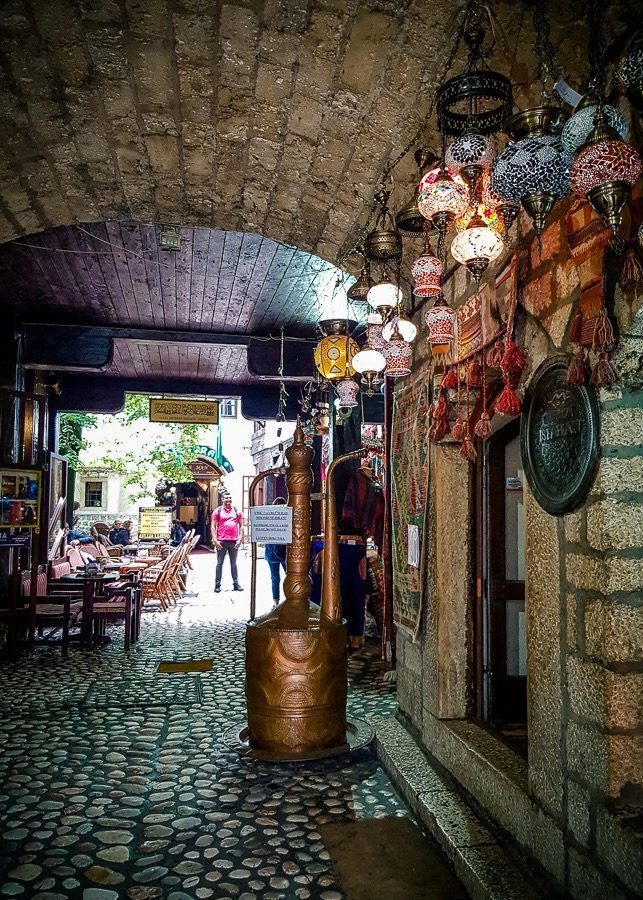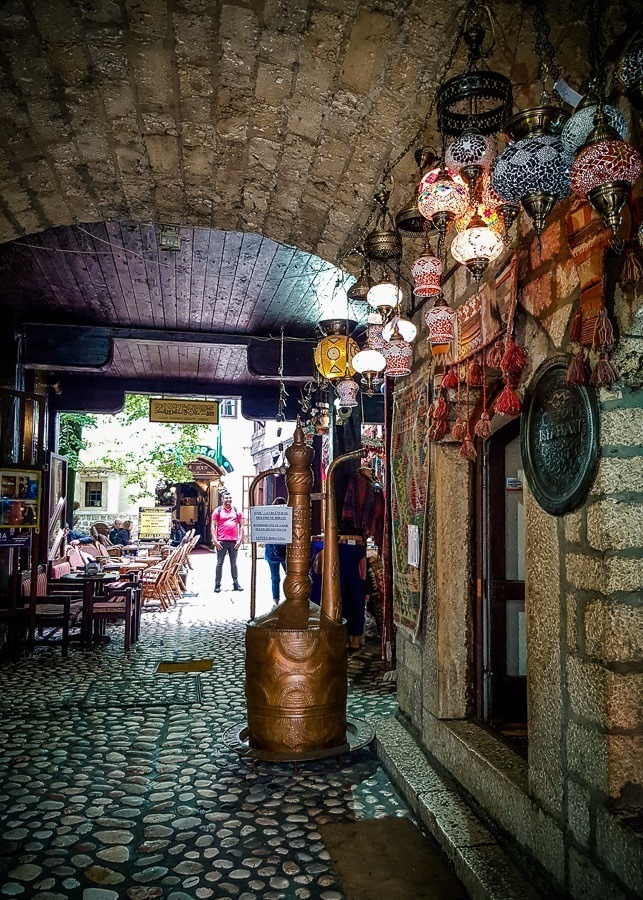 The Old Town is still open and now houses several shops and cafes and a restaurant serving traditional Bosnian cuisine. There really isn't a better place to experience both history and culture in Sarajevo than this. I'd suggest you get a traditional Bosnian Coffee if you have not already had one by this point in your travels.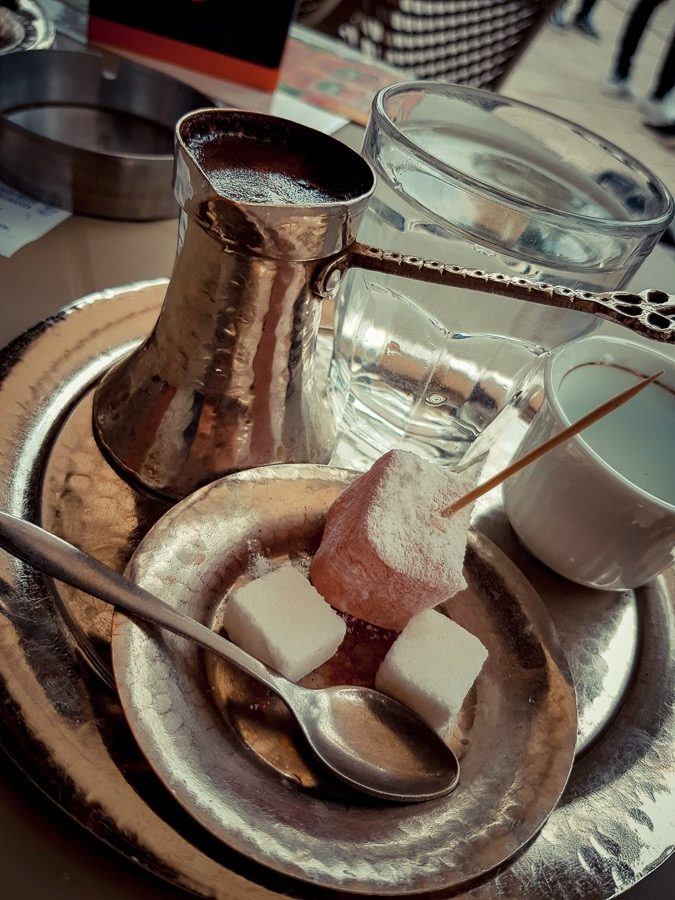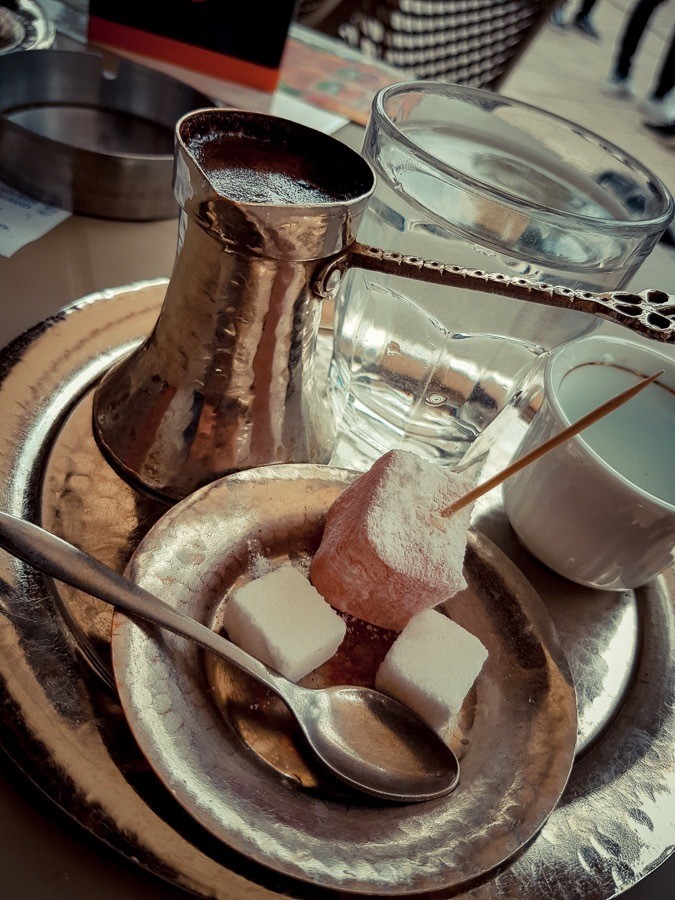 Sebilj Fountain
You'll see lots of fountains across the city, but this is one of the prettiest, and the water is drinkable. The Sebilj fountain stands in the middle of Baščaršija Square, the touristic heart of Sarajevo. It dates from the mid-1700s and is built with wood in a typical Ottoman style.
Warning, though, if you are scared of birds – you'll want to avoid this area. I was a total wreck, with all of those pigeons about! Hence, why I have no photo of the fountain…
Sacred Heart Cathedral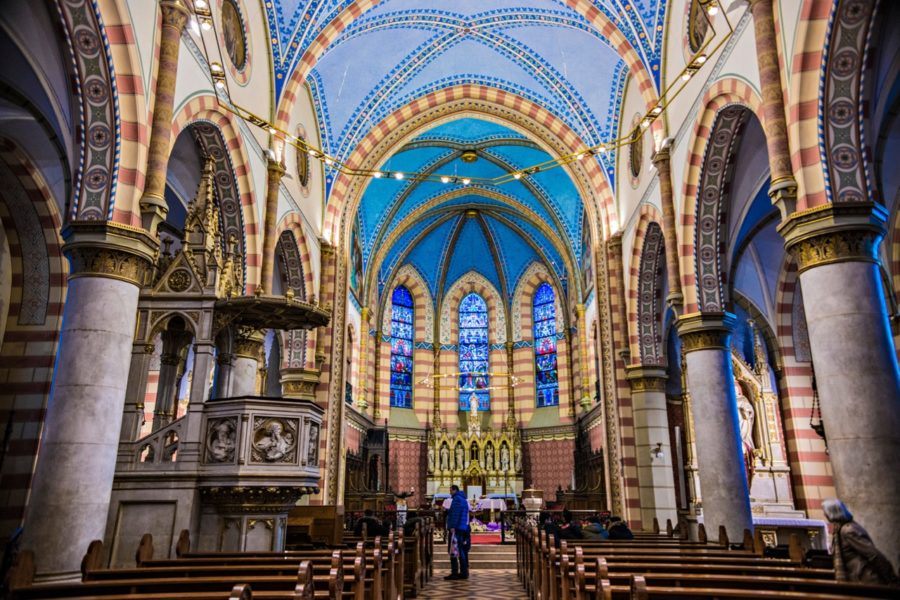 As far as Christian buildings go in Bosnia & Herzegovina, few are more magnificent than Sarajevo's Sacred Heart Cathedral, often called simply Sarajevo Cathedral. With its two bell towers that are 43.2 meters high and length of 41.9 meters, it is the country's largest cathedral.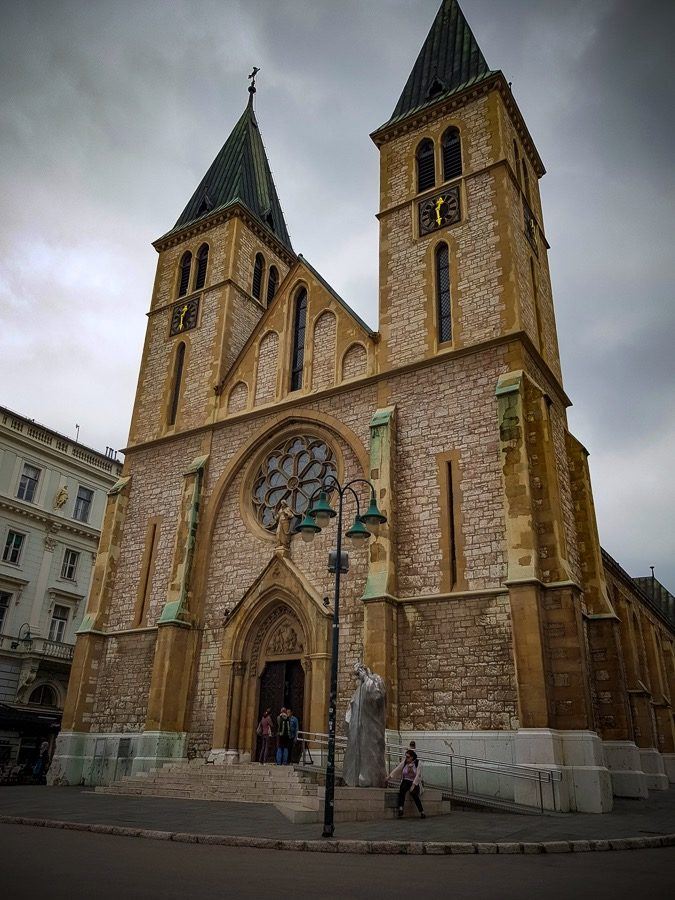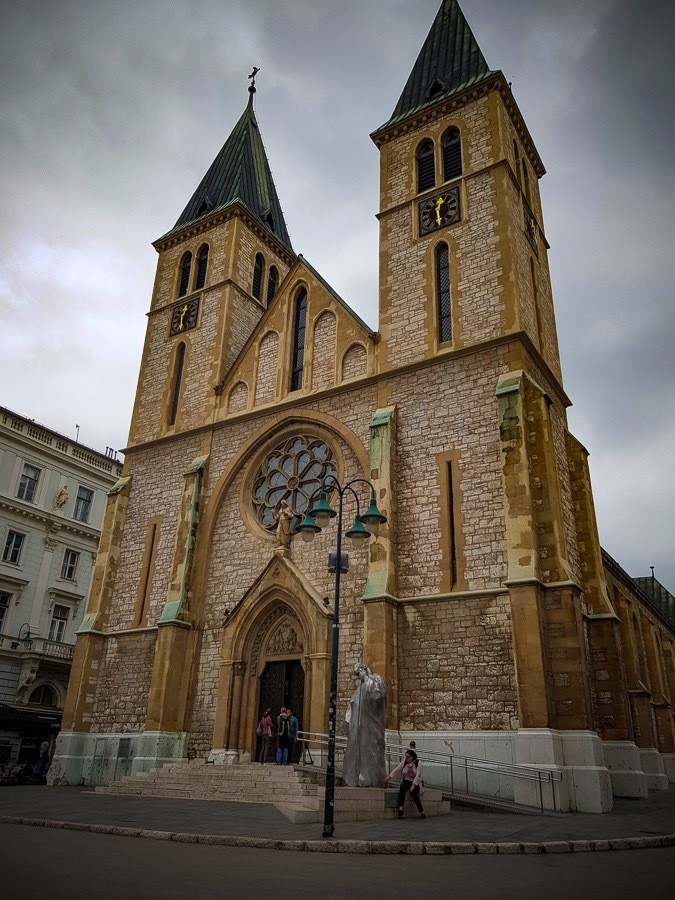 Built in honor of the Sacred Heart of Jesus, a significant concept in Catholicism, the cathedral dates from the 1880s. It stands in the beautiful Old Town of Sarajevo and is open to the public. Inside, you can admire rich decorations and inspiring frescoes.
While we were there, a man approached us and told us how his wife died right outside where we were standing. It shook me for a bit – so if that happens to you, don't be alarmed. He does not speak English, but he is just sad and wants to share his pain. Give him a hug.
Orthodox Cathedral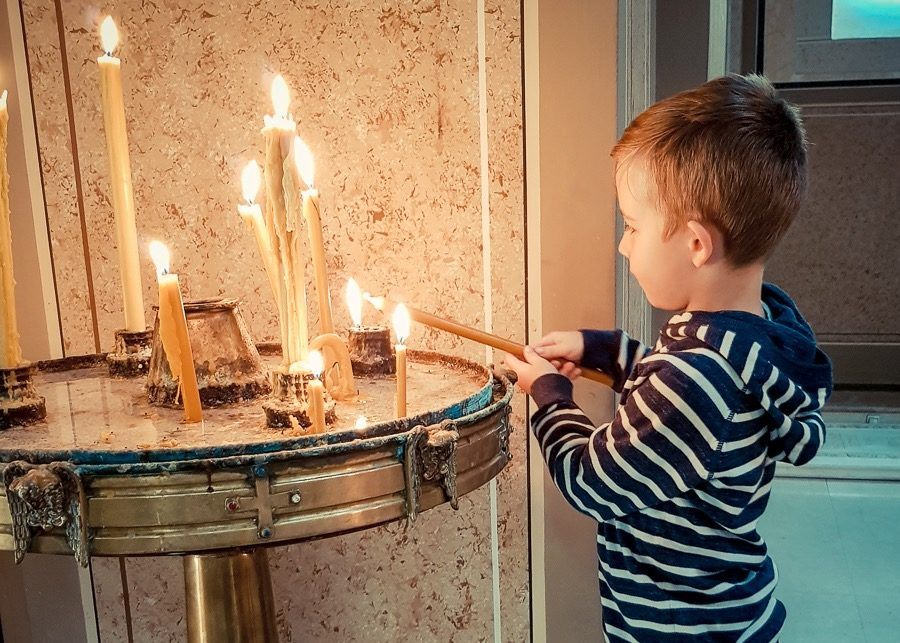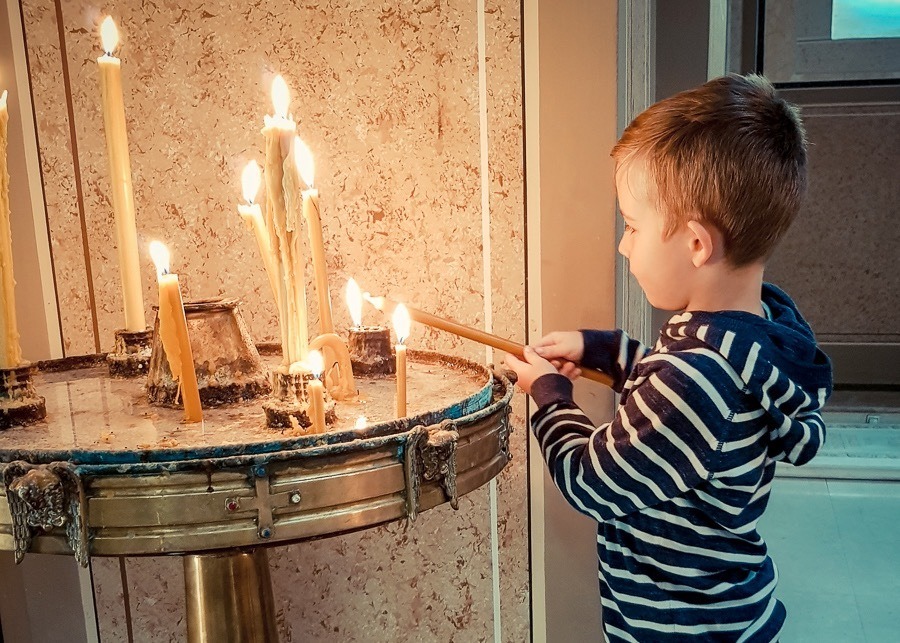 The largest Serbian Orthodox church in Sarajevo and among the biggest in the region, the Orthodox Cathedral is one of the city's prime architectural highlights. Its full name is the Cathedral Church of the Nativity of the Theotokos.
With its five domes, three sections, and Baroque-style belfry, it's a striking example of Serbian Orthodox architecture. Painted decorations adorn the interior.
Even though we are not Orthodox, my little man lit some candles here, and we said a prayer as we really enjoyed the vibe at this cathedral.
Eternal Flame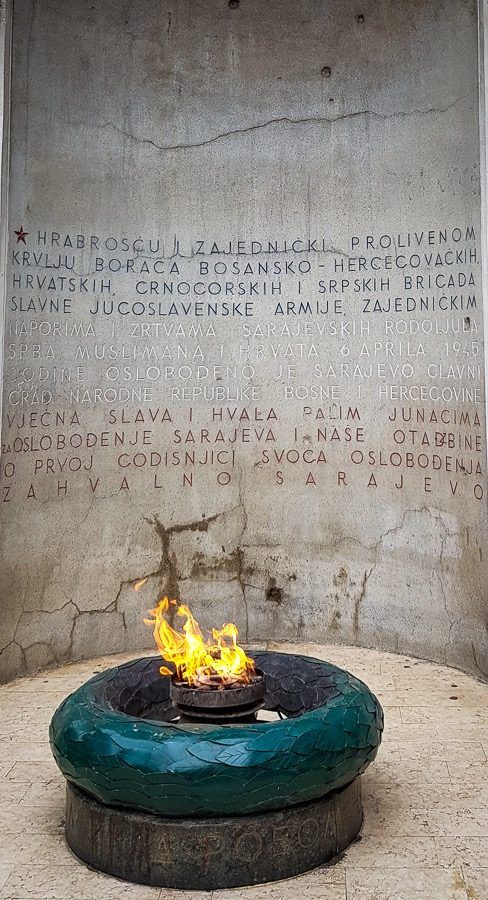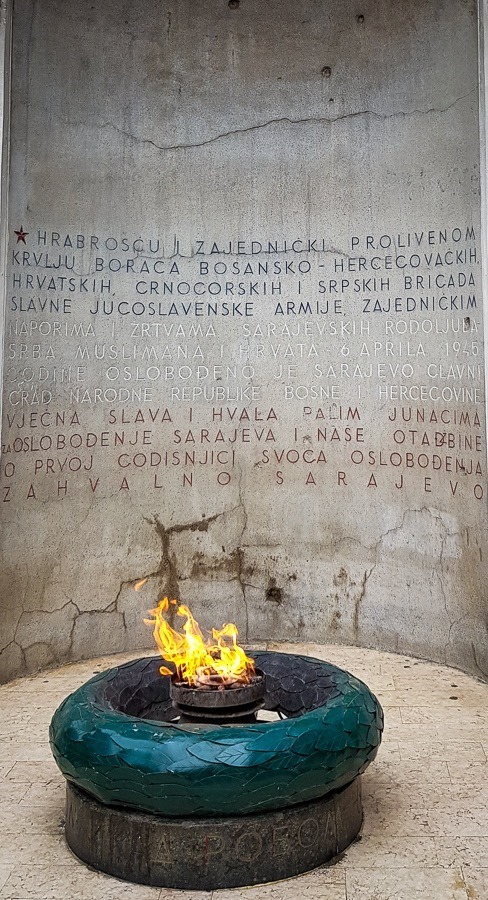 The Eternal Flame is a monument to the military and civilian victims of the Second World War in Sarajevo. It was dedicated on 6 April 1946, the first anniversary of the liberation of Sarajevo from the four-year-long occupation by Nazi Germany. Locals consider April 6t Sarajevo's Birthday.
The memorial was designed by architect Juraj Neidhardt and is located in the center of Sarajevo, at the junction of the three most important streets in the city center. The flame never stops burning, making it a totally unique thing to see in Sarajevo.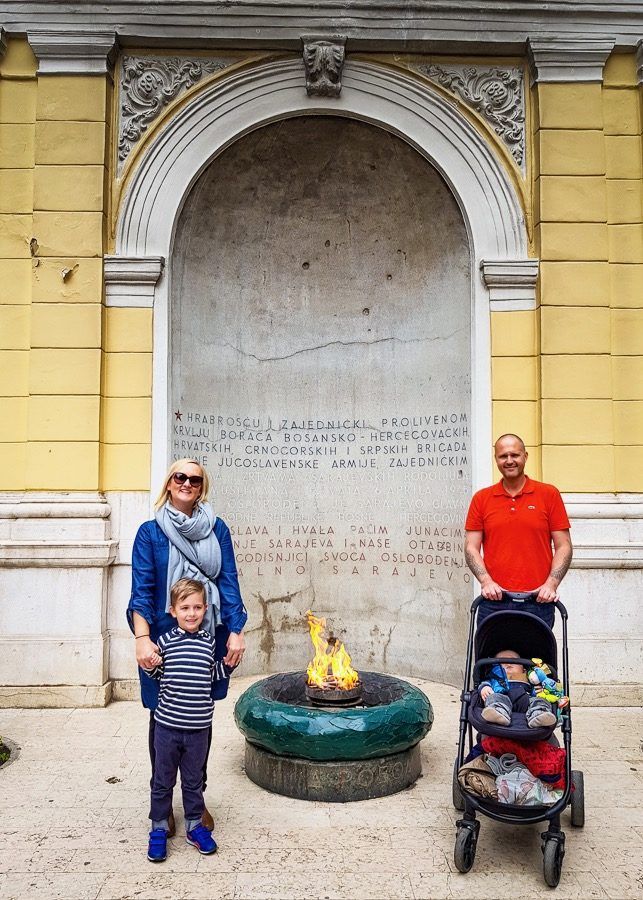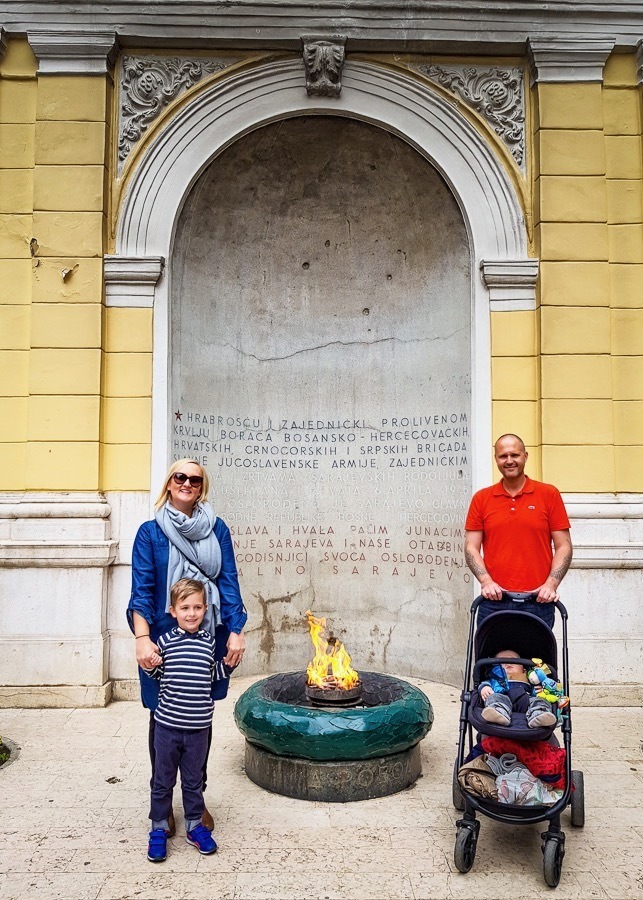 There is a quote on the monument that reads:
"With courage and the jointly spilled blood of the fighters of the Bosnian-Herzegovinian, Croatian, Montenegrin, and Serbian brigades
of the glorious Yugoslav National Army; with the joint efforts and sacrifices of Sarajevan patriots Serbs, Muslims, and Croats on the 6th of April 1945. Sarajevo, the capital city of the people's republic of Bosnia-Herzegovina, was liberated. Eternal glory and gratitude to the fallen heroes of the liberation of Sarajevo and our homeland on the first anniversary of its liberation. Grateful Sarajevo"
Bravadžiluk
One of Sarajevo's several historic shopping streets, full of small old-world stores, Ulica Bravadžiluk is in the Old Town, so it's easy to find.
There are two streets in the area of Baščaršija that are named "Bravadžiluk." Bravadžiluk Veliki, runs west to east, from The Baščaršija Square along the southern wall of the courtyard of Baščaršija (Havadže Duraka) Mosque to where Telali and Brodac meet on the western side of Vijećnica. Then there is Bravadžiluk Mali, which runs north to south, from Bravadžiluk Veliki to Tabaci St.
On these streets, you'll find historic shops and welcoming restaurant patios. This particular area was the place where blacksmiths hand-forged a variety of items as early as the 16th century. Eventually, the street became known for its lock and padlock makers. The street itself got its name after these artisans —brava means lock.
Kazandžiluk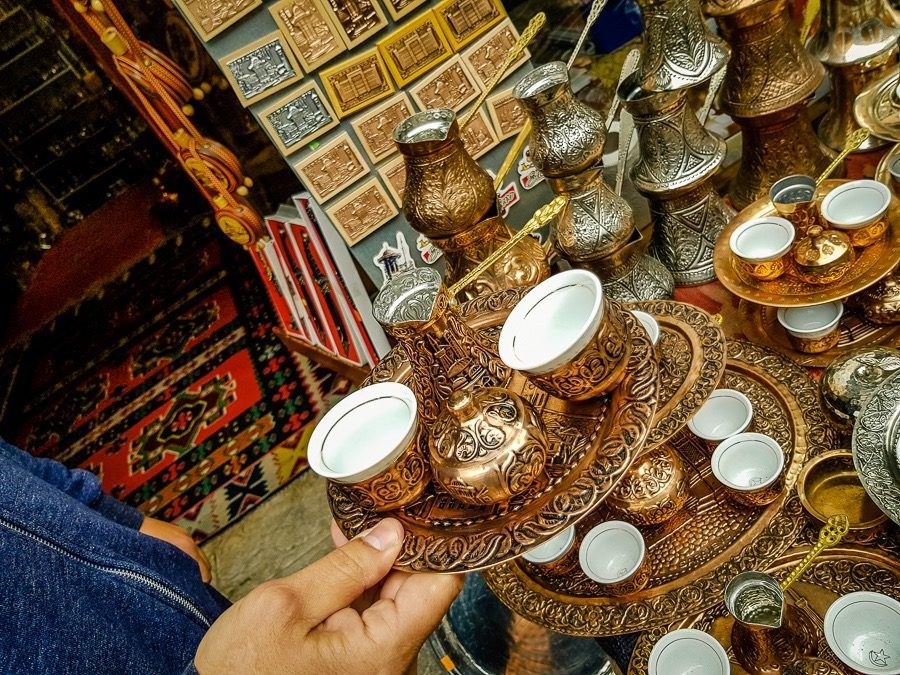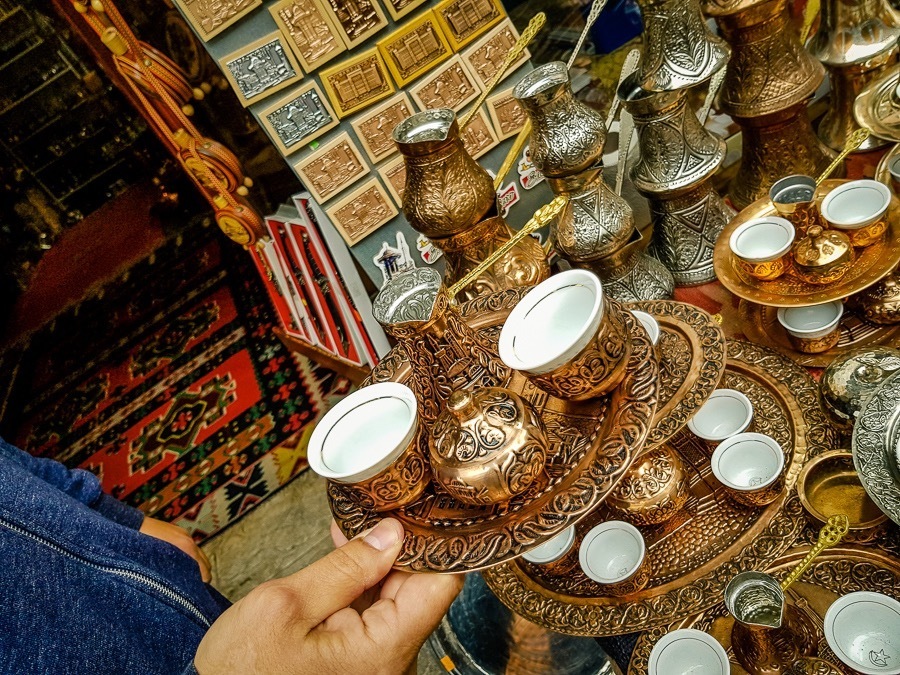 Stretching from the eastern end of Baščaršija Street to Bravadžiluk Street, Kazandžiluk is an old shopping street and the famous coppersmith trading area. It is one of the city's most famous streets, an easily recognizable pedestrian strip lined with bazaars and shops.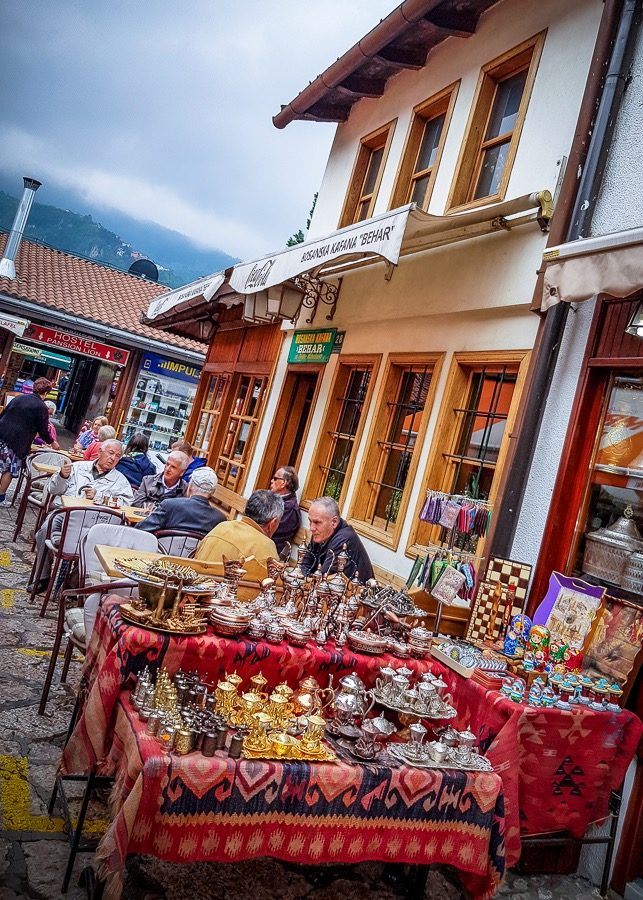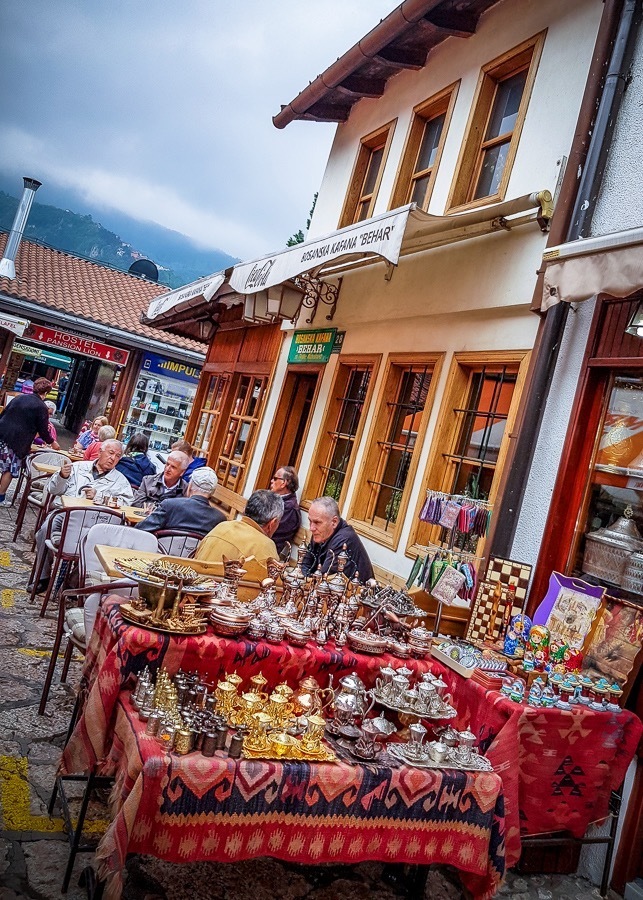 The street is named after the kazandžijas, skilled metalworkers, and coppersmiths. They started producing kettles for the army in the 1500s but soon went on to also make other copper and metal tools and equipment, such as coffee pots and pitchers, trays, and tabletops. Nowadays, you can still find several metalworks being sold – and made – along this street. It's an ideal place to pick up an authentic Sarajevan souvenir.
Be sure to bargain with your shopkeeper – the prices they quote are far too high – I managed to get the price down just by saying, 'Hmm, I don't think so.'
Avaz Twist Tower
Rising 176 meters to the sky, the Avaz Twist Tower is a skyscraper and arguably the most notable modern building in Sarajevo. It is the headquarters of a Bosnian newspaper, renowned not only for its height but also for its twisted design.
At the moment, it is the former Yugoslavia's tallest skyscraper. Head to the 35th floor for amazing panoramic views of the entire city.
Take A Dare Devil'S Climb Up Mount Trebević
Are you afraid of heights? If you are, you might want to sit this one out. However, be warned that at the top of Mount Trebevic are some of the city's best views.
You must be in pretty good shape to do this climb as there are some serious inclines and hardly any places for rest. Luckily, being the difficult uphill battle that it is means there are fewer people who will attempt this climb.
Put aside a few hours because you will probably want to enjoy your time at the top. Pack a quick lunch or snack (or wine or beer) to enjoy upon completion. By the time you reach the viewing point, you will have deserved any treat you bring yourself.
Quick Tip: If you don't feel like doing the mountain hike but still feel like catching some fresh air, you can still make your way to the base of the mountain and take an easier trail around to see the remains of the old abandoned Olympic bobsled track (see below ).
There is also a cable car that will take you up the mountain for a less energetic way up to the viewing area. One-way fares run at about USD 8, which is quite expensive to Bosnian standards. Though, the hike is still highly recommended.
Bobsled Track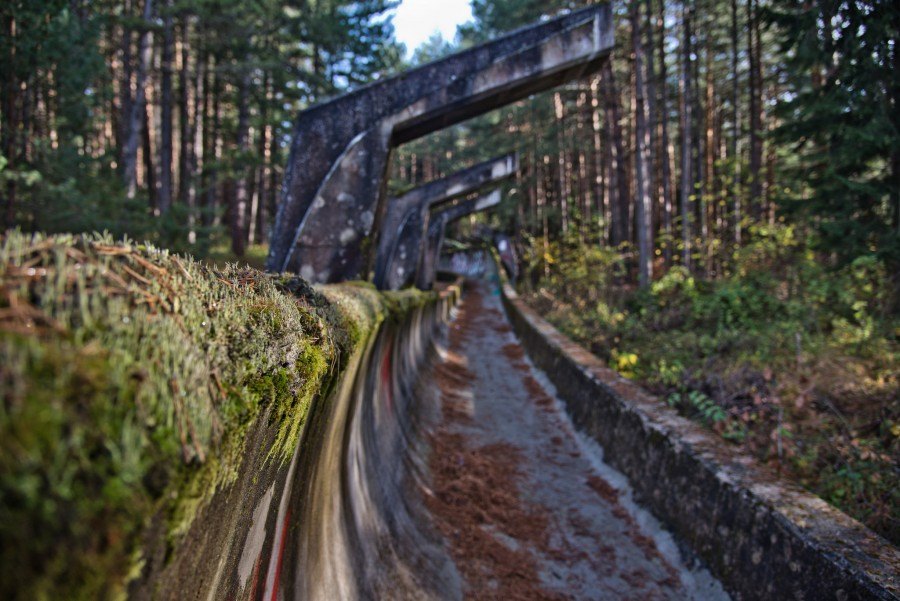 This is a huge bobsled track on the Trebević Mountain (you can stay on this mountain as we did, see below), built for the 1984 Winter Olympics. It is now abandoned and is a walking graffiti art museum. To get there, you can walk, but bear in mind it is quite overgrown, and the terrain isn't particularly flat, so do not take small children. You can take a taxi to make it easier.
If you want to walk, the track is situated on the mountain, behind the clearly visible white stone section. If you have GPS on your phone, this will definitely help you out.
The Yellow Fortress
Set atop Jekovac Cliff, the Yellow Fortress is part of the fortified defensive wall outside the historic city center. Construction was commissioned by the 18th-century Bosnian Governor Gazi Ahmed Pasha Rustempašić Skopljak after Eugene of Savoy had sacked Sarajevo in 1697.
During the project, five fortresses were built at certain points along the defensive wall. The Yellow Fortress, named after the type of rock with which it was built, was one of them. Another one was the nearby White Fortress.
Having lost its original purpose the moment the Austro-Hungarians became the rulers of Bosnia, the fortress is now a popular vantage point overlooking Sarajevo. Sunsets are particularly jaw-dropping here.
Old Sarajevo Clock Tower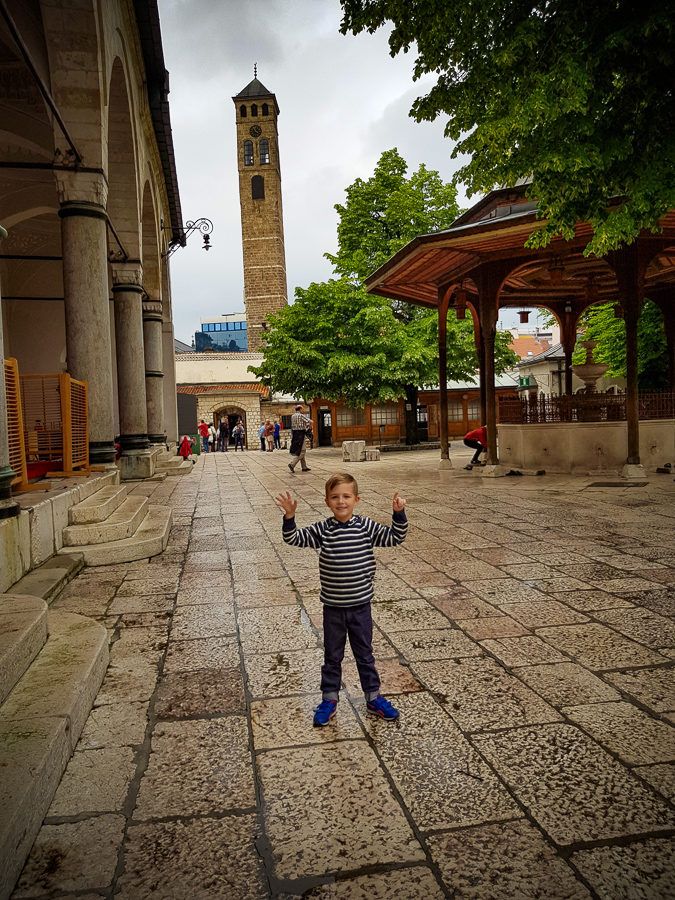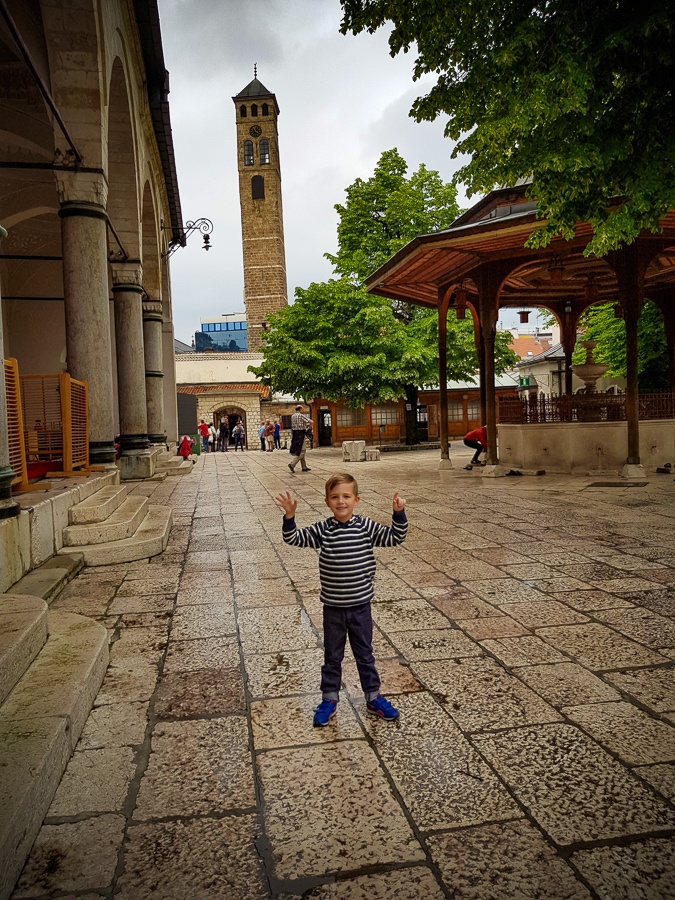 Known to locals as "Little Ben," this historic clock is speculated to be the only public clock in the world that keeps lunar time. Positioned in the historic old town section of Sarajevo, the Old Clock Tower is not only one of the largest in all of Bosnia and Herzegovina, but it is also believed to be the only clock tower in the world that keeps lunar time, making it always seem like it is broken.
Srebrenica Gallery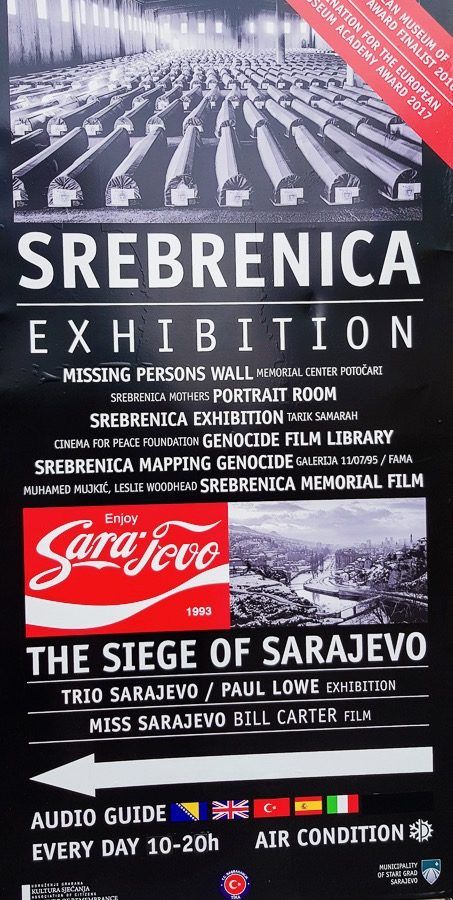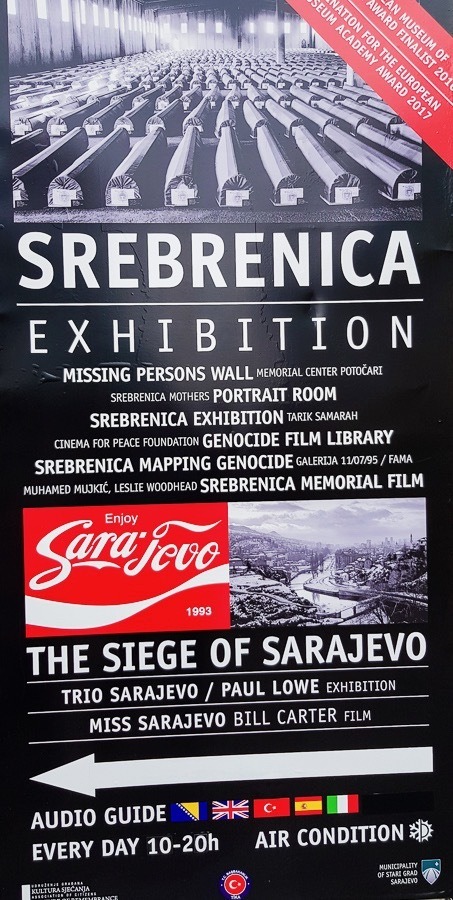 Officially called the Gallery 11/07/95, the Srebrenica Gallery is where you can learn about the horrors of the Bosnian War in the art form. This memorial gallery is dedicated solely to the Srebrenica massacre that took place on July 11, 1995. More than 8,000 people lost their lives that fateful day.
The gallery keeps the memory of this tragedy alive through a collection of documentary images. There are scenes of survivor camps, old family photos, a wall bearing the names of all victims,… It's an incredibly humbling place, a must-visit museum for anyone who really wants to understand the horrors of the War.
Miljacka River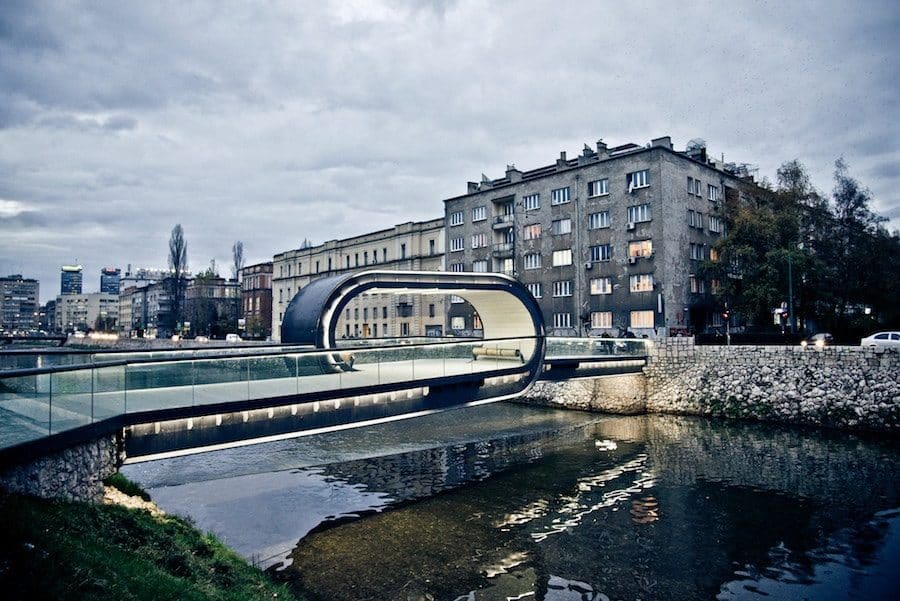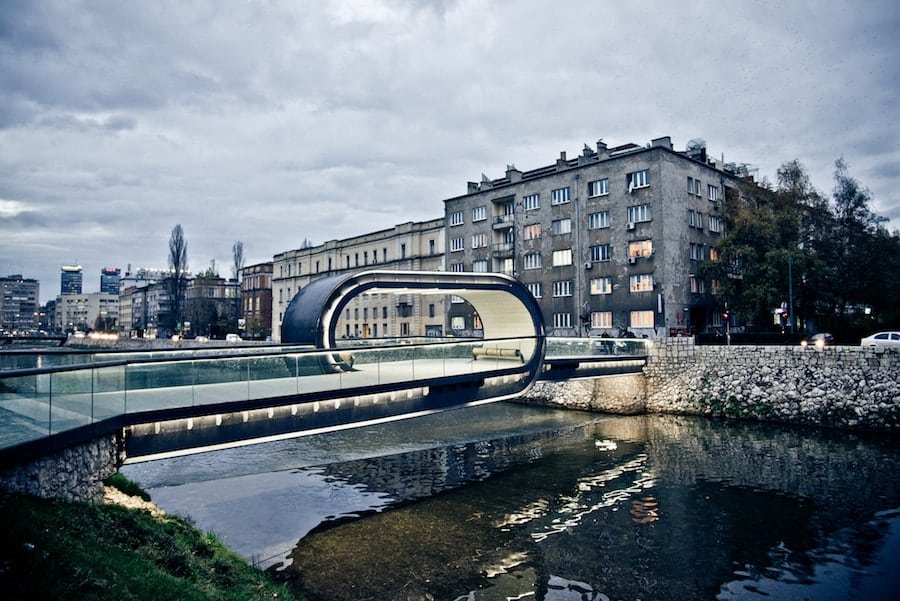 The Miljacka River cuts through the heart of Sarajevo. Numerous bridges span the river, connecting the northern and southern parts of the city. One of the greatest things to do in Sarajevo to really get a feel for the city is wandering along the banks and seeing the ornate bridges.
Sarajevo Tunnel Of Hope
This is a human-made tunnel that runs for 800 meters and goes from the city to the United Nations Safe Place, which existed during the War. It was constructed in the first half of 1993 during the Siege of Sarajevo. The tunnel served as a supply line and a way of escaping. Food, weapons, and humanitarian aid were able to come into the city via the tunnel, while people under siege could get out.
Get Outdoors In A True Local's Park (Vrelo Bosne)
At the foothills of Igman Mountain, you can visit a public park featuring River Bosne's natural spring. It is located on the city's outskirts, about a half an hour's drive from the famous Latin Bridge. If you rent a car while you are in Bosnia and Herzegovina, Vrelo Bosne Park is well worth the trip and your time out there.
A Roman bridge built sometime in the early 16th Century is also found inside Vrelo Bosne. It is a great place to escape the buzz of the city and get a breath of fresh air as the paved trails are great for walking and take you side-by-side the many little streams inside the park.
There is no need to pack a picnic; there are many affordable sidewalk cafes and restaurants to stop along the way. However, depending on what time of the year you visit Sarajevo, the opening and closing times may vary. If you are planning on going early, don't expect many of these places to be open.
Walking Tour
The best way to get your bearings in this historic city is by joining a walking tour like this. Under the guidance of a professional guide, you'll explore the Old Town and see the main attractions in Sarajevo. You will learn about the city's rich heritage and history from a knowledgeable local. There are various walking tour choices, from tours that focus on the Bosnian War to those focusing on food and local customs. Get Outdoors in a True Local's Park (Vrelo Bosne)
At the foothills of Igman Mountain, you can visit a public park featuring River Bosnia's natural spring. It is located on the outskirts of the city, about a half an hour's drive from the famous Latin Bridge. If you rent a car while you are in Bosnia and Herzegovina, Vrelo Bosne Park is well worth the trip and your time out there.
A Roman bridge built sometime in the early 16th Century is also found inside Vrelo Bosne. It is a great place to escape the buzz of the city and get a breath of fresh air as the paved trails are great for walking and take you side-by-side the many little streams inside the park.
There is no need to pack a picnic; there are many affordable sidewalk cafes and restaurants to stop along the way. However, depending on what time of the year you visit Sarajevo, the opening and closing times may vary. If you are planning on going early, don't expect many of these places to be open.
Enjoy Happy Hour Shisha With Locals (Dibek Lounge)
Dibek is as Bosnian as it gets. With a great courtyard that is well-shaded by midday and quite social and lively at night, Dibek is one of the city's most happening places.
You can come along and sip tea, and people watch or come with a group of friends and smoke shisha while socializing with locals. There is nothing more classic Bosnian than gathering in a courtyard and smoking shisha over tea.
As it is a Muslim establishment, they don't serve alcohol. So if you are looking for an alcoholic drink, this may not be the nightly hangout for you. However, don't let that shy you from an afternoon homemade tea to get the experience!
They also have a great happy hour at lunchtime in which you pay a third of the price! As if there was more incentive to get you to visit Dibek!
Read The Stories Of A Once Abandoned Cemetery
After the War, this Jewish cemetery, which dates back to the 1600s and has over three thousand graves sites within, became inaccessible due to mortars and land mines that were laid during the War.
Its position on the side of Mount Trebevic made it an important location to keep artillery during the War. So, it had to be protected. . . by land mines. It later became the front line of battle and was heavily damaged.
Five years after the War ended, the cemetery re-opened. Though, I'm not sure I would walk too far off the path as there are many land mines unaccounted for still. Don't let this scare you too much, as the chance is unlikely.c
Check Out The Bosnian Rock Scene (Underground Club)
If you're a rock music enthusiast, your options within Sarajevo are pretty limited. They take pride in their traditional music, and today's pop music more so entertains the young generation. However, one bar still plays good ol' rock music, and that place is the Underground Club.
Underground Club has live jazz and rock bands every weekend so if you're visiting on the weekend, make sure to check them out. And if you were wondering – yes – the club is actually underground.
Learn The History Of The City Hall (The House Of Spite (Inat Kuća)
The current City Hall, Vijećnica, is beautiful indeed. It was opened in 1894; however, not before a bit of controversy. That is because the property it sits on was occupied by a little old Sarajevo man. He loved his home and the beautiful location on the river, and he was stubborn about giving up the prime spot to the country.
So, he didn't. That is until he was properly compensated. Then, he requested the government move his home across the River Miljacka brick by brick so that it faced the beautiful new City Hall.
Effectively, his view became better, and his location remained virtually the same – plus, he was awarded a large payday.
Quite the businessman, this little man was!
That is why this home, now converted to a restaurant, is known as the House of Spite (Inat Kuća). Grab a bit for lunch while you are there and take a look at the view the little man won himself.
Visit The Birthplace Of World War I (Central Post Office Of Sarajevo)
By now, if you have spent any time in Sarajevo at all, you probably know that World War I began in the city on the Latin Bridge where Archduke Franz Ferdinand was assassinated, which set off the early stages of one of the deadliest wars in the world history. It is one of the most popular sites in the country due to its historical significance.
However, how do you think the world was then informed by the launch of the War? That is right, by news straight from the Central Post Office of Sarajevo. This was a busy post office in the summer of 1914.
It was later destroyed in the War and rebuilt to its prior beauty. It is an excellent example of the magnificent Austro-Hungarian architecture, and the rebuild was a phenomenal tribute.
You can even buy postage from teller 17 and send a letter home from the same teller which the world was informed of the beginning of the world's first world war in 1914.
Spend Time In Astronomical Observatory With A Dark History
During World War II, the Austro-Hungarian military made use of the vantage point Mount Trebevic provided by building a fortress upon its peak, which gave access to a view of the whole city of Sarajevo. It was a key strategical point for the Austro-Hungarian Army.
Later in the 1970s, The Orion Astronomical Society built the Čolina Kapa Observatory for what became Sarajevo's only astronomy center. The location was perfect for gazing into the night sky, and the building was the only observatory in Bosnia and Herzegovina.
Without the studies that came from the Čolina Kapa Observatory, astronomy in Bosnian history would be relatively non-existent.
Unfortunately, as the Bosnian War came in the early Nineties, the site became another hot spot strategic point. The building was destroyed and left in shambles as it stands today.
You can now walk amongst the remains knowing the past of this important site in Bosnian history.
Visit Yugoslavia'S History Through Music (Musical Stairs Of Sarajevo)
These outdoor stairs, which were repurposed for an educational site, will take you on a historical journey of traditional music in Yugoslavia. The Musical Stairs of Sarajevo are one of the city's newest attractions.
Each box along the way up represents an era of music in which you can listen to and read about some of the histories behind each era. It is a unique idea in a city that seems to be booming on the tourism innovations.
Find Every Mr. Chat!
Though Sarajevo isn't big on street art like the likes of Berlin or Sofia, there are still some fascinating pieces around the city that you know have not been commissioned. One of the most popular among the city is the works of French street artist Thoma Vuille.
He has dotted the city with an unknown amount of signature smiling cats. Can you find all of them?
Walk Through A Unique Neighborhood
Ciglane is a well-known neighborhood for being on such a steep hill it requires stacking homes in a staircase fashion.
Also, it requires the use of a lift to access some of the homes. You can ride the lift, though; it has certainly seen better days. Plus, as it is no longer the only way to access all parts of the neighborhood, it is not often used. But it is still in operation!
Where To Eat In Sarajevo (And Have A Drink)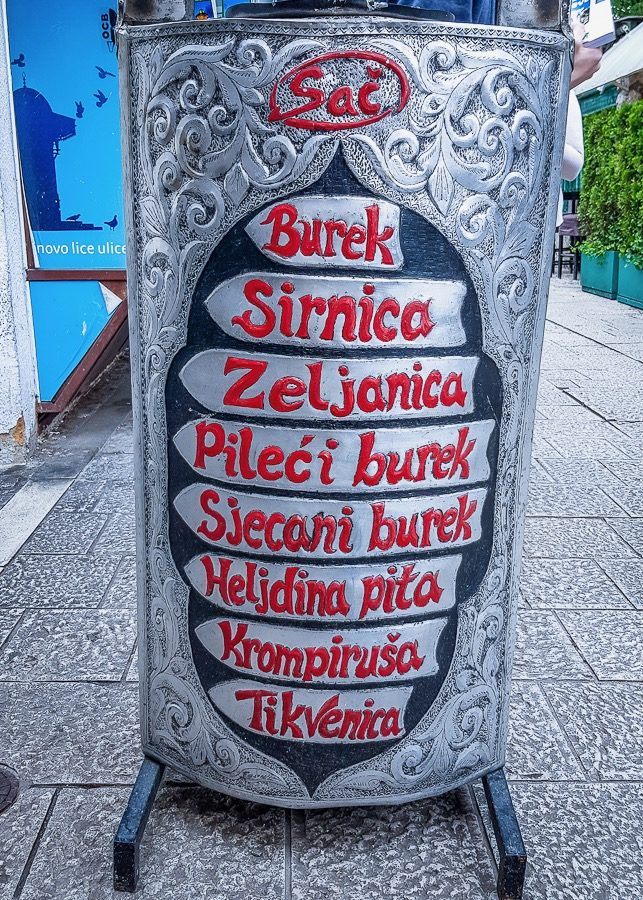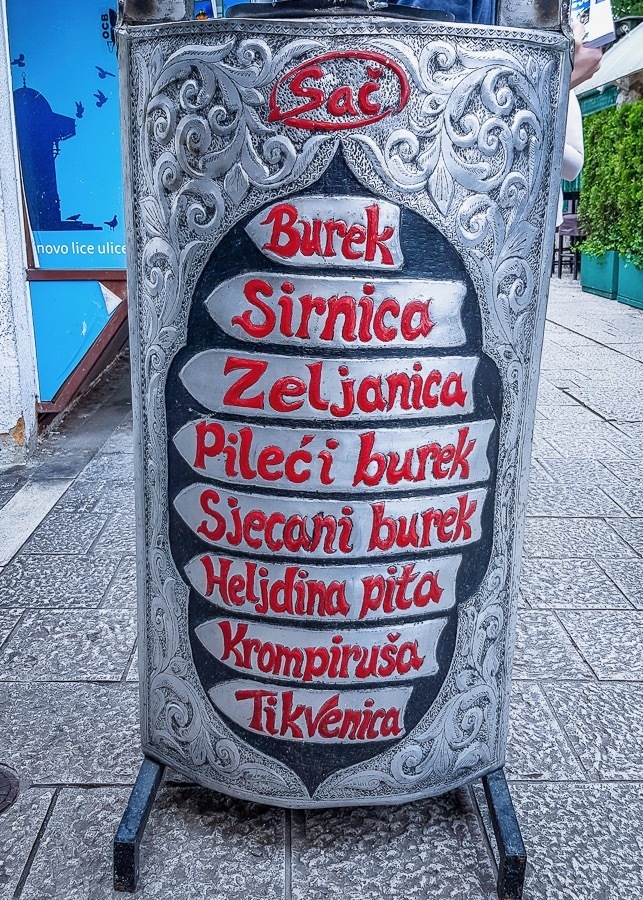 All that exploring calls for a foodie pit-stop! There are some fantastic places to eat in Sarajevo, from international restaurants to more traditional fare. Remember to try the national dish – cevapi. This can be roughly described as a flatbread with various fillings, whether you want something meaty or sweet.
As with most cities, you can find the food relatively cheaply if you head away from the tourist streets and steer clear of more international dishes. Go for traditional foods, and you'll pay much less. You'll also get to experience Sarajevo in its sincerest form.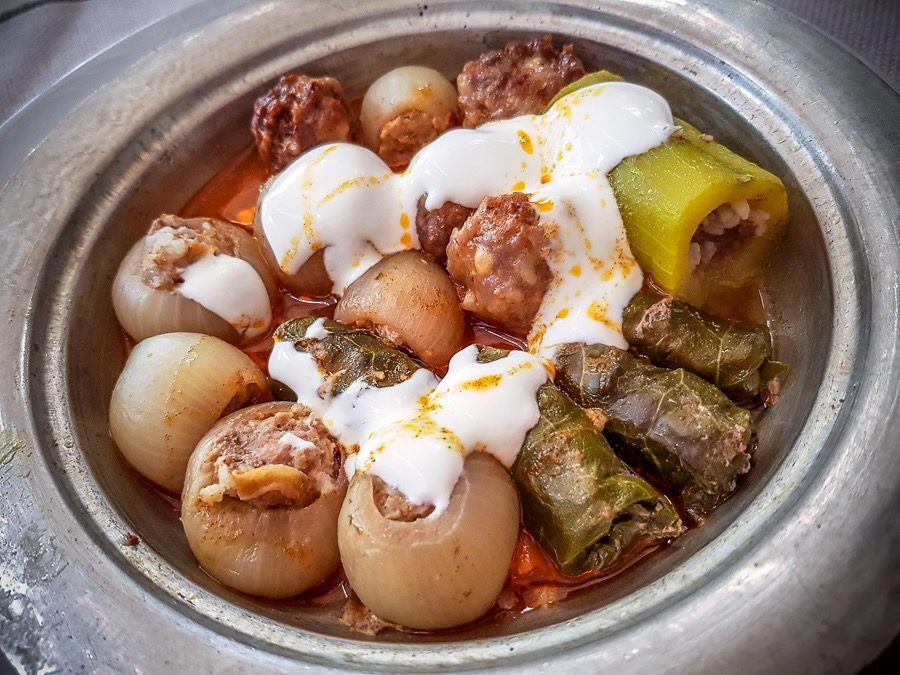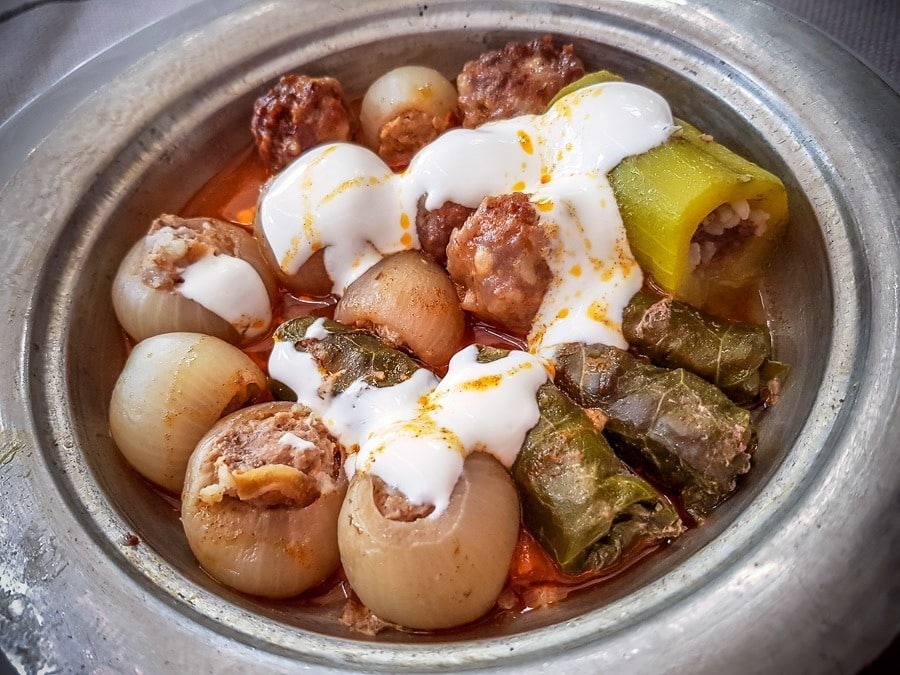 Get Cozy In The Local'S Go-To Pub (Birtija Bar)
Staying in Sarajevo's Old Town and looking for an excellent traditional Bosnian place to spend your evenings? Look no further. Birtija Bar, centrally-located, is a bar for locals and tourists alike.
There is not much to not like about the place with a cozy living room-like atmosphere and occasional live music.
The prices won't break your budget either, so it is ideal for all kinds of travelers with great company on any night you show up.
Plus, the staff all tends to speak English fairly fluently, which is not always easy to find in Bosnia.
For a Fancy Night Out
There's a seafood restaurant located nearby the Academy of Fine Arts. It is called Luka and locals swear it is the best restaurant in town with excellent service.
Navigating Sarajevo's backstreets is never easy. It is simpler to find a parking spot and walk to Luka once you get close.
Upon entering, the atmosphere makes you almost feel as if you've entered a cavern, giving it a romantic candlelit ambiance.
I recommend the fish and prawn soup which is excellently marinated. Ask your waiter for the daily local dessert menu as it is really well done, too! Other recommendations include the calamari salad and squid ink risotto; you can not go wrong with whatever you order at Luka.
It depends on your budget, but people who go (even locals) seem to think the food is moderately priced.
Have Drinks In A Re-Purposed Movie Cinema (Kino Bosna)
An authentic local joint, Kino Bosna, was a popular cinema before the Bosnian War in the early Nineties. However, like many things in the city, the War changed the dynamic of what went on in the city.
After the War, the theater never really made a comeback and instead was later repurposed to what it is now – a comfy pub where locals lounge like it is their own home. The best part about this repurposed pub is the fact that it has been left designed as a cinema.
With the rows of cinema seating, old pre-war movie posters adorning the wall, and even the same counter as was used for movie snacks used as the bar! This is a unique spot to drink a beer and offers some of the city's best prices. If I were a local, Kino Bosna would unquestionably be the bar I frequented.
Get A Taste Of The Original Bosnian Craft Beer (The Brew)
Microbreweries have become somewhat common in many places globally; Bosnia and Herzegovina are not one of those places. Due to the popular Rakia (which is popular all over the Balkans region) serving most Bosnian's tastes – and the fact that the country has Muslim roots – there has been no wide interest in microbreweries. That is, until now.
The Brew is Bosnia and Herzegovina's first microbrewery which opened in 2014 and has been growing in popularity among locals ever since. There seems to be a fun event night every night at The Brew, so check their website and take some time to test the best of Bosnian beer!
A few of our other recommended spots to try include:
Vidikovac Cafe
Pod Lipom
Behar Cafe
Ćevabdžinica Petica Ferhatović
Zeljo Restaurant
Zmaj Restaurant
Where To Stay In Sarajevo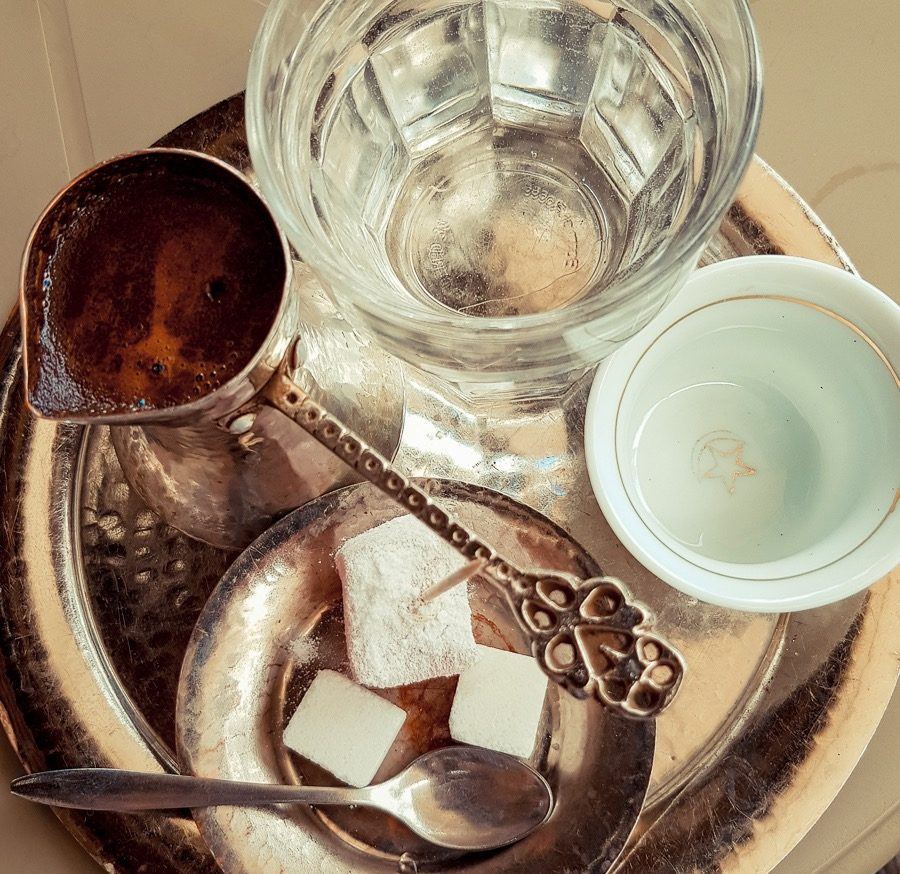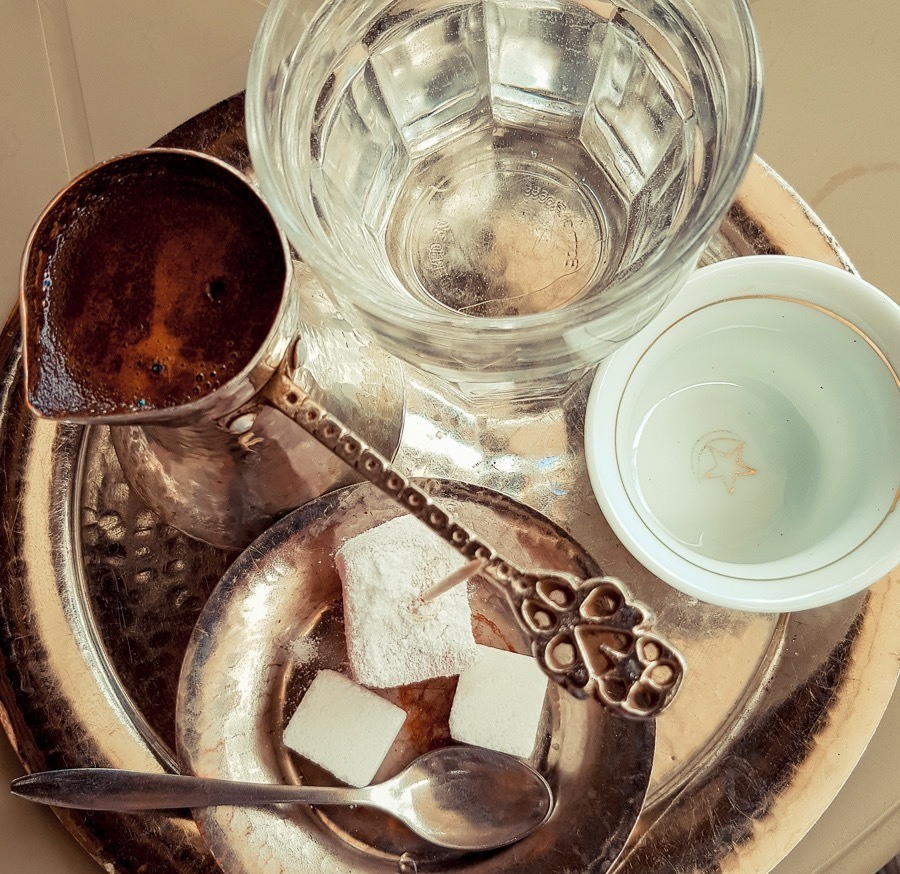 Even though Sarajevo is a large city and one that is becoming increasingly modernized as time goes on, you'll still find plentiful places to stay for a relatively low cost. There are hostels, big hotels, and guesthouses to choose from, and apartments if you prefer a more home-from-home kind of vibe. A few of our favorites include the following.
Pino Nature Hotel
This is where myself and the boys stayed.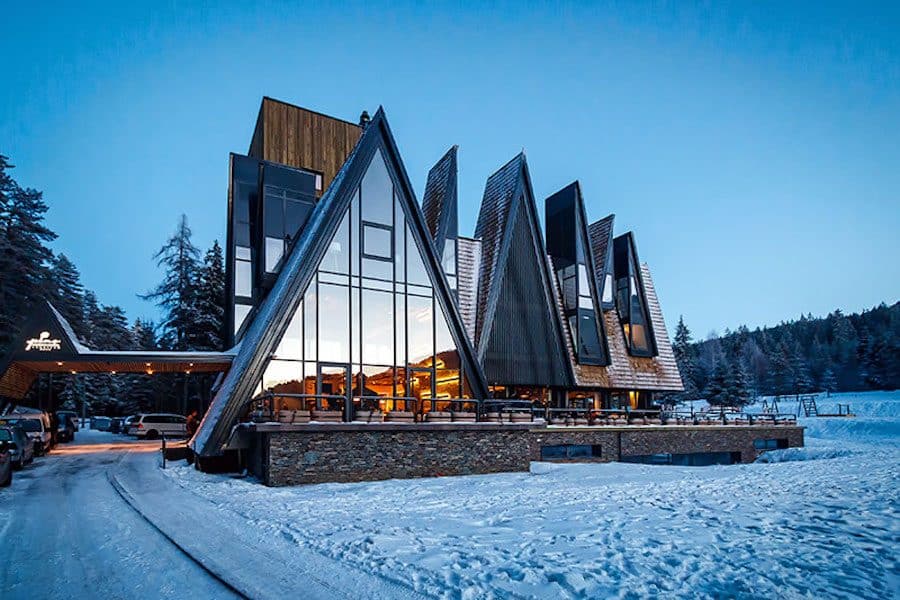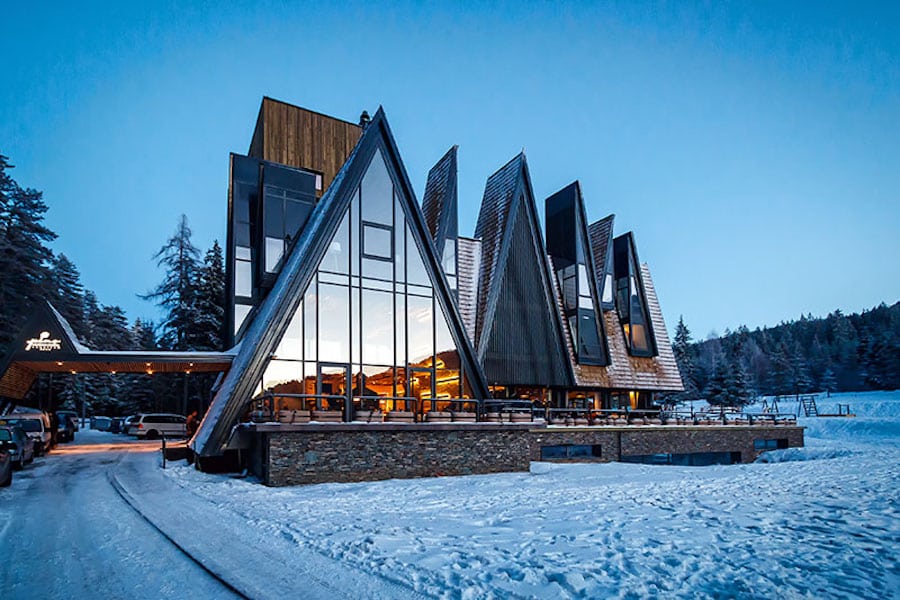 One of the most noteworthy places to stay in Sarajevo is the Pino Nature Hotel just outside the city center. Situated on Trebević Mountain, this high-end and family-friendly hotel focuses on relaxation, healthy living, and organic food.
Amenities are fantastic, ranging from a 50-feet swimming pool, a kids' pool, a fitness center, a children's playground, an on-site spa, free Wi-Fi, and a grand restaurant serving organic Bosnian cuisine.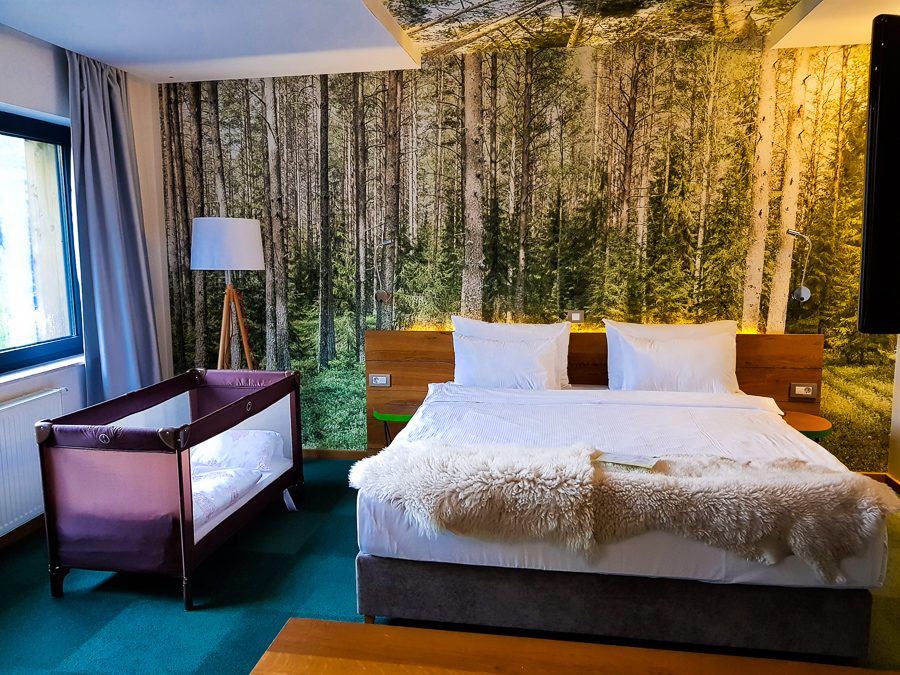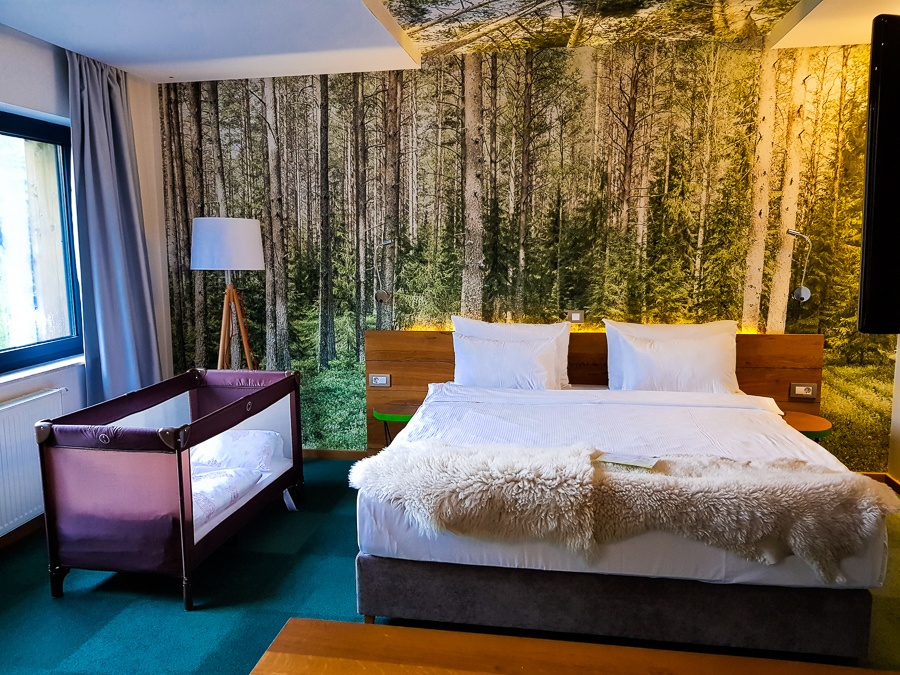 The rooms are enormous! We had loads of space even with the port-a-cot (they provided) set up.
We found this to be a wonderful place to get away from the busy city center while still being within easy reach of all Sarajevo attractions.
Oh, and if you have kids, they'll totally love the horses on-site along with the enormous children's playground.
Hotel Bistrik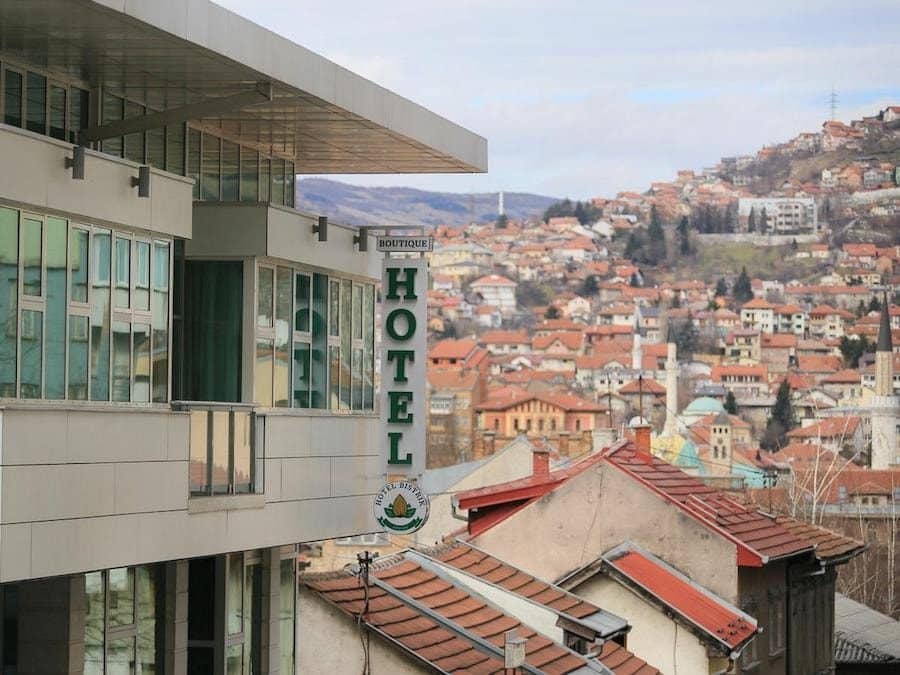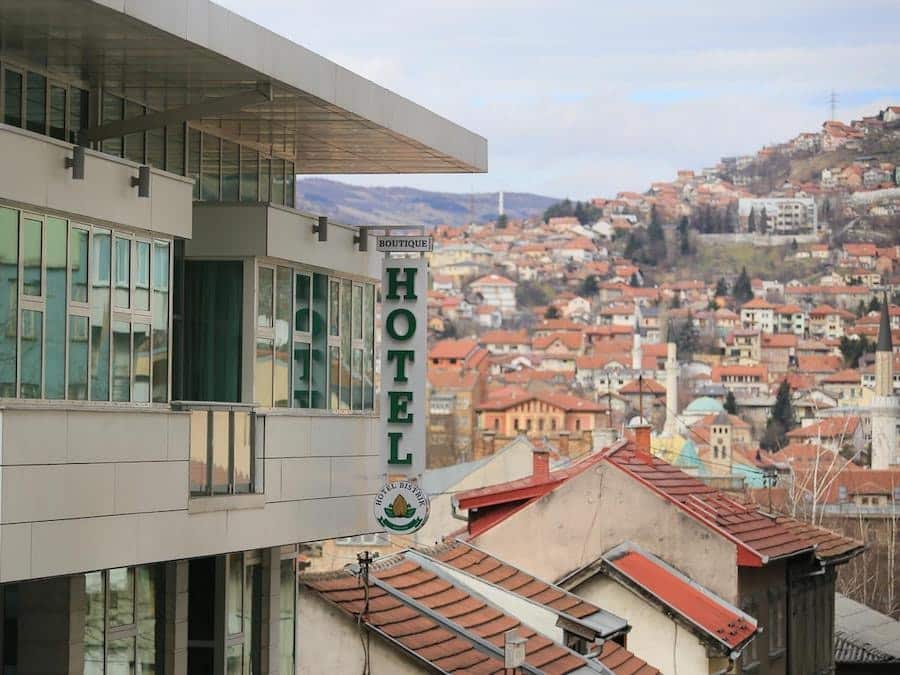 Situated in the Sarajevo city center, Hotel Bistrik lies a stone's throw from the bustling and attraction-filled Old Town. In addition to its superb location, the hotel has numerous excellent amenities as well. There's a restaurant on-site, free Wi-Fi throughout the building, and free parking upon request. Rooms come with a mini-bar, flat-screen TV, air-conditioning, and private bathrooms: a 24-hour front desk and snack bar round off this incredible hotel's appeal.
Hotel Europe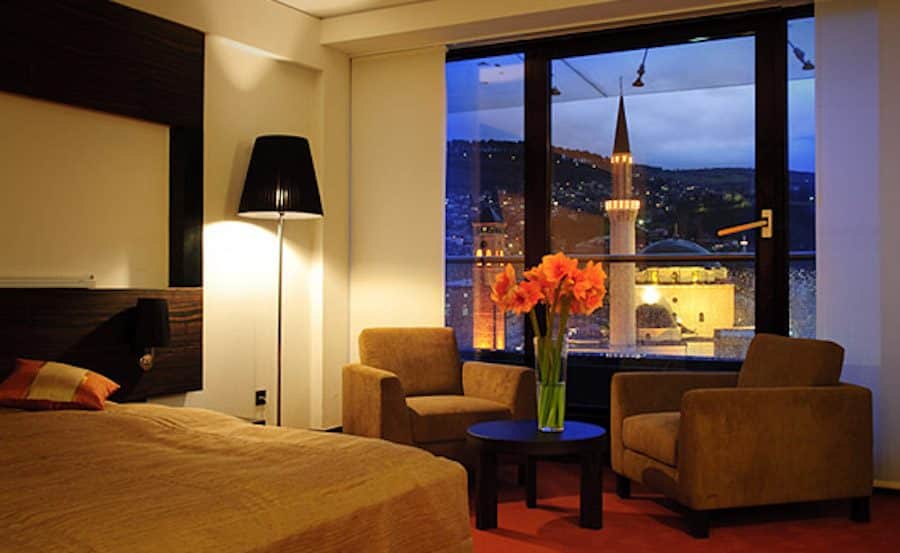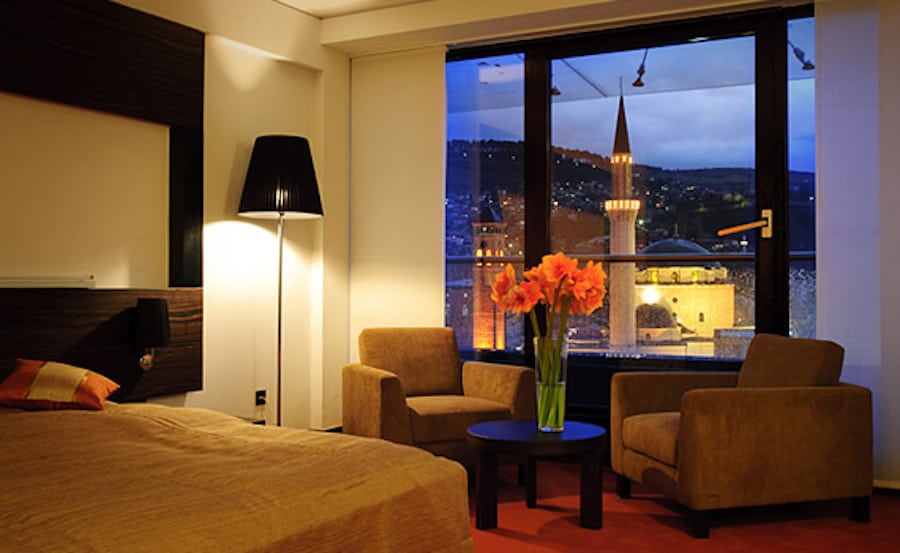 One of the best hotels in Sarajevo, the 5-star Hotel Europe, has a 100-plus-year tradition of hospitality in the heart of the city. It lies strategically between the Ottoman Old Town and the Austro-Hungarian area in central Sarajevo, making it a perfect base to explore everything the city offers. The hotel boasts a Viennese café, a wellness center with Turkish baths, massage rooms and saunas, a swimming pool and gym, and free Wi-Fi.
Hotel Michele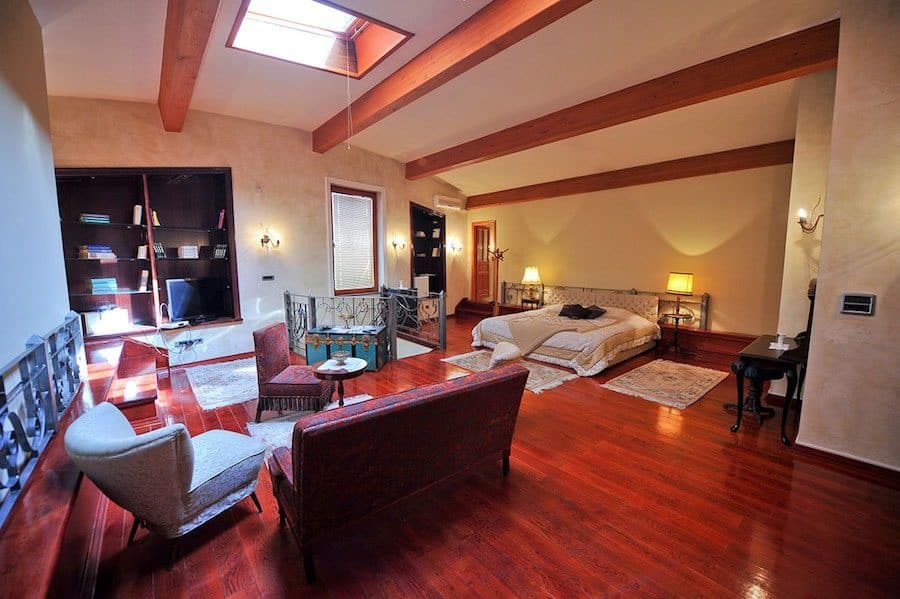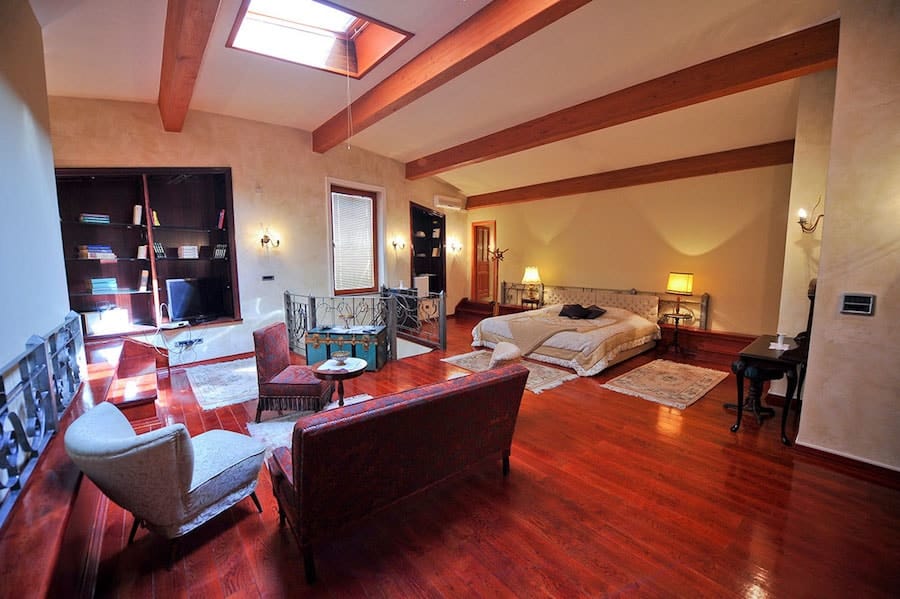 A well-rated accommodation in central Sarajevo, Hotel Michele has everything you could want from a hotel in a historic city. Its spacious rooms put travelers at ease immediately, while its elegant design, colorful decorations, and antique furniture make it stand out among other Sarajevo hotels. There is air-conditioning, Wi-Fi and rooms come with well-equipped kitchens.
Isa Begov Hamam Hotel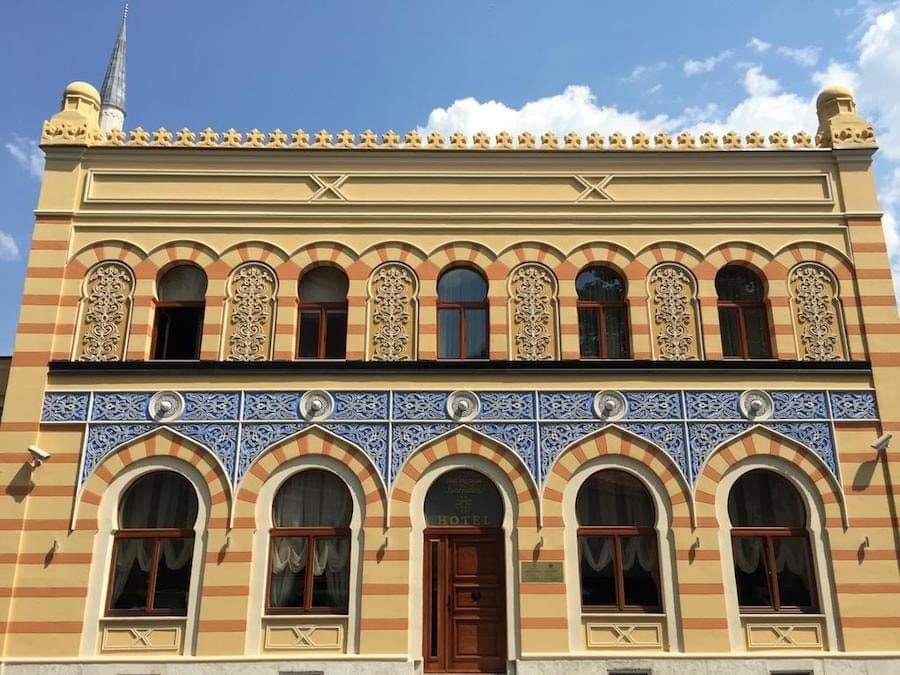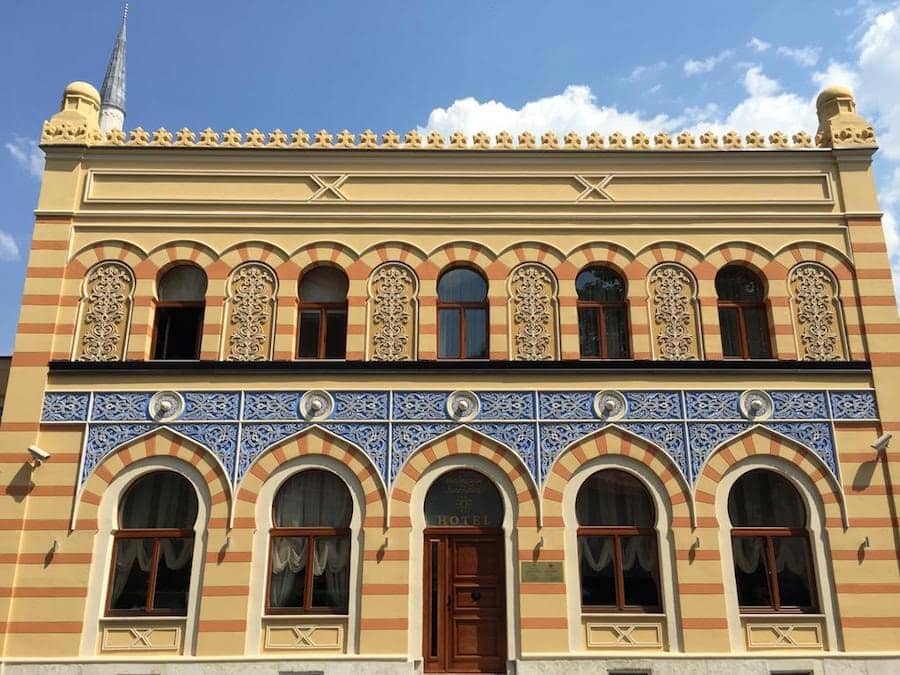 People rave about their stays at the Isa Begov Hamam Hotel, located mere steps from the Latin Bridge and Baščaršija. This is an exceptionally stylish place to stay, adorned with furniture with hand-carved Ottoman motifs, wooden floors, and amazing carpets. You can enjoy complimentary tea and coffee in the lobby; the room rate also includes a Turkish breakfast in the morning. On top of that, guests can use a sauna and hot tub free of charge. Massages in the hammam can be booked for an extra fee.
Hotel President Sarajevo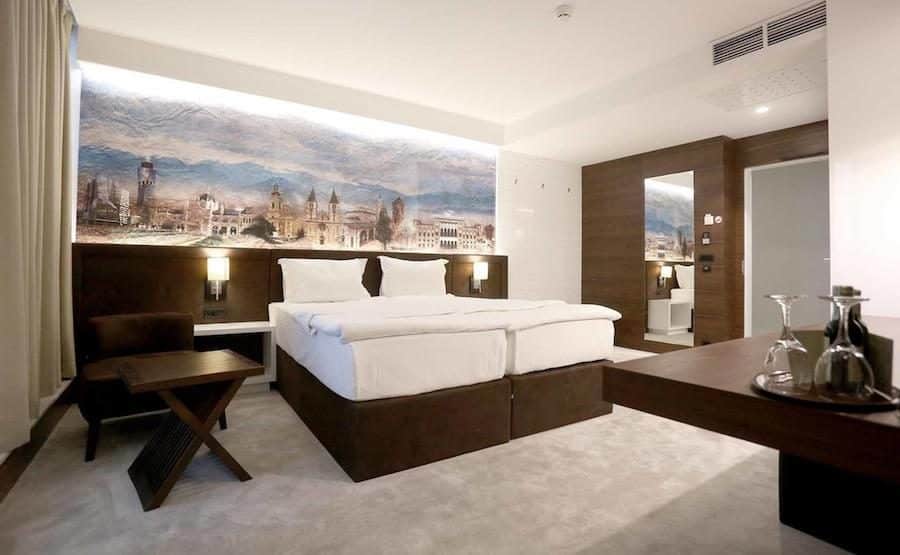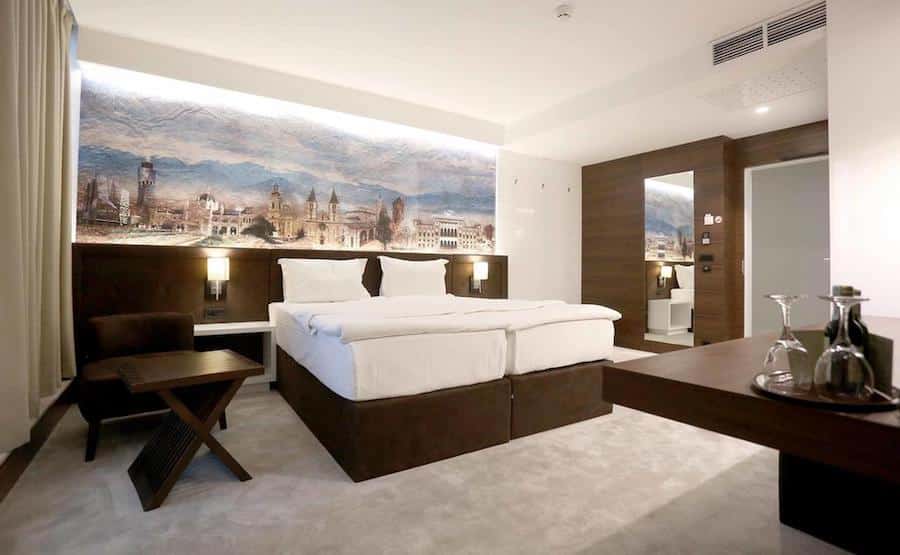 Another Sarajevo hotel featuring a spectacular location is Hotel President. This one also lies a short stroll from the Old Town and Latin Bridge—its terrace provides views over the city and the river. All rooms have a seating area, flat-screen TV, mini-bar, and air-conditioning, as well as a private bathroom with a shower or bath and a hot tub.
Old Town Hotel Sarajevo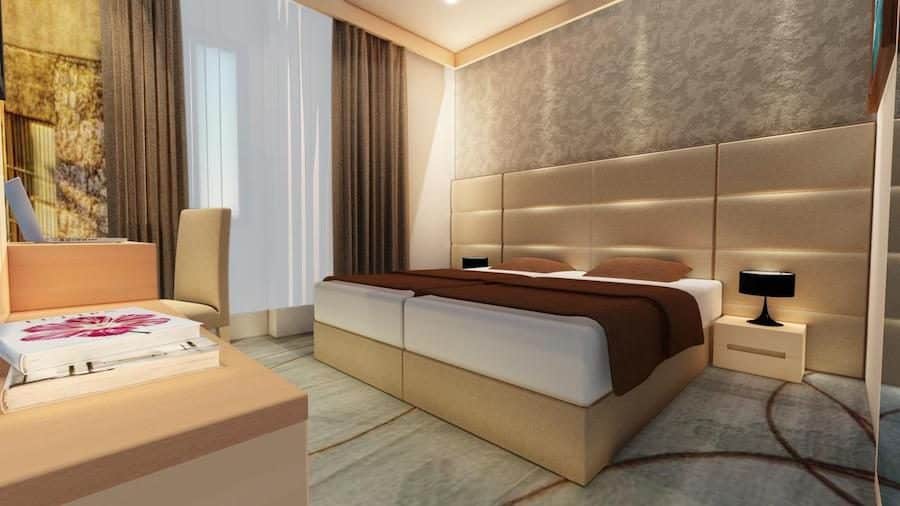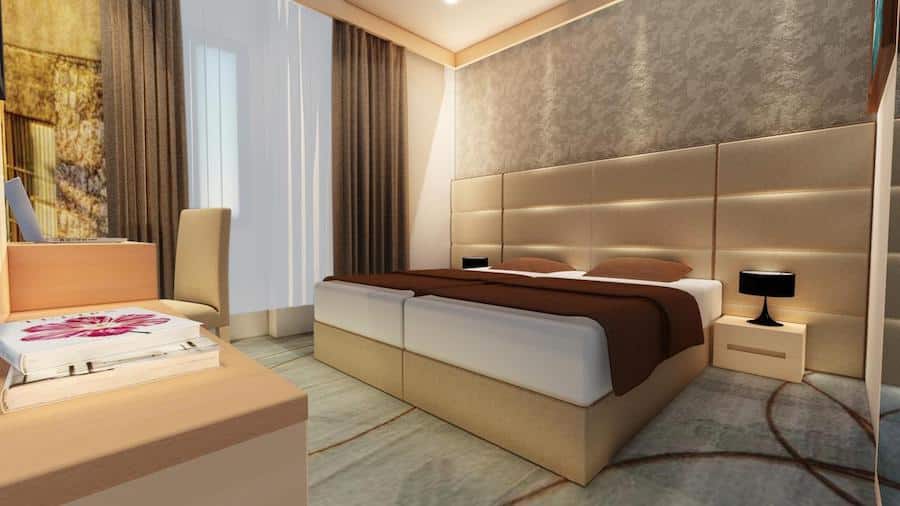 In the pedestrian zone of Baščaršija lies the Old Town Hotel, arguably the best-located of all hotels in Sarajevo. It lies so close to several major attractions; you could almost touch them from your room. Parking is free—a huge bonus—and there is also free Wi-Fi, air-conditioning, and a buffet breakfast. Airport shuttles are available and paid transfers to other major cities in the Balkans, such as Mostar, Dubrovnik, and Medjugorje.
The Doctor's House Hostel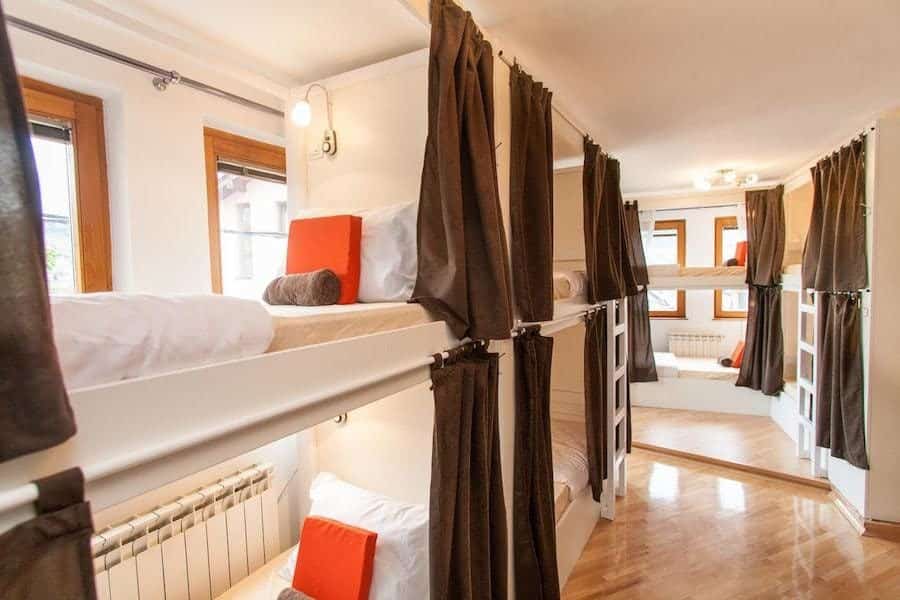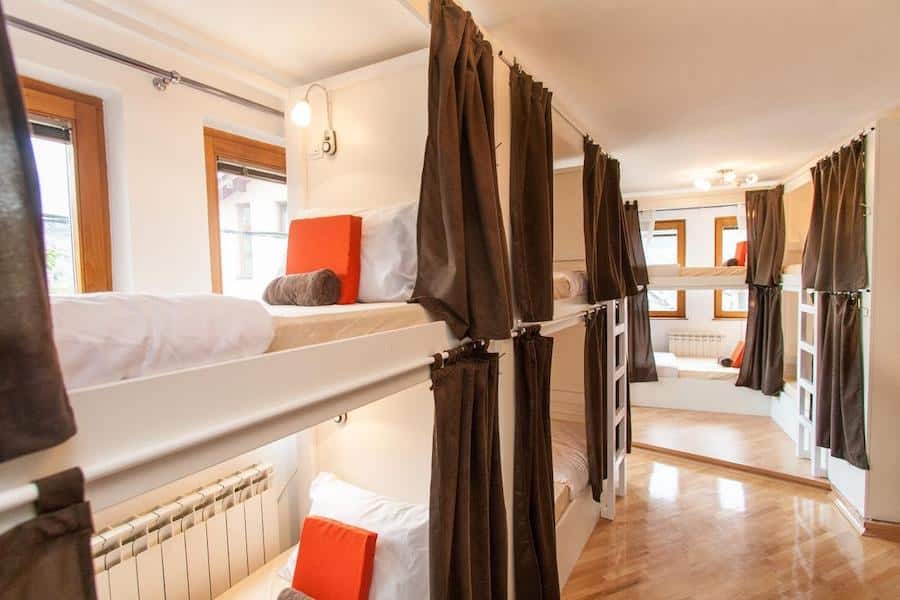 A popular hostel on a hill to the north of the Old Town, the Doctor's House Hostel is one of the best cheap places to stay in Sarajevo. Accommodation is available in dorms, which have lockers and a wardrobe. All beds have their own curtain for extra privacy, as well as outlets and a reading light. Shared facilities include bathrooms, showers, a kitchen, and a lounge. On the terrace, you'll find barbecue facilities for a good time with friends, while the on-site bar is another popular hangout among guests.
How To Get To Sarajevo From …
Sarajevo has some fantastic transport links in and around the city, so getting to and from isn't tricky at all. Sarajevo International Airport has an international connection to places worldwide, while a quick shuttle bus service commutes between the airport and the city center. You could, of course, also take a taxi, take a private transfer, or hire a car.
So, how do you get into Sarajevo from some of the surrounding countries? Croatia, Serbia, and Montenegro border Bosnia & Herzegovina, and crossing over those borders are relatively hassle-free, provided you have the right travel documents with you and you're patient during the busier times of the year.
Let's check out exactly how you do it from some of the most popular locations.
Getting To Sarajevo From Split
When traveling from Split to Sarajevo, you have two main options, which both take four hours or less. You can go by bus, with big-name companies such as Promet Makarska as a good option, which will take you four hours exactly. The bus leaves the central station in Split three times per day.
Alternatively, you could hire a car and drive yourself. The route includes the border crossing, which can be time-consuming during the summer months. Just make sure you have your passport and driving license to hand. This will take you around 3 hours and 40 minutes, and you will travel roughly 240 kilometers.
Getting To Sarajevo From Dubrovnik
Again, we're talking about bus or driving to make life easier, with the self-drive option from Dubrovnik taking you around 3 hours and 40 minutes. The distance is 244 kilometers. From Dubrovnik, too, you'll need to wait at the border crossing, but there are times when you can simply sail through the queue and pass without much time wasted.
If you prefer to go by bus, there are two options. Promet Makarska has a three times daily service via Ploce, which takes 5 hours, or you can go direct with Centrotrans Eurolines, which is just short of 7 hours. This is also a three times daily service.
Getting To Sarajevo From Zagreb
You have a few more options when traveling from Zagreb, and one of them is to fly. The flight lasts around 50 minutes, and there are several services per day. Check online for specific times and airlines. Alternatively, you can take the bus, but this will take you around the 8-hour mark. There are many services per day, including services with Croatia Bus and Centrotrans Eurolines, which go three times daily.
If you want to drive, this is undoubtedly a scenic route. It will show you the best of not only Croatia but the road past the Bosnia & Herzegovinian border too. The journey will take just short of 5 hours and will cover a distance of 404 kilometers.
Getting To Sarajevo From Mostar
Driving from Mostar to Sarajevo is undoubtedly the best and easiest way to travel to the capital and will also show you the best of two of these Bosnian hotspots. The journey is just short of 2 hours and covers around 127 kilometers. You can take the bus, and there are several services per day, which will take anywhere between 2 to 3 hours, depending upon the number of stops.
Ready to Visit Sarajevo?
We've given you tonnes of information on the capital city. Now it's up to you to head off and explore at your own pace! Let us know how you get on and if you have any top tips for visiting the Bosnia & Herzegovina capital.