Some posts contain compensated links. Please read this disclaimer for more info.
Things To Do In Montenegro For Every Kind Of Traveler
The tiny country of Montenegro known locally as Crna Gora is wedged between Croatia, Bosnia & Herzegovina, Serbia, Kosovo, and Albania.
Famous for its soaring mountains, the glittering beach resorts of the Budva Riviera, the winter sports destination of Zabljak, as well as the UNESCO World Heritage-listed Bay of Kotor, Montenegro is bursting with both natural and cultural treasures. The capital of Montenegro is Podgorica, a vibrant city, and serves as an ideal starting point for exploring the country.
There is no wrong time for a Montenegro trip because each season brings a different take on the landscapes. The climate varies depending on where and when you visit.
The southern coastline has a Mediterranean climate, which means warm and dry summers, while winters receive most of the year's rainfall but are still relatively mild. The center of the country and the northern areas have a continental climate, which means the temperature depends on how high up you go, with colder temperatures at higher elevations.
The capital city is located in the center of the country and can get very warm indeed during the summer months, while the mountains receive a large amount of rainfall, with snow still on high elevations during the spring months.
Things To See And Do In Montenegro
It may not be the most famous of European countries, but there's a wealth of attractions to visit and destinations to discover in Montenegro. Wondering what to see in Montenegro? The following overview will give you all of the best Montenegro destinations around which you can build your itinerary.
Explore Kotor Old Town

The Kotor Old Town is UNESCO World Heritage protected as part of the Natural and Cultural Region of Kotor. Protected by its well-preserved 10-meter-thick medieval walls, the Old Town of Kotor is where you'll see the medieval architecture, monuments, churches, cathedrals, and palaces.
There are so many things to do in Kotor Bay and the Old Town that you can easily spend a couple of days here. Some things to see include:
Admire St Tryphon's Cathedral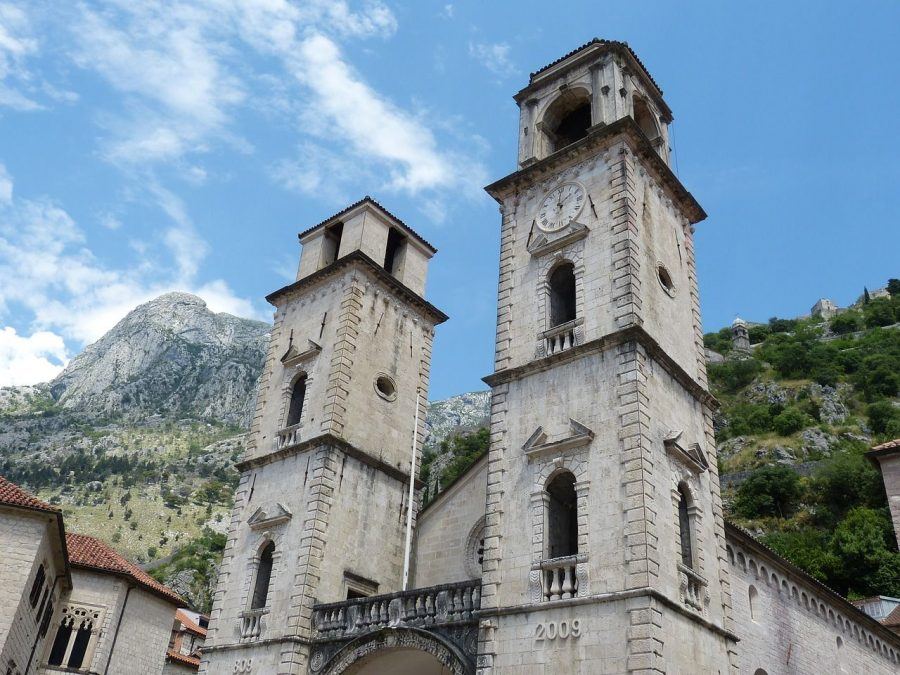 St Tryphon's Cathedral is one of the oldest buildings in Kotor, and even if you aren't religious, the age and the grandeur of the cathedral is worth admiring. The cathedral dates back to the 12th century, and even today, it still acts as the seat of the Catholic Bishopric in the Bay of Kotor area.
The cathedral is named for Kotor's patron saint, Tryphon, who is said to have protected the town in times of conflict. The current building is even built on the same site as an even older church, showing just how far back Kotor's long history stretches.
Walk The Streets Of The Old Town
Kotor is famed for its narrow, cobbled streets, grand squares, and well-preserved fortifications. The old town walls date back to the days of Venetian rule, which began in the 15th century, while some buildings and churches within the gates are even older than this. It's a charming, historic place just to stroll through and marvel at.
Have a cold beer in the main piazza or sample the unique blend of Montenegrin and Mediterranean cuisine at one of the many quaint restaurants and cafes within the walls, then quietly sit back and watch life go by on the ancient streets of Kotor.
Exploring Old Town is one of our favorite kid-friendly things to do in Montenegro.
Walk The Bastions And Explore The Kampana Tower
The walls, bastions, gates, and towers of Kotor can be walked and explored along much of their length. The defensives are some of the best-preserved in the Mediterranean, and the most impressive to see is the squat, round Kampana Tower that guards the entrance to the city from the bay, where the walls almost meet the water.
Even today, the many tourists and cruise ship travelers that visit the city will first enter the old town under the watchful guard of the Kampana Tower. At night the tower and the walls are marvelously lit up too, offering a unique view of these age-old structures.
Hike To The Top Of The Fortress Of San Giovanni
Towering over the old town of Kotor is the unmissable Fortress of San Giovanni. The fortress is part of the extensive fortifications surrounding the town, and the slowly crumbling ruins are a real landmark of Kotor.
The only problem is that this historic fortress is perched high up on a steep mountainside. That means that reaching the top involves tackling the sharp inclines and never-ending zigzags of the Kotor Ladder, a series of stone steps that zigzag their way up to the ramparts of the fortress. There are over 1300 steps, although, by the end of the hike, you'll be too tired to be able to verify that count.
Reaching the top, though, is worth a step of pain needed to get there. The ruins themselves are impressive enough, but the views out over the Bay of Kotor and the old town arrayed below are spectacular.
See The Bizarre Cats Museum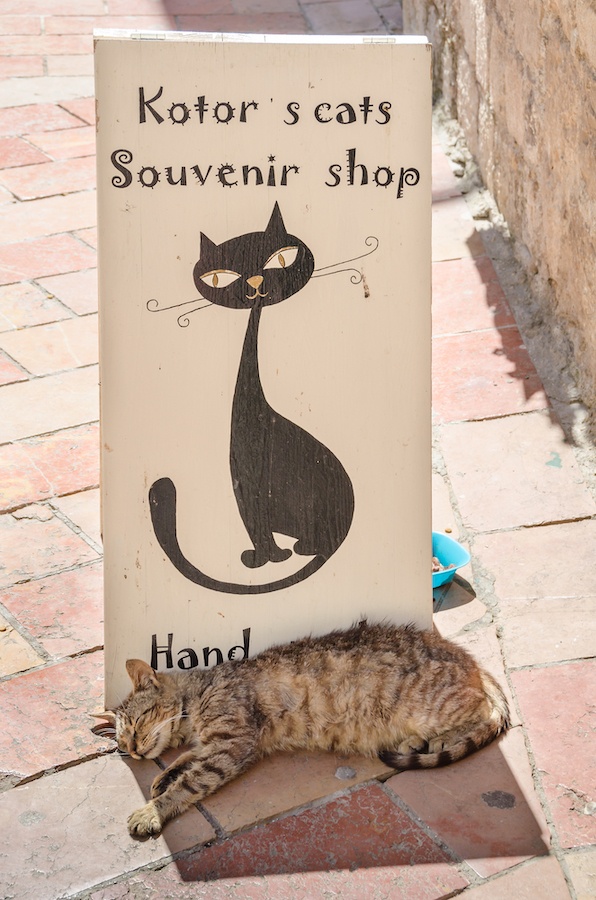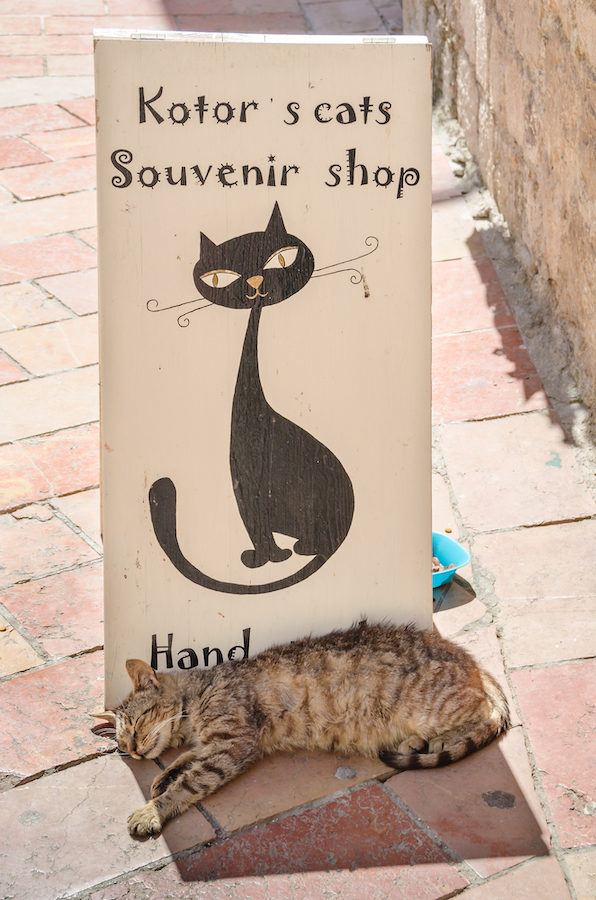 Within Kotor's walls, you will notice that the town has a friendly, furry, feline population. Cats run wild in Kotor, and you will see them on every street corner and atop every bastion and tower.
These animals are an integral part of the town's history and culture, so much so that there's even a museum of cats located down one of the cobbled streets.
The strange, bizarre yet intriguing Cats Museum has a diverse array of feline memorabilia, art, and artifacts. It gives visitors an idea of the close relationship the town has always held with cats through the centuries.
If you're not visiting Montenegro, you can still go on a day trip to Kotor from Croatia, for example. Driving from Dubrovnik to Kotor is a hugely popular day trip among people staying in Croatia's most famous coastal city. Dubrovnik to Kotor by car is a journey that doesn't take longer than about two hours. That is if you don't often stop to enjoy the spectacular Bay of Kotor views on the way.
From Budva, it's even shorter. You'll get to Kotor from Budva in less than a half-hour. From the capital of Podgorica, it's about an hour and a half by car. This all just to say that as spectacularly rugged Kotor Bay may be, it's exceptionally accessible from all directions. Driving in Montenegro is a piece of cake.
Visit Lovcen Mausoleum
Located in Lovcen National Park, the mausoleum of Petar Petrovic II Njegos claims to be the highest mausoleum in the world at 1657m above sea level. Njegos is Montenegro's most famous poet and philosopher and was also the Prince-Bishop of the country.
Make sure you pack comfortable walking shoes because you'll need to climb 461 steps to get to the mausoleum. When you step inside the tomb, you will be dazzled by an exquisite golden mosaic and an impressive sculpture of the Prince-Bishop created by Ivan Mestrovic.
Lastly, the views from the mausoleum are spectacular, and on a clear day, you can see Italy.
Visit The Blue Grotto At Herceg Novi
Another of Montenegro's delights is the blue grotto in Kotor Bay at Herceg Novi. However, this one has something a little different, with waters that shimmer various colors, according to the light.
You head off on a short boat trip through the caves and past small islands and inlets before coming to an open area in which you can swim. There may be crowds during the summer months, so make sure you get there early.
Get Spiritual At Ostrog Monastery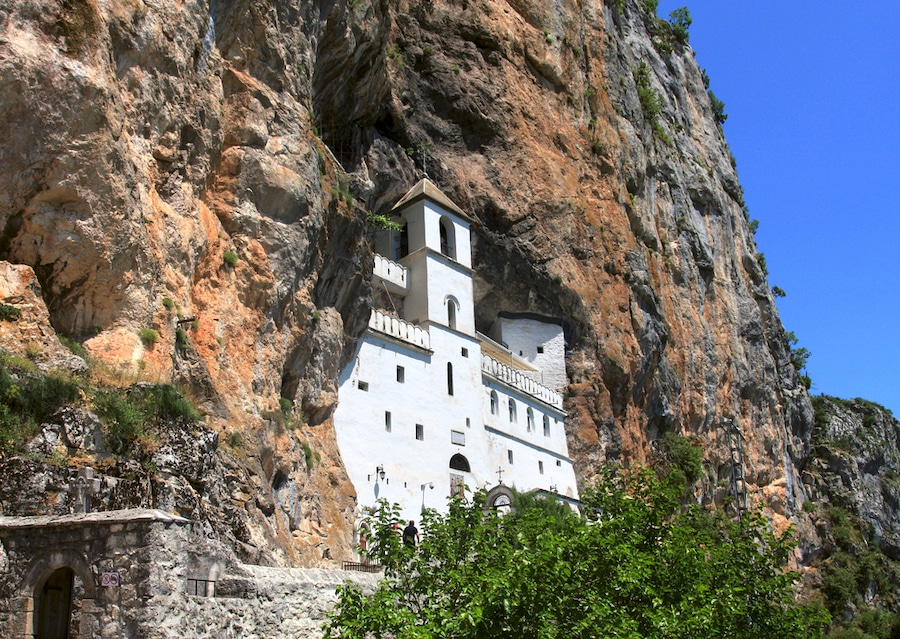 This charming Serbian Orthodox monastery is carved into a mountain cliff and is absolutely breath-taking. One of the absolute best Montenegro things to see, the Monastery is visited by over 100,000 pilgrims annually, and a visit to its cave-like chapel is a must.
Lake Skadar National Park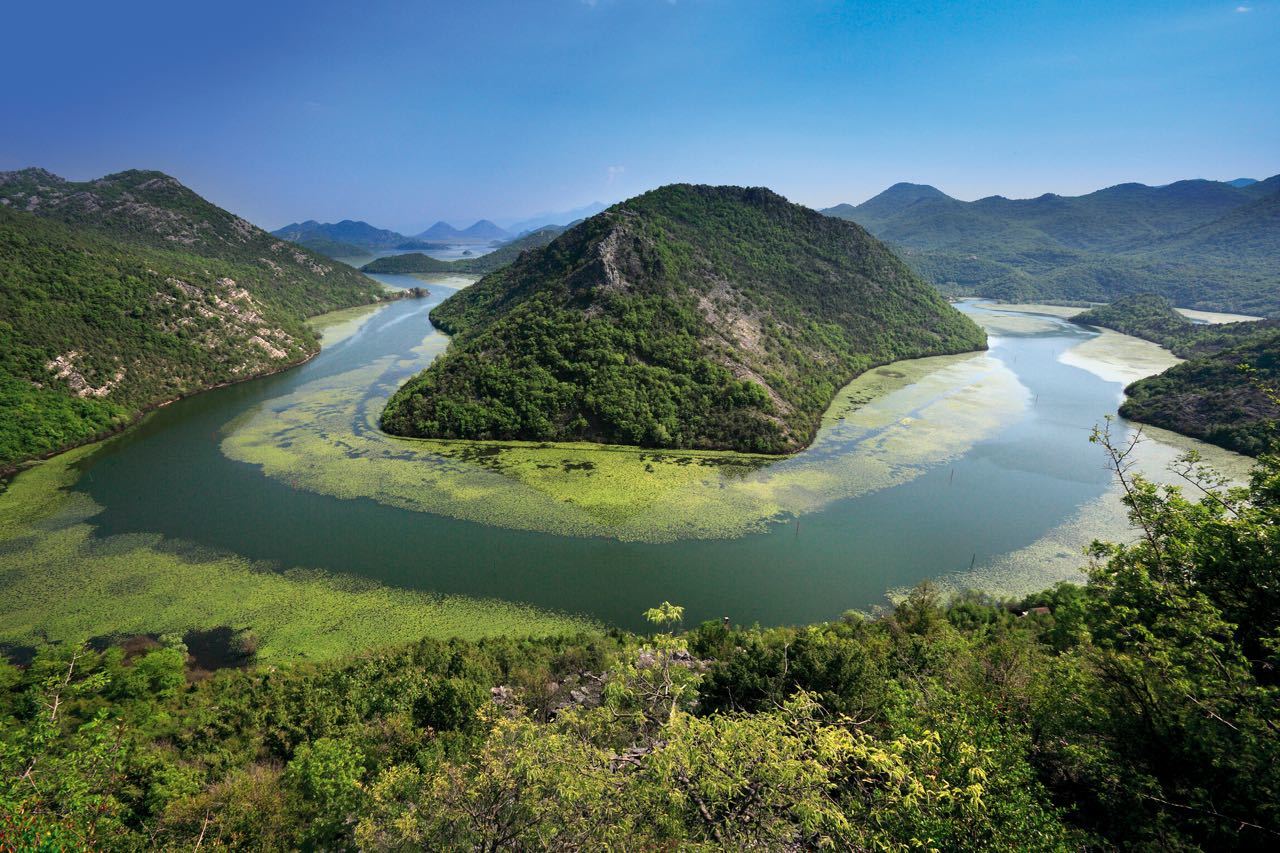 There are a few things to keep you busy at Lake Skadar – here are just a few!
See The "Horseshoe Bend" Of Montenegro (Lake Skadar)
If you've traveled through the western United States, you are probably familiar with its version of Horseshoe Bend, but have you heard of the horseshoe bend that exists in Montenegro? Probably not.
It is a bend in the river which sits in the valley-like landscape above Lake Skadar. You will need to rent a car as it is only accessible coming from two different roads – neither of which are accessible by Montenegro's public transport services.
There are several pull-overs along the road within a short distance from each other, so you can stop at whichever view you prefer. The road is pretty quiet. Sometimes, the grass and plants which are overgrown along the path can prevent a full view, so make sure you find an area with a clear shot.
Wildlife Spotting At Lake Skadar National Park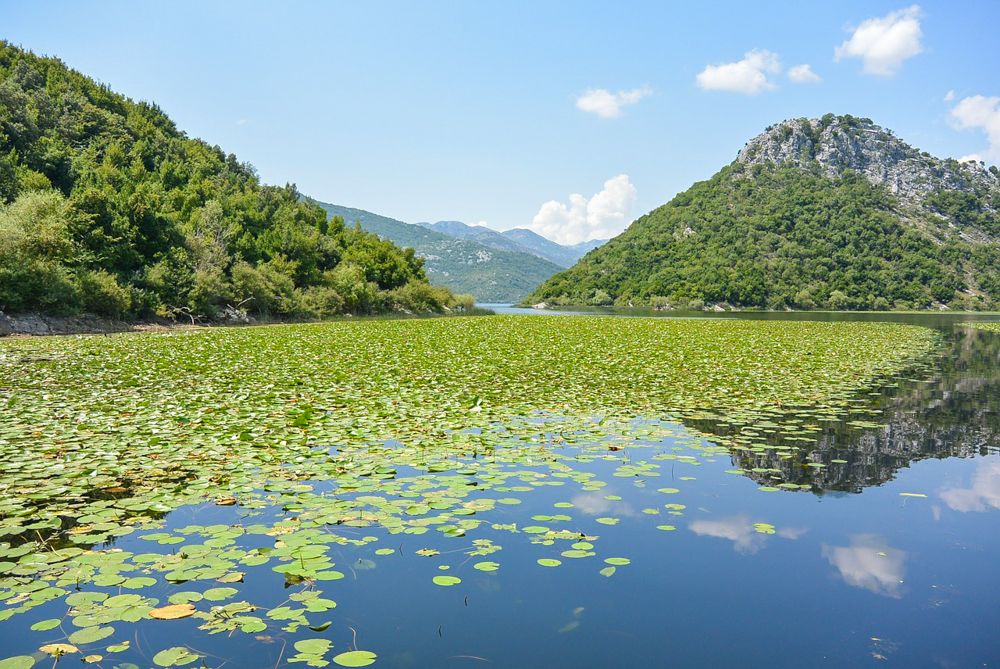 Lake Skadar is the largest freshwater lake In the Balkans and is a critical bird ecosystem in the region. So important in fact that the lake was inscribed on the Worlds List of Wetlands of International Importance by the RAMSAR convention.
The lake site is home to more than 260 species of birdlife along with many other animal species. Skadar lake sits on the Montenegrin and Albanian border and is surrounded by karst mountains making it picture-perfect. It's easy to see why it's recommended and highlighted by virtually every Montenegro travel guide.
Admire The Art Of Moraca Monastery
The beautiful Moraca Monastery sits on the bank of the Moraca River in central Montenegro. Built in the 13th century, this Monastery is surrounded by a medieval wall, and the complex has two churches, Synod and St Nikola.
The Monastery's highlights are the unique 13th, 18th, and 20th-century frescoes and impressive iconography said to be some of the best in the Balkans.
Go Diving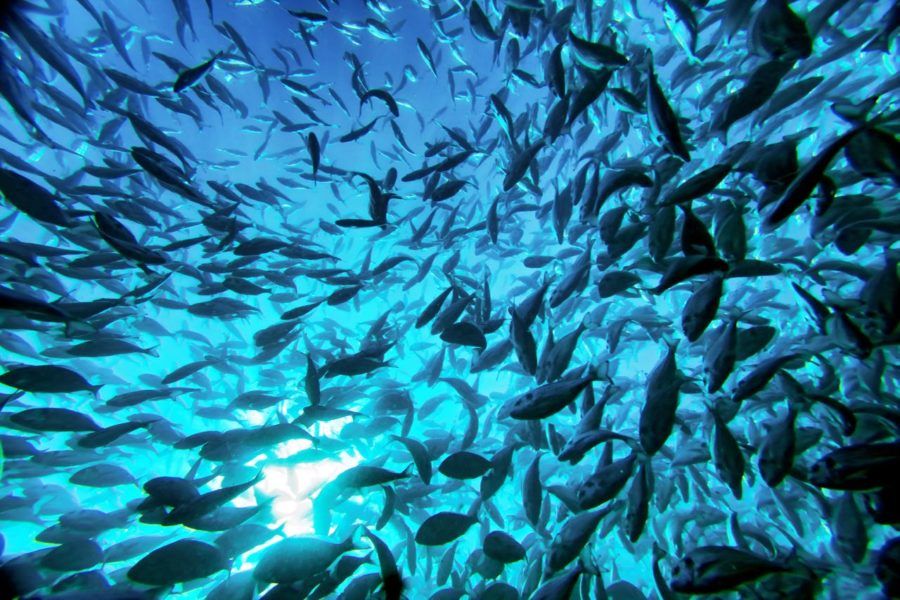 There are countless dive locations across the Montenegro coast, where you can explore sunken planes, ships, caves, reefs, and even historical artifacts like an amphora. There are numerous diving centers along the coast to support you, whether you're a novice or a pro. The best part is the visibility in the sea here is tremendous, with some areas as high as 50m.
Visit Debeli Namet
At the bottom of Sljeme Mountain, you will find this small but rather picturesque glacier. While it isn't the biggest, and it's certainly not the most southern in Europe, it still has that rather awesome natural vibe about it and is indeed worth a visit.
Take In The Views From Perast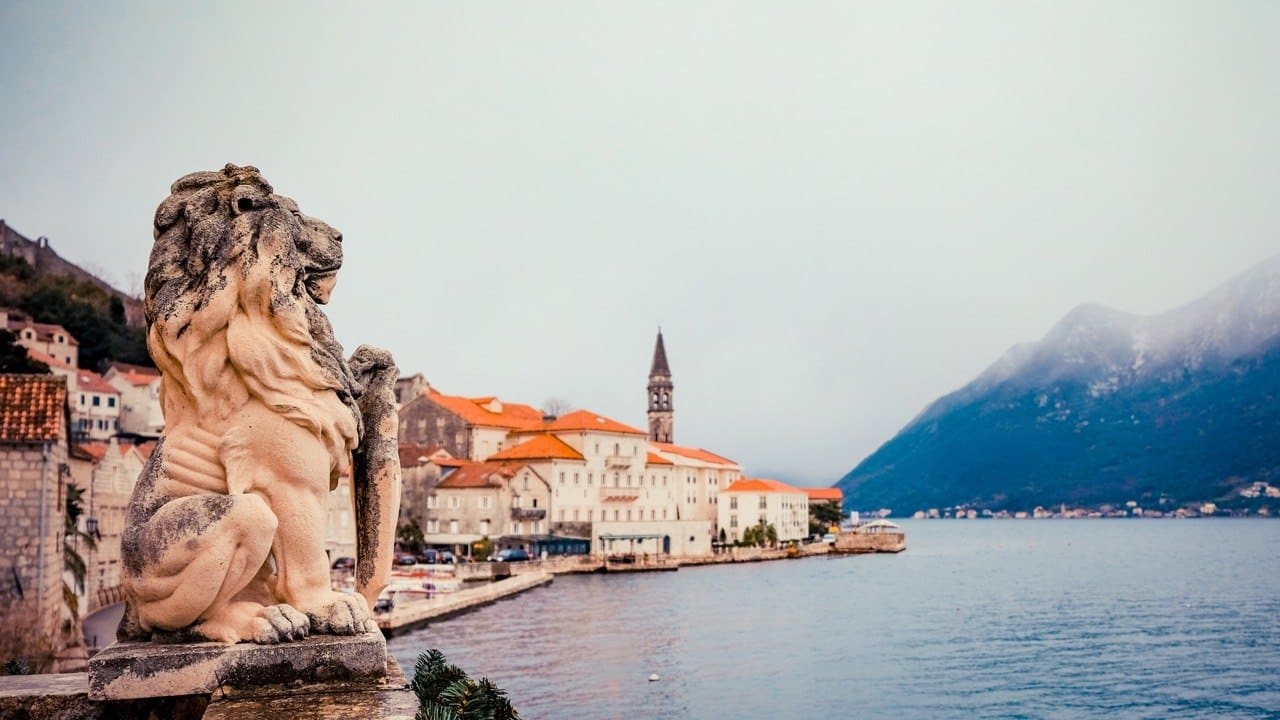 One of the jewels in the Bay of Kotor is Perast, an idyllic Adriatic town that has become one of the more luxurious destinations of Montenegro. Every self-respective Kotor travel guide recommends visiting Perast in addition to the Kotor Old Town.
Besides the town's sheer beauty, it has a fascinating history and culture with the Our Lady of The Rock Church the but head to St. Nikola Church and climb the hill, where you can check out the truly stunning view right over the town and beyond.
There are many small museums around this area too, which help you learn more about the country overall.
Budva's Dancing Girl Statue
When in Budva, a great activity is to take the coastal walk and discover the Dancing Girl Statue. It's a great walk and gives you a good look at the Budva Old town from afar. When it's time to move on, be sure to check out the nearby 14th century Church of Saint Sava as well.
Modern Style At Millennium Bridge, Podgorica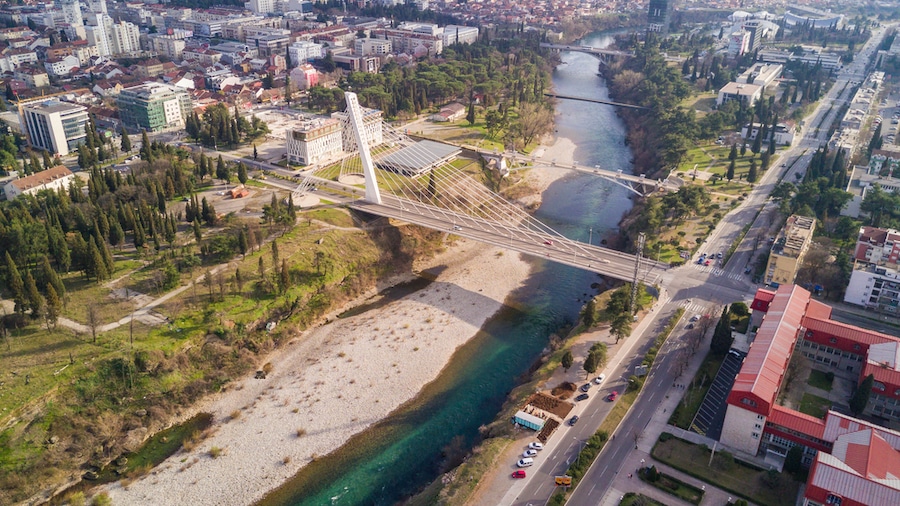 We've talked so much about history and nature, but the capital is home to one of the most impressive modern-day feats, the Millennium Bridge. This bridge crosses the Moraca River and was built in 2005. You can drive or walk across it, and it is lit up at night.
Get Active Outdoors
Here are a few ideas of what to do in Montenegro in the great outdoors:
Hike To The Highest View In Montenegro (Bobotov Kuk)
There are so many great hikes and views in Montenegro but especially in Durmitor National Park. But, perhaps, none are more rewarding than the hike to Bobotov Kuk – the highest point in the whole country.
Despite the relatively short hike it takes to get to Bobotov Kuk and the view of the country below that it offers, this trail is quiet and not often visited by tourists. Standing at just over 2,500 meters tall, there are certainly more towering peaks in Europe; however, when it comes to dramatic views, Bobotov Kuk is one that nears the top of the list. With green valleys below, you will be able to see for miles and miles.
Make sure you add a note in the guestbook sitting in the metal box at the top so you can be known as one of the brave ones who did the challenging climb to the top of the country.
Go Bird Watching In This Impressive Bird Haven
Despite being such a small country (one of Europe's ten smallest countries), this country, with its vast landscapes and environments, boasts one of the largest havens for bird watching in Europe.
Being home to over fifty percent of the continent's bird species, you will find many dedicated bird lovers who come to Montenegro if for nothing more than to explore its nature scene and try to track down as many of these local and native birds as possible.
Hike The Mountains To Gornja Lastva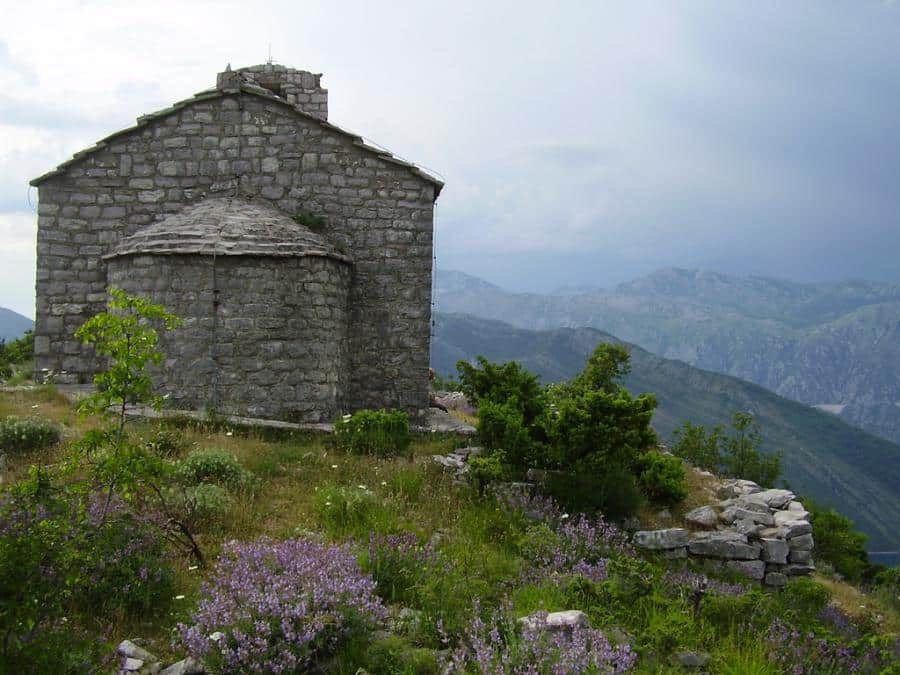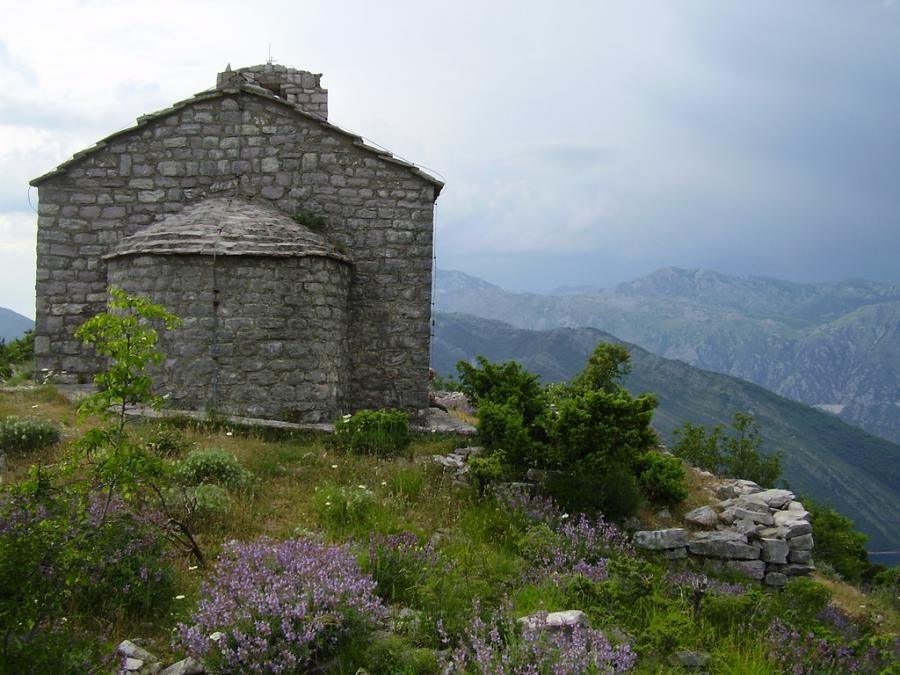 A beautiful and scenic walk reaches the medieval village of Gornja Lastva up a mountain, but don't let the word 'mountain' put you off!
Take your time and wear the right shoes, and you will be fine. This region is fantastic for showing visitors the real way of life in Montenegro, away from tourists and large cities.
Rock Climbing At Mt. Komovi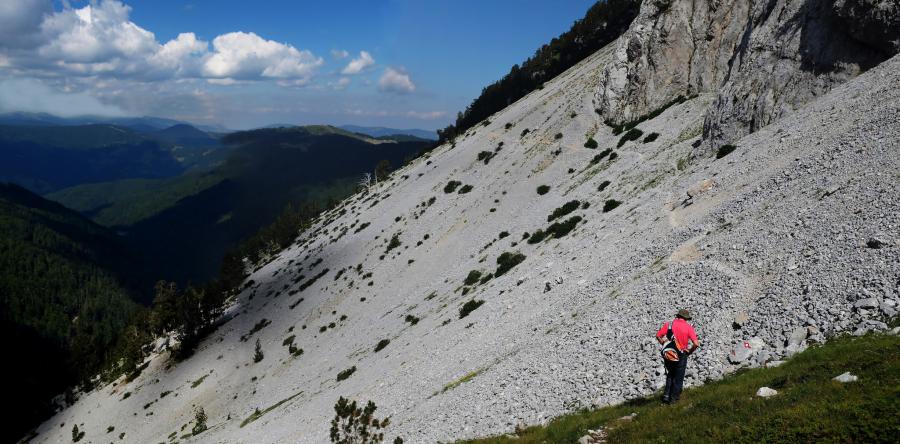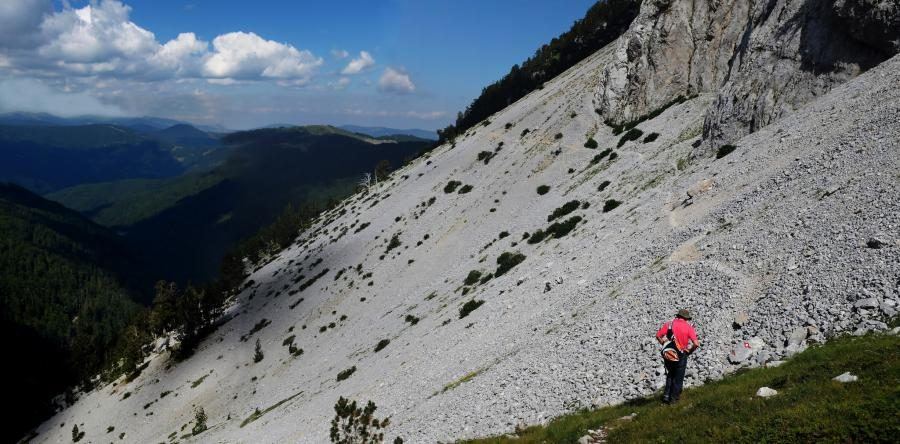 Eastern Montenegro is home to the vast Mt Komovi, almost reaching the border with Albania. Experienced climbers can head here and climb this mass, with stunning views as you go. The various wildlife and flora and fauna is impressive; however, do be aware that this is generally a winter activity, with several routes to follow.
Rock Climbing Closer To The Capital
Kucke Planine is a series of mountains which are north-east of the capital and is a popular way to spend a few days out of the city as a break. The highest peak, Surdup Peak, is the big hitter. Several slightly smaller ones are fantastic for climbing, with two lakes, Bukumirsko Lake and Rikavacko Lake, to visit.
Bungee Jump From The Đurđevića Tara Bridge
The concrete 365-meter-long Đurđevića Tara Bridge spans the Tara River in northern Montenegro. Consisting of five arches, it towers 172 meters above the river below, at the time it was completed the largest concrete vehicle bridge in Europe. Nowadays, it's a popular destination for thrill-seekers as its longest arch, which is directly above the Tara River, is a popular bungee jumping spot.
Canyoning In Nevidio Canyon
This is for experienced canyoners only. However, the rewards are great and the scenery stunning. Located in the southern portion of the Durmitor Mountains, the peaks undulate before turning into a river and peaceful valley. This is one of the hardest canyons to pass on the continent, but many tours do head into this area nowadays.
See The River Cijevna Waterfall
Just ten minutes by car away from Podgorica is the country's version of the mighty Niagara Falls and equally as impressive. It's a great fishing spot as well as being ideal for nature walks. If you fancy a spot of refreshment, there is a restaurant, named Niagara, on the river too.
Explore The Medieval Trade Routes Of Rijeka Crnojevica
Many of the old trade routes still exist, and they are a great way to explore Montenegro, with bridges, fortresses, and natural wonders to take in as you walk the old routes. If you want to combine history and nature, this is the ideal place.
Hiking In The North
From Kotor, you can follow a marked hiking trail which will take you through some breathtaking landscapes, through forests, past waterfalls, mountains, and small villages as you go. You can swim along the way, stop off for a refreshment in the small mountain villages, and look over Kotor and its history.
Nature Walking In Durmitor National Park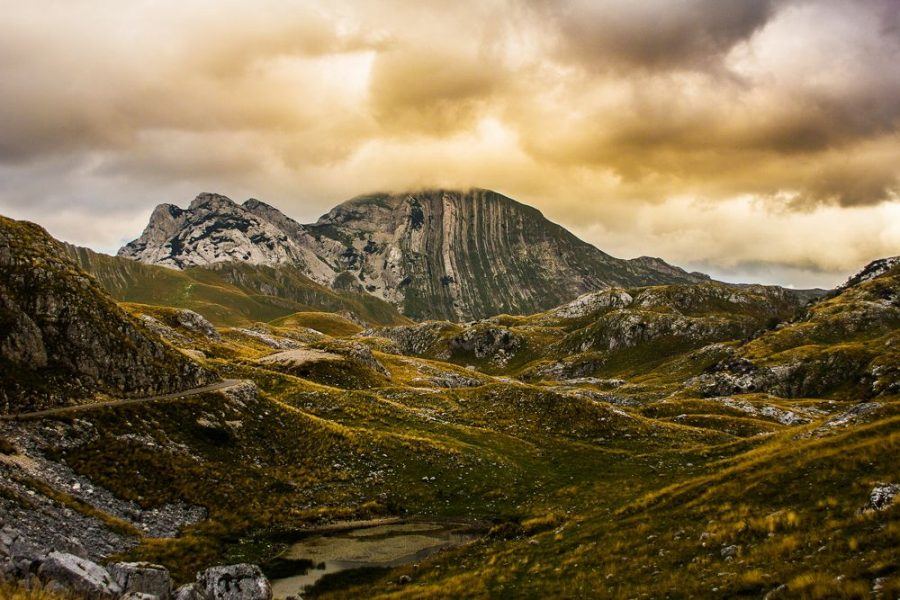 In the north of the country, high up in the mountains, you can walk slowly and leisurely within this beautiful national park, which is UNESCO protected. You will pass the aforementioned Tara River Canyon through fields, hills, mountains, and valleys. Take your time and truly take in your surroundings.
Hike The Epic Coastal Mountain Traversal Path
If you're looking for top things to do in Montenegro for adventurers, few things beat the Coastal Mountain Traversal Path. This sensational 180-kilometer hiking trail runs from Mount Orjen in northern Montenegro to Bar in the south. On the way, you'll pass major attractions like Mount Lovcen and Lake Skadar. It's the ultimate Montenegro backpacking trip. However, much of the terrain is extremely rugged, so make sure you have proper hiking gear and orientation skills.
Walk The Herceg Novi Esplanade
The green city of Herczeg Novi is renowned for its mimosa trees and other greenery. The old town is packed with fantastic 15th and 16th-century architecture with the Spanjola and Forte Mare fortresses – a must-see once you've explored the former town, head for the Herceg Novi esplanade for a walk along this 6km thoroughfare in the early evening when it comes to life.
Skiing At Zabljak
Montenegro's most popular winter sports region is, without a doubt, Zabljak, set in the Dinaric Alps. Durmitor Mountain is the highest peak, and here you can enjoy skiing and snowboarding in abundance during the winter months. There are several ski schools around here, with many hotels and après ski fun to be had.
Enjoy Natural Wonders On Foot In Biogradska Gora National Park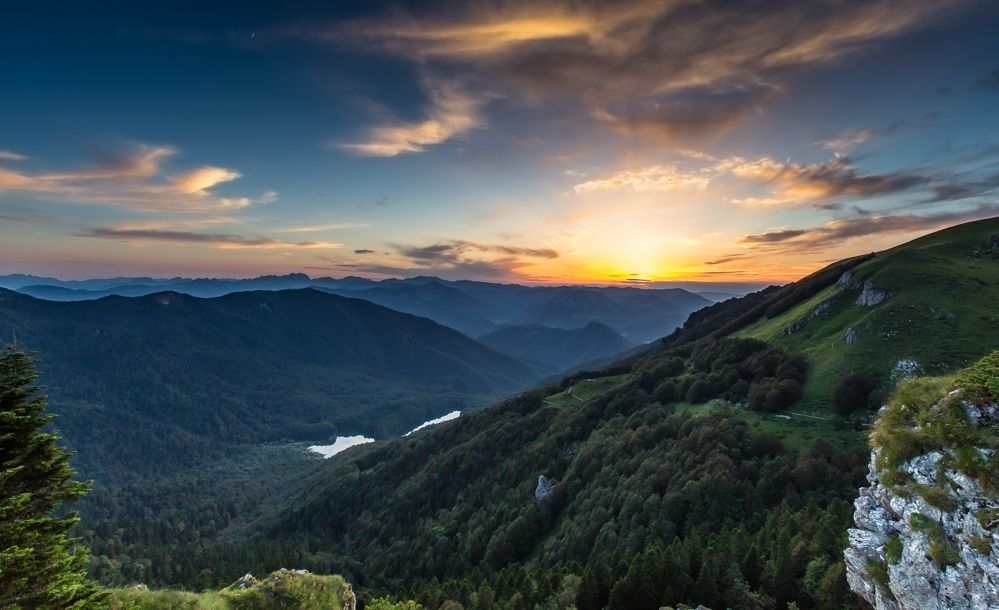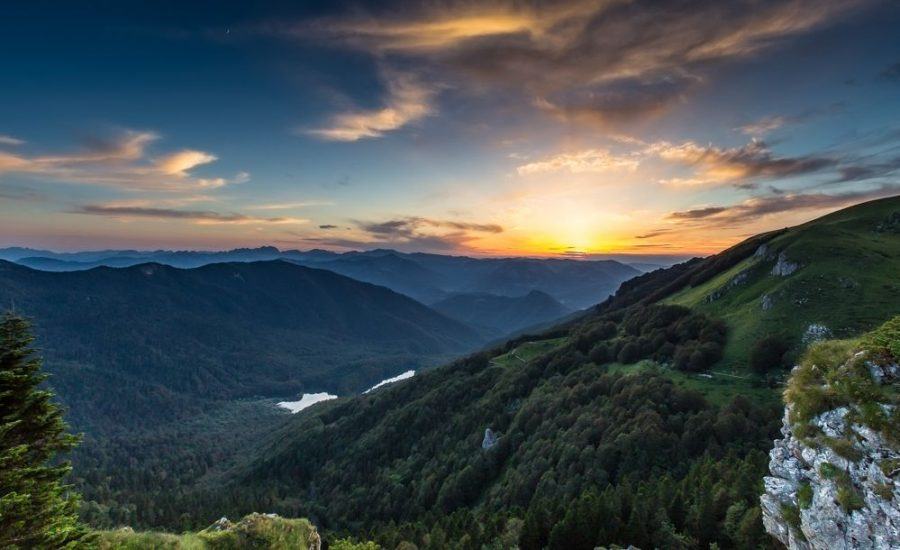 There are many national parks in Montenegro, but this park is very easy to explore on foot, provided you pack the correct walking boots! This is one of the biggest forests in Europe, untouched by man, which means fantastic views, wildlife, flora, and fauna to explore.
Paragliding In Becici
Just south of Budva, you will find the beach resort of Becici, and one of the most popular activities in the town is paragliding. Head into the sky and enjoy the panoramic views of the coastline and mountains in the backdrop. It is possibly not for the faint-hearted, but a great activity to enjoy when looking for something a little different.
Shop 'Til You Drop At Capital Plaza
The capital of Montenegro has a huge shopping mall, where you can seriously bash your credit card and enjoy the fruits of big-name stores while also checking out a few more traditional and local boutiques too. Of course, around Podgorica itself, there are many other smaller shops to explore.
Camping At Buljarica
You will find Buljarica, a pretty beach town sitting at the foot of some pretty impressive mountains in the west of Montenegro! Here you can enjoy beach time, but one of the main attractions is camping in nature. There are several campsites to contact here, and all offer a genuinely outdoorsy vibe.
Explore The Markets Of Sutomore
The outdoor market in Sutomore is one of the most popular attractions in the town. Here you can buy fresh fruit and vegetables, clothing, cosmetics, and basically anything else you can think of! Open from 7 am until mid-afternoon during the summer months. The town is also a beach resort, so spend the day!
The Oldest Olive Tree In The World In Bar
Or so say, locals. The sunny south coast is home to Bar, a town which may be small but certainly has plenty of history and is worth exploring. Here you will find a colossal fortress set in the Old Town, as well as what is reputed to be the oldest olive tree on the planet, at 2500 years of age.
Wine Tasting Fun
Cemovsko Field is the largest vineyard you will find situated on just one field in Europe and is 2310 hectares – that's a lot of wine to be produced! You can visit and take a tour of the estate, learning how wine is made while also trying a few varieties out for yourself, such as the award-winning Sauvignon and several types of Vranac.
The Ideal Sunset Location In Lovcen National Park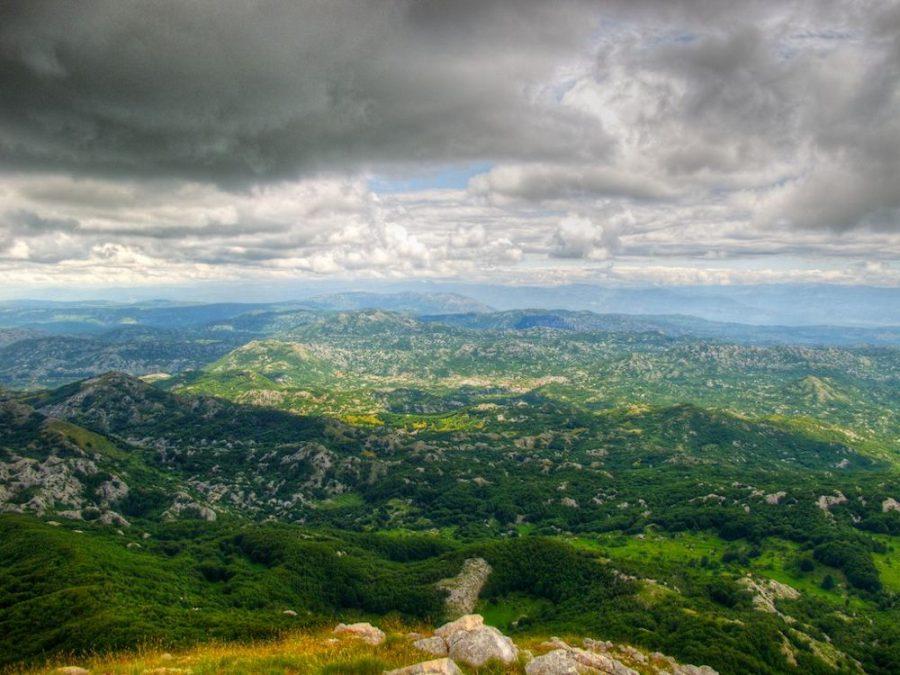 Head up to the heights of Mount Lovcen for the best sunset in Montenegro. Take a seat and have a glass of wine and enjoy the beauty of the park. Located in the rugged Dinara Alps, Lovcen National Park is home to the Njegos Mausoleum, which lies on a steep rocky crag and offers dramatic views. This is the final resting place of Petar II Petrović-Njegoš, a former Montenegro ruler, the building decorated with a striking gold ceiling.
Also, make sure to check out the nearby village of Njeguši, the Petrović dynasty's birthplace. It's a great spot to taste locally made foodstuffs like smoked hams and cheeses.
Mala Rijeka Viaduct
Built back in the 70s, this used to be the tallest in Europe, and while that title has now gone elsewhere, it is still a pretty impressive sight. You can take a train ride over the viaduct as part of a scenic tourist journey, linking Belgrade with Bar, so head online and check out times.
Visit Sveti Stefan
Although access is now only reserved for guests of the exclusive Aman resort, Sveti Stefan is still one of the most incredible things to see in Montenegro. This former fishing village occupies a small peninsula that juts out into the Adriatic Sea, a beautiful collection of red-roofed houses, fortified walls, and stone villas. You can catch a great view of Sveti Stefan from the mainland beaches, while a reservation at the on-site restaurant does give you a brief glimpse into this secluded tourist village.
Head Underground At Lipa Cave, Dobrosko
Various tours head underground at Lipa Cave, and you can check out the magical sight of the various stalactite and stalagmites and wildlife that calls the caves their home. The actual discovery date is fluid, but there are records of the discovery as far back as 1887. The caves are easy to walk around, and you are first taken down by a train and led around by an English-speaking guide.
Enjoy A Jeep Safari Through Biogradska Gora Or Durmitor National Park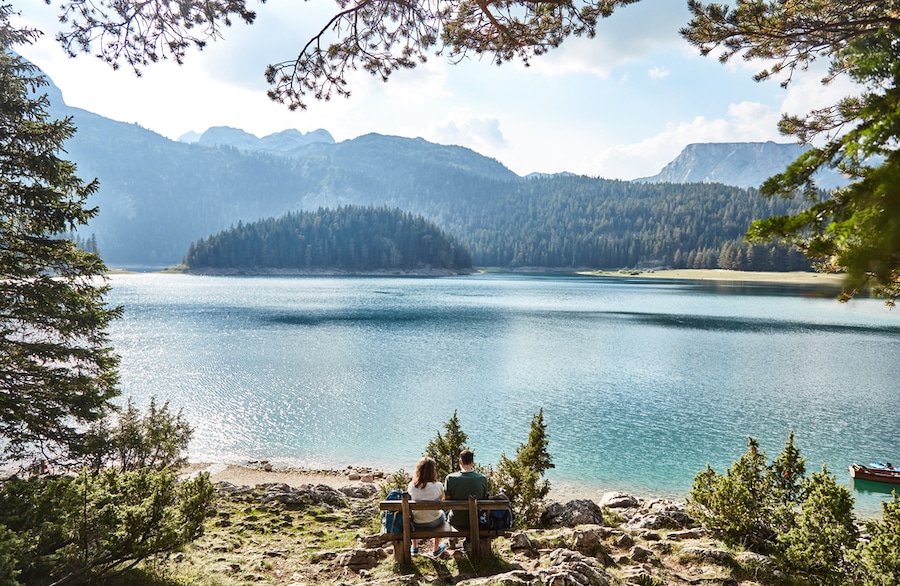 If you want to explore the outdoor delights of Montenegro's various national parks, but you're not overly confident at doing it yourself, a jeep safari is a fantastic way to check out the scenery. Numerous companies run jeep safaris into these two parks in particular.
Party In The Hottest Nightlife Spot In Montenegro (Budva)
Though I can certainly think of a few European destinations which have a hotter party life than Montenegro if you insist you must spend a night or two dancing the night away. At the same time, on your Montenegro vacation, there is only one city which you must go to.
Budva, also a hot spot for other tourism matters, has the best up-and-coming nightclub scene in all of Montenegro. The town's population is mainly centered around its university students, which is why the nightlife has been coming on in recent years. With (relatively) cheap drinks compared to western European cities, you are sure to have a beautiful night out on the town.
Witness A Spaceship In Podgorica (Dajbabska Gora Tower)
OK, so this is not a real spaceship, but it certainly gives me the feel of a UFO. In reality, it is only a radio control tower at the top of a hill south of the city. However, with a bit of imagination and some distance between you and the tower, maybe you can trick your Instagram followers into thinking you have spotted Montenegro aliens.
Check Out The Next Luxury Resort Along The Adriatic Sea (Mamula Island)
What used to be a concentration camp is now in the Montenegro government's plans to be the next luxury resort along the Adriatic Sea. Can you imagine relaxing by the seaside knowing the history of the island?
It is now an uninhabited islet along the coast of the Adriatic Sea with dozens of untold stories dating back to World War II while Italian forces occupied it. The Montenegro government's decision has, understandably, been met with debate from those families who were imprisoned here at the time of World War II in this dark spot of world history.
Enjoy A Lesser Known Beach Along The Budva Riviera (Kamenovo Beach)
The Budva Riviera, which is a beautifully scenic stretch of landscape with plenty of beaches and the center of tourism in Budva, can get quite overwhelming in the summer months. However, some beaches don't get the attention they deserve along the Riviera. One of those beaches and my favorite in Budva is Kamenovo Beach.
Little tourists come here, and there are no residential neighborhoods in the area, which means it gets little attention even in the summer months. It is a wide (half-mile or so) beach with pebbly sand and easy sea entry. Come with the whole family and enjoy a day in the sun – there's even a small playground for the kids. If you get hungry, Kod Zoffa (located at the end of the beach) is very good!
Spend A Day Splashing Away At Aquapark Budva
Another kid-friendly place to visit in Montenegro is the Aquapark Budva. Offering a fantastic view over Budva town and a few bars, it can also be a place for you, Mom, and Dad! Slides, wave pools, lazy rivers – you name it. It is one of the largest waterparks along the Adriatic coast.
Tickets are reasonable; less than USD 20 for children and less than USD 25 for adults, making for an excellent way to spend an afternoon under the sun.
Experience An Increasingly Abandoned Mountainside Town (Kruče)
Due to frequent landslides that are known to wipe out entire buildings, the town of Kruče has become somewhat of a ghost town. However, there are still a few notably good restaurants, small but quaint beaches, and plenty of nature along the mountainside for those who don't mind the quiet.
If you are willing to brave the thought of a landslide while hiking, there are many trails, and you can enjoy the sight of abandoned homes with quite a unique mountain architecture that has been relatively untouched.
Head Off On A Horse Riding Adventure
Just 15 minutes from the Capital of Montenegro, Podgorica, you will find the Komani Highlands, where you can go horse riding along mountain trails. The ride will take you through pristine nature and through some of the Komani region villages. More experienced riders can go deep into the mountains and take on some more challenging trails to test their skills.
Enjoy A Mediterranean Feel At Porto Montenegro Marina, Tivat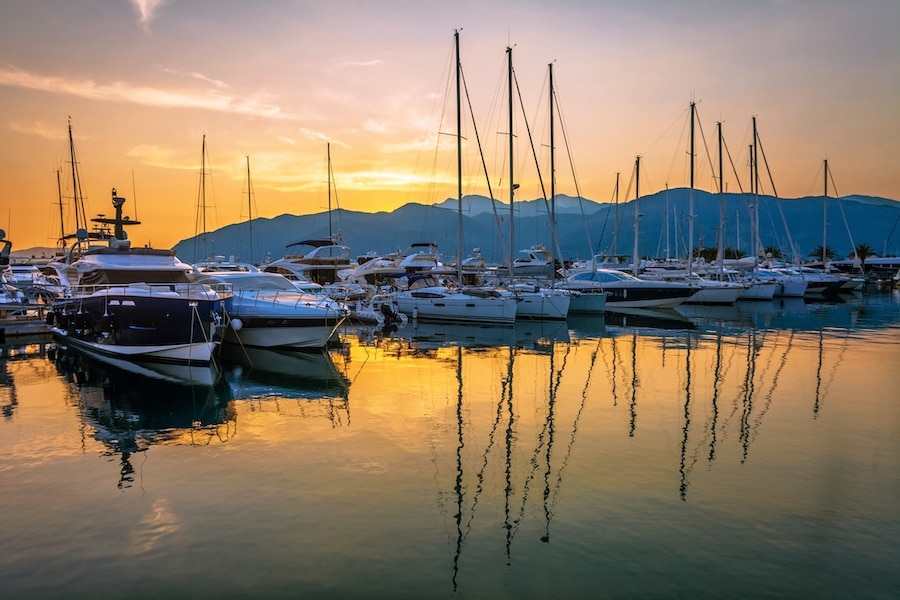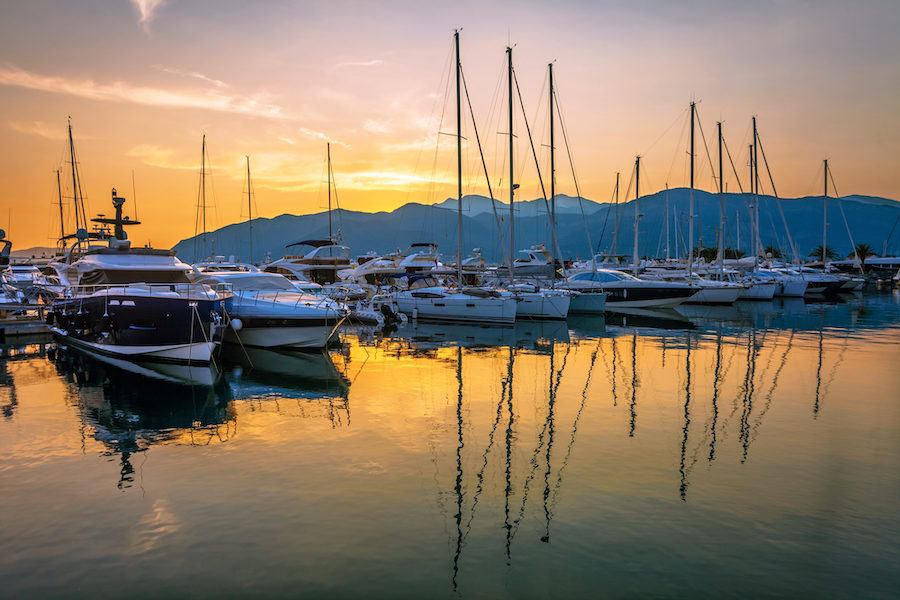 This laid-back destination is close to Kotor but is much more chilled out, and experiencing the Mediterranean feel of Porto Montenegro Marina is a must. There are many bars and restaurants around here which serve local seafood.
Podgorica's Famous Clock Tower
This tower is protected because it is one of the few monuments left following a massive bombing during WWII. Built back in 1667, it was the first clock to be constructed in the city and is certainly worth visiting, purely for its cultural importance.
Visit The Famous Stone Bridge In Rijeka Crnojevica
Right as you enter Rijeka Crnojevica, you will be treated to a reasonably ancient stone bridge which was constructed in the early 1850s called 'Danilov most.' This double-arched stone bridge is one of the most photogenic in the entire country, and on a beautiful clear day with no wind, one can capture the reflection of the bridge in the shallow water below.
It is a great place to stop on your way to Lake Skadar as there are some cute cafes in town, as well.
Taste Test The Local Variety Of Rakija
In the Balkans, Rakija is a local favorite anywhere you go. And in each area you travel throughout the Balkans, each country has its own local take on this Balkans specialty. Rakija is an alcoholic beverage made of different spirits and fruitful flavors. Each country you visit will claim the best Rakija, but it really comes down to your taste.
In Montenegro, it is very widely considered the national drink and said to instantly destroy bacteria build-up in your stomach and relieve you of stomach and muscle pain. Needless to say, they love drinking it. Almost in all cases, when invited into a local's home, they will insist you share a drink with them. The local variety is primarily centered around Loza (or grapes).
See Why Montenegro People Are So Prideful Of Their Wine
Even more so than Rakija, locals will boast about some of the best wines in the world. From their innovative vranac wine to locally produced classic wines such as merlots and chardonnays, Montenegro people take their wine scene seriously.
With great vineyards all over the country, there seems to be a sophisticated and original selection of wines wherever you are. You are almost obliged to take at least one wine tasting tour while in the country. My favorite while tasting was the Krstač variety.
Most tours you can go on will provide you with knowledge on the harvesting process, regional background, and even a history of the local family who owns the vineyard and winery. It is an all-around educational experience with some delightful surprises for your taste buds. Wine lovers rejoice!
Try Some Cevapi
As far as food from the Balkans goes, it doesn't get more typical than ćevapi, which is also known as ćevapčići other neighboring/nearby countries. These meat dishes are found all over the region, from Croatia and Bosnia-Herzegovina to Serbia and Albania. Cevapi is a type of skinless sausage, a mix of ground pork and beef with many spices. It's grilled and served with vegetables, in a pita, and/or with fries. If you're not a vegetarian, this is a traditional Montenegrin and Balkan food you simply have to try during your Montenegro trip.
Take A Day Trip
There are lots of day trip options from Montenegro, one easy to make one is:
Take A Day Trip To The Unexplored Country Of Albania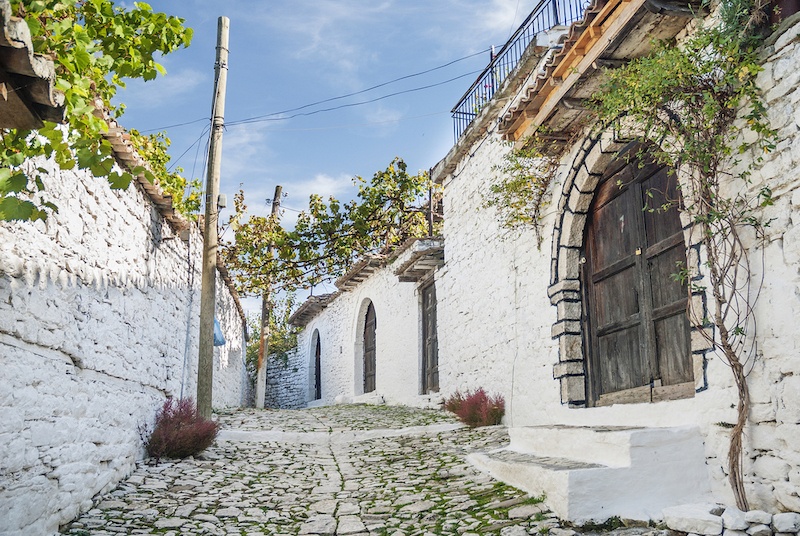 Albania is, to many, one of the most beautiful countries in Europe. Though it is off the beaten path of an average European trip, many travelers are not aware of all it offers. And, especially, at a fraction of the price of western European countries which are more often traveled.
Albanians are hospitable people who just love to see people visiting their country and sharing in its beauty. Whether you are a beachgoer, mountain hiker, or enjoy exploring old city walls, Albania is just like a bigger version of Montenegro in that it has a little bit of everything for all kinds of travelers.
The Best Towns To Visit In Montenegro
Podgorica, The Capital of Montenegro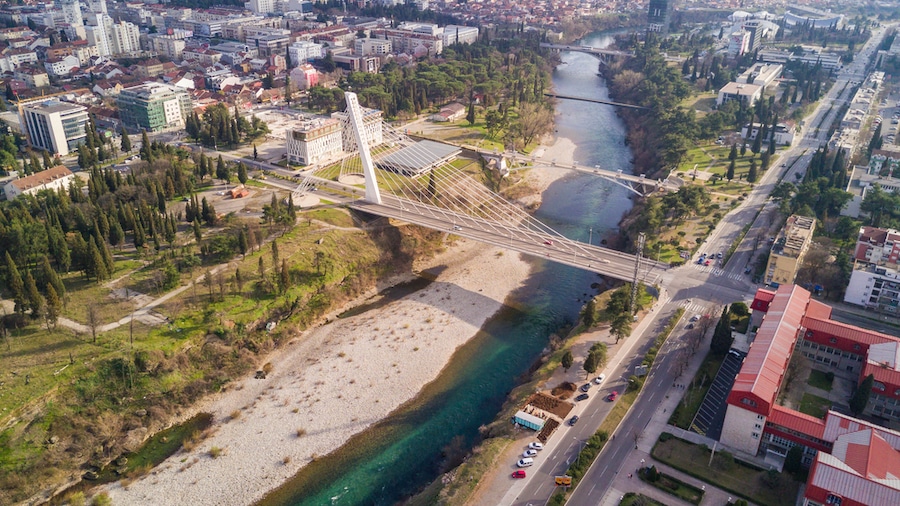 Formerly known as Titograd, Podgorica is a relatively new city as most was destroyed in WWII. While most of the city was destroyed, some important landmarks remained, like the Petrovich Castle built in 1891 and Christ's Resurrection Cathedral, the largest building in the country. Another must-visit site is the Centre for Contemporary Art of Montenegro, where you'll find an art collection from 60 different countries with over 1000 pieces.
Niksic
The second-largest city is located right in the center of Montenegro and is an ideal base for exploring the rest of the country. The Ostrog Monastery (mentioned earlier) is close to Niksic, and the pace of life here is laid back but still lively – an exotic blend that works! This is also the center point for the production of Niksicko beer, so be sure to sample it.
Cetinje
At the base of Lovcen Mountain, you will find the historical and cultural treasure of Cetinje. Thanks to King Nikola, it is rich in 18th and 19th-century architecture, with many embassies being constructed in the picturesque city.
Herceg Novi
The fortified gateway to the Bay of Kotor, Montenegro's star attraction, Herceg Novi, is home to several churches, fortresses, and other architectural highlights. Additionally, its setting on the bay's shore is nothing short of sublime, its shoreline promenade lined with busy bars, revered restaurants, and cozy cafes. There's even a beach, as well as excellent opportunities for hiking and cliff jumping.
Dobrota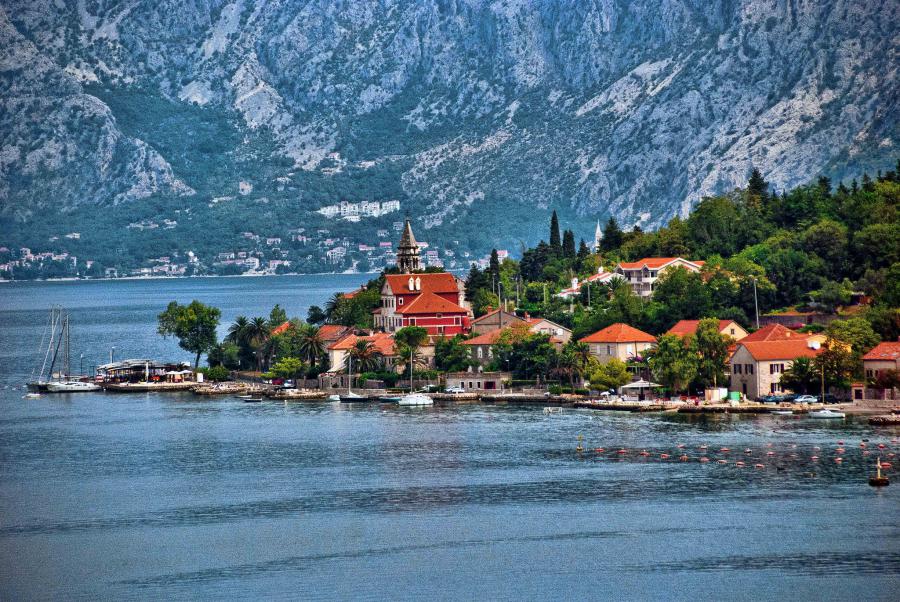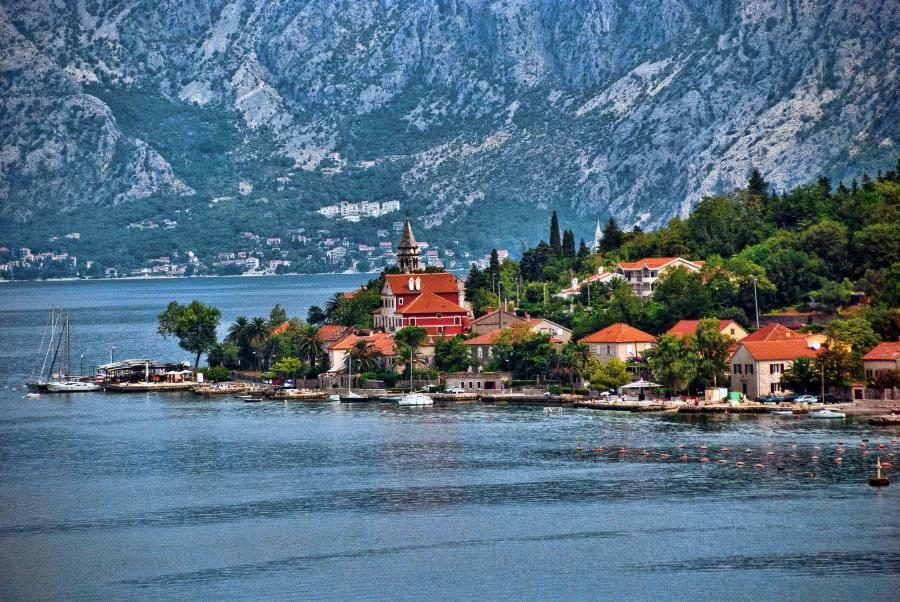 Located in the north, not too far from Kotor, is Dobrota, a town that sits at the foot of some of the country's highest mountains. One of the town's main attractions, aside from its beauty, is the various palaces, with Tripkovic Palace being one of the largest. These are still very well preserved, and you can tour around many of them, checking out how the wealthy used to live!
Virpazar
This is an old town known for fishing back in the day, but it is really now better known for what lays around it; set next to Lake Skadar, this is the ideal location for all manner of outdoor activities, including walking and birdwatching. The views are also fantastic.
Budva Montenegro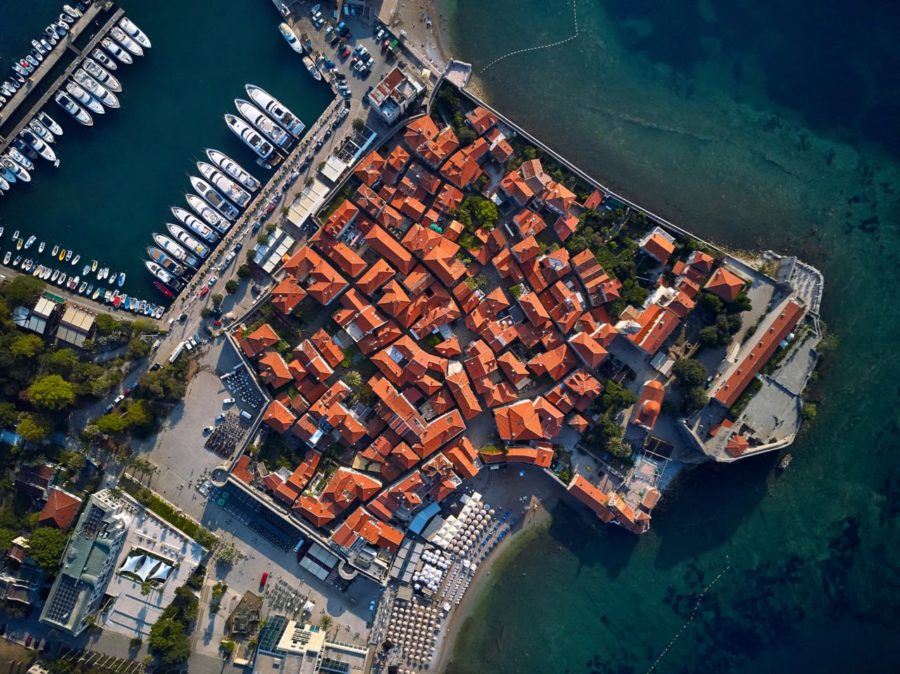 A tourism hotspot in Montenegro, Budva is famous for its stunning coastline and beautiful beaches. It has a 21-kilometer-long coast, arguably the best in the Adriatic, with 17 beaches and many hotels in Budva that line the shore.
The Old Town of Budva has a history that dates back 2,500 years, sits on a picturesque peninsula, and is filled with cultural and historical treasures. There are so many things to do in Budva you will be spoiled for choice. Be sure to visit the Church of Saint Trojica.
Tip: This is a very popular day or weekend trip from Dubrovnik since driving from Dubrovnik to Budva doesn't take much longer than two and a half hours. You'll cross the Bay of Kotor on the way, which is definitely a perk worth mentioning, too.
Best Beaches, Lakes & Rivers In Montenegro
There are dozens of options; let's go through the best ones.
Budva Riviera
The Budva Riviera stretches out for 35 kilometers along the Adriatic Sea coast on both sides of Budva. It's a major hotspot in the Montenegro travel industry, a hugely popular beach destination. Of those 35 kilometers of coastline, no less than 12.5 kilometers are beaches. There are about twenty separate beaches here, the greatest of which include the following:
Slovenska Beach
Mogren Beach
Jaz Beach
Kamenovo Beach
Bečići Beach
Sveti Nikola Island
Pržno Beach

Kraljičina Beach

Sveti Stefan
A Beach For Everyone In Ulcinj
Whether you like rocks, sand, or shingle, Ulcinj has a beach for everyone. The best sandy beaches to visit are the massive Velika Plaza (12 kilometers long), Mala Plaza, and Ada Bojan. This charming tourist resort is ideal for a summer getaway, with many hotels and restaurants to cater to your every whim.
Black Lake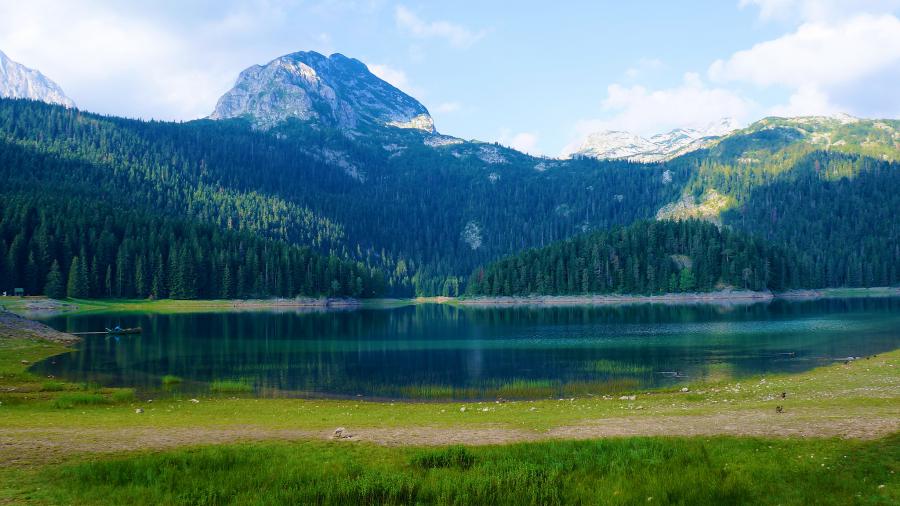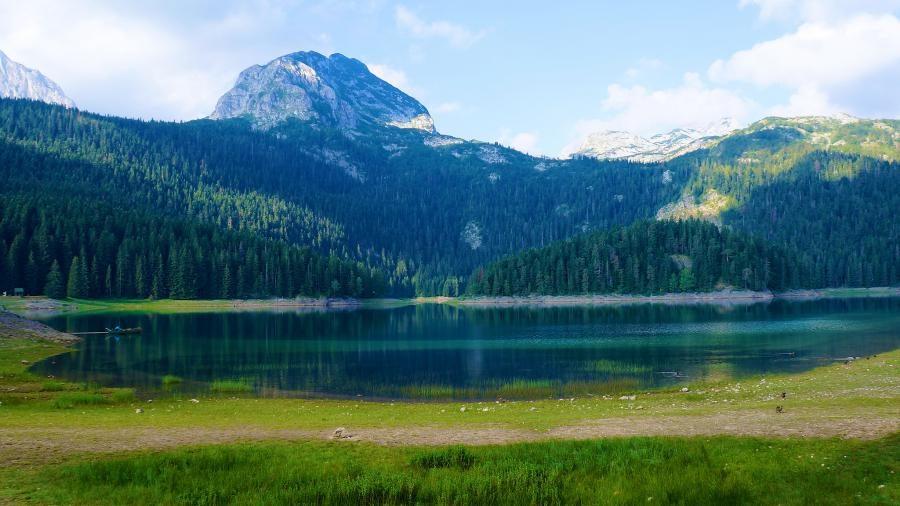 At the foot of Durmitor Mountain lies Black Lake (Crno Jezero). This is the largest glacial lake in the UNESCO-listed Durmitor National Park. The lake is split into two, Big Lake and Small Lake, and lies on the fringes of a primeval cone forest. The lake is an absolute must-see site when exploring the Durmitor National Park.
Tara River Canyon, Europe's Deepest Canyon
The Tara River Canyon is the deepest on the European continent and is seriously impressive too. The waters are clear and shimmer various shades of blue, perfect for a spot of white water rafting if you are an adrenaline junkie. The area around it is also ideal for other outdoorsy fun, such as hiking and mountain biking. You'll get a great view of the Canyon from Djurdjevica Bridge which happens to be 172m above the Tara River and is a major tourist attraction.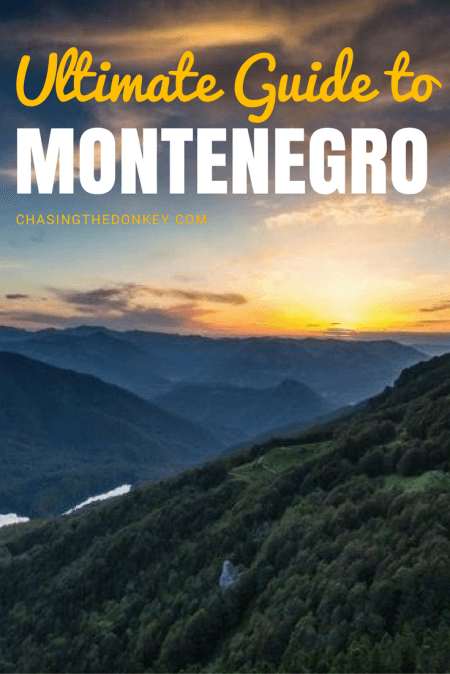 Best Accommodation & Spas In Montenegro
Splendid Spa, Becici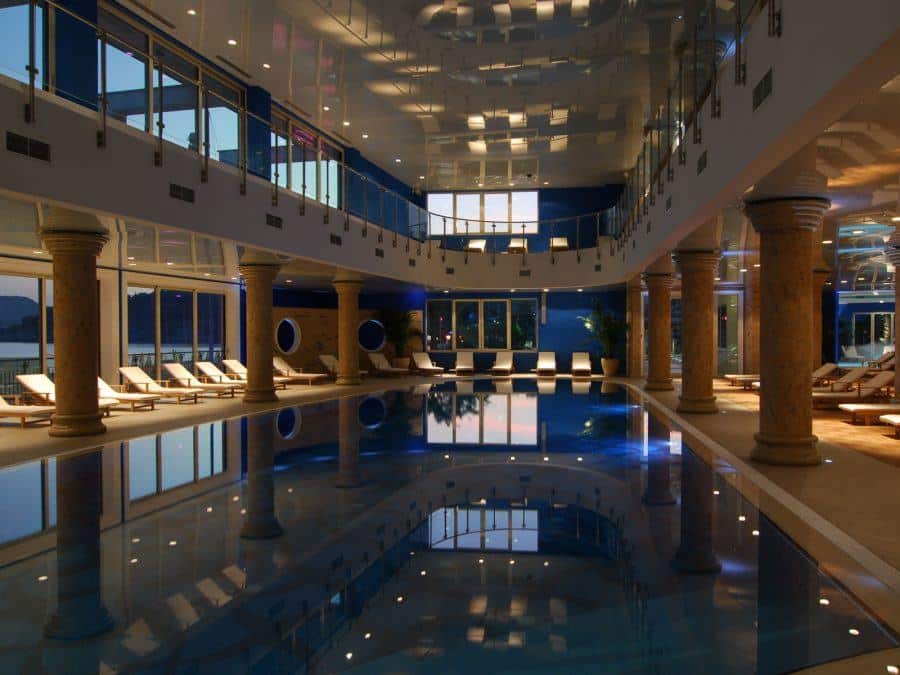 By reading this list so far, you will have noticed that Montenegro is a natural and laid-back country, so it makes sense that there will be some pretty fantastic spa resorts dotted around. Becici in Budva has a Splendid Spa, one of the best in the country, and here you can enjoy upmarket treatments to give you proper R&R.
Key Festivals & Events In Montenegro
Head To The Sea Dance Festival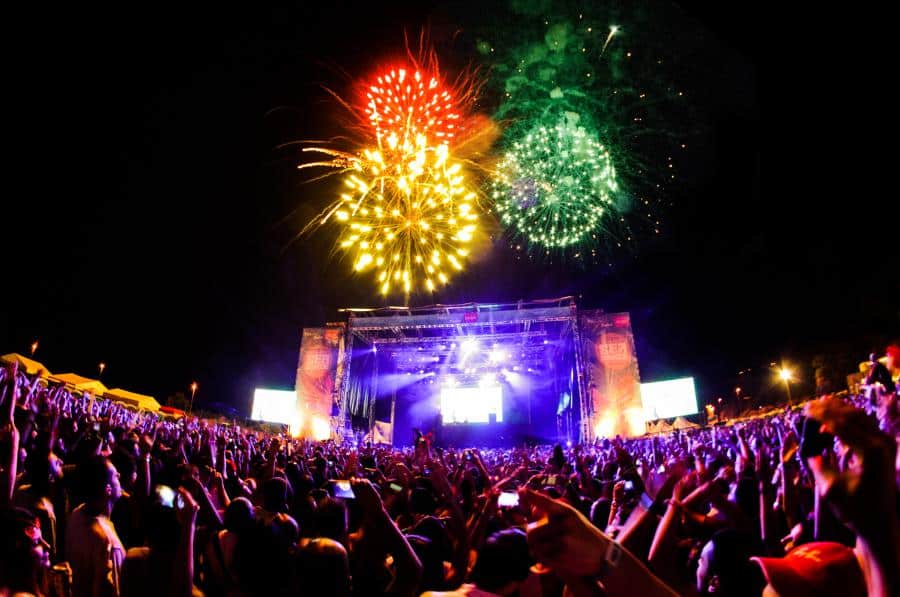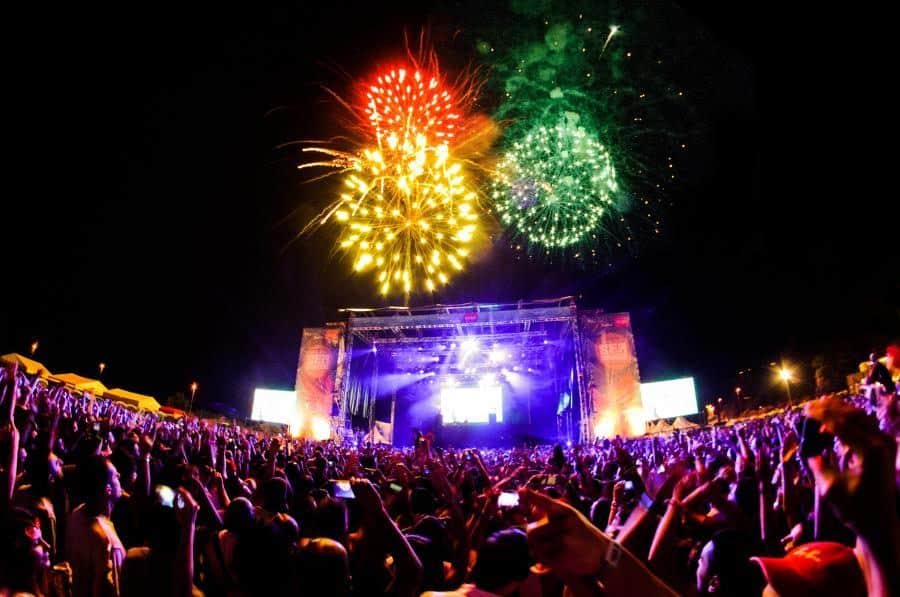 The middle of July is party time in Budva, with an annual festival of music and dance. The resort comes alive with various musical performances and parties on the beach – a perfect time to combine this festival with a beach break.
These are 50 activities and sights to enjoy when visiting Montenegro. See how many you can tick off the list during your stay.
MORE MONTENEGRO TRAVEL BLOGS
Share